by Sharon Steel
Designer Erin Flett creates an eye-popping line of textiles that embody her love of color and pattern.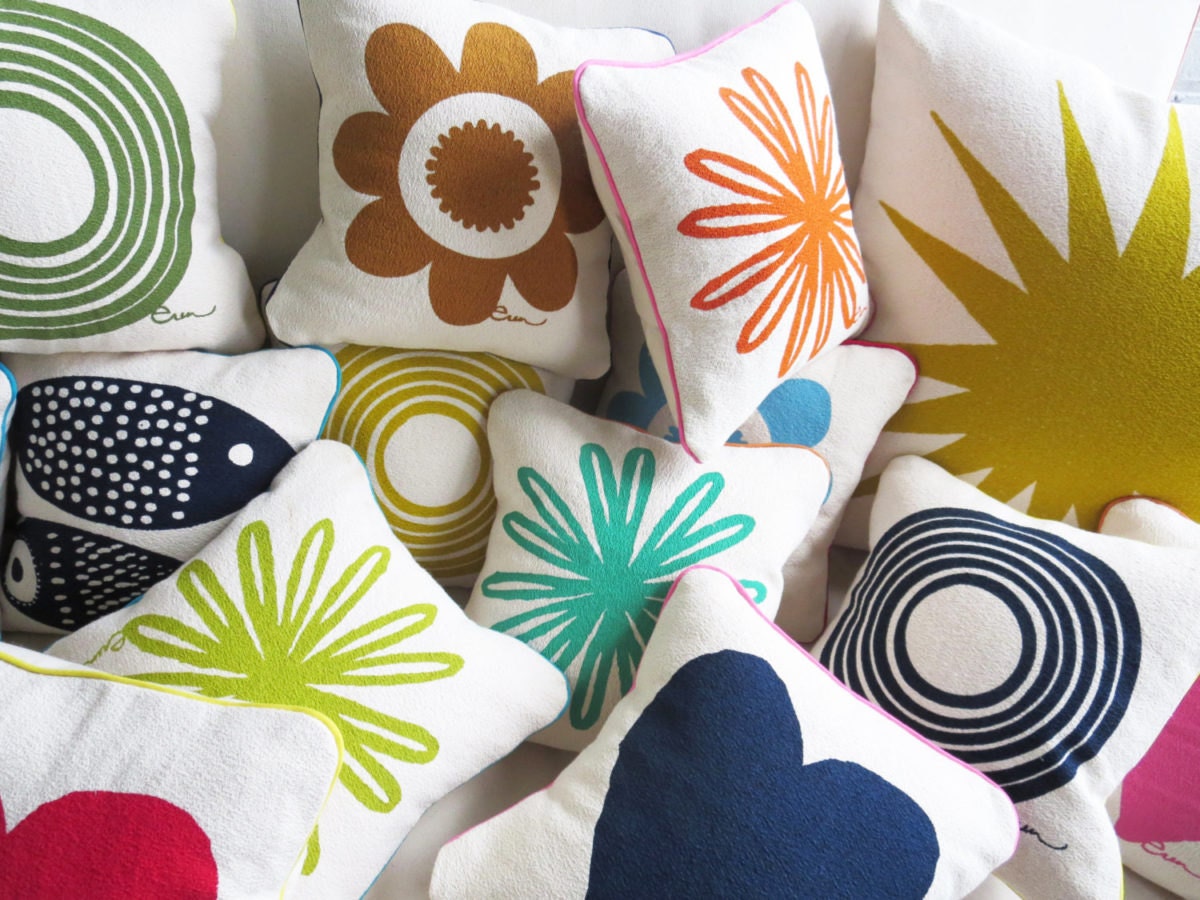 Seven years ago, 
Erin Flett
was a graphic designer hoping to become her own boss when a friend suggested she try printing her colorful designs onto fabric. Despite having no experience with silk-screening or sewing, Erin decided to give it a go. "I always say my design is my life, my life is my design," Erin explains. "I wanted to make something people wouldn't throw away, something that people would cherish and keep in their homes."
Soon after opening her eponymous Etsy shop in 2009, orders for Erin's bold, graphic pillows began pouring in. Erin and her husband, Maslen, found themselves turning their entire basement into a silk-screening operation, and they now work on the Erin Flett brand full time with a team of two printers, four stitchers, and an assistant. The humble line that started with silkscreened pillows has since expanded into a handmade textile and lifestyle brand that includes throws, bags, glassware, wall art, aprons, and a kids' line — and now this onetime graphic designer is on the cover of Better Homes & Gardens as one of the magazine's top Style Makers of 2016.
Read on to learn about Erin's design process and her advice for creating a colorful home, and shop her collection here.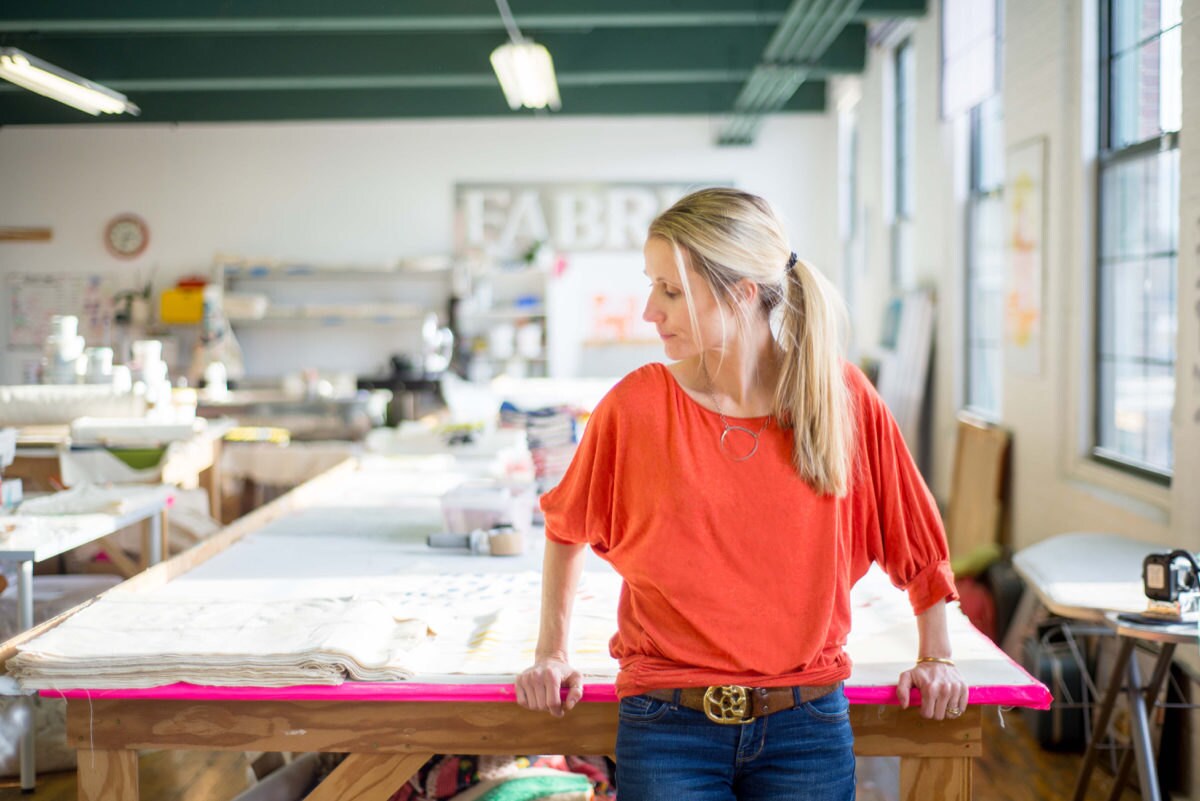 How has the Etsy community helped you develop your brand and business?
Etsy has been a huge launching pad for me. I was able to make my work available for whoever wanted to look for it. Then I was able to get orders from people from all over the world, who may never have found me otherwise. And there is a lot of work involved in getting your work out there: You really have to believe in your brand, talk about your brand, live your brand, and reach out to people who are like-minded and ask them to talk about you. I sincerely love what I do, and want people to live with my work and write about it and connect with it.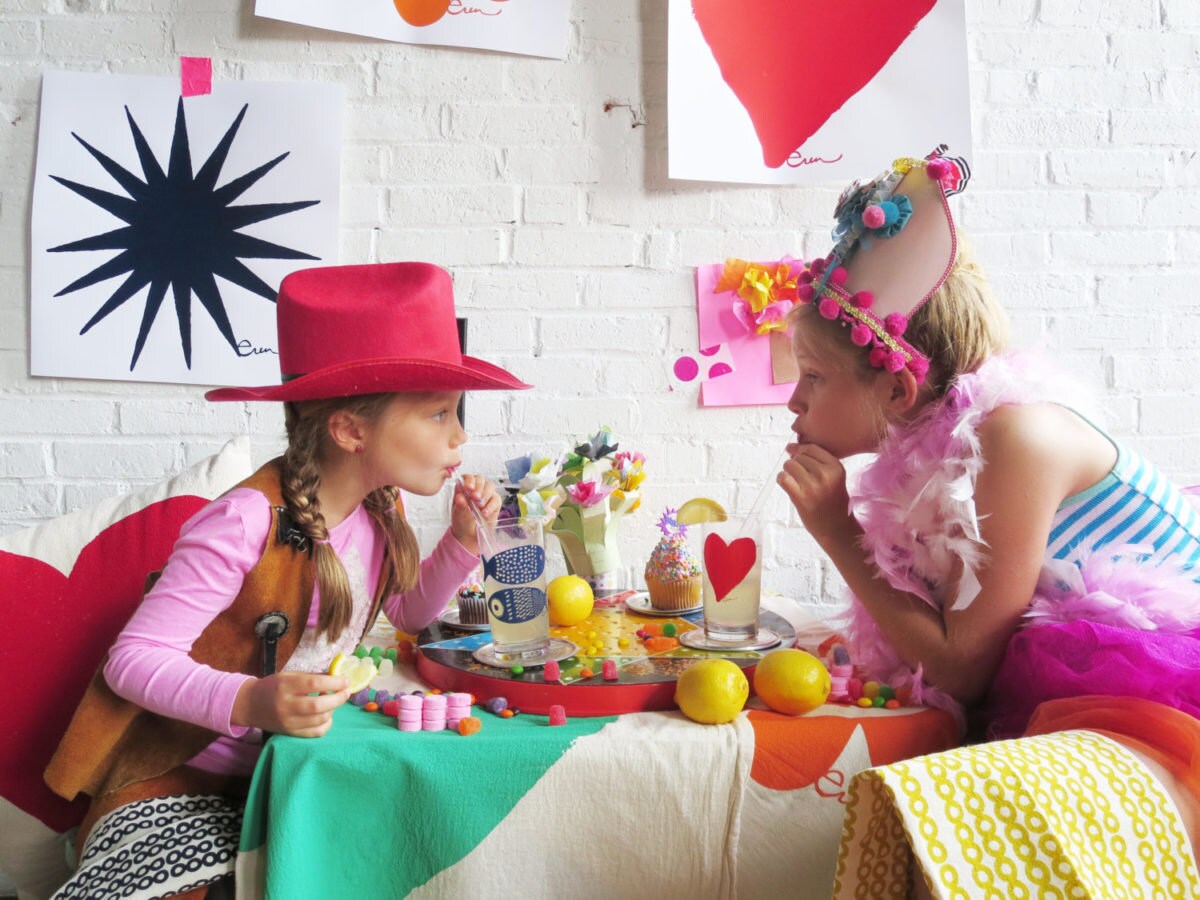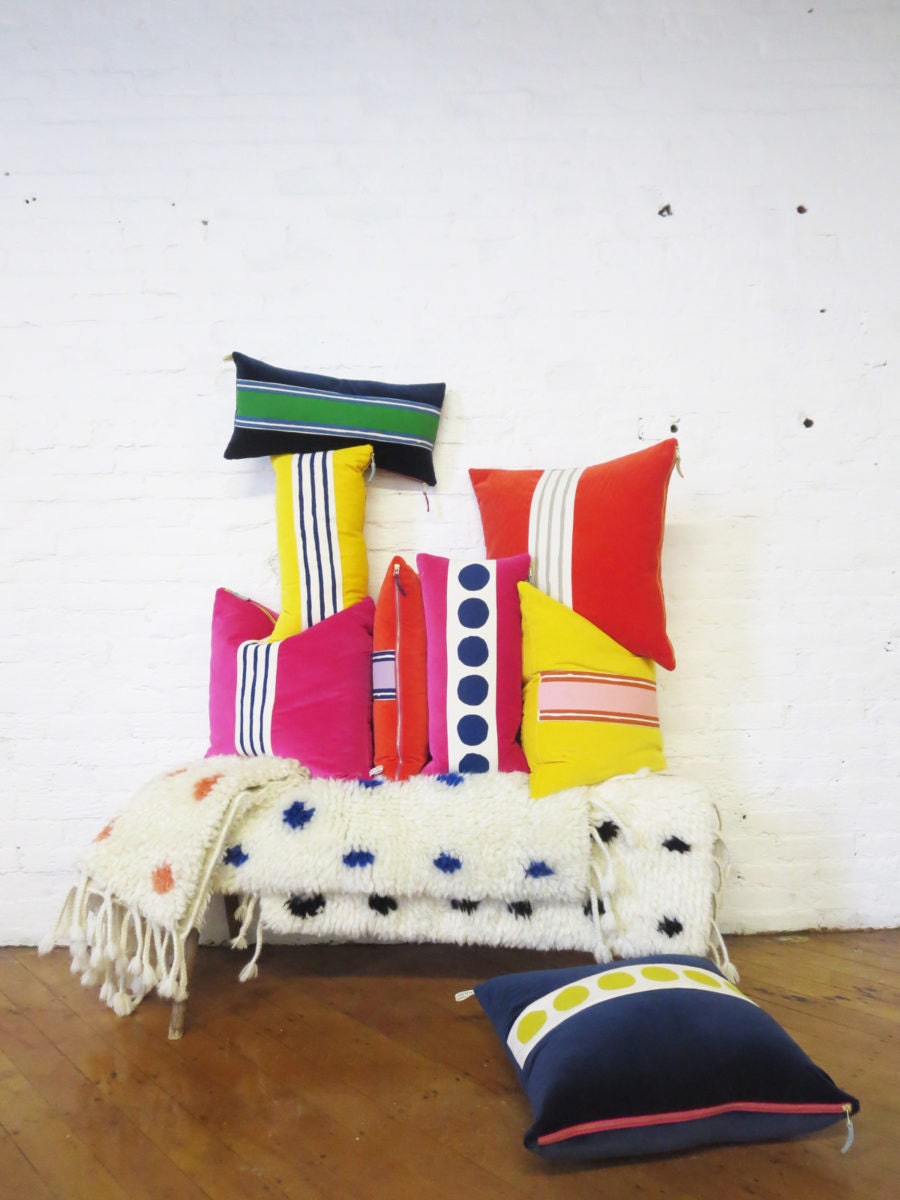 Now that you've expanded your line from pillows to a wider range of textiles, how often do you work on designing new prints?
I usually have a surge a few times a year where I'll really focus on drawing and design. I have hundreds of drawings that I pull from all the time — things I've done in the past, or little doodles I'll draw here and there. I'm constantly drawing, and I don't even know I'm doing it! It never turns off. It's how I work. It's almost like a big collage. I dismantle things, I pick them apart, and I'll borrow something from somewhere and cut and paste it into something else.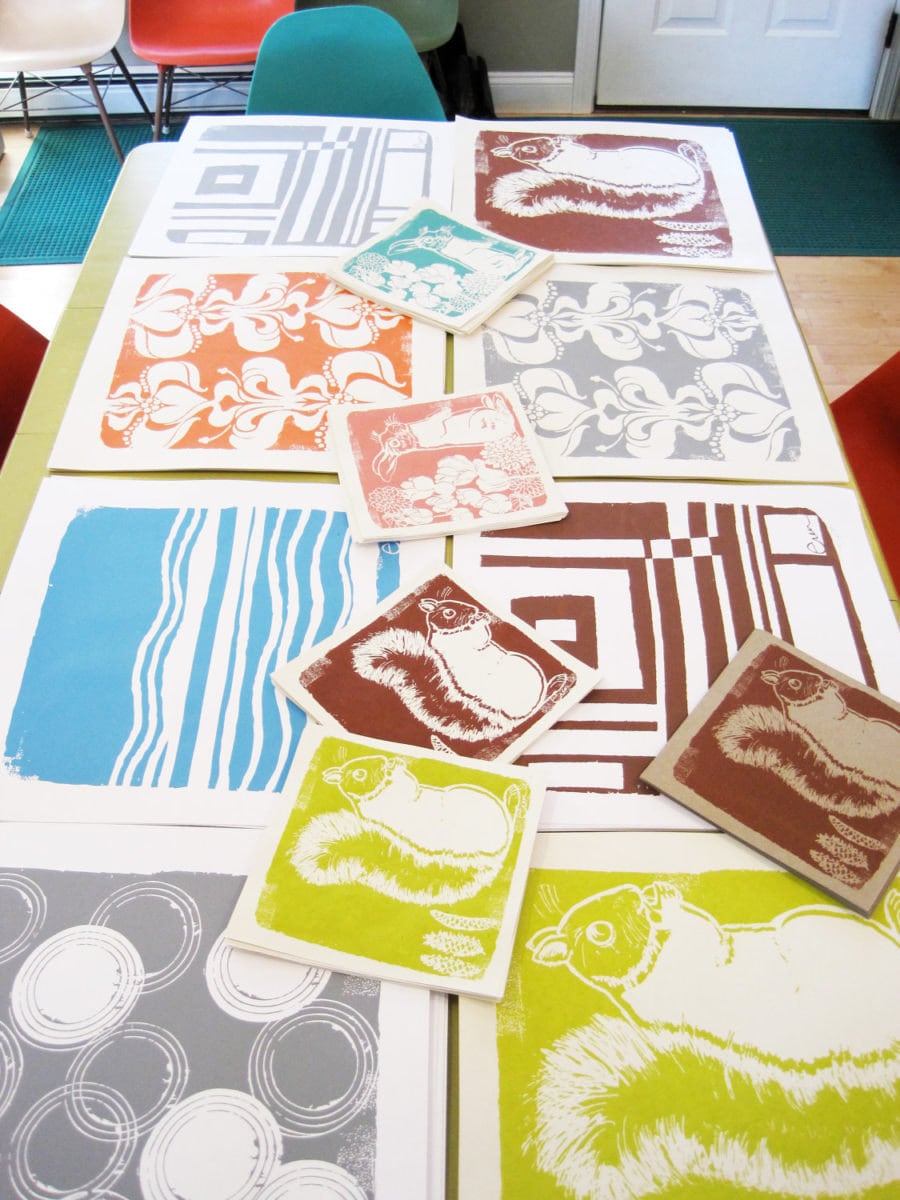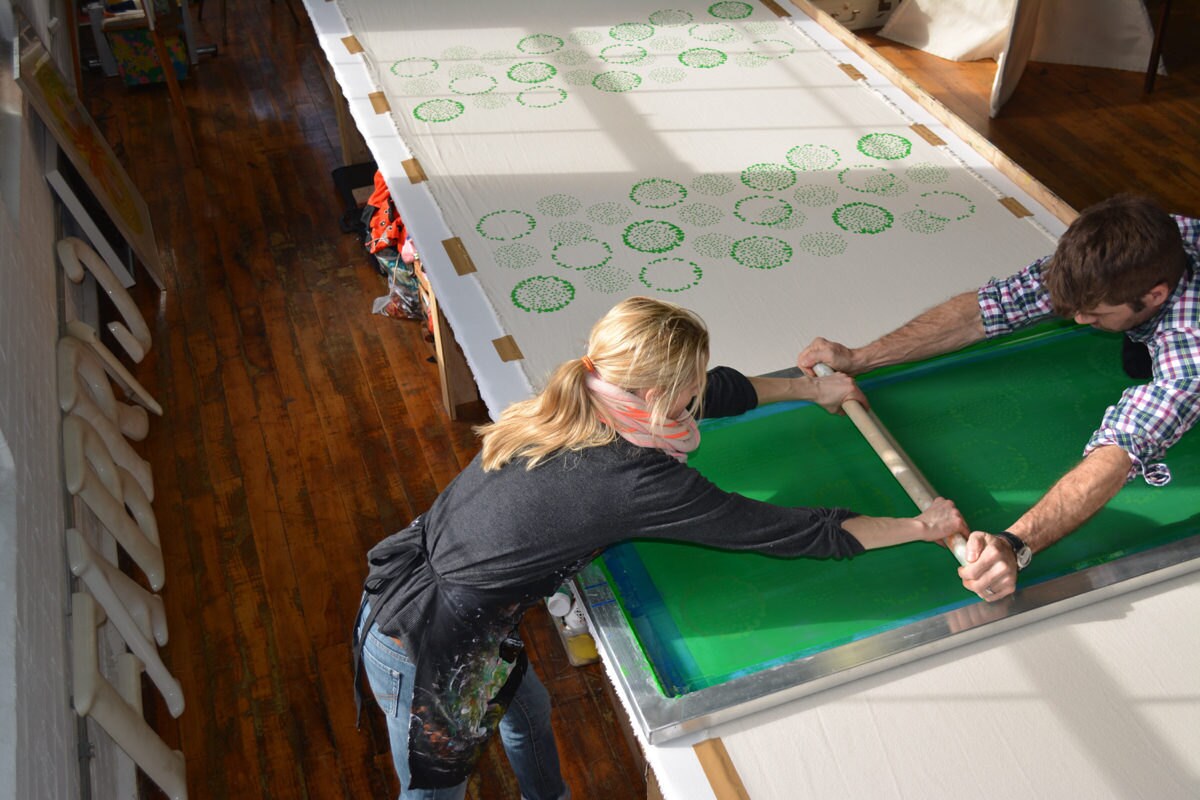 Can you walk me through the process of how you go from an idea to a finished product? What's your workflow like?
Recently, I was inspired by vintage skiwear. I have this really old vintage sweater from the '70s, with these cool racer bands down the sides of the arms. An idea had been simmering in my brain for the last year. Then, three weeks before I went to Atlanta's AmericasMart show, I said to my team, "Listen, guys, we're going to do six different patterns on one screen and print them all at once and cut them up, and I'm going to put them on pillows!" They looked at me like I had six heads and were like, "Okay, whatever," but we did it, and it looks so cool and sold really well. I love the black and white one the most. It looks almost like a Sharpie pen.
Just three lines, printed on barkcloth and then stitched onto natural linen.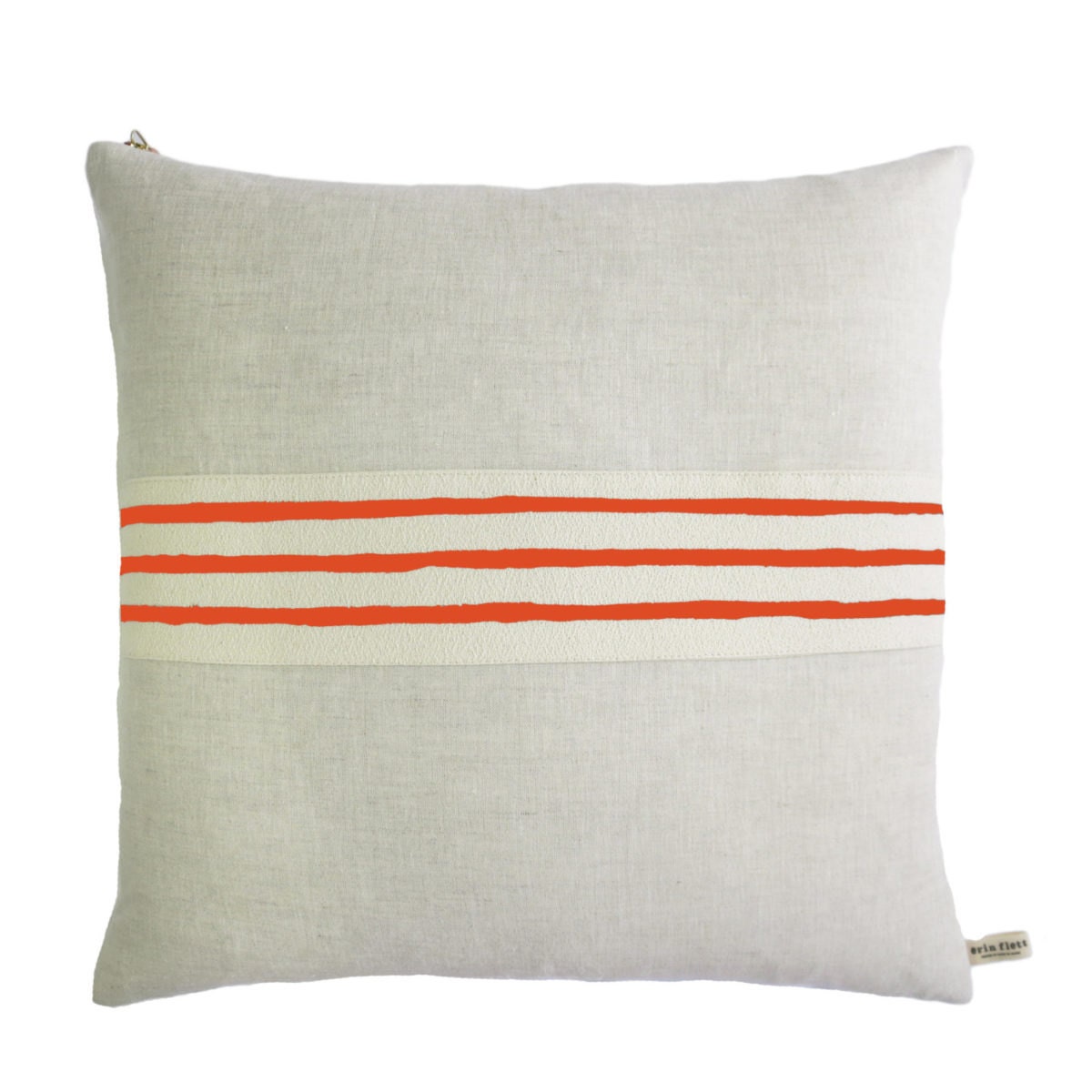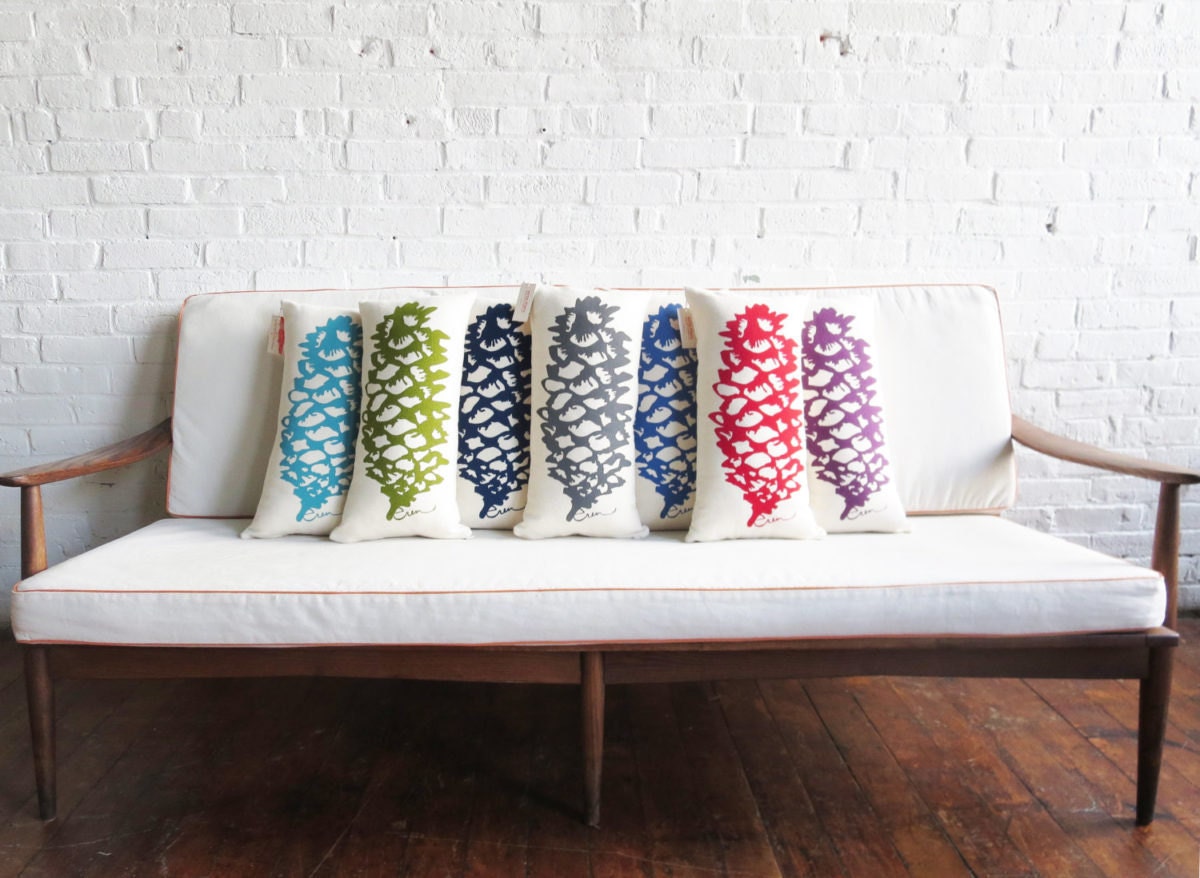 What's your best tip for decorating your space?
I definitely feel like it's best to have one or two pieces be the grand finale in the room —
a bold graphic piece
, complemented with a smaller pattern in a different texture or fabric. For example, sometimes I'll do a
big sun graphic on a pillow
, and pair it with a really small print that fades into the background. It can be in the same colorway, so you have only one graphic element that pops. I also think layering stuff together from different time periods is cool, like in vintage
Domino
, where they mixed all different genres of furniture and design. It just worked!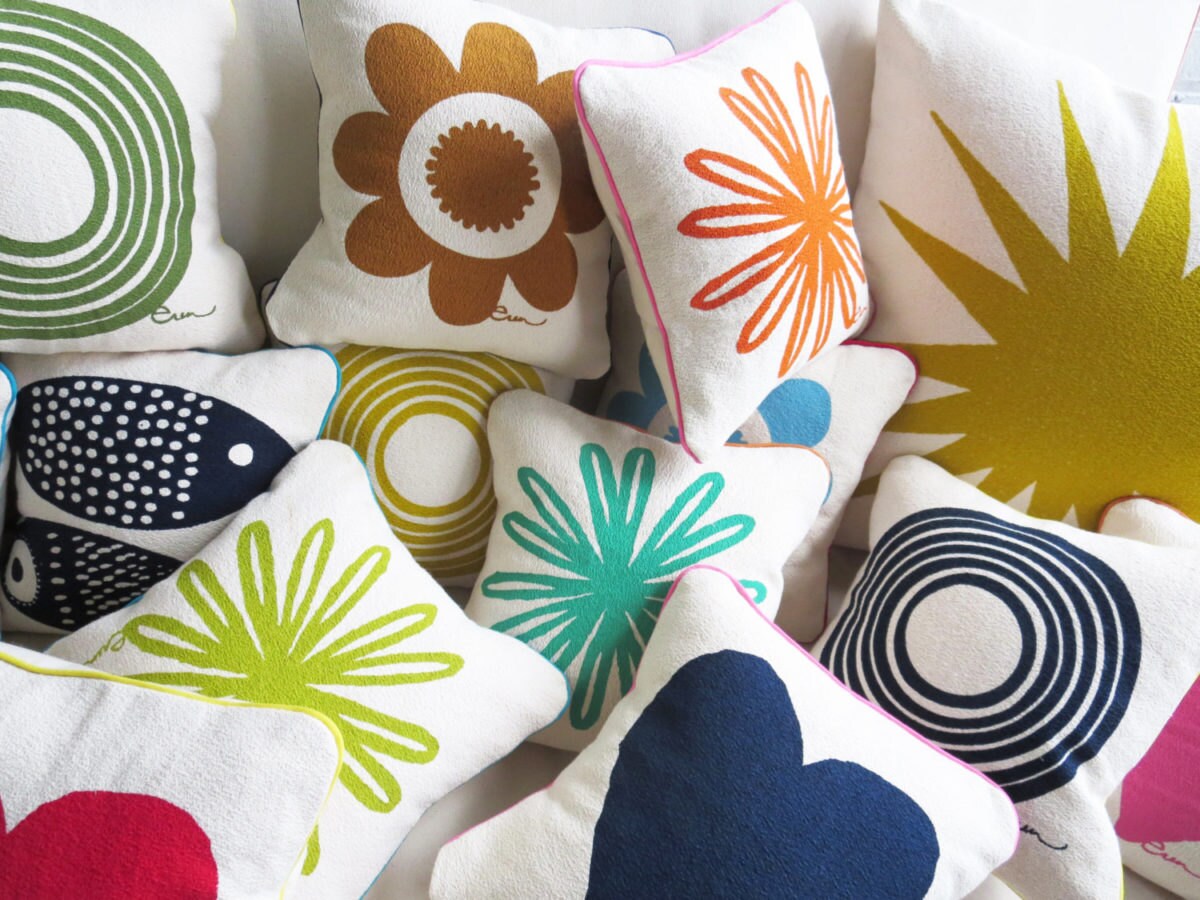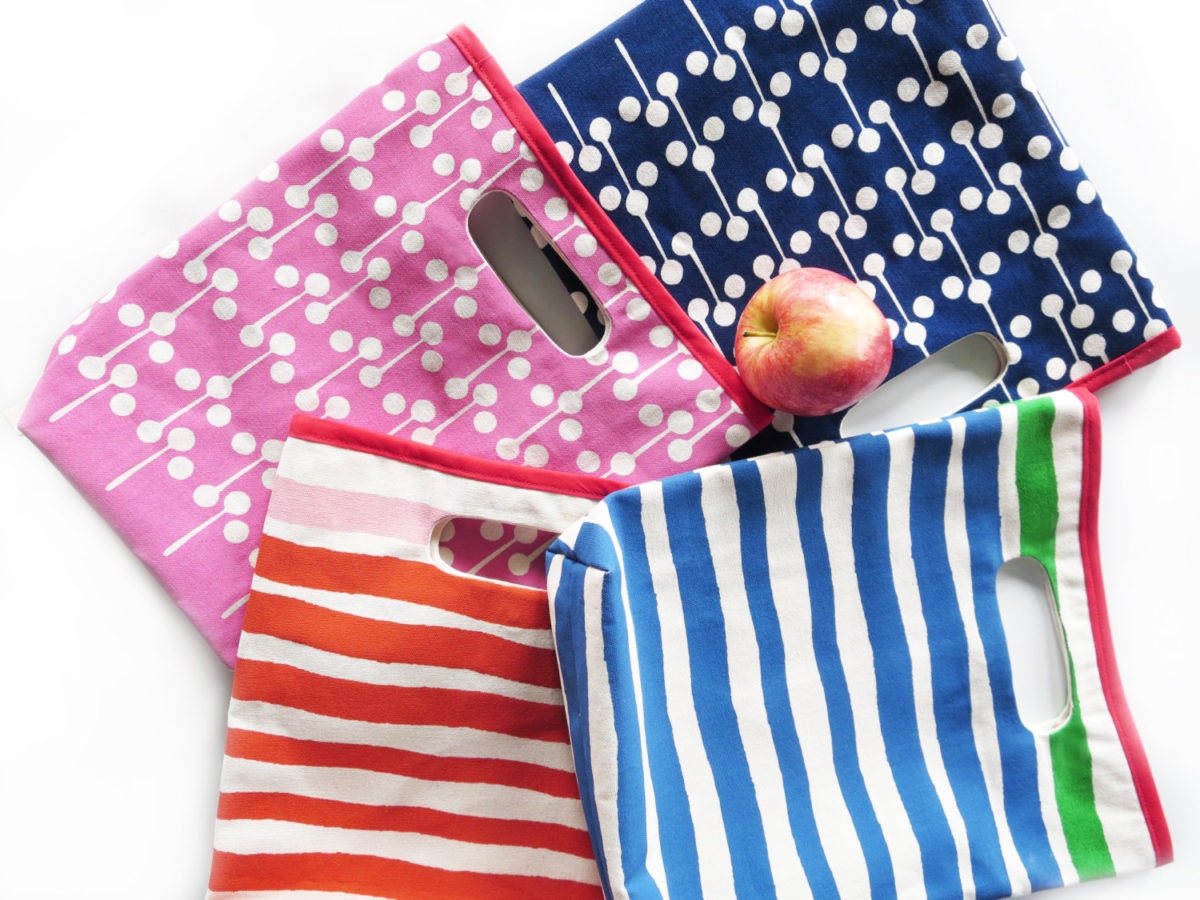 Your shop's aesthetic is so colorful and visually distinctive. Have you always gravitated toward this particular look?
I'm always evolving, but I'm just so attracted to
color and pattern
. In the last year, I've added a new linen fabric and different colors on linen. I'm starting to need that balance of neutrals and colors together.
The new linen pillows
with hand-printed bands are very minimalist. It was an opportunity to reinvent myself a little bit. That's where I'm going now. I want people to take my patterns and use them in strategic ways. It allows one piece to sing the song, and the other to lend a hand.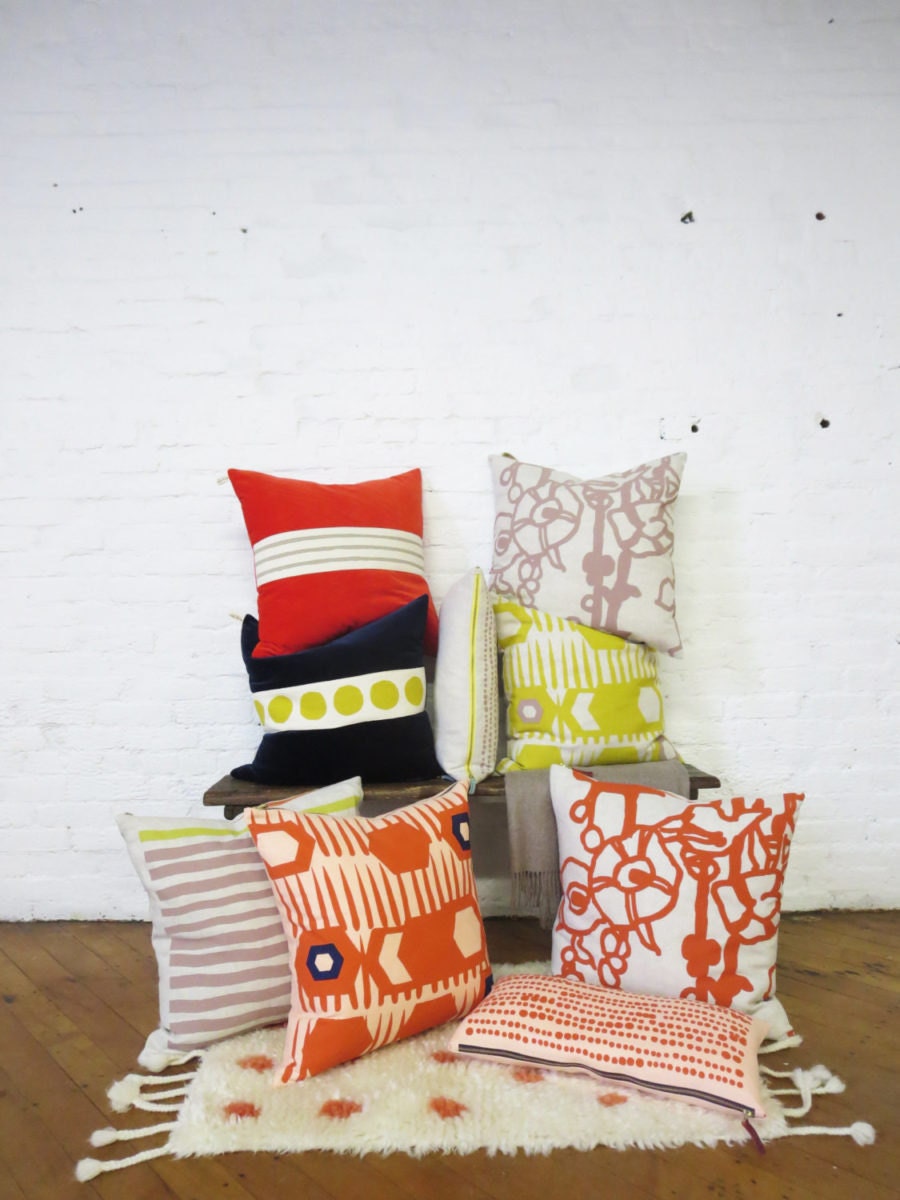 What have been some of the most exciting moments or proudest achievements of your creative career thus far? 
Being featured in
O, the Oprah magazine
was amazing. It really made me feel like I was on the right track. That happened the second year we were in business. I've also been named a Top Textile Designer to Watch by
Apartment Therapy
three times. The most recent achievement is that I'm on the cover of the September issue of
Better Homes & Gardens
as one of their Style Makers of 2016. They flew me out to L.A. for the shoot and later surprised all of us with the news that we made the cover.
What's next on the horizon for Erin Flett?
The new thing we're introducing is flokati and hand-tufted rugs. They're so much fun to make. The George rug is a hand-tufted, wild hollyhock pattern. George is my grandfather's name, and he had gardens when I was a little girl. He had these giant hollyhocks, and that's where that pattern came from!