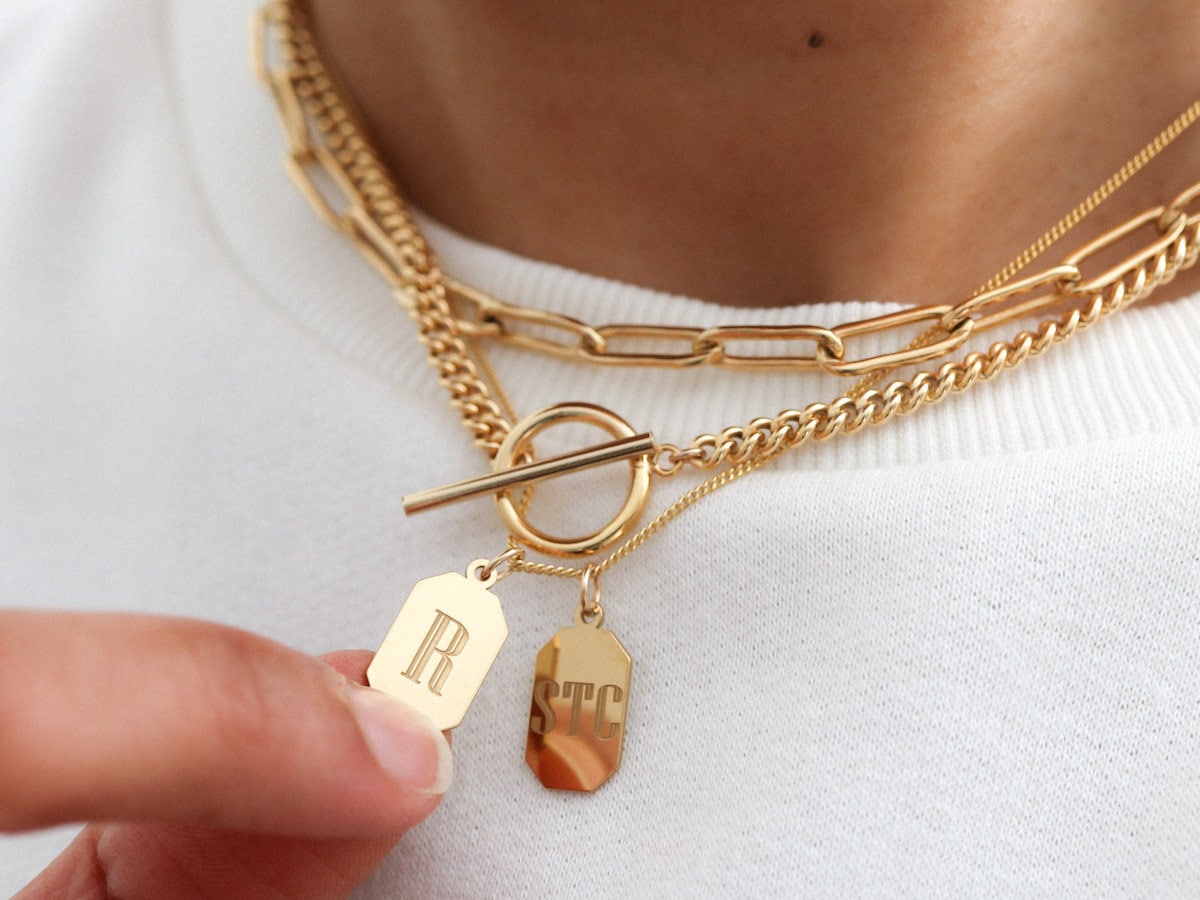 In our Featured Shop series, we shine a light on a standout shop from Etsy's talented seller community, offering readers a behind-the-scenes look at their process and story.
Whether it's an inside joke etched on matching friendship bracelets, the name of a cherished pet immortalized in ornate silver script, or a newborn's initials monogrammed on a golden pendant necklace, a personalized piece of jewelry from EVREN is a deeply meaningful form of self-expression. "When you choose to engrave your loved one's name or initials on a piece, it doesn't just represent your style," explains Vancouver-based designer Sabrina Caldwell, who founded the line in 2016 out of a desire to make these types of wearable treasures accessible to everyone. "It represents who you are." 
Over the years, as Sabrina gained a passionate following for her '90s-inspired Old English initial pendants and engraved bar bracelets, she stayed true to the attainable, one-of-a-kind ethos that inspired her first designs. Today, customers flock to EVREN to find ultra-personal presents that will delight the people they care about the most—without breaking the bank. "Keeping our jewelry affordable is really important to me," Sabrina says. "I think everyone should be able to buy nice, high-quality jewelry that's personalized."
Read on to discover Sabrina's favorite gift ideas for Mother's Day and her most memorable custom requests—then shop the EVREN collection.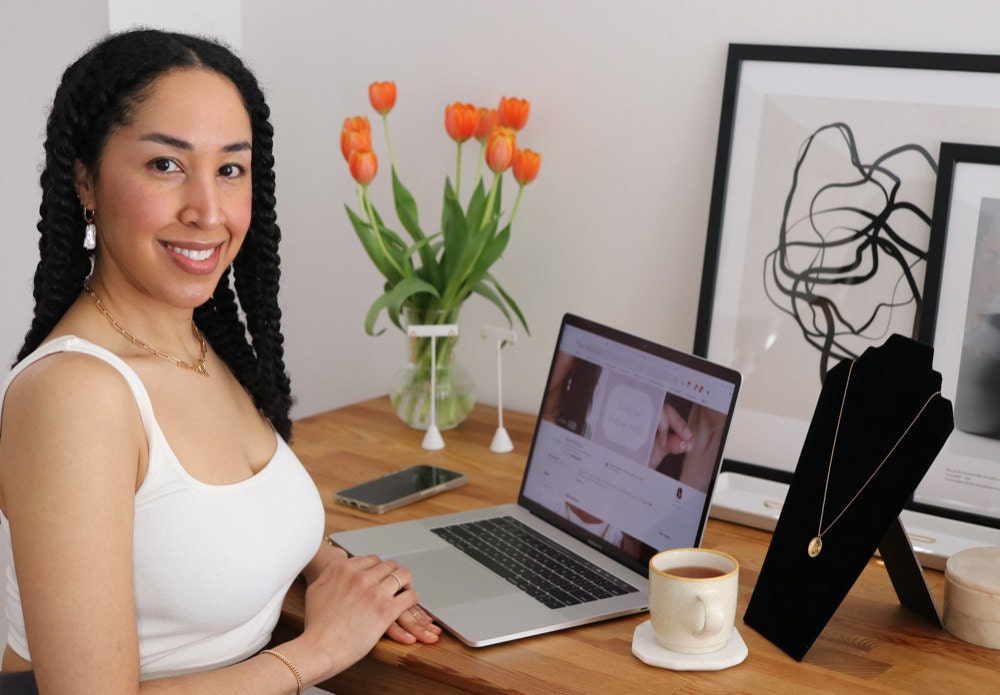 How did you get started designing jewelry?
I'd always loved the idea of running my own business, and in 2016 I decided to give it a go. I ordered some books on jewelry making, watched some YouTube videos, and started from there. I wanted to create my own affordable pieces that I could wear for years and eventually pass down. After a year on Etsy, my husband, who is a mechanical engineer, joined me to work on EVREN full-time.  
How would you describe your aesthetic? 
I gravitate toward simple, interchangeable pieces that people can wear every day and never take off. I also try to focus on designs that can be layered and mixed easily. I get a lot of inspiration from current trends, so we do offer trendy styles, but those can always be layered with timeless, classic pieces, like our custom name necklaces.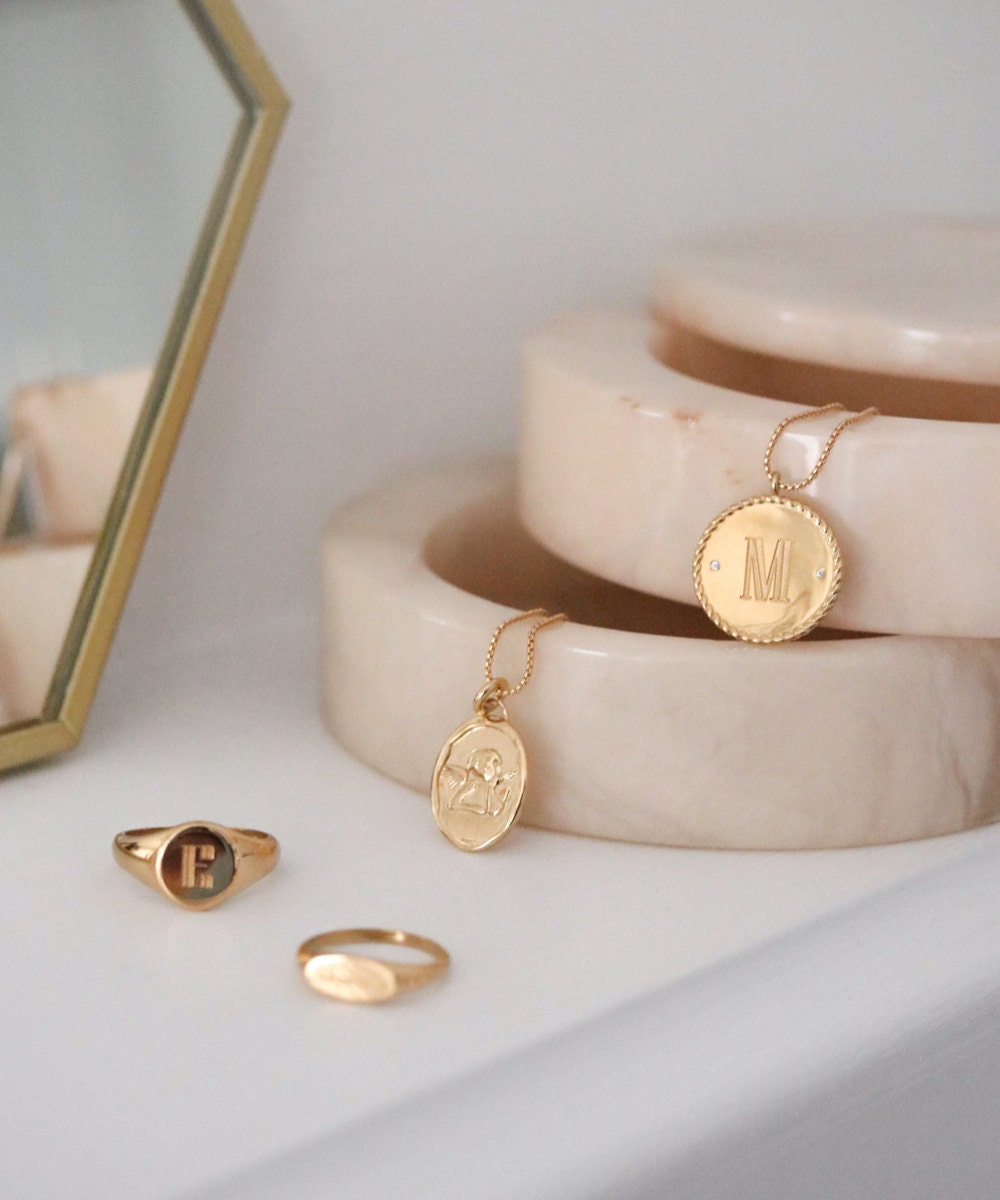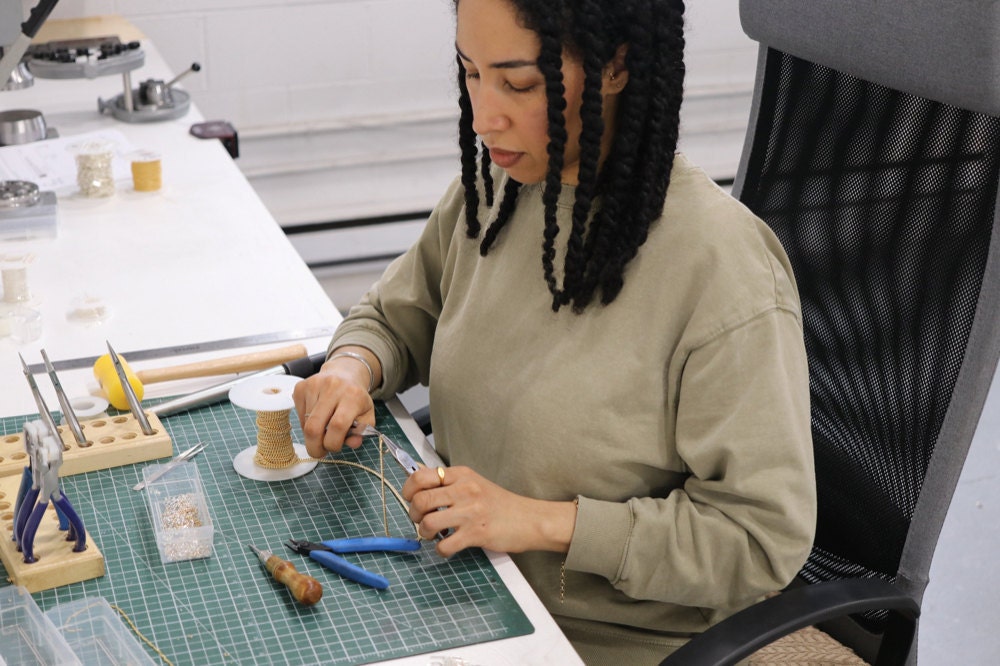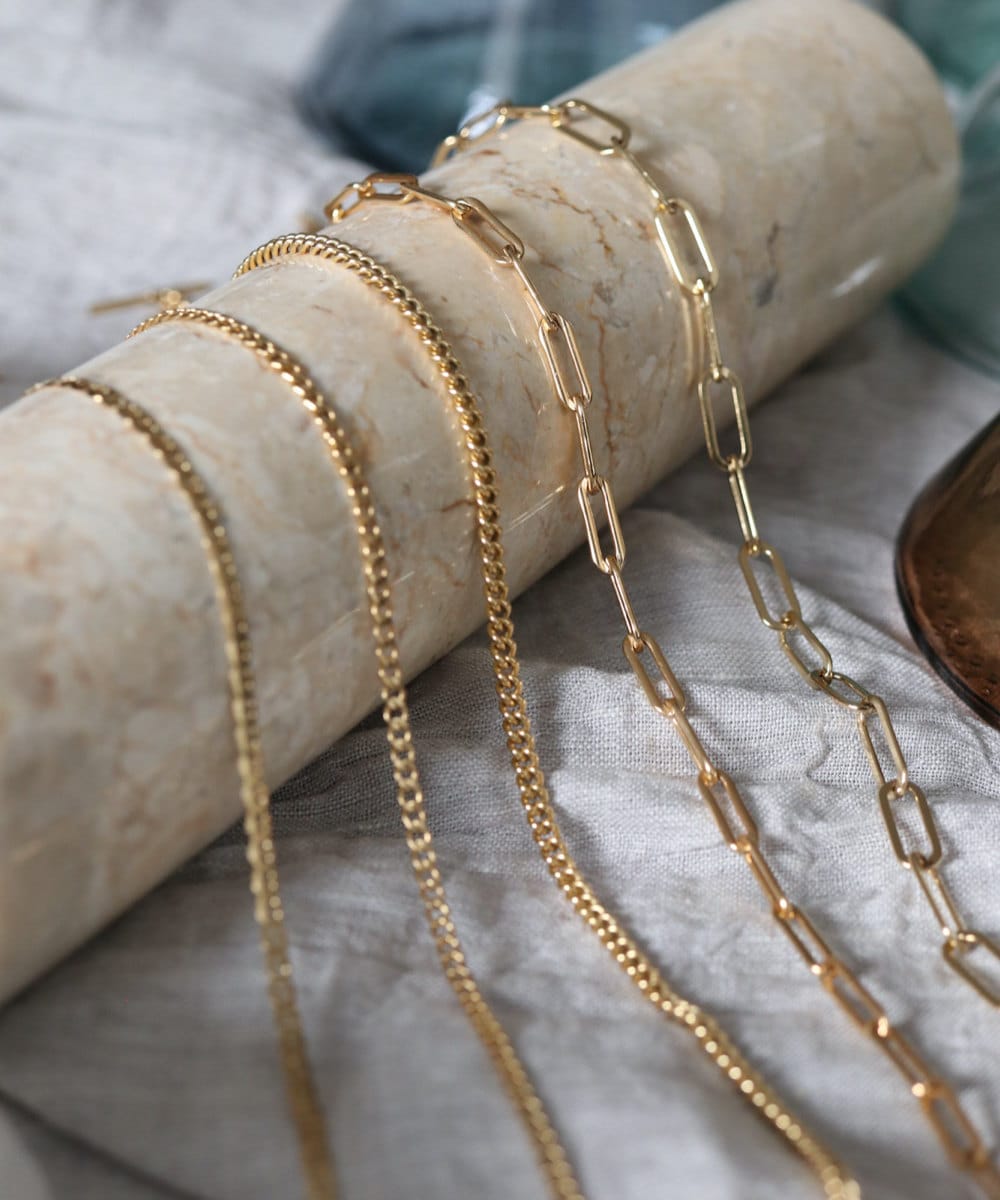 What are some of your favorite gifts for Mother's Day? 
Our engraved octagon pendant necklace was super popular for Mother's Day last year, and I'm predicting it'll be just as popular this year. Customers can personalize it by adding initials, full names, or phrases. You can order as many extra pendants as you want and add them to the chain, or order just the engraved pendant to put on a necklace you already have.
Our Old English initial necklace is another giftable bestseller, and I think our daintier layering necklaces are great for Mother's Day as well. We also have two different styles of pearl chokers, and that's a really nice look as a layered set. Our bracelet set—a figaro chain, a rounded box chain, and a thin rectangle link chain—also sells really well, and looks amazing as a set of three. 
Can you share some personalization trends you've noticed lately? 
I've noticed people enjoy ordering personalized pendants that they can add to a chain they already have at home. Customers are also personalizing necklace stacks—some call it their "neck mess"—with little vintage charms. If you look up #neckmess on Instagram, you'll find so many amazing, very personalized looks!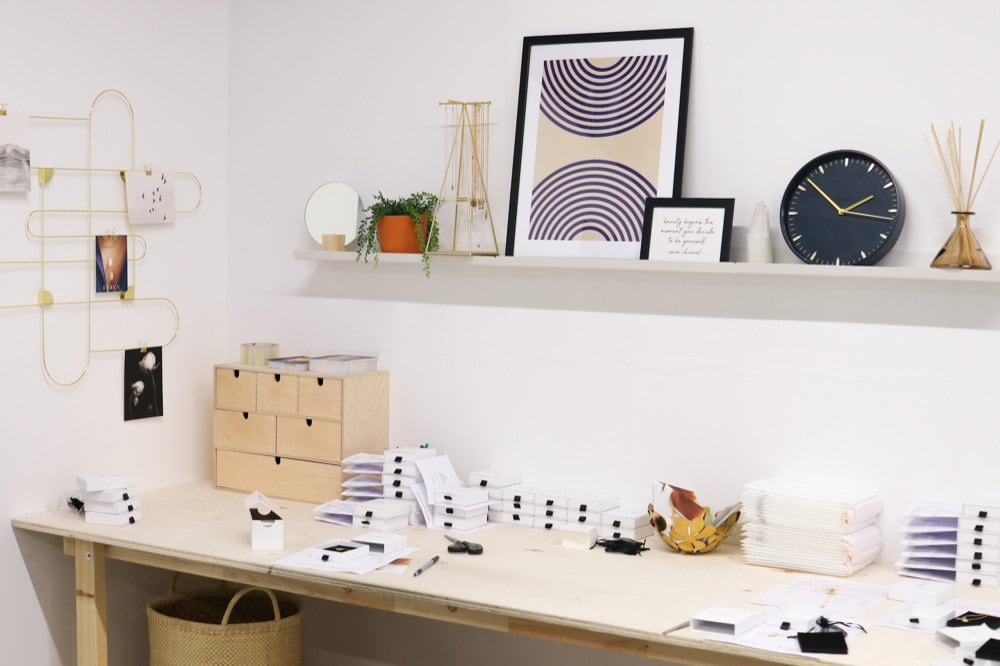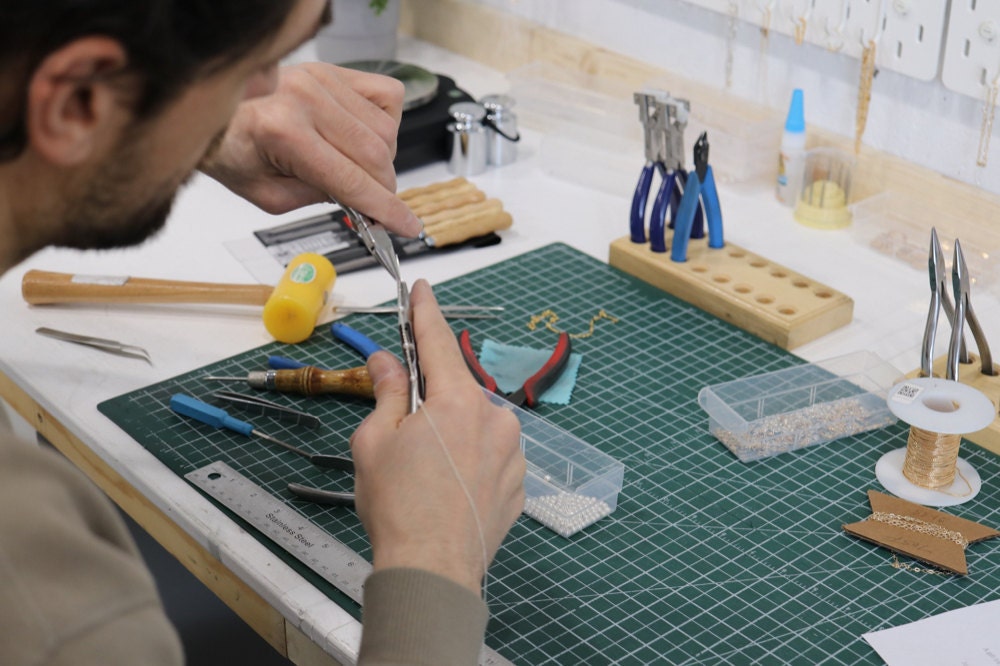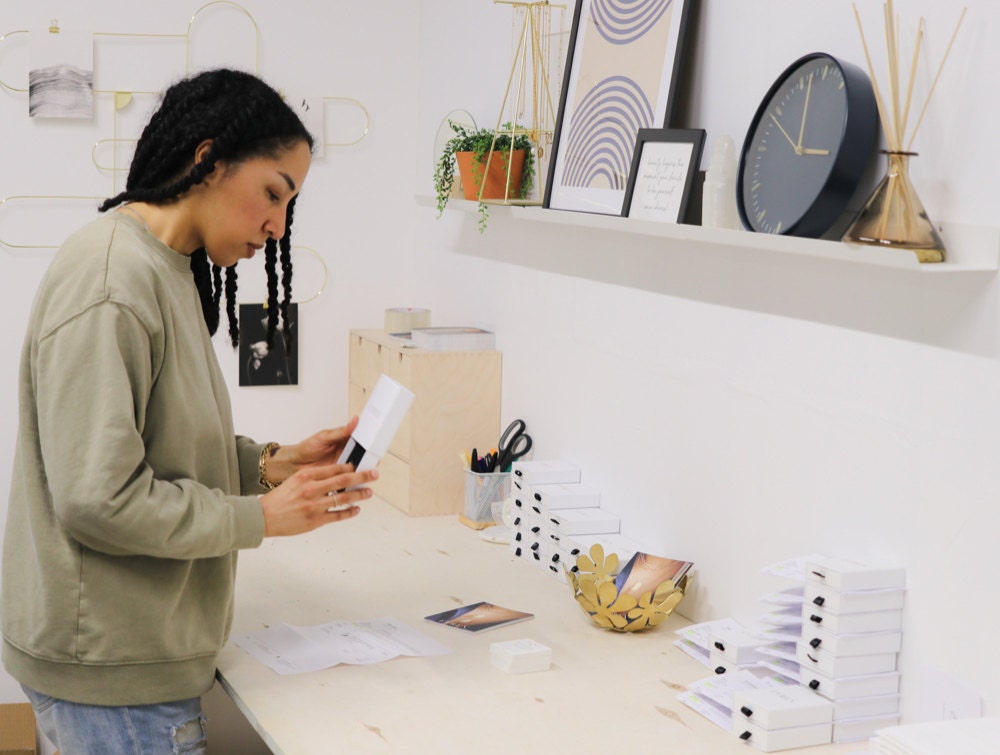 How can personalization make a gift feel extra-meaningful?
I think it's a way of expressing yourself, holding someone close to you, and telling a story. Recently, a customer bought one of our charm necklaces for his wife, and had the initials of their first-born child engraved on one pendant. He also ordered a blank pendant for their second, yet-to-be-born child. I thought that was such a sweet sentiment.
I've also had customers ask if the engraving can go on the back of a pendant, to keep the story private. And we've made name necklaces in memoriam for lost loved ones. Orders like that are always so touching. It's very humbling to know that someone puts their trust in us to make a piece they'll treasure forever, or gift for someone they care about.
How does it feel knowing that people are gifting your jewelry to commemorate special days?
It means the world to me and to my husband, and it's one of the main reasons why we do what we do. It blows my mind to think there are people out there wearing my jewelry on their wedding or graduation day. It's worth all the hard work and extra time we put in.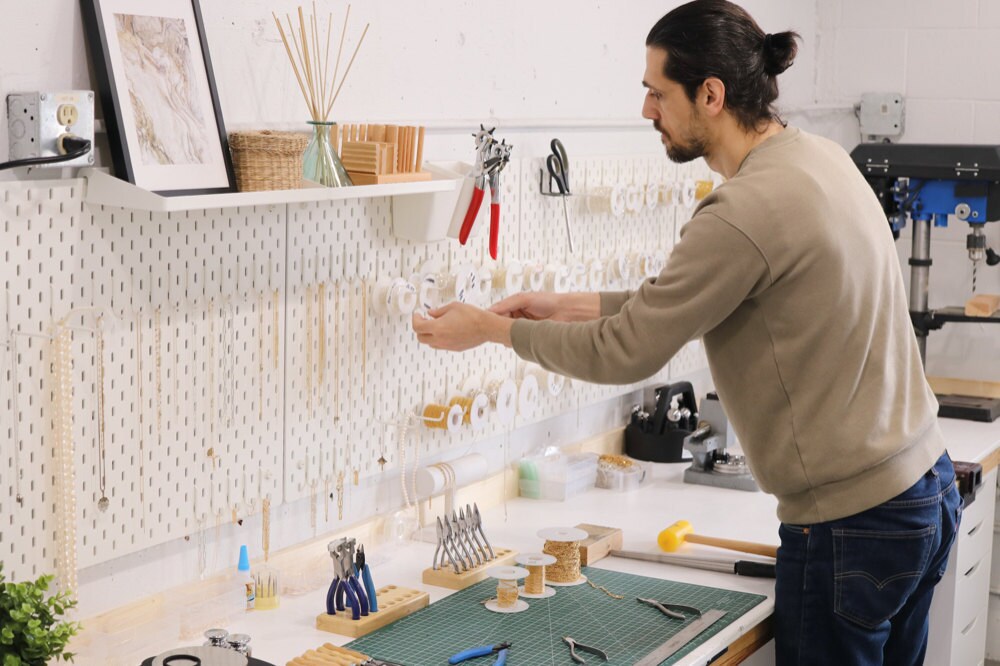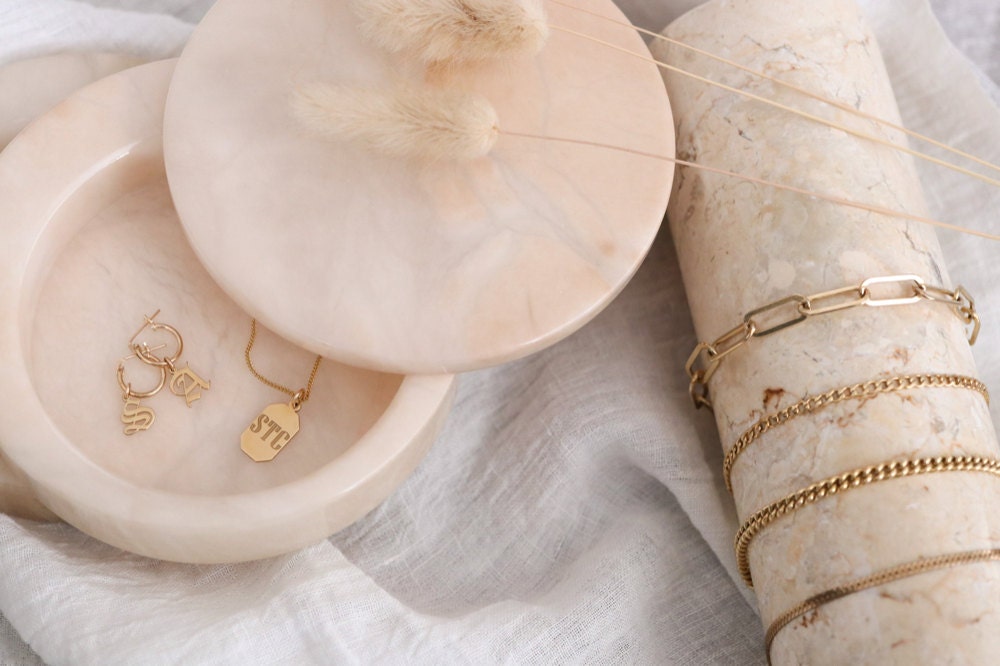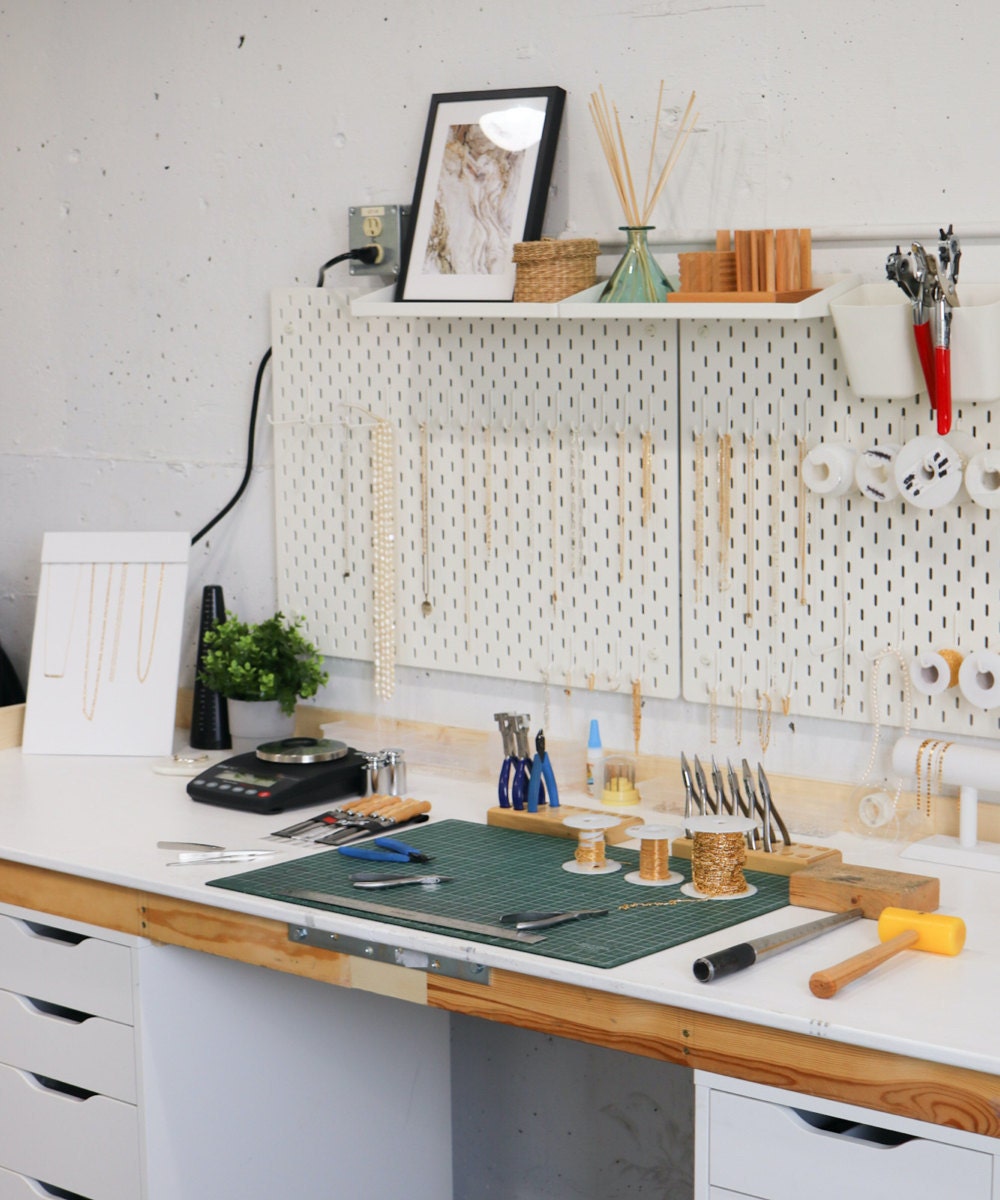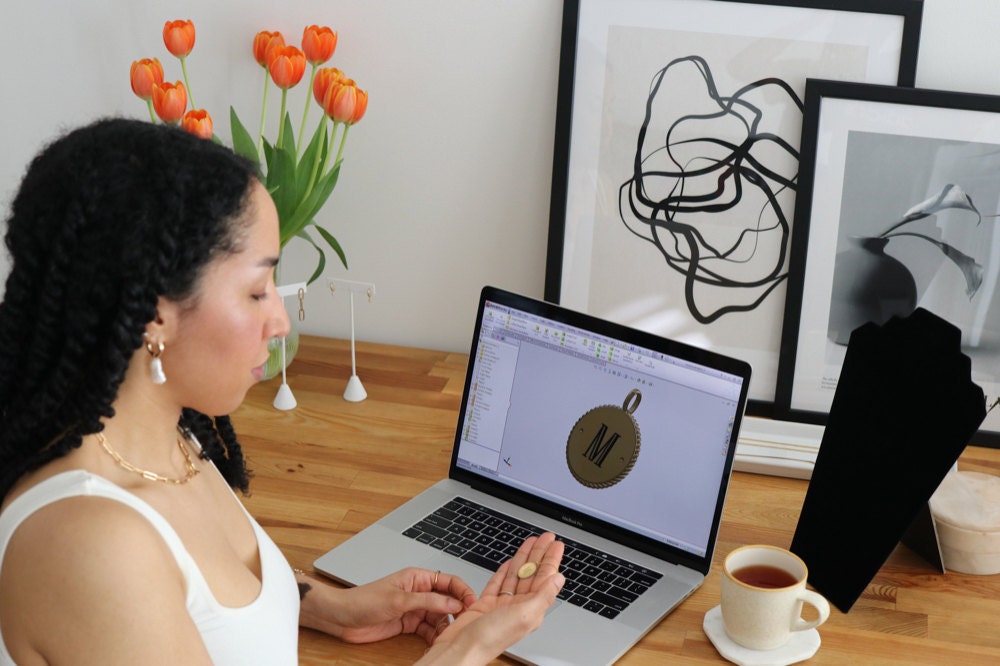 What's your creative process like?
I start by playing with the materials. We invested in laser equipment for cutting and engraving three years ago, so now we have the capacity to make our own designs. That was a big step—it allowed me to say, "Okay, I have an idea. Let's put it into action and what comes of it!"
My husband and I usually sit down and talk through the designs together. I explain my vision, and we go back and forth until we're happy with what we've landed on. Then I do all the modeling, photography, and photo editing, which I really enjoy. That part is almost meditative for me. A lot of our customers love layering our pieces, which is why I style our listing photographs to show how different pieces look together. 
What made you decide to offer men's styles? 
Three years ago, I found some awesome chains that I thought would look good on men and thought, "Why not? Men like jewelry, too!" I call it unisex jewelry, because men or women can wear it. We recently launched a couple new pieces: a rounded box chain and a thick rectangle link necklace, which is more of a chunky design.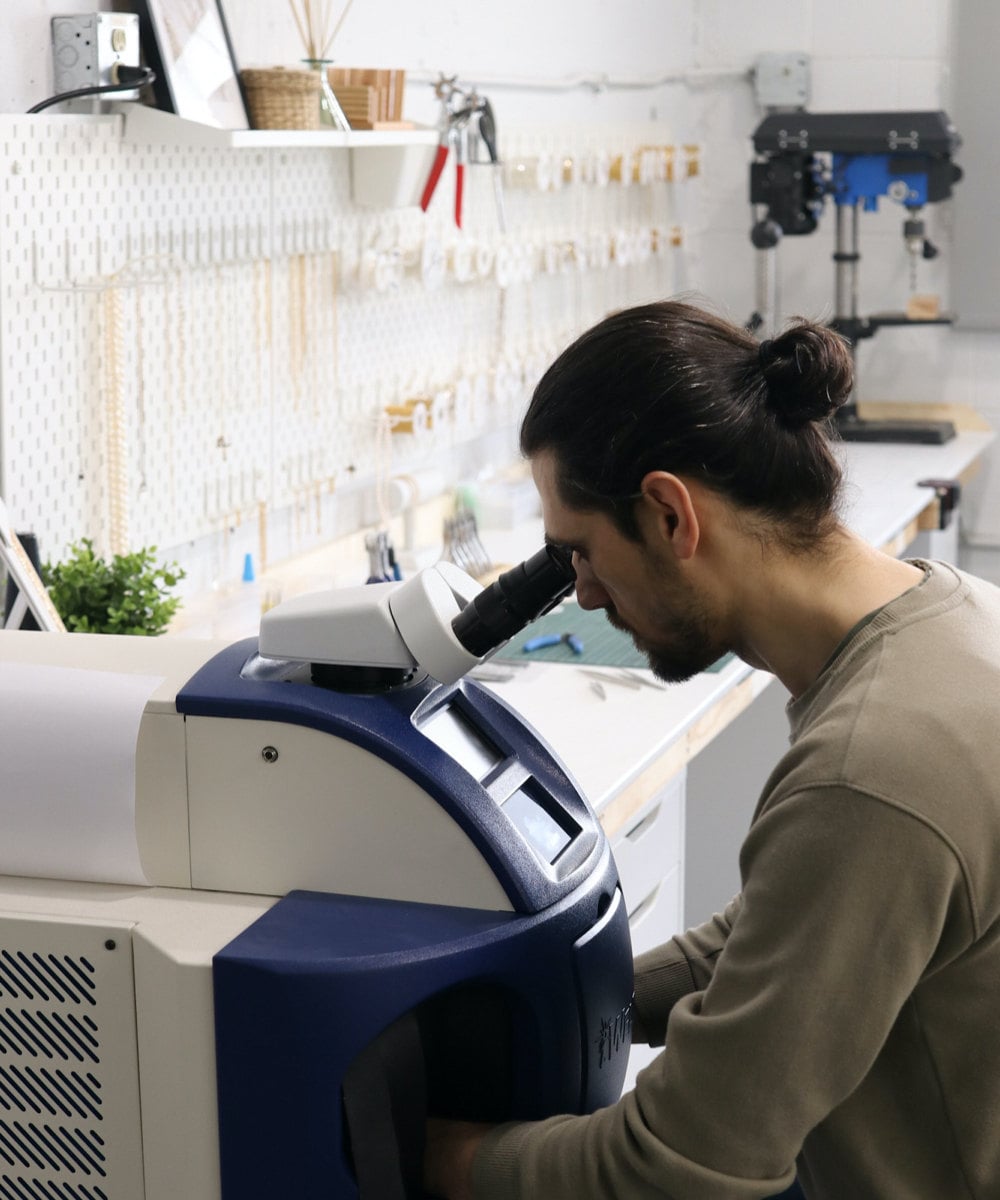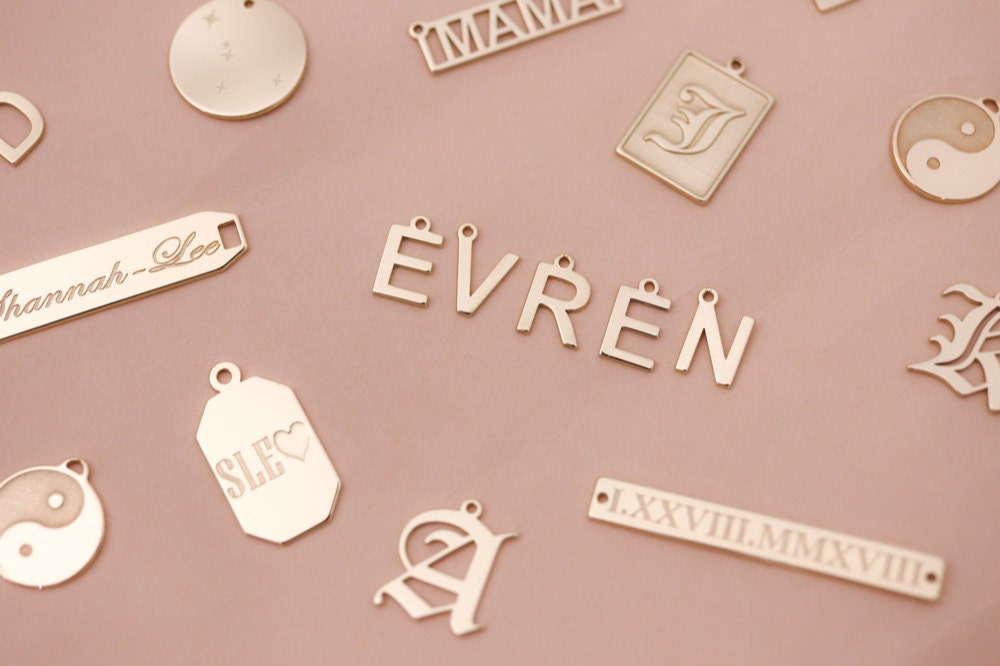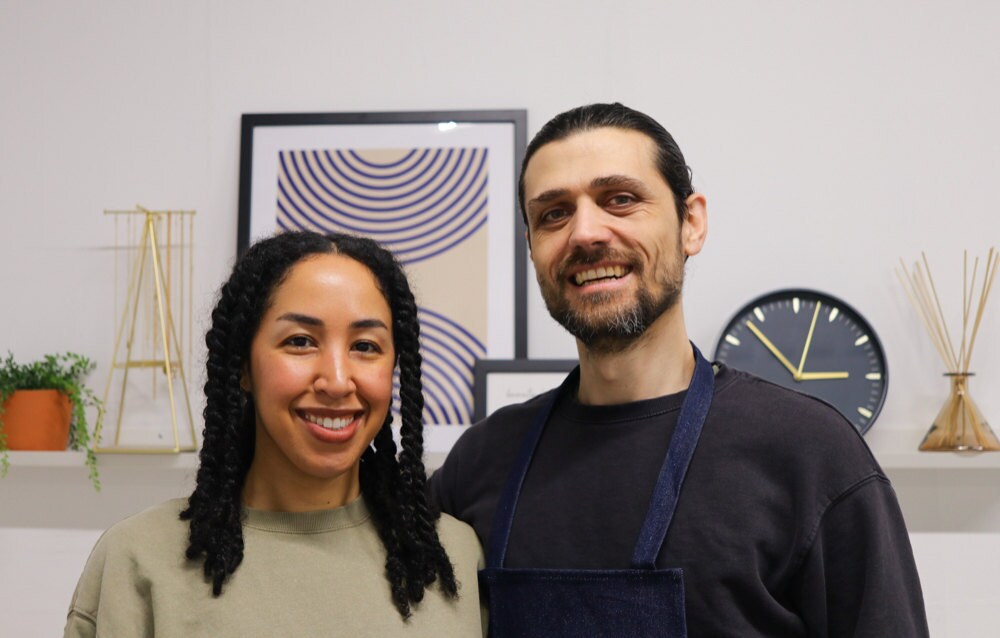 So, what's next for EVREN?
I've always got a bunch of ideas going at the same time! We just put out new engravable pendants, and we're really working on expanding our personalized collection. Any piece that can be engraved is a big focus. We also hope to offer solid gold jewelry at affordable prices. Right now, the possibilities are limitless!
Follow EVREN on Instagram.
Photographs courtesy of EVREN.