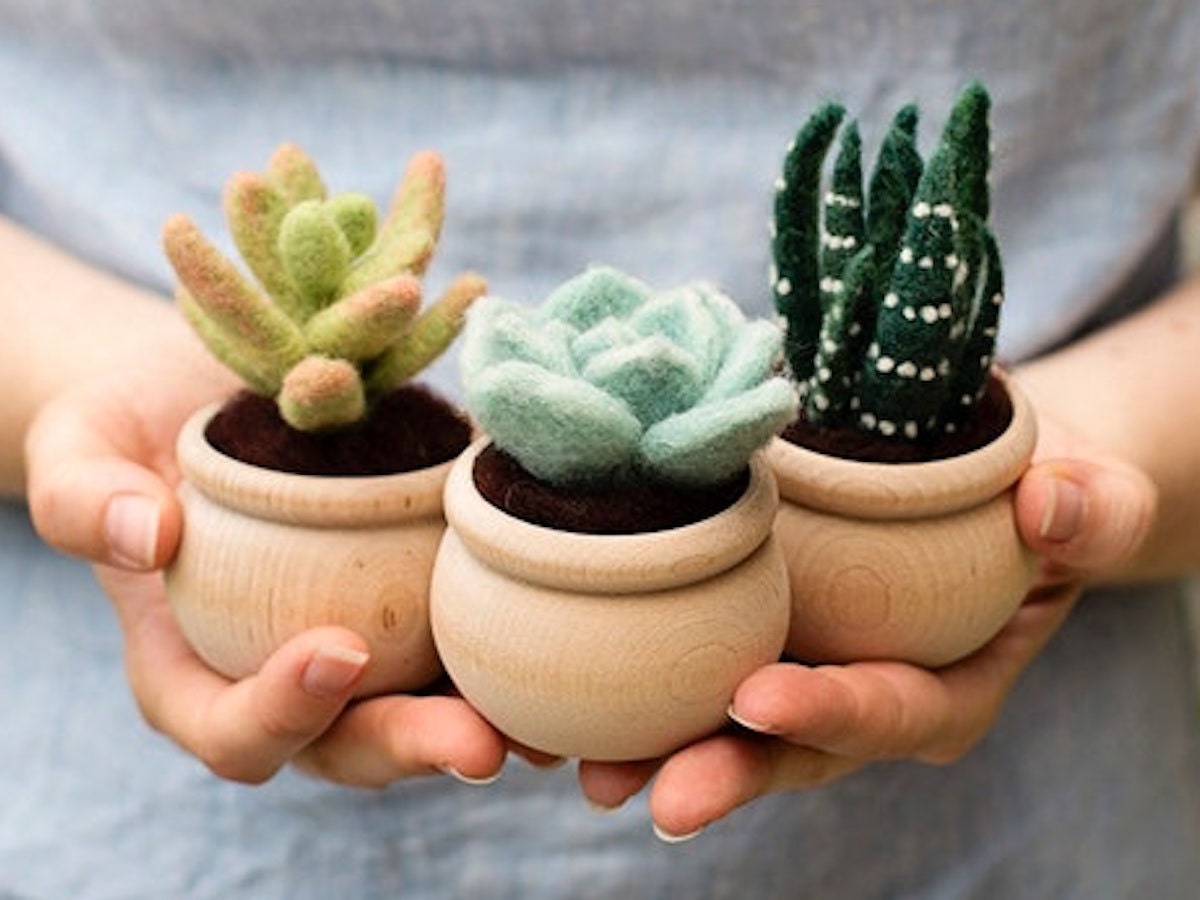 In our Featured Shop series, we shine a light on a standout shop from Etsy's talented seller community, offering readers a behind-the-scenes look at their process and story.
When breezes turn crisp and spiced beverages steam from mugs, that means it's cozy time! Curling up with a woolly craft project is a satisfyingly tactile way to welcome sweater weather—and a chance to get a jumpstart on making holiday gifts and decor. And whether you're perfecting a long-time skill or tackling a new hobby, needle-felting supply shop Felted Sky is here to help you tap your creative potential with beginner-friendly kits and a warm rainbow of fluffy wools. Designed by owner Elizabeth Whitton, the delightful line of DIYs features everything from breathtaking landscapes that look like paintings to soft-yet-sculptural little somethings, including cheery pumpkins, everlasting succulents, and, of course, scarf-clad snowmen to bring on the festive, homey vibes.
Explore the Felted Sky collection
The process of needle felting is as rewarding as it is meditative. "It's a calming, grounding, de-stressing kind of craft," says the Michigan-based maker. "You get to stab away at the wool, letting out some pent up anxiety or frustration." And with each poke-poke-poke of the felting needle, you're that much closer to the gratification of finishing a work of fiber art. "There's something kind of magical and joyful about having made something with your own two hands that you can hang on your wall or put on your windowsill and enjoy," Elizabeth says.
Read on to discover the pleasures of needle felting—then shop the Felted Sky collection.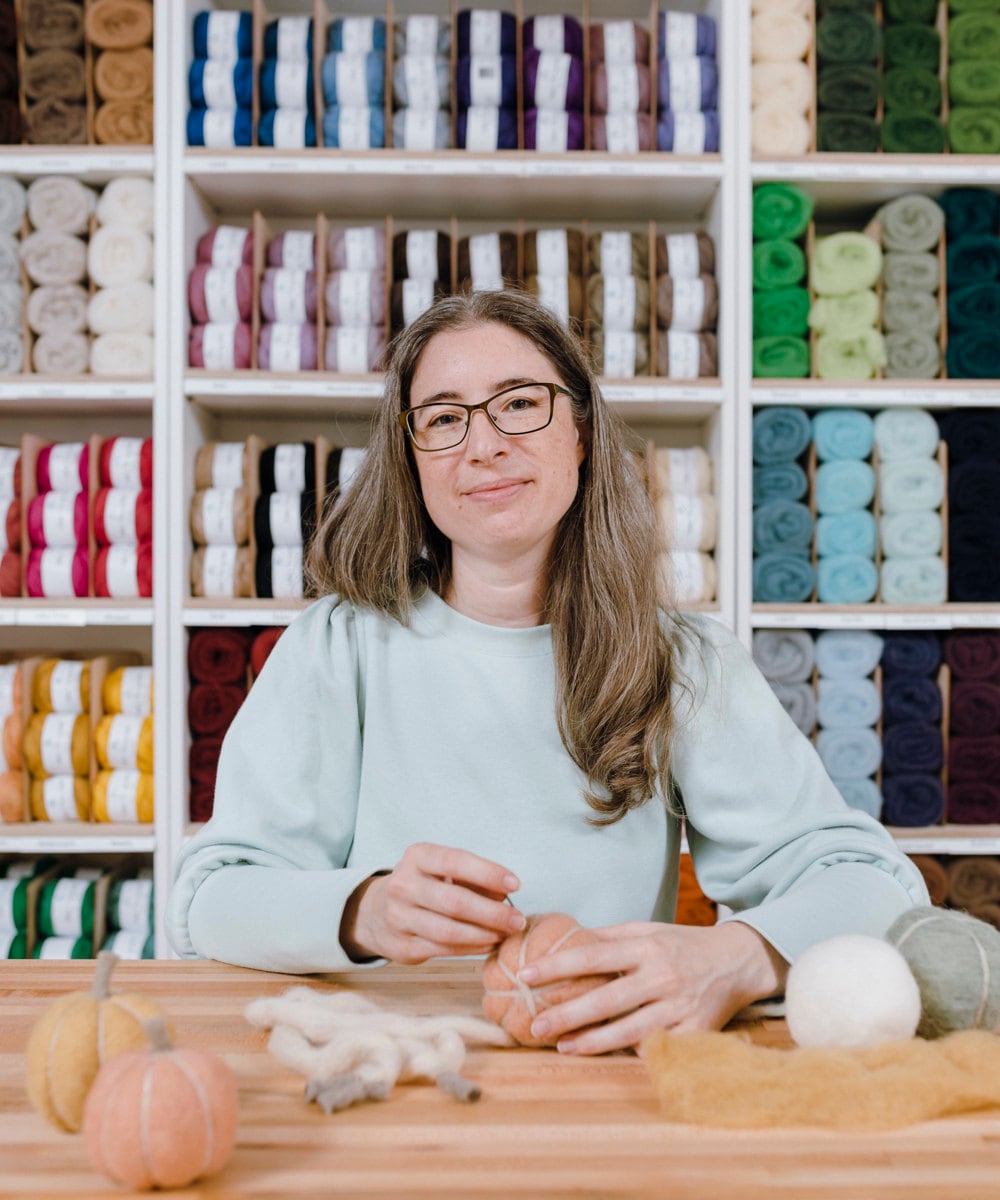 What led you to start your Etsy shop?
I was a mom of two little girls and I wanted to be able to work from home and be my own boss, building something that was mine. That's how Felted Sky was born. Last year went well for our shop. When people were looking for things to do at home, crafting kits were something that became more popular. We're still growing. Now, we have my husband and I working full-time, plus six part-time employees.
What are some of your bestsellers?
Last year, my pumpkins kit was the bestseller after it was featured in a blog post about fall crafting. My succulents kit is always popular. That's a favorite of mine because I don't have to worry about killing the succulents, since I'm not too good with indoor plants. And my Christmas ornaments are always popular. Of the landscape kits, I would say the Grazing Sheep, Mountain Sunset, and Coastal Waters are probably the top three.
Why did you pick the name Felted Sky?
One of the first needle-felted things that I made were landscapes. I love landscapes, and nature is one of the shop's inspirations. When you're felting a landscape, you always put the sky in first. The sky reminds me to get out of the nitty gritty and to step back, look up, and see the big picture.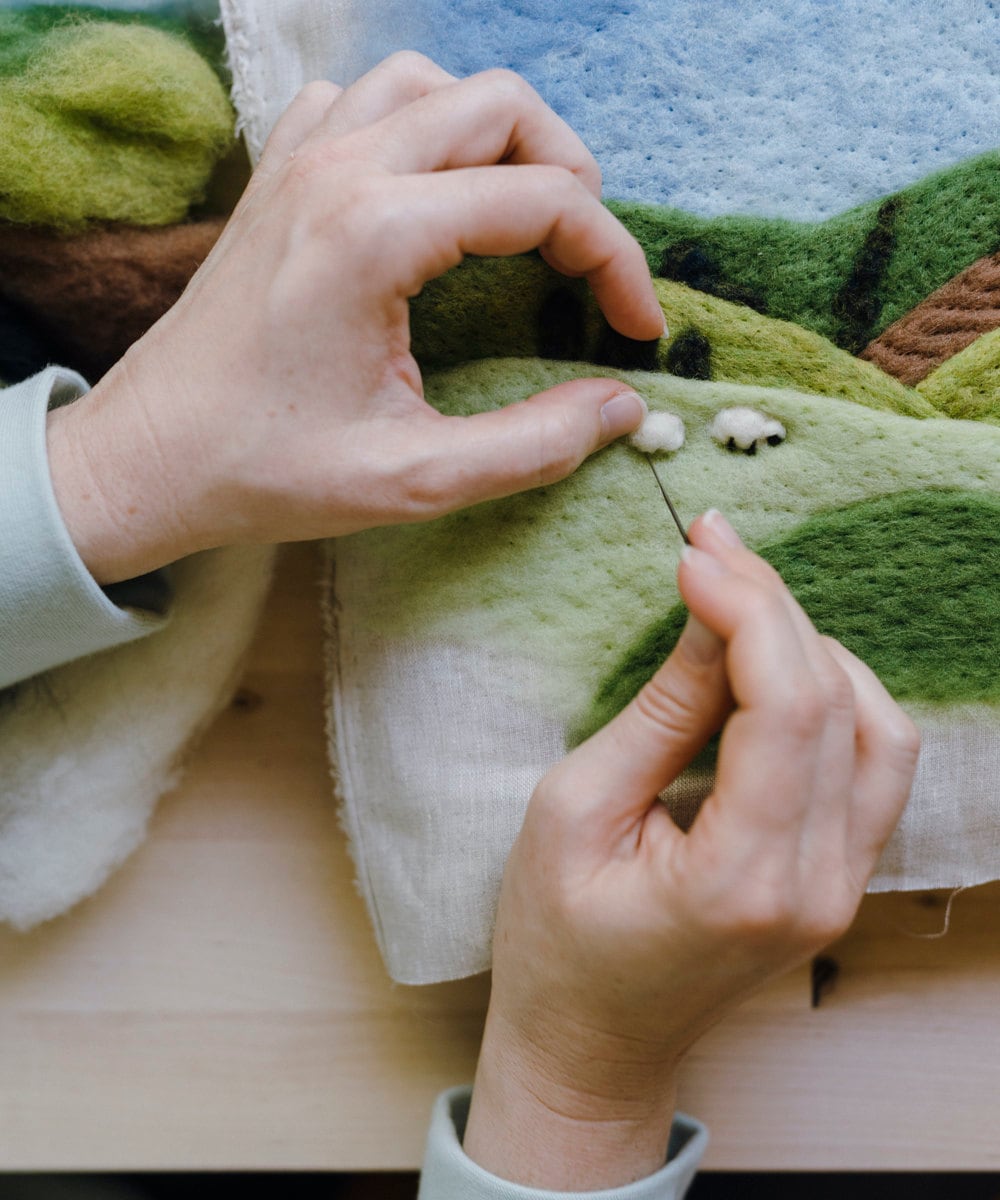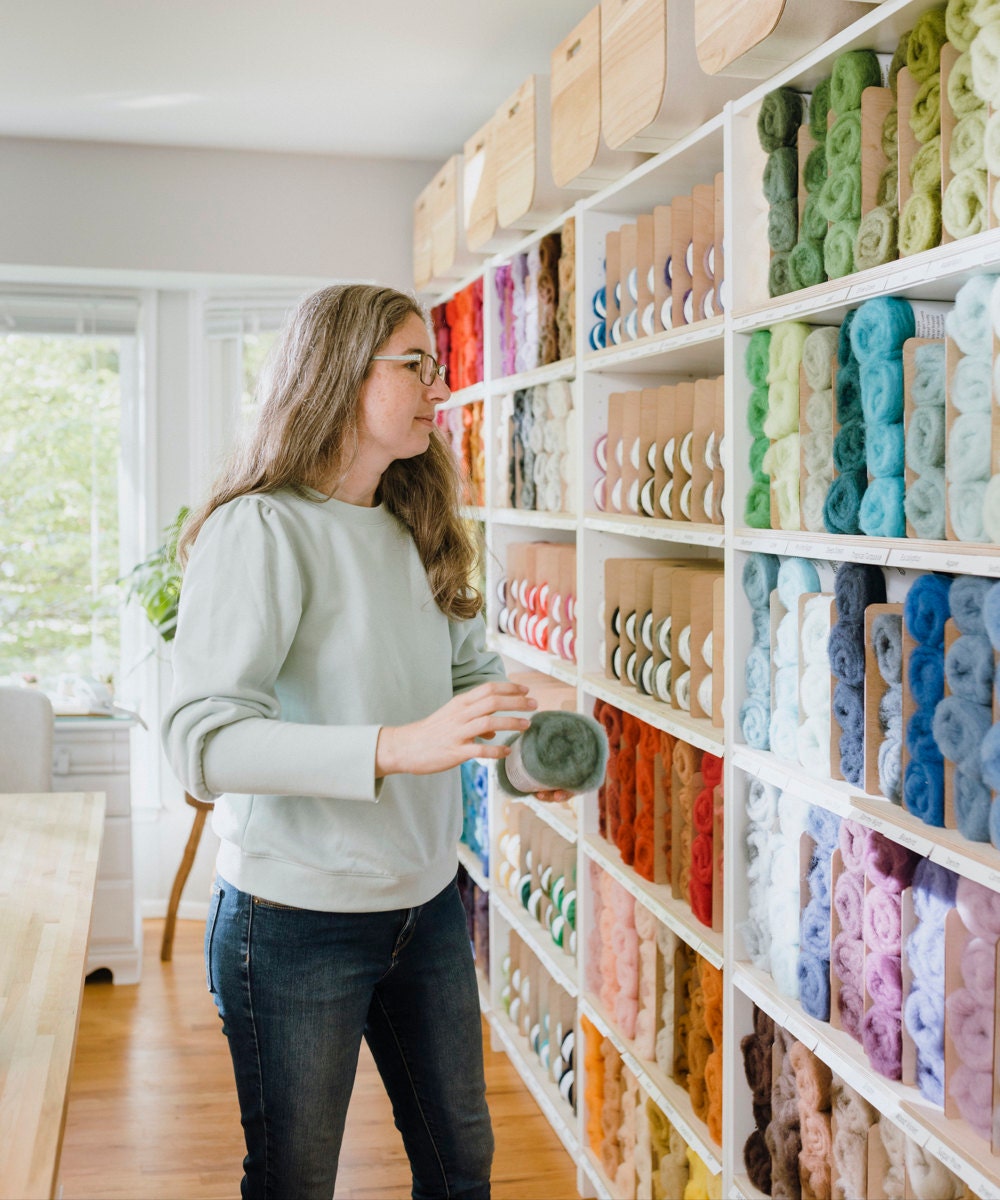 Any tips you have for people picking out a kit as a gift for another person? 
Some people buy our kits as gifts to give to crafty friends or family members. Others buy kits to make and then give the finished pieces as gifts. Our kits have everything you need: wool, felting needles, sewing needles, and accessories, depending on the kit. The flat kits all come with a hoop to frame it in and there's one with a frame. Every kit has an instruction sheet and a link to a video tutorial. One necessary add-on for most kits is a mat, which serves as your work surface. Once you have one, you can use it for a long time. 
All the kits can be done by beginners. I usually recommend them for ages 10 and up. A few kits are a little harder than others, so just gauge that. If it's a gift for someone super crafty, they're not going to have a problem with any of them. If it's for someone who hasn't done much crafting yet, maybe pick one that looks a little simpler.  Generally, the ones that look more detailed are a bit harder.
In sculpting, the succulents and evergreen trees are probably the hardest, but I still get a lot of beginners who are successful with them. In the landscapes, Mountain Sunset is the easiest, and Coastal Waters and Desert Trail are the hardest, but again, I get a lot of beginners for all of them.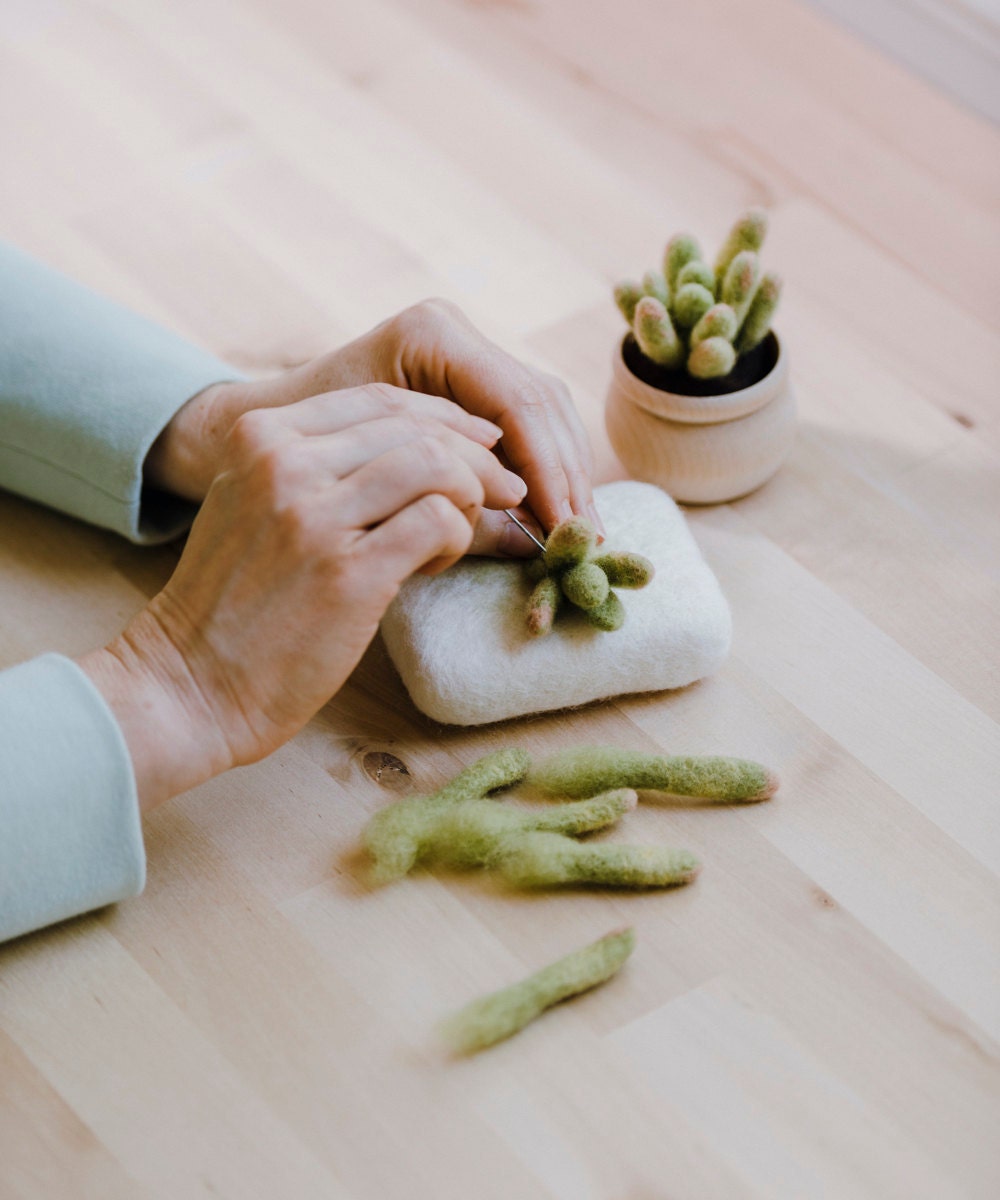 What are your words of encouragement for tentative beginners?
I always tell people that needle felting is easier than it looks. You're really just learning how to stab the wool with a special needle. Unlike knitting, where there's all these stitches and complicated patterns and you're not going to be brilliant right away, needle felting is a very, very simple technique. Most people are more successful than they think they will be. I tell people to look at my shop's reviews because a lot of people post pictures and they'll say that this was their first project. You can see that they've actually done the kit and it looks like my sample images. That's helpful for people to feel less intimidated.
Tell us about your newest needle felting innovation.
My newest kind of type of kit is what I call coloring with wool. It's a flat design and the pattern is printed on linen fabric, which is the backing. You just fill it in with the wool. Not everyone wants to do a landscape where they have to lay it out themselves—so for those people this is less daunting. It's more like filling in a paint-by-number or an embroidery or cross-stitch pattern.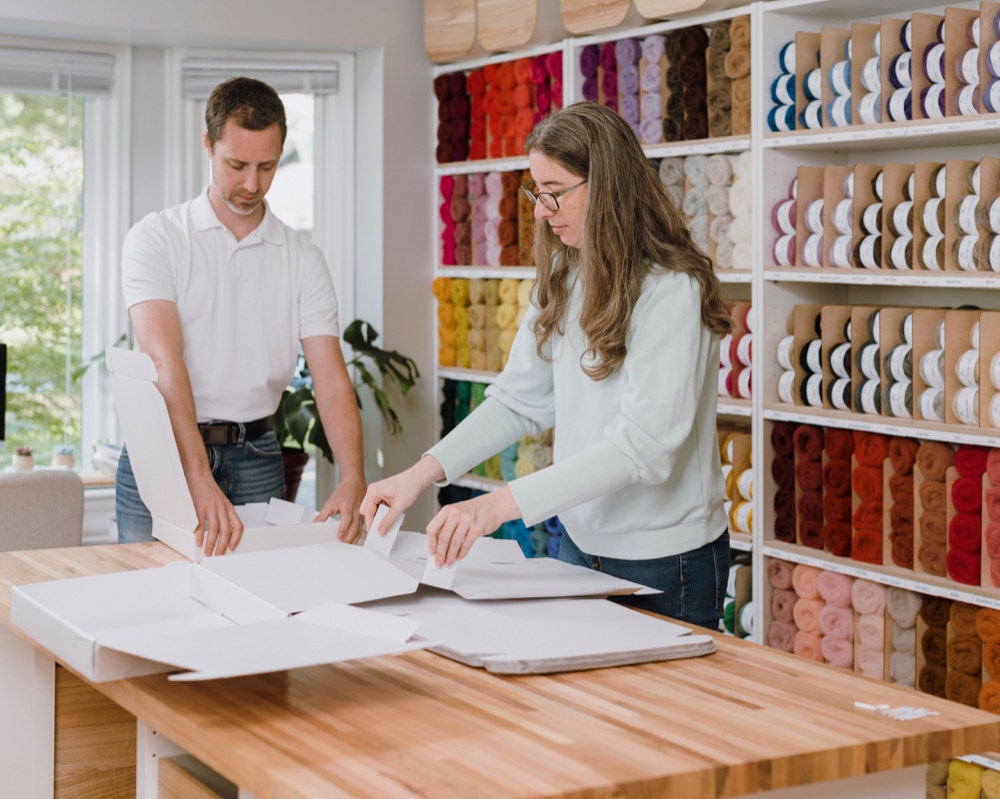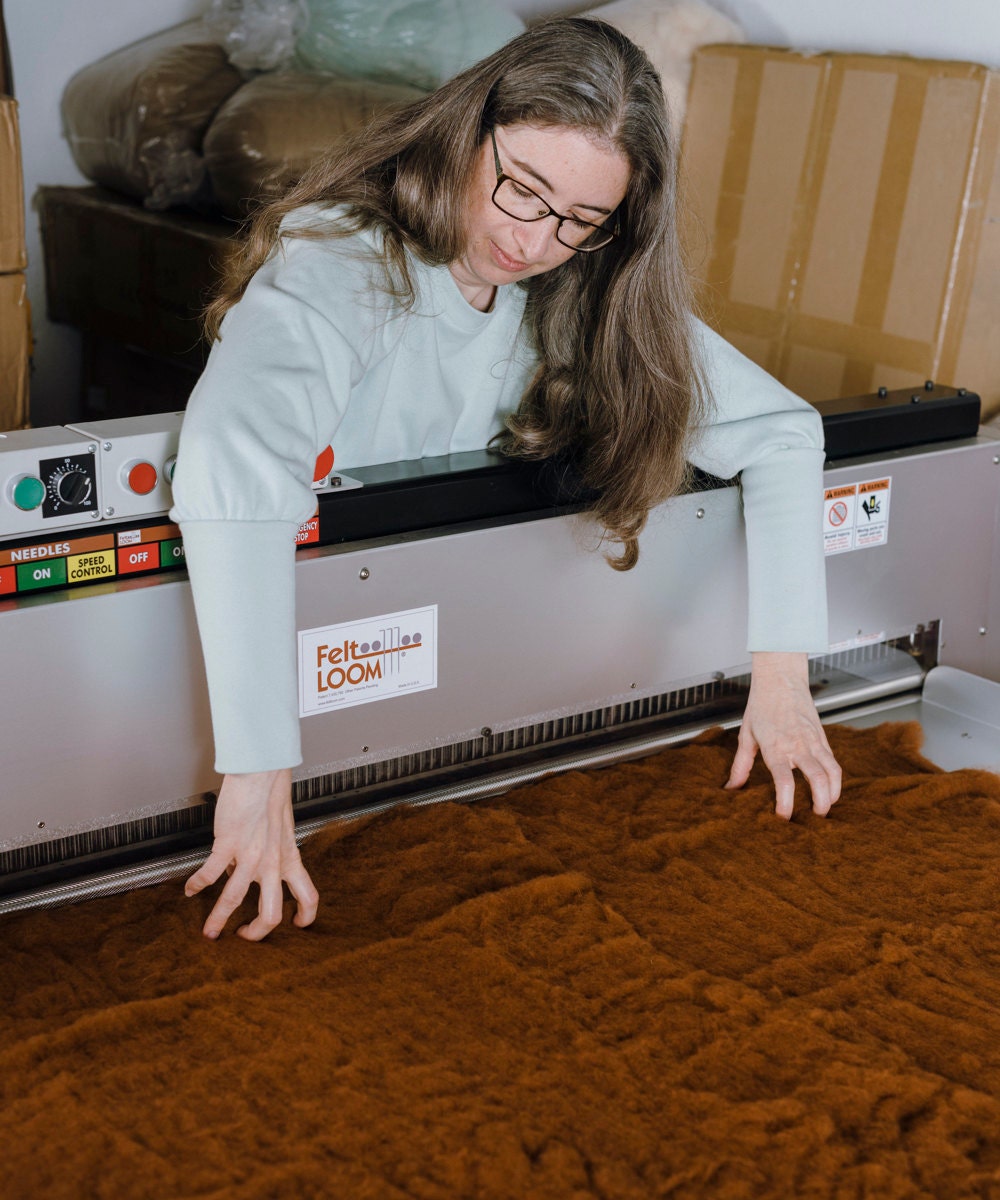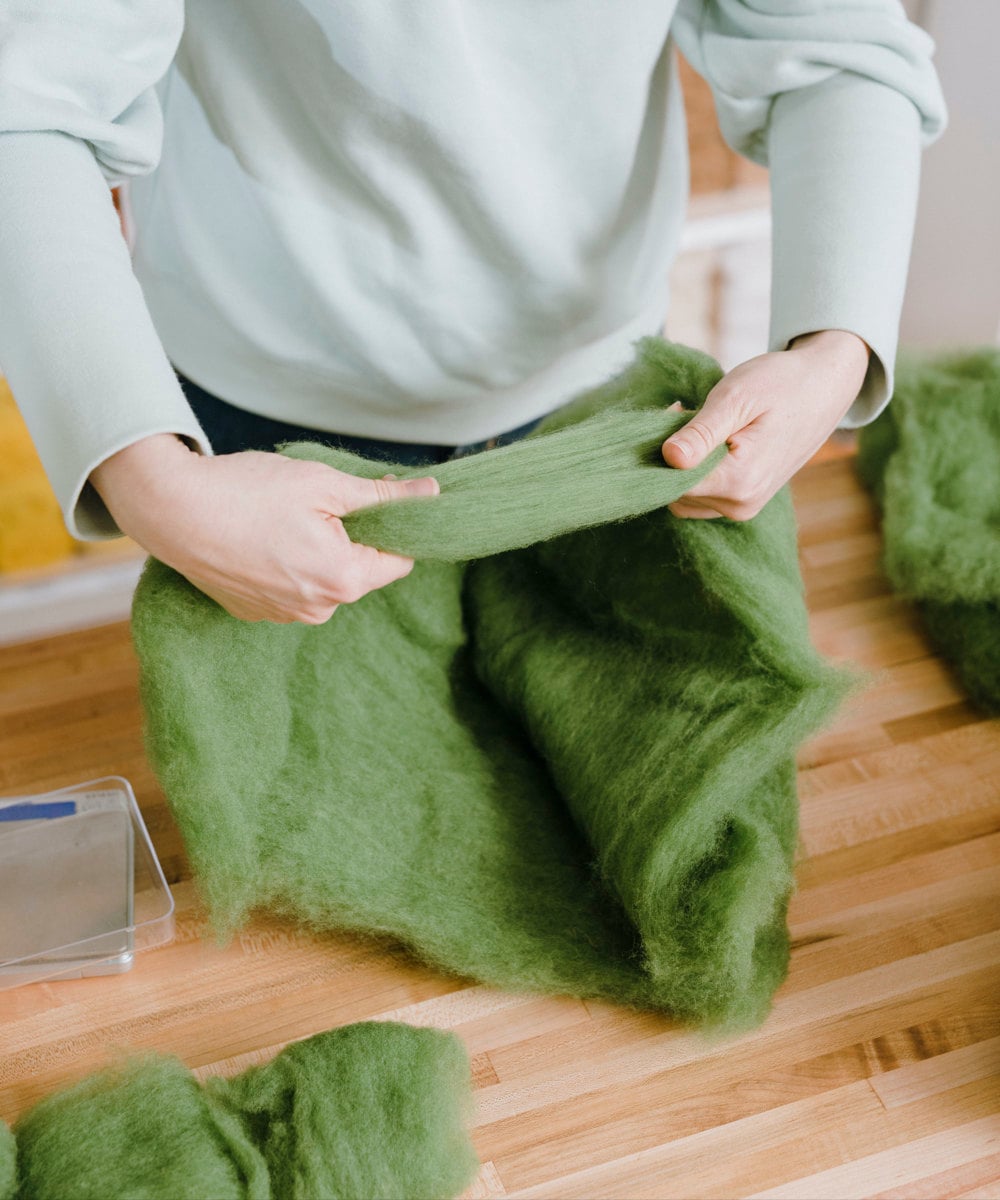 Which of your designs are particularly meaningful to you? 
My Grazing Sheep hoop is one I really like because I grew up in Kentucky showing horses and the hills are reminiscent of Kentucky hills. Everyone loves the sheep in that design because, of course, this whole business is based around wool. I feel like the wool itself is one of my inspirations. I love it. It feels like you're connected to nature by working with wool.
For my seasonal kits, the inspiration comes from my childhood. My mom had ornament-making parties for quite a number of years where we would get together with friends and family and sit around the kitchen table making Christmas ornaments. Our Christmas tree was full of homemade ornaments. So, I think I've always felt like it was special to make things that you could bring out and display at the holidays. 
Your kits work well for crafty social gatherings. How have your customers used them in this way?
Sometimes people buy maybe five or six of the same kits and have them shipped to their friends and family in different parts of the country. Then they get on a video call and do the kit at the same time, like a craft night. They can hang out together and have a fun activity to do while they catch up. I designed my ornament party kit with that idea in mind. It includes enough ornament balls that everyone could take a ball and sit around decorating.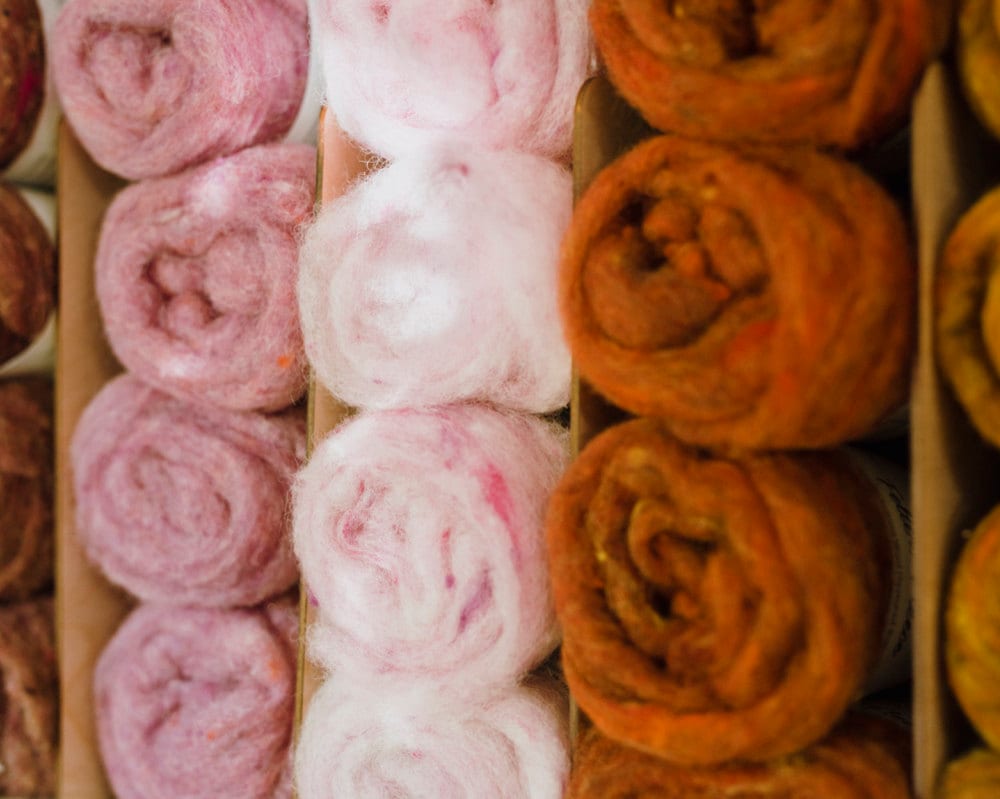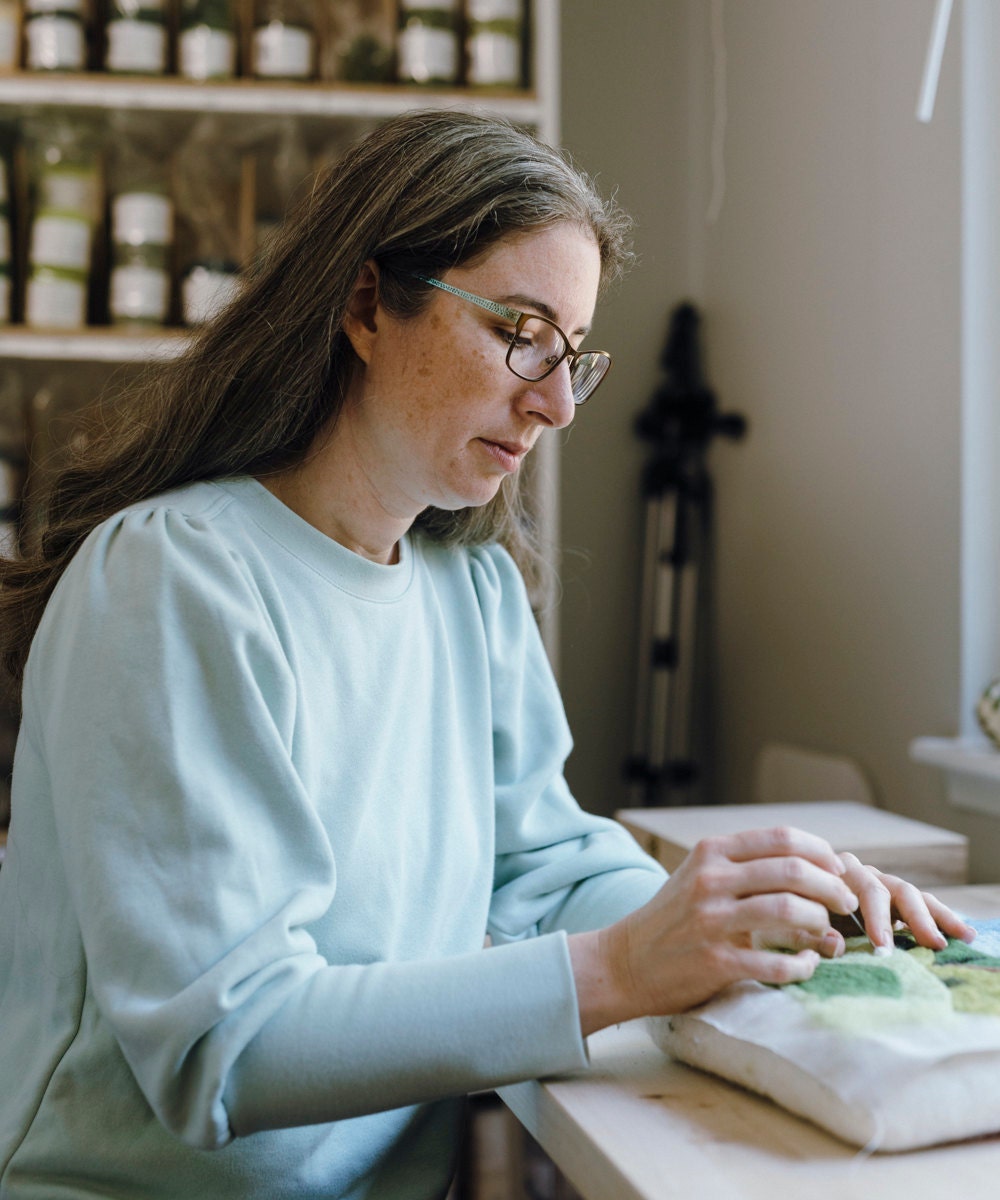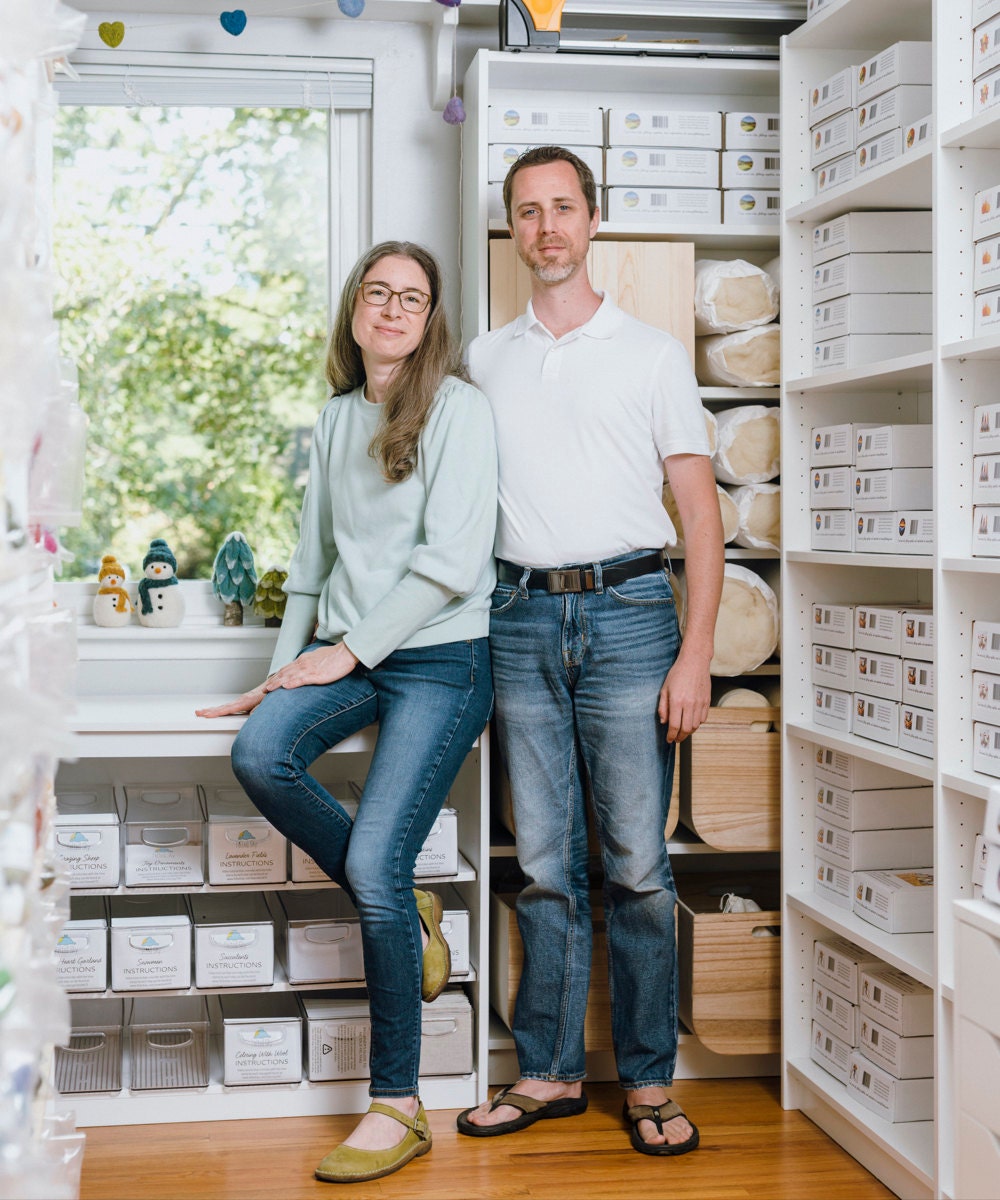 You're recognized as a Star Seller* on Etsy for delivering excellent customer service. What's your approach?
I think the main thing is just trying to make a good, solid product with the videos so that customers have a good experience and success making our kits. We've done a lot with our packaging. We want people to have excitement from the moment they open the box. I try to answer messages quickly and make sure our customers have a great all-around experience.
Any memorable stories from your customers?
I love when people do our kits with their kids. Some do it as a homeschooling project. Sometimes I get really cute messages and pictures from families who have done a landscape together, where the kids have done different parts of it. When we get really great feedback like this, it makes it all worthwhile spending so much time on our business and living in a house full of wool. 
*Star Sellers have an outstanding track record for providing a great customer experience—they consistently earned 5-star reviews, shipped orders on time, and replied to messages quickly.
Follow Felted Sky on Instagram and Facebook.
Studio photography by Lyndon French. Product photography courtesy of Felted Sky.