by Aleksa Brown
Learn how a $15 yard-sale find sparked a whole new creative calling for this Maryland-based software engineer and stained-glass artist.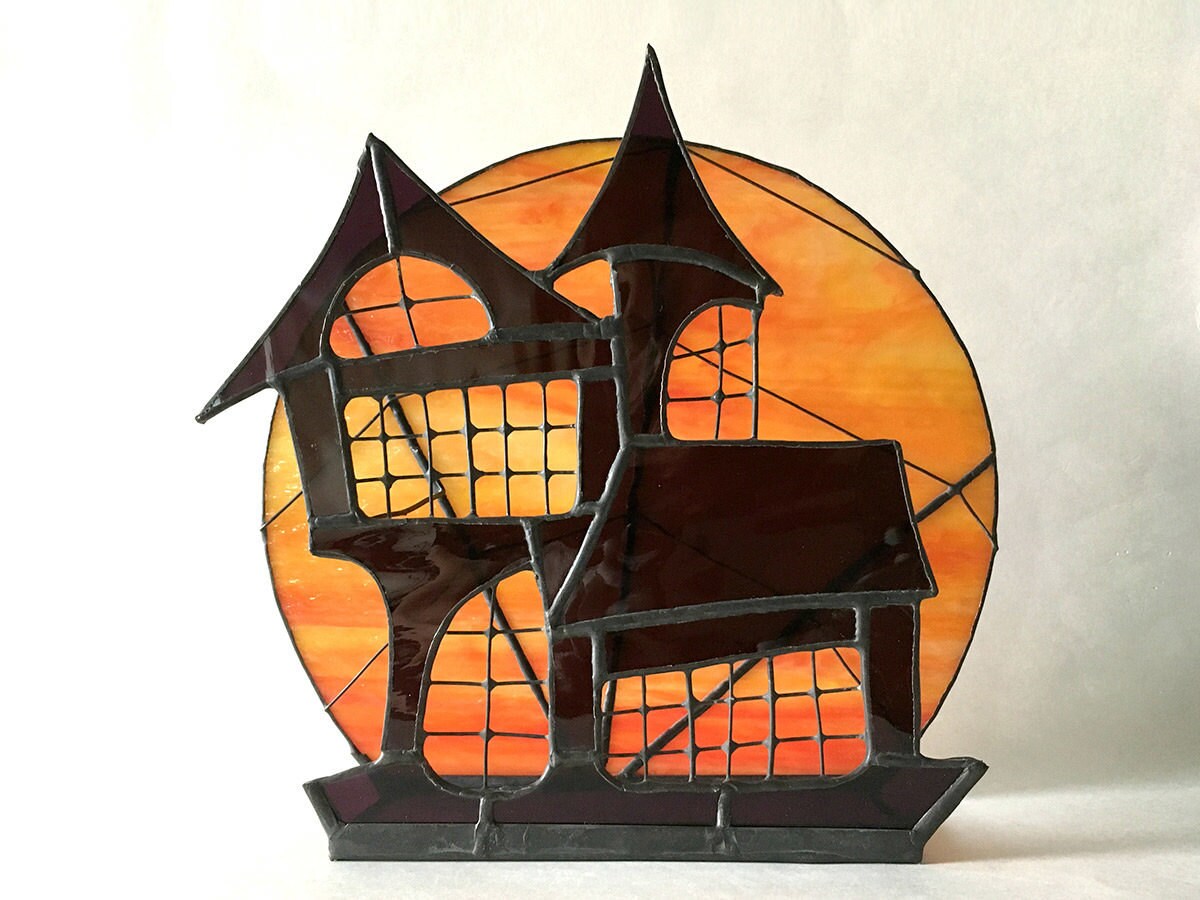 For some devoted yard-sale shoppers, rare collectibles and mint-condition designer vintage top the "ultimate finds" list; for others, 25-cent records, niche knickknacks, and bargain-priced sporting goods are notable hauls. But for Alla Sharkova, a software engineer by day and the lifelong glass enthusiast behind stained-glass art and decor shop Fleeting Stillness, one particular secondhand score—a $15 purchase Alla scooped up a decade ago—was far more fortuitous than the rest.
Explore the Fleeting Stillness collection
It was an unassuming cardboard box full of glass supplies, tools, and books—in short, the perfect starter kit for a hobby Alla had been longing to try since her childhood in Azerbaijan. "Growing up, I was always fascinated by glass," Alla says. "I would often just sit there and stare at it, trying to catch the light. But I never thought I would be able to do glasswork myself. I didn't know anyone else who did it, and I didn't know where I could learn."
Enter that fateful cardboard box, the contents of which inspired the practice she's been perfecting ever since. Nearly 1,500 sales later, working with glass is as fulfilling as ever for Alla, who thinks of her art as a complement and a counterbalance to her full-time technology job. "At the end of the day, stained glass is like my alternate reality," Alla says. "When I go to my workroom and close the door and say, 'Okay, I'm going to the spa now—the glass spa,' that's the only thing that lets me shut off completely."
Read on to learn more about Alla's process and what it feels like to be in the stained-glass groove, then shop the Fleeting Stillness collection.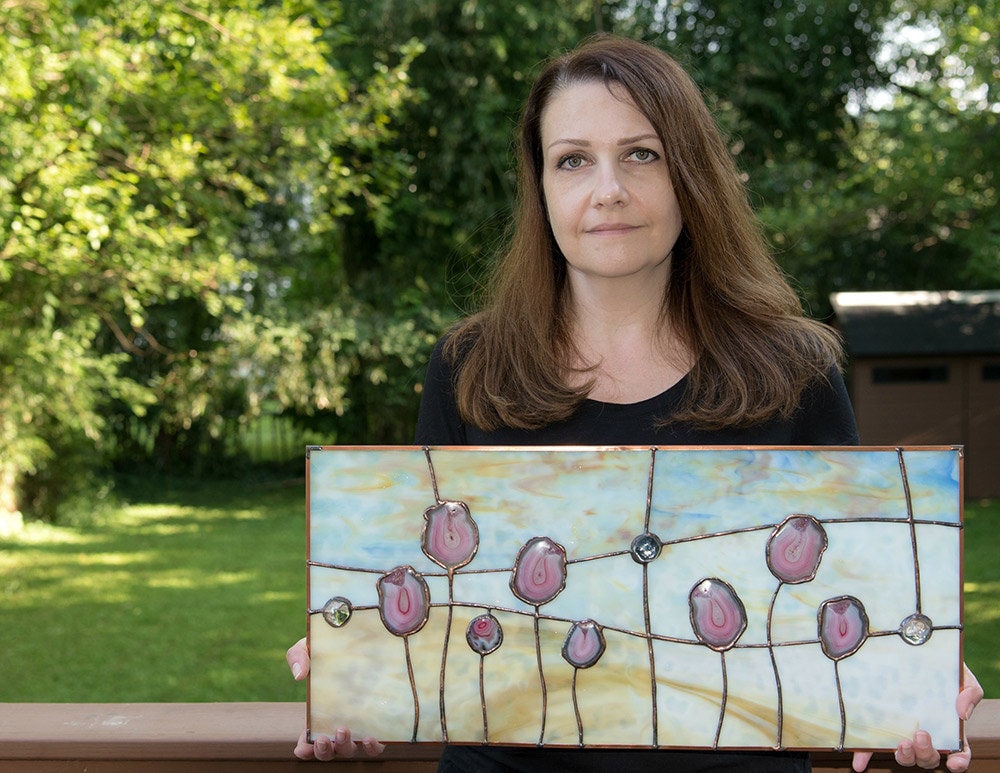 Have you always been creative?
Where I come from, everybody had to be creative, because everything was in short supply. You wanted clothes for your doll? You had to make them yourself. I started doing that, and then I made clothes for myself later. It was the same for all my friends—we would make pants, shirts, sweaters, raincoats, anything.
We were also taught how to make things from the time we were little children in daycare. We'd make mosaics with broken eggshells, painting the pieces and arranging them into pictures. We learned to make something out of nothing, and that's what I enjoy about scavenging at yard sales today—I still find it fun to give something a second life, to use things differently from how they were intended to be used.
What inspires you?
Everything. I could be inspired by the color of a wall, a piece of glass at a supplies store, or an agate slice at a gem show. We travel a lot, and I always visit as many churches as I can to look at all the old and modern stained glass. Most people who do stained glass seriously went to school for it, and learned a variety of techniques and styles. I didn't go to art school, so I get to explore as I go.
What are some of your best-selling items?
The star/snowflake suncatcher. People just love it. I love it too—I think it has totally insane symmetry. I don't know why. There are only eight pieces in there, but even compared to my other designs that have more pieces or bevels, there is something totally correct about it. People look at it and it clicks.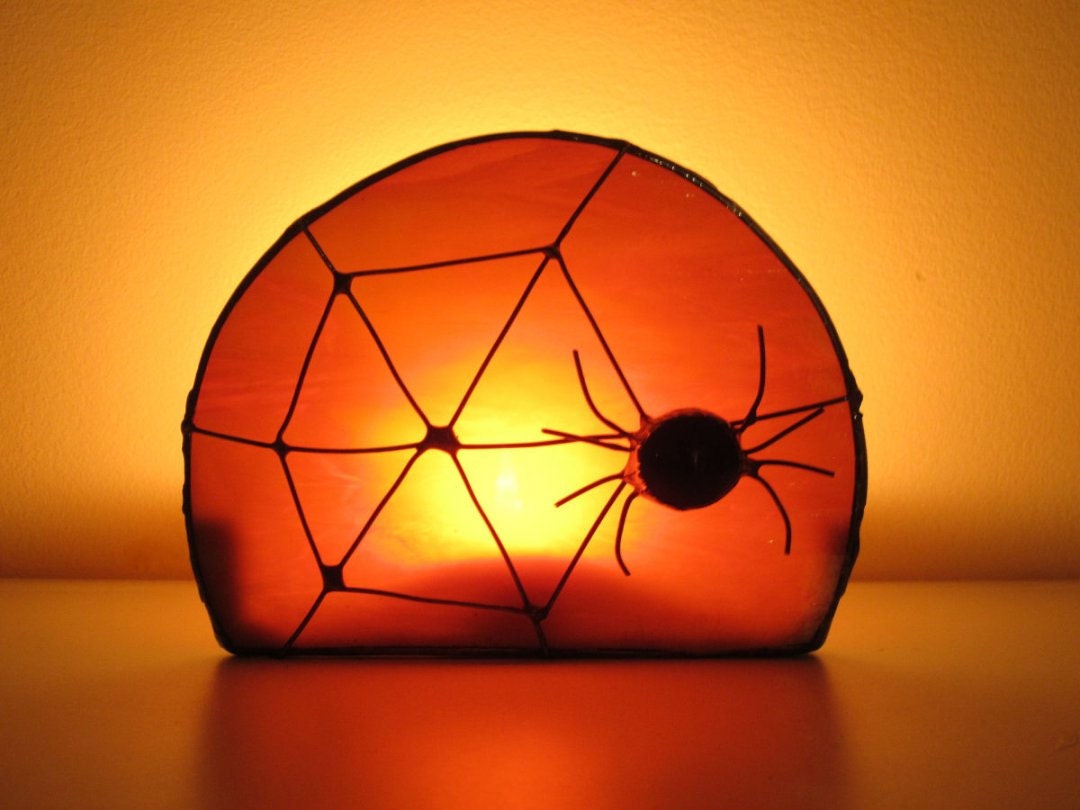 >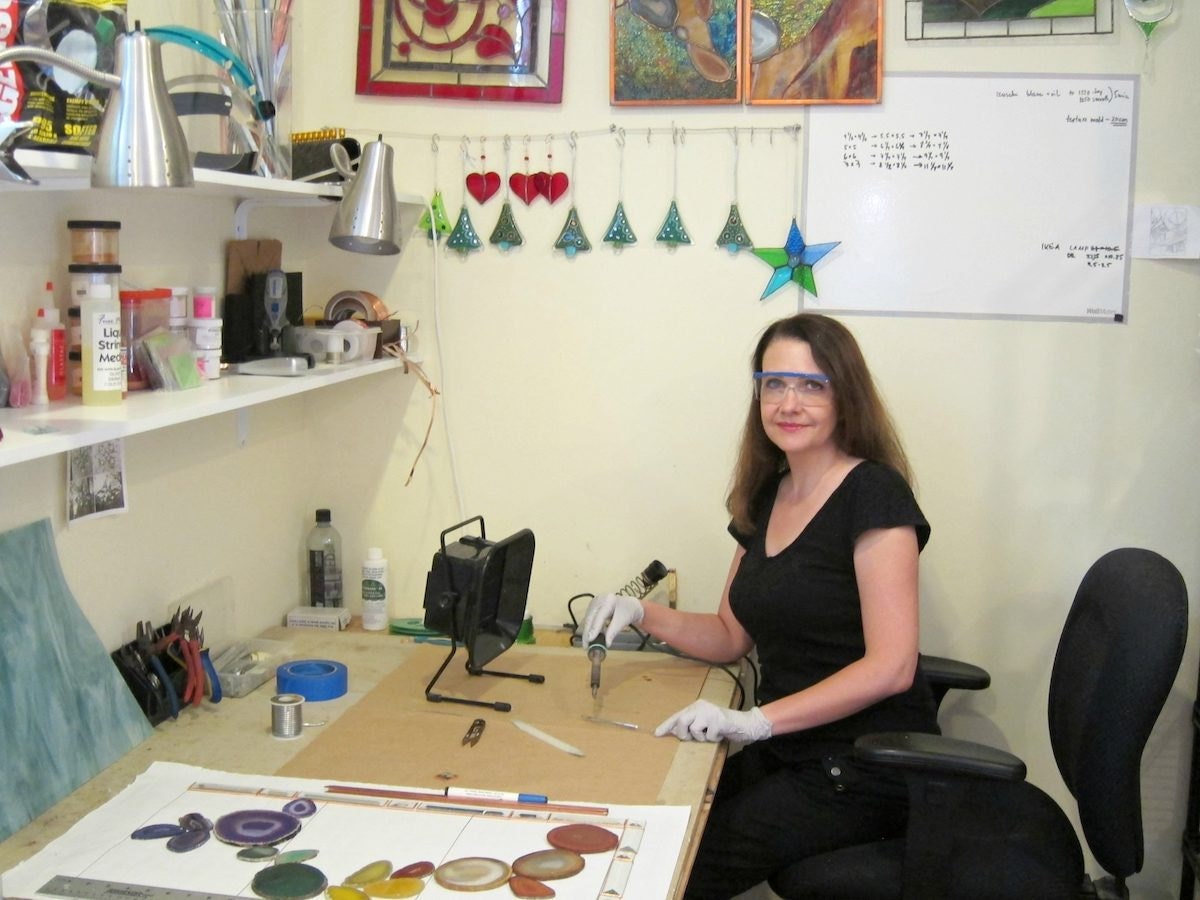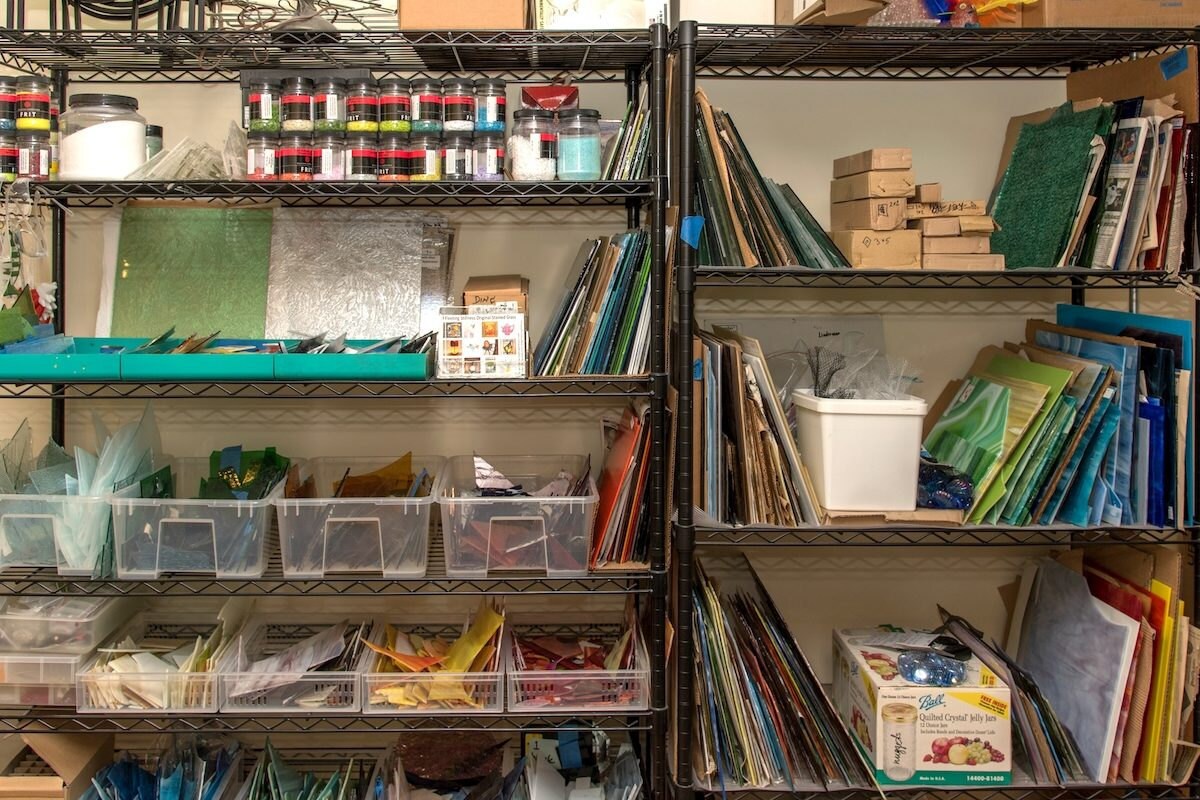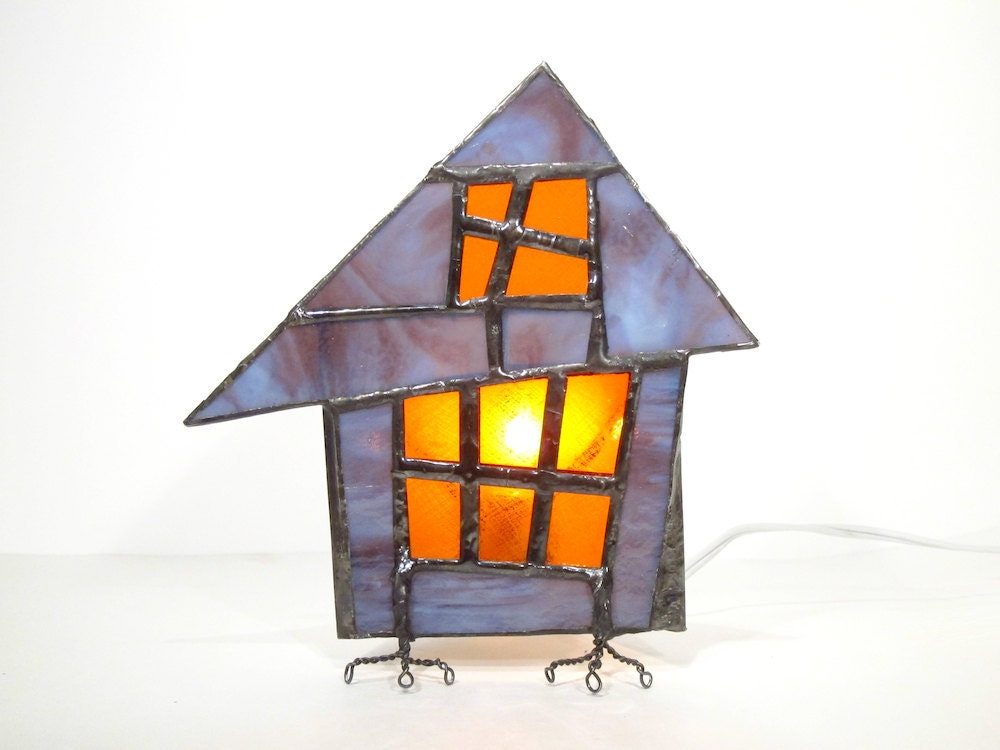 What part of your process excites you the most?
I love seeing a larger piece start to come together. For every big panel that I make, there's a time when I look at it and think, "Oh my god, it's so ugly." But then I keep going, and when I get to the patina stage it starts to match the picture I had in my head. And then of course, when a piece is fully finished and the light hits it—and I get to see how the glass looks different at different times of day, in front of different windows—to see it for the first time at every variation is exciting.
What's the part of the process that you like the least?
The most awful thing that can happen is when you're almost done, you've finished soldering, and you hear the sound: puck. That's when you know that the piece right in the middle has split in half. You'll have to take it out and replace it, because there's no way to fix it without putting another seam in. The most difficult thing is that you can barely hear the sound, but when you hear it you're like, "Oh, God." It happened to me once last weekend—there was a puck that I had to fix.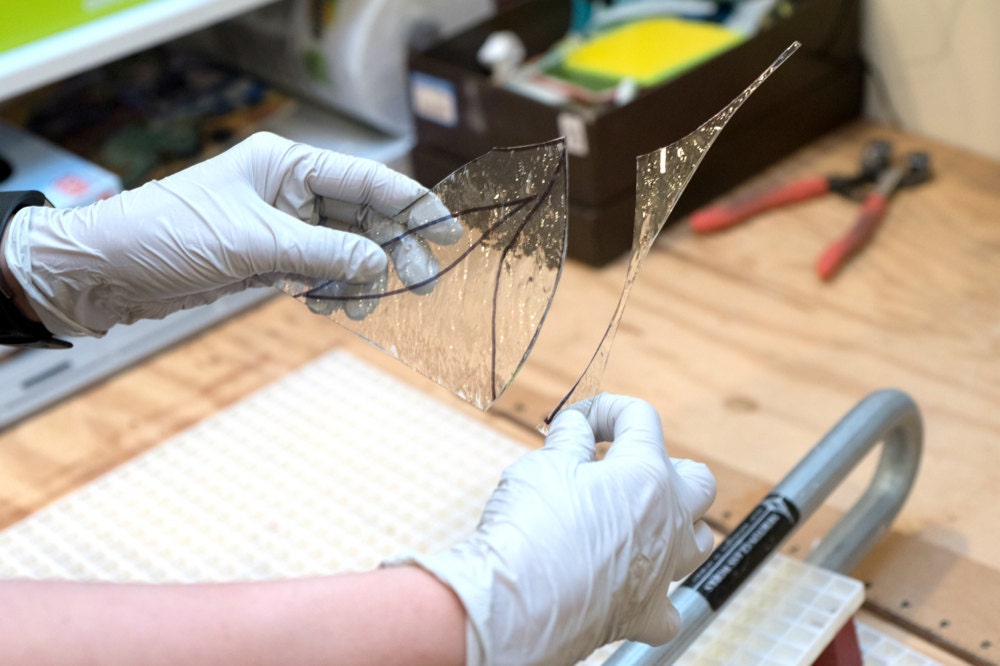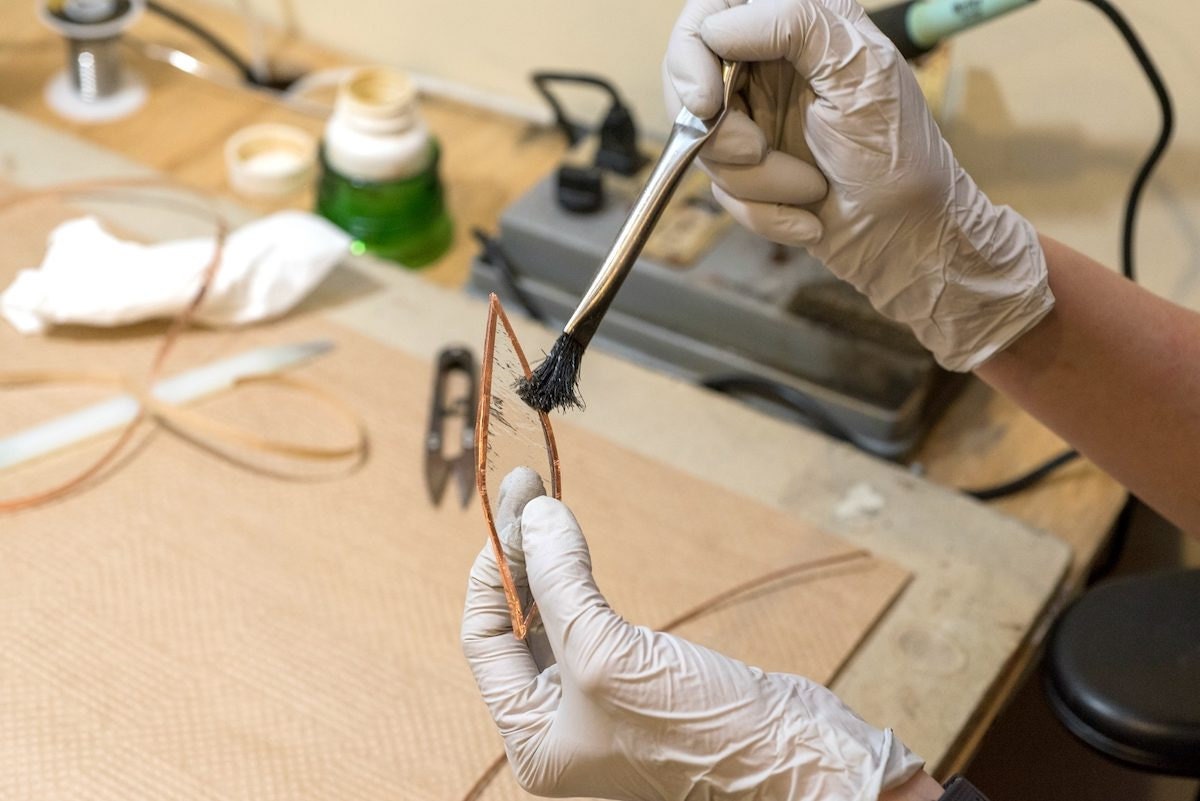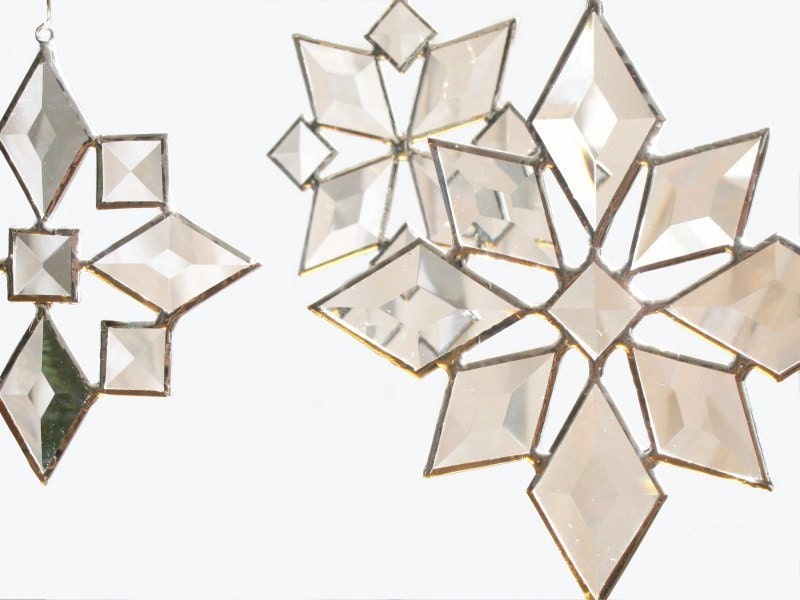 >
Do you ever get into a creative rut? What do you do if that happens?
For me, the best recipe to get out of a creative rut is to work on my Etsy orders. Most of my items are made to order, so even when I'm stuck and out of ideas, the orders still keep coming in. I'll go into my studio thinking, "I'm just going to make this night light," and then in the middle of it I'll notice an unusual piece of glass, or something somewhere will catch my eye. Once my hands touch the material, my brain totally flips the switch. Something surfaces.
So then what does it feel like to be in the zone?
When I get into a groove with the glass, I could just go on and on. But then when I come out of the studio, it's like, "Did I just spend 42 hours in there over the last three days?" I don't notice time when I'm creating. I have to set the timer on my phone so that I know when I need to go do something or even just go to bed. I need to have a ping, because when I turn the music on and see the glass, I don't care what else is going on—I'll finish one thing and immediately start another.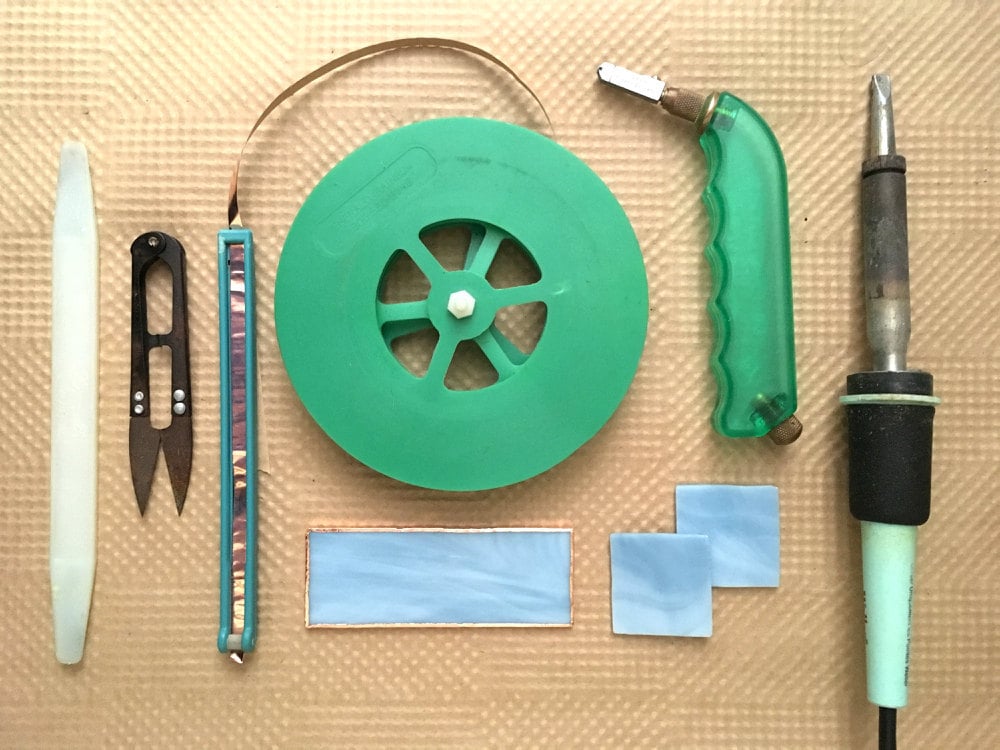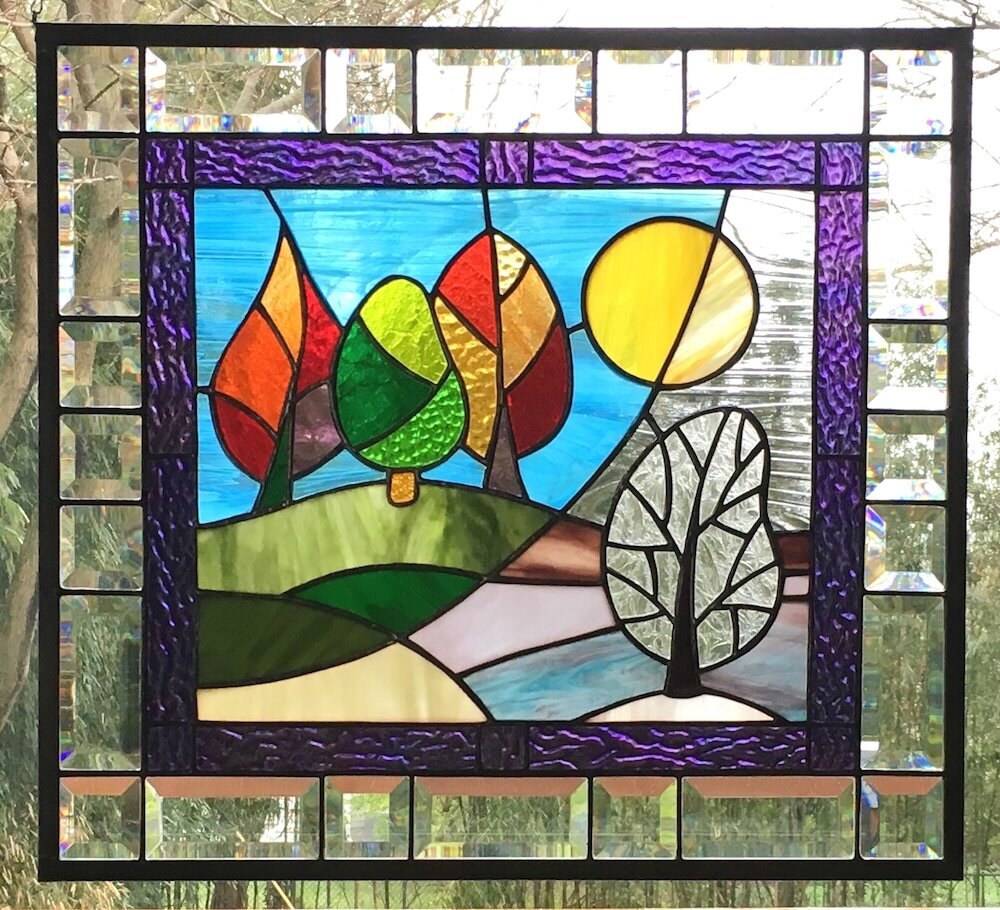 >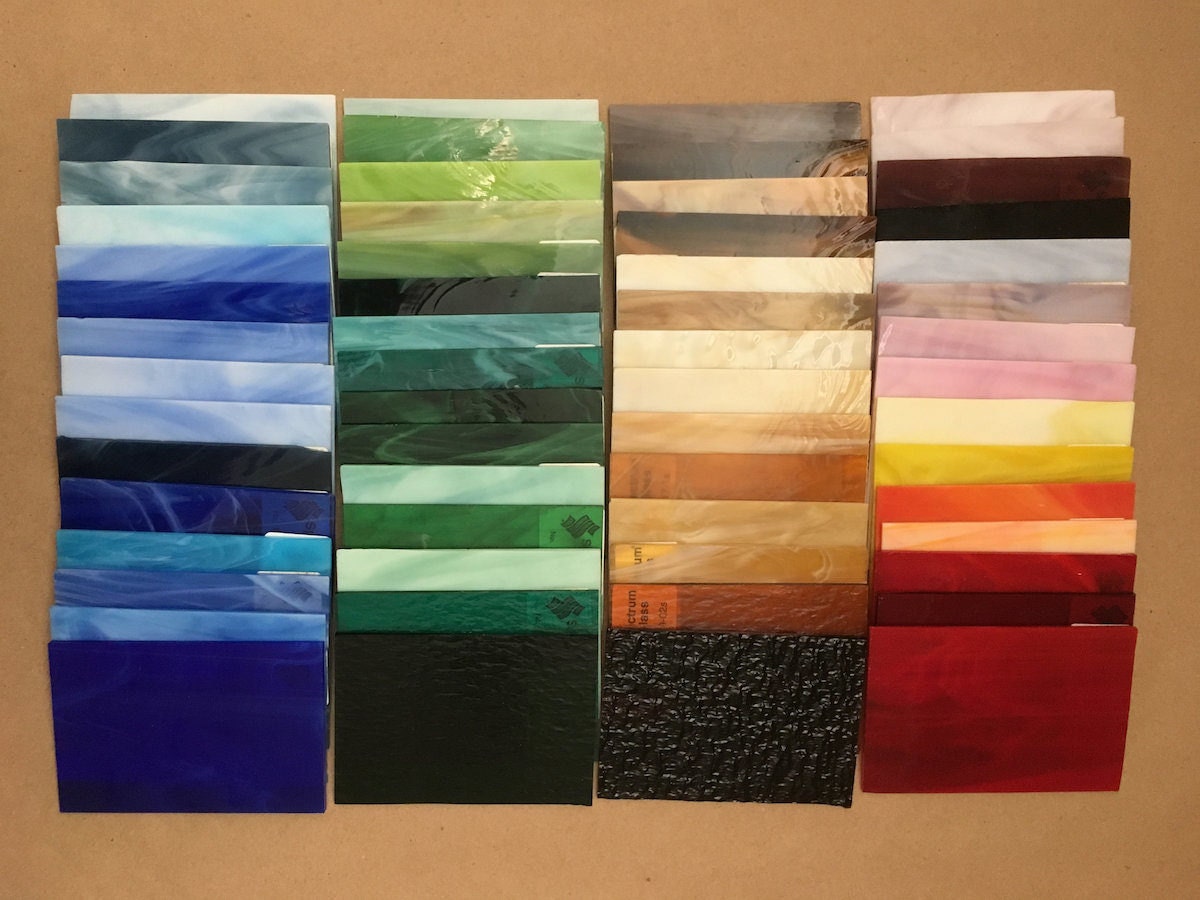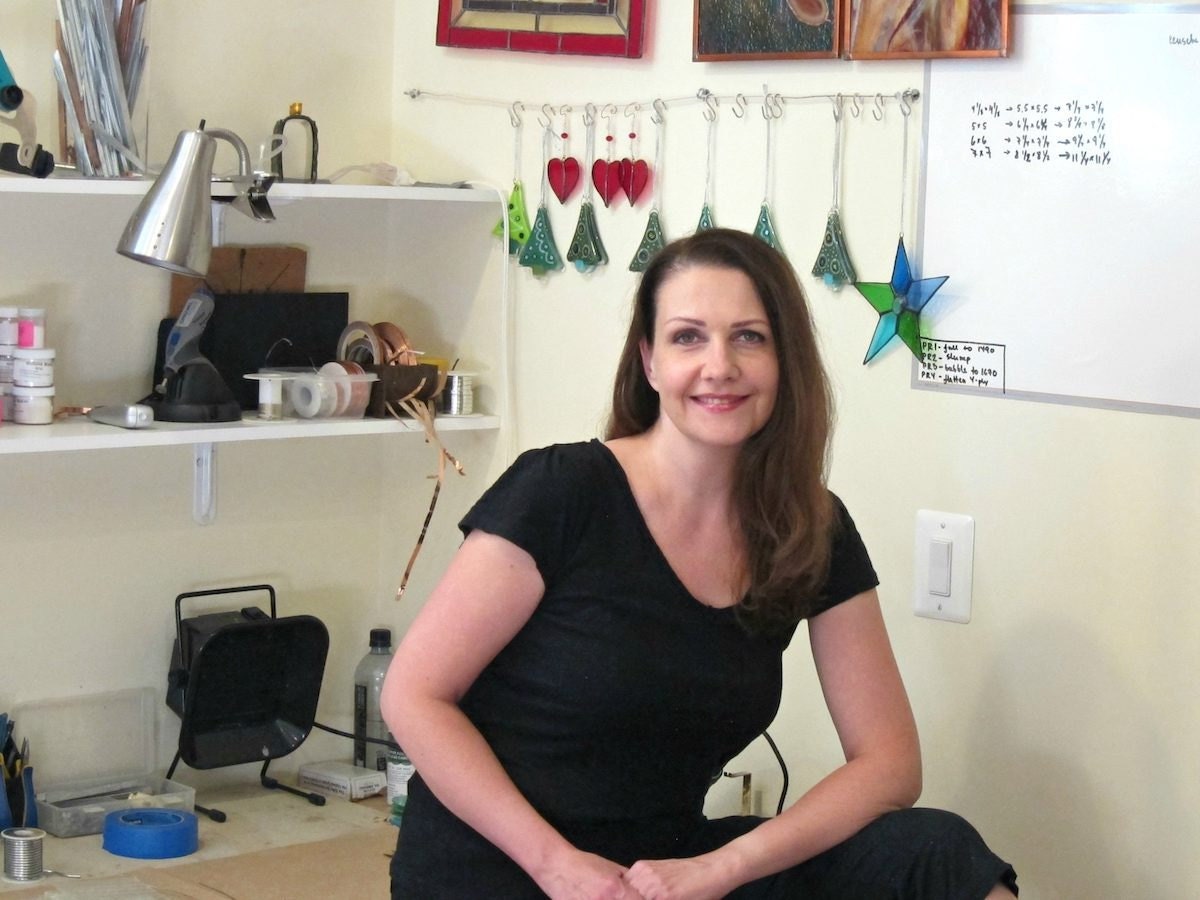 What are some of your favorite things about selling on Etsy?
I like that Etsy brings me face to face with my customers. I like Teams (shout-out to the Russian Artists Team!). And I actually like that my sales are irregular. Sometimes it's a trickle and sometimes it's an avalanche, and that works for me. I've never thought of quitting my job and doing this full time—I like my job. I'm not looking for a steady income, I'm looking for an escape. When something sells and I have to go make it, it gives me a chance to disconnect. I get a little bit of rest and I get unblocked. That's so good—that's what I want from this the most.
Follow Fleeting Stillness on Facebook.
Photographs courtesy of Fleeting Stillness.