by Valerie Rains
Inspired by the palette of the Pacific Northwest, this fiber jewelry designer lets the materials guide the way when creating her sustainable line.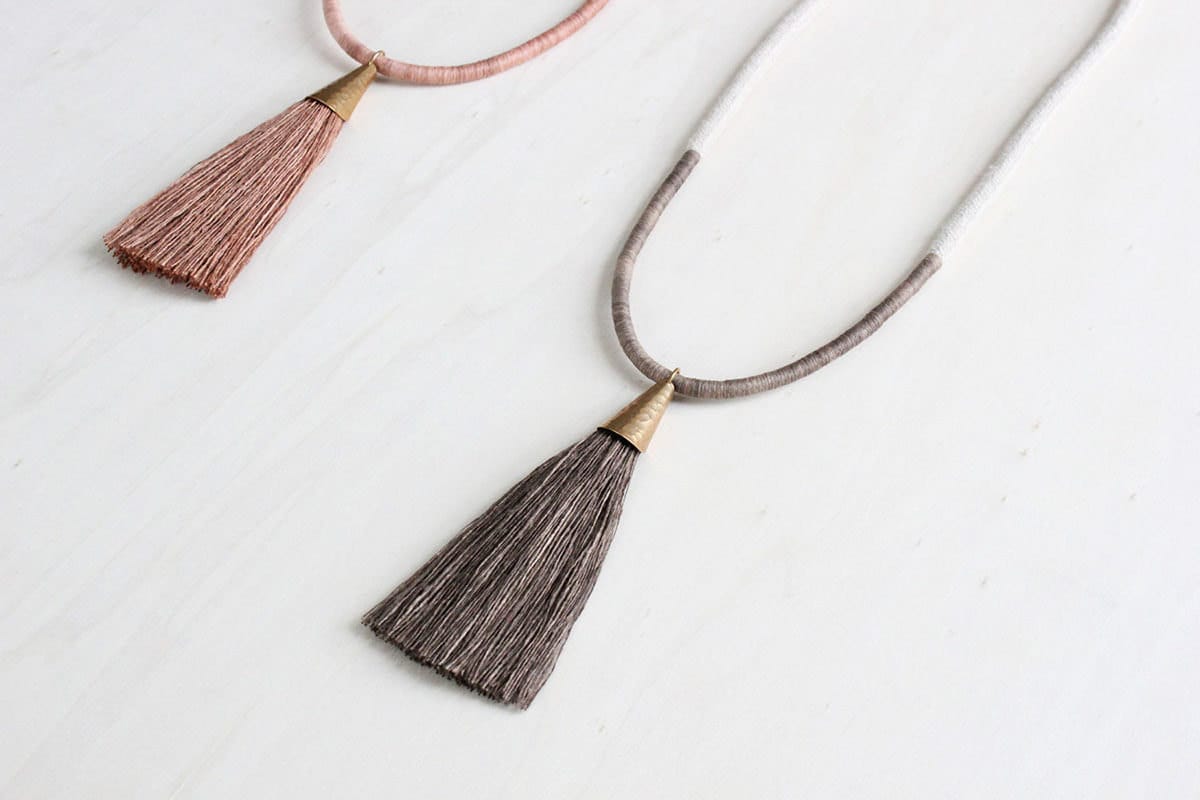 For Sara K. MacLellan, the Vancouver-based designer behind minimalist, fiber-focused jewelry line 
forestière
, there is no greater artistic muse than the materials themselves. "I just love the fibers," Sara says. "It's really hard to explain; they are so rich and so great and they give back to you—I'm always learning from them." Discovering and exploring the medium was so transformative for this art history grad student and lifelong creative, her enthusiasm is hardly hyperbolic. "We often think of materials as inanimate objects, but I think that some materials almost have a life of their own," she adds. "They respond to what you're trying to do with them, and they guide you." Developing her
handmade jewelry line
has also proven therapeutic for Sara, offering much-needed physical and mental relief from her stressful academic work and providing a powerful link to a likeminded community far outside her sometimes-cloistered existence. "Research and writing can be very isolating, whereas making and selling my wares, whether it's in person at a market, in boutiques, or online in a marketplace like Etsy, has connected me to people in a much greater sense than I ever could have imagined in my academic work," she says. "There's this great sense of community and purpose." Ultimately, for Sara, the real draw remains the process, which thoroughly absorbs her. "I lose myself in my fiber work, and that's why it became such an important part of my life and my practice," Sara says. "When I'm working on a fiber piece, I'm not thinking about other things, I'm not worrying about school or deadlines or bills or any of life's stresses. My fiber work has remained something that keeps me grounded throughout all kinds of transitions."
Read on to learn how nature and process shape Sara's work, and shop the forestière collection.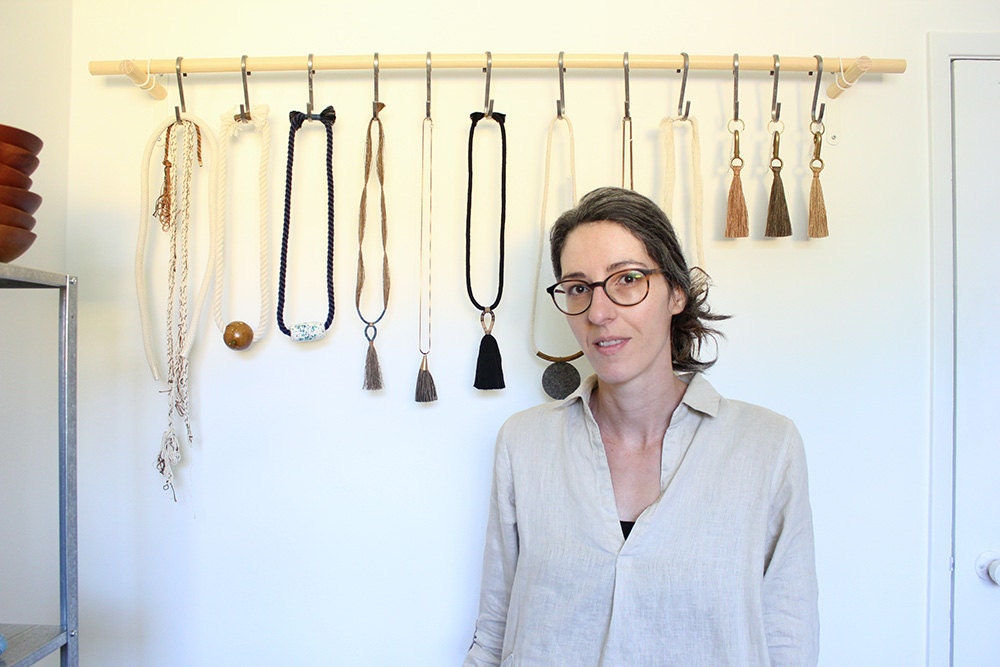 How did you first get involved with making jewelry? And was it your first foray into hands-on creative work?
Jewelry was definitely not my first hands-on thing. I've always been creative and artistic—I attended an arts high school and always enjoyed painting and had a natural eye for aesthetics and design. When I was in graduate school studying art history and looking for an artistic project to balance out my academic work, jewelry became an obvious choice for me, for a lot of reasons. It was a smaller medium, so it didn't require much room; it was also easier to start and stop projects, which was important for me as a student, since school was my priority. I was also just sort of intellectually and emotionally exhausted at the time, and living a long distance from my now-husband, and I needed something tactile and immediate to lose myself in.
How does your background in art history inform your design practice or sensibility?
A lot of my research as an art historian revolves around the body in contemporary art, and I think jewelry speaks to that as well. I'm interested in the way that it moves with the body and adorns the body, and the way it almost becomes an extension of the body. I think that
fiber jewelry
is especially interesting in that sense, because it moves with you a little more easily, and it's so tactile; in my experience, you're much more attentive to it and more likely to handle it while you're wearing it than you might be with other kinds of jewelry.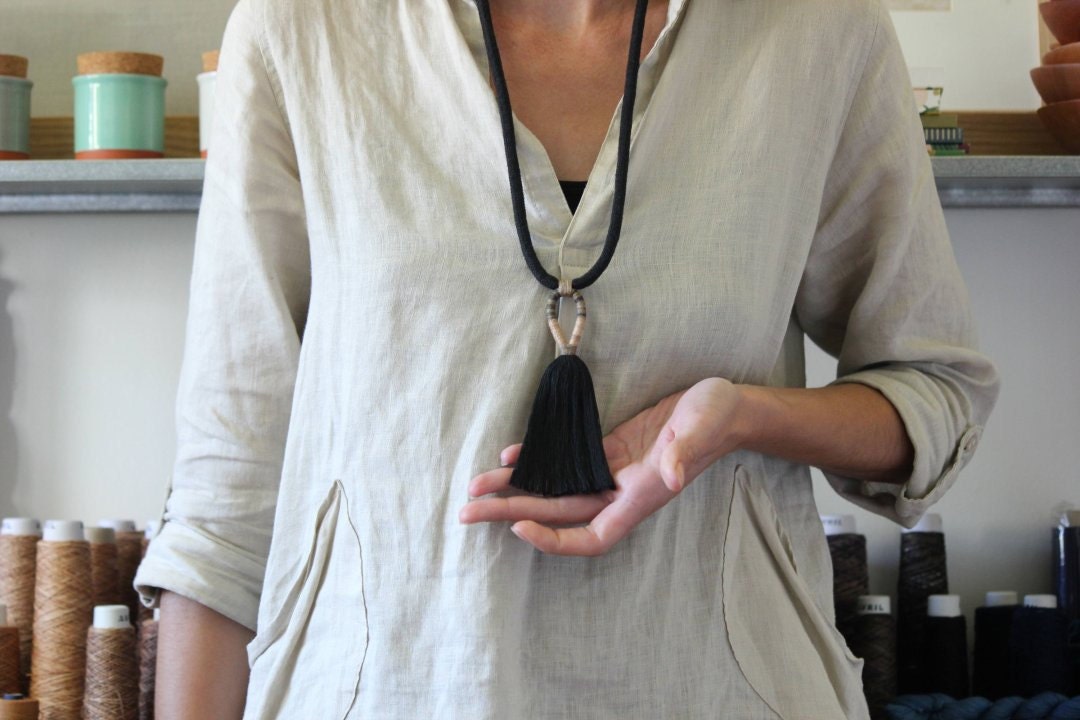 >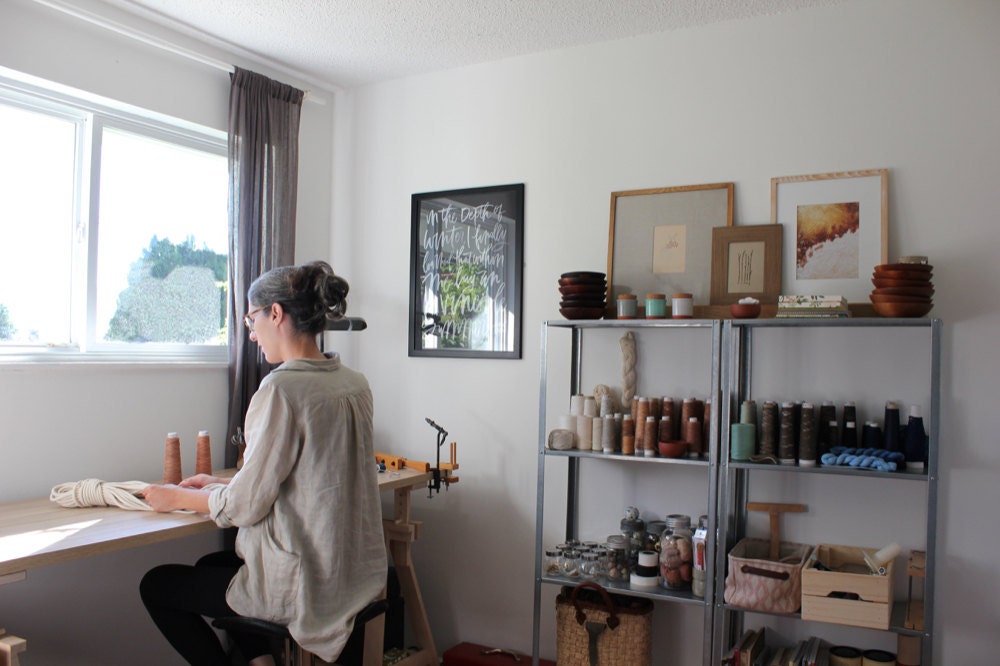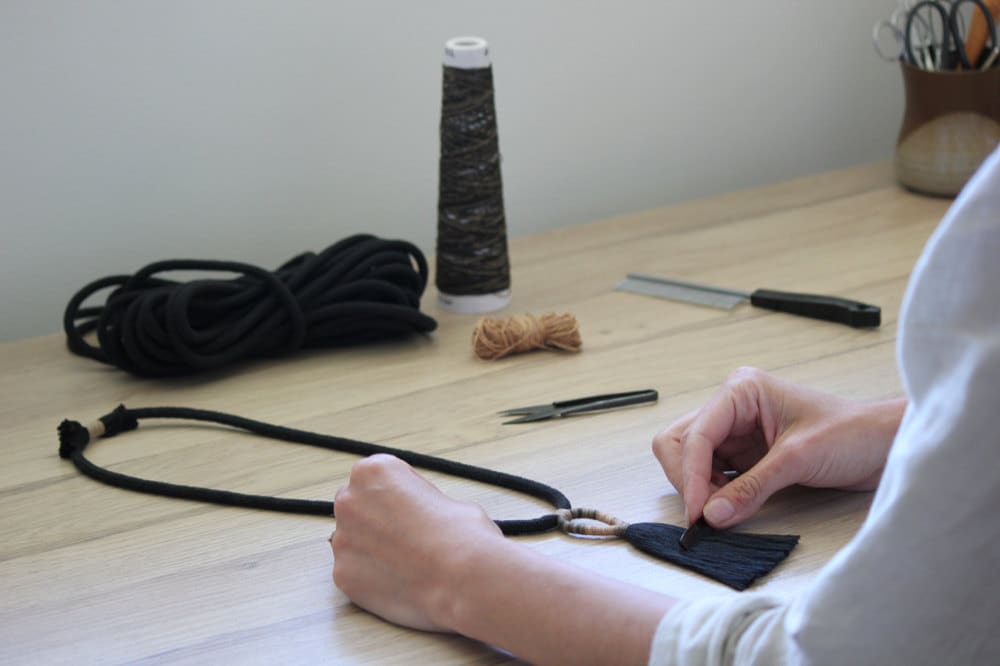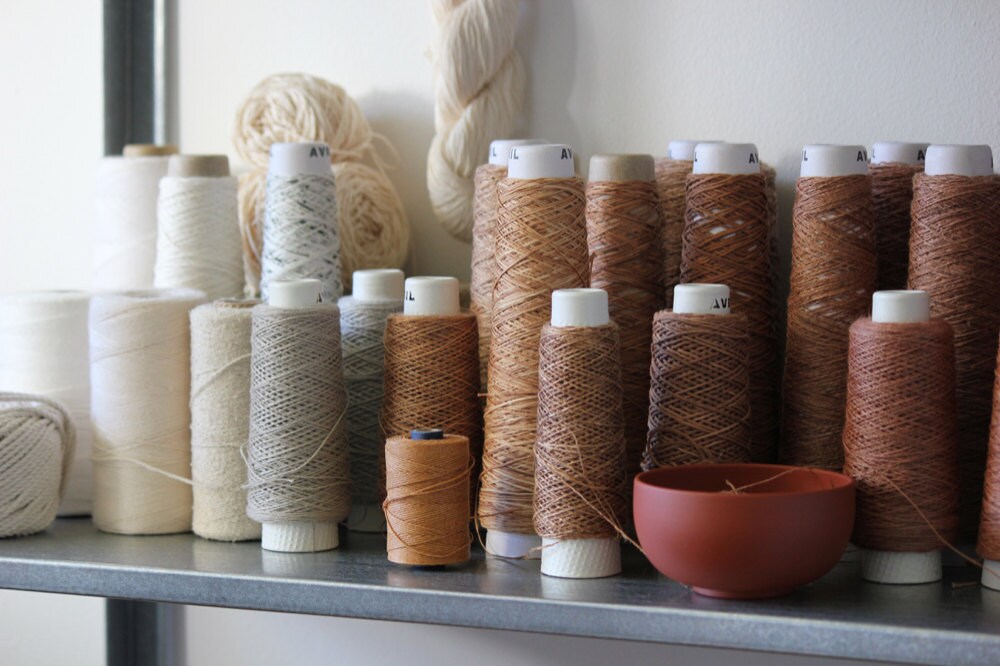 You've mentioned that sustainability is important to you. How does that factor into your work?
I've only ever wanted to work with natural materials. I try to live a chemical-free life in as many ways as possible, so working with natural materials for my jewelry just made sense to me. Most of the fibers I'm using now are sourced from Japan, where there's a long tradition of natural dyeing—techniques like Kakishibu, which uses persimmon tannins, and dyeing with natural indigo and sumi ink, made from pine soot—and the fibers are just beautiful to work with. I'm in the process of expanding my own dye process because I want to be doing more of my own dyeing down the line; that's definitely one of my product goals. In addition, I've tried to completely eliminate my use of plastics, and all the materials I use for my packaging are reusable. I'm also very conscious about how I source metal components and findings for my pieces; I either use vintage deadstock or pieces that I know the metal content for. For a while I thought about learning metalsmithing so that I could fabricate everything myself, but I don't want to introduce the chemicals that come with metalworking into my studio and my art practice. So it's kind of a tricky line, balancing what environmental and social responsibility mean to you as an artist, and how to embody those beliefs in all aspects of your business.
Does sustainability have any bearing on your decision to produce a limited range of season-less items, rather than regular seasonal collections? Or is that just how you approach your work as an artist?
I would say both. In terms of sustainability, there's definitely a movement in the fashion world to break free of the standard fashion calendar, because of the notions of excess and fast fashion, and to change the way that we consume fashion. Working in a season-less way breaks with that traditional fashion mold, and I think that's really important. Creating season-less pieces is also an organic way of working that just makes sense for me and my life. I work very intuitively and naturally, and because the amount of time I've been able to put into my art practice has always been dependent on my ability to balance it with my school work, it would be very limiting and superficial for me to work on a rigid seasonal collection cycle. My color palette is also fairly season-less, and that's the way I like it—I want to create versatile pieces that my customer can wear all year round.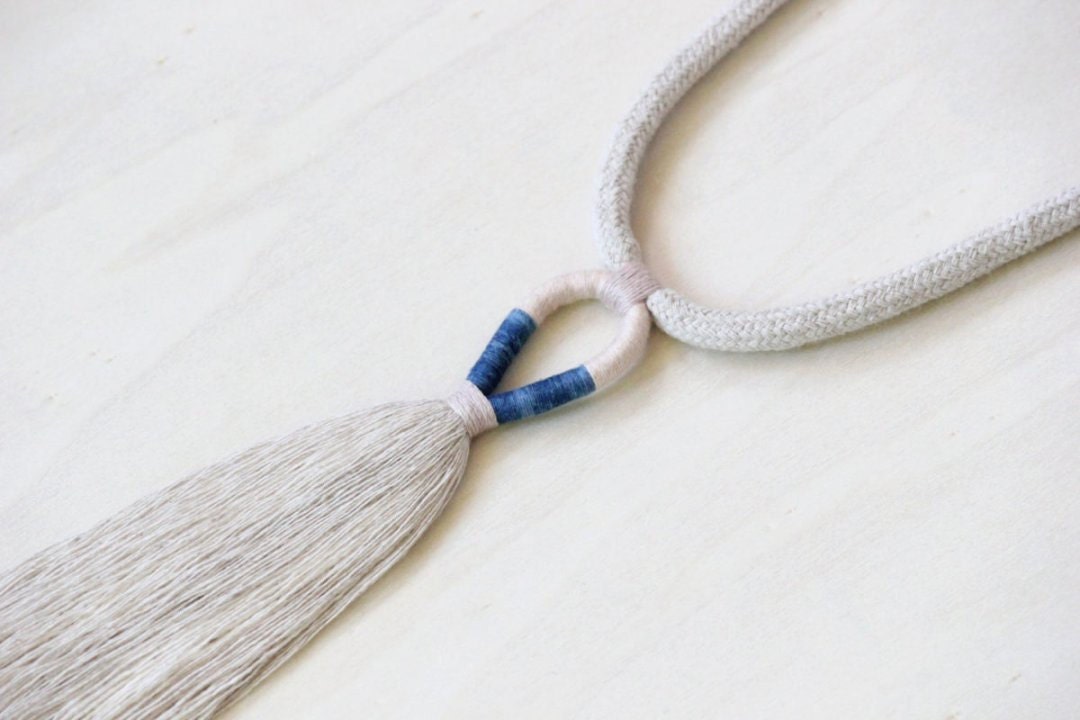 >



A lot of your work references the natural world. I'm curious: What place on earth inspires you the most? And where are you dying to go next?
I'm from Northern Ontario, and I had the opportunity to travel to some of its more remote regions in my youth. There was a camp we regularly went to northwest of my hometown, and that's my favorite place on earth. It's rustic, it's rugged, and the landscape is incredibly dense with trees—if I close my eyes, I can envision being back there. It's in the boreal forest, so it's full of black spruce and white pine and red pine, and the tree branches reach out along the rocky edges of the water. When it's still, the landscape is reflected in the water like a pane of glass. As for a place I'd like to see next, I'd say Iceland. The landscape there is something I want to see and experience, the diversity of it and the colors. Also their fiber culture is something I would love to explore and experience firsthand.
What's your design process like, and how did you learn the techniques you use to make your jewelry?
My process is very, well, process-oriented, and I learn my techniques through experimentation, working both intuitively and iteratively. I almost never begin with a sketch, because sketching just always seems superficial. Instead, I envision a form, a shape, or a design in my mind and then I set to work making it. I almost always start directly with the materials—I'll pull a selection of supplies, then pair colors and textures and see how they work together—and let them guide my process. With the fiber, this means learning what the fibers can and cannot do, or even what they want to do; you can't force them to do something that they don't want to do. Sometimes a design you envision simply doesn't work out when you set out to make it, so it becomes something else in the process, or it becomes one-of-a-kind, because it's not practical to reproduce in a collection. Over time, learning through doing and using the resources that I had, my work has improved a lot. When I look at some of my early work I'm almost embarrassed by the details. My work has become so precise, especially my hand-wrapping, my coiling, and my tassel work; every placement of the fiber I use is very intentional and specific. It's only after I've completed a work that I sketch it out, with annotations regarding the materials, size, measurements, and the number of yarns in a tassel; I actually count every piece of yarn in a tassel. That way, I have a pattern for myself so that I can more easily recreate a piece.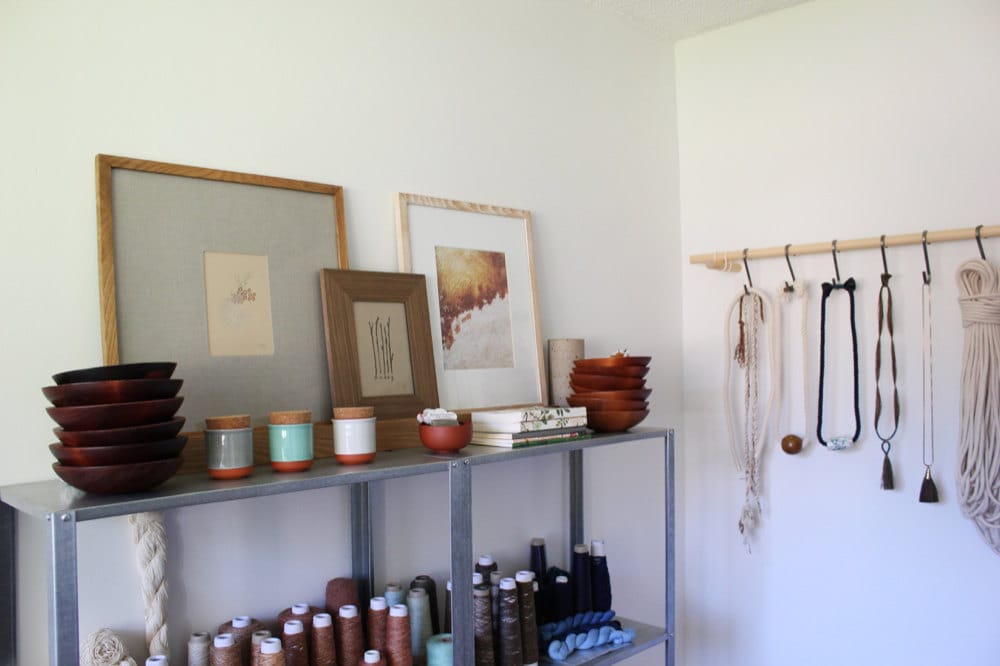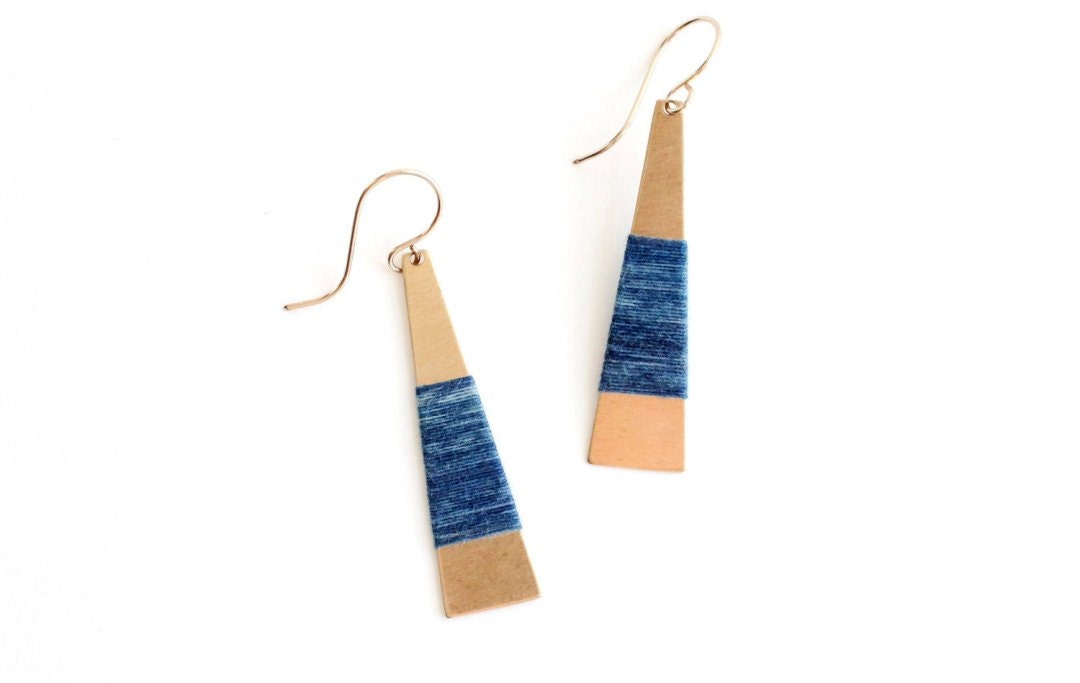 >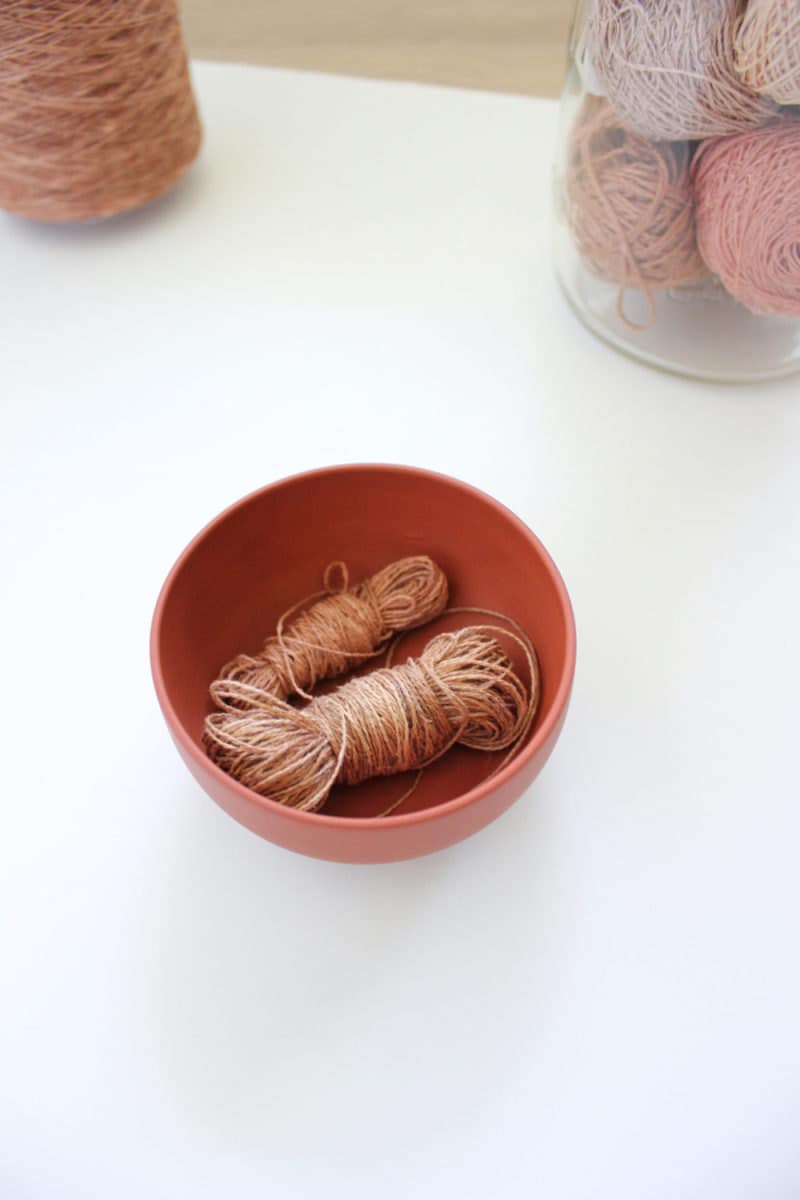 What's something you're excited to work on next?
I'm constantly challenging myself to make pieces that are all fiber with no other components, and I've just acquired some new rope I'm going to experiment with that's a larger diameter and quite hefty. I think it might hold its form differently than some of my other ropes, so I'm excited to experiment with that. I'm also working on a new collection with a line of silk embroidery threads from a Canadian company called Botanica Tinctoria. They're all naturally dyed with bio-dye from sustainable sources, and all the waste materials from the dyeing process are biodegradable, too. It's a much finer silk than the other silk I use, and the colors are really vibrant.
Does that feel like a change in direction for you, working with more vibrant colors?
Oh, absolutely. I'm not a very colorful person myself; I like muted tones and natural earth tones, so a lot of my work exists in that range. I think the colorway of the first collection I might do with those silks will still be somewhat muted, and influenced by having
moved to the Pacific Northwest
. When we got here in March, it was so incredibly dreary—I think it was the gloomiest March in all of Vancouver's history, it rained something like 29 out of 30 days. I was surrounded by gray, and the only colors I got were the ranges of greens on my walks in the forest and the little pops of pink from the first cherry blossoms coming out.
What is your dream for the future of your shop?
I think it would be to invest more time and resources into it, and to become more independent in all aspects of my production so that I'm not relying on others—I'm dyeing all my own fibers and making all my components. Also, growing my line and building my collection; I would love to extend more of my work beyond jewelry, to do more
wall hangings and artworks and large fiber installations
. I want to continue to learn and grow, and to find the audience or venue that supports my work the best, so I can maybe turn it into something I can do full time.
Follow forestiere on Facebook, Pinterest, and Instagram.
Photographs courtesy of forestière.