by Andie Cusick
Potter Michal Keren Gelman's functional ceramics are pretty enough to earn their keep as purely decorative pieces—but each one does so much more.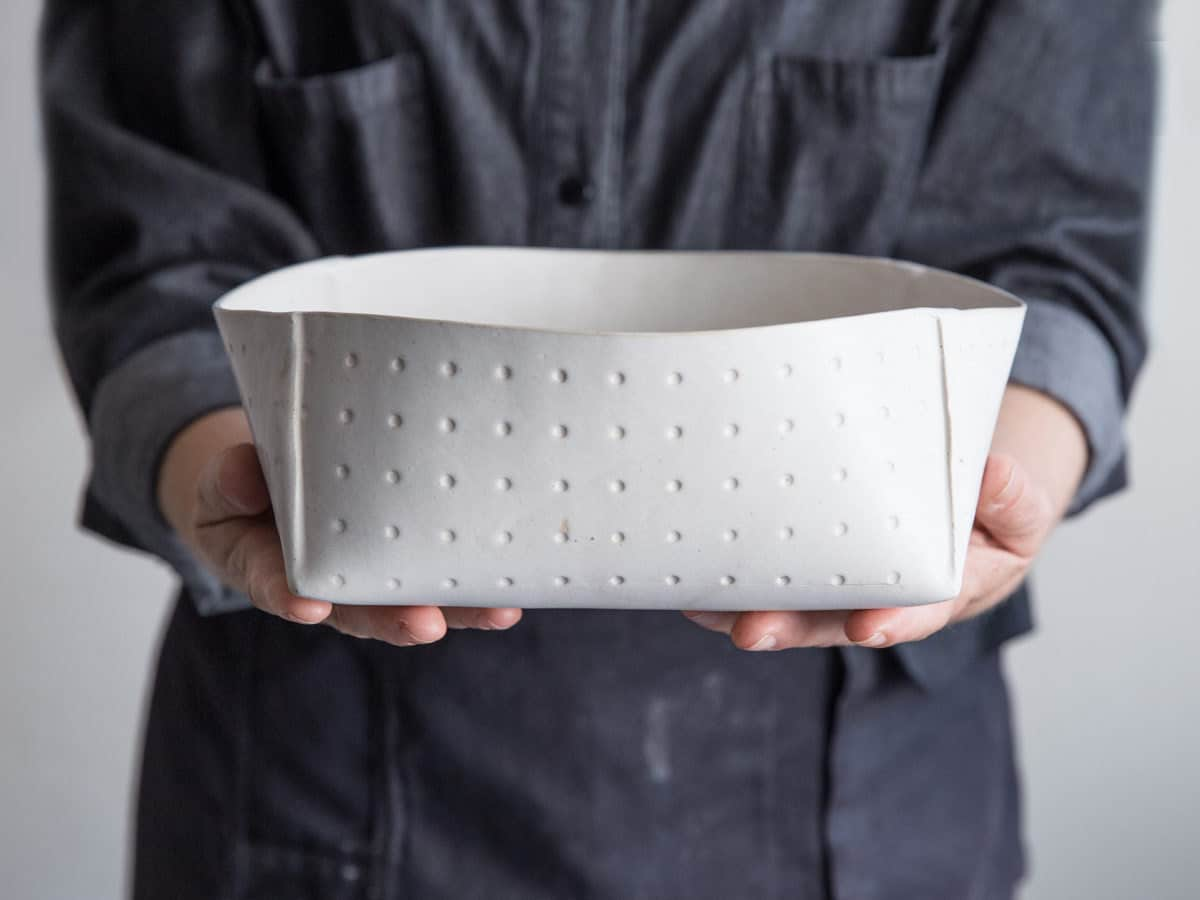 The first thing you might notice about Michal Keren Gelman's elegant, functional ceramics are their surfaces: etched with delicate geometric patterns, softened with repeating indents and ribs, ridged with overlapping seams from the artist's unique clay folding technique. "I'm a texture hunter! I play with it, I personalize it, I perforate it, I make different patterns with it," says Michal, from her
FreeFolding Ceramic Studio
 workspace overlooking the Mediterranean Sea. "It's been a real crush." All the more surprising then, to learn that Michal's first reaction to handling clay was decidedly different: "I couldn't bear the softness—it gave me goose bumps," she says, laughing at the memory of her distaste.
Flash forward to today, when the Israeli maker, who lives in the mountainous region of Western Galilee, has racked up more than 800 sales on Etsy alone since launching her contemporary handmade ceramics line in 2012. "Now, working the clay with my hands is what I love best. Especially when I start something and I don't really know what's going to happen," Michal says. "The most special moments for me are when I come to the clay and start to play with it and discover new forms." It's hard to think of a better case for not always adhering to our first impressions.
Read on to learn how Michal found her way to loving clay, and shop the FreeFolding Ceramic Studio collection.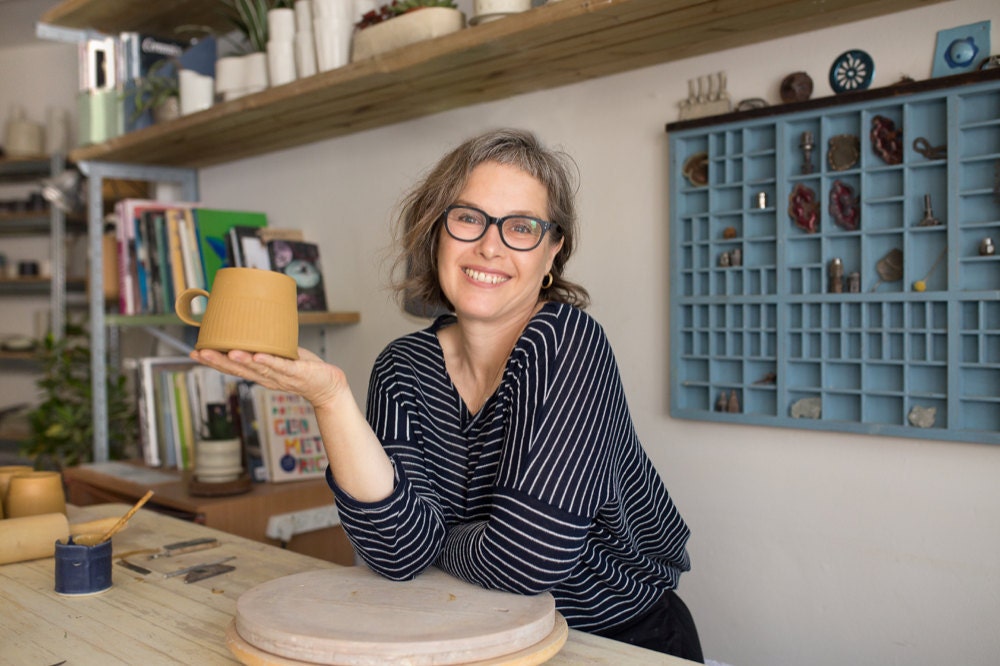 Clearly, clay wasn't always your medium of choice. What other art forms did you dabble in first?
I studied jewelry design at
Bezalel Academy of Arts and Design
school in Jerusalem, but I was never that drawn to actually making jewelry. Instead I was always making bigger conceptual pieces. I was quite lost back then; I didn't get any joy from working with metal and I wanted to find a material I could connect with. At the college, there were a lot of different departments we had access to, so I was able to experiment with different mediums. One day I even tried working in the ceramics studio, but at the time it didn't appeal to me either. After graduating, I got a job doing theater design for the Israeli Opera, where I created accessories for the stage. I love the theater world, so it was a really enjoyable time, and I thought I would continue studying and do a second degree in theater design, but life had other ideas.
So, when did you start getting into clay?
Before I started
FreeFolding
, I had been practicing Vipassana Meditation, and I took a year off to travel in India and serve at different meditation centers. This kind of meditation can involve going 10 days at a time without speaking. While I was in India, I felt a call from within me for something different. I needed to go out and work with materials that were somehow alive. I took some time off, met my husband, and we had twins, a girl and a boy, followed by another girl. It took some time for life to soften me: The cliché that motherhood opens something up in you was very true in my case. When my younger daughter was about 2, I started to take courses in clay. At that point in my life it felt absolutely right. I wanted to swim in it and be around it all the time. After a few years of studying and practice, I knew that this was what I wanted to do.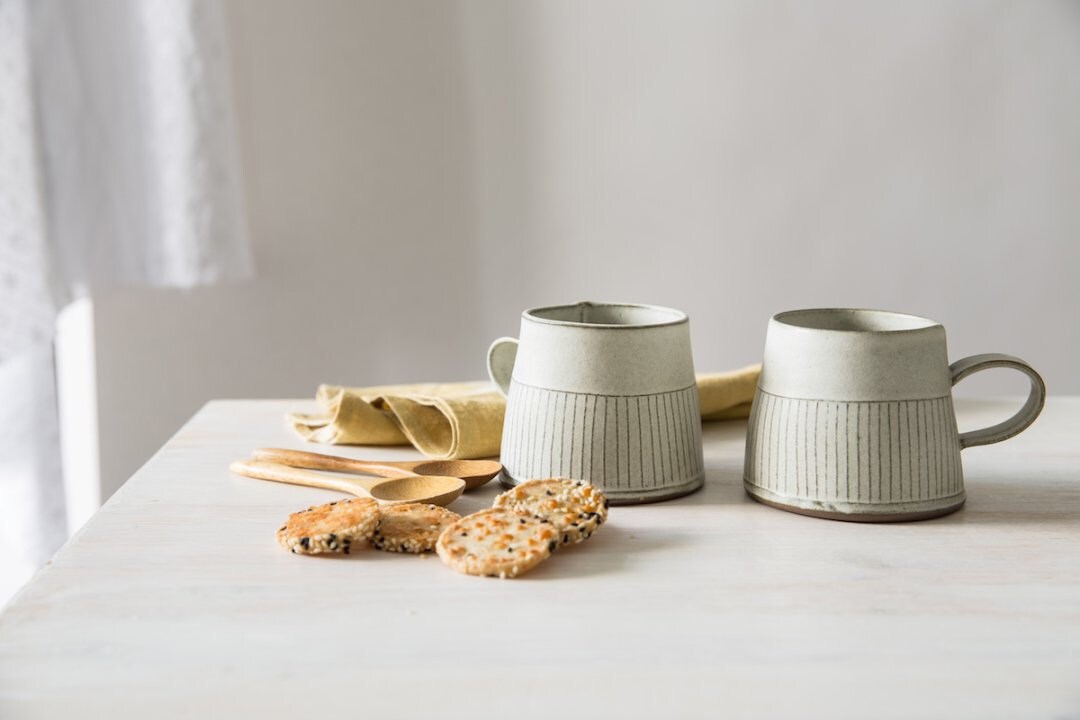 >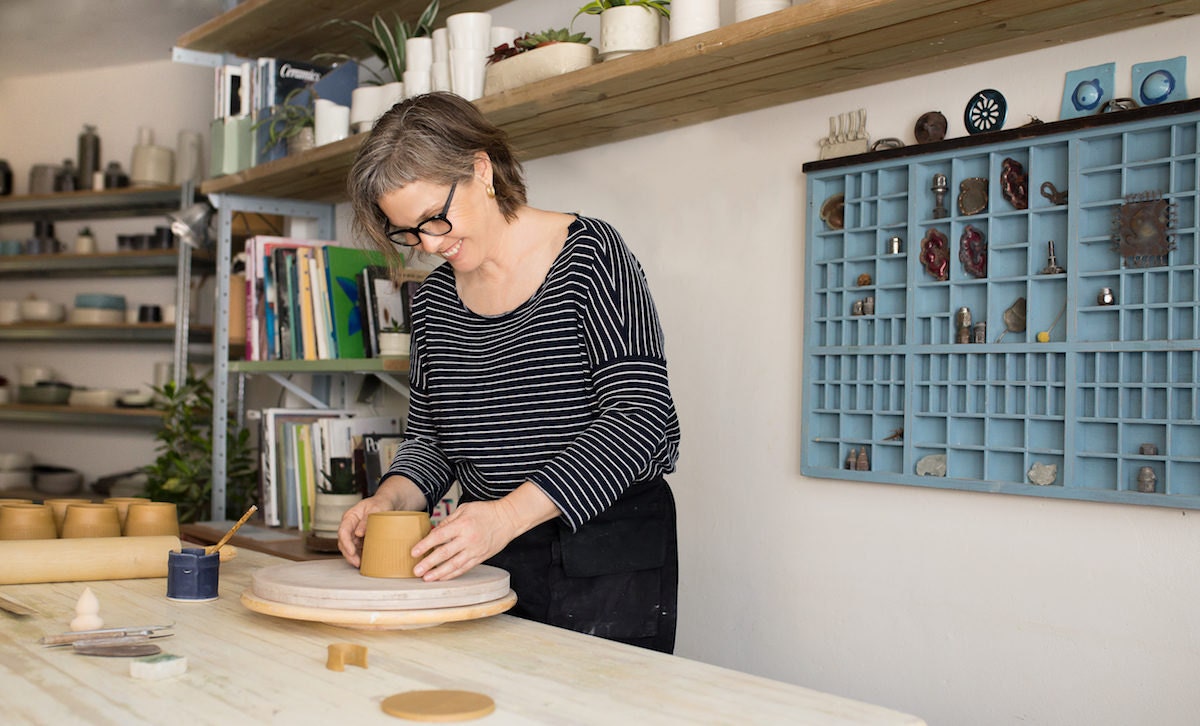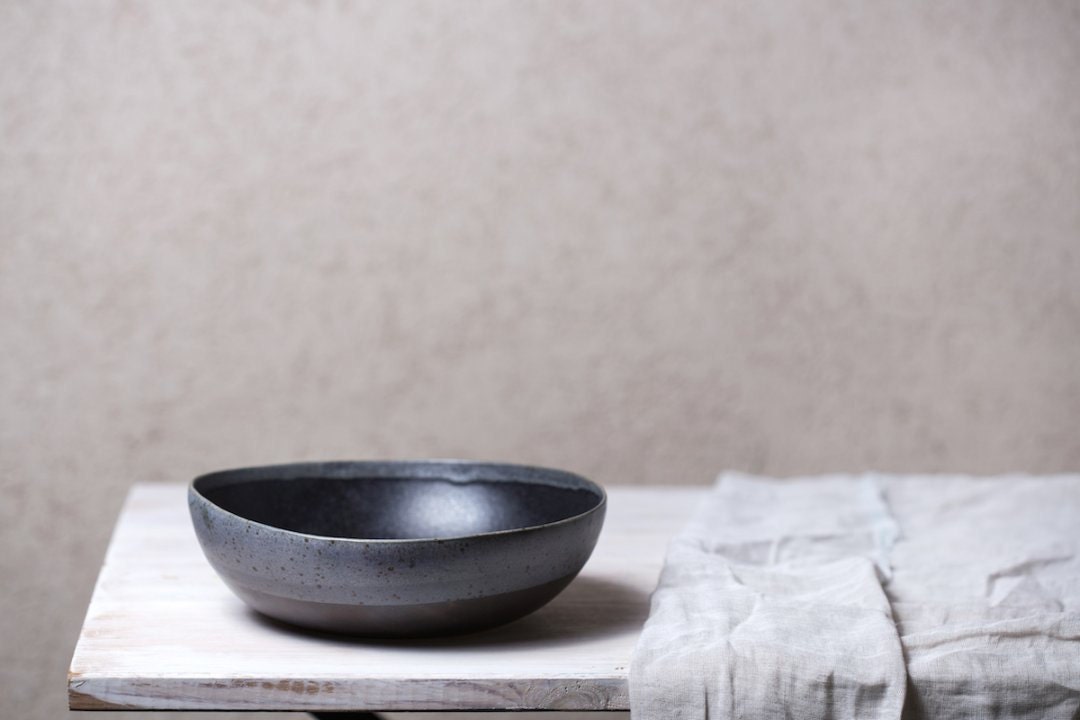 >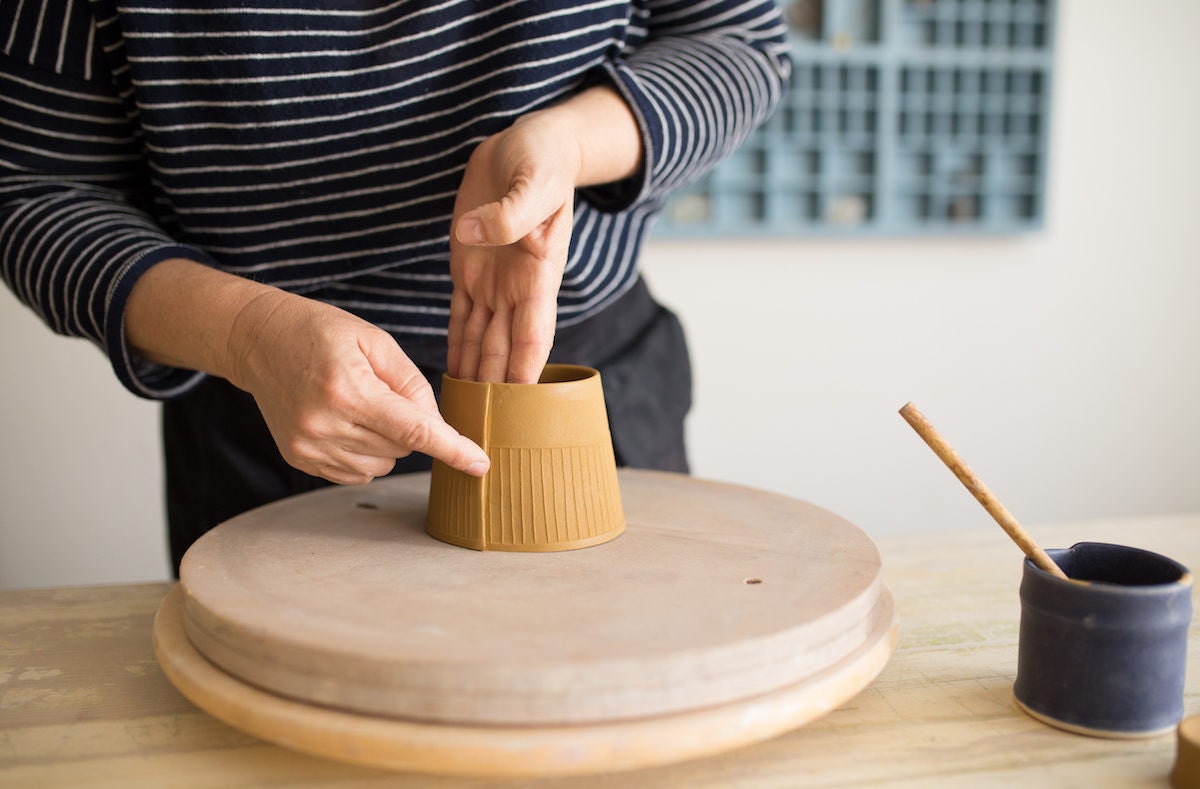 How did your signature style of patterns and folds come about?
When I started I worked mostly on the wheel, and I was always playing with different clays and different textures. I did some engraving on clay, but I was never fully satisfied. I could only see the clay and then the decoration. It's like sometimes when you watch a movie and you see the actor acting, not the character, and you don't believe it. I didn't feel a oneness to what I was doing. My husband is a juggler, and for a while we were making accessories for him together in my studio. I had a special foam I used when I was building things for him, and when I wasn't using it for that, I used it as a surface to cut on when I experimented with clay. One day I discovered I could cut designs into the foam, kind of like a sketch, and transfer them directly onto the clay. I thought: 
Eureka
! From there, I took the patterned clay sheets and started to fold them into vessels.
Do you always create functional objects that people can use at home?
Functionality is very close to my heart—I'm a practical person. For me, holding a bowl is very exciting, and practical pots are a big part of my life. They bring beauty as well as function. I don't like to make sculptural and figurative stuff; to me, there is something more beautiful about
handmade, functional objects
.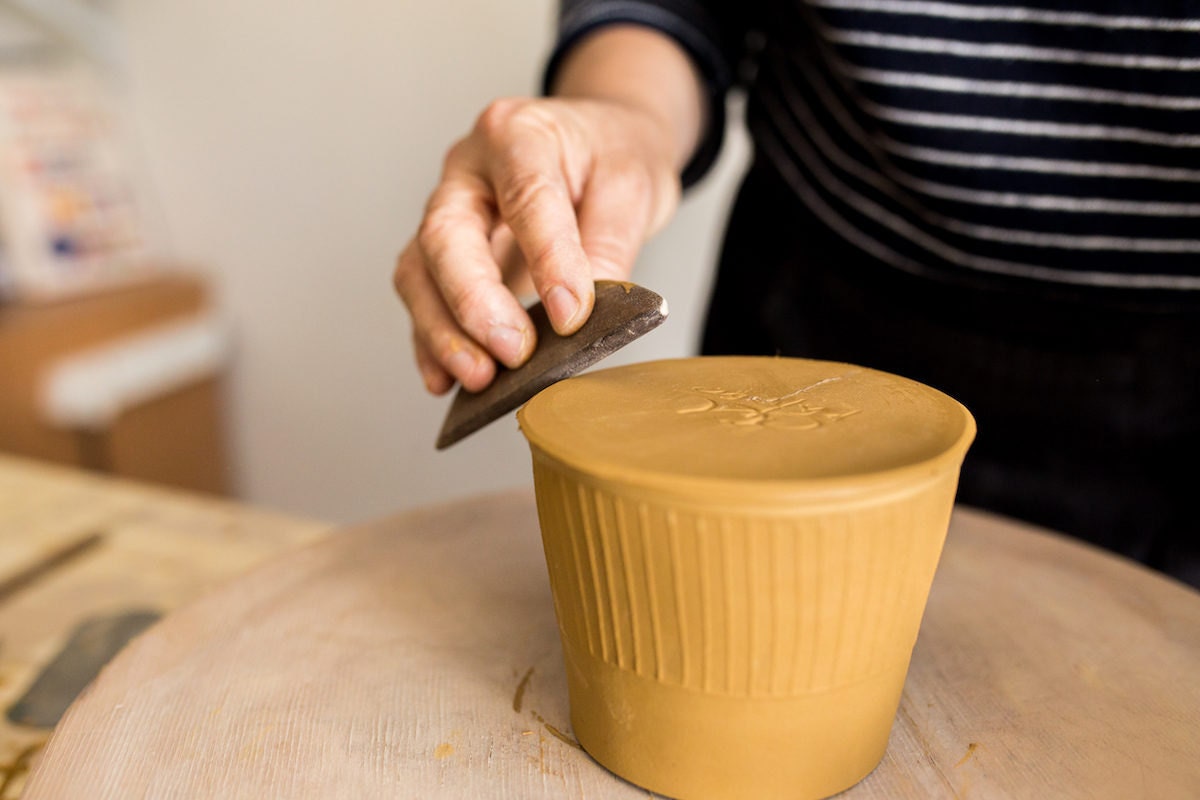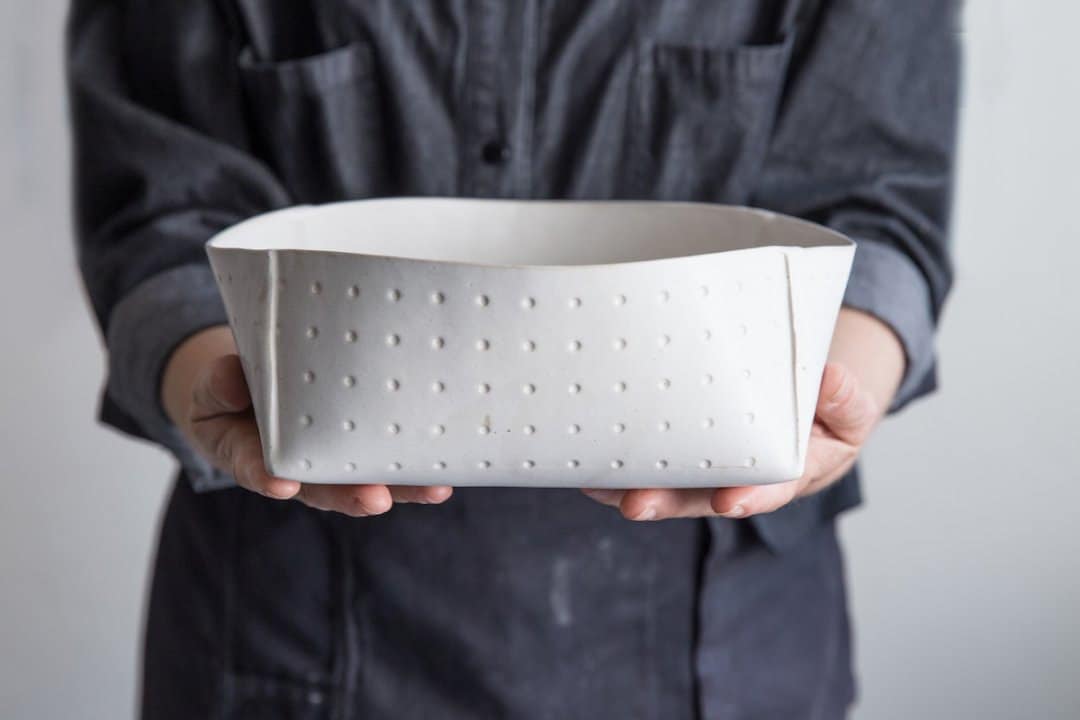 >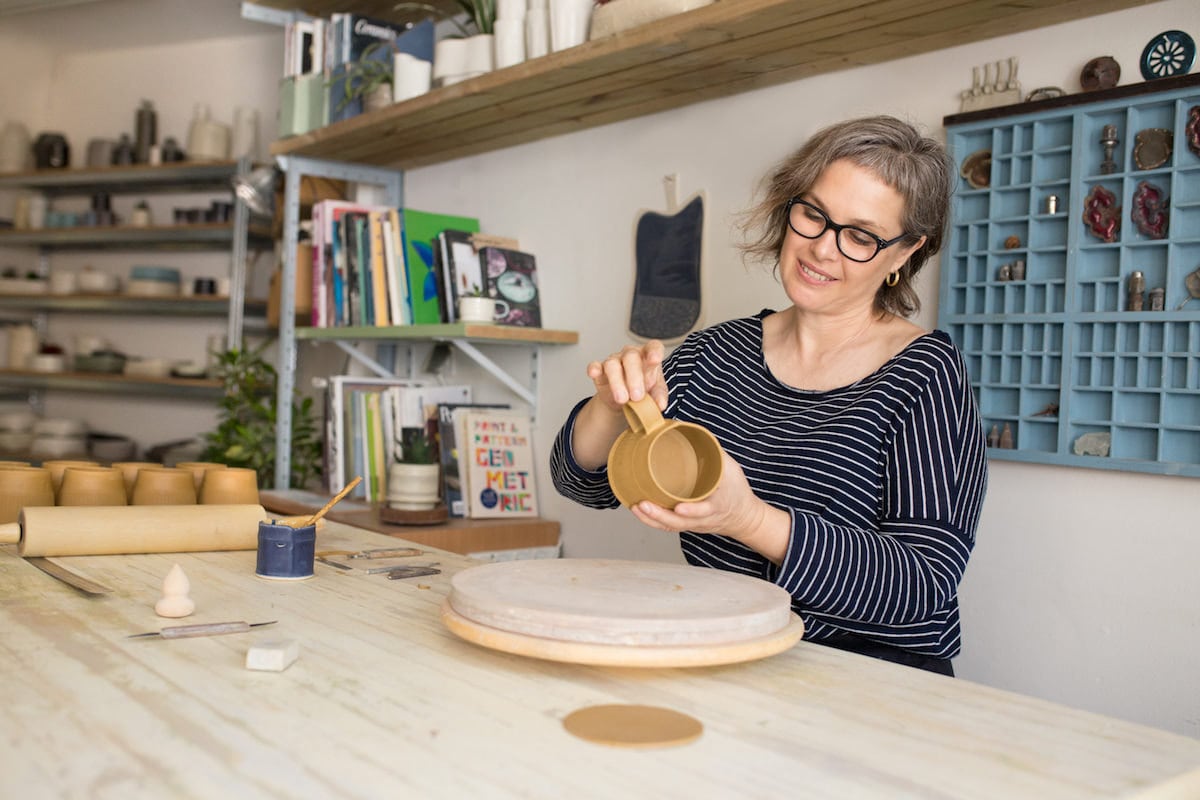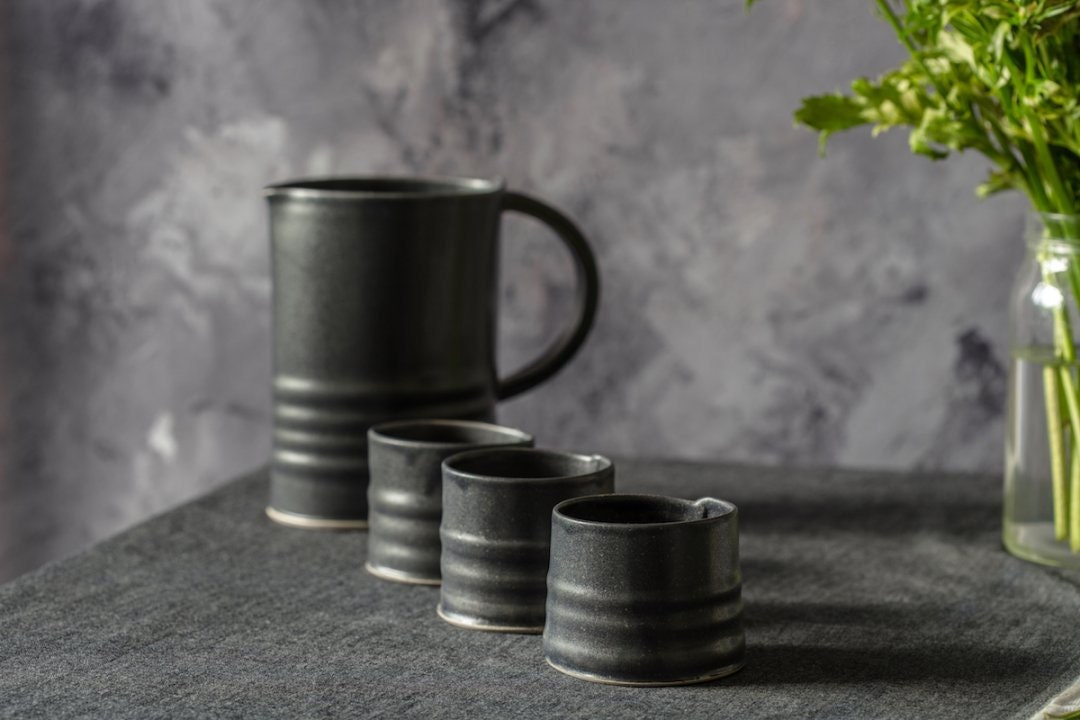 >
Do you find working with clay to be a meditative or mindful practice?
Meditation brings you to a point where you feel that you're in the here and now and open to whatever comes—when you practice this with your breathing, you are in the present. I think working with clay does the same. There are bad clay days, but the good ones are the ones when you are really present to the touch of the clay and the timing. When I'm folding my clay sheets, it's about finding the right moment to fold, and the way I connect two surfaces together. It brings me to a really deep, sensual present because with clay, you have to be aware all the time. We live in a world where it's easy to feel like you have to be connected to other things: to your phone, to Instagram, and so on. Working with clay takes you back from that. It's a slow-made craft. You can't rush the clay; it brings you to a rhythm that you can't ignore. It slows me down because that's just the way it works. There's a buzzing social media world out there, yes, but right now I have to take care of this shape, this texture.
Where do you find inspiration for your designs?
I live surrounded by nature, and it inspires and calms me. It reminds me of the big forces of the universe. Nature is also reflected in my colors. I grew up on a very typical kibbutz, which was located on the most beautiful beach in Israel, and those sea colors are really present in my work today. It is, in a way, the endless search for the blues, grays, and the purple-grays of clouds in a storm. I can always see those colors from my childhood, when I spent so much time on that beach. If we're talking about forms, though, I love industrial shapes like old boats and spaceships. I love driving past industrial areas with factories—those are the shapes I love. Form-wise, they're something I try to create a dialogue with.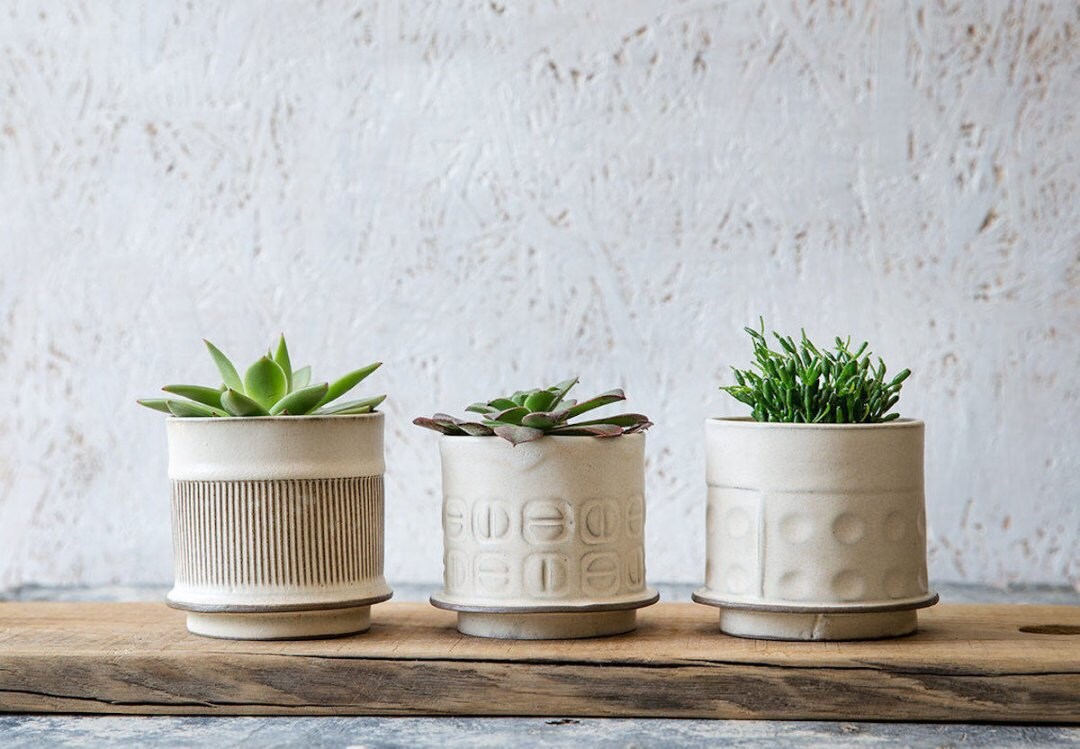 >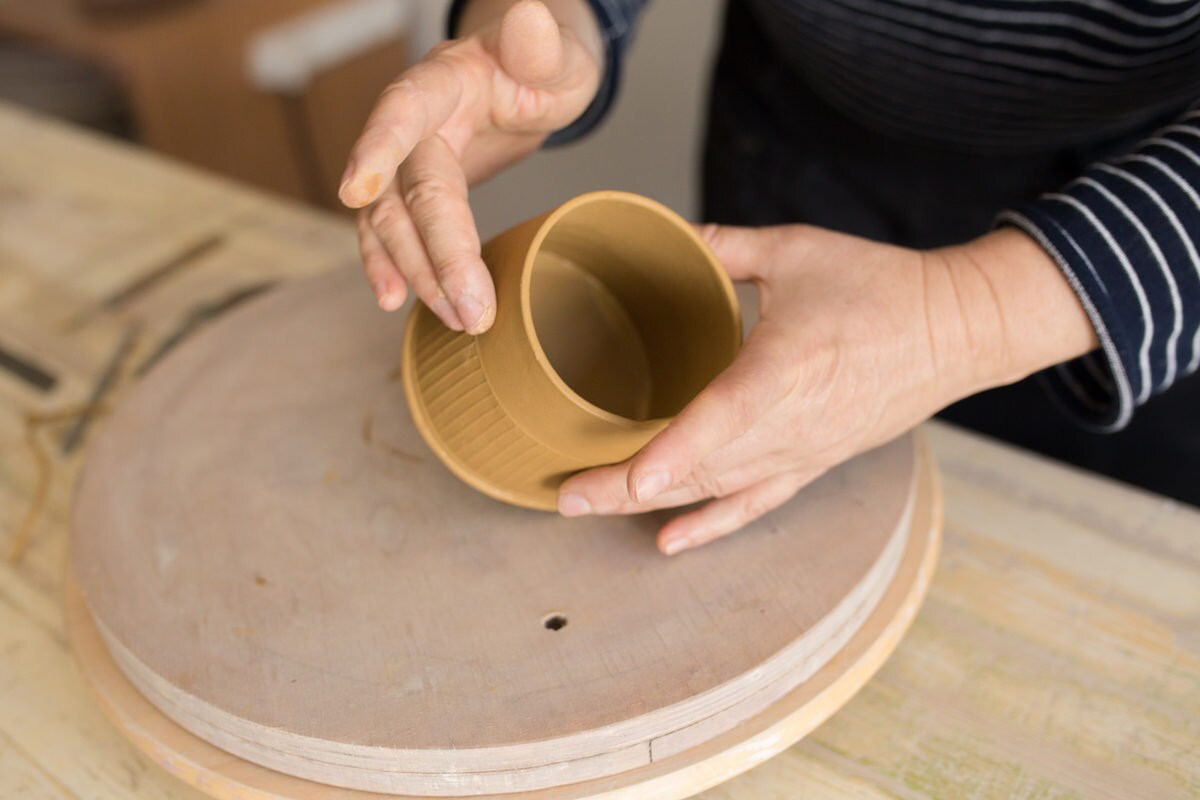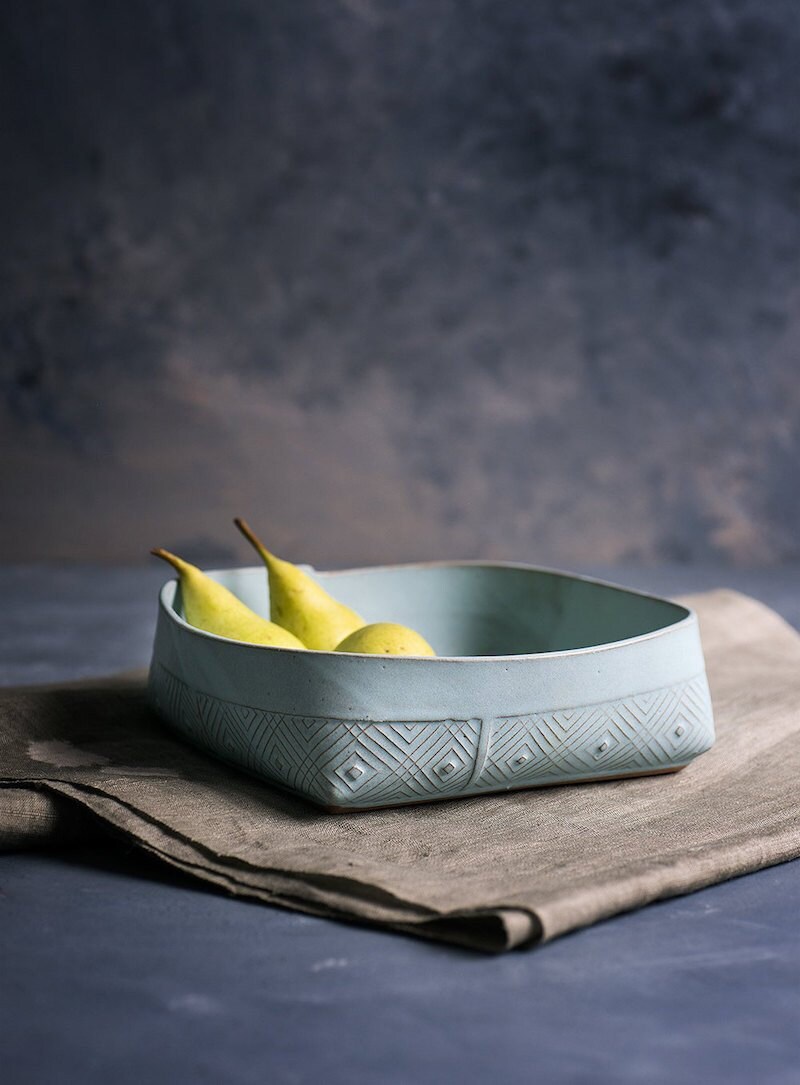 >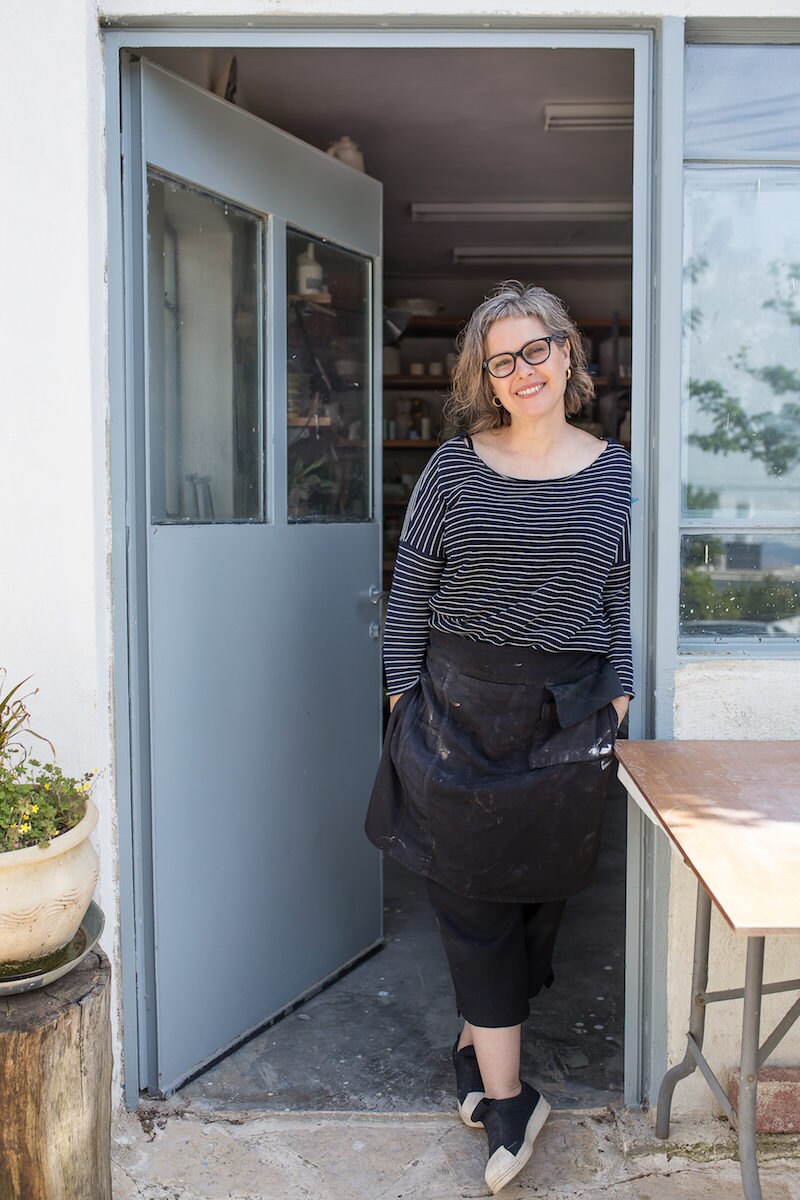 What are some of the biggest challenges and frustrations in your work?
When the kiln is finished firing, I have to wait as it slowly, slowly cools down. There's a joke that pregnancy lasts eight months and one year—so too with the kiln. When the kiln cools down, the heat goes from 1,220 degrees Celsius to 300 degrees quite rapidly, but then the last 300 degrees are so, so slow! You have to be really patient. And then you open it up, and for me, there are always some disappointments. There's always a gap between what I wanted a piece to be and what the other big forces at work—the heat, the positioning in the kiln—have helped to create. Sometimes it's really disappointing.
On the flip side, what do you take the most pleasure from in your work?
I love to collect different textures. Sometimes I paint them, other times I take patterns from my environment and print them onto clay. The first time I put something onto clay, I don't know how it will come out. It can look like it's going to be a great pattern, and then I'll add it to the clay and somehow it doesn't work. But there is a moment when I finish something and magic happens, when it's like,
wow
! Or when I create something with a knife on the foam and I roll the clay on it and take the foam away, and the tiny lines appear and it's so royal, so beautiful—those are great moments.
Follow FreeFolding on Pinterest, Facebook, and Instagram.
Photographs courtesy of FreeFolding Ceramic Studio.