Surprise your favorite guy with a brightly patterned tie, pocket square, or lapel pin from this made-to-order accessories shop.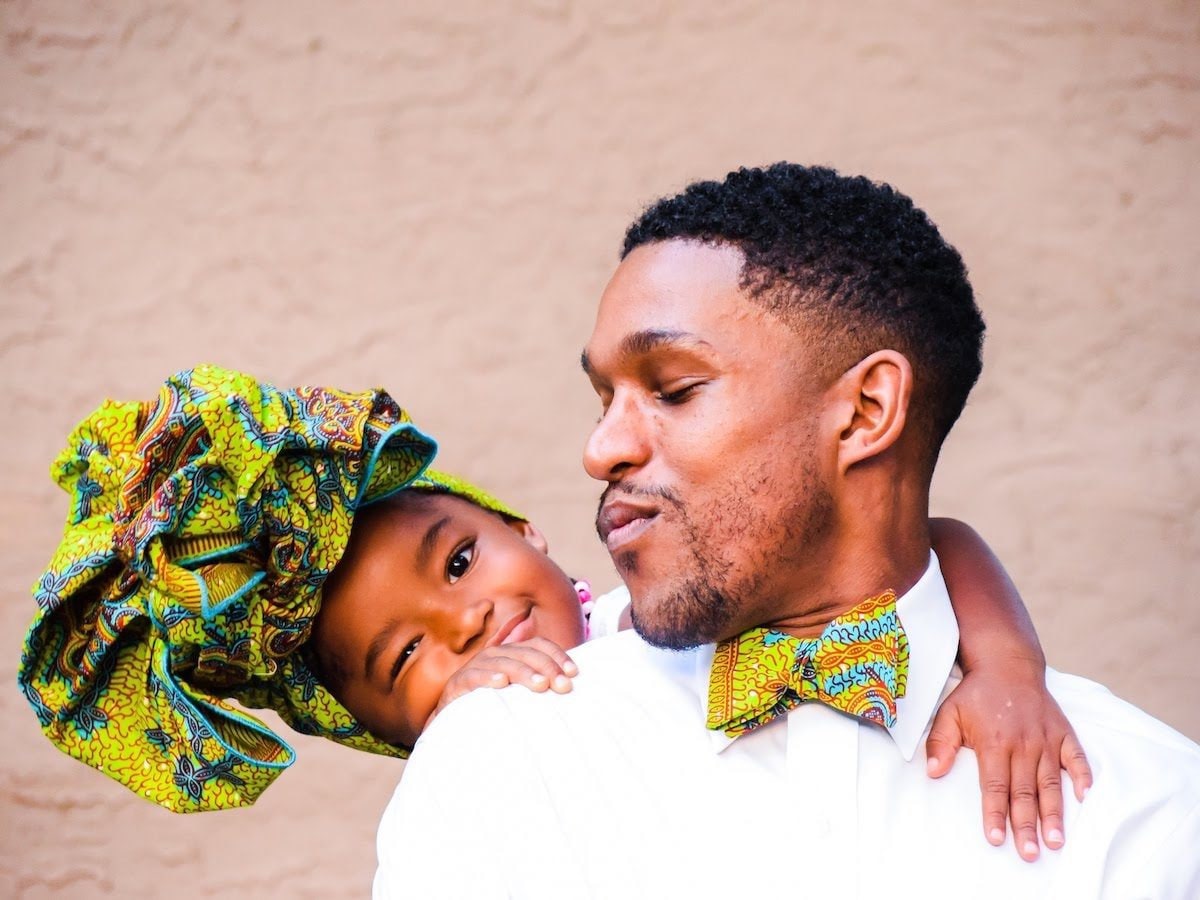 In our weekly Featured Shop series, we shine a light on a standout shop from Etsy's talented seller community, offering readers a behind-the-scenes look at their process and story.
"Everyone deserves to have a little splash of color in their lives," says Ade Ogbomo, the Texas-based founder of African wax print accessories line GabeJade. "But sometimes it seems like guys' wardrobes just consist of khakis, dark blue suits, and black shoes, while women get to wear all the bright stuff." For Ade, who grew up admiring the vibrant fabrics she'd see on trips to visit relatives in Nigeria, opening her shop in 2017 presented a chance to help men get in on the sartorial fun. "I wanted men to be able to express themselves more—to add a bit of personality to their looks and spice things up."
Explore the GabeJade collection
In fact, it was a request from her favorite six-year-old nephew for a bow tie to match one of her wax print dresses that inspired her to launch her line—which has since expanded to include assorted accessories, including headwraps for women. "I've always associated the African wax fabrics with happiness and culture and love and being home," says Ade. "I love being able to share my culture with the world through my line, and watching people embrace it. I want everybody to be able to appreciate the beauty."
Read on for Ade's top styling tips and discover her gift recommendations for Father's Day—then shop the GabeJade collection.
It all started with a bow tie for your nephew, but how has your line evolved over time?
At first, I just had the pre-tied bow ties, and then I started making self-tie bow ties. After that, women started asking me, "Do you sell headwraps?" At first I was like, "Eh, I don't know about that," because in Nigeria, you don't really buy standalone headwraps—there, when you buy an outfit, the matching headwrap just comes with it. But I had one lady who really wanted to match her husband, so that's how we started the whole matching-headwraps-and-ties thing. Then after that, guys were like, "Do you make regular ties? Not all of us look good in bow ties!" So now I make regular ties, too.
Have you always been interested in men's fashion?
Ever since my nephew was born, I've definitely been more into boys' fashion and men's fashion. So most of my shop features traditionally "male" items, but women wear the bow ties, too, and it looks great! Women in suits is kind of becoming a thing in fashion and I love it. Even though they were originally for my little guy, the ties have definitely become something for everyone.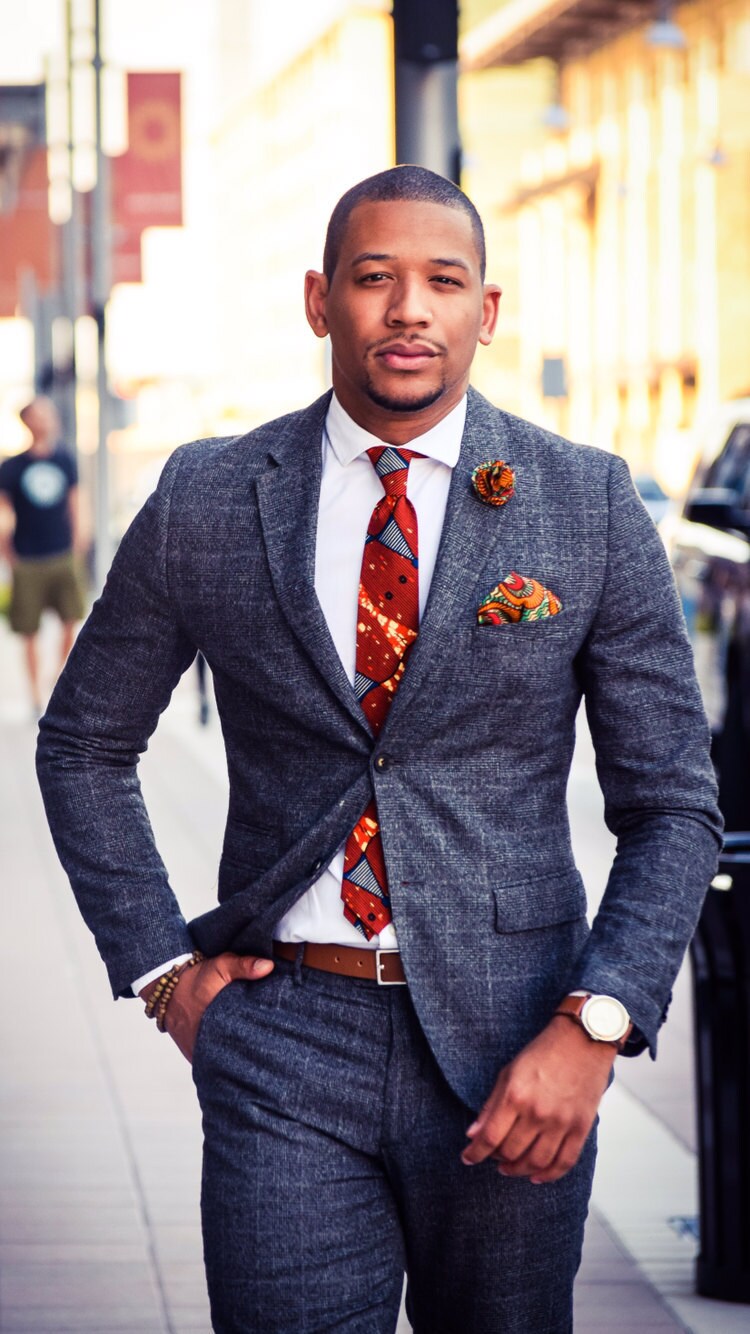 >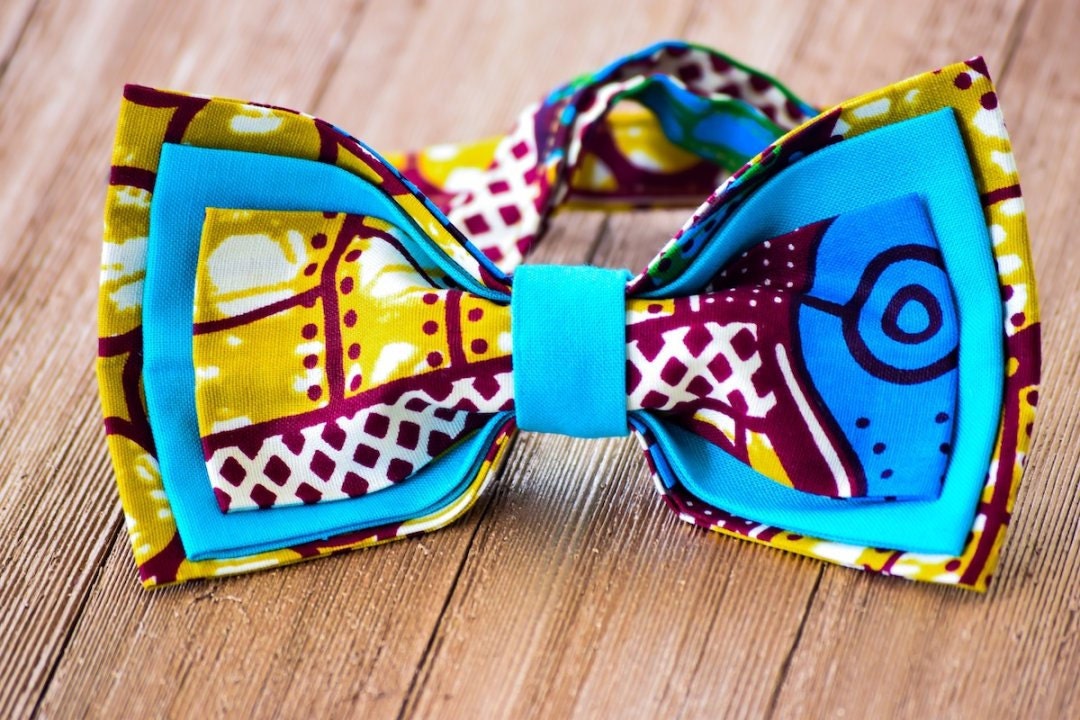 >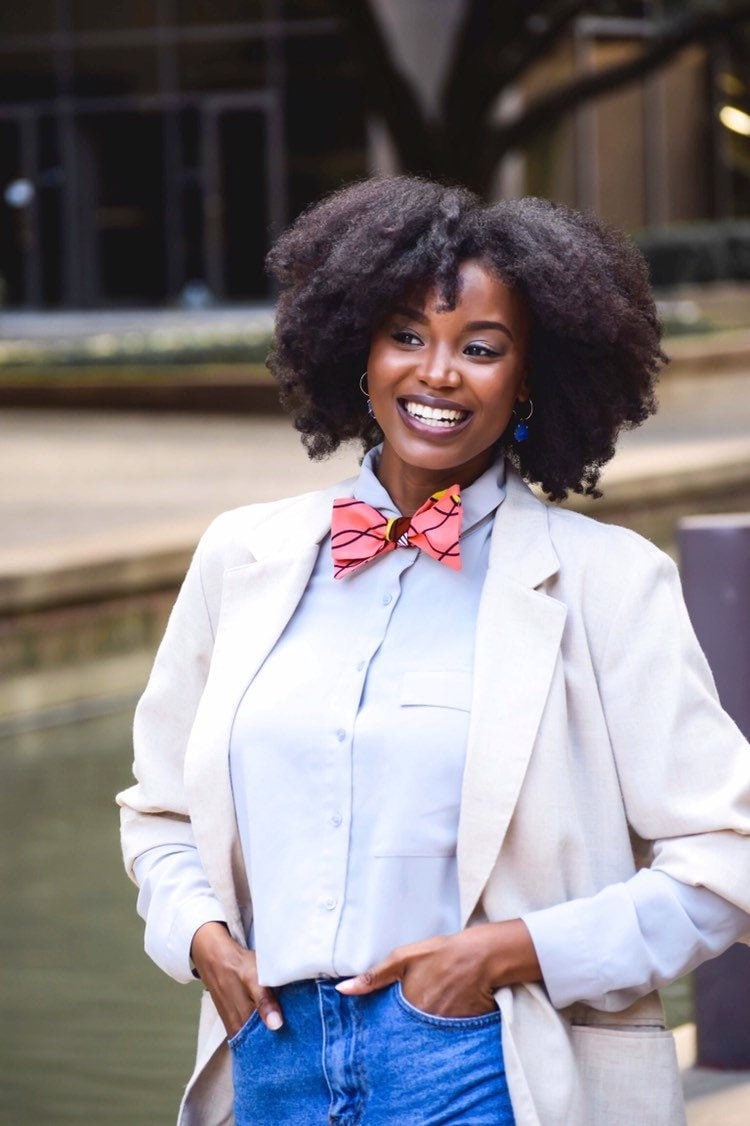 >
I love the idea of women rocking the ties! What other styling tips have you picked up along the way?
Some people like to have matching accessories, but others will mix up the fabrics—they'll pick one fabric for a bow tie, for example, and then do a pocket square in a complementary fabric. That looks really nice.
At first, I didn't really think about how cool African fabric would look with just a regular men's suit, but especially with the full ties—which are longer, so you see more of the material—it's a really good look. And some people will get just a pocket square to pair with an open shirt and a jacket, which is a great casual choice.  
What would you say is your most popular item?
The self-tie bow tie is our top-seller—people really like those. They're made to order in your perfect size, so you never have to worry about adjusting them. They're really popular, especially for wedding parties. People are also starting to order more lapel pins, too.
Do you ever do any custom orders?
Yes, I get them a lot, actually! It's always really interesting to see what customers request. Sometimes people will ask me to make something with crazy colors that I'd never think would go together, or to make a headband for their baby, or add some gold fabric to a piece for a wedding to make it pop even more. People are always pleased with what they get.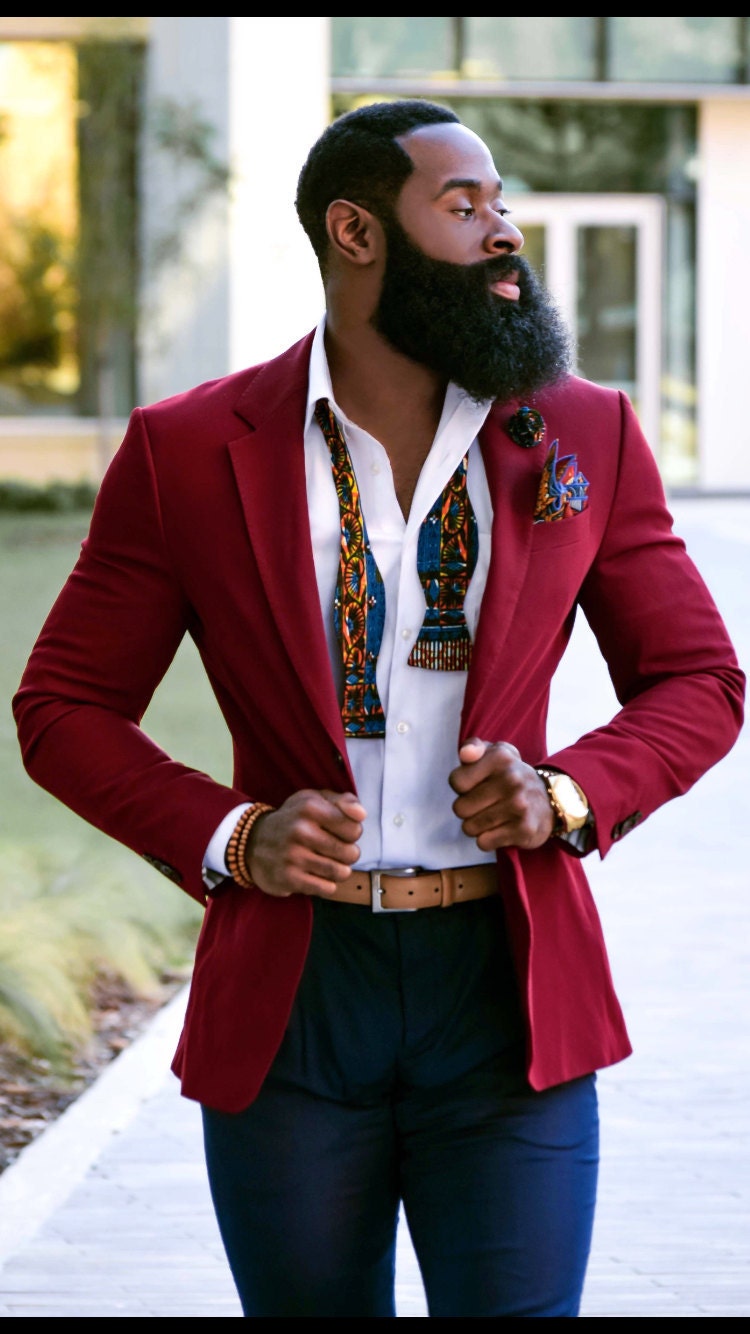 >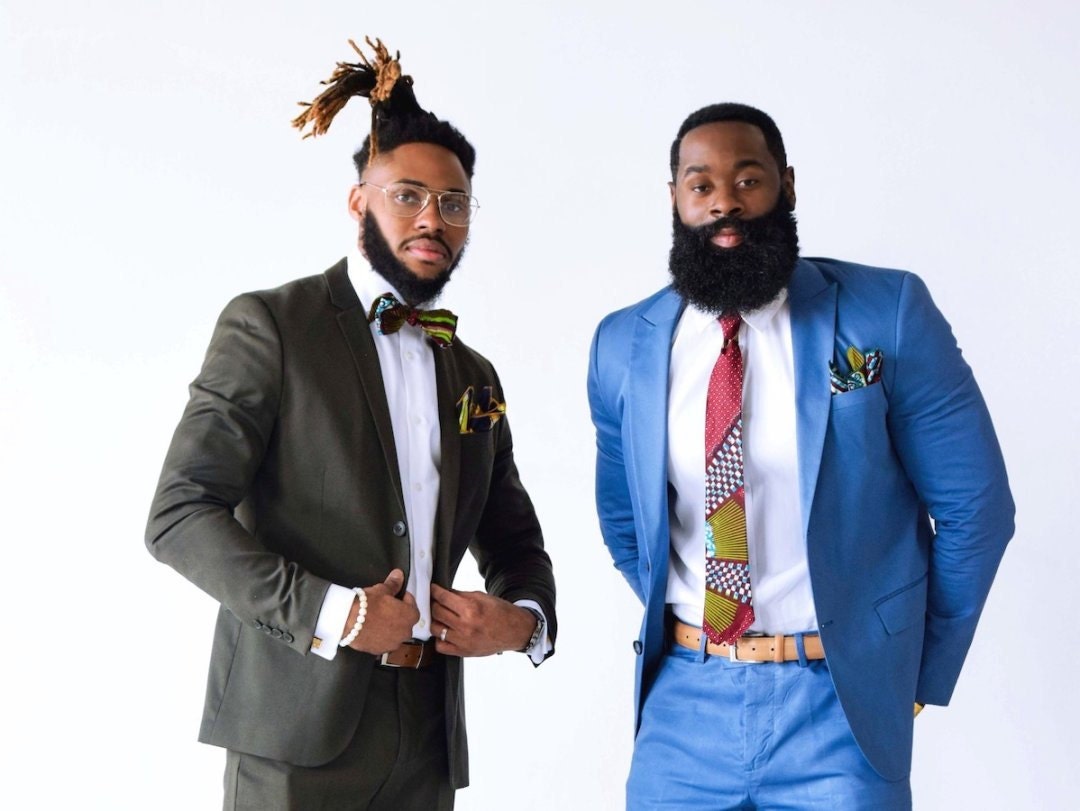 >
Let's talk materials. Tell me about the fabrics you use.
I use traditional wax print fabric, also known as Ankara, and what sets it apart is that it's actually from Nigeria. My dad's whole side of the family still lives there, so they visit the local markets for me and ship it over. Everything I use is 100% cotton, but some fabrics are softer than others, which explains the difference in pricing. In terms of patterns, I tend to go for things that are catchy. Some of the designs are super colorful and bright, but others are a little more neutral. I know we don't always want to stand out—sometimes you need a brown or a blue.
But neutral or bright, I like every piece to feel special, so I won't get a lot of one specific fabric, and once something is sold out, I try not to restock. I want the accessories to be as original as possible. The same way women don't want to show up to an event wearing the same dress as someone else, it's cool for guys to be the only one at the party with a certain African fabric tie.
Father's Day is coming up fast. What would you recommend as a great dad gift?
I think it really depends on each specific dad and what they like. A lot of people get pieces in their dad's favorite color, and ties are always super popular. Father's Day is a more personal thing. People think: "Oh, I think my dad might look good in this pink tie," or "I think my dad might like this print."
For a really special present, I would get all three pieces: a tie, a pocket square, and the lapel pin. When it's all put together, the complete look is really nice. And personally, I would mix fabrics—I'm a little bit adventurous like that, but it also gives dad more options. We offer some pre-mixed sets with fabrics that we know look good together, and we also offer gift wrapping.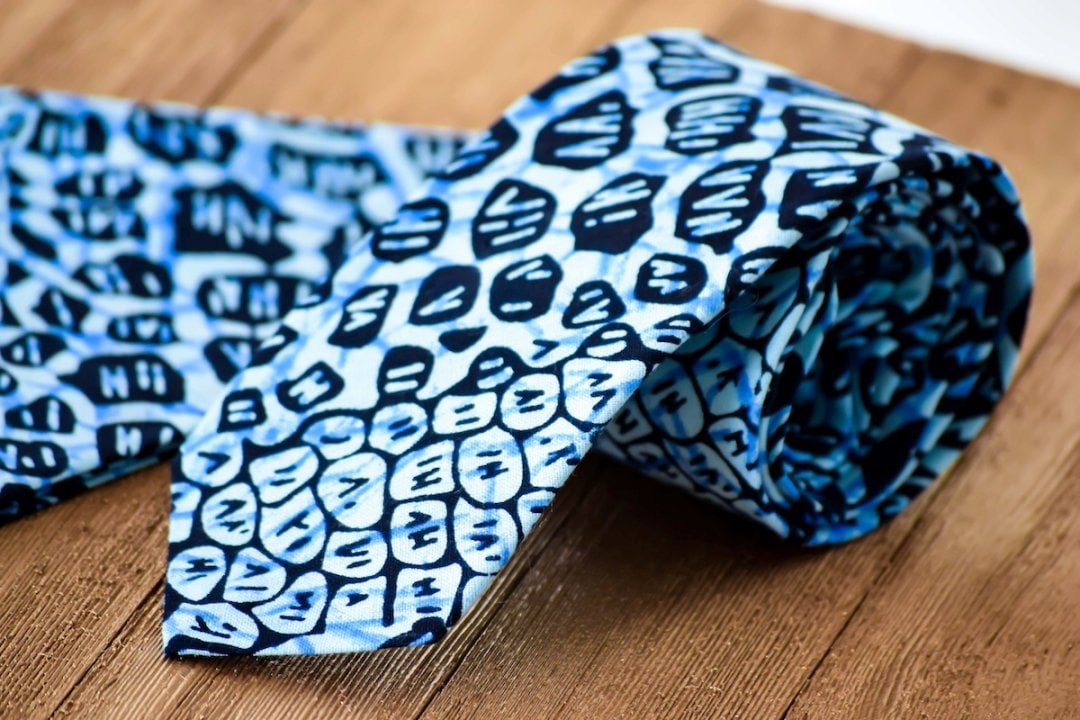 >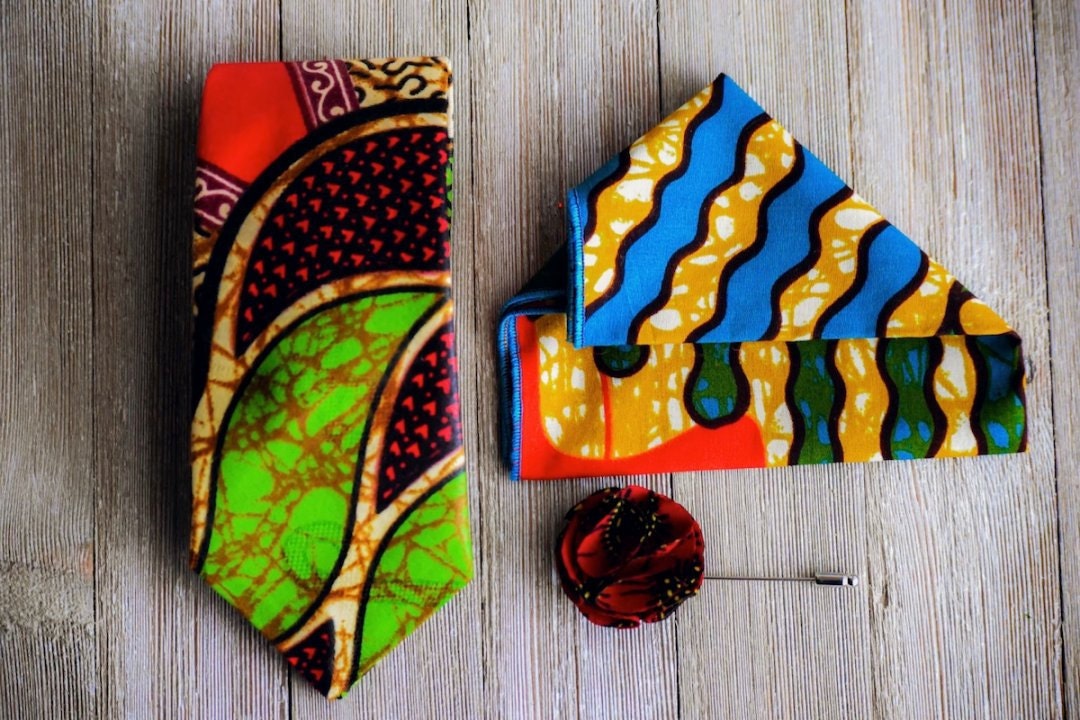 >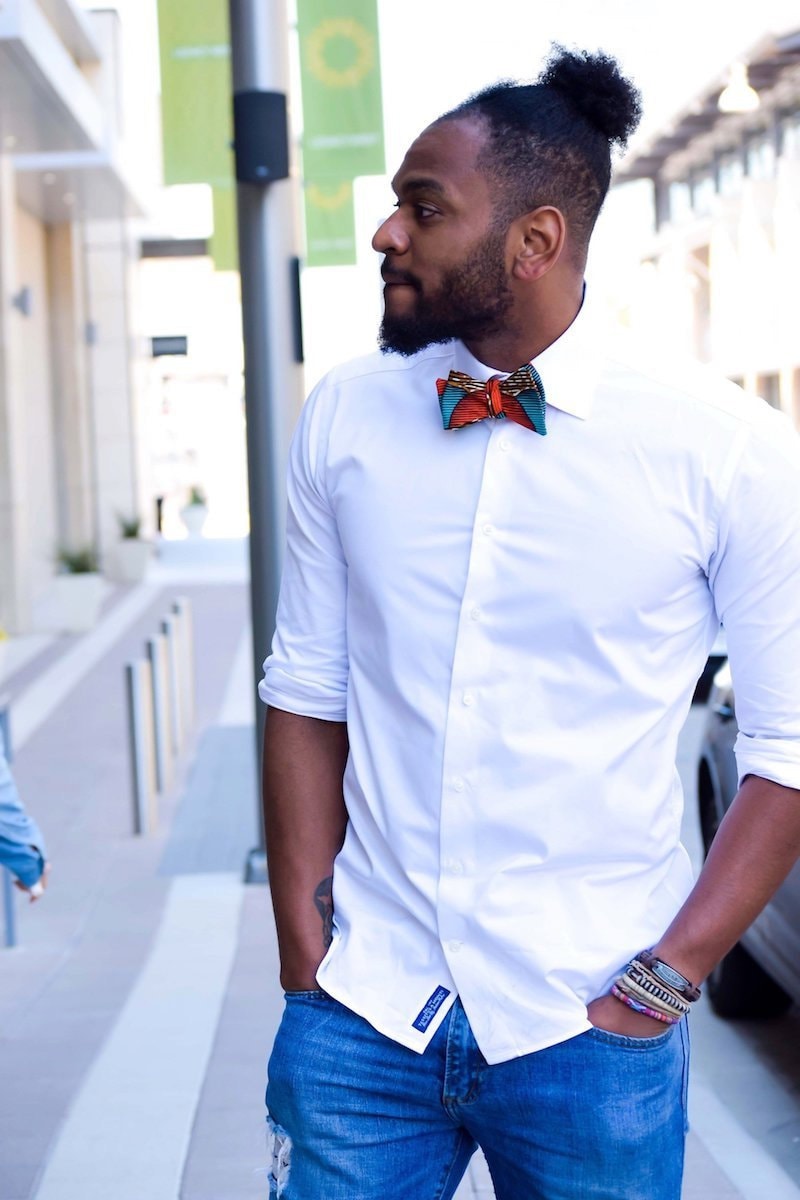 >
What would you say sets your line apart?
The biggest thing for me with all my orders is quality. Everything is made really well, and it's not a rush job. It's not something I've thrown together. It's something that is really thought out, and a lot of effort has gone into every single piece—I really give it my all. When I talk to customers, they always comment on the quality, which makes me happy; it's just nice to be recognized for something you have worked really, really hard on.
So, what's next for GabeJade?
I would definitely love to grow the business. I want to get bigger, and get my brand in front of more people. I want more people to know about what I'm doing so they can carry a piece of Africa with them, too.  
Follow GabeJade on Instagram.
Photographs courtesy of GabeJade.