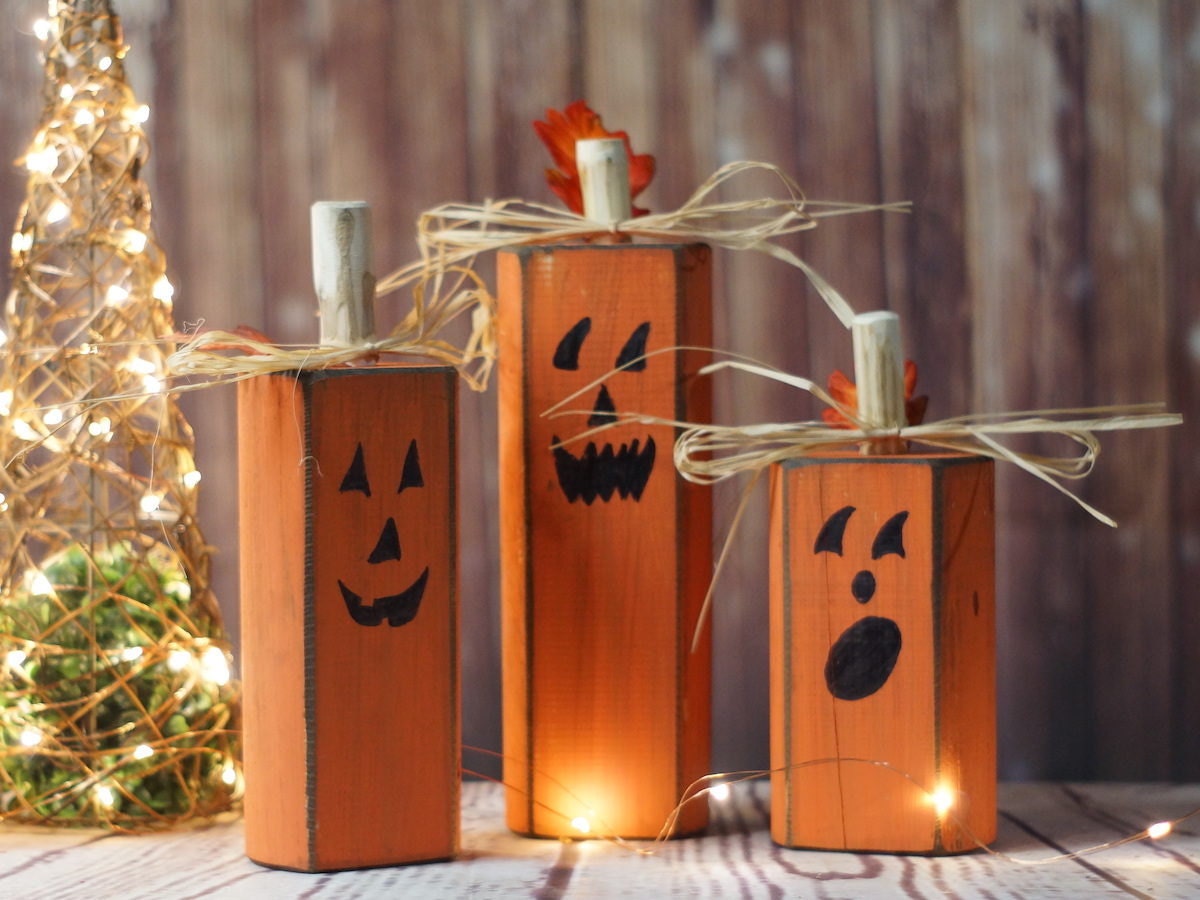 In our Featured Shop series, we shine a light on a standout shop from Etsy's talented seller community, offering readers a behind-the-scenes look at their process and story.
Every fall, the holidays seem to sneak up on each other—Halloween first, then a quick breather until Thanksgiving, with the year-end celebrations right around the corner. Decorating your home without adding clutter (or disrupting your aesthetic) can be a challenge. But if you ask Sarah Gumbrecht, co-owner of GFT Woodcraft, the secret to effortless seasonal flourishes is incorporating versatile pieces like her best-selling trio of reversible wooden jack-o'-lanterns. "They're the first item we listed, and they're still our best-seller," Sarah explains. "In September, when you're just putting out your pumpkins, you can have the blank side facing out, then flip to the face side for October, then back to blank pumpkins in November."
Explore the GFT Woodcraft collection
From their spacious woodshop in Phillipsburg, New Jersey, Sarah and her husband Eddie cut, sand, stain, paint, and distress each of their festive creations by hand—from seasonal chunky log pumpkins and wooden witches to more evergreen candle lanterns and cake stands. Built to last as family heirlooms, the rustic-chic wares make GFT Woodcraft the perfect one-stop shop for autumnal and wintery decor. "My favorite part of the process is when something goes from an idea in my head to physically existing," Sarah says. "Seeing it come to life is what I love most."
Read on for more of Sarah's top seasonal decorating tips for Halloween and beyond, and shop the GFT Woodcraft collection.
How did you get started designing and selling home decor?
My husband Eddie is a jack-of-all-trades—he does carpentry, plumbing, woodworking, and he's also a mechanic. I had seen wood pumpkins somewhere, and asked Eddie to make me a pair for Halloween. He made them, and I painted them. We started making other things together, and a friend suggested we sell them. We started our Etsy shop in 2014 with our jack-o'-lanterns. After building our Halloween section, we moved on to items for Christmas, then weddings. In June, we started working on our shop full-time, and now we're filling in the gaps for other occasions.
How do you two divide the work?
When we started, he did all the woodwork, and I did the staining, painting, finishing, as well as taking the pictures and mailing out the orders. A little while ago, he had some health problems, so there was a period of time where if I didn't get comfortable working the machines, we would have had to shut down. Now, I also operate the chop saw, drill press, band saw, router, and sander.
How would you describe your aesthetic?
I think when we first started out, we had a more primitive, rustic style. But as the farmhouse style has become more popular, we've evolved and leaned into that. It's still stained wood, and it's still rustic, but it's also modern, with cleaner lines.
What's your creative process like?
We've never been "let's sketch it out" people. Our ready-to-ship section includes a lot of items where we just had an idea, decided to make something, and then put it up in our shop to see how it sells. Eddie can make anything. So if I have an idea but I'm not sure how to execute it, I'll chat with him, and he'll help me figure it out. But we're always physically in the shop, with the wood in our hands, making the thing while we're talking about it.
What inspired you to work with reclaimed wood?
We bought a house in a rural part of New Jersey. We were putting up a fence and had extra wood left over. That's where the materials for the pumpkins and log candles first came from. Now, we source our wood everywhere, from landscaping companies to people who are tearing up their old bar or deck.
What are your top decorating tips for Halloween?
Our blood drip candles are brand new, and they're very Halloween-y without being gory—they're cute and a little bit funny. The design was inspired by the wax drippings on regular candles. They're perfect for Halloween parties, or you can put them on your porch for trick-or-treaters. We also have a shelf-sitter set featuring a witch, a vampire, and a monster, all making different faces.
Do you have any advice for transitioning decor throughout the holiday season?
For Halloween, you could start with a set of our pumpkins or jack-o'-lanterns, then add log candles—we offer them in many different colors—for Thanksgiving. When Christmas rolls around, you can introduce a set of wooden trees and some holly. We also make a set of risers and a cake stand for holiday pies.
Also, keep in mind that something that's painted red, white, and green is specific to one holiday, but stained wood works with everything. Our stained trees with little white dots are marketed for Christmas, but they'll look great any time of year. They can be used in a nursery, or even as wanderlust decor. Our distressed white pumpkins are another example. The neutral color means they can stay out through Christmas.
What's next for GFT Woodcraft?
This year, I want us to become a zero-waste shop. When we make something, we often have leftover pieces, like little squares or strips of wood. That's where our lanterns with square feet come from. The square feet are a byproduct of a different lantern.
We're also working on some new products for fall. We're going to offer log reindeer with little leather ears and wire antlers, and I have some new styles of trees coming out. I try to put up a couple of new things every week. When I make something and take pictures of it, I get so excited that I just have to list it.
Follow GFT Woodcraft on Instagram, Facebook, Twitter, and Pinterest.
Photographs courtesy of GFT Woodcraft.