by Rachel Mosely
From her just-built yurt in rural Vermont, lingerie designer Hanna Broer stitches up eco-friendly bras and underwear to suit any shape.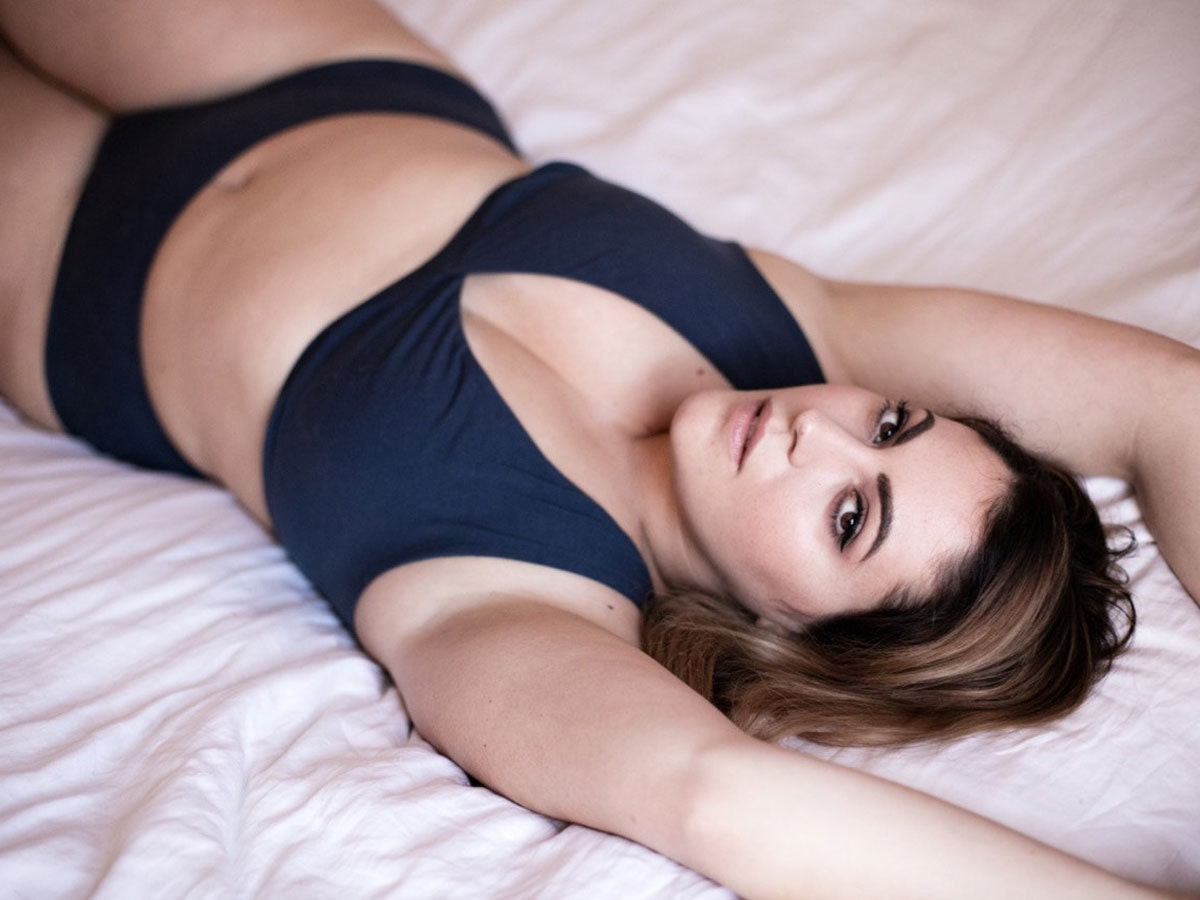 Sometimes you find your calling, and sometimes—as was the case with lingerie designer
Hanna Broer
—it finds you. The Montreal native was working as a seamstress in a city boutique when her irritation with a loose jeans waistband inspired her to create the high-waisted underwear design that would become her signature. To this day, it's the most popular item in her thriving Etsy shop, which also features swimwear and athletic gear.
Hanna's shop—originally operated from a "rickety" two-bedroom apartment above a tattoo shop in Crafstbury Common, Vermont—quickly became more than a side hustle. Today, it's her full-time job. What's more, it's the fulfillment of her childhood entrepreneurial ambitions, and a line of work that allows her to indulge her love of the outdoors (reflected in her eco-friendly materials) and her off-duty pursuits (Hanna and her husband inhabit a yurt on their burgeoning Vermont homestead). "Having an online venue means I can live anywhere I want," she explains. "I can run a lingerie business in rural Vermont, where there aren't nearly enough people to have a shop physically."
Read on to discover more about Hanna's hidden talent and the dream hue she's got on her design bucket list, then shop the collection.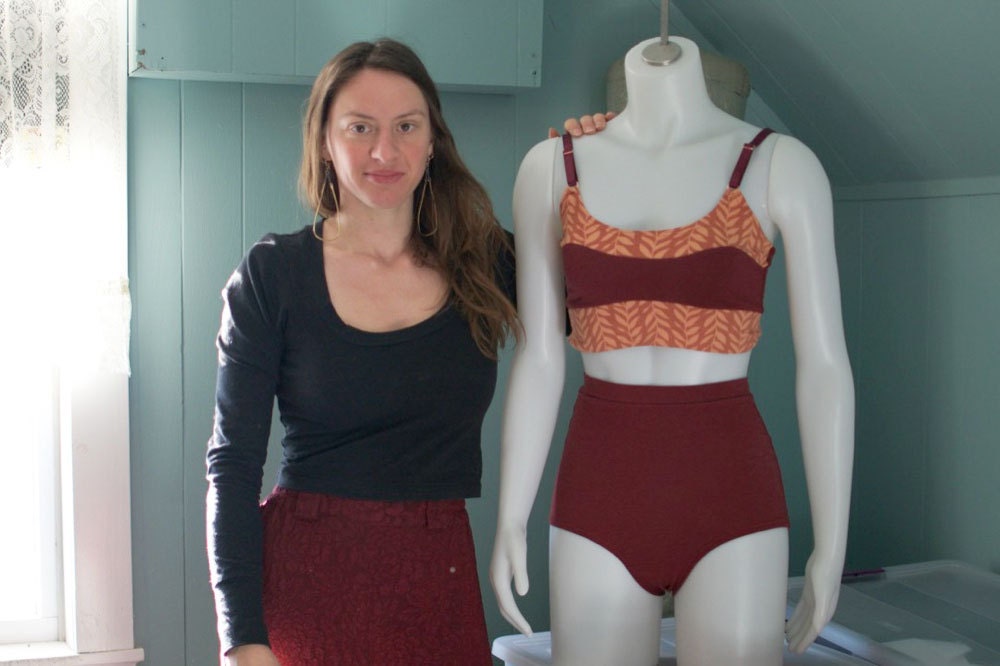 Tell me about your background—have you always had a passion for making clothes?
Yes. I started sewing when I was about 13 or 14, and I started making my own clothes and teaching myself. My mom gave me her sewing machine and showed me a few things and then I just went with it. Later I went to college for fashion design, but I only did one semester of that—I found it was just not for me. I felt like it was taking my creativity away instead of adding to it. That was surprising—and disappointing—but I got a little bit of knowledge from it, and continued on in a more general visual arts direction. While I was in school, I got a part-time job with a fashion designer in Montreal, where I lived. It was a lot of stretch clothing—mostly colorful, funky, women's clothing. That's how I got most of my technical skills.
Were you already making underwear in that job, or was it something that you started doing on your own?
It was more of a conscious decision of, "I need a specific type of underwear right now, so I'm making them." I happened to be wearing these really baggy jeans one day, and I had to wear shorts under them because they were so baggy they'd kind of fall down. I was really annoyed with having to wear shorts, pants, and underwear. It was too much lumpiness! So my thought process was, "I need to make some underwear that kind of looks like boxers, or that cover me so that my pants can fall down a little bit." I made a regular underwear base and put a plaid band on top, which made it look like boxers. I was like, "Oh fun," and they fit, too—they were comfortable. I made a whole bunch with different bands, and those became 
my wide-band panty
. The designer I worked for encouraged me to make a few to sell at her store. It was probably a few months later that I started
my Etsy shop
. It wasn't lucrative at first, but I wanted to do something that was my own thing. I've had that drive and knowledge since I was really young: "I am going to have my own business, and I'm going have my own line of something." I thought it was probably going be clothing—I just didn't realize it was going to be underwear.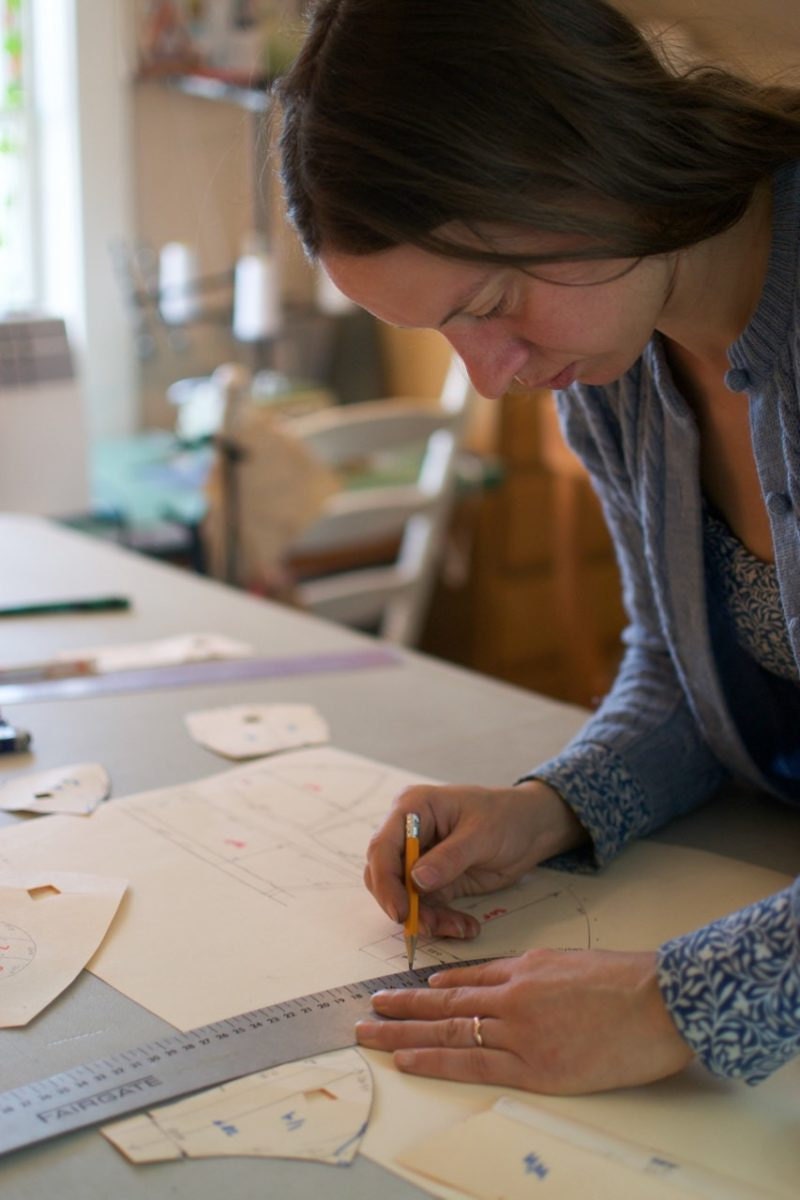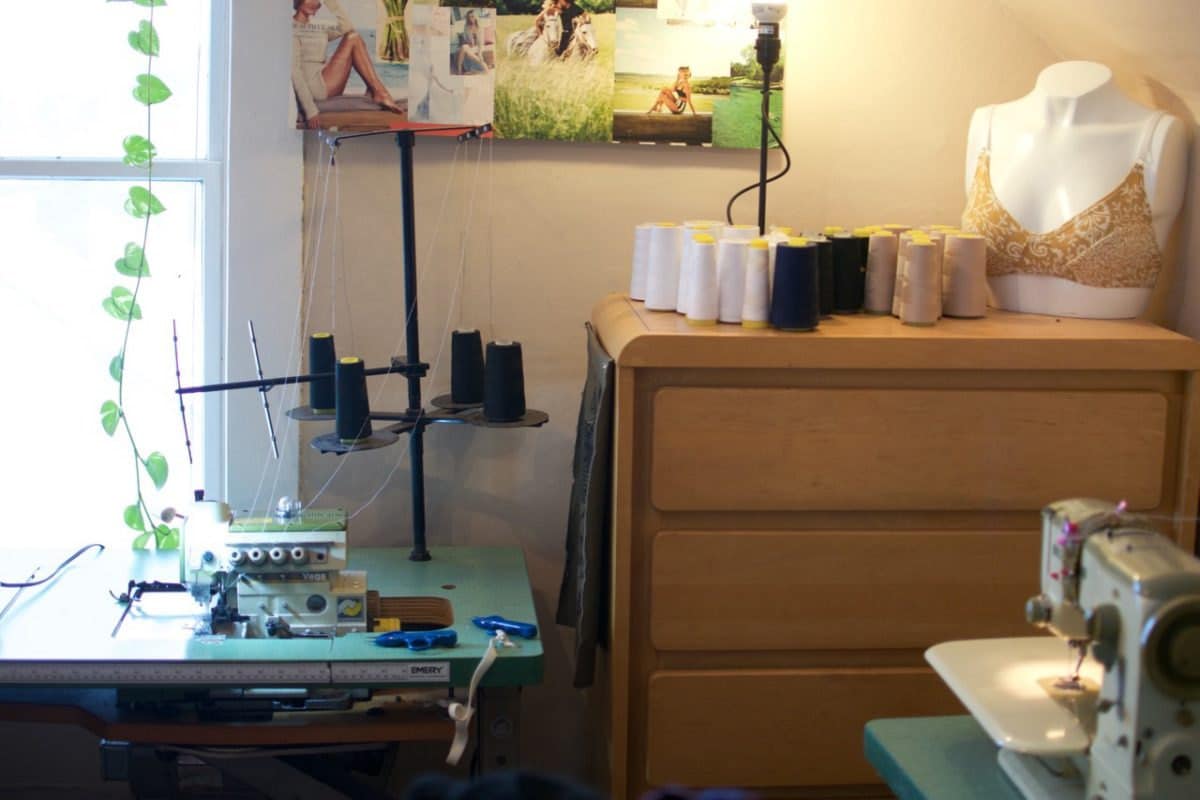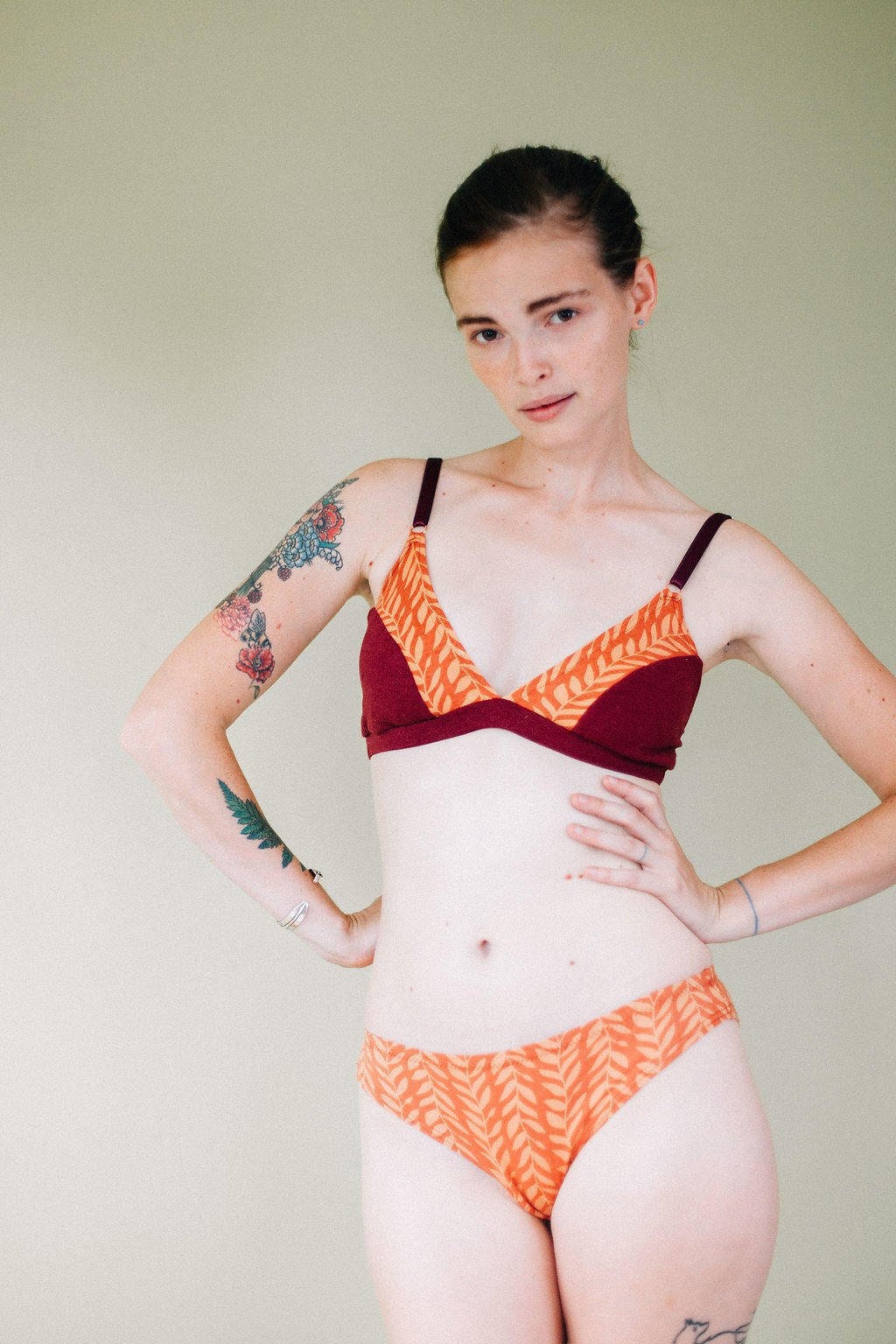 >
Photograph by Lulu Lovering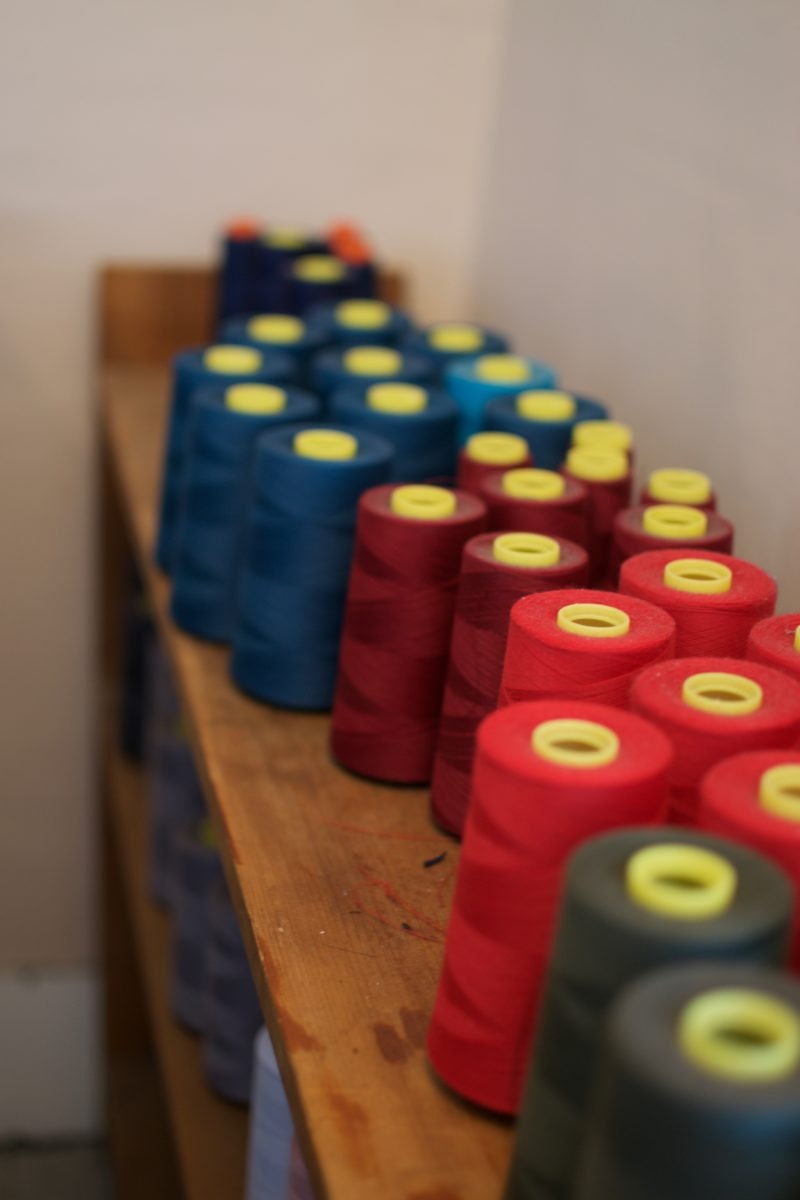 It also sounds like being around nature is important to you. Would you say that informs your designs?
It informs my choice of materials; I don't know if it informs the actual designs that much. But I really enjoy life outside. And for me, organic is really important—I know how much it impacts the environment. So that informs my work, by my choosing
organic materials
, or things that can be grown sustainably.
Lingerie sizing seems difficult, because every person has a different shape. Did you find that was tough to troubleshoot, or to perfect?
The most challenging thing in the world is breasts. There's so much variation in shape, size, depth, width. What I've done—and what seems to work quite well most of the time with the styles I have—is to grade the top parts separately, and then if someone happens to be a bigger cup size then I tend to put a smaller band on it. But also, most of my bra styles are really very flexible. They're stretchy, they're very soft, and there are no molded cups. So it's easier to fit. I've gotten really good at figuring out what size underwear people would wear. Sometimes it's funny at craft fairs, because people will be like, "Oh, I can't try it on here. What size would I be?" And I just have to eyeball and suggest. So my eye has been honed to sizing a little bit. It's a specific skill to have.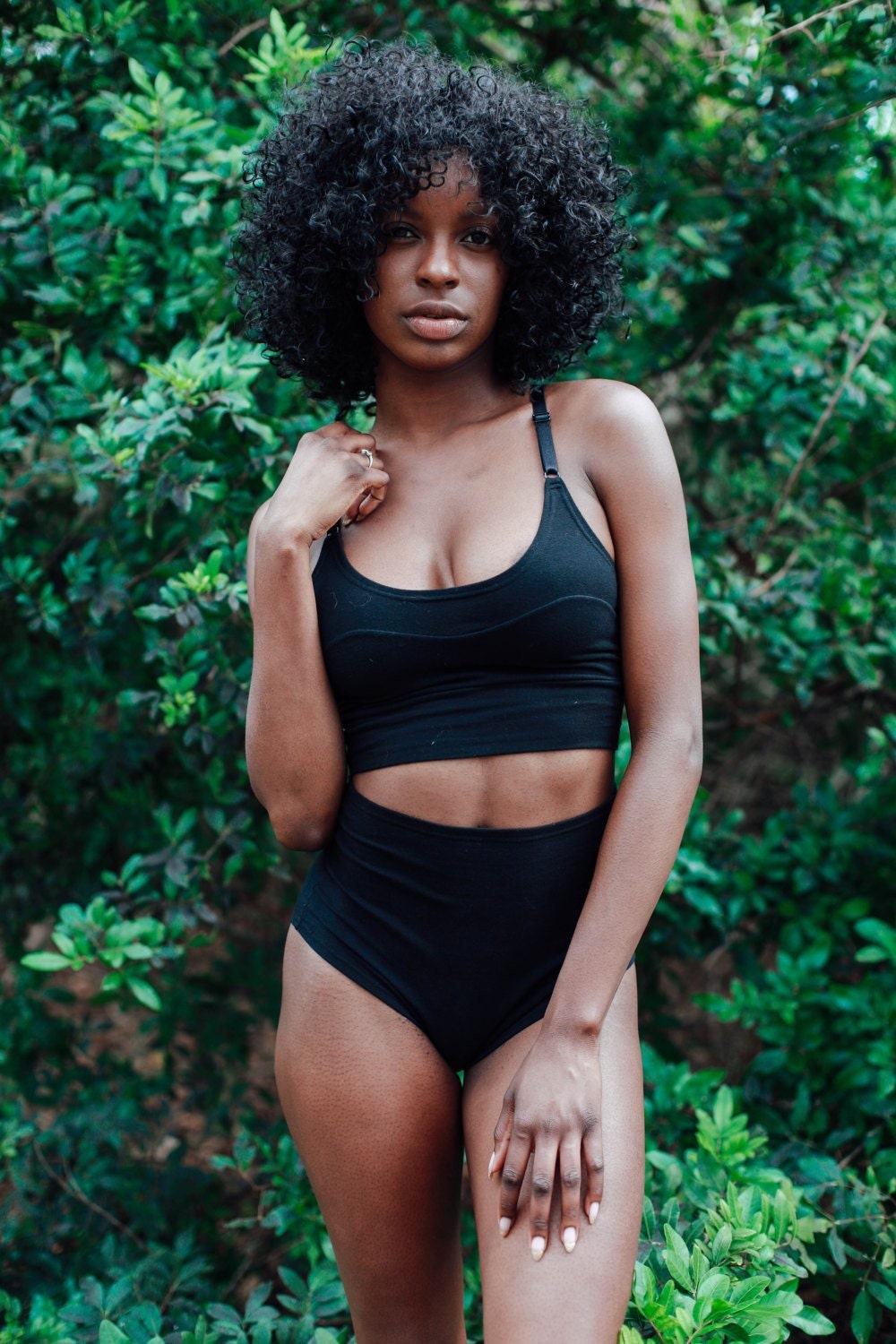 >
Photograph by Runaway Photography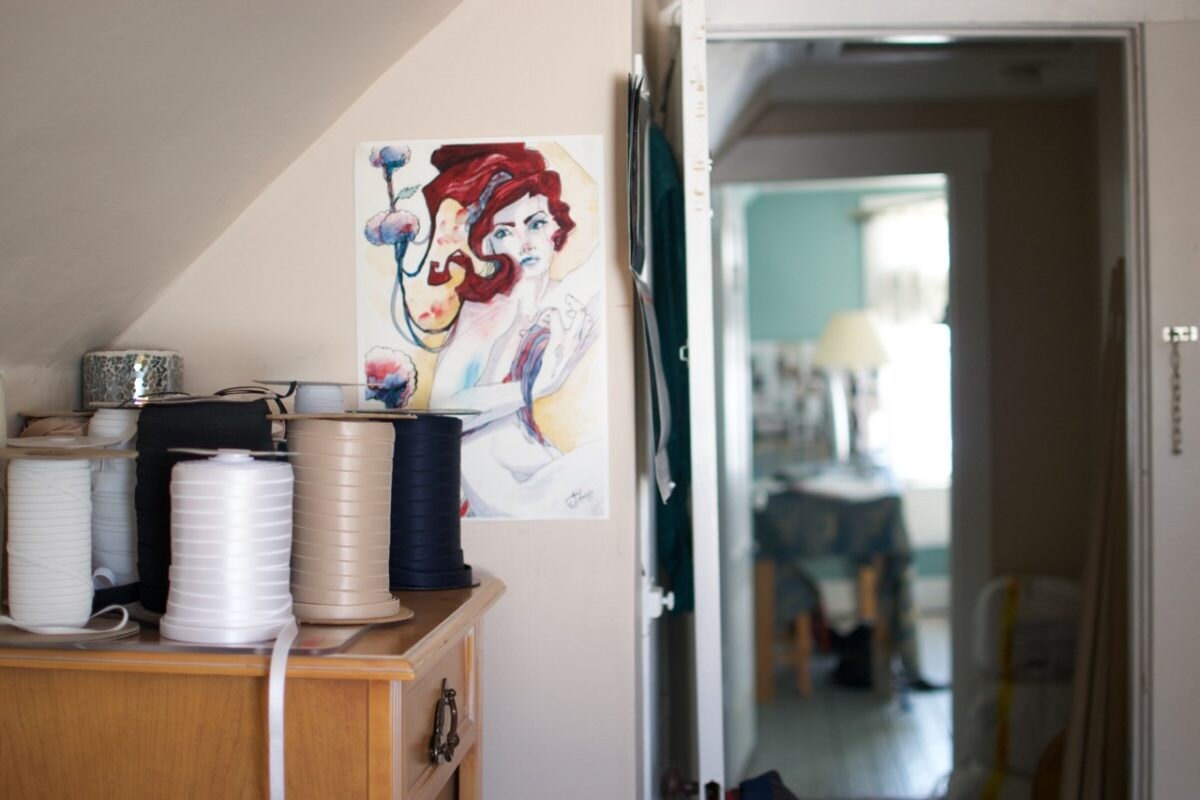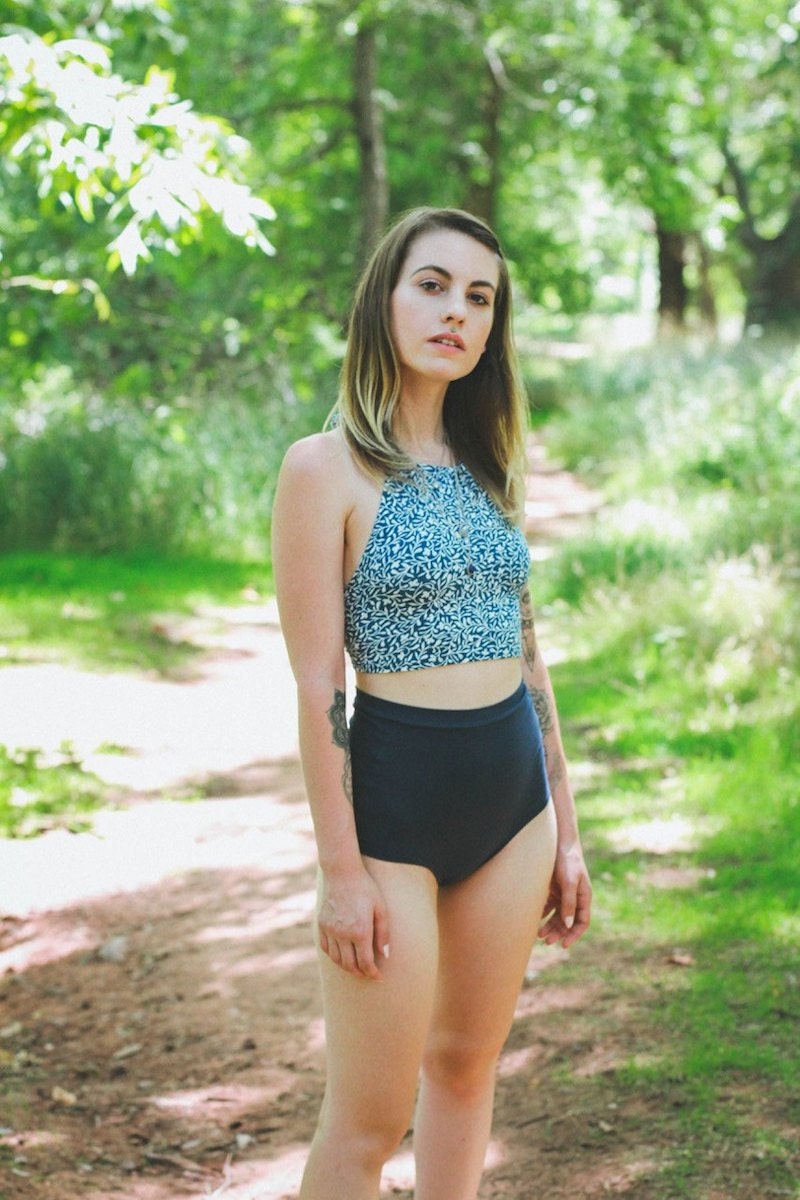 >
Photograph by Emma McCune
A very specific hidden talent! What do you do in your spare time?
About a year ago my husband and I bought a piece of land that was just woods. We spent last winter clearing, cutting trees, creating a space to live and to garden. And we built a yurt, which we now live in. So a lot of my spare time goes towards that: planting, planting, planting—a lot of fruit trees, nut trees—and just getting a homestead going. That's my other passion, growing food. We've also got some chickens. So just a few animals, some gardens, and hopefully at one point a little bit of an orchard. There have definitely been a lot of challenges, especially at this moment of the year, but I'm loving living in the yurt. It's a small space, but it's so homey. There are actually a few pictures on
my shop page
that feature the inside of it. Once in a while I do some self-portrait photography for my items. In the picture of the tiki high-waist panty—that's my butt and the inside of the yurt.
I love that—a home photo shoot. So what's next for you and your shop?
I hope to keep doing this. One of my goals is to start selling enough things that I can up the amount of fabric I buy. It seems like if I buy 300 yards of something, I can have it dyed in my colors—but that's a very large amount. It's not totally out of the question, but I'm not quite there yet. So one goal is to start doing a little bit more volume, so that I can have more control over the colors and fabrics that I get to use.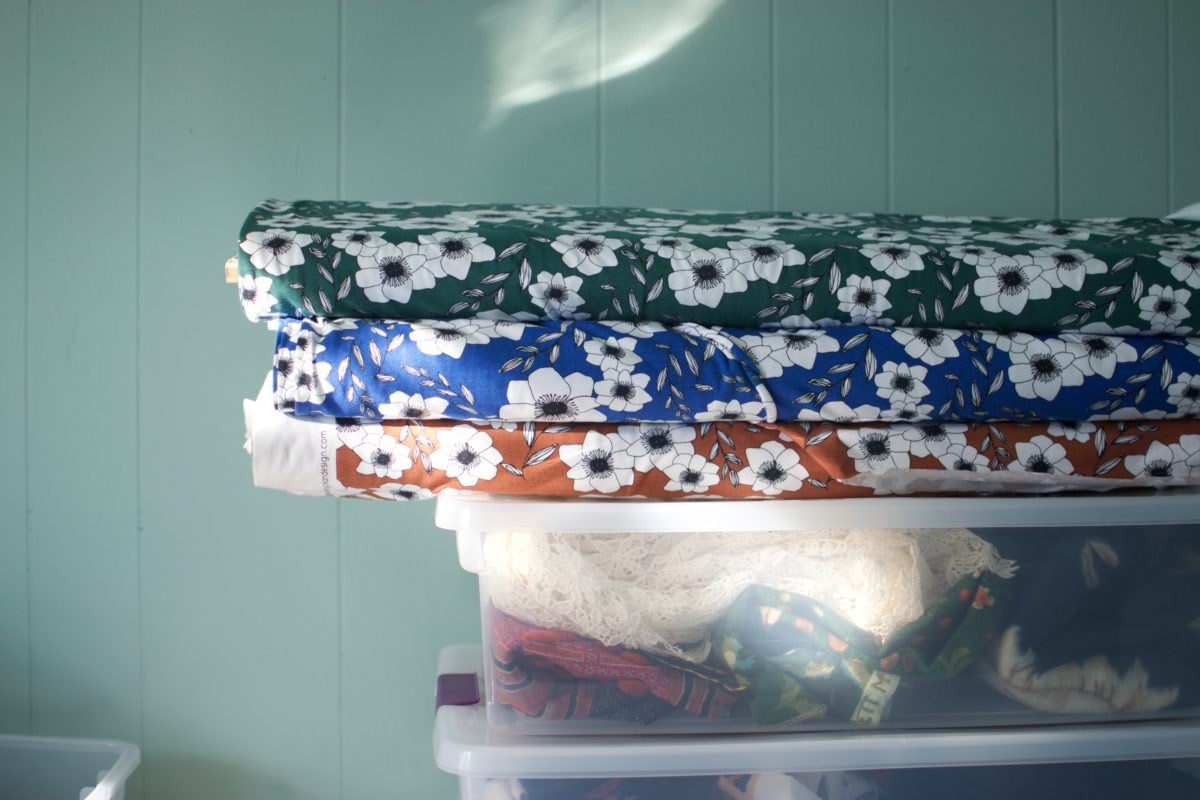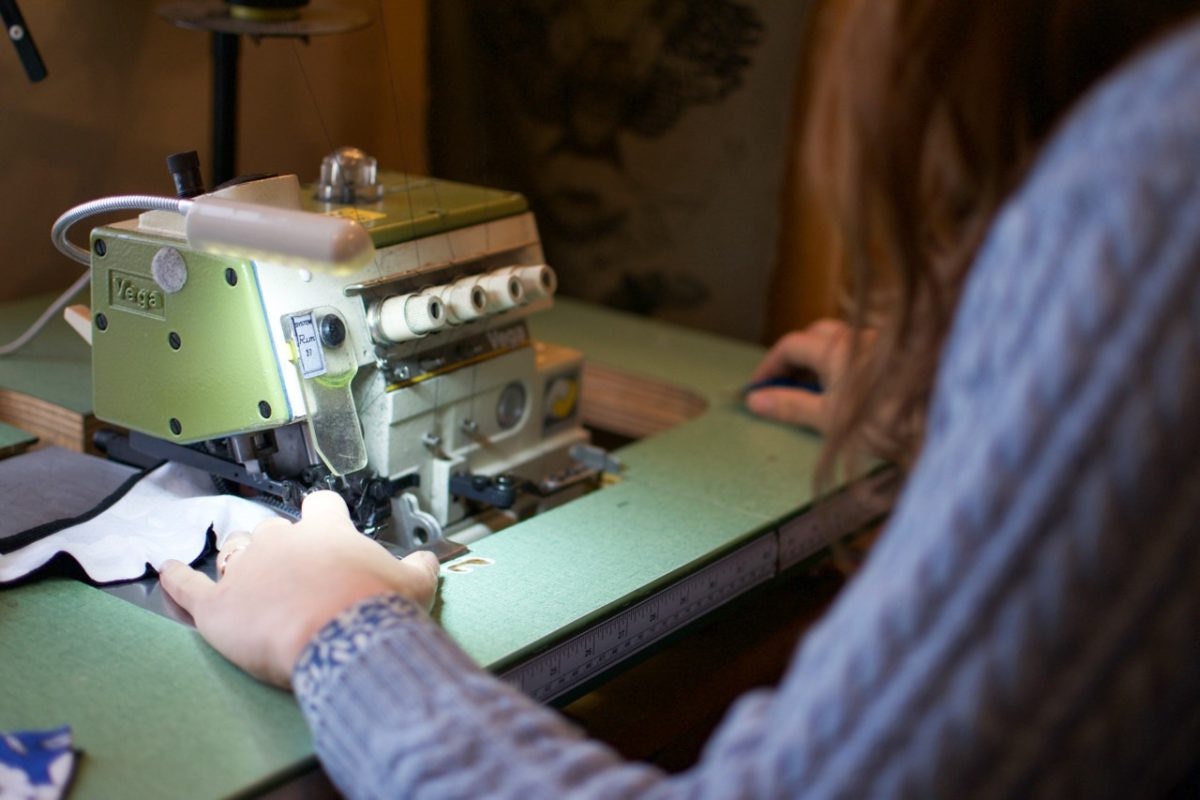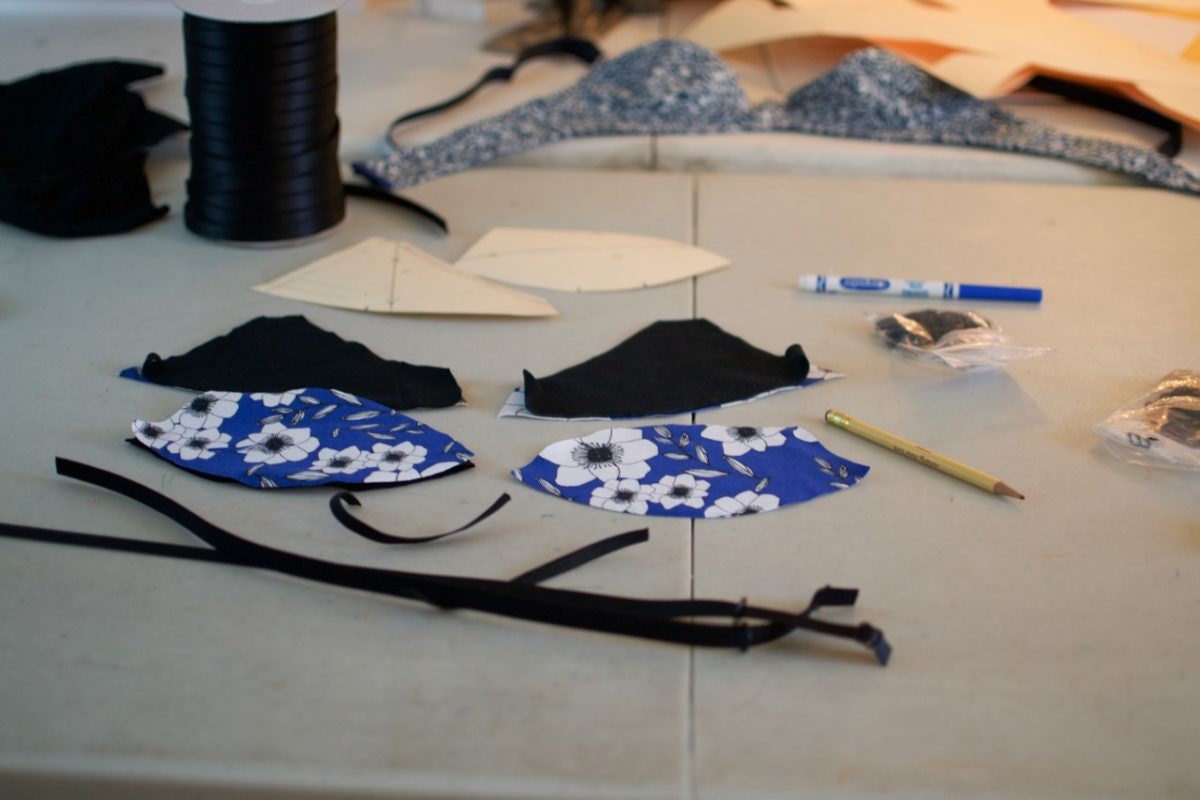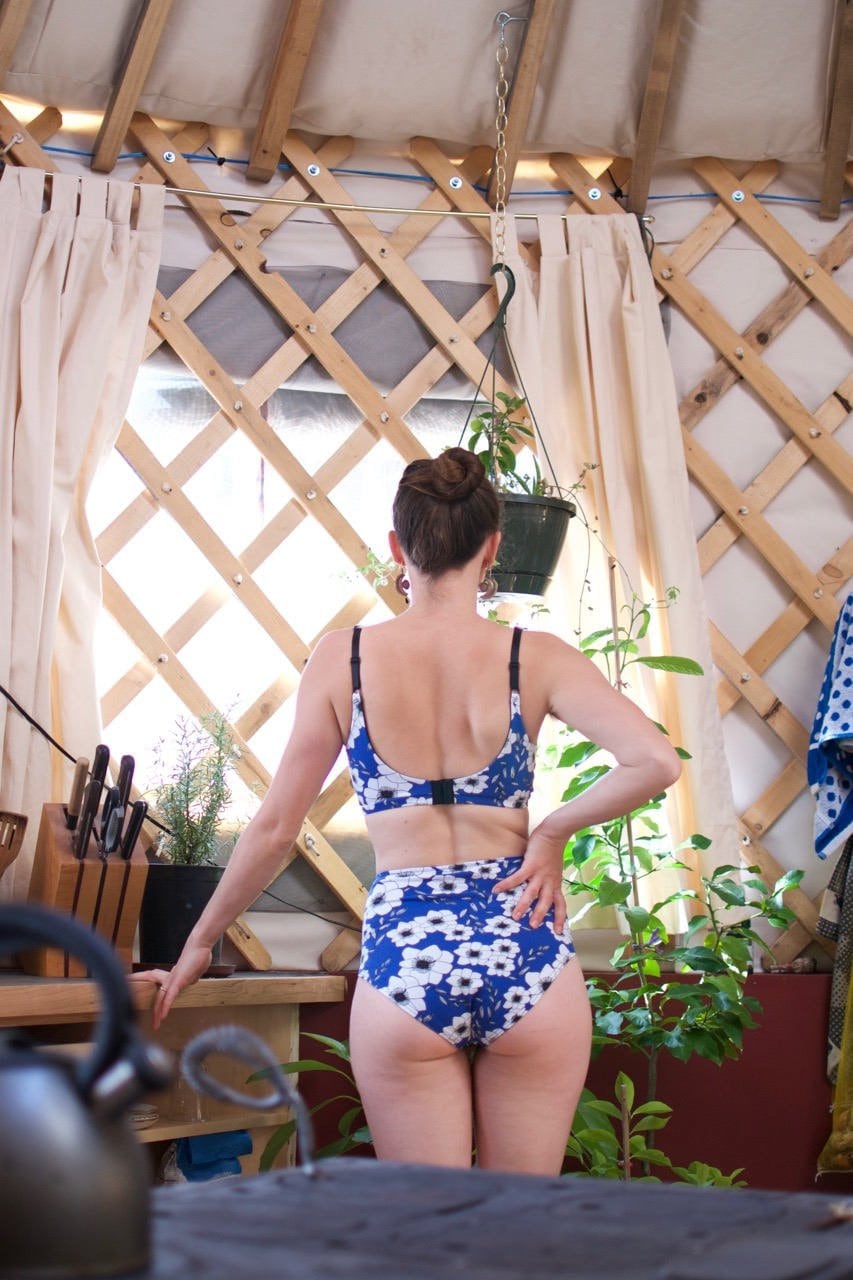 >
If you could pick any custom color, which would you pick?
The perfect red. In the TV show 
The Handmaid's Tale
, the cloaks they wear—I want that red. It's not bright, but it's not burgundy. It's just very rich. I've definitely spent so much time like, "I want that red!"
Follow Hanna Broer Design on Instagram, Facebook, and Pinterest.
Photographs courtesy of Hanna Broer Design unless otherwise noted.