This Amsterdam-based artist's painted ceramics line was born out of an attempt to overcome a creative block. Mission, accomplished.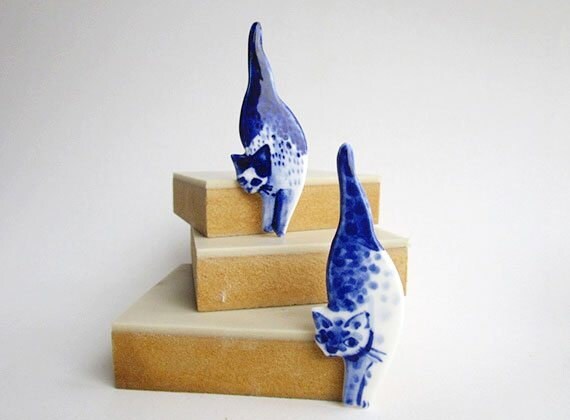 Being raised by an artist father has its perks — if you're inclined to see them that way, that is. For Harriet Damave, of the hand-painted porcelain shop
Harriet's Blue and White
, the benefits included a few very specific skills picked up during the lessons her father taught in the studio next to her childhood home: "I'm number ten in a family of ten children, and we always had to sit as models for figure drawing classes," Harriet says. "While sitting, we learned to stay very quiet and not move a lot." Fortunately, that wasn't all she learned; the young Harriet also got a hands-on education in drawing and watercolor techniques, which have formed the (unexpected) foundation for the
painted porcelain
business this Amsterdam artist operates today.
Read on to learn more about Harriet's unique creative path.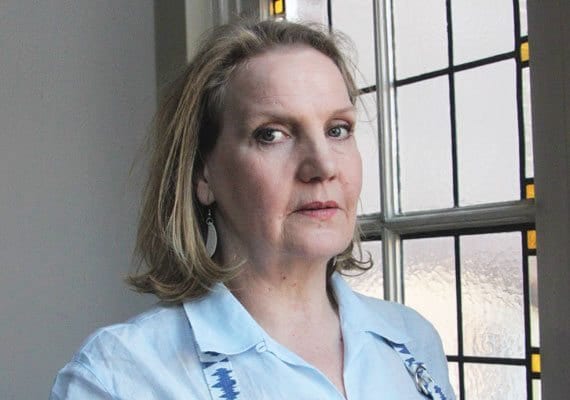 Tell us about your creative background.
My father was an artist, and I grew up in a studio atmosphere. I liked it a lot because I learned so much from a very young age. Of course, once I reached the age of 17, I thought my father's kind of art was really old-fashioned. He was a watercolorist and he made etchings, and he was quite classical and academic. So I went to art school, but not the art school he liked; I went to a more modern, more progressive one. But most of
the skills I'm using today
I learned from my father — especially watercolor.
How did you come to be doing what you are doing today?
I never had serious ambitions to do anything on ceramics. My ceramic work was born because I had gotten completely stuck — like I think everybody has at one stage in their creative career. I was illustrating for a living, mostly school books, and living in Spain; at one point I couldn't seem to draw anymore, and I thought, Maybe with a trick I can get myself painting and drawing again. I decided to try to take away the ambition of making something purely artistic, and instead focus on making something useful, like a cup or a plate. That lowered the pressure for me, and it's kept me going and painting — and playing, also. Then I found the joy again, the joy of the craft. When I started experimenting with
cobalt oxide on unglazed bisque
, which is very absorbent, I found it very similar to painting on watercolor paper. I fell in love with that technique, and suddenly everyone started to say, "Oh, that really looks like
Delft Blue
." Actually, that is a different technique, from the 17th century, which was created in imitation of the Chinese blue and white porcelain that was very fashionable in Europe then. But the thing is, if I were selling my pieces in a market in Portugal, for example, instead of, "Look, that is Delft Blue," everybody would say, "Look, real Portuguese
azulejos
," or something like that. Poland, Czechoslovakia — everybody has got their own blue and white tradition.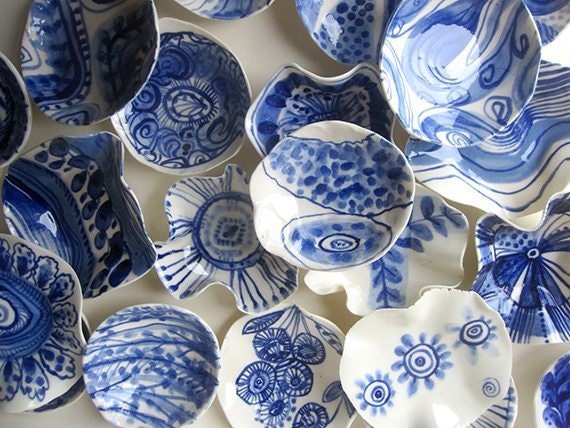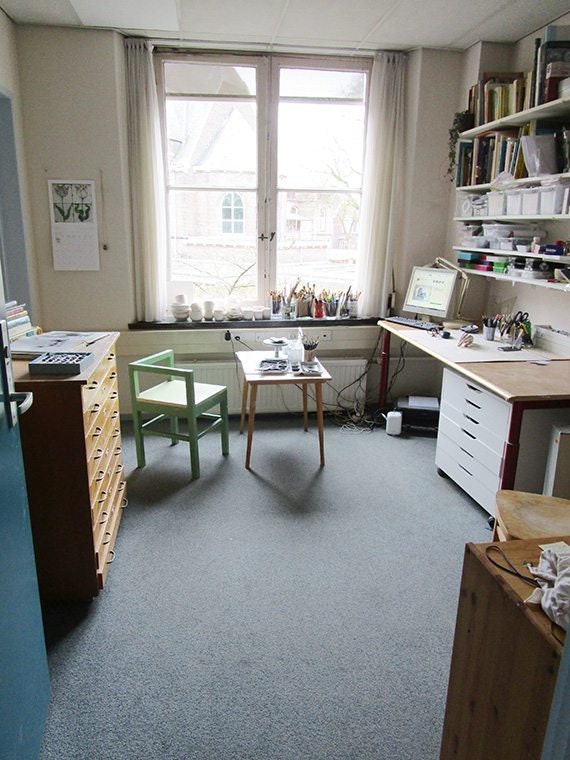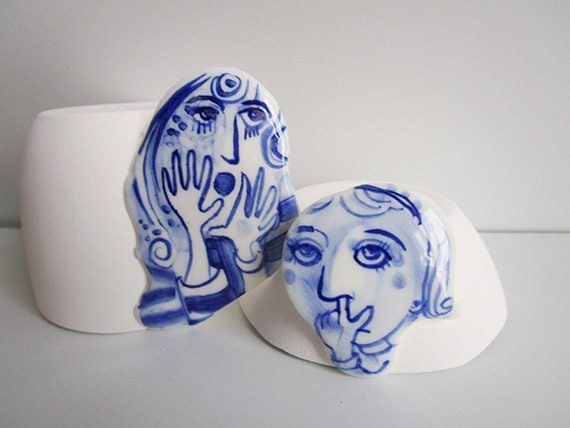 Why do you think blue and white are so universally appealing?
I think there are several reasons for that, and one is simple practicality. The pigment in cobalt oxide does well at a broad range of temperatures — at higher or lower ranges, it gets a different color, but it's always beautiful. Before, we didn't have computerized kilns you could precisely control; people worked with copper and wood kilns. There are other colors, like red and yellow, that just disappear after a certain temperature, or they turn green — it's like a kind of alchemy. But the blue is a color you can trust. It's also a very graphic and very attractive combination, blue and white, and people can paint easily with it. I'm sure lots of ceramic painters will agree with me: It's a very gratifying pigment. And it lasts — we find things from archaeological sites that are 500 or 600 years old, maybe older, with the drawings and paintings still perfectly intact. It's amazing.
Beyond practicality, is there anything else that drew you to cobalt oxide?
For me it started when I was living in Spain and Portugal — there's blue and white all over the place there. And I really liked the way they use blue and white tiles for tableaus in Portugal; there are complete stories told within the pictures. It's a very folk kind of art, quite rough and pictorial with not so much artistic pretension, and that is what attracted me. When I was in art school at the end of the '70s, it was all about conceptual art, and there were some dirty words like "commercial" and "selling your work." Crafts were not at all in fashion. Now I am revisiting it all, and everything I learned from my father, and applying it to what I'm doing. And I'm just enjoying it so much.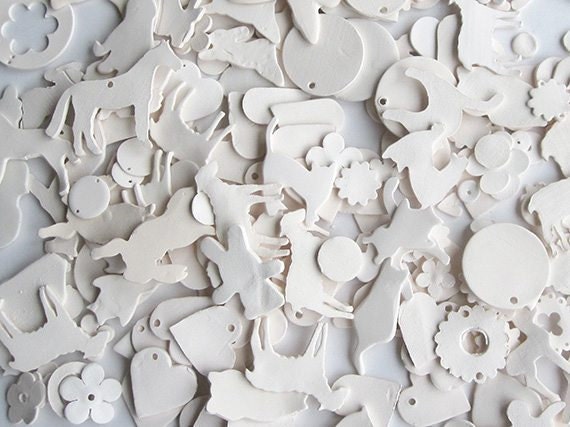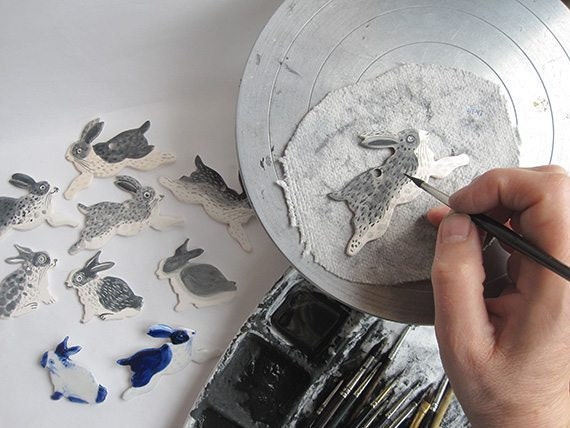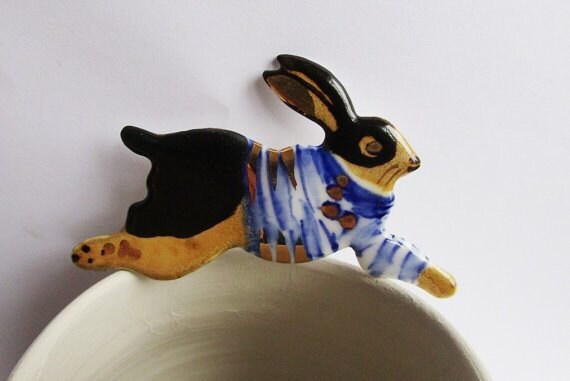 When did Etsy enter the picture for you, and how has that affected your work or your creative process?
I found Etsy at the same time that I started to explore ceramics. I was an absolute beginner, and it was such an enormous encouragement to me, for my creative work, that I could show my work straightaway on the internet and be able to sell it. Until then, I was always working on my own in my studio and the only ones who saw my drawings were the people I lived with and my editor, and I never heard anything about it. To be able to hear that people loved my work on Etsy and bought things, I thought, Oh my goodness, people like my work! I think the kind of feedback you can get on Etsy is a revolution for smaller crafts people. The direct contact with the buyer is so good — and of course, the community and the encouragement you get from fellow artists. I immediately felt that there was a big connection with the turn-of-the-century
Arts and Crafts movement
in Europe — Arts and Crafts in England,
Bauhaus
in Germany, and
Werkstätte
in Austria — which was a reaction to the Industrial Revolution, when people were fed up with mass production and hungry for handmade things and craftsmanship. When I first opened my Etsy shop nearly ten years ago, I felt the same urge for handmade things that we must have had then. For me, all that is combined with a need for sustainability. If you buy one bowl or one wooden box that is handmade with care, you treasure it — maybe your children can even use it one day — so it lasts a lifetime. You become friends with the object; you don't throw it away like something you buy at the store. So that is sustainability, too. There are so many reasons why Etsy came as a godsend for me, and for all those people with fantastic ideas who are too shy or not lucky enough to be living in the right place, near the sourcers or the buyers. I think it's quite a revolutionary thing, just as the whole Arts and Crafts and Bauhaus movements were.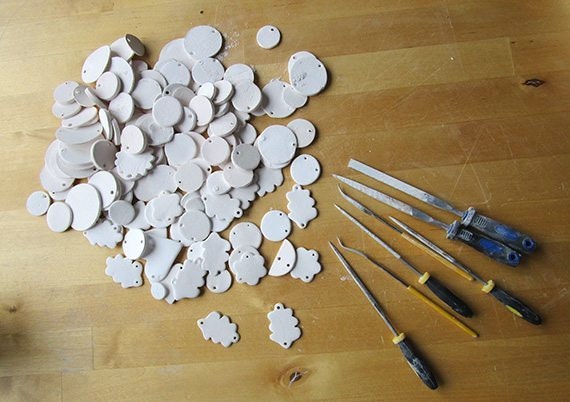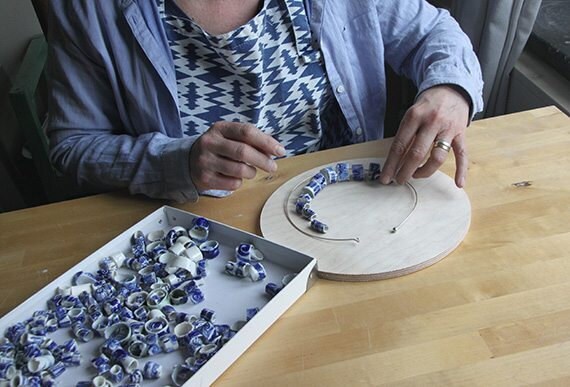 Will you walk me through the process of how you make your items?
Working with the best and the whitest porcelain helps me to make the nicest and most detailed drawings, so I buy very good quality porcelain — if possible, Southern Ice from Australia, which is not always for sale here in Europe. I make my work sort of like making cookies, cutting out the shapes with a cookie cutter or forming them by hand. Next I bisque-fire them, and then there's a lot of sanding. After that I start to paint, using a mixture of cobalt and some gum Arabic and a lot of water. Cobalt is such a strong pigment; it took me a while to find the right proportions. I'm still learning every day and fine-tuning. That's the exciting thing: I never, ever feel like I have explored it enough — the longer I do it, the more I'm interested. Then every week or two, when I've got enough pieces done to glaze and fire, I dip them in a special translucent glaze and put them in the kiln at a very high temperature. After a day and a half, I open the kiln. Sometimes I'm happy and sometimes I'm not so happy, but it's always a surprise.
What inspires you in your work?
Animals inspire me, as you can see, and my beads and small dishes are very much inspired by the Japanese idea of
wabi-sabi
, the zen idea of just letting things happen. I really enjoy that, and it's so much better to work that way: the less I do, the more happens. I am always surprised by what I find and how the products turn out. For some reason, people love that — they touch it and see that there is a type of "let go" attitude. Sometimes it turns out ugly, but sometimes it turns out really fresh and vibrant. And sometimes, I start to love the ugly ducklings.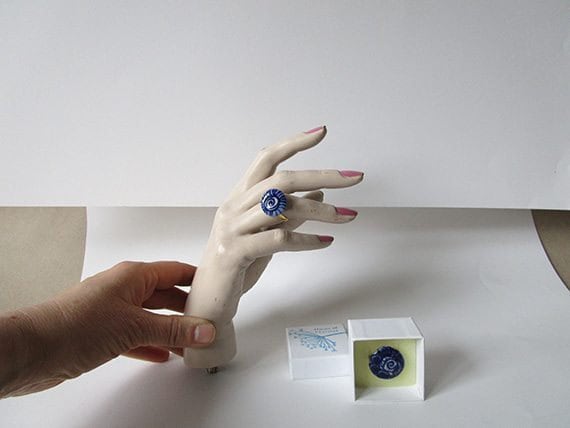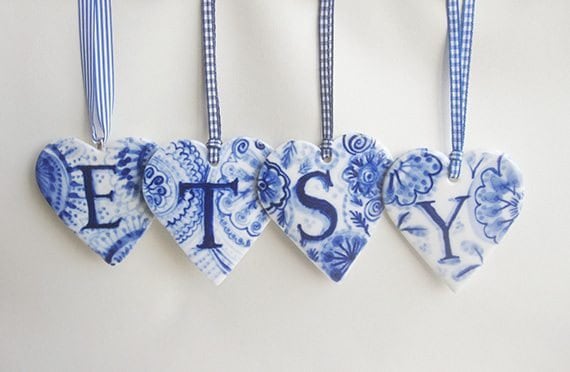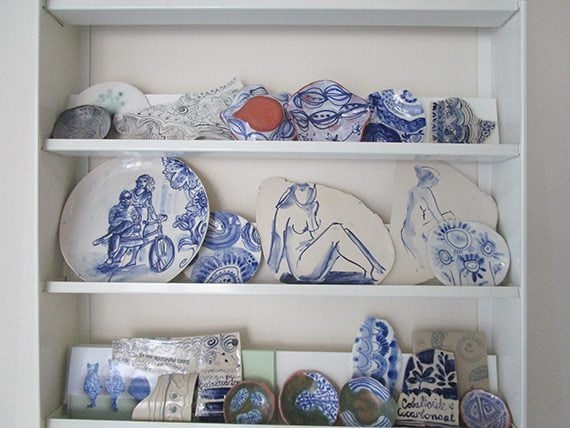 What's the most popular item in your shop, and how did that design originate?
My most popular items are my
rabbits
, especially the ones with the blue and white striped shirts. I have a thing about blue and white stripes — one of my favorite artists, Pablo Picasso, always wore a blue and white striped shirt, and Jean-Paul Gaultier did, as well. I thought it was just so nice and graphic, and I like that it doesn't make sense. Also, I've got a few customers who can smell when I've got new 
cat tiles
in the shop, and they immediately buy them up. I think, with those, you can tell that I've got a background in graphic design; there's a clear link to cartoon drawing and animation there.
Do you work on any creative projects outside of what you make for your shop?
I worked as an illustrator for a long time and I loved it, but after a while I was only asked for one particular kind of drawing, and that didn't inspire me. Now I just do it for myself. There are some other personal projects I'm working on, too — my studio is very close to a cathedral that is full of
ex votos
, the votive offerings that are traditionally given in thanks for the healing of an illness or an answer to prayer. That's another beautiful old folk art that I can relate to; now I am making my own ex votos in blue and white for all the things I am grateful for.
That sounds cool!
It is very much
not
cool, actually. But I had to become 55 years old to see that enjoying what you're doing is the most important thing. So I really enjoy doing those, and that is what I live by right now.
Keep up with Harriet by following her on Facebook, Pinterest and Flickr.
All photos by Harriet's Blue and White.