by Jackie Buddie
Following stints as a miner, waitress, ceramicist, and scallop shucker, Jessica Kramer hit her stride designing ethically sourced raw crystal jewelry.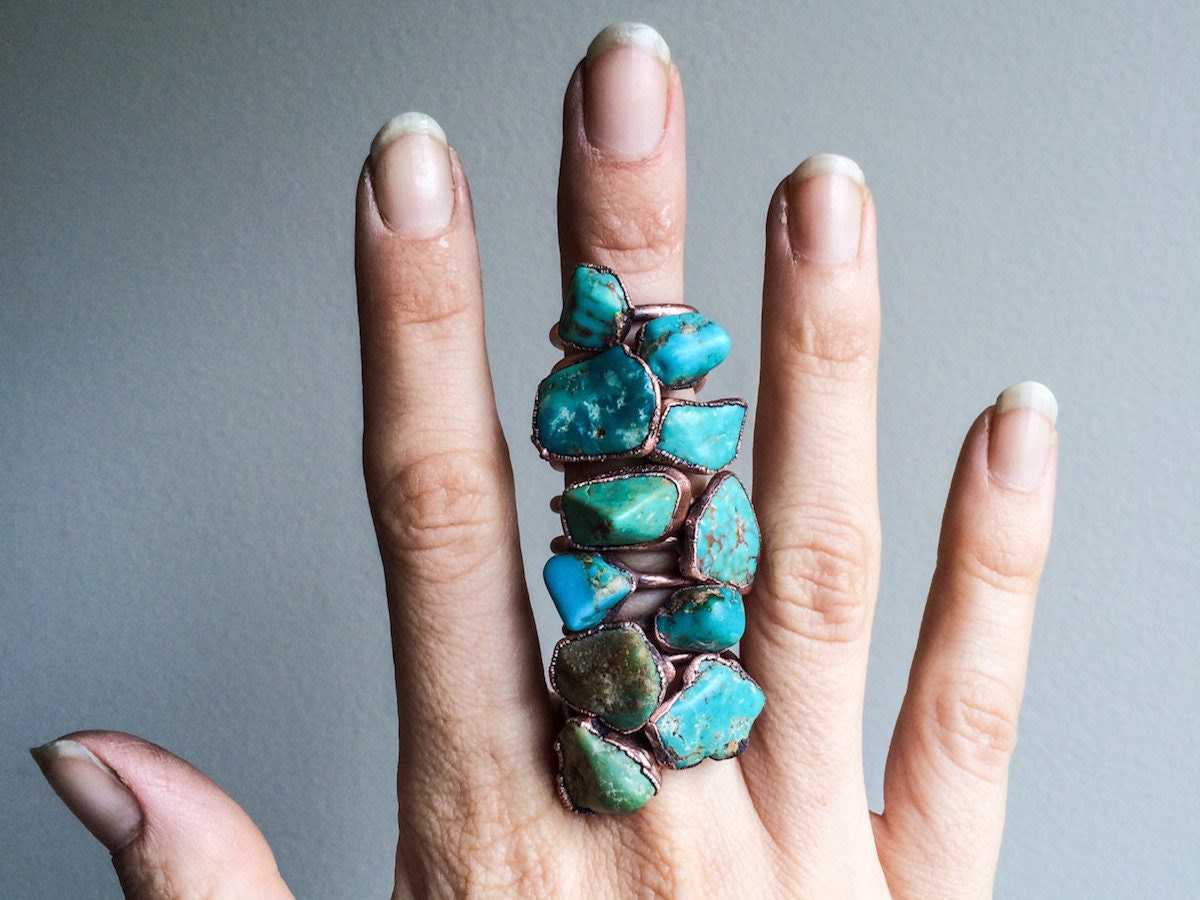 Don't ask raw crystal jewelry designer Jessica Kramer to pick her favorite mineral. "They're
all
my favorite," explains the Martha's Vineyard–based owner of
HAWKHOUSE
and lifelong 
gem and mineral
lover. Jessica's passion for sparkly stones crystallized at an early age on a trip to Australia with her father. "We went into a jewelry store looking for earrings for my mother," she recalls. "It was a dark room, and there was a guy cutting this huge pile of raw opals. They just looked like rocks, but then he turned one over and there was this whole world of fire inside it. He let me pick one and he cut it for me right there and made a cabochon out of it. My dad later had it set in silver and I wore it all through high school." Fast-forward to the launch of
HAWKHOUSE
in 2013, and it's only natural that Jessica's
raw opal ring
became one of her best-selling pieces. "Opals in general propelled my business," she says. "Looking back, it's sweet to think how the first gemstone to take off in my shop also happens to be what got me loving minerals." Today, the bedrock of Jessica's business is even more precious because it's comprised of a tight-knit community of women who assist her with everything from electroforming to assembly, shipping, and communications. Together, they've made
HAWKHOUSE
one of the most beautiful adventures of Jessica's lifetime.
Read on to learn how, following stints as a miner, waitress, ceramicist, and scallop shucker, Jessica hit her stride as a successful jewelry designer; then shop the collection.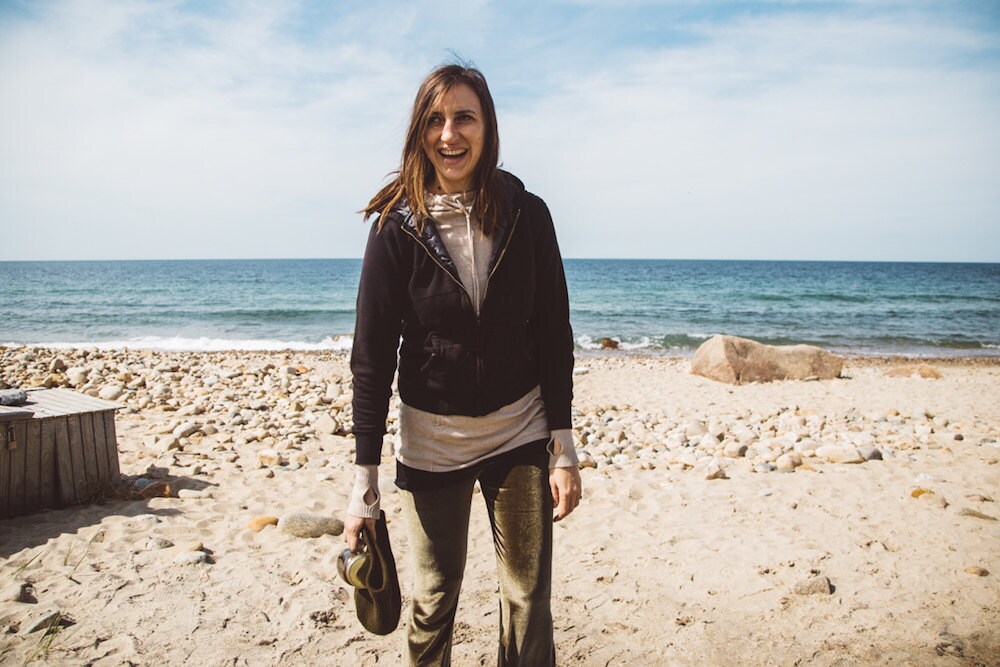 Have you always been a creative person?
I've been making
jewelry
since I was little. My mom's a potter so I grew up going to arts and crafts shows with her, and she let me set up at her booth. I also sold jewelry out of my locker at school: hand-knotted necklaces and
friendship bracelets
with beads I made out of clay.
You've lived so many lives since then. How did you arrive back at selling jewelry?
I don't have a college education, so coming back to Martha's Vineyard has been a great resource for me. There's a big influx of tourists in the summer and all sorts of jobs that pay pretty well. Five years ago I returned to wait tables, met the dreamiest guy, and decided to stay. After all the tourists left I had to figure out how to make money. I live in a little fishing community, so I started shucking scallops, which gave me plenty of hours to get my wheels turning. At the same time, I was apprenticing under a potter. I had a little kiln and a wheel, so I started making air plant holders and
assembling beaded jewelry
, and I figured I'd try out this thing called Etsy. I loved being able to stay home but also hear that "cha-ching."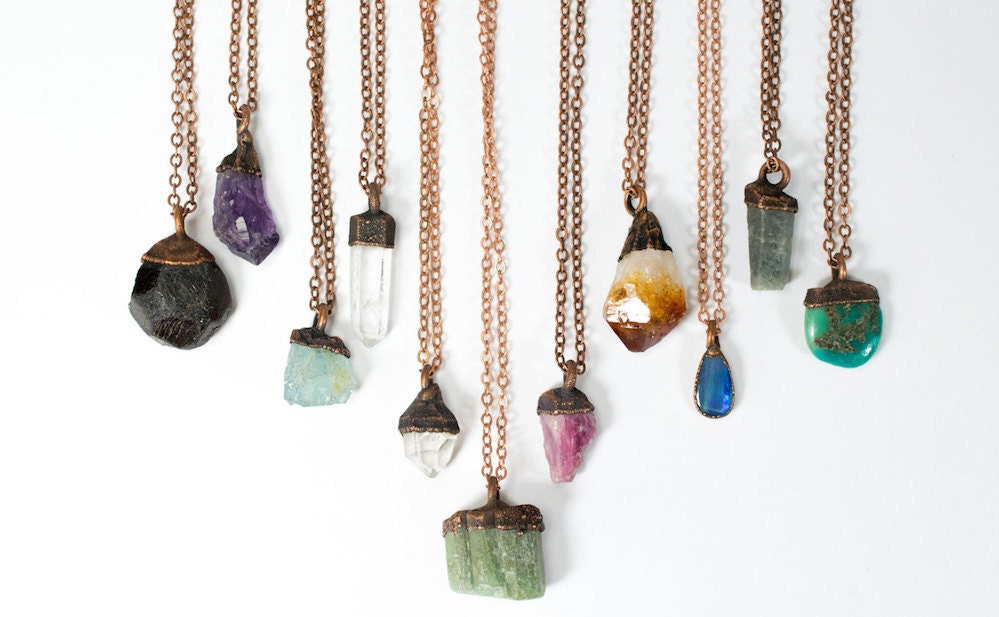 Photo by HAWKHOUSE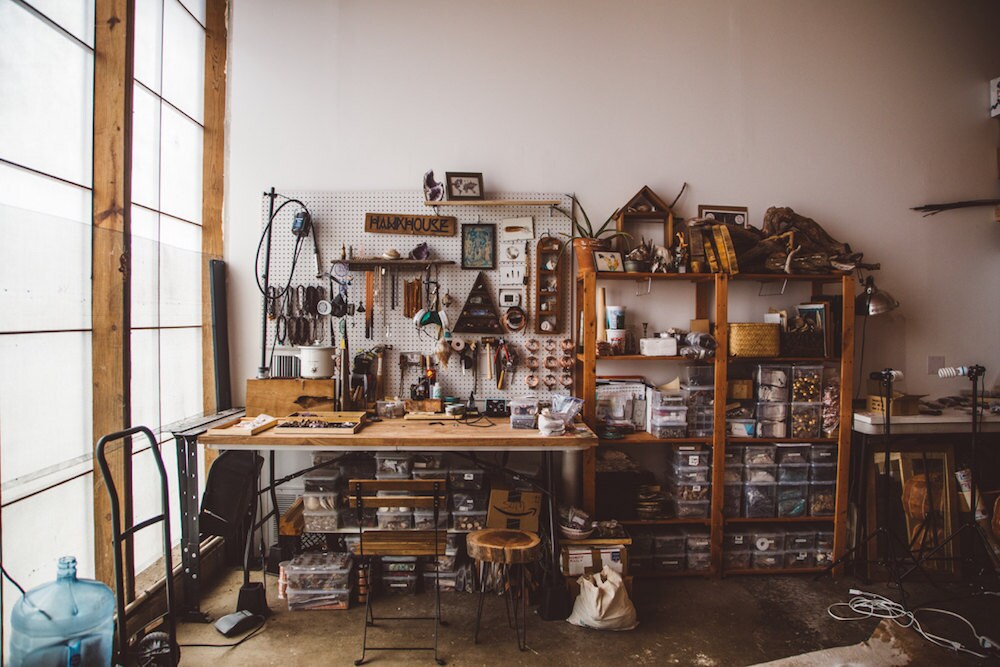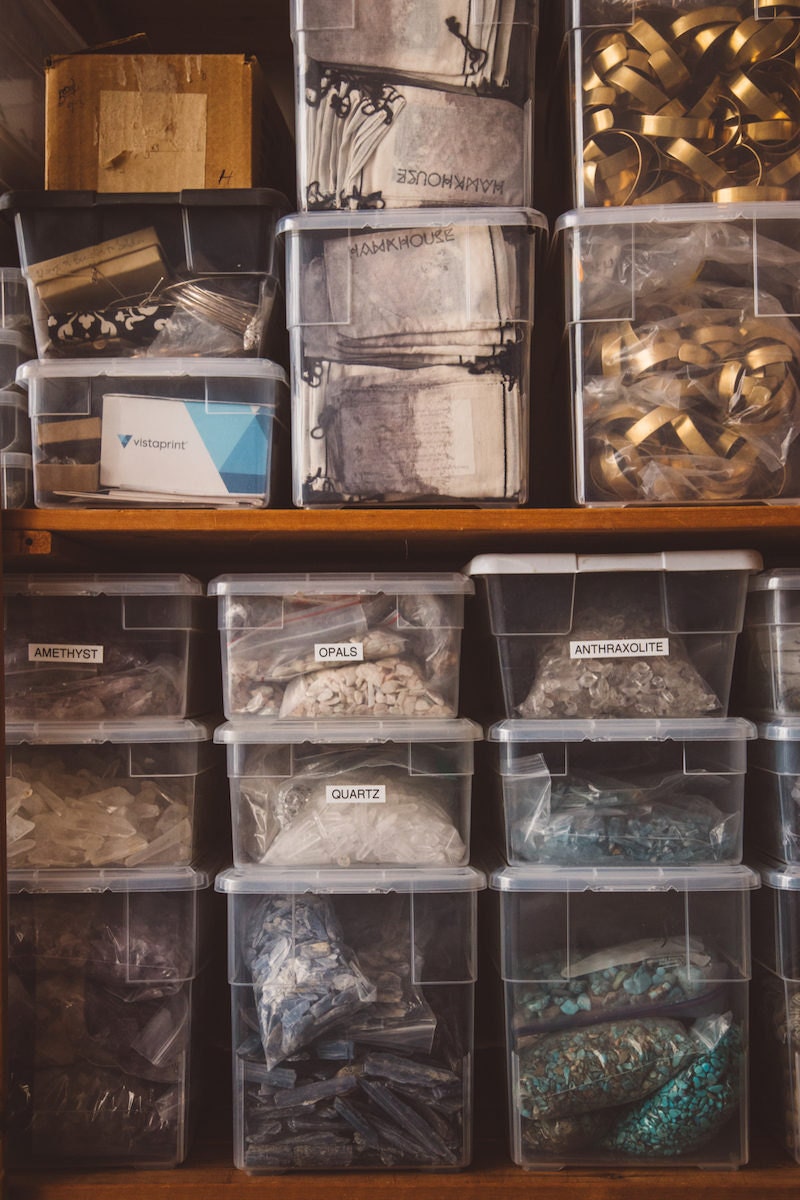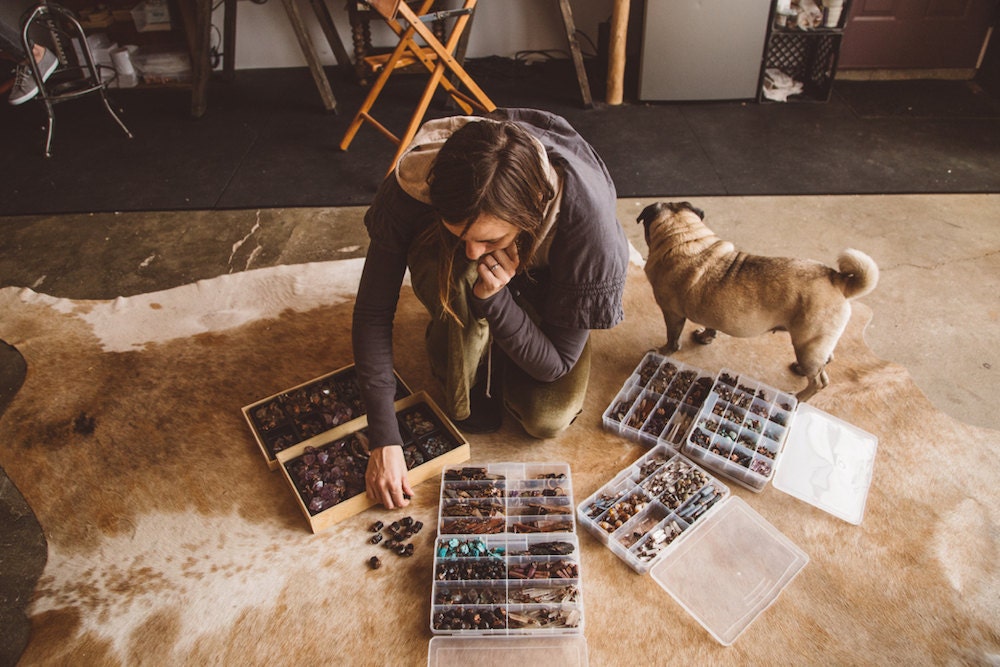 Today your work heavily features gemstones. How do you know what to look for in a stone?
I'd been going to
gem and mineral shows
for over a decade and collecting pieces on my travels. One summer I worked on a sunstone mine in Oregon. Now I have buds who mine, so I try to support them whenever I can. I use Idaho
garnets
, Montana
sapphires
, and
Herkimer diamonds
. I also use the internet, but the problem is I can't always find ethical stones; people don't always give you sourcing information. I try to research to ensure that my stones weren't mined with the pain and suffering of human life. It's a gray area with minerals that nobody really talks about—there's no true standard, no organic certification. You have to do your research to figure out exactly where the stones are coming from and what the conditions are like.
What makes a HAWKHOUSE gemstone special?
A lot of the minerals I use are what you call C-grade. They might be more opaque or have inclusions in them, but they have really beautiful crystalline structures. I think their character resonates with my customers. Paired with the electroforming process, which creates a unique bezel around each stone, each piece is truly its own creation.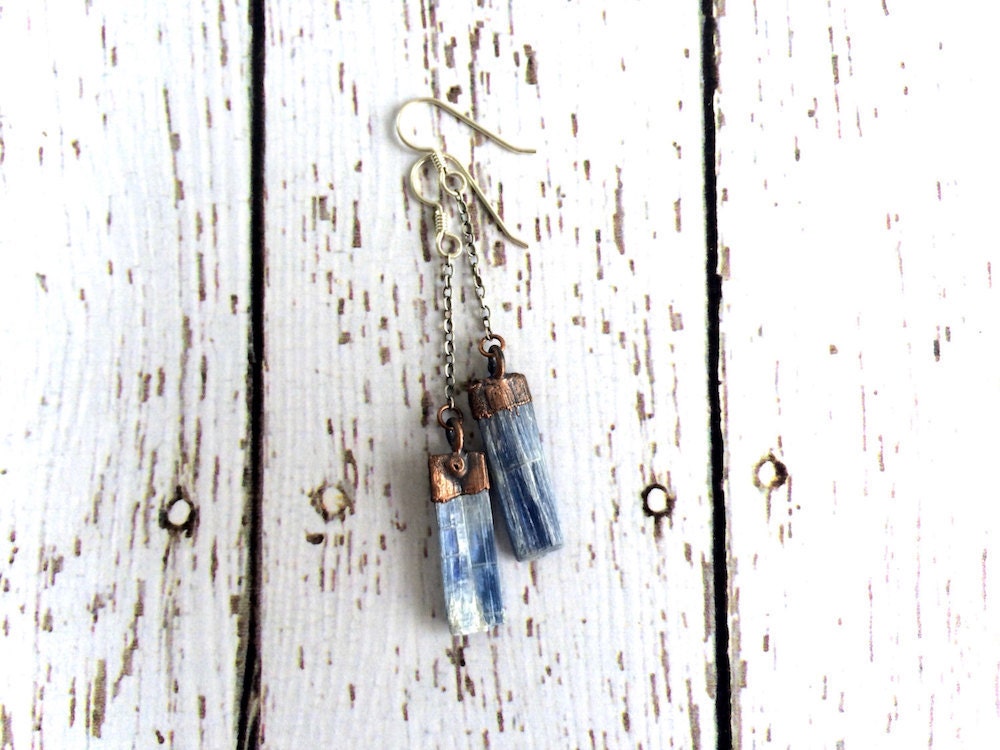 Photo by HAWKHOUSE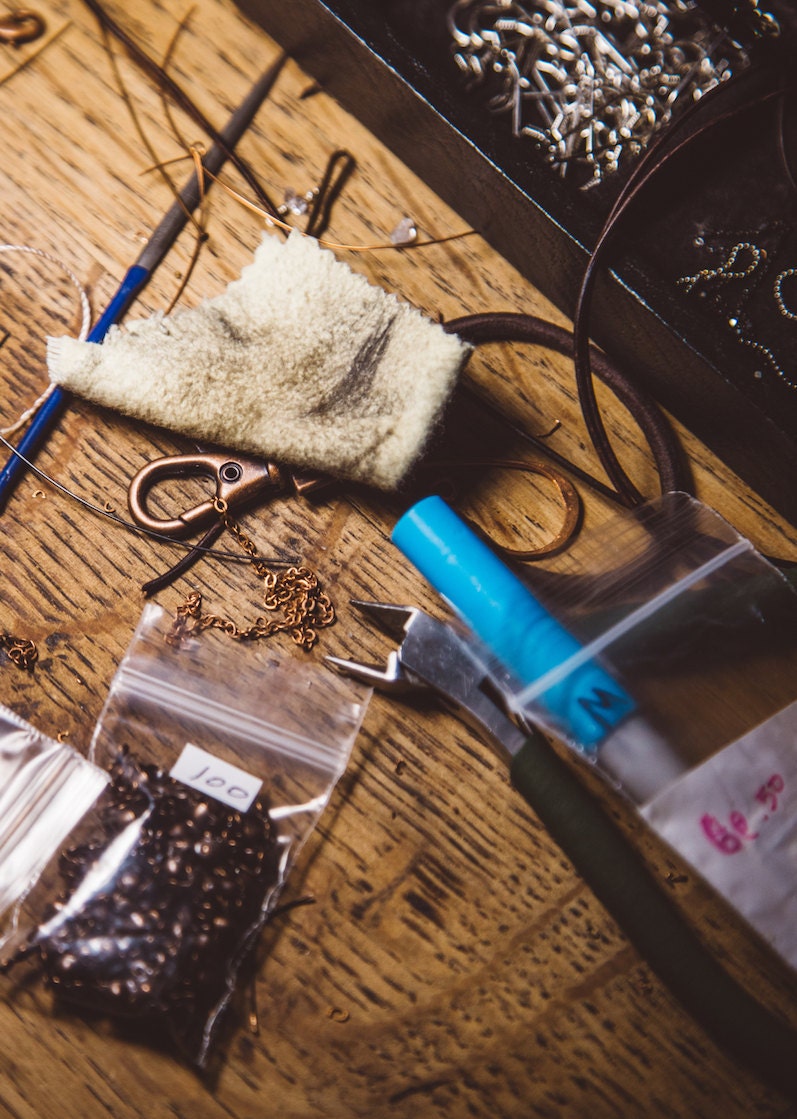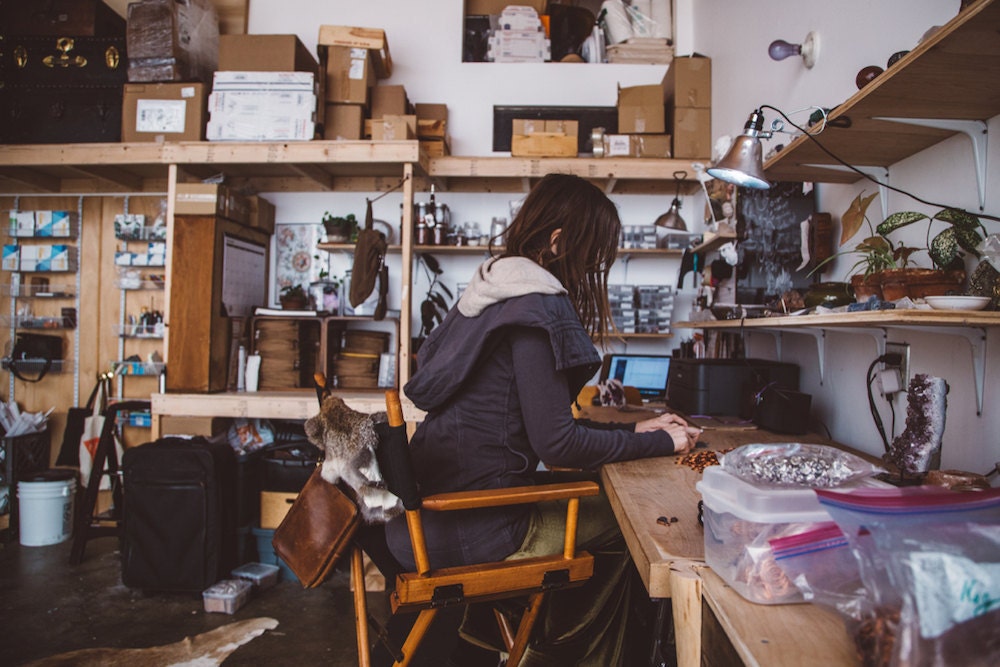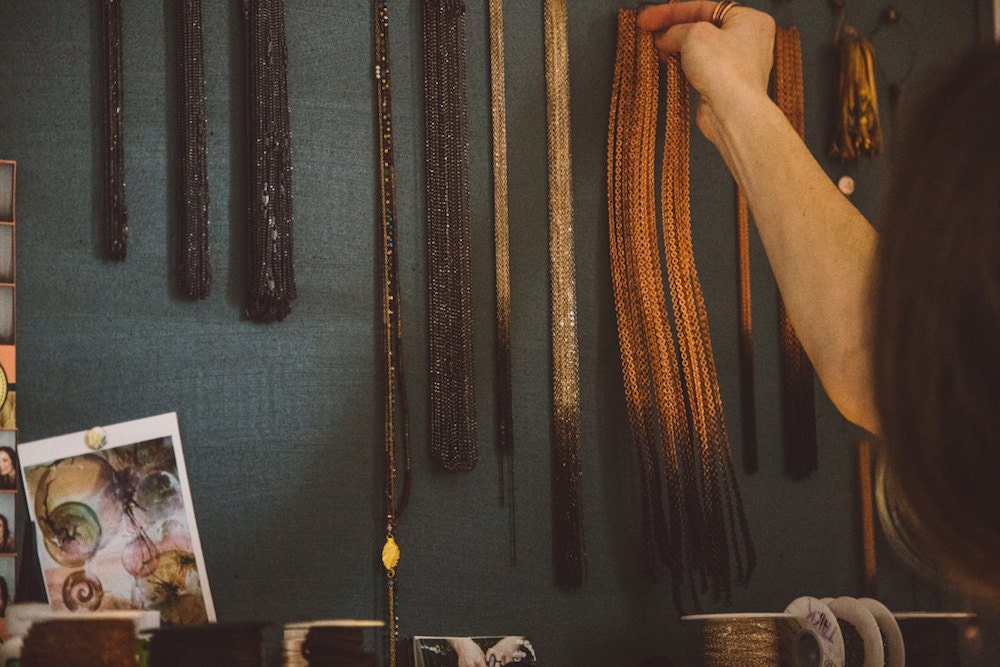 What exactly is electroforming?
Basically, I paint the bezel onto the stone. I use a really thin coating of conductive silver paint, then I put it into an electrochemical solution that's supersaturated with copper. When I turn the power on, the copper molecules are attracted to the negatively charged surface of the jewelry. One by one, copper molecules grow wherever I've painted.
There's a lot of science that goes into what you do now. How have you evolved your craft?
I devoured everything I could read. The internet made it really easy. What a crazy, beautiful world we live in; I got to sit on the edge of an island and have access to any process I wanted to learn about. There's a million different ways to find your passion. For me, I didn't have to go to college, but I had to have the will to teach myself and the discipline to not be extravagant. We were literally eating beans and rice, but I just knew it was going to work.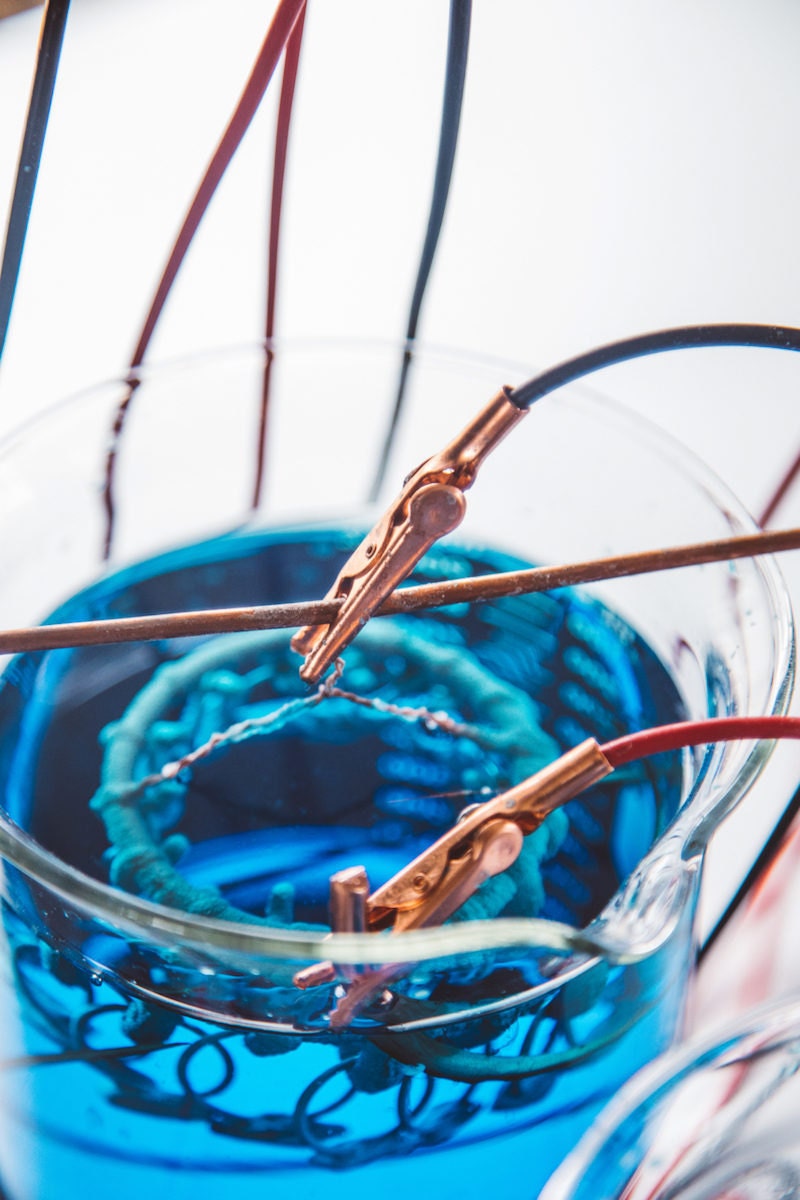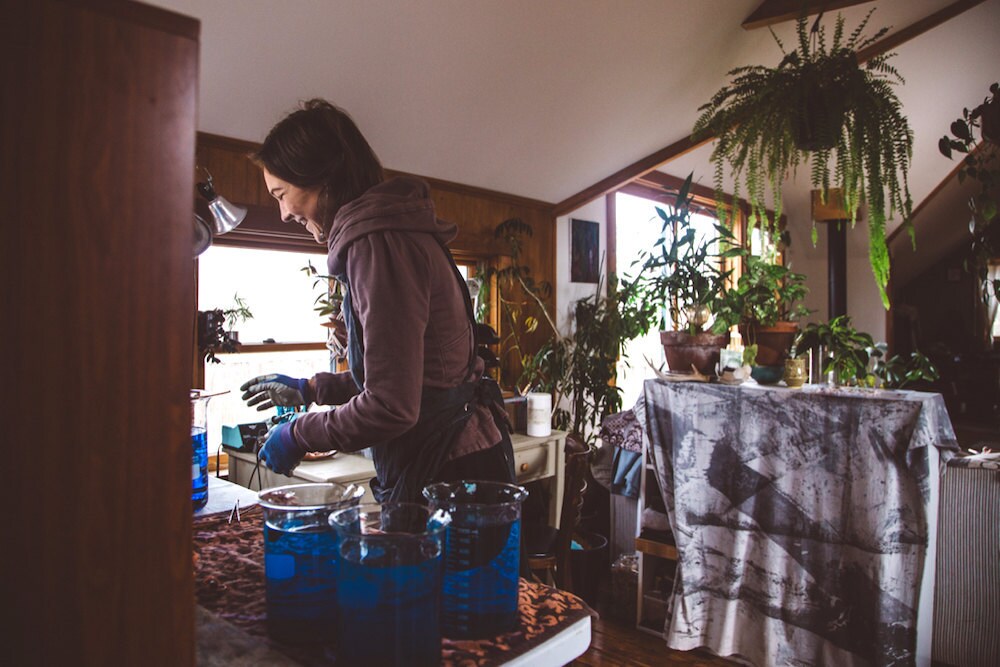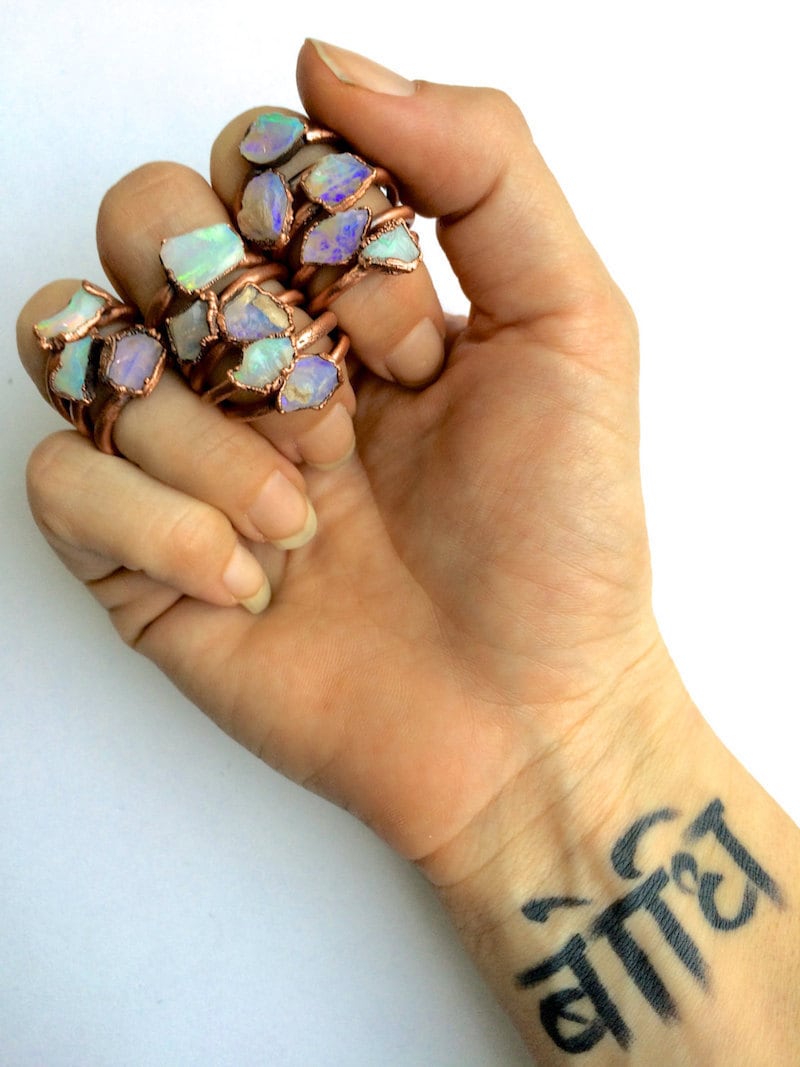 Photo by HAWKHOUSE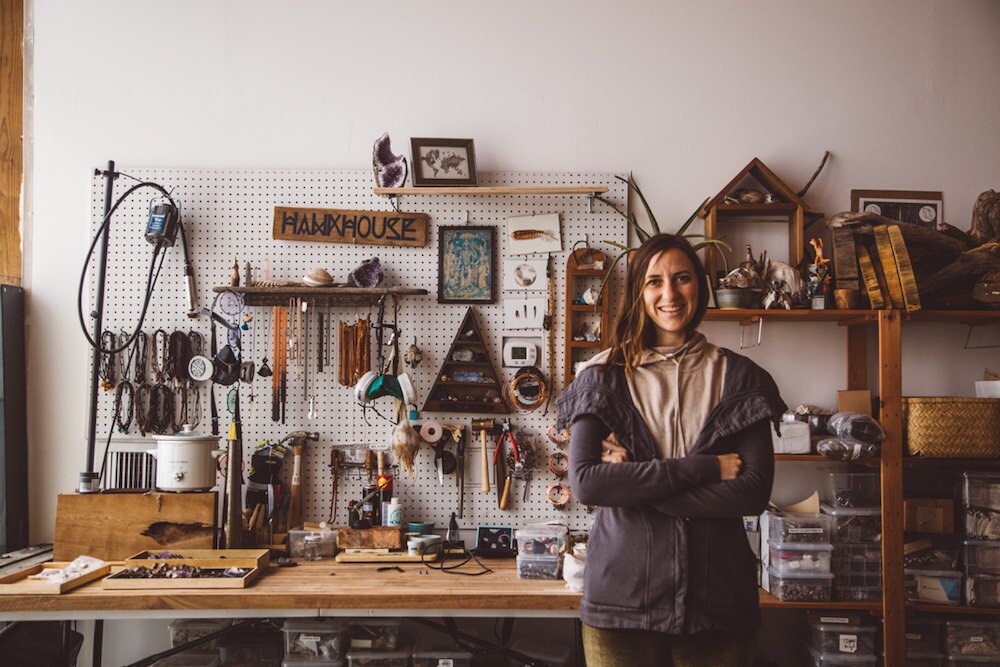 Your business has grown rapidly in four years. When did you decide it was time to divide the workload?
I had a lot of anxiety from the amount of work I was doing and how deeply I cared about the outcome. It's hard to give up managing everything, but I think that's when my business started being successful. If you're ready to take the business bull by the horns, I'd say don't be afraid to find somebody to do the tasks that you either a) don't want to do, or b) aren't good at. Because there are people who you'll probably like who
are
good at those things. Now I have this great group of girls working for me part-time doing production, assembly, and packaging. They're all really creative in their own right. Then there's Kelly [Kaye, HAWKHOUSE's office manager], who's truly the reason that
HAWKHOUSE
is as high-functioning as it is. I have tears in my eyes when I talk about Kelly. We've become the sweetest friends and we have a great working relationship. Honestly, my favorite thing I've created is this community of girls. We get along really well, and I get to do what I enjoy and have friends who do it with me.
What makes you most proud about HAWKHOUSE?
That I'm running a business and being a good person at the same time. I support human life through buying ethical stones, and I help miners do what they love by giving them business. I help the planet by having recyclable packaging. There's just something really sacred about nature, and I hope to connect people with that. To have a little reminder of the wonder of what this earth can do and its vastness.
Follow HAWKHOUSE on Instagram and Facebook.
Photographs by Wylde Photography unless otherwise noted.