by Aleksa Brown
Meet Ellie Snow, the artist and designer behind modern-meets-traditional wedding paper goods line Hello Tenfold.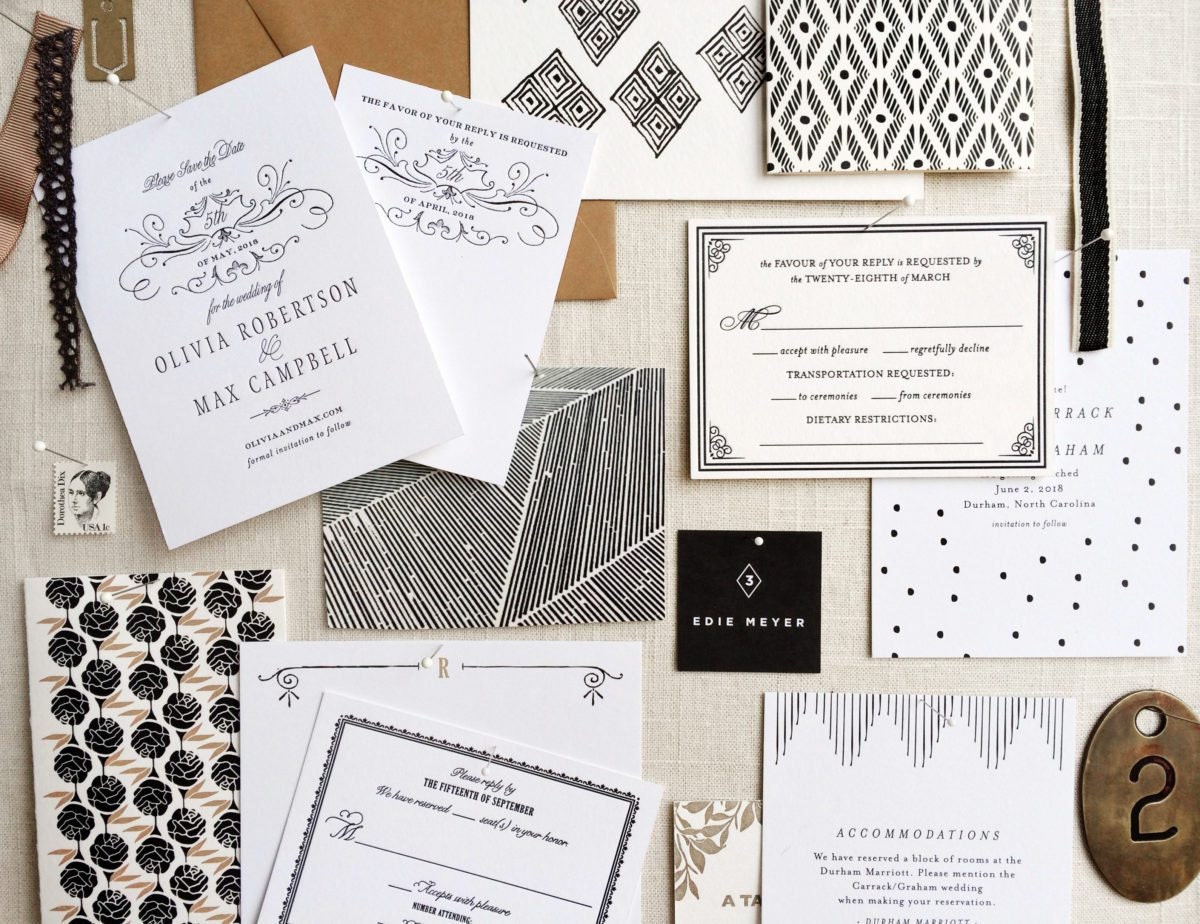 Stationery designer and artist Ellie Snow has known she wanted to be a graphic designer since she was in middle school. However, the journey that brought her to where she is today – operating as the one-woman powerhouse behind the popular wedding paper goods company,
Hello Tenfold
– was more organic than it sounds: "I had just designed my own
wedding invitations
, and I shared them on
my blog
," Ellie explains. "People started asking me to design theirs, and then it just sort of grew from there." Ellie
opened shop
in 2009, but she didn't go full-time with her stationery efforts until unforeseen circumstances pushed her to take things to the next level: "I think the biggest push was that I had a graphic design job at the time, and the firm laid off all of their employees," she says. "I was doing invitations on the side, and then I suddenly had to figure out how to make it work. I felt really passionate about it, so in retrospect, it was probably the best thing that could have happened." Creative couples and admirers of Ellie's modern-meets-traditional design aesthetic would most definitely agree.
Learn more about this maker's inspiration, and her process for pushing designs forward in the trend-driven wedding industry.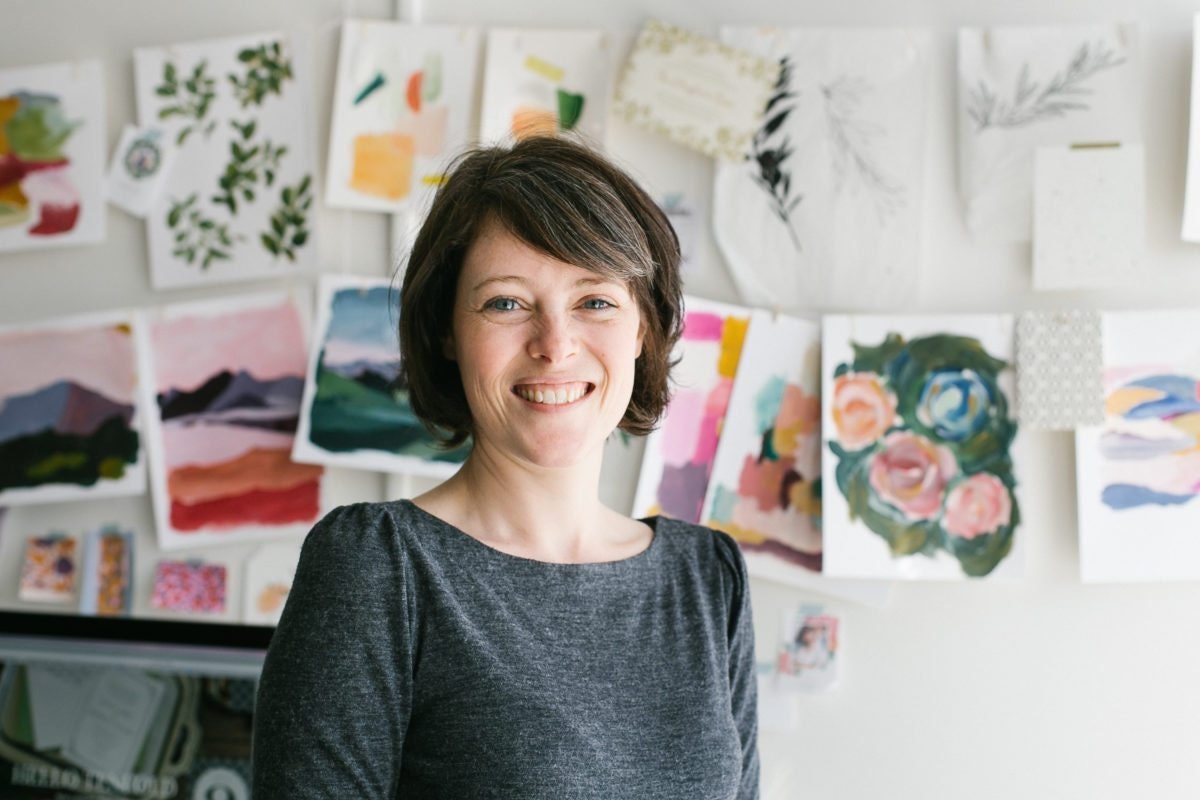 When did you become interested in graphic design?
I decided when I was in middle school that I wanted to be a graphic designer, so I always had that in the back of my mind. When I was in high school, there was a college that I really wanted to go to, but they didn't have a graphic design program, so I majored in art instead. My concentration was printmaking. After I finished school, I taught myself the Adobe Creative Suite and pieced together a few part-time jobs in graphic design. That's actually why I started
my blog
– because I wanted to learn more about graphic design, and I was constantly looking at other people's work and figuring out what I liked.
What drew you to the wedding industry?
I think part of it is that I love making a physical thing to hold, and when I was working as a graphic designer, I designed a lot of logos and websites – things that weren't physical. Making
wedding invitations
was a great way to merge my love for graphic design with my desire to produce a tangible item. I also really loved the challenge of creating an invitation suite: There are so many different pieces, and they have to be cohesive, but not matching. Figuring out how to design 15 things that go together (but aren't exactly alike) is a really fun part of my job.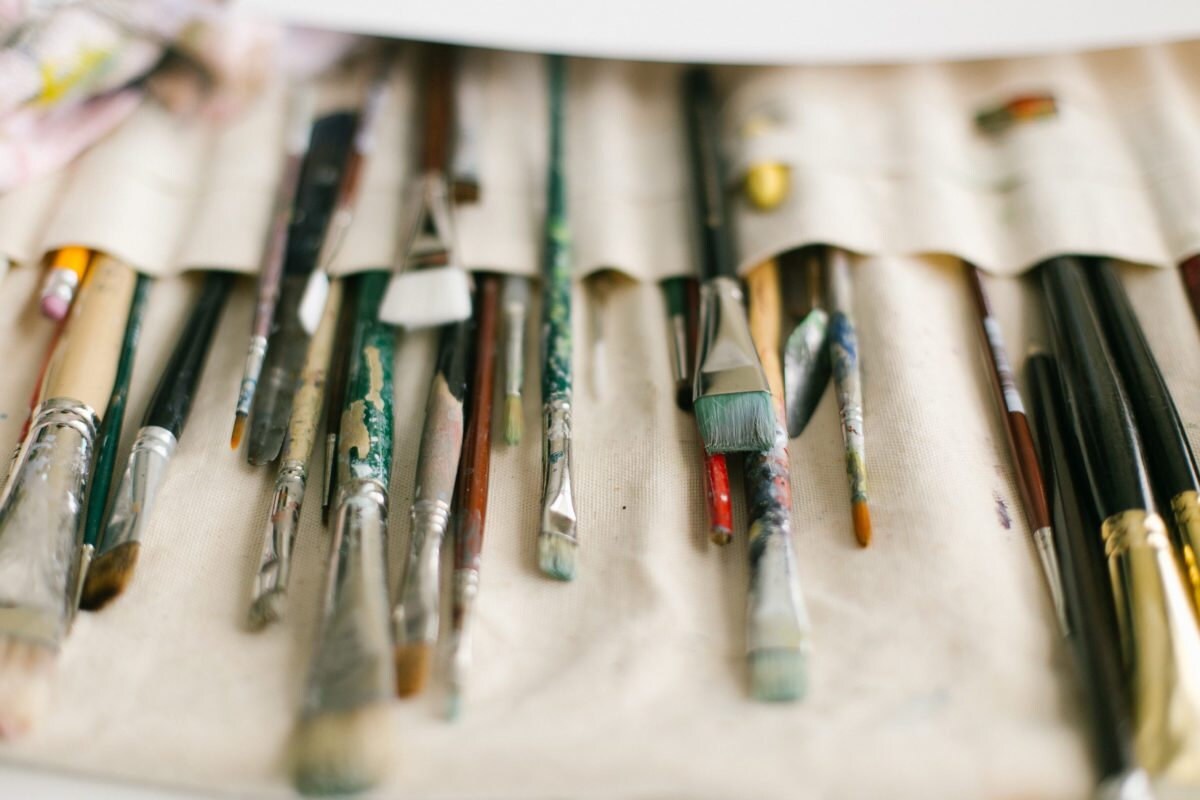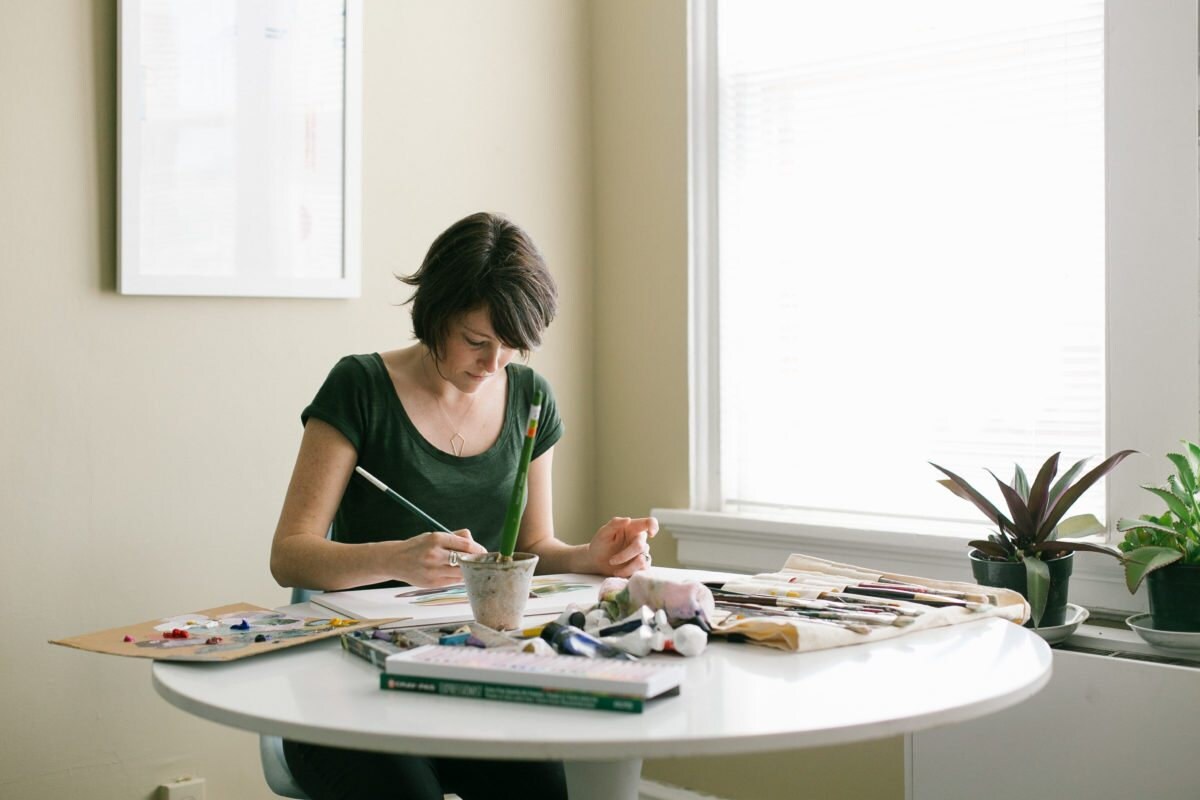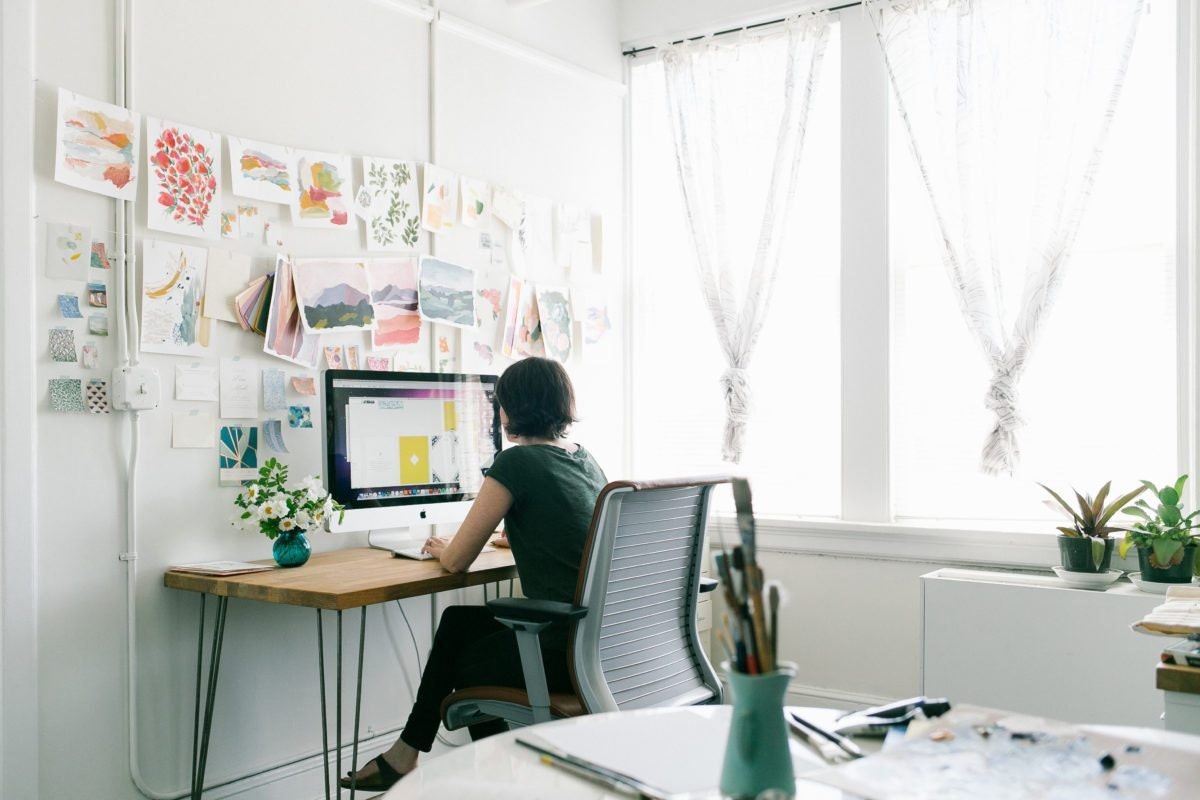 You describe one of your specialties as "bridging the gap between traditional and modern." How do you do that?
I definitely have a modern kind of aesthetic and I love modern art, but weddings are a place where a lot of traditions come into play; your
wedding invitation
still needs to look good in 50 years, you know? I hope that my work has some element of timelessness without feeling stuffy or too classic. I want the bride to really love the invitation, but I want her mom to love it, too. I don't want it to feel too traditional or too modern.
Can you walk us through your design process?
My design process usually starts with gathering a lot of inspiration. I'm a
Pinterest
junkie; I also really love Instagram. I try to come up with an aesthetic that I'm trying to go for with the suite, which requires pulling elements from a lot of different things. It's a lot of collaging. The next part is figuring out patterns and fonts, and just sort of piecing it all together. Once a design is photographed and put up for sale, people contact me for pricing information, and we sign a contract. Most people make changes to the design, whether in the colors or fonts or papers – and then there are different printing methods to choose. We work together on proofs, and then the couple signs off on the proof. I work with a bunch of different printers, depending on the project, and everything gets printed and shipped to me for any kind of assembly, like envelope liners, ribbons, and that kind of thing. Then I package everything and send it off.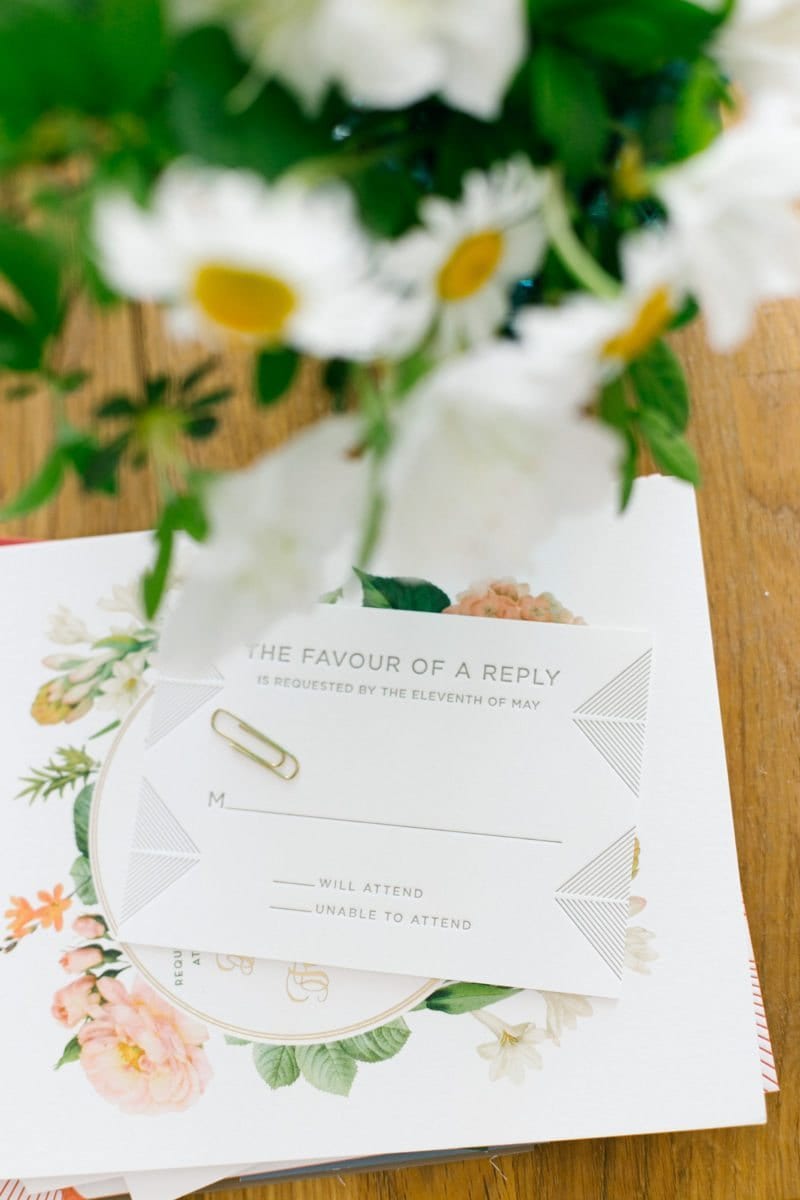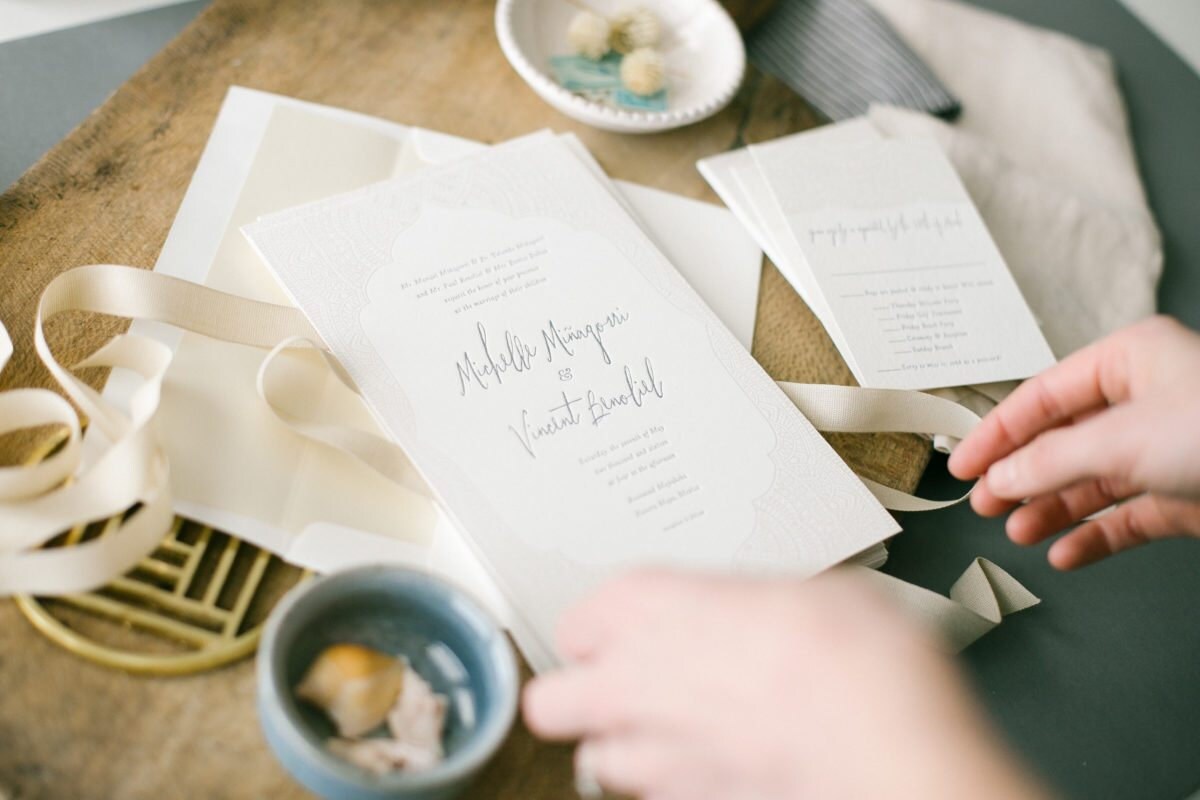 What is your process for collaborating with a couple?
Most people choose a design from
the shop
, so by the time they come to me they sort of know what they're going for. I might guide them a little bit in font choice or color choice, and sometimes the paper and the printing is something that we need to talk about. I do a little bit of custom work, so when I work with a couple on a brand new design from scratch, the process starts with a lot of imagery sharing, and a lot of conversation about what they're going for, and the look and feel of their wedding. That process is fun, but I only take on a limited number of custom projects per year.
Do you have any advice for recently-engaged couples for when and how to order their paper goods?
Most people need to get their invitations in the mail roughly two months before their wedding, so work backwards from the wedding date. Consider whether you want letterpress and foil or flat printing, because letterpress and foil take about twice as long to make, compared to a flat-printed invitation. Another thing to consider is whether you're working with a calligrapher, and how much time the calligrapher needs for your envelopes.
Where do you work?
I have a studio downtown that I share with my husband (who works as a graphic designer), as well as a photographer. This is my third or fourth studio in the past five years; in the last couple of years, it's been the three of us working in one big room. This new space has separate offices, so it's been really fun to make it my own. I've taped inspiration and paintings to the walls, and it's really fun to walk in first thing in the morning and feel like it's a creative space that's totally my own.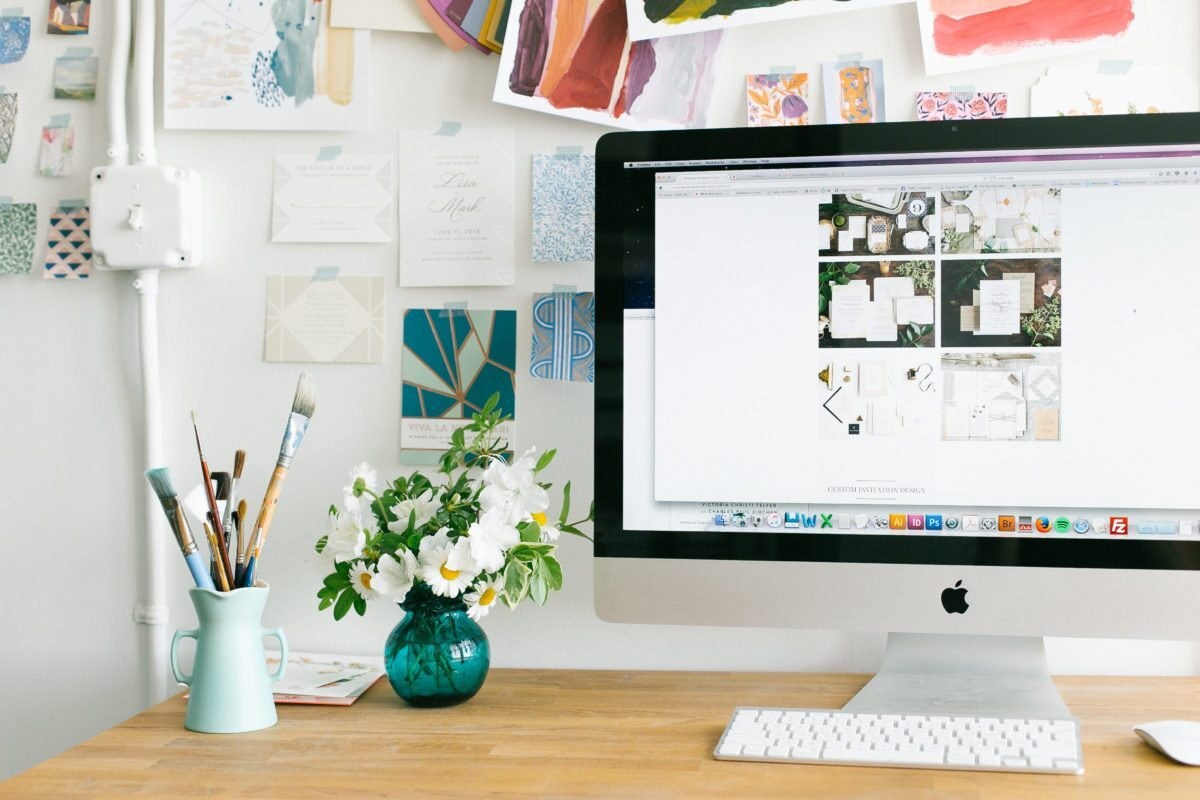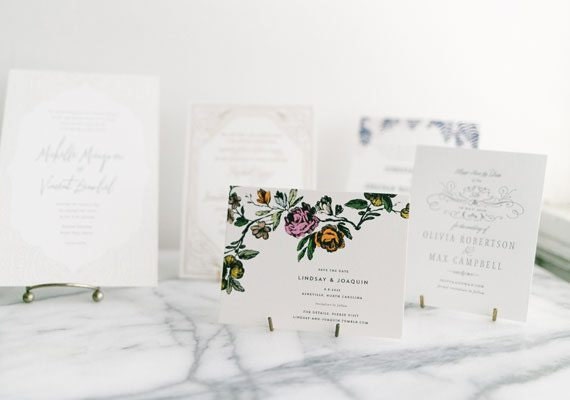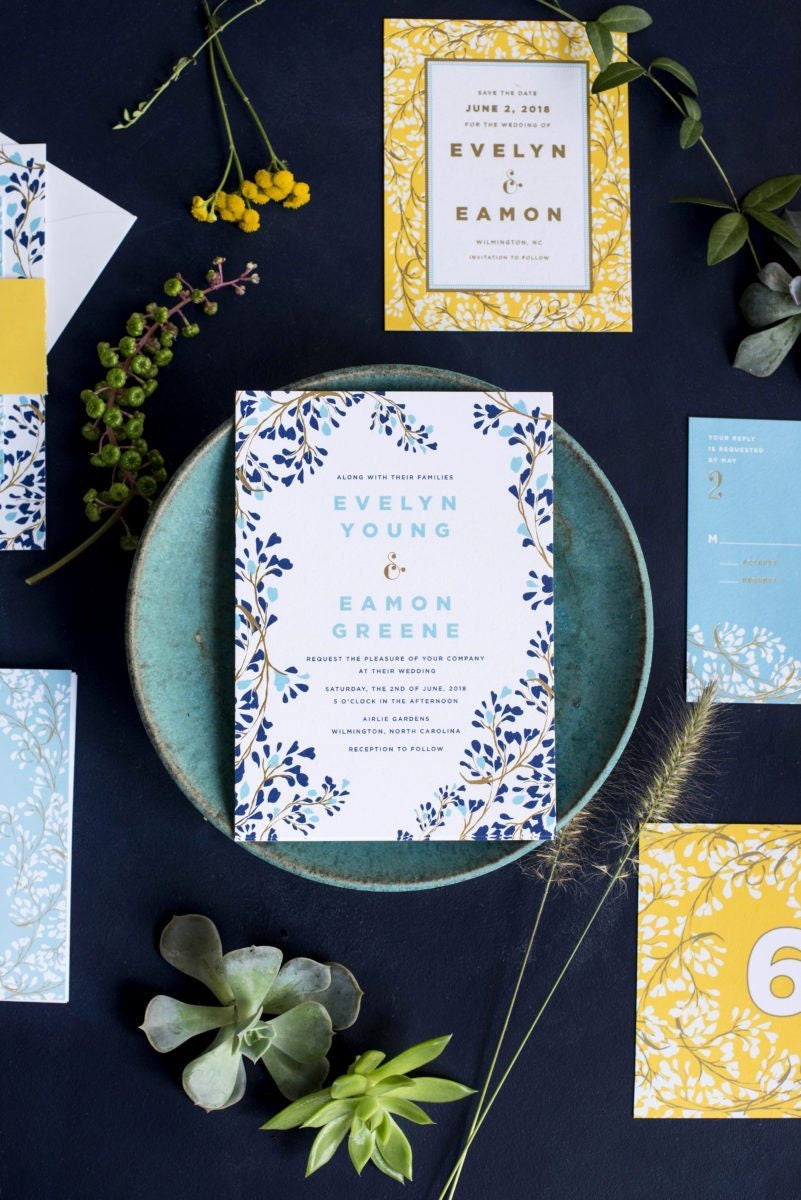 What are some of your most popular designs today?
My most popular design is
Flora
, which is based on some vintage floral engravings. We usually print it in jewel tone colors, and it has a really dramatic, unique layout. The flowers take up three-quarters of the invitation, and then the text is at the bottom. It's a modern layout, with a more traditional illustration. It's a nice mix, and it has a little bit of drama, which I like.
Are there any trends you're seeing right now, in terms of what is selling in your shop or what couples are looking for?
Gold foil
is a huge thing, and
florals
are also really in right now. It's interesting to see designs that were enormous, hot sellers three years ago that don't sell at all anymore. The weddings industry is very trend-driven, so it keeps me on my toes.
Is there a specific time when you focus on coming up with new designs?
I used to just fit it in throughout the year, as needed, but it's really easy to get caught up in fulfilling orders and not make anything new. So, now I actually set aside Wednesdays as my design days. It's really nice to have a whole day dedicated to creating new work.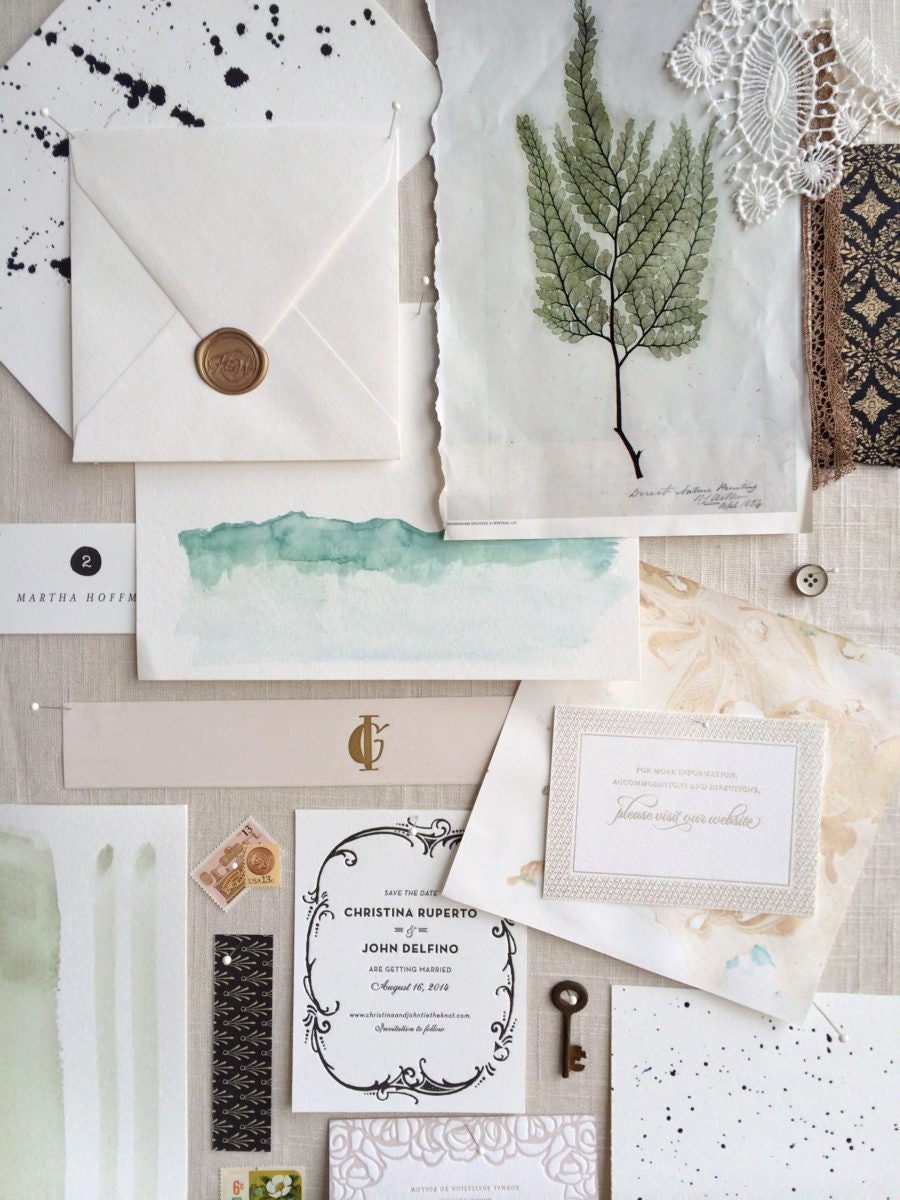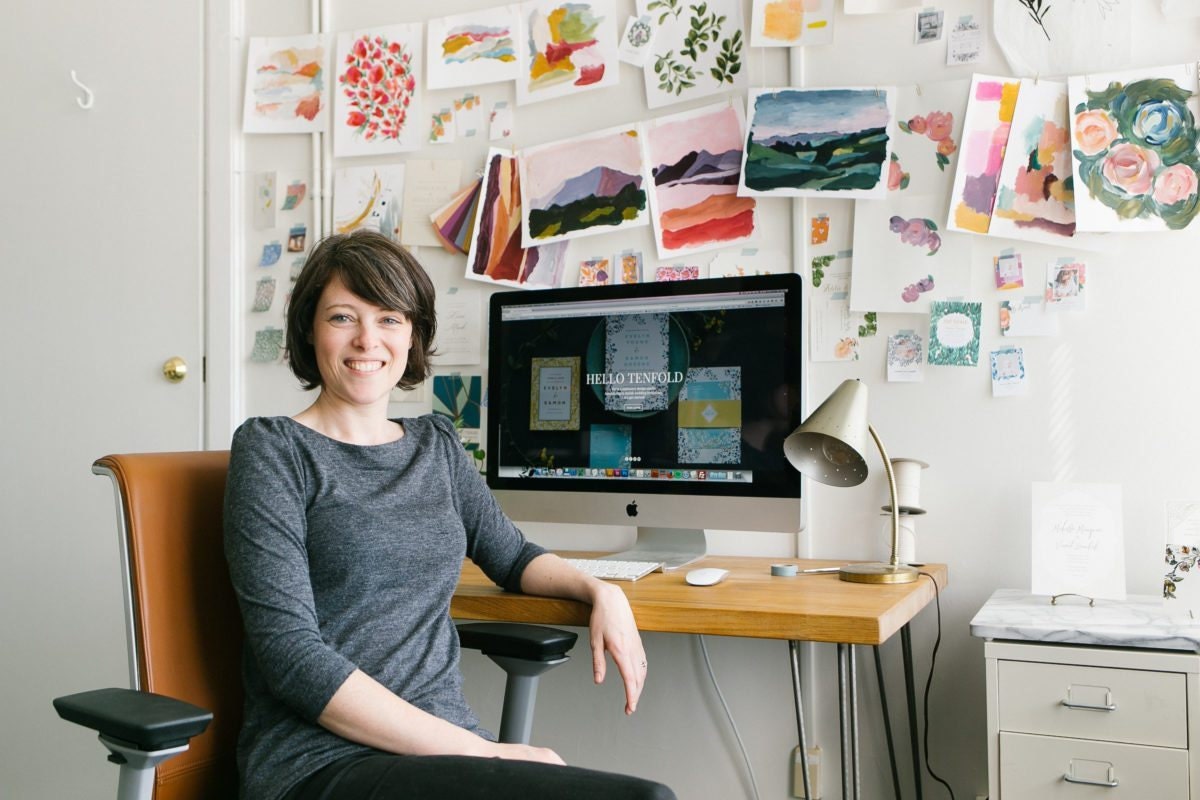 Can you tell us about your proudest achievement as a small business owner?
I've been featured in a few magazines, like
Martha Stewart Weddings
, and
Brides
magazine, and when that happens it feels so great; it feels really validating. Those are magazines that I read, and having my work printed in them is so amazing.
Are there any other creative pursuits that interest you, or that you're currently practicing?
I have been making a lot of time for painting these days. I took pottery classes for a few years; that was really fun, but lately I'm into painting. I'm doing some abstract painting, and also landscapes. I take a painting class once a week, and that's been really cool.
What are some of your goals for the future?
I would love to branch out and do more everyday stationery and thank-you cards. I would also love to sell some art prints someday, and I love the idea of pattern design and working with fabrics.
Follow Hello Tenfold on Facebook, Instagram, Pinterest, and Twitter.
(Lead image and invitation suite photo by Lissa Gotwals, styled by Michelle Smith; portrait and studio photography by L'Amour Foto)