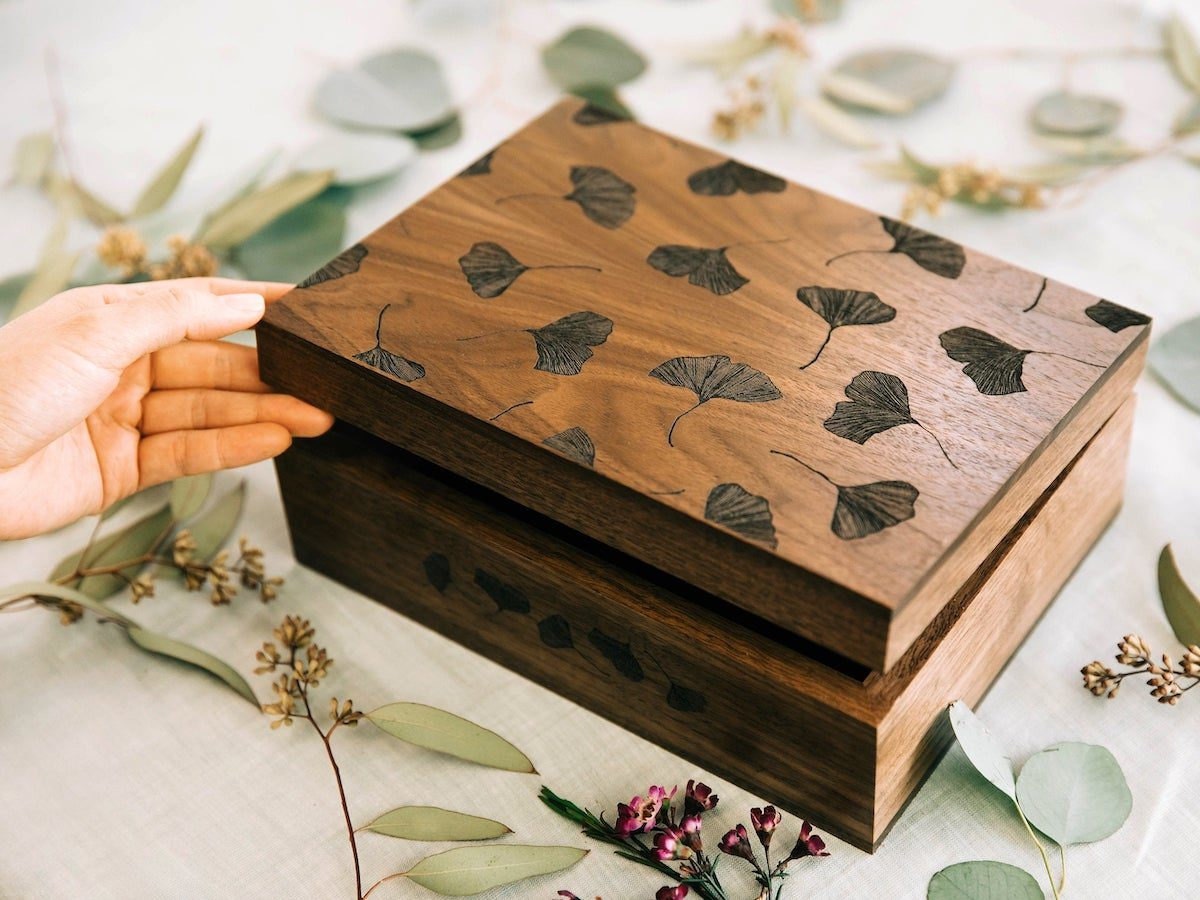 In our Featured Shop series, we shine a light on a standout shop from Etsy's talented seller community, offering readers a behind-the-scenes look at their process and story.
With a thoughtfully assembled lineup of rustic, laser-cut wooden stationery and keepsakes inscribed with personal messages, Hereafter designer Yvonne Leung has built her business on expressions from the heart. "I have anything anybody has ever written to me in a drawer or a shoebox somewhere," she says. "When I write a card to someone else, that's when I'm my most honest, open, reflective, and vulnerable. I love that cards are holders of those moments." It's those precious feelings of connection and introspection—and the desire to capture and preserve their magic—that led Yvonne to start her LA-based business. 
Explore the Hereafter collection
From intricate, display-worthy cards featuring simple expressions of gratitude to soon-to-be heirloom memory boxes imprinted with just the right quote to commemorate an important occasion, Hereafter's extensive range of wooden mementos are designed to help people better connect with others, as well as with themselves. Take, for example, Yvonne's journals: Hand-bound and outfitted with engraved covers boasting elegant botanical illustrations and upbeat affirmations, the unlined books practically beg their owners to open up a fresh page and fill it with something beautiful. Whether you're getting a jump-start on your holiday shopping or just looking for a special something for yourself, Hereafter is the ultimate destination for unique pieces packed with meaning. "I think our line has something for everybody," says Yvonne. "Those feelings of love, joy, and connection are universal."
Read on to find out how Yvonne transforms the moments that matter into made-to-last treasures and to shop the Hereafter collection.
Tell me about your design process.
At first it was all me, but now I know what I'm good at and I have a team that helps me by doing the things that they're great at. For me, it's inspirational to give other people creative freedom. Usually I'll have a seed of an idea in terms of what I want to see this season, and then I collaborate with my team to bring those ideas to life. 
We make our items here in LA. Most Hereafter products start out as slats of wood. We laser cut the slats with the designs and break them down into individual pieces. We also hand-stain our walnut keepsake boxes to make sure the engraving pops against the dark color of the wood.
Are there any designs that are especially close to your heart?
The first five or ten cards I designed are very special to me. I still remember what I was thinking and feeling when I was making them. One of them was the "penguin love" card, which did well right away when I first put it on Etsy in 2012. It's still the most popular card. Some of the keepsake boxes I really love, because they're poetic and sentimental. My little sister calls me cheesy all the time, but that's fine. I think the quotes on them are wonderful things to express to another person.
People often buy your items as fifth anniversary gifts since wood is the material associated with that year. What other occasions bring folks to your shop?
People come to us for anniversaries, birthdays, new babies, and weddings. Or for the holidays, when they want something memorable for somebody they love. It's not really about the box or the card, but that item is a symbol of your love for one another and all the memories you have together. It's a way to say, "You're important to me and you mean something to me, so I put thought into finding something that would make you feel special." If my shop is able to bring that to somebody, that's pretty awesome. 
What's in store for Hereafter's holiday collection?
One of my employees who also illustrates children's books designed our new ornaments for this season. People love getting things customized and personalized so we created a small line with years on them. There's a "Mr. and Mrs." ornament with 2019 already on it, which feels personal but will still ship immediately. We did the same thing with our "Home Sweet Home" and "First Christmas as a Family" ornaments—just these moments in life that are important and great to remember.
Our journals also sell like crazy over the holidays. It's something someone can hold onto, yet the price point is more accessible than a keepsake box. They're different—they don't look like a normal journal—and they make great gifts. 
Sustainability is a big part of your business. What does that look like for Hereafter?
Before we create an item, we ask ourselves, "Is this something that will last and that somebody will treasure? Is it something that we feel is worthwhile to bring into this world?" I surf a lot and when I see trash in nature, it breaks my heart. We really make our products thoughtfully and with care. We work with a small business here in the US to source farmed wood that's certified by the Sustainable Forestry Initiative. And in our office we try to reuse everything we can, whether it's packaging materials or scrap paper. 
You let customers add personalized messages to nearly all of your items. Have you had any especially memorable interactions?
There's stuff in life that really matters, and to be able to have a part in that through what we do is such a special thing. For example, a hospice worker reached out to me because a woman she'd been caring for had passed away. She was helping the woman's two young children and bought a personalized box for each of them. She told me, "I just want them to know that they are safe and loved, and their mom is still with them." 
We also have a customer who doesn't get to see her nieces often because they live in another state. She bought them each a keepsake box to give them something they'll not only be able to treasure for a lifetime, but that allows them to feel her love despite their physical distance.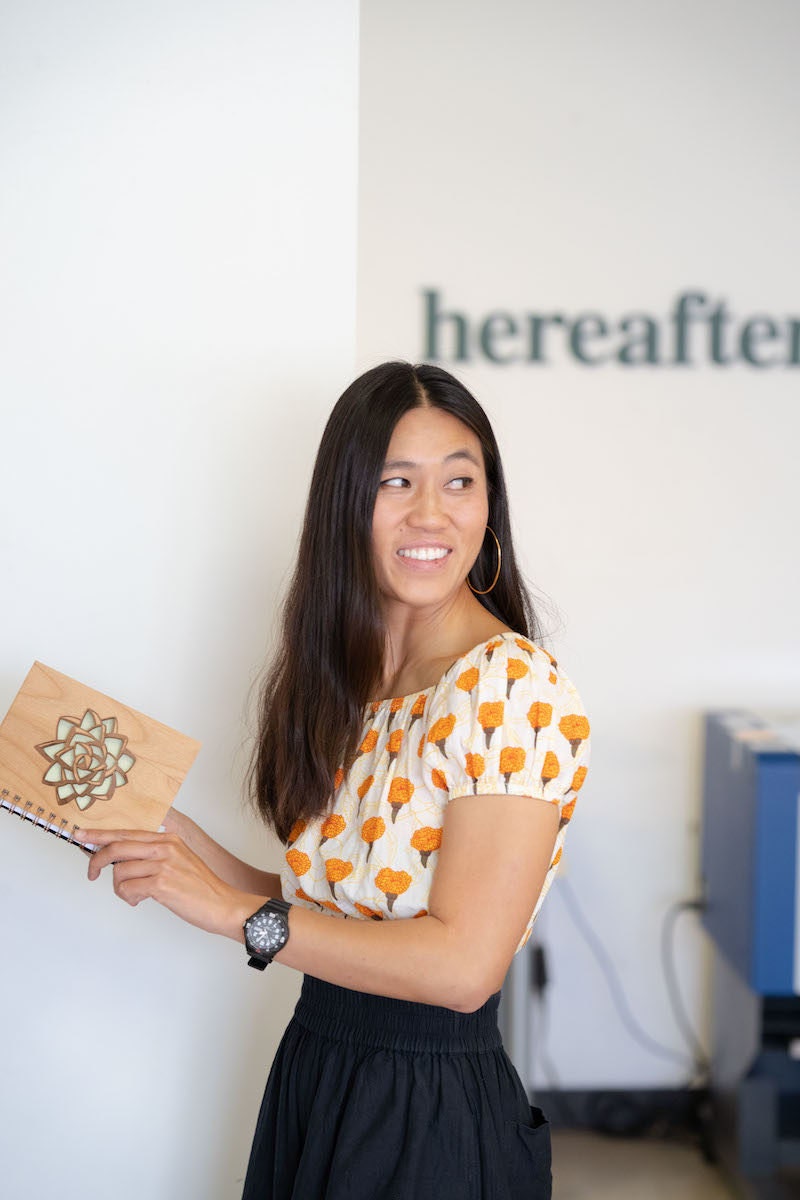 There's a clear sense of hope and optimism in your work. What inspires you?
Running a small business can be stressful but I've found things that have brought me lightness and peace, and even an OK-ness with myself that wasn't there before. I meditate a lot, and it's a tool that works for me. It came out of me asking, "How do I make myself better? How do I improve?" It's about how we work with what we have and really make the world a brighter place. I know that sounds lofty or idealistic, but I am idealistic and I think it's a beautiful thing. I'm going to own it.
Follow Hereafter on Instagram, Facebook, and Pinterest.
Studio and process photographs by Brad Golden; product photographs courtesy of Hereafter.