by Sharon Steel
This family of makers is driven by their mission to bring a beloved and timeless fabric to a contemporary global audience.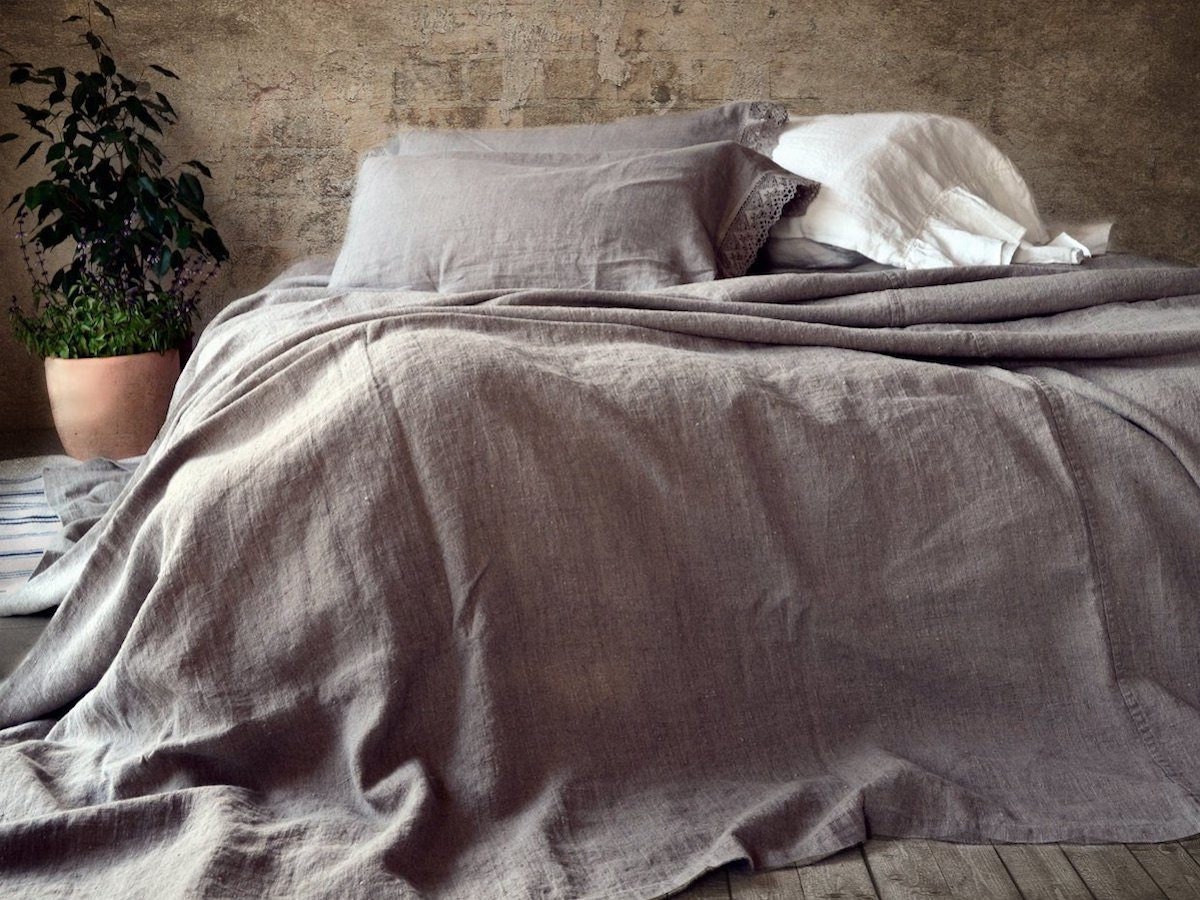 When Doville Vidugiris moved with her family to Australia from their native Lithuania 10 years ago, they visited several shops in Melbourne, searching for fresh sets of linen bedding for their new home. The shopkeepers, Doville recalls with a laugh, looked at her "like she was crazy." While linen has enjoyed a serious surge in
popularity
 in recent years, at the time, ready-to-buy home goods made from the material were surprisingly hard to come by. So Doville set out to create what she couldn't find: A 21st-century take on a fabric that has been part of her home country's history for centuries, presented in a serene, modern color palette.
Explore the House of Baltic Linen collection
Working with her family and production partners in Lithuania, Doville opened
House of Baltic Linen
on Etsy five years ago. Since then, the made-to-order line of what she describes as "timeless classics with a cherry on top" has evolved into a cohesive range of vintage-inspired bedding, sleepwear, and table linens, all crafted from the brand's signature material. "Starting the business was very spontaneous, but it also felt organic, and like a natural thing for us to do," says Doville. "We wanted to create beautiful linen pieces and introduce this incredible fabric to people in a new and different way."
Read on to learn more about Lithuania's rich history of cultivating and weaving linen and discover why linen is the ideal fabric for transitional weather—then shop the House of Baltic Linen collection.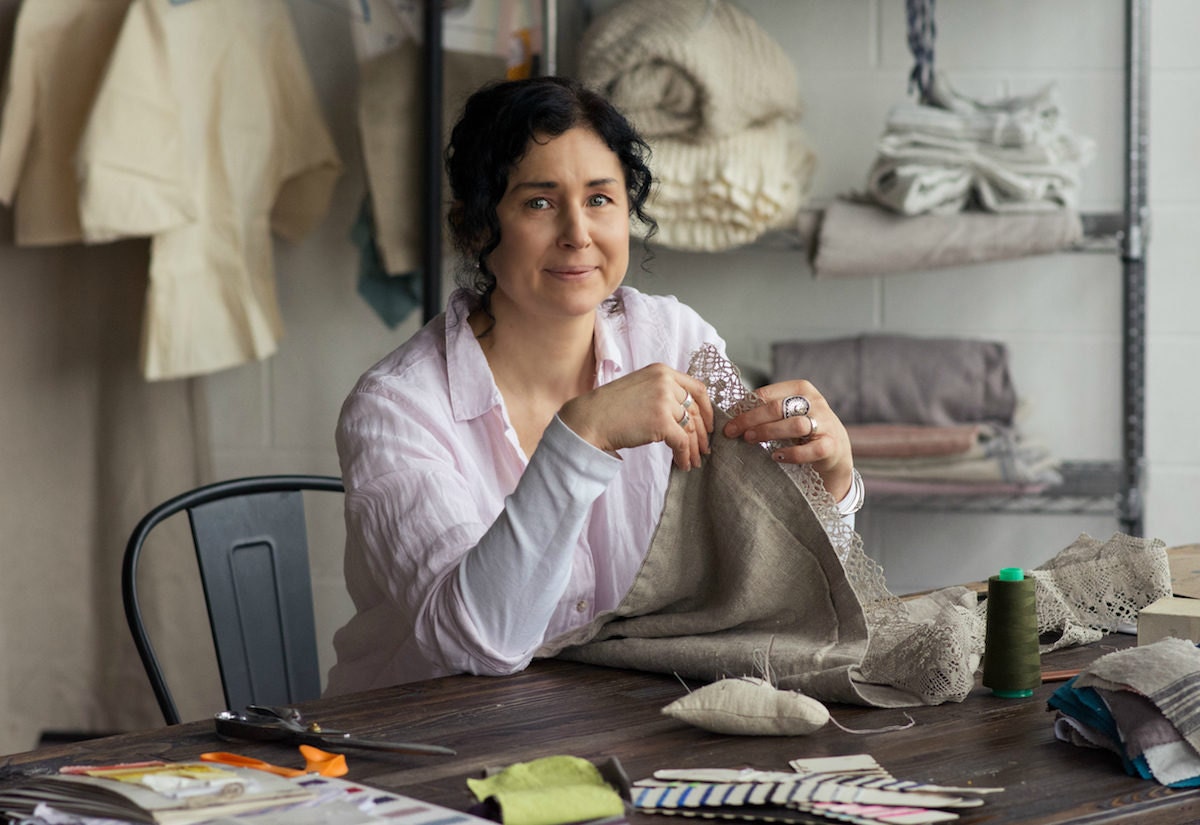 Can you tell us a bit about Lithuania's history with linen, and why it's so special culturally?
Linen is an inseparable part of Lithuanian history and culture. We consider it a sacred fabric because linen bandages were once used to heal people, but also because it's always there—it's part of everyone's childhood. When you believe a fabric gives you something else besides warmth and comfort, when it's part of your emotional history, it becomes something more. In Lithuanian songs and poetry, linen is a metaphor for life—from sowing the flaxseed to watching it blossom and become a mature fabric, and eventually to the comfort it provides. Linen is like a person to me.
What does the House of Baltic Linen team look like?
I'm a creative person with a can-do attitude, and I do a little bit of everything, from designing to sewing. My husband, Erik, is responsible for the technical aspects. He's also responsible for accounting, purchasing, packing, and shipping. Our daughter Milda is a fashion design student at the
Melbourne Royal Institute
. She supervises our
sleepwear range
 and helps with daily tasks. I used to be a midwife, and when we launched our shop, I would work nights at the hospital delivering babies, then sleep for a few hours before jumping back into the business of creating. It was a beautiful start, but soon we had so many orders that running House of Baltic Linen became my full-time job.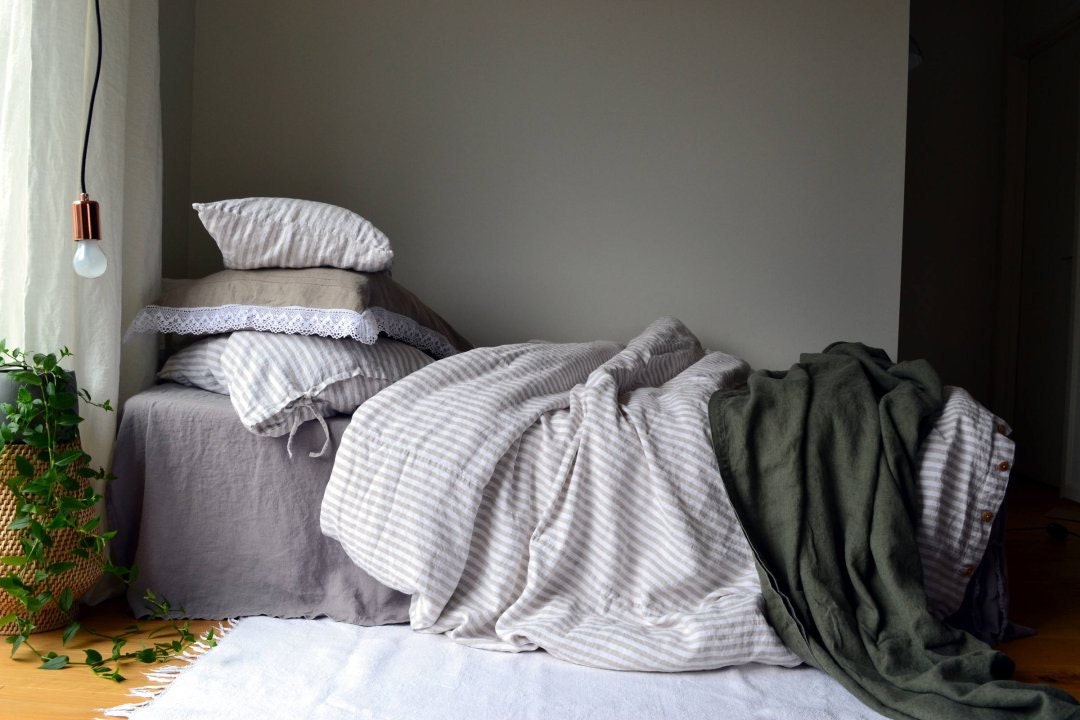 >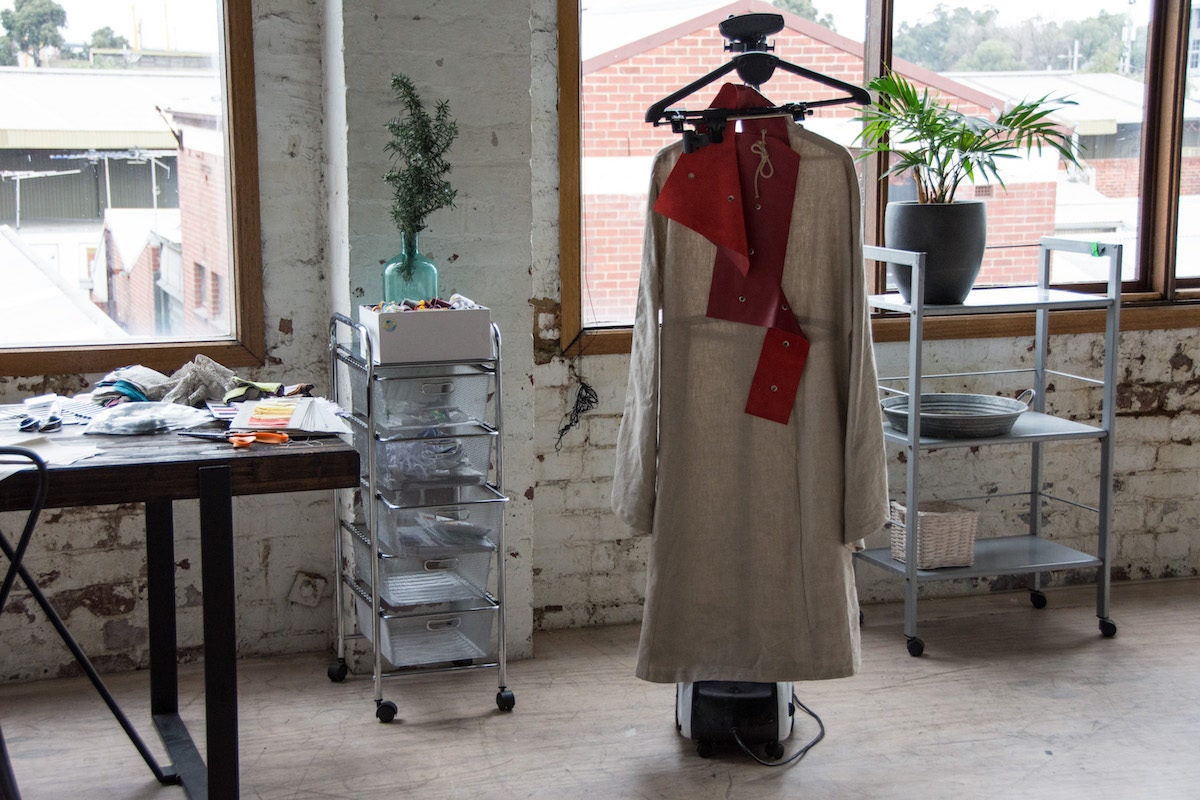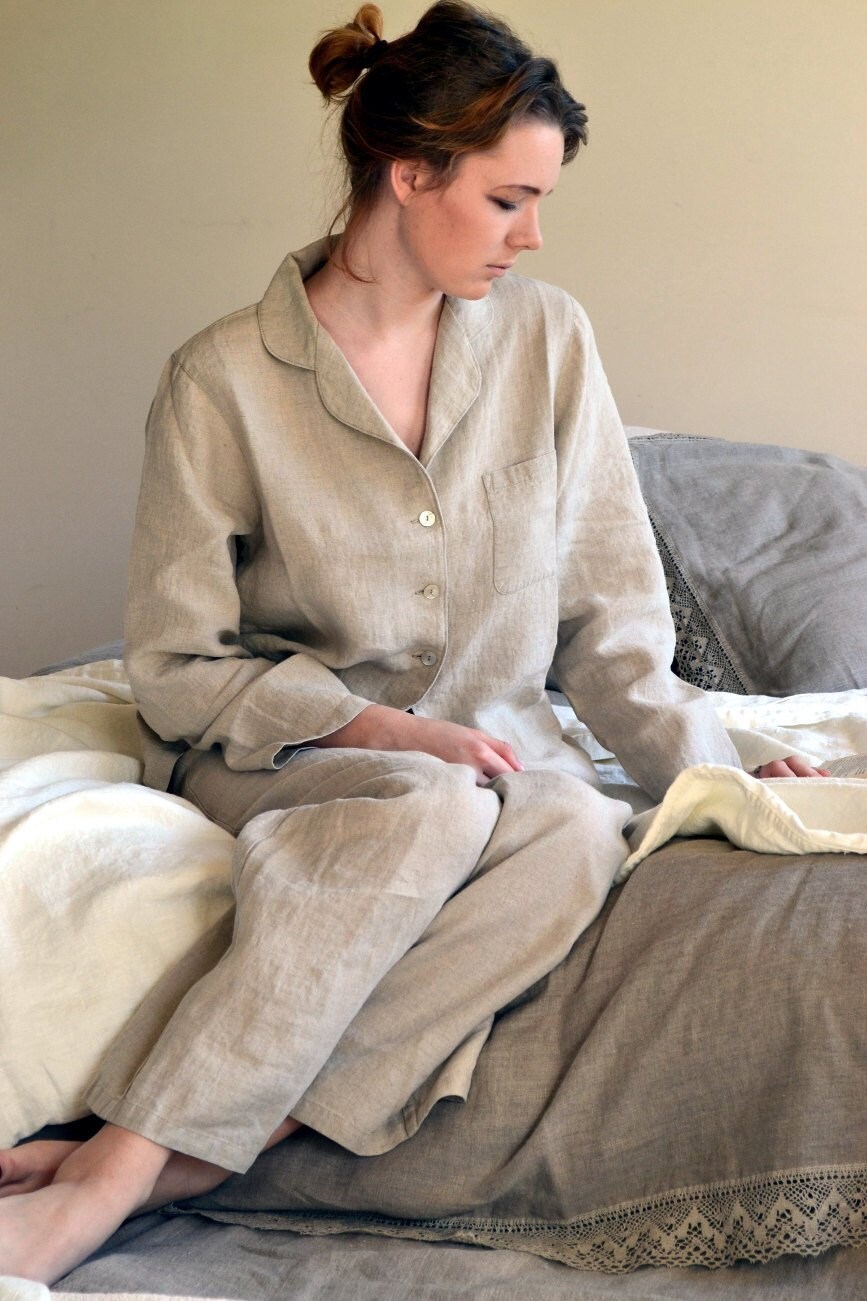 >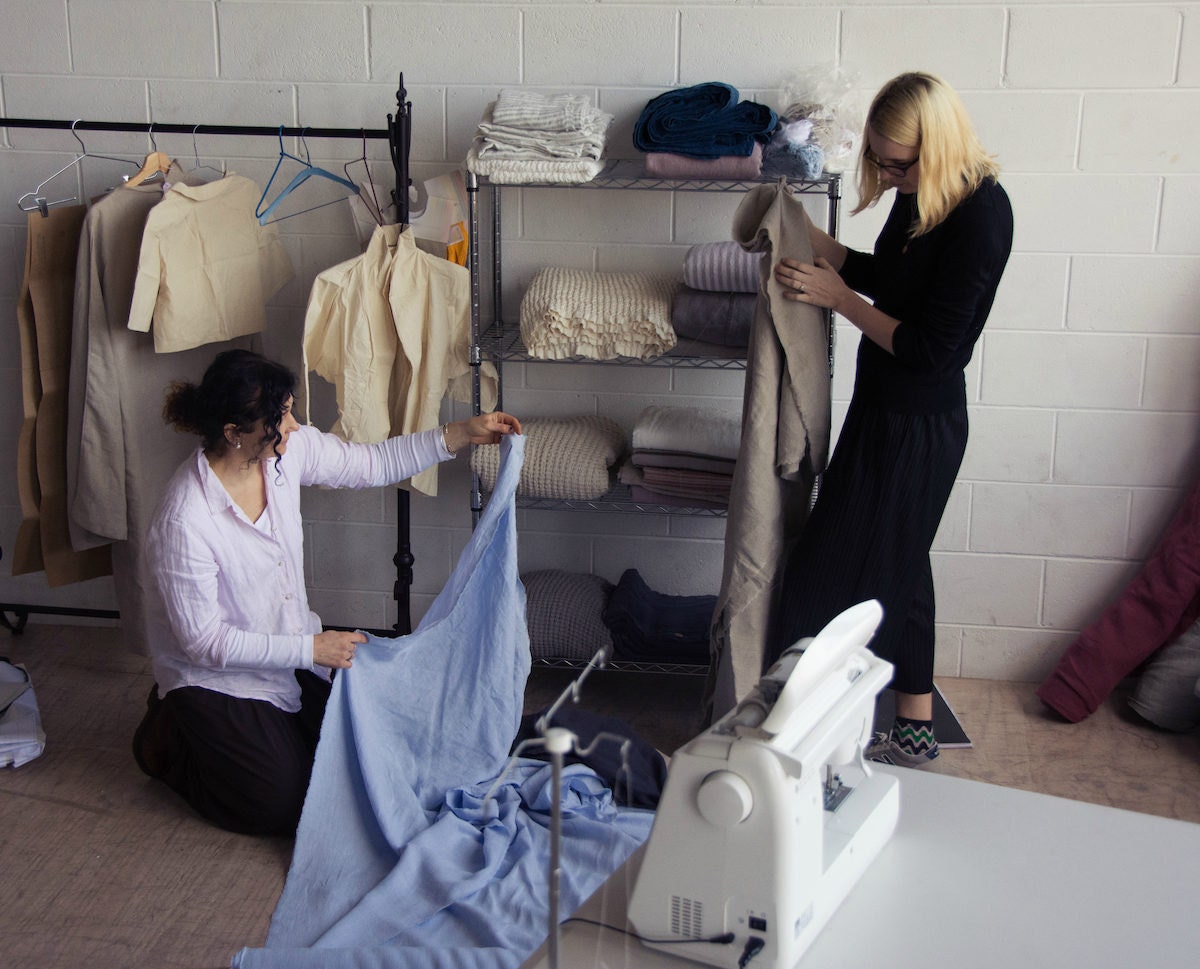 Can you walk us through your production process?
We create the
designs
here in Australia, and then work with our two production partners in Lithuania: One provides us with our heavyweight linen, and the other our extra-wide linen. Both are certified masters of linen, which means that they are exclusive European growers and makers. This is high-quality linen made under strict conditions, and chemicals are not used during any stage of the process. We are environmentally conscious, and we worship this fabric. That's why we maintain our standards from the very first growing stage to the last step. Our partners dye the linen for us, using environmentally friendly dyes, according to the colors I create. When the linen arrives in our Melbourne workshop, we sew it into bedding or other products. Everything we do is made to order.
How has your shop evolved over time?
We started with just a few pieces, like
duvets
in different colors. Soon we discovered the appeal of rustic linen bedding, and our customers deserve a huge amount of credit for that. Someone asked if we could create a duvet from heavyweight linen. Such bedding was nonexistent on the market at the time—heavyweight linen couldn't be found in an extra-wide size, which is what is required for sheets and bedding. It took us a long time to come up with a solution that we were happy with, but when we found the answer, we added more colors, then more pieces. Over the years, our
collection
kept growing, and there truly seems to be no end to the possibilities.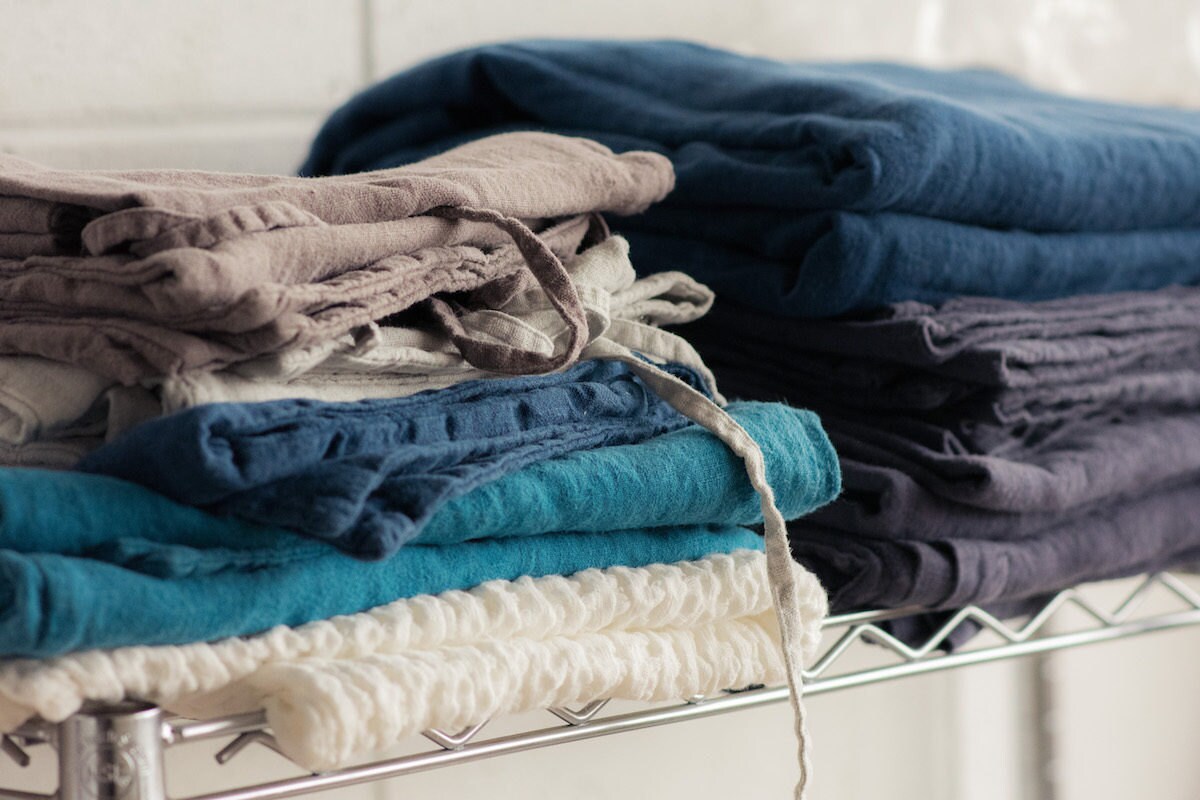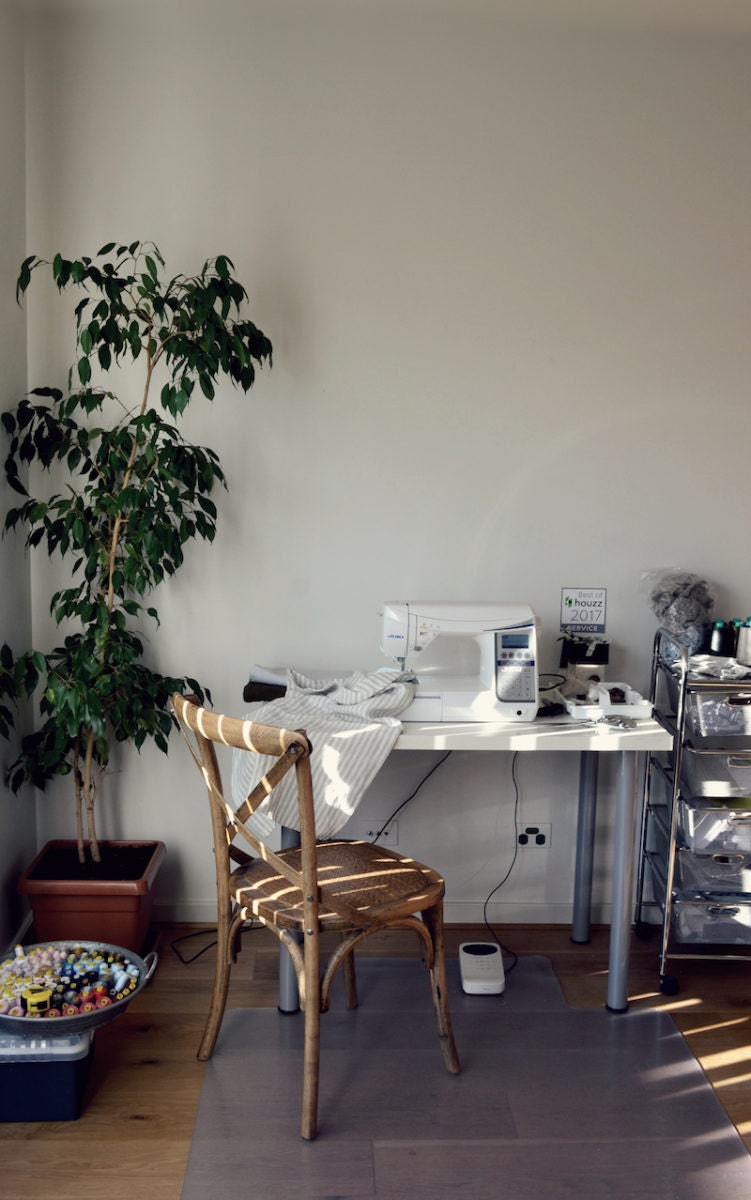 >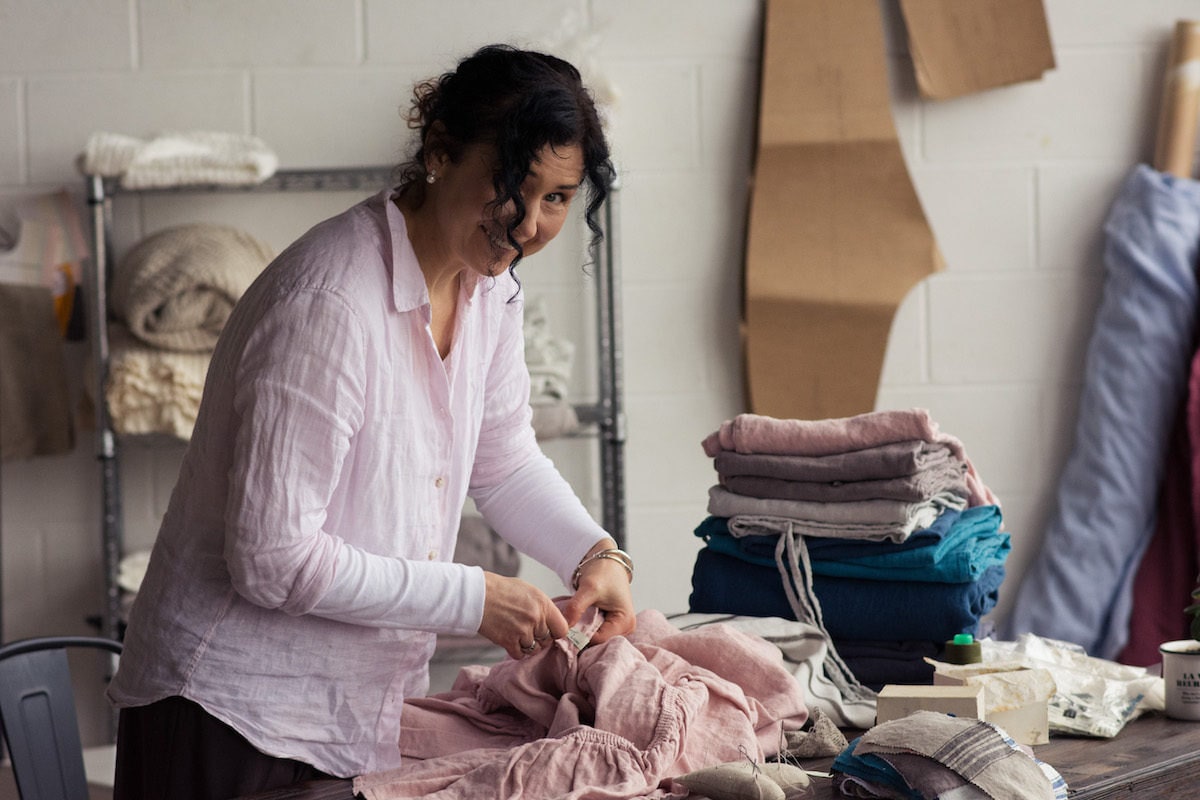 With fall just around the corner, what makes linen the ideal transitional fabric for autumn's cool nights and warm days?
One of linen's amazing qualities is that it regulates the temperature of the body. It keeps homeostasis, which makes everybody comfortable. That's true of linen
pajamas
,
bedding
, and anything close to your skin. Because linen has properties unlike any other fabric, sleeping in it during transitional weather is a wonderful experience. But once you try it, you'll want to use it year-round. There are so many ways you can layer linen: We recommend a
linen sheet
and
duvet
in the winter, and in the summer just peel off the duvet and leave yourself with a linen sheet. For the autumn, our customers love pairing our linen sheets with a pure linen
waffle blanket
. Since we offer different weights of linen, people can experiment with levels of warmth, like a lightweight sheet and a heavyweight duvet.
What's your relationship like with your customers?
We love our customers, and sometimes my own family jokes that I know more about my customers than I do about them! I know their names, their children's names, and their life stories. Etsy is a fantastic platform to maintain those personal relationships. The community spirit is unique, and it feels like one big family.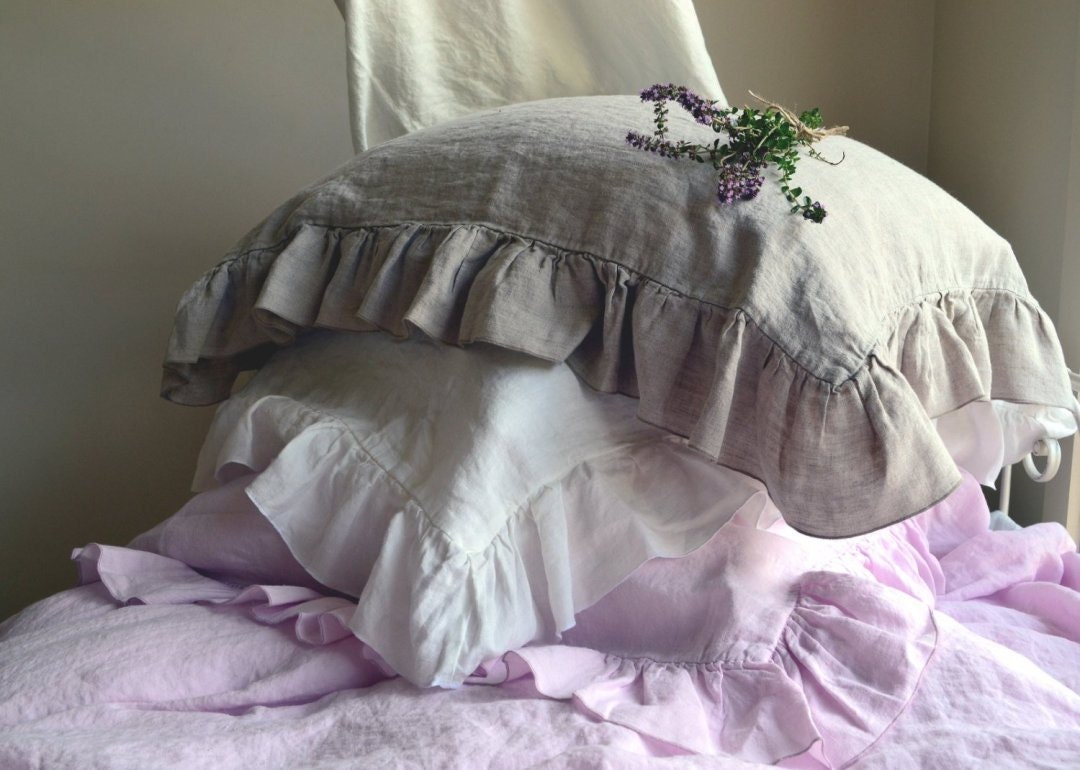 >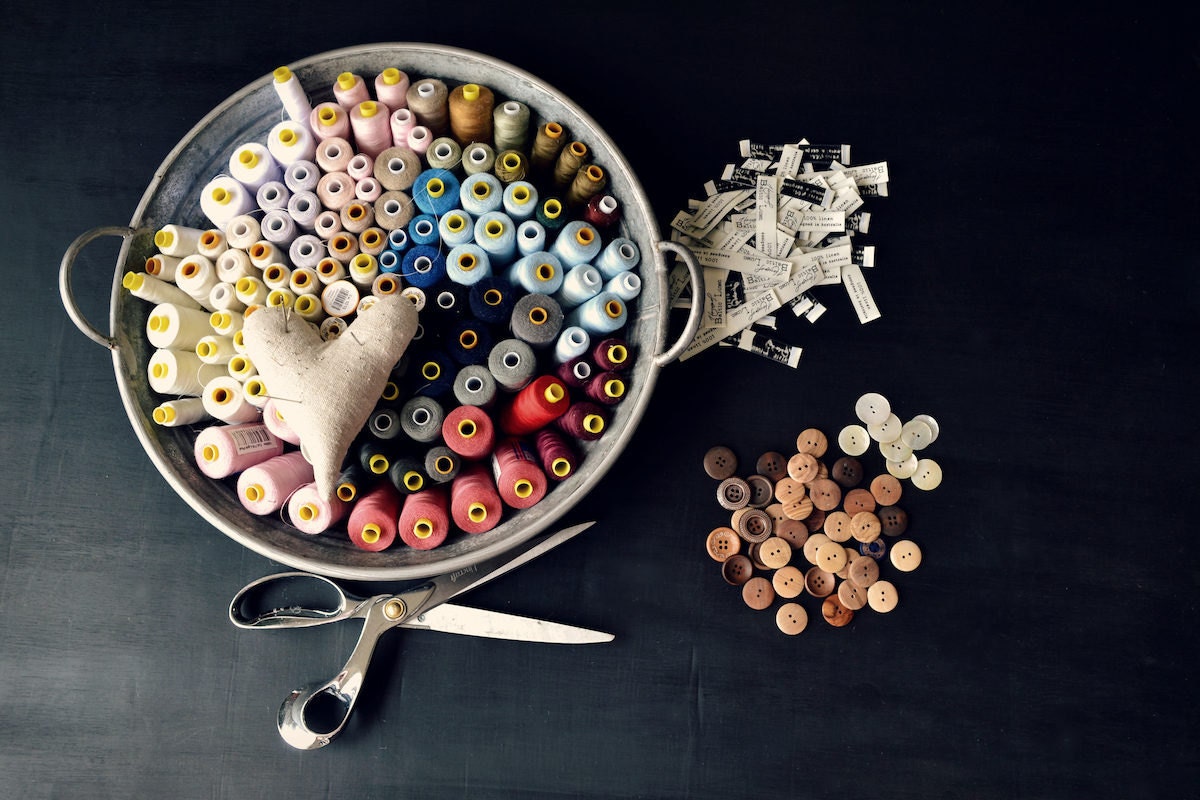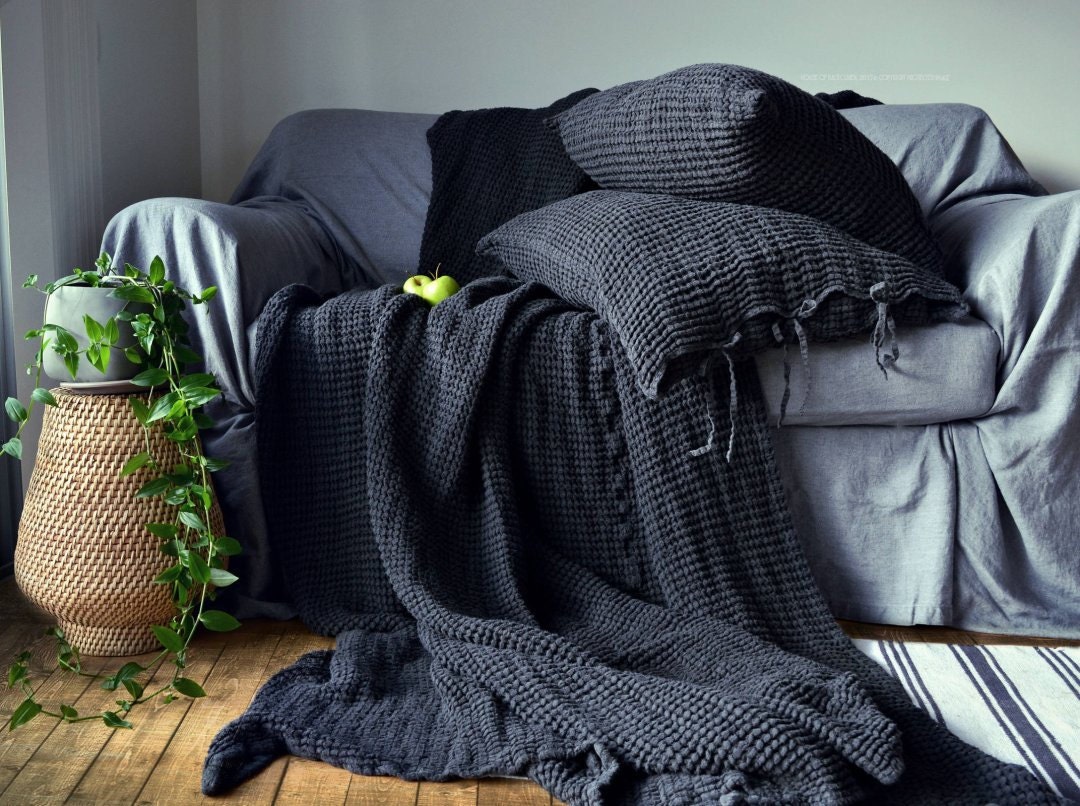 >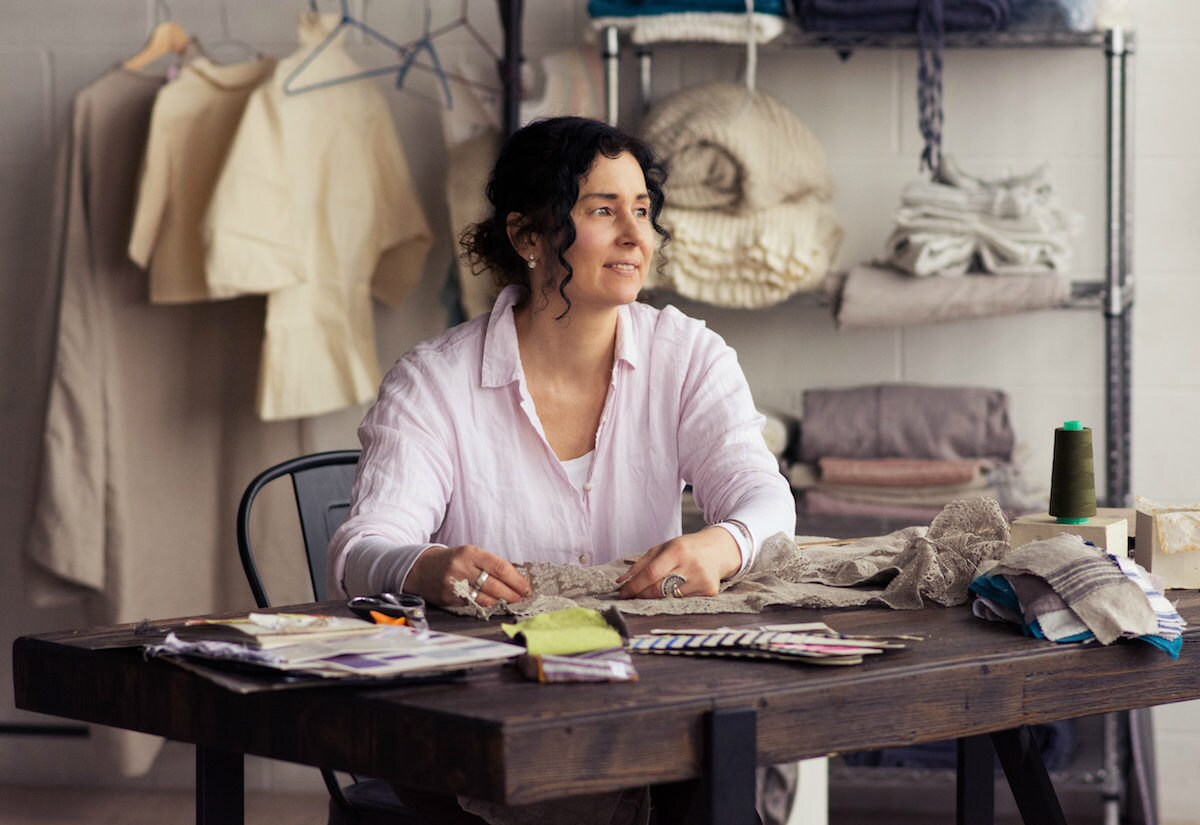 What do you love most about what you do?
Unleashing my fantasies to create makes me feel like I can do anything. One day, while walking on the beach, I saw some distressed wood washed up from the sea. I decided then that was what I wanted the buttons on our duvets to look like. So inspiration can really come from anywhere and everywhere. Sometimes I'll see colors in my dreams, and wake up knowing that's the new shade of bedding I want to design.
So, what's next for House of Baltic Linen?
We'll be introducing new colors this fall, including one I'm calling Blueberry Milk—it looks exactly like blended blueberries and milk in a smoothie. We'll also be adding olive green to our heavyweight collection, as well as more prints for our customers to look forward to. And next year, we'll be moving from Australia into a large, bright studio in Europe, where we'll be able to create on an even bigger scale.
Follow House of Baltic Linen on Instagram and Facebook.
Studio photographs by Daiva KC Photography. All other photographs courtesy of House of Baltic Linen.