by Katie Hawley
This designer expertly combines industrial materials (think: springs, ropes, and rubber) with natural elements in her contemporary jewelry line.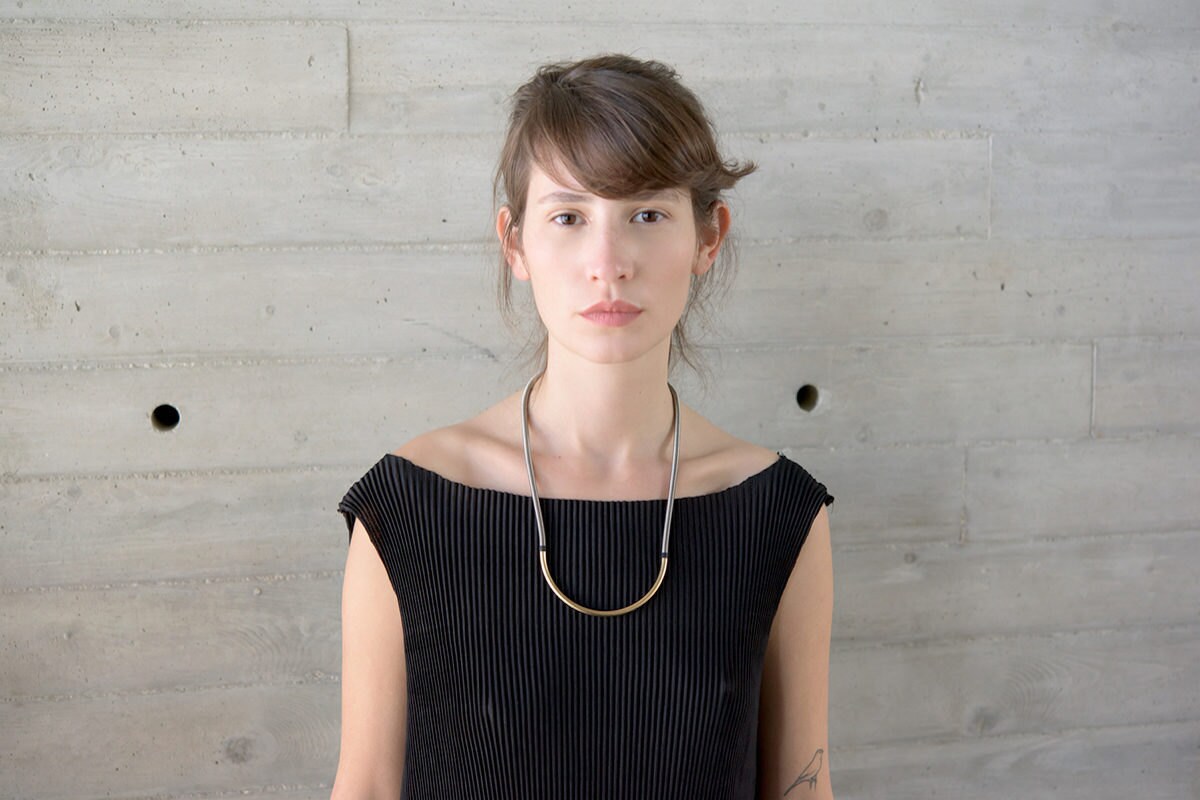 "I've always been a little bit different," says Israeli-born, UK-based jewelry designer Hila Rawet Karni. "When I was a teenager I hated it, but I don't anymore. Every person has a distinct view of life, and the more you can connect to it, the better." For Hila, her unique worldview finds physical expression through
Industrial Jewellery
, the unmistakably modern line of original handmade accessories she founded in 2009. Inspired by traditionally industrial materials, Hila's pieces defy expectations of what jewelry should be. Forget pearls and gemstones—these chunky cuffs and sleek, versatile chains are crafted from materials more likely found on a factory floor (think: springs, ropes, and rubber). By combining these seemingly unrefined materials with natural elements like wood and resin, Hila's resulting products are both delightfully unexpected and undeniably feminine. "They're modern, streamlined, and clean," she says. "And if they're not feminine, I'm not doing a good enough job." Hila's pieces may seem to almost forcefully assert their individuality, but their maker insists she knows no other way. "I can't be anyone else," she says. "I can only be me." Over the years Hila has learned to embrace what sets her apart. "Sometimes when I'm at a show, someone will come by and say, 'Oh this is so different!' To which I like to say, 'Thank you! There's enough of everything else.'"
Read on to learn how Hila's product designer roots inform her approach to jewelry making and shop the collection.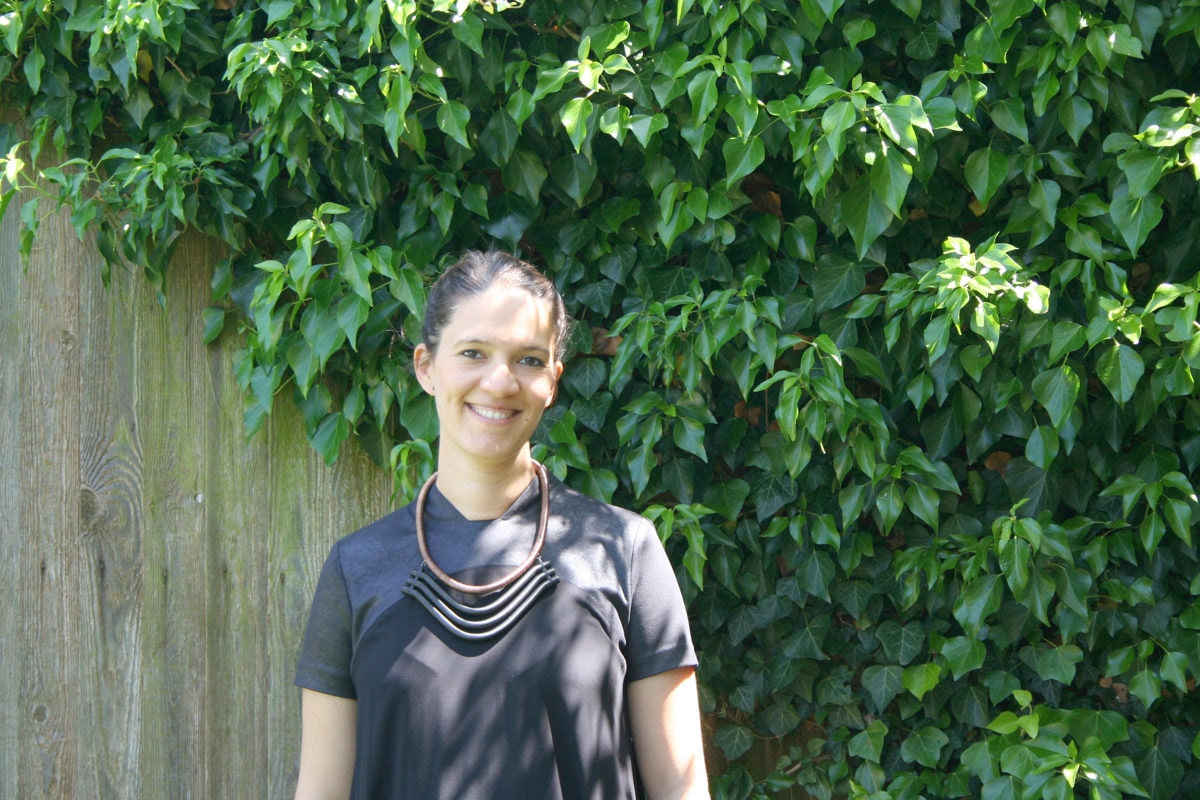 Tell me about your creative background. Did you grow up making?
I was born into a creative family. My dad is an industrial designer, and his father was a carpenter and a jeweler. Growing up, my dad's workshop was in our backyard so I'd spend my afternoons out there, using their super cool markers. The whole studio would help make me make costumes. It was big part of my life—I grew up surrounded by design and art. It's always been very present in my house.
When did jewelry enter the picture for you?
I studied product design in university, which I chose because I felt like it was the widest field in design. If you choose fashion design or graphic design, for example, you've already chosen a product, but if you study product design, you can design a car, a chair, or a
piece of jewelry
. I tried to make the most of my four years at school, and at the end, I decided to do my final project on jewelry. I was inspired by my grandfather's pieces; I didn't know him, but I've always been very intrigued by the stuff he left behind. That was the beginning of everything. I made two lines for the project: one out of silicon and one out of paper.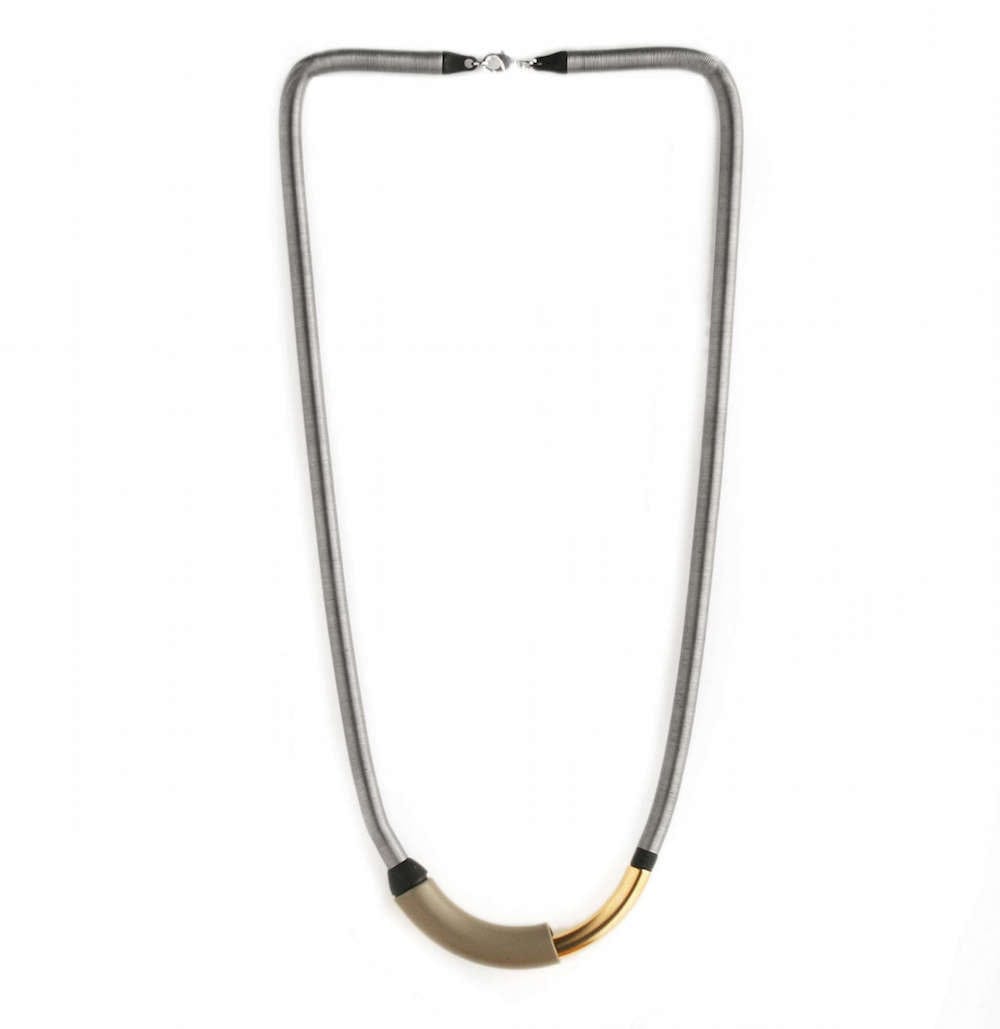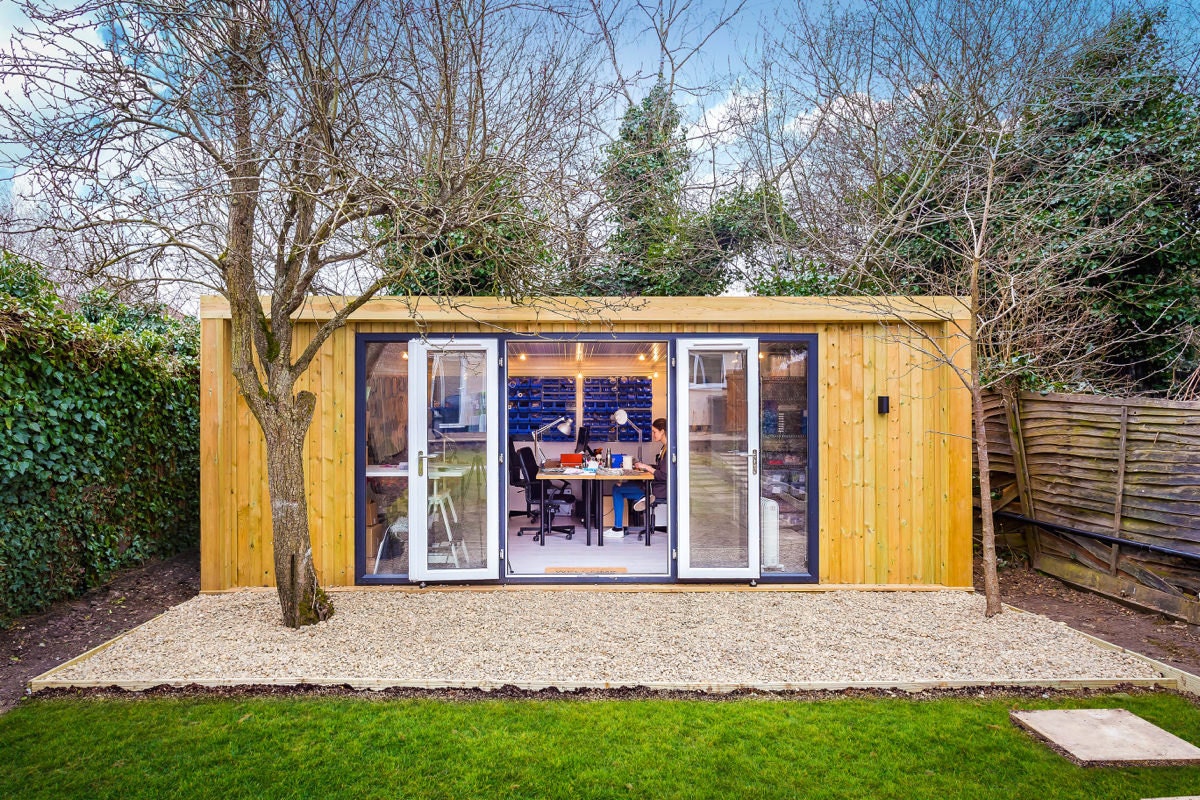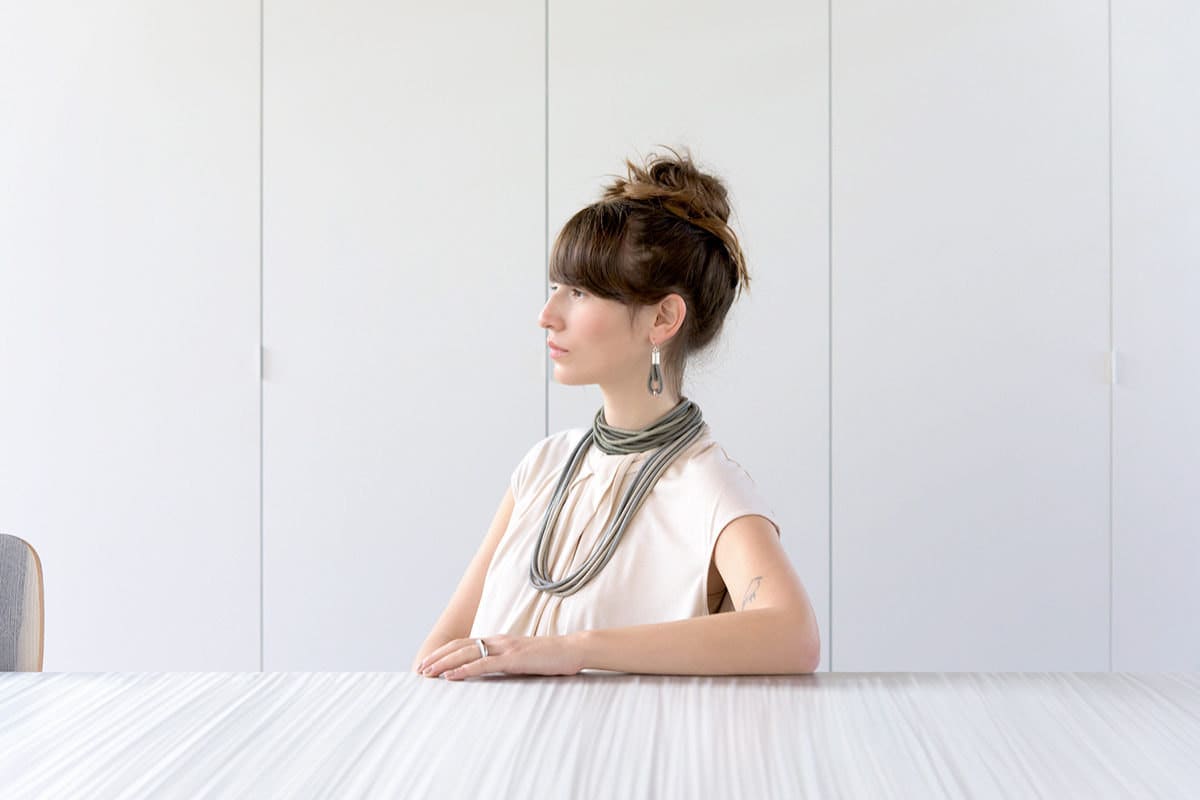 Photo by Aya Wind.
How does your background in product design inform your approach to jewelry making?
For a long time, when people asked me I'd say, "I'm not a jeweler." I don't weld, and I've never studied jewelry design. The way I think about designing and creating is industrial. It start with the materials—with rubber, springs, and stainless steel—which aren't seen in most jewelry lines. But it's also the way I think about making things. A lot of our different pieces are made with the same parts—take our springs, for example. We'll use the spring as is, or we'll connect it with different silicon endings: a straight one that connects the spring to a tube, or an angled one that turns it into an
earring
. Or we'll stretch the spring and put it over a PVC cord or a cotton rope. For me, it's an industrial way of thinking about things: to take take one component and create different things from it. It's very similar to product design.
Your say your pieces are a "manifestation of contradictions." What do you mean by that?
I think it's linked to an element of surprise. When people touch our stuff they'll say, "Oh, it's so light!" Or, "Oh, it's so soft!" These are the contradictions I look for when I make our pieces. If I'm working with something that's quite strict or structured, like an aluminum tube, I want to find something softer to mix it with. Because I'm drawn to more industrial stuff, I always look for natural materials to combine it with—it adds to the element of surprise and interest. We work with
lava elements
, for example, and with
wood
, and clear resin, which is very airy and soft. I feel like if I only used industrial components it would be quite dull and a little expected. It's when you do those unexpected combinations that the magic happens. That's where things click.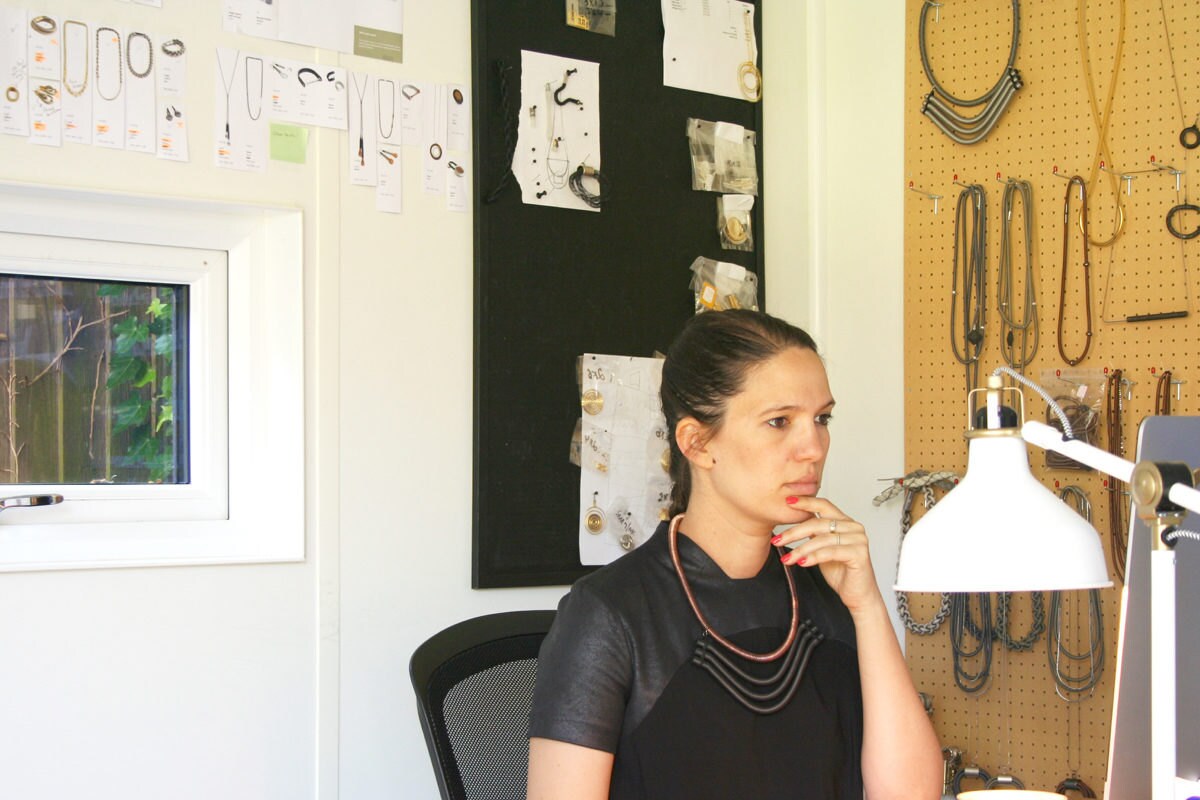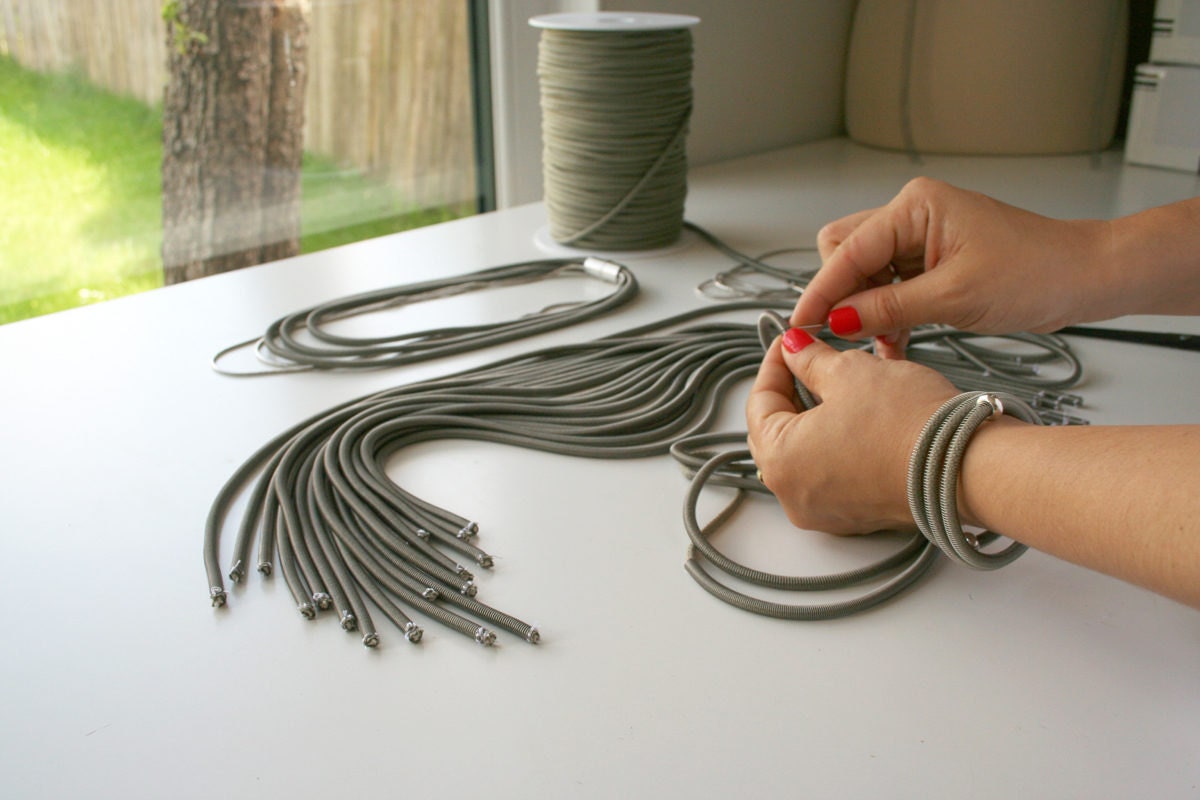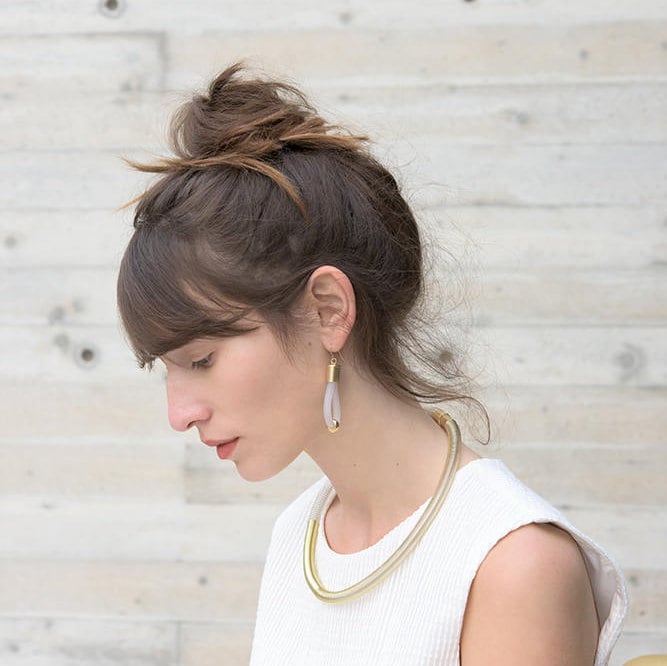 Photo by Aya Wind.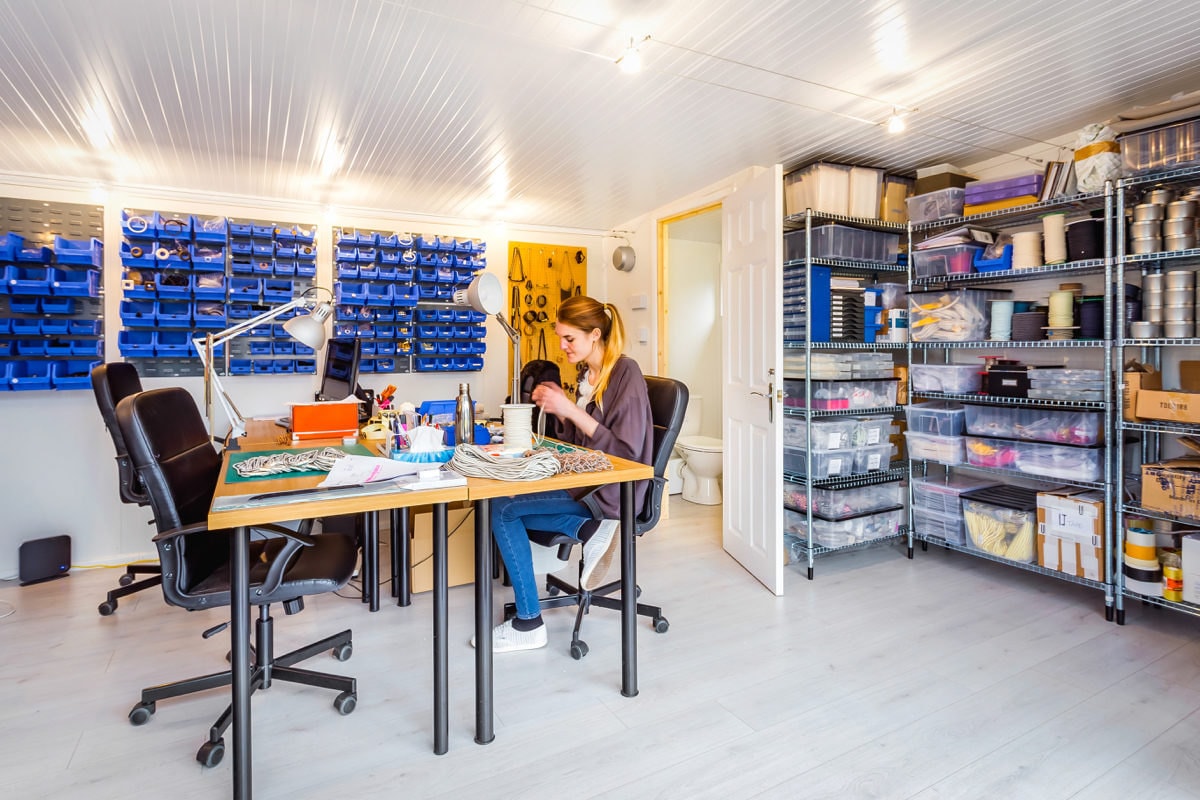 What's your favorite kind of item to make?
I like the pieces that are more complicated, like the ones that have ropes incorporated. There's some sketching involved with those, and also sewing, which I love, so that line is definitely my favorite. I also really love stretching the springs, so anything that has that stretch in it is a favorite, like the
Olivia necklace and bracelet
. Those have different parts of springs stretched and unstretched—I love the fact that you have different textures in one item. It really shows what the material can do; it's almost like we paused the movement of the spring.
Do you have a specific type of person in mind—an imaginary customer—that you think of when you're designing?
First of all, I design for myself. My husband always says I made a business of making nice jewelry for myself, and I think it has to be that way. Especially when you become a mom and you work until 8 or 9pm, the business needs to be your child as well. I love what I do and I love the pieces—I think that comes across in
my work
. The person who buys from us is an individual. I think it's someone who's curious, because curiosity is what draws you to the jewelry in the beginning before you even pick it up. It's someone who's a bit more confident, and isn't trend-driven, who's looking for something that puts the last finishing touch on what they're wearing. I've grown to know more and more that it's usually older women, but sometimes we'll do trade shows and have a twenty-year-old woman and her sixty-something-year-old mom stop by, and they'll each find something in the collection. That's when you know you've done your job.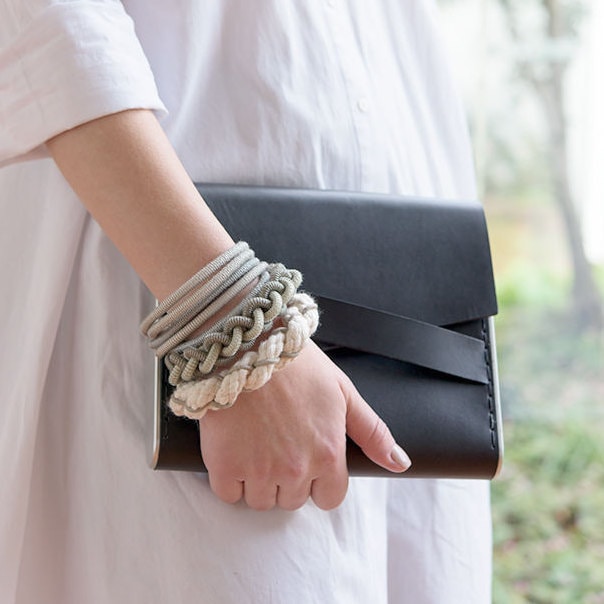 Photo by Aya Wind.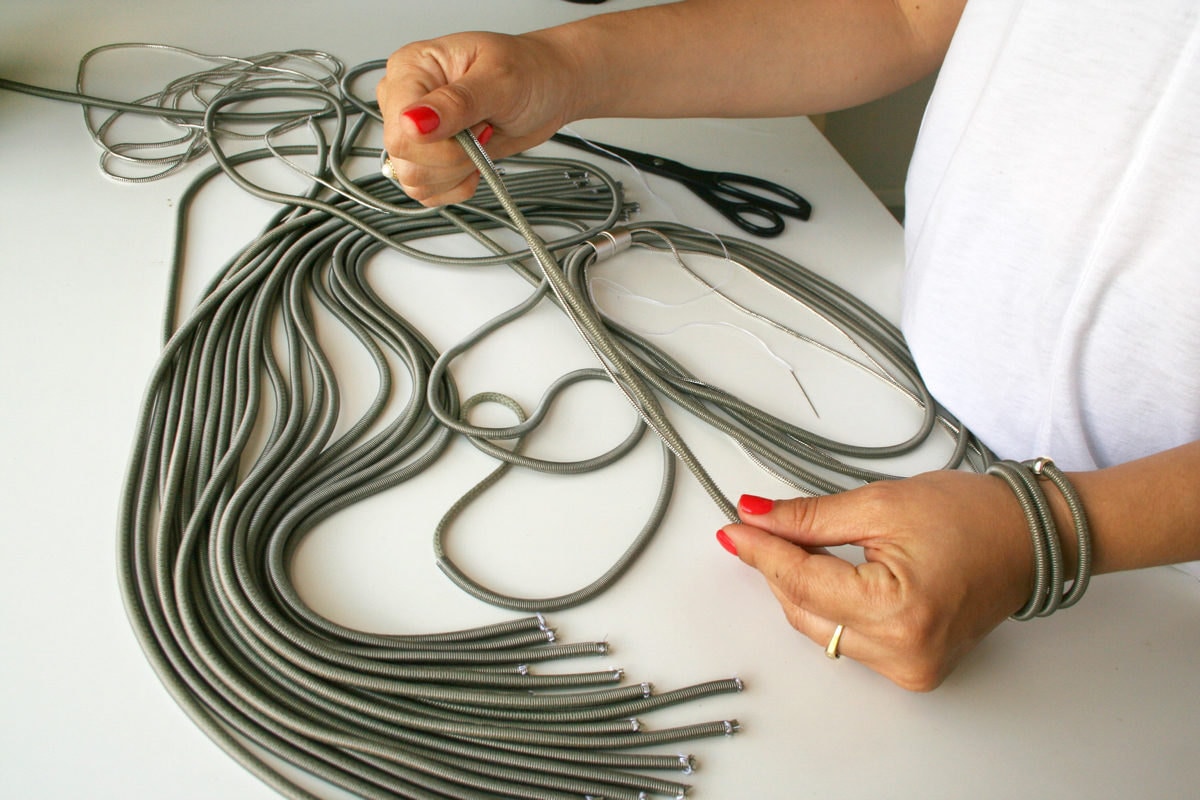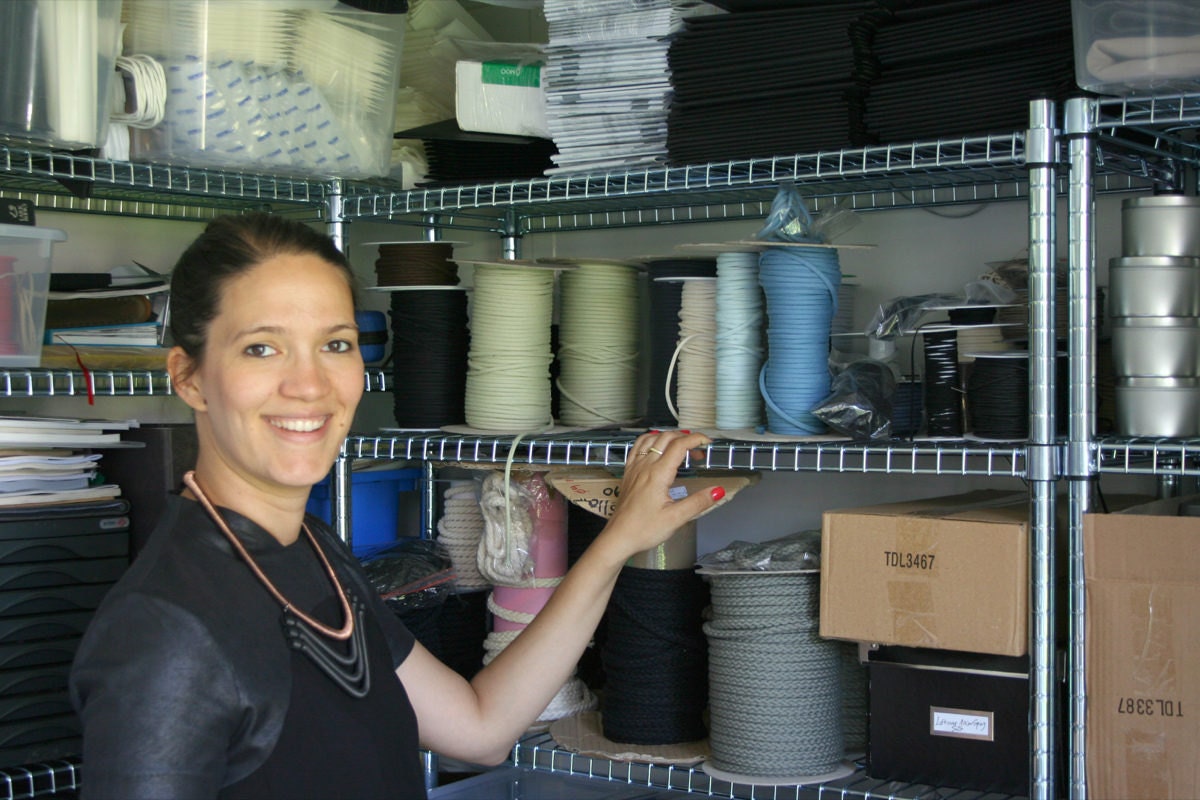 What's next on the horizon for your shop?
About a year ago I felt like the the studio reached its zen mode. Things were cruising in a good way, but I felt like if I didn't challenge myself, it wouldn't be good anymore. I'd achieved a lot of the goals that I'd set for myself, and I needed to figure out the next move. I came away from that process knowing I wanted to expand beyond
jewelry
—I love it but I think there are a lot of other personal accessories that would be interesting to explore, and it's important to challenge yourself. So the idea is to gradually become more of a lifestyle brand. I know how to make jewelry my way, but I need to figure out how to make other products my way. I like that we provide the cherry on top of an outfit, but there are more ways to add that finishing touch. Right now we're working hard on a line of
leather goods
, and we've started making simple scarves and fasteners, too. Because we're growing, I also think about opening an atelier. I'd like to move out of the house and into more of a retail situation, where I can offer more than just jewelry. I want to offer my world to my clients.
Follow Industrial Jewellery on Instagram and Facebook.
Photographs by Industrial Jewellery unless otherwise noted.