by Julie Vadnal
It takes a knitter to know a knitter's needs, and with her shop for project bags and needle cases, Jésabelle B. puts her own experience to good use.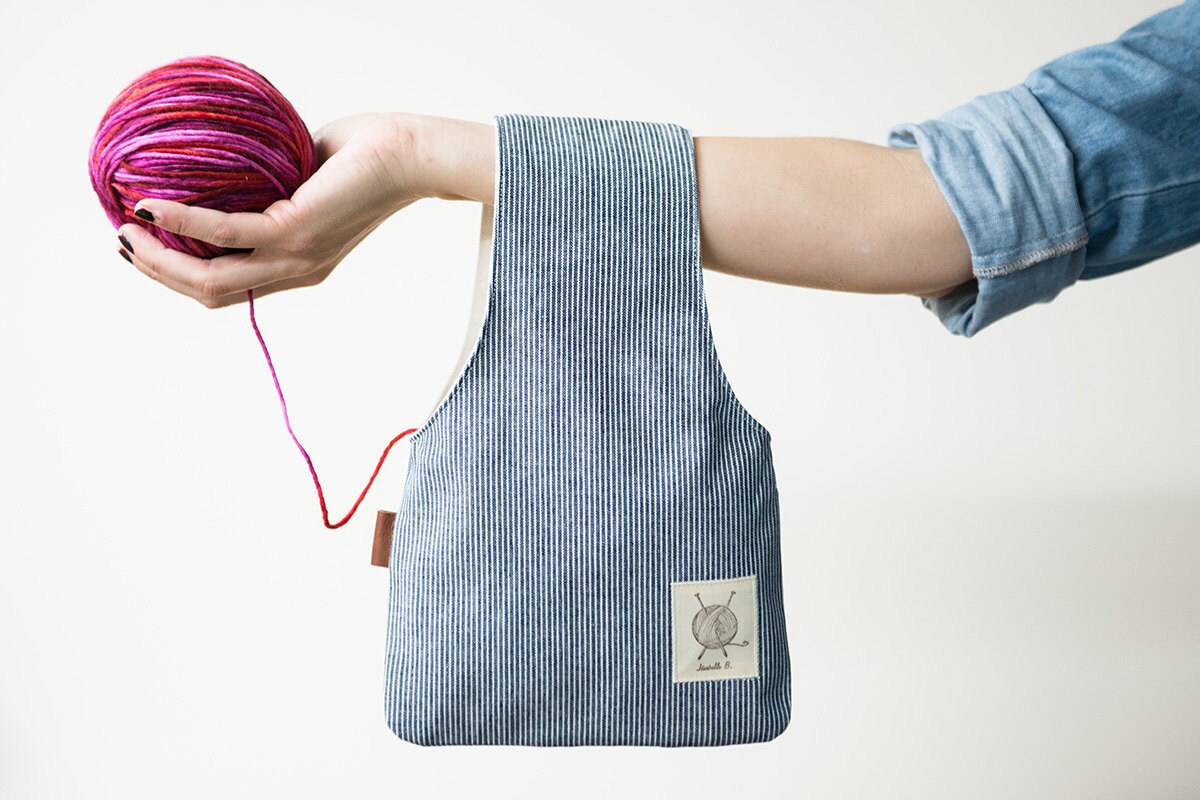 When she was a teenager, Jésabelle B.'s grandmother taught her how to knit her very first piece — an extremely itchy, Army green scarf. "It was so ugly!" she says now, remembering its rough texture and blah color. "And it was so scratchy! If I had started with better yarn and bamboo needles, I would have never stopped knitting. You have to have the right tools." Flash forward several years to when Jésabelle took up knitting again, thanks to the guidance of two friends in her hometown in Québec. Her grandmother (who is now 96!) took notice and gifted her granddaughter her knitting bag, which her own mother had made. "I'd never seen anything like it," Jésabelle says of the simply ingenious bag that holds yarn while hanging from the knitter's wrist. Inspired, she began using it, then updated it by tinkering with the fabric: Jésabelle traded in her grandmother's linen version for double-sided designs with striped cotton, beige linen, and dark denim, all of which she sells in a variety of sizes in her
Jésabelle B.
 shop. (Hot tip: Grandma carries the medium striped one!) Even though she sells the knitting bags around the world — from North Carolina to Norway — Jésabelle never forgets where it all began: Her grandmother's original bag hangs framed in her studio today.
Read on to learn about the birth of Jésabelle's business, her approach to color palettes, and the music she chooses to start her creative workday.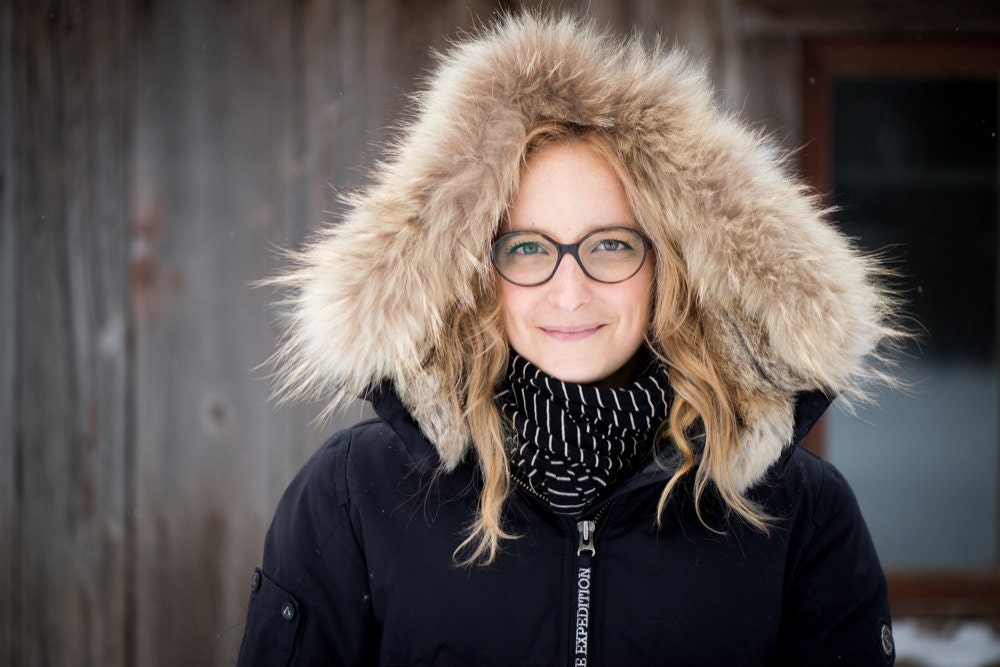 Why do you think knitting has had such a cool-girl renaissance lately?
There is so much available now! When you see a picture of something you can just mimic it because there are so many amazing yarns on the market. I think that's why everyone is picking it up.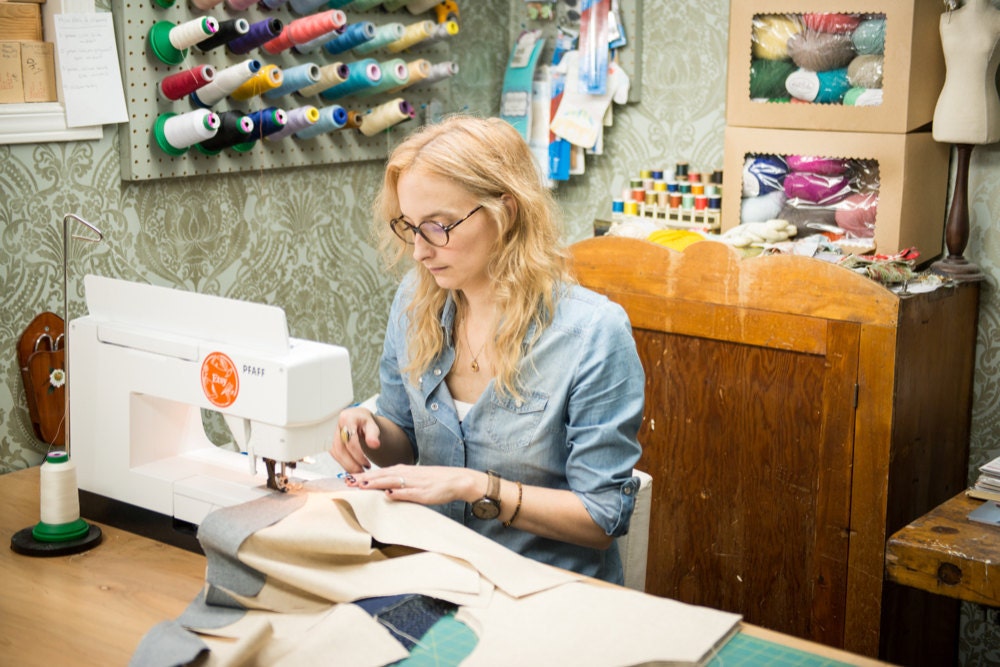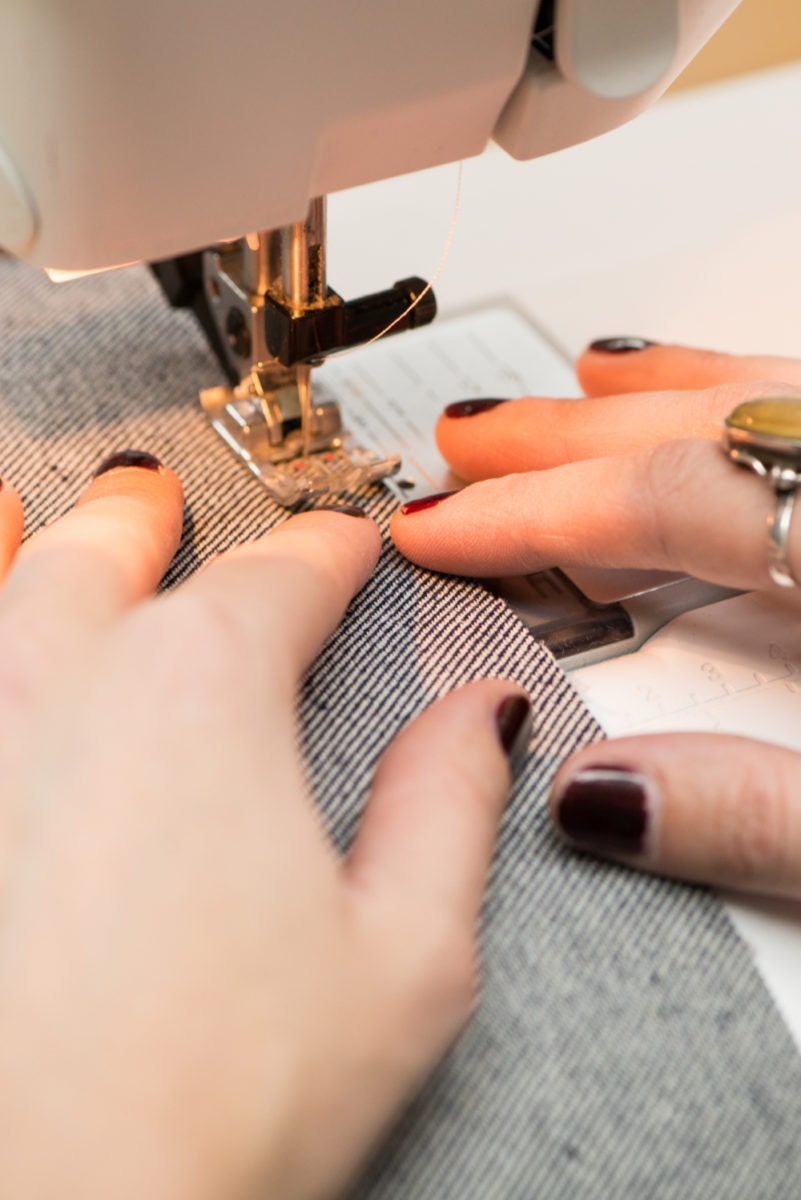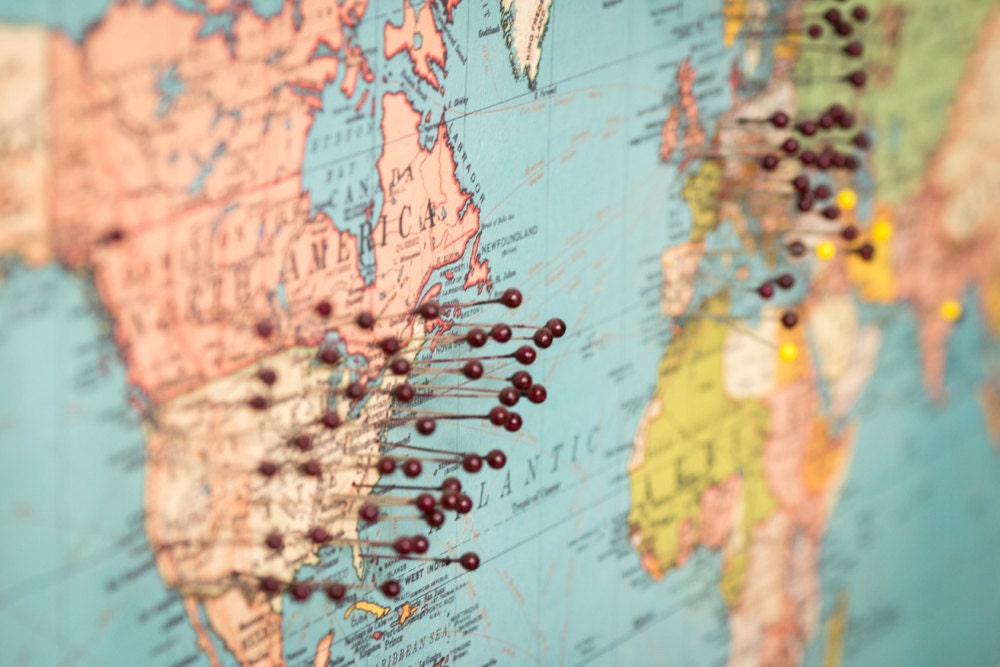 And with your bags, is the idea that you could bring a project on the bus and take it anywhere?
That's it. I have a lot of people who buy it because they have a commute, and they'll use it on the bus or the train. Or there are other people who buy it because they have a cat. They can knit away, and the ball won't roll onto the floor where the cat can jump on it.
How do you decide on the bag colors?
I mix and match so that everything kind of goes together. When you buy yarn, you usually buy it for the color. I don't want the bag to outshine the yarn; I want the yarn to be the star. And I make
the bags
so that they can last a lifetime. If they had, say, crazy frogs on them, they're going to be fun for two minutes but then you're going to be fed up with them. If I use classics, you can have the bag for 20 years and it will still be fine. It won't go out of style.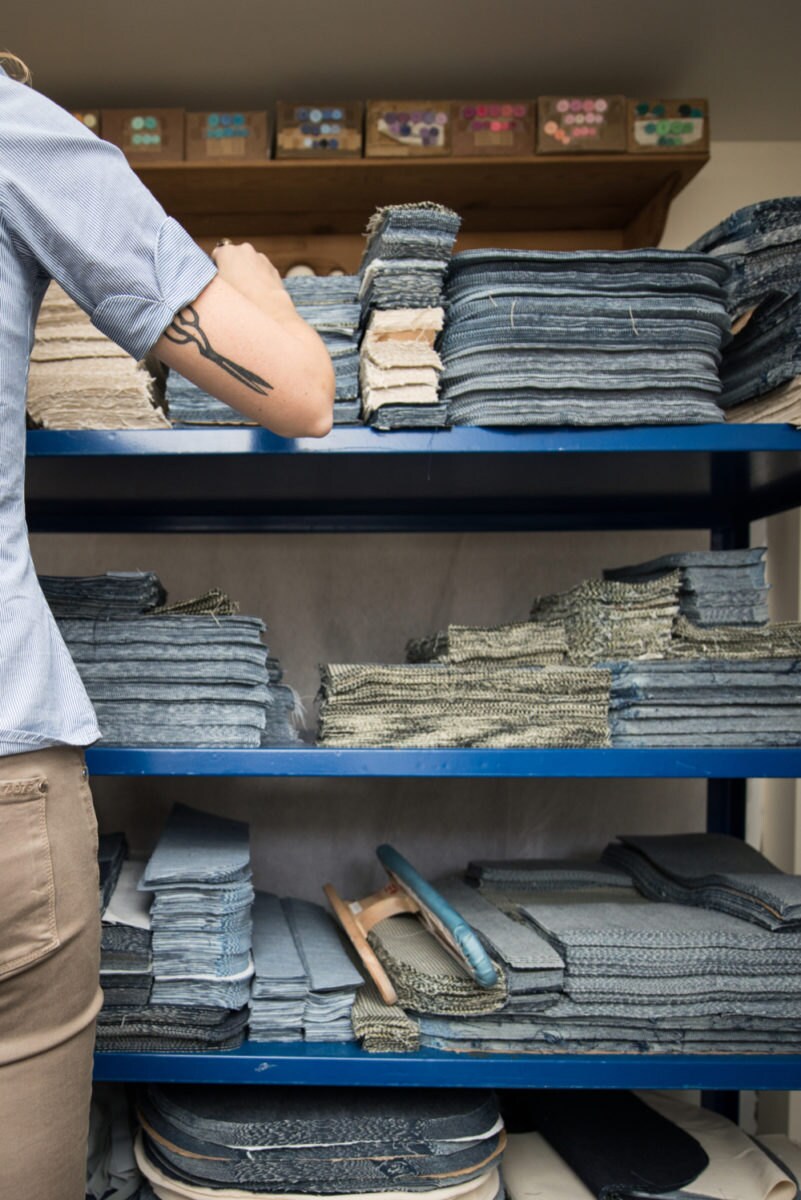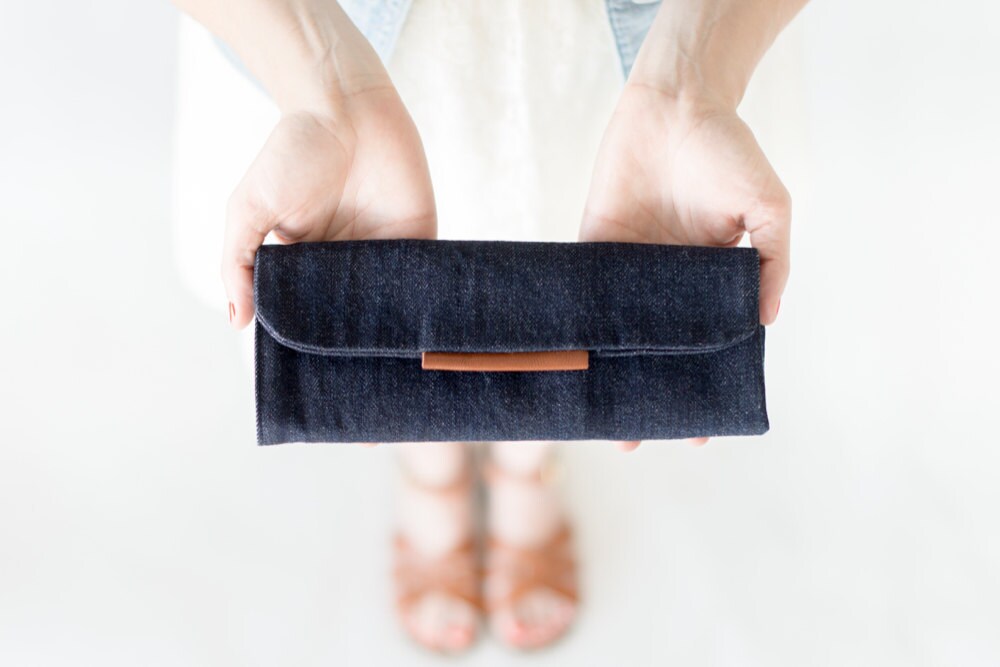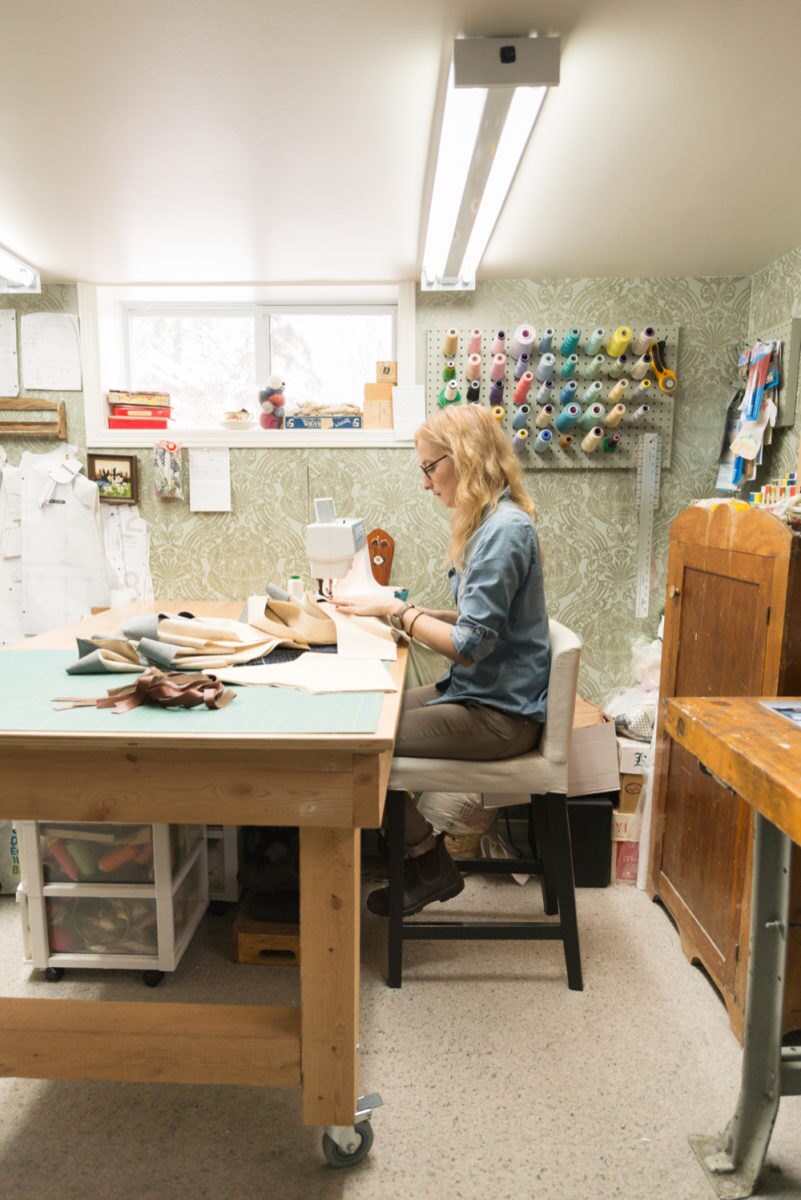 What do you like most about knitting?
I like the rhythm of it. I like thinking about what you're going to do in that moment and just following the rhythm and nothing else.
Do you ever listen to music while you knit?
No, but I listen to music when I work. My mother comes to work with me a lot — she's the one who showed me how to sew when I was young. When we begin the day, we have to chat and get back on track. Then usually we put on disco. We love Barry White and Diana Ross. When you work listening to disco, you work faster!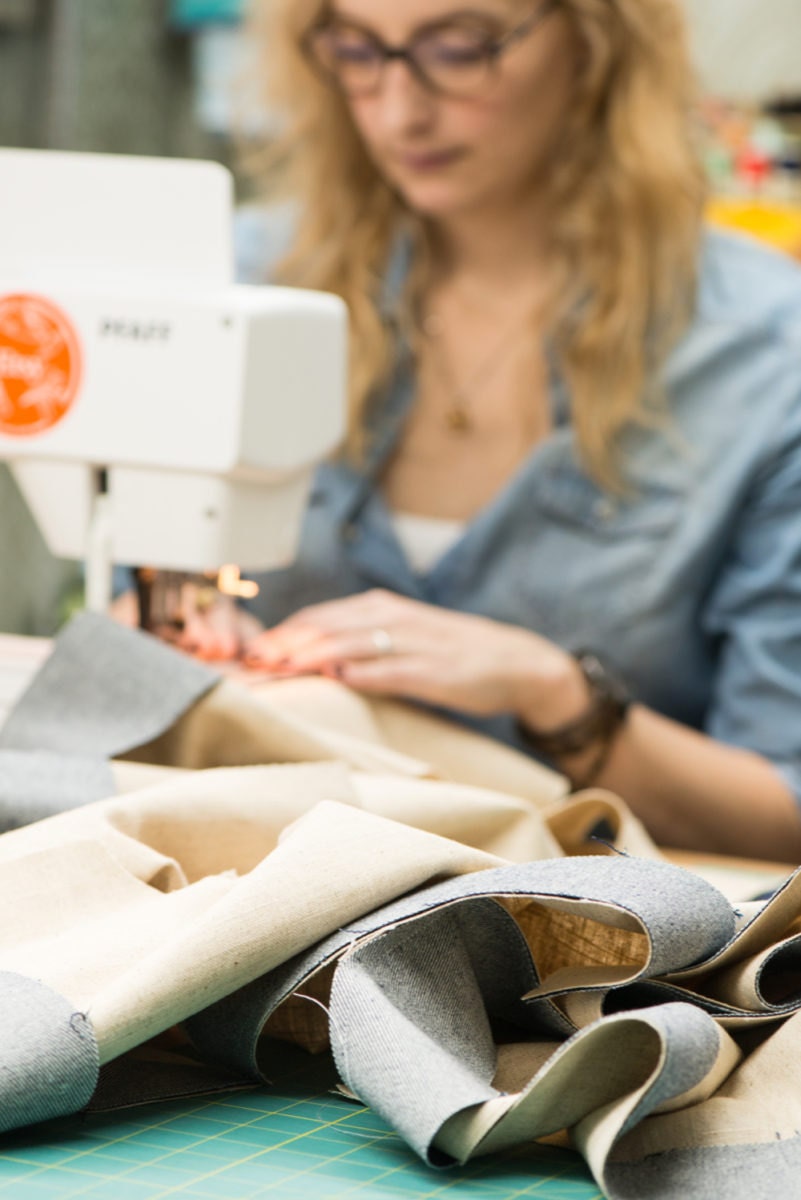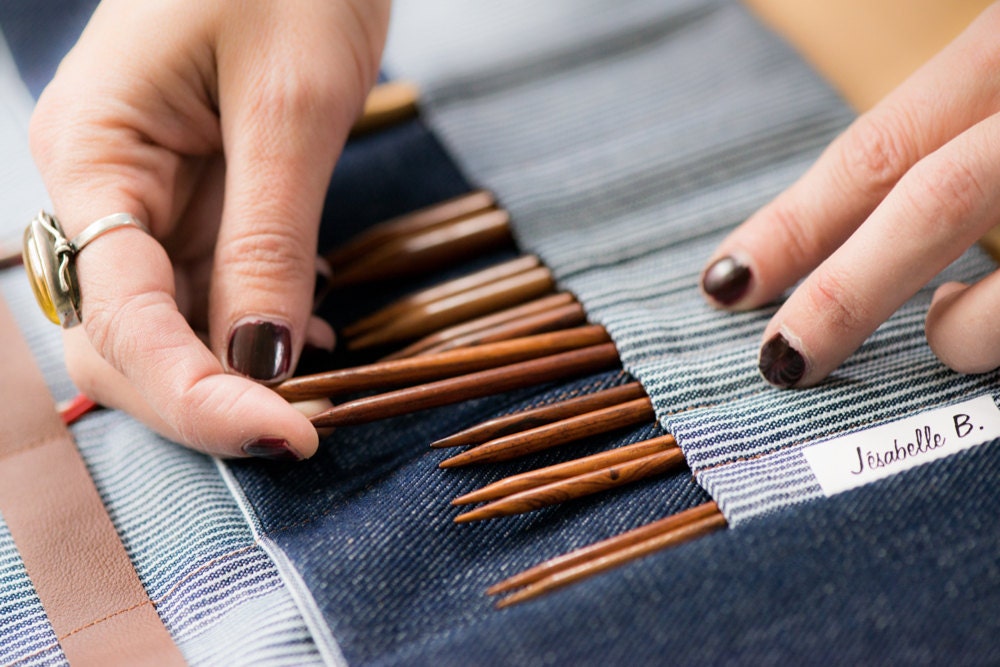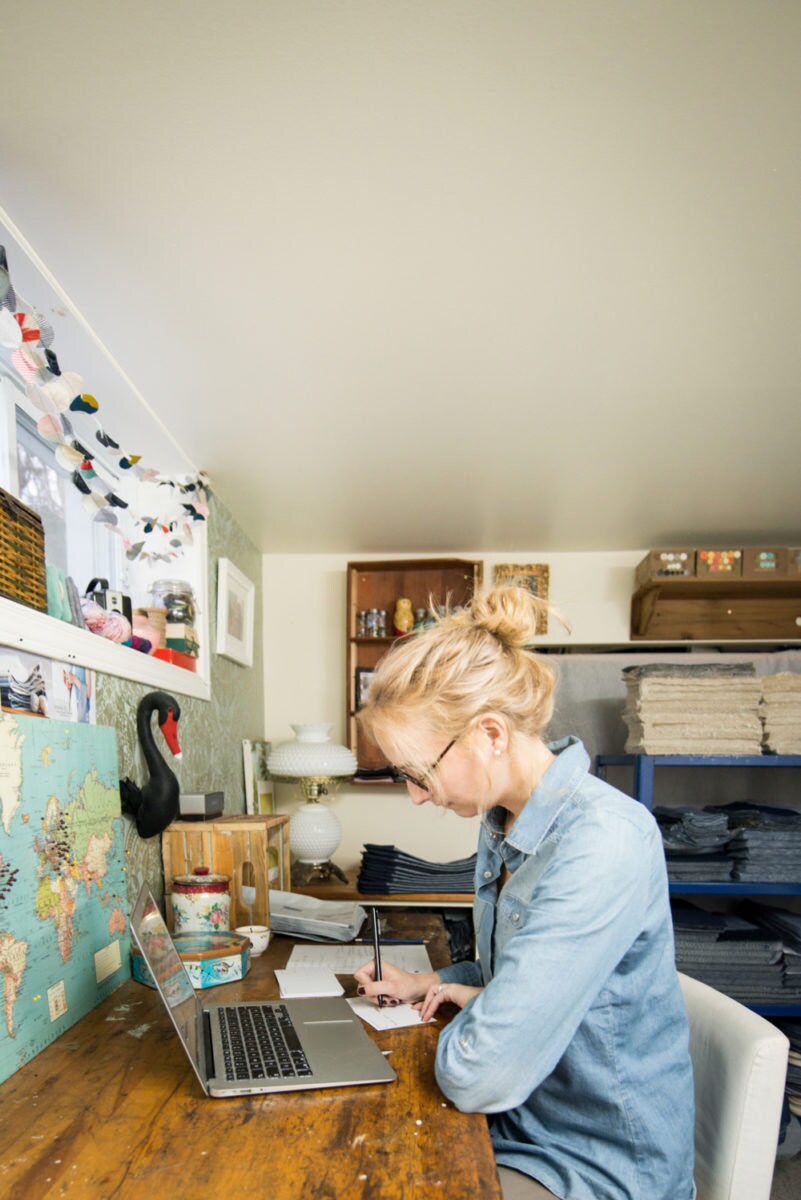 Do you have plans to expand beyond knitting bags?
My goal would be to make an entire collection of tools that knitters or crafters can use for their work. People who buy my cases or
my bags
know that they're going to keep them for a long time and I want to carry that over into other items. You're a better crafter if you have better tools.
How did the needle cases come about?
I had too many needles and I needed something to fit them all. Because you know when you buy a set of needles, they come in a plastic thing with cardboard? It's ugly. That's how I came up with the
needle case
. All of the ideas and products I make or want to make come from a lack of that thing. Like, I don't have this, so I'm just going to make it.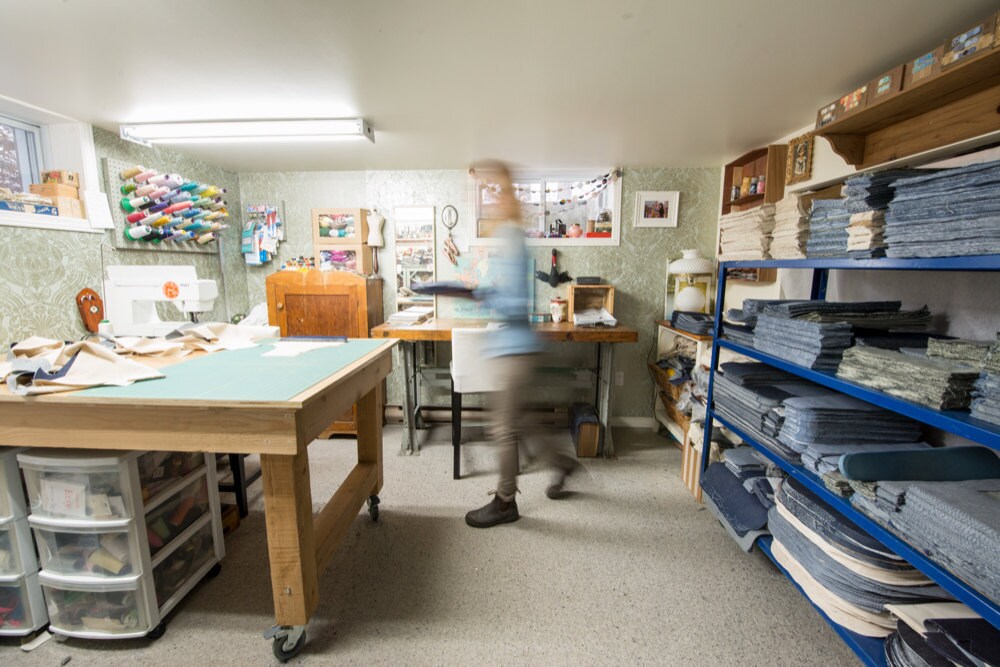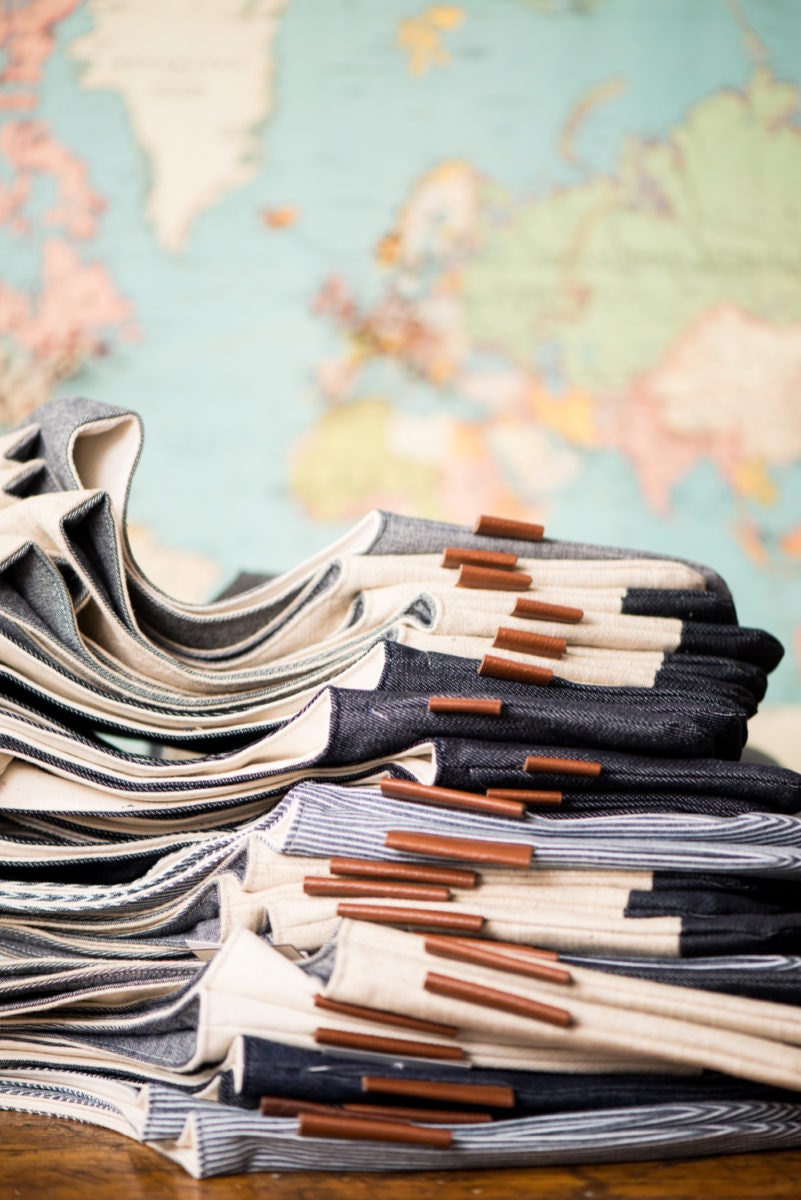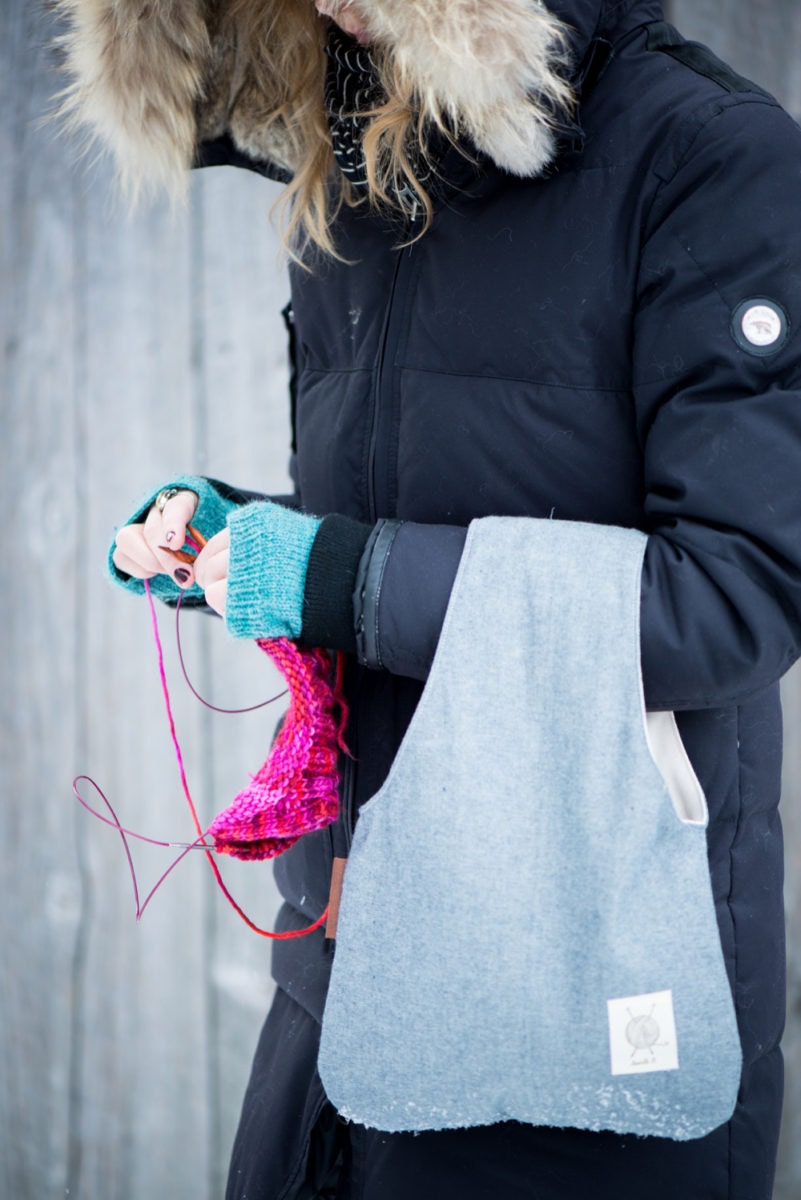 How is your grandmother involved in your work now?
When I use a different fabric or color, I FaceTime her and say, "Look Grandma, I'm making a bag with this color now — and I also have a needle case." And she's always like, "Oh man, I don't know how you come up with all of these ideas!" She's amazed.
Follow Jésabelle B. on Facebook.
Photographs by Emmanuelle Brière/La Vitrine Creative.