For this illustrator, a return to her coastal hometown in Yorkshire provided the spark for her line of stationery and homewares.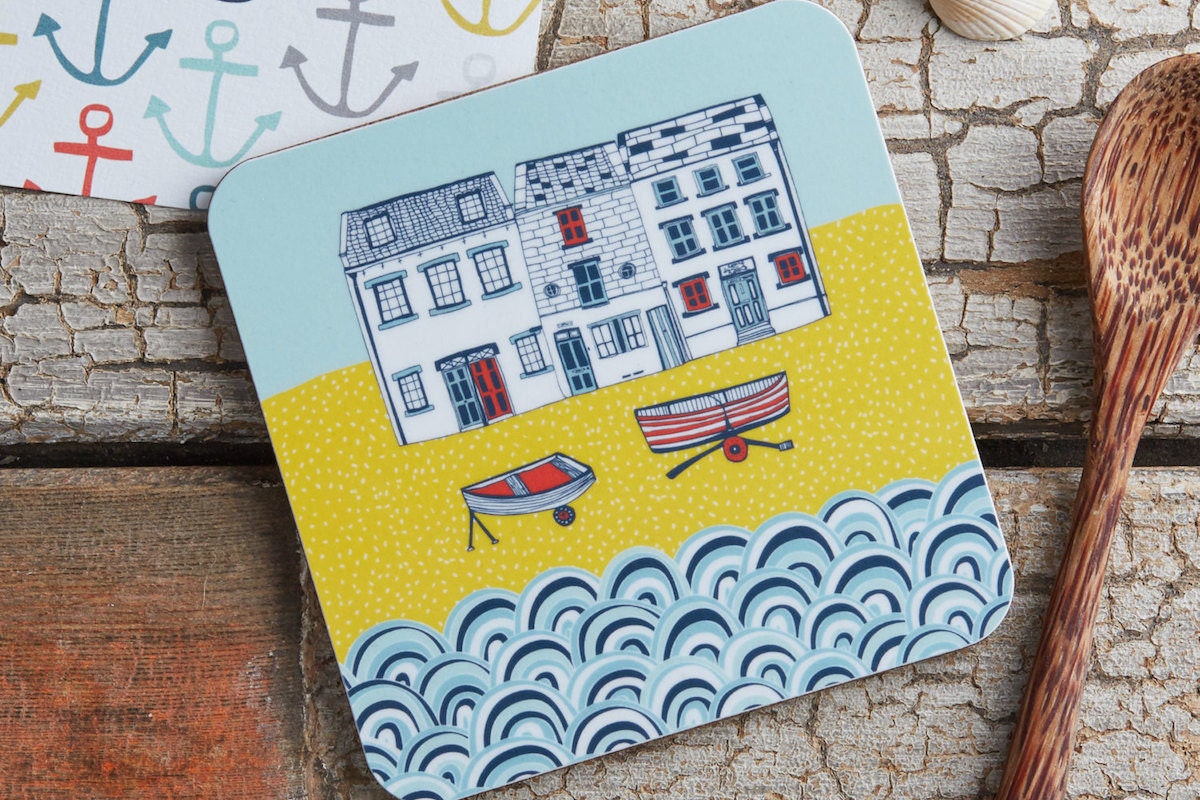 Nine years ago, British illustrator Jessica Hogarth returned to the cobbled streets of her hometown in the North Yorkshire countryside with a pen and a singular purpose: to find her style. As a first-year student at Leeds College of Art, Jessica knew she was passionate about drawing, but was unsure what particular look would come to define her work. Inspired by the picturesque coastal cottages lining the shore of a local fishing village, she started putting lines on paper. "I just drew loads and loads of buildings," the Whitby, UK-based owner of
Jessica Hogarth Designs
recalls. "Each one had its own quirky look with different iron work, window shapes, doors, and shutters; the subtleties were endlessly exciting to explore." Though she didn't realize it at the time, this exercise crystallized her signature style, and the 
coastal cottages design
would become her trademark contemporary, linear look. Today, Jessica has built a bustling online and wholesale business printing her whimsical illustrations of cottages, bicycles, and boats on everything from greeting cards to art prints. Her iconic prints and surface patterns have even inspired collaborations with the likes of Paperchase and
The Wall Street Journal
, and her work can be found in outlets across the UK and the world.
Read on to learn how Jessica balances the brain of a businessperson and the heart of an artist, and shop the collection.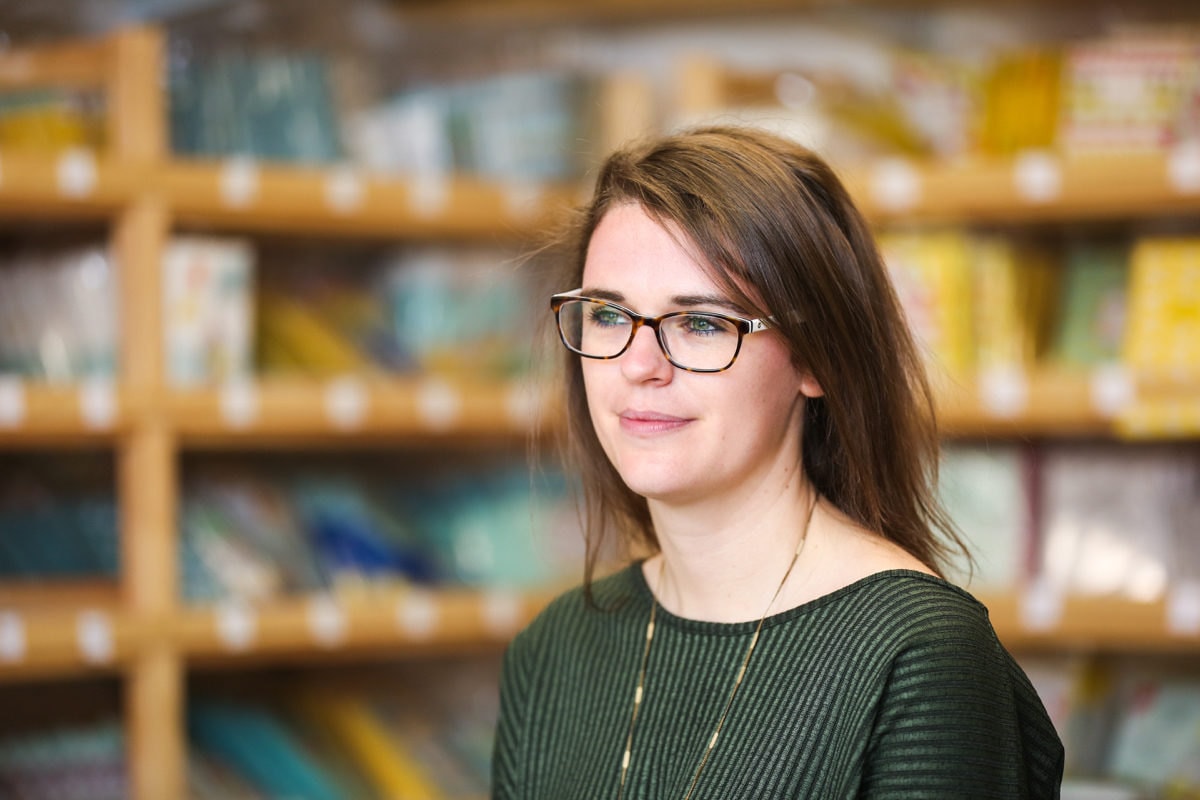 Your illustrations are so charming and quirky. How do you infuse them with such life?
All my artwork begins quite simply as black pen illustrations on paper. The texture is made by me hand-drawing little patterns, but everything's very much line and block color, which I add in Adobe Illustrator.I'm left-handed, and I find it really difficult to draw a straight line, so everything's just a bit wonky; I suppose that's why all my work has that naive quality to it. My buildings probably wouldn't actually stand up if they were built in real life, but that's part of their charm.
What do you aim to achieve with your designs?
I love telling little stories. As an artist, you want someone to look at your work and see something in it. My aim is to evoke a feeling or a memory through both my subject matter and the color palette; I like a lot of blues and greens, and I'm a big fan of nostalgic 1950s artwork like
Lucienne Day
. I'm going for that vibe—something new but with an older feeling to it.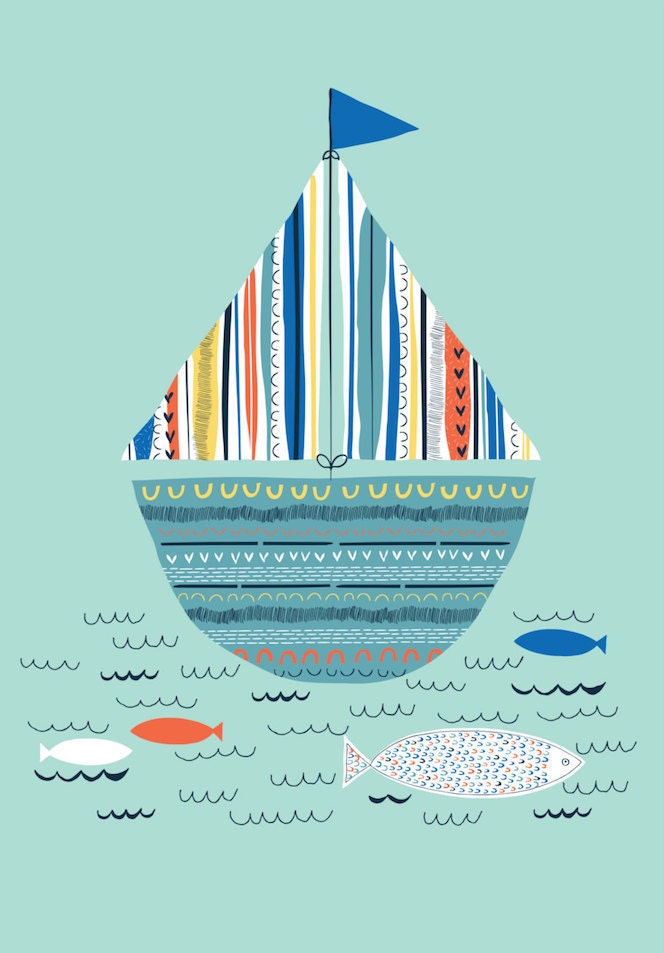 Photo by Yeshen Venema.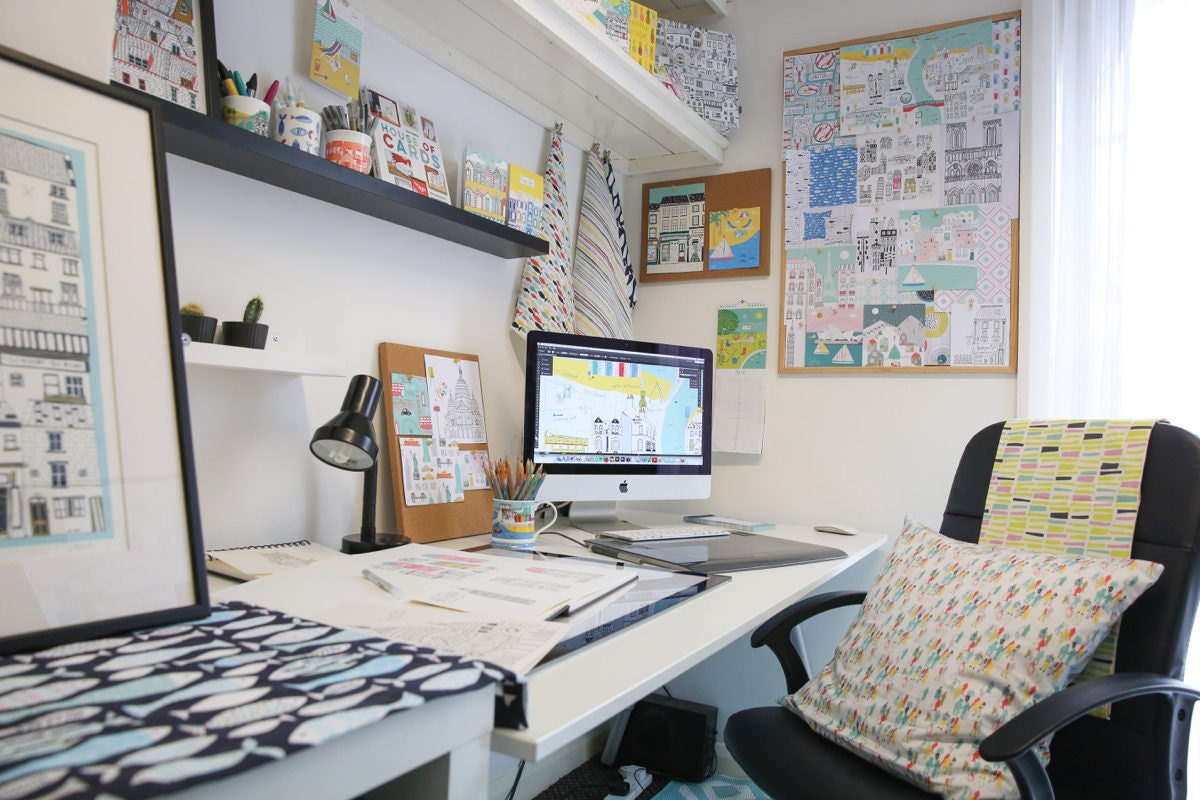 Greeting cards have become a cornerstone of your business. How did that product line evolve?
When I started, I just had a small collection of
coastal art
postcards, a tea towel, and some limited-edition screen prints. At my first trade show I was advised that my work would be well-suited for paper products, and since
greeting cards
are relatively inexpensive to manufacture, I could test the market without putting too much money in them. Once I began producing more cards, I realized quickly that to make a proper living I had to add captions. I was reluctant at first; I see my work as commercial, but not mass-market commercial, so when I started making
birthday cards
and
sympathy cards
it felt a bit like selling out. But now I love making all kinds of caption cards, and I think I've managed to retain my quirky look, so hopefully it's a good balance.
You seem comfortable at the helm of a small business. Has it always been that way?
My dad has his own business and my auntie has a shop that I've worked in, so we had lots of conversations about what it actually costs to start a business—the money you need to open the doors and then to pay the rent, the bills, and the staff members. It got me thinking in that mindset straightaway. Maybe I'm unique in that I've always been interested in the business side of things; for me, it's as enjoyable as the creative bit. Still, finding the right balance can be difficult. A year ago, I could've had two months where I didn't draw anything; I was just busy running the business and fulfilling orders. Now I've got a studio where I do creative work and a separate stockroom next door. I've also brought my mum on as a paid employee and she helps with packing orders, which frees up a lot more of my time to focus on designing. She's actually next door packing
tote bags
right now.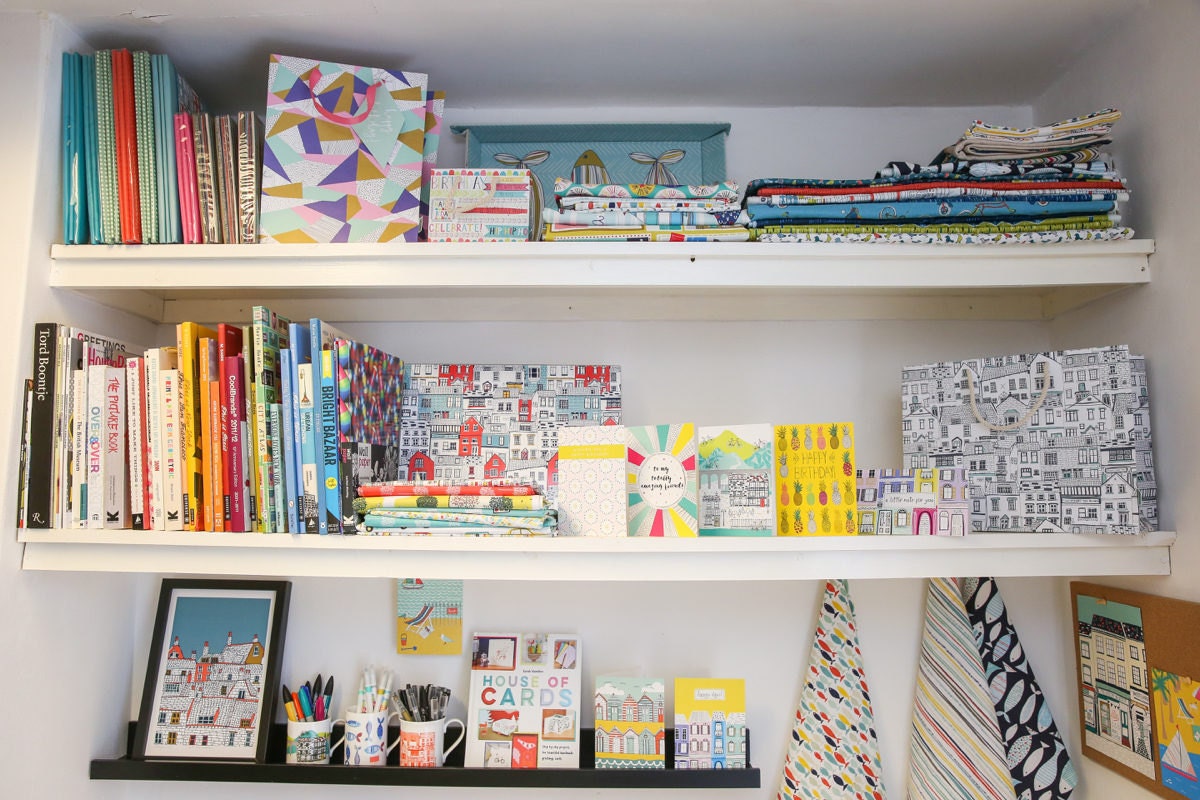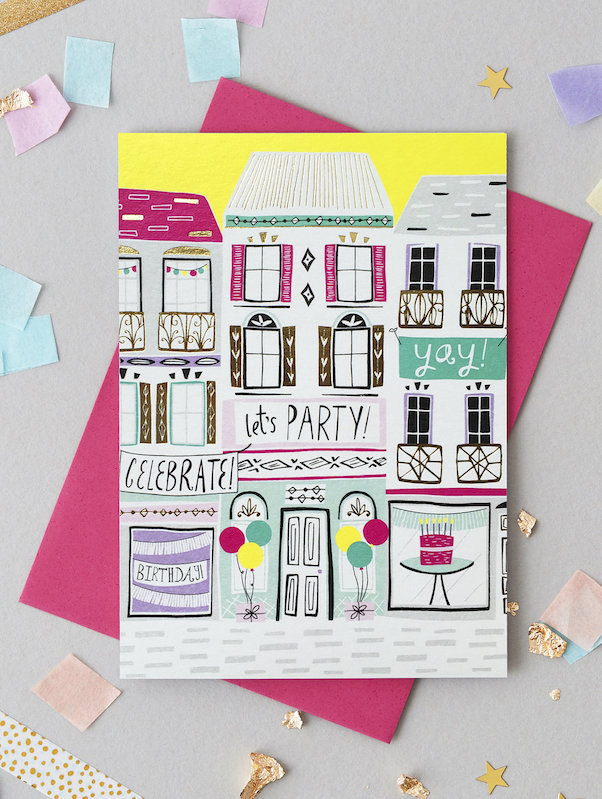 Photo by Yeshen Venema.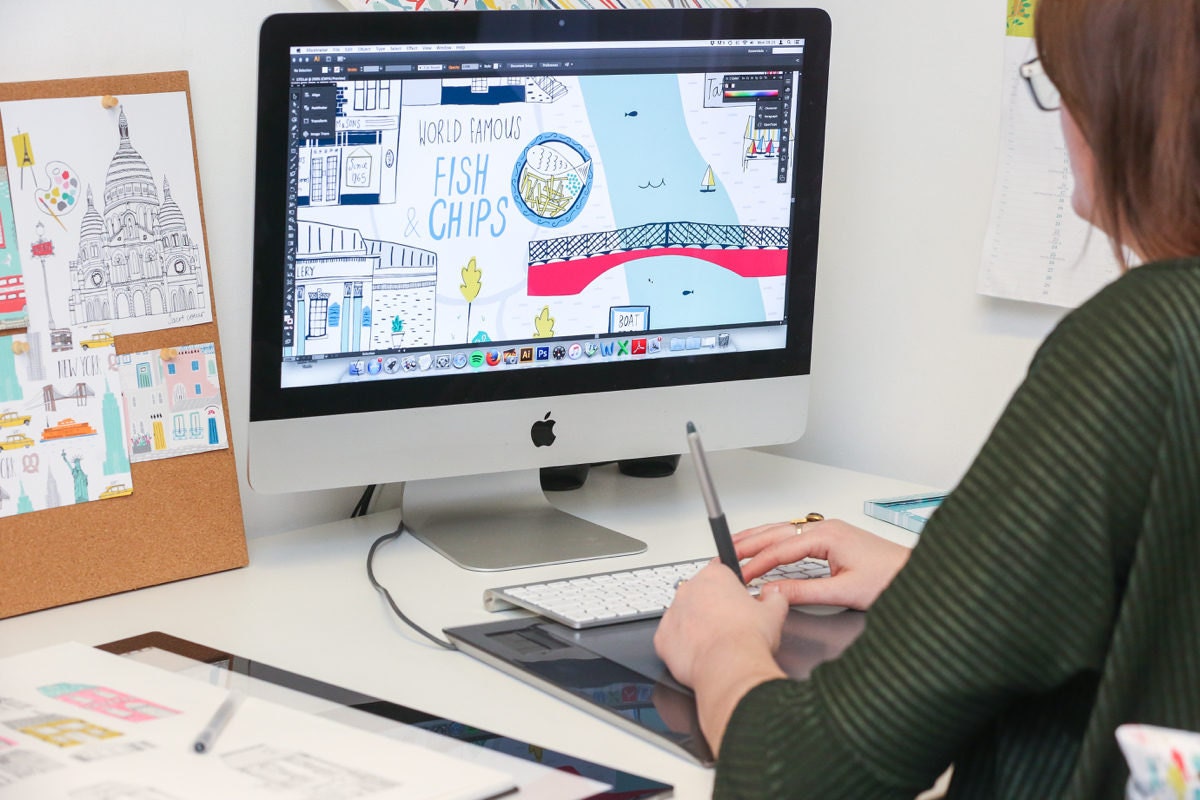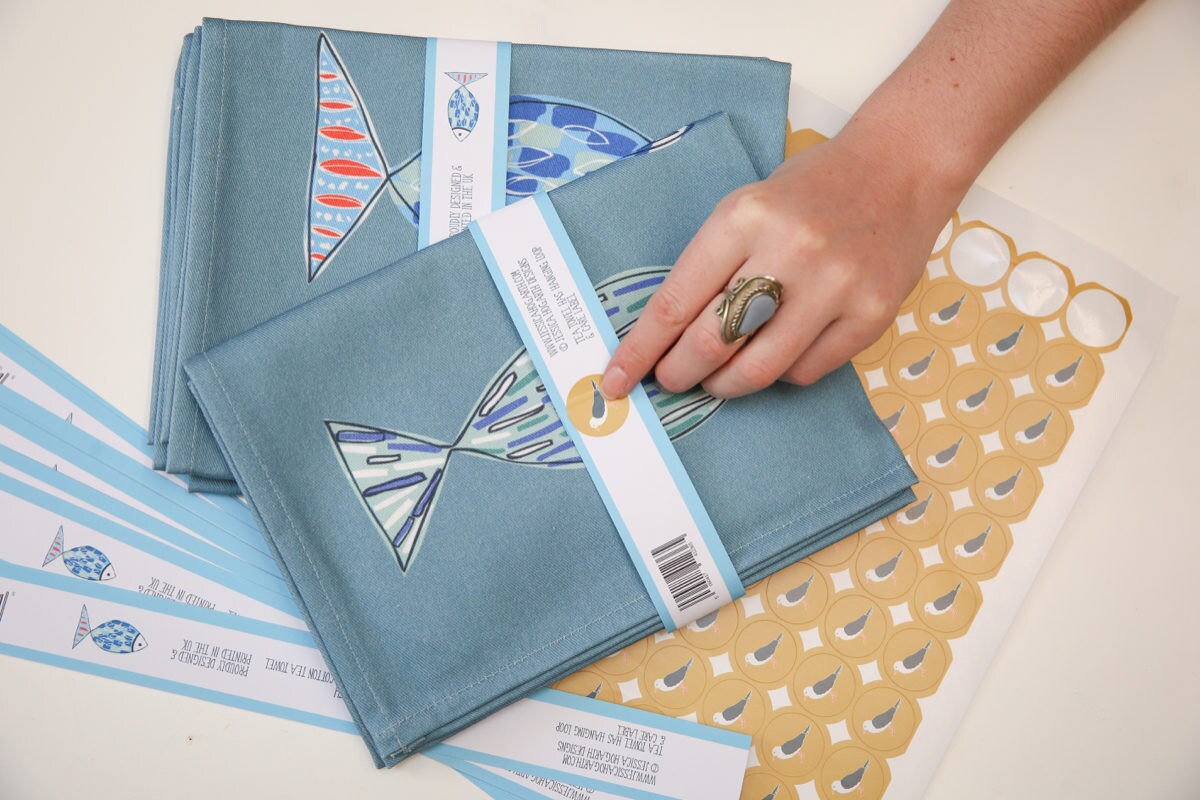 What was the hardest part of scaling your business?
I've mostly been with the same
manufacturers
from the start, but it was hard finding them. Some people might think you get a design idea, you put it on a product, and then you sell it, but it's more complicated than that. There are loads of manufacturers out there, and I had to do quite a bit of sampling before I sourced
cards
of the proper quality. For textile printing, it's difficult getting the colors to come out right. Pinks and oranges are notoriously difficult to print on textiles, so what comes out looking one way on a paper print wasn't always the same story on a tea towel.
What advice would you give someone who's just starting to sell wholesale?
You have to ask yourself, "What can I afford to risk, and what am I willing to lose?" Some designs just sell, sell, sell. For instance,
birthday cards
 sell so well, whereas something like "Naming Day"—not so much. It'll take time to figure out the logistical side of it: what stock you need, what you're able to sell, what you have room to store, and so on.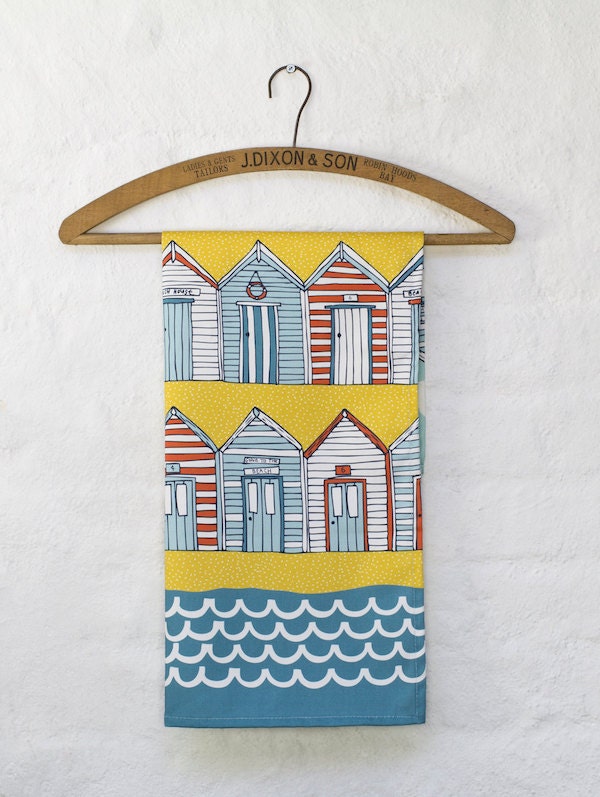 Photo by Yeshen Venema.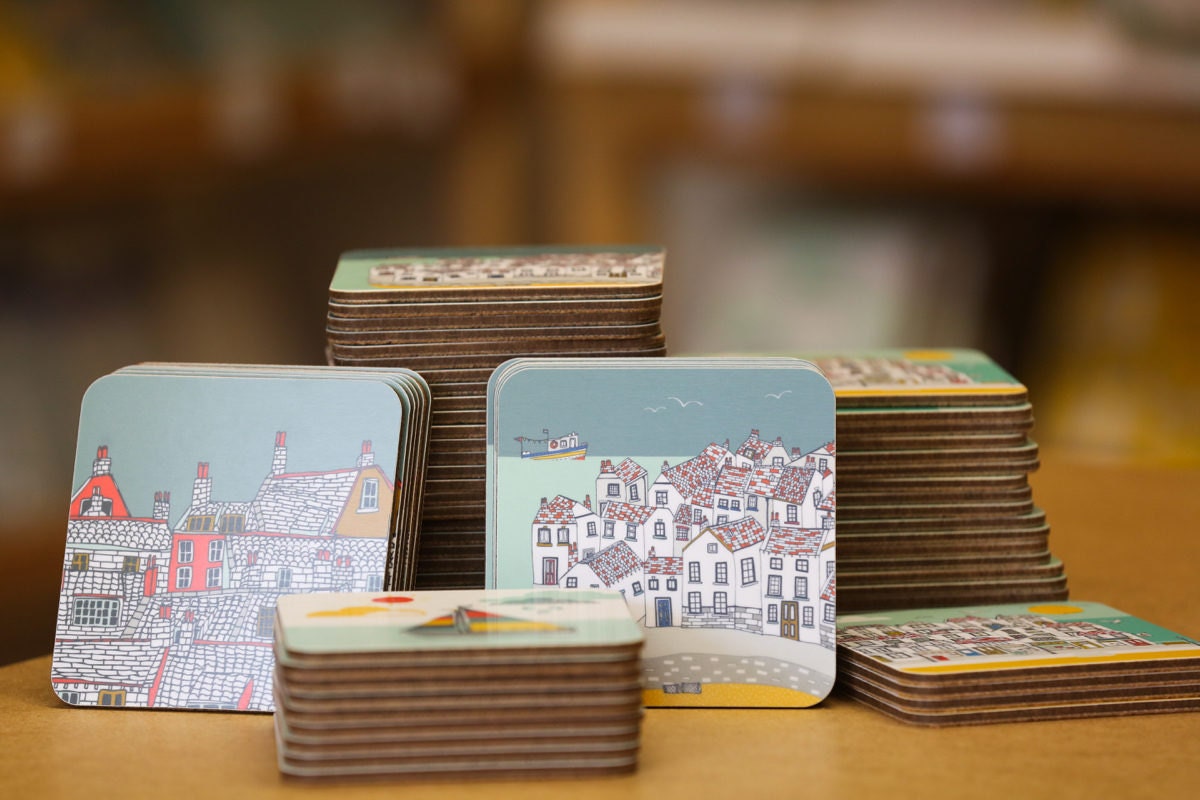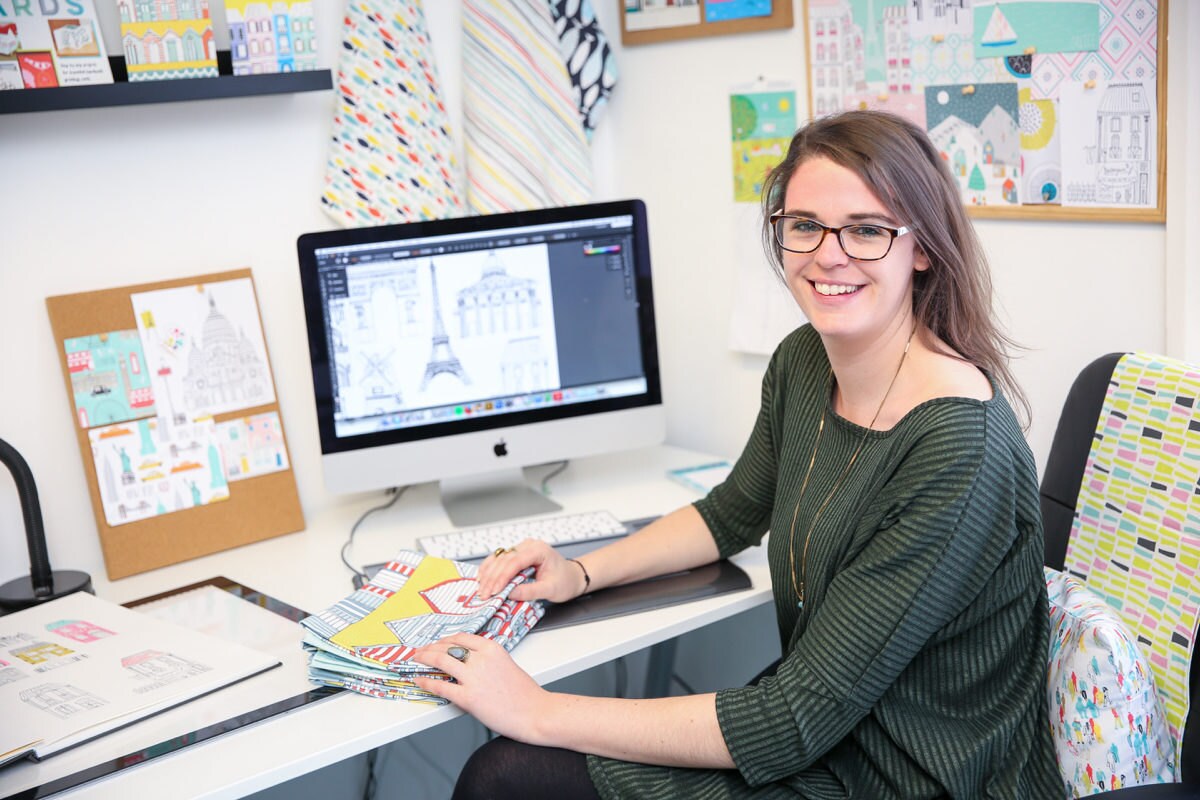 What would you say to an artist who's still trying to develop a style?
Maintain your own distinctive look for your work. If you want to design
greeting cards
, for example, there's already someone out there doing it successfully, so if you try to emulate what they're doing, it's always going to be a less-good version of the original. It's important to have your own unique point of view. There may be people out there whose work has a similar feel or look to mine, but because my artwork is created by my hand, I'm really the only one in the world who can draw just like me.
Follow Jessica Hogarth Designs on Instagram, Facebook, and Twitter.
Photographs by Ceri Oakes unless otherwise noted.