by Karen Brown
Self-taught ceramicist and jewelry designer Carol Morley found her niche making delightfully irregular treasures by hand in her London live-work flat.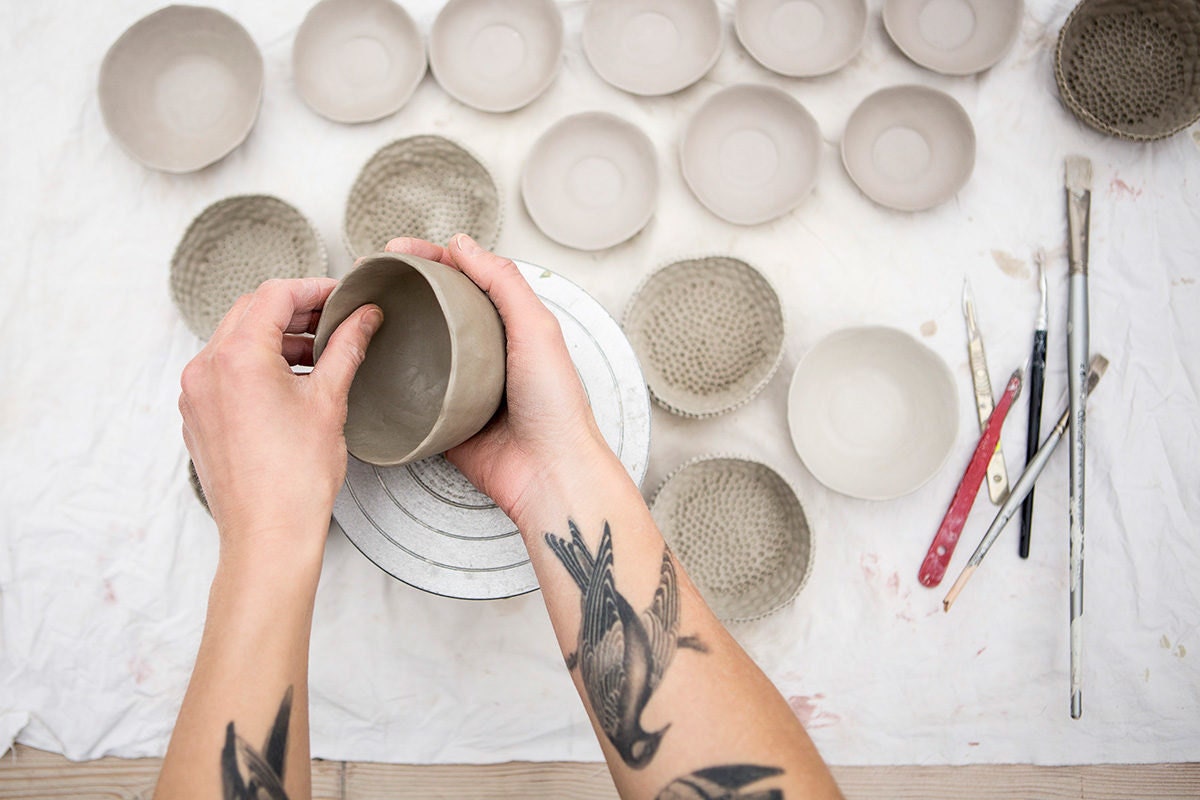 "Being in an office would be quite alien to me," says Carol Morley, owner of
Kabinshop
, who wryly admits that she has never had a 'proper' job. "Ever since I left college, I have always been self-employed," she says. Successful in a host of endeavors, including textile design, painting, illustration, makeup, and ceramics, Carol lives and works in her studio in East London's Canary Wharf, under the strict supervision of Cilla, her 10-year old British Blue cat. The quirky, contemporary energy of this largely self-taught artist has landed her work in leading publications from
Vogue
to
The Observer
. Naturally inventive, she has found that hands-on learning, rather than formal study, is her quickest and most reliable route to mastering a new technique or art form. "It's not that I'm not interested in study," she says, "It's just that I have a million ideas in my head, waiting to happen."
Read on to learn how Carol has brought (more than) a few of those ideas to life, and shop the Kabinshop collection.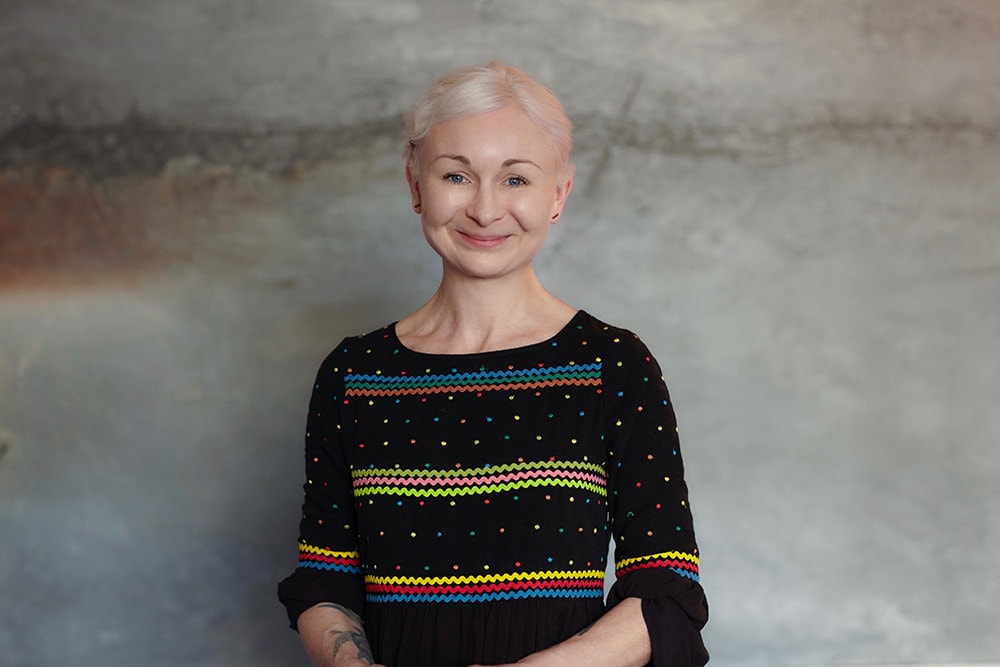 Photo courtesy Kabinshop
You have a very diverse skill set—makeup artist, illustrator, painter, and now a ceramicist. How do these skills come together in your work?
What connects them is that I've always made things my whole life. I studied textile design at college and I was interested in learning about painting and drawing in order to make my designs. When I left school, I made an illustration portfolio and took it around to all the magazine and book editors, and immediately I began doing illustrations for different fashion magazines. I did that for quite a long time, and then I was asked if I could do body painting. I started to work on photo shoots where people wanted things like clothes or tattoos painted onto the models to illustrate a feature. From there I began to do makeup, and makeup started to take over—because once you have an agent, you work all the time.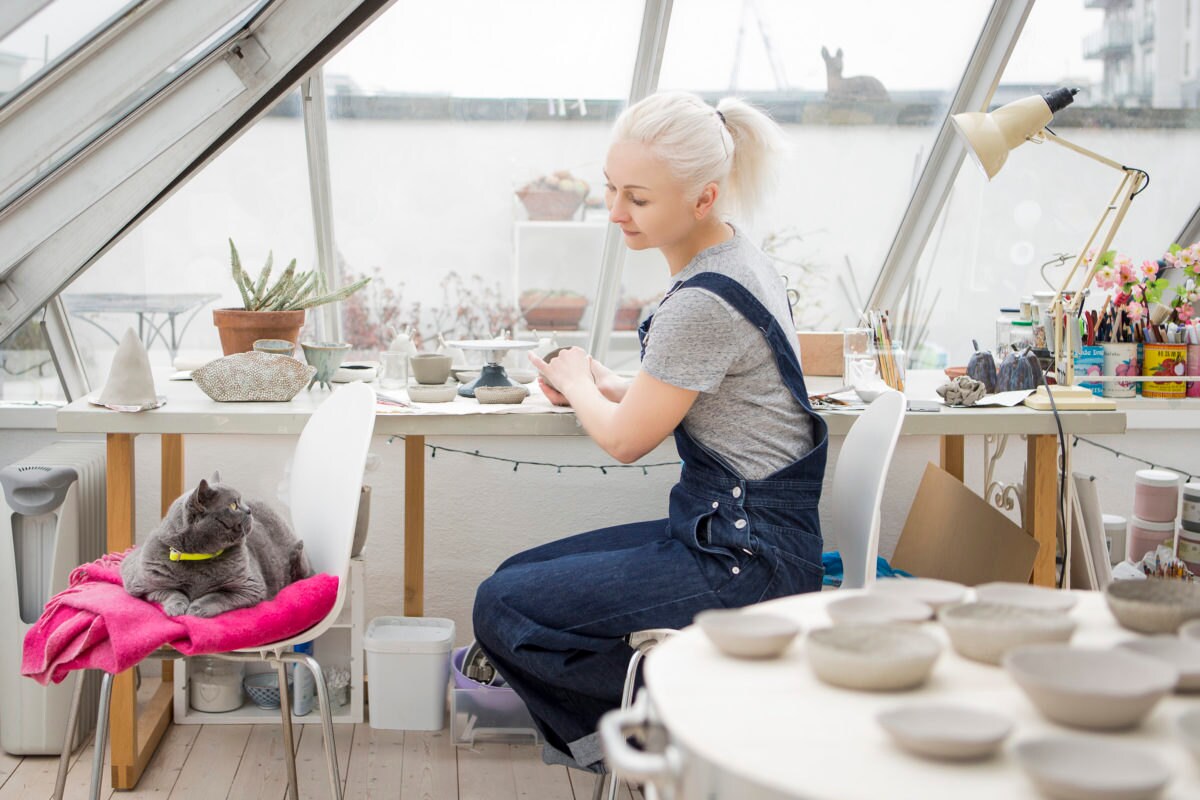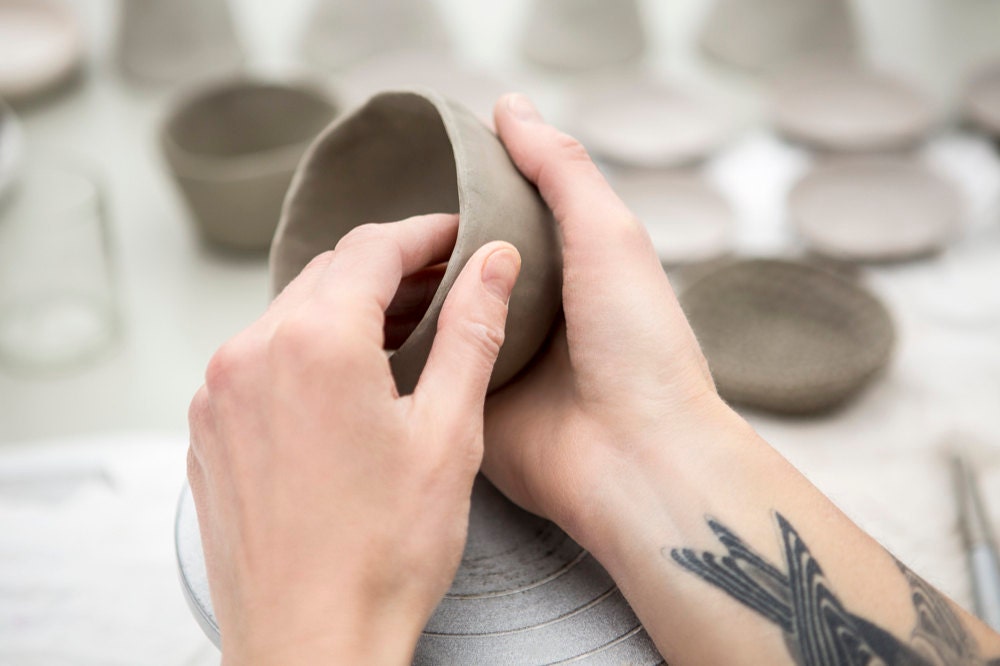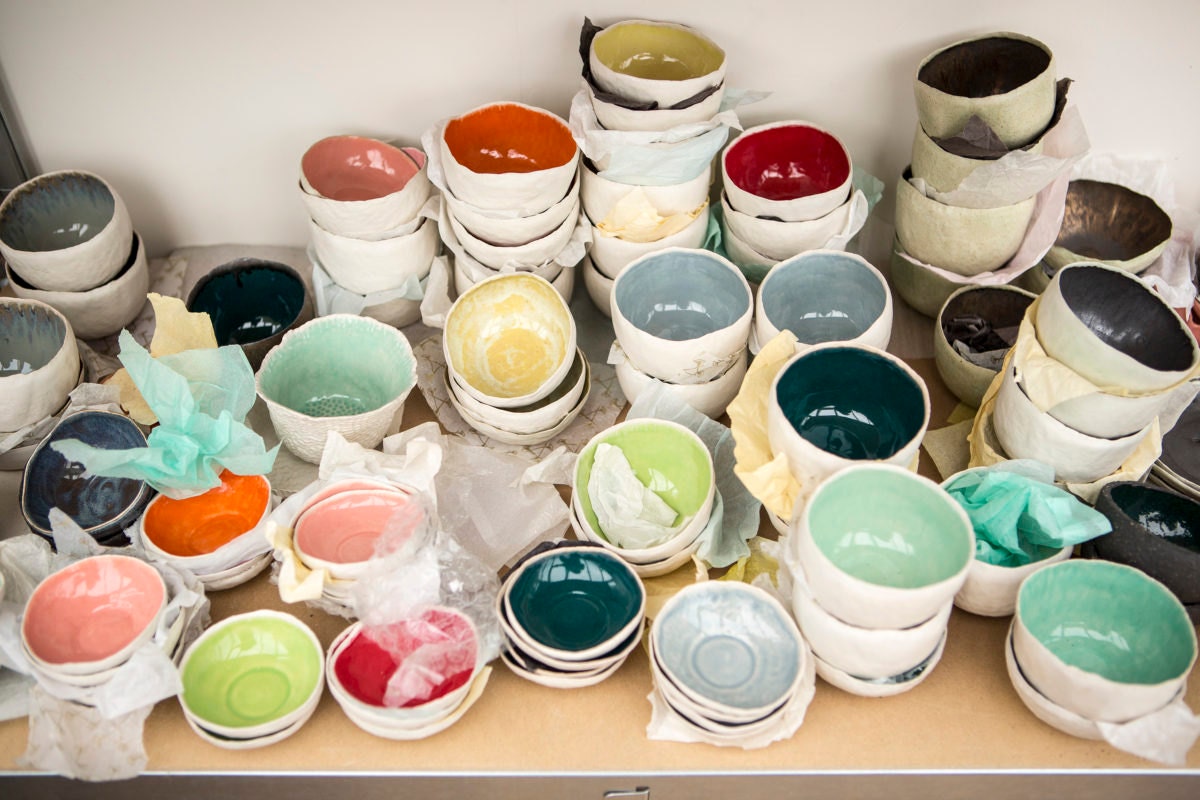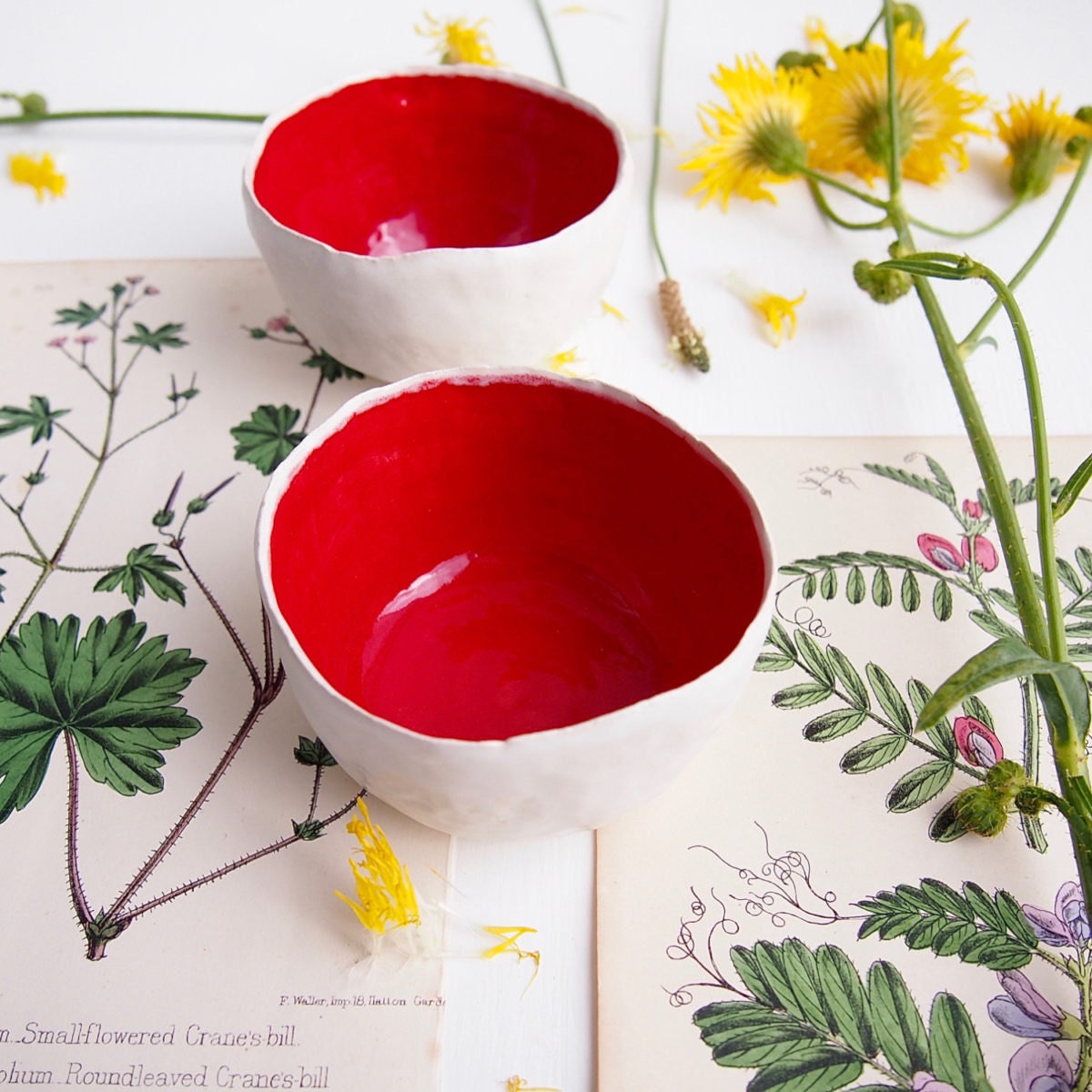 Photo courtesy Kabinshop
When did you begin with ceramics?
That started when my niece was here visiting from Mississippi and I took her to a pottery studio. I had tried ceramics in school and it was always in the back of my mind because I loved it. So, a couple of years ago I decided to go back to the studio and try it. The studio I worked in was the kind of the place where there was no teacher and all you had was the facility and some clay. It was quite chaotic; every week you would go back and spend an hour trying to find what you had made the week before. It was frustrating, but I knew that I loved it, so I got my own clay and started to make things at home and take them to a kiln. Frankly, it was a nightmare because I would often break things on the way, but that's how I started to do
pottery
. Now, I have my own kiln and I make things here, where I live.
Why did you open an Etsy shop?
I really didn't know much about Etsy when I started. Originally, I had made a website where I was going to sell illustrations, paintings, and vintage things, but then the ceramics took off and someone suggested Etsy to me. I opened a shop and focused on ceramics and cards, and have since offered other things. To start a business as a handmade artist isn't easy. To be honest, I don't know how many people would even have tried it without Etsy. It's so user-friendly, and it connects you to people in a way that's amazing. I've had a couple really, really lovely messages from people who bought things from me. It's amazing to have that. It makes it all worthwhile, really.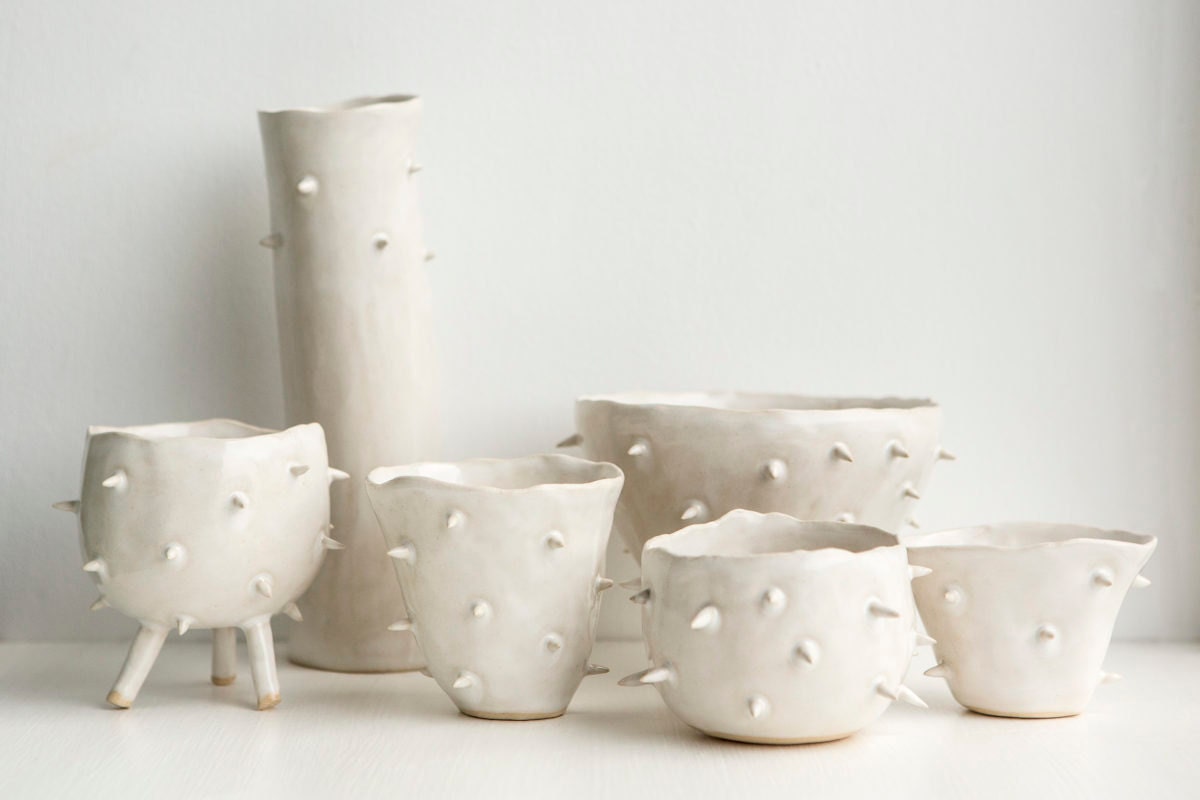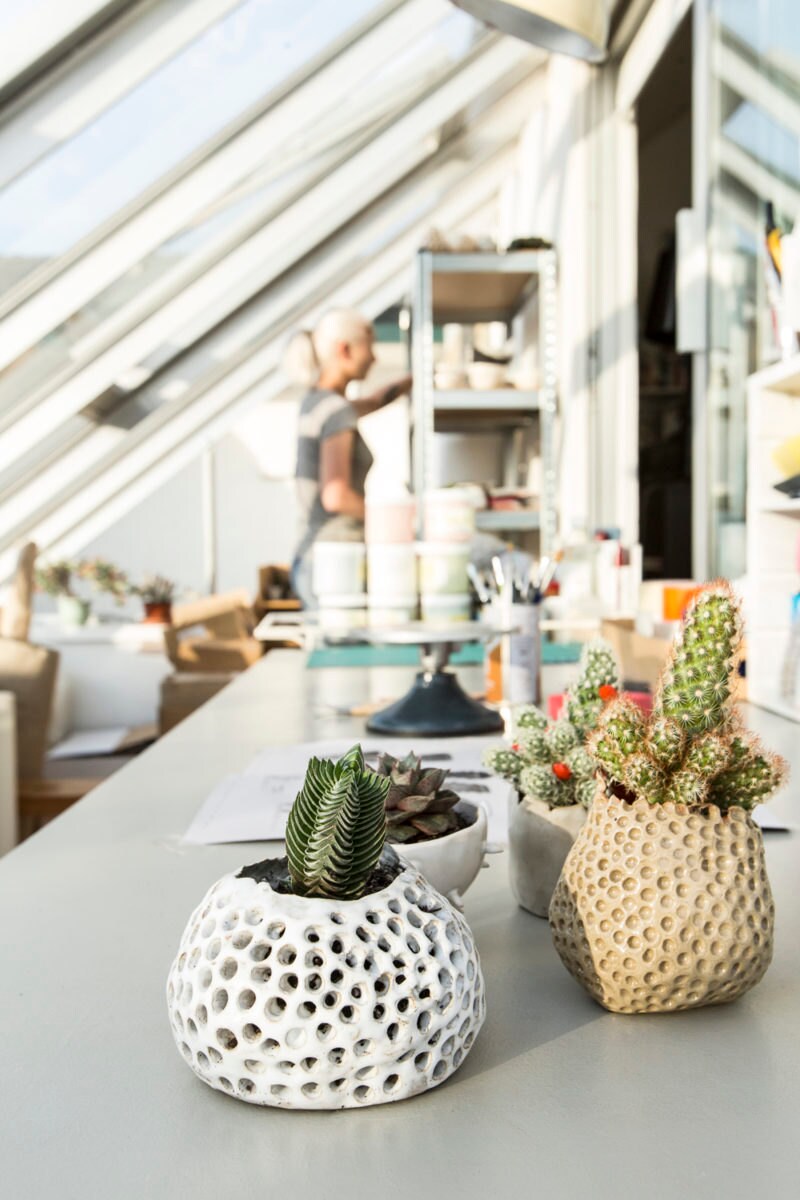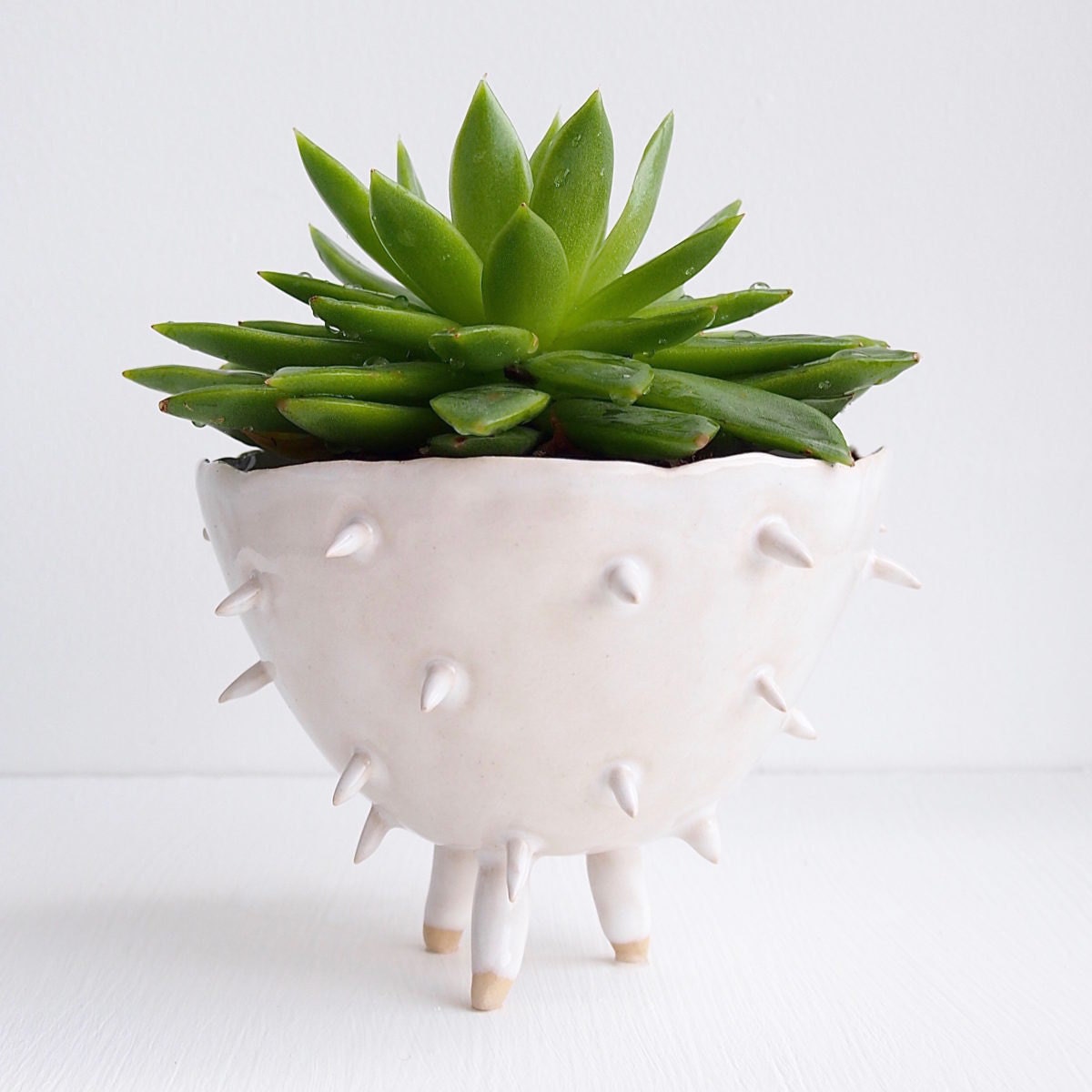 Photo courtesy Kabinshop
You opened your shop in 2015, and you have had more than 700 sales—that averages out to over an order a day. How did you grow your business? And how did it feel to see it succeed?
My secret? I just work 16-hour days! A sales stat of 700 orders can be a little misleading—it's actually a lot more than that because someone might buy five things in a single order. But the shop is continuing to grow and I'm starting to do some orders for retail shops as well. Last year I worked absolutely crazy hours. And it's just me; I don't have any help.
In your shop, you place a great emphasis on making things entirely by hand, without a potter's wheel or molds. What does that mean to you, to make each piece—including all those little spikes and dots—by hand?
I'm really not very technical. I have no interest in working on the wheel because I like things to look a little bit irregular. And it seems when things are made on the wheel they become completely regular. As my shop grows and gets busier it's quite a dilemma as to how long I can keep doing it. I could make more on the wheel or in molds, but I'm not really interested in mass-producing. I guess I'd rather be able to raise my prices.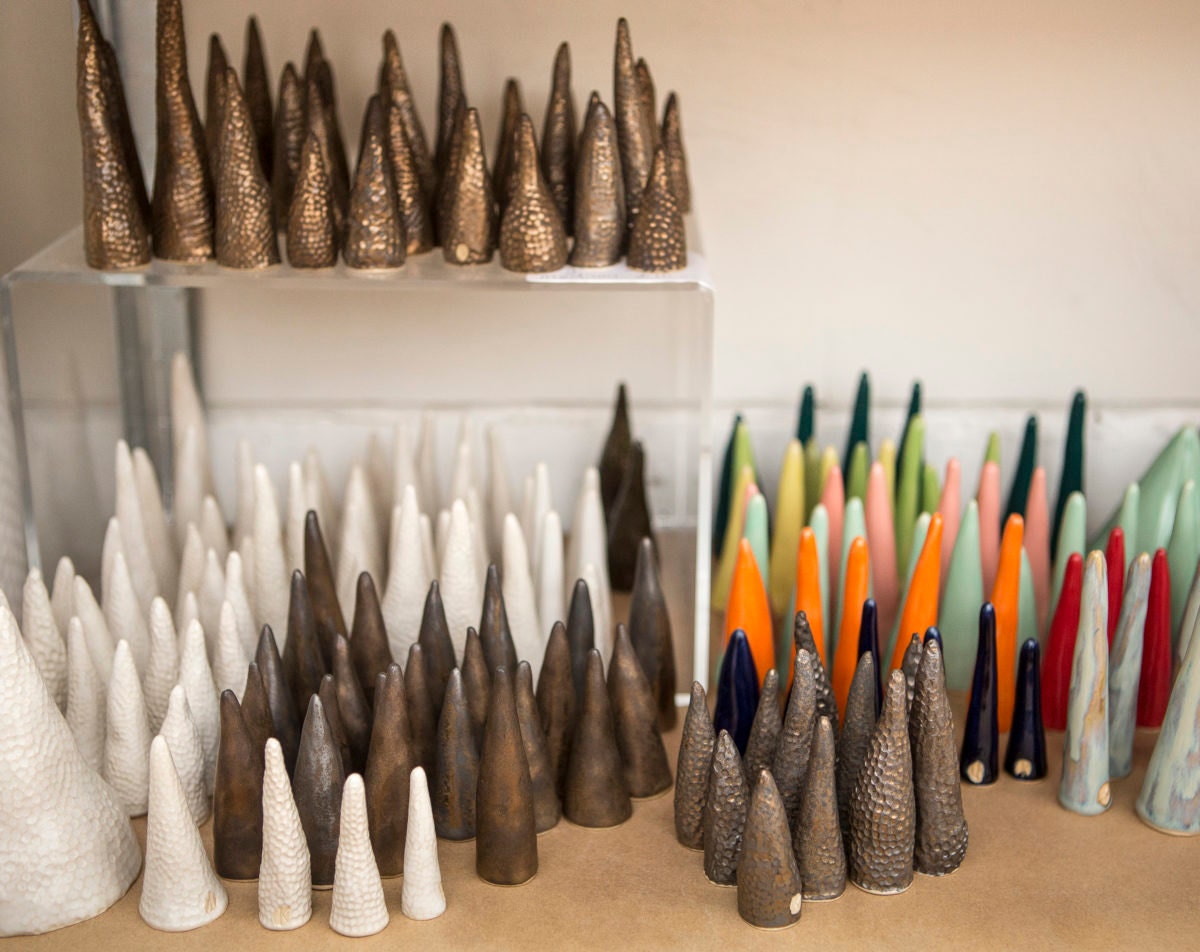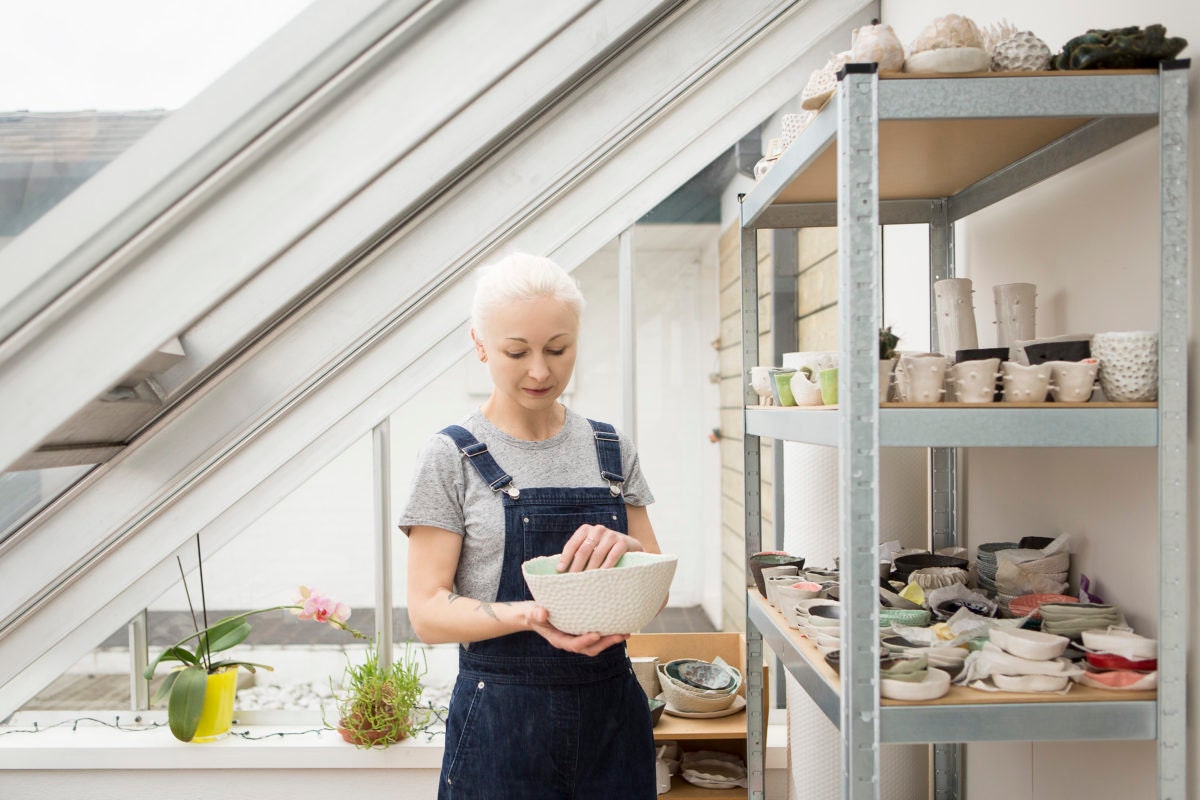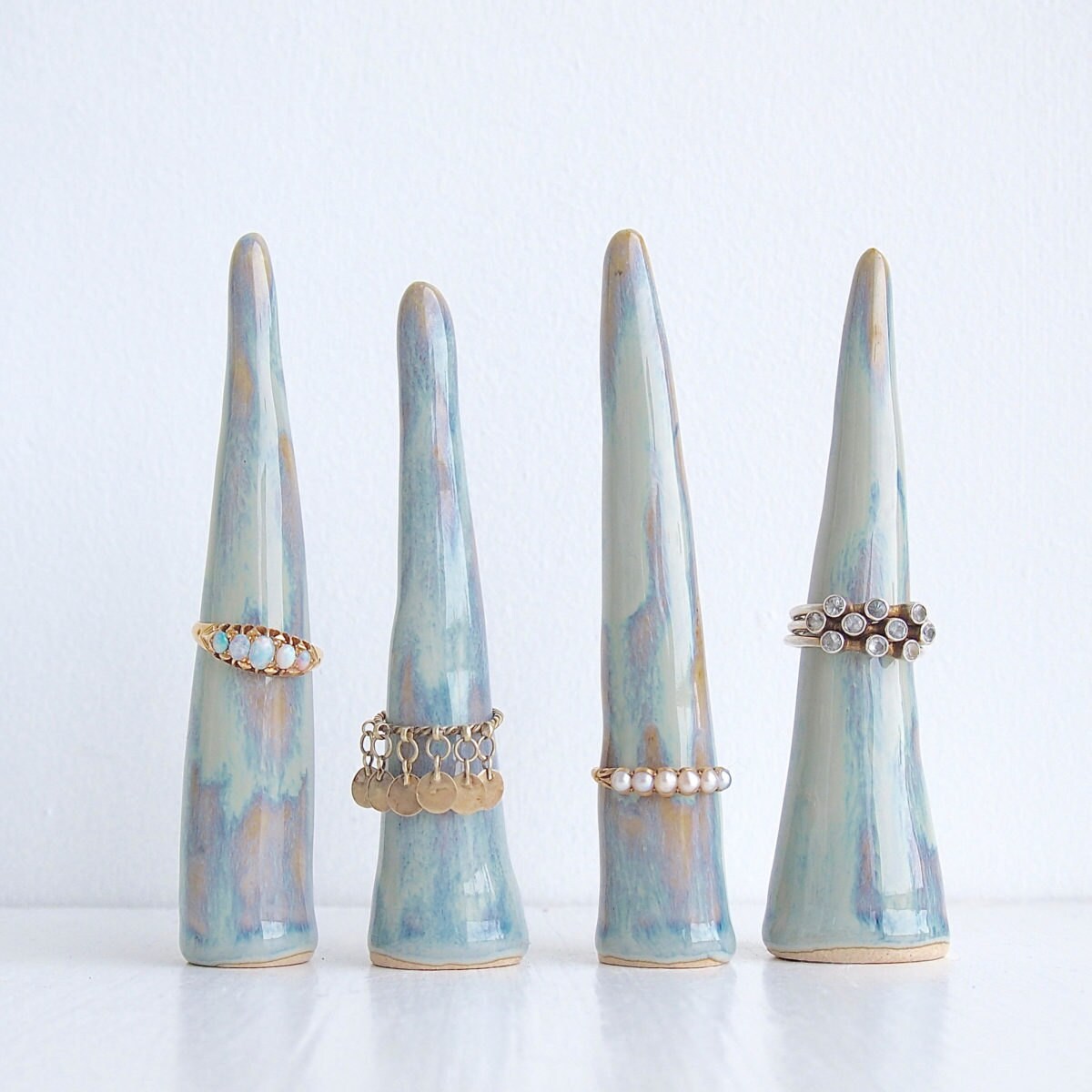 Photo courtesy Kabinshop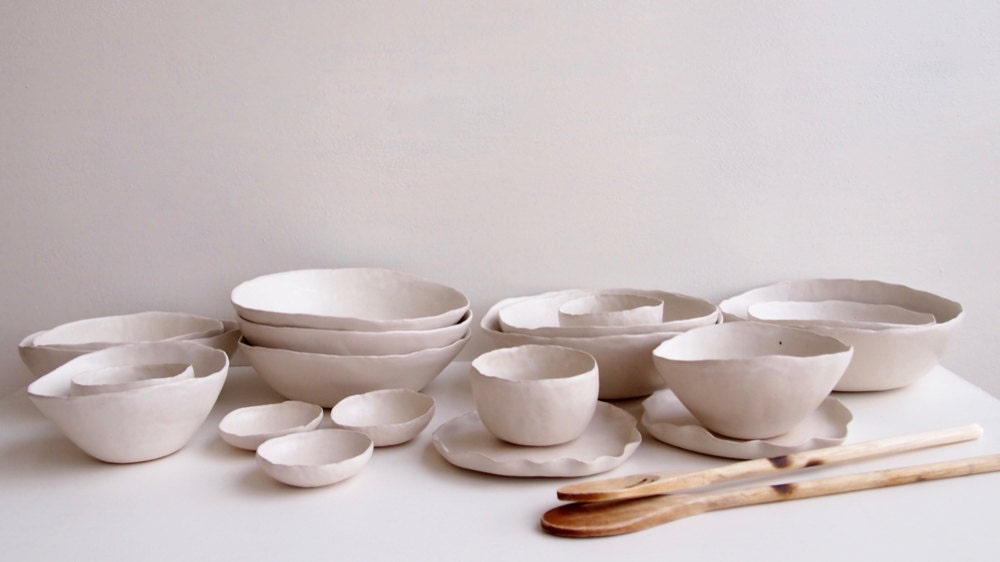 Photo courtesy Kabinshop
There are two primary motifs in your jewelry: rainbows and eyeballs. What meaning do they have for you?
I think I'm quite obsessed by people's
eyes
—that probably comes from doing makeup. Jewelry needs to have simple shapes and I love the shape of the eye. And
rainbows
? Everybody loves a rainbow.
Finding good studio space is not easy. What is it like living and working in a converted pet food factory?
This is my home. I've been here 10 years, which is the longest I've been anywhere. It's terrific because there are loads of people here who do something creative. It's rare to have a good community of people all around you, and we each have our own spaces. I can have my kiln here, too, which is great except for what it took to get it up to the top floor! I really like working from home, although sometimes when I am doing something on my laptop, I might go out and work where there are other people around.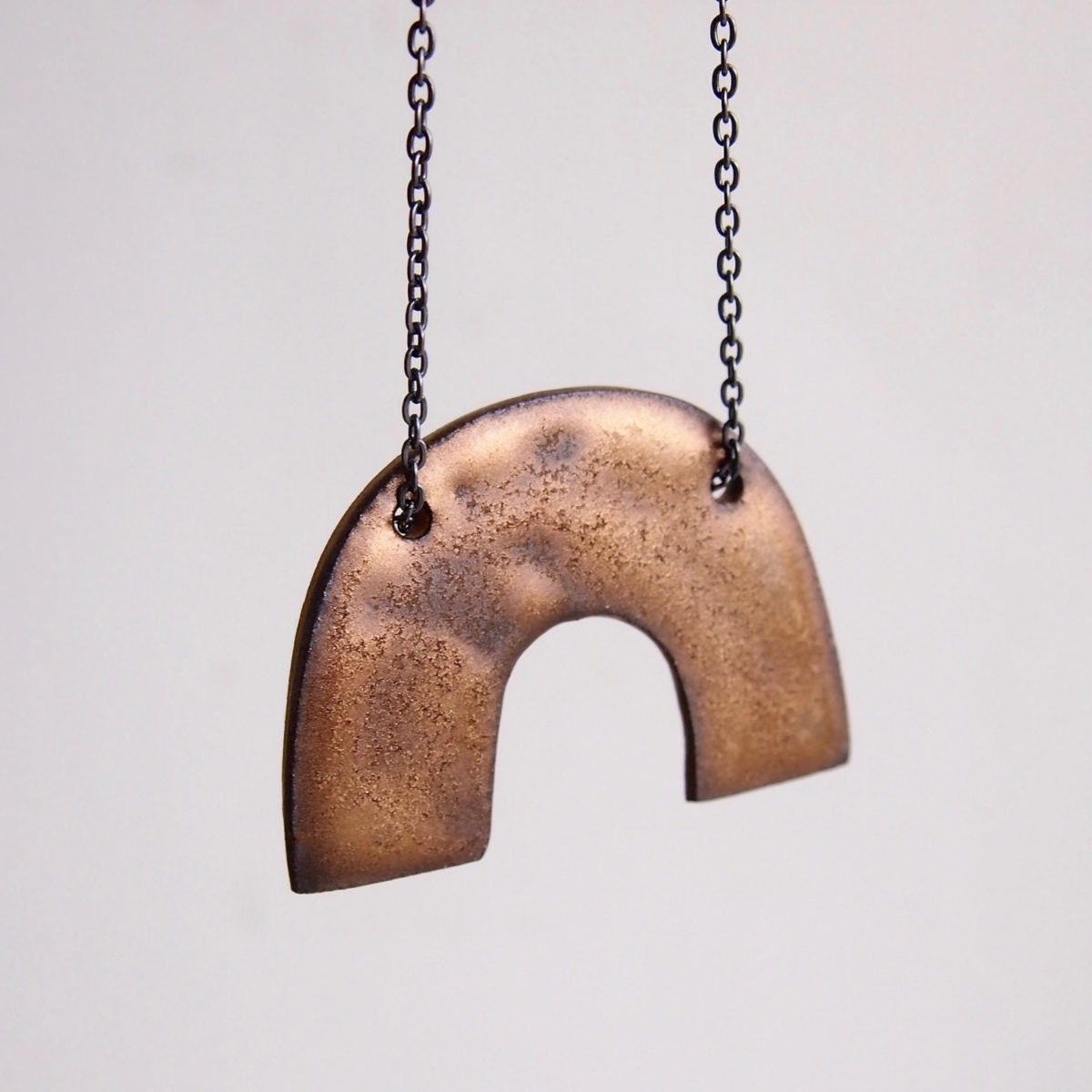 Photo courtesy Kabinshop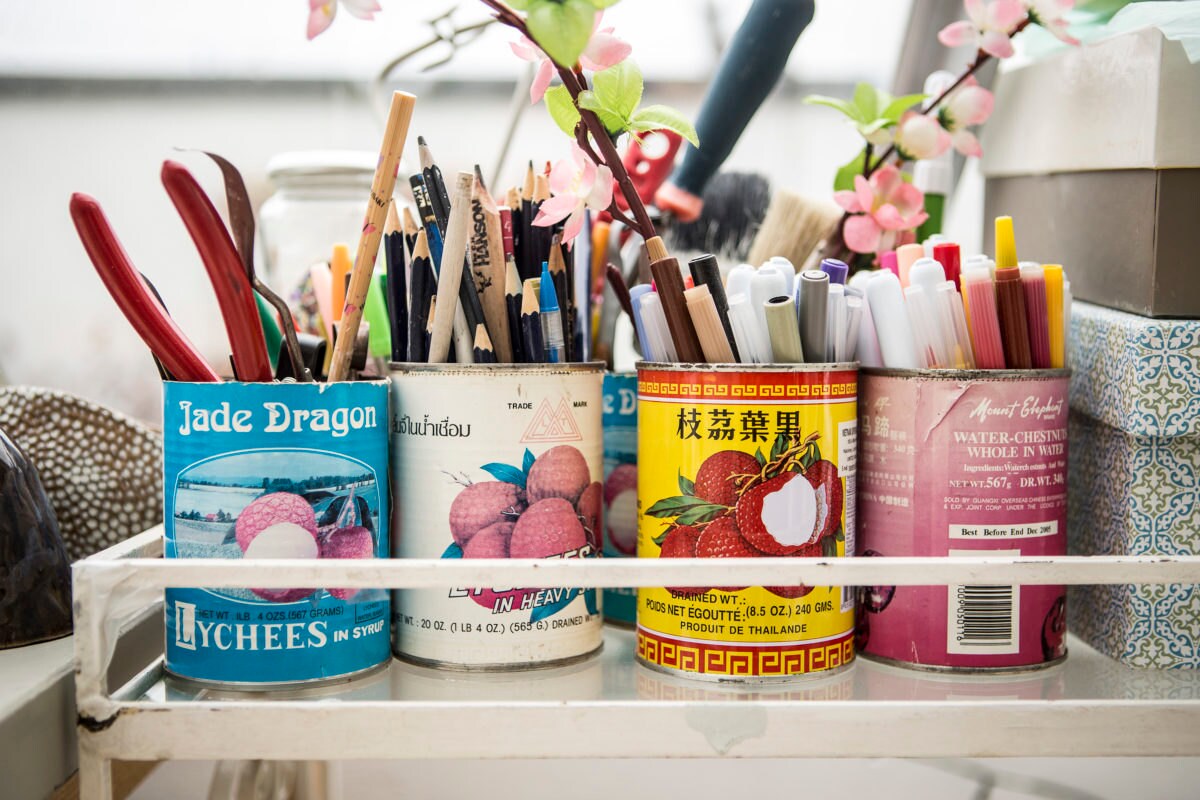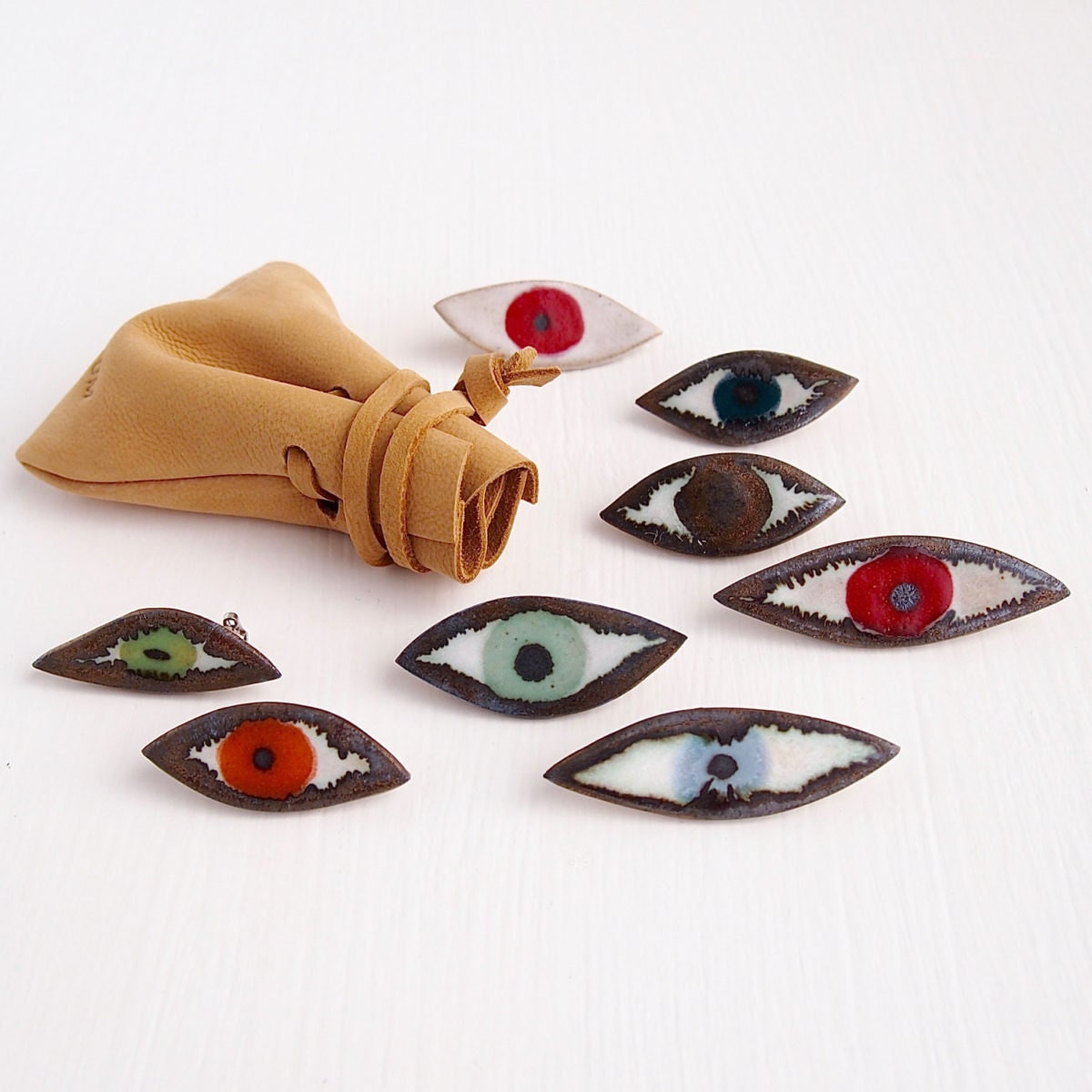 Photo courtesy Kabinshop
You say you are very interested in sustainability. Could you tell us more about that?
I hate waste and I hate the throw-away society. Yes, I
make things
and I want people to buy what I make, but I like the idea of selling things to people who want to keep something forever—or at least until it breaks.
Do you have any advice for other sellers?
Just work like crazy, basically. I don't believe in forcing things that aren't working. Absolutely go for what you love and believe in. I think if you love what you are doing it's going to show, and people are more likely to be willing to buy it.
Follow Kabin Shop on Twitter, Facebook, Pinterest, and Instagram.
Photographs by Debbie Bragg unless otherwise noted.