Unsatisfied by the flimsy barrettes sold in big box stores, this metalworker created a line of functional, hand-hammered hair accessories all her own.
For Alena Krauchuk, cutting, hammering, and soldering metal into minimalist hair combs in her San Francisco studio constitutes a perfectly normal routine these days. But if you'd told her a few years ago that she'd be working full time as a maker and proprietor of her own hair accessories line, she wouldn't have believed it. "I was born and raised with the mentality that you can't make a living from art, so I never looked at it as a possible job opportunity," Alena explains. As a young girl growing up in Belarus, Alena spent her days drawing and making small sculptures out of clay, but she put her artistic pursuits on the back burner when she went to university to study translation. But she couldn't stay away for good: By 2013, she was living in California, working at a local restaurant by day and experimenting with jewelry making after hours. One day, a coworker opened her eyes to the possibilities of Etsy. "She came into work, and it turned out she had just opened an Etsy shop to sell fabric accessories," Alena recalls. "She was so excited about it, and her excitement kind of spread. I didn't know what Etsy was, but I thought, 'Why don't I try it? Maybe I'll sell one or two pieces.'" That night, Alena opened 
Kapelika
. Four years and almost 3,000 sales later, Alena has narrowed the scope of her shop to hand-hammered hair accessories, but she's constantly refining her vision. Recently, she's begun favoring a simpler, more geometric aesthetic over the free-form pieces of her earlier days, and she plans to expand her offerings in the coming months to include metal cups, bowls, and jewelry holders. "I have a lot of designs in my head that I need to bring life," she says.
Read on to learn how Alena's designs are born and discover what she does to recharge—then shop the Kapelika collection.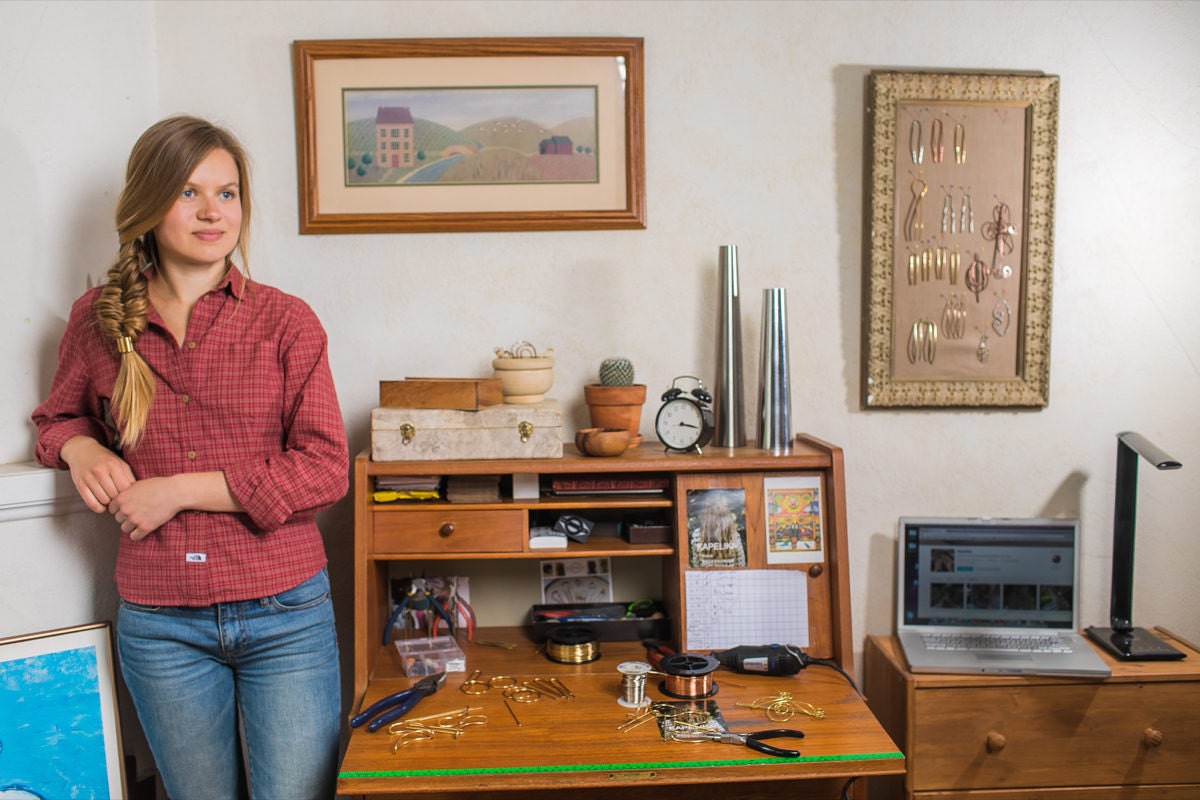 Tell me a little bit about your creative background. How did you start out as an artist?
I started drawing at home when I was three years old, and I began going to weekend art classes when I was 11. I was drawing, making things out of clay, sewing cloth dolls, and doing all kinds of
DIY projects
; whenever I saw something, I would try to make it. But I kind of stopped making art when I went to university.
So how did you find your way back to your artistic roots?
I started making
jewelry
in early 2013. In the beginning, I was working mainly with beads—seed beads and
gemstones
—and I learned as I went along, from books and YouTube videos. Later, I realized that stringing beads wasn't enough for me; I wanted to make something from the very beginning. So I took a class at a local metalwork studio. I'm really drawn to natural materials, and I like how strong metal is—not that it doesn't break, but how it feels like a durable material, something that will last. Once I tried it, it really resonated with me, and I didn't want to pursue anything else.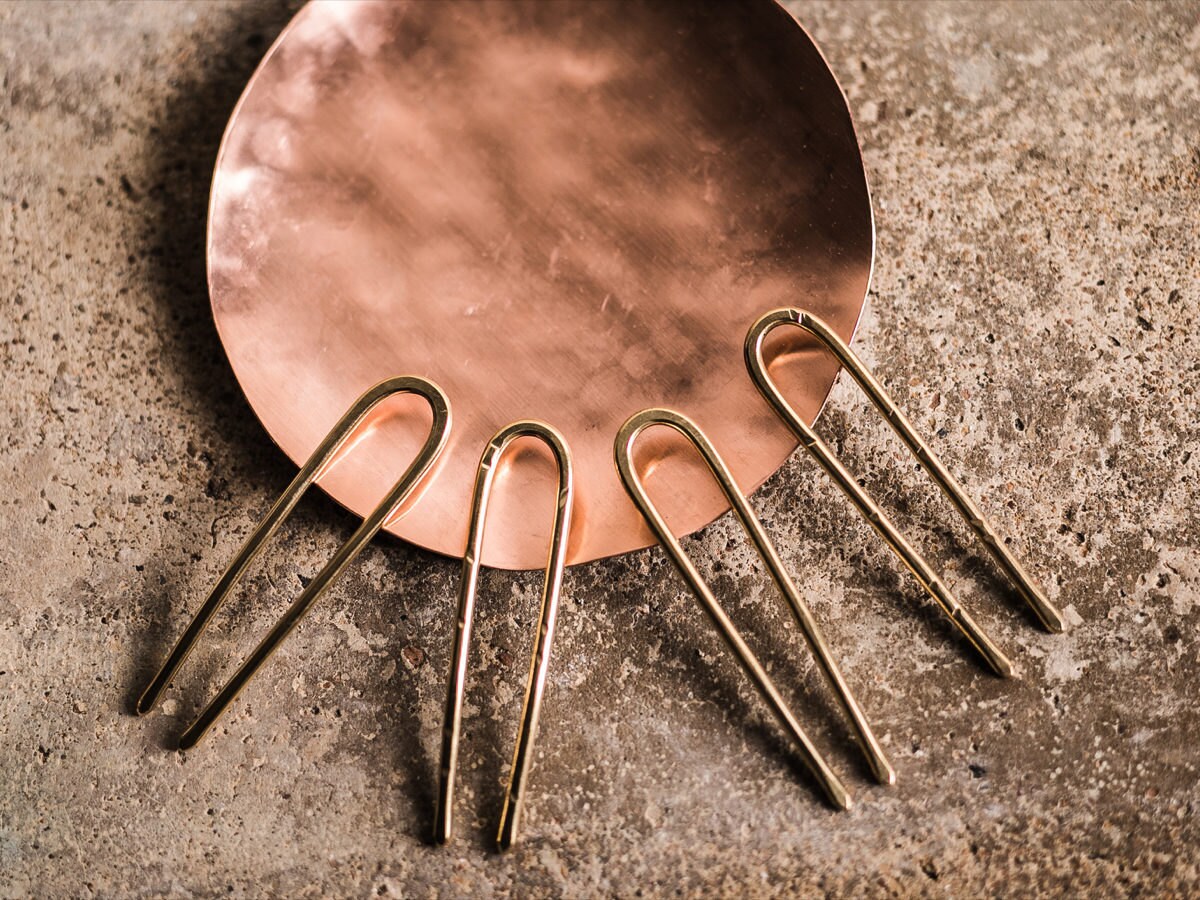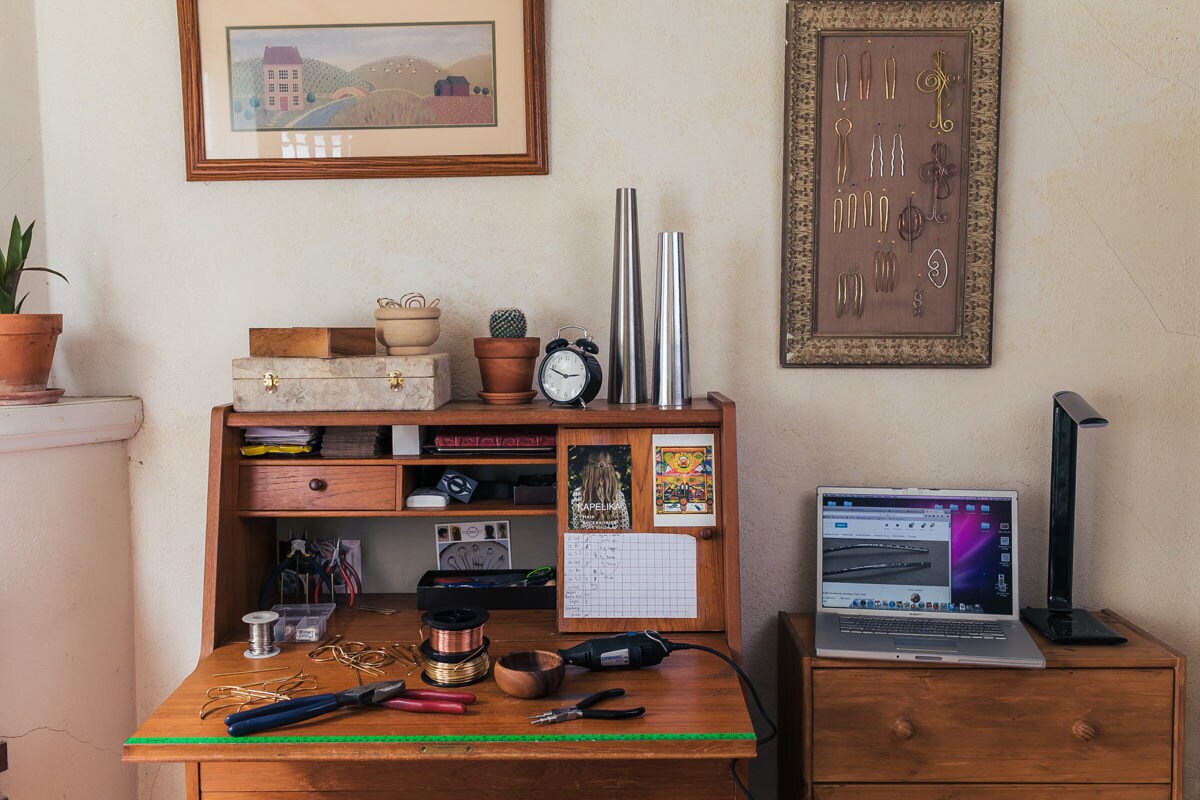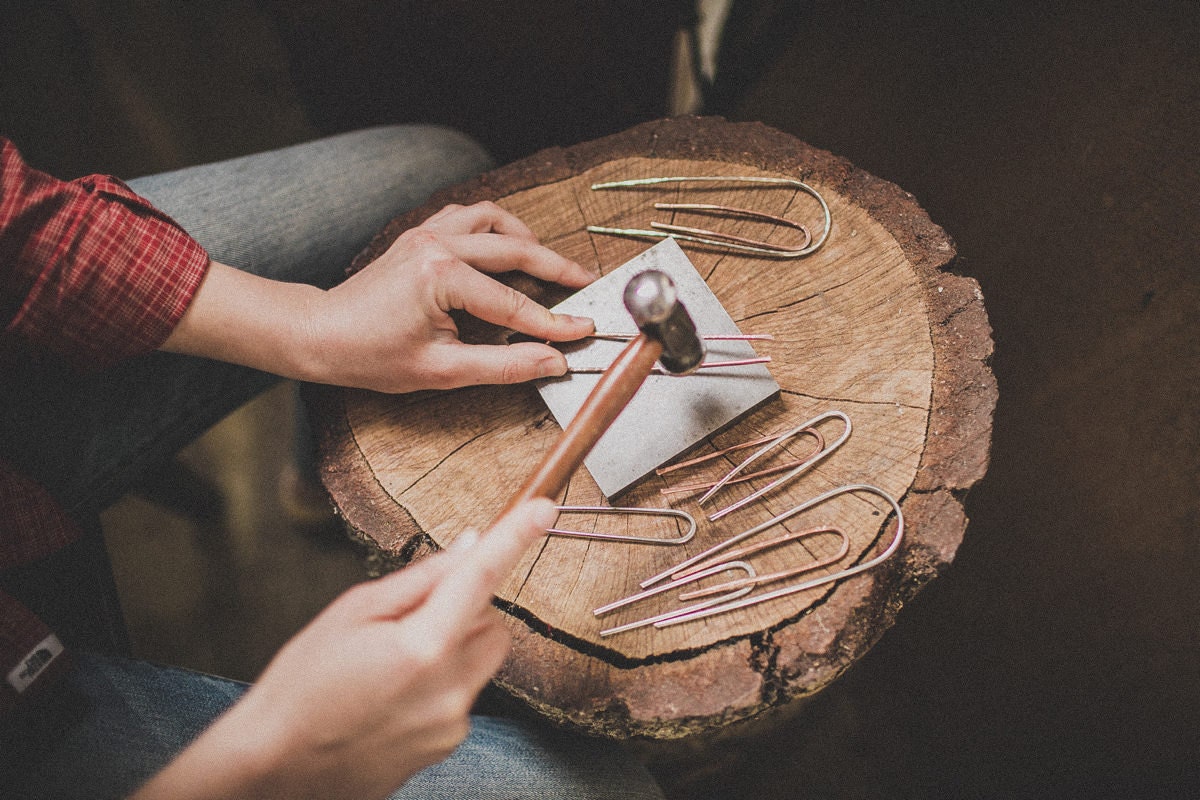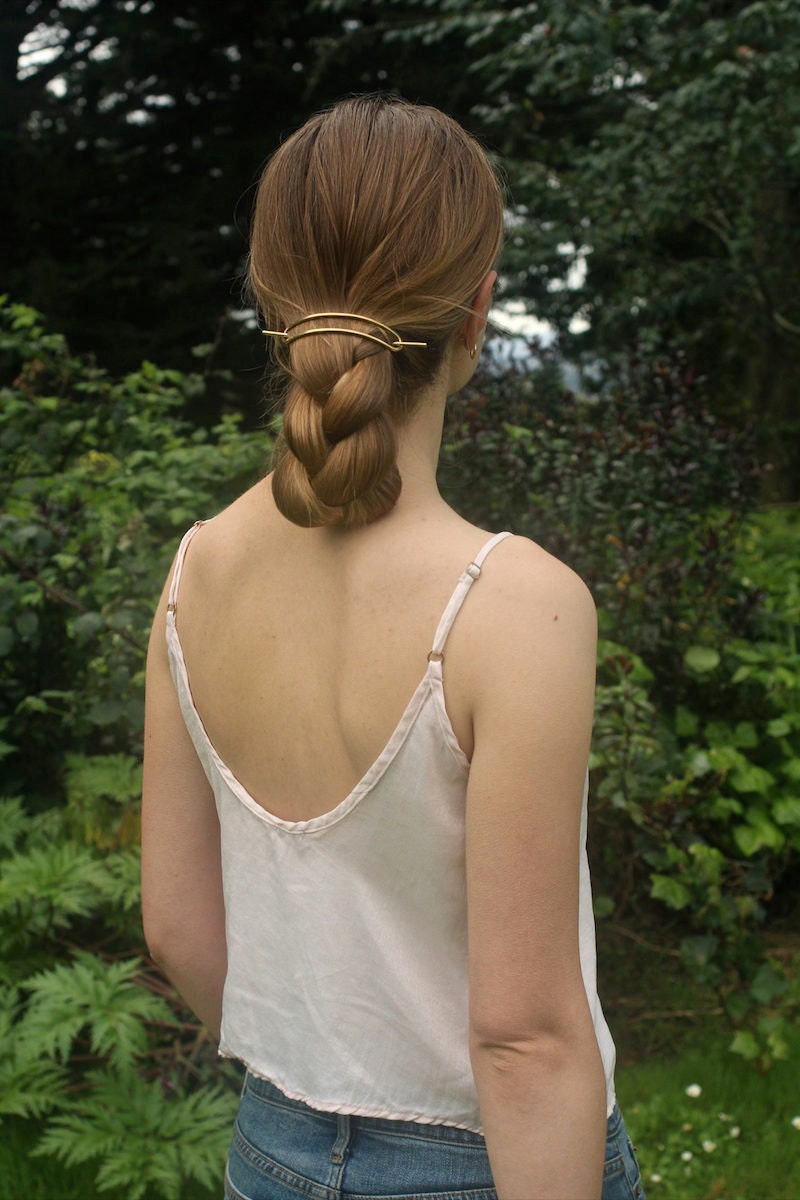 Photo by
Alena Krauchuk
Now, you almost exclusively make hairpins and combs. How did you made the transition from jewelry?
I had all this jewelry that I was making but wasn't wearing—I liked the process, but I wear very little jewelry to begin with. I gave some as presents to my friends but I still had a lot more, so I listed those in my new Etsy shop. Once I made a few sales, I started thinking about what I could make other than jewelry. I've had long, heavy hair my whole life, and the things that I saw in big-box stores never worked for me—those plastic clips and barrettes that always break, or have rhinestones or some kind of fabric flower thing on them. You can actually find some nice-looking jewelry in stores like that, but when it comes to
hair accessories
, it's really hard to find something different. I'd never seen any pins or clips made out of metal in the stores, so I had the idea to experiment with
metal
and see what came out of it. I began by making clips for myself, and then I decided to sell them in my shop, too.
At what point did you realize this wasn't a hobby anymore?
When I opened my shop, I thought, "If someone buys one or two pieces, I'll be happy with it. I'll just make a little extra pocket money." I never thought it would become my full-time job. But about a year after opening
my shop
, I could feel my business was growing. I'm very grateful that I had my husband to support me during that time; he was the one who originally inspired me to do what I love and to not be scared to pursue my dreams. I wasn't making that much money, but I saw a lot of potential in it. I felt like if I quit my job at the restaurant and gave this my full attention, something else could happen. I took my chances, and it's been great ever since.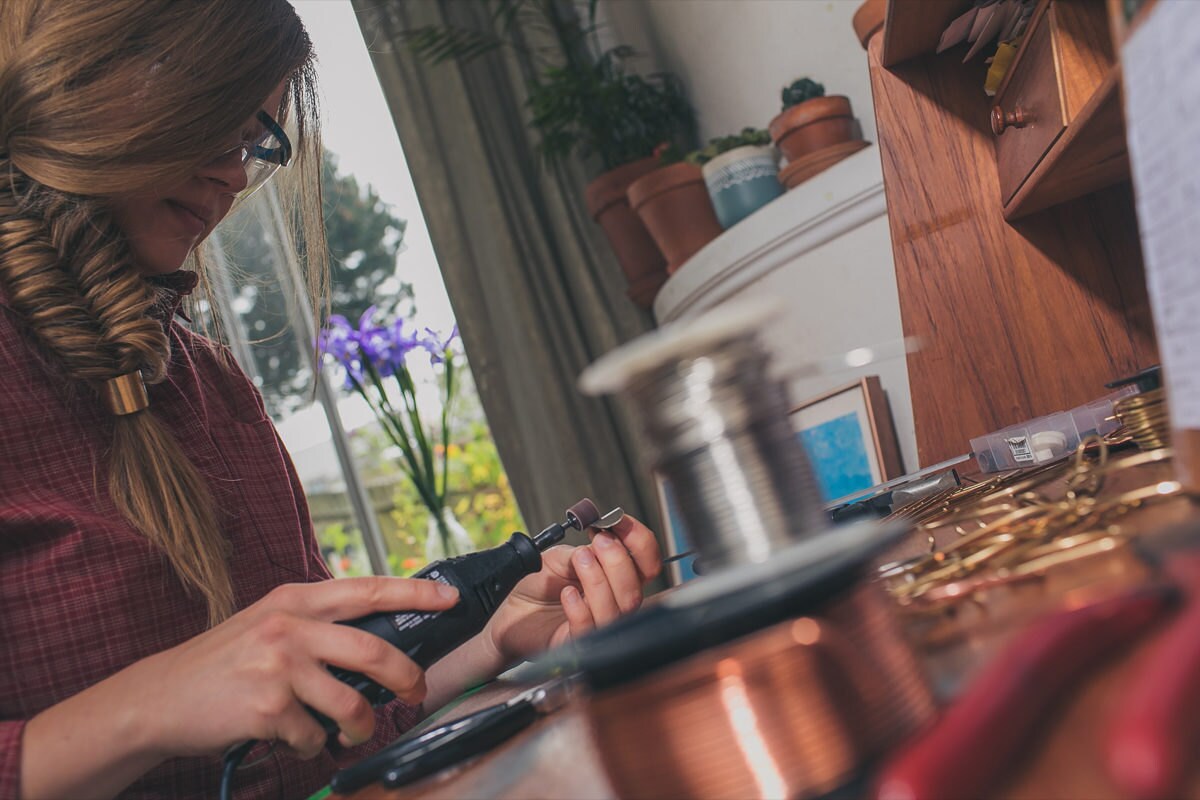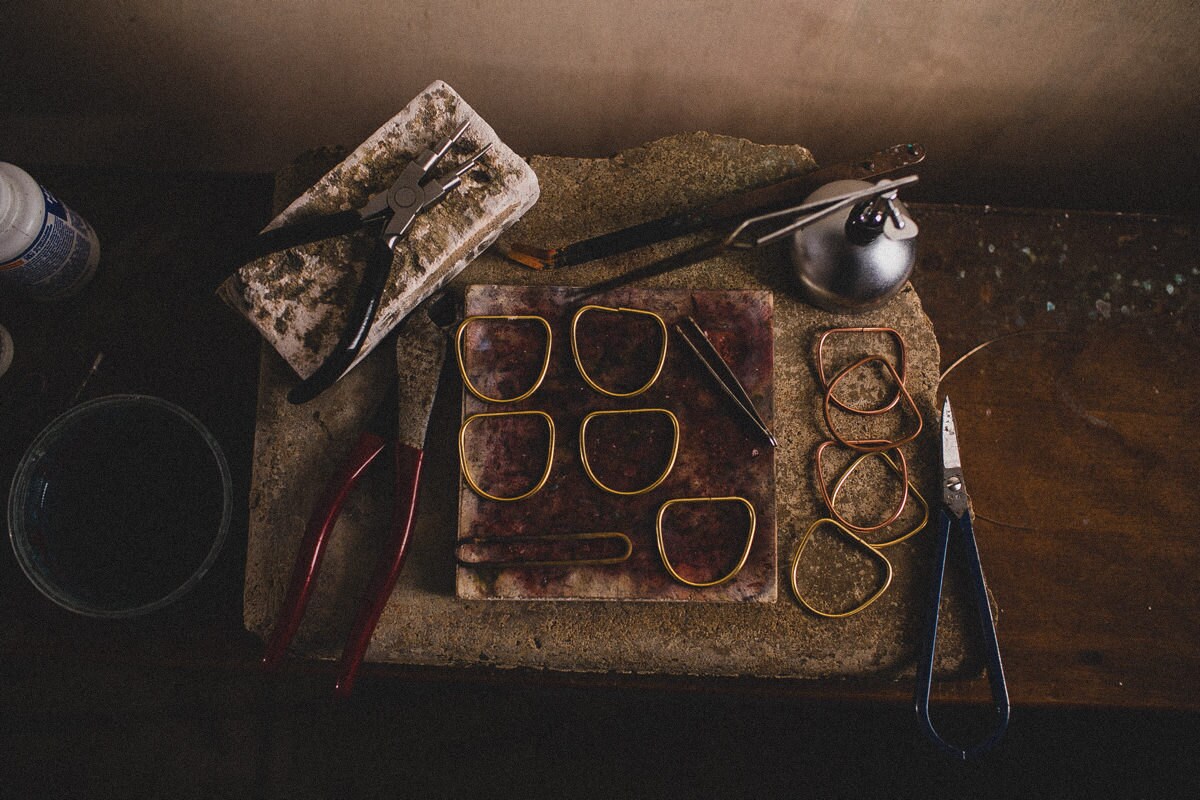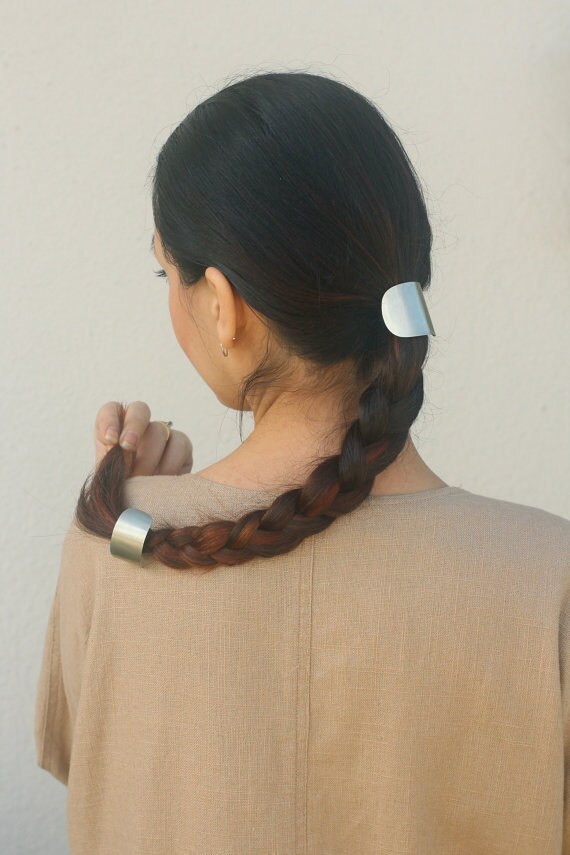 Photo by
Alena Krauchuk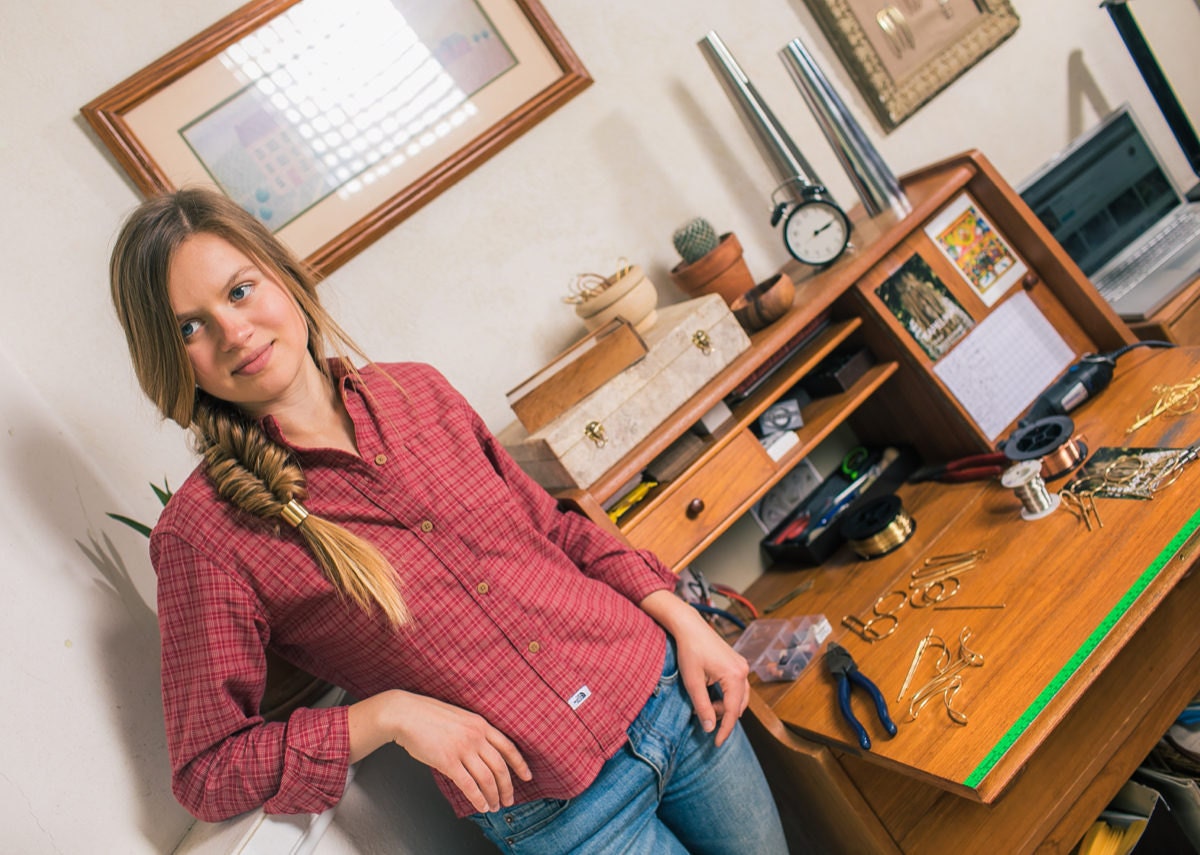 Walk me through your creative process.
I try to make all the orders from the previous few days in one day, so I make a list of them and then get to work in my living room. I shape the metal, cut it, and form it. Then I go in my garage and solder and hammer the pieces. Once they're completely finished, I put them in the tumbler so they get a nice final touch to them; it strengthens and adds extra shine to the metal. I leave them in there for an hour or two, and then I allow them to dry for about a day. The next day, I package them so they're ready for shipment. When I'm really busy, my husband helps me package orders and takes them to the post office. Then the process begins again, and I start working on the next batch.
It sounds like you're really busy, which is a good problem to have—but I imagine that there are still days when being a full-time maker can be hard. How do you recharge?
It's important for me to occasionally take breaks from my normal work. Even when you feel like you're done with your orders and you're having dinner, sometimes you're still thinking, "I need to do this," or "I need to do that." There are always so many things you can change, so many things you can fix. Now that I do metalwork full time, I think that it's nice to try other art forms from time to time. I picked up
sewing
and have made a few dresses, and I also garden. I don't have a lot of time to spend, but when I do have free time, that's what I do. Sometimes, I take a total break from making and go somewhere warm and nice on vacation and spend a few days away from my business. I feel like every time I go away, my head clears and I have more ideas—then I can't wait to come home and bring them to life.
Follow Kapelika on Instagram and Pinterest.
Photographs by Ricardo Tellez Photography unless otherwise noted.