by Sharon Steel
From a backyard shed in Somerset, England, Kara Leigh Ford creates her soothing line of nature-inspired ceramics.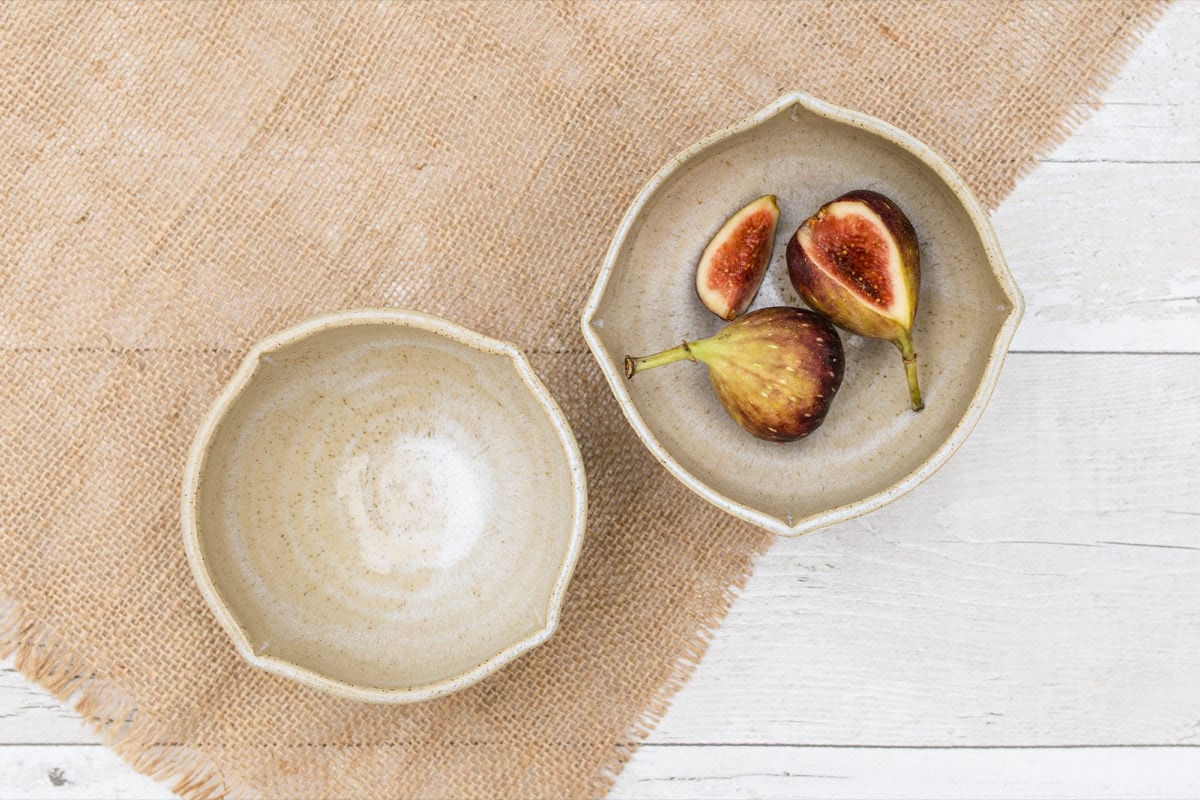 Two years ago, Kara Leigh Ford tried out for the British reality television show
The Great Pottery Throw Down
. She was working in fashion marketing at the time, making ceramics on the side and daydreaming about turning her hobby into a day job. While Kara didn't ultimately make the show's final cast, being around her fellow contestants—a lively group of full-time ceramicists—gave her the courage she needed to chase her dreams. "Everyone I met was so encouraging," recalls Kara. "The hardest thing to get my head around was the idea that I could make a living doing what I loved." Soon after, Kara handed in her notice and channelled all the branding, art direction, and photography skills she'd picked up over the years—not to mention her background in fine arts—into launching her
eponymous Etsy shop
. Two hours after going live, she sold six plates. Today, Kara's soulful line of functional ceramics ranges from sturdy mugs that evoke the colors of the sea to teapots and dainty ceramic spoons, all handmade in her backyard shed in Somerset, England.
Read on to learn how Kara balances form and function in her work, and shop the collection.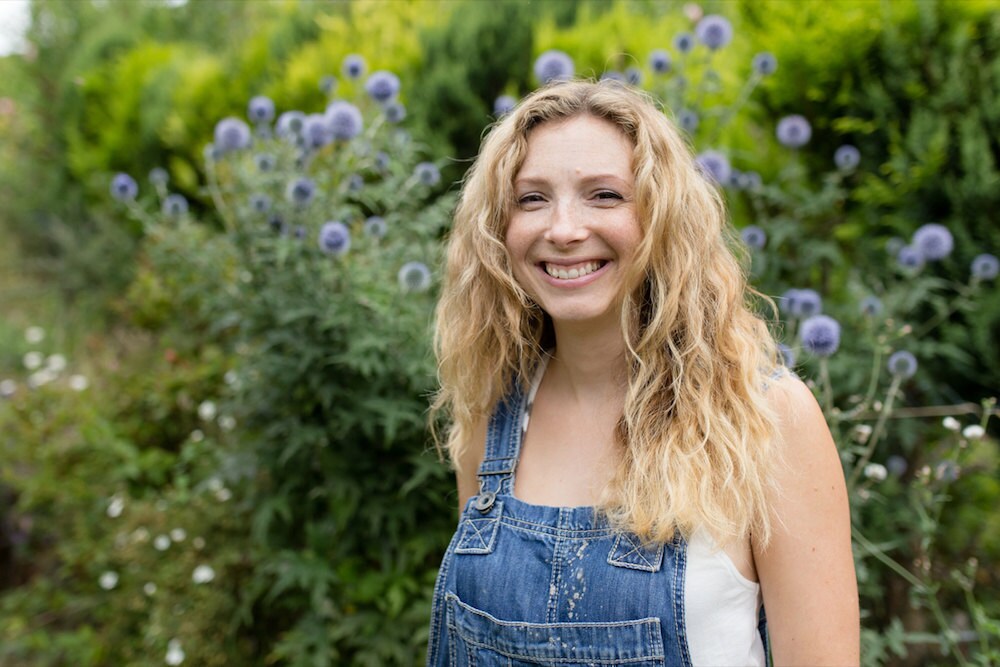 When did you know that pottery was for you?
I started potting as a hobby over 12 years ago. After graduating with a fine art degree, I was working a nine-to-five office job and needed to do something creative to keep me sane. I took a pottery class and was hooked. The moment I took the first pot I ever made out of the kiln was incredible. It was a "eureka" moment, and one I'd been waiting for my entire creative life. Pottery is very final. Once it's out of the kiln, you have a piece of art you can eat off. Having something appear that's beautiful, that you made out of mud—it's such an addictive craft.
Pottery is final, but there's a certain amount of uncertainty inherent to working with clay. How do you deal with that?
Clay is a time-critical medium and you have to catch it at the right points. If it becomes too dry and past the point of malleability, you're done for. But I love the spontaneity that comes with that, and the flexibility of thinking, "I really want to make teapots today, so I'll just do that!" Still, there are a lot of hours to put in. If the clay needs to be worked at a certain point, I'll work on it at that point. It doesn't matter what time it is, I'll be there when the clay needs me.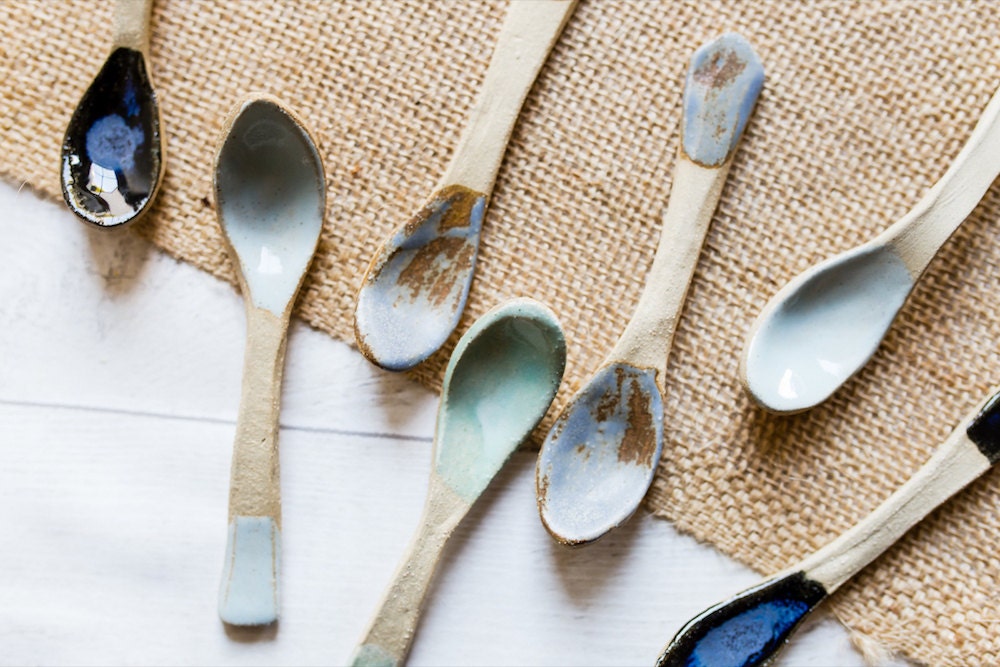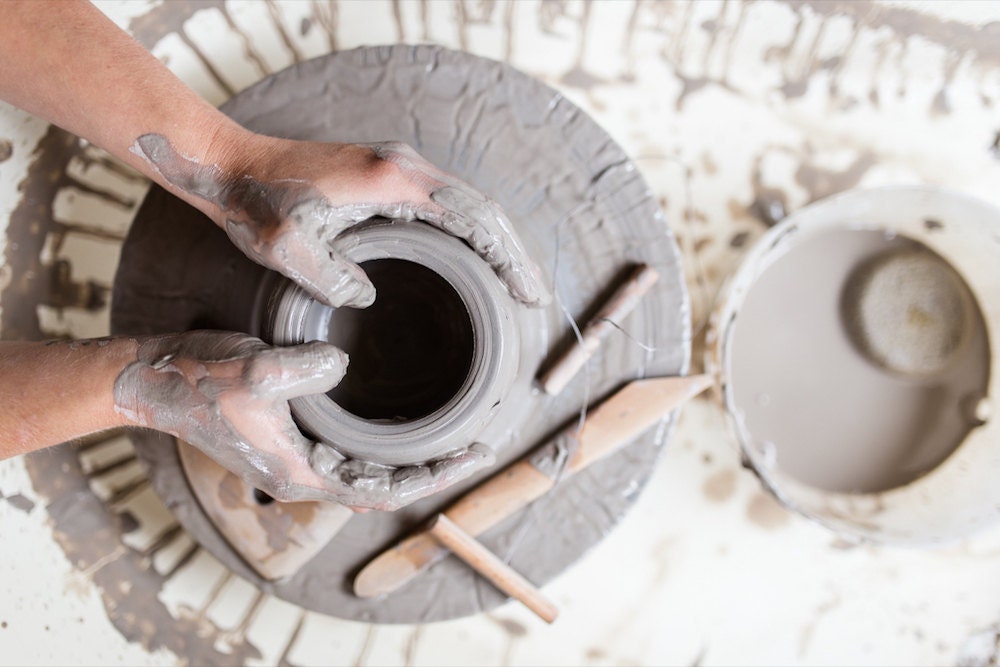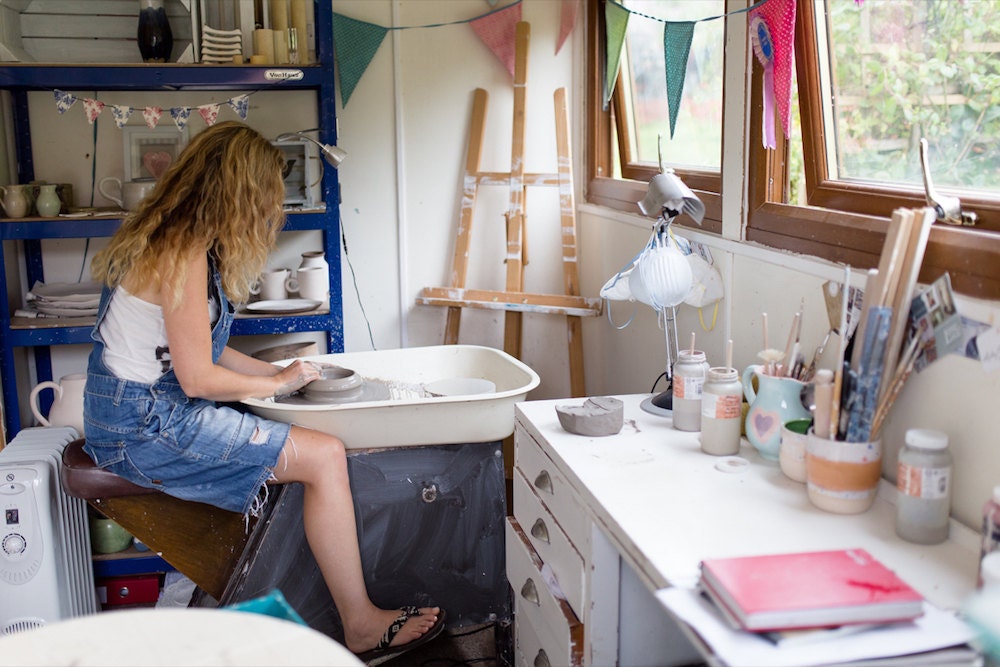 The beauty of nature so clearly inspires your designs and glaze colors. How would you describe your aesthetic?
Nature is a constant inspiration. I love the textures and the colors of the ocean and the coastline. I grew up in Devon, England, which has beautiful beaches, and my aesthetic stems from that—I'd describe it as
modern rustic
with organic undertones. I want each piece to have its own unique character. Because I'm not a formally trained potter, I hope I've tapped into a way of designing pieces that doesn't look like anything else out there. The edges of
my plates
aren't perfectly round, which fits with the aesthetic of the coastline in Devon, and the feel of the ocean being a moving form. I've found my way through the materials.
As a maker of functional ceramics, how do you ensure a piece is both usable and beautiful?
For me, the functionality of a piece is absolutely integral to it. It's almost forbidden to touch artwork, but ceramics are completely the opposite. You want to touch it—in fact, you
have
to touch it. I'm always looking to improve that experience. It's a beautiful thing to use a piece of art in your everyday life and not be afraid of it. If you take care of it, a piece of ceramics can be an heirloom with a family for generations. My work is my legacy.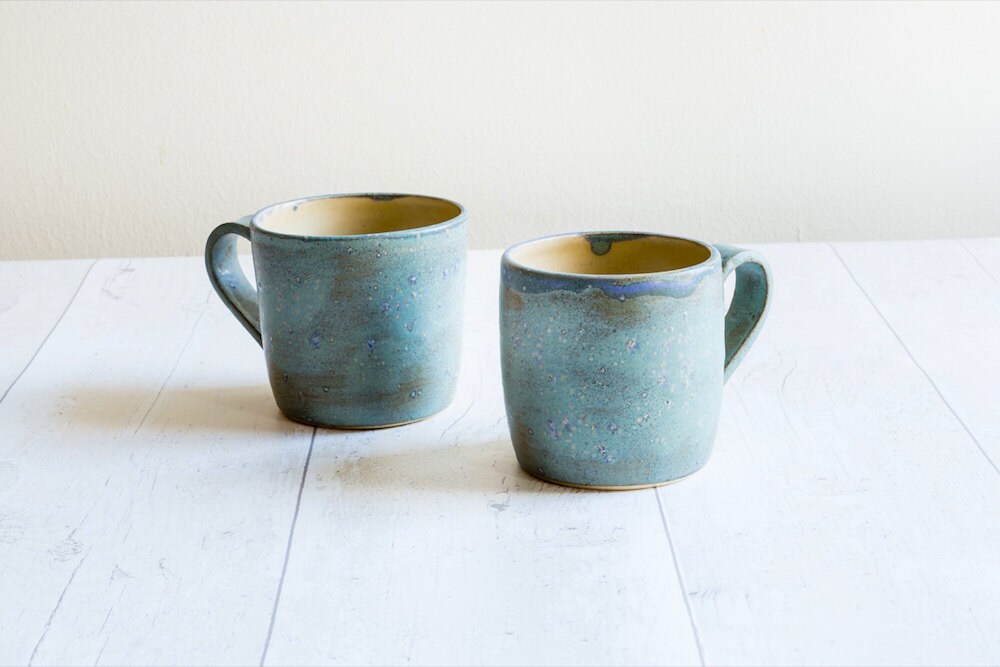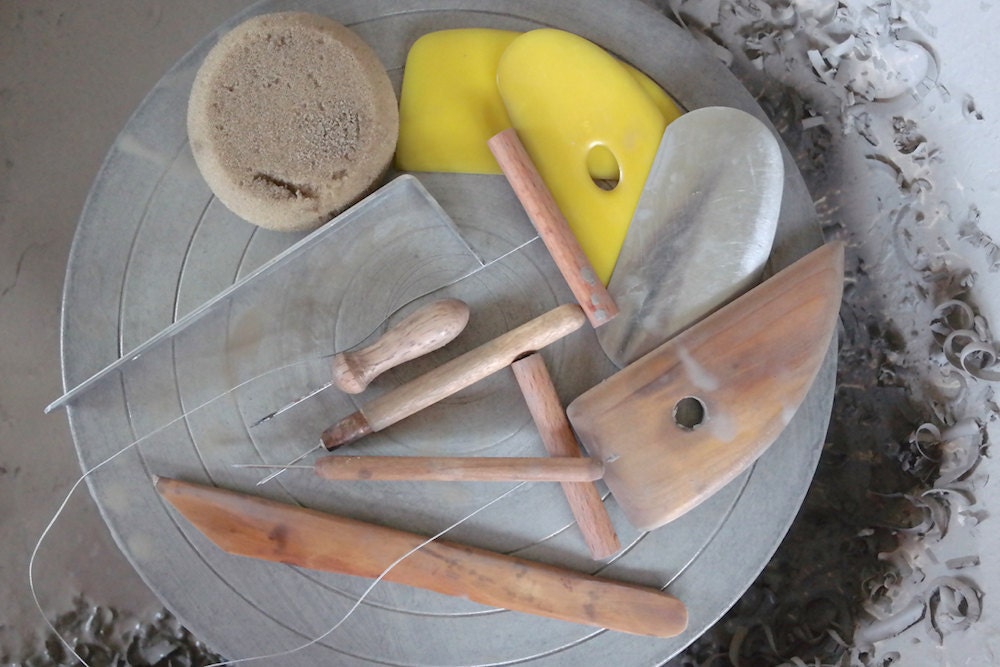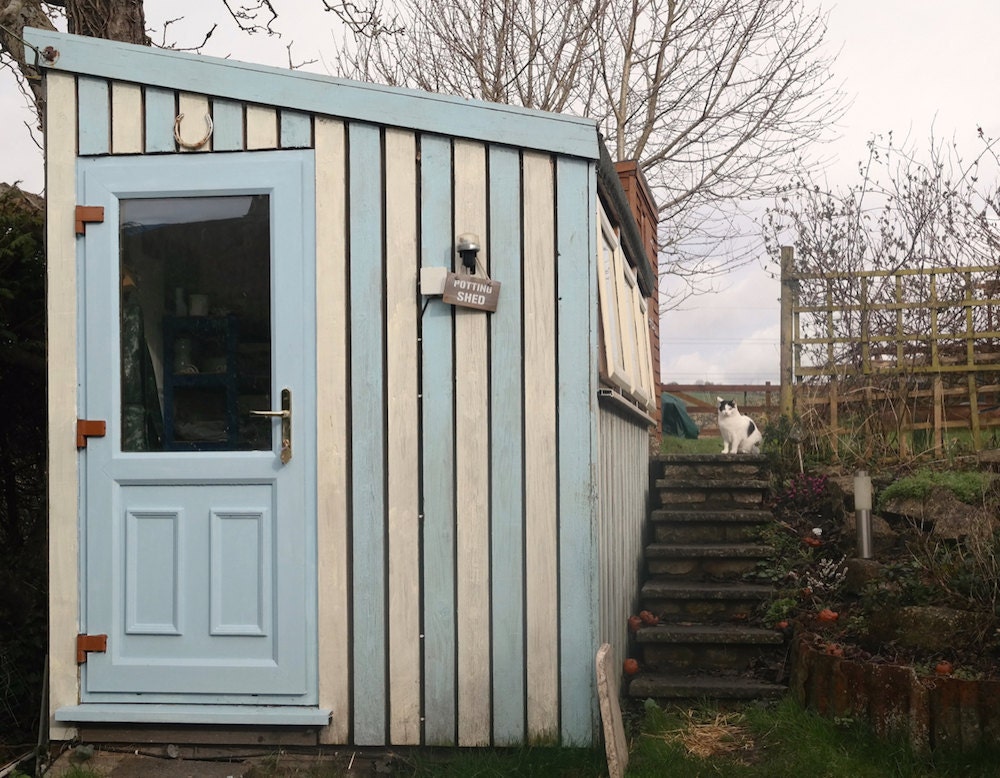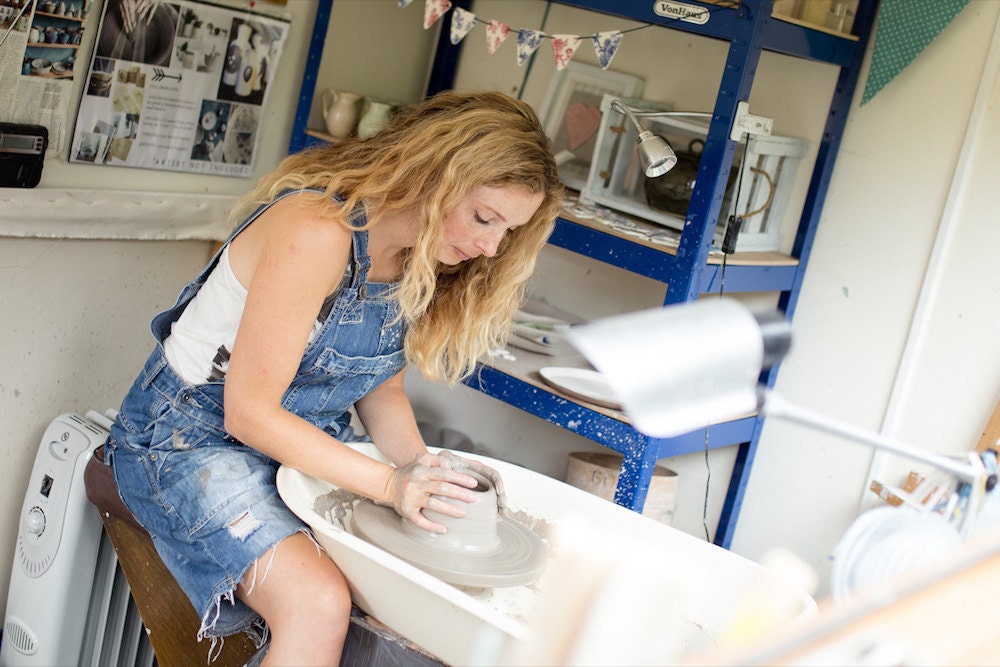 How does being an artist yourself impact your behavior as a consumer?
It's a very personal thing for me when someone buys my work. It makes me feel privileged and honored, because they're also investing in me as an artist. I try to be supportive of small businesses as well. I collect
different potter's mugs
, and every time I go to make a cup of coffee I'll choose a different mug and I'll think about that maker. I enjoy having a mindful moment, holding a piece of design that someone has spent hours on. I love to be able to offer that to other people as well.
What's next on the horizon for your shop?
Right now, I'm working on creating sets of
dinnerware
, which will include dinner plates, side plates, and bowls. People can buy complete collections, or they can mix and match bowls from one collection with plates from another. There's a definite continuity within my pottery, so you can choose pieces from different sets and still have it all go together. Additionally, I'm looking forward to making more teapots. I think they are the ultimate goal in function and aesthetic working together.
Follow Kara Leigh Ford on Instagram, Facebook, and Twitter.
Photographs by Kate Southall.