Nods to nature and Art Nouveau are common threads of this Canadian photographer-turned-metalsmith's line of custom wedding jewelry and other gems.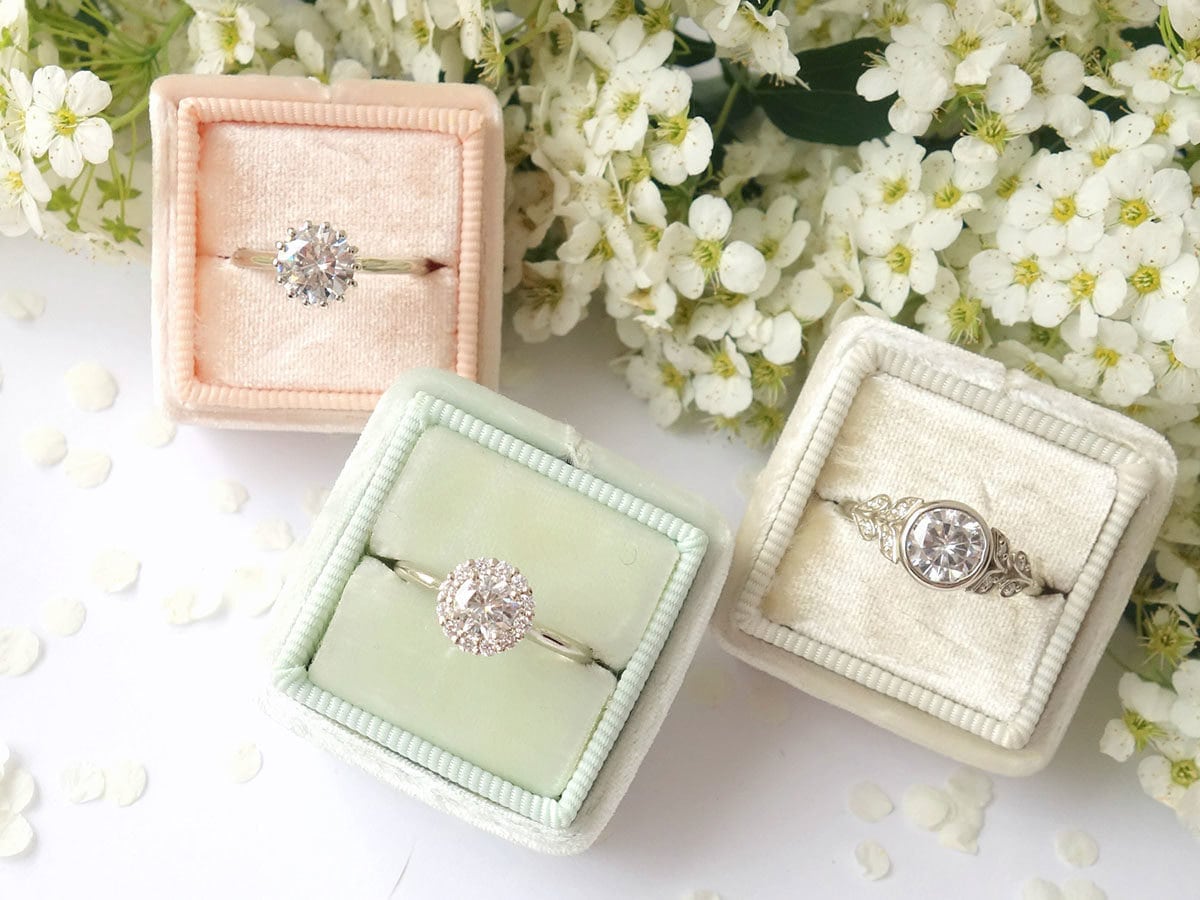 Designing and creating wedding and engagement rings has never been a job without its pressures. After all, if you do it right, you're making a piece of jewelry that someone is going to remember—and wear—for the rest of their life. But modern makers like Whitby, Canada–based
Kate Szabone
face even higher stakes than their metalsmithing forebears. "It's different how people shop for jewelry now," Kate explains. "They're looking to buy a pretty expensive ring that they've never seen in person before." Her fine-tuned solution to this relatively recent challenge? Combining cutting-edge technology like CAD (Computer Assisted Design) and 3D printing with old-fashioned communication and relationship-building to set customers at ease, keep everyone on the same page, and ensure that each client walks away with a ring that's love at first (actual) sight.
"It's really exciting to work with technology that combines the old and the new," says Kate, who worked as a photographer before transitioning to jewelry making after her daughter was born. "There are certain things you're always going to do the same way, like casting, but these tools make the processes much more efficient." The most exciting part of all, however, is the role her work plays in her customers' lives. "Being a part of this important step in their life and helping them create a symbol of their love is so rewarding," she says. "Sometimes I'll see their proposal video or wedding photos, and it brings me so much joy to see the happiness and love they share and how special their rings are to them."
Read on to learn more about what inspires Kate—then shop the collection.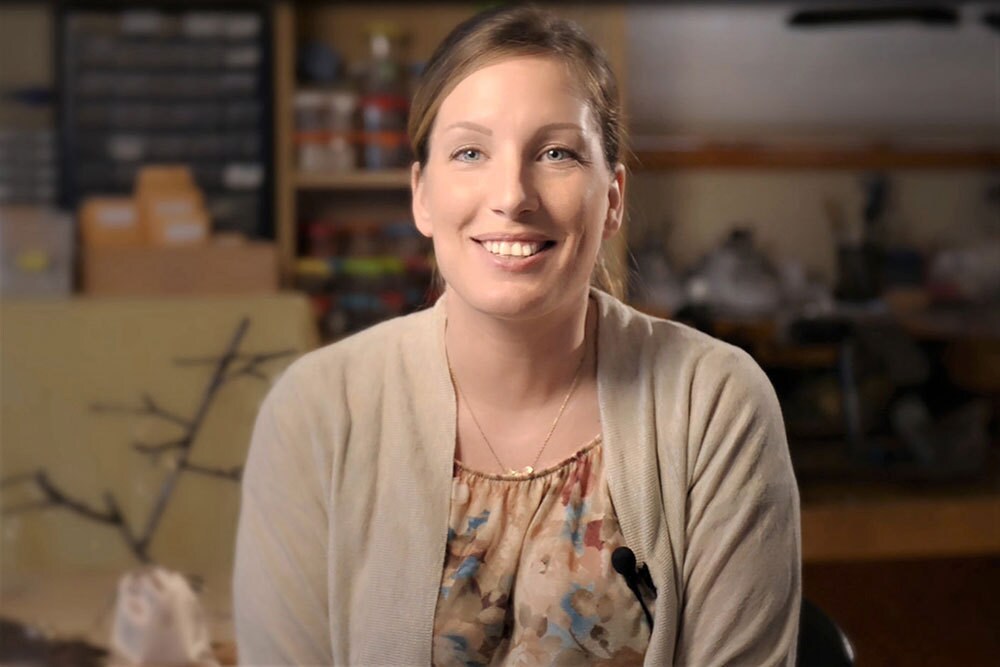 What do you love about designing jewelry?
The creativity—and being able to make something from start to finish, and having something physical at the end. But I also love building a trusting relationship with each client and helping them create something that they envision, bringing to life what they imagine, and making that process easy for them. It's a great experience, the back-and-forth with the customers. And it's not just with
engagement rings
. I recently sold a custom pendant made of Ametrine that was cut by the Wobito Brothers, Canada's foremost gemstone cutters. For clients who want something more unique, we can work together to create something like this, which was quite a large shape, like a kite. I can do other pieces like simple pendants and necklaces if that's what a customer is looking for.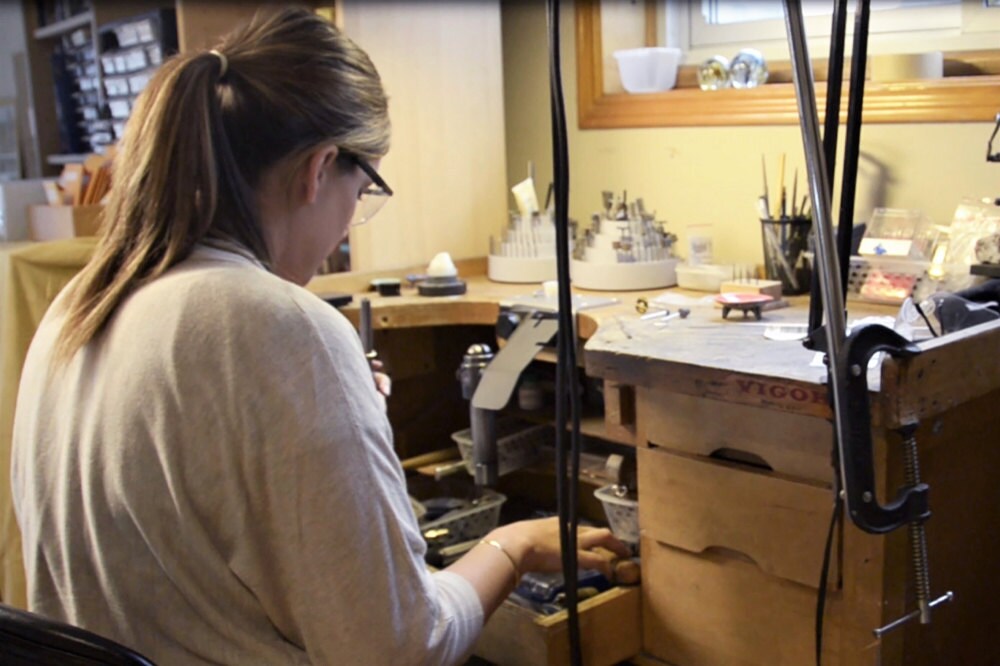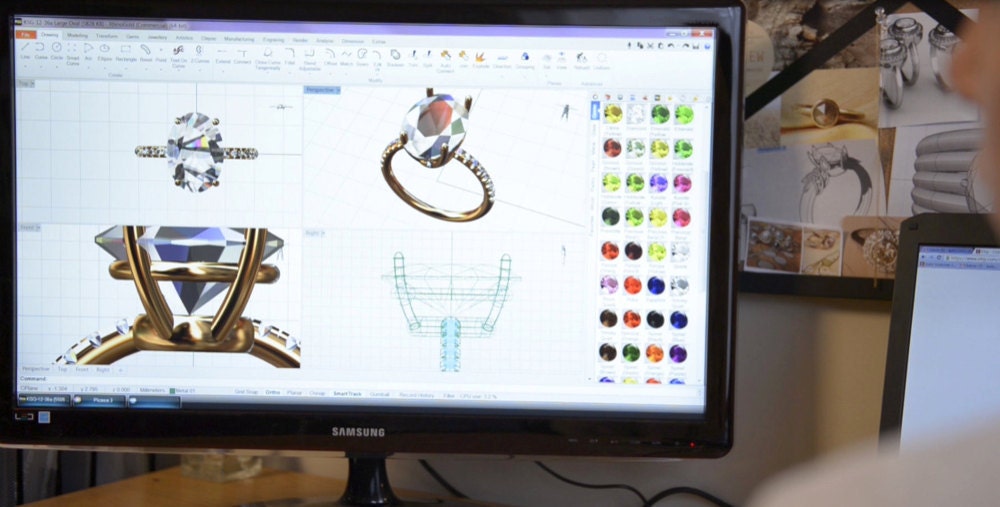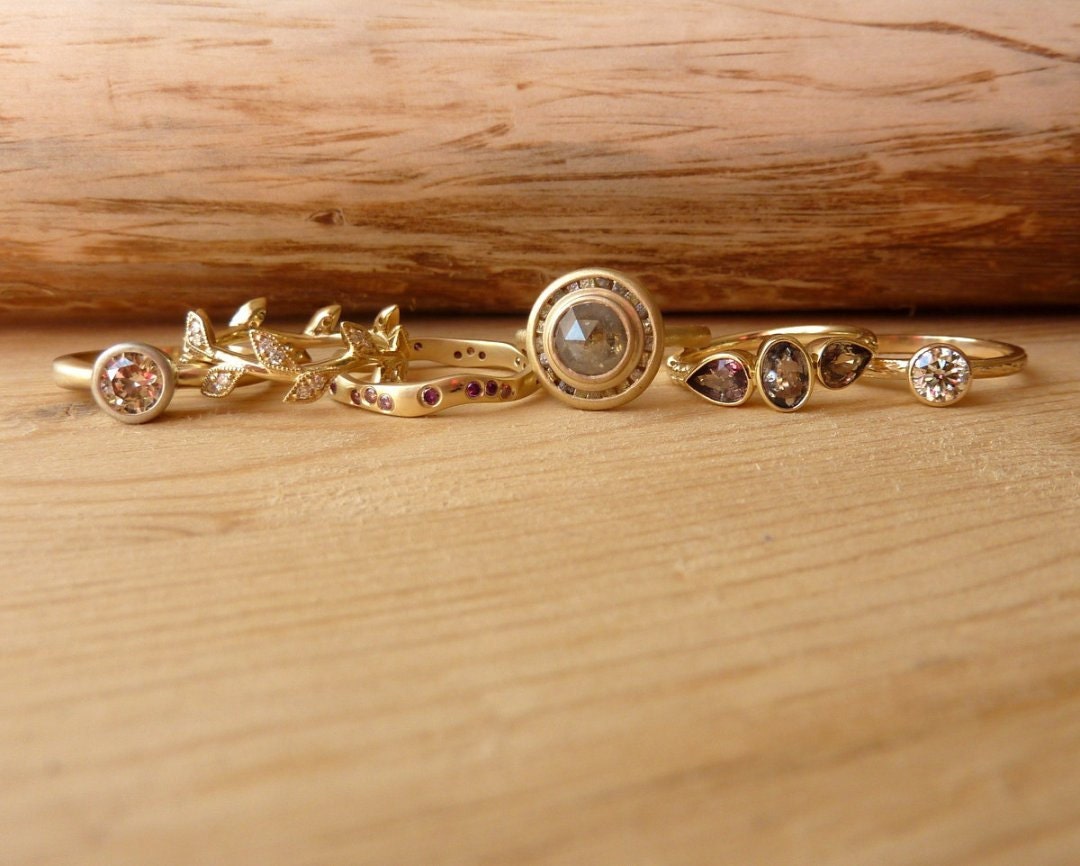 >
What are some of your biggest creative influences or inspirations?
My mom is an inspiration for me. She has always encouraged me to do what I want. She's also a photographer and all-around talented with the arts and gives me great input with my photos—the pictures are what sell
the jewelry
. People have told me, "Just browsing your site makes me feel relaxed; I love the feeling and energy." I'm also inspired by Art Deco and Art Nouveau—one of my favorite artists is
Alphonse Mucha
. In the backgrounds of his paintings he has a lot of leaves and vines and there's just such a cool look to them. I love the muted colors and how he uses branches and twigs to form the lines and the curves creating movement and textures—it's so stylized. His work has helped me create my nature-inspired pieces. I even have a half-sleeve tattoo inspired by his work and Art Nouveau.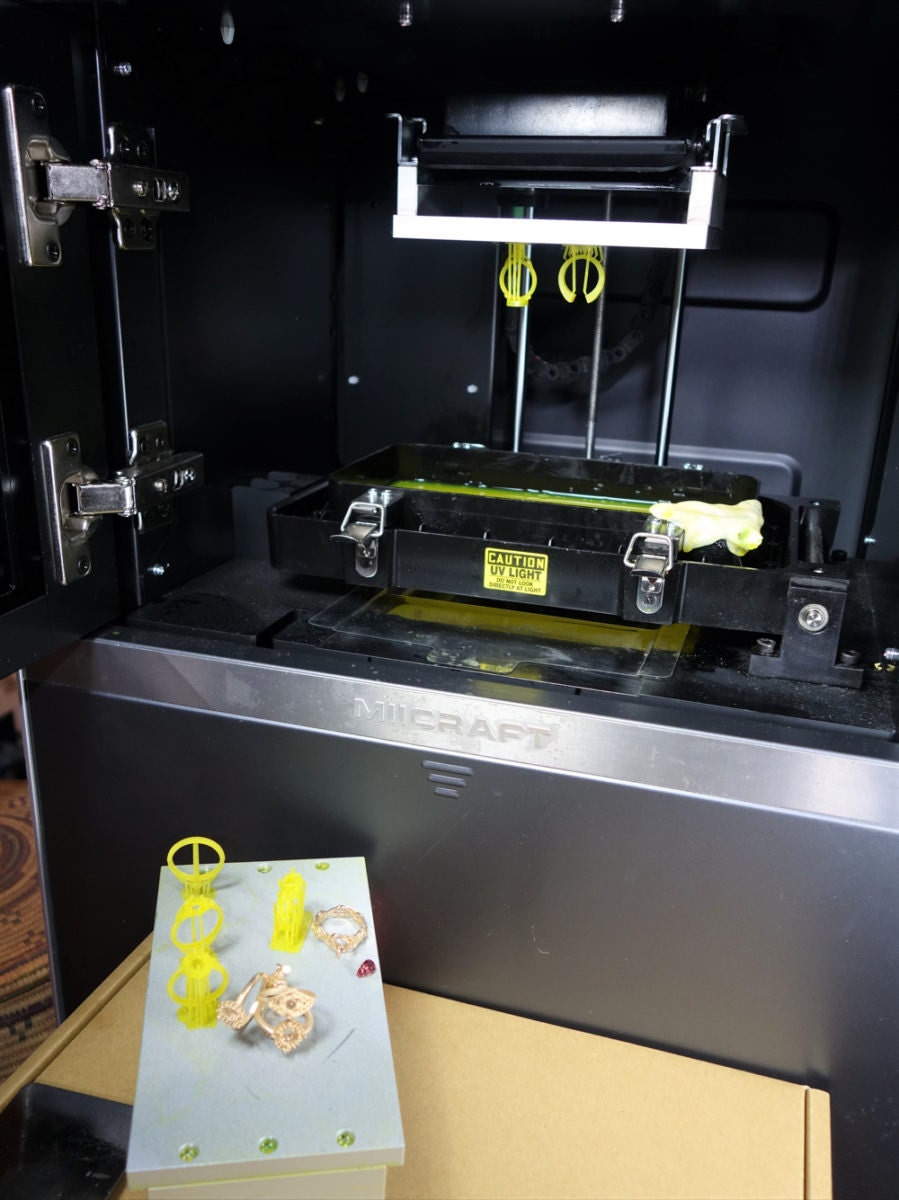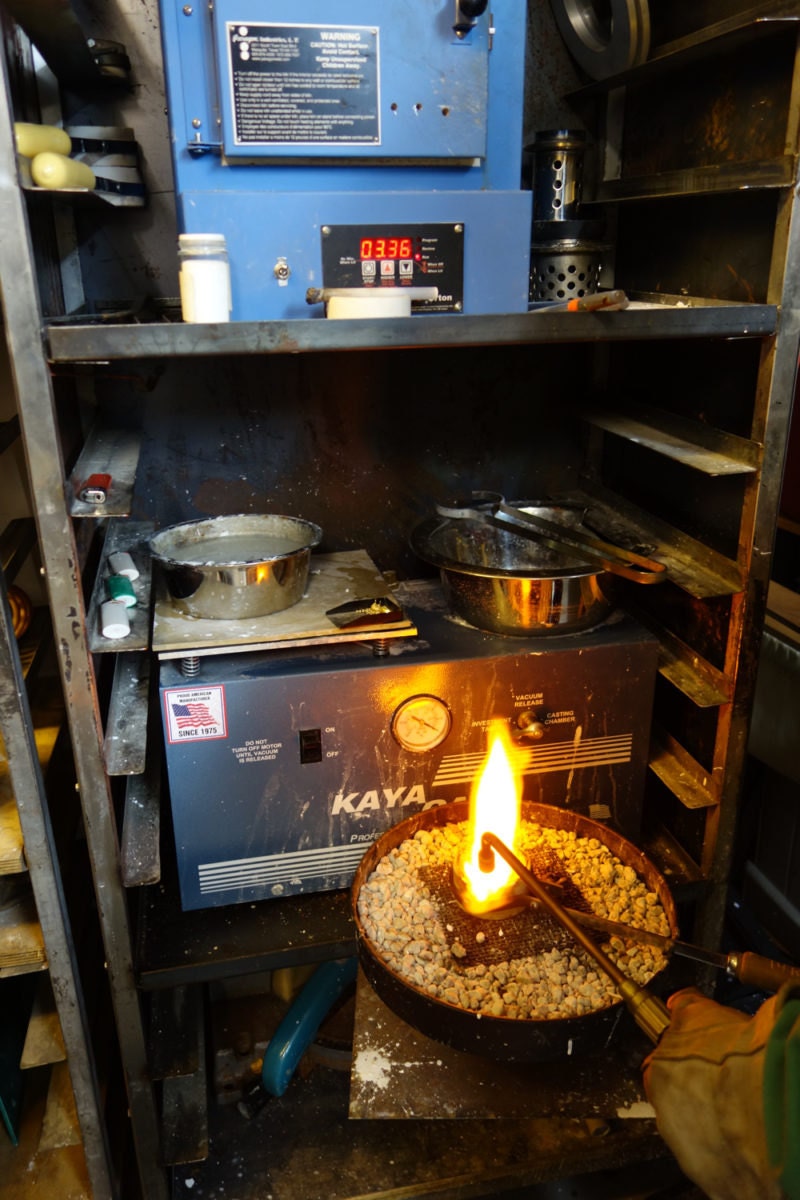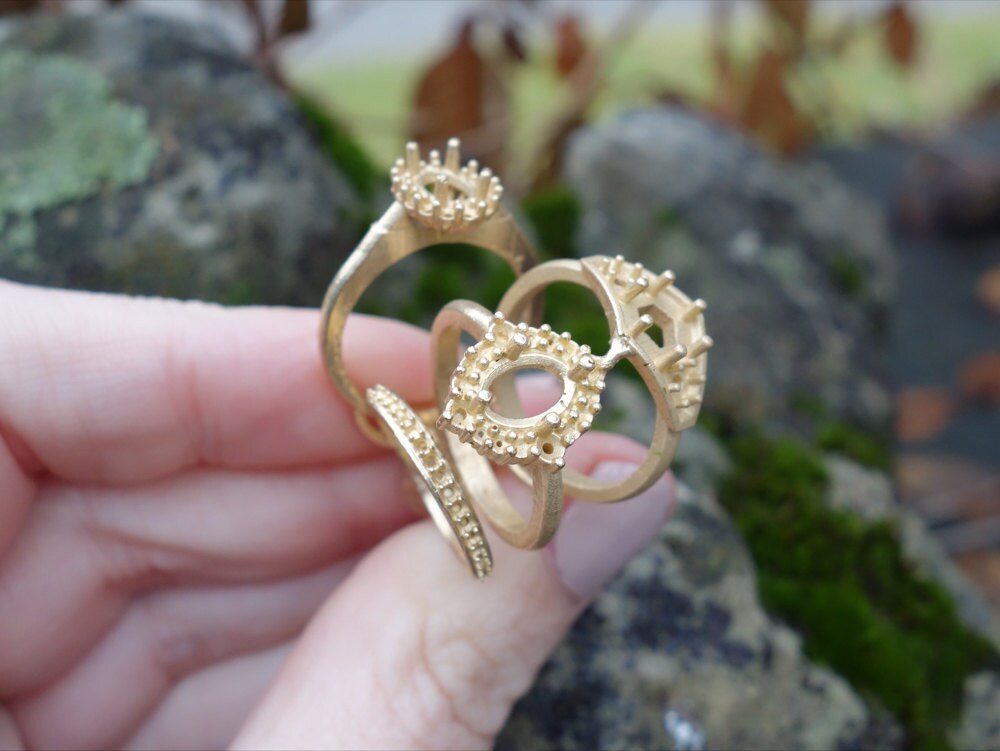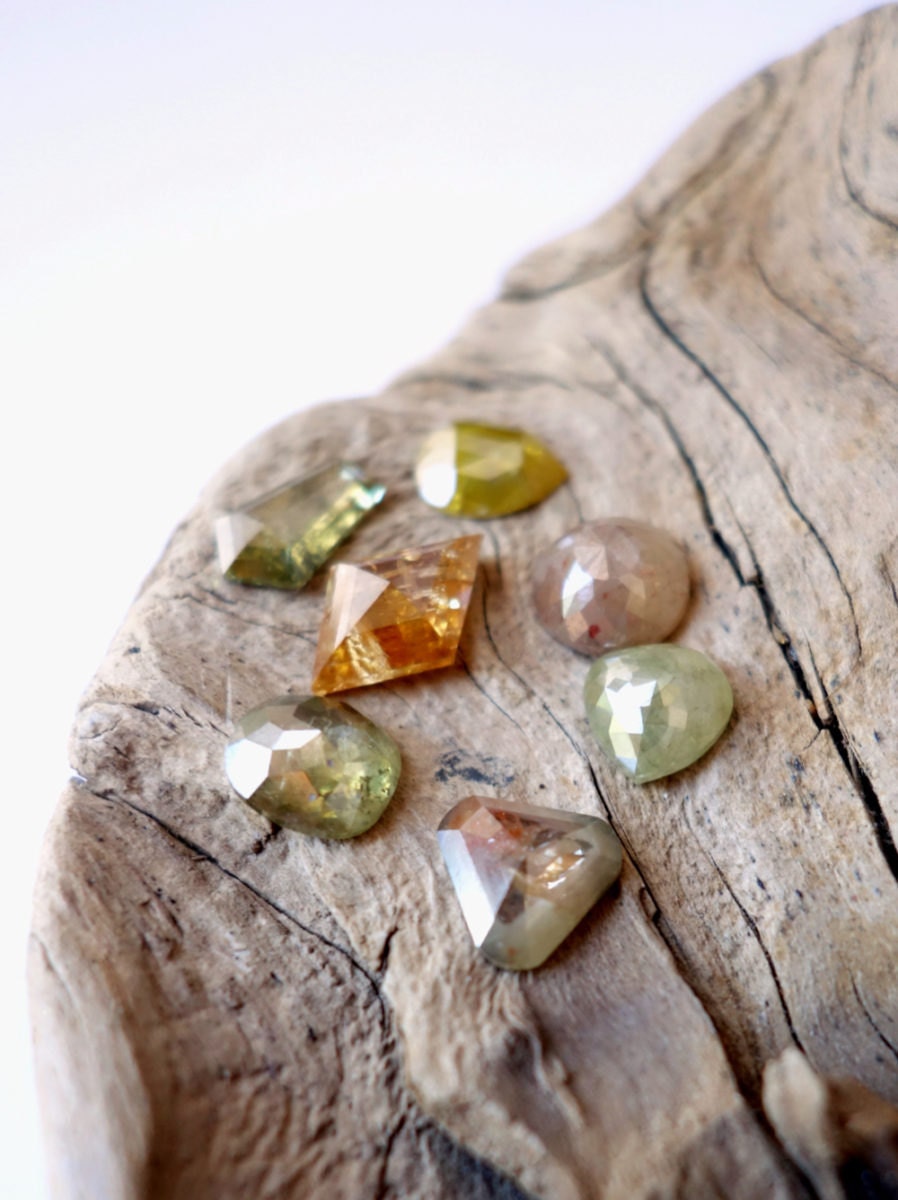 Tell us what your creative process is like. How do you go about designing a new piece?
I get lots of requests from people who want something specific, so most of my orders are custom-made. The customers bring an idea to me, and we create something unique for them by working together—it's a back-and-forth communication that's inspiring on its own. Typically, they start with their love of something—they might tell me that they're hikers, or love to go on walks and be outdoors, and ask if they can bring in, say, a certain type of branch or tree. Or they'll see something in
my shop
and ask me to tweak it. That's where we start, and it evolves into what they want. We're always in communication.
What about your production process? How do you use technology to bring those custom pieces to life?
With CAD, I can show a customer in one hour or in a day different renderings of a ring design. They might ask, "Can I see it with the square stone?" or "Can I see it with diamonds all the way around?" Then they can use sliders to play around and interact with the design, like making the band narrower or seeing it with different shapes. After we agree on the final renderings, I do a 3D printing in wax. I've even sent the customers the waxes—that way, they can see what they're getting, not just online, and try on the wax model. They also get photos of the wax with the stones they chose. Having this equipment allows me to do quality control, too. I make everything in-house, so I can see everything every step of the way, and show customers the improvements I'm making. I've also been able to reduce production times from five weeks to less than three. I can even accommodate rush orders in less than a week if needed for those last-minute shoppers!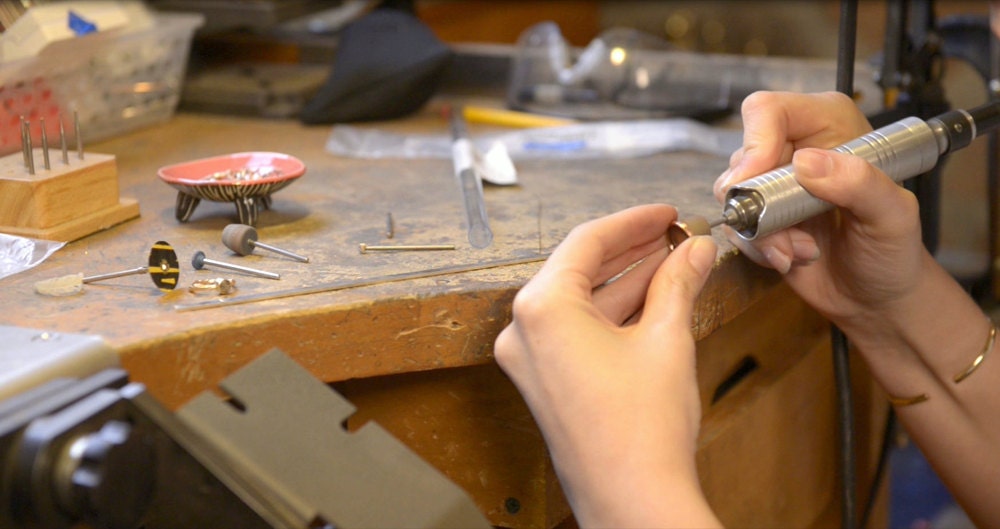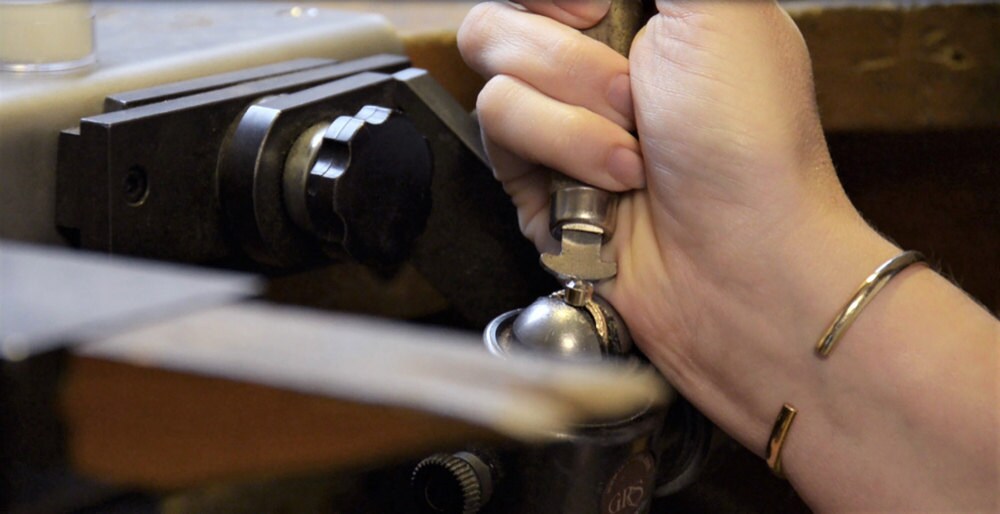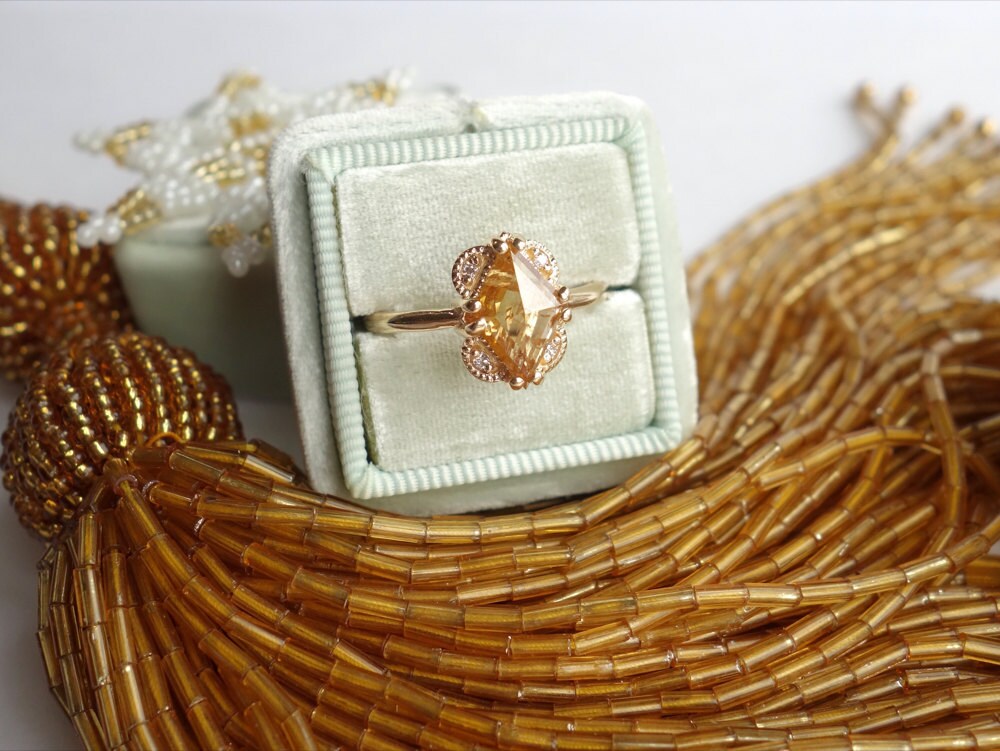 What materials do you like working with the most?
All designers' rings revolve around the stones, I think. I like unusual shapes, like rose-cut diamonds. Each one is different and very unique. They come in muted browns and greens and blues and have that marbled texture—they really draw you in. I also love working with white accent diamonds around the stone; specifically, I use 1.3mm accent stones instead of 1mm. The 1.3mm has more sparkle, it's easier to set securely, and it improves the look of the ring for sure. That tiny difference in size makes a huge impact. Sapphires are another stone I love, because they come in so many colors, from pastels to rich deep blues or greens, and they're a hard stone. The most popular sapphires right now are the pastels and peachy tones. I really like Moissanite, too, which is a cheaper alternative to diamond that's still an extremely hard and durable stone. It's great for people who don't want to wear diamonds, but still want that sparkle. Also, I want to mention that all my stones are conflict-free, and I work only with reputable sellers.
What about metals—what metals are your favorites to work with?
I like working in gold—yellow gold, and rose gold as well. They're so pretty. I love textures, and I like creating them on metal.
My rings
have a lot of satin or brushed finishes that make the metal look softer and more organic. I've found that a lot of clients love the textured look of my branch and twig bands, or they choose a satin finish for their rings to give it a soft yet modern vibe.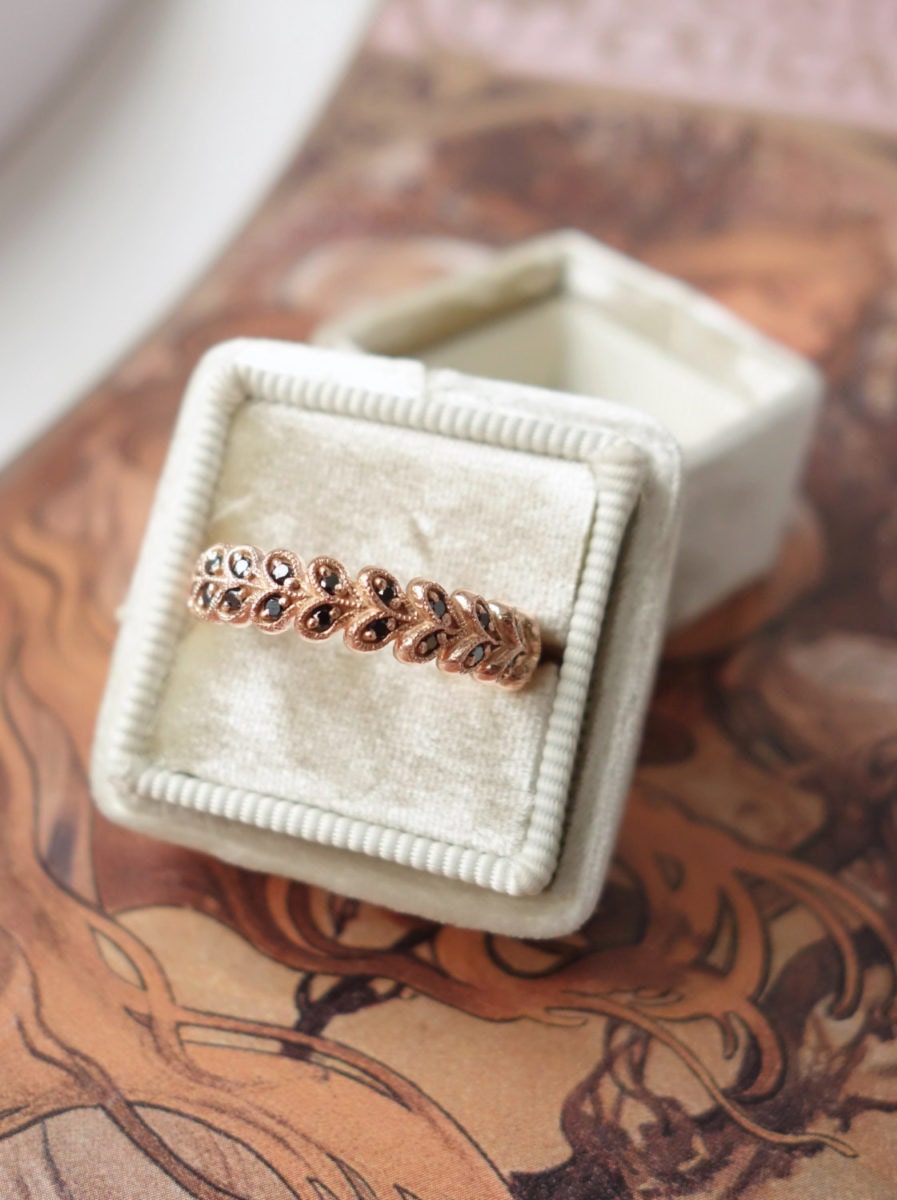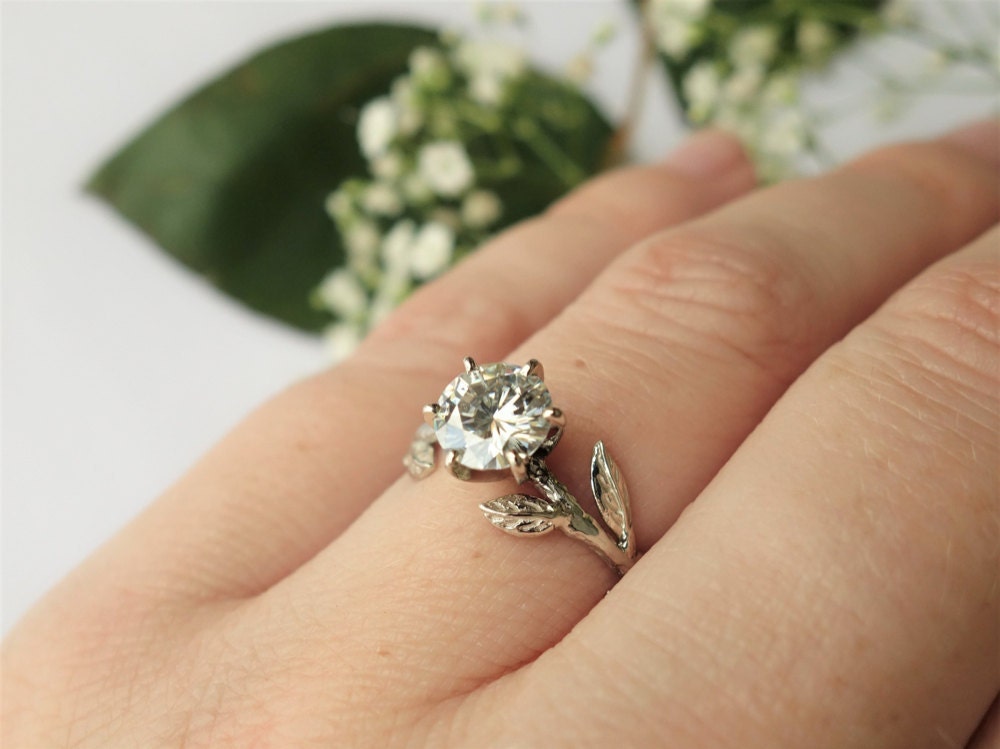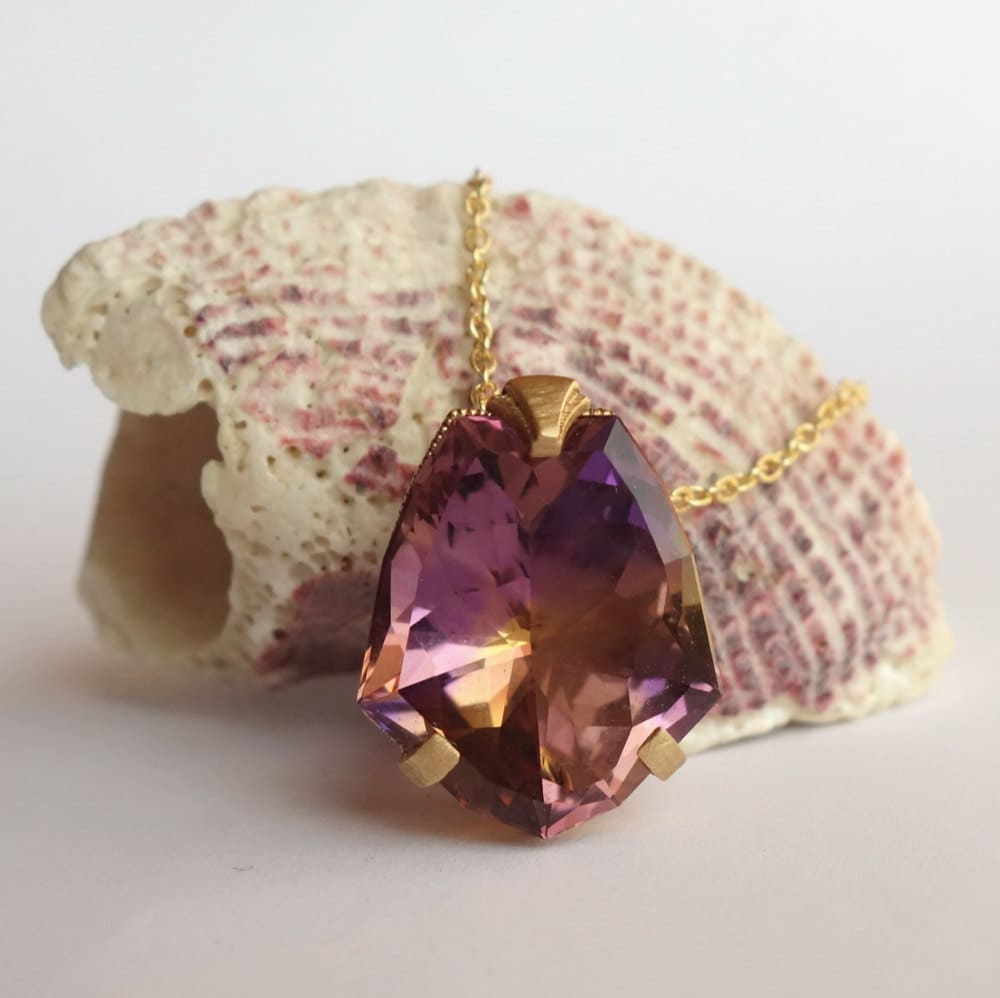 What rings are your bestsellers?
I have sold quite a number of the branch solitaires with the rose-cut diamonds. So many clients of mine are outdoorsy and they love nature as much as I do. I get so many proposal photos that were taken on top of a mountain or at the beach. But Moissanite is just as popular. Many customers choose their own stones, so we start with that and then move on to the setting.
Every single ring
is different, so it's hard to say.
What's on the horizon for your shop? How do you see your business evolving?
My main focus is to work on custom rings and client-oriented design—that's the most enjoyment I get out of this—and building relationships. And learning and trying to bring in new methods, to always keep moving forward: That's the path I'm going to go down for awhile.
Follow Kate Szabone Jewellery on Facebook and Instagram.
Photographs courtesy of Kate Szabone Jewellery.