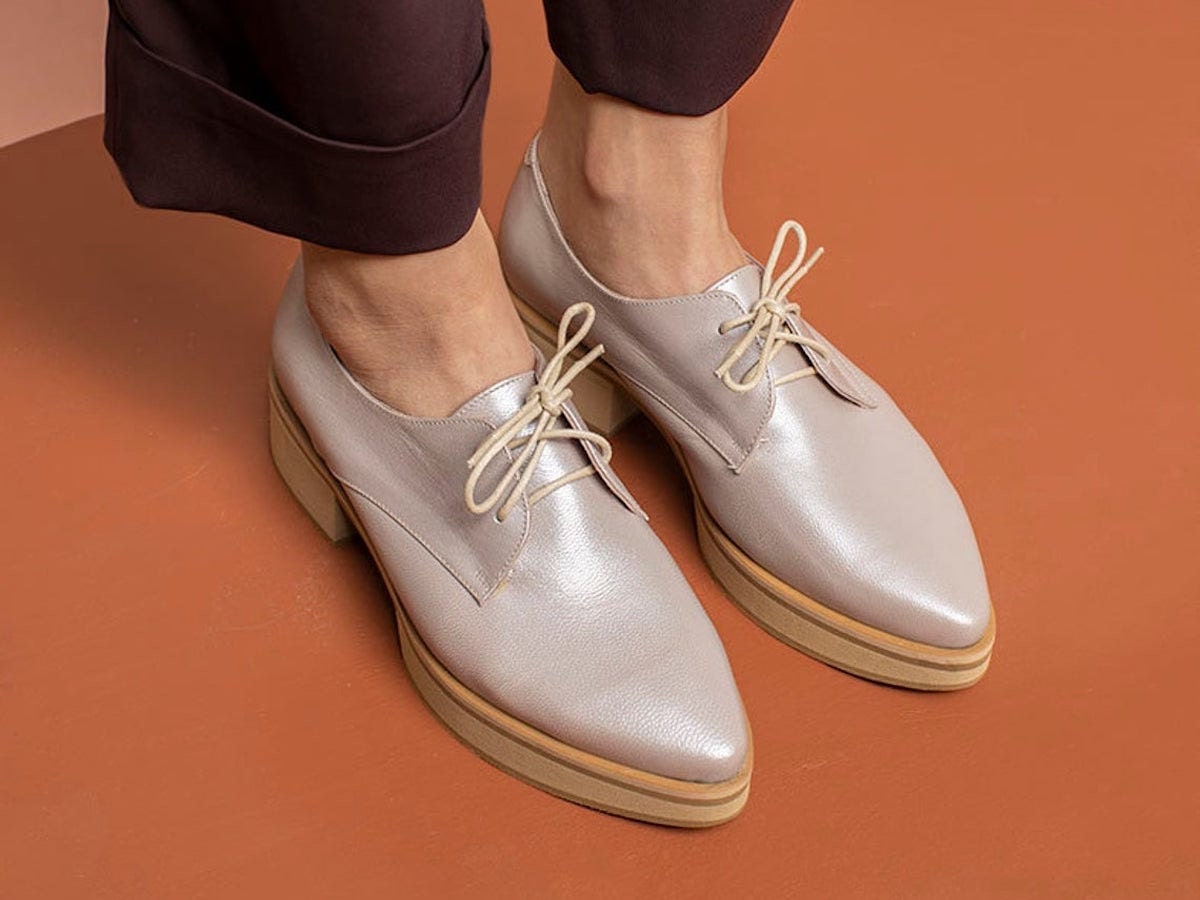 In our weekly Featured Shop series, we shine a light on a standout shop from Etsy's talented seller community, offering readers a behind-the-scenes look at their process and story.
No matter where you're headed in life, chances are, you want the shoes beneath your feet to be both cute and comfortable. And whether you're more of a strappy suede sandal or a patent leather-tipped loafer kind of person, the exquisitely crafted designs from Tel Aviv-based label Katz and Birds brilliantly offer the best of both worlds. "When I was younger, I thought the only shoes that could be sexy were high heels," says designer Hadas Katz. "Now I understand that even the Oxford style can be sexy because it's strong, confident, and edgy." 
Explore the Katz and Birds collection
Today, Hadas believes that "confident" and "edgy" have many chic interpretations that come in varying heel heights: There are her paint-splashed peekaboo slides that earned her a spot as a finalist in last year's Etsy Design Awards. There are her asymmetrical snake-print slip-ons that look just as good with ripped denim as they do with a midi dress. And of course, there's her just-released summer sandal collection, featuring one-of-a-kind patterns she painted herself. The common thread throughout Hadas's line, aside from supple leathers, uncompromising quality, and all-day comfort? A sense of playfulness. "Life is too short to be dressed boring," she says. "If I can make a person feel good about what they look and feel like, I have done my job." 
Read on for Hadas's styling tips and pointers for finding the perfect fit, then shop the Katz and Birds collection. 
How does comfort factor into your designs?
I use the best materials I can find. My leathers are very soft, so they adjust to your foot. We also use comfortable cuts, and our heels are very thick, which means you can walk in them the entire day. I would never make something that you'd wear one time for an event and that's it.
What are some of your most popular styles?
On Etsy, my most popular styles are more classic, like the Sparrow or the Oxfords; at my brick and mortar in Israel, the boots and the Stockholms are selling like crazy. Our Stockholm style has a special sole—it's shock absorbent, surprisingly lightweight, and keeps you away from the cold ground. I use it with a form that gives you height, yet feels like a flat shoe. My Bermuda style also does well.
Can you share some styling tips for wearing your shoes?
My boots look great with both narrow and wide trousers, especially if they're three-quarter length. The pointed toes make your legs look elegant. My Berlin and Tamarisk shoes are great for work. Both make an all-black ensemble a bit more sophisticated. 
Tell us about your design process.
I design with my customers' wardrobes in mind. I think about what would be flattering and how the shoes will be mixed with different outfits. I make around 200 sketches for each idea and we try the prototype on as many women as we can, getting feedback for improvements. I believe an interesting design must be properly executed, and I can really stand behind my product.
Do you have any repeat customers or buyer stories you'd like to share?
There are so many! I have a lot of customers who return after one purchase and get five pairs. Some of them get one new pair per year and some get four in one buy. Sometimes people ask me to make something specifically for them, like taking the Oxford style and changing the colors.
What's your advice for buying shoes online? How do you help your customers find the right fit?
I recommend taking the time to measure your feet. I have a size table in my shop, so with my customers, my first question is what size they normally wear and if they have any issues I should know about. Every shoe I make has a slightly different design, so I also take this into consideration and if it requires making adjustments, I make them. In that sense, every order could be a custom order, even if it's in a style and color that's already in my shop.
Where do you find inspiration?
I design for people who appreciate style, art, and tradition. I love graphic lines and geometric shapes, and I draw inspiration from all kinds of arts and crafts and small details; I love traditional handwork, architecture, graphic design, paper cuts, and fabric manipulation. One of my biggest inspirations is nature—in fact, most of my designs are named after different birds. For me, birds aren't only a visual inspiration. They also represent gentleness, freedom, courage, and elegance.
Tell us about your new collection.
This season will be all about prints! I love mixing two different prints in a single design. From afar, they look like one color, so they're easy to match to your clothing. To make the designs in my latest collection, I painted the patterns myself. I think the result is sophisticated, well-balanced, and fresh.
What are some of your goals for the future?
My process is so visual. When I design, I have an image in my mind of the clothing each shoe will be worn with; for each photo shoot I sew a few items that match my vision perfectly. My dream for the future is to have a fashion house where I could design shoes and clothing together from the same inspiration. I want to tell the same story from head to toe.
Follow Katz and Birds on Instagram, Facebook, and Pinterest.
Photographs by Ira Prohorova unless otherwise noted.