Expressive, hand-painted faces and intricately stitched outfits give UK artist Kayleigh Radcliffe's animal-centric ornaments instant heirloom status.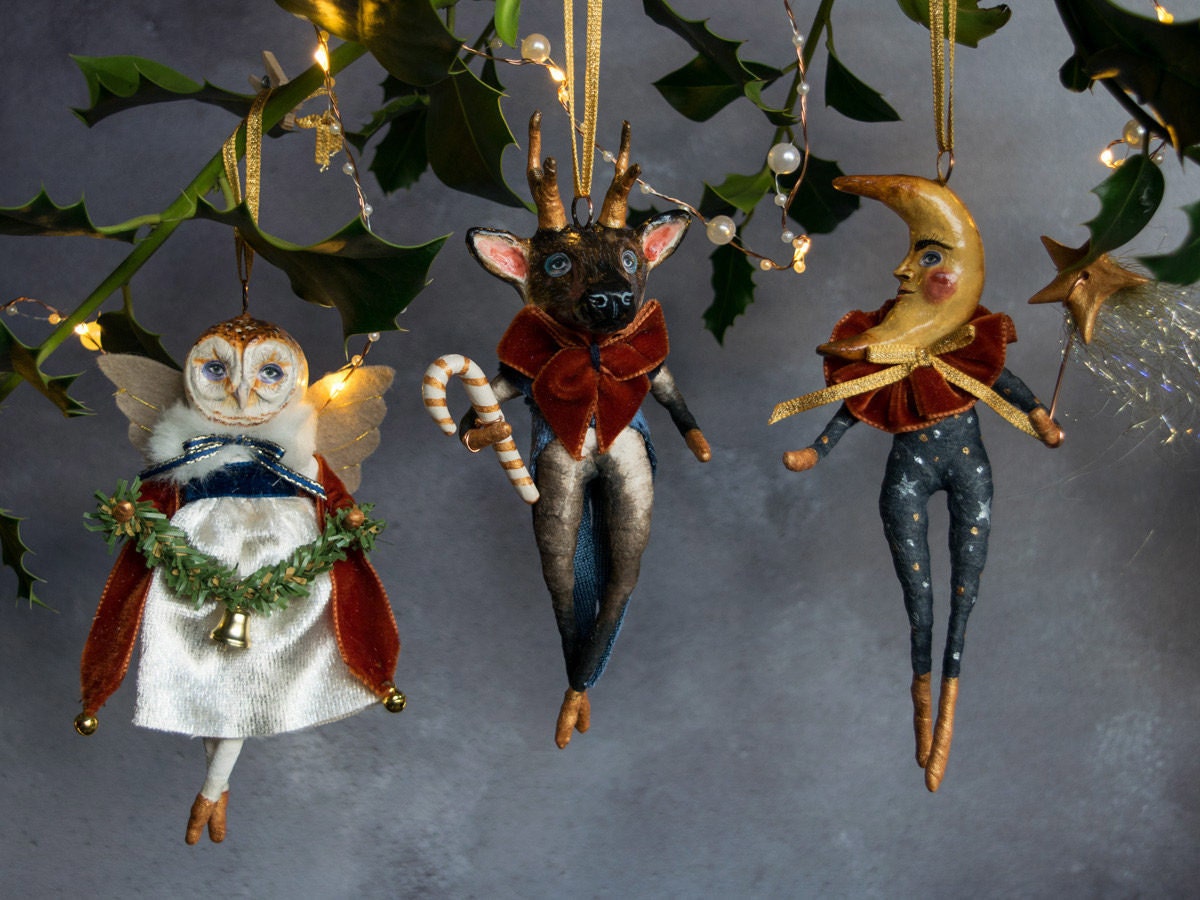 Kayleigh Radcliffe
's work is made for November days, when each afternoon seems to offer just a bit less sunlight than the one before. The illustrator-turned-sculptor and self-described "anthropomorphic artist," who grew up and still lives in the countryside of northern England, channels her twin obsessions—animals and the macabre—into decorative figurines that are equal parts playful and eerie: tree ornaments for people who consider
Edward Scissorhands
essential holiday viewing.
Explore the Kayleigh Radcliffe collection
While Kayleigh draws inspiration from unconventional sources—from folk tales to ghost stories, fairgrounds to graveyards—her seasonal decor and illustrations are anything but niche, appealing to a broad range of casual customers and devoted collectors alike. "I try to use colors that can fit comfortably into many homes—they're not too bold or brash," Kayleigh explains. "Because of that, my products suit lots of
decor schemes
, including modern, traditional, and contemporary aesthetics. And all of my figures are designed to be heirloom pieces that you'll bring out year after year, or even display all year round, for years to come."
Read on to learn how Kayleigh crafts her animal ornaments and the secret behind their lifelike expressions, then shop the Kayleigh Radcliffe collection.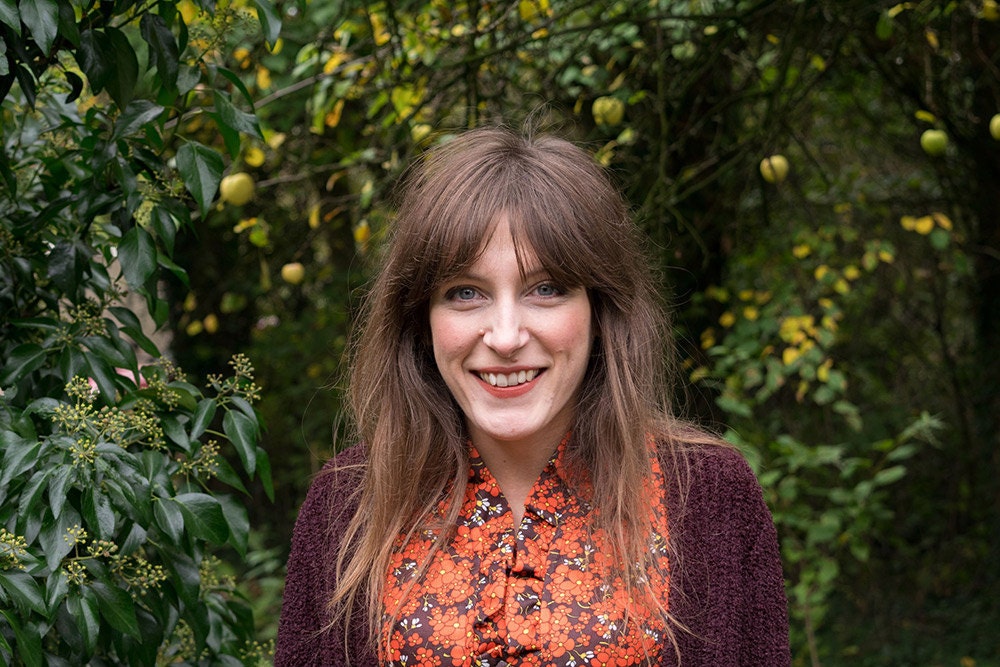 Your aesthetic is so distinctive. How did you arrive at the style you work in today?
Growing up in the countryside, surrounded by farmland, I loved Beatrix Potter, and I loved
Labyrinth
, and I loved
children's books with really old-fashioned illustrations
, like of an animal in human form. I think as an adult, I'm still a bit childish, and I imagine that other people might be drawn to my work because of that, because it's childlike but in a grown-up way. The young at heart admire my work—I think it takes them back to their own happy childhoods.
Based on your work, I would also guess that you spend a lot of time around animals.
I do! We have a lot of wildlife—pheasant and owls and bats, and ducks on the pond. I grew up with pets as well: geese, cats, dogs. At the moment, I have a very affectionate cat who likes to sit on my shoulders, especially when I'm working or doing the dishes, and sometimes he'll come and sleep with me, too. I've always been surrounded by animals—I'm obsessed with them.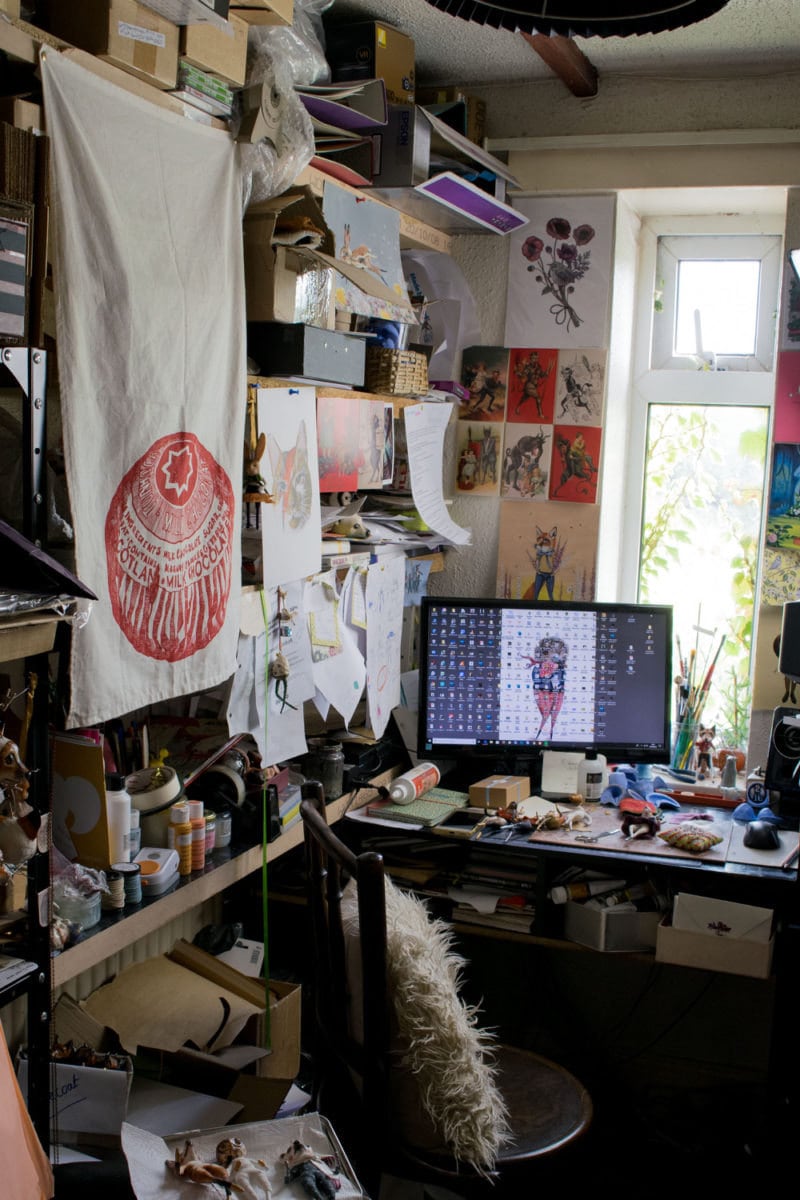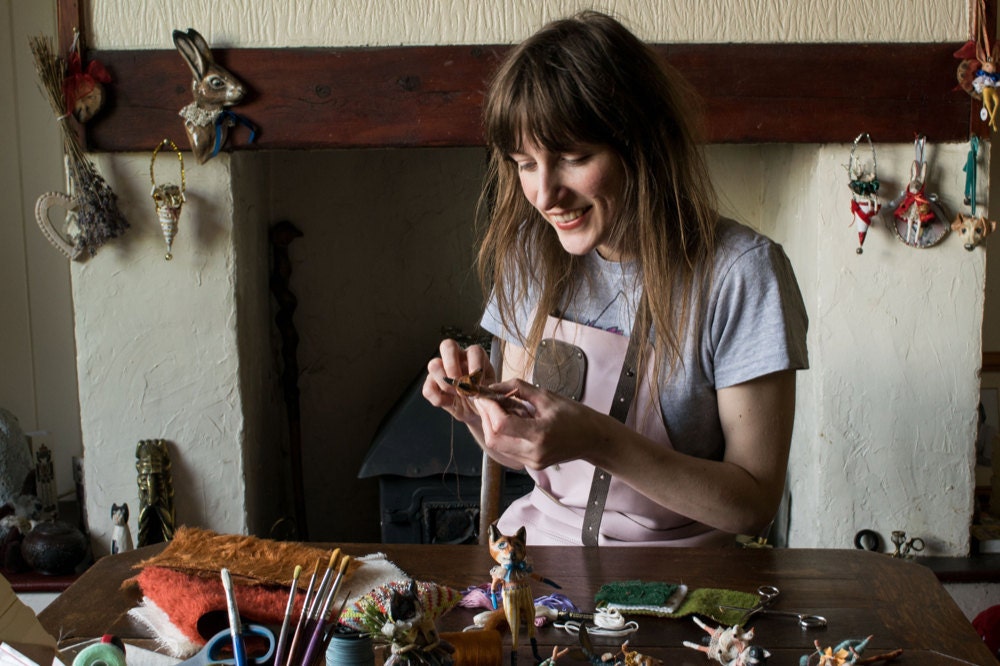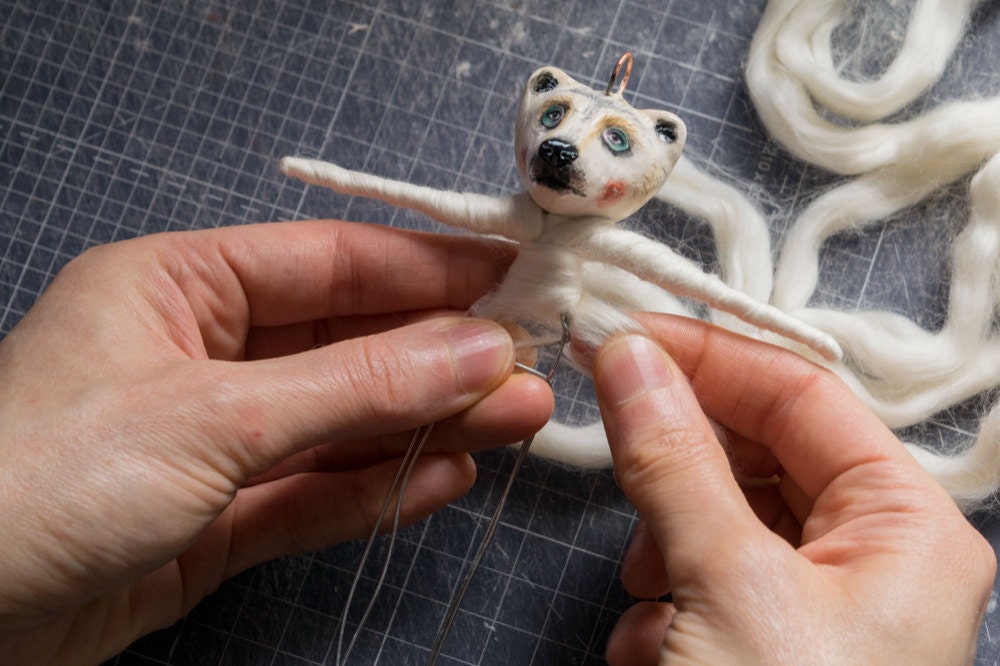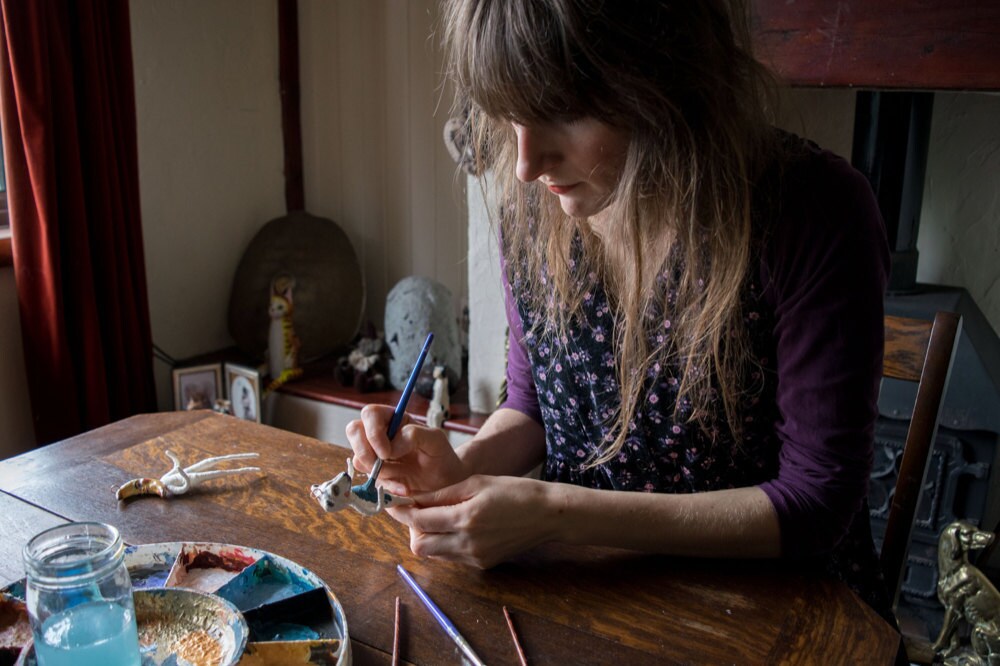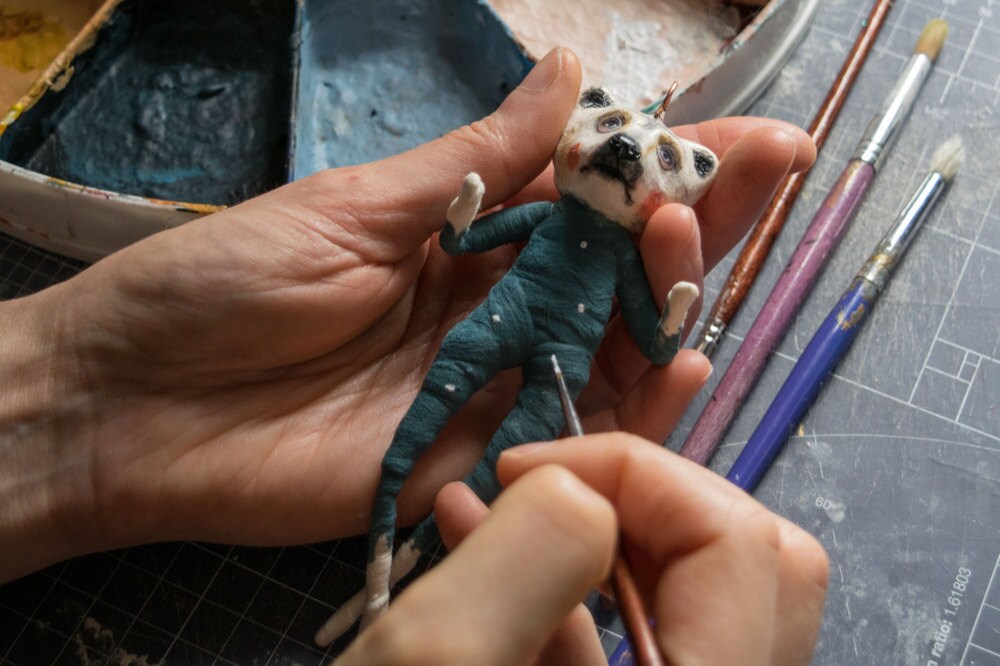 What's your process for creating your animal figures? 
A lot of it is similar to how
vintage German spun-cotton ornaments
were made, but because I like clay and sculpting, I make heads for mine out of air-drying or ceramic clay. That's the part that comes first and takes the longest. I've created my own molds for the heads to keep them consistent, but sometimes I'll hand-sculpt a head from scratch if I'm creating a one-off piece. The heads are attached to simple wire bodies, and then I paint their features and hand-draw the fur detailing. After protecting the heads with several layers of varnish, I cover the wire body, wrapping it with long strips of cotton wool, which I'll then paint. My favorite part of the process comes next: dressing the figures with bows, ruffles, skirts, and jackets, all of which I hand-sew and then stitch onto the bodies. I have a collection of vintage and antique laces, fabrics, ribbons, and beads that I like to use on
my one-off pieces
—if I can bring myself to part with them!
The faces of your figures are so expressive—what's the secret to putting the soul into them?
I don't know what the secret is, actually—it just happens naturally. My whole heart goes into making
my figures
; it must stem from that. To be honest, my brain sort of switches off when I paint—I work from my subconscious. It's like magic! But for the eyes, I actually work from a photograph of my own eye, so they're very lifelike—and they each carry a little part of me with them.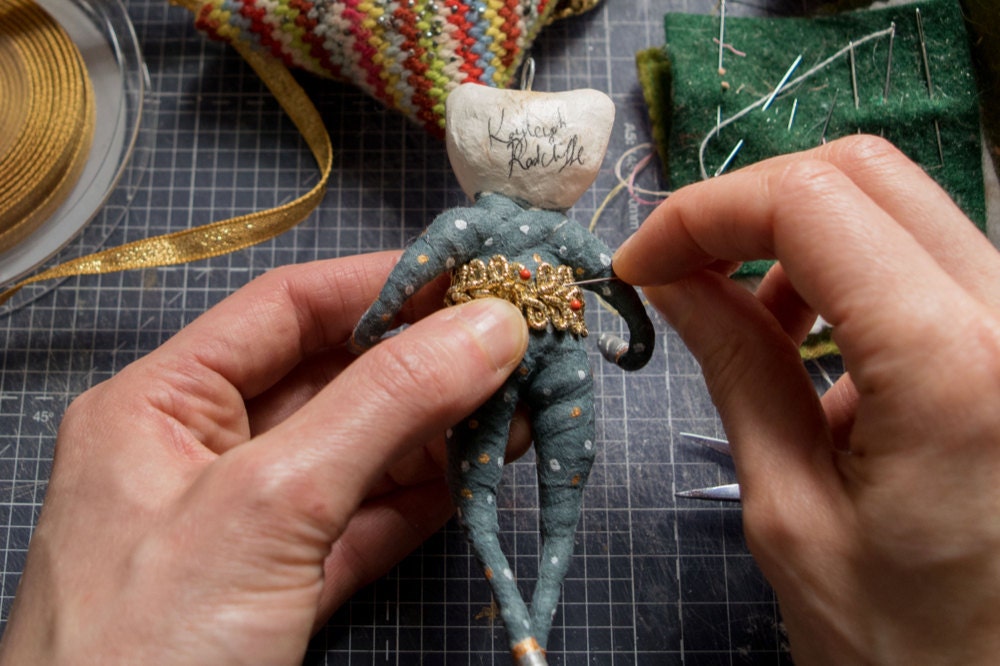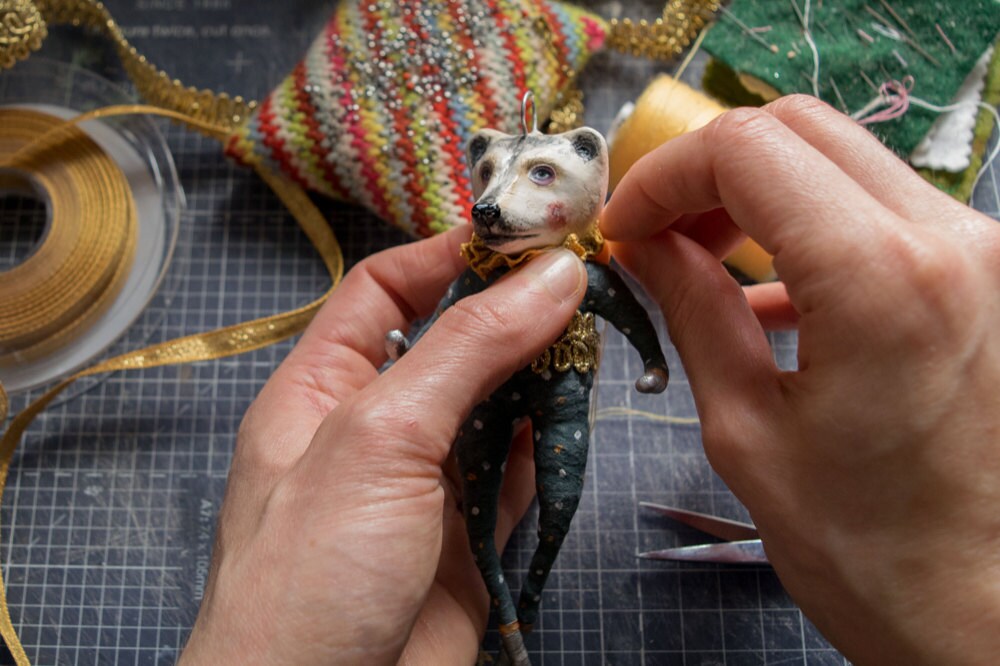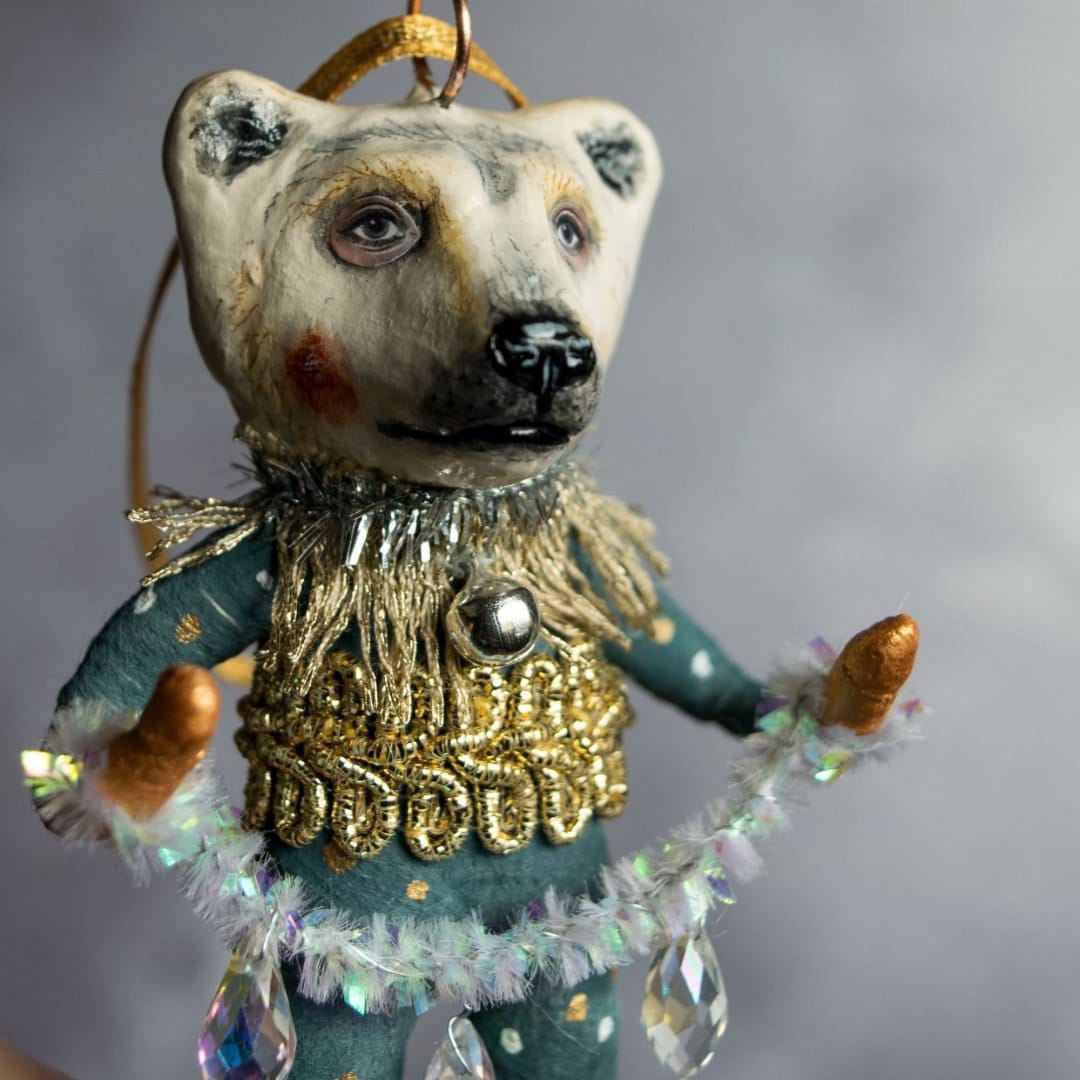 >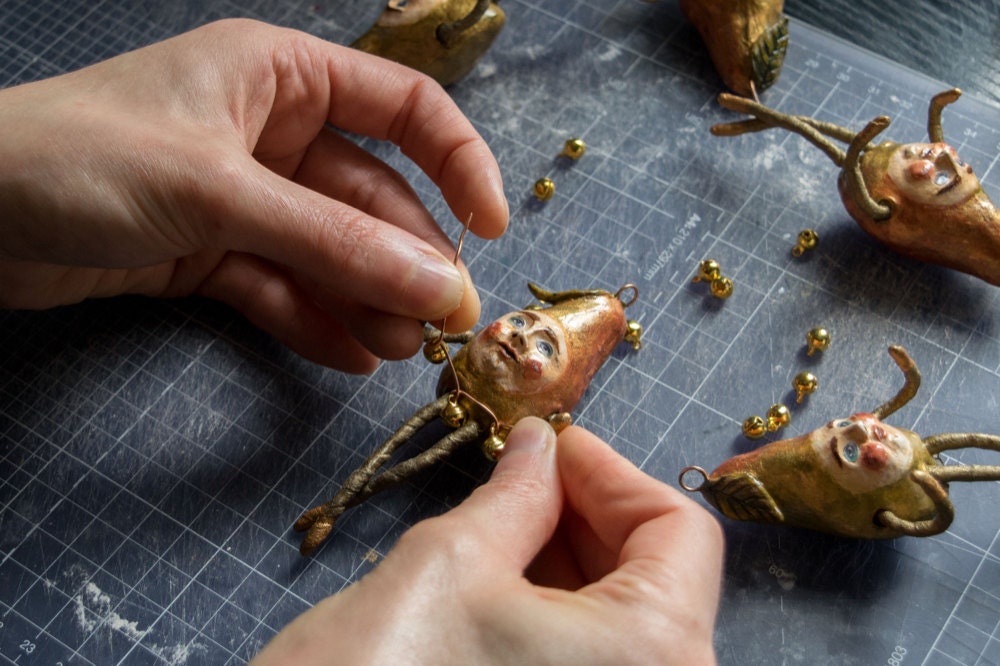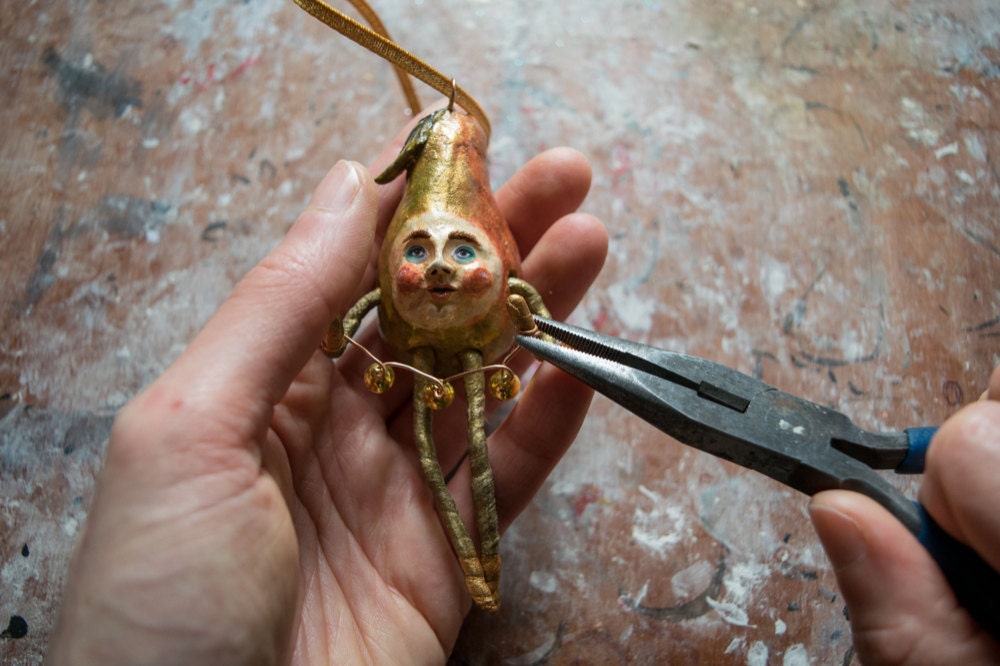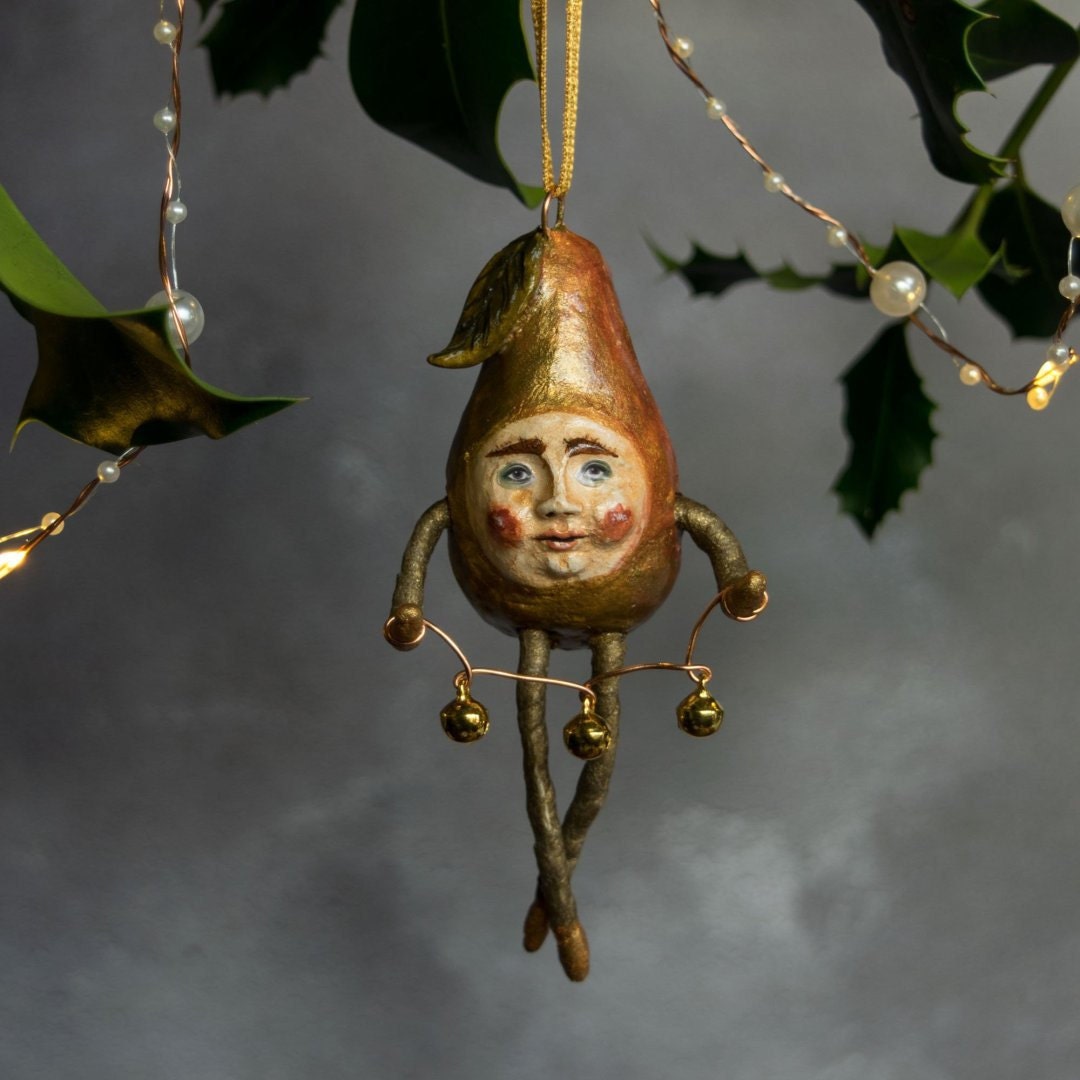 >
In addition to holiday decor and art dolls, you also sell jewelry, illustrated prints, and cards in your shop. Is there one category of items you personally favor?
I connect more with the holiday decor, I think—
Easter
,
Halloween
, and
Christmas
, especially. I want my seasonal figures to become heirlooms, so I put a lot of love into those. Next year I'm hoping to work more on my
illustrations
, which I've neglected a little this year. I want to see what else I can do with those—illustrating a book is one thing I'd love to try.
What are some of your best-selling items?
I think my best-selling item has been my
miniature cat mermaid necklace
and my
rabbit Red Riding Hood Christmas decoration
. My
moon men
prove very popular too, especially at art fairs and in a shop that I stock on the Albert Dock in Liverpool.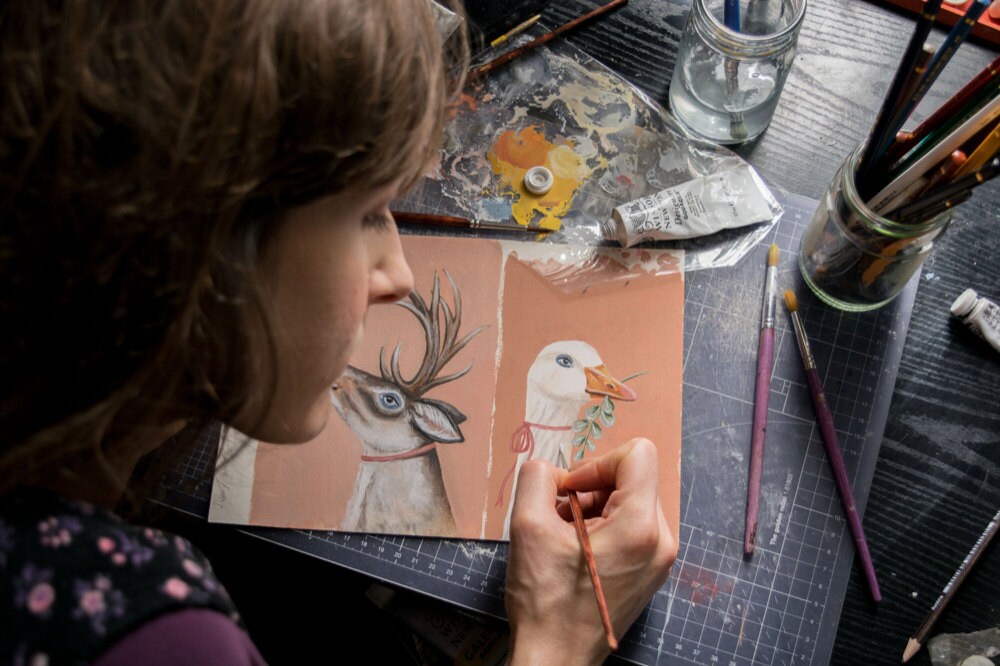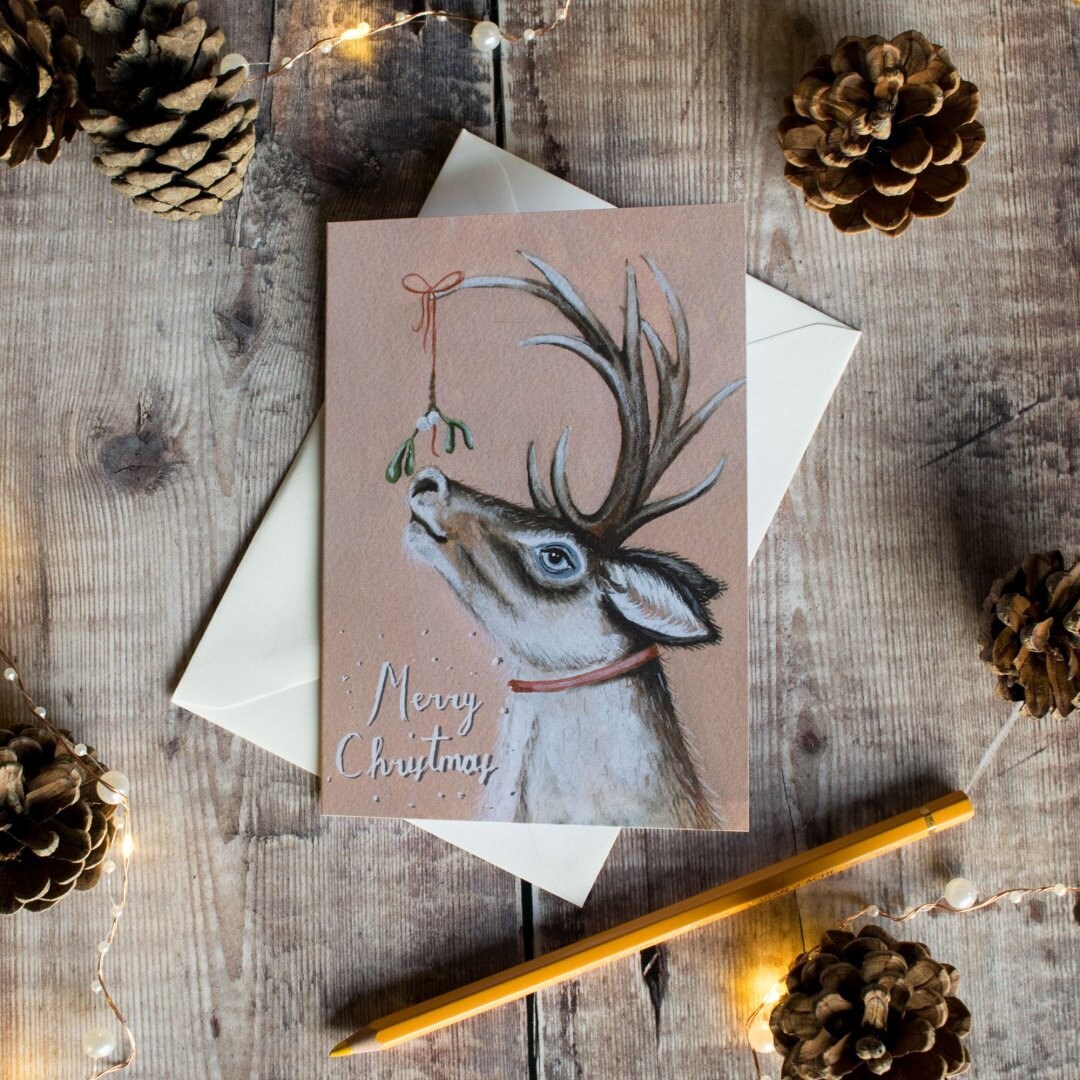 >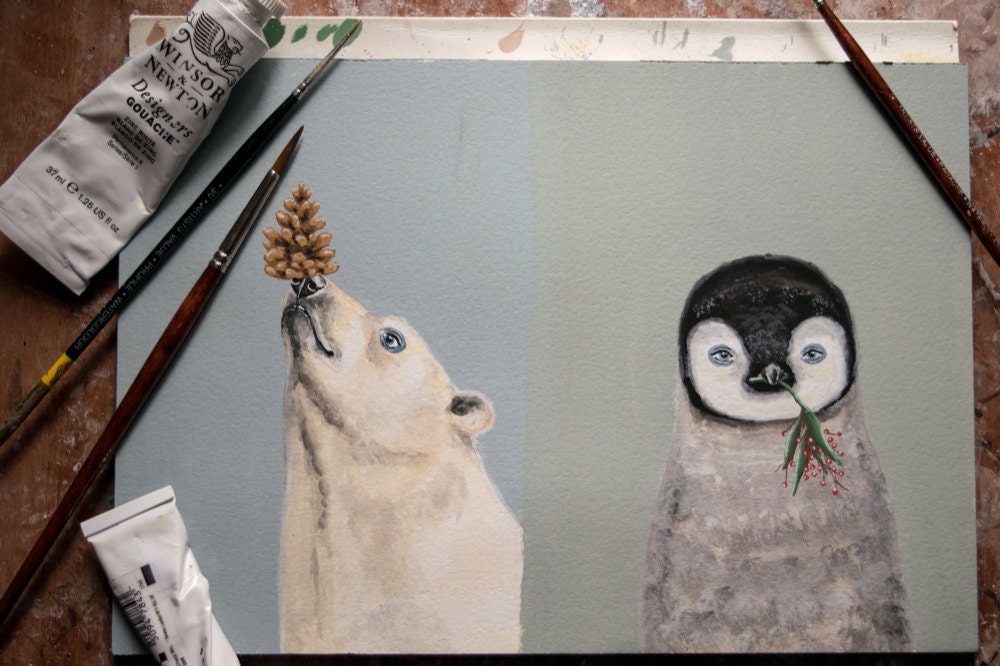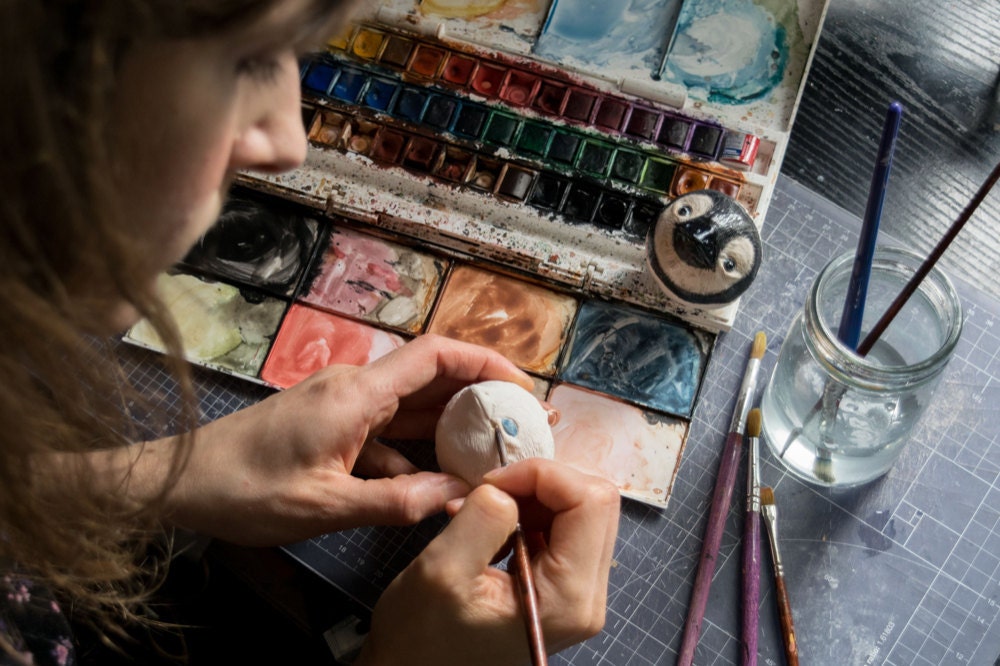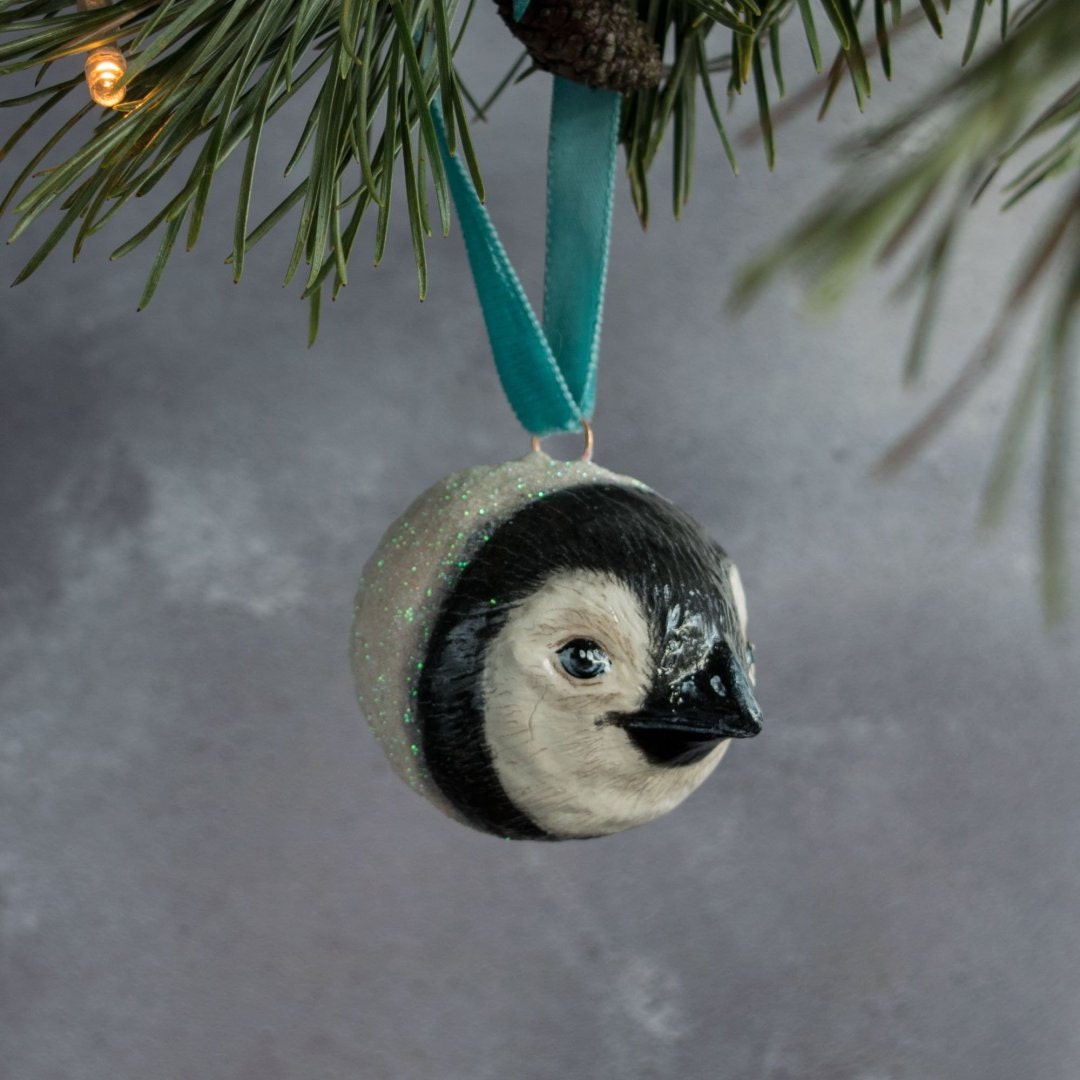 >
Your work seems very collectible. Do you have a lot of repeat customers?
I have a few repeat customers here on Etsy, which is really lovely. One lady in Canada is building up quite a collection of my
miniature art dolls
, which will be going on her Christmas tree this year; another of my repeat customers always buys a new hanging ornament for her daughter's tree each Christmas. And there's a woman in Wales who commissioned me to make a seagull lady in a ball gown last year, and this year she asked me to make a seagull man to dance with her seagull lady. They're now dancing away happily together in their new home.
What's next for your shop?
Right now I'm working on 10 or 11 designs for Christmas including a polar bear, a
fox
, a
barn owl
, two deer, a moon man, and a candy cane. Some of them will be in velvet suits or waistcoats, and one of the
deer
will be wearing a rust-colored bow.
Follow Kayleigh Radcliffe on Instagram.
Photographs by Kayleigh Radcliffe.