Pamper the senses from the comfort of home with heartwarming seasonal candles, soaps, and body butters from this sister-run small business.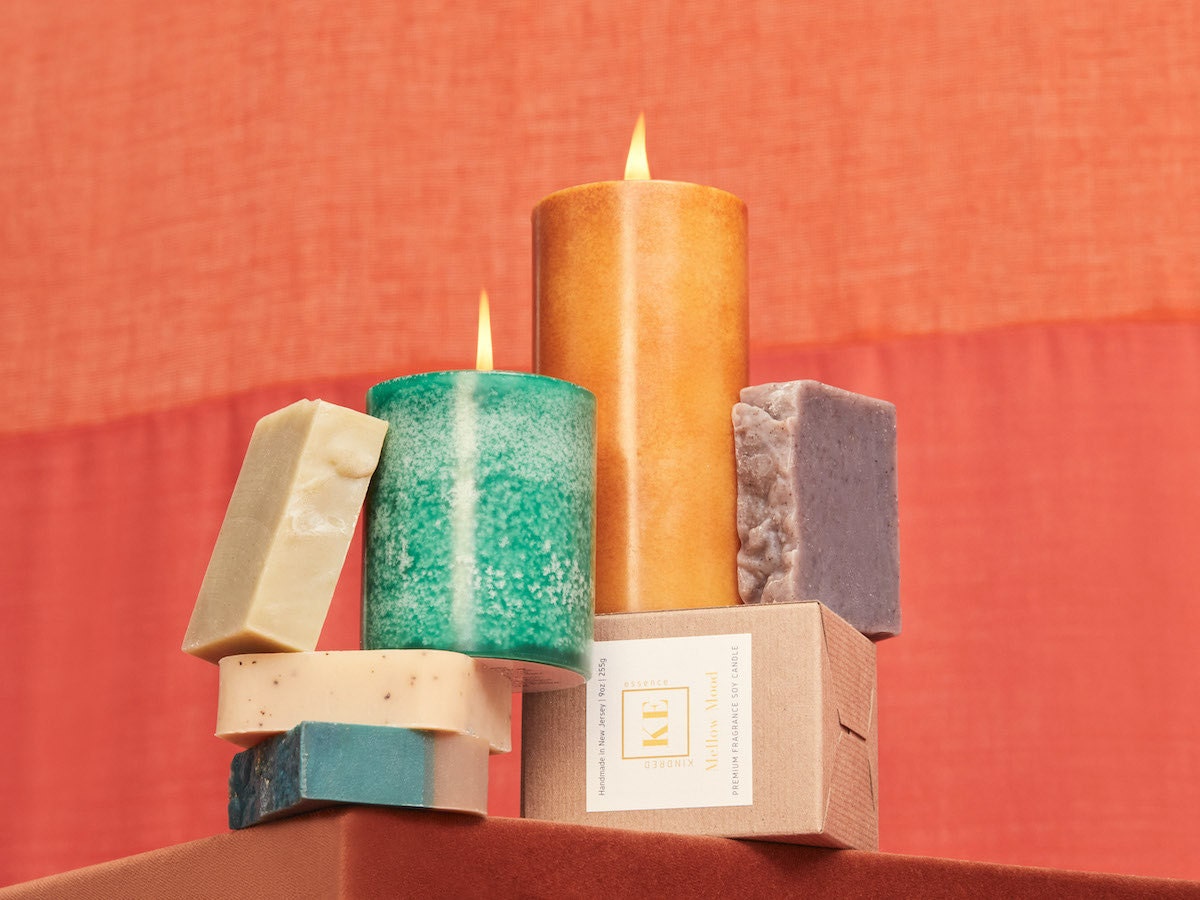 In our Featured Shop series, we shine a light on a standout shop from Etsy's talented seller community, offering readers a behind-the-scenes look at their process and story. .
Even on your average day, between all the scheduling, shopping lists, cooking meals, and calling on friends, finding a few precious moments to devote to your own wellbeing isn't always easy. So especially as we enter the whirlwind season of holiday prep, sisters and scent experts Sandra and Jennifer Mapp—co-owners of New Jersey-based shop Kindred Essence—are here to remind you that when it comes to giving yourself the gift of self-care, there's truly no time like the present. "We believe people should pamper their bodies and their senses," explains Sandra. "At the end of the work day, you can light one of our candles, lather up with our soap in the tub, and then get out and moisturize your skin with some hydrating body butter."
A shared appreciation for candles with familiar fragrances inspired the savvy sisters to join forces in 2008 and open Kindred Essence, where Jennifer creates the one-of-a-kind scents, hand-pours the soy candles, and whips up the skin-softening soaps and body butters, while Sandra spearheads sales, marketing, and customer service. Over the years, the two have built a timeless collection of giftable goodies designed to soothe the soul and lift the spirits throughout the changing seasons. Whether you're looking for a good-smelling grooming gift for the guy in your life or perfectly preserved notes of cinnamon and spice to set the tone for festive family celebrations, there's an aroma in the Kindred Essence line to warm your home and melt your heart. "This time of year is all about good vibes, good food, and positive memories," Sandra says. "Our products give that idea life."
Read on to hear more from Sandra about how the Mapp sisters' signature scents are inspired by personal history and memorable moments, and shop the Kindred Essence collection.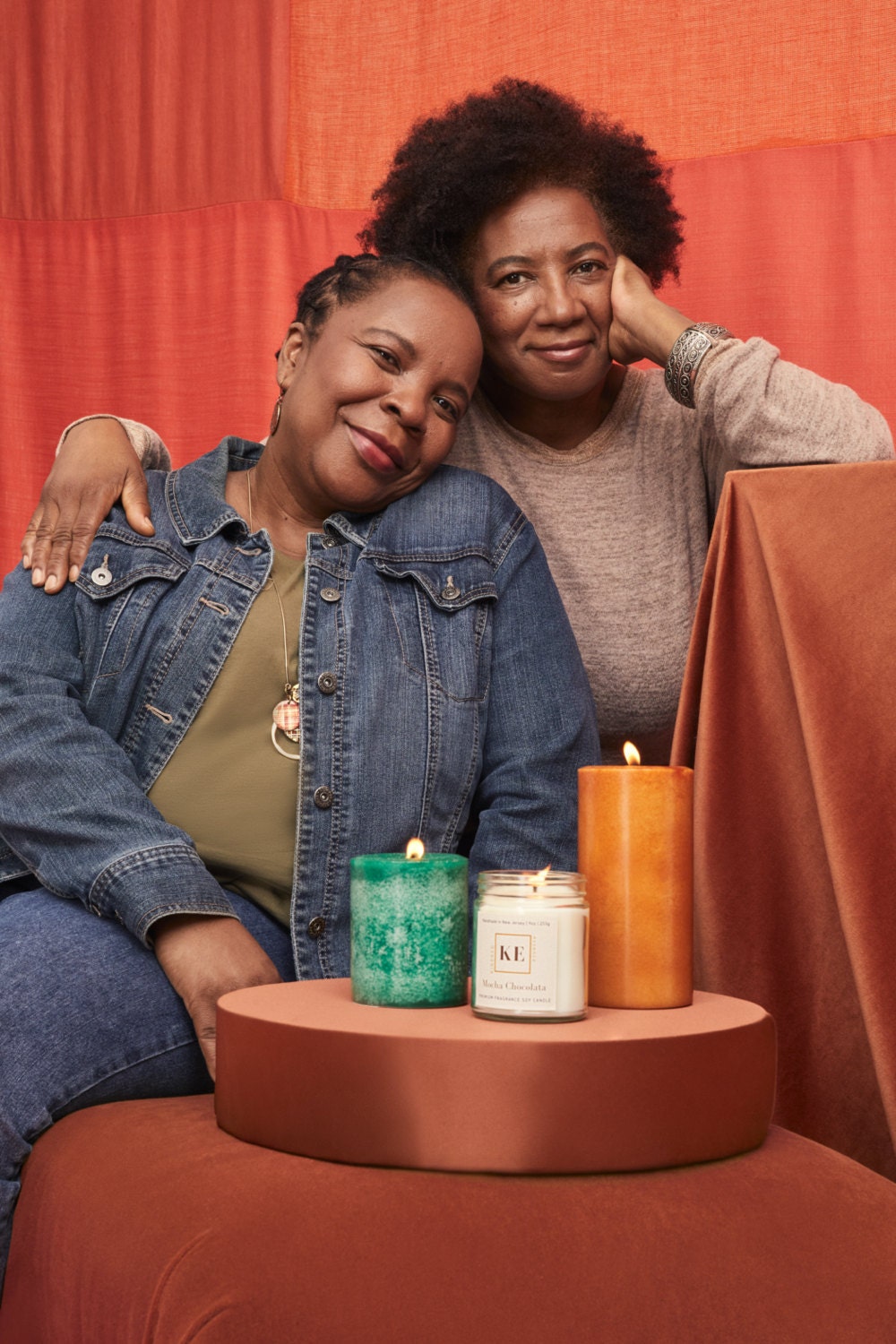 Kindred Essence co-owners Sandra Mapp (left) and Jennifer Mapp (right), photographed by Taylor Rainbolt
How did you get started selling scented candles and bath products?
We love buying and burning scented candles, and one day, Jennifer decided she wanted to try making them herself. She did her research, got into the kitchen, and started testing. So much goes into the process, from the size of the wick to making sure the fragrance blend is just right. Eventually, she felt comfortable enough to share her candles with family and friends. I loved what she created, and when she came to me with the idea to start a brand, we decided to go into business together.
What makes self-care such a good gift this time of year?
The holiday season is so stressful, the last couple of years even more so. We always encourage people to take some 'me time.' Our products definitely call to that. Coming home from work—or even leaving your home office and going to your bedroom or living room on a stressful day—is the perfect time to light a candle or soak in the tub. Our soaps give amazing lather, and our body butters are really moisturizing and hydrate the skin.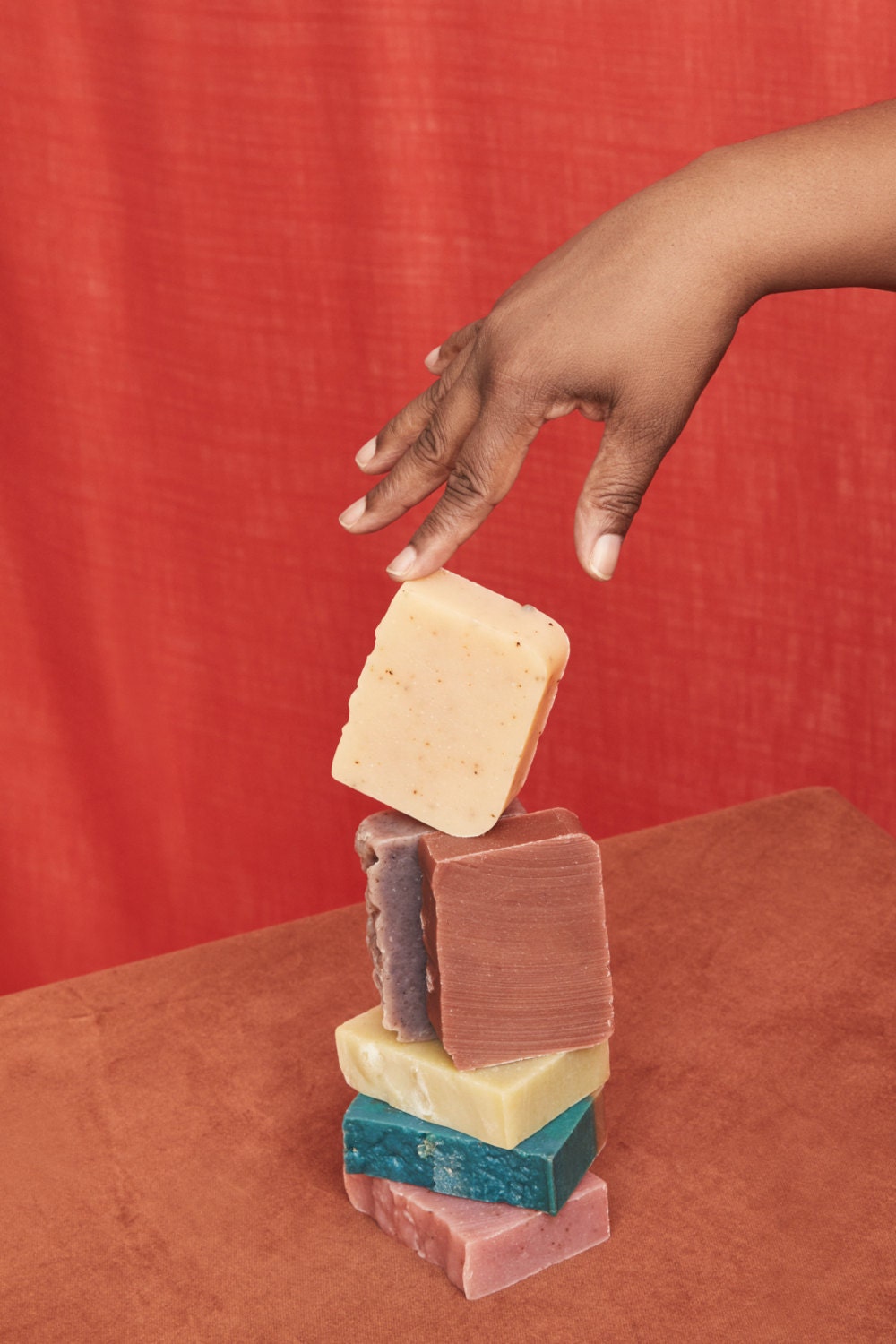 SHOP: Scented soaps from Kindred Essence, $9 each (Photographed by Taylor Rainbolt)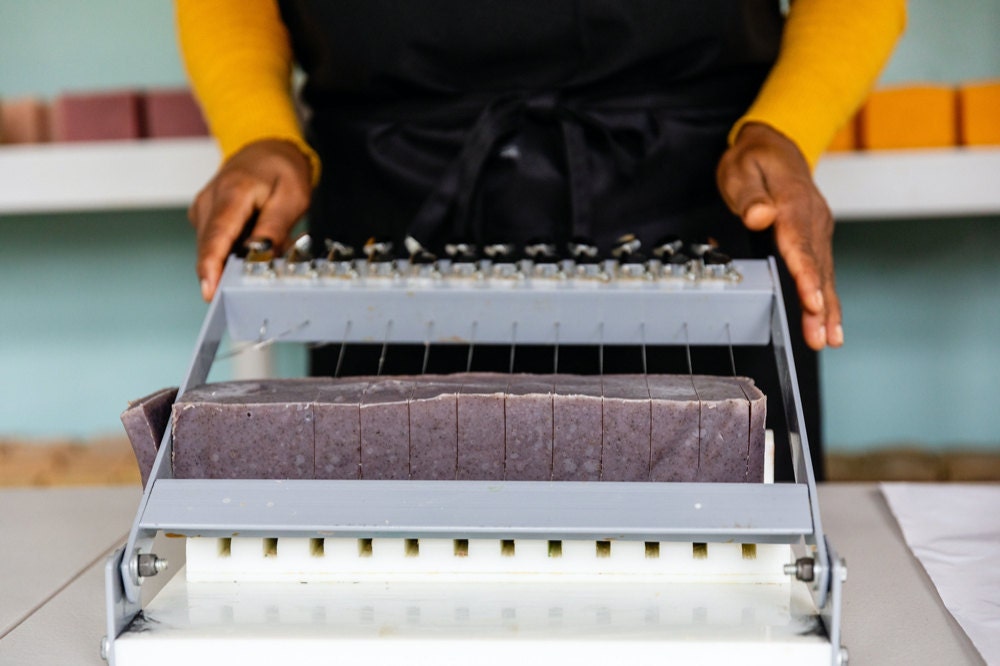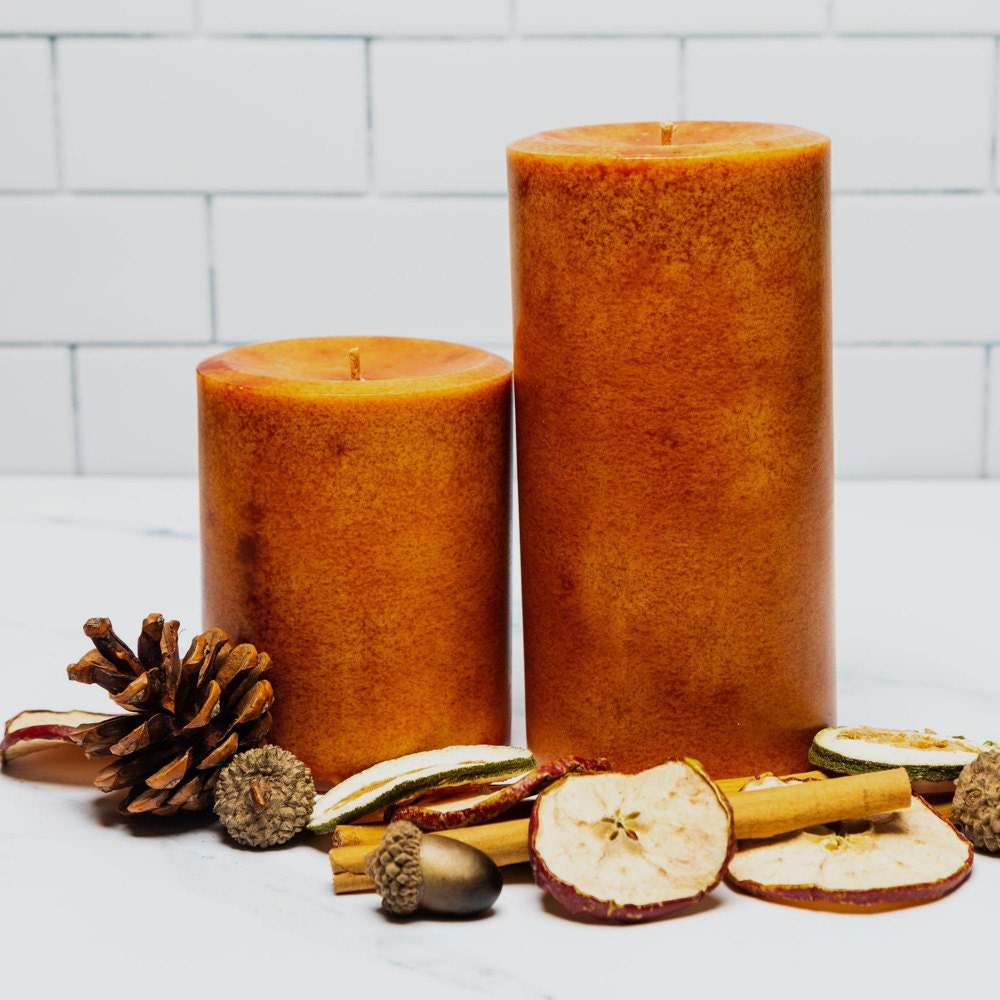 SHOP: Caramel Apple pillar candles from Kindred Essence, from $23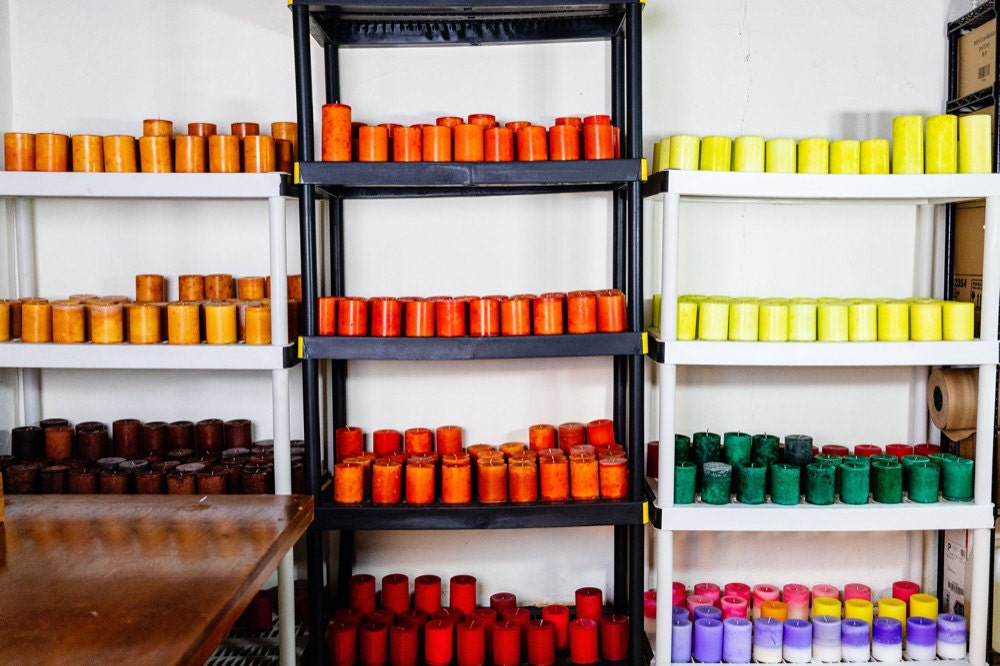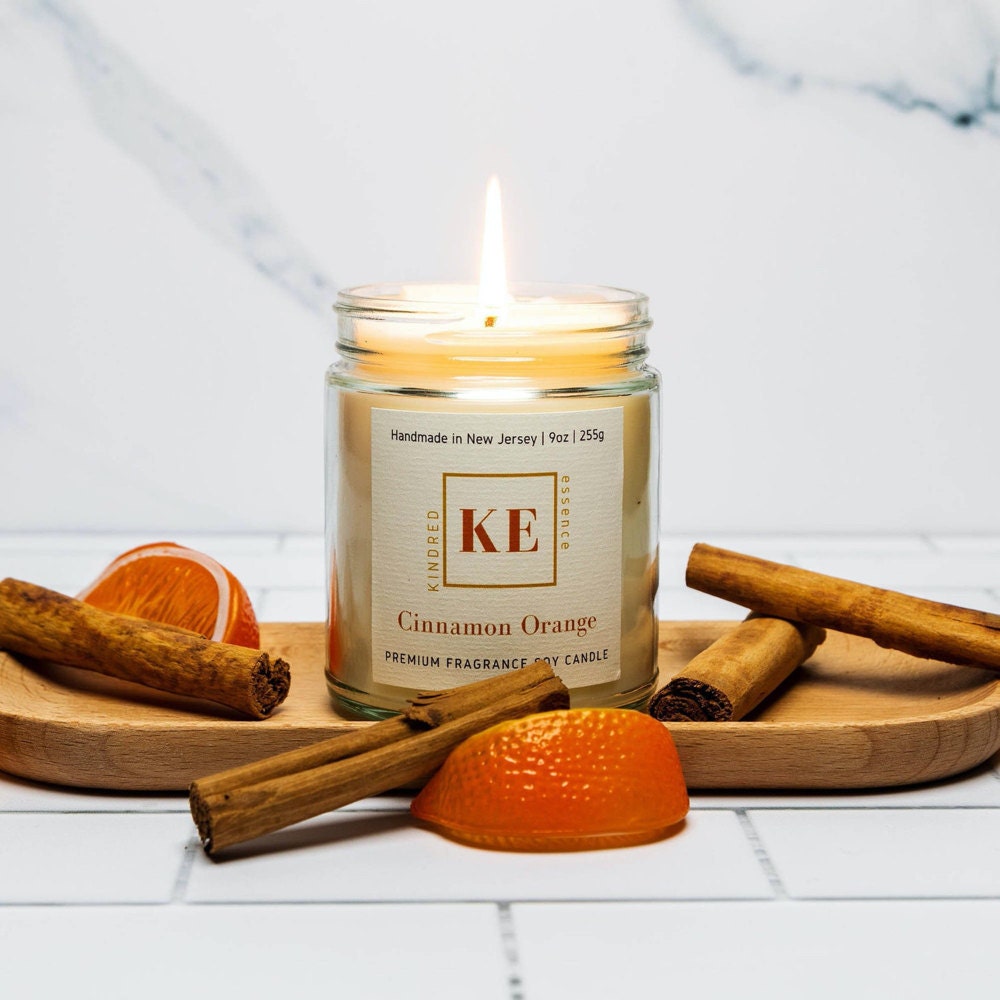 SHOP: Cinnamon Orange candle from Kindred Essence, $25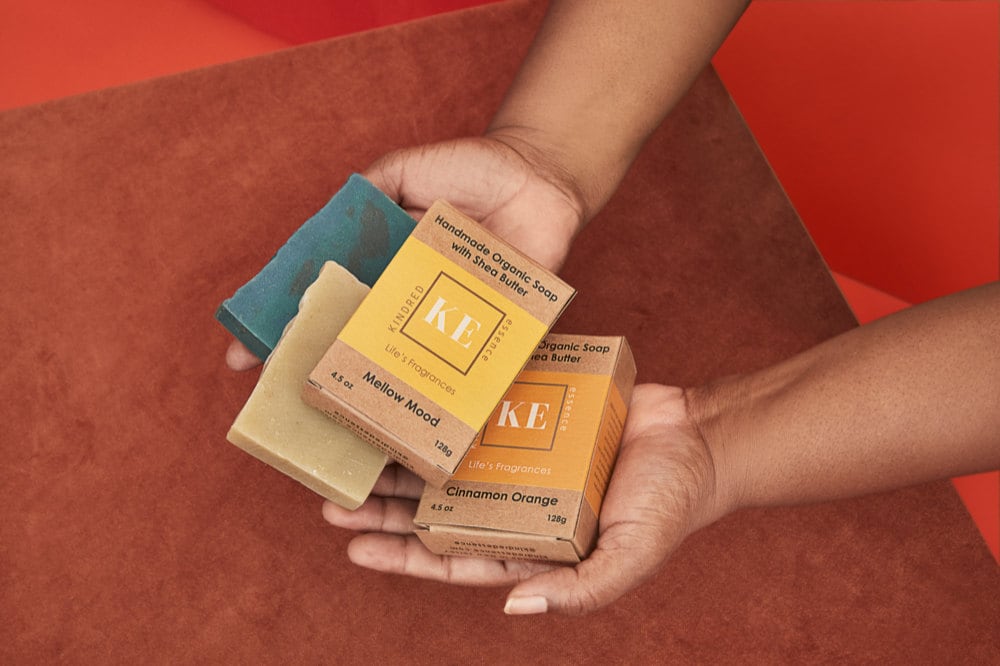 SHOP: Scented soaps from Kindred Essence, $9 each (Photographed by Taylor Rainbolt)
How would you say nostalgia for different scents plays into this idea of self-care?
Positive memories affect your senses, and that's something we're conscious of when we make our products. People have different tastes—some like a more sophisticated, complex scent or fragrance note, and others are traditional and want spices. Scent is unique and subjective to everyone, and I think a lot of that has to do with our memories.
Can you share some of the personal memories that have inspired your products?
With our fall fragrances, like Caramel Apple, it reminds us of our mom and grandmother cooking and baking. It's like going back to childhood. Then Rosemary Eucalyptus, Bajan Breeze, and Paradise—those all reflect memories of our tropical upbringing. When we got sick, it was always natural herbal remedies. Our grandma would go to the hedge and cut grass and boil it into an herbal mixture. We have a ginger coconut scent that we're holding for after the holidays, which we developed because we wanted a scent that captured our youth in Barbados, and tropical fruits, as well as ingredients our mother and grandmother would use.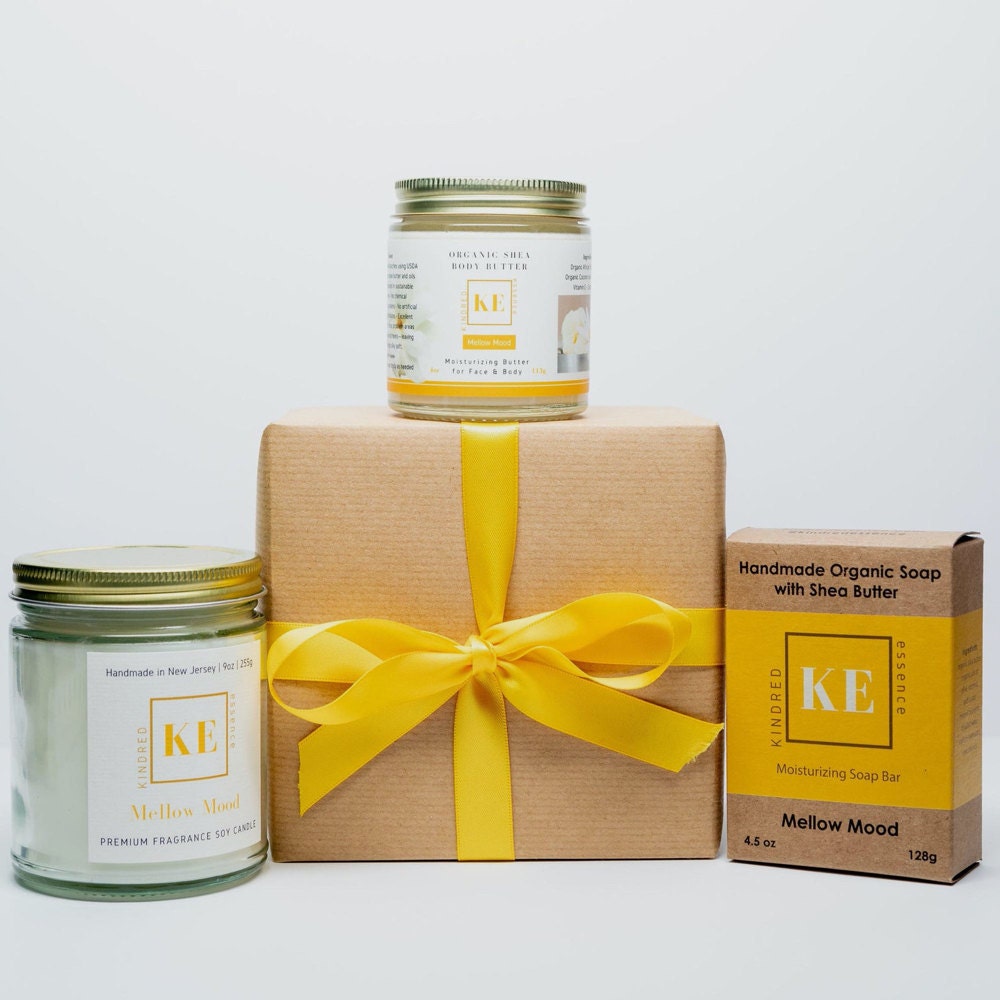 SHOP: Three-piece spa set from Kindred Essence, $49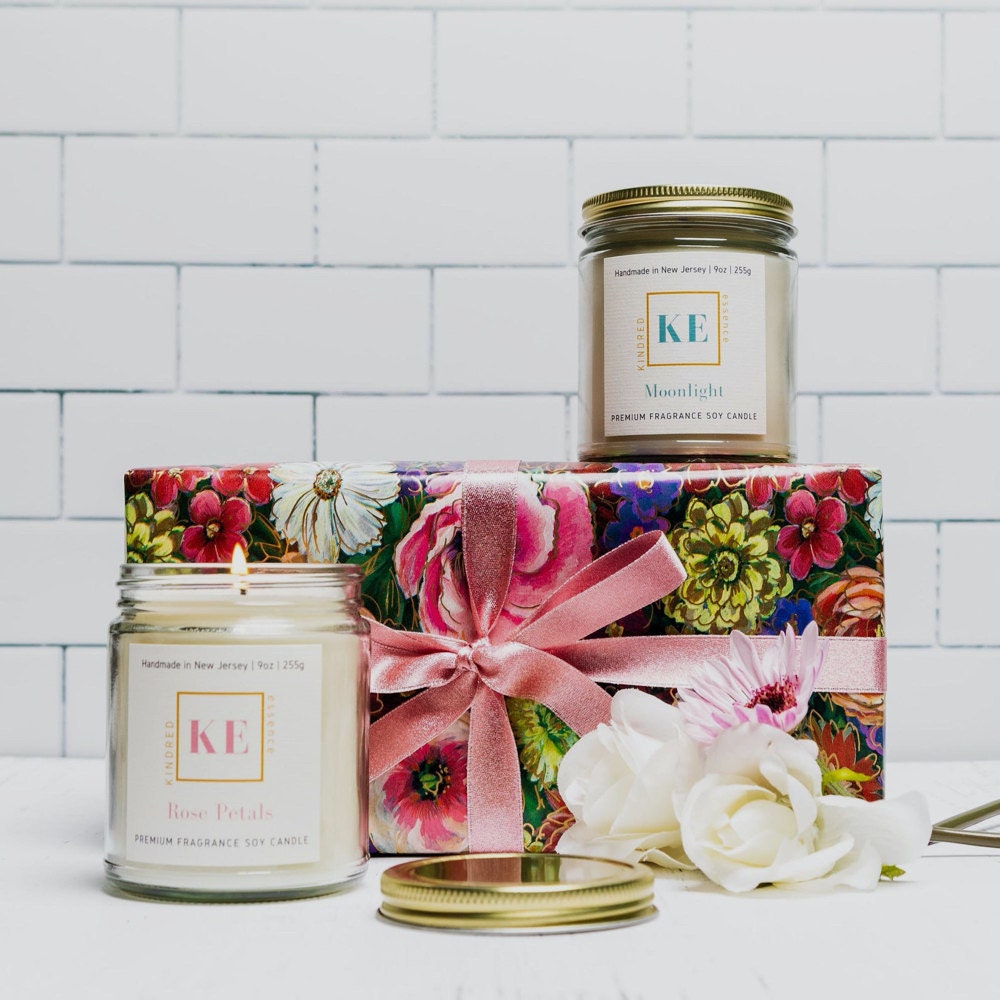 SHOP: Scented candle gift set from Kindred Essence, $48 for set of 2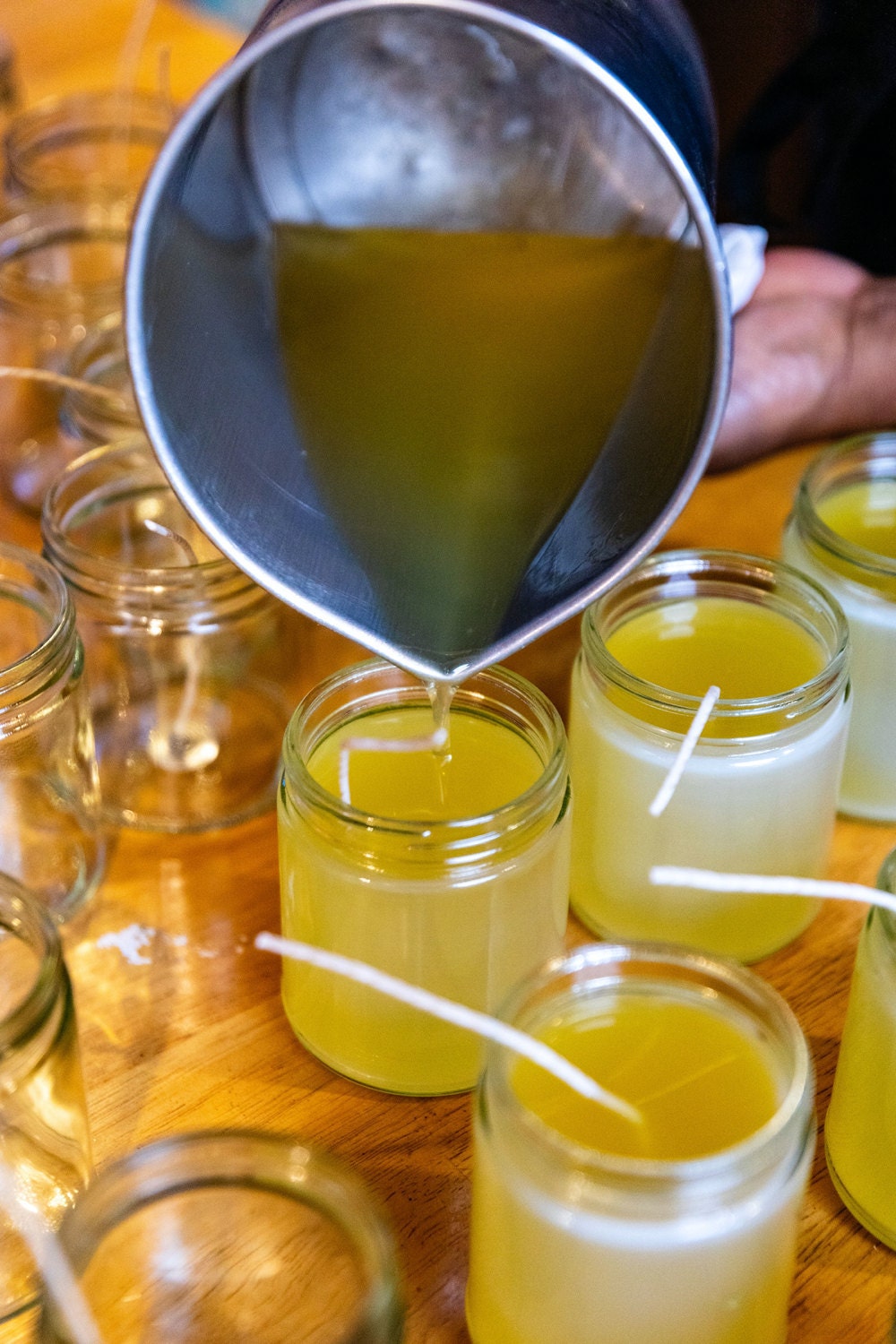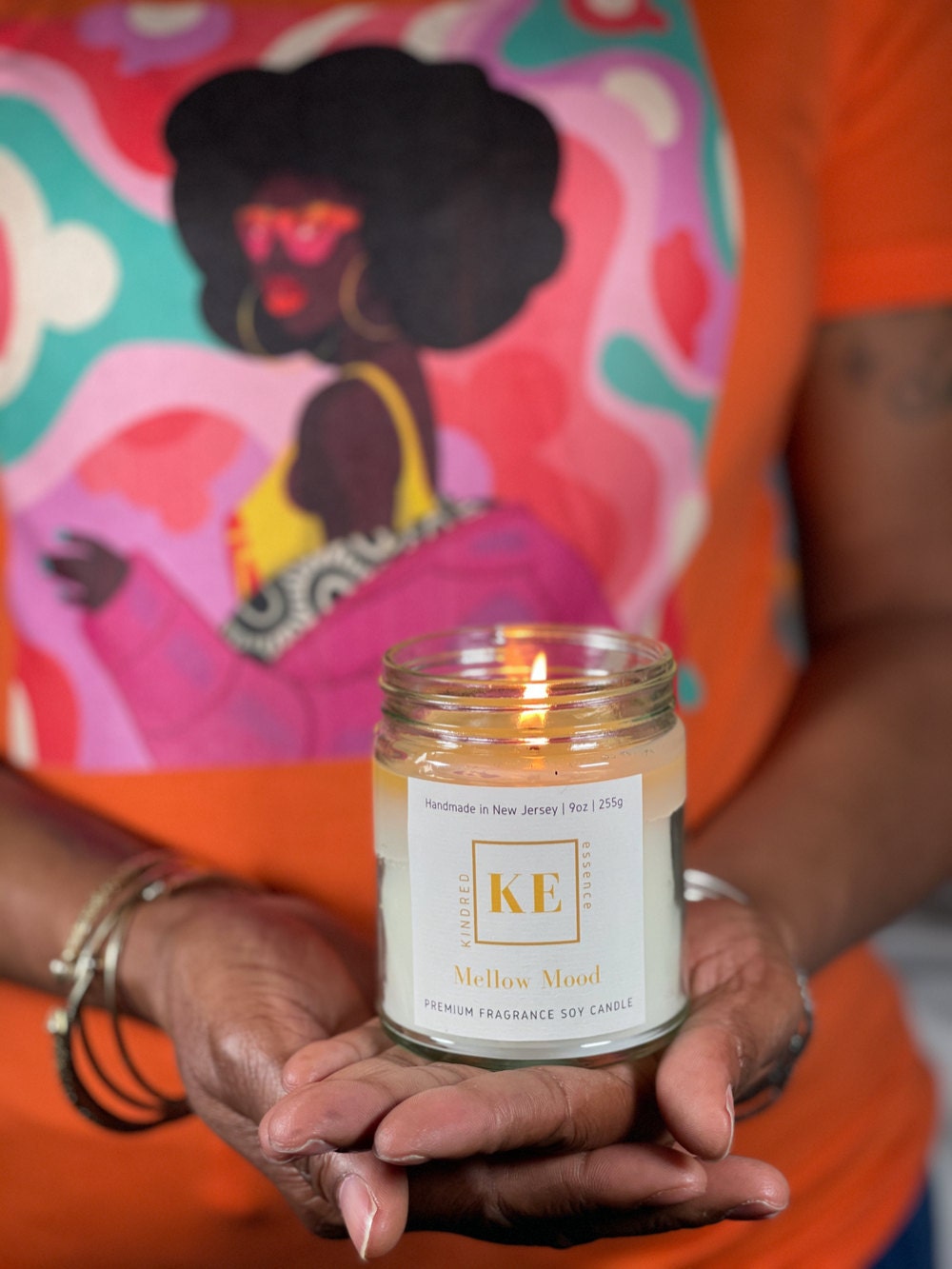 SHOP: Mellow Mood candle from Kindred Essence, $25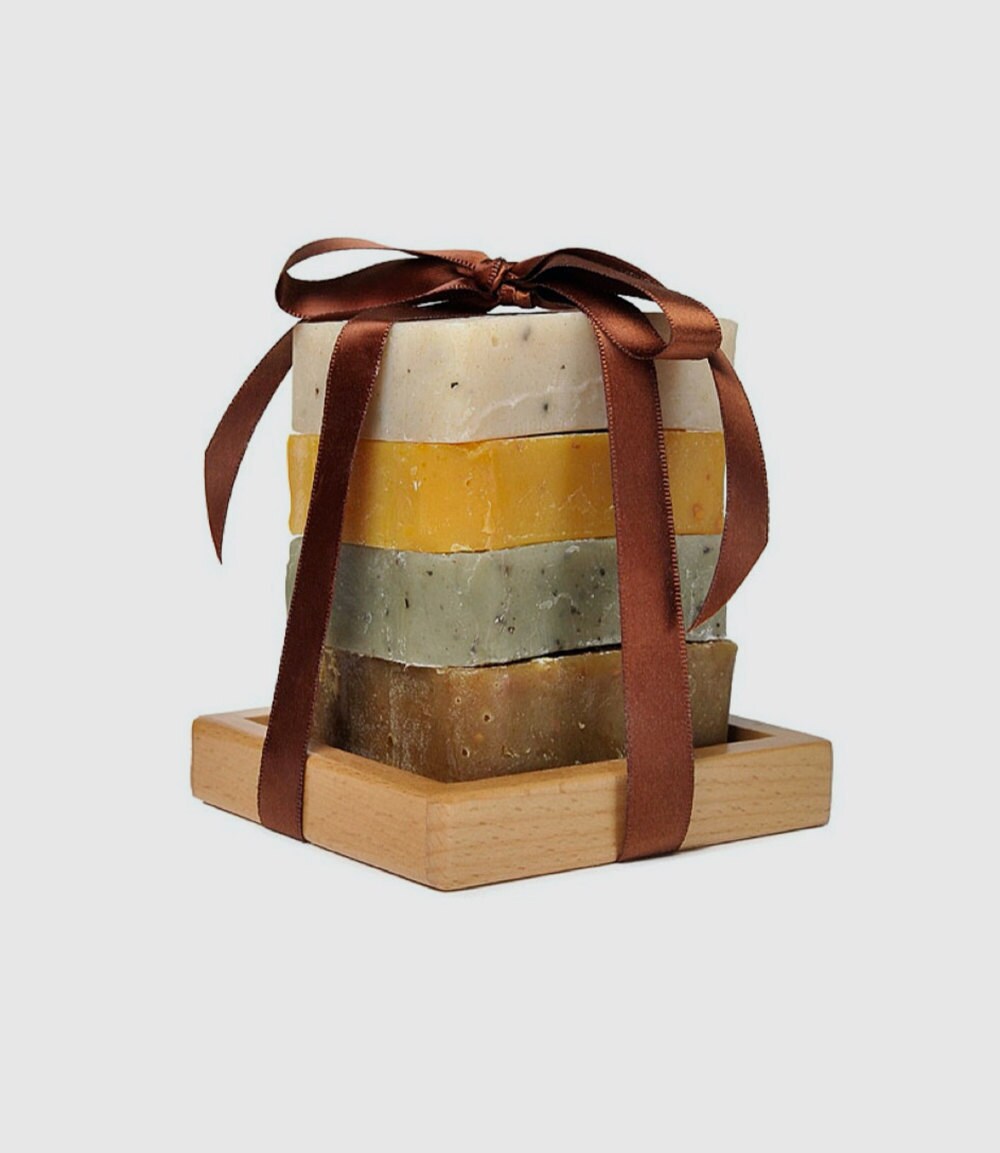 SHOP: Scented soaps from Kindred Essence, $9 each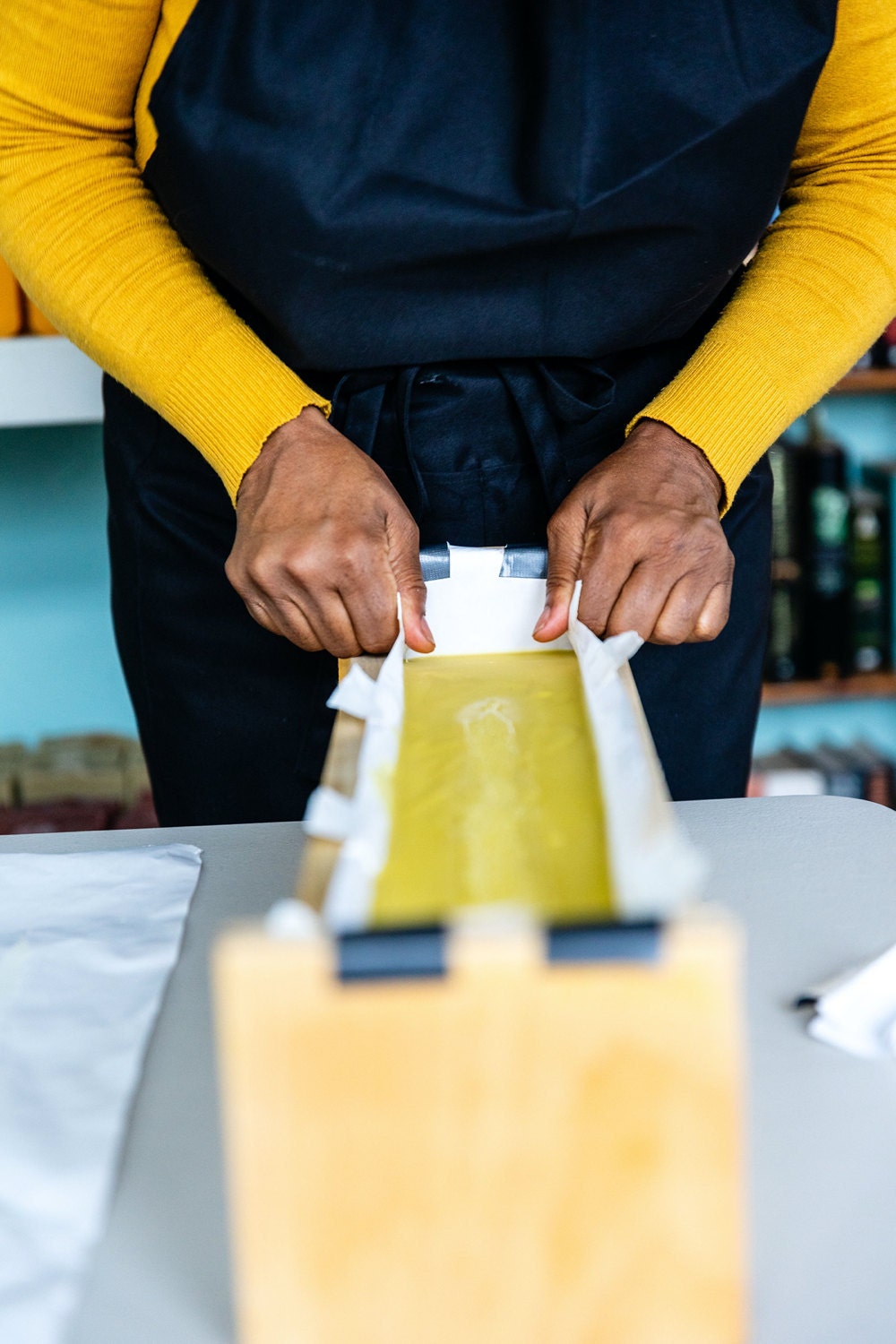 Obviously candles are great for creating a self-care moment, but do you also see lots of customers using them to complement their seasonal decor this time of year?
Oh, definitely. Fall and holiday are the busiest time for any candle maker. Part of it is that people love the colors of the fall season, like orange, amber, green. The pillar candles we sell in those colors always fly out of the store. Customers use them to fill their containers or vases for the season. Some of them even tell us that they think the candle looks so good, they don't want to light it! They'll buy one set of pillars just for the decorative aspect, and a second set to light.
Can you tell us about some of your best-selling fragrances?
Right now, our most popular candle is the Cinnamon Orange, which comes in a burnt orange that works great in seasonal decor. That's also true for Harvest Spice and Caramel Apple—they all really burst forth during the harvest season. As we leave fall and people switch over to holiday scents, we have our Balsam Fir and Christmas Wreath candles, which come in shades of green and red.
For the soaps, Patchouli Rose and Cinnamon Orange are very popular. And Lavender Oatmeal and Patchouli Rose are great for exfoliating the skin. The lavender comes with oatmeal flakes, and the patchouli soap has rose petals in them. We also sell a lot of Frontiersman and Forest, which are our most popular masculine soaps.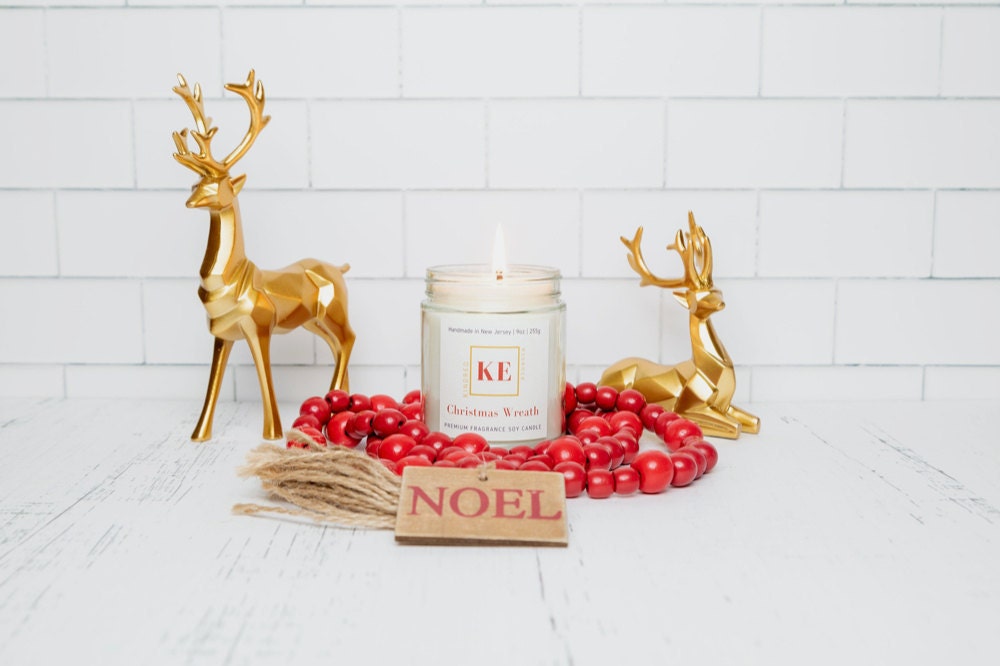 SHOP: Christmas Wreath candle from Kindred Essence, $25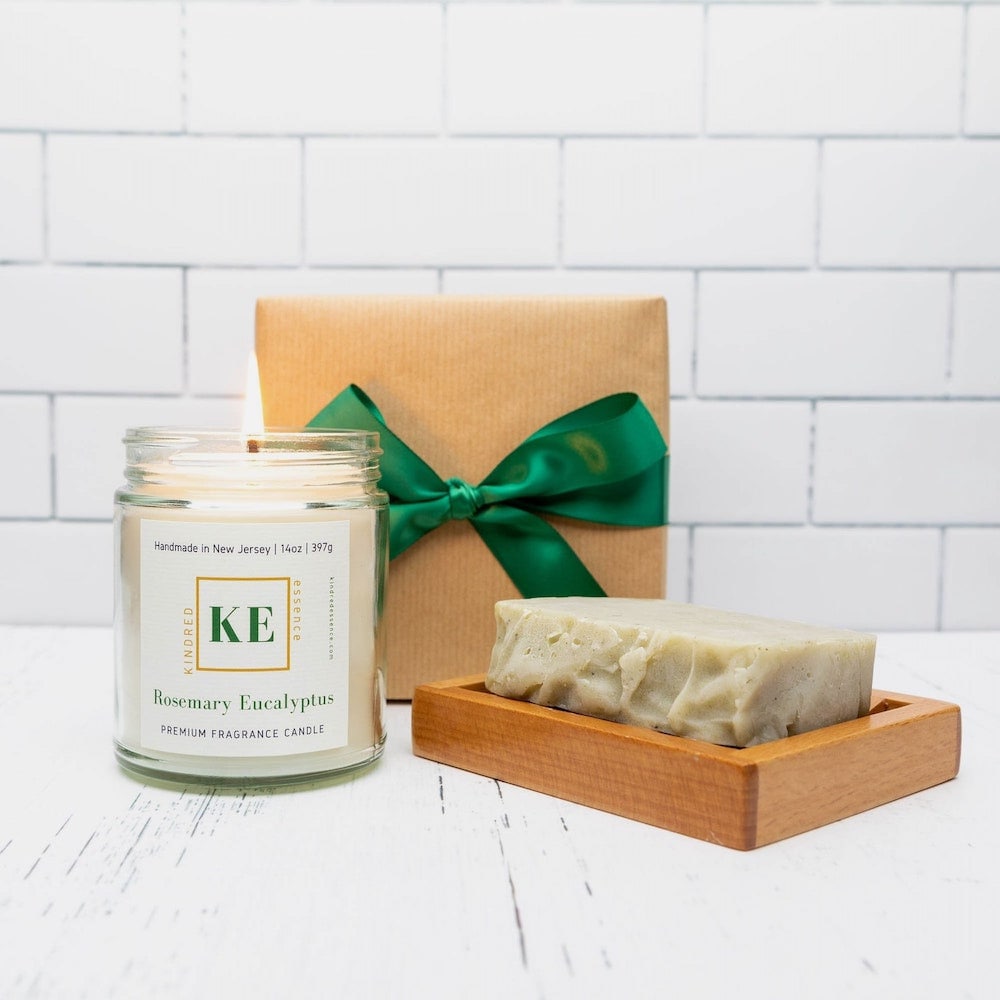 SHOP: Three-piece spa set from Kindred Essence, $49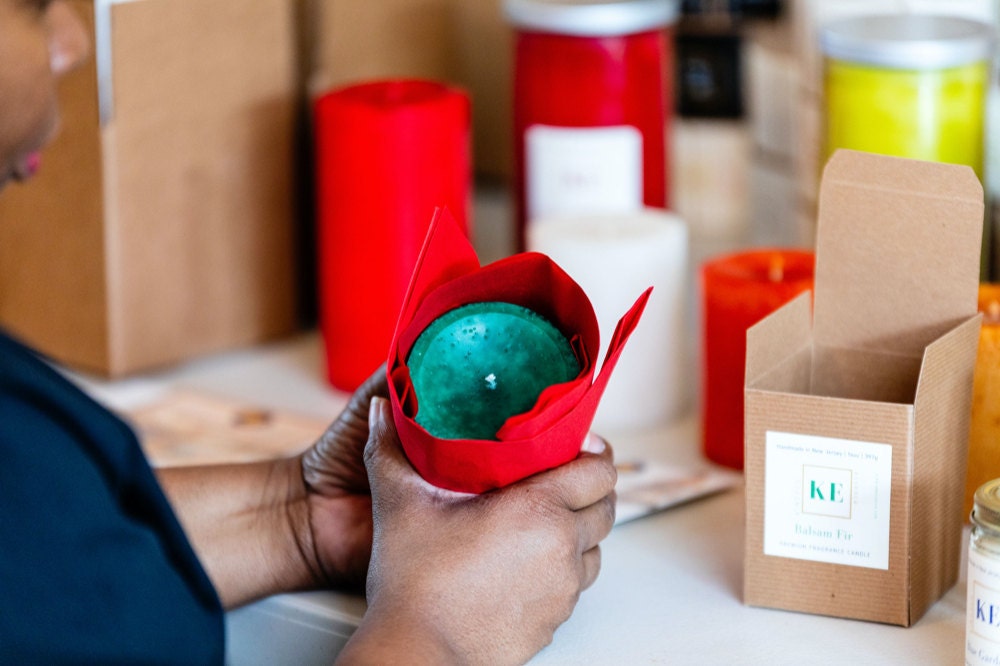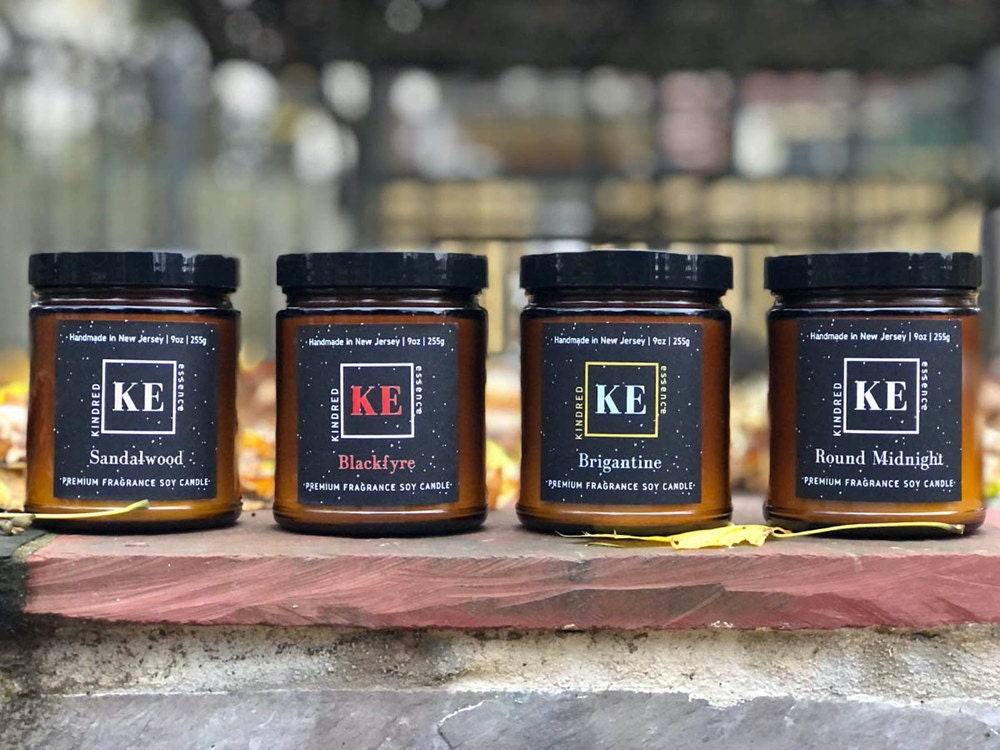 SHOP: Scented candles for him from Kindred Essence, $25 each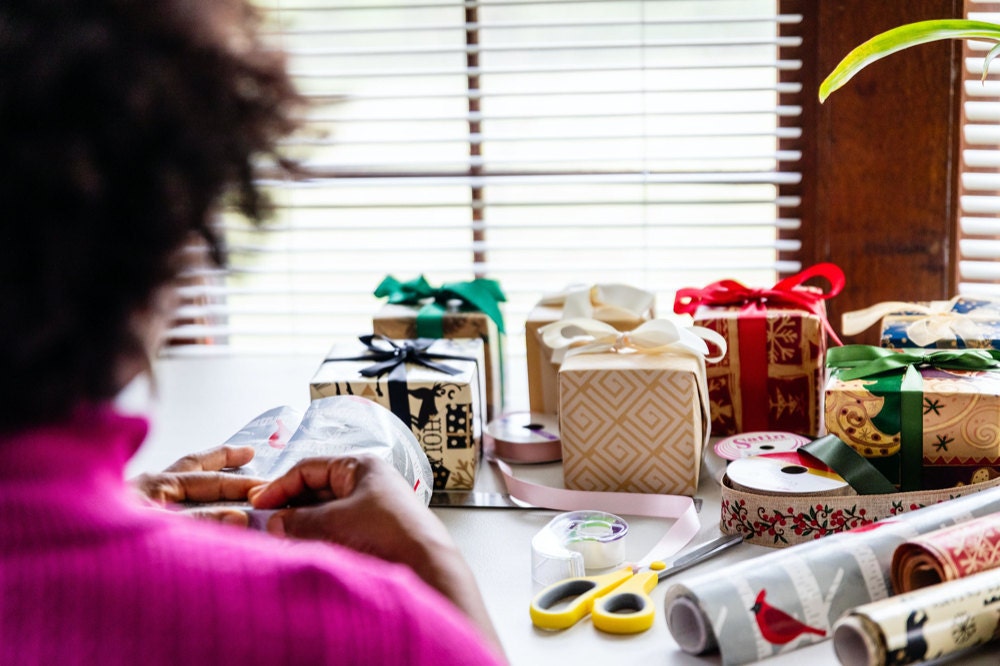 Where do you turn for inspiration, and how do you turn an idea into a product?
Memory, nature, our physical surroundings. The trees, plants, flowers. Music. We're from the islands, and we love tropical colors like yellow, orange, and turquoise. We like vibrancy.
But it always starts with the fragrances. Jennifer does a lot of blending and testing to come up with the scent combinations. Then we share products with friends and family to get more feedback. One of our biggest testers is our nephew and his buddies, and they made us realize that candles are for men, too! We have a new men's candle, Blackfyre, and we're really excited to see how that does this year. We've also added a gift set for men, and so far, the feedback has been great.
What are some of your favorite gifts for the holidays?
Our candle and soap combination gift sets sell really well during the holidays. Many of our customers love buying seasonal fragrances this time of year, but they'll gift our other scents, too. Our Rose Petal scent is very popular for mothers all year long. Our Mellow Mood candle has been selling really well lately, and we're particularly excited about our new 3-piece Mellow Mood gift set, which features a candle, soap, and body butter. On the men's side, the Sandalwood and the Brigantine are popular gifts. Jennifer came up with a great fragrance for Brigantine, and I love her duo-tone color design for the soap, with the brown for the sand and then blues and greens to echo the ocean.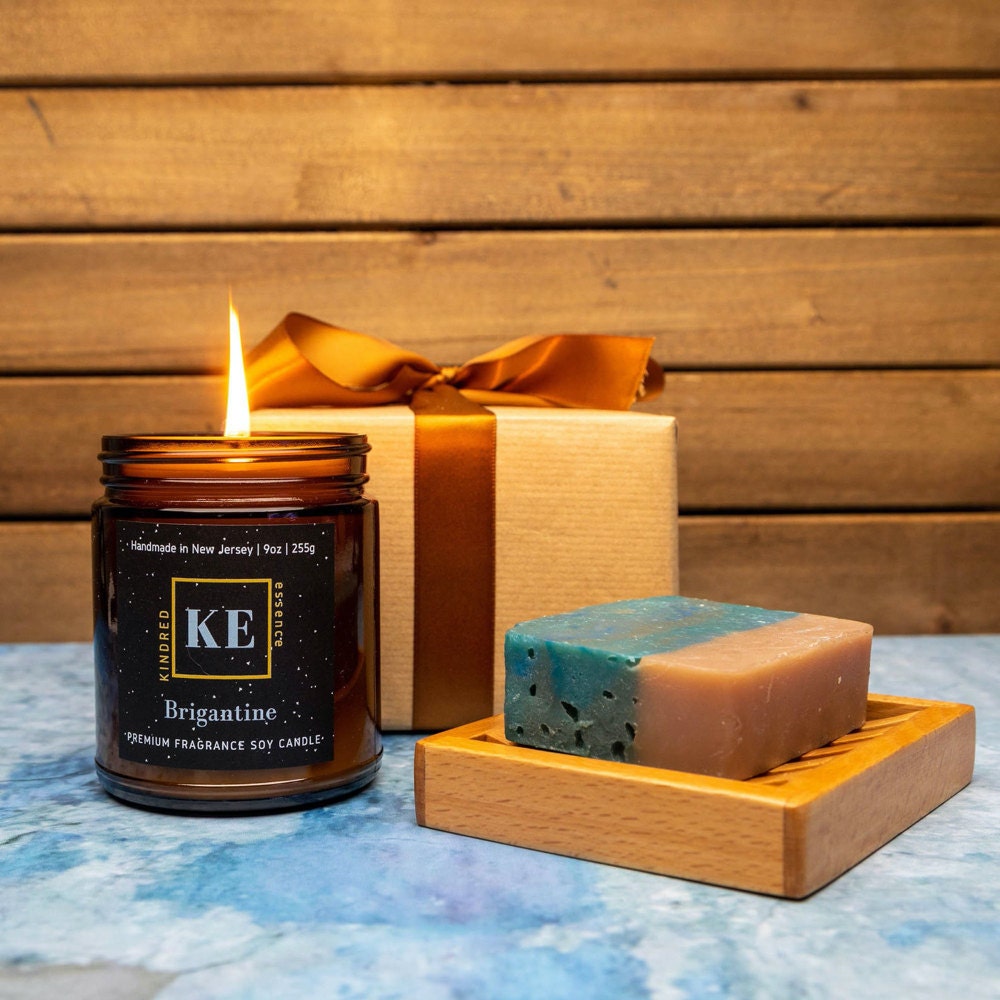 SHOP: Brigantine 3-piece spa set for men from Kindred Essence, $49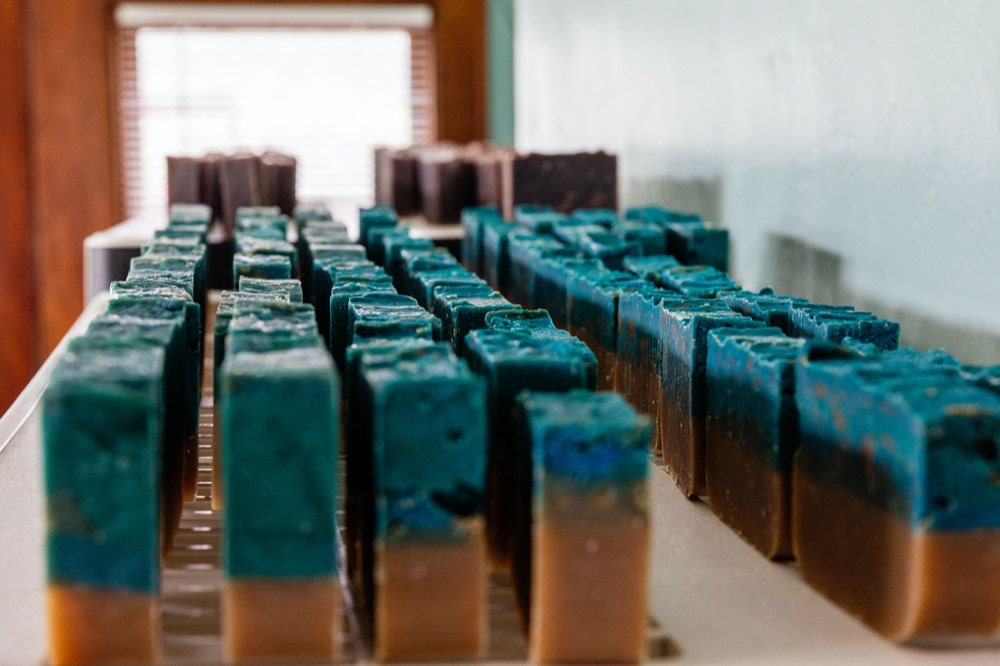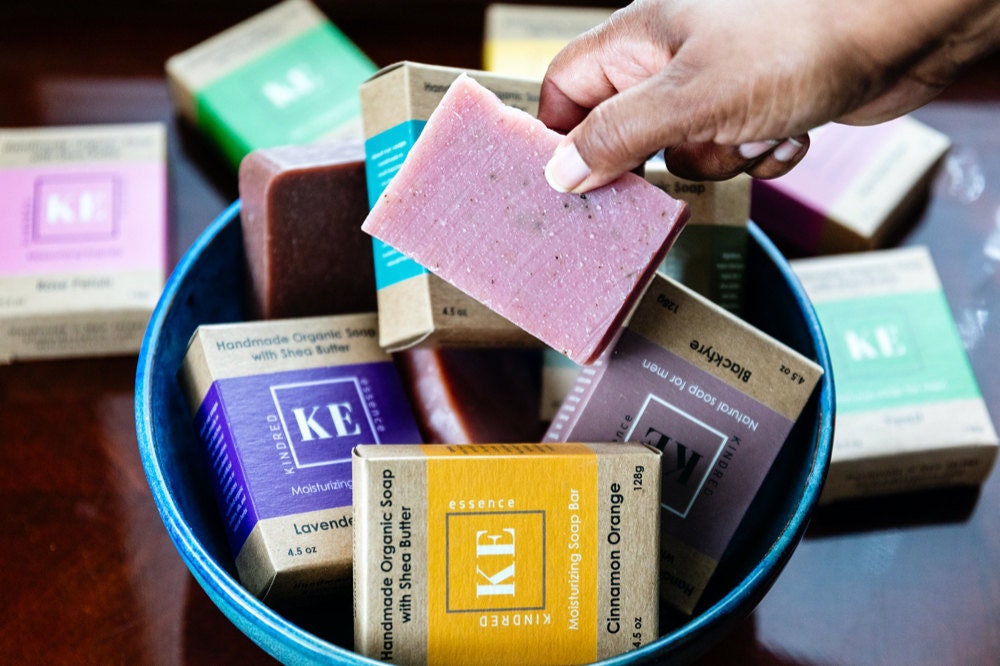 SHOP: Scented soaps from Kindred Essence, $9 each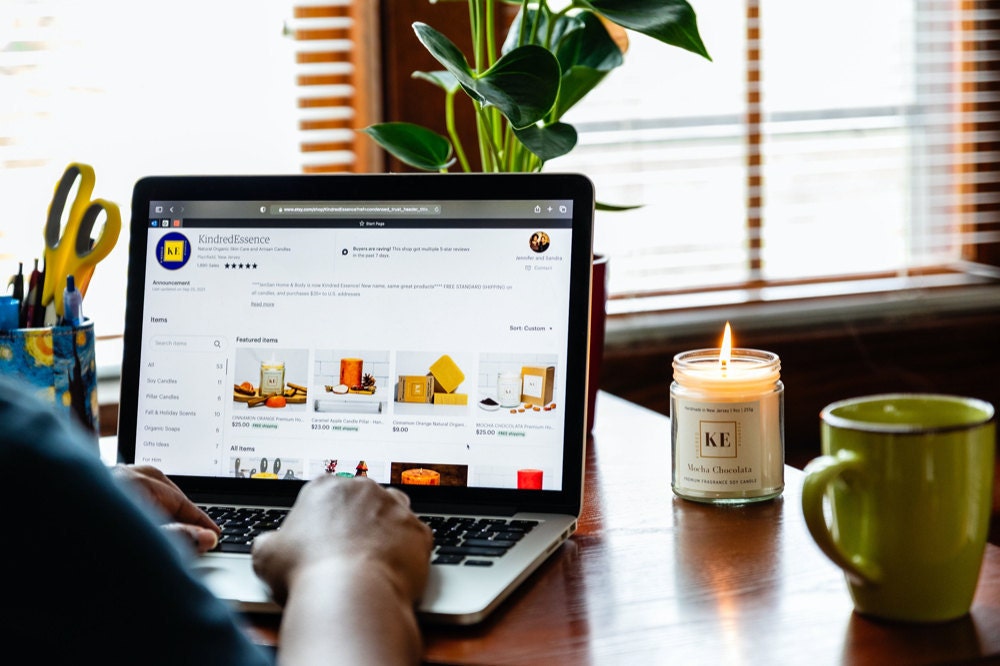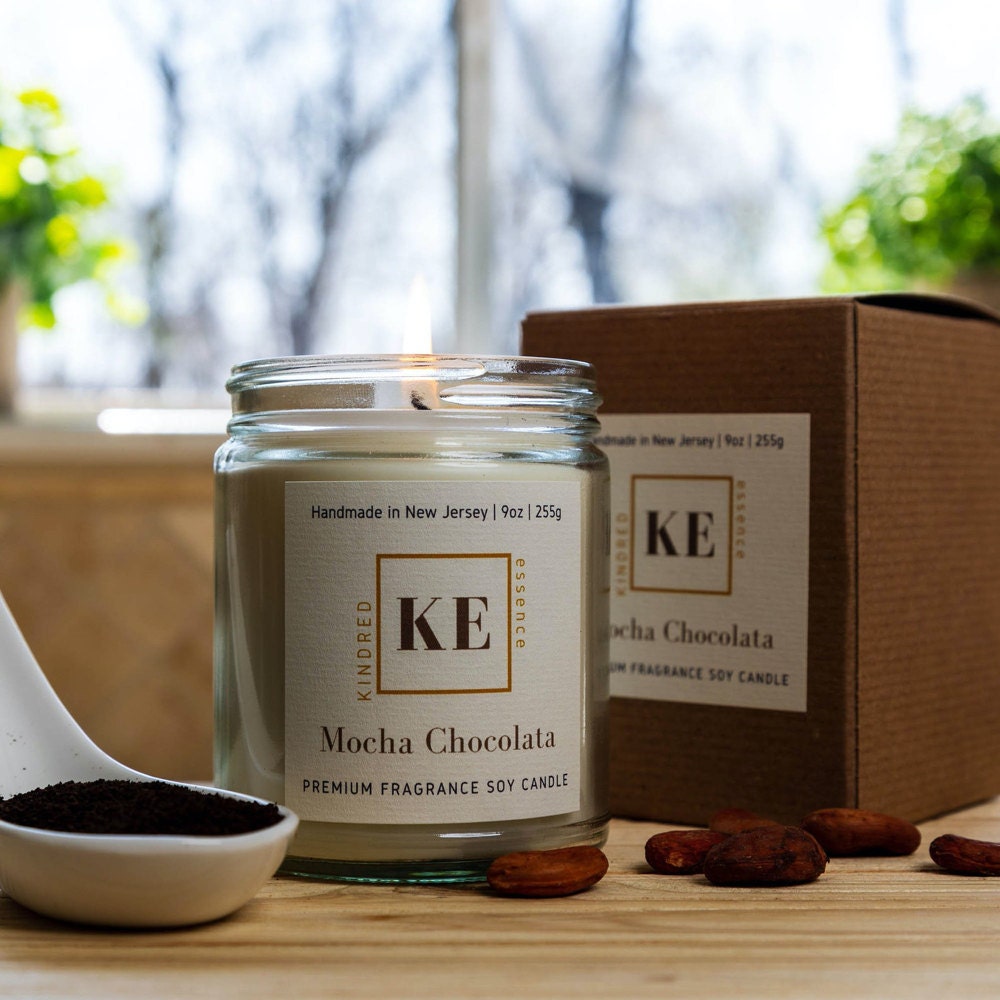 SHOP: Mocha Chocolata candle from Kindred Essence, $25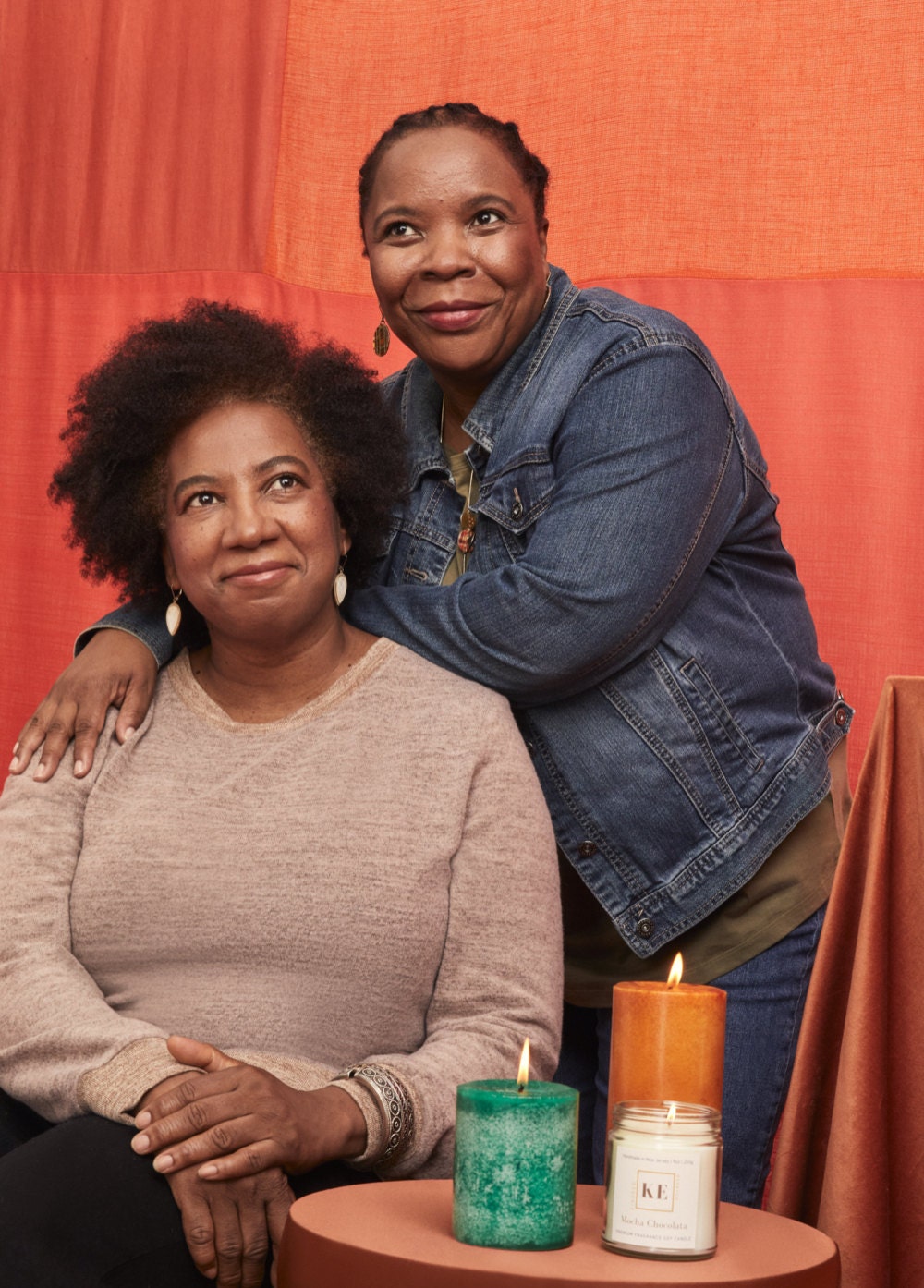 Photographed by Taylor Rainbolt
You're part of a flourishing community of Black women creatives on Etsy. What does that mean to you?
We're happy that we're getting more exposure, and hopefully the community continues to grow and people support each other. It's great to see a growing number of Black women who are using Etsy to build their business or build financial opportunity. We love seeing Black women candle makers, too—the more, the merrier!
So, what's next for Kindred Essence?
Aside from the ginger coconut scent we're launching next year, we're also planning to bring body scrubs back, and we'd like to launch body oils and hair products as well. We're also looking into moving into a bigger space—right now, we work in a big basement! But where we work doesn't matter as much as what we do. We love being creative. Ideas come into our head, and we run with them. Kindred Essence is our baby, and it feels great because it's ours. We get out of it what we put into it. That's the best part.
Follow Kindred Essence on Instagram, Twitter, Pinterest, and Facebook.
Studio photography by 31BT Media for Kindred Essence unless otherwise noted. Product photography courtesy of Kindred Essence.