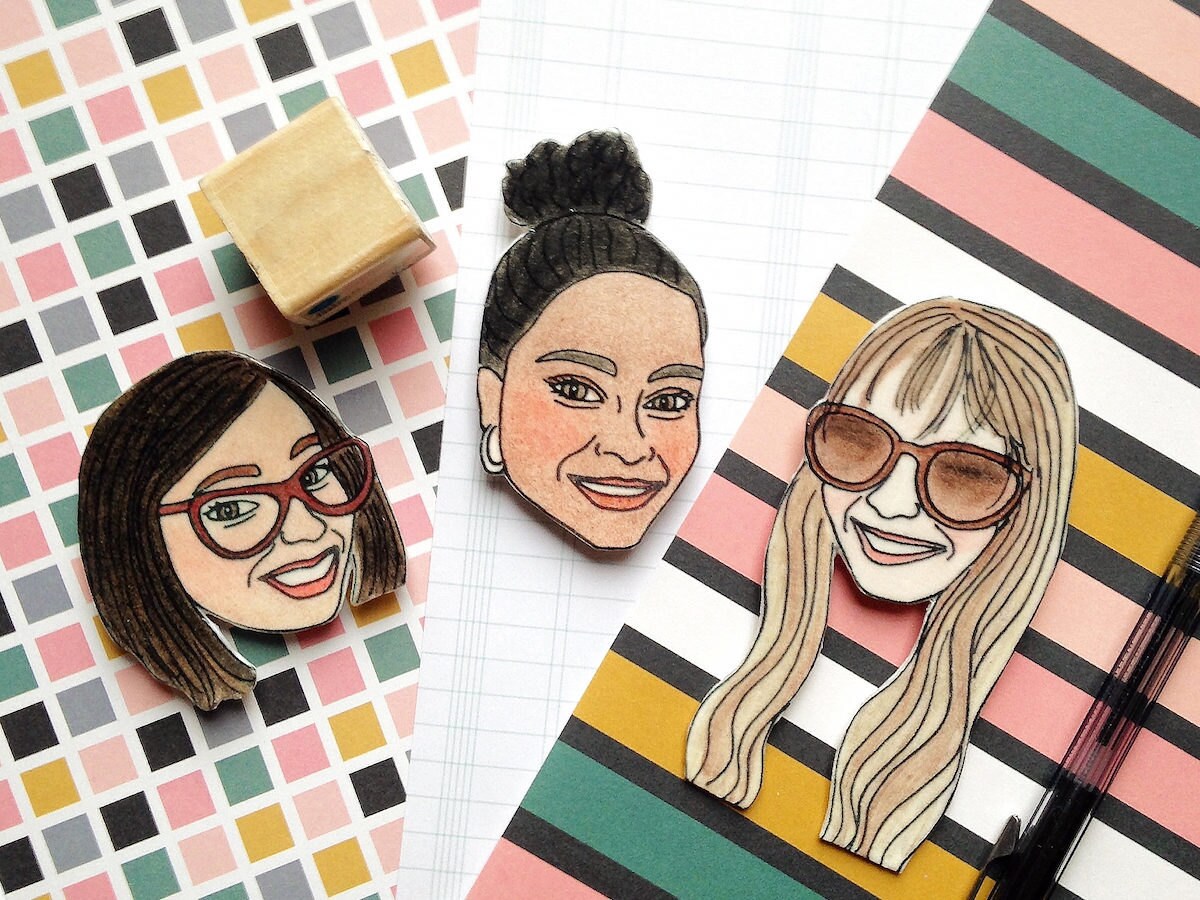 In our Featured Shop series, we shine a light on a standout shop from Etsy's talented seller community, offering readers a behind-the-scenes look at their process and story.
A perfect present has a certain undeniable, ahem, magnetism. As a high school physics teacher by day and an illustrator by night, Kit Atlas owner Brittney Andrews knows all about this phenomenon—both the scientific particulars and the nuanced art of gift-giving. "It can be hard to find a gift that's meaningful but not ordinary," says Brittney, who runs Kit Atlas with production help from her mother, Regina Galliher, a retired kindergarten aide. Enter their delightful custom-illustrated portrait magnets, which commemorate the faces of beloved people and pets—and make a thoughtful choice for all sorts of special occasions including anniversaries, birthdays, and bridesmaids gifts. 
Explore the Kit Atlas collection
"I think people are really drawn to the portrait magnets because they're functional, and it's super simple and convenient to display them," says Brittney. With no framing or art-hanging skills required, these mini artworks, measuring about two-inches tall, have the potential to turn any magnetic surface, from your kitchen fridge to your back door, into a personal art gallery—and bring a smile to the real-life faces of their recipients. "Having a little replica of loved ones, that's really special to people."
Read on to find out how Brittney and Regina bring their playful portrait magnets to life, and shop the Kit Atlas collection.
What inspired you to start making magnets?
When I was little I wanted to be an artist, but in high school I became really interested in physics so I actually became a physics teacher and didn't do any art for a long time. Then, a few years ago, I had an arts and crafts night with one of my friends. I'm obsessed with my dogs, Pip, Ollie, and Ella, so I was sketching them and I said, "Hey, I'll turn these into refrigerator magnets." I ended up making magnets of my husband and me, my mom and dad, my sister and her dogs, and a bunch of my friends and their dogs as Christmas gifts that year. And people loved them! 
What makes your magnets such great gifts?
I think the quality really goes above and beyond people's expectations. We attach our illustrations to thick illustration board, so the magnets don't bend at all. I've actually dropped mine over and over again and they're pretty indestructible. They are nice and sturdy, with a shiny gloss coat. 
Can you tell me about a memorable gift order?
A new dad recently ordered a set of magnets of his wife, himself, their newborn baby, and their dog as a Christmas present for his wife. He was really excited about ordering them because he thought it was thoughtful and unique. And I thought it was sweet that he was getting a little refrigerator portrait of his family.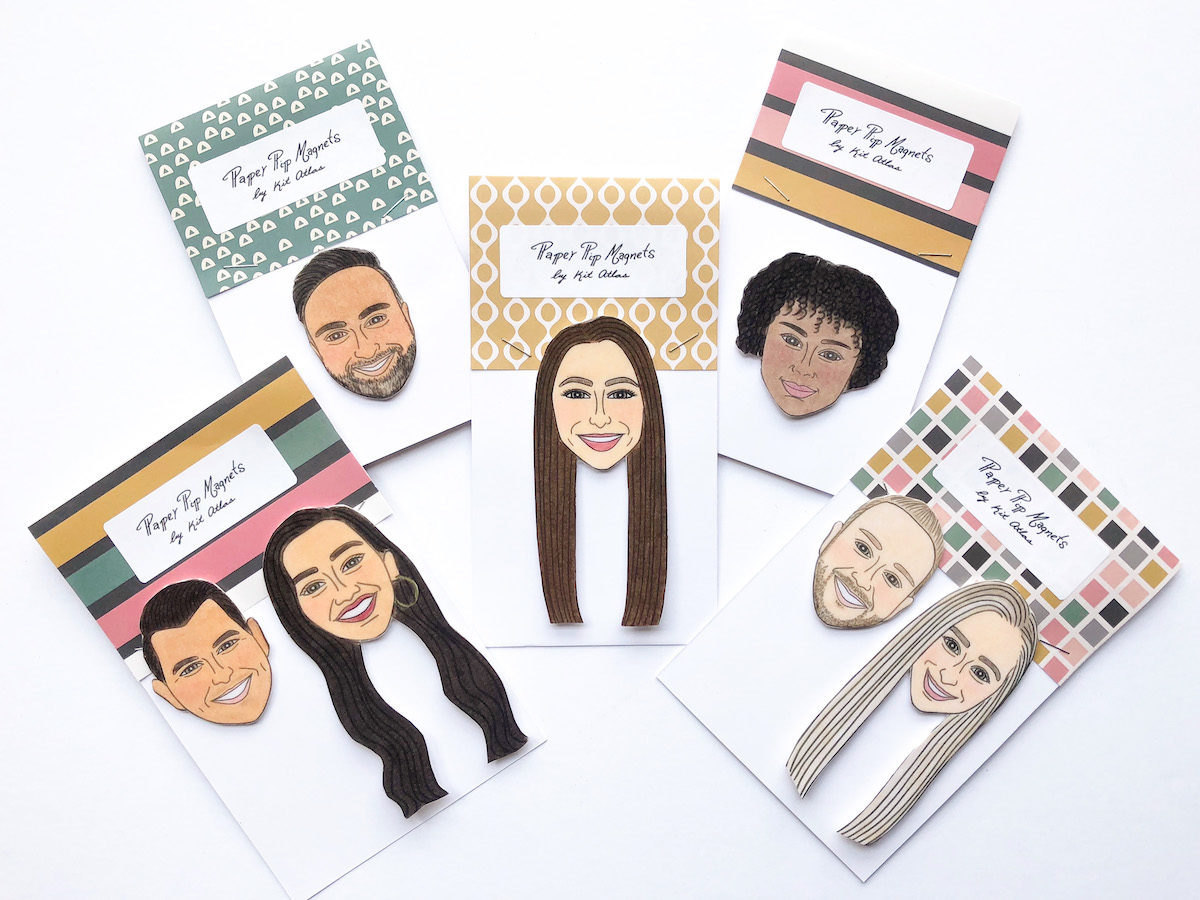 How do you infuse your portraits with so much personality?
The eyes, the angle of the eyebrows, and smiles are what I look at most when I sketch because they really capture the expression. I think of my style as being kind of whimsical. The faces are realistic enough to capture the details and make someone recognizable, but I think they all have this fun, almost cartoonish look because they're made with simple, bold lines. 
How are your magnets made?
We ask customers to send a forward-facing photo that's level with the camera, with natural lighting and no filter, so we can get the coloring as true-to-life as possible. I make a sketch with a regular pencil, the same kind I use in the classroom. Once the sketch is approved by the customer, I digitally trace it and send it to my mom, who does all the coloring with colored pencils. We attach the illustrations to illustration board, apply gloss, cut them out, and attach a button magnet to the back.
Your magnets are celebrations of love and friendship of all kinds. In what ways do you see customers using your custom bridesmaids magnets?
Bridesmaids gifts are a big thing for us, and we have a special listing that caters to them. You have an option to do your bridesmaid's face and give it to her as a thank-you gift or a bridesmaid proposal, or you can include the bride and the bridesmaids (or "bridespeople"), which is popular too. You can add a personalized message to the label, like "Will you be my bridesmaid?" or "Thank you for being my maid of honor," and the paper for the packaging can be customized as well. We've also had a lot of grooms getting them for their groomsmen!
You also specialize in pet portraits. What options do you offer?
A lot of people order magnets of their pets, which is really special to me as an animal lover. Since a lot of cats and dogs have similar face shapes, I have a catalog of pre-illustrated pet magnets that people can pick from. Then, based on the photo the customer supplies, we add all of the unique markings and coloring. Since I don't have to start from scratch, the pre-illustrated option has a shorter turnaround time and costs less than our completely custom pet magnet. 
Your shop's 600+ five-star reviews rave about your excellent customer service. What sets Kit Atlas apart in this regard? 
We're very dependable. We always stick to a very specific timeline, and people can count on us to get their order to them when they need it. I email customers within 24 hours of their purchase and tell them when their proofing date is and when it will be shipped out, and if they're in a time crunch, I'll make adjustments. I also offer as many edits on a sketch as a customer wants.
Tell me about the fun customizable cards you offer.
I feel like there's always some occasion, like a birthday or Mother's Day, where you want to give a special card, but it can be hard to find one that really relates to that person. With our new custom cards, buyers can request custom illustrations or choose from illustrations from our existing collection—kind of like a catalog of little doodles—that are based on the recipient's personal interests. For example, for my grandma's birthday, I made a custom card just for her, with an illustration of a quilt and her favorite dessert, apple pie.
What's next for Kit Atlas?
I've been looking into offering more customizable products, in addition to magnets and cards. Recently I've started my "Dictionary Doog" series—a parody of a dictionary entry where I sketched my three dogs, and then listed all their nicknames—here's an example on Instagram starring Pip. I put one of those designs on a mug to test it out, and it turned out really cute. So, I'd like to eventually offer things like coffee mugs with my custom artwork on it.
Follow Kit Atlas on Instagram.
Photographs by Kit Atlas.