by Valerie Rains
These married makers — he builds furniture, she sews bags — find perfect complements in each other's creative strengths.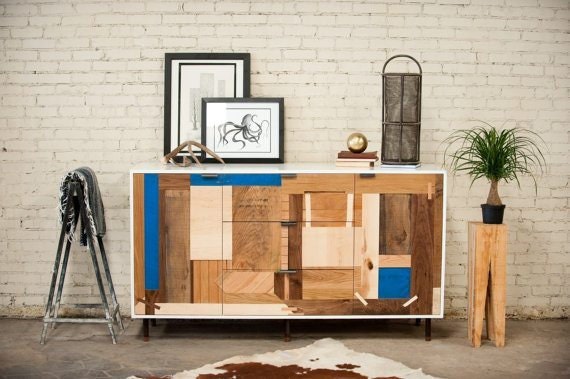 To a casual observer, there may not be all that much overlap between the art of sewing bags and the craft of designing and building furniture. But for Peter and Sarah Clark, the husband-and-wife team behind
Kith & Kin
, their shared creative purpose — to address their material needs in life with their own two sets of hands — outweighs the details of medium and method. "Peter and I come from very similar families," Sarah says. "His dad made his bed, my mom made our cupboards, our grandmas made our pajamas — if we needed something, we made it. That's how we grew up, and that's what we valued." Kith & Kin evolved directly from those common values — and from a desire to have one parent at home with the couple's four kids, while still feeling creatively fulfilled and contributing to the family's income. Sarah taught herself to sew as an adult, and as her skills progressed, she transitioned from making wallets (for her first Etsy shop, Miss Moneybags) to designing
bags
; Peter learned
furniture making
in Sarah's father's wood shop. While Sarah does most of her stitch work from home and Peter designs alongside his small crew of carpenters in a local millwork shop, the two are constantly putting their heads together to work through ideas and plans for the future. "The
kitchen table
is definitely where everything begins," Sarah says.
We chatted with Peter and Sarah to learn more about how this dynamic duo lives their DIY dream.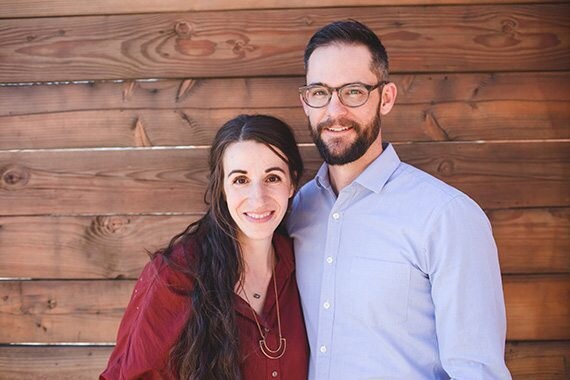 What is it like working together as a married couple? What have you learned about each other while building a business together?
Sarah:
Oh it's fun, because we do different things, but it's all one and the same. We love to talk and come up with ideas together. We have a similar style, but different strengths: He's very good at math, technology, and details, and I'm very feely — I just get the vibe and that's good enough for me. It can be challenging to come to the middle sometimes, because those are two extremes, but it's also beautiful. I don't think either of us would choose the easy road — this is the way we are, and we're learning how to do this together in every way.
What are your favorite sources of inspiration — in your work or in life?
Sarah:
Nature is huge, and we are both majorly inspired by our materials. With wood, if a certain part speaks to Peter it's really helpful to use that; I would say the same thing with textiles. They just call out to us: this needs to be a bag, or this needs to be a dresser. We're very organic like that. And we love family-friendly, so if something can be family-friendly but up a few levels design-wise, we're inspired by that. Playful, fun, and whimsical, yet sophisticated and high function — that's what we love.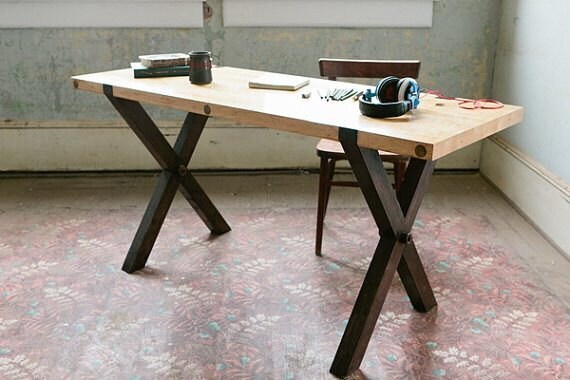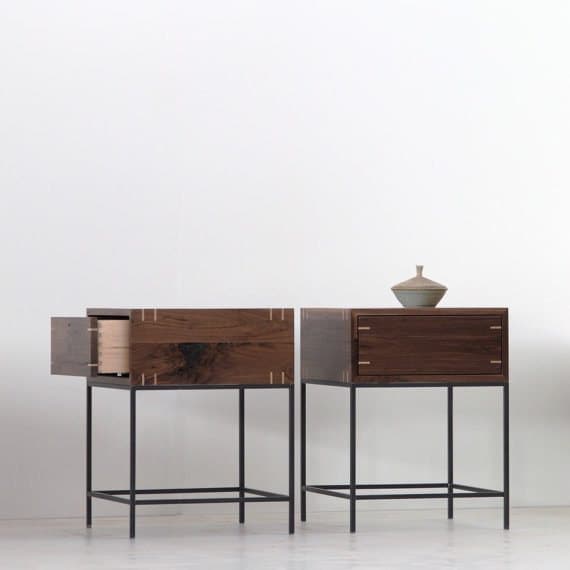 What do you love most about your work?
Sarah:
 I love fabric, I love textiles, I love outgrowing the craft store so you have to go to the wholesale place — just all the layers of making something and people actually liking it. It's pretty incredible to get to call that a job. I also love making something new: When I can start from nothing and make a bag, it's the most gratifying thing.
Peter:
 We have always been able to say, "Oh, we need something for the house," or "I want to make something new" — and then to go ahead make it our own way. I love being able to serve our clients in that way, as well. They want something specific, they want something that reflects them, and we can provide that — that's why everything I do can be customized to fit a buyer's space. I really love that aspect of working with people; helping to meet that need for them is probably my favorite part of the process.
What are your most popular products from each part of the shop?
Sarah:
For bags it would definitely be the waxed canvas
diaper bag
 — it's easy for a dad or a mom to hold, and it's not committed to the baby phase, so it can transition as the baby grows. It's really a timeless piece that can go with everything, but it's not boring. As far as furniture goes, Peter has done so many cool things, but I think the most popular would be the
Myers end table
— or any piece in steel and walnut. It can be customized to any size, and there's not a room in your home that you wouldn't want it in.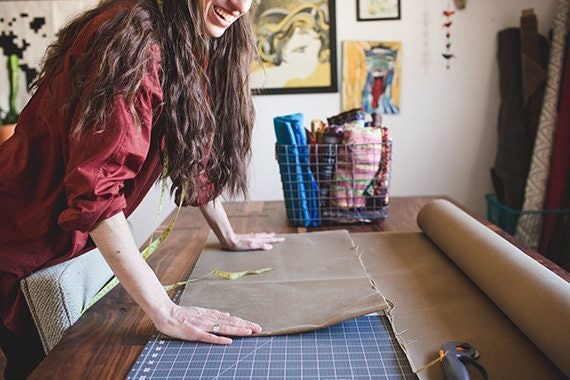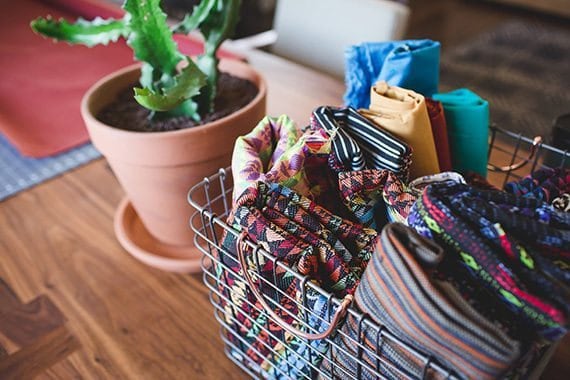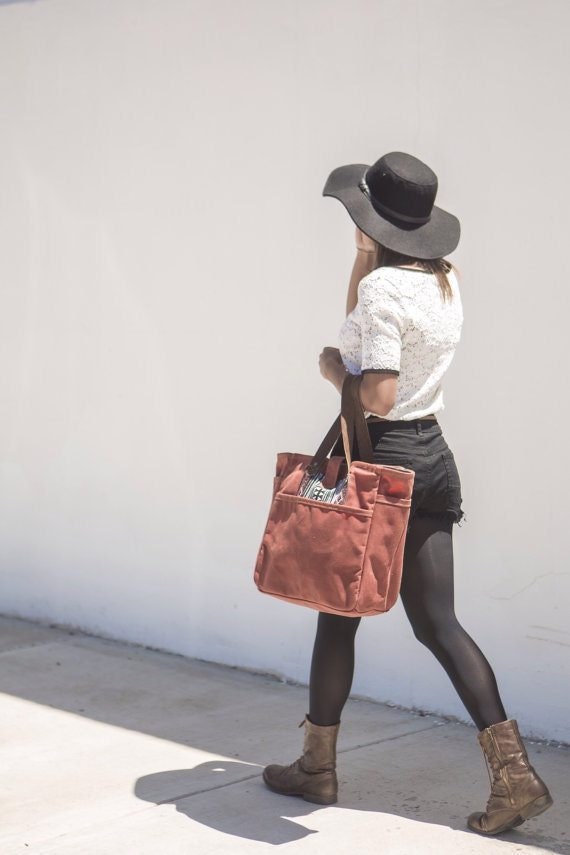 Do customers ever send you photos showing where they've put your pieces in their homes?
Sarah:
 Sometimes. In fact, one customer actually emailed Peter and said he that has a Picasso his grandmother gave him, and it's hanging over Peter's piece in his New York apartment. So that's pretty incredible. And the actress Whitney Port bought something from Peter, and
her piece
was in
Domaine Home
.
What about the people who buy your bags? Have you ever had any interesting interactions with those customers? 
Sarah: 
I love hearing, "Wow I feel like myself when I have your bag" from the mothers I make them for. There's so much giving involved when you become a mother — you give of yourself so much that you kind of forget you really are a person, too, and you're part of the puzzle, and your style is important.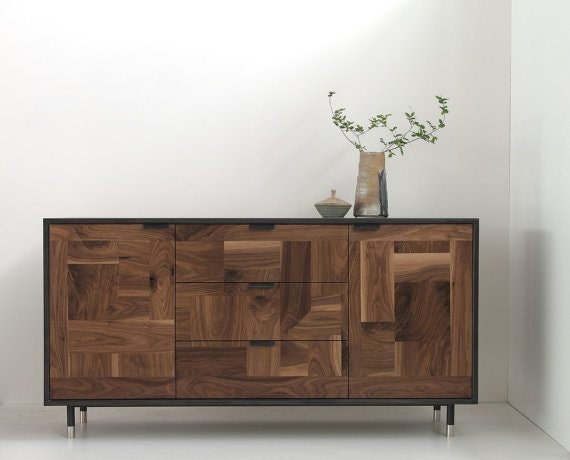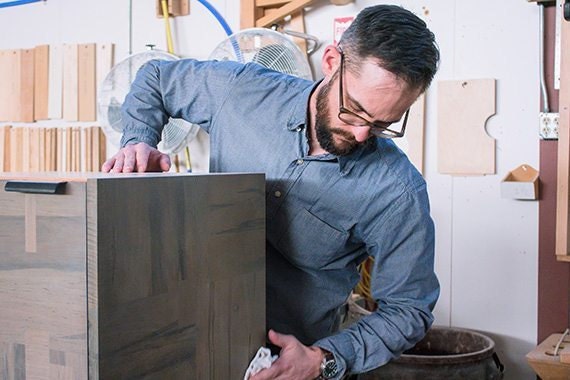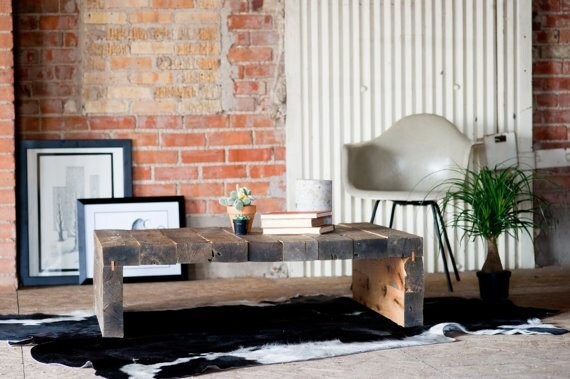 Who are some other makers you admire?
Sarah:
 I love
Anna Maria Horner
; she designs fabric, and she designed her home with her husband who's an architect. They made their kids a gorgeous treehouse out back, and what did their kids end up doing? Nailing wood to trees. They didn't play in it, they just learned to make. That is just so me. She's in a different phase of life than I am, but with tons of kids running around, she managed to do it all. Not all — I mean, no one can do it all — but she went out and made the things she wanted to happen, happen, and I admire that so much. For Peter, something that we talk about all the time is how we are so inspired anytime someone is doing their own thing from the heart. It moves us, and we are so proud for those people — whether it's someone making their first album or someone in their 80s wearing crazy vibrant pants. It moves us when we see authenticity. We're rooting for people to step out and fill their shoes, fill their space. Once we watched an amazing documentary about Ray and Charles Eames, and we were both in tears on the couch; she's like super-whimsy, and he's very structural, and I think at that moment we thought, okay, we're going to jump out here and do this together, whatever it might be.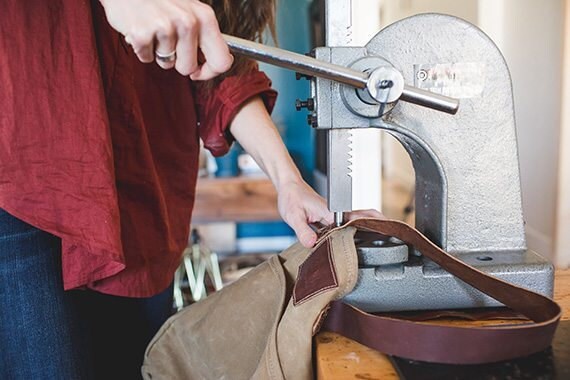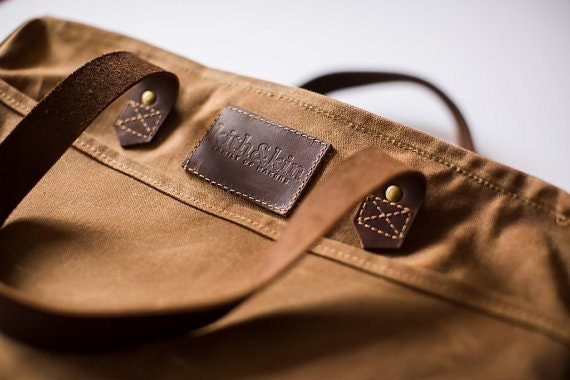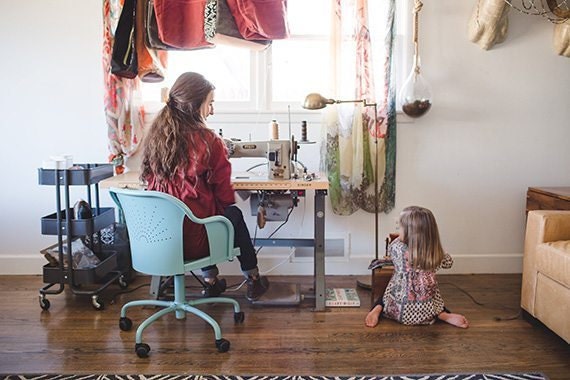 Do you ever get stuck, creatively, and what do you do when that happens?
Peter:
I'm more of an inside-the-box creator; I do well when I have confines around me. I feel like I make connections better if I set myself a boundary and then improve inside of it. It seems counterintuitive, or sounds different from what you would normally think of the creative process, but I think it's helpful to be disciplined and structured with it. So instead of waiting for inspiration to strike, I just say, right now I'm going to sit down and draw; maybe I'll put a time constraint on something, or a constraint that I'm only going to think about how I can improve one specific thing. I really find freedom in that, and the creativity flows freely for me there.
What's next for your shop? Any new developments coming for 2016?
Sarah:
It's going to be an exciting year for us: Our littlest one is going to school and I'll have a lot more time to work, since I've been staying at home with children for 12 years. I'm looking into moving out of the home, getting a studio space, and finding more help; my mom is going to go in with me on a sewing studio where she will teach sewing classes and hopefully train some more people to help me to sew. And since we're currently redoing our home, Peter has lots of opportunity for new prototypes, and he's getting lots of ideas. I feel like we're at the tipping point of a new phase — what that even means, I'm not fully sure of — but something new is in the air.
Keep up with Peter and Sarah by following them on Instagram, Facebook, and Pinterest.
Portraits and sewing studio photos by Kayla Smith; wood shop photos by Joshua Davis; product photos via Kith & Kin.