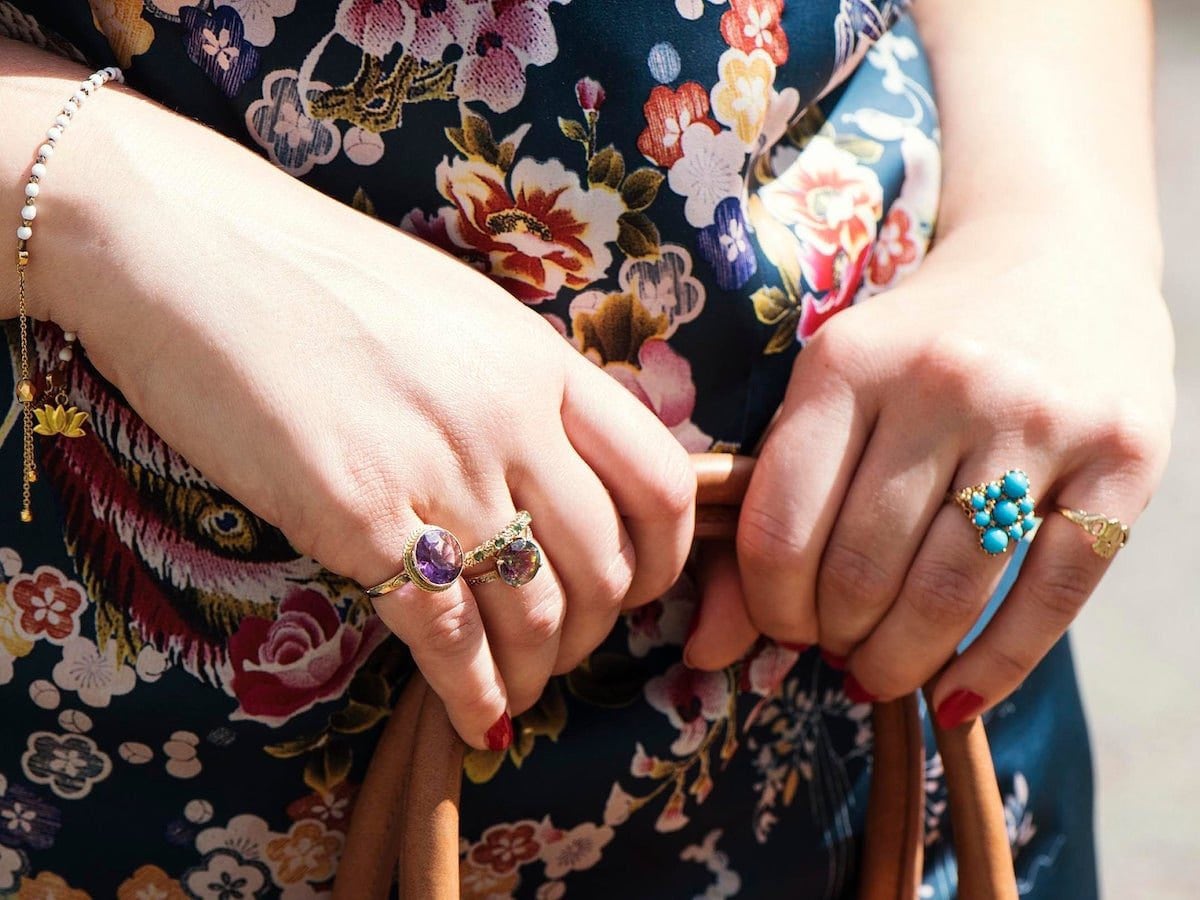 In our weekly Featured Shop series, we shine a light on a standout shop from Etsy's talented seller community, offering readers a behind-the-scenes look at their process and story.
Browsing online for that perfect vintage statement ring or sparkling silver brooch is infinitely easier than rummaging through a series of flea markets and tag sales, especially if you have an era-specific style or rare stone in mind. Still, for many shoppers in search of one-of-a-kind engagement rings or other big-ticket jewels, it's important to see, touch, and try on a piece in order to be sure that it's "the one." That's where Katarzyna "KK" Kaszowska and Sebastian Dirycz of London-based shop KK Vintage Collection and their exceptional customer service come in. "We offer a two-week, no-questions-asked return policy," KK says. "We always want to make sure our customers are confident and comfortable with the jewelry they're buying."
Shop the KK Vintage Collection
That thoughtful approach—combined with a dazzling inventory that includes everything from ornate, art-deco-style sapphire-and-diamond engagement rings to chunky amethyst cocktail rings from the '70s—explains why the Polish couple has earned a loyal following around the world. "A long relationship with our customers is more important to us than a quick sale," KK says. "We've got a repeat customer from France who buys jewelry for his wife: First an engagement ring, then another ring for an anniversary, and now a brooch. It's a really good feeling when they come back for more."
Read on to learn how KK and Sebastian carefully curate their stunning selection of cocktail pieces and certified diamonds, and discover what trending stones they can barely keep in stock, then shop the KK Vintage Collection.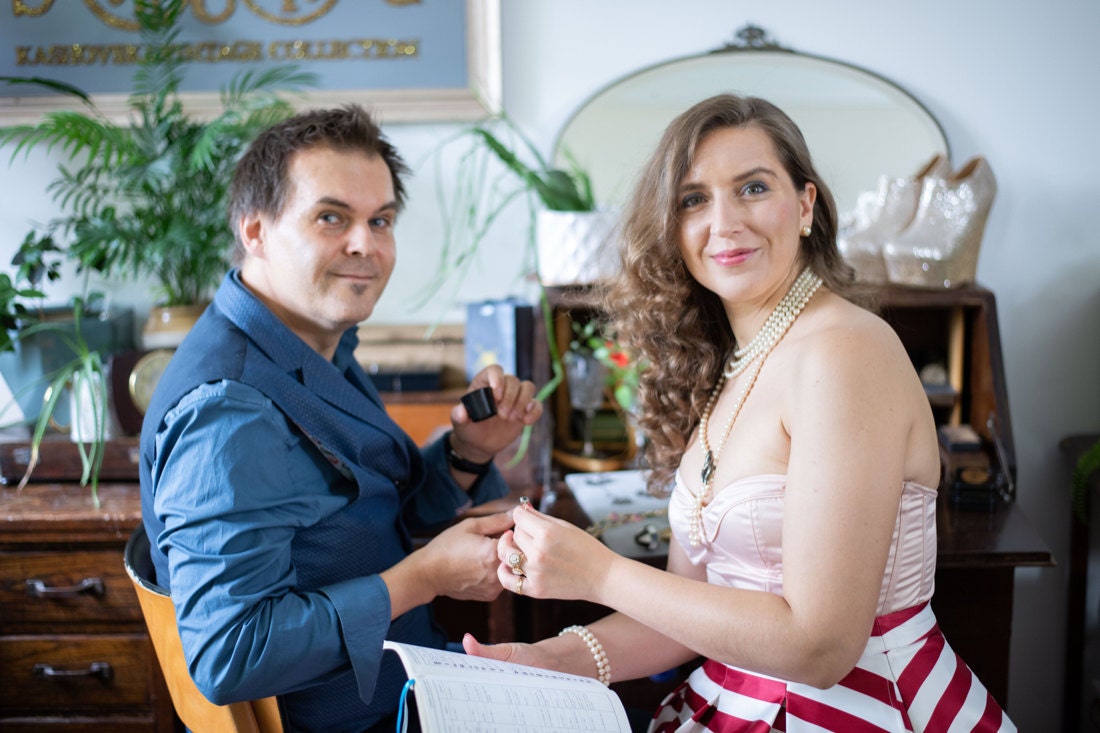 What initially drew you two to vintage jewelry?
Sebastian: When I met KK, we realized we had a lot in common: We're both from Poland, and we both love vintage. We especially love car boot sales [which are similar to flea markets]. 
KK: Sebastian and I are a bit addicted!
S: There are a lot of them in the United Kingdom; I think all of our furniture is from boot sales. My mum often visits the UK, and she loves boot sales as well. She was always buying costume jewelry and selling it back in Poland. I think she inspired us. We thought, If she can sell it, we can, too. 
How did KK Vintage Collection start?
K: It started about four years ago. Sebastian is a photographer, and I'm trained as a landscape architect, but I always had this creative urge. Sebastian and I saw that some auction houses were selling jewelry and really nice vintage items. We thought, Those are really pretty; we should buy some. 
S: And the prices were really good. So we said, "Maybe we can sell them as well." So we started buying things, but we didn't sell them straight away. When we had about 20 or 30 pieces, we started to think, Okay, now maybe it's time to sell them.
K: And then we started thinking of creating a brand. It fit us perfectly—the vintage, the beauty. And it allowed us to be creative, which we love.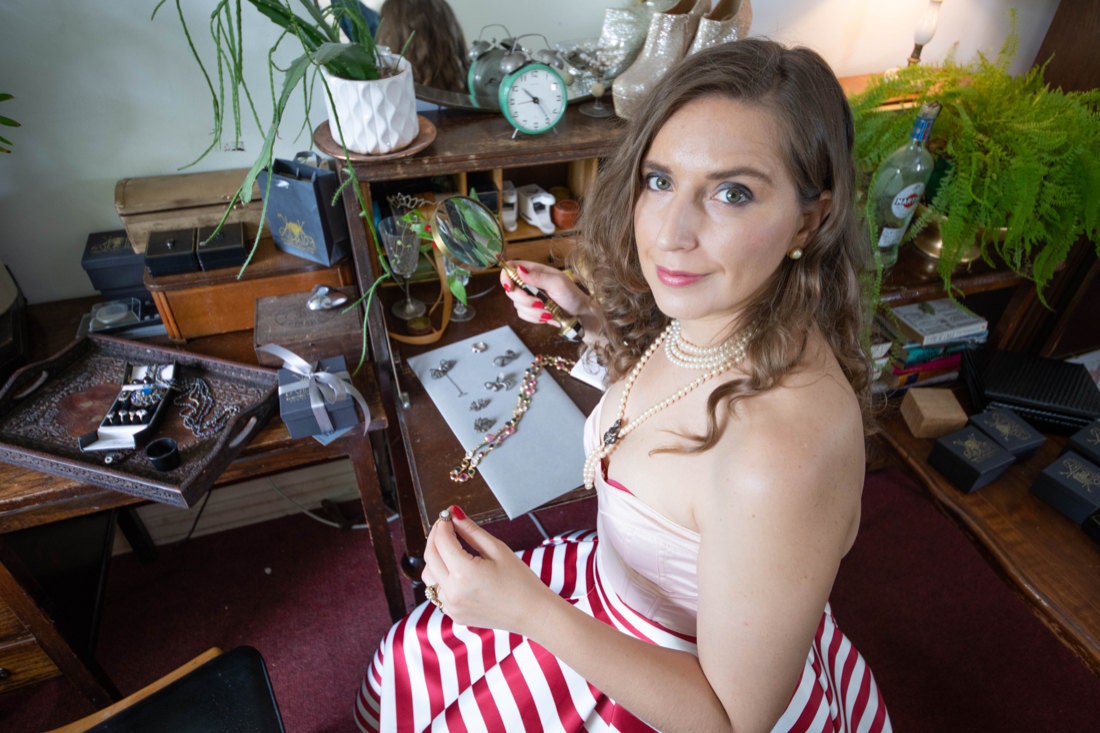 How do you select your items? What are you most drawn to?
K: The main items we sell are vintage engagement rings and vintage costume jewelry and statement pieces. In addition to the classic, single-diamond rings, there's a lot of interest in colored stones and semi-precious stones. Our customers want pieces that are unique and particular, and that's what we look for. 
S: There's also the question of whether we actually like it. 
K: Yes, whenever we buy something, we basically buy it as if we would keep it for ourselves. We love all of our pieces. I have to say, it's tempting just to keep them all!
What are some of your bestsellers? 
K: Sapphire and diamond stones are really popular—especially as engagement rings. It's a classic combination that has gained popularity because of the royal couple, Kate and William, and their sapphire-and-diamond engagement ring. Emeralds are also really popular.
How do you source your items?
K: The really important part is to find a seller or auction house you can trust, because you need quite a bit of experience to be able to tell whether items are genuine. We've been lucky to have that support from our partner jewelers here in London, and back in Poland as well. 
S: Some of them even certify the authenticity of the items. So that's really helpful for us. We know we're buying genuine gold or genuine diamonds or precious stones. If the auction house isn't sure, we go to our jeweler for a second opinion, so we can be certain.
What's the appeal for you of buying vintage as opposed to something brand new? 
S: We like to support recycling. That's why we buy secondhand items, secondhand furniture, and so on. We're trying to be mindful in thinking about where it goes. We're both vegan, and we think about how to not be harmful to the environment.
K: So much time and energy was spent on making those pieces that it's wonderful when we can reuse them. I think they have a special charm, an energy. If you find something really old that can't be replicated, that's special. Quite often, the quality of the item is so much better, too. The craftsmanship—you can't compare it.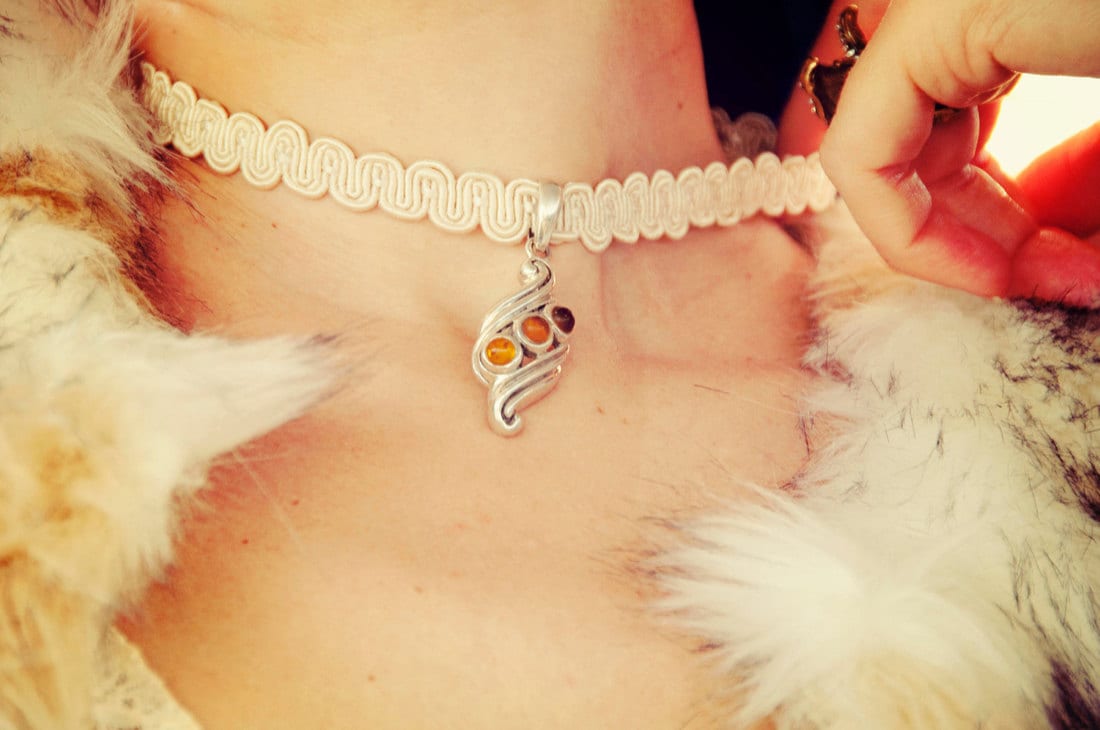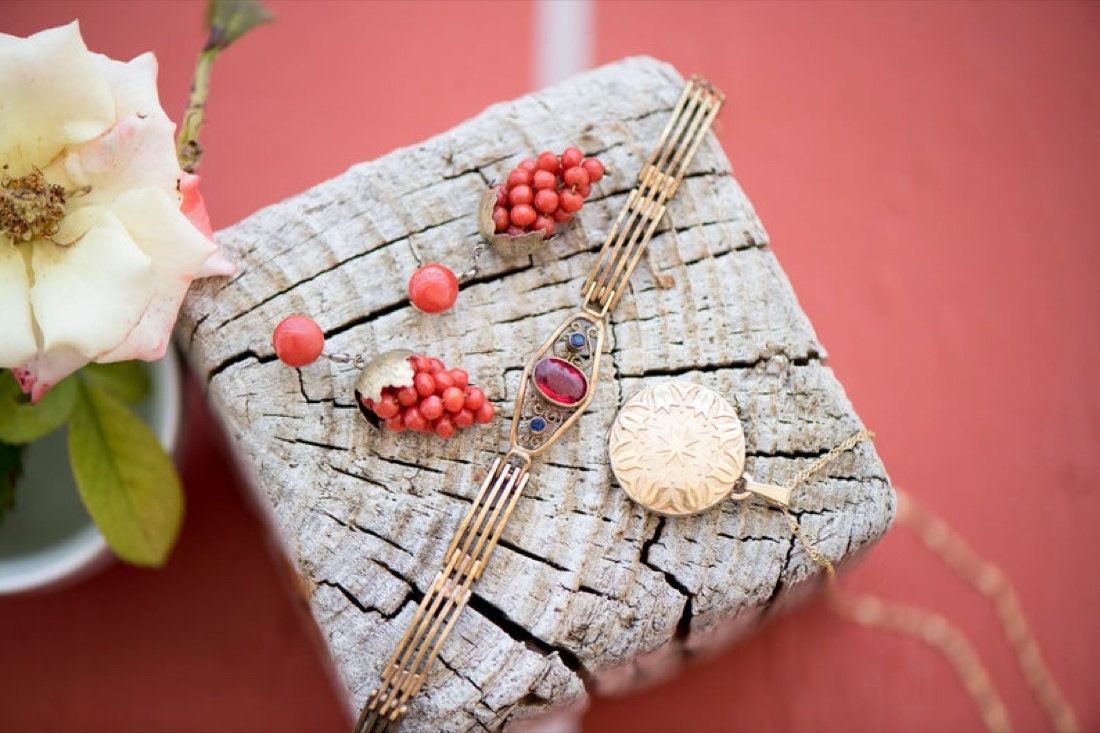 You touched on how vintage items have an energy and a past life. Do your customers ever ask you about the history behind your jewelry?
K: Yes, that's a question we get asked quite often. The history we've got comes from hallmarking, which is different in every country. It's quite good in England. You can find out from the little marks on the gold or silver where the item was made and who made it. 
S: Not all hallmarks have date marks, which is really disappointing. But sometimes you can track them down to the city they were made in. We find out as much as we can. We dig quite hard sometimes.
K: I always wish we knew more, like who the ring was originally made for. I mean, we learn about big kings and famous rings, but I'm curious about common people's stories. I would love to find out more.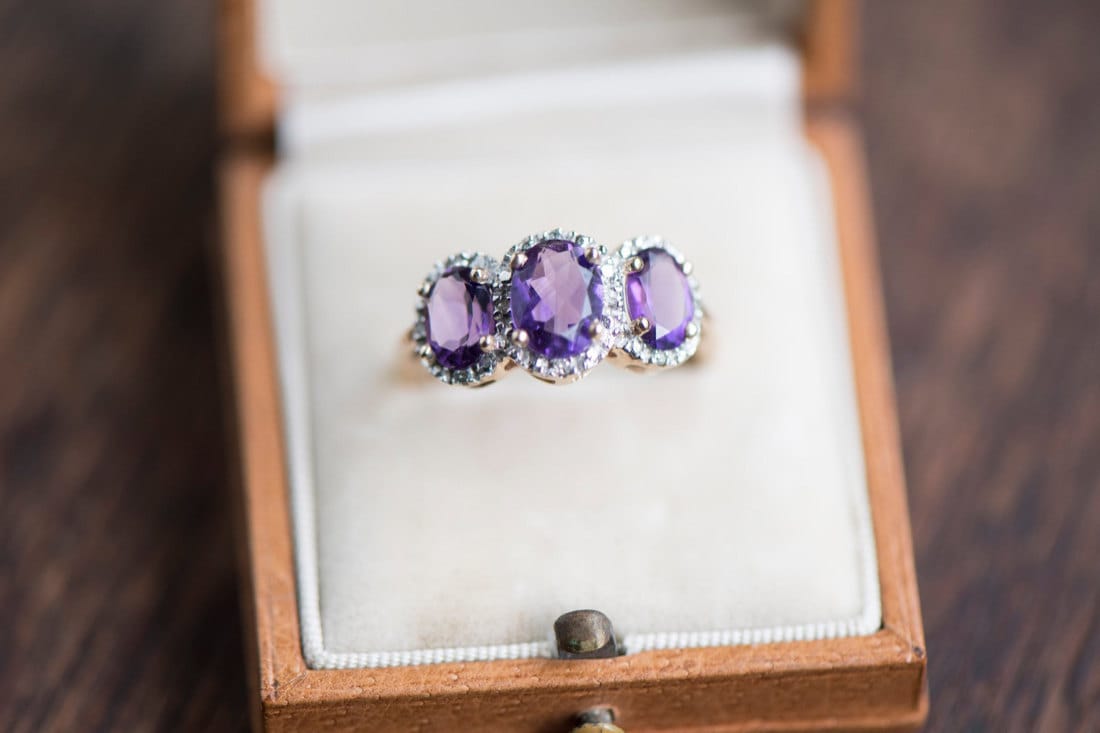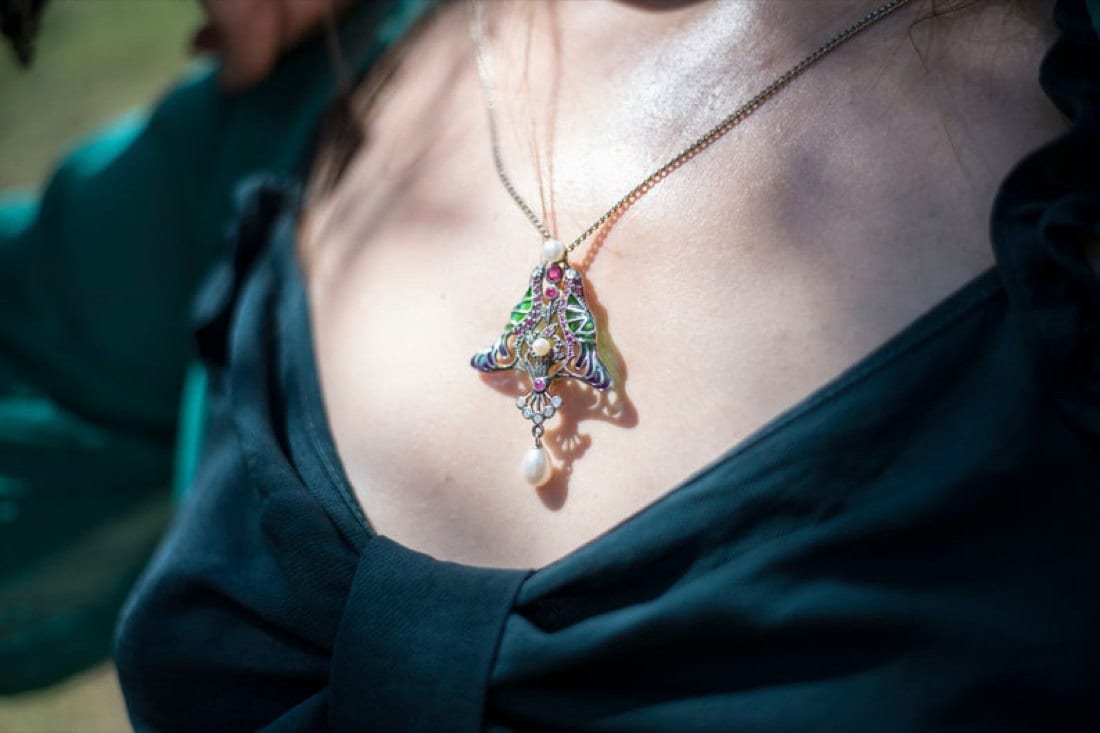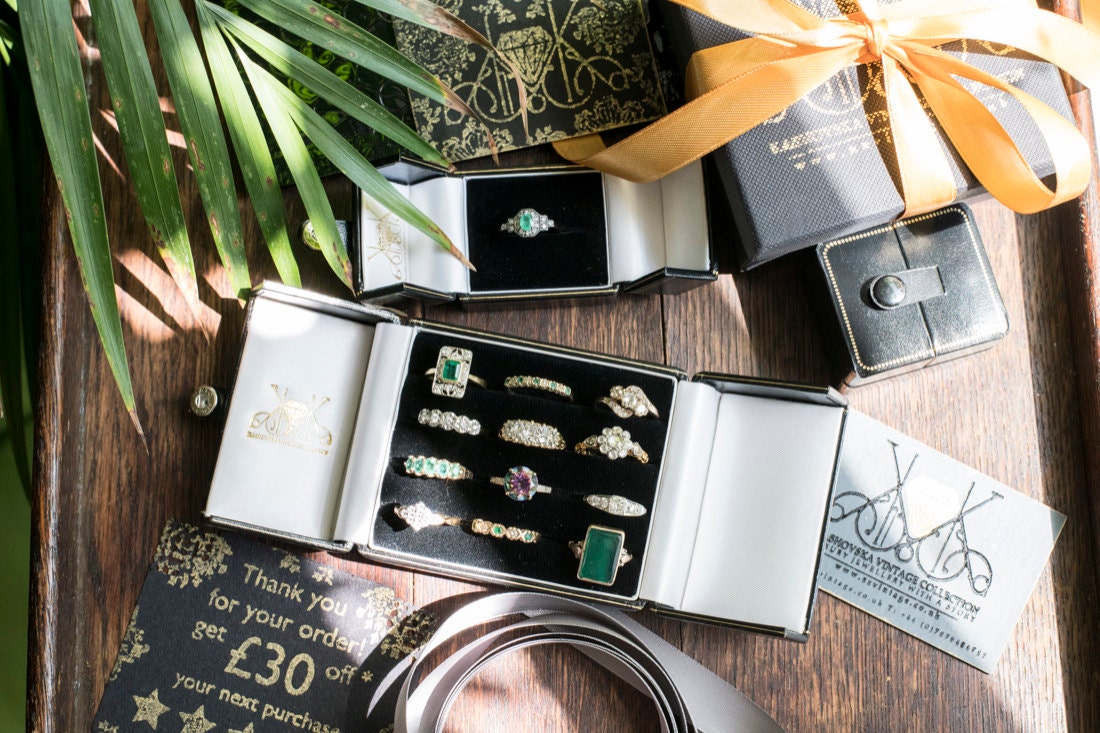 Why do you sell on Etsy?
K: People who shop on Etsy have a different mindset. They're looking for something special with a story—and people behind the shop who care about the business. Etsy attracts the right crowd for us.
S: Yes, we think it's the perfect platform for vintage jewelry.
What does it feel like to know the engagement rings you sell will be in someone's life forever, to symbolize their love?
K: It feels like we're doing our part in someone's happiness. One of our customers wrote a review that said, "Oh, it's so corny, but when I opened the ring, I knew I was going to remember it my entire life."
S: It gives us chills when we read reviews like that. 
Follow KK Vintage Collection on Instagram, Facebook, Twitter, and Pinterest.
Photographs courtesy of KK Vintage Collection.