This fiber artist found her calling after listening to her gut and moving off the grid.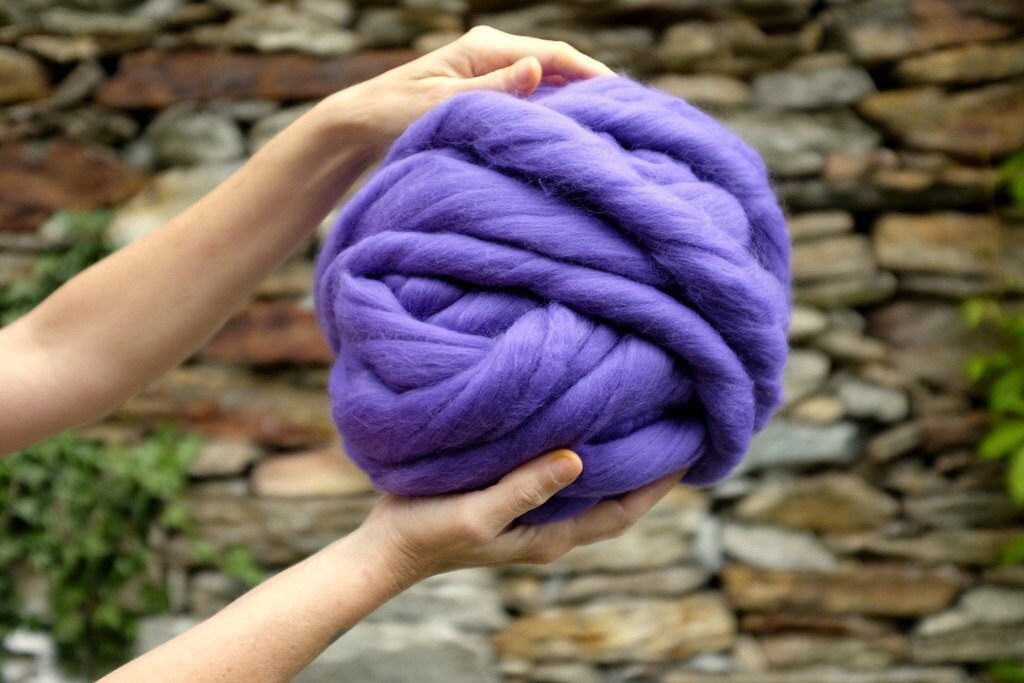 Fiber mastermind Greta Silva of
Knitting Revolution
 hasn't always lived in a humble little house made of stone and wood, nestled in the Italian Alps and powered entirely by the sun. In fact, living this way came as a conscious decision nearly five years ago, at a time when Greta was still fully immersed in her urban routines and her career as an accessories designer and milliner. "Working on my own brand of accessories in Milan and Paris was a beautiful and successful period, full of all the funny things of city life, but growing inside me was the need for something wild," Greta explains. "So I left everything behind to start a new way of life." It wasn't until she had relocated to her current off-the-grid locale near Traversella, Italy, with her partner, Elio, that spinning came into the picture: "I was secretly looking for a totally new, natural and simple way to express my creativity," she says. "One day, I saw an old woman spinning with a spindle and something happened." What happened was that things suddenly fell into place. Greta started taking spinning lessons from the woman, and in the process, uncovered a passion that has bloomed into a full-time business selling
chunky yarn
and
oversized knitting needles
.
Learn more about Greta's work, and what a typical day off the grid looks like, below.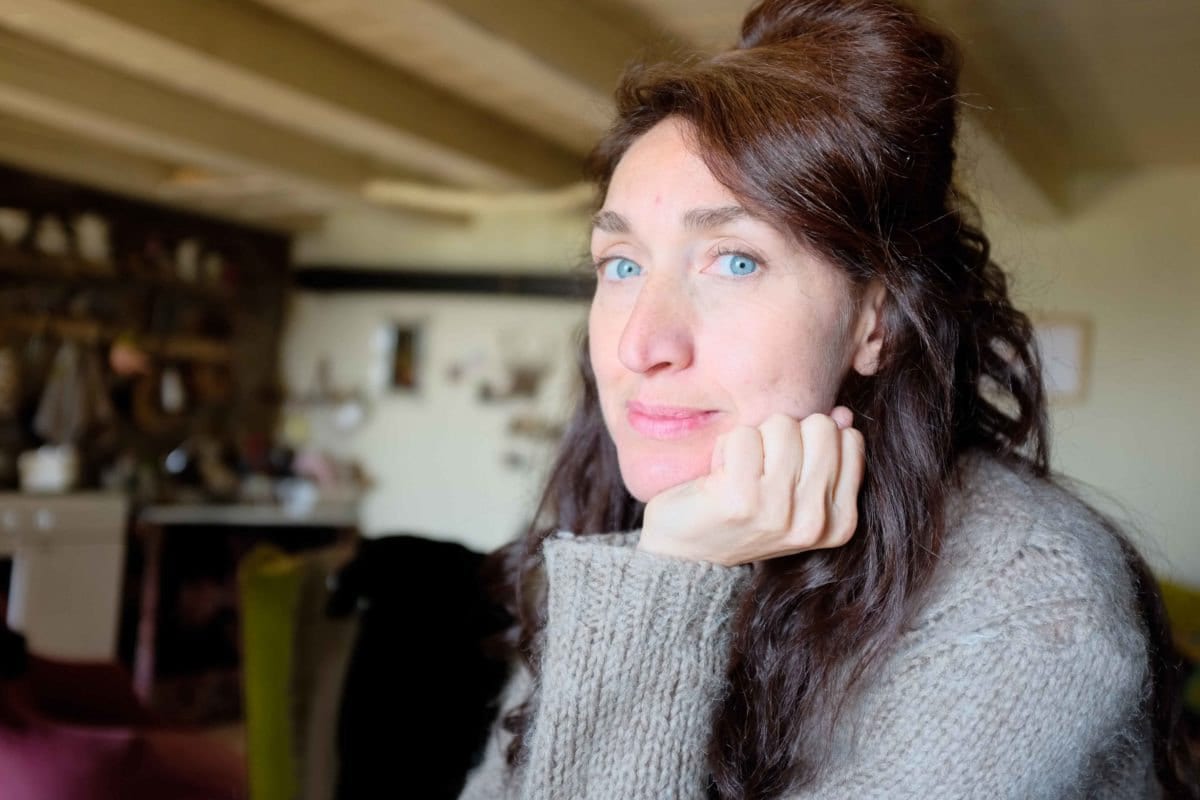 How did you learn to spin?
I learned to spin from a woman named Angela, who is 83 years old. She was the first person I ever saw spinning, and from the first moments of watching her, I was in love with the process – I never realized that something so simple could be so fascinating! When I first approached Angela to see if she would teach me about the spindle, she thought I was joking. Spinning used to be a more widespread practice here in rural Italy – up until the 1960s, nearly every woman was able to spin and knit, and it was commonly passed down to the kids so they could help knit socks for the family. Eventually I convinced Angela that I was serious, and she agreed to take me under her wing. I spent many afternoons that summer at Angela's house, learning how to spin my first yarns. She often told me, as a mother would, "Greta, you are much too modern. Yarn must be thin, not thick; you won't find needles big enough for your yarn!" But I went on spinning my
giant yarn
, and then began hand-turning my own jumbo-sized knitting needles. After that summer, I bought my first wheel and continued teaching myself new techniques. I've watched countless YouTube videos in different languages, and also completed a class about natural dyeing. I think the reason I've made it this far in my practice is that my passion is strong. That helped me find my way somehow.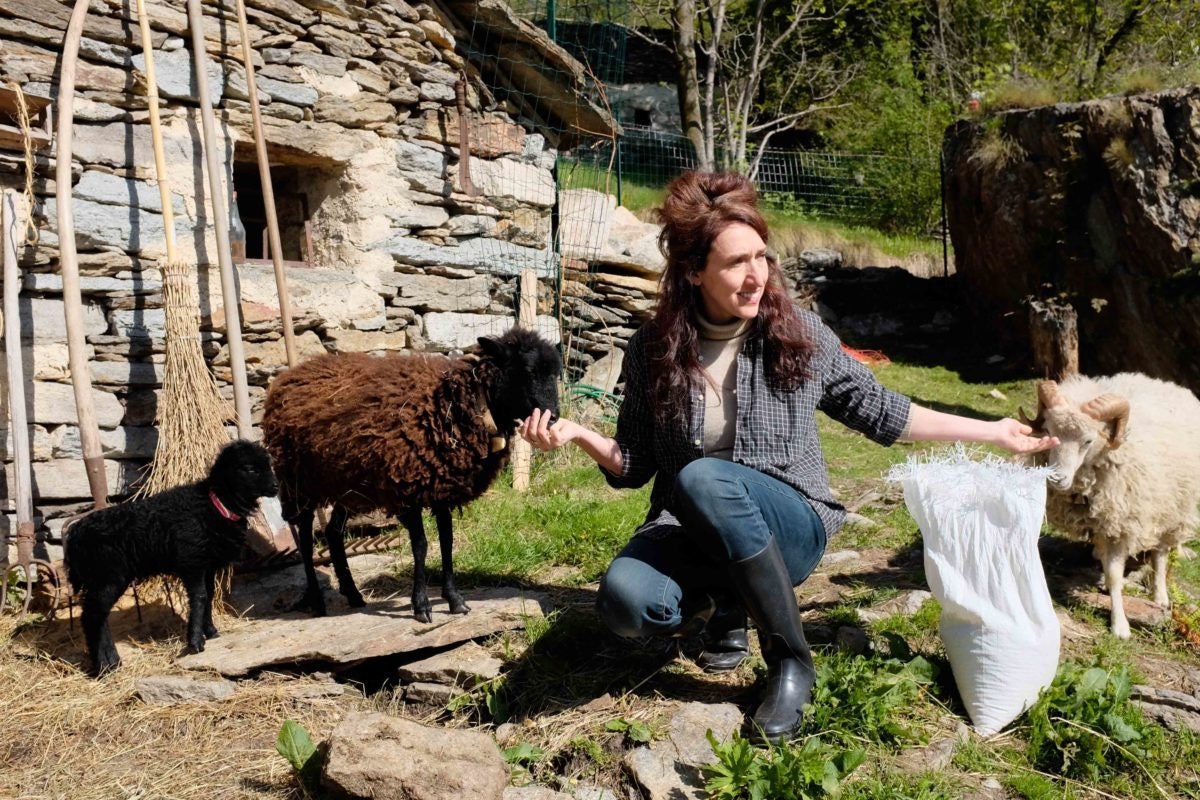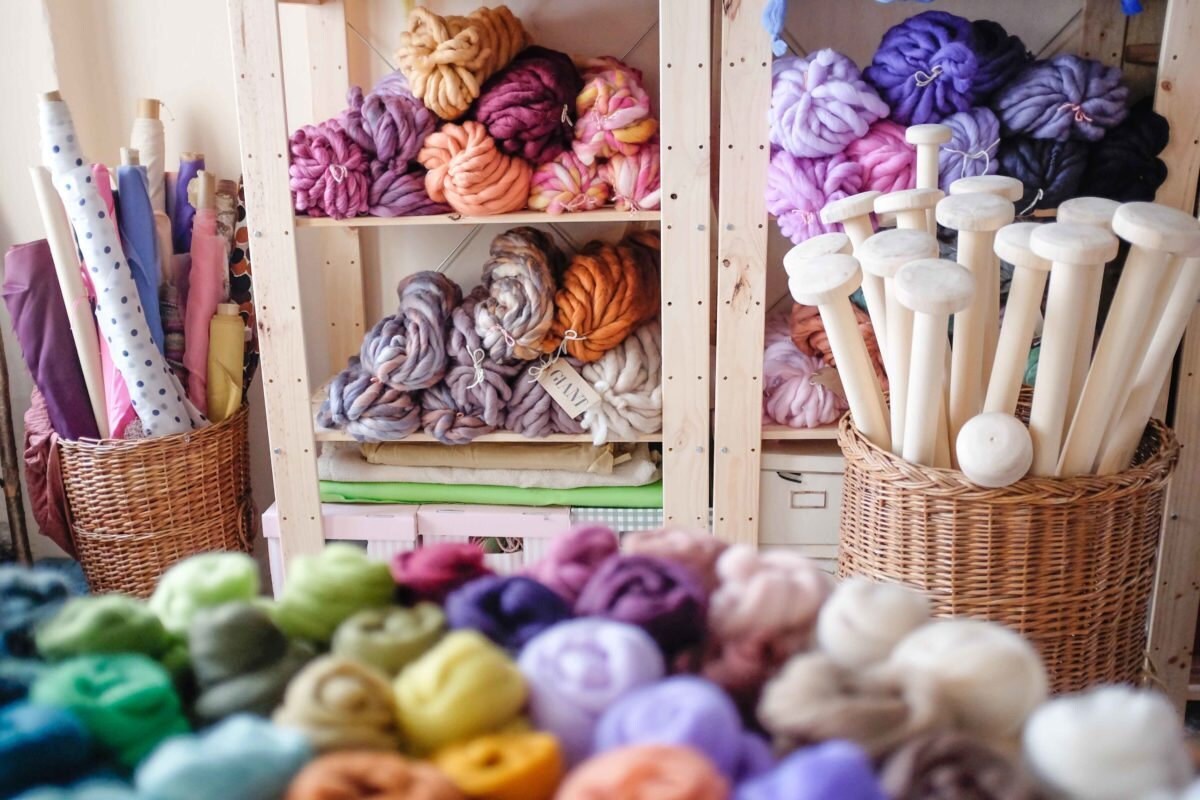 Where do you work? What do you like most about your workspace?
I create
my yarn
in the loft of our house. I love working here because I can see for miles and miles through the big window. When it's cloudy, it seems like I'm floating in a sea of cream, and when it's snowing, I feel like I'm part of it. That scares me a little bit, but it also makes me feel alive.
What is a typical day like for you?
We have a couple of Ouessant sheep and a one-month old baby lamb named Ofelia, so when I wake up in the morning, the first thing I do is open the stall so they can go out and graze on the grass. The rest of our schedule varies widely depending on the weather: On a sunny day, we will charge everything (phone, tablet, PC, lamps) using power from our solar panels; if we need to stock up on supplies or ship orders, we make a trip to the nearest village. Beyond that, we work outside as much as possible, gathering wood for the stove, building our new barn, and picking edible flowers, herbs and mushrooms. We're still refurbishing the house on our own, so there is a lot to do.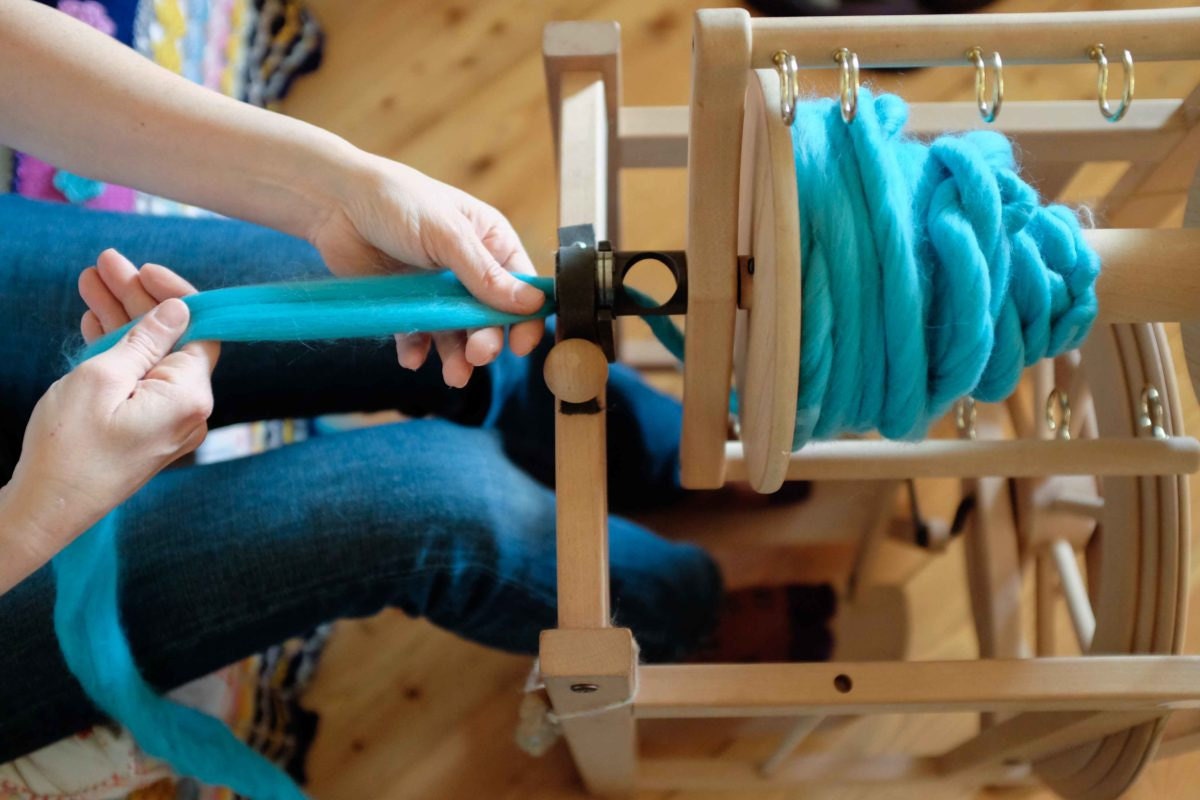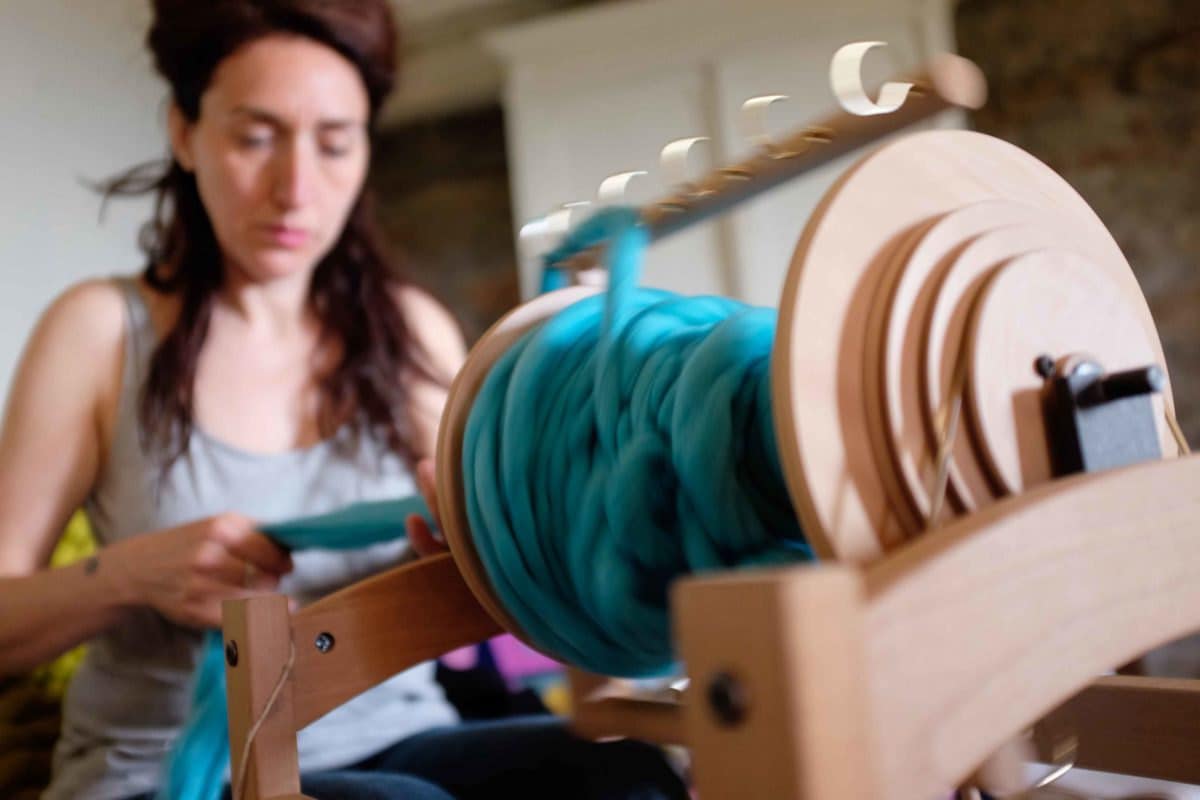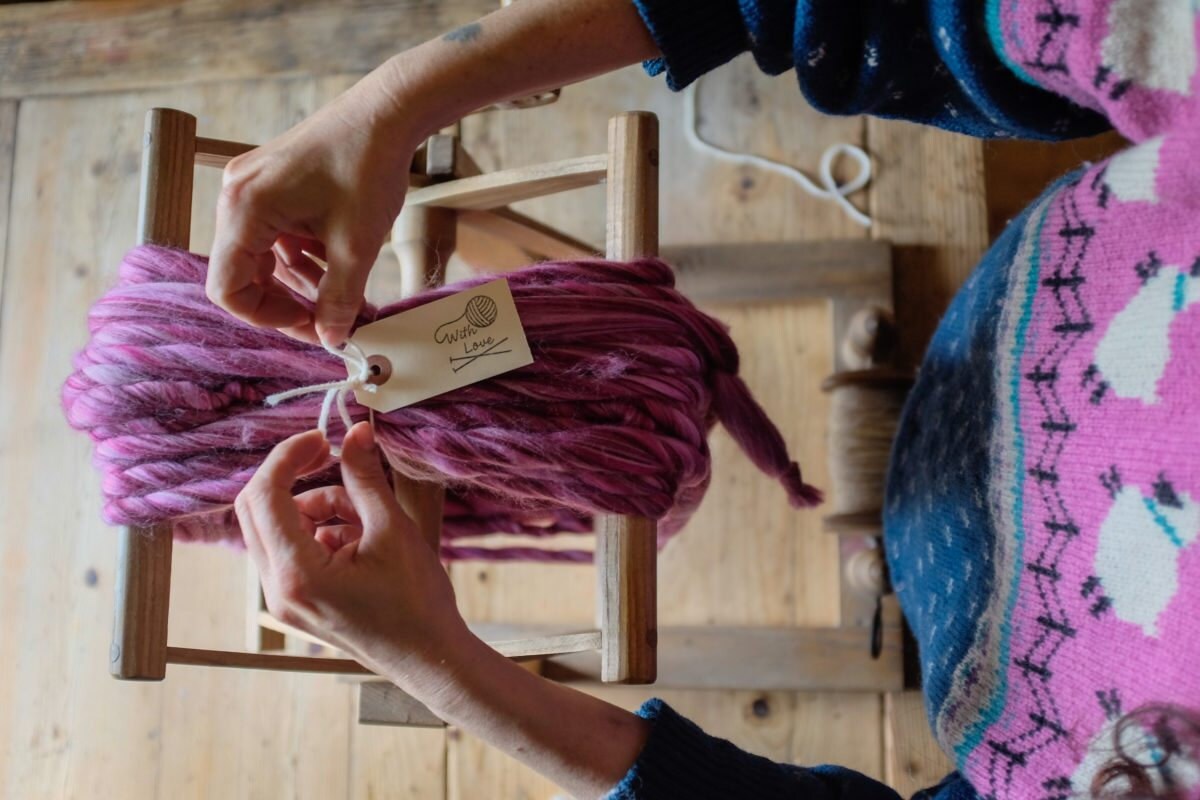 When do you work?
I usually spin in the afternoon – especially on days when it's raining, as that's when we work inside the house and try to conserve as much electricity as possible. When it snows, I love spinning outside.
Tell us more about your process and materials. How do you make your yarns?
I spin on my wheel using ethical fibers from local breeders here in Italy, and some in the UK. I like to work with fibers from different breeds of sheep beyond the famous Merino – every breed is beautiful, and each has its own character. There are so many interesting fibers to work with, and many of my yarns employ different types in varying amounts. For example, my
giant yarn
is made using Merino and superfine wool, which makes it perfect for chunky, wearable pieces. My made-to-order art yarn, on the other hand, takes more time to produce because I use a mix of Alpaca,
silk noils
, Shetland, Suffolk, Merino and Angora wool, together with Teesawater wool locks and vegetable fibers made from rose bushes and bamboo. After I spin the yarns, I create skeins with my antique wool winder.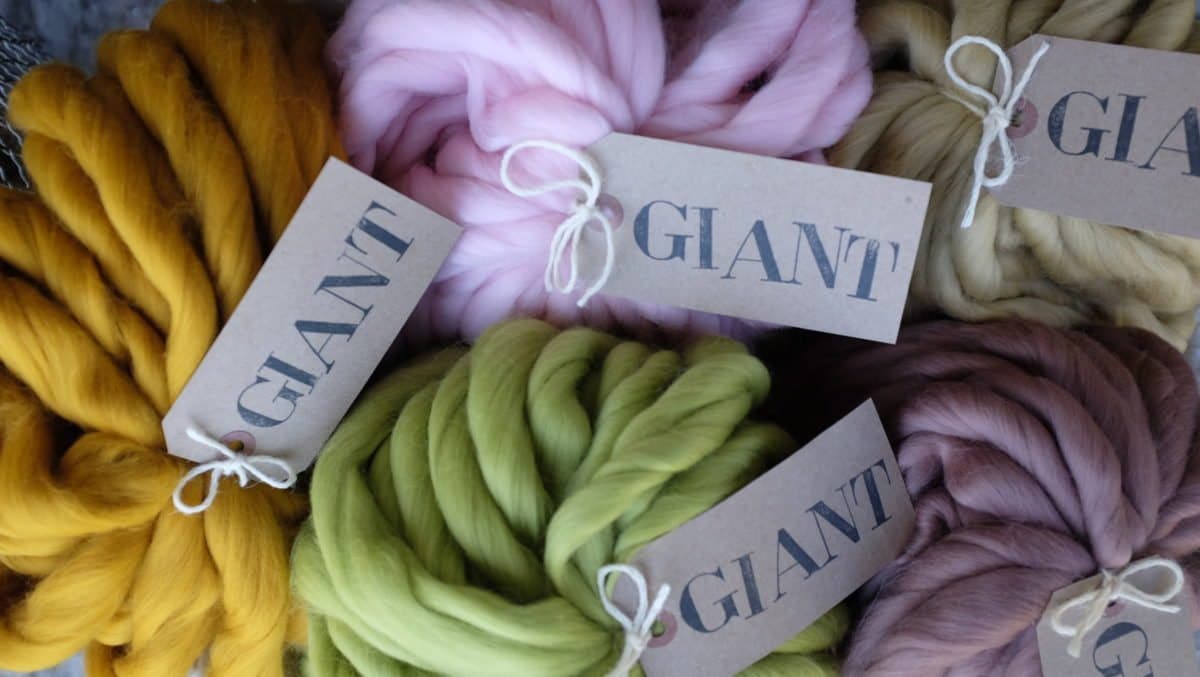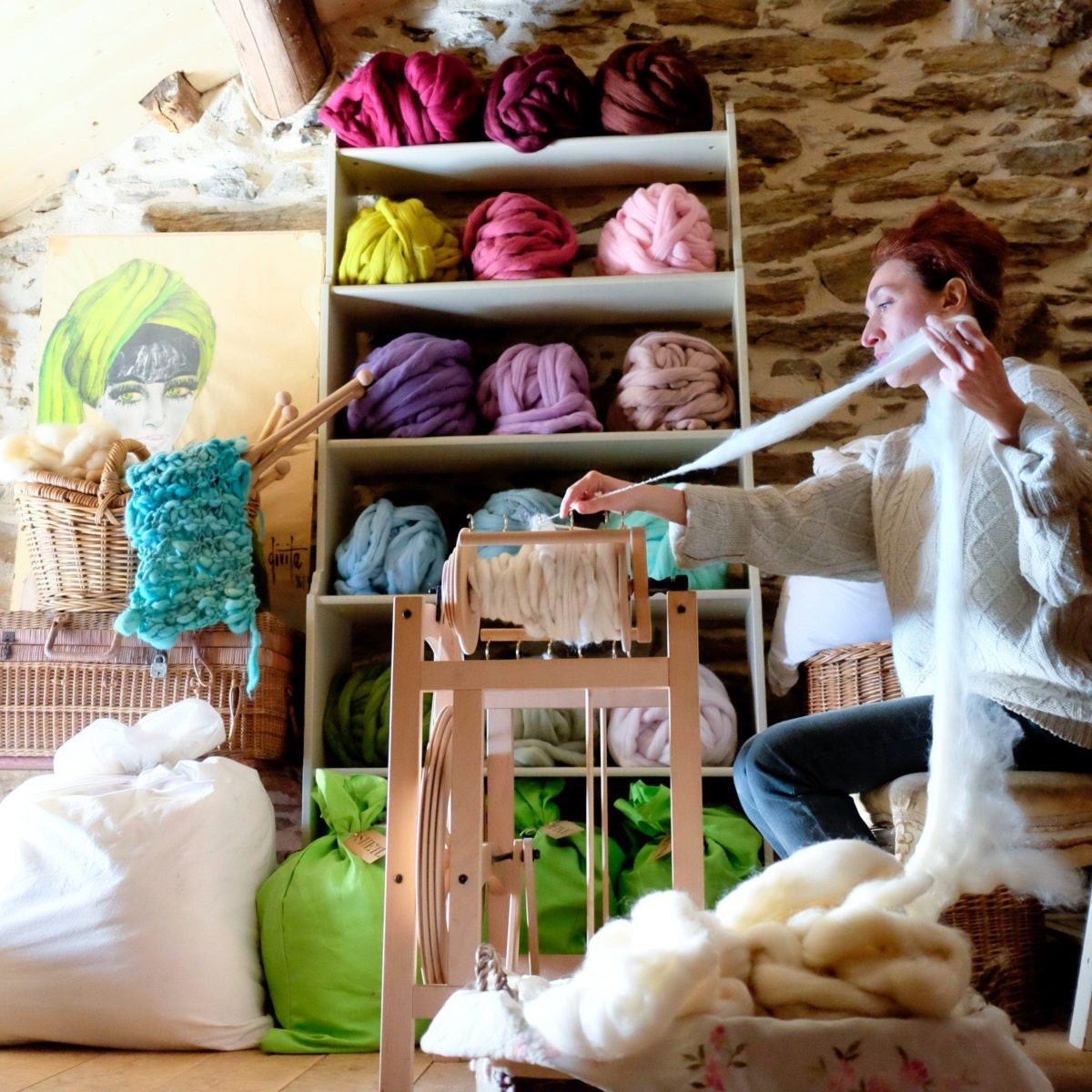 What inspires you?
I'm inspired by nature: clear or cloudy skies, coral, flowers, all the different shapes and shades of the leaves, the white of snow, the bark of the trees, birds' plumage, nests, and sunsets.
Why do you spin?
Spinning is magic, and sheep are magic animals: That's my philosophy. I look at my sheep as they tear grass from the ground, eat baby leaves from the trees, and snack on all the flowers they find along their way. They transform everything they graze upon into wool; for me, this is a sort of green alchemy. I think of wool as a soft, living material that breathes and warms up, and so spinning becomes a meditation on nature and its mysteries.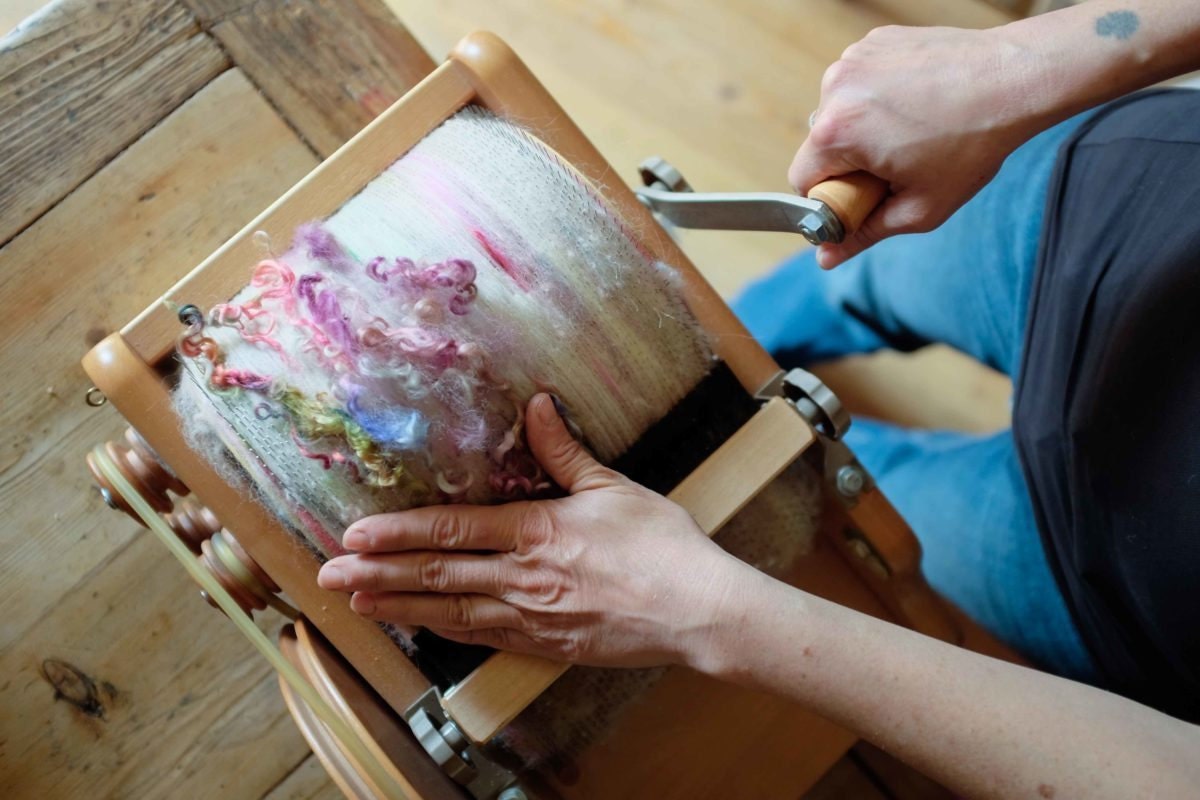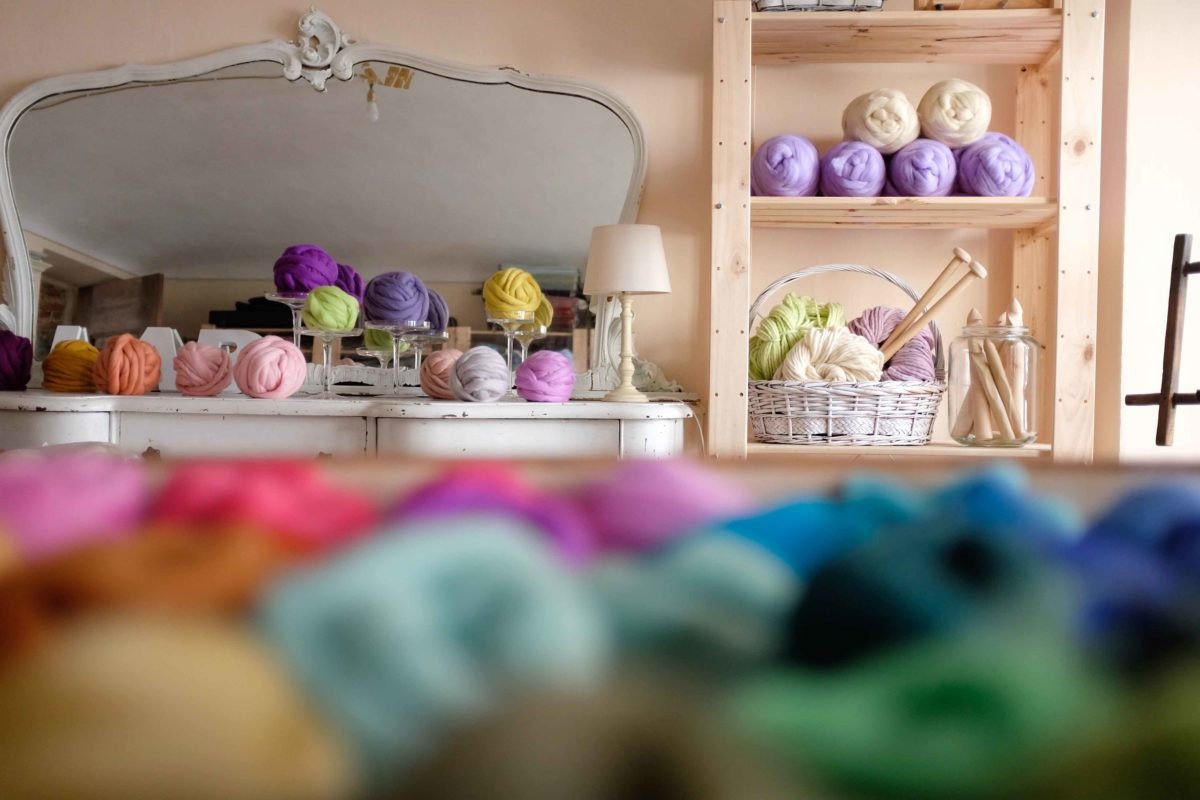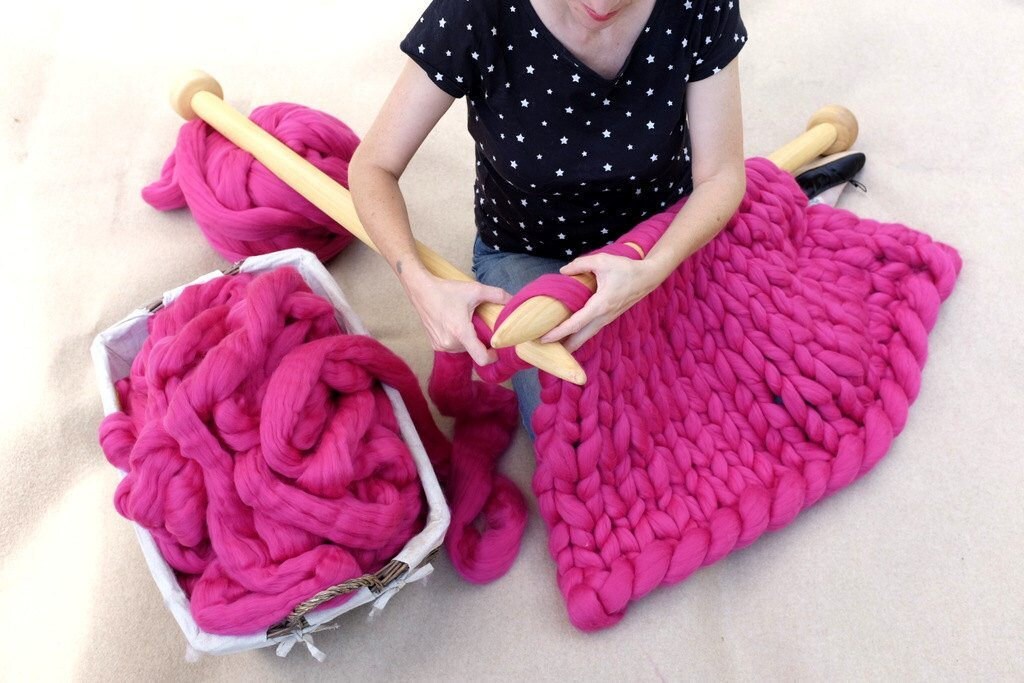 What does Etsy mean to you?
I buy everything I need on Etsy. Living in a remote place, we don't have any shops out here beyond a grocery store that looks like it came out of the '60s. Etsy is the only community I feel part of. I'm proud to be here with my business and to support the creative work of others, as well. I buy so many things on Etsy: packaging for my shop, such as paper tags and stamps; all of my clothing, from handmade underwear and vintage sweaters to shoes, coats and tabi socks; all of my homewares, including vintage kitchenware, towels, mugs, and natural soaps. I'm happy to make purchases on Etsy because I know exactly who made what I'm buying; I even bought my
wedding dress
and ring here. Waiting for a parcel to arrive from a fellow Etsy seller is always pure joy. I take pleasure in waiting for something special.
What are some of your goals for the future?
My dream is to raise a flock of a rare, local Italian breed of sheep that is nearing extinction, and help grow the population as much as I can. My hope is to give a new chance to these little rustic, ancient sheep, so they can graze on their land once again.
All photographs courtesy of Knitting Revolution.
  Save Save Save Save Save Save Save Save Save Save Save Save Save Save Save Save Save Save Save Save Save