by Valerie Rains
Made with vintage military surplus materials and leather, Kruk Garage's limited-edition bags are ones you'll want to keep for a lifetime.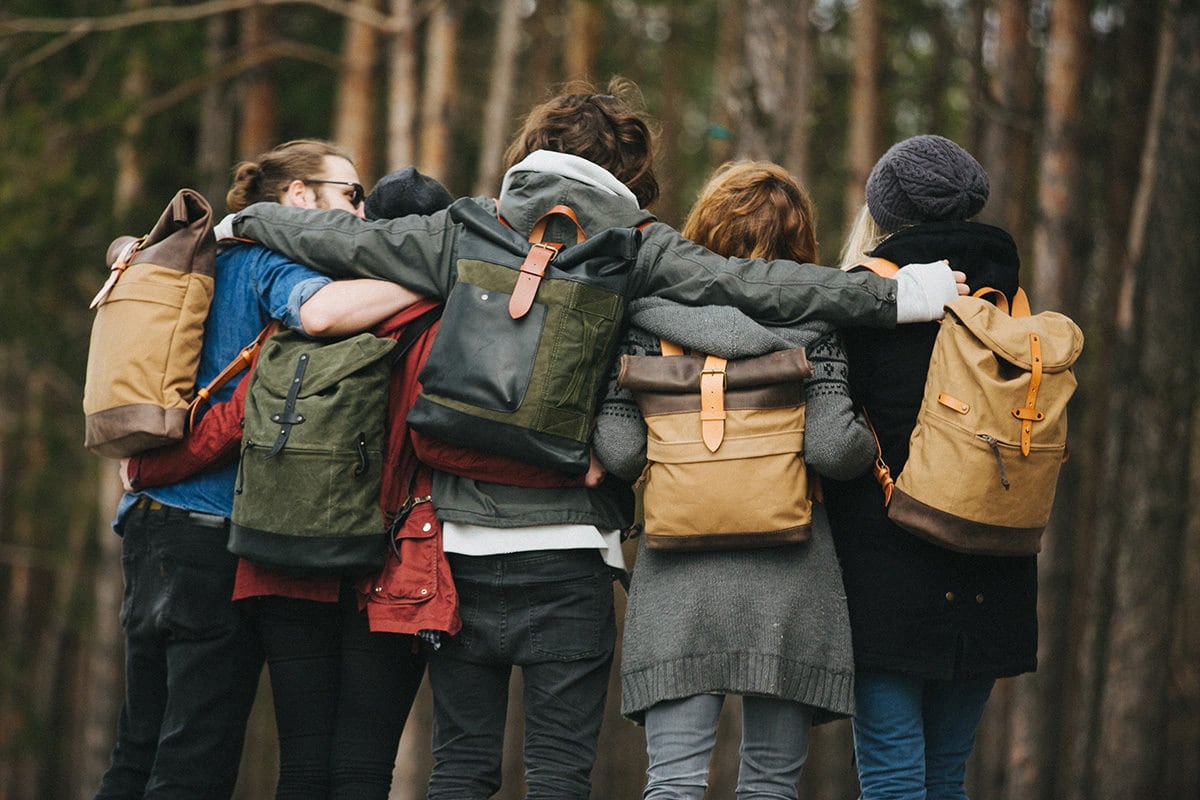 Plenty of designers borrow ideas, shapes, and styles from history to form the fabric of a contemporary collection; Alexandr Morgachev of
Kruk Garage
uses the actual
fabrics
of history. The co-owner of a small auto-parts distribution company in Kiev, Ukraine, and a passionate collector of vintage military bags and backpacks, Alexandr had always been interested in handmade goods; he'd even dabbled in making simple furniture, jewelry, and leather accessories before hitting on the idea — transforming secondhand and surplus military materials into one-of-a-kind new designs — that would become the basis for Kruk Garage. "The first bag I created was made of military tenting canvas from to the 1970s, and for my first backpack, I used a vintage duffel that dated back to WW2," Alexandr recalls. "Those first items gave me such incredibly positive emotions, and the belief that I could design and create new items," he adds. "The thought of creating my first, singular collection was soon replaced by the goal to create items for other people." Naturally, more products meant more man-hours, and in the time since he launched his line, Alexandr's team has grown to include five makers — and inspired a second, spinoff collection of limited-edition bags and accessories made from hand-waxed canvas and leather. Read on to learn more of Alexandr's story and 
shop the Kruk Garage collection.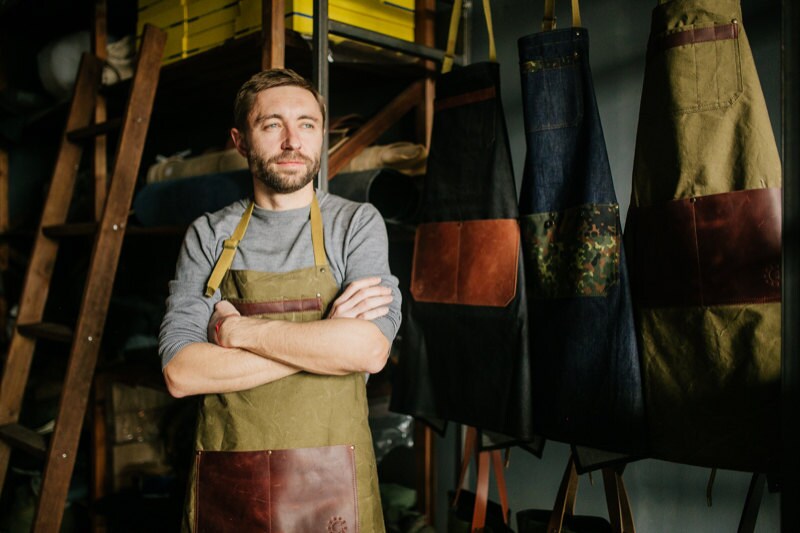 How did using upcycled and military surplus materials come to be a priority for you in your work?
We love to combine new materials with rare vintage elements, and
every item
in our shop has a vintage military component. We make aprons from military tenting canvas, backpacks from army duffel bags from different countries and eras, and belts with buckles that date to WW2. They are all one-of-a-kind products, and each has a story to tell. The look of the vintage elements we use — with marks of time such as shading variations, small scratches, wrinkles, stains and factory stamps — can only be achieved with age and use. All these elements make our items unique and valuable.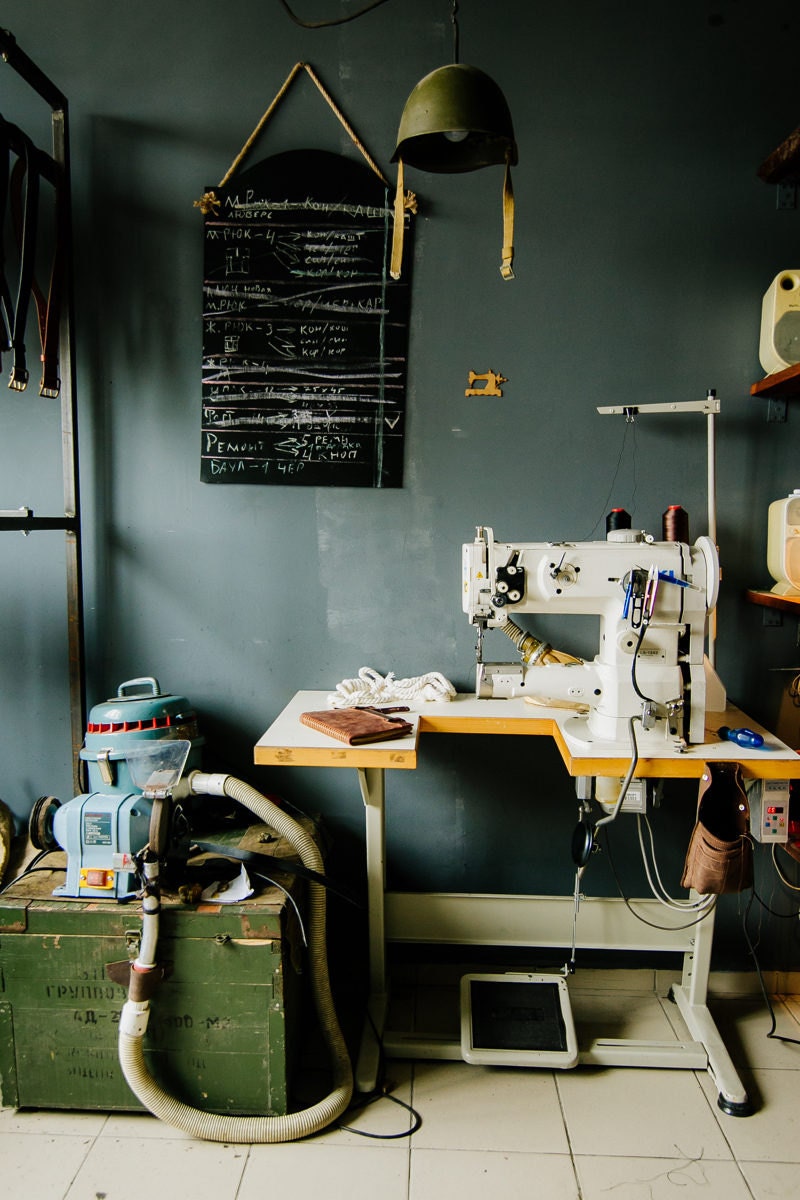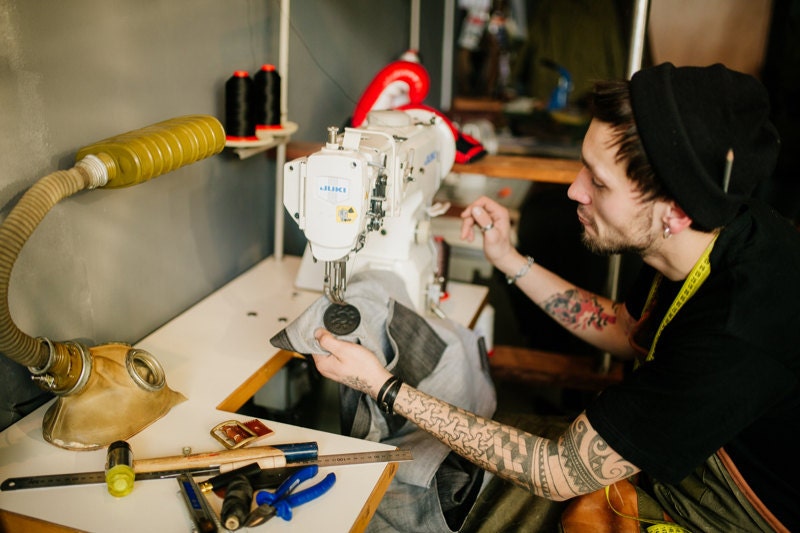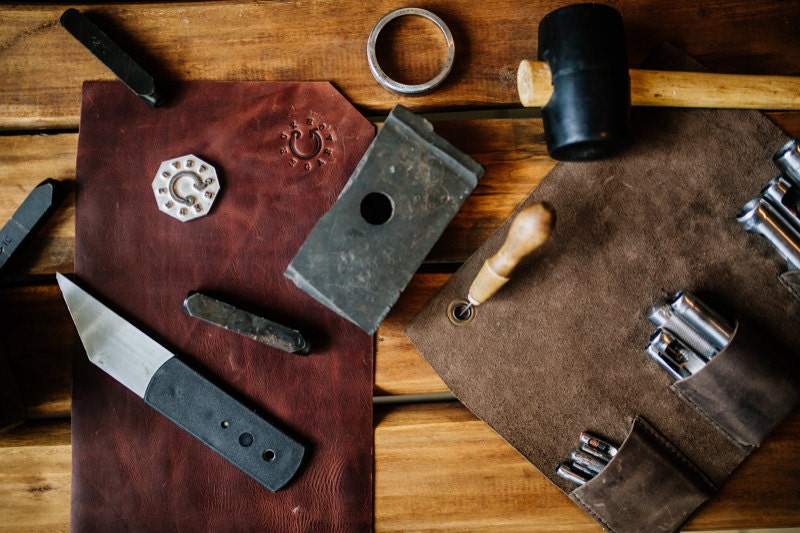 What's the most popular item in your shop, and how did that design come about?
The most popular item in our shop is
Backpack 2.011
 — it's made of British army duffel bags from the 1970s. I loved the original handle strap from vintage duffel bags, and one day I decided to place that strap on the front side of the backpack. It's not just a decorative detail — it's also practical because you can carry the backpack from the front handle strap, as well.
Can you tell me the story behind the name "Kruk Garage"?
Kruk — an old Ukrainian surname that means "raven" — is the surname of my granddad, who taught me so much: how to love working and how to be happy with the results of my work. The "garage" part signifies a place where I do what I like — where my creativity becomes a physical item. The
Kruk Garage
workshop is our special artisan space.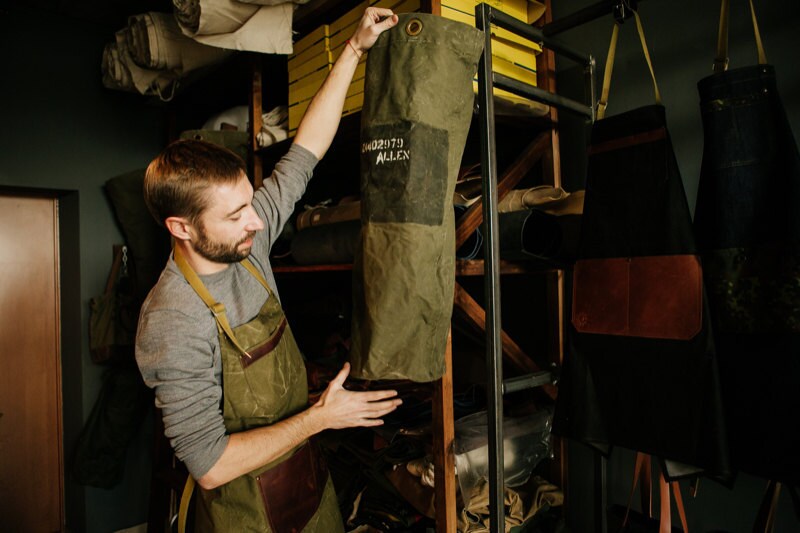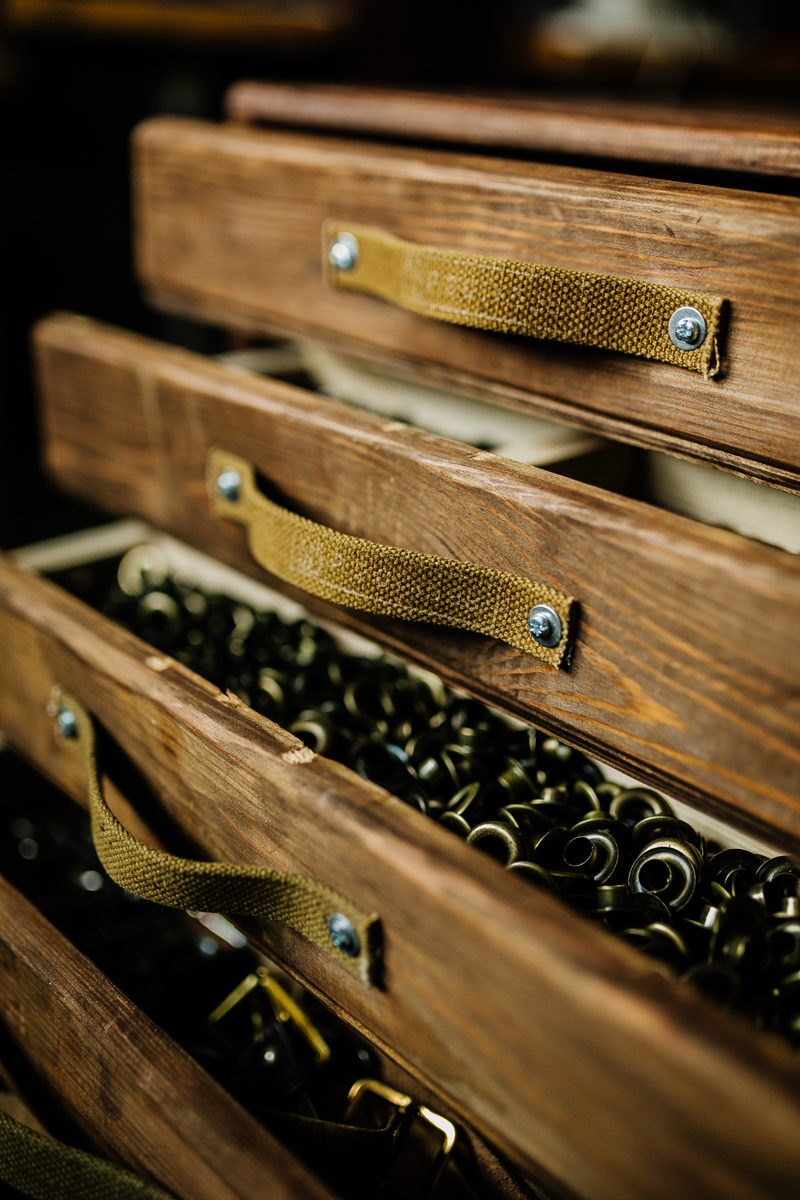 What is your workshop like? What do you love most about it?
Our workspace is, first of all, about the atmosphere — the positive energy that gives birth to creativity. It's very important to be surrounded by the things you love. Sometimes, our workshop more closely resembles a museum of vintage military gear than a studio. We renovated the space and made the furniture with our own hands — we even made the lightning out of army helmets and gas masks. And of course, good music is a must: We always turn on our favorite music while we are working.
Will you walk me through the process of how you go from an idea to a finished product? Do you start with sketches? What's your workflow like?
We always make sketches to visualize what the finished items will look like, but the most important part of our process is working hands-on with the materials. We create each item individually, and because every vintage bag we use is one of a kind — with its own distinctive markings and shades — I will often decide how an item should look at the moment I get the materials in my hands.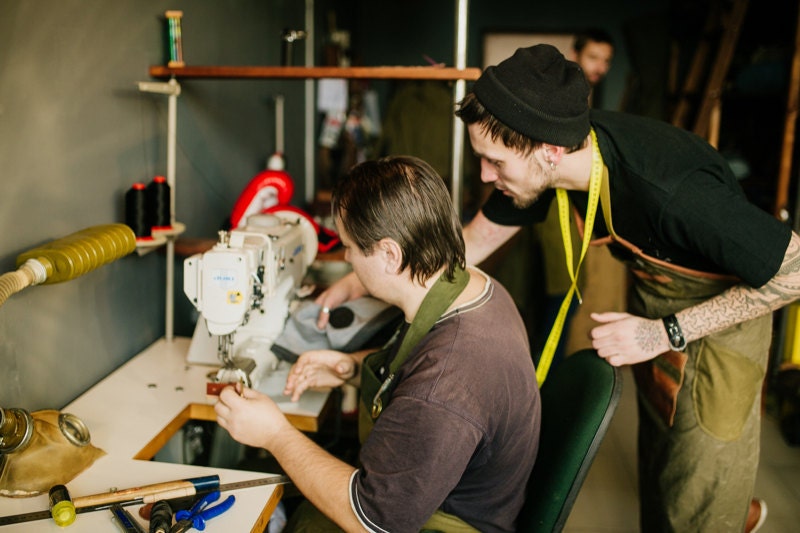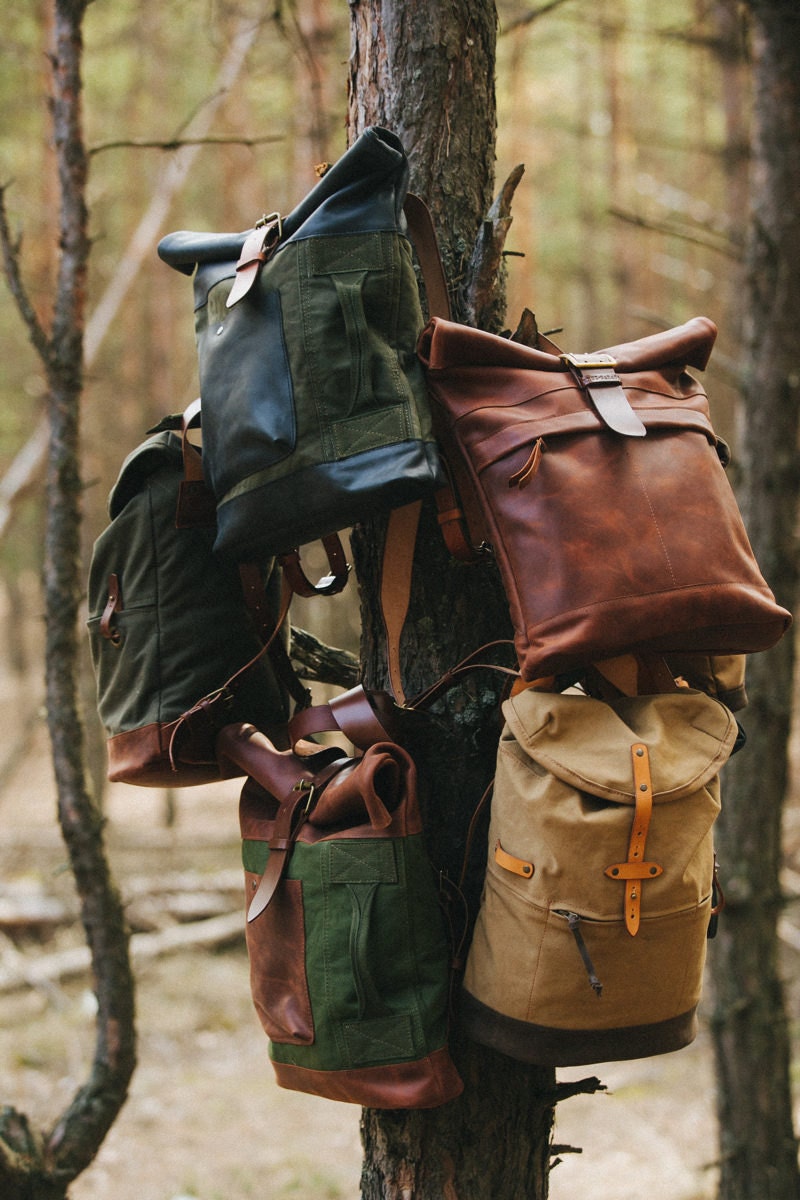 What inspires your design work? What stimulates your creativity and helps you develop ideas?
Our primary sources of design inspiration are our own lives and desires, our families and our hobbies. We work as a team, and anybody can bring a great idea to the table. Two months ago, I was inspired by the road, and we made a series of bags and backpacks from hand-waxed canvas and leather that we called Crossroad.
Our last collection was called Getaway
 because we love to just pack up our stuff and go somewhere for a weekend in the summer. Ultimately, every item we design, we design for ourselves. If we are satisfied with the result, we can introduce it to others. We don't try to offer something that is popular. Every one of our styles was designed and made because we needed it ourselves. We make the items we love and use, and if other people love it too, that's our greatest pleasure.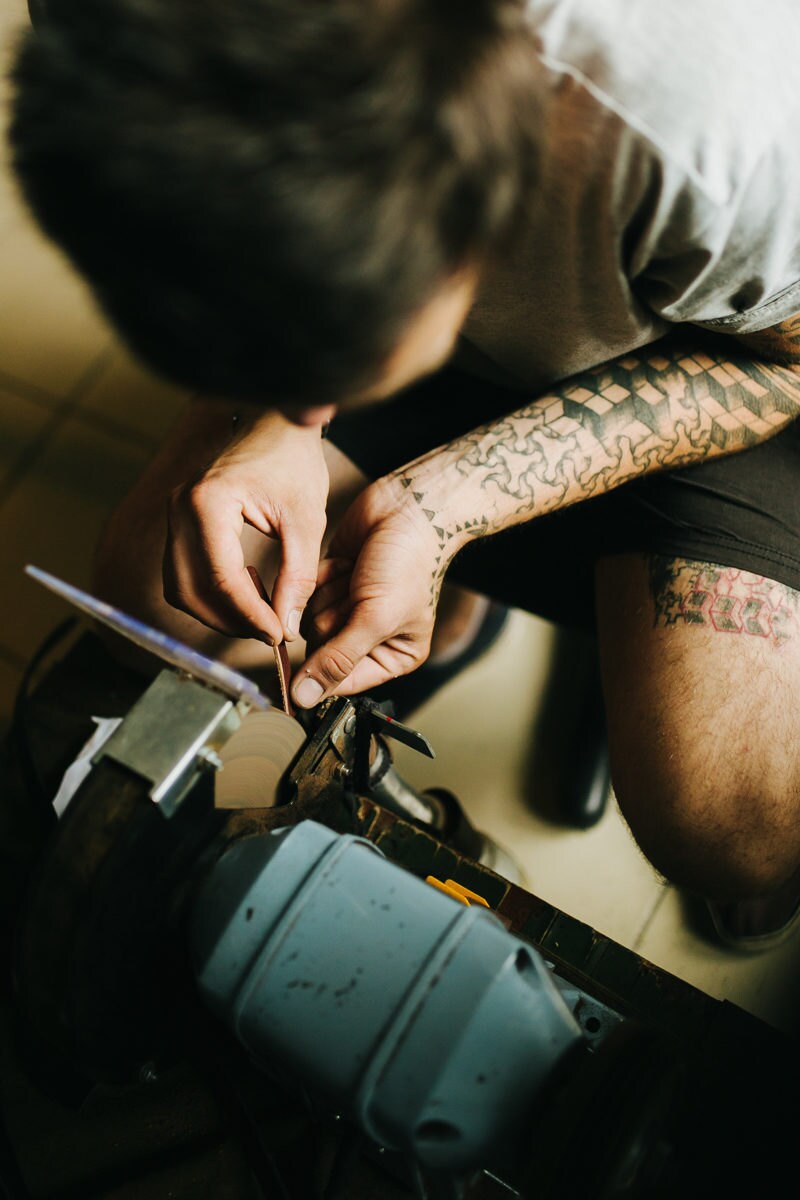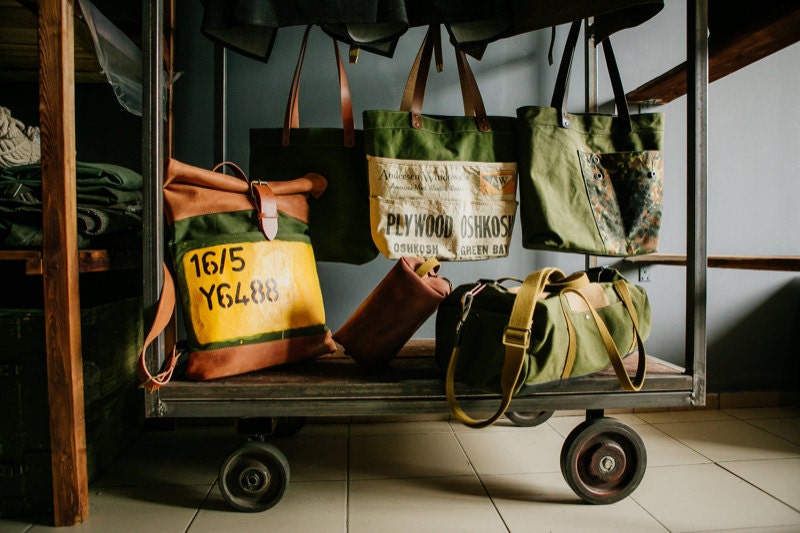 Do you ever do any creative collaborations or custom orders? If so, what was one of your favorites to date?
We have received a few interesting custom orders in the past, and we try to take on at least one custom order per month: Doing that helps us keep growing and making more and higher-quality products. It's always good to know something new. We've also done some interesting collaborations for barbers and baristas. Last month, we designed aprons for a Kiev-based craft brewery. We have a lot in common with the guys there — the brewery is an industrial-style space, the guys who work there are real hipsters, and they brew very good beer. It was a great experience for us.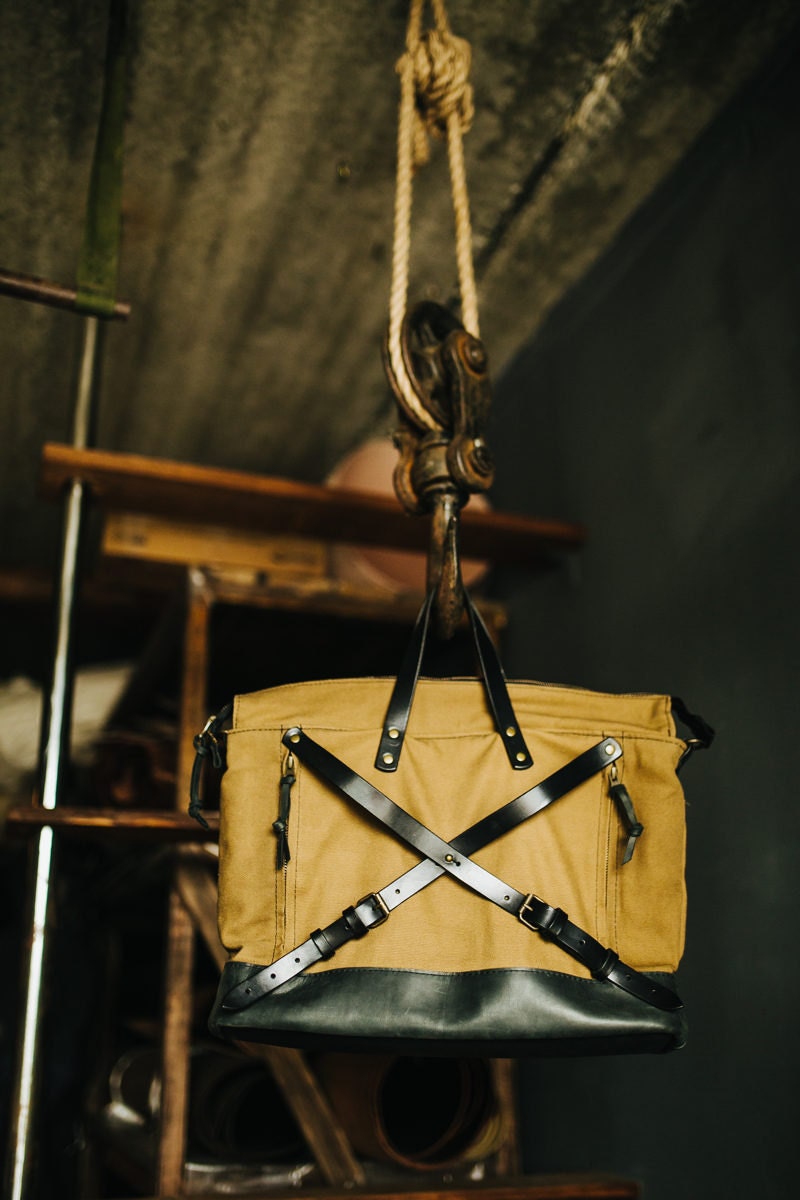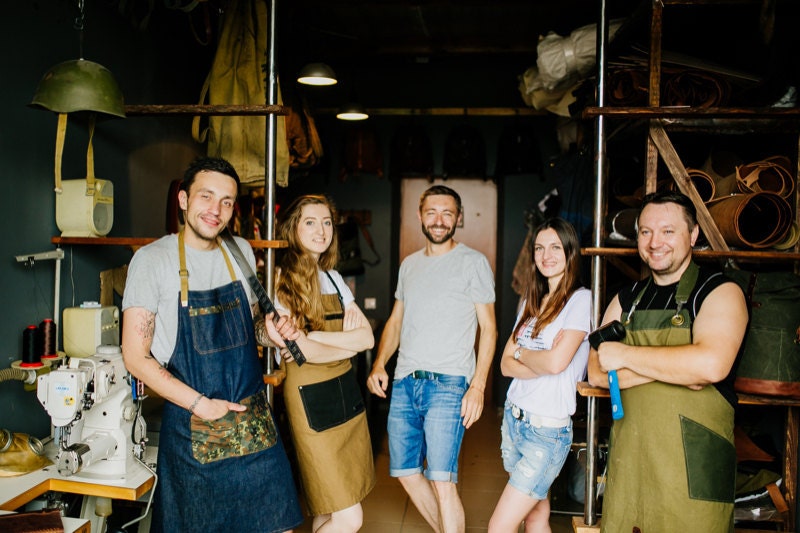 What are some of your goals for the future of Kruk Garage?
Our goal is to keep growing every day, always designing and making new products. Right now we are preparing two collections for Autumn/Winter '16-'17: Our original collection using vintage materials, and a series collection,
Kruk Garage Atelier
, which includes items made of new and natural materials only — mostly hand-waxed canvas and leather. We are also launching a new group of small, handcrafted leather accessories soon. Still, our top priority is to spread the word about Kruk Garage to as many people as possible, all around the world. For us, it is a very exciting journey!
Follow Kruk Garage on Facebook and Twitter. 
Photographs by Alina Krasieva.