by Julie Schneider
Crafted by hand off the coast of Montreal, these blue and white porcelain homewares—think plates, pitchers, mugs, and more—sing the song of the sea.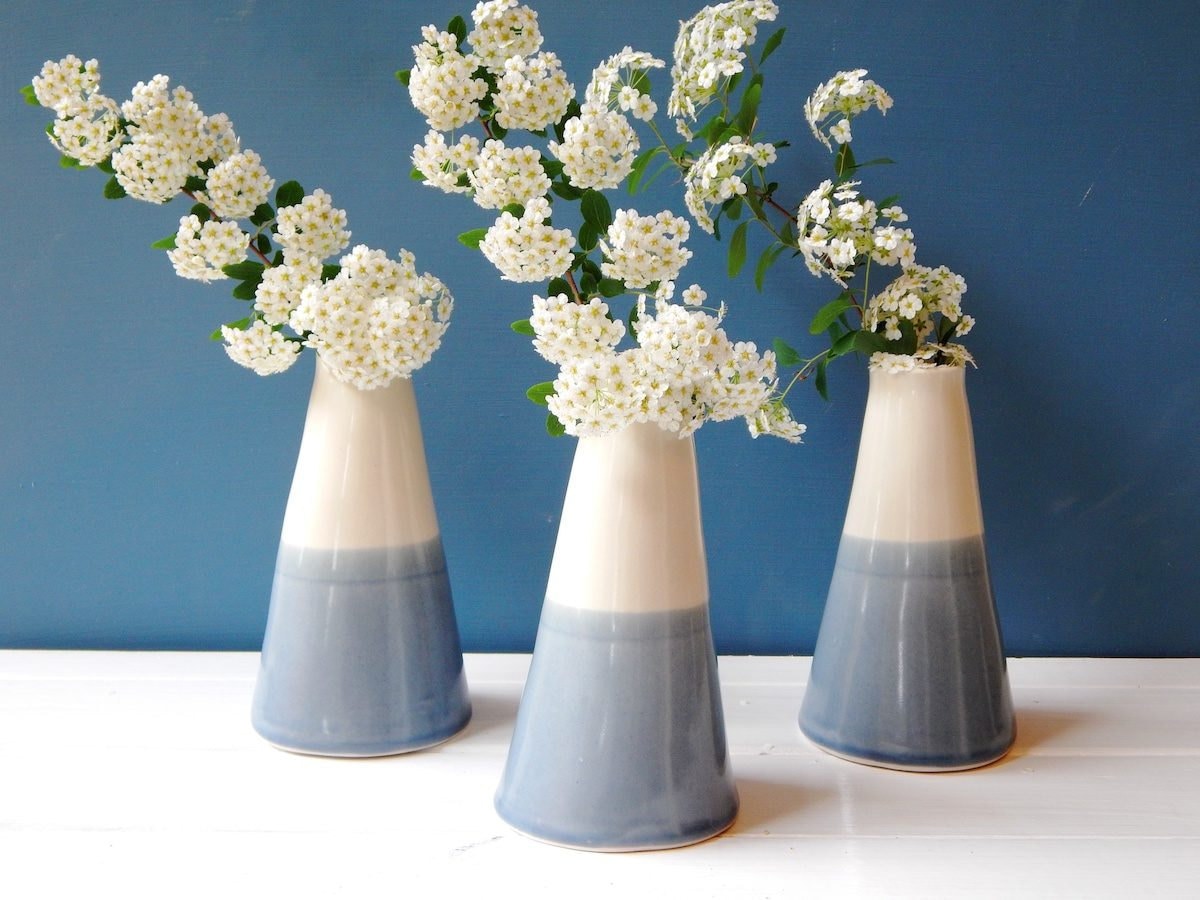 In our weekly Featured Shop series, we shine a light on a standout shop from Etsy's talented seller community, offering readers a behind-the-scenes look at their process and story.
Like ocean waves and alabaster sand or sky and cream-puff clouds, Lilot Poterie's ceramics are characterized by a serene palette of blue and white, imbued with beachy vibes. Owner-potter Edith Momplaisir finds inspiration for her functional porcelain homewares in getaways—the sort defined by the sound of lapping water, the scent of salt on the breeze, and long, lazy days unencumbered by plans. "I love the feeling of leaving everything behind and knowing that there's nothing on the schedule, only books to read and coffee to savor with the sunrise," explains Edith. "The freshness of a cool morning by the lake, the freedom of a summer vacation, and the fullness of a walk in the forest all find their way into each of my pieces."
Explore the Lilot Poterie collection
From her sunny studio on a petite island off the coast of Montreal, Canada, Edith spends her days carefully hand-building each microwave- and dishwasher-safe mug, bowl, cheese board, flour canister, salt cellar, and tea light holder in her collection. Fittingly, the name of her shop translates to "Small Island Pottery" in French, and with their organic forms and fresh, modern shapes, each Lilot Poterie piece echoes the soothing spirit of the seaside—a phenomenon that isn't lost on her legions of satisfied customers. Says Edith: "When people buy my pottery, they often say, 'This reminds me of that place we went last summer, or when I used to pick up sand dollars with my mom.'" Where will your Lilot Poterie ceramics transport you?
Read on to discover how Edith's line comes to life and shop the Lilot Poterie collection.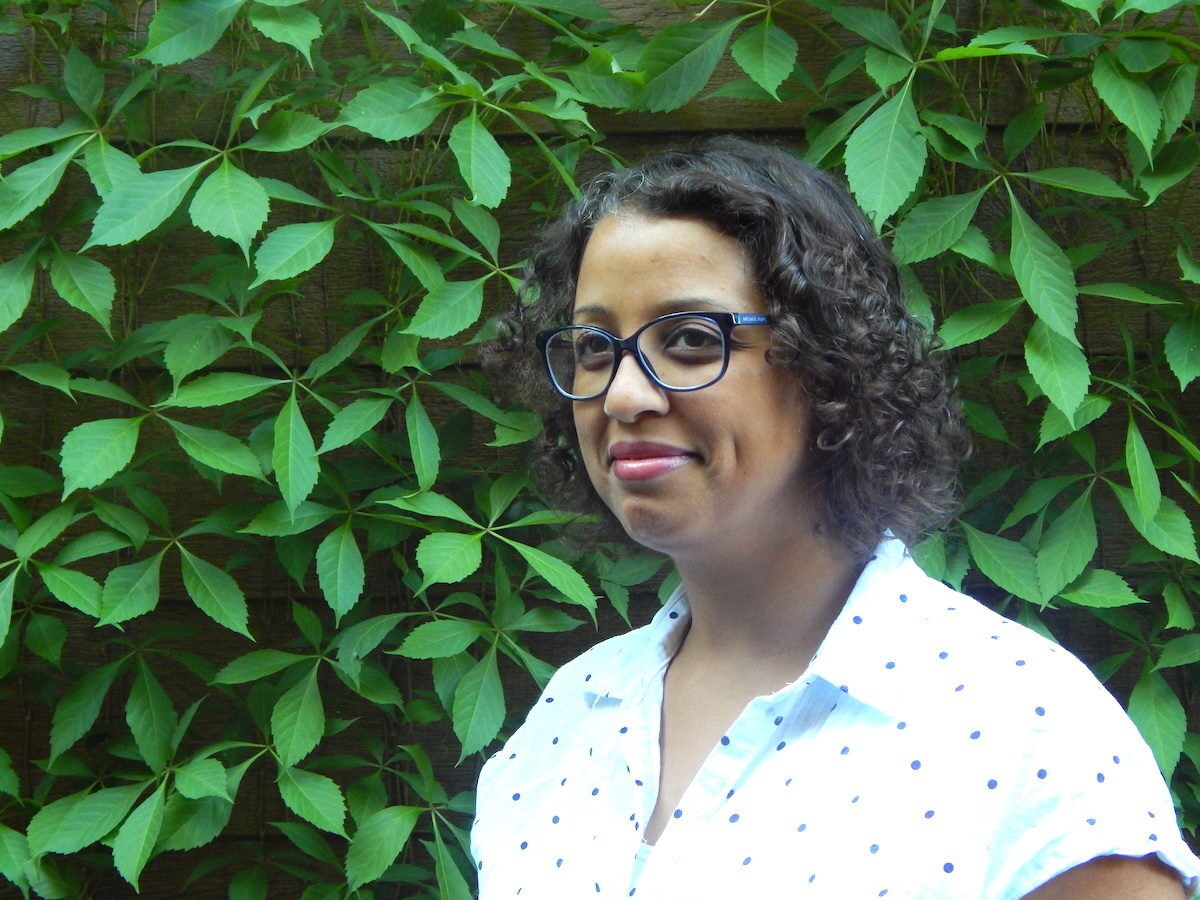 What inspired you to start selling ceramics?
I was at the end of my interior design degree when I came across an arts and crafts exposition. That's where I fell in love with ceramics and saw the potential of making decorative objects for the home, so I got my ceramics degree while working as an interior designer. Porcelain is a soft and beautiful material; I love its color and creamy texture—and I was stunned that you could make a living out of working with it!
From sand dollars to starfish, natural forms can be found throughout your collection. What's your relationship to nature, and how does it affect your work?
Nature has always been a part of my life. When I was a child, we used to go to my grandparents' country home every other weekend, and I would take long walks in the field with my grandmother's dog, Blacky, picking up daisies along the way. When I began to make pottery, I was always looking for natural textures to imprint in clay.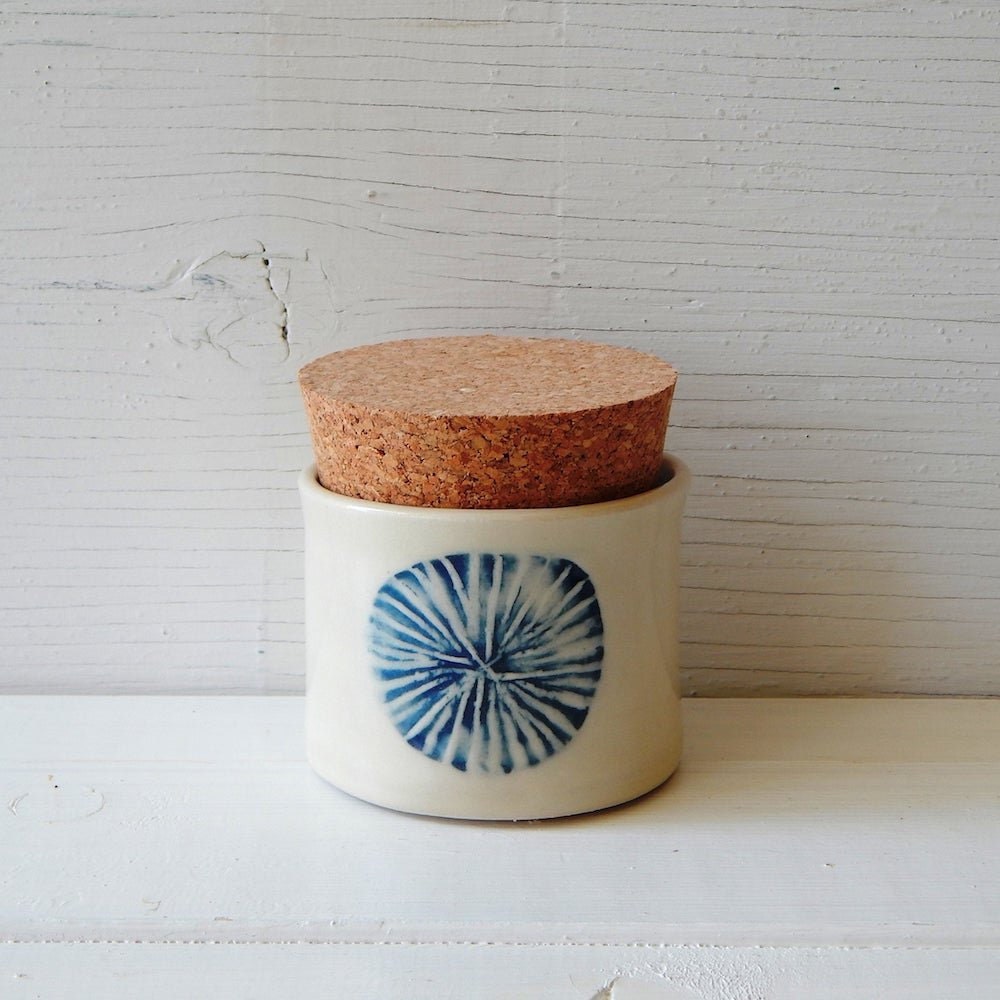 >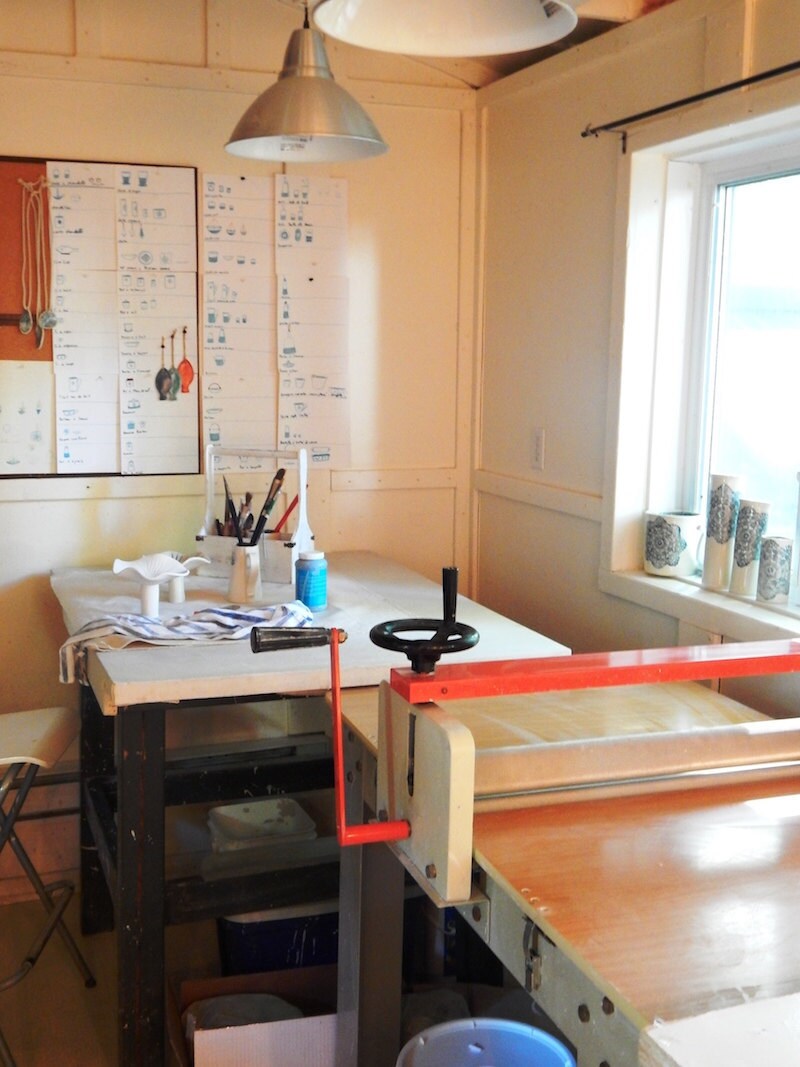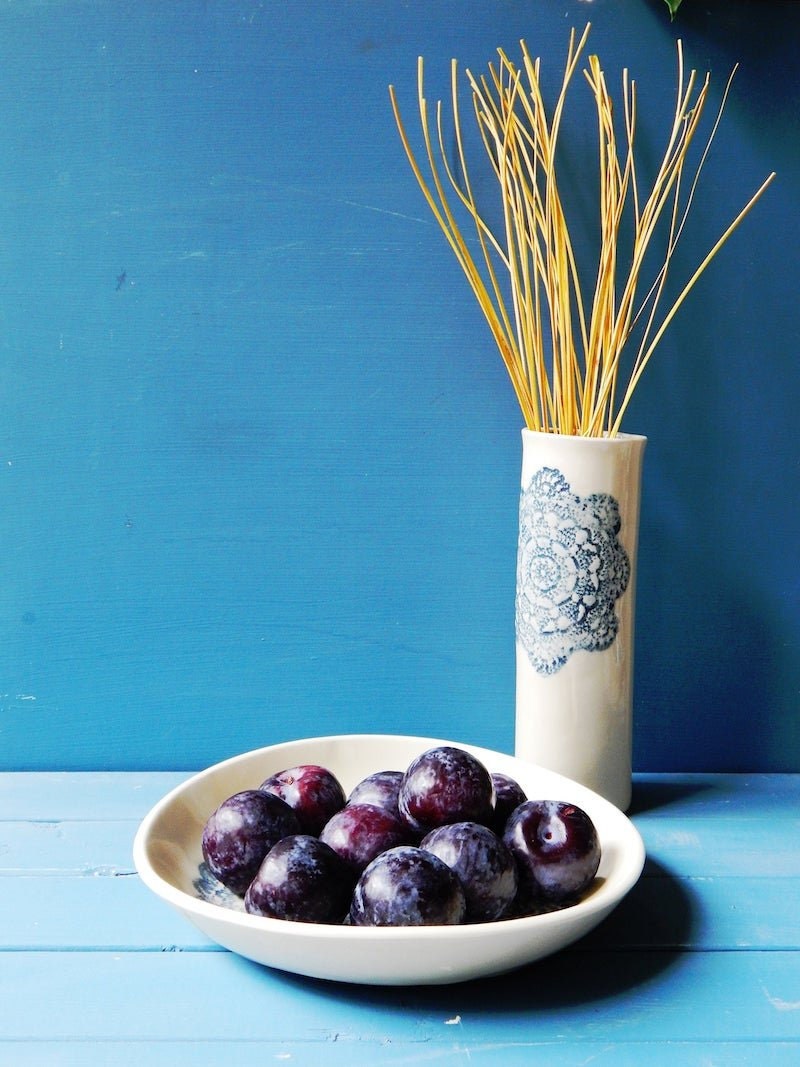 >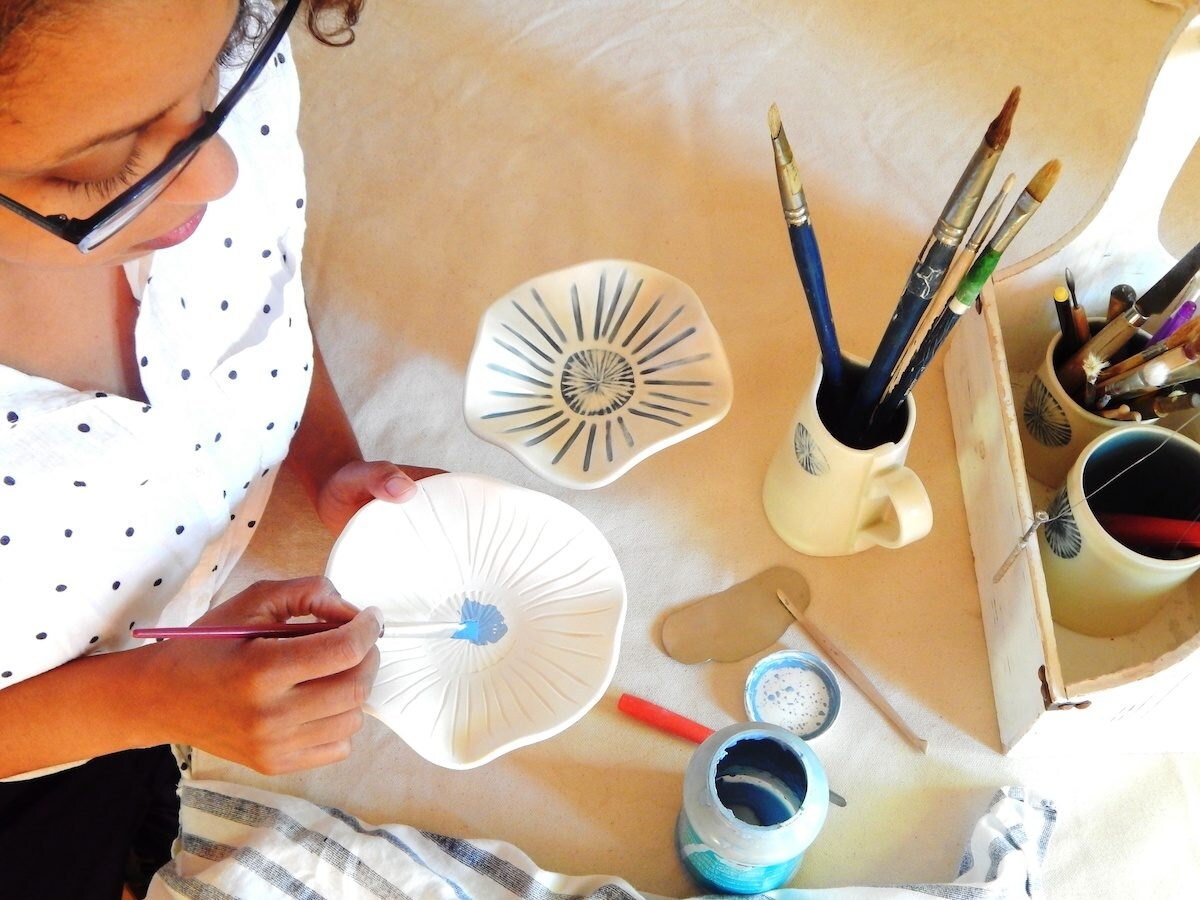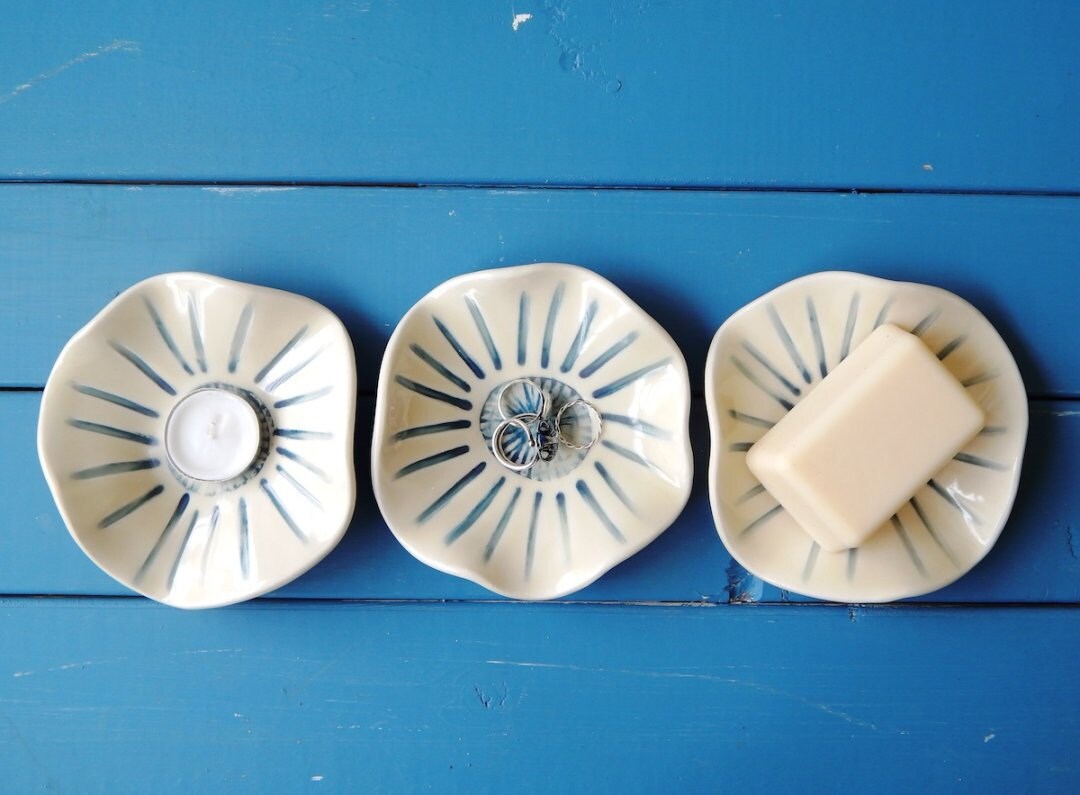 >
Aside from your use of imprinting, what else sets your line apart?
One of the things that makes my pottery special is the hand-building technique I use that allows for natural movement. I like when the clay is in motion. Even at the end of the process, when the firing is done, I want to feel that the piece is alive. My style is organic with a clean and contemporary feel, and the beach and lake house inspiration and color scheme are also part of my signature.
Speaking of your signature color scheme, what draws you to blue and white specifically?
I like the freshness of white-and-blue combinations. The colors also go really well with the natural beauty of a dark brown wood table, a charcoal countertop, or a white kitchen counter—just add a green plant, a straw trivet, or a striped linen tablecloth and you're ready to go. Due in part to the colors, my pottery creates a relaxing effect on people, so it's also a good gift.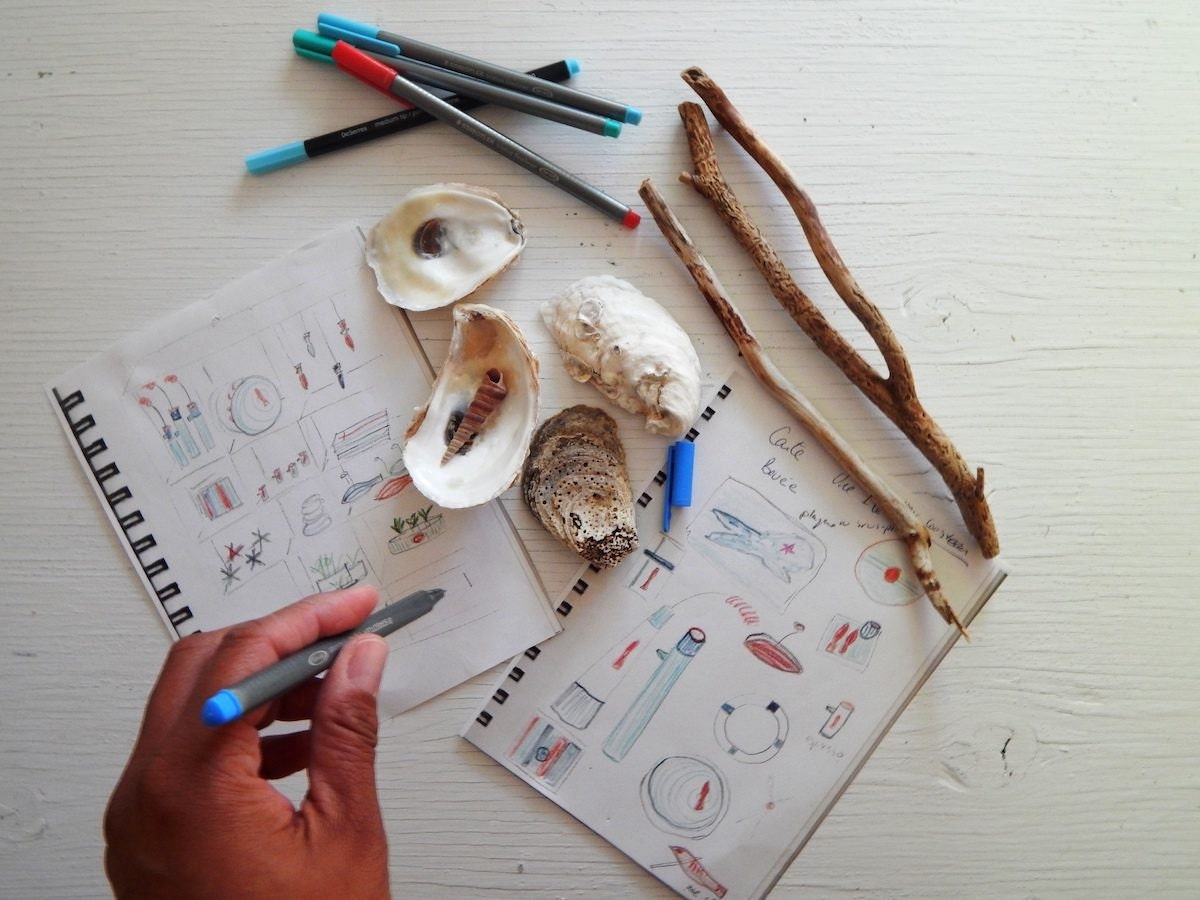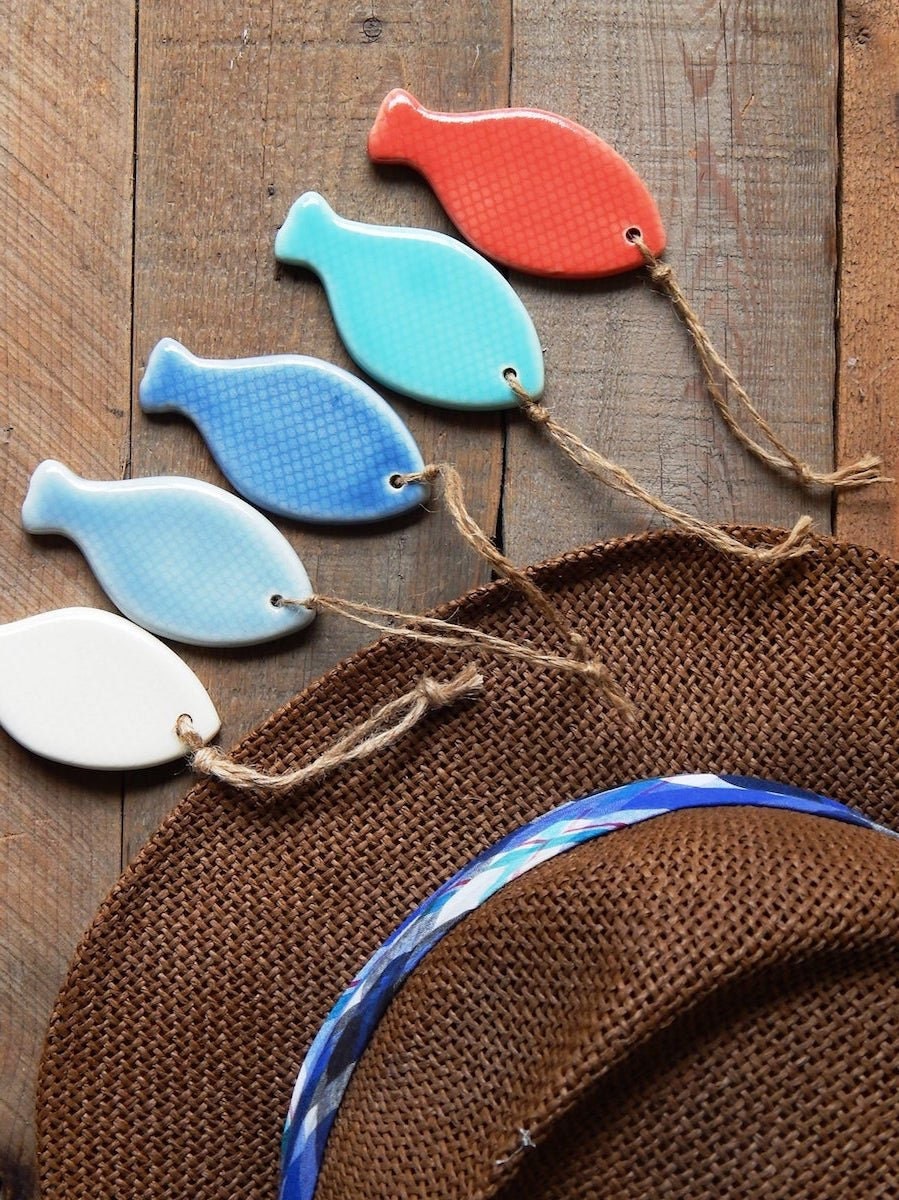 >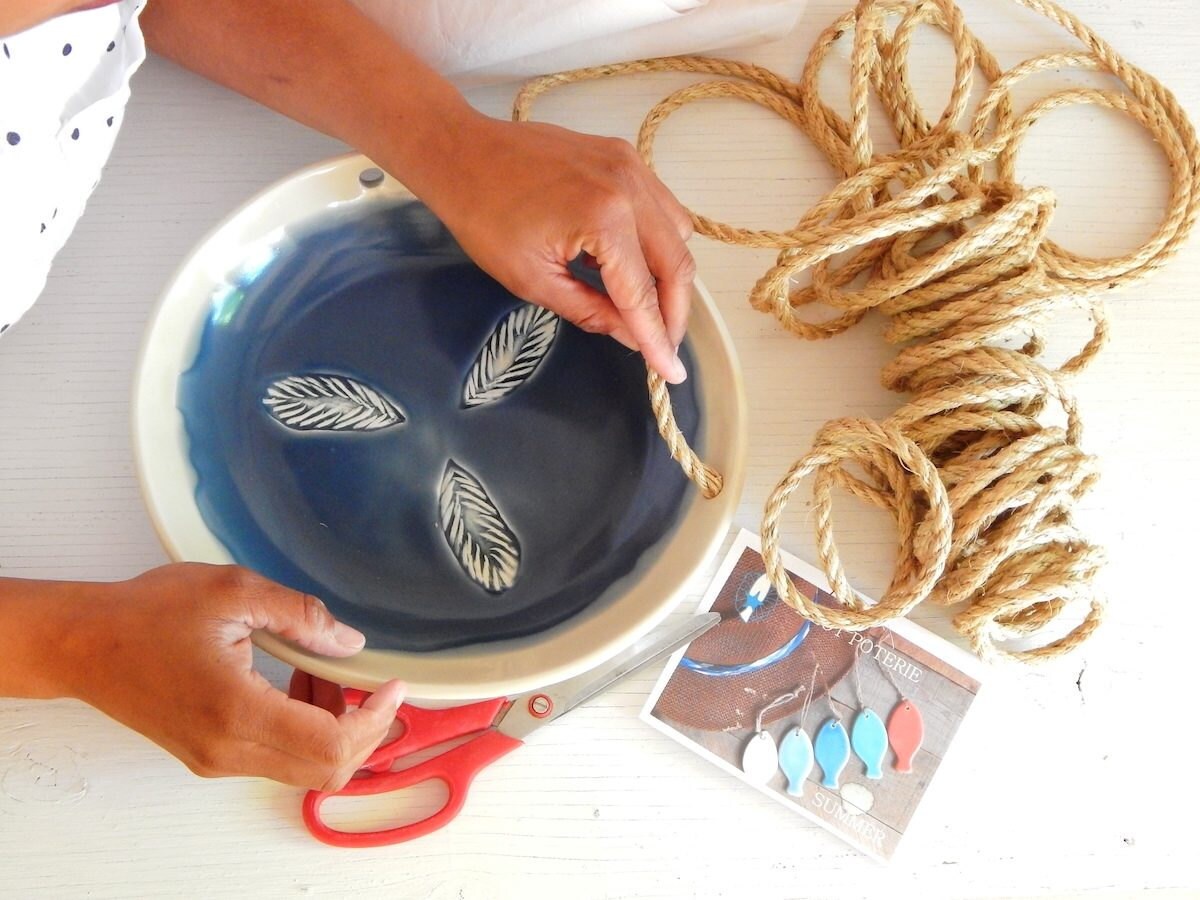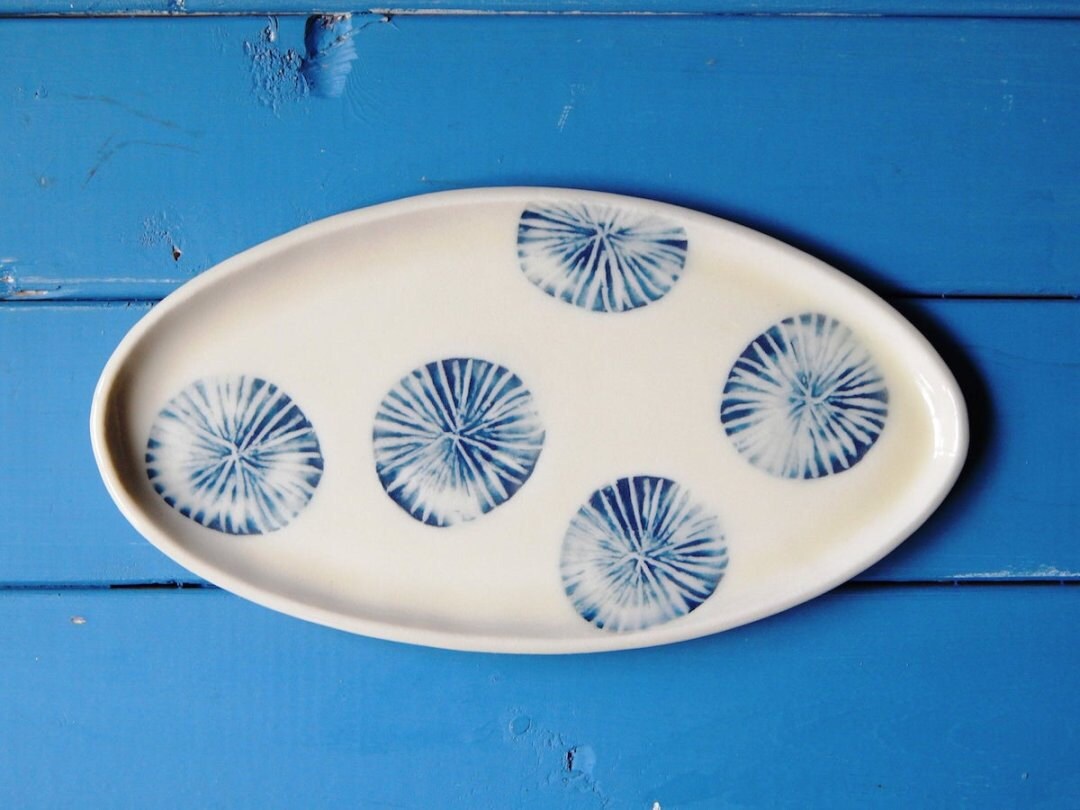 >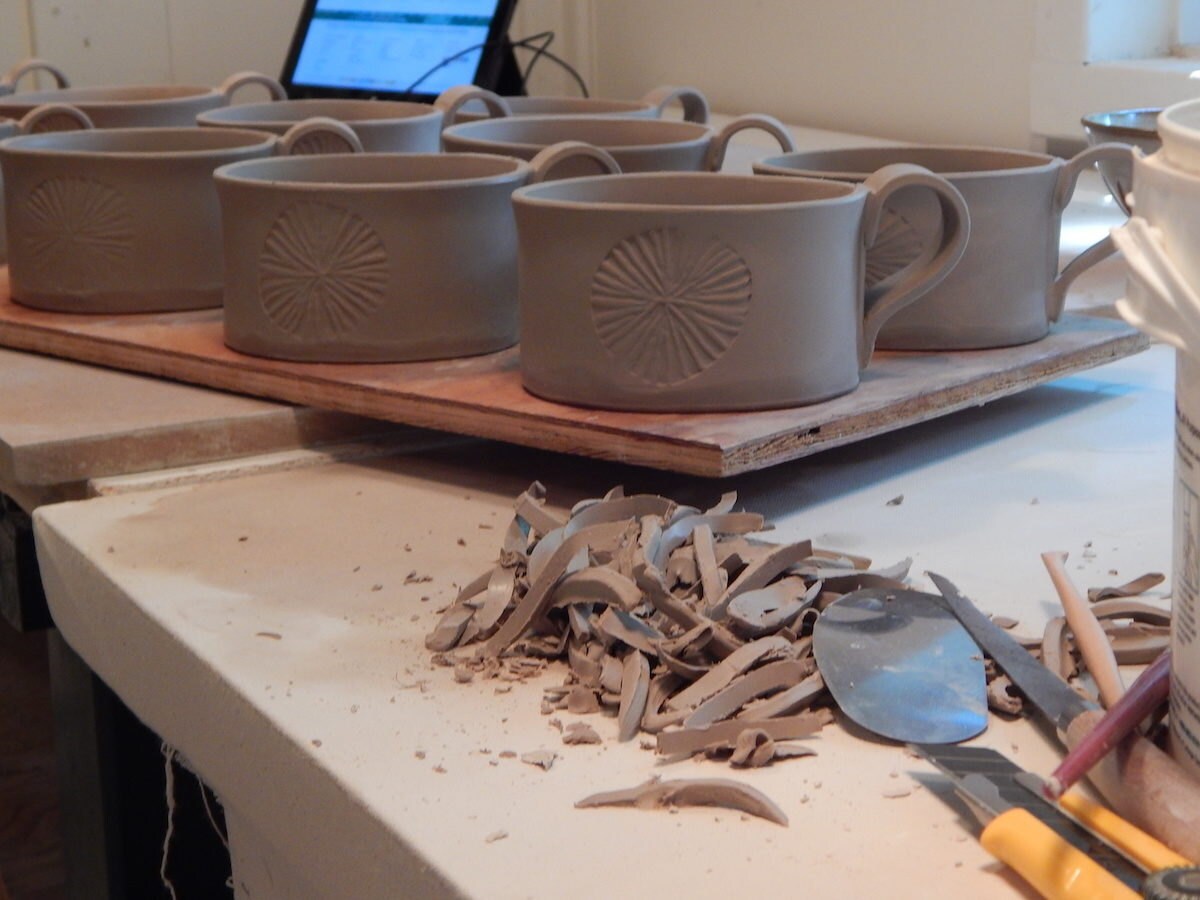 What are some of your most popular items for gift-giving?
My vases, serving trays, and lavender- and basil-scented candles make lovely hostess gifts, and my cheese boards, salt cellars, and pie plates are thoughtful choices for cooks. For coffee and tea lovers, I suggest my mugs, and for gardeners, the hanging planters and flower pots make really nice presents. The French butter keeper is one of my bestsellers, too. It allows you to store butter outside the fridge, while maintaining freshness and spreadability.
Walk us through your creative process. From the seed of an idea to pulling a piece out of the kiln, how does your pottery come to life?
First I work with mood boards and make sketches to figure out what I want to make, and then I play with different proportions using paper templates. After that, I create a model with clay and make any final adjustments. When I'm satisfied with the result, I'll usually make about ten pieces in a batch.
For the actual production, I start by cutting a slice of clay, which I pass through a slab roller. Next, I cut out shapes using the templates I made and stamp the pattern into the clay—for example, I might use a piece of lace that ends up looking like coral. Then I assemble the pieces and let them firm up. Once they're firm, I trim any excess clay and use a sponge to soften the edges. After that, I let the piece air dry for several days and then it's time for the biscuit firing—that's the firing that happens before the glazing. After the piece is fired, I paint the details by hand and glaze it, and then it's time for the final firing. From start to finish, the whole process can take up to four weeks.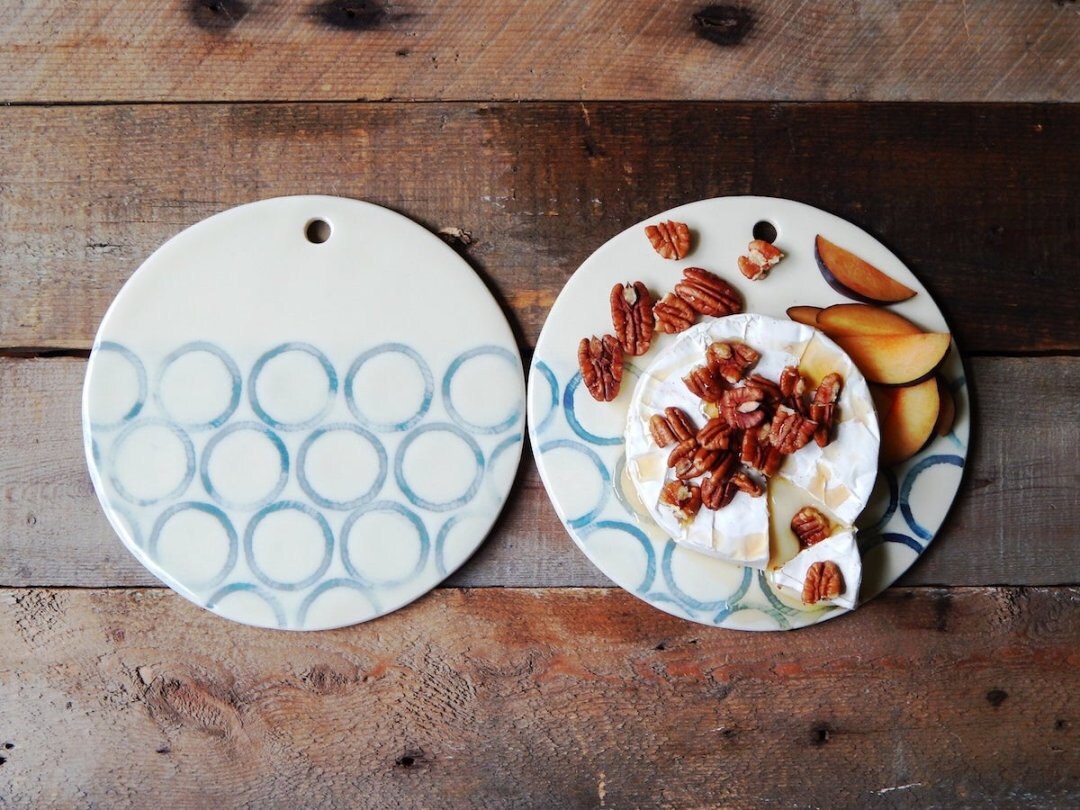 >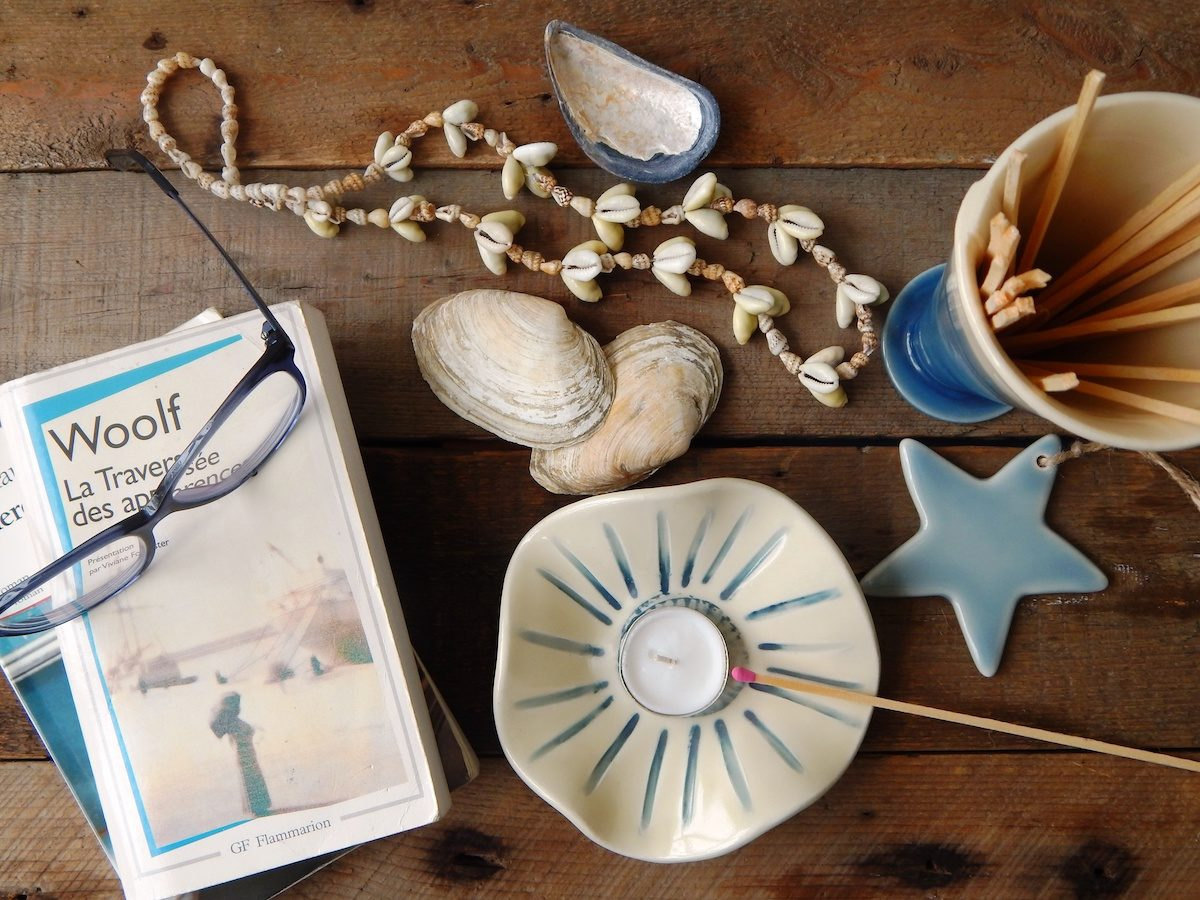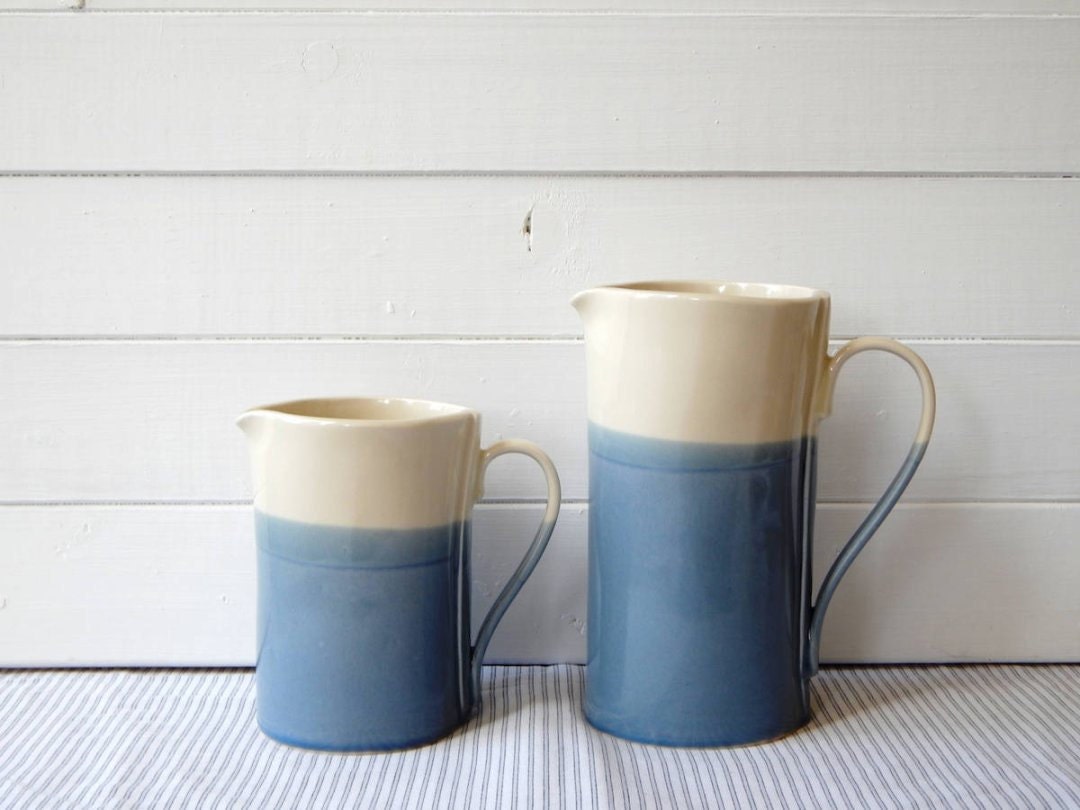 >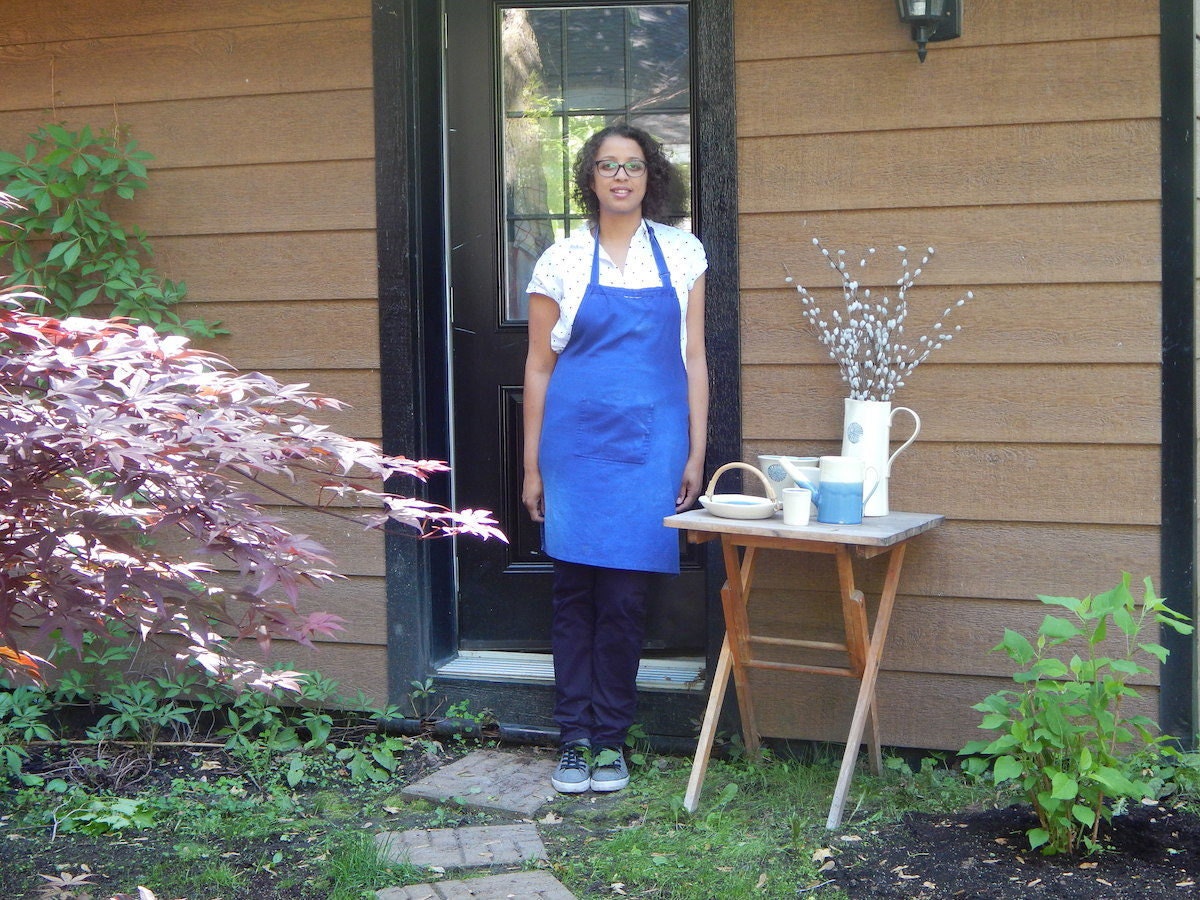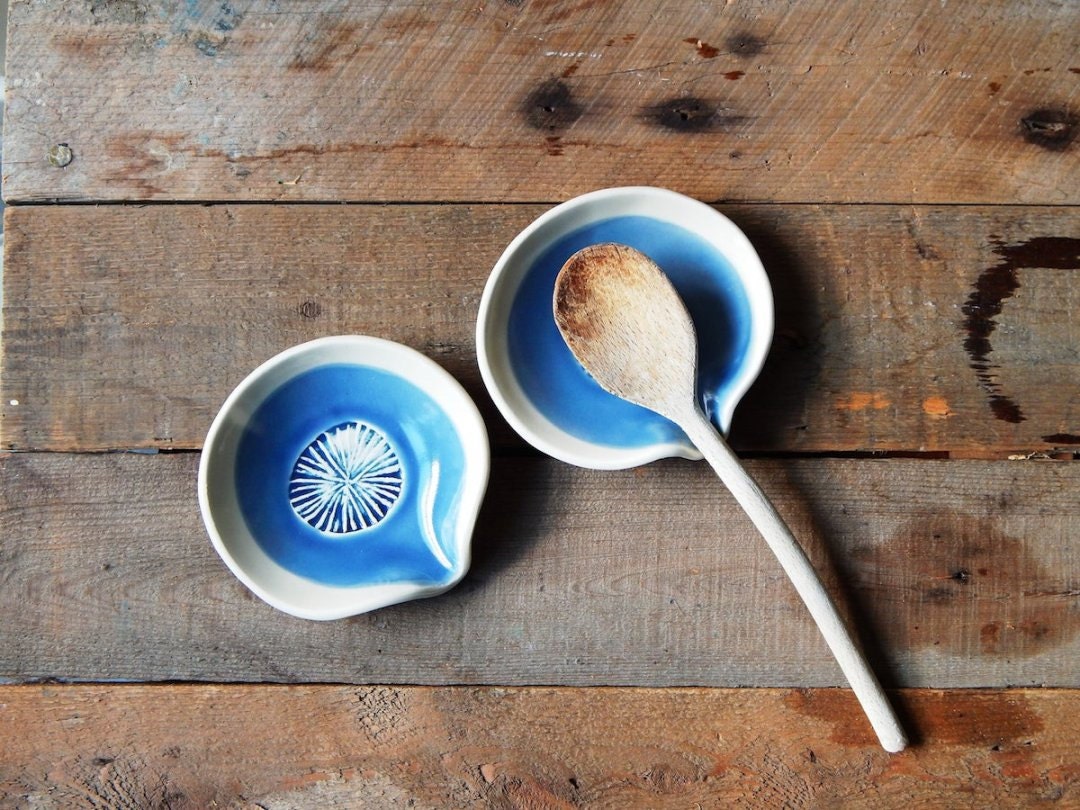 >
What's your studio like?
I just have to leave my house and take a few steps—often with my second morning latte—to enter my workshop. I turn on the lights and see what's inside: the white painted wooden display cabinet with my pottery collection, two large work tables, and my slab roller. The windows let in the morning sun. On the left are the drying shelves and at the end is an old cast iron sink. And, of course, my pottery kiln.
What do you do when you're not making pottery?
When I'm not making pottery, I love gardening, cooking, and taking care of my family. Yoga has become part of my daily routine to take care of my health, since pottery is such physical work. I also love photography. I'm not a pro, but taking pictures of nature and walking in the woods or by the beach brings me peace and joy. Sci-fi books and movies are an obsession of mine, too. Tell me a mysterious story, surprise me, bring me to an unknown universe, and you've got my attention!
Follow Lilot Poterie on Instagram.
Photographs courtesy of Lilot Poterie.