From belted jumpsuits and adjustable wrap dresses to cropped tanks and versatile tunics, this family-run shop specializes in high-quality everyday essentials.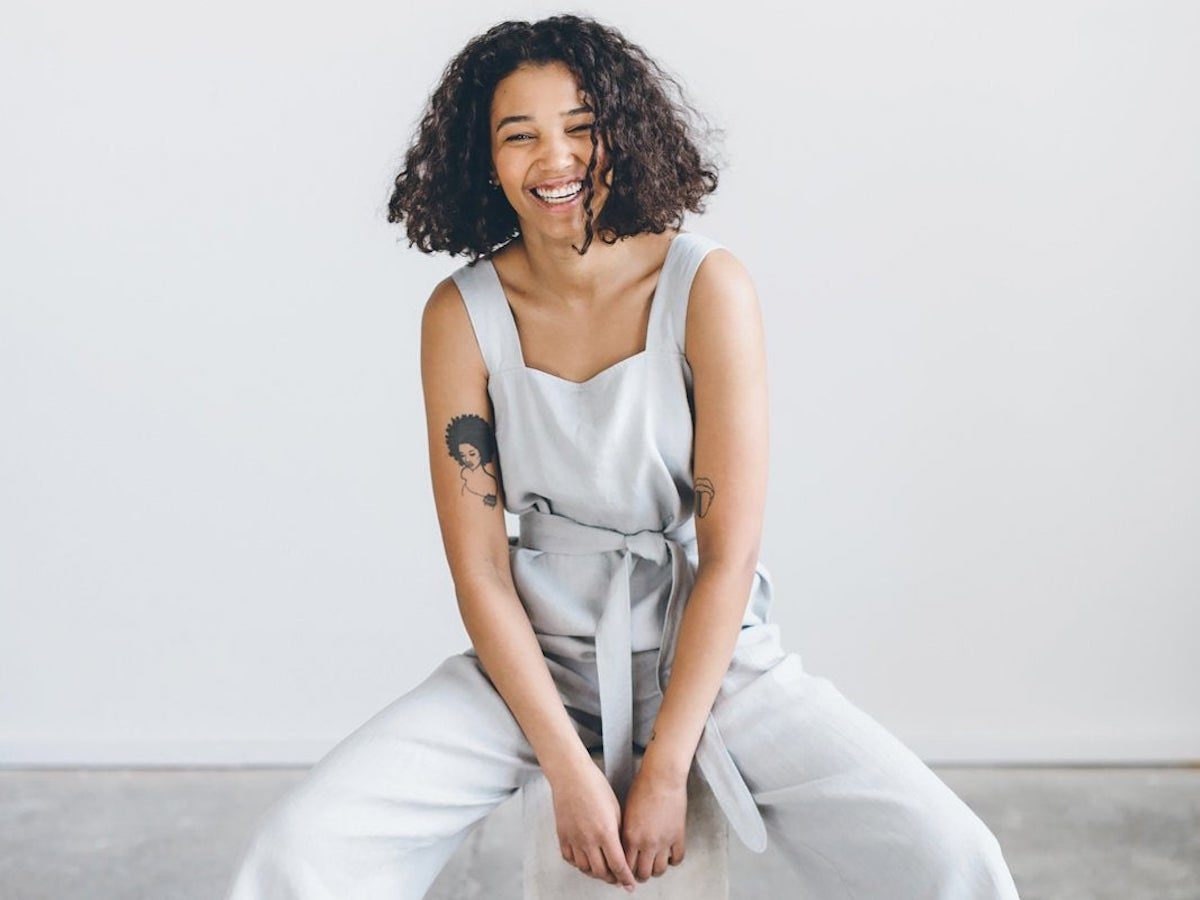 In our Featured Shop series, we shine a light on a standout shop from Etsy's talented seller community, offering readers a behind-the-scenes look at their process and story.
A casual, yet lovingly planned, beach picnic for two. An unhurried afternoon arranging a nursery for a new arrival. A gathering of girlfriends in matching bridesmaid dresses preparing to send their sister down the aisle. Linenfox's timeless collection of linen clothing is ready for all these scenes of daily life—the quiet moments and the milestones alike. "Our clothes can be used for gardening, traveling, or shopping at the market," says Ingrida Margelė, who created the line with her husband, Airidas Margelis. "But the same garment, if dressed up a bit, could be worn for a formal occasion. There are so many things we have to do in our lives, why not have a staple that works well for numerous occasions?"
Explore the Linenfox collection
Their collection, sewn from locally sourced linen in a sunny Lithuania studio, is the beautiful answer to that very practical question. Each design is available in a palette of hues plucked from nature: forest green, graphite grey, and dusty peach, among others. Customers can request necklines, sleeve lengths, and hems to suit their bodies and their tastes. As Ingrida says, she didn't invent women's clothing or linen basics—but she and her team have made it their mission to improve upon the classics. Their carefully crafted, well-fitting pieces with standout details (think side-seam pockets and perfectly-placed waists) are made to endure.
Read on for Ingrida's tips for sustainable style and find out what makes linen an exceptional fabric—then shop the Linenfox collection.
What motivated you to start Linenfox?
One thing that encouraged me to embark on this journey was the fact that I could not find simple, neutral linen clothes that I would like to wear every day. Our brand is inspired by nature and movement, and we make clothing that can be worn for cycling and playing outdoors or for taking part in a formal event. Comfort is important to us. We make functional garments that are suitable for a wide range of occasions.
What are some of your best-selling styles?
Our number one bestseller is the Mimosa dress. Its construction accommodates many different body shapes, and it doesn't matter how much pizza and gelato you have while traveling in Italy because the waistband is adjustable. The Nida dress and the Nova pants are also very popular. We have many repeat customers that return whenever we release a new color for these designs. (Our latest is emerald green.) In fact, one customer has purchased the same dress in every color we offer.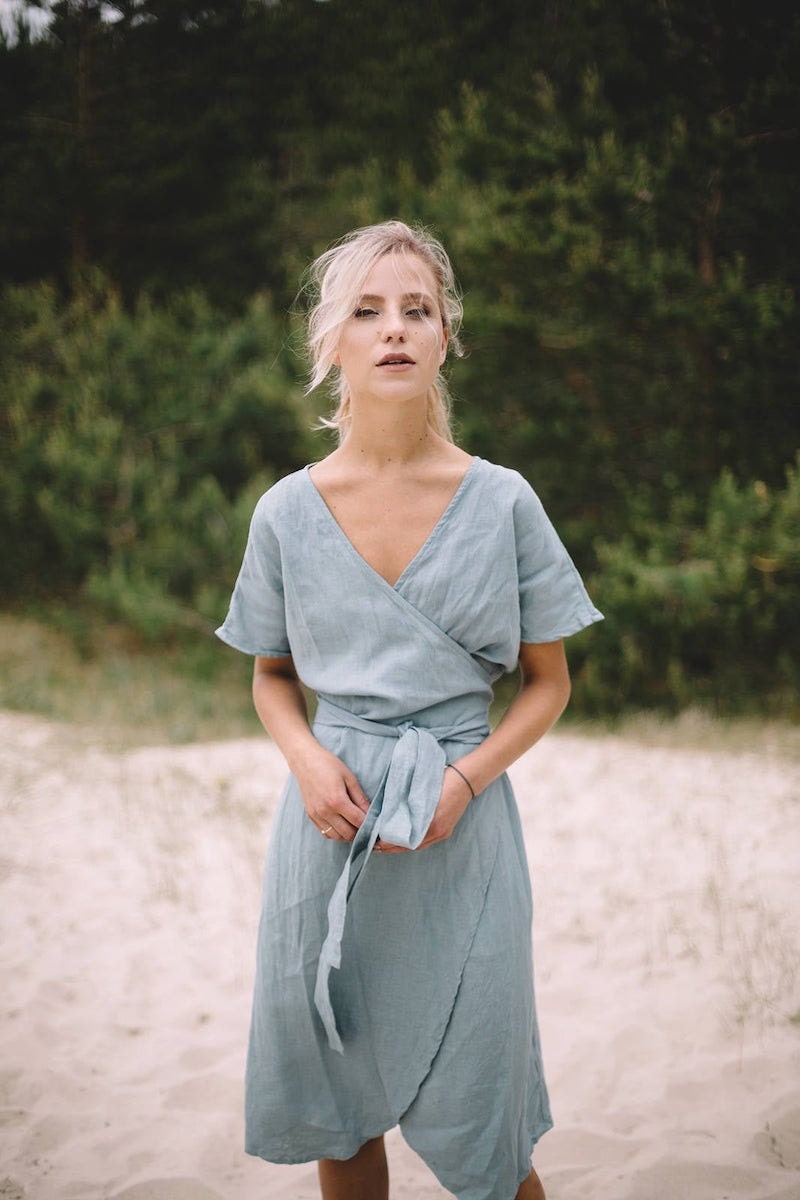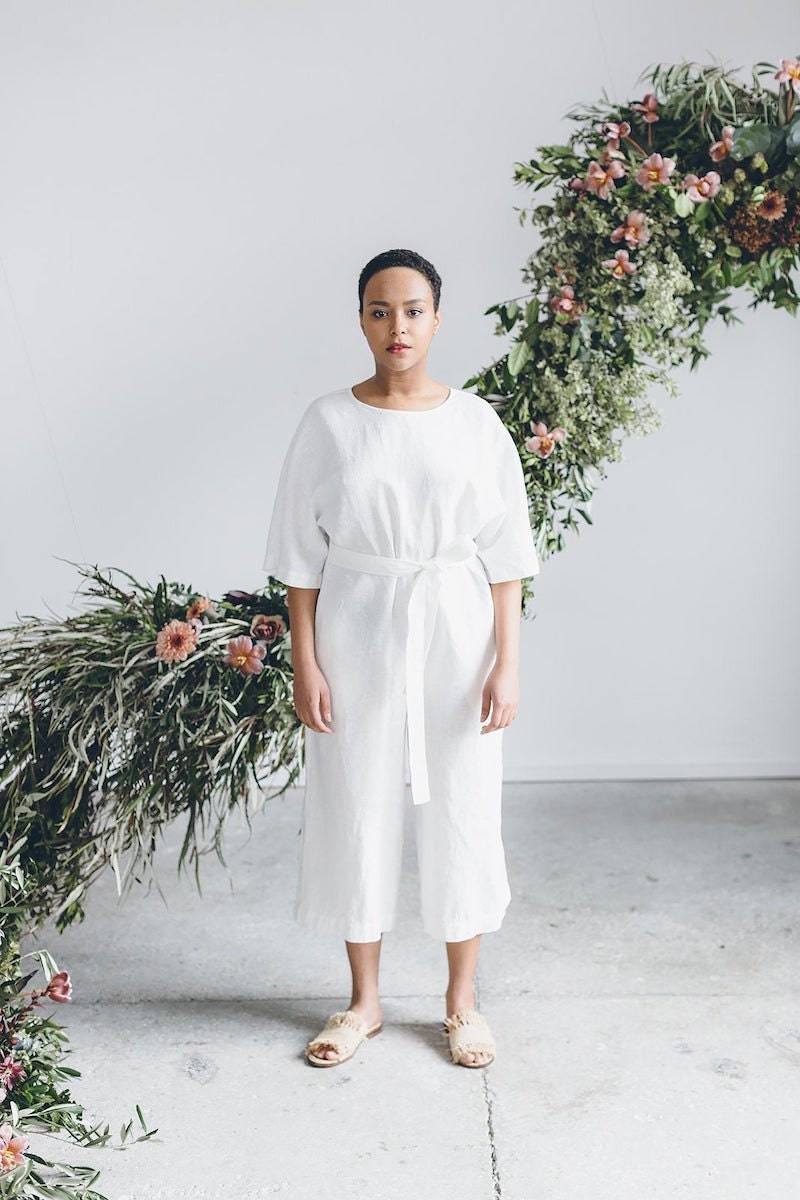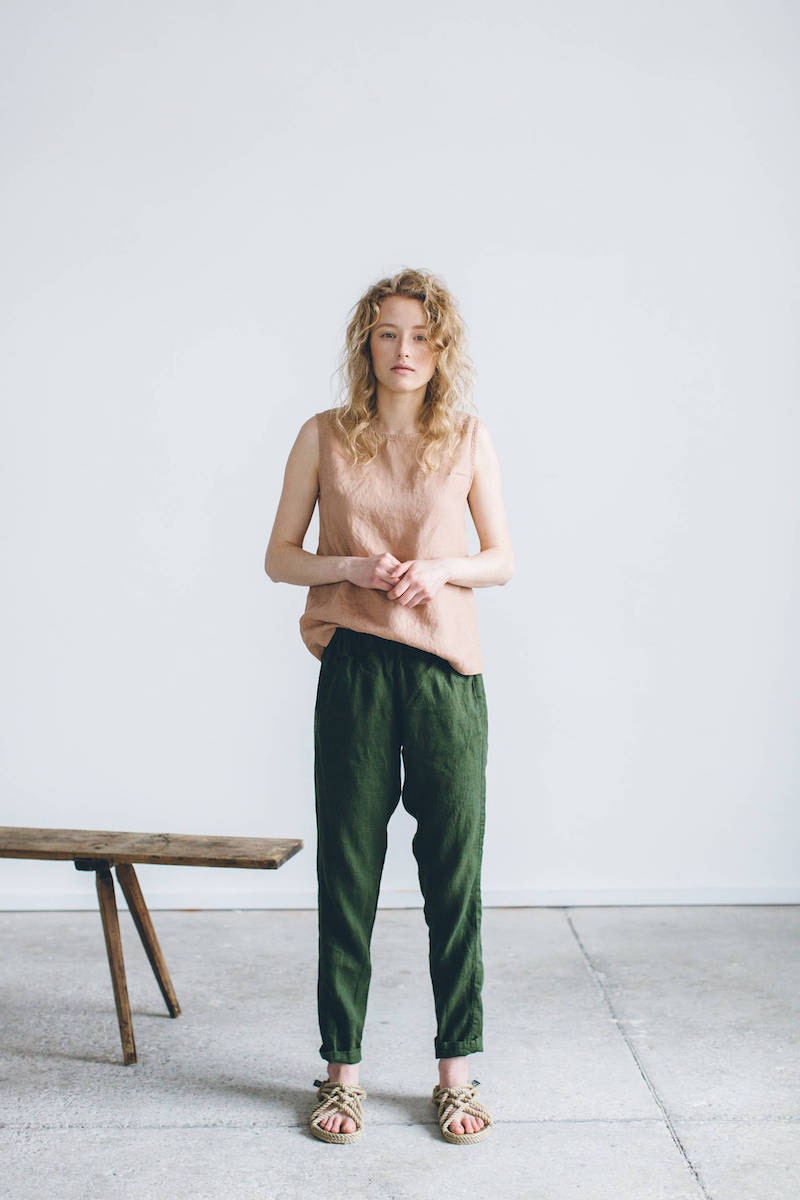 Your collection is made from linen almost exclusively. What do you appreciate about this particular fabric?
Linen is a well-made cloth that's durable, feels good against your skin, and gets softer and more beautiful with each wear. Ours is made locally here in Lithuania. Another important factor is that linen is a natural fabric, which means it can go back to nature when the garment is totally worn out. That's right—linen can even be composted.
What I really like about linen is that it looks great when layered with cotton, wool, and other natural fabrics. It's great for hot weather, and it can be layered nicely on chillier days.
I love this tagline on your Instagram: Ethical linen for well-lived days. Tell me more about what this means to you and your business.
The key word here is ethical, and it stands for another word: people. Most of our customers are people who are conscious of environmental issues and the damage that has been done because of increased consumerism and fast fashion. Nobody can change pollution in a day—that just isn't possible—but the same way something can get worse little by little, something can be done to fix a problem little by little. We apply no-waste principles here at Linenfox. We reuse paper, sort waste, sell fabric scraps, and compost linen leftovers. Our packaging is made from paper and it's 98% plastic-free. It can be easily recycled or used twice.
We also use fabrics with an Oeko-Tex certificate. That means the manufacturing process for the fabric is environmentally friendly and free of toxins. The importance of having this certificate is huge. We know we won't harm anyone or anything by making and selling our products, and that the material we use was made safely.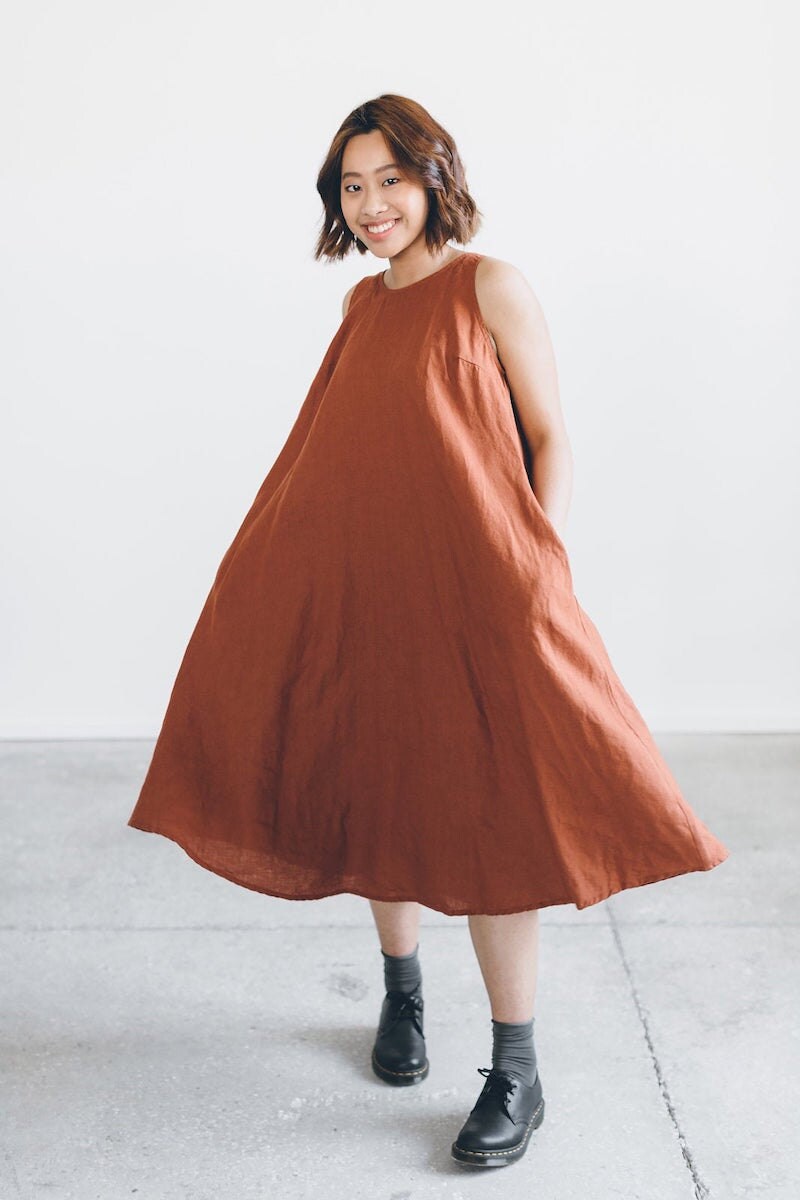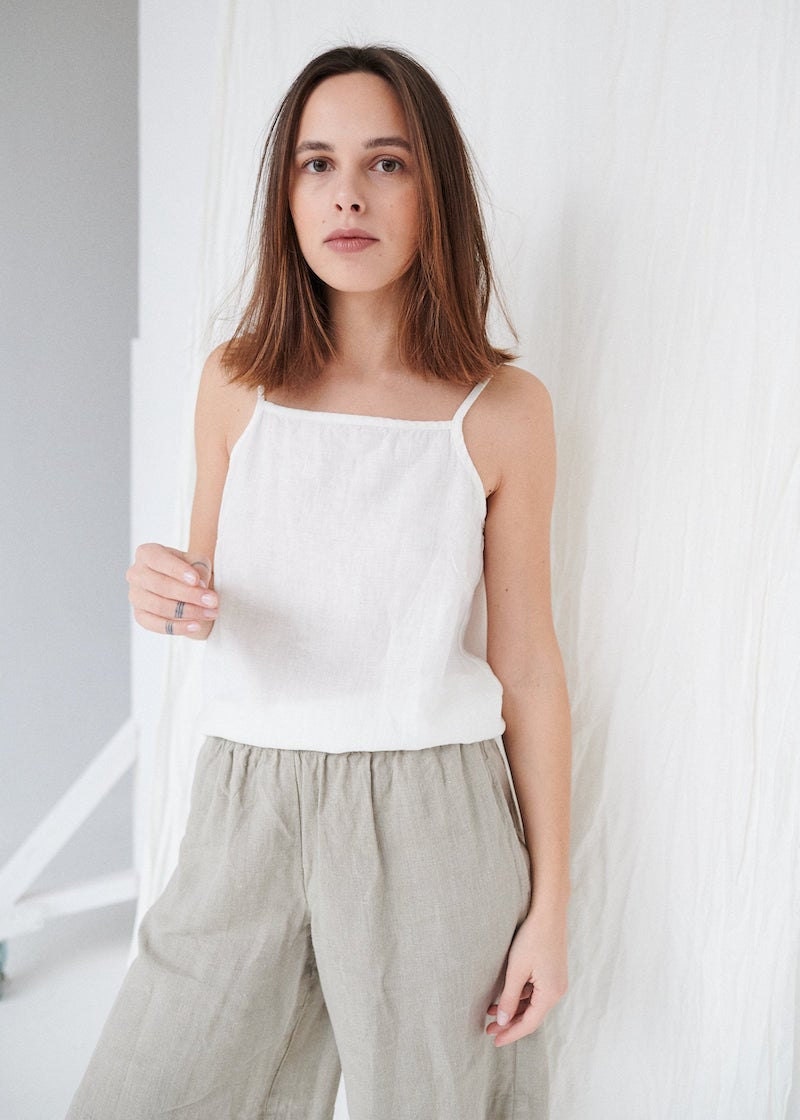 Any tips for getting the right fit when purchasing items from your shop?
We try to provide as much relevant information on each listing as possible, including the measurements for the garments themselves, so that a customer can compare those measurements with her own measurements or those of a similar piece of clothing she already owns. Our clothes are loose-fitting, and sometimes sizing down helps to achieve a more fitted look.
We also offer limited customization. Usually we can change the length of a garment and its sleeves, make the neckline deeper or higher, change the waist seam of a dress, and make the armholes smaller or bigger. Changing the total length of a dress or pants is especially important to people who are rather tall or short. Very often they become return customers because they like our fit. It's important to note that customized items are non-refundable, so customization might be a risk for some people. Nevertheless, our team is highly skilled, and if they get the right measurements, they can create pieces that fit perfectly.
What's the best way to take care of your garments?
We recommend using natural washing liquids and washing garments at a low temperature; that helps the fabric remain in its original condition for a much longer time. Those who want the fabric to be much softer could use a machine dryer, but we don't recommend it. That changes the fabric's structure, so it may not only get softer, but looser too.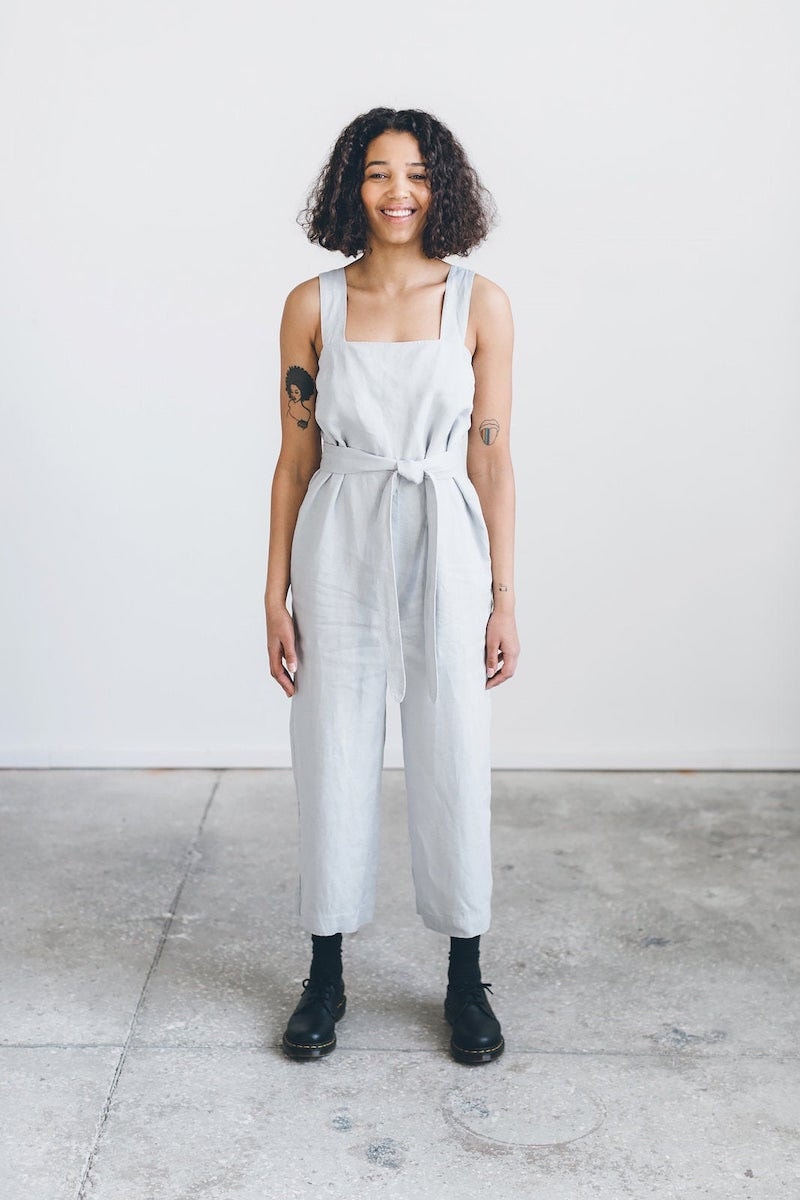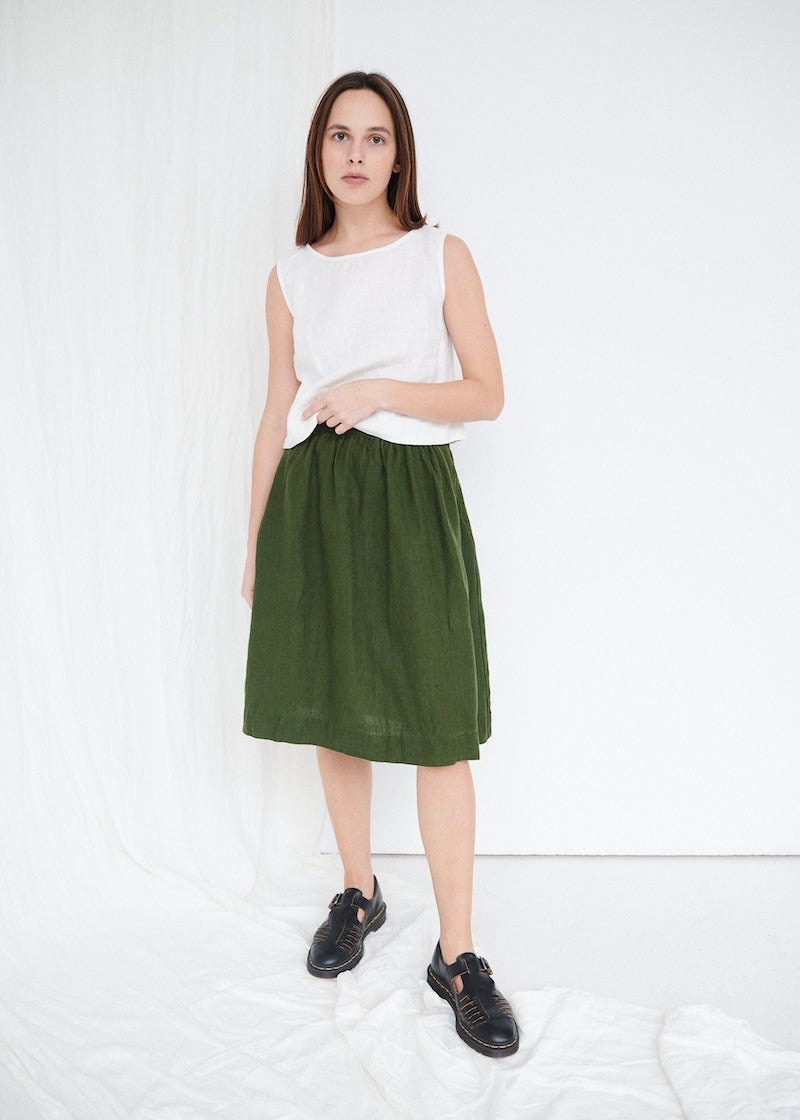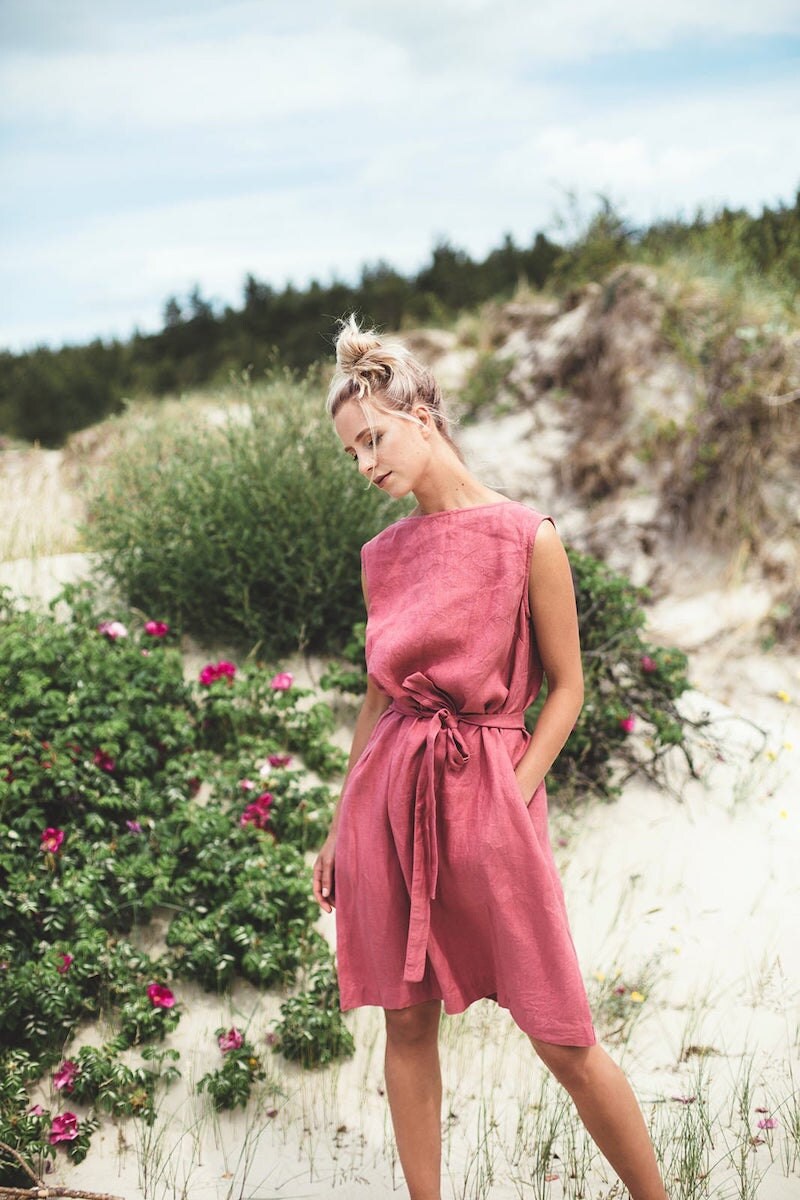 Customer reviews repeatedly rave about the quality of your clothing. What's your secret?
The key is the people who work at Linenfox. Today we're a company of 16 people, all focused on sustainability and earth-friendly products made with love. The highly skilled ladies who cut and sew our clothes are professionals with over 20 years of experience in this market. Everyone has input on how a garment should be constructed to make it drape beautifully—the stitches, the bust darts, the necklines. Their attention to detail makes all our clothes high quality.
Follow Linenfox on Instagram, Facebook, and Pinterest.
Photographs courtesy of Linenfox.