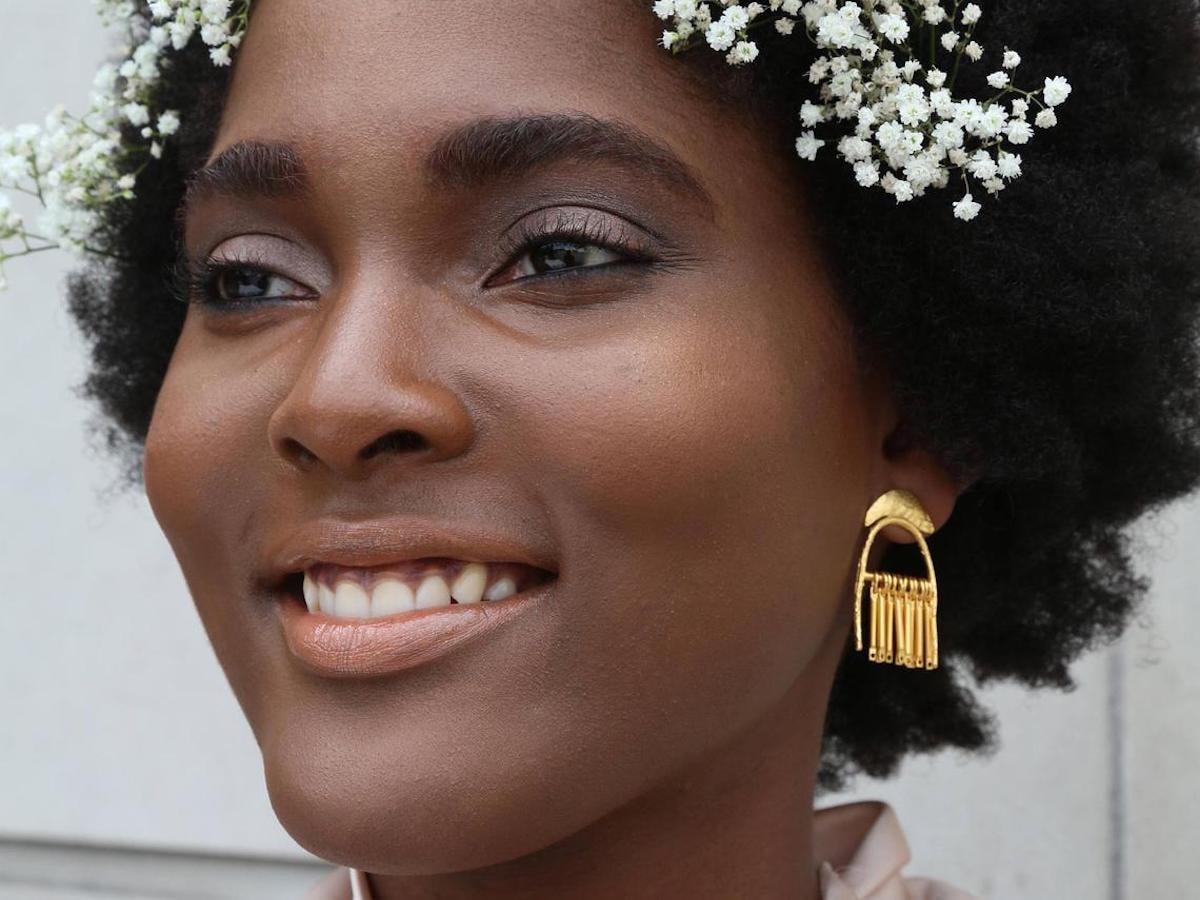 In our weekly Featured Shop series, we shine a light on a standout shop from Etsy's talented seller community, offering readers a behind-the-scenes look at their process and story.
Part of the beauty of starting something new is not knowing exactly where you'll end up. Just ask Chicago-based Lingua Nigra designer Alicia Goodwin, whose distinctive line of sculptural gold and silver necklaces, earrings, bangles, and rings celebrates the natural, unplanned way that some of the best things in life take shape. For Alicia, a few lines scribbled in a sketchbook became the blueprint for an earring—which took on an entirely new form under the heat of a blowtorch, inspiring a series of funky, one-of-a-kind pieces that launched a full-time jewelry business.
Explore the Lingua Nigra collection
The key, she says, is trusting the process. Alicia's began more than a decade ago while she worked by day as a technical jewelry designer for well-known brands in New York, and evolved as she honed her personal craft by night and slowly developed her signature style. "It's all organic for me," she explains. "The shapes, the aesthetic, how the work comes about, how the designs come to me." Today, that free-flowing approach to creation is reflected in the bold, textural forms of Alicia's showstopper, statement-making pieces.
Read on to learn how Alicia built her line by producing designs she wants to wear, and shop the Lingua Nigra collection.
You began your jewelry career as a technical designer. How did you make the leap to running your own business?
My last full-time job was seven years ago. But even when I was at other companies, I would always go home and work on my own pieces—I couldn't not do it. For a while, I split my time between technical consulting and running Lingua Nigra, but consulting got so crazy that I didn't have time to focus on my jewelry. Luckily, with the help of social media, today I'm able to fully dedicate myself to the business.
Tell me about your approach to making jewelry.
Some of my stuff is really smooth, but for most of my line I use reticulation and acid etching techniques—I want that older kind of feeling, and I like for the work to show. My pieces are organic, and the texture is intentional but it's not planned. I can't control how the reticulation will form. I can kind of control the etching, but I don't. I just let the acid eat away for hours and days until I feel that it's right.
Many of your pieces have interesting names, such as "Edge of the Earth" and "If the Rain Comes First." What inspires them?
I really enjoy writing, but I don't do it as much as I'd like to. I actually went back to school as a way to force myself, and after what felt like 85 years, I got my bachelor's degree in creative writing. I like to think of my jewelry as poetic. Sometimes the inspiration is simple, like I made a Gloria cuff and a Jennifer cuff, which are named for my mother and sister; sometimes I'm inspired by a song title, like my Building a Ladder dangle earrings, which are named after a Hiatus Kaiyote tune.
What are some of your most popular items?
My Shower of Faith earrings are a crazy bestseller—I can't keep them in stock. I made like 30 pairs last night; I need to put the backs on them today to send them out to my plater.
How much do you think about trends when you're designing?
I don't, which is good and bad. I have to sit with my designs for a little bit—I can't just churn stuff out. With Lingua Nigra, what it comes down to is if I want to wear it, I want to make it.
Do you also create custom or one-off pieces?
Yes! Lately, I'm trying to free up some time to makes pieces that only one person will have. I just did an engagement ring, and I'd like to do more in the future—I actually just bought some sapphires from an online auction yesterday. I want to do more fine jewelry with really nice stones, kind of organic, kind of rough.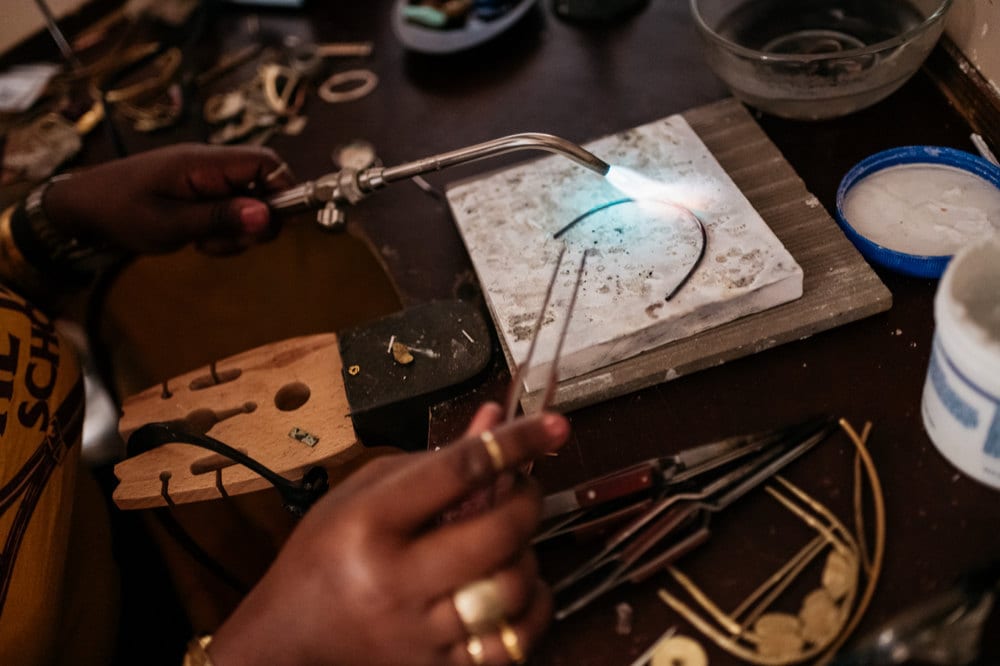 What tips do you have for styling your line?
Tip number one: more is more. I'm not a minimalist. That said, don't pair a big necklace with big earrings—do one or the other, but not both. Ultimately, wear what you like. Dress how you feel. I definitely do! I just wish I had more ears because I'm very much an earring person.
How about caring for your jewelry? Are there best practices you can share?
If it's plated, like most of my work is, wipe it with a clean cloth as needed. Don't use cleaners, don't bathe in it, and don't wear it in the ocean. Just love it and wear it well. Also, remember: I can always re-plate!
Do people ever send you photos of themselves wearing your jewelry?
Yes! They'll send me messages to tell me they're wearing it somewhere special. It's nice to know people are excited about the work, because I think about it a lot, just like most artists. Even if you're super confident, there's a little bit of you wondering if people are just being nice. I want everybody to love the pieces they have, so it's great to get those messages every now and then.
Follow Lingua Nigra on Facebook, Instagram, and Twitter.
Studio photography by Melissa Ferrara. Model photography by Christine Gant. Product photography courtesy of Lingua Nigra.