by Valerie Rains
Award-winning printmaker Emma Lawrenson turns timeless pastoral landscapes into thoroughly modern, abstract art prints.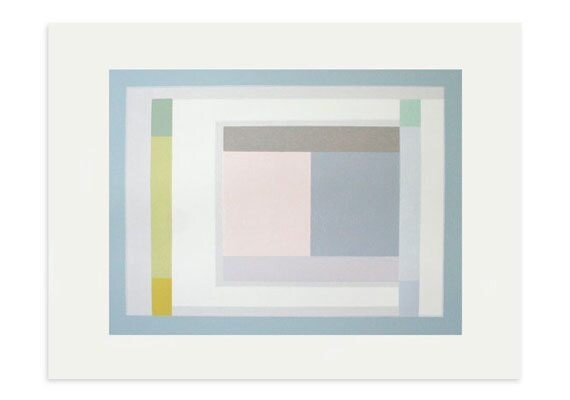 Emma Lawrenson of
Little Print Press
never had any doubt that she was destined to be an artist — that much was established from the start. "I was passionate about art from a really young age," Emma says. "Even as a child, I knew that was all I ever really wanted to do. After my A-levels, I did a foundation course, which is a grounding in many different subjects — a bit of ceramics, a bit of textile design, all sorts of things — and when I had a go at printmaking, I was hooked straightaway." Still, the UK-based artist's
signature style
— one she's been building on for more than 20 years — came about as a bit of a fluke. "When I was doing some printmaking during my foundation course, I'd made a really detailed drawing of a classical building with columns and loads of plasterwork," she says. "But when I took the etching plate out of the acid bath, I looked at the underside, and it had this amazing cross pattern; instead of inking up the top, I decided to ink up the back, and got this really gorgeous abstract print. That's when I started to get more interested in very simplified shapes and forms. In fact, the whole reason I got into abstract and minimal work stemmed from that moment, which was actually a mistake." Based on the artist's critical accolades and wide-ranging popularity — Emma won the prestigious
New Light Art Prize Printmakers Award
last year, and her work has appeared on sets for
Mad Men
and
Parenthood
and in countless collectors' homes — that "mistake" was anything but.
Read on to learn more about Emma's process and get a peek inside her West Yorkshire workspace.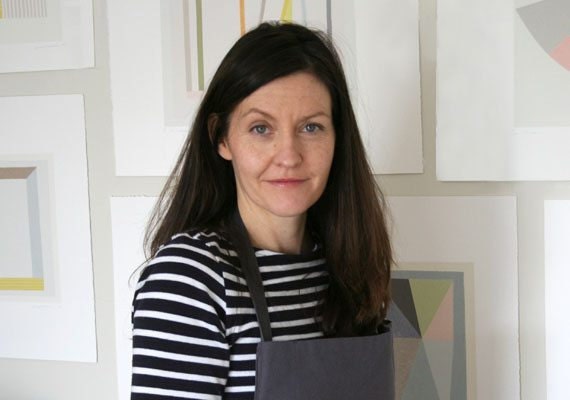 What drew you to printmaking originally?
I like processes, and I like to be really methodical and precise, and that's what printmaking, for me, is all about. You've got to have everything pre-planned and worked out before you start. It's not like painting, where you're working directly on a canvas. And if you're doing an etching or a screen printing, there's always that anticipation before you lift the screen up, because you can't know exactly what's going to happen. That's part of why I like printmaking so much. After my foundation course, I went on to do a four-year degree in fine art; I did printmaking and quite a lot of drawing, working in a very similar style to the one I've got now. Back then, I was living in London with a group of artists and musicians, and what really spurred me on was that a guy I lived with was doing print textiles at the
Royal College of Art
, and he said, "Why don't you come to college with me one day?" As soon as I walked around the printmaking area, I was shocked at how amazing the work was and in awe of the students. From that moment on, I knew I had to go there after I finished my degree, which I did; I got in and did a two-year program in printmaking. It was such a fantastic opportunity and a privilege to go there — I was taught by Tracey Emin, people like that. It's kind of crazy, looking back, but it was fab.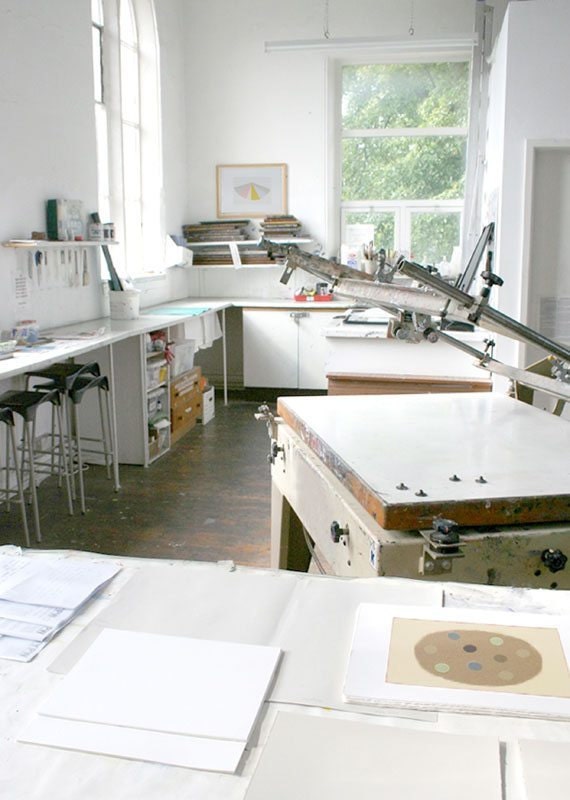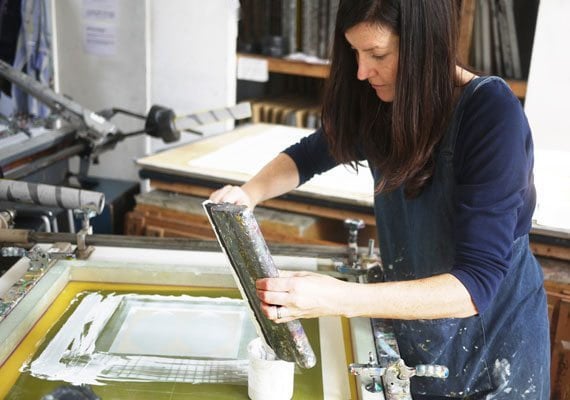 How has your work has evolved over time?
My inspiration has always come from my immediate environment. When I was in London, I was looking at an urban environment; now, I live in the countryside, and when I go on walks, it's all nature. So even though a lot of the geometric, minimal work I'm doing now, I was doing then, I didn't have any of the organic-type work that I do now. But my style has always been the same: quite abstract, colorful, understated, and simple. If you saw my work then, you would know it was mine. In the last couple of years, I have changed the way I make my stencils, though. Before, I used cut paint stencils, so everything was really hard-edged and quite graphic; now, I've softened it a lot — all my stencils are hand-drawn using
chinagraph pencils
 or pastels. The
prints
themselves are a lot softer in appearance, and they look more handmade. So that's changed, although the actual compositions and colors haven't much.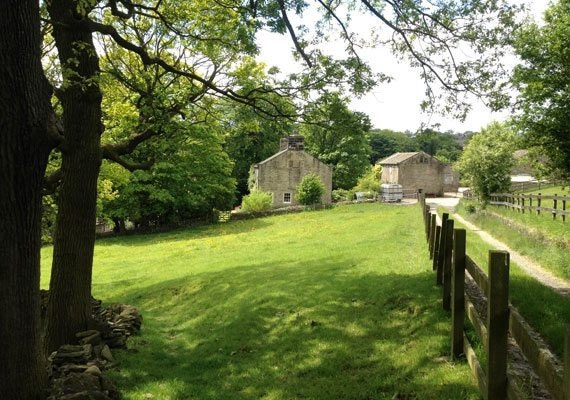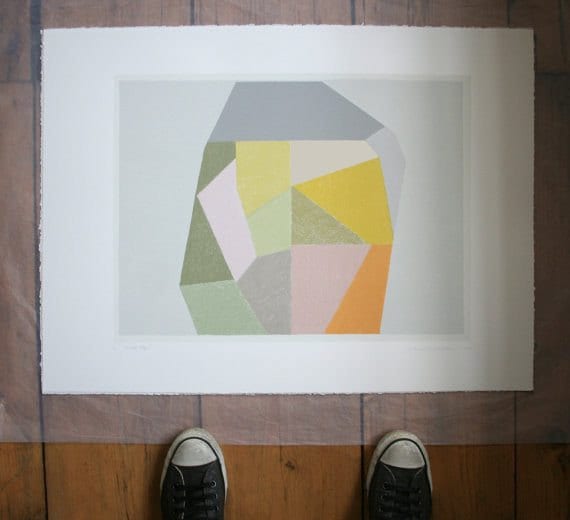 How do you go from a glimpse of a sheep pen to an abstract image? How do you translate the elements of the landscape around you to these wonderfully simple compositions?
I approach every new print in the same way I always have, and my inspiration comes from the environment I'm in at the moment. I'm constantly scanning as I'm walking around every day, taking photographs; my geometric work comes from stone barns and doorways and pathways, and my organic work comes from things like leaves and seeds. When I get back to the studio — I've got a studio at home, and a separate studio that I go to print at — I sort through my images. Usually if I've seen something that day, I'll start working right away while it's fresh. I begin by drawing the image out on paper; then I kind of strip everything back, until I've got just the bare essential there from the idea or the photograph that I started from. Then I make collages: I have inks and bits of paper everywhere, and I paint loads of swatches and start cutting them up. I always print on a flat, colored background — usually cream — so I'll start moving the collaged pieces around on one of those until the image resolves itself. Sometimes I love what I have straightaway; other times, it can take me a couple of days to get it right. Once I get to that stage, I'll start to mix up the paints and inks again so that I've got enough to use on the screens, and then I make the actual stencils. If I want them to be larger, sometimes I'll scan a collage into the computer to adjust the size, then trace it through the screen and make my stencils from that. If a design is going to have 15 colors, I need 15 separate stencils, and it takes time to build them up and make sure they're all going to fit together — a bit like a jigsaw.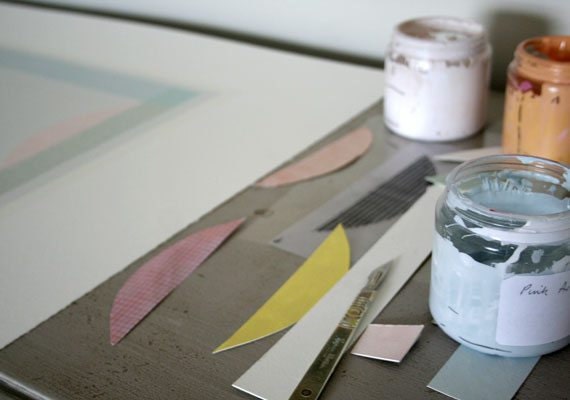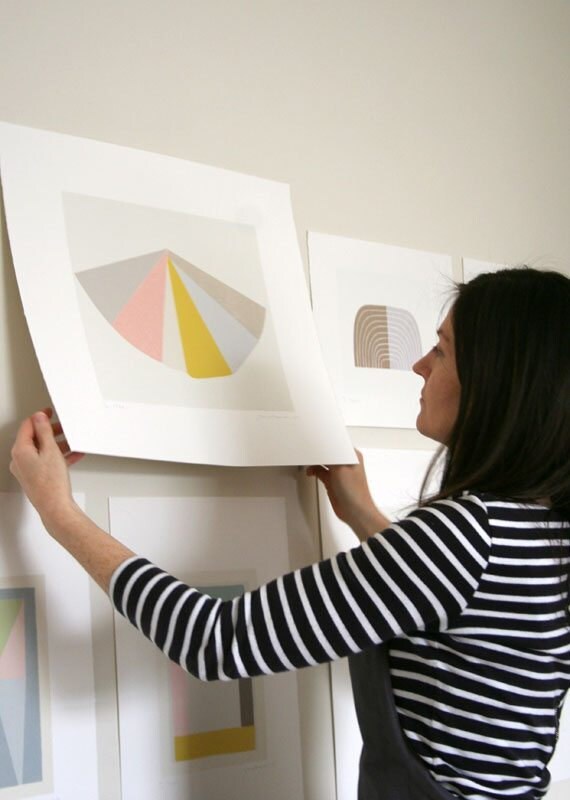 How long does it take you to make a piece with 15 colors? 
I can print that in a day — maybe seven hours — because I've been doing it for so long and the water-based inks I use dry pretty quickly. And I usually work on two prints simultaneously, so while one layer is drying, I'm working on the next one. It takes quite a long time, but I do a new edition every week, so maybe 15 will print in a day. Although it takes me a week or two just to get it to that stage — to get it ready to go to the workshop.
So you have a studio at home, and a facility you go to for printing. Do you have plans to build a printing facility at home one day?
Well, I've got this gorgeous barn just at the back of the house that's got nothing in it except junk, and I've started buying things to make it a printing studio — a drying rack, some bits and bobs. But it's such a big project, and I'm so busy; I'm working six days a week. So I think it will happen, but maybe not for a couple more years; and besides, it's working for me, the way that I prepare at home and then go into the workshop. It makes me focus. I print on Fridays, so all those inks and my stencils have got to be done; I think if the studio was just behind me at the house, I probably I wouldn't get as much work done, because there wouldn't be that deadline every week.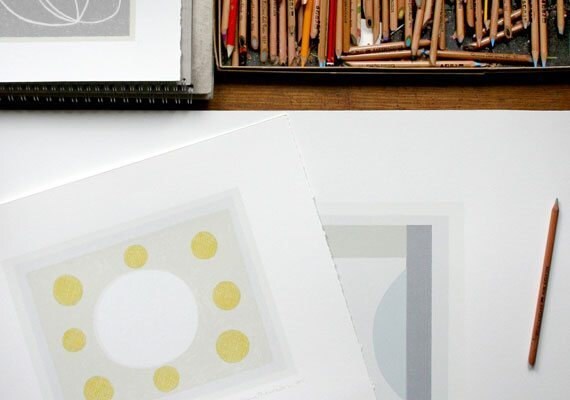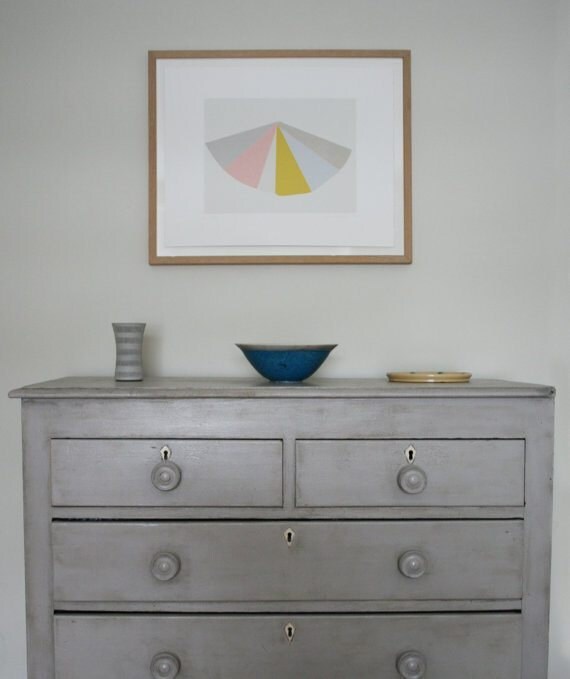 When did Etsy enter the picture for you, and how has that affected your work or your creative process?
I used to teach art before I had children, and when the children got a little bit bigger and started play school, I didn't want to go back to teaching; I always knew I wanted to focus on my work. That was in 2010, almost six years ago; I went to this workshop, and that's where I met a girl who'd been selling on Etsy for a while. I built up a little portfolio of prints, maybe about 20, and she said, "Why don't you open a shop?" I hadn't heard of Etsy, but I opened my shop and got the work up, and I think the first day I sold nine prints. Everything kind of spiraled from there. I think for me, I wouldn't be able to be an artist without Etsy. I exhibit in a lot of galleries and quite prestigious exhibitions, but you hardly ever sell anything — I don't know why. I have tried to sell on other sites, but I might sell one or two a month where on Etsy I sell 80 a month. It's just got such a bigger audience. And I do work really hard on my shop: Every day I renew items, and I might do a treasury or two. I spent more time on that at the beginning than now, since I have so many customers who repeat-buy.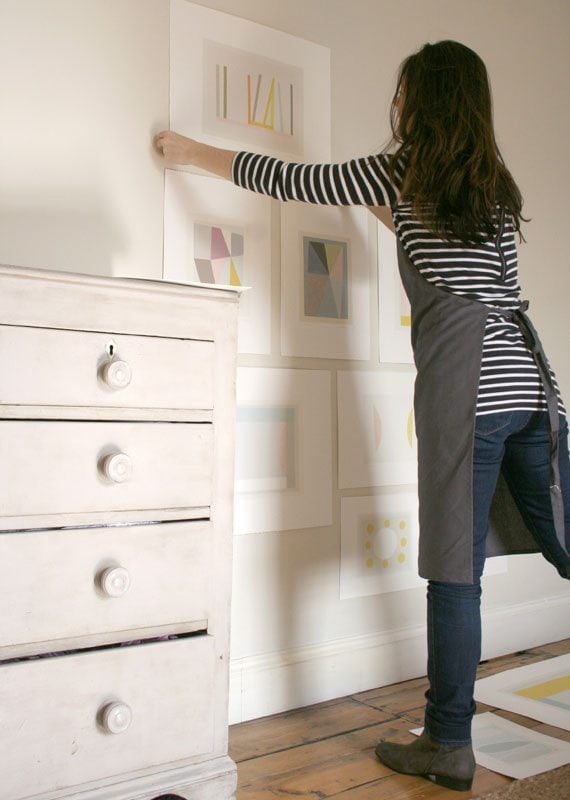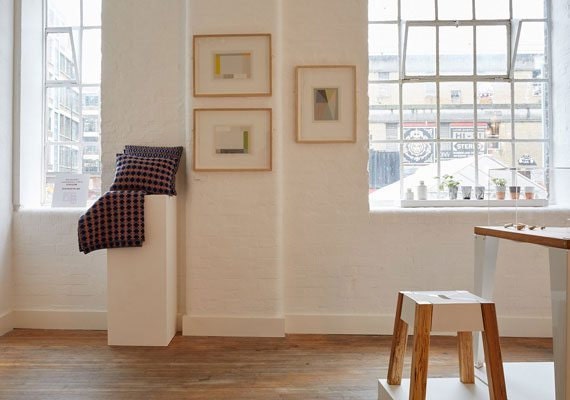 What's the most challenging part of the printmaking process for you?
Color, for me – sometimes the colors just work, and it's happy days, and then sometimes I think, 'Oh my God, what's going on? Nightmare!' Last week I did one of the nicest prints I think I've ever done, but it took me seven hours to get the colors right. I think people might look at my work and think, 'I could do that. What is it? A few shapes and a few colors on a piece of paper.' But it is a lot more complicated and can quite easily go wrong. If you get one color that's slightly too dark, it will throw the whole print off because it stands out so much. And then if all the colors are too similar, it will look washed out, it won't show up very well on the screen, and I know that it's not going to sell. There's a lot riding on the color for me.
What's the most exhilarating part of the printmaking process for you?
Adding the final color and seeing that it's worked: I'll lift up the screen for the last color on the first print of the edition, and then if there's no one in the workshop, sometimes I'll start dancing, going, "Oh, yes, I did it!" So that's the best bit; but also selling it, because some just sell like hotcakes, and I don't know why they're so much more popular. There was one I did ages ago, and I used to sell one every day of the week — I think it was the colors, all bright pinks and oranges and reds.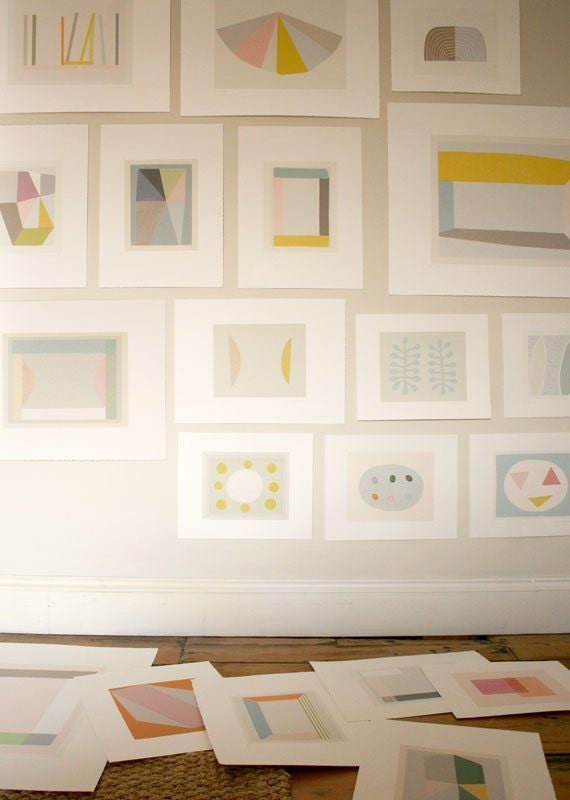 What's the most popular piece in your shop now? 
Now, my most popular piece is called "
Ploughed
"; it's the smaller ones, around the 40 pounds mark, that sell the best. People will buy two or four, and then you get a nice set of prints for an all right price. My other bestseller, which I've done now in three different colorways, is one called "
28 Leaves.
" Ever since I opened my Etsy shop, I have kept a little notebook, and every time I get a sale, I write down the name of the print, the price, and where it's gone. I'm now in about 35 different countries, I think, and I am up to about 5,000 prints sold now. It's madness, thinking of where they've gone: Iceland, Australia, Denmark, and especially the USA and the UK.
What's next for your shop?
I'm just keeping going with what I'm doing. I know what my buyers want, so I'm always making that kind of work, because obviously that's the business side of it. But then I've got my real artist side of it, which is the stuff at the exhibitions. But I like to put everything in my shop, because everything does sell; it may not all sell quite as well as the smaller pieces, but I'm an artist at the end of the day, so that's what I do.
Keep up with Little Print Press on Pinterest.
All photos by Little Print Press.