by Aleksa Brown
Victoria Baker's passion for pottery runs in the family.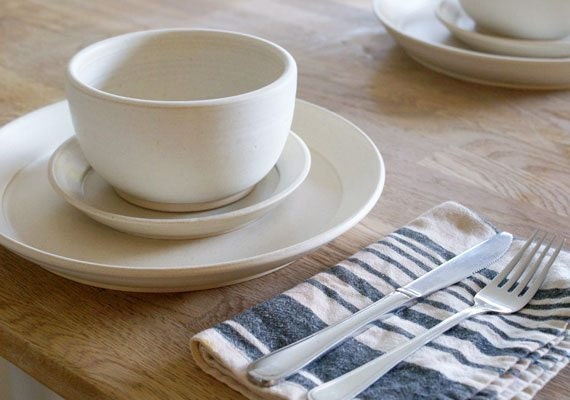 About 250 miles north of London, in a town called Northallerton, UK, 
Little Wren Pottery
's Victoria Baker spends her days making functional ceramic wares in her spacious basement studio. From
hand-thrown wine buckets
and
custom commemorative platters
to
made-to-order dinnerware sets
and personalized 
yarn bowls
, Victoria's two hands have produced well over 3,000 pieces since she opened shop in 2009, with help along the way from the very person who taught her the craft: her father. "My dad introduced me to pottery in 2008," Victoria explains. "He was a potter a long time ago, but he gave it up because there wasn't a market like Etsy then – there was no internet! He re-learned as taught me. When we started, we were working out of a college near our house; now we work together, here at home."
Find out more about Victoria's adventures in pottery making – and how she went from being a graphic designer to a full-time potter, below.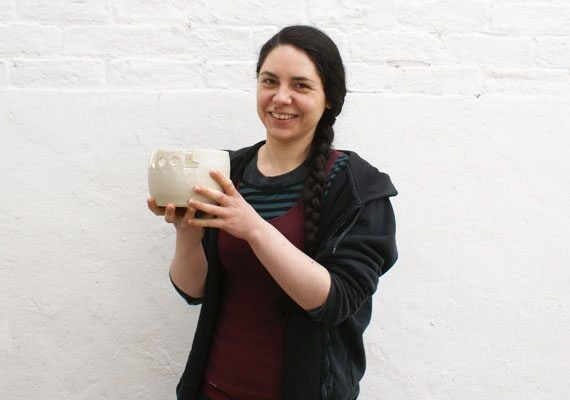 What inspires your work? I'd like to think that my work reflects a little bit of where I'm from. I really like Japanese pottery and Oriental pottery, but I don't feel as though it would be the right thing for me to try to reproduce. I want to make something that speaks to my surroundings, rather than trying to be somebody else. In addition to handmade pottery, I also draw inspiration from some more mass-manufactured wares:
Hornsea pottery
, and
Arabia pottery
from Finland. I don't think it's a bad thing to take inspiration from a lot of different places.
How do you translate inspiration from your surroundings into pottery?
You'll often find things on the pots themselves that speak to the English countryside. For example, I do wheat mugs because where I live, I'm surrounded by farms; in autumn, you get the waving wheat in the fields. I also depict mice, and of course,
the wren
, which are very of the English countryside. Overall, I strive to create that homey, English cottage-y feeling because I think home's a really important place. I want my customers to feel like they're gathering things to put in their nest, as it were.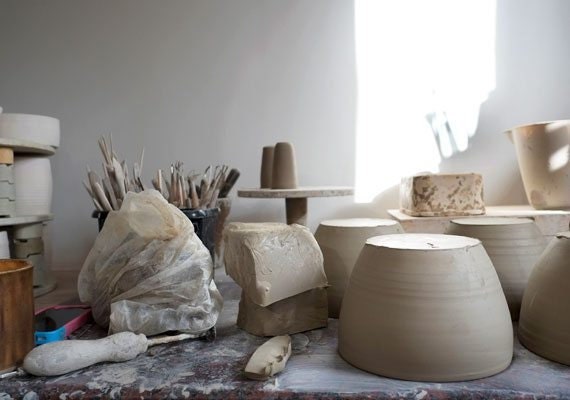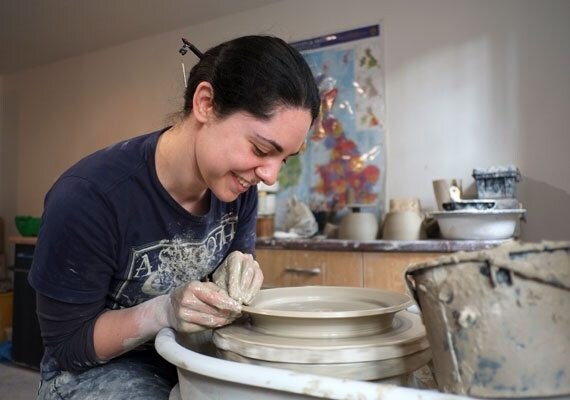 You've been on Etsy since 2009. How has your shop evolved over time? Well, the first things I sold were mugs and bowls, just really simple objects. As I talked with my customers, I formed new ideas about what I could provide – like my
yarn bowls
, for example. When I first started, it was a case of trying to find the right shape and decoration for them. My customers have pushed me towards making better design choices, because subconsciously, people gravitate towards items that are nicer to handle. Making pottery is very, very tactile – once you've got the finished object, people like to run their hands all over it. They feel it. They use it every day. What are some of your favorite pieces to make? I actually quite enjoy making
dinner plates
. In terms of handmade pottery, they're not something that a lot of people offer, because they can be challenging to make. It took me a lot of time to learn how to make a plate; there's all kinds of things that can go wrong with them. It's a battle, but sometimes the challenge proves to be the most satisfying aspect. When something's more difficult to achieve, you can look back on it and think, That was difficult for me a long time ago, but now I'm better at it. That's satisfying.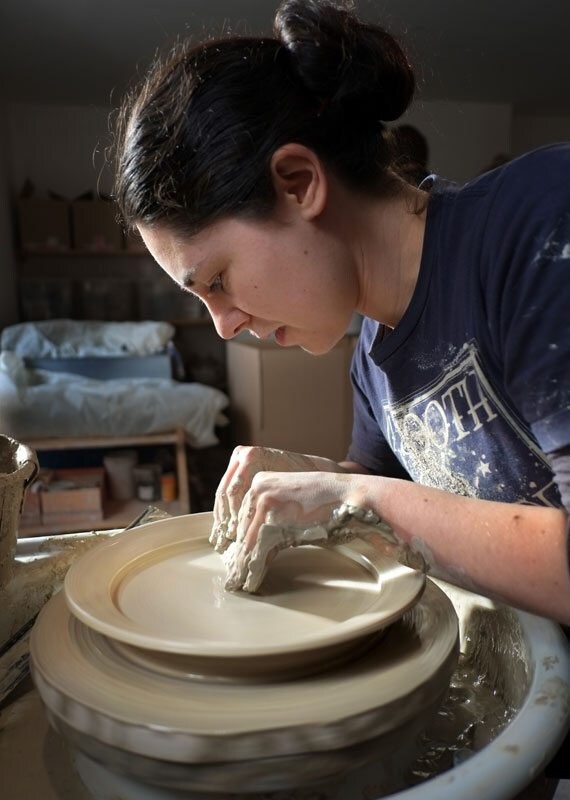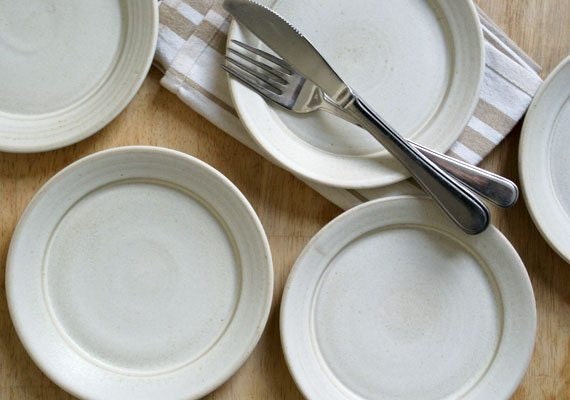 Speaking of challenges, do you ever get stuck creatively? What do you do when that happens? I think trying out new techniques helps with that. There are a huge amount of techniques in pottery, and with every turn, you can try something new. It's not just throwing: You can add bits; you can scratch into a piece; you can cut bits off. Honestly, the most challenging thing is having the time to experiment, because there's a limited amount of time during the year when I'm able to do that. A lot of the time, I save up ideas for a later day and then come back to them. I'm not that great at slip trailing, for example. But eventually, I might become good at it. I'll keep trying. What is your studio like? I actually work at home. I'll admit this: I don't get out that often. It's nice being able to work at home. I used to be a graphic designer, so I've known the other side of the coin, as it were, and what it's like to go into an office every day. That didn't really suit me. I live with my parents, but we moved house not too long ago to have a bigger space. We all suddenly found that we were working at home, so we needed not just a place to work, but a place with enough space that we could get away from each other if we got sick of each other. And making pots does take a lot of space. My new studio is set up in our basement, which is good because my old studio was in an attic; I used to spend a lot of time walking up and down stairs, which, when you're carrying a lot of pots, can be quite nerve-wracking.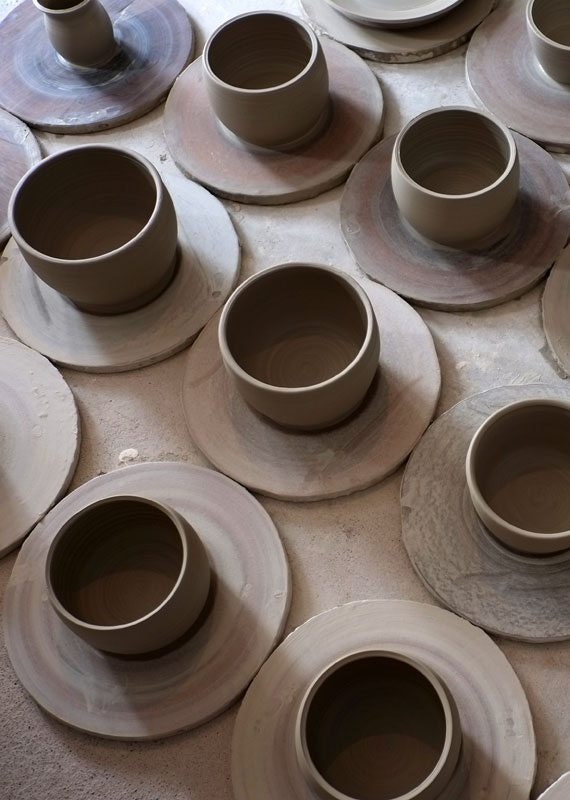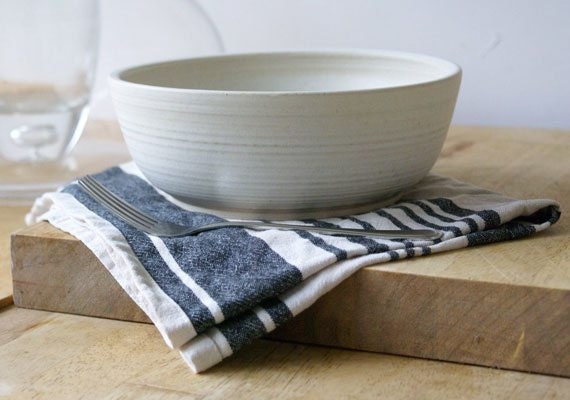 What was the transition like from working as a graphic designer to running your pottery business full time? It was difficult. Looking back, I probably made the decision at the right time, because I was just coming up to a busy period. Each year before that, I found myself needing to dedicate more and more time to Christmas orders; finally, it got to the point where I was either going to disappoint my customers or go full time. I agonized over the decision for a long time, but in the end, it turned out fine. Now I look back and think, Why was I worrying?
Have you always been creative?
Yes would be the simple answer. It's funny: One day, my dad said to me, "I don't know where we get this from – this whole pottery thing." Then I turned to him and said, "I'm a potter. You're a potter as well." And then there's my uncle, who's a carpenter, and my grandmother, who's a baker, and my great, great-grandfather who used to blow glass for Pyrex... I think it's a great thing to be creative, and in a lot of ways, creativity is just so undervalued. For example, most people only ever experience pottery that's mass-produced or mass-manufactured. There isn't anything wrong with that, but for me, it means I have to carefully manage people's expectations about what I can provide for them. I was actually at a craft fair once, and a guy said to me, "So, where's your factory?" And I just thought, That's how people experience objects. They expect there to be a factory. They expect things to be mass-produced, and they don't appreciate how much one person can do themselves.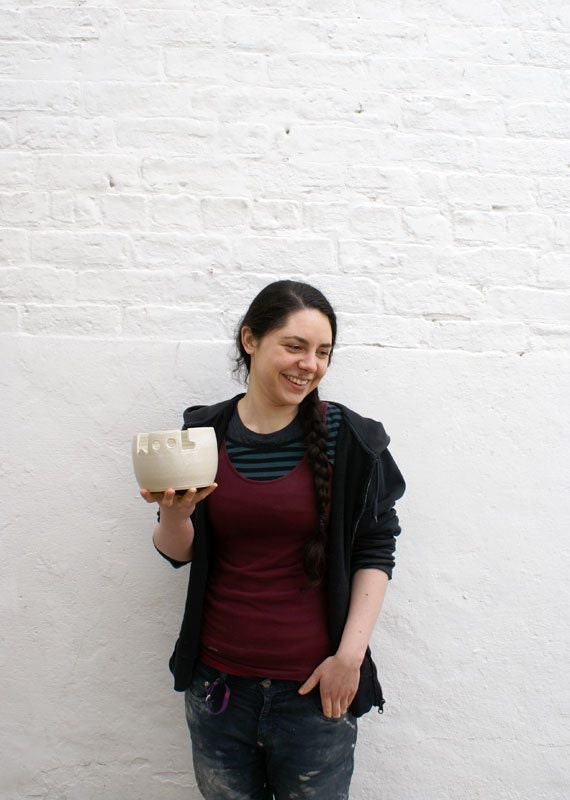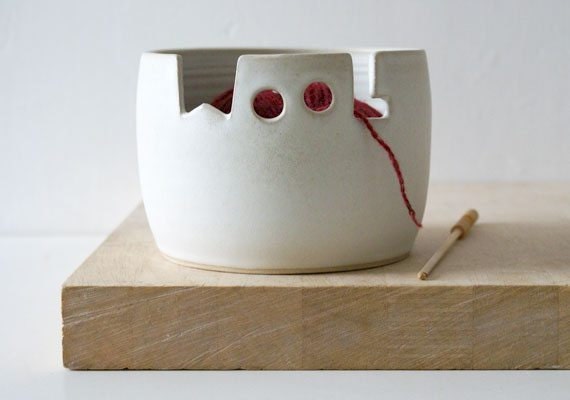 Have you found a greater appreciation for handmade pottery here on Etsy? I think Etsy has re-introduced the idea that the handmade can be appealing. The other thing I didn't really appreciate when I first started selling was, when I started doing events, people would say to me, "Where did you go to university?" and "Who was your teacher?" and "Who do you know?" When I went to university, I did interactive media design, and my dad taught me pottery himself. From that point of view, I didn't know anybody. I didn't have any connections. I was a pottery nobody, basically. In that regard, Etsy was great for me – I could switch on the computer and put my stuff out there and I didn't have to worry about who I knew and where I'd been taught. There wasn't any snobbery about what circles I was involved with, and that gave me a more level playing field. When my dad first started selling pottery, there was no internet. You either sold your stuff in a market or you didn't sell it at all.
Can you tell us a little bit more about the custom work you offer?
I do a lot of
custom work
. I like the idea of custom work not just as a gift, but as a memento. For example, I went to the
Victoria and Albert Museum
in London for the first time a few years ago. While I was there, I noticed a lot of pots that were named – they were all commemorating something. Back then, items commemorated births, marriages, things like that. When you think about objects with names on them, sitting in a museum, to me, that kind of says, "I was here. This is me." There's something really nice about that. It's not just about having an object with a name on it – there's more meaning behind it.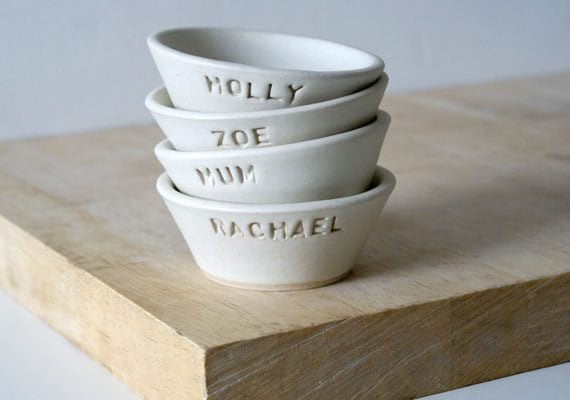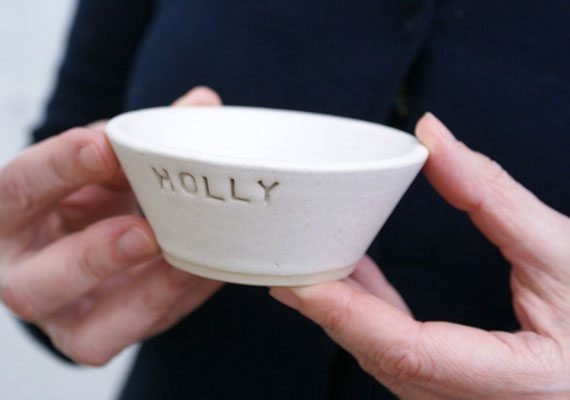 What are some of your goals for the future? Well, I always struggle with capacity, and I think to myself, What's the limit? What's the point at which you can't do any more? So in the next year, we're going to get a bigger kiln. I've got three, but one of them is very small, so we're upgrading that one. And, as much as I like making the "old favorites," I like to make new stuff as well, and I have lots of new ideas squirreled away. I'd also like to work on improving my skills. I know it sounds really boring, but for me, the future is just about working each day. I love a good challenge; I can't resist. When I get messages from people who have purchased my work, it just spurs me on: to do better, to work harder, to keep improving all the time.
Follow Little Wren Pottery on Facebook, Twitter, and Instagram.
Photography by Nigel Whitfield, Ewan McNulty, and Little Wren Pottery.