by Jackie Buddie
Louise Neumann relies on a mix of marker pens and watercolor paints — plus a strong daily doodling habit — to create her distinctive illustrations.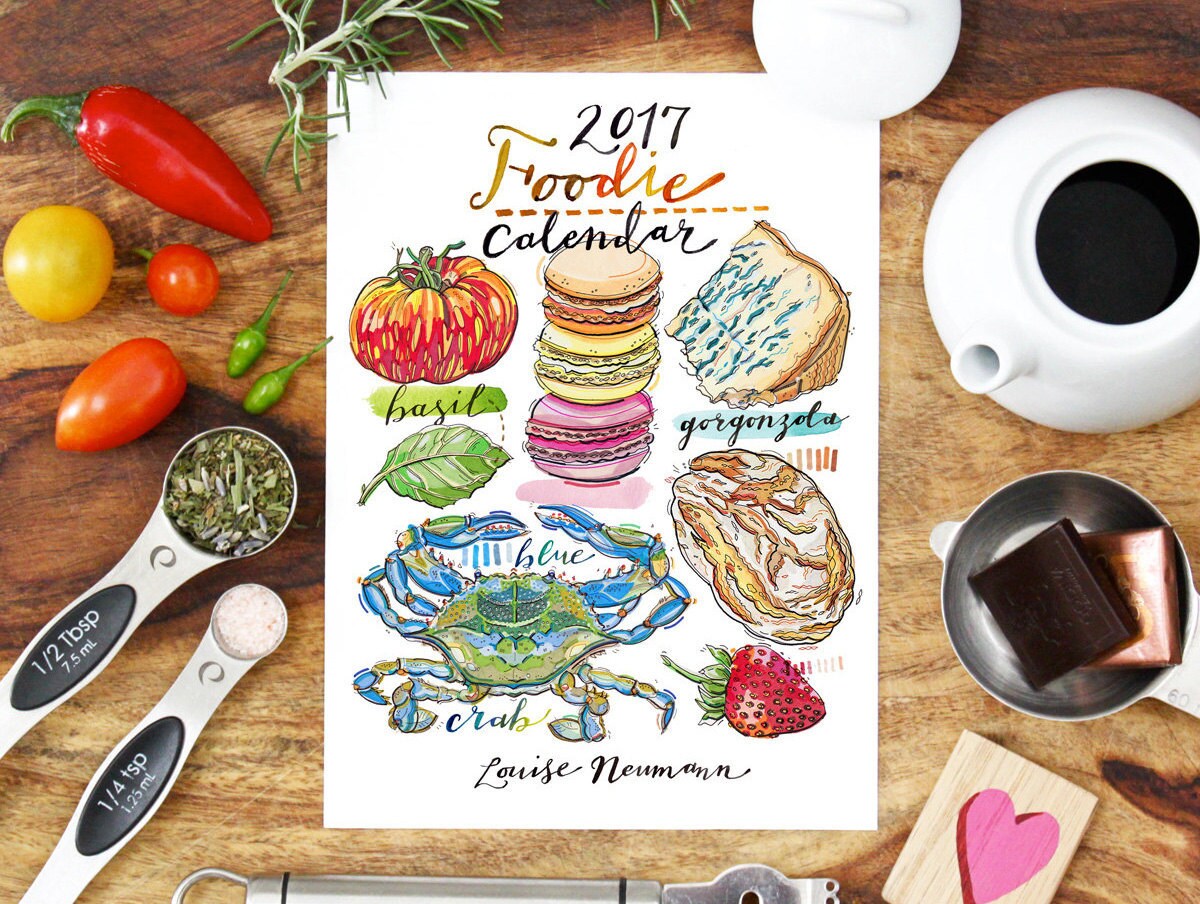 A decadent holiday torte. The silvery scales of a butterfly wing. The crisp snap of a garden-fresh carrot. For illustrator and printmaker Louise Neumann of
Lou Paper
, it's all about the little things. A prolific doodler from the first time she picked up a pencil, Louise has dedicated much of her life to making her own little mark on paper. These days, those marks include gemstone-adorned notebooks, an illustrated guide to root vegetables, and her still-growing series of state-symbol art prints ("I'm a military spouse, so we travel around a lot," Louise explains). Finding the right style has taken years of study (in art school and otherwise) and her share of false starts, but ultimately, creating a successful business meant letting go of expectations and embracing the artist she's always been: lighthearted and curious, with a particular fondness for
marker pens
. "Etsy was the perfect opportunity for me to have my little artistic playground and do whatever I wanted with my work," Louise says. "I have lists and lists of all the things I want to do; I love to just tap into the kinds of things I enjoy and run with that. I think when I have a genuine passion for something I want to focus on, that comes through best."
Read on to learn how Louise developed her distinctive mixed-media technique, plus the secret ingredient for elevating her business: confidence.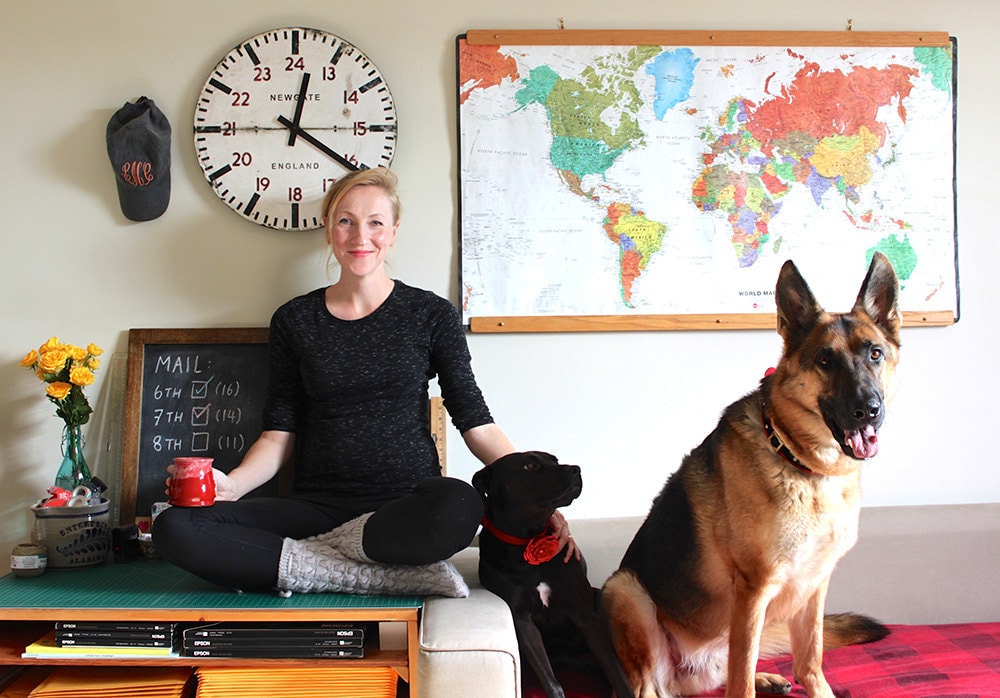 Where do you get your inspiration for your designs?
I'm a massive notetaker and photo-taker. I think when I was at university I sort of learned to document everything. It's the way that I developed my visual language. I had a sketchbook with me wherever I would go, and I would make myself draw every day even if I didn't feel like it. Even if it was just a mug of tea or something, I would draw it. That's a habit I got into that has been so valuable to me. You experience things and then you think you're going to remember them, but often I look back at my notes and the photos I've taken and think, "I forgot about that. That thing was really unique and it was just a little detail, but it really summed the place up or the feeling I had there." So, you know, I've learned to be disciplined about doing that. I think it seeps a lot into
my work
.
How did you develop your particular technique? Can you walk us through your process?
I tried a lot of different things before I settled on this mixed-media approach. I like to use marker pens; it's quick and easy and it works well for my style. But the problem is you need a very unique table or surface for that, and it doesn't work with a lot of other media so I have to do all the different elements of my artwork separately. I'll do my little marker-pen drawings first, and then I like to have a mixture of materials. I think watercolor lends its own special character to the pictures, so I do mark making, paint splotches, and hand-lettering separately on watercolor paper, all the while having the vision for what I want the piece to be. Then I bring all these little drawings together, all the details, and scan them onto my computer and arrange all the different elements until I feel comfortable with it. I know I'm done with the piece when I feel proud of it, when it makes me happy to look at it. It's just an instinct I've developed over the years: Once a piece is done, it lets me know.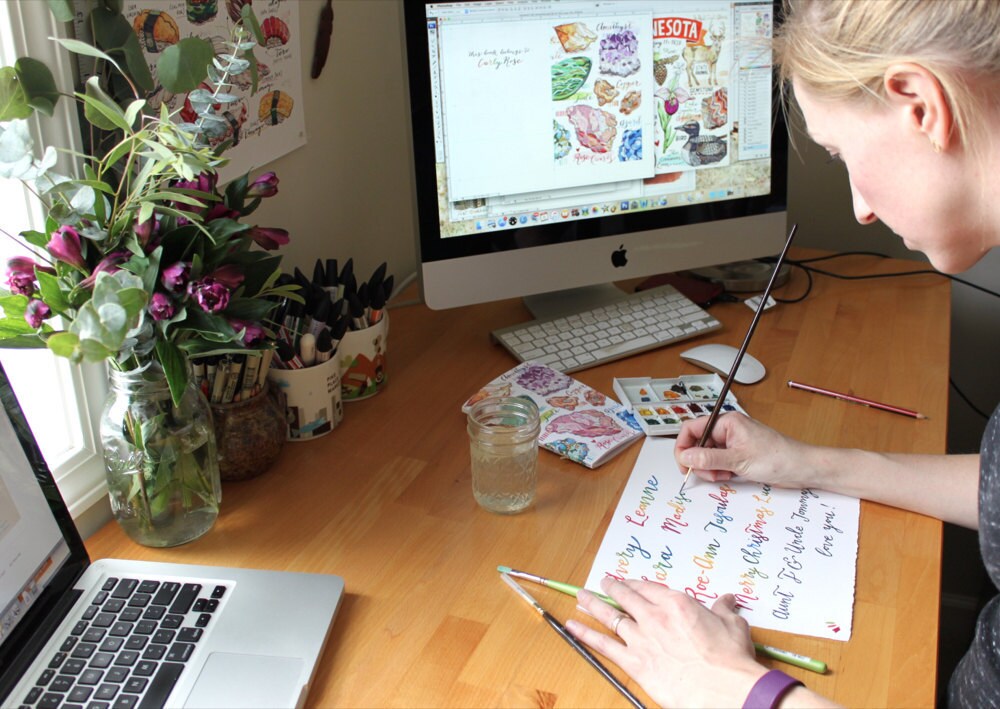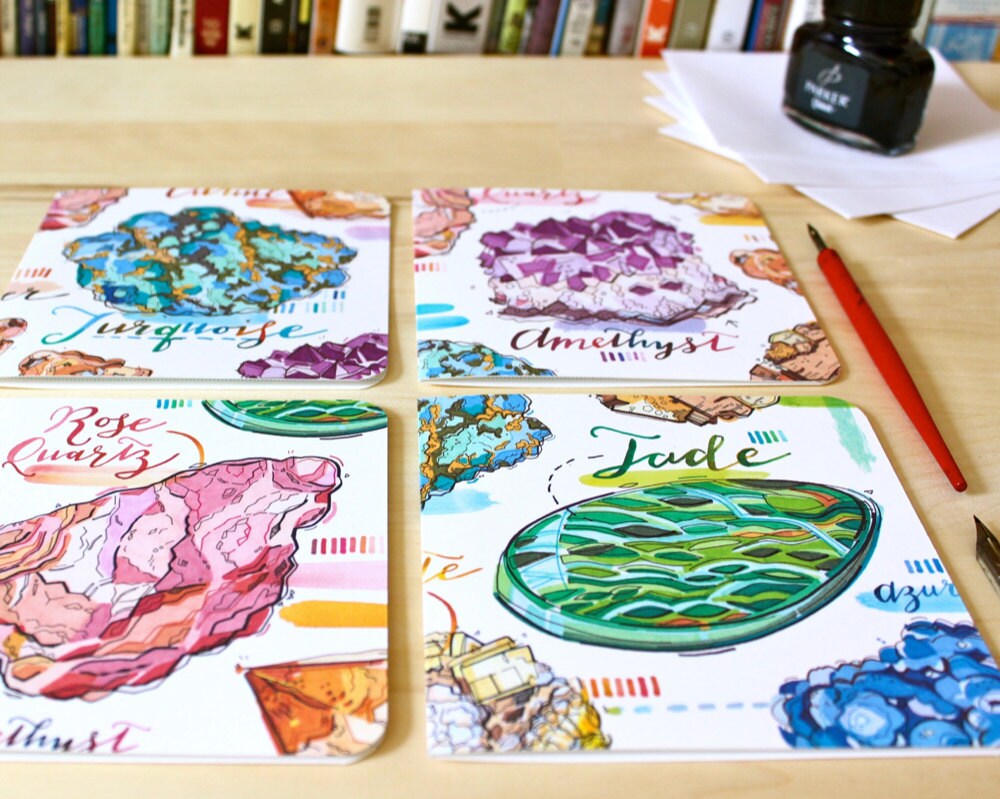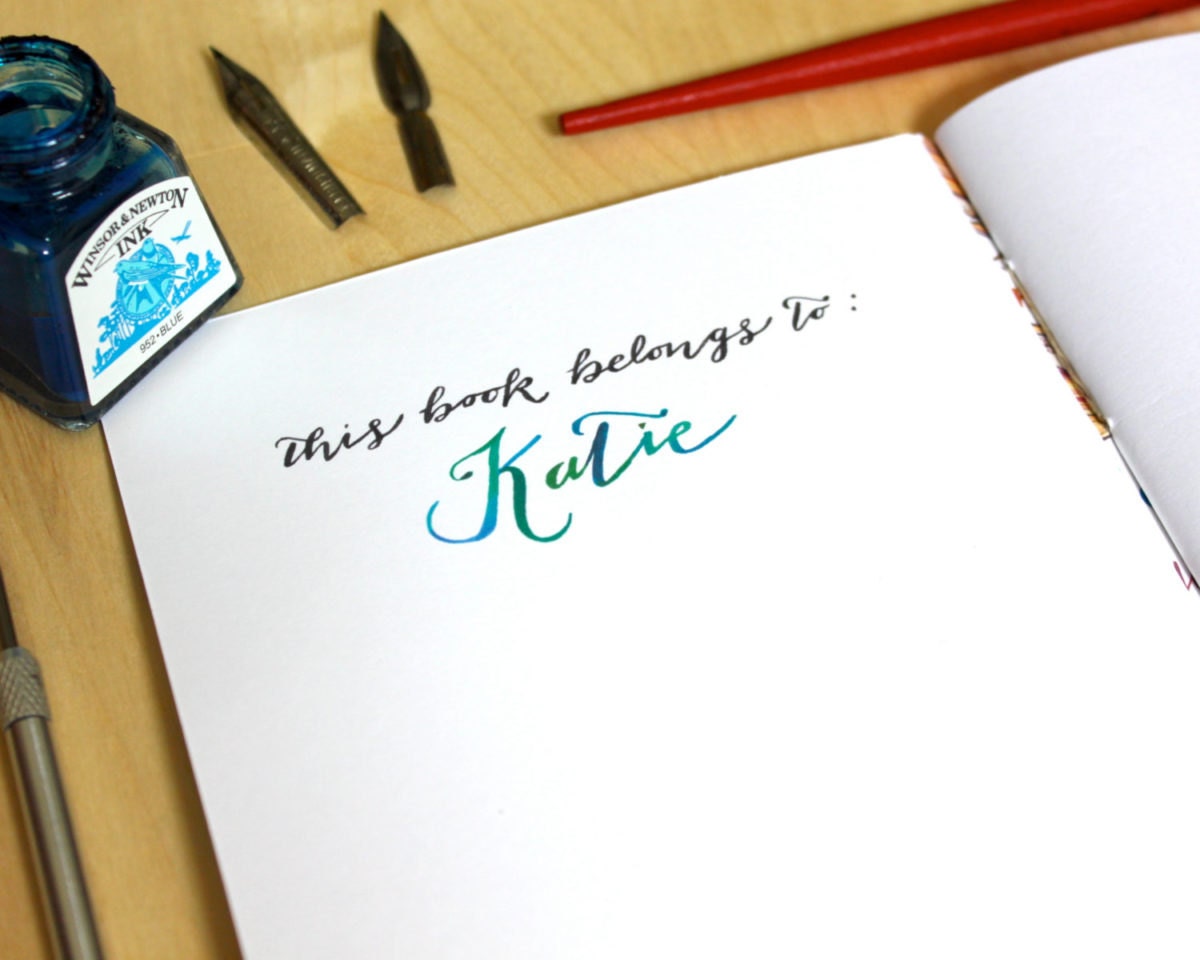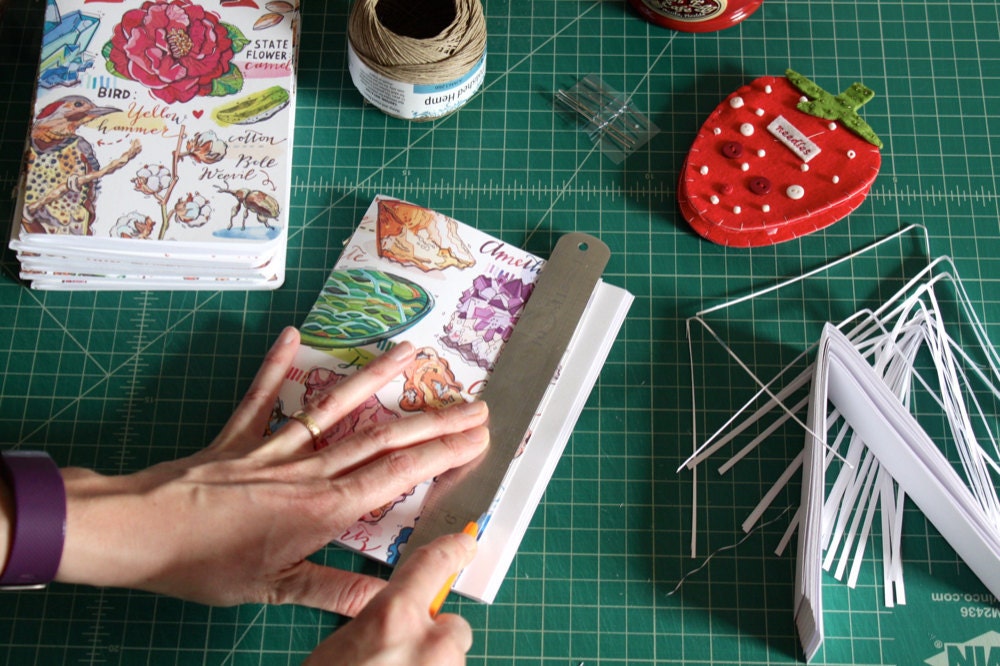 How has having an Etsy shop affected your artistic career?
When I think about when I started on Etsy, it's a murky subject. I look at my first products — it was a wooden restroom sign and some little birthday cards —  and I think, "Where was I going with that?" I have no idea, honestly. It was not a well-made plan. My first attempt was a bit of a false start, so I left it for a while, and I think I came back to it about a year later when I started using it mainly as a portfolio. I thought, "I'm going to make this my collection of work that I have a passion for, just to keep my enthusiasm up about illustration and the things I love to do." So — and this is very indulgent — I just thought about what my interests were and thought, you know,
Draw things that you love.
Make things that make you happy. And I guess that actually really spoke to people. I started getting a great response from customers, and as a result of that I've been able to spend more time on my Etsy work. It's proved to be a great portfolio for my professional life because I've had so many clients contact me via my Etsy shop.
How has your shop evolved since those early days?
There's been a lot of trial and error with finding the best materials: finding the best printer for my small studio and fine art paper that I love. It's a simple thing, but those two elements, they present the artwork that I create in a way that makes me proud of it. I can do a piece of work that I really like, but if I print it on a cheap piece of paper, it does not come across in a way that really makes it sing. I'm glad I spent a lot of time sourcing good materials and figuring out equipment that I love, and I think they add the finishing touch. I put so much into
my artwork
, it would be a shame to ruin it with a bad printing experience at the end.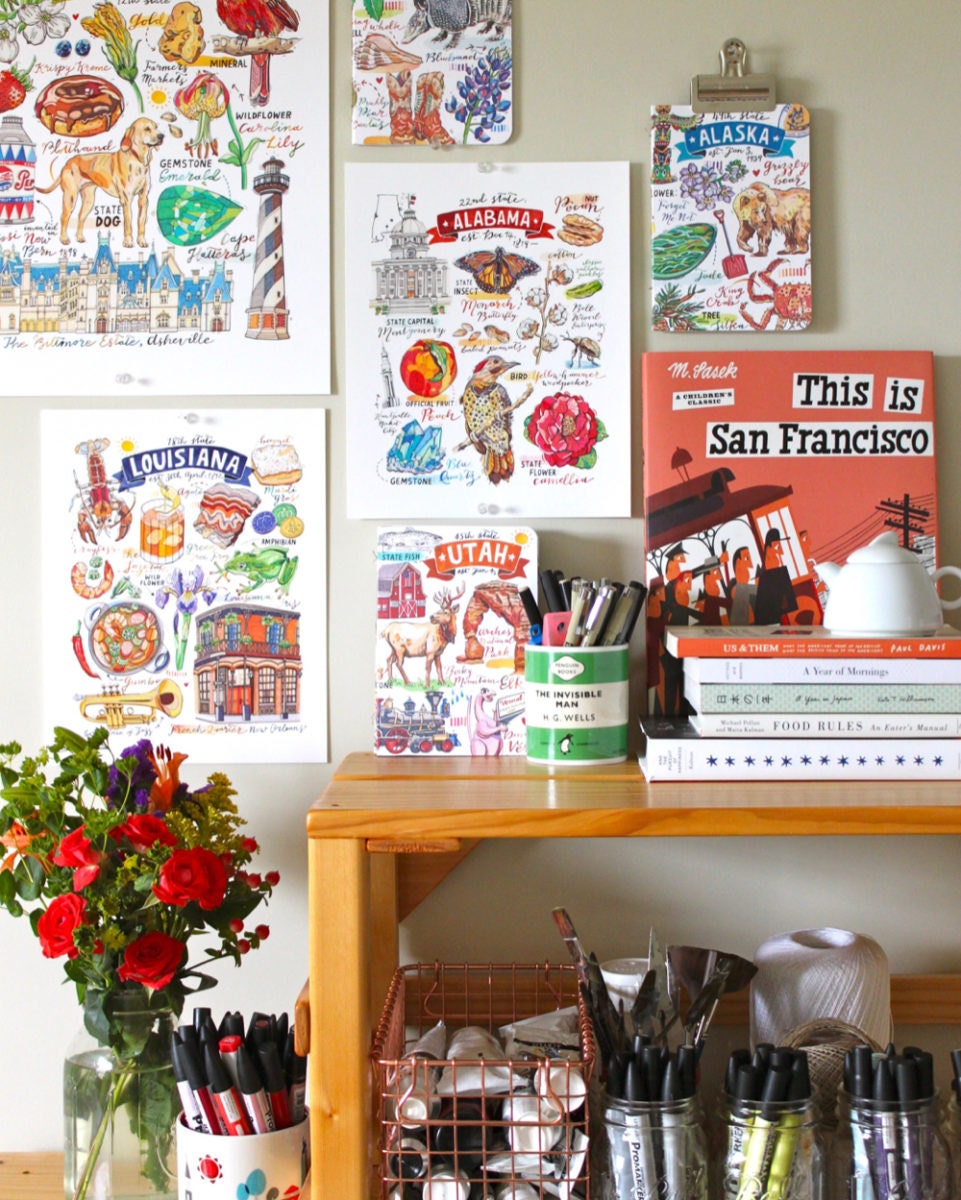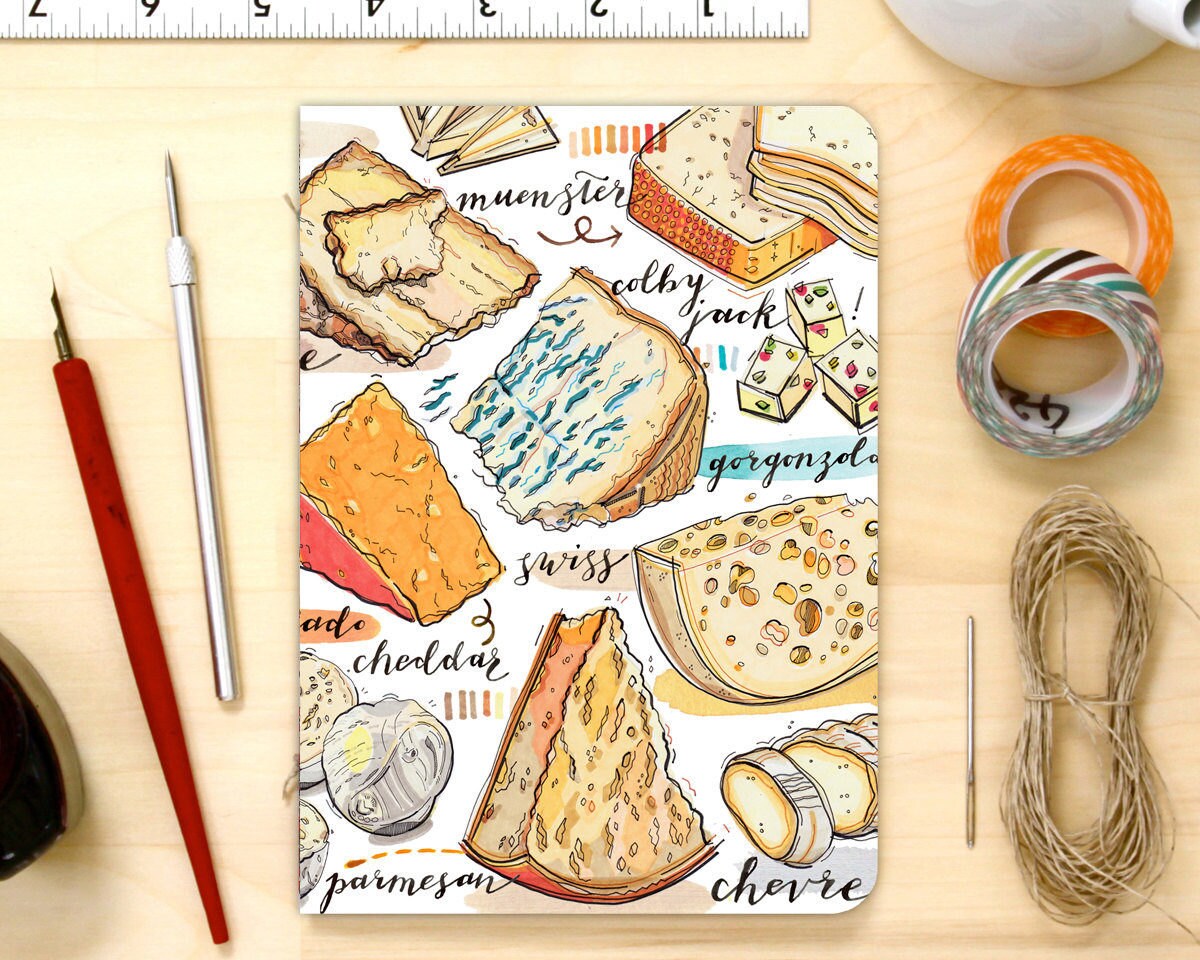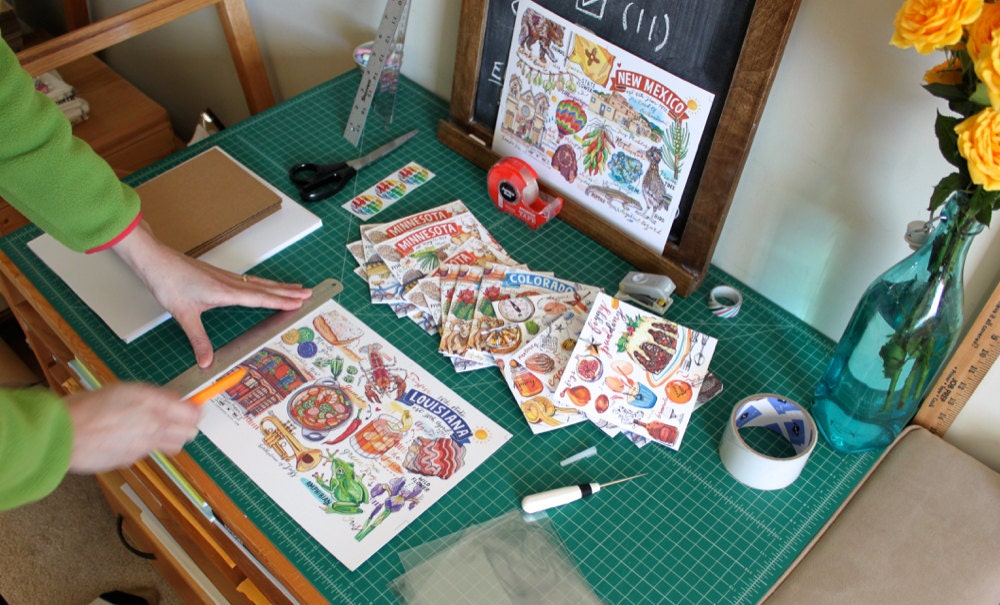 Can you tell me a little bit about your workspace?
We move around so much; it's so different everywhere I go. I'll always have my maps on the wall, and as I'm printing samples, I'll put those on the wall, too. I'm surrounded by things I'm working on so I'm constantly thinking about them, taking second looks at things and making little changes. I'm pretty much stuck to my desk for lots of time, but I have my two little dogs here, my studio sidekicks, keeping me company. They are so valuable to me: They'll come to me and remind me that everything is not all about me and my day and my plans. Everything is actually all about them. There are treats to be eaten and walks to be had. They actually help me find a good balance in my studio.
Maybe you could do a dog print series?
I am amazed I haven't.
Speaking of, what other big plans do you have for Lou Paper in the next year or so?
I want to expand my collection into textiles — dishtowels and simple things like that. My
state prints, food prints, and cocktail prints
 could lend themselves pretty well to some sort of kitchen decor-based textiles. I'm not a natural seamstress but it's something I want to teach myself, and I've been working on printing a lot of my designs on fabrics and trying to figure out good materials. So next year, that's definitely something that's in the cards for my shop. Also, I would like to become a
wholesale
seller, and just be able to keep growing my Etsy shop, making it more of a priority and seeing how I can do with that.
So far, what has been your biggest challenge?
I think keeping self-confidence. It's a slow process. I think some people probably have instant success on Etsy; I didn't, but I felt like I had something to offer, I just was trying to figure out what it was and create products I was proud of. I had to be my own biggest cheerleader at times, and that is a challenge when you're wondering how to get your work out there and get noticed or find out if people really like it — if it's worth anything. There are definitely ups and downs, and you have to have confidence in yourself and keep approaching it in new ways.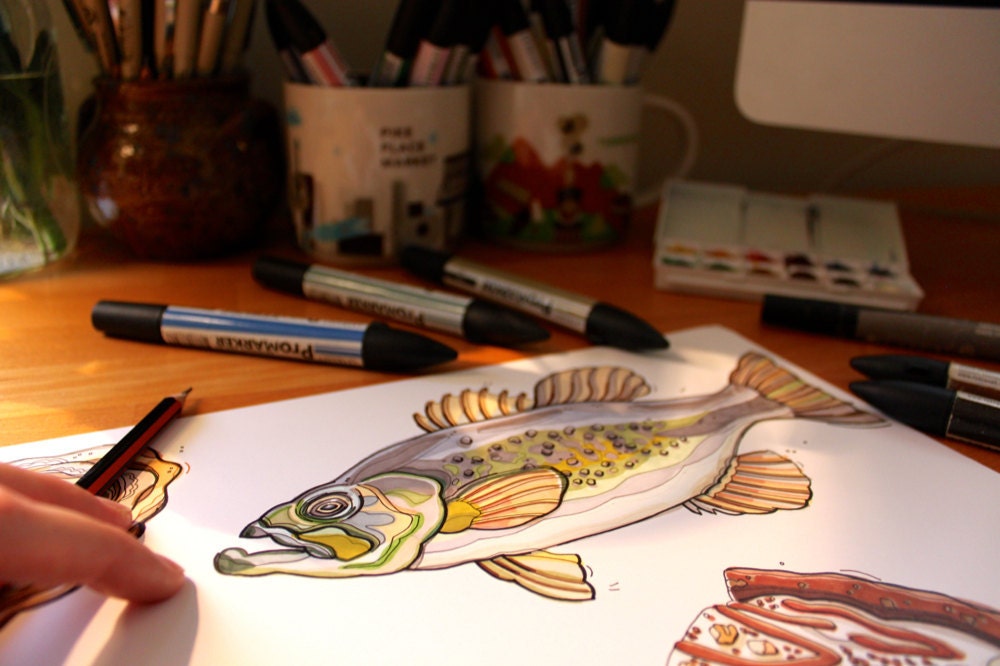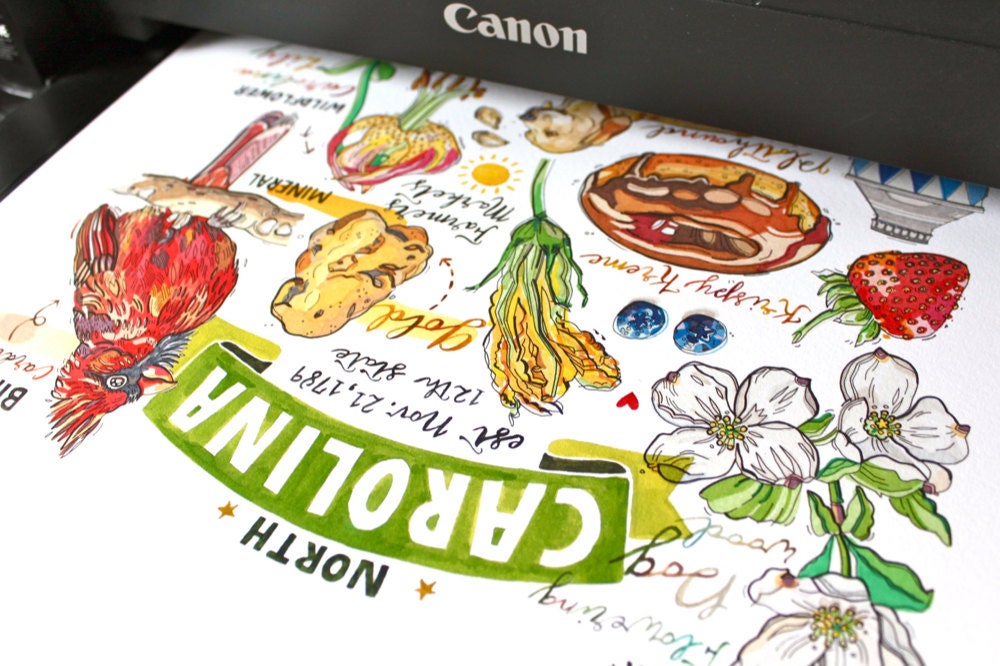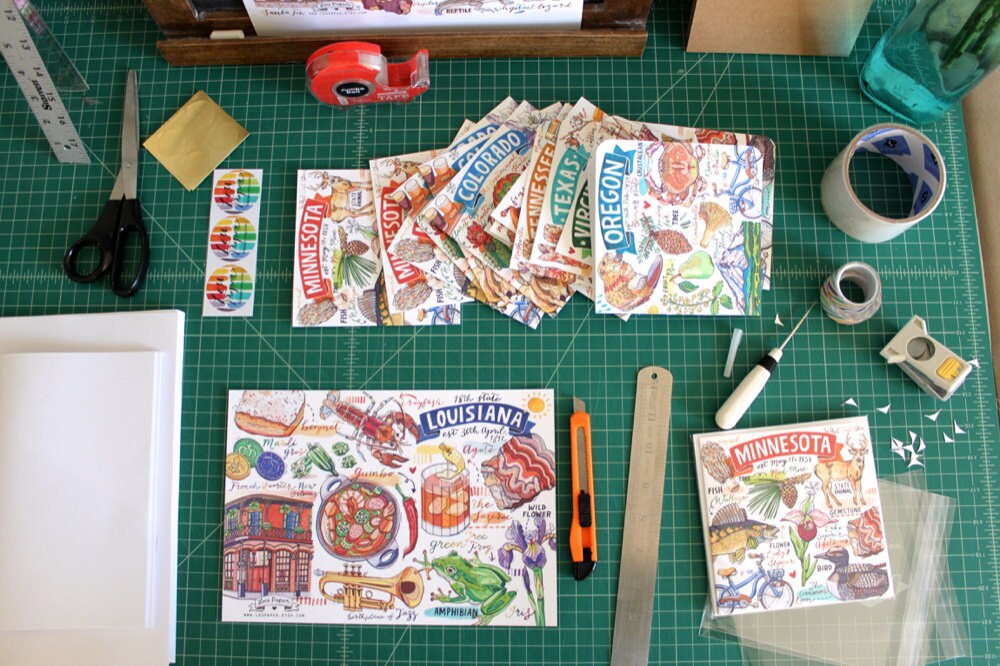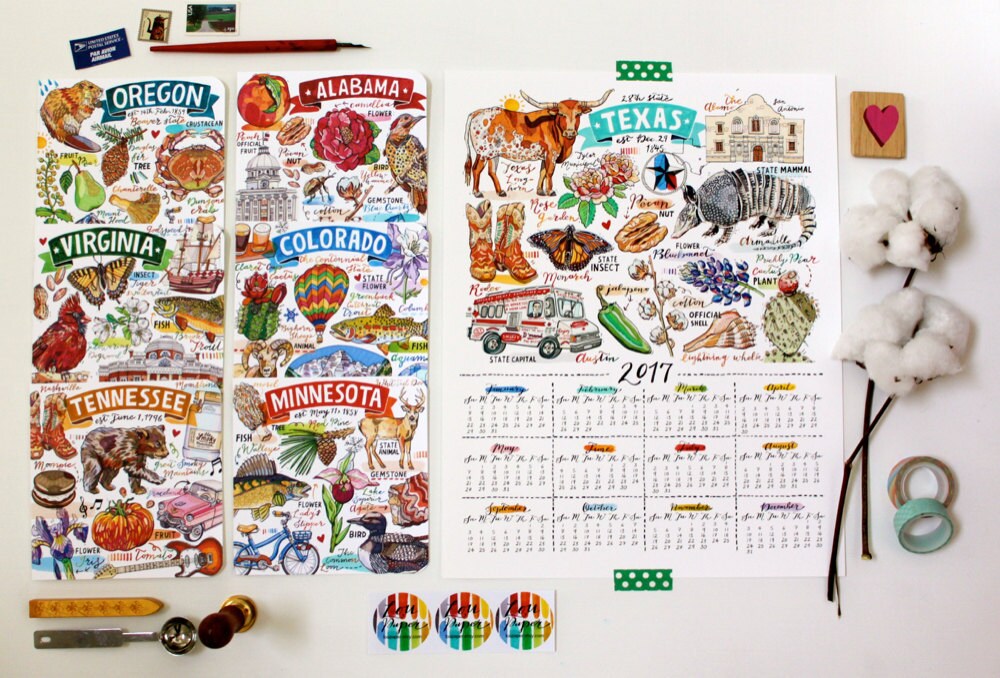 If you feel stuck at any point during the process, what do you do to get out of that?
Danny Gregory published a book called
Everyday Matters
, and that's where I got the idea of drawing everything I do. He would draw every day, and he was a huge inspiration to me and played a big part in helping me develop my own style and becoming confident with my own process and not being intimidated by a blank page, which is I think so common for young artists. I sort of worked through that by being inspired by Danny Gregory. I always look back to that book; I dip into it constantly. It really spoke to me at a time when I needed it for my creative process.
What has been your proudest achievement so far?
In general in this industry, it takes a while to make contacts and produce a portfolio you're proud of. For me, it's been the whole process — seeing the work that I've put in coming to fruition by way of employment and success on Etsy. Each year I get more sales, I get more feedback from customers, and you know, I'm proud of the efforts that I've put in. It's rewarding to see that improvement and get the kind of feedback from customers and clients that I really want.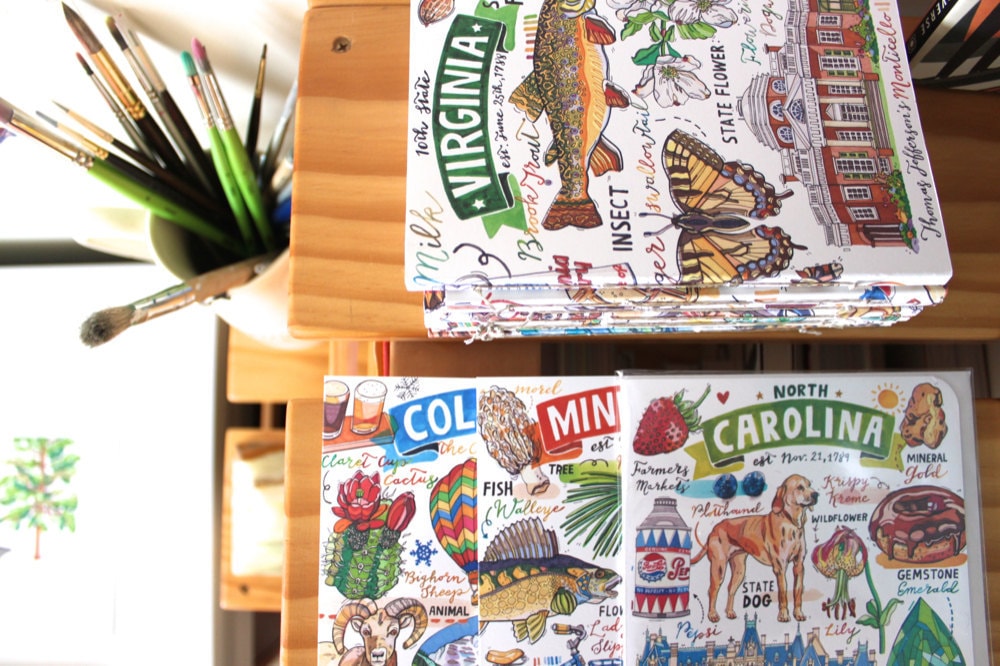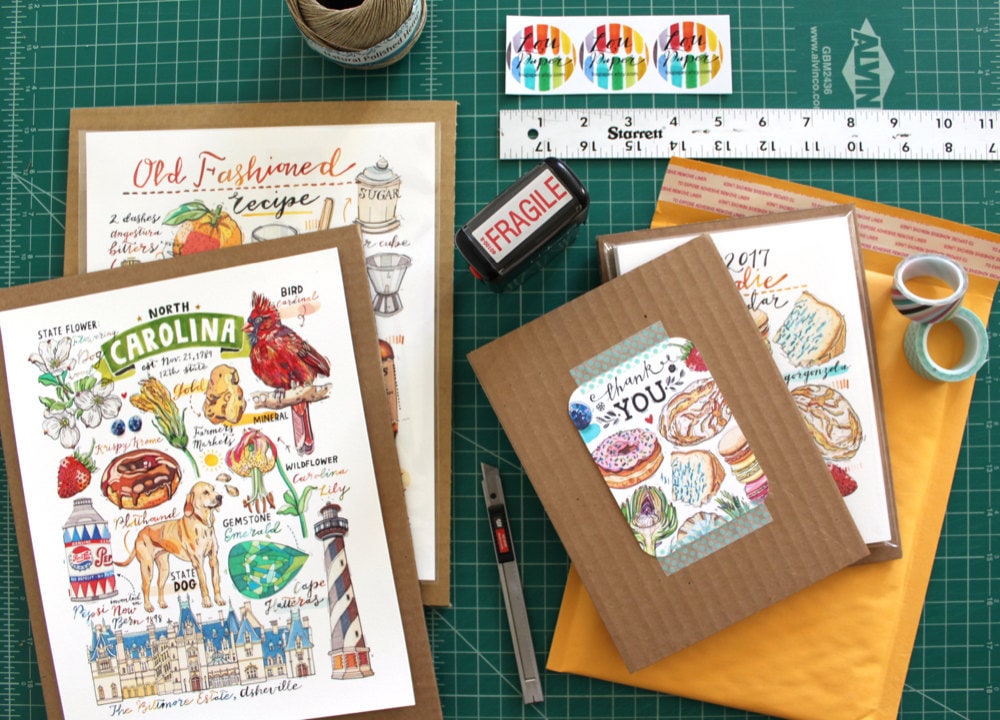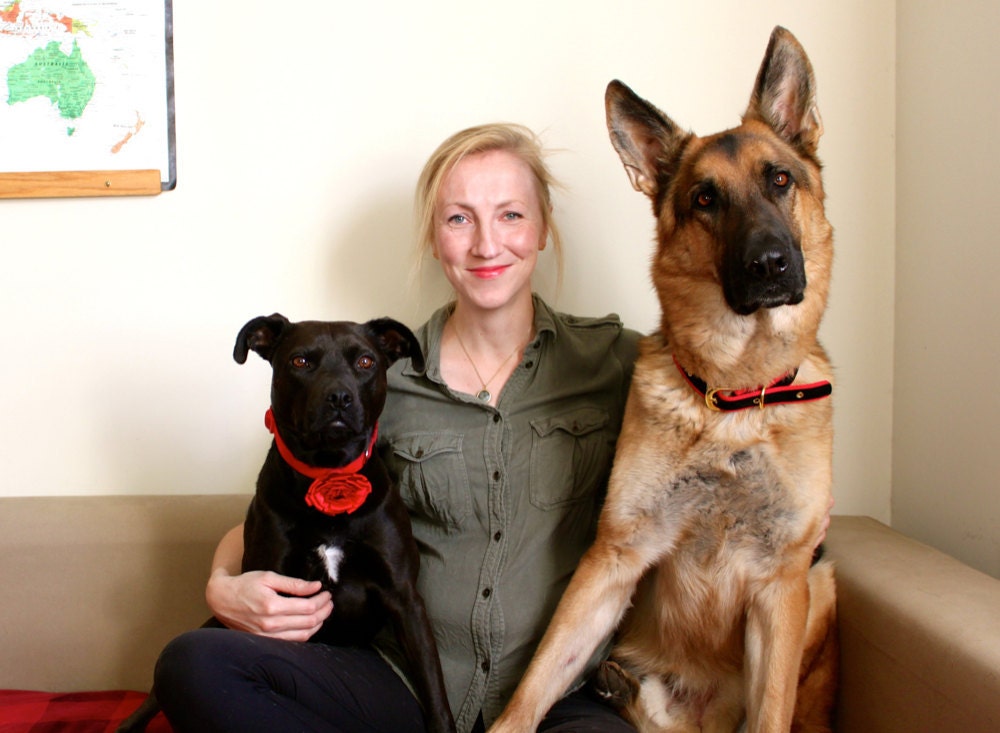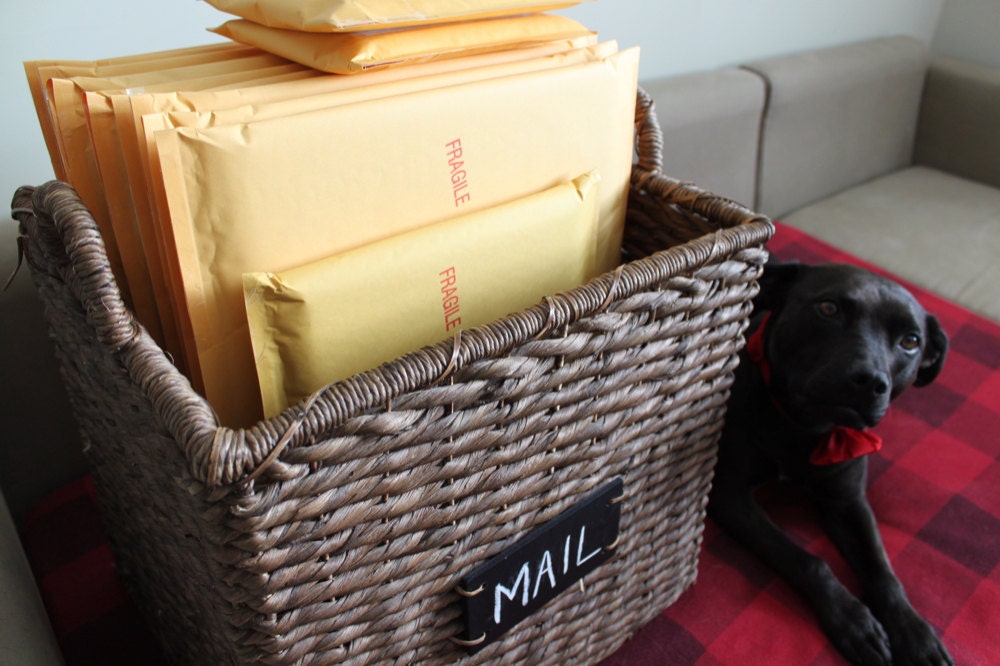 Can you tell me about a customer experience that was particularly meaningful to you?
After starting
my state print series
I've had a lot of people ask me about doing custom designs for certain locations. One of my customers, they have a property in Cape Cod, Massachusetts, where they stay for family vacations, and they wanted me to create an illustration based on that location and their holiday home. It was a gift for her mum — something very sentimental. It really spoke to me; I was so happy that she asked me. It really resonated with me because, growing up, I would do a lot of trips like that with my family — you know, stay in cottages for a week here and there and travel around. It was just a really feel-good project, and I was happy to celebrate that set of memories for her mum and their family. I like Etsy a lot because of that personal connection that we as sellers can have with our customers. I mean, obviously, when I do work for magazines and things like that, it's nice to think of my work out there in the world; but you don't really get a sense of people's reactions. Here on Etsy when people leave their feedback or send me messages to say how much they love the print they ordered, it's very rewarding. It makes it really worthwhile. It's what I'm looking for in the work I do, and I love being a seller on Etsy for that reason.
Photographs courtesy of Lou Paper.