Add some extra ooh-la-la to your outfit with a dazzling set of mixed media statement earrings from this Franco-Thai designer.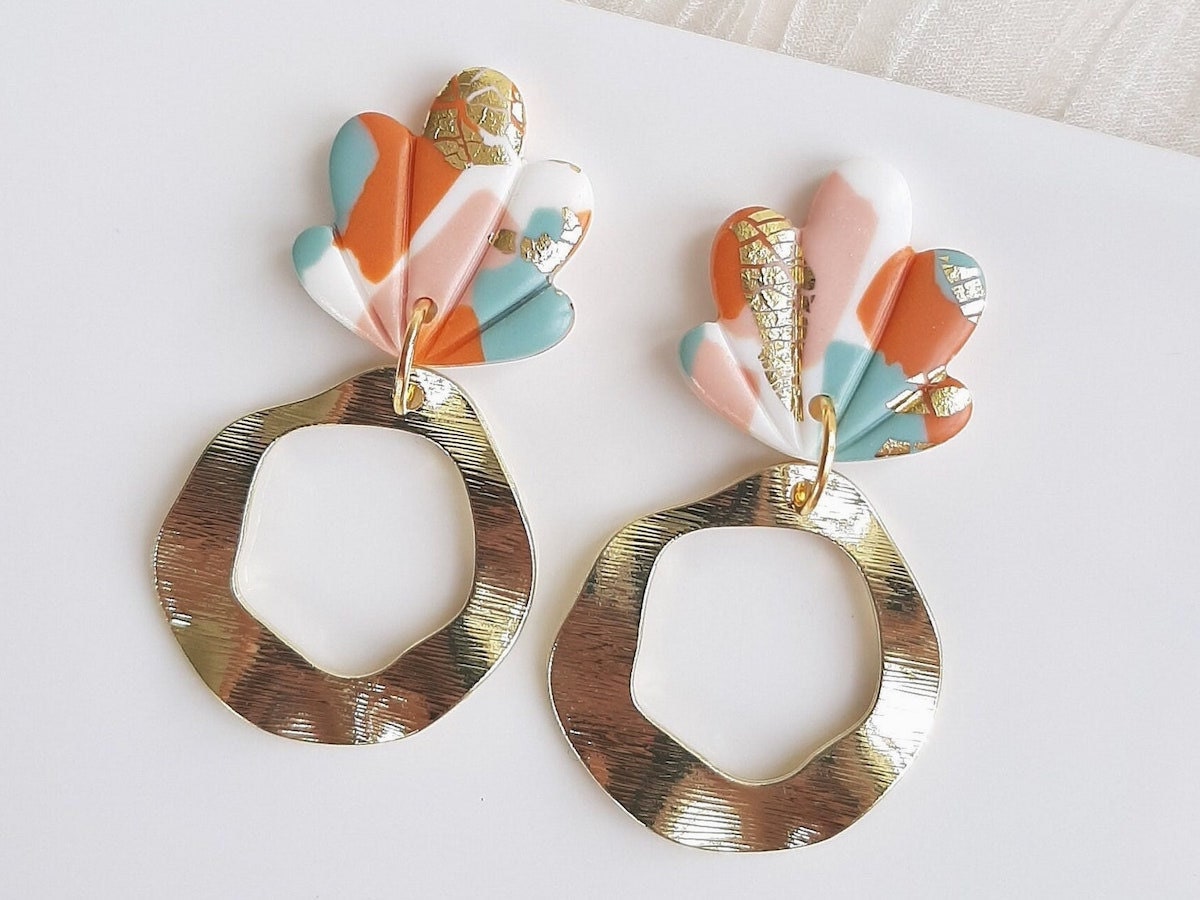 In our Featured Shop series, we shine a light on a standout shop from Etsy's talented seller community, offering readers a behind-the-scenes look at their process and story.
As any chic Parisian can attest, playing mix-and-match is one of the greatest joys of getting dressed. For Franco-Thai jewelry designer Sunisa Arbona, that fondness for aesthetically pleasing pairings has been a major source of inspiration in creating Ma Bichette Bijoux: an elevated line of multimedia statement earrings handcrafted from her home studio in Paris. Boasting a beautiful blend of soothing clay colors and glimmering metallic accents, each exquisite set of earrings is a result of Sunisa's passion for trying out new techniques and combining unexpected materials and motifs. "My job is to use my hands to create a piece of jewelry that I would want to wear myself, then share it with the rest of the world," she says.
Eye-catching enough for a special occasion and light enough for everyday wear, Sunisa's small-batch designs are a celebration of effortless style—but they're also so much more. Each limited-edition earring collection is infused with subtle symbols of her beloved Thai heritage—from sculptural stunners that evoke the arches of ancient pagodas to golden danglers made to mimic gongs. "With my designs, which all have Thai names, my intention is to immerse my customers in my native culture and share my origins with them," Sunisa says. The outcome? A selection of quality, capsule-worthy accessories that are sure to stand out, spark conversation, and bring a fashionable finishing touch to your favorite spring outfit.
Read on to get a behind-the-scenes peek at Sunisa's jewelry-making process and discover some of her top styling tips, then shop the Ma Bichette Bijoux collection.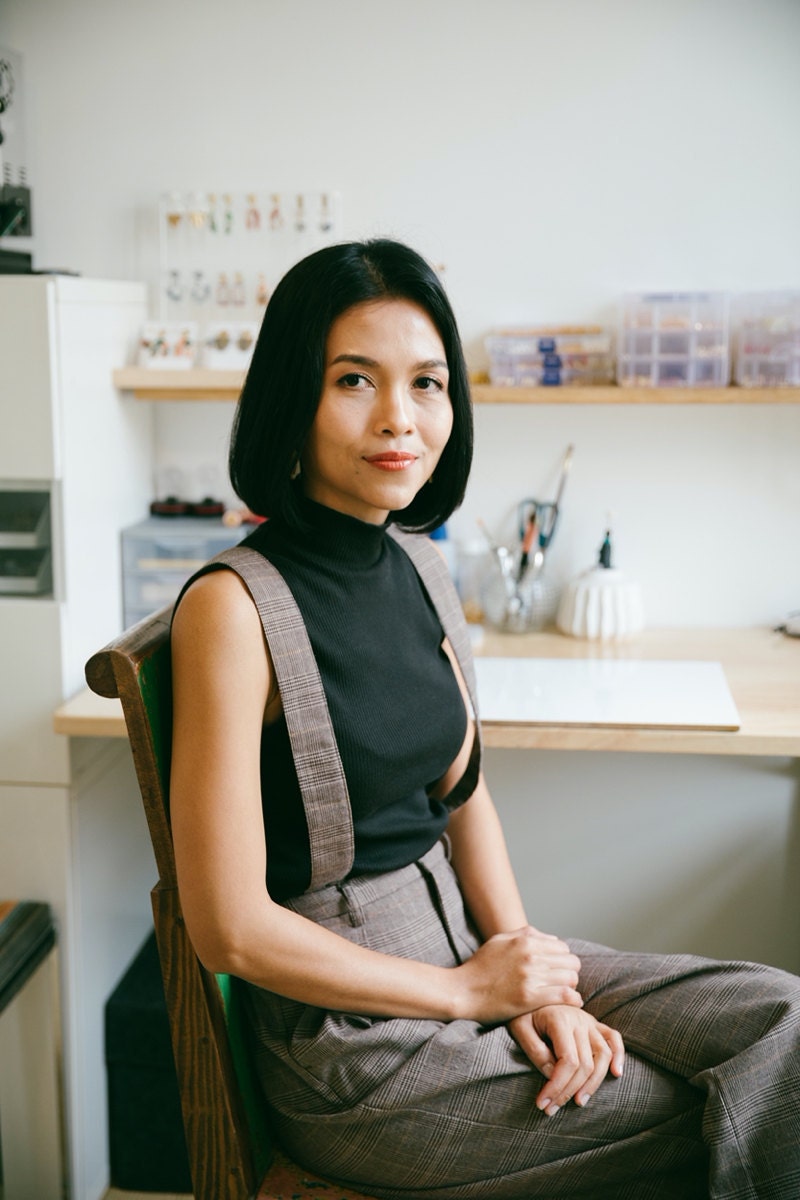 How did you develop your signature aesthetic?
My creations are based on the crossover that naturally formed between my Thai roots and my French influences. I think it gives my pieces a kind of soul and a unique aesthetic. Mix Thai style with a "French touch" and a little bit of glamor, and you get a one-of-a-kind pair of Ma Bichette earrings. They're elegant, colorful, and bold, and despite their unique style, they can be worn for any occasion, anywhere, day or night. They're also very comfortable to wear, since polymer clay is known for its lightweight qualities.
What is your best-selling product? Why do you think it is so popular?
The Dok-Maï Talae ("sea flower") model is a classic, they're soft but they also have this raw feel to them. I think their popularity is down to the harmony between the colors and shapes: here, we have two pastel tones (pink and blue), bold orange, and a white background. And I love to finish off my pieces with a few flakes of gold leaf. That's the Ma Bichette signature touch!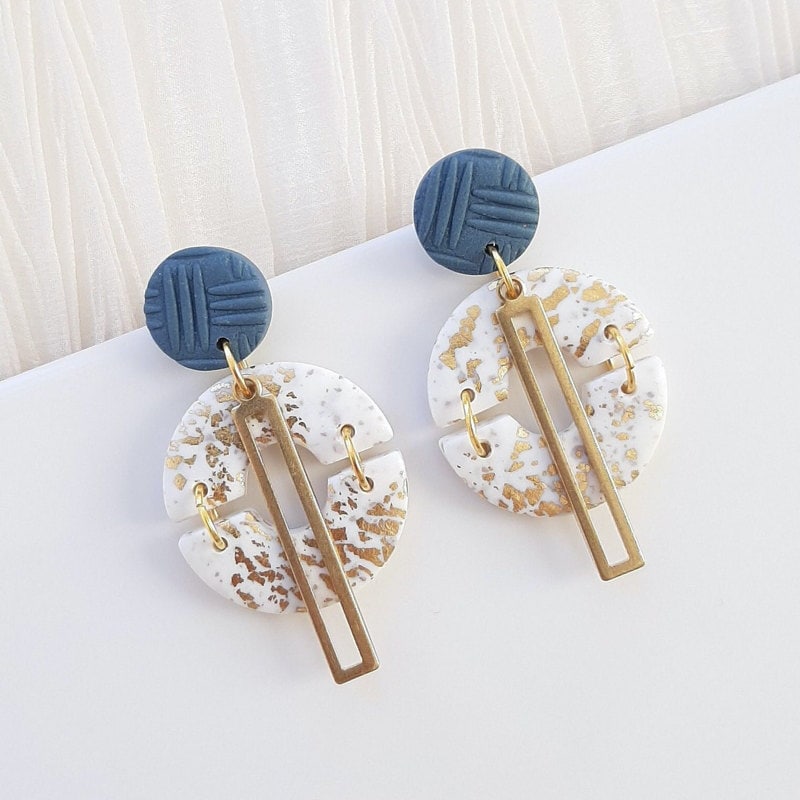 SHOP: Elegant "Khong" or "gong" clay statement earrings from Ma Bichette Bijoux, $38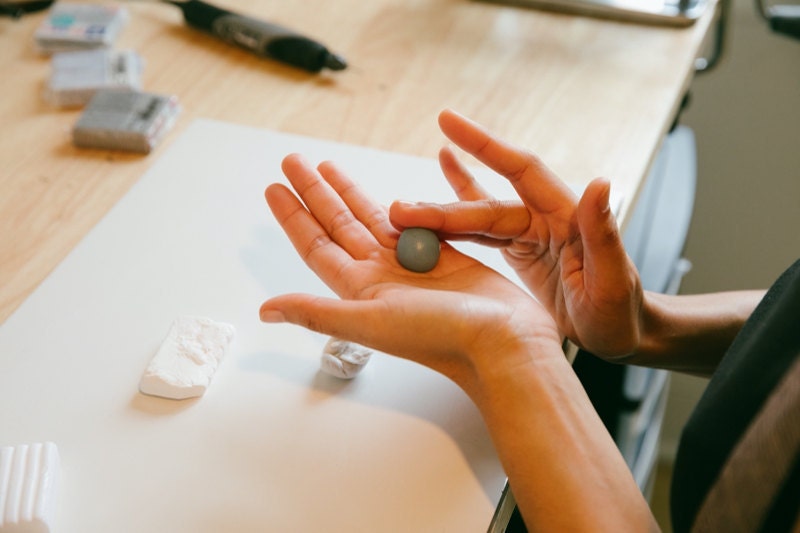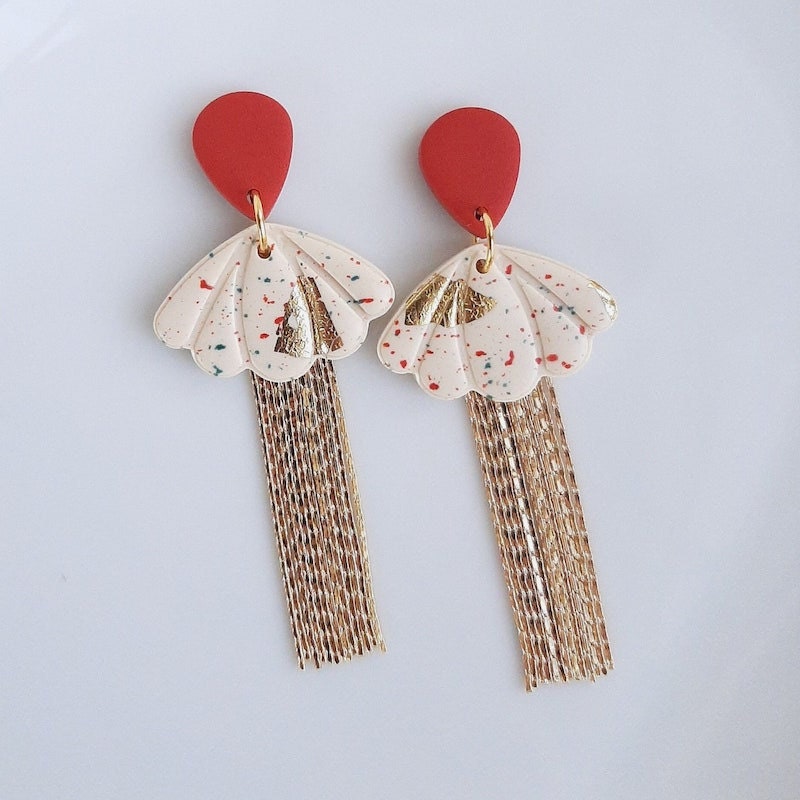 SHOP: "Nam Tok" or "waterfall" dangle earrings from Ma Bichette Bijoux, $41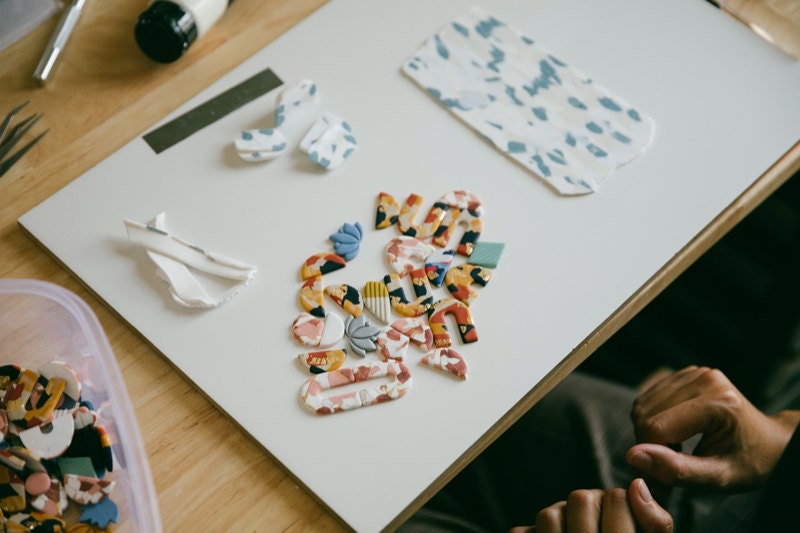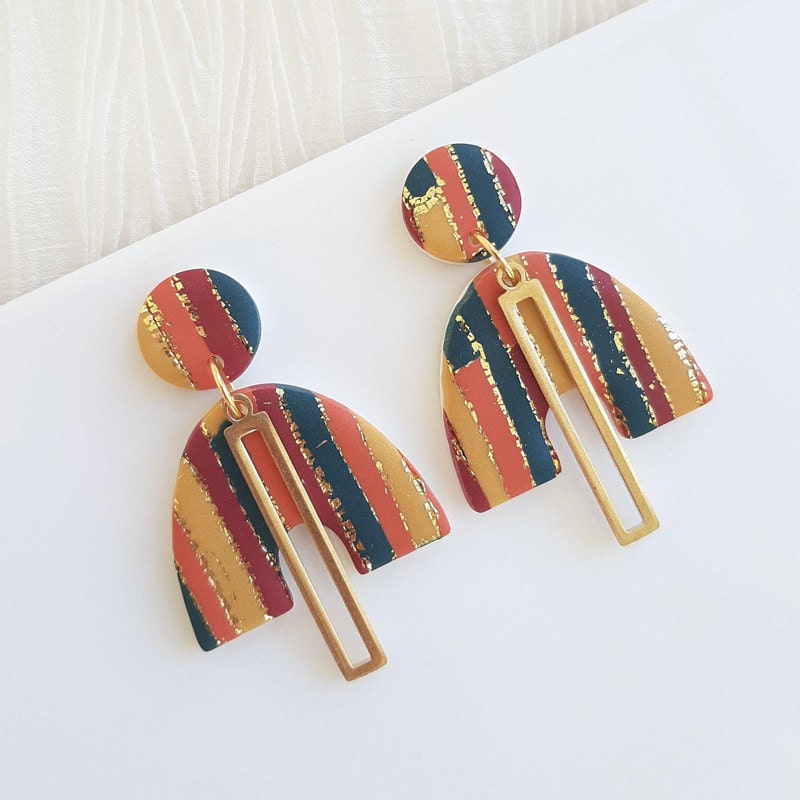 SHOP: "Phaen maï" or "wooden slat" patterned clay earrings from Ma Bichette Bijoux, $40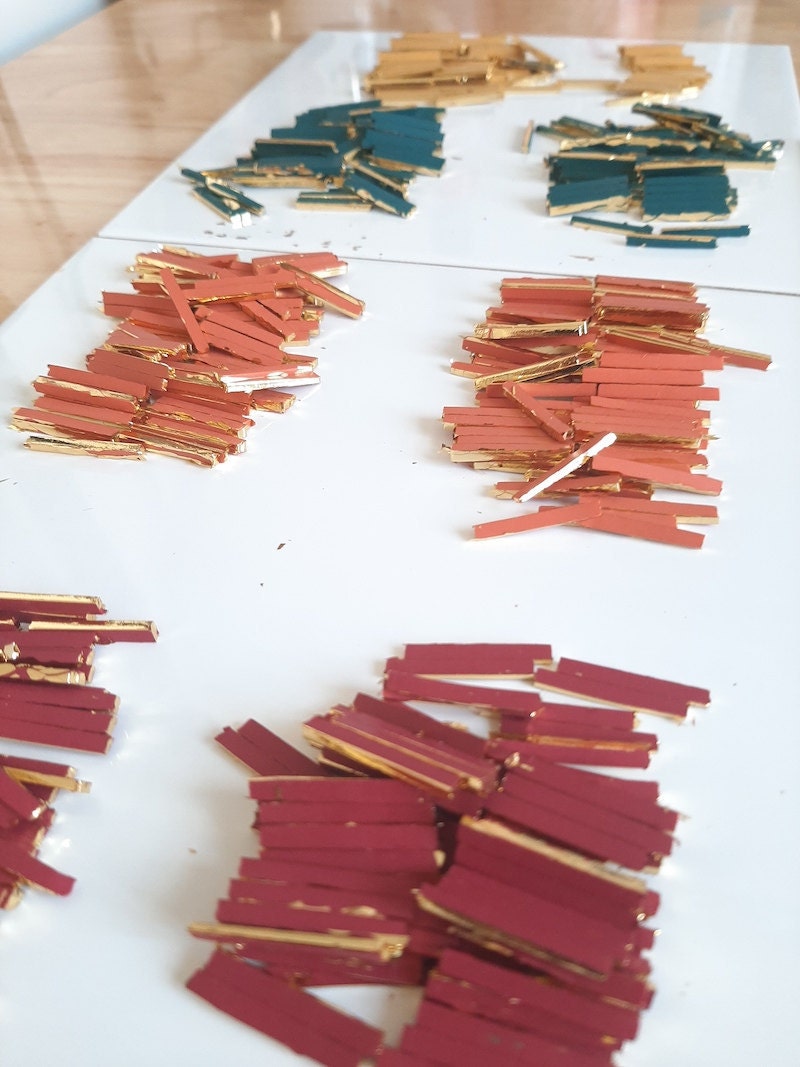 Jewelry is a great way to make your personality shine through. True or false?
True! Many customers have told me how proud they are to wear such original earrings, handmade by yours truly in limited quantities. I get a sense that they have a strong desire to stand out.
On that note, do you have any tips for how to style your pieces? Any advice on how to keep them in good condition?
My customers often send me photos: They usually style their earrings by matching them with a single item of clothing or accessory from their outfit—like a scarf for example—or even their eye or hair color. They have great taste!
To ensure my pieces last as long as possible, I recommend not getting them wet, storing them in a dry place, and avoiding contact with perfume or sun cream. If need be, you can clean the polymer clay earrings by delicately wiping them with a cotton pad soaked in soapy water. And be sure to use a polishing cloth to keep those gold parts extra shiny!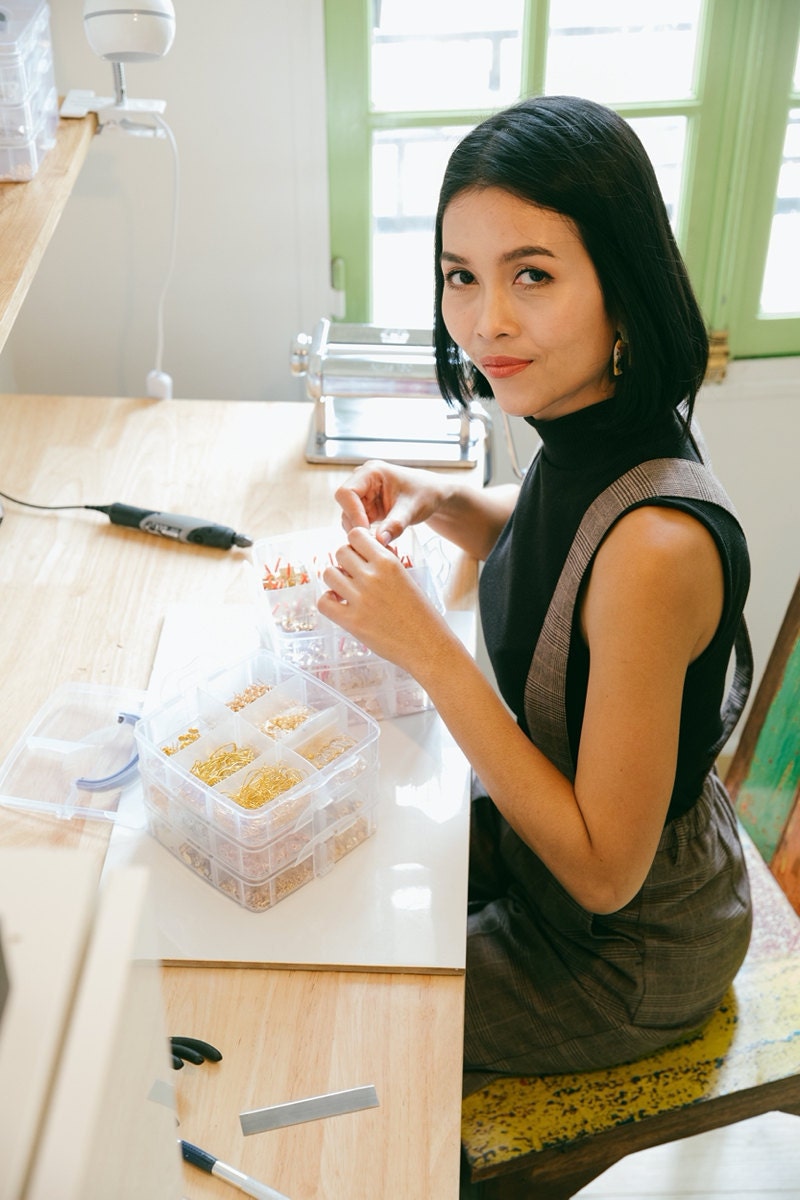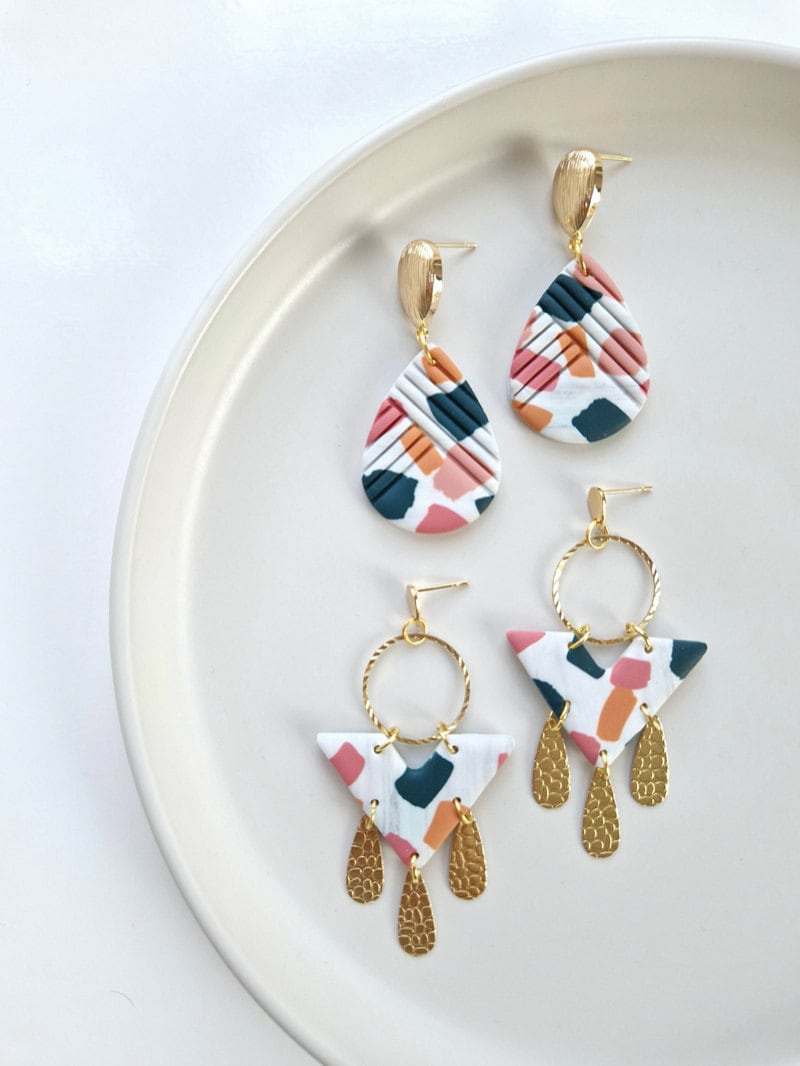 SHOP: "Look-hom" candy-colored drop earrings and triangle bell earrings from Ma Bichette Bijoux, $39 and $40, respectively.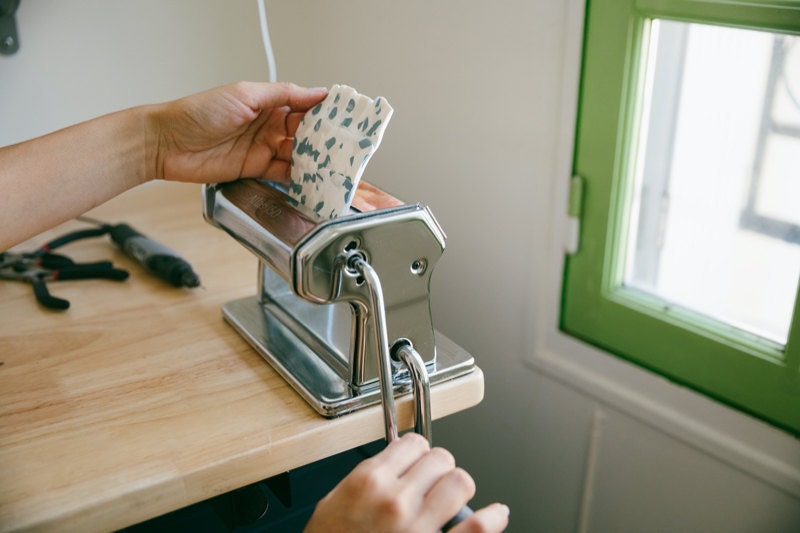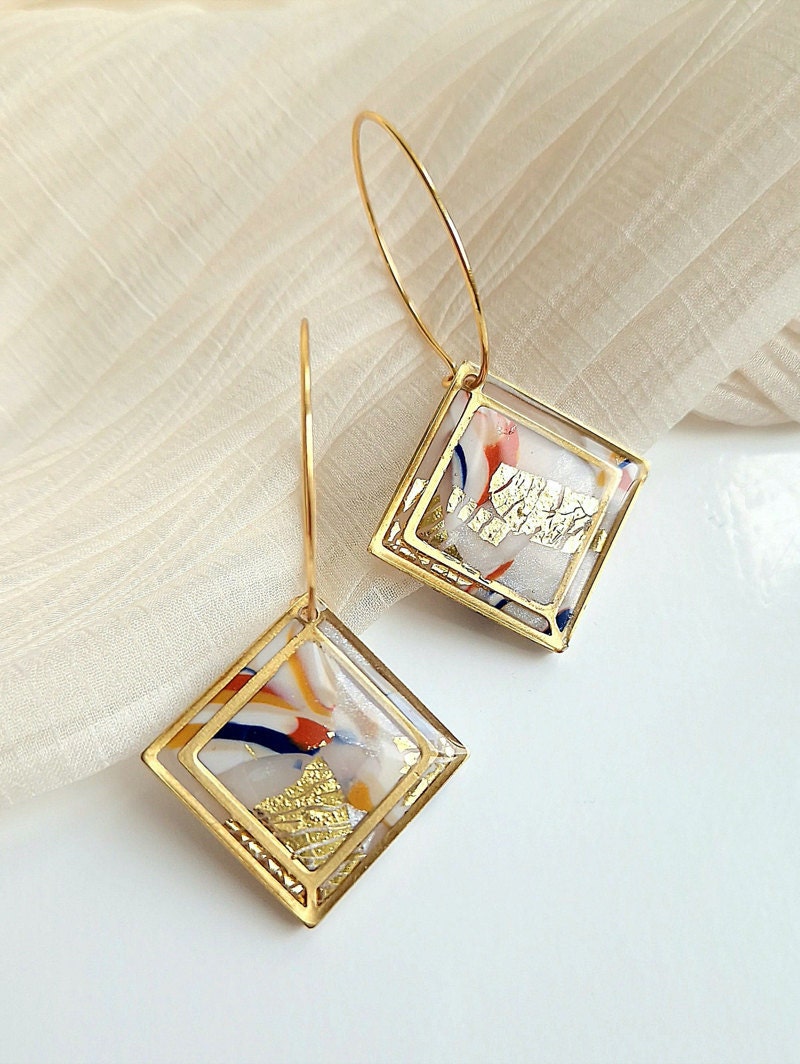 SHOP: "Mo-ra" or "agate"-inspired diamond drop hoops from Ma Bichette Bijoux, $40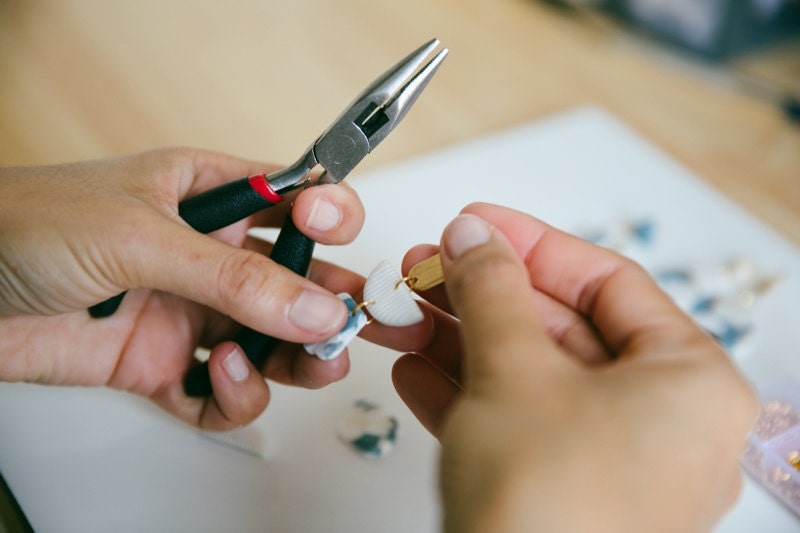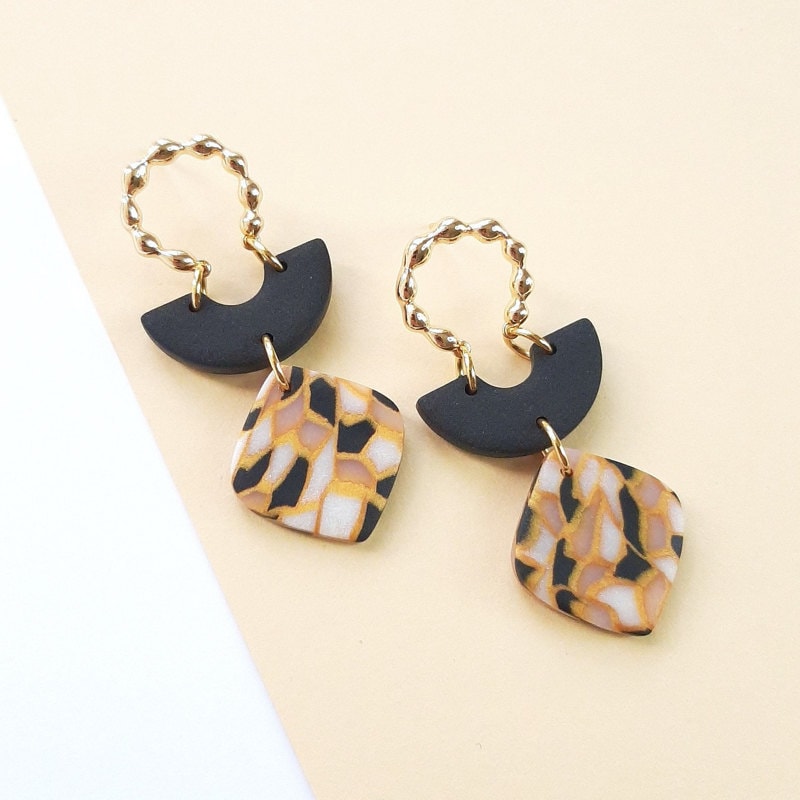 SHOP: "Mosaek Thong" or "gold mosaic" drop earrings from Ma Bichette Bijoux, $41
What do you enjoy most about jewelry making and owning your own business?
I really love working with polymer clay: it's a super malleable material that can be used to create any form, texture, color, or look. The fabrication process is also quite relaxing, as it forces you to focus on yourself. You have to stay zen, because it can take around three hours to create a polymer clay sheet! I also really appreciate the special relationship I have with my customers. Via direct messages and reviews, I form special bonds with people from all around the world.
Are there any memorable customer stories you'd like to share?
A customer from the United States once left a very touching review on my Etsy shop. She told me that she had ordered a pair of my Hin-on hua-tchaï ("marble heart") earrings after finding the link open on her husband's computer. He had passed away just a few days before Valentine's Day, and had been planning on giving them to her as a gift. I was on the verge of tears when I realized what a special place that pair of earrings will always hold in her heart.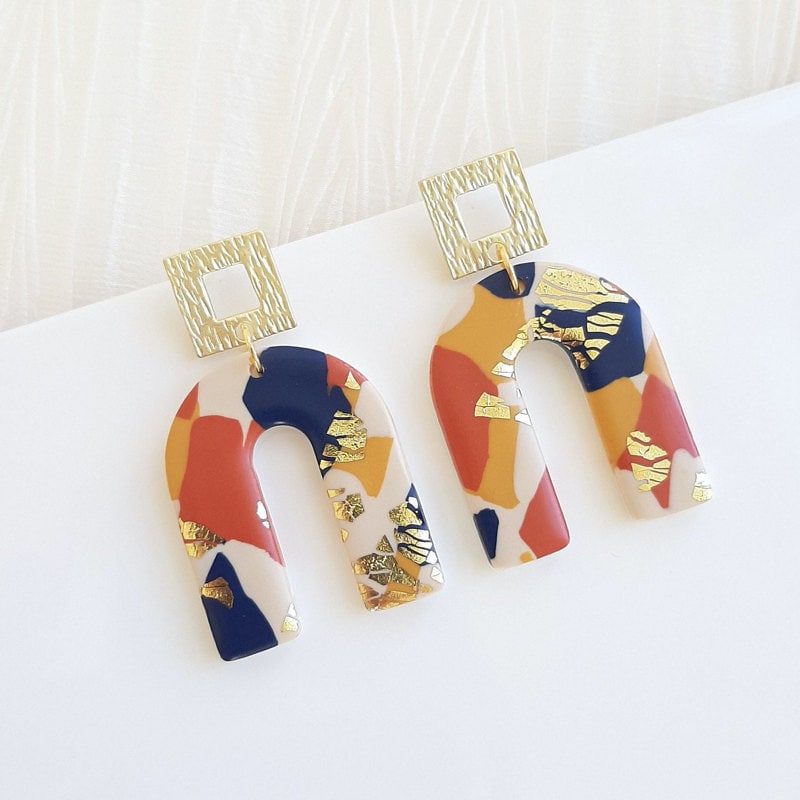 SHOP: "Pa-karang" or "coral" dangle earrings from Ma Bichette Bijoux, $38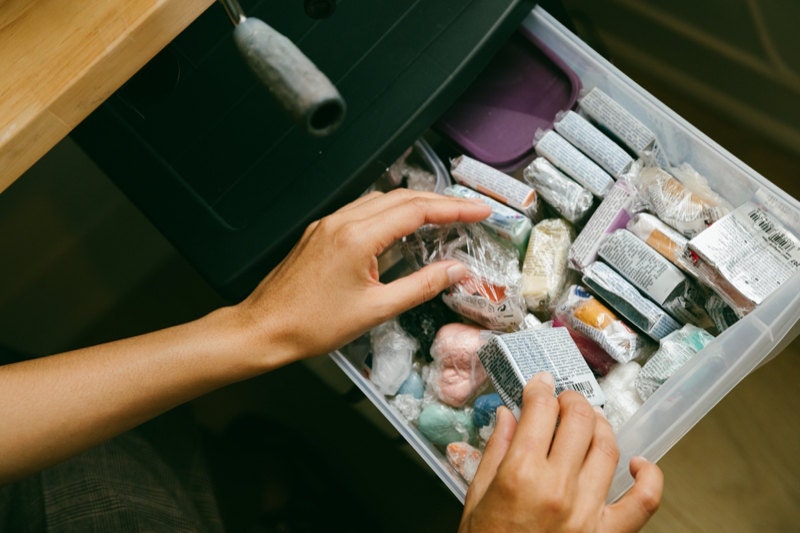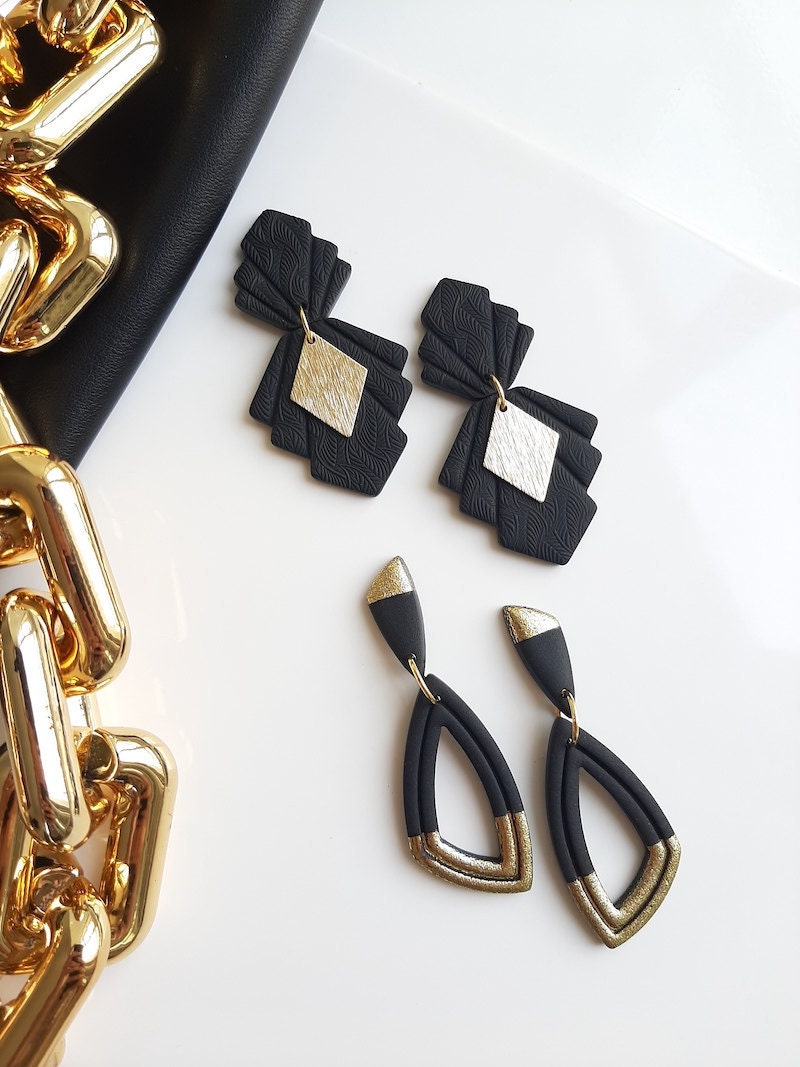 SHOP: Classy black and gold "Stupa" and "Chedi" earrings from Ma Bichette Bijoux, $38 and $37, respectively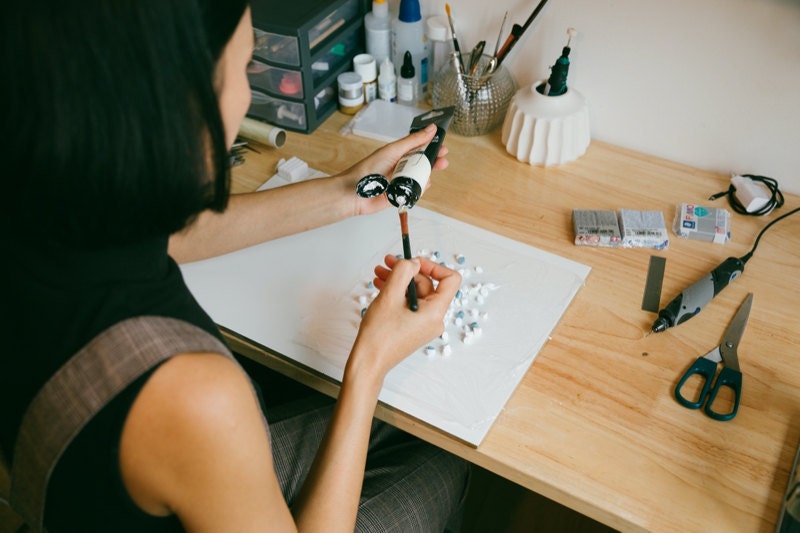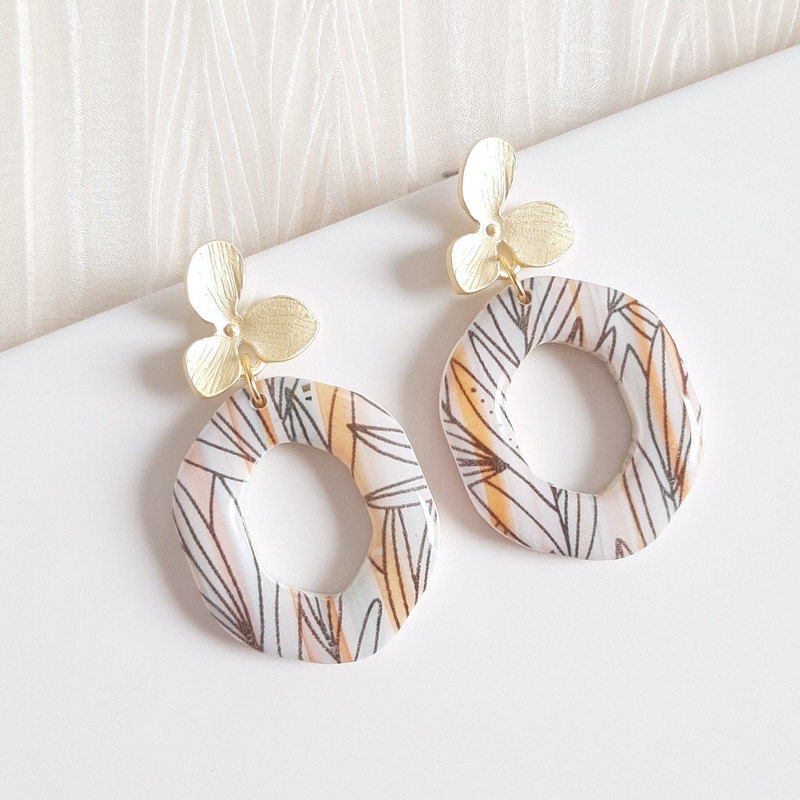 SHOP: "Look-hom Klom" or "round candy" statement earrings from Ma Bichette Bijoux, $33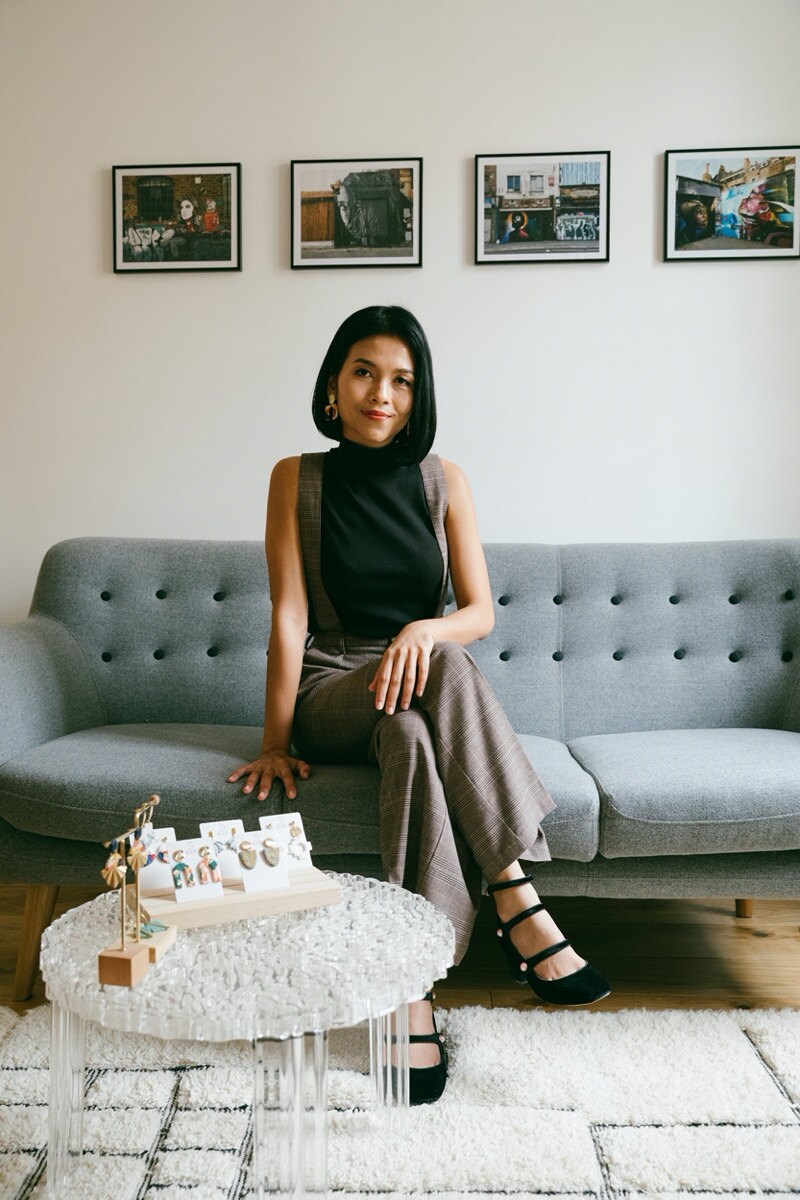 How has your shop evolved over time, and where do you see it going next?
I've been working on my brand full time for over a year now, and even set up a room specifically for my business in my home. I consider myself really lucky to be able to make a living from my jewelry, and to see there's a real buzz surrounding Ma Bichette. It's been an amazing adventure, and I feel it's only the beginning.
Follow Ma Bichette Bijoux on Instagram.
Studio and portrait photography by Victor Malecot. Additional product photography courtesy of Ma Bichette Bijoux.