Make every day a special occasion with accessories designer Michaela Durisova's bold floral creations.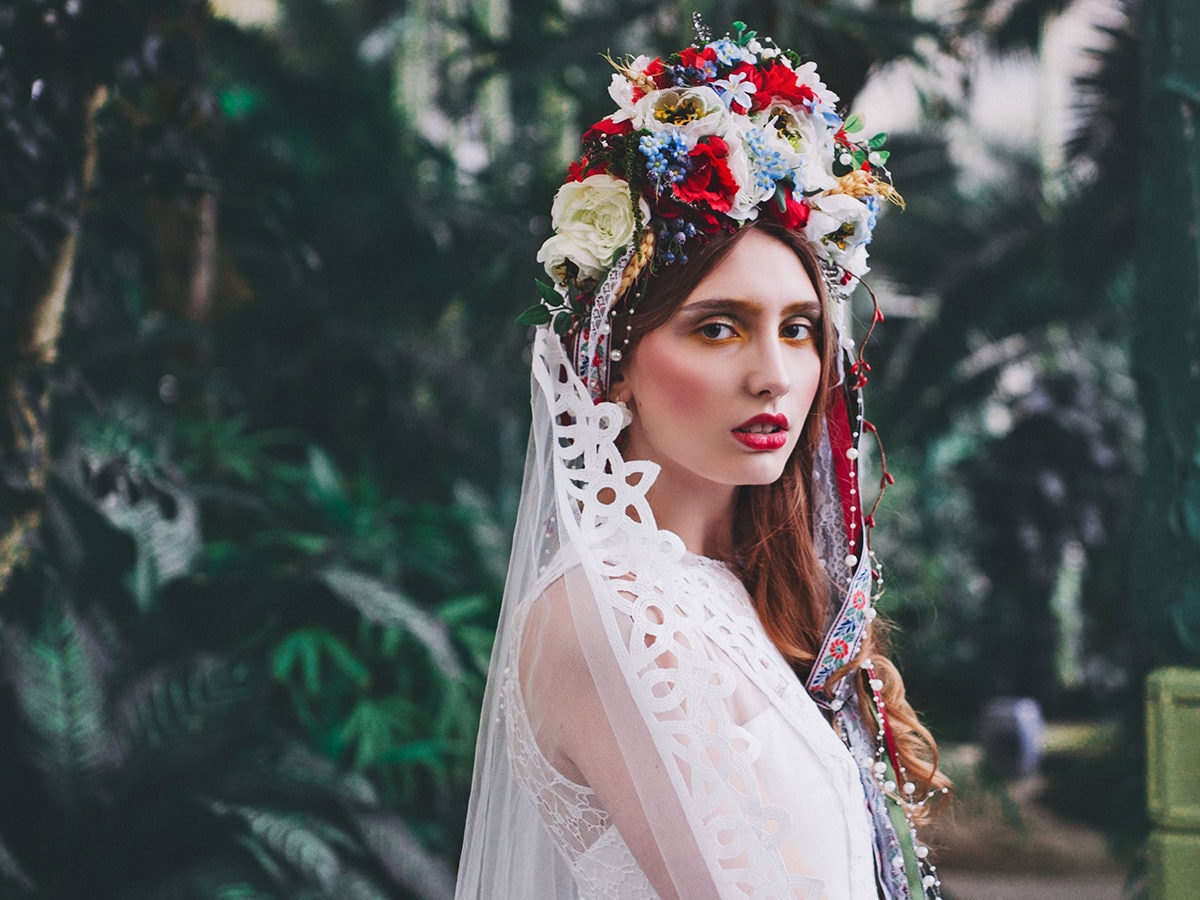 Some might say oversize flower crowns are best paired with a
wedding gown
or
festival attire
—but not boho accessories designer Michaela "Magaela" Durisova of 
Magaela Accessories
. "I wear a hair wreath absolutely everywhere I go and match it with every type of outfit," Michaela explains. "My aesthetic is all about freedom, bare feet, and love for all that is beautiful." And it shows in her free-spirited line of 
jewelry, bouquets, and signature hairpieces
—all intricately crafted in her Austrian home studio from a mixture of feathers, hand-colored flowers, and preserved plants.
Read on to learn how Michaela finds inspiration and discover her most exciting moments as a designer—then shop the collection.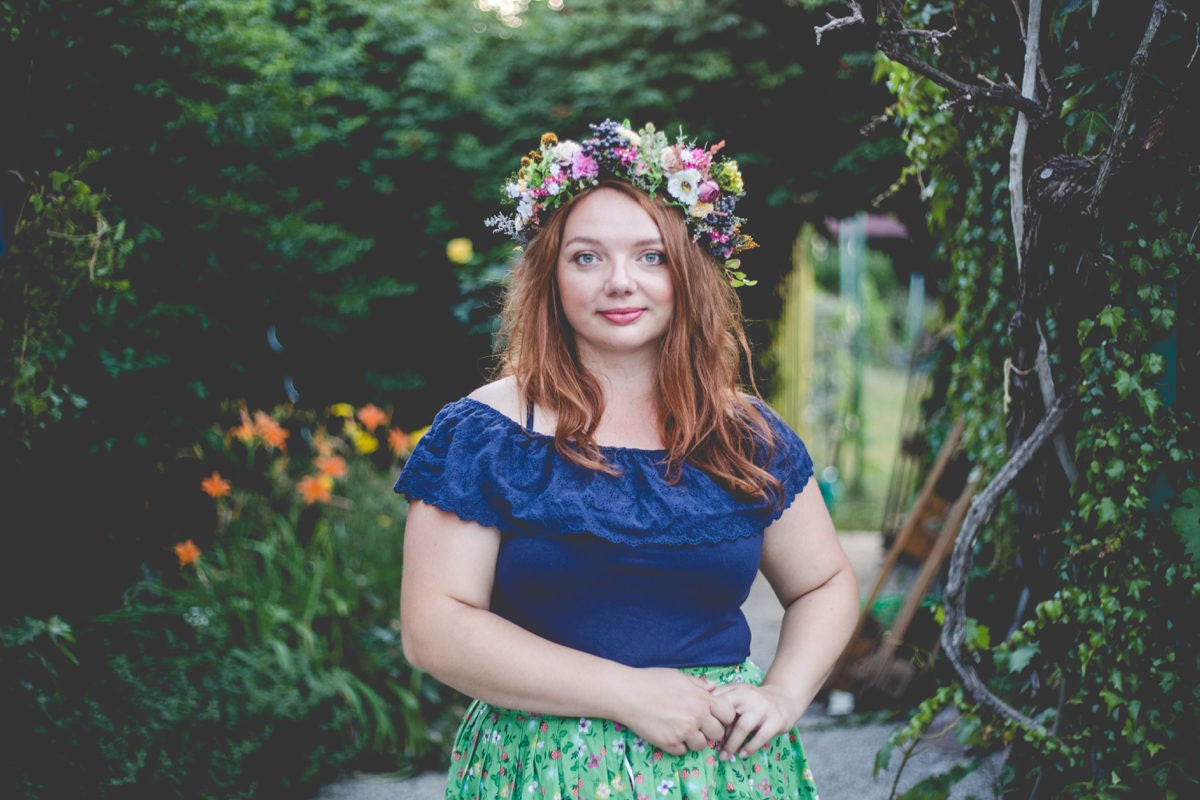 Tell us about your creative background. How did your find your way to floral accessories?
My father is an artist, and I suppose I inherited my artistic sensibilities from him. I've been creative since childhood: I've always liked to draw, I sewed my own clothes, and I even went to art school. During my studies, I needed to clear my mind, which led me to start creating jewelry. I began with felt and resin earrings, then moved on to original hand-sewn pieces that people liked a lot. I think it was thanks to my part-time job at a flower shop (and seeing floral fashion on the runway) that I began to think about
floral-inspired accessories
. I started by making a
flower crown
 for myself, then I put it online and people started asking me about it. That's how my shop started. Creation for myself became creation for others.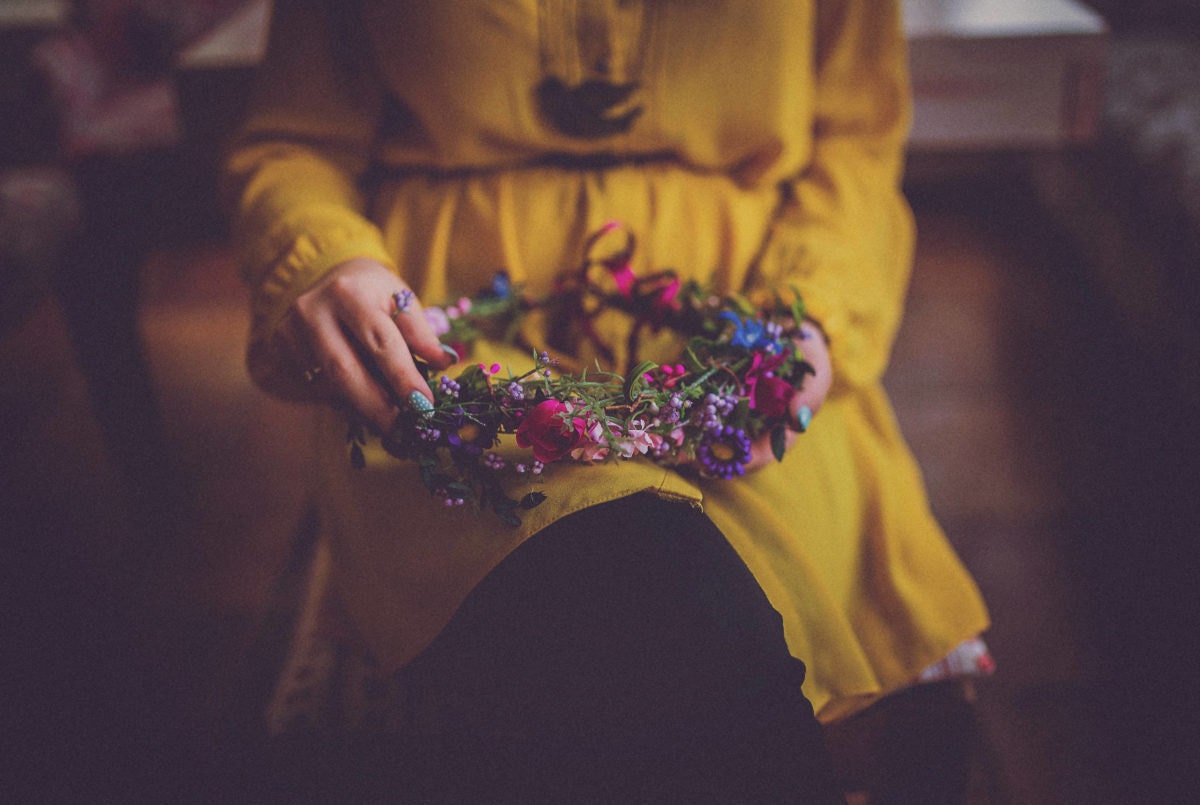 When did Etsy enter the picture for you, and how did it affect your work?
Magaela Accessories
has existed for four years. I'm from Slovakia, so I started out by selling locally, as well as in the Czech Republic. I wanted to establish myself abroad, so I started a shop on Etsy. When my items were first featured on Etsy, I was giddy like a kid—it was a dream come true! Soon my creations started getting noticed by women in Germany and Austria. Today, we have customers in Australia, Canada, the US, and France. In fact, we have more customers from abroad than from Slovakia. (Wow!) For this, I owe Etsy a great deal. Being on Etsy has encouraged us and served as a motivation to get better, come up with new ideas, and take better pictures. We now collaborate with photographers, makeup artists, and bloggers. We've also improved the materials we use; I work with hand-customized and hand-colored textile flowers and with preserved flowers, plants, and other materials.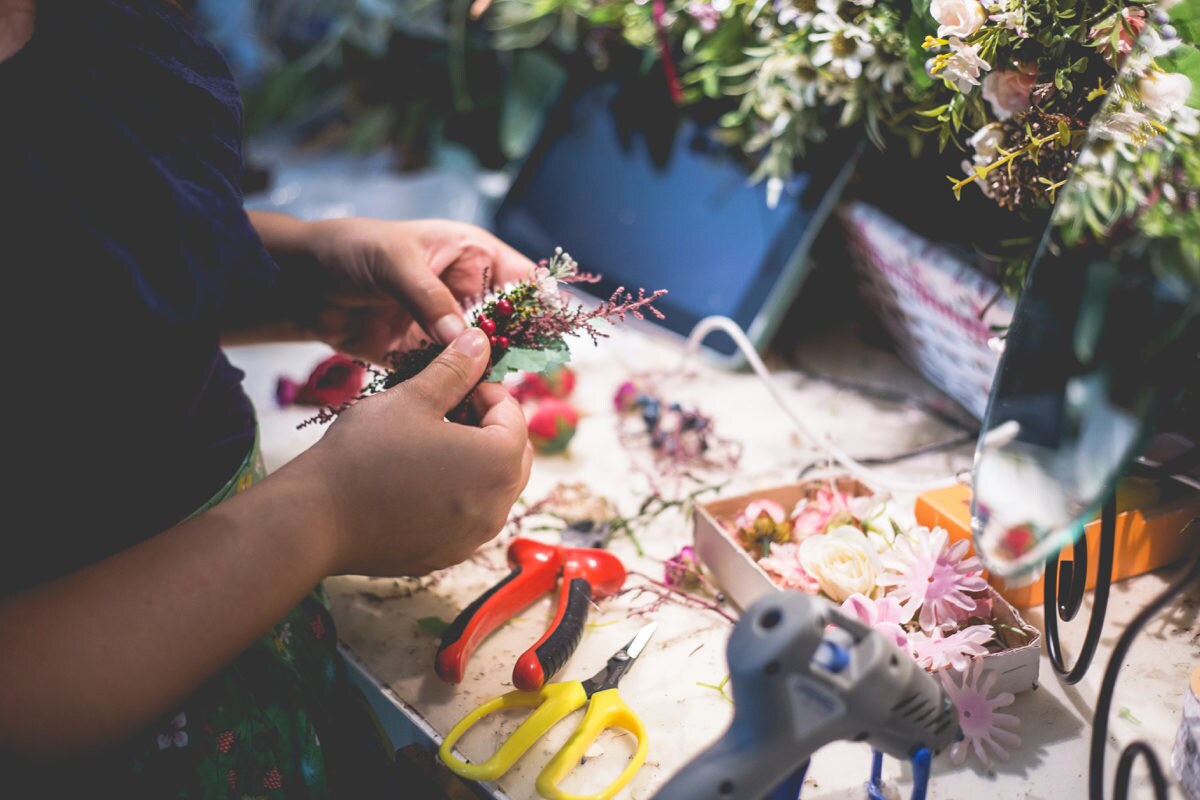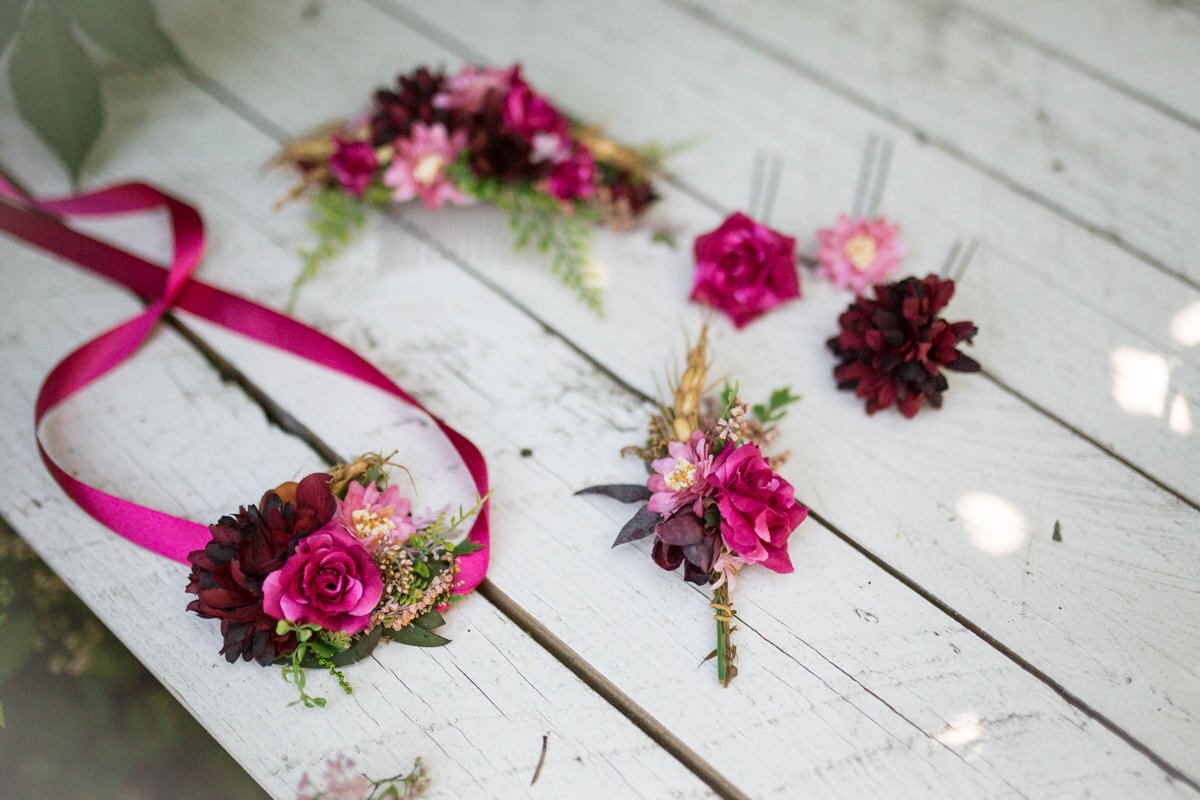 Has your shop and your work evolved over time?
My line started with hand-sewn earrings,
flower headbands
, and
wreaths
. Today, our portfolio is full of products: we offer
belts
,
shoe clips
,
bracelets
,
necklaces
and, of course, a
complete portfolio for brides
—bouquets, buttonholes,
garters
, the list goes on. I like using my imagination and rare materials, like succulents or feathers. I like to experiment.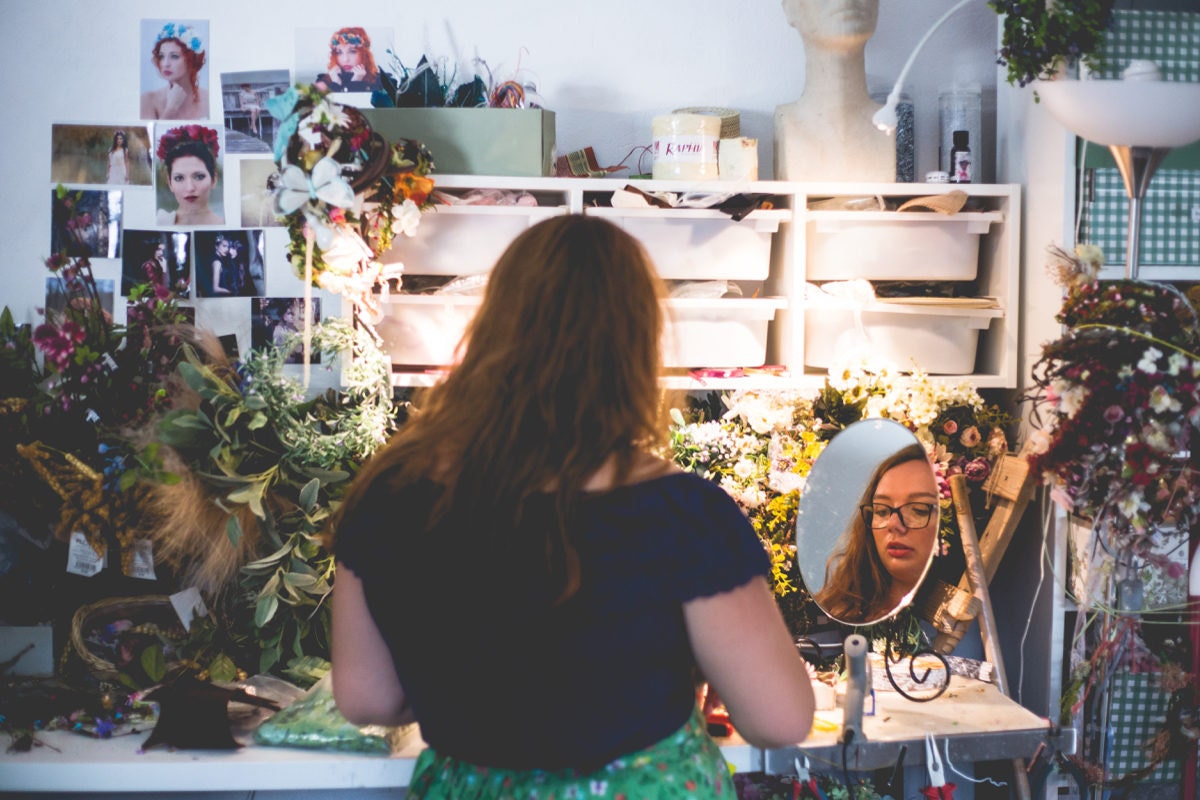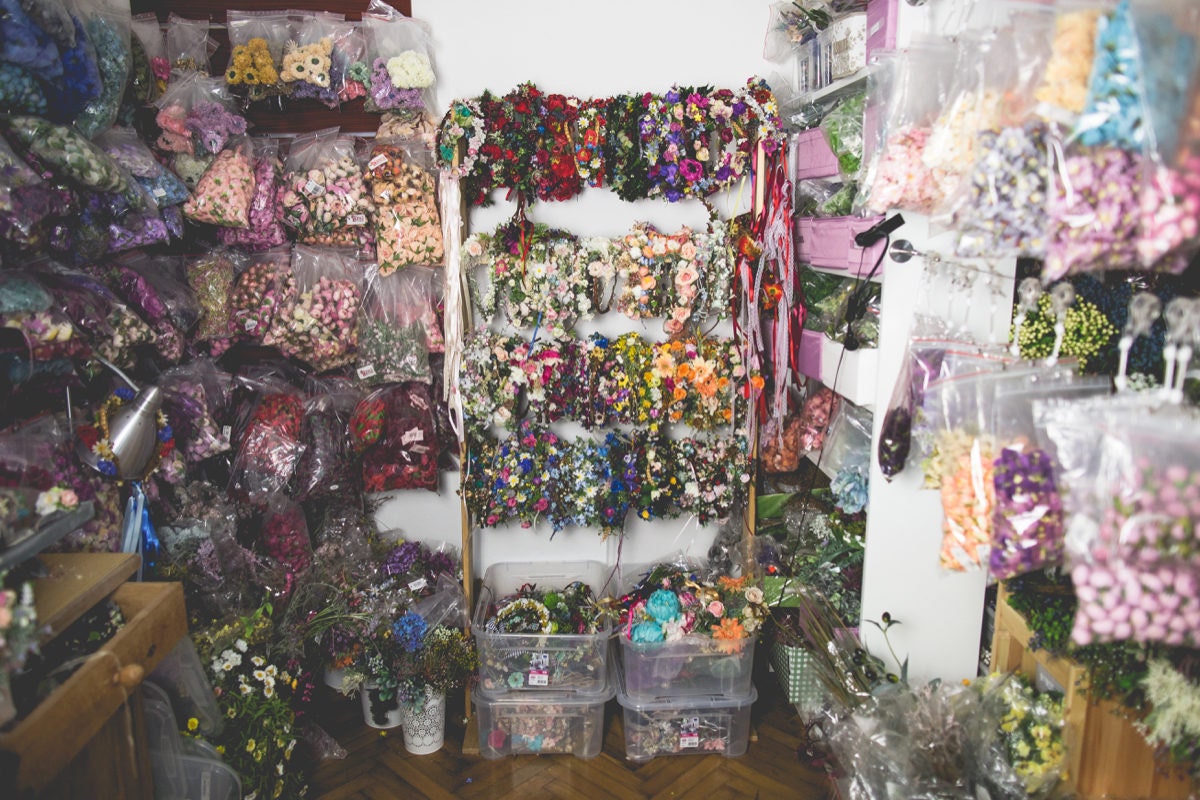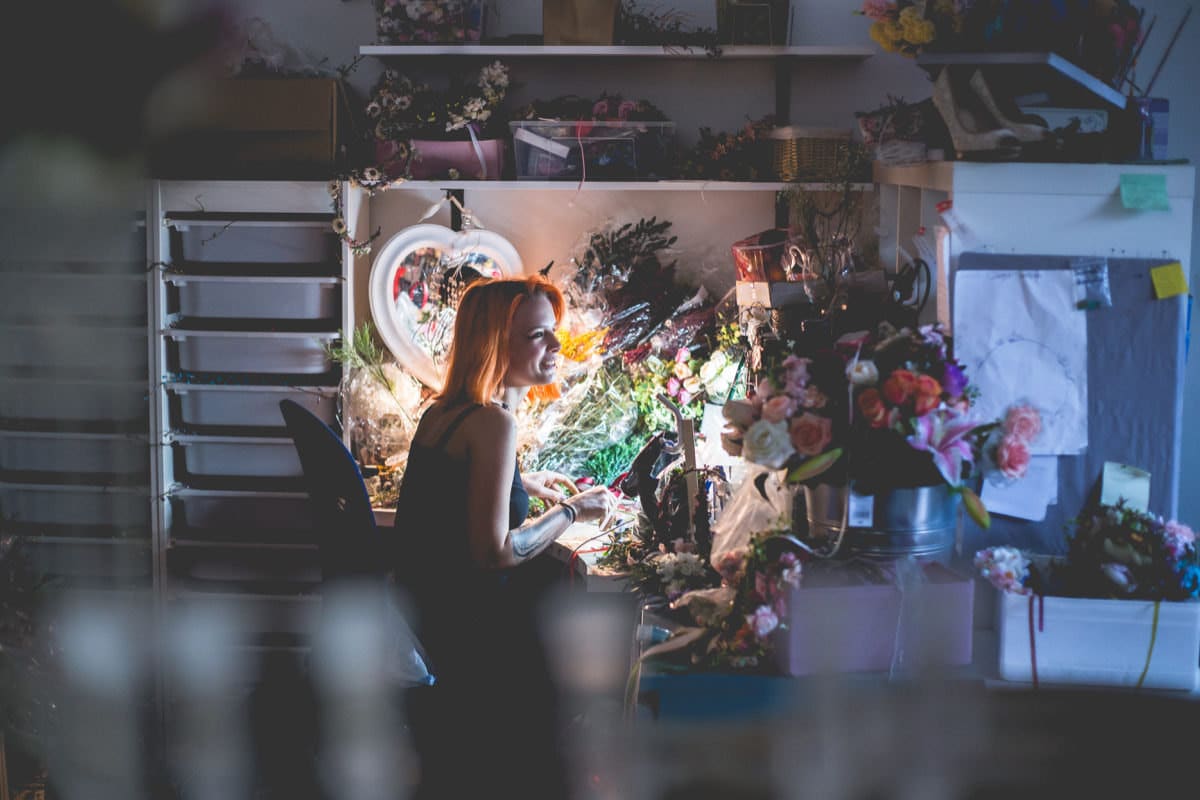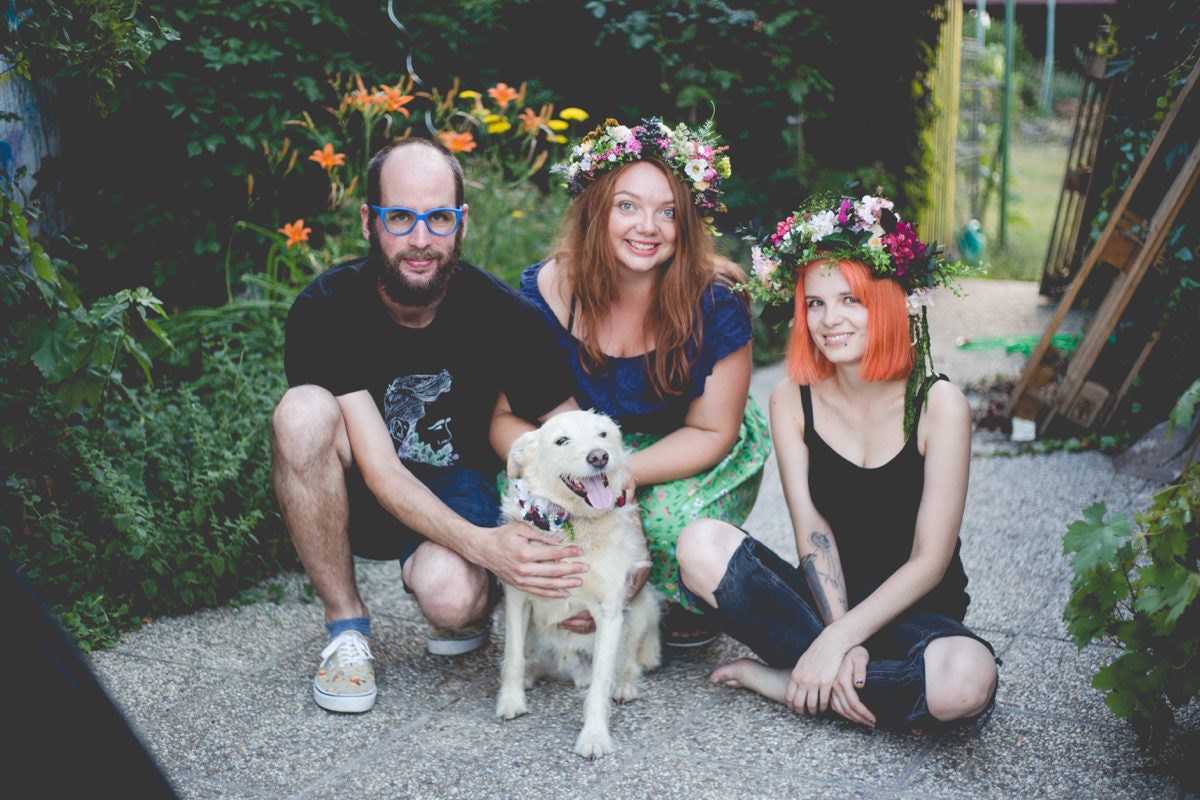 Roman, Michaela, and Barbora (and their beloved dog).
What does a typical day at work look like for you?
I wake up in the morning, have some breakfast, and then I go to walk our beloved dog. After that I prepare packages for mailing, communicate with customers, and plan and divide the daily tasks in the workshop with my team: my husband, Roman; my production assistant, Barbora; and my two customer service assistants Nikola and Zusana, who work from home. On days when I feel peaceful, the work is easy. Some wreaths are created quickly, some take a few days. At the beginning, it's necessary to prepare the base using felt and wire. I use a natural under layer, such as grass or moss, and then I glue the flowers. If I am not satisfied with the available flowers, I often create or customize them myself. While I'm creating, my husband packs the products, and in the evening they're brought to the post office. When he gets back, the new products from the day are prepared to be photographed, then he color-corrects the photos. After that I pass them along to be sent to customers. After work, I try to find some time for myself and go for a run. I also love hiking in the mountains with my husband, taking in the view and the smell of earth, moss, and grass; it clears my head and provides me with endless inspiration. I love flowers of every color, and I try to
reflect nature in all of my creations
.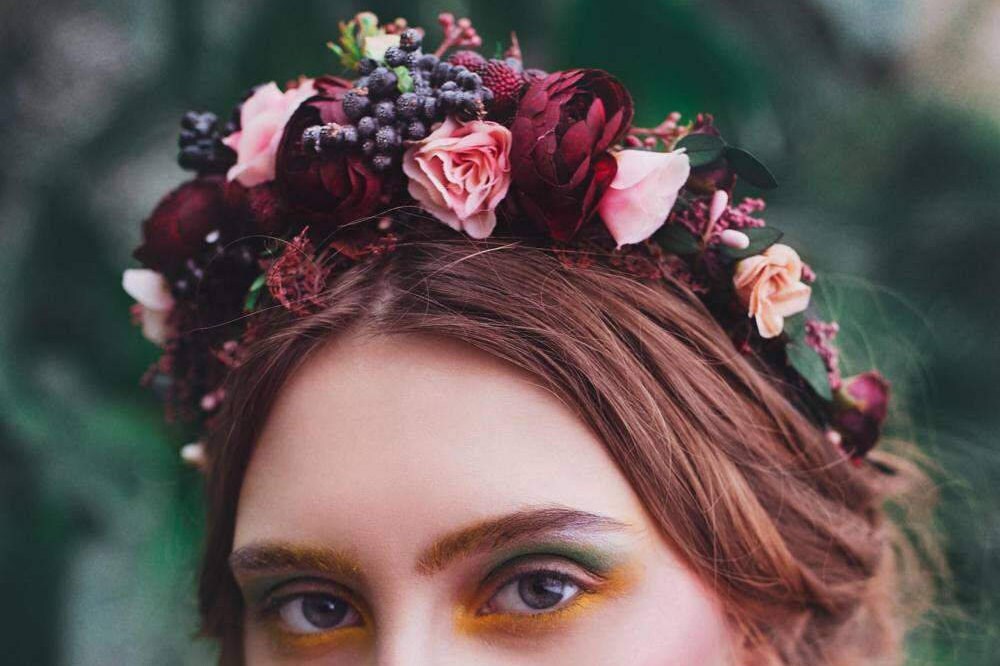 Some may be intimidated to wear a crown or wreath. What's your philosophy around when and where floral accessories should be worn?
Our philosophy is that there is a
fairy in every woman
, and our wreaths emphasize feminine charm. Magaela products are meant for special occasions like
weddings
, family photo shoots,
festivals
, or balls, but they can just as easily be worn on a regular day. It makes me so happy to meet girls wearing my products on the street! Pair a long, loose linen dress with flowing hair and a wreath; that works well together.



Can you tell us about a commission or custom order that was especially memorable or meaningful for you?
We've done lots of custom orders for brides. There was a wedding where we created
boho-style
wreaths full of feathers and grass, and an antique-inspired wedding with a laurel wreath in gold—those were both interesting challenges. We got also an cool request for a big flowery headband for a Bollywood-inspired wedding.
What have been some of the most exciting moments of your creative career thus far?
At the beginning, it was the first headband I sold. Then it was the first real photoshoot of my products with a photographer and models. When I think back on being on the cover of a magazine or my first time on live TV introducing my products, I still feel butterflies in my stomach. Recently, my products were featured on the catwalk of Slovak fashion designer Lydia Eckhardt's runway show. That was the best experience of my career.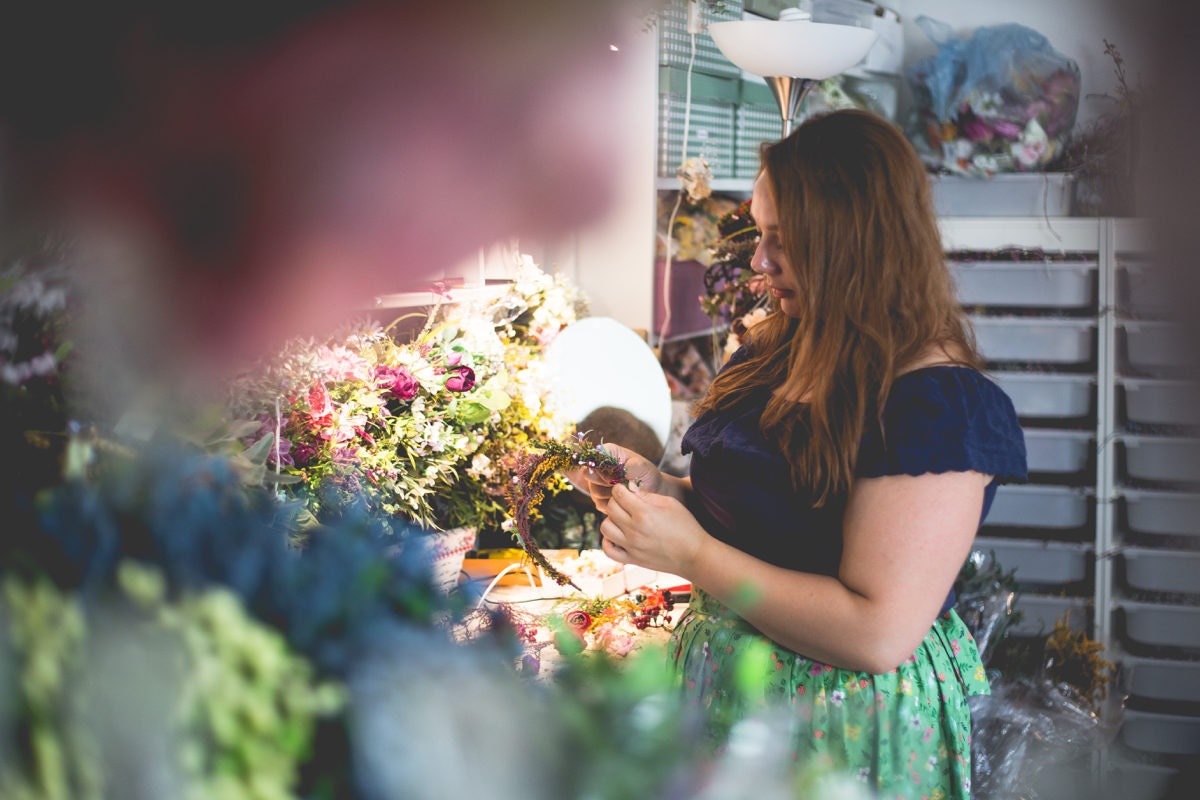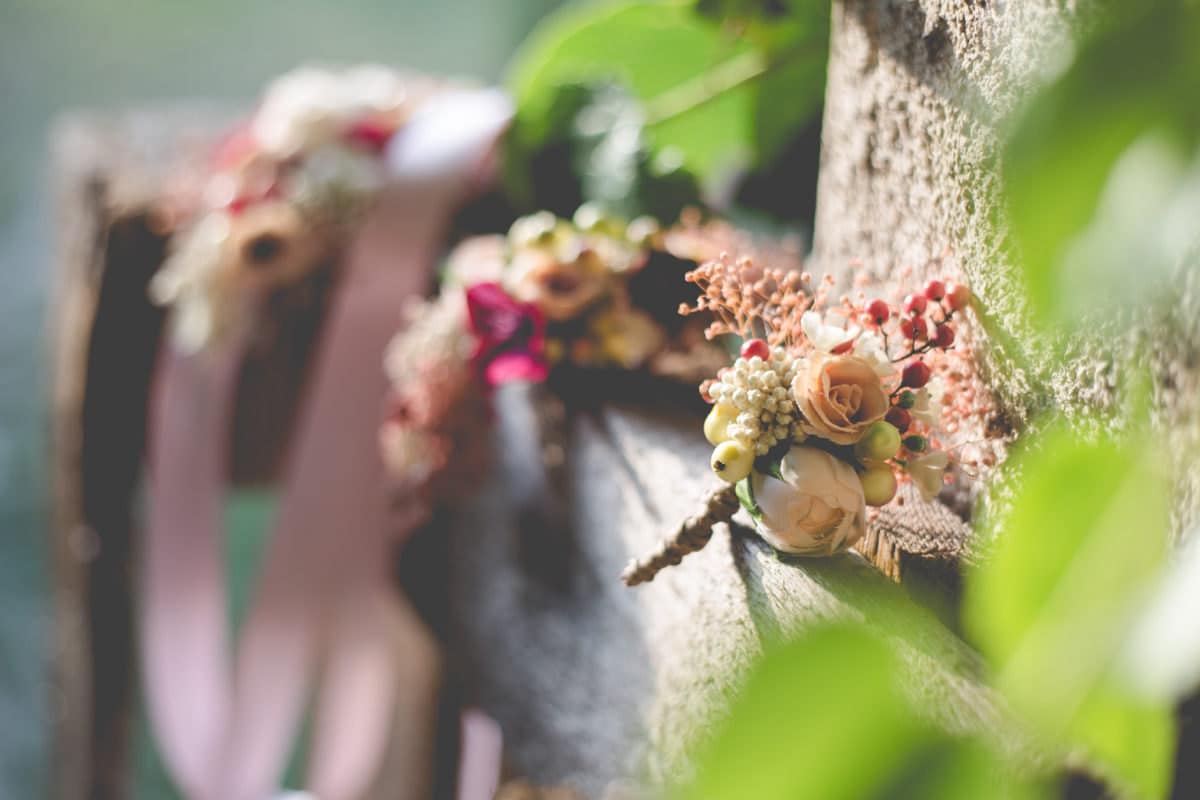 What's your favorite part of your job?
The best part of my job is a satisfied customer. No, it's not just a phrase: I really mean it. When I see women smiling and wearing my products, when they thank us and I see how happy they are, then I know my work is meaningful.
Follow Magaela Accessories on Instagram and Facebook.
Photographs courtesy of Magaela Accessories.