Inventive color combinations and surprising shapes (think unicorns and octopuses) set the work of this Minnesota-based fiber artist apart.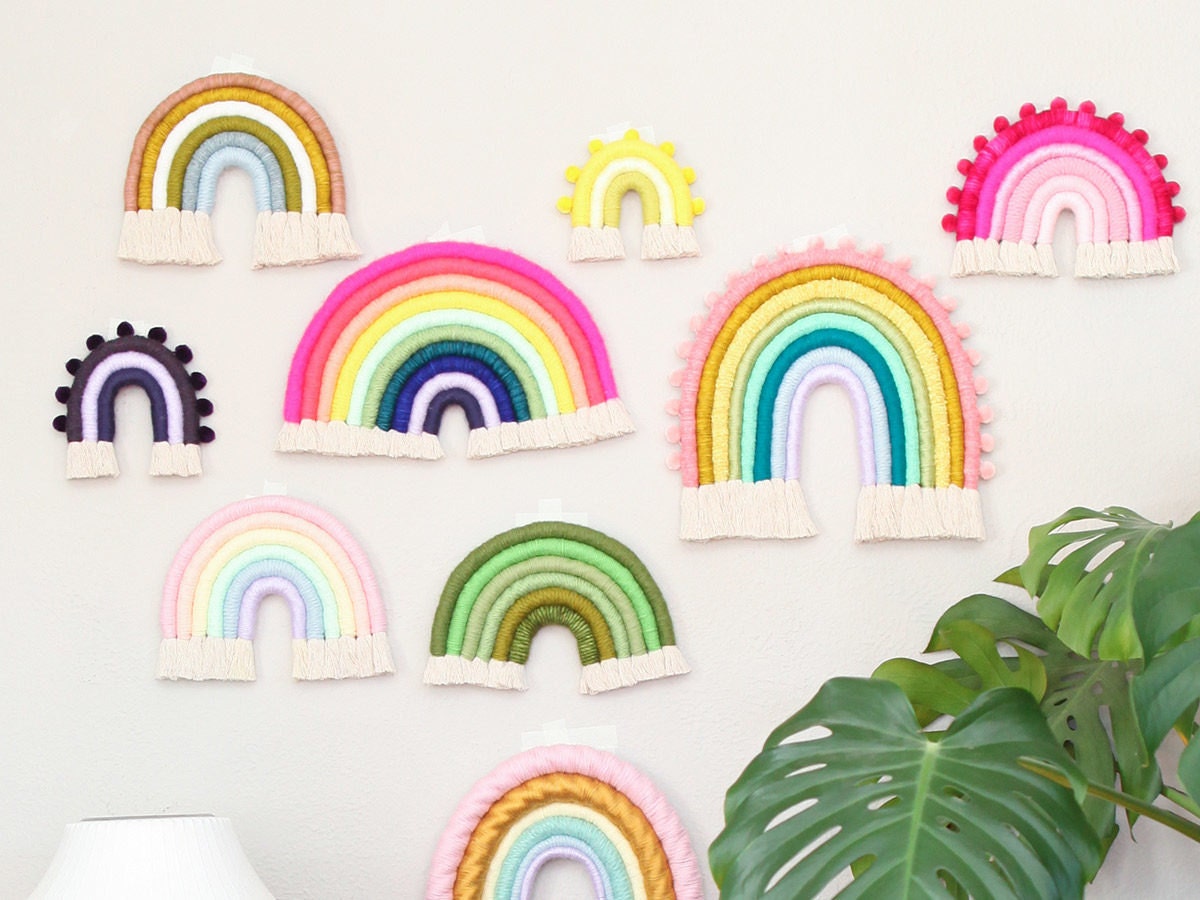 The first time Minnesota-based textile artist
Mandi Smethells
saw a shaggy fiber wall hanging, she experienced a full-on eureka moment. It was nearly four years ago now, but the details are still crystal clear: "I have an identical twin sister, and both of us are into interiors," she recalls. "We were both working for home furnishing companies at the time, so we would often share
design trends
. When she sent me some photos of these interesting wall hangings, I had an almost visceral response—they were weird, funky, and
so
appealing."
After that, Mandi set her heart on finding the perfect weaving for her sister's birthday gift, but color-wise, there wasn't a lot of variety on the market. So, she decided to
DIY
. "I built my own loom and followed instructions from the internet," she explains. "I just fell in love with working with fiber." Shortly after, Mandi started selling her weavings on Etsy. In the years since she opened shop, Mandi has produced more than 1,000 pieces in a dazzling assortment of head-turning hues. Today, her whimsical structures take many forms, including rainbows, unicorns, sunshines, and lions, many of which are inspired by her 6-year-old daughter. With endless options for customization and a fearless commitment to keeping things weird, there's something special in store for everyone.
Read on to discover how Mandi went from working in interior design to full-time art-making—and shop the collection.
Your color combinations feel so fresh and modern. How did you develop your palette?
A big part of that comes from working in the interior design field for a number of years, helping people design their spaces—and practicing in my own home. I have a bright teal sofa and bright red rug, and I love experimenting with placing colors next to each other. Working on my
wall hangings
, I was pretty prolific. I probably made thousands of pieces, experimenting with colors and trying again and again, just getting this language and this understanding of what colors are in my house and what I like putting together. For me, working in interior design was the perfect bridge to living a creative life.
Have you always identified as a creative?
I grew up with all these talented people around me—my dad's a woodworker, and a lot of other people in my family are really excellent at painting and drawing. I initially went to college for landscape architecture. I didn't think of going to school for art, but when landscape design wasn't as creative as I thought it was going to be, I decided to take a few art classes. Then I thought
, I could keep doing this!
 I graduated from college in 2004, and just this year, I quit my job to do art full time.
What made you decide to make the leap?
Well, it was getting to the point where my business was growing, but my time wasn't getting more plentiful. I have two young daughters, and I was balancing being a mom with my day job and my business. My
Etsy shop
was getting very busy, especially around the holidays, and I was starting to burn out. My husband and I decided to give it a try, and it's paid off in spades—I'm just so happy to be committing so much time to my work. I love working with customers, and now I can accept more custom orders, which is something I didn't really have time for before.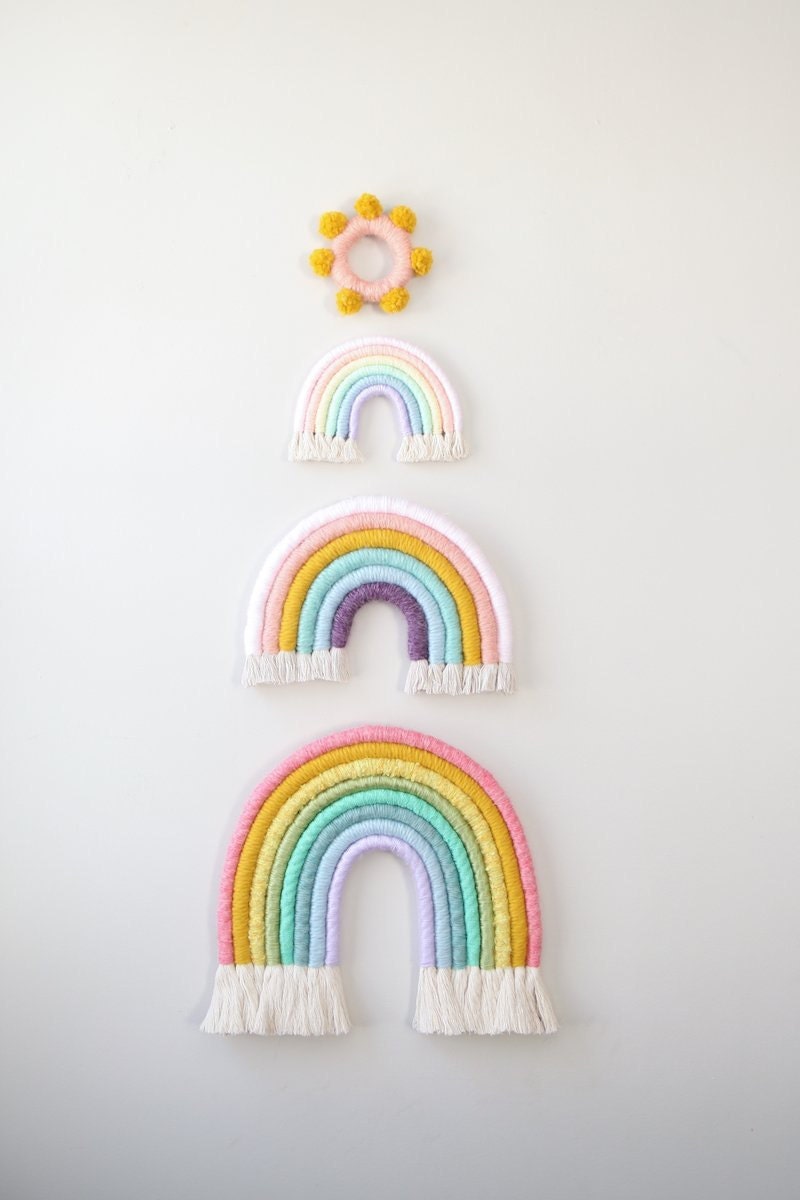 >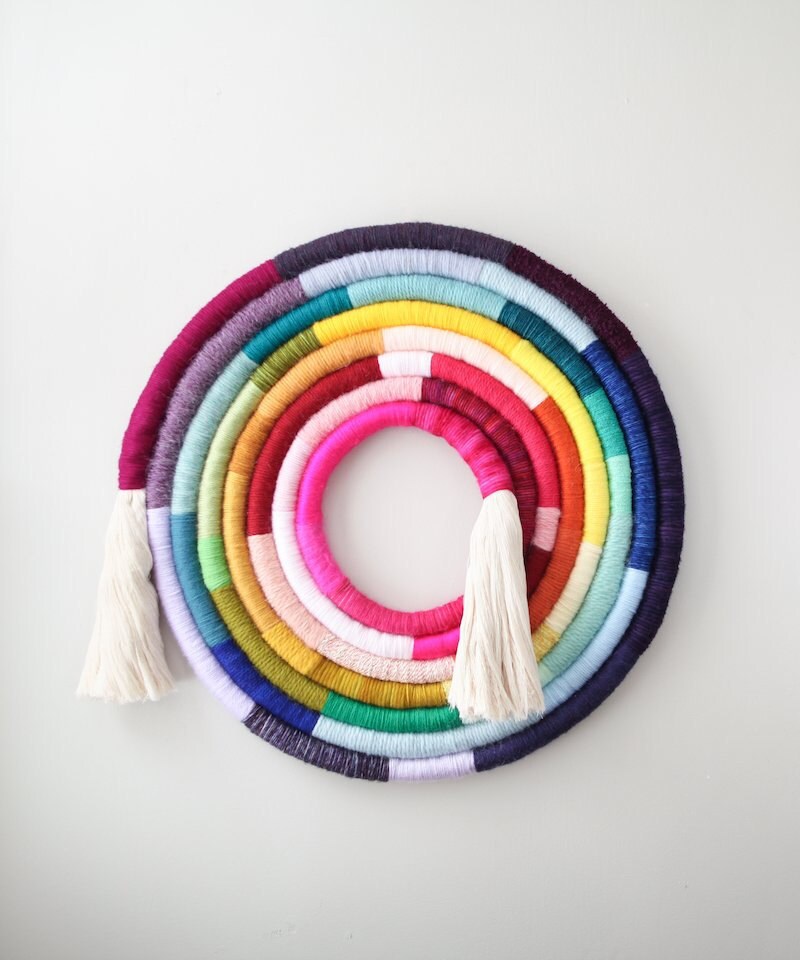 >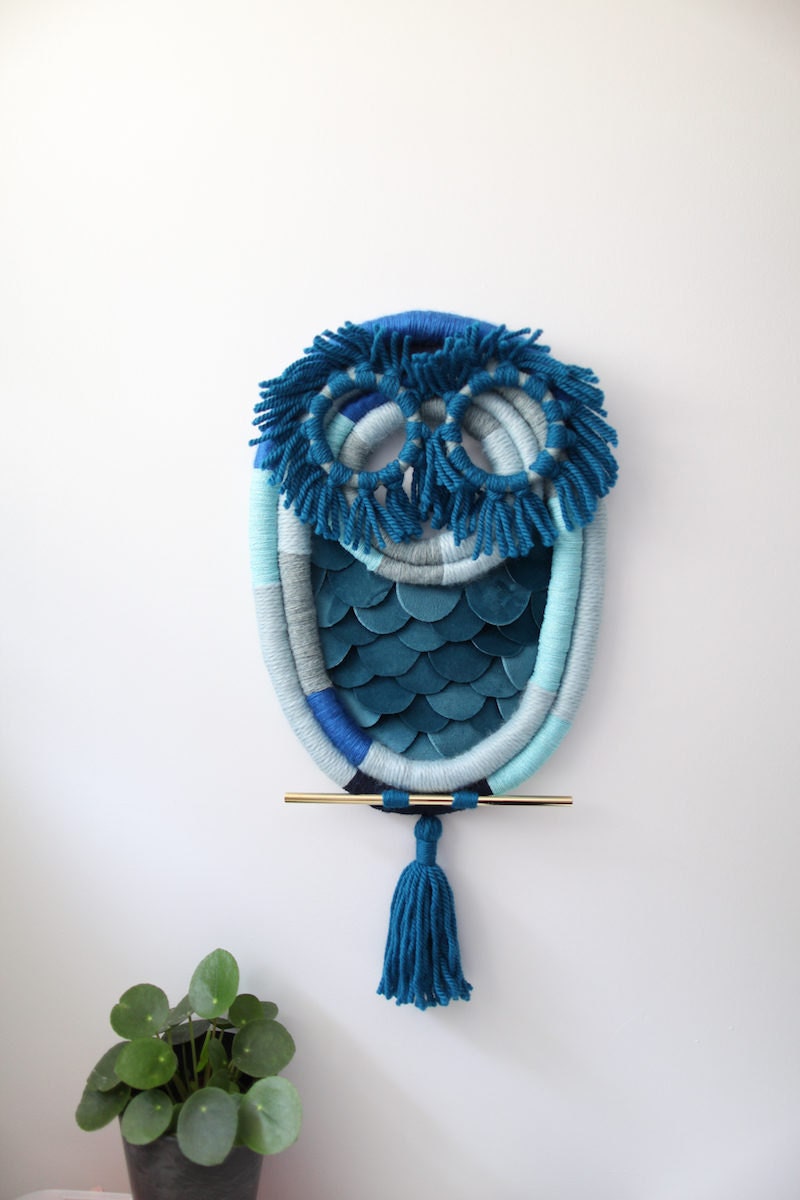 Can you tell me more about your custom orders?
I'm finding that they're super popular for nurseries and
children's spaces
. I'll often have the customers share pictures of their homes, and a lot of times they're very open-minded—they'll ask me what colors I think would look nice, or they might be doing a grouping of pieces, and they'll show me the wall that it's going to go onto. Other times, I have customers that have a really good understanding of what they want, and they'll ask for specific colors and shapes. What's interesting is that quite a few of the pieces in
my shop
were originally custom orders. My 
colorful arch rainbow
 was made for a child's bedroom and that's turned out to be one of my most popular designs.
What inspires you?
Definitely my 6-year old daughter. She has her own very strong design sensibility. I always imagined that I would have a little girl that I could pick out all the outfits for, but by the age of 2 that was totally not an option—she was very insistent about what she was going to wear. She loves bright, bold rainbow looks, and she really loves my work, too. She'll tell everybody that some of my most popular designs were her idea, and she's right. The
sunshine
that I've made many times, she begged me to make.
How would you describe your creative approach?
I'm pretty impulsive, and sometimes inspiration strikes at 8pm when I'm reading a book with my daughter. I really just have to get it out when I have an idea. I play a lot with yarn before I get started, putting colors next to each other until it feels right. Establishing a nice palette that works well together really gets me excited to get it done and see what it looks like as a finished piece.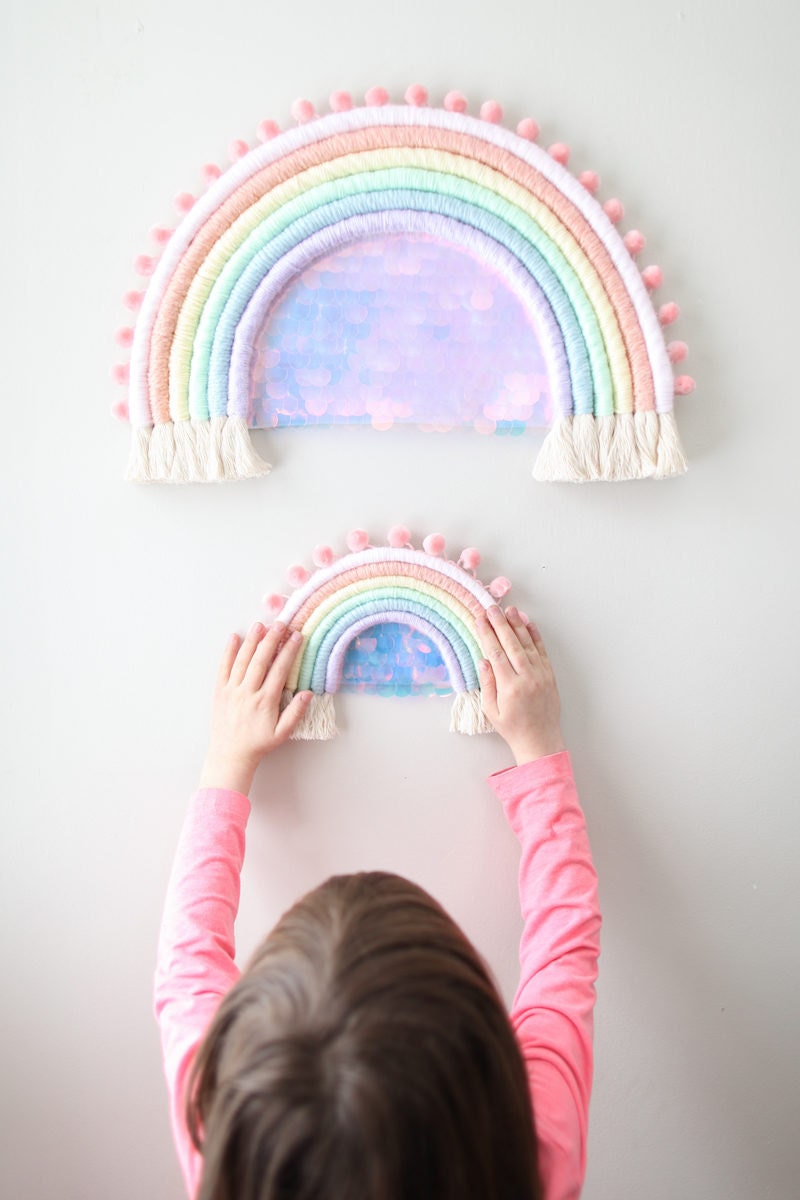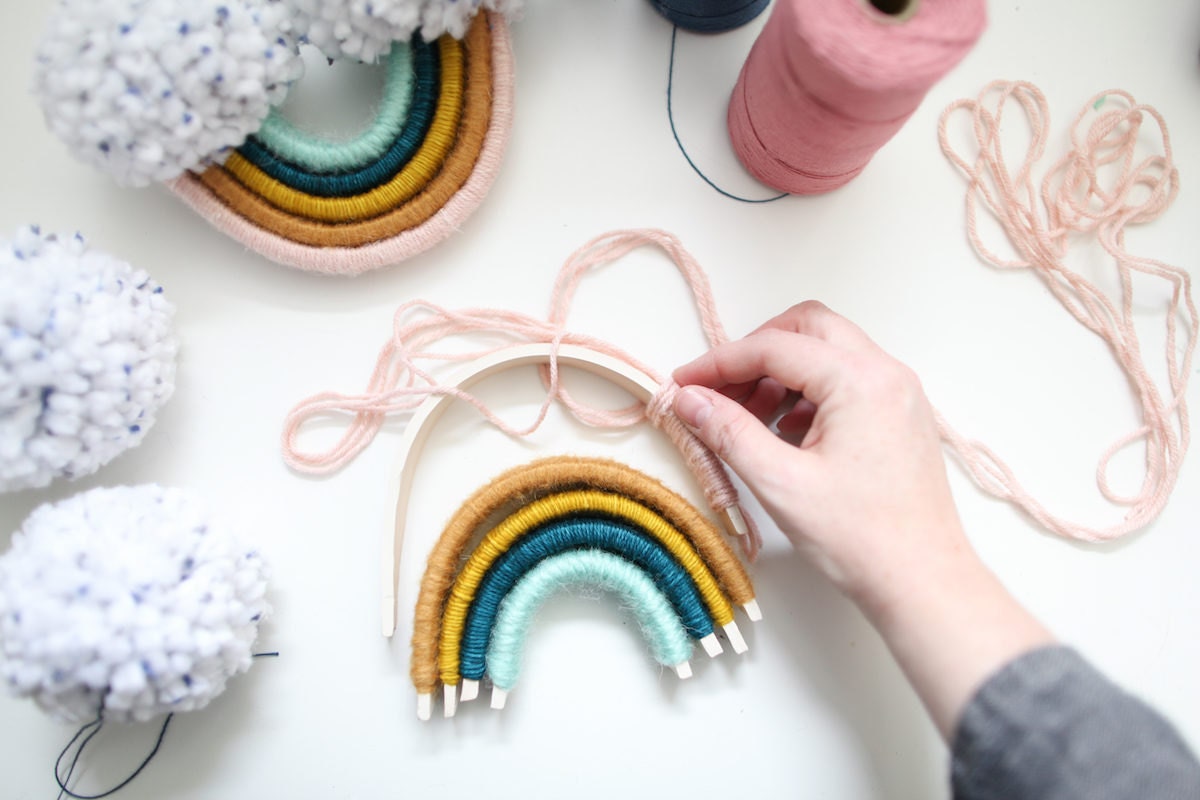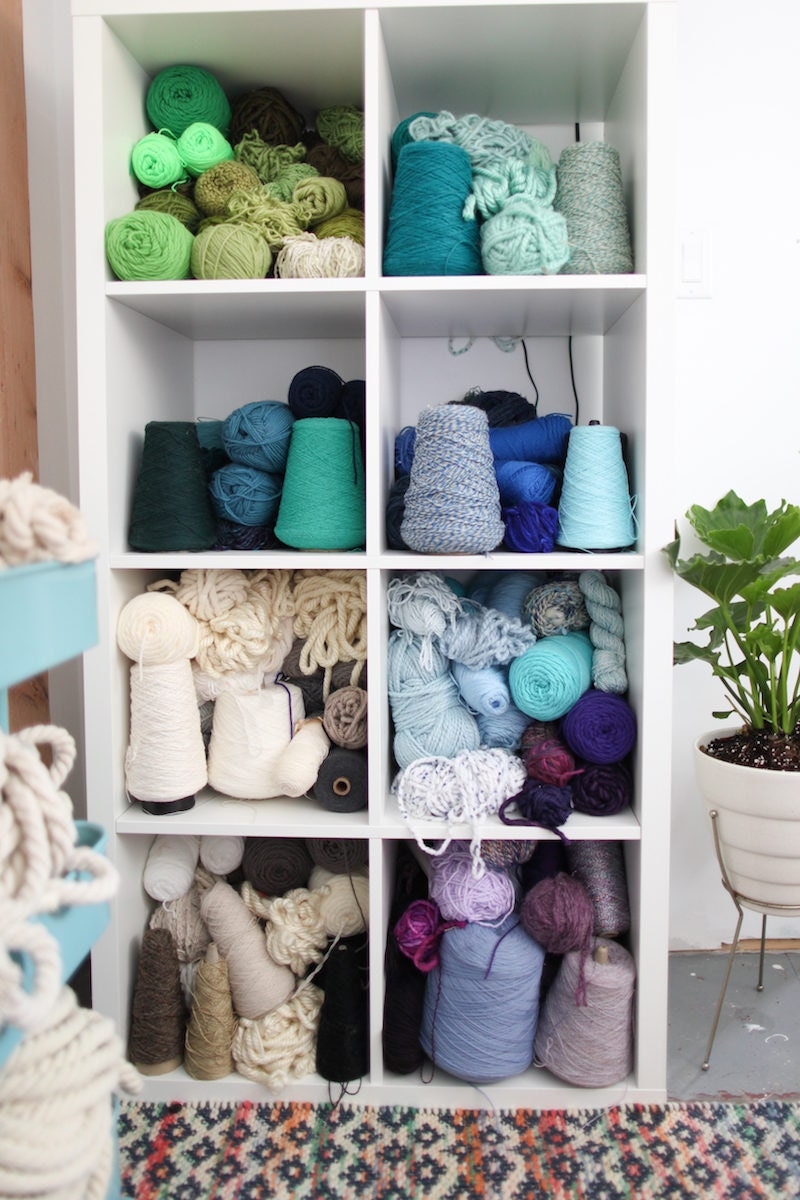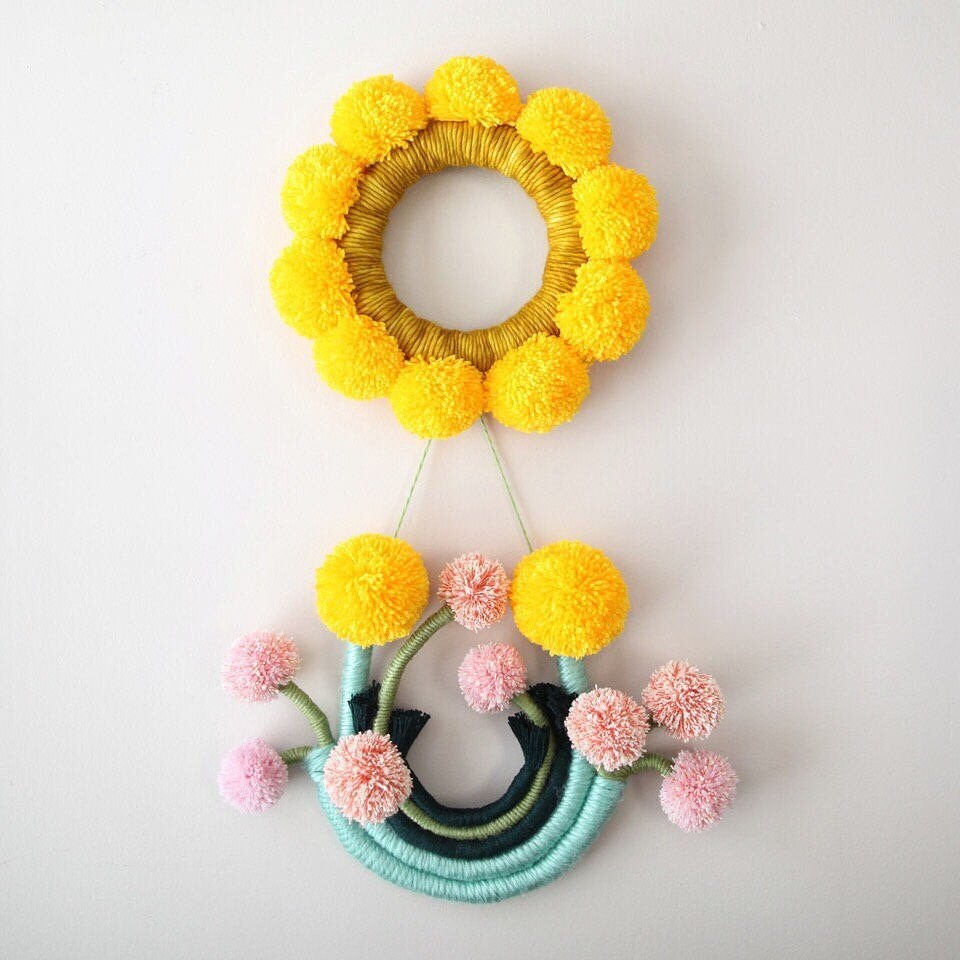 >
Earlier you used the word "prolific" to describe your weaving practice. Can you elaborate?
It sounds really cheesy, but while I was making that very first piece back in 2014, I felt like I'd discovered something that was really important for me. I had been looking for the perfect craft to channel all of my creative energy, and in that first week, I felt like I found it. I stayed up late every night, and I made seven weavings in seven days. I was so excited. And from then on, weaving has been a constant practice in my life, and I always make time for it. I really can't stop coming up with
new designs
—I think I'm always going to be creating something new and weird. It keeps me going.
What do you mean when you say "weird"?
Funky, off the wall, maybe a little unexpected. I think fiber art is becoming more common, but I'm not afraid to keep it funky—this week I created an
octopus
! I want to surprise people with the work I create and make something that you've never seen before, something that makes your eyeballs happy. I'm always going to try to think of ways to delight, and to do that sometimes you have to be a little weird.
Speaking of delight, how did you get started making your rainbow pieces?
About a year ago, I started using wrap techniques in my weavings and I really enjoyed the dimension. Then I made a few pieces where the wrapping pieces were really the important part to me, and I was weaving these backgrounds to attach them to. I had this moment where I made one to attach onto a weaving and it just wasn't feeling right. I held it up and I thought,
This can just go on the wall
. Then last fall, I started creating wrapped arches and they looked like funky little rainbows, so I just kept going with them.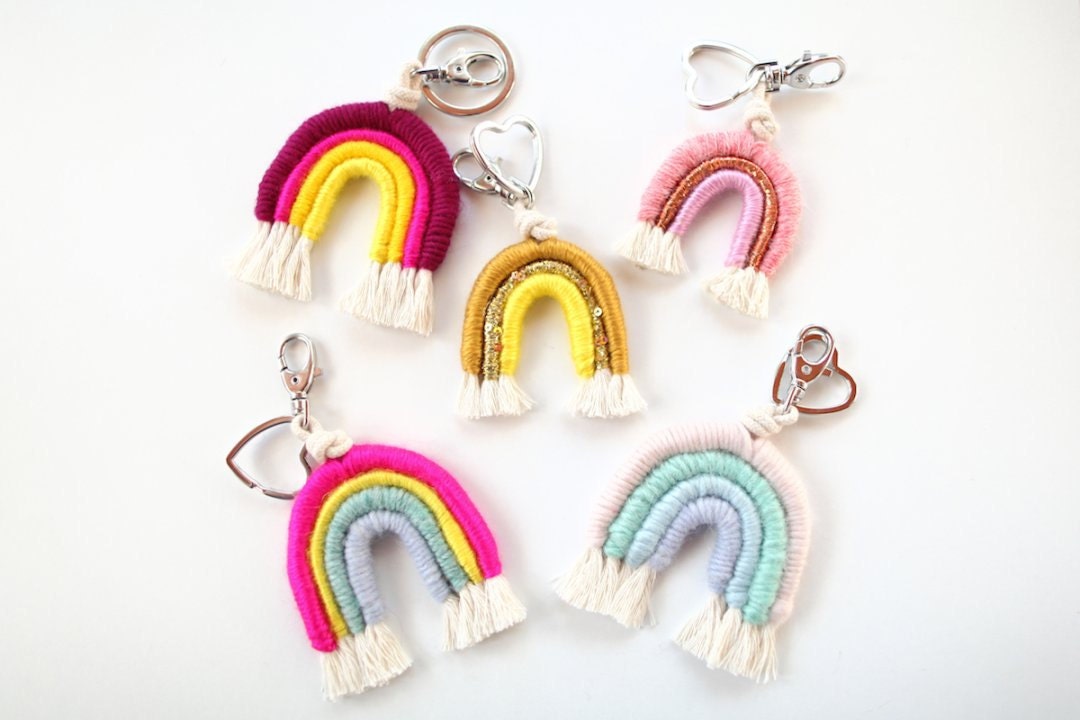 >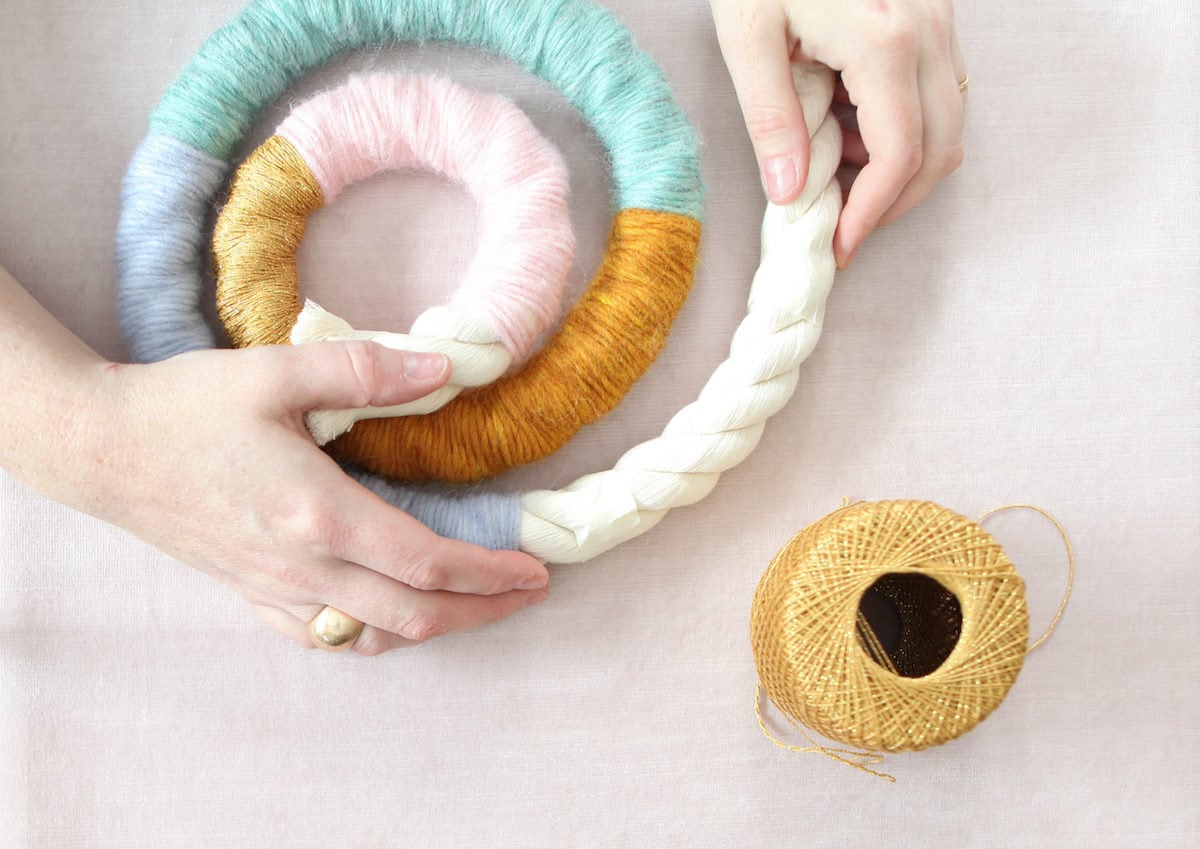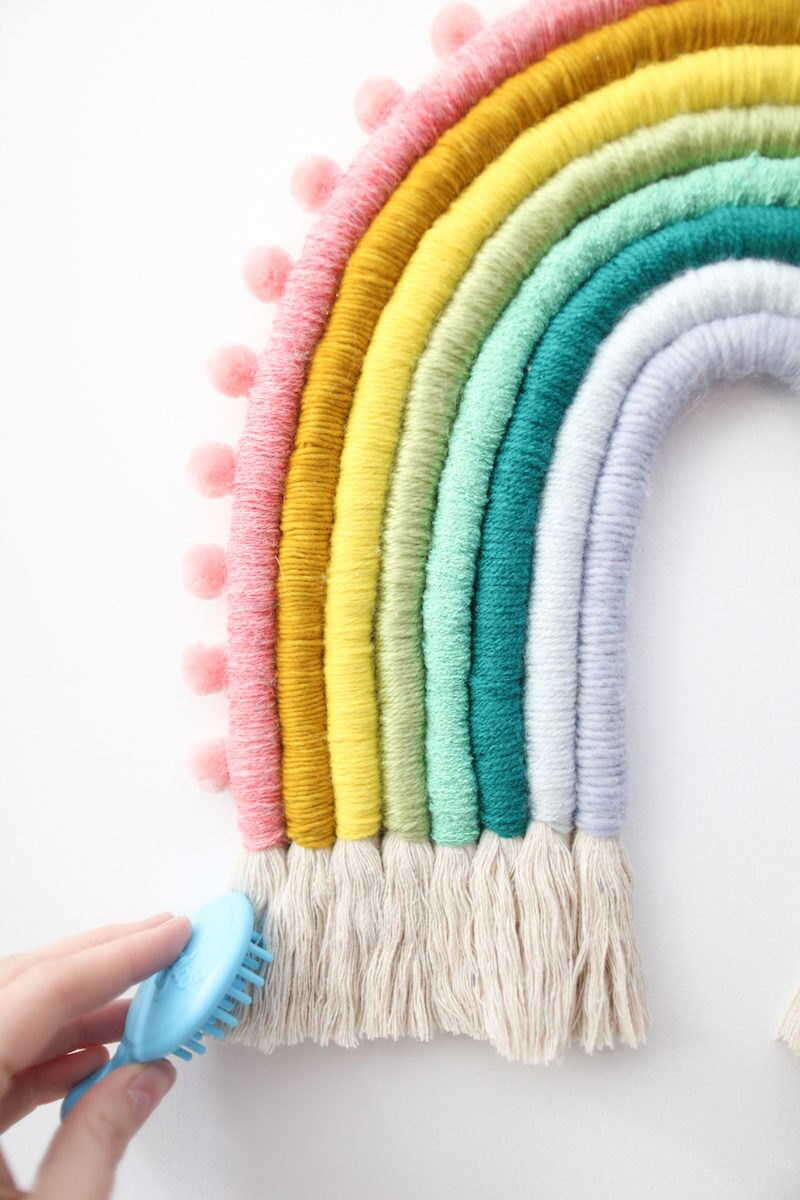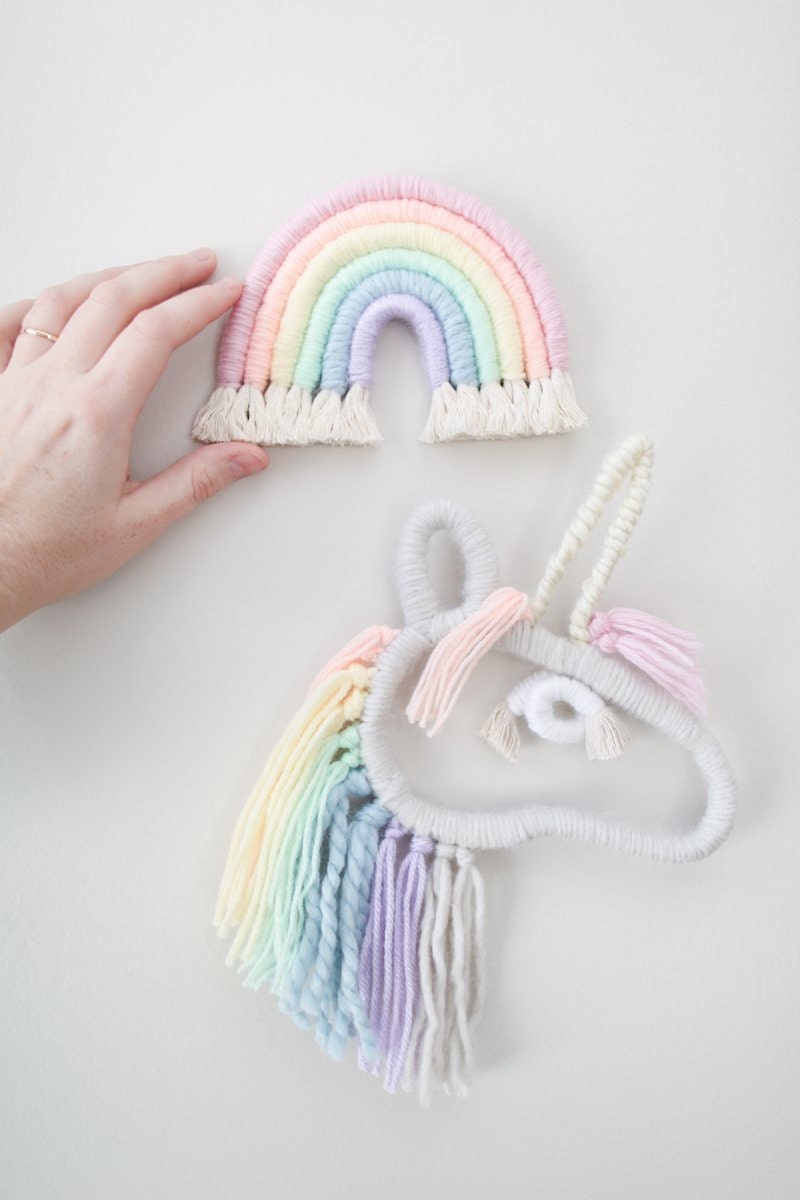 >
What about the symbolism of the rainbow itself?
I love that symbol and everything that it stands for, for everybody. It really is about joy, and it has so many different meanings. For some people, it's just about color, and for others it's much deeper. I feel really honored when people choose to purchase one of
my pieces
because it has a deeper meaning for them. That's really exciting for me.
You started selling on Etsy in 2014. Did you ever think your shop would get this big?
I had a weird feeling this was going to be something I would keep doing, and Etsy made it easy for me. There are so many tools, and I can see which listings are getting the most traffic—I really nerd out about those kinds of details. I make products that I love to make, but it's really nice when other people like them too. I'm just so grateful that my work has resonated with so many people.
What are some of your goals for the future?
I definitely want to think of ways that I can share some of the skills I've acquired around less common ways of working with fiber. I know a lot of people are very interested in fiber work, whether it be knitting or weaving, but the sculptural technique is also really enjoyable. I've done small-scale workshops locally, and the response has been really great, so I'm trying to think of ways to spread those skills. Right now, time flies by every single day, so I think that's a good sign that I'm doing exactly what I should be. Instead of counting down the minutes, I'm wishing I could add more.
Follow Mandi Smethells on Instagram and  Facebook.
Photographs by Mandi Smethells.