Step inside the magical world of Israeli milliner Maor Zabar.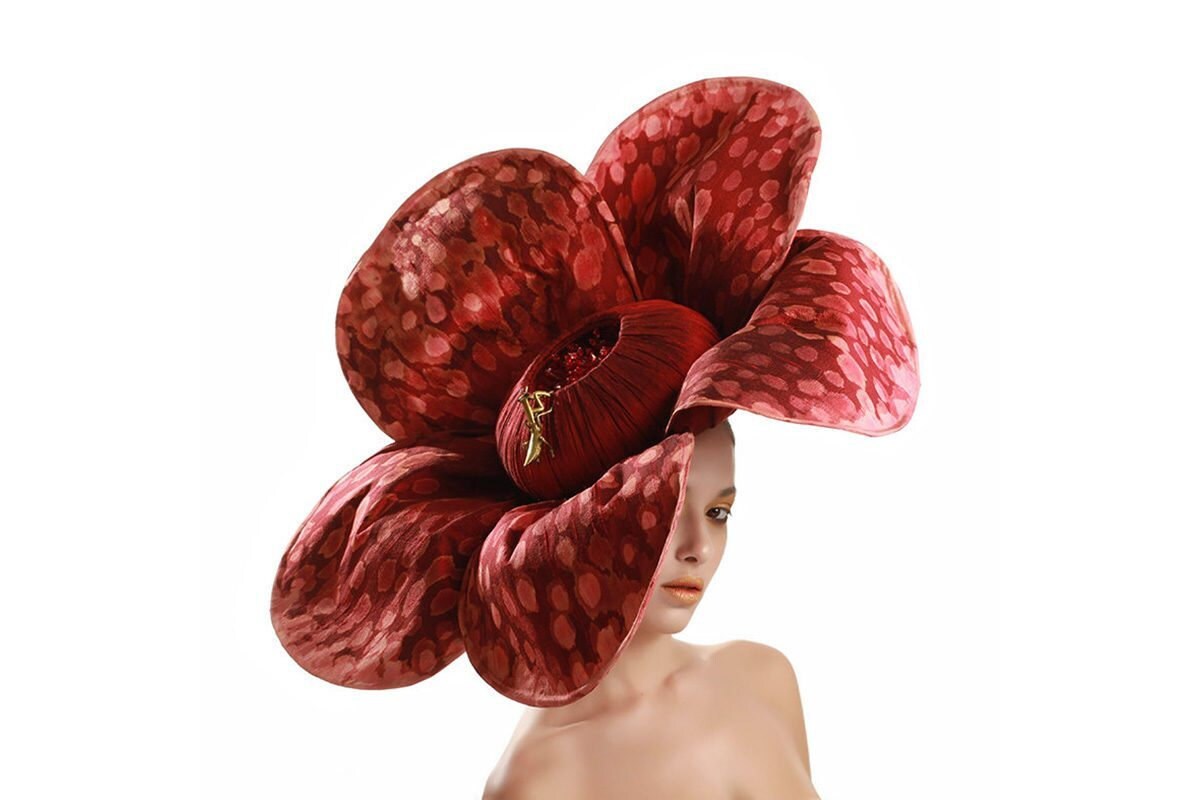 A lifelong lover of visual arts — specifically painting, sculpting, and costume design — Israeli milliner
Maor Zabar
 first fell for theatrical hats and headpieces as a teenager, even though real-world inspiration was in relatively short supply. "Israel is not a very hats-y country," Maor says. "You don't really stumble across weird-looking or eccentric hats here." But Maor didn't let his home country's lack of hands-on education, accessible supplies, or even much of a retail market thwart his dreams of becoming a hat maker. Instead of getting discouraged, Maor got creative, studying fashion design at
Shenkar College
 and dreaming up costumes for dance and theater companies afterward — incorporating his original headpieces whenever possible. For alternatives to the hard-to-find millinery supplies, he turned to flea markets and vintage sellers. "In our carnivorous plants collection, 90% of the materials we used are non-millinery raw materials — different fabrics and paints and glues that I use to stiffen the silk," Maor says. "I'm just trying to invent my own techniques, because I cannot get the same things here that you can get anywhere else." That inventiveness is on full display in the line of wildly creative hats, fascinators, and hair combs that Maor and his partner Tal have developed — to rave reviews and increasing repeat orders — in the last couple of years.
Want to see where the magic happens? Keep reading.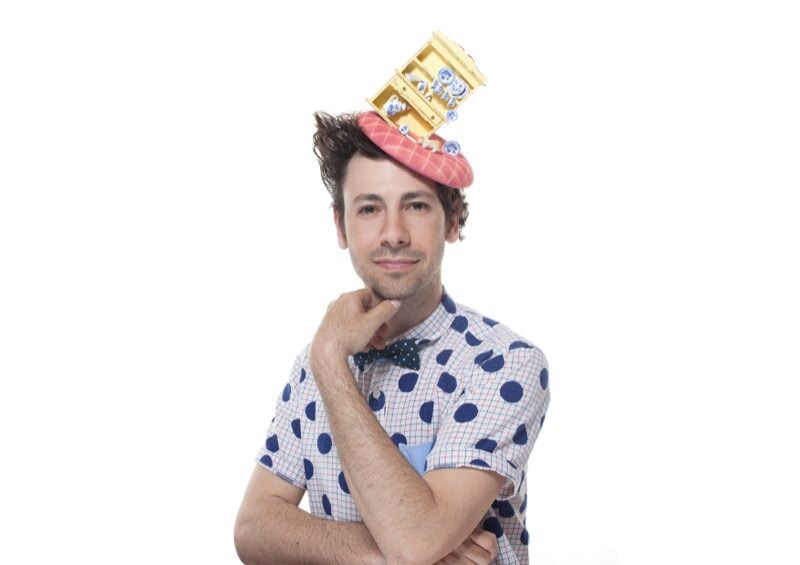 When did you get serious about starting your own line of hats?
I've been working as a costume designer for the past 13 years, but seven years ago I decided I wanted to learn to make hats professionally. I have always loved hats, but never learned how to make them properly; when I couldn't find any hat making courses in Israel, I started to look for a private milliner to teach me. A few of my friends were interested in learning, too, so the four of us found a milliner who worked for the theater, and she gave us all lessons in my studio. I really enjoyed learning all the new techniques, but I was using them only in my costume design up until maybe two and a half years ago, when I decided to give it a chance and started creating a small collection of hats. When I first started building my Etsy shop, it took me quite a long time to go ahead and activate it; I think I was scared, because I had never sold anything that I had made in my life. I didn't know how people would react to it. Once I did activate my shop, it took months until I had my first sale; I didn't really know how to market myself, I just created the shop and it was there. Somehow, as the months went by, I started selling one hat here, one there — not so many of them, but sales did start to happen.
When did things really start picking up for you?
At the beginning, I had only random hats in my shop; I think everything changed when I posted my first actual collection, which was the food hats. People started to react to it — all over the internet, not only on Etsy — and I started to get attention from bloggers and journalists all around the world. I think that was the turning point when I started to feel like,
Yeah, maybe I do have an interesting product. Maybe I can create a brand.
That is when I got together with my partner, Tal; ever since the food hats, the two of us have been creating seasonal collections together.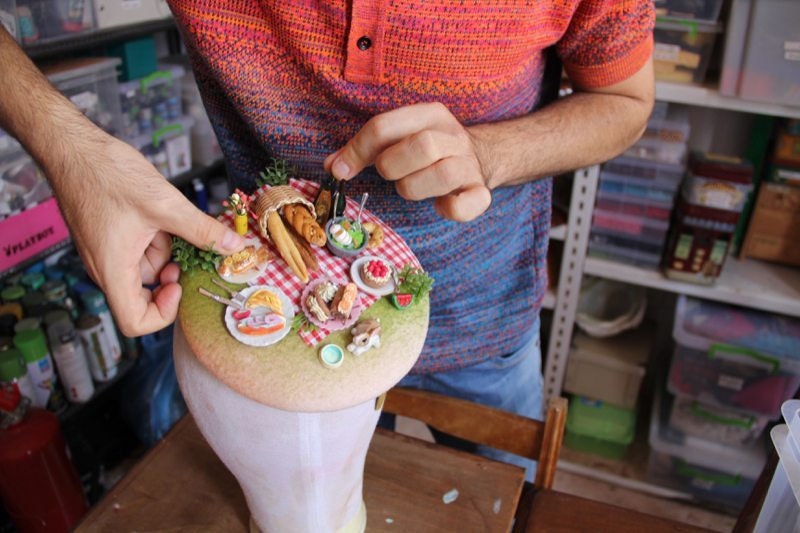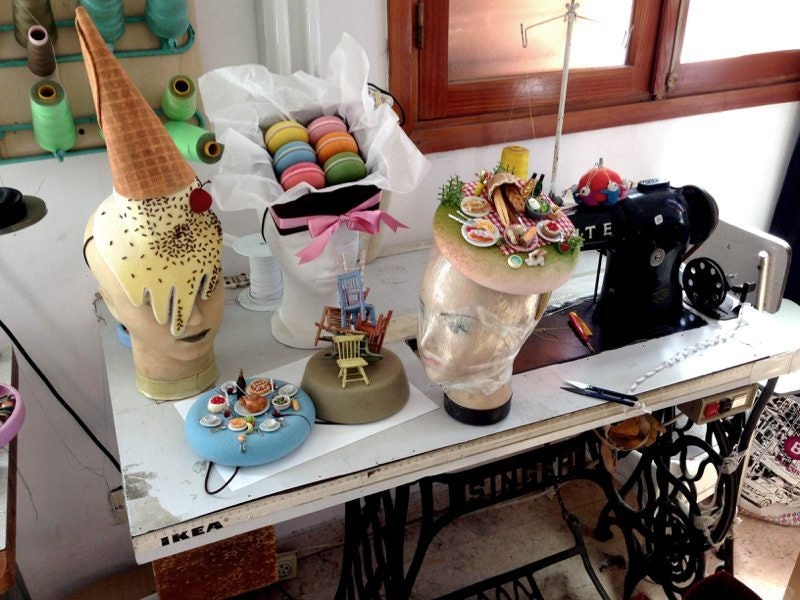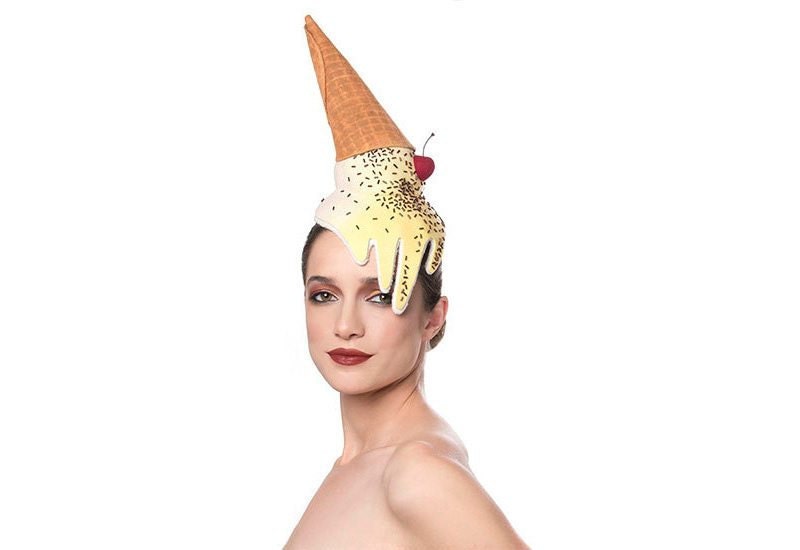 Where do you find the inspiration for your collections?
I never refer to actual trends in my collections — global trends or what is hot in fashion — I always go with my own sense of muse and what interests me at the moment. And I find inspiration everywhere. Sometimes, it could come from something that I see while working on a theater project; for example, I created my 
miniatures collection
, which are like small dioramas, after looking at the small models used for set design. And then other times, something that draws my attention when I'm just walking down the street will become the inspiration for a whole collection. For the
carnivorous plants
, I was looking for ideas for my costume design work when I saw the plants in a book and was fascinated by their shapes and colors — and by the actual concept of a plant who is a predator. We're always having discussions about being vegan or being carnivorous, because I'm a meat-eating person and my partner Tal is vegan; it's always a conflict between us. But here we have a plant that's a natural vegan thing that eats meat. So it was ironic; I had to make the collection. And then the
food hats 
are another story: About four years ago, I was diagnosed with Crohn's disease, and while we were trying figure out what was wrong with me, there was a year when I had to go on a really severe, specific diet. That's when I decided to create hats of all the things I couldn't eat. It started with only four hats, with what I craved the most: pie, sushi, sunny-side-up eggs, and the salad (which is weird, but I couldn't eat raw vegetables then). People really liked them and wanted more and more, so I added the shrimp, the fish, and the macaroons. The macaroon was a success and we sold a lot of fish hats; I think the only one that was sold only once was the salad.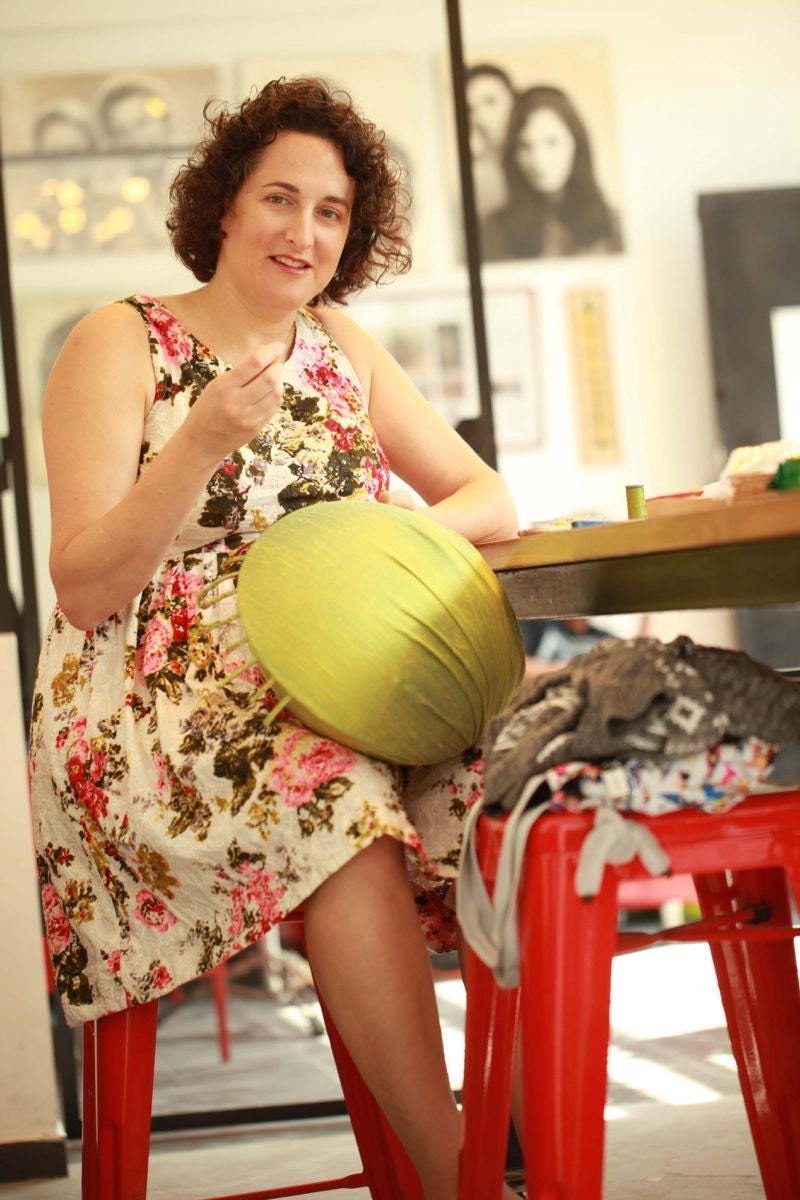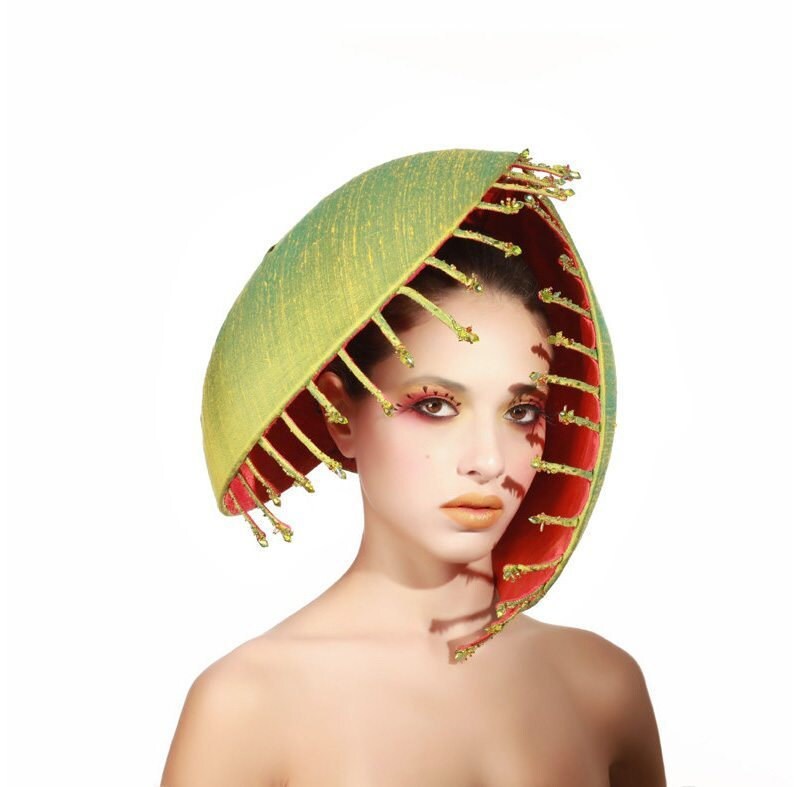 Can you walk me through the process of how you make a hat, from start to finish?
It depends on the type of collection; each one is so different, and I never have the same process twice. For some, I create an inspiration board and then start sketching the general idea of the hat. I never do very detailed sketching, because for the artistic work that I do on the hats, I need to feel the materials; I can never think about it before. So I do a general sketch of the shape and then I work on the base, whether it's stretching or cutting and sewing the base. Next, I start to work on the decoration, which could be done with painting, embroidery or different types of glues or glued ornaments. I often go to flea markets to look for interesting vintage materials, like small dolls, old dolls' eyes, dyed fur, pompoms, vintage crochets, and napkins. When I was designing my food hats, I never had any inspiration or sketches, I just started to work and let the materials lead me. For my next collection, we are making printed, sewn hats. I've already collected inspirations, and next I'm going to work on the patterns; we'll design the graphics on the computer and then send the fabric out to be printed. In the meantime, we will sew some plain mockups, and eventually make the final product from the printed fabrics. It's a first for us, although I have experimented with digital printing in my costumes. Because I don't like repeating myself, I am always looking for new techniques; for each collection, I try to create something a little new.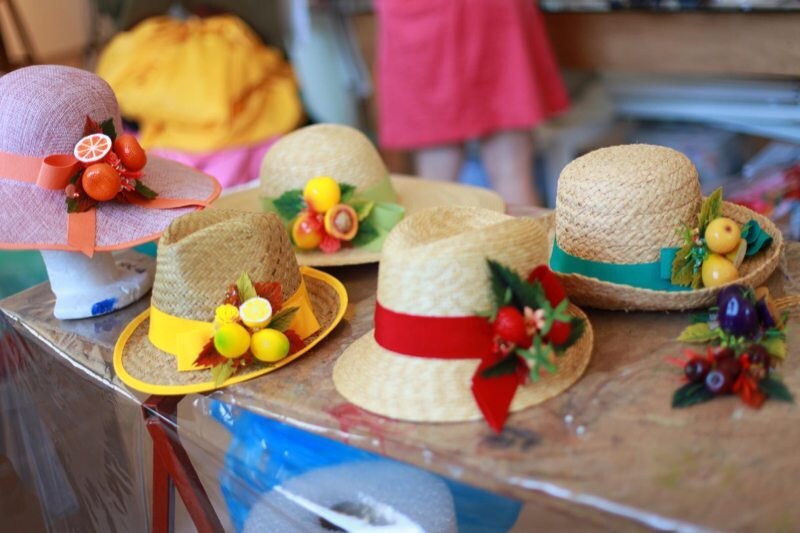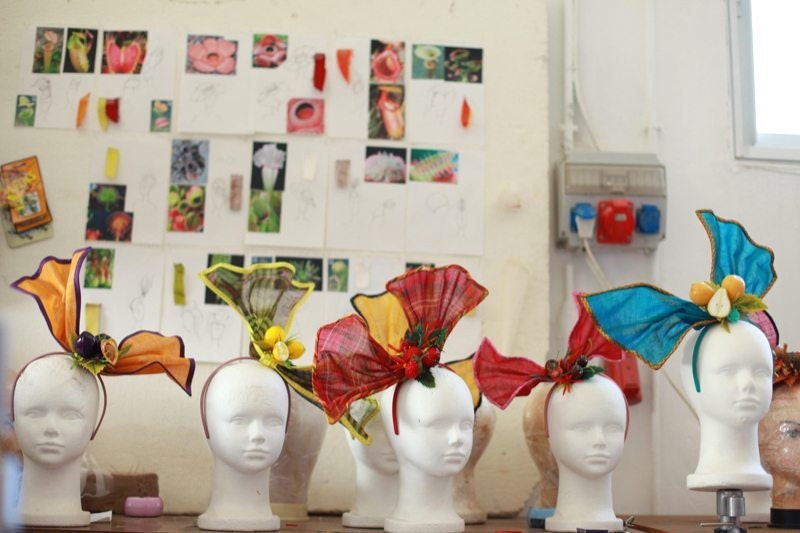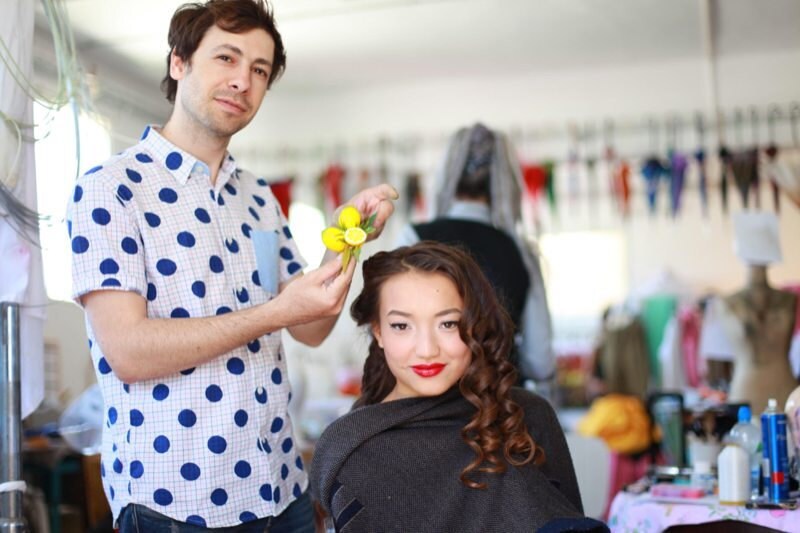 Are there any hat makers or designers or theater designers that you really admire? Or visual artists in any field?
I obviously adore
Stephen Jones
, and I love also
Piers Atkinson
 and
Philip Treacy
. Outside the realm of hat making, I'm inspired by artists and designers working in fashion, theater and cinema, like
Viktor and Rolf,
 the late 
Alexander McQueen
,
Nick Cave,
Julie Taymor,
Tim Burton
, and the costume designers 
Colleen Atwood
 and the late 
Eiko Ishioka
.
Do you work on other creative projects outside of theater design and hats?
For the past few years, I've been creating costumes for commercial campaigns, which is a bit different from theater. I wish I could do more costumes for TV or movies but again, it's not a big industry here in Israel, and you don't really find the type of theatrical costumes I like to do in cinema here. But the campaigns that I'm doing are very, very theatrical and very, very satisfying. Other than that, I really like taking photographs, and a lot of the photographs that we have in the shop are mine. I only hired a photographer for the past two collections because we don't have the time anymore to do everything ourselves. But I really do like photography and I really like makeup: I was a makeup artist a long time ago, and I still love it. Even though I'm not creating the makeup for my shoots myself, I work closely with the makeup artist to choose the concepts and colors and shapes for the looks.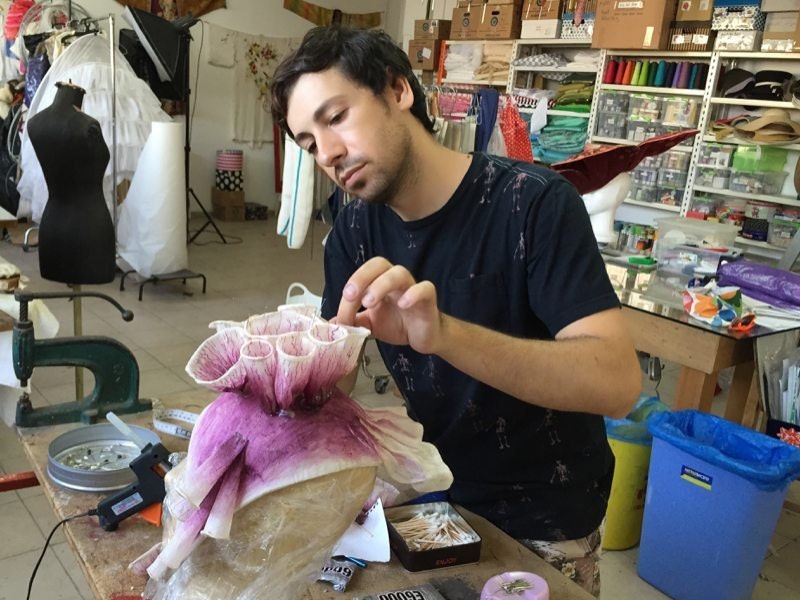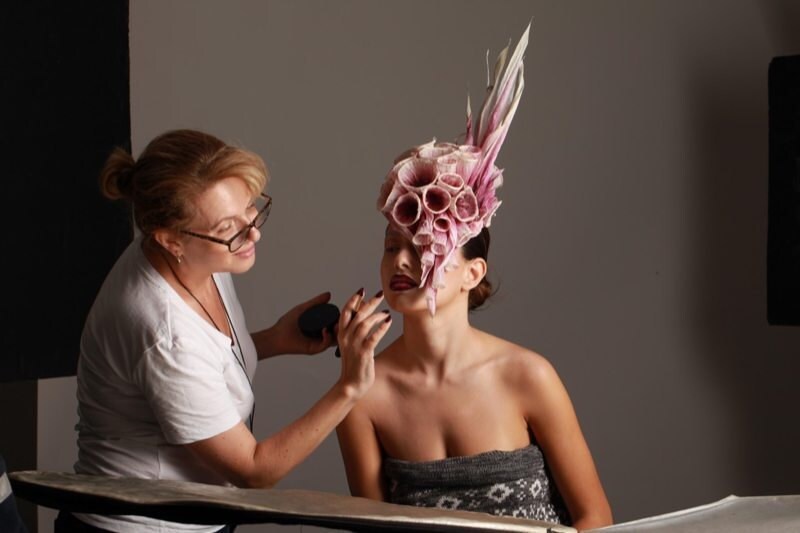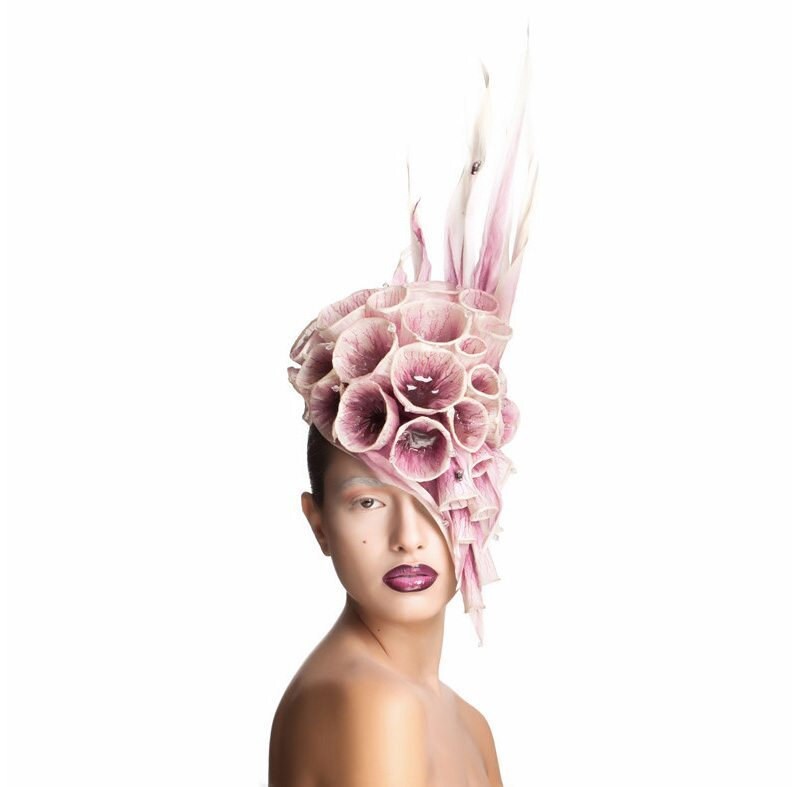 What is your favorite part of your job? Is there any one part of the process that's especially fun or satisfying for you?
Because my hats are never one item — it's always a collage of a few elements coming together — the moment when I put everything together and it becomes the final piece is one of the most exciting moments; it's like, "Look at it! It is happening! This is what I was dreaming about!" Gathering inspiration at the beginning of a project is also really fun, because I'm excited and fresh and there's nothing interfering with me working on that project. One more moment I love is when I'm shooting the hats and styling the model, the hair, and the makeup, because it's the first time I can see the hats actually on someone.
What's next on the horizon for your shop? What are you looking forward to this year?
This month, I'll be in New York; a millinery store has invited me to showcase my
carnivorous plant collection
for two months and to appear at a meet-the-artist event. Then in October, we're going to Chicago to teach a few millinery courses for a costume workshop; we're also going to submit a proposal to teach some courses at an event in Australia in 2017. We're getting more and more offers like these, and it's nice to get the attention and to feel like I can actually sell what I'm doing. We're also going to add a new collection to our Etsy shop soon, and have already started working on the next one. At the moment it's a lot, but it's fun.
Follow Maor Zabar Hats on Facebook, Twitter, Instagram and Pinterest.
All photographs courtesy of Maor Zabar Hats
.