With their mesmerizing patterns and unconventional silhouettes, these vibrant vessels bring a splash of character to everyday tablescapes.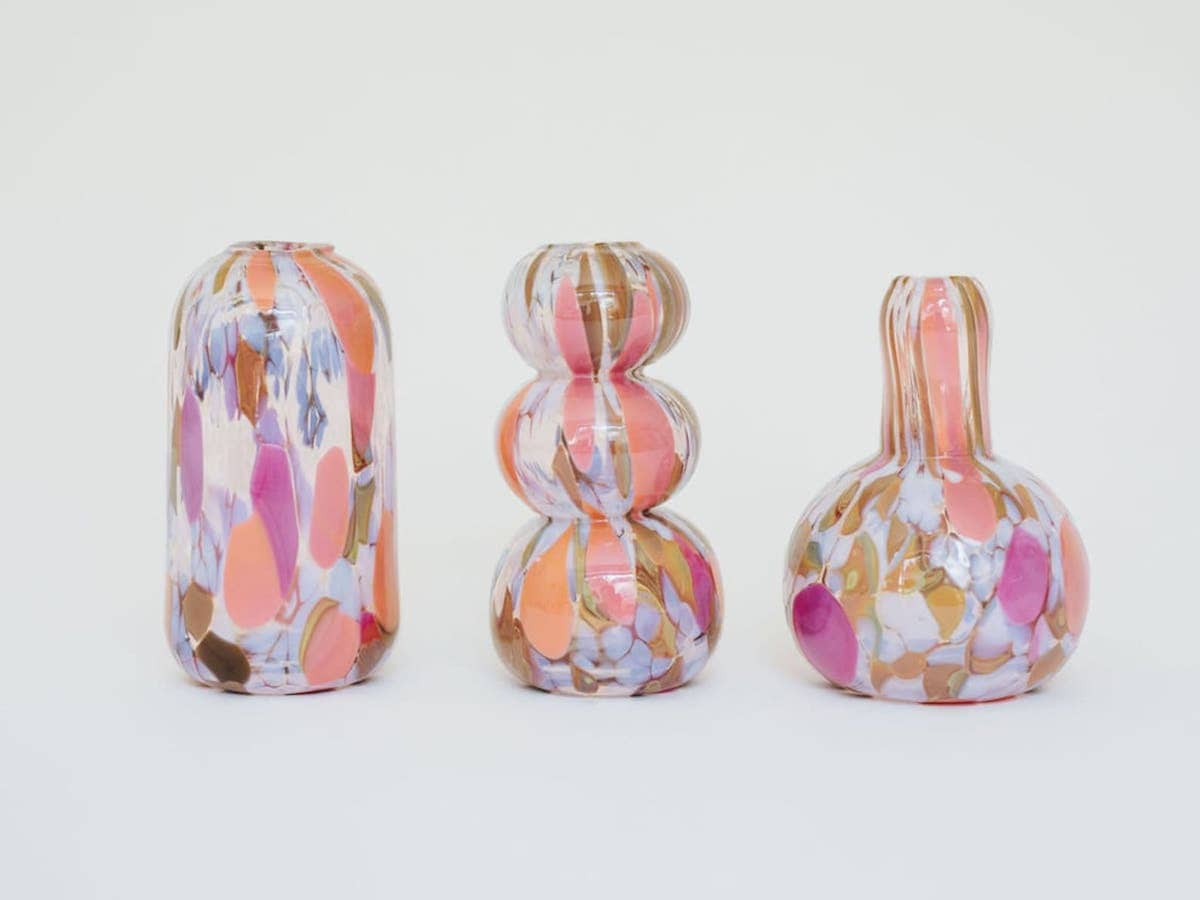 In our Featured Shop series, we shine a light on a standout shop from Etsy's talented seller community, offering readers a behind-the-scenes look at their process and story.
Looking at her curvy, marbled vases and swirling, tie-dyed tumblers, it's impossible not to feel the playful energy that Maria Struk breathes into every gorgeous piece of glassware in her Etsy shop Maria Ida Designs. The Vancouver-based glassblower uses a mix of whimsical shapes and unexpected pops of pigment to create truly one-of-a-kind homewares that bring a sense of wonder and delight to any space. "Color is a vessel for joy, and that's really important to me," Maria explains. "I hope that my items bring a little bit of joy into people's lives."
Whether you're looking for a simple home refresh idea to help brighten your daily view or a thoughtful pick-me-up for someone you hold dear, it's easy to find a mood-boosting design to suit every decorating style in Maria's shop. Unusual silhouettes and confident swoops of color are perfect for adventurous maximalists, while softer, more subtle shades look right at home in a minimalist-modern environment. And with Valentine's Day just around the corner, you can add that extra "oomph" to your sweetheart's bouquet by nestling their blooms in one of Maria's stunning vases (or a single beautiful blossom in one of her minis!)
Read on to learn how Maria comes up with her innovative colorways and get pro tips for how to use and style her items, then shop the Maria Ida Designs collection.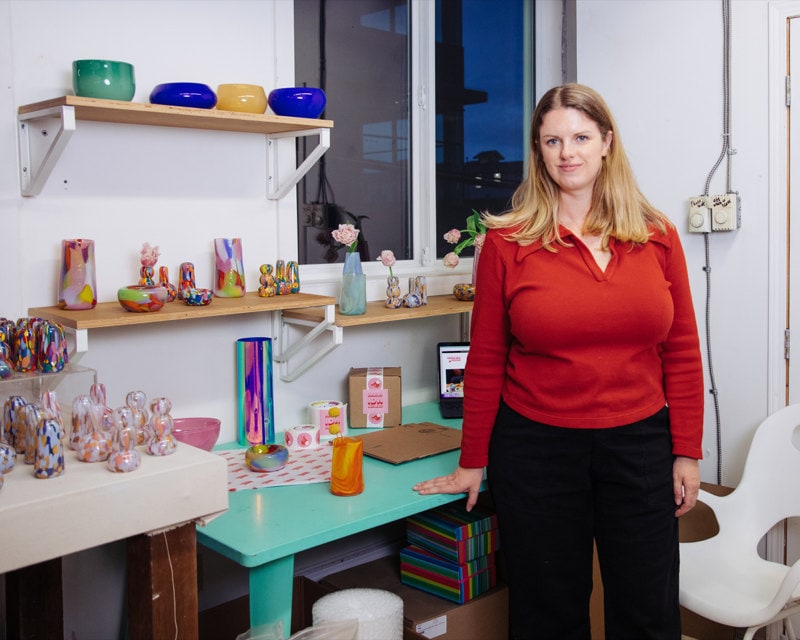 Your colors tell such an interesting story. How do you select them?
One of my favorite things to do outside of making the glass is to come up with different color combinations. A lot of my choices are inspired by different design movements, like Memphis Design specifically, which is really bright and cheerful. And I like to mix colors that are not always traditionally put together.
I also draw a lot of inspiration from nostalgia and from kitschy vintage pieces. The pink "melting milkshake" vase, for example, is modeled after childhood memories of eating sweets. (Plus, to me, these big, chunky pieces of glass just look a lot like candy!) Then the '90s anorak color combo—that's inspired by neon tracksuits my mom used to wear. And "Forever in Blue Jeans" is a tribute to the Neil Diamond song; I feel like those pieces have a sort of '70s vibe to them.
Other than that, I really love being in the woods and by the ocean. The "sprite" color combination, for instance, simply came from walking in a forest nearby and imagining if there were little fairies flying around. It felt very magical.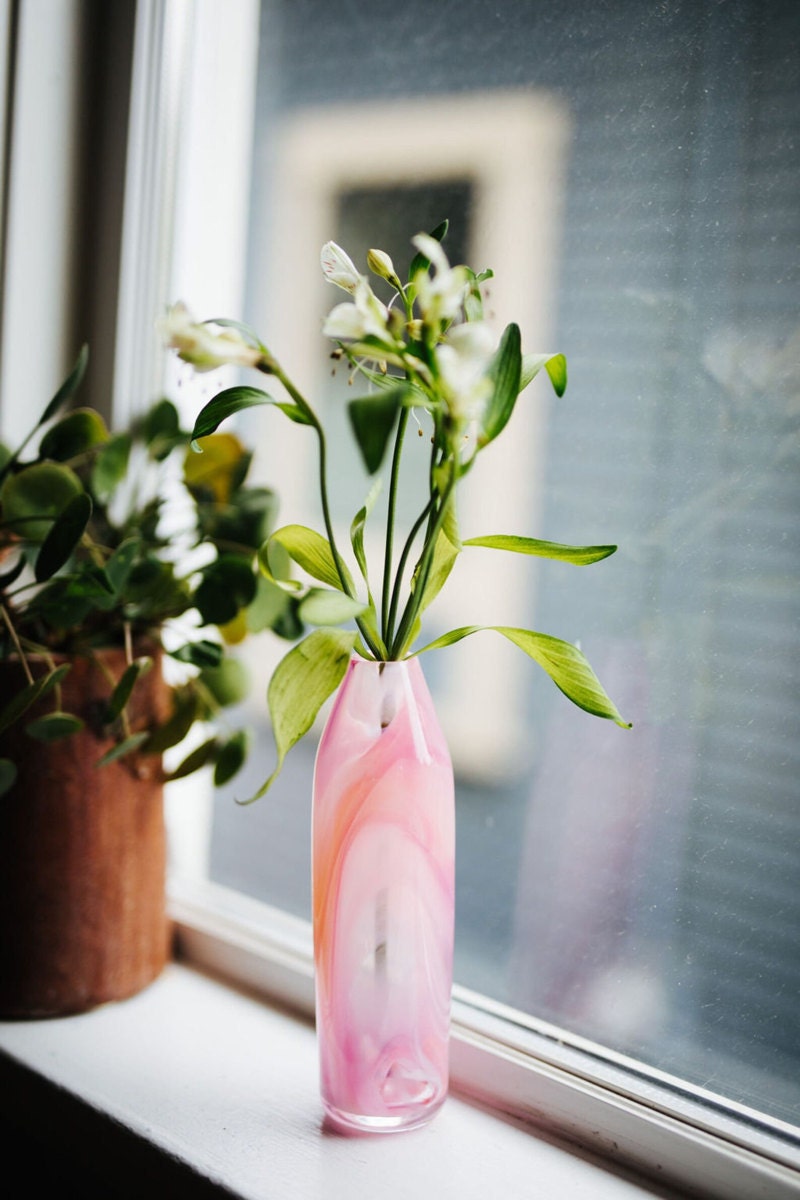 SHOP: "Melted milkshake" pencil vase from Maria Ida Designs, $101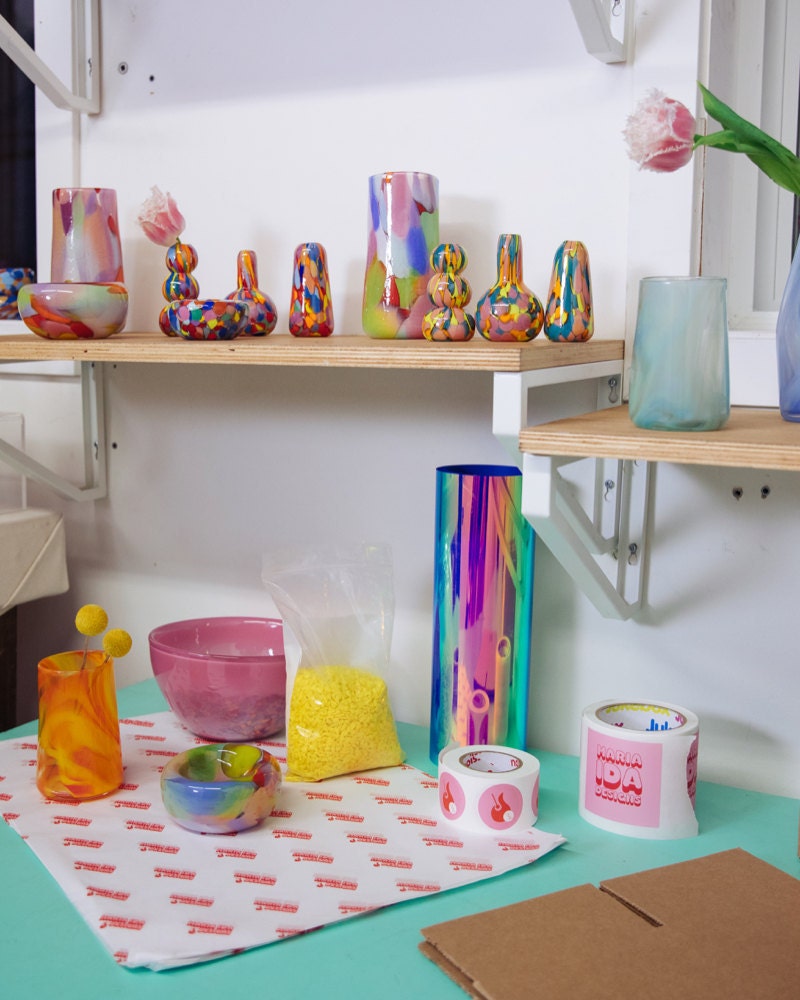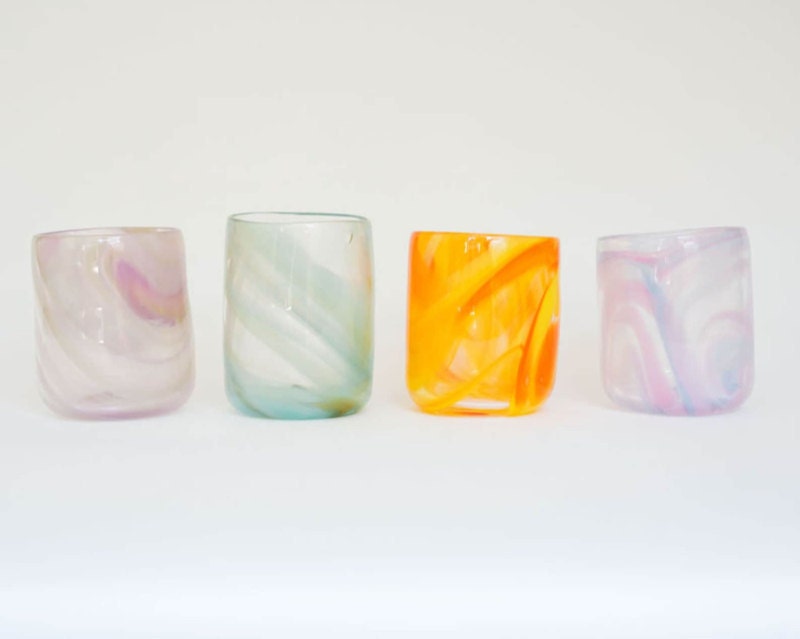 SHOP: Glass-blown tumblers from Maria Ida Designs, $70 each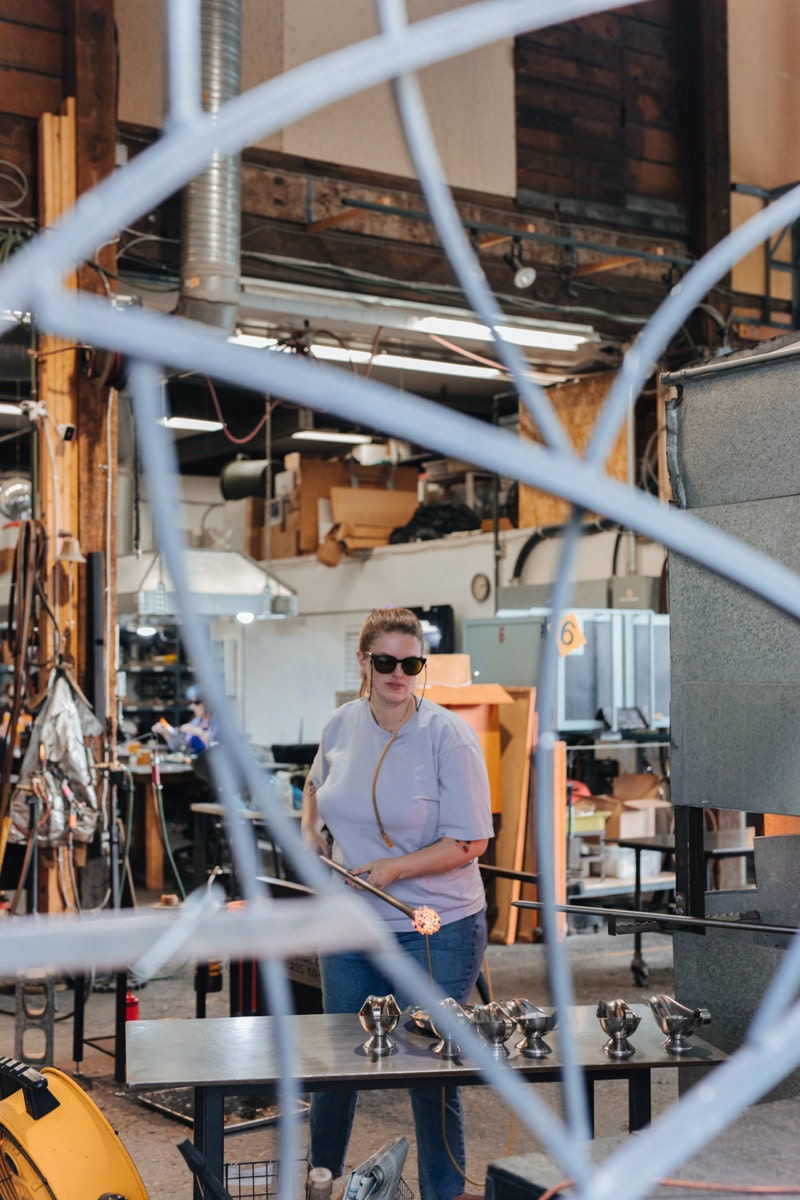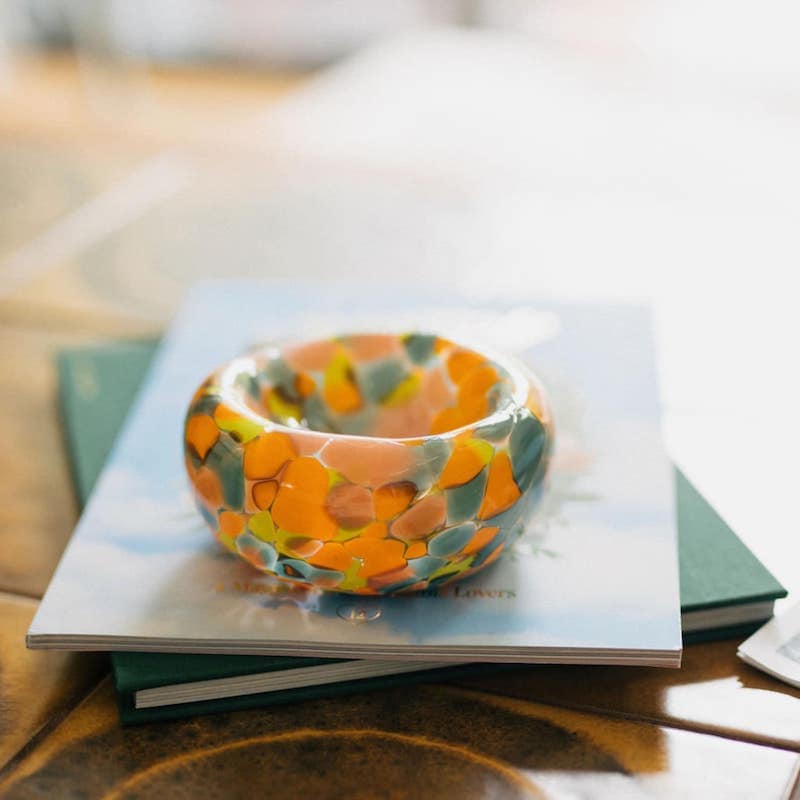 SHOP: "90s anorak" bubble bowl from Maria Ida Designs on Etsy, $77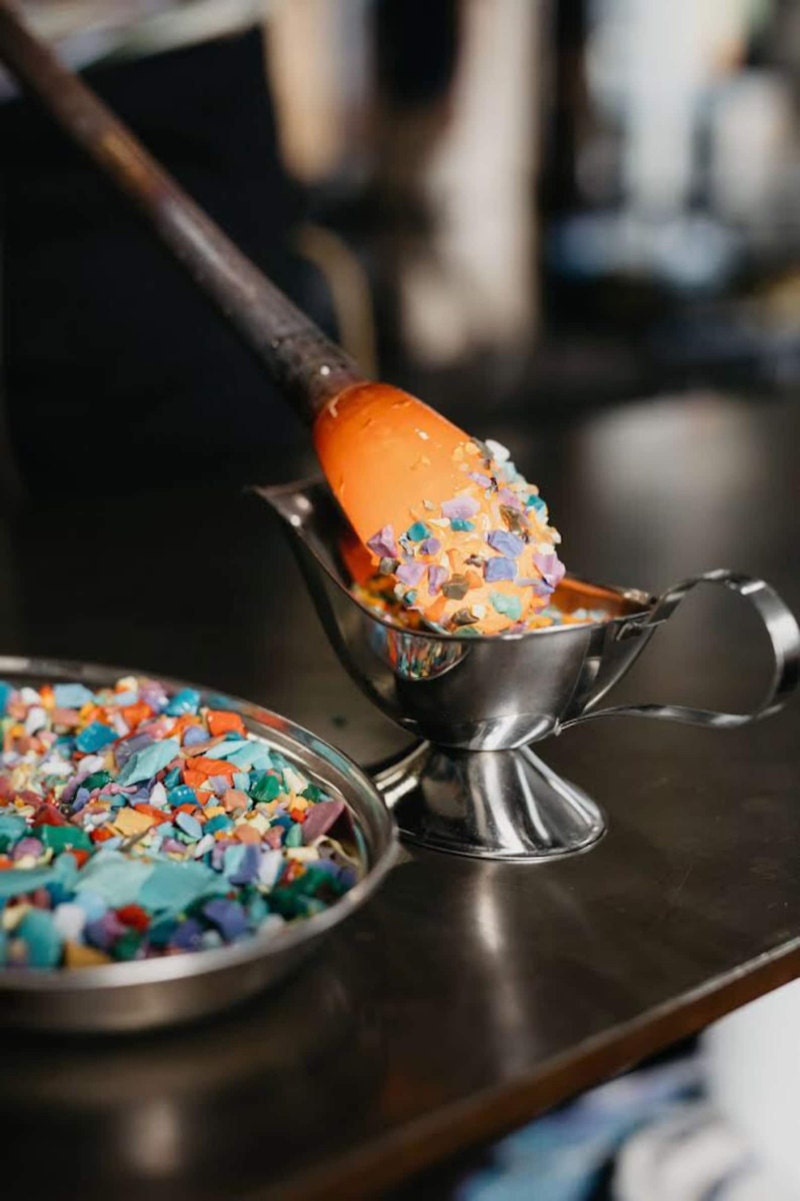 Why is bringing color into the home important to you?
I feel like pops of color make a space feel more home-y, and that's really important to me. It makes me happy, but it also it gives me a sense of familiarity. Many of us are home a lot more these days, so I think people are paying more attention to the items they surround themselves with. They want something that's going to bring them joy, something that's beautiful and colorful, and that fits in with their decor.
How do you see your pieces being styled?
It's interesting because a lot of people who purchase my products actually enjoy the more minimalist approach to design, but they still appreciate having that pop of color. I think my pieces work beautifully as decorative objects, but I love it when people use them in everyday life. My drinking glasses are great for making a fancy cocktail, or even just having that special moment of sipping water from something beautiful. With my mini vases, I typically see people filling them with a single stem, which is always very cute—or dried flowers, which are really popular too. My nest and bubble bowls make great little catchalls; I've used them as tea light candle holders and jewelry holders. You can put them in any entryway to your house for holding your keys or rings.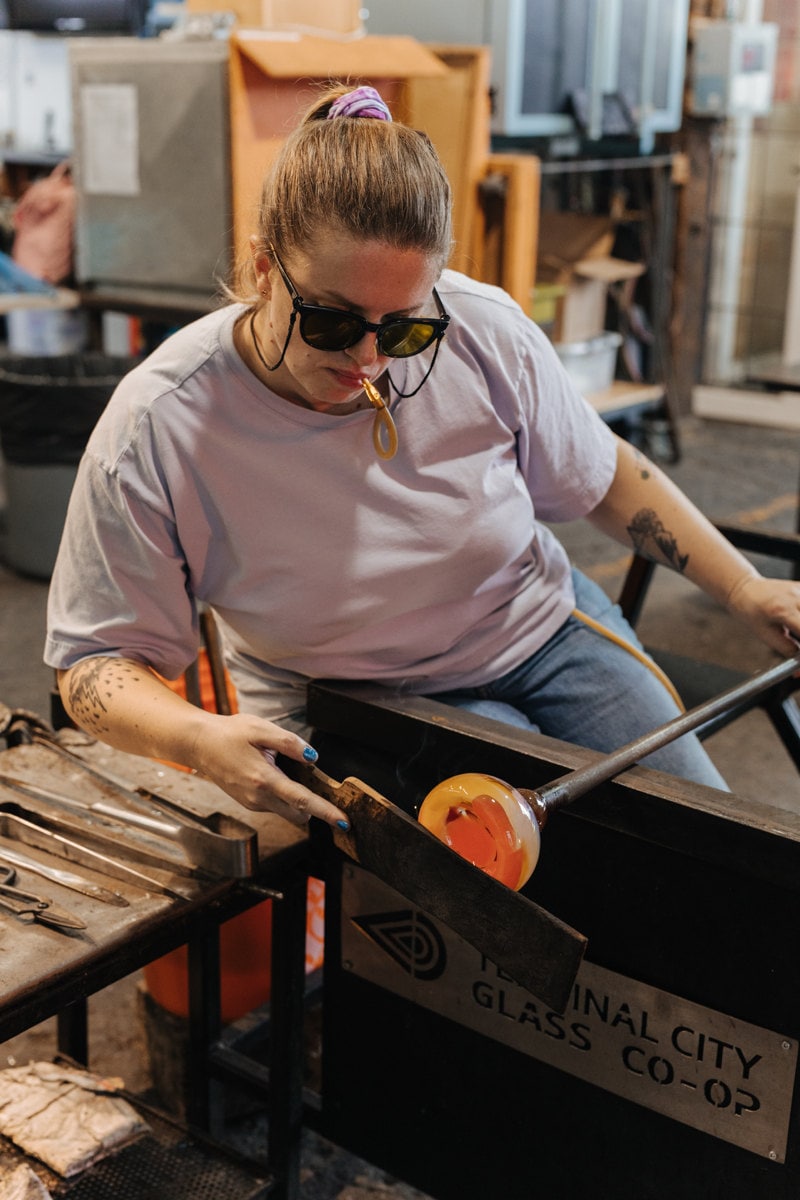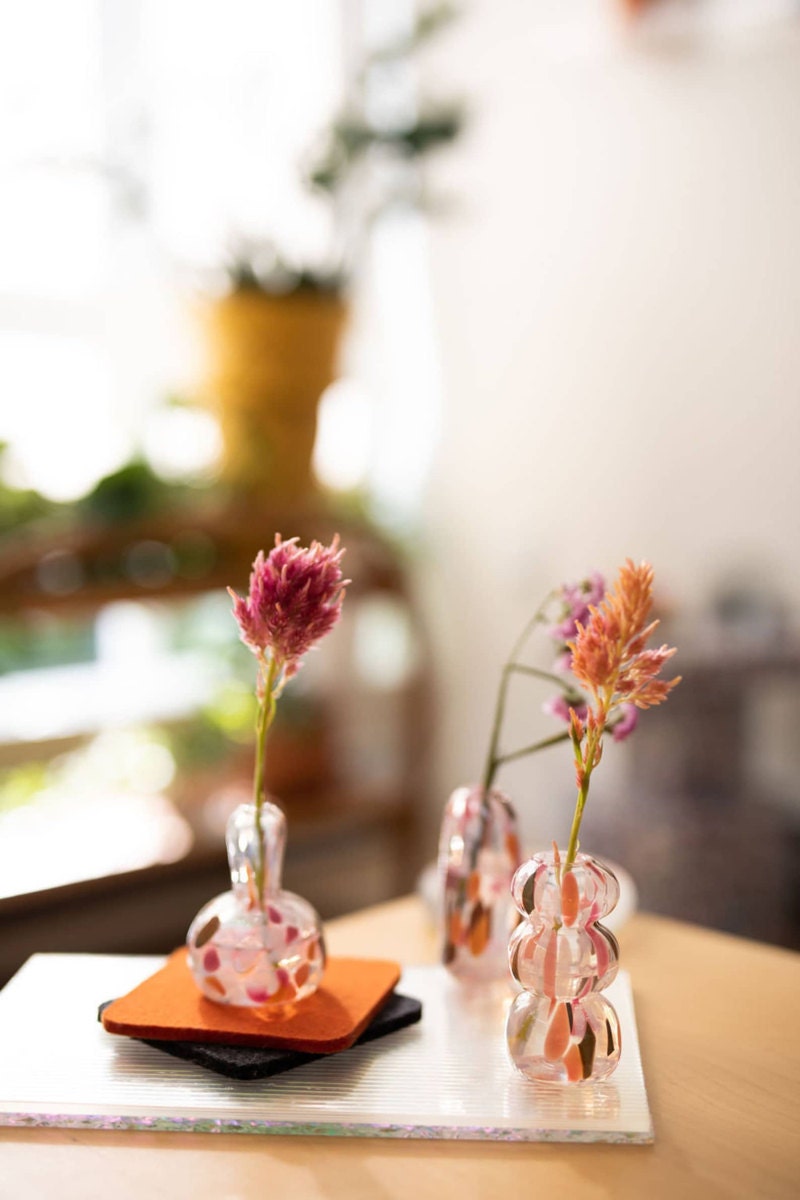 SHOP: Glass-blown Neapolitan mini vases from Maria Ida Designs, $51 each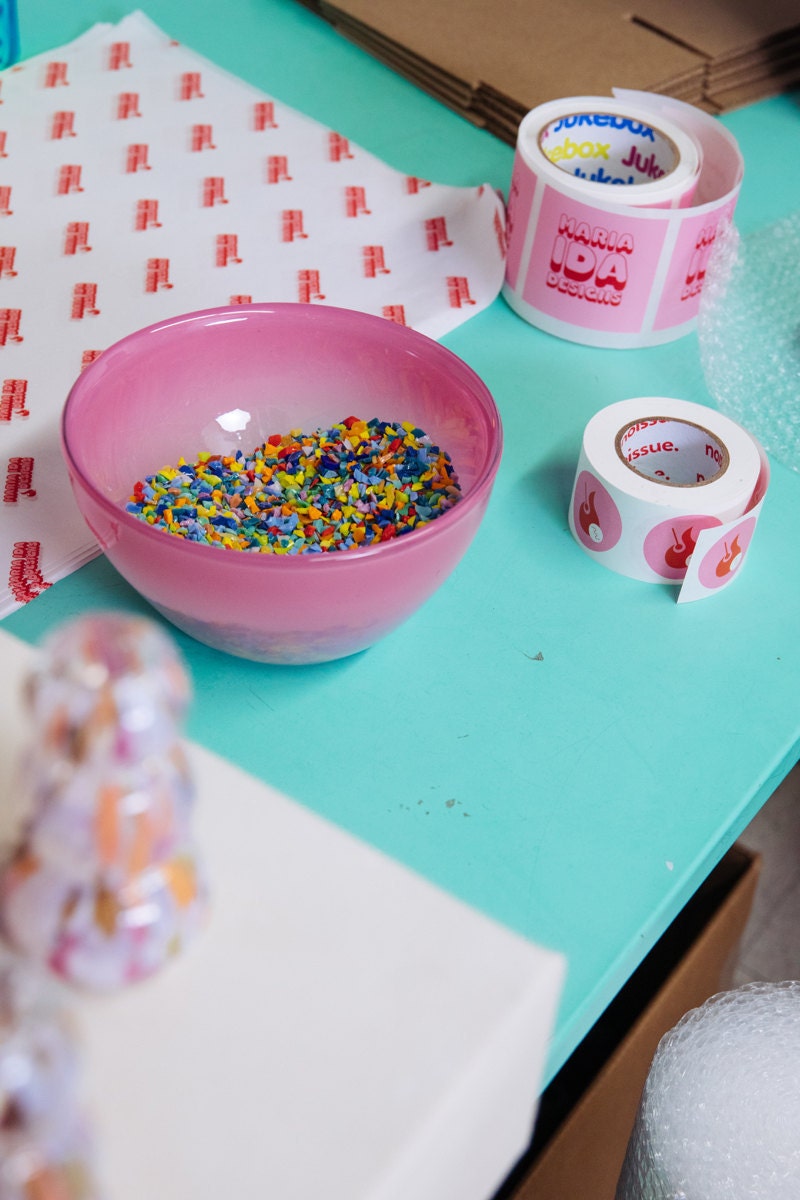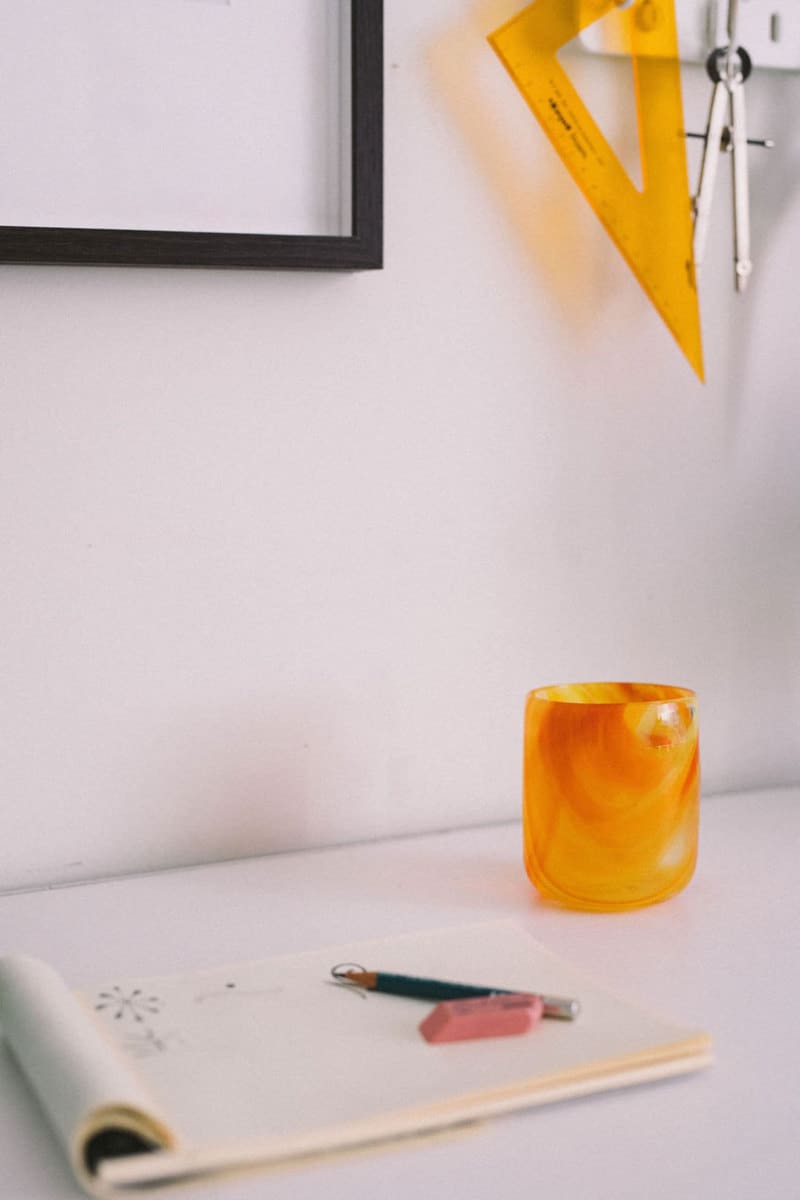 SHOP: "Fire" glass tumbler from Maria Ida Designs, $70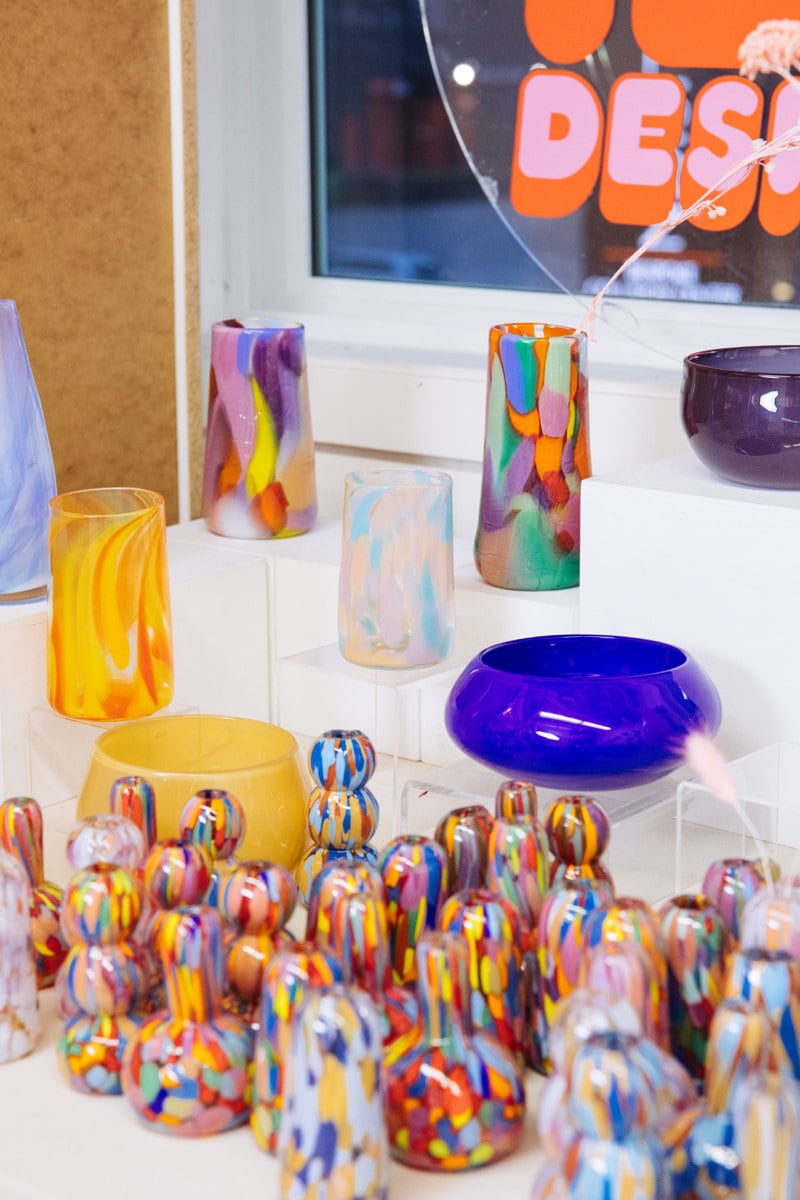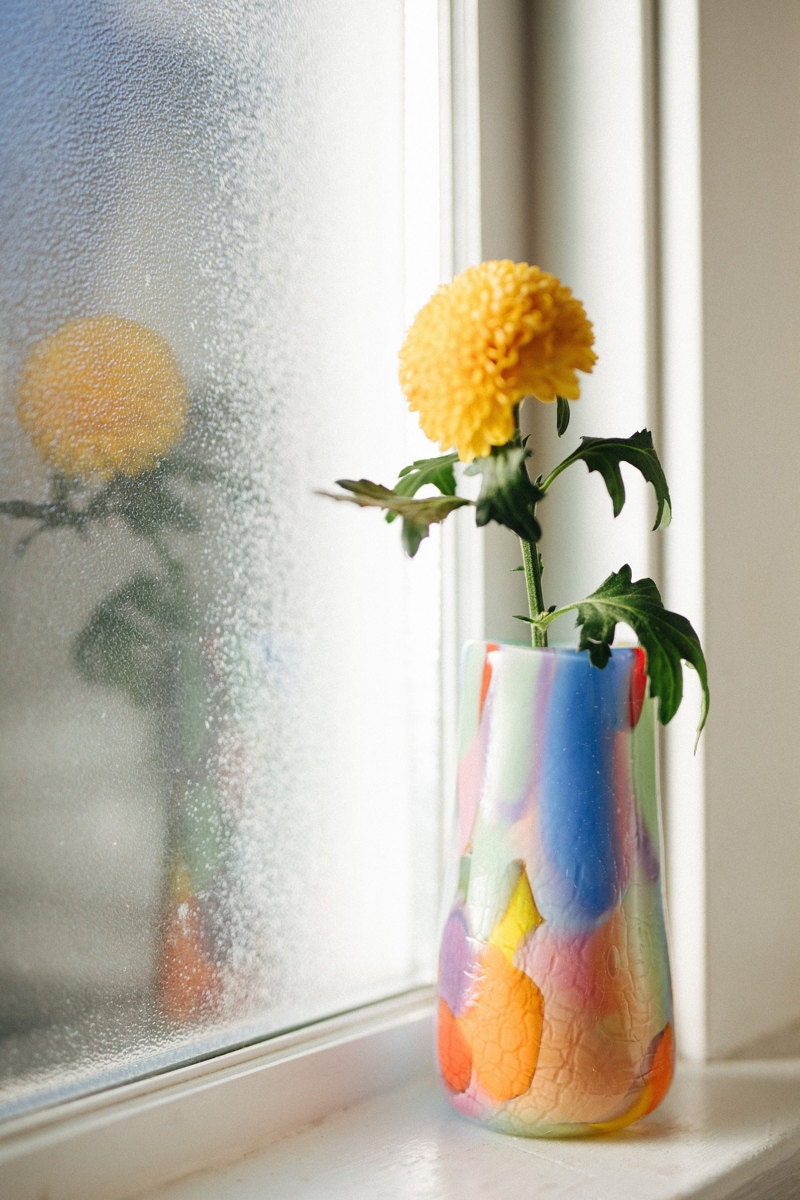 SHOP: Rainbow crackle vase from Maria Ida Designs, $101
Any recommendations for gifting your pieces?
A lot of people will gift my vases with flowers in them. I think it's really special if you're giving someone flowers to put them in a beautiful hand-blown vase. My mini vases are around $50, which is the perfect price point for a lot of gift-giving occasions. People often buy my work as birthday gifts, but I also see a lot of sales around any sort of holiday—Christmas, Valentine's Day, Mother's Day. I've even had people buy items as wedding gifts, which is really special. I like the idea of my work as a housewarming gift.
Do you have any other special care or styling tips for your customers?
I would definitely recommend hand-washing for all my items. That's the best way to really take care of them. In terms of styling, I feel like my glass looks really beautiful near a window where the natural light can shine through it. I see a lot of people placing their pieces close to light so it highlights the colors. Light and glass just look beautiful together.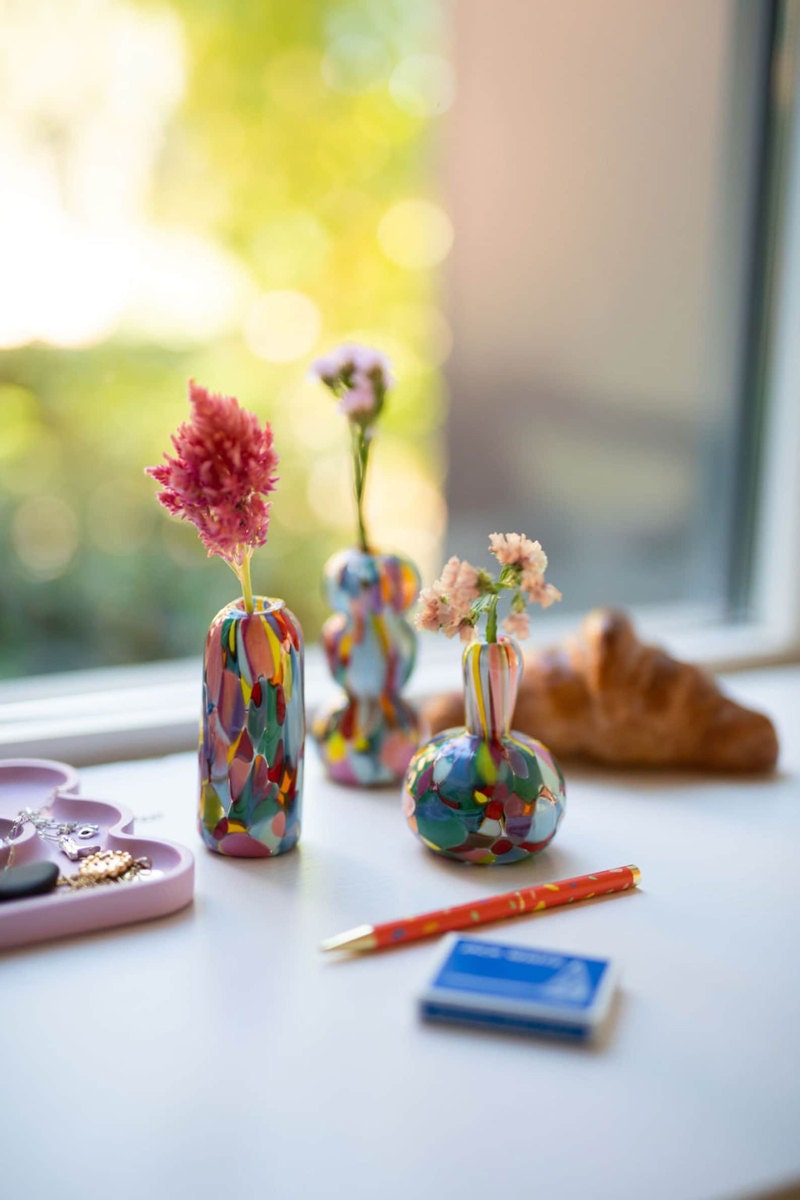 SHOP: Multi-color mini vases from Maria Ida Designs, $51 each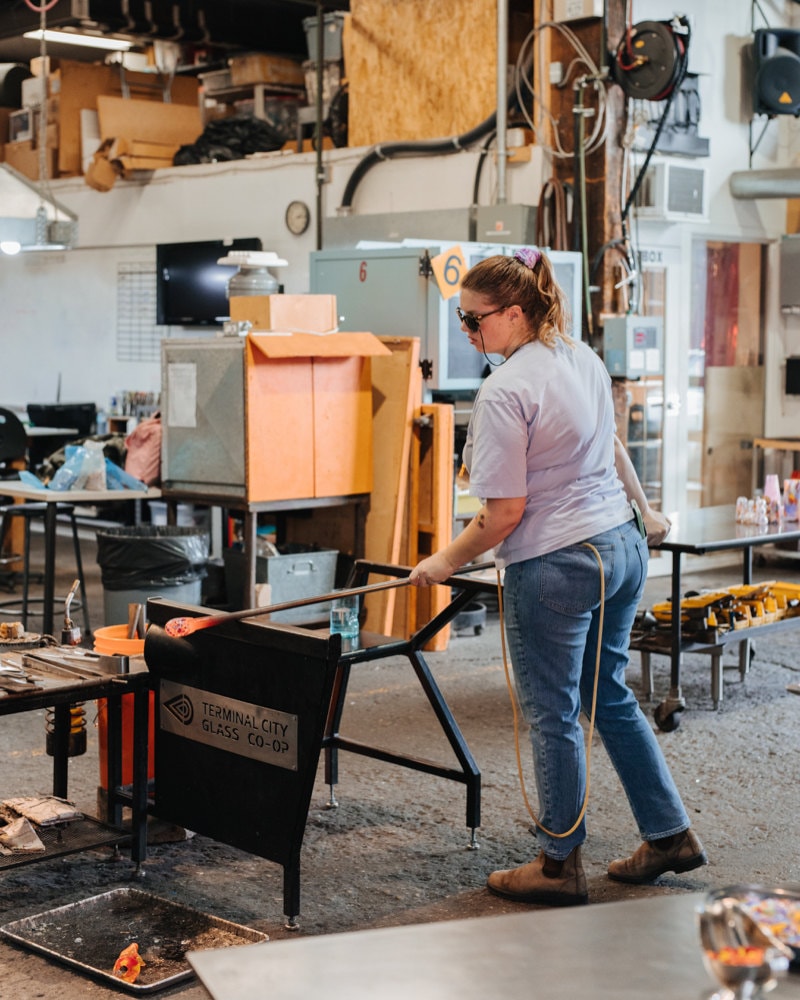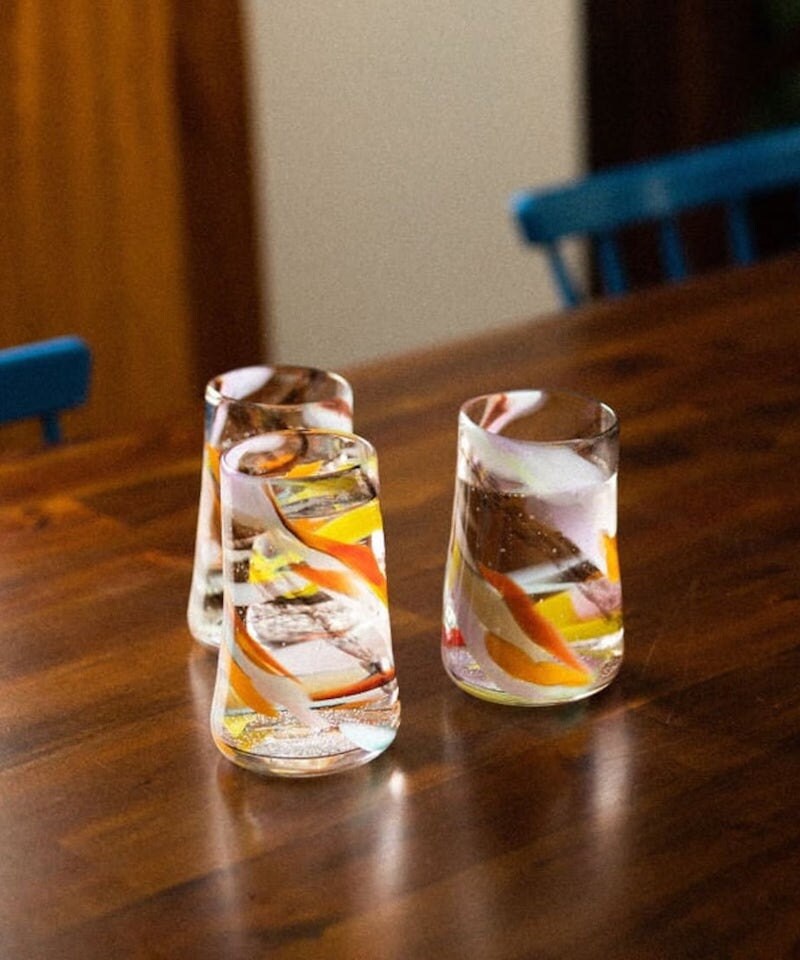 SHOP: Multi-color tumblers from Maria Ida Designs, $74 each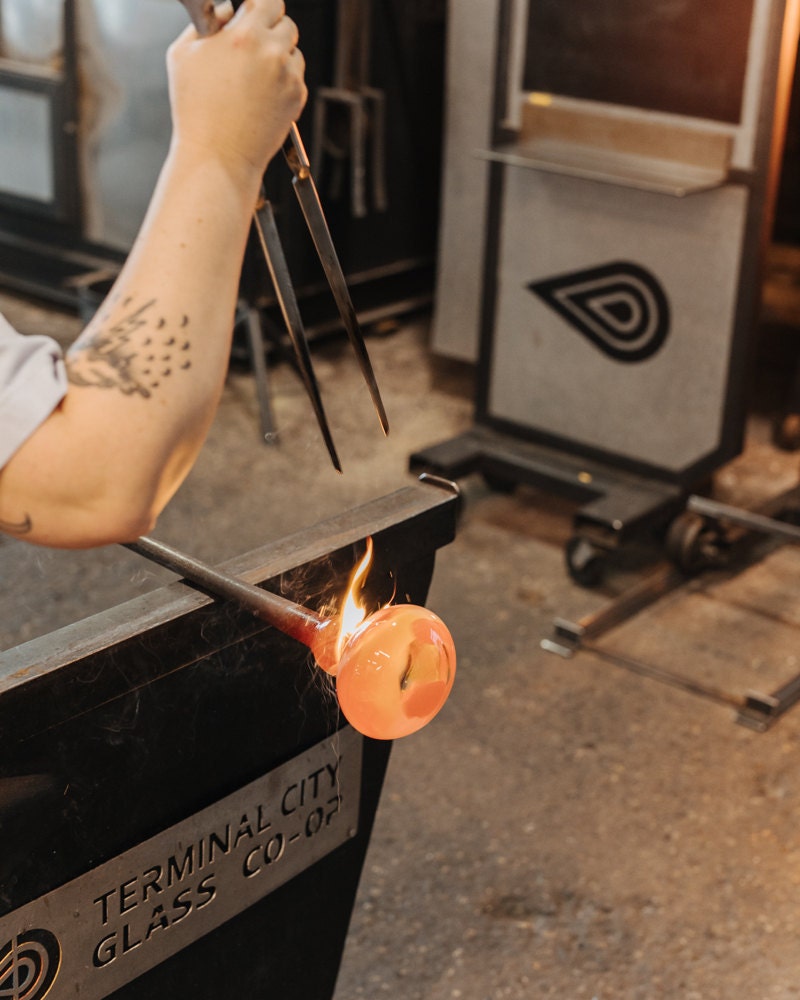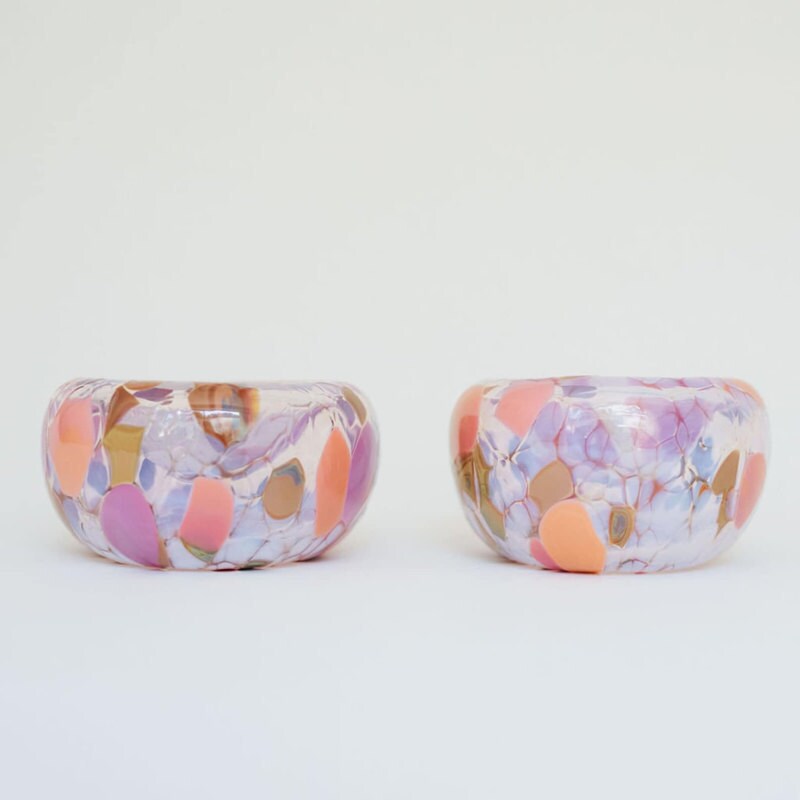 SHOP: "Neapolitan" pink mini bowls from Maria Ida Designs, $51 each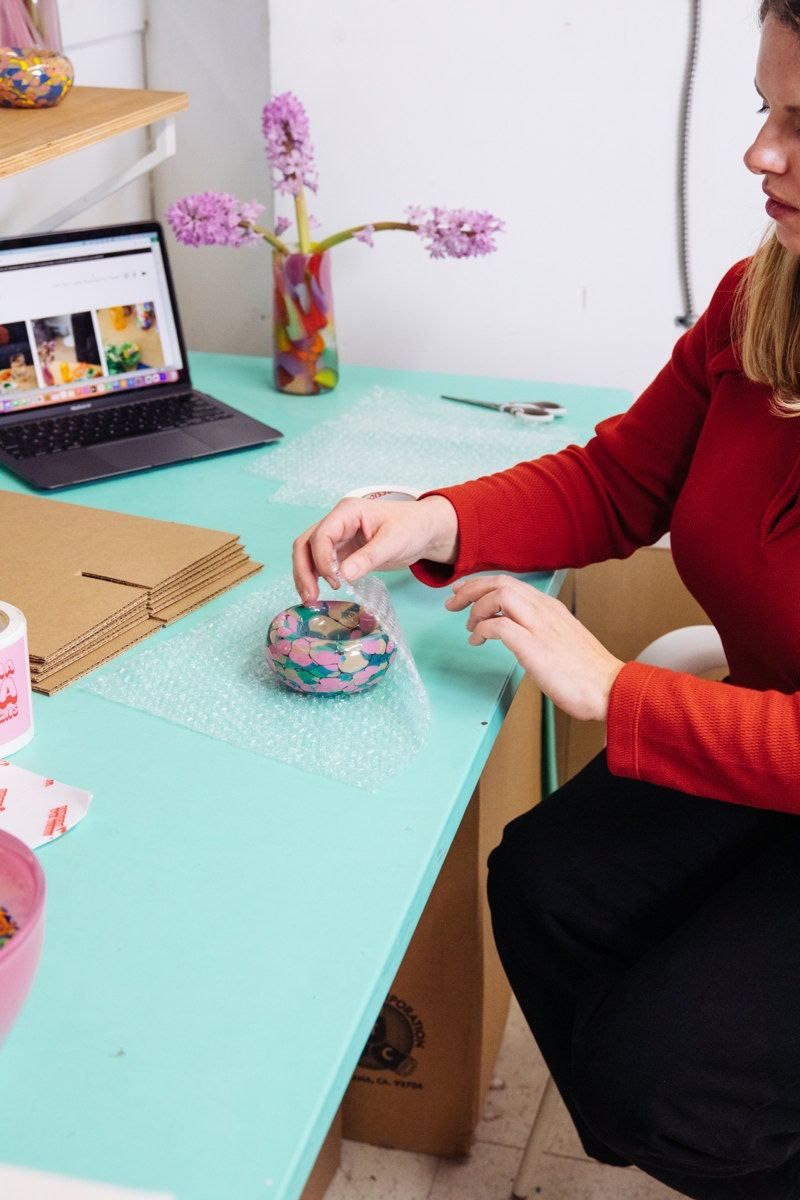 What makes glassblowing such an intricate, exciting art form?
As glass cools it becomes harder and more difficult to work with, so you have to constantly go back and forth from your bench to the furnace to reheat the glass so it's still malleable. I also inflate the glass myself by blowing it out and shaping it with a blow hose, so I use a lot of gravity and centrifugal force to get the desired shapes. Finally, it goes into an annealer, which is a kiln that will slowly cool the glass down overnight. If the glass isn't cooled down at a very slow rate, it'll break. It takes about a 14-hour cycle to bring it to room temperature, so it's always very exciting to come in the next day and see what I've made.
Despite the challenges, what do you enjoy most about working with glass?
I love how it transforms from liquid to a solid. It's quite a fascinating material and it's really captivating to look at it in its molten state. I love that something can go wrong any minute, and I like the pressure of that. It brings me into a meditative place, where I can stay really focused and in the zone. I also love being hot—so that's a bonus because it's very hot in the glass studio!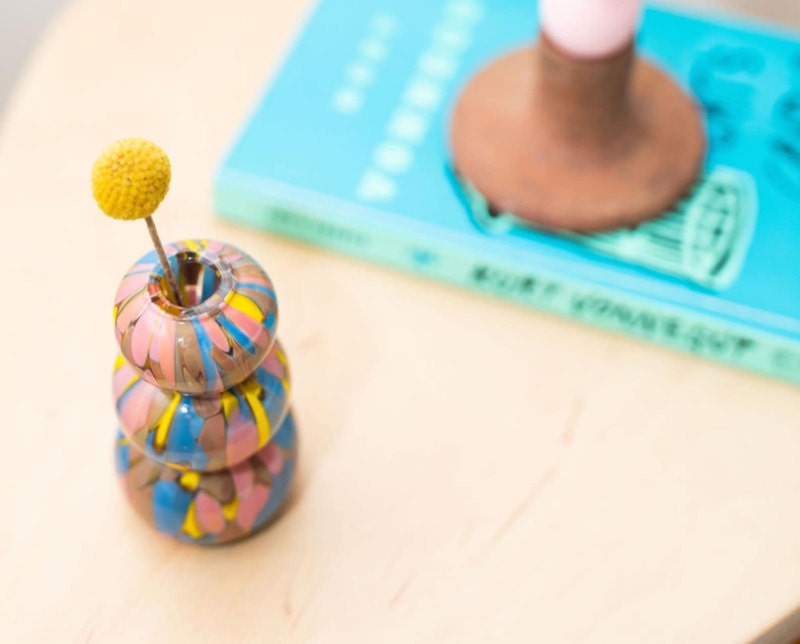 SHOP: "Jelly baby" mini vase from Maria Ida Designs, $51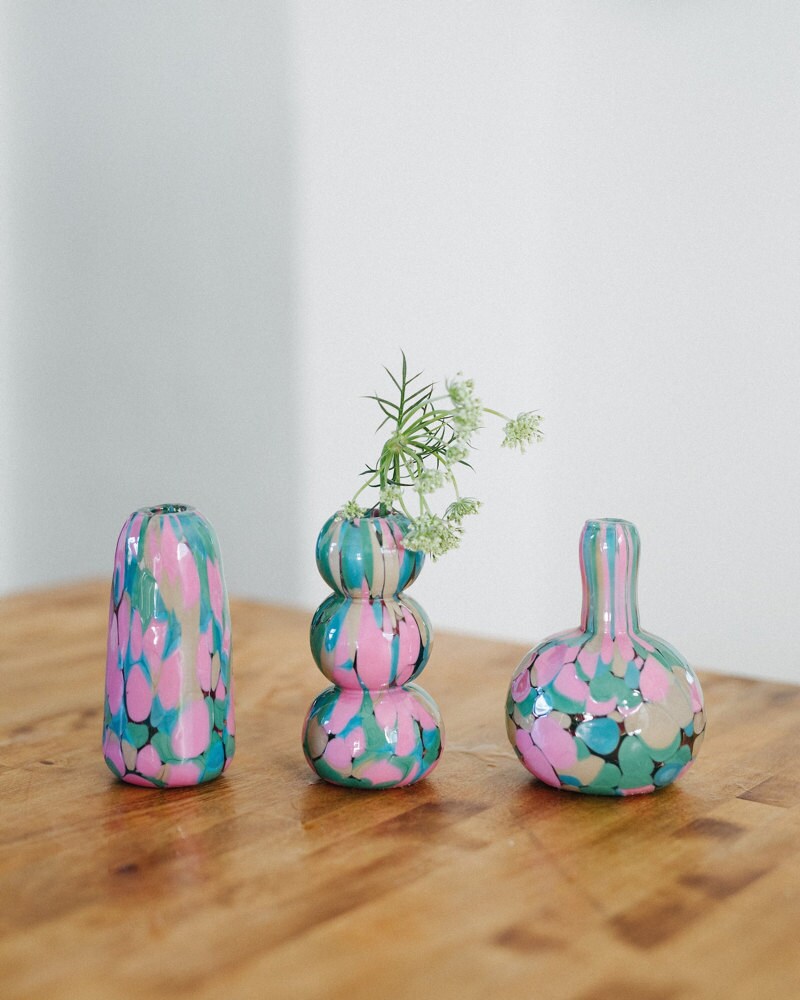 SHOP: "Bedrock" mini vases from Maria Ida Designs, $51 each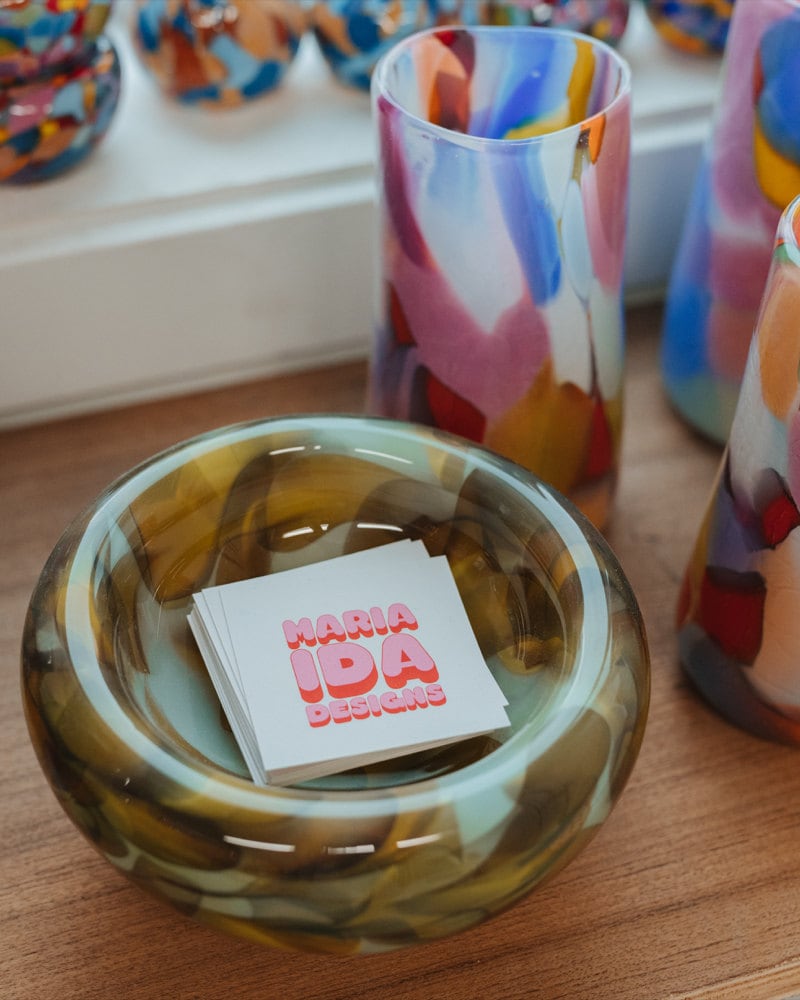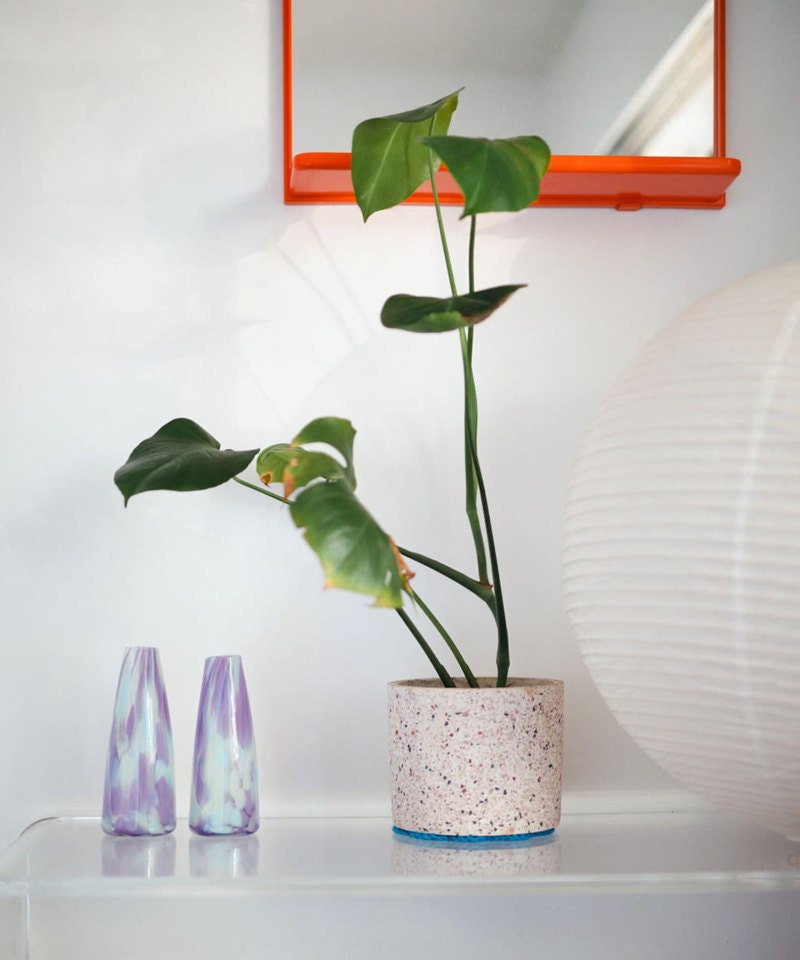 SHOP: "Space girl" vase from Maria Ida Designs, $109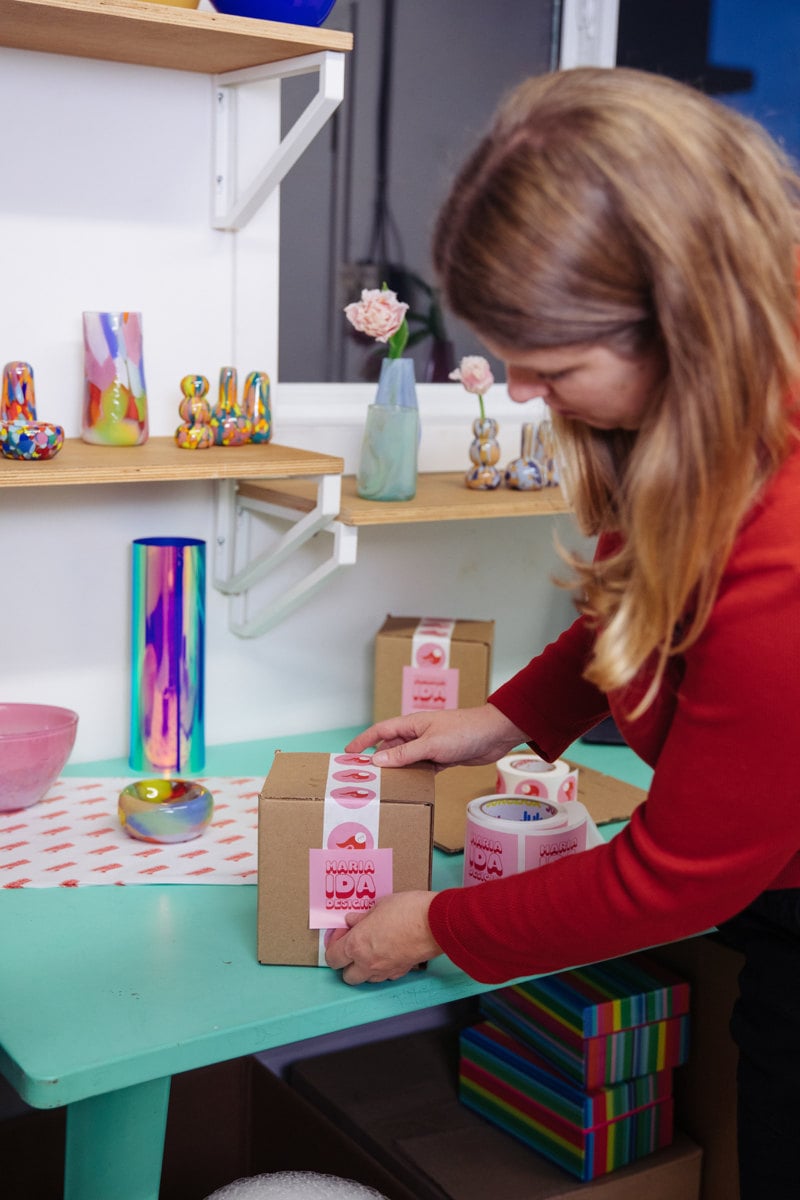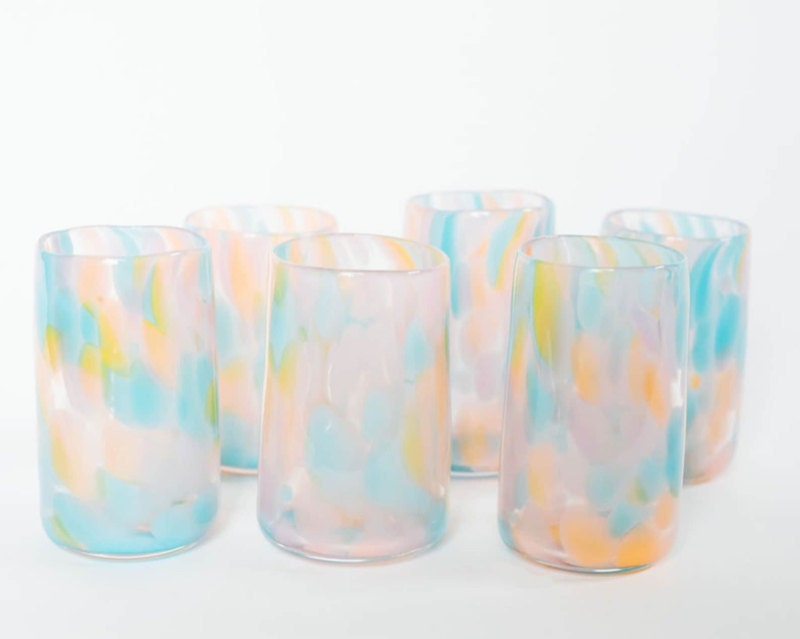 SHOP: "Fluffy clouds" glass tumblers from Maria Ida Designs, $70 each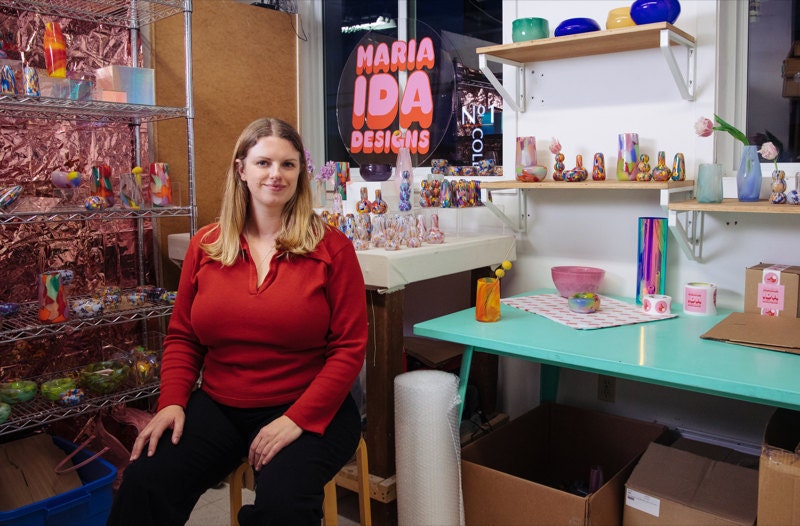 Follow Maria Ida Designs on Instagram and Facebook.
Studio and portrait photography by Shannon Elmitt. Additional product photography courtesy of Maria Ida Designs.