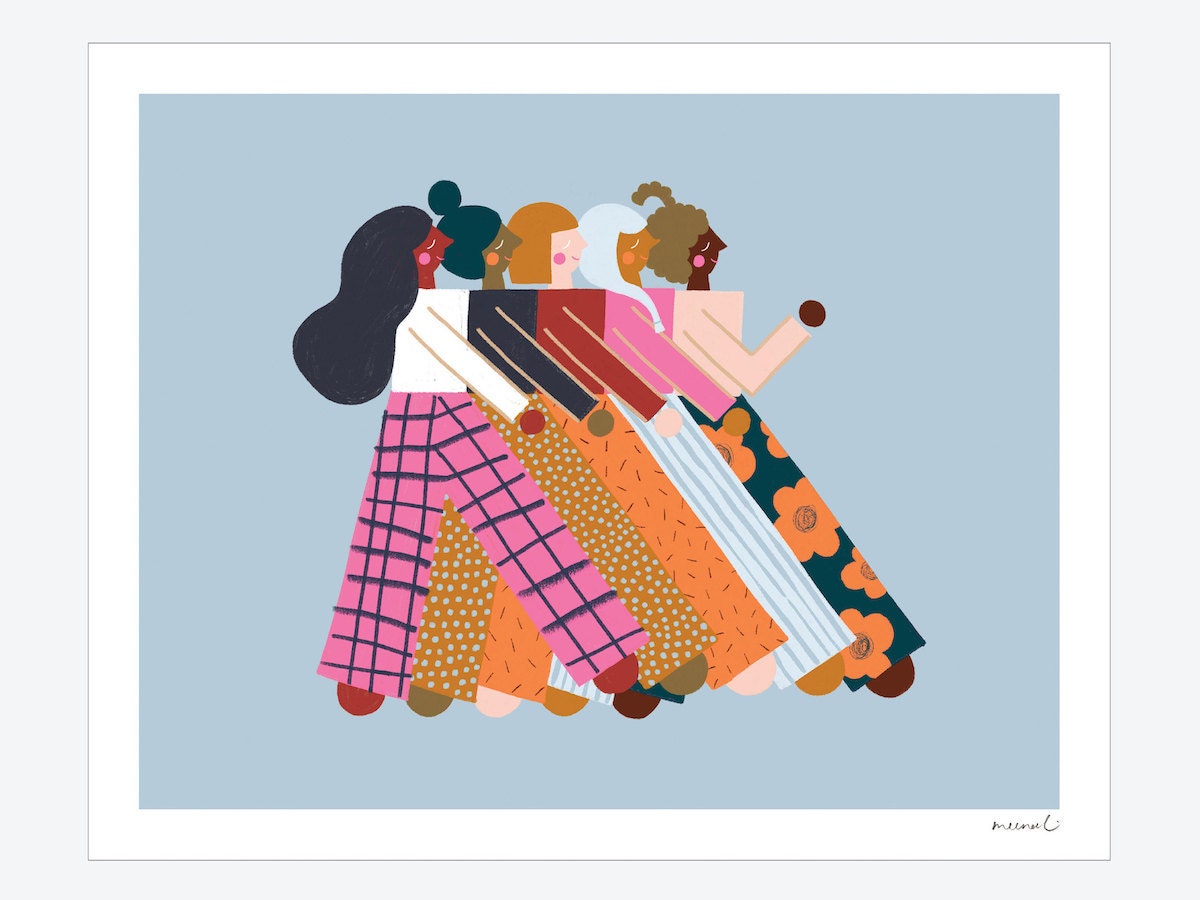 In our weekly Featured Shop series, we shine a light on a standout shop from Etsy's talented seller community, offering readers a behind-the-scenes look at their process and story.
Seeing yourself portrayed in pictures and books has the power to make you feel connected, confident, and courageous. For San-Francisco-based author and illustrator Meenal Patel of Meenal Patel Studio, creating that life-affirming experience for women and girls has become her personal mission. "I want them to see all the strength and beauty that they already have reflected back at them," she explains. Scroll through her shop and you'll be treated to a cheery collection of prints, books, and giftable goodies featuring ladies from all backgrounds holding hands, sharing meals, climbing mountains, and exchanging high fives—all in Meenal's signature palette of bold, bright hues.
Explore the Meenal Patel Studio collection
Drawing on her Indian-American heritage, her personal female role models, and her experience as a new aunt, Meenal tells relatable stories in a playful and inviting illustration style that resonates deeply with her global customer base, who proudly displays her work on their walls and bookshelves for a daily dose of encouragement. "I love applying my art to everyday objects that give people a little moment of joy, a little bit of extra color, and a little bit more hope," says Meenal. "I want to connect people, to make them smile, and to give them a way to celebrate who they are and what they love."
Read on to discover how Meenal infuses her art with positive reminders, then shop the Meenal Patel Studio collection.
How did you get your start in design and illustration? 
I worked at a design agency for ten years, and near the end of my tenure there, I self-published Neela Goes to San Francisco, which was based on a trip my niece took to visit me. The main character has her name and looks like her. The first time I read it to her, she was so excited to see a character that resembled her. That was a really impactful moment for me. Seeing her absolute delight, and witnessing first-hand how powerful it is to see yourself in art made me want to explore my illustration practice more. I decided to leave the agency and start my own business.
How did women and girls come to be a dominant theme in your work?  
I'm really drawn to the experiences of women and all the ways that their strength can manifest in the world. There are studies that look at the representation in children's books, and year after year, the numbers show that girls aren't represented as main characters as much as boys. It's important we balance that out. But just because my books and art focus on women, it doesn't mean they're only for women. I think everyone can enjoy them, and take inspiration from them.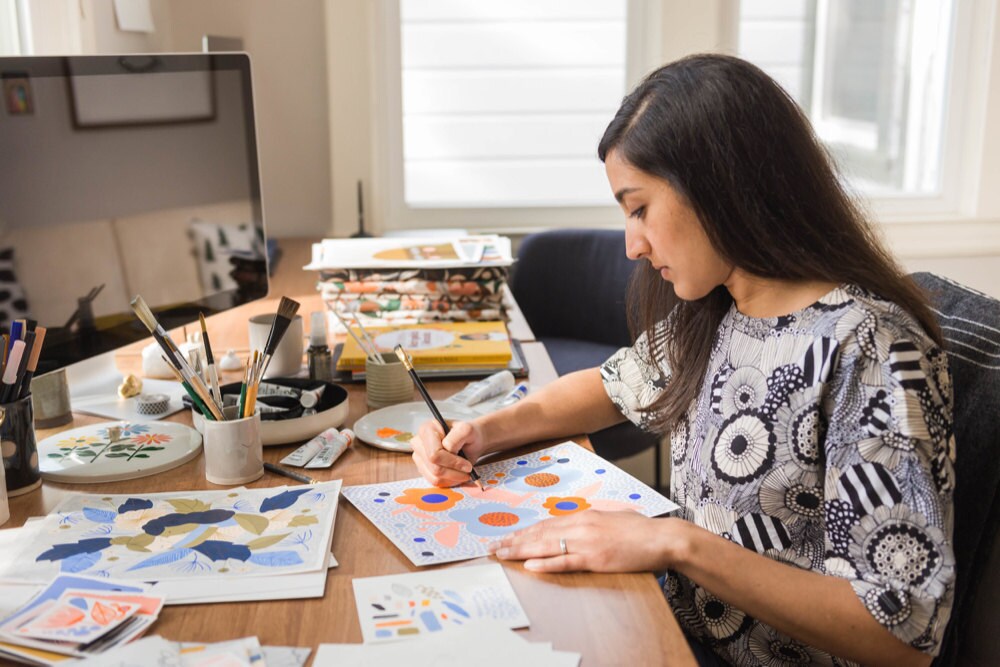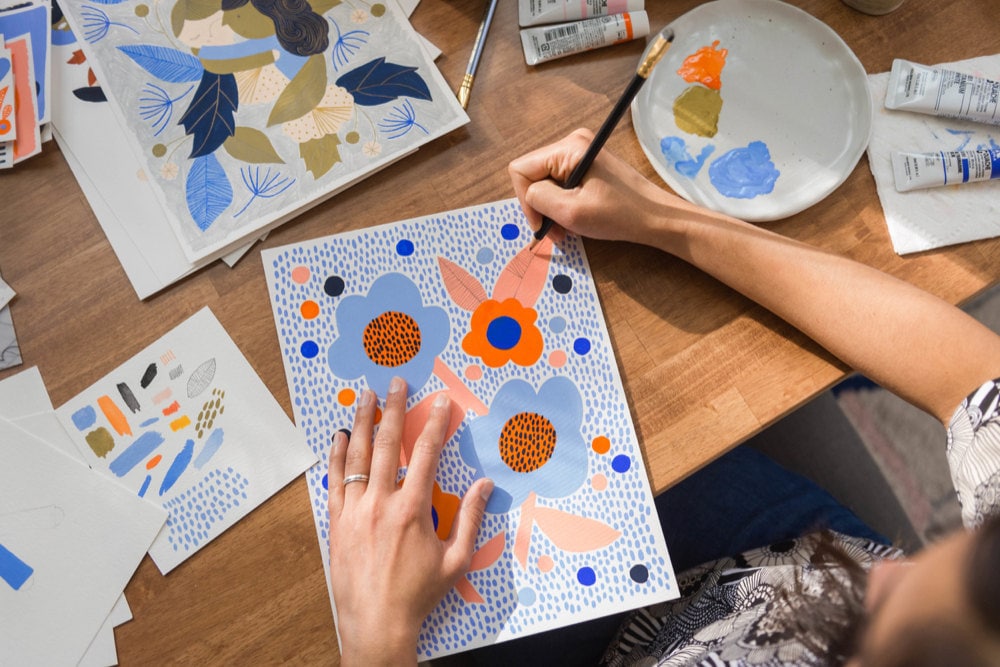 Can you tell us how your Indian heritage influences your work?
I was born in the United States, but my family is from India. Growing up, the children's books I read didn't have a lot of diversity in them. Looking back as an adult, it would have had an amazing impact on my confidence to see someone who looked like me in the media that surrounded me as a child. Now, I get so much great feedback from parents and their kids about my books. For children, it's so simple and sweet—they say things like, "That little girl could be me!" For the parent, knowing their child can see themselves in a story is really powerful.
What are some of your bestsellers?
The Women March On print is a popular one, as well as my Reading Girl print, and Hold Hands Together, which has been a top seller for a while. Also I've had a great reception for both of my children's books.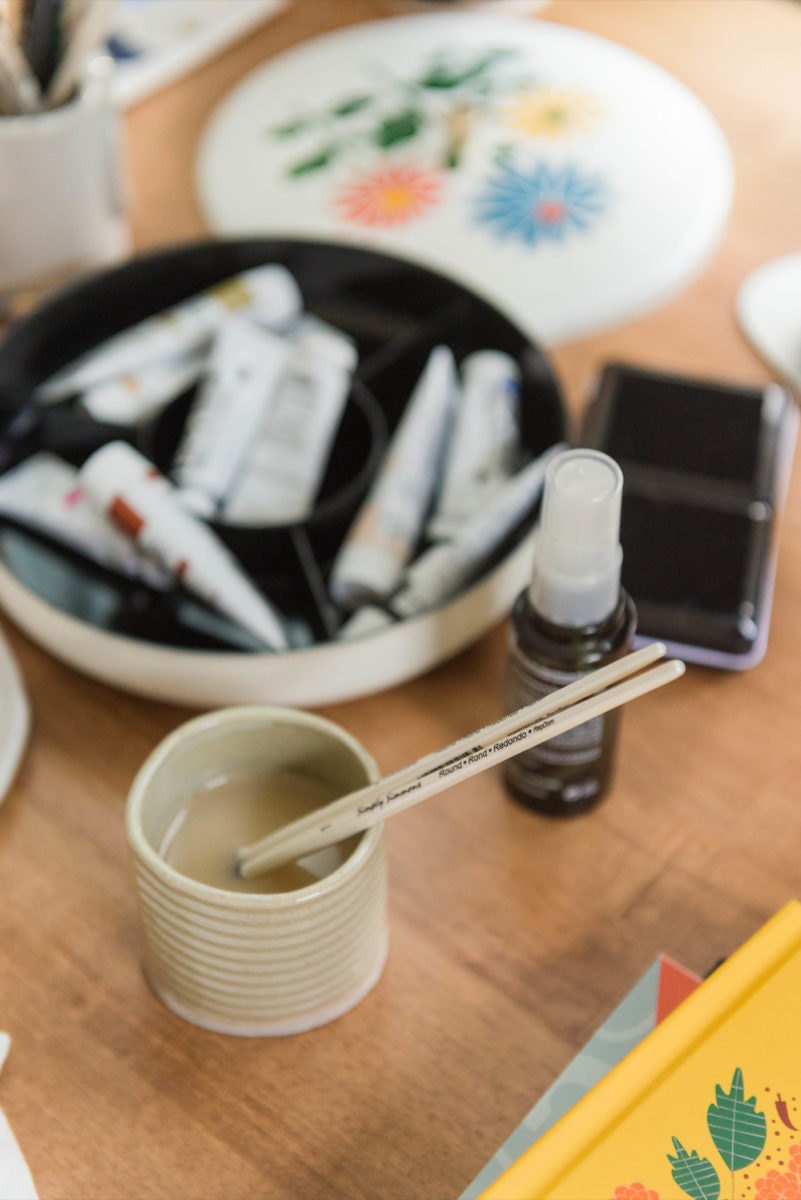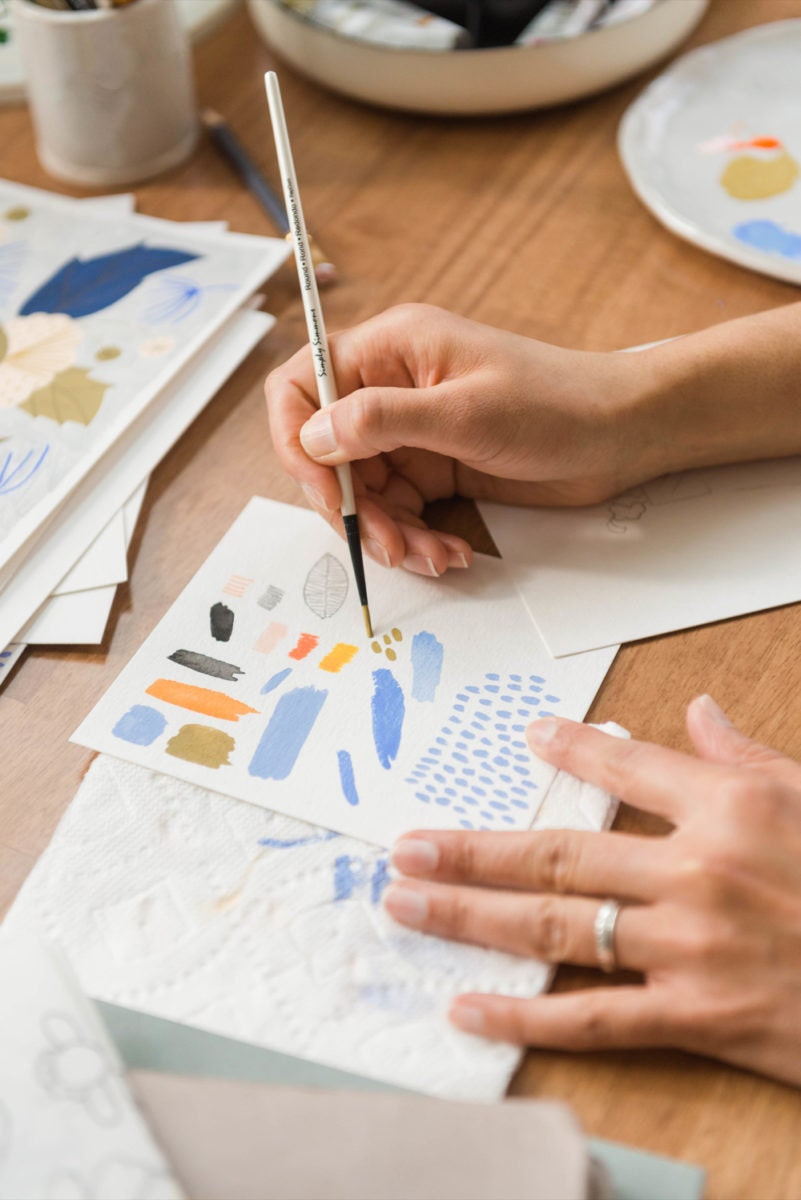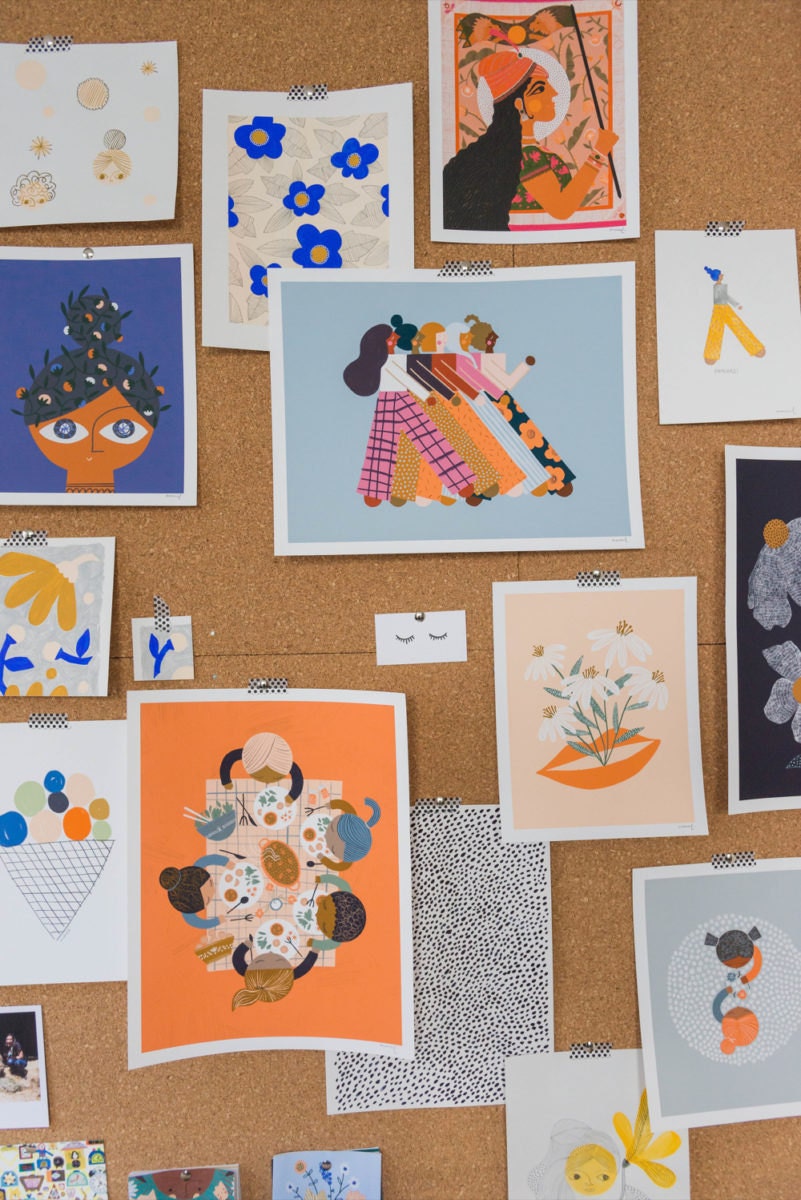 How do you envision your work being displayed? 
A few of my customers have told me they're buying them for their child's reading corner, which I think is such a sweet idea for one of my prints featuring books or readers. It's nice to be surrounded by beautiful things, but I also like to think about how those things make you feel when you see them or interact with them every day. What does that do to your mood, to how you're going to approach your day? When other people come into your home, those objects tell a story about you. 
How would you describe your aesthetic? 
You can see my love of graphic design in my work. I think my work is bold, and it has a friendly feel to it. I tend to infuse a little bit of nature into everything, because I'm so inspired by the different shapes, colors, and textures of plants and flowers. 
What's your creative process like?
I always start with a rough, tiny pencil sketch, then make a bigger one and keep tracing and refining it until I have line work I'm happy with. Then I do a few color studies to pick a palette. I paint with gouache, and I like layering that with graphite pencil and colored pencil, and then I also work digitally with a tablet. I think color can communicate so much emotion, and I love to create unexpected palettes. Sometimes, I'll intentionally mix two colors that I assume won't look good together. As I add in little touches and hints of the rest of the palette, it starts to work, and eventually it all hangs together.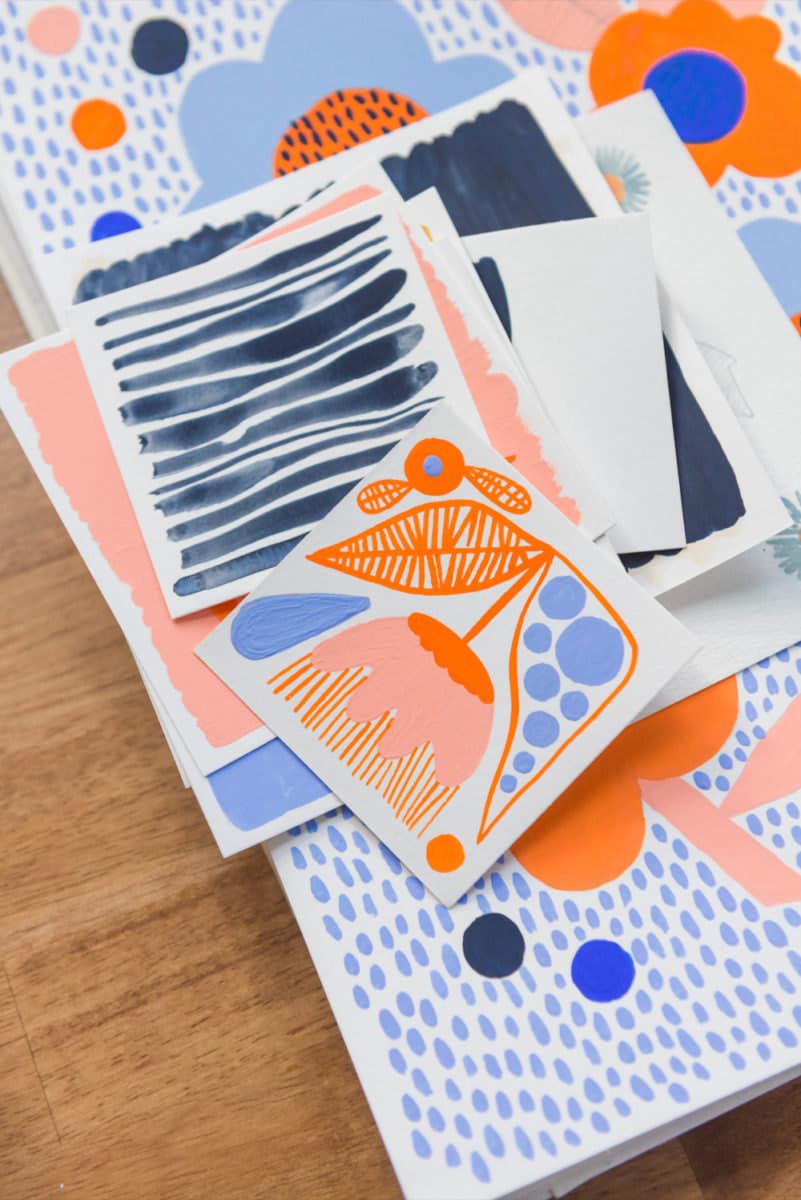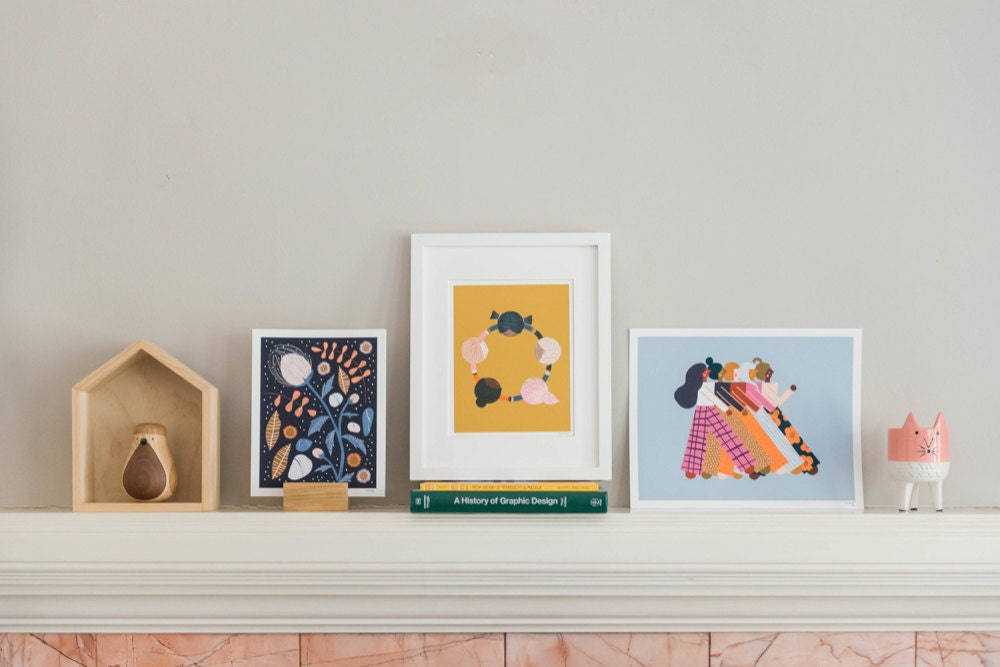 How do you develop the female characters featured in your books and prints?
When I'm making a book, I dive deep into who that character is, what they would do in different situations, all of their quirks, and the details about their personalities that make them who they are. It's about creating a multi-dimensional person, and thinking about how the words in the story connect to that person. In an art print, it's a little bit more free-flowing and spontaneous for each piece. It's almost like I'm discovering her as I'm drawing her. 
What do you love most about what you do?
The physical act of making art is a lovely, satisfying experience. It offers a quiet place to look inward. Everyone has difficult things happening in their lives, even if we can't see it, including me. When I make art, I try to untangle my difficult experiences and translate them into something joyful that I hope will give others a boost.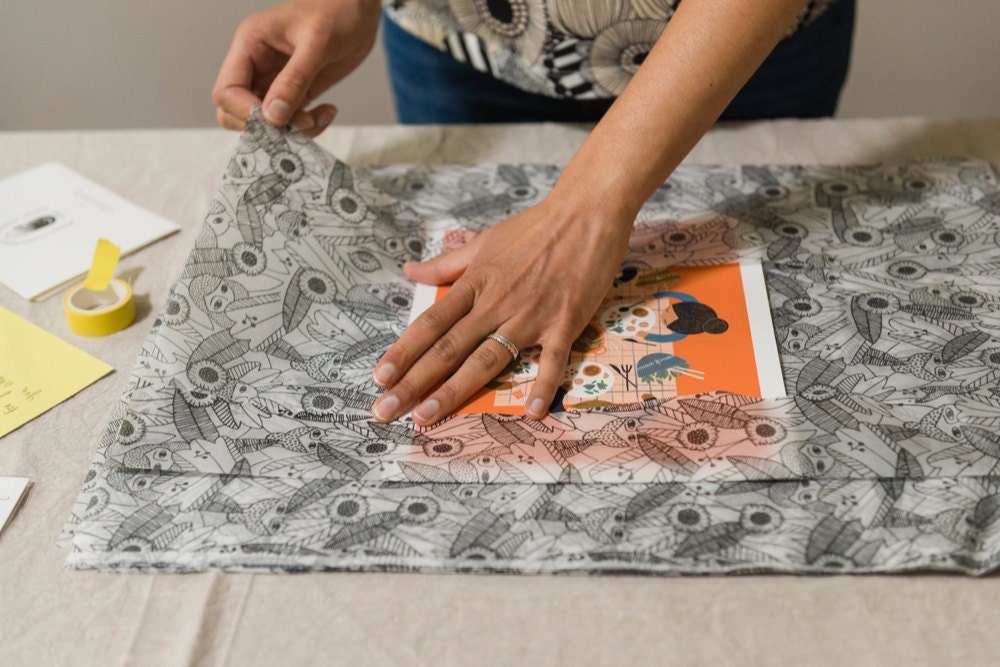 So, what's next for Meenal Patel Studio? 
I've just added a new set of prints to the shop, and I'm planning to list a few new types of objects printed with my patterns. I'm also illustrating a book for another author, which comes out this April. I just have so much fun drawing women, and groups of women, and women supporting women. It's a genuine expression of what I love to draw, and what I love to capture through art.
Follow Meenal Patel Studio on Instagram, Facebook, and Pinterest.
Studio photography by Nicole Morrison. Product photography courtesy of Meenal Patel.