by Valerie Rains
Organic shapes and sustainable materials set Melissa Tyson's dazzling jewelry designs apart.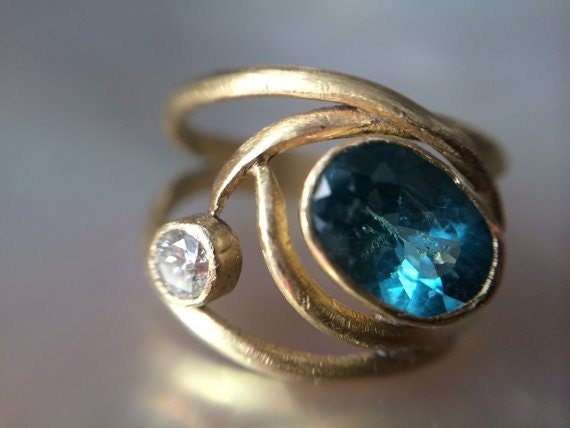 It's not everyone who finds her life's purpose at the tender age of ten. But for
Melissa Tyson
, the calling came early: While the other kids in her neighborhood dedicated their long summer afternoons to landing perfect cannonballs at the local pool, Melissa was scavenging nearby construction sites for colorful wire that she formed into bracelets and sold to sunbathers poolside. After nurturing her early creative impulse with a BFA in metal design from East Carolina University — and a slew of adventurous apprenticeships, from goldsmithing in Italy to making swords in Montana — Melissa found her niche fashioning perfectly imperfect jewelry from recycled metals and conflict-free stones in her Wilmington, North Carolina studio. We talked with Melissa about blacksmithing, butterfly wings, and how her work has evolved over the course of two decades.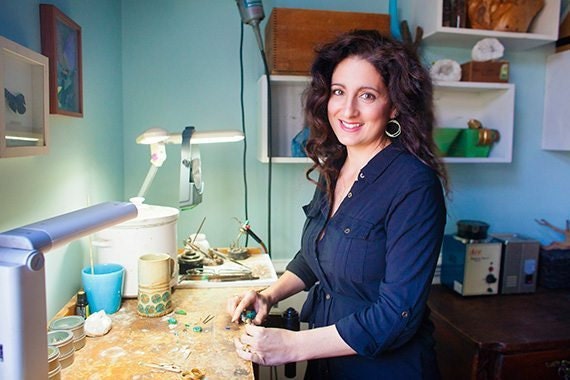 You've apprenticed with an Italian goldsmith, a female blacksmith, and a swordsmith in Montana, among others. What do you see as the value of this kind of creative mentorship?
Once I realized that making jewelry was without a doubt what I wanted to do with my life — basically, the second my hands touched metal in my first metals class in college — my whole goal was to learn from as many people as I possibly could. Every person has such a different way of teaching the craft of jewelry making, and I wanted the most well-rounded knowledge I could gain. And I still feel that way, like I could continue to learn for the rest of my life and never learn everything there is to know. Starting out, I was also very interested in trying things that were not necessarily women-driven crafts, like blacksmithing and swordsmithing; I wanted to see if I had what it took to do them as a woman. So I found a female blacksmith to apprentice with, doing really large-scale sculpture and wrought-iron tables and gates, and I worked with a swordsmith who was trained in Damascus. We created our own steel with iron ore pulled from the Montana mountains, and sometimes we'd get up to thousands of layers of steel in our Damascus blades. Ultimately, I realized that these ways of working with metal weren't what I wanted to do for the long term, but I was so thankful for the experience. I've always had a very sculptural element to my work, and I was able to scale down a lot of what I learned so that now I feel like
I make small sculptures for people's hands
.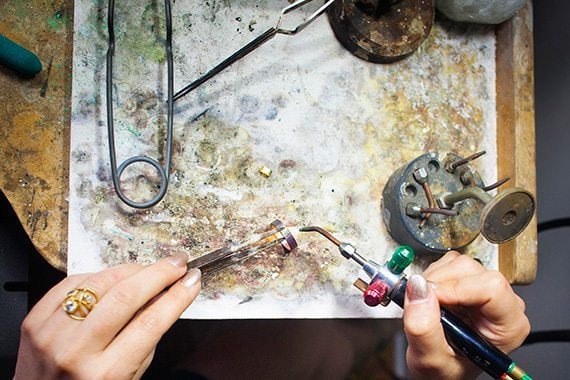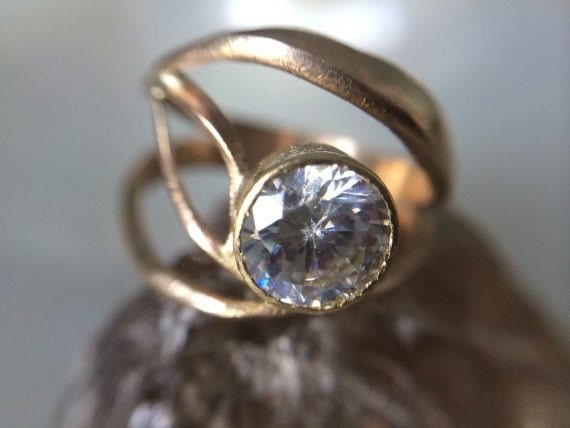 You've been making jewelry for twenty years. How has your work evolved?
To me, it's just become a more refined version of what my voice has been all along. When I was in school, craftsmanship was of the utmost importance, and everything that I made had to be polished to the Nth degree; but my work, in my heart, has always been very organic and free-flowing and free-form. I still see myself making the same style of pieces that I was making 20 years ago, but instead of being silver with a raw gemstone, now they're 18k gold with a diamond.
When did Etsy come into the picture for you?
I'd had friends tell me about Etsy for years, but I was hesitant at first to start
selling my work online
. I had always dealt with people face to face — I wanted to meet with people, I wanted to talk with gallery owners, I wanted to know my customers, and I didn't want to lose that personal aspect that I'd had for so many years. Finally, a few years ago, I launched my Etsy shop, and it has been the most amazing experience that I've had yet. I've been able to sell to customers all over the world and still feel the personal connections, even though all my custom designs are worked out online. I still get to be a part of my customers' surprises and I still get to hear their stories and design for them personally. And it's given me an international presence that I never dreamed that I could have.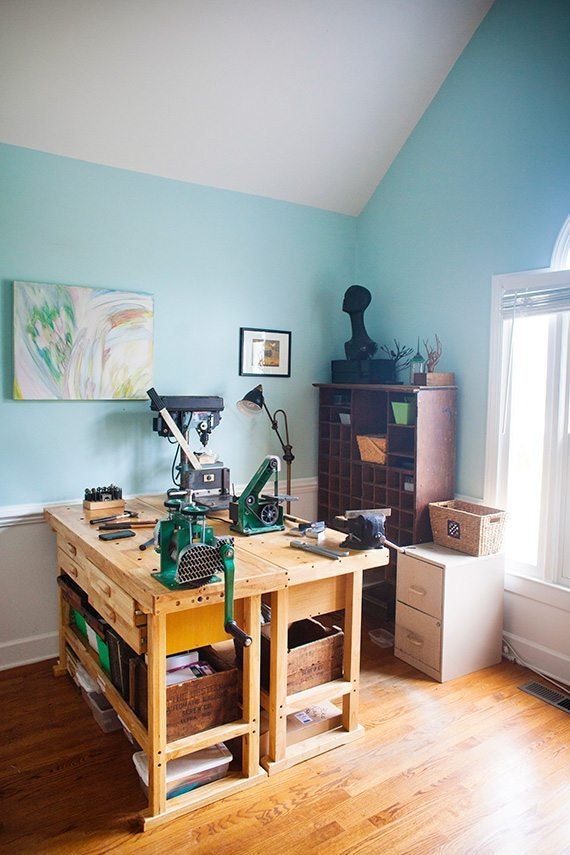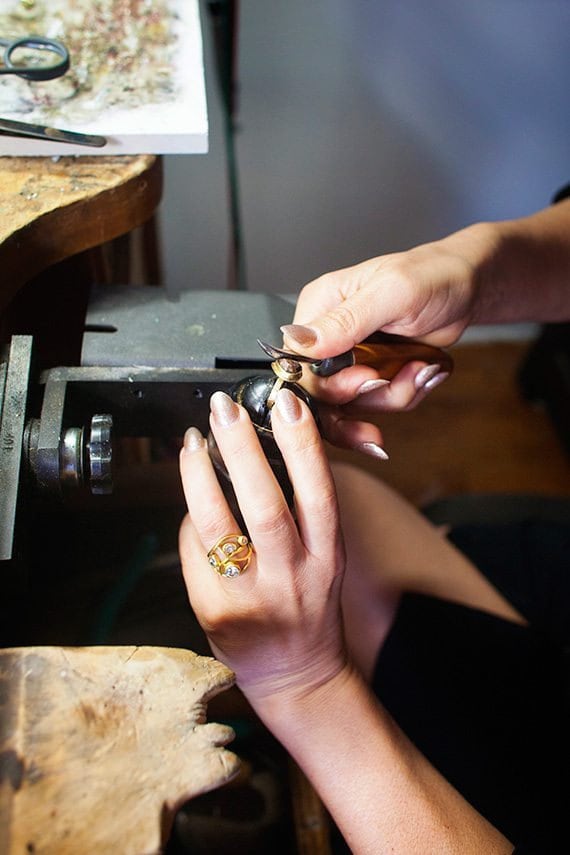 What inspires you most in your work?
Repetition in nature is really inspiring to me — the patterns in butterfly wings, for example. Plus, I have always been fascinated by butterflies in general: I will literally sit in front of a jar to watch a cocoon hatch. I'm amazed by the whole process of transformation, and I feel like a lot of my pieces reflect that idea of metamorphosis. I also see elements of the patterns and shapes of butterfly wings coming out a lot in the jewelry that I create.
Do you have a favorite jewelry item to make, or a favorite material to work with?
Yes!
My split-band engagement rings
are the most exciting for me. And it's funny, when I first started selling online, I thought I needed to make some more basic pieces to appeal to a broader range of people, but the designs that I'm the most passionate about are the ones that people buy the most of. That has been so incredibly encouraging, and a good reminder to be true to the voice that's in my heart and to my own design style.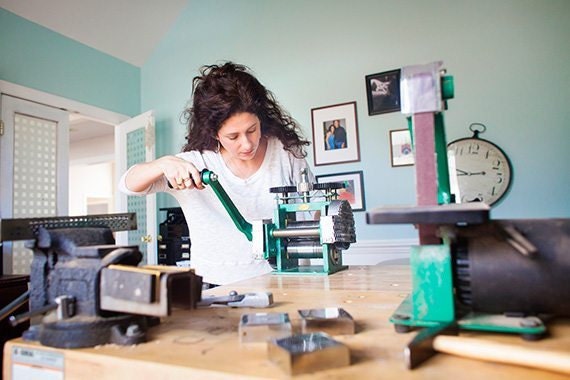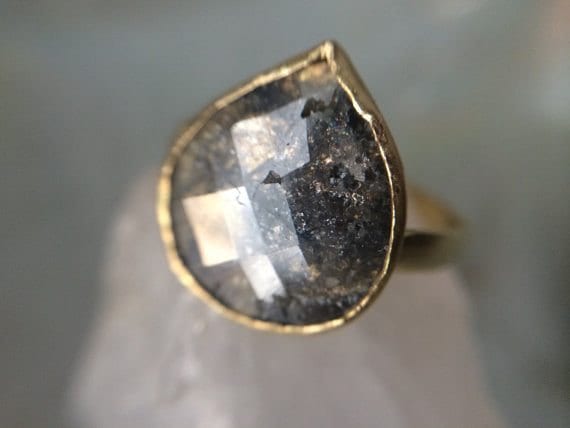 What's your design process like? How do you go from inspiration to finished product? 
I start with sketches, mainly because when you're doing custom orders online, it's comforting for your client to see some concrete design ideas before you begin. But I'm actually so hands-on that I see my work as sketching in metal; I begin with the raw metal, sometimes even recycling it down myself in the studio, and I mill it out and roll it into the shapes that I need to start with for my stock. Then I start to cut and form and basically sculpt it in-hand — that becomes sort of a living sketch for me. A lot of times I have a direction, but I don't know exactly how the piece is going to come out until I start forming and putting the stone down and making sure that there's a really fluid design and composition.
What part of your job gives you the most pleasure?
Manipulating metals — I love torch work, I love hammering, I love shaping, and forging is probably my favorite. I just love to make something do what you don't think it should be able to do. I love to make really fluid and organic shapes come out of metal that looks like it should be very static and still and hard; I love to push the limits of what metal itself can do.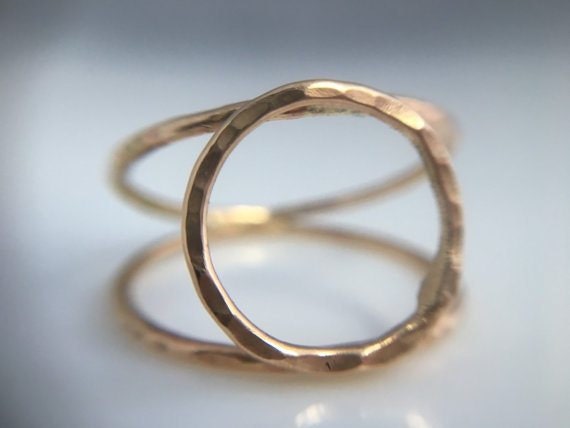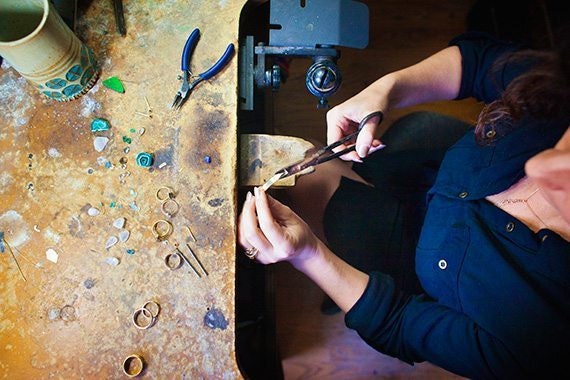 You've said that, to you, "Craftsmanship is about excellence, but not perfection; by leaving small marks of the work-process of forming, forging and soldering, the hand-made quality of crafting remains visible. A reminder that our human flaws and imperfections are engulfed with beauty, yet real." I love that idea! Will you talk a little bit more about that?
I feel like that's the state of human nature: that we're all flawed, but there's so much beauty to be seen. I have a friend who's an old-school jeweler, and he cracks me up — every time he sees my work he's like, "Oh, I just want to get my hands on that and polish it right up!" And I'm like, "No, don't you touch it, don't you dare polish it!" Because that's so much a part of how I see people, and how I see life, and how I see my own jewelry. I believe that the craft is there, the skill is there, and the workmanship is there, but I love the realness of leaving some hammer marks or some little dings here and there; it adds so much character to the piece and makes it look loved and worn. I've always seen beauty in flawed things — whether it was flawed people or castaway pieces of driftwood — that's just how I'm wired. But I like it to be real, too.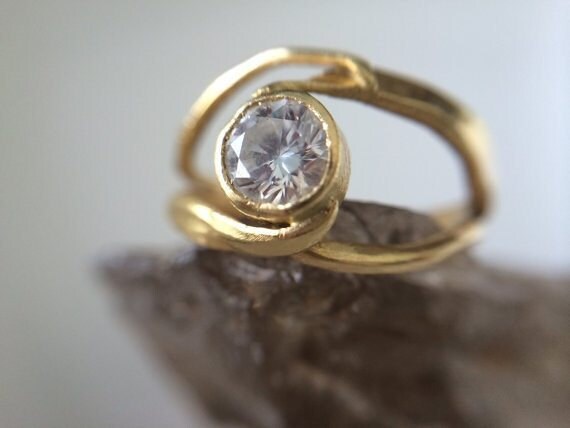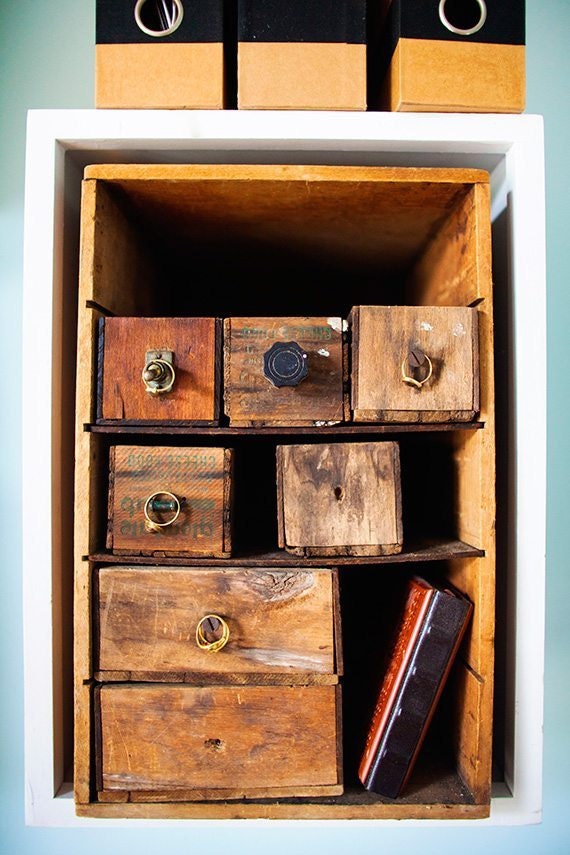 What's next for you? Do you have any new developments on the horizon or goals for the future that you'd like to share?
This past year has been such a huge launch for me: I've been published in
Vogue
, which I'd dreamed of my whole career, and in
Brides
magazine, and I've been able to continue serving as a designer and consultant for the relief organization Made by Survivors, helping to create and grow a job-training jewelry design program for survivors of human trafficking, a cause that is very important to me. I feel like I'm already living a dream right now, and I can't imagine it being better than it is. So my goal for this year is simply to work smarter, and not harder. I hired my first employee this year so that I can spend more of my time on the parts of my business that I love, and be fully present with whatever I'm doing at that moment — whether it's making jewelry or spending time with my kids and my husband.
Follow Melissa Tyson Designs on Instagram, Pinterest, and Facebook.
All photographs by Matthew Ray.