For gemstone-loving metalsmith Stephanie Maslow-Blackman, jewelry is more than a means of adornment—it's a platform for celebration and storytelling.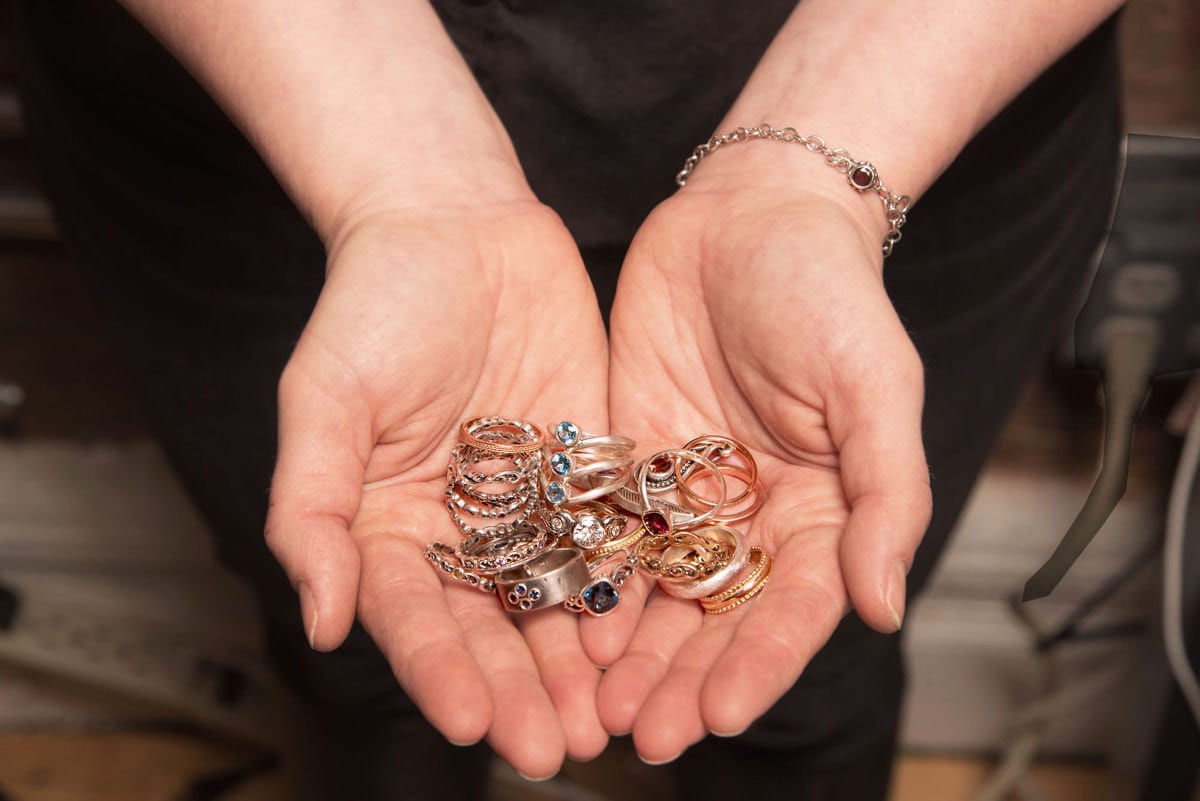 If you ever find yourself anxiously wondering whether you've somehow missed your true calling in life, take heart: These things have a way of catching up to you. Just ask Stephanie Maslow-Blackman, the gemstone-loving New York-based metalsmith behind
Metalicious
. In 1995, Stephanie was working a "boring job" in media production when she wandered into her local art school, hoping to channel her pent-up creative energy into a pottery class. "The pottery class was full but I was desperate," Stephanie recalls. "I was like, 'I'll take whatever you have.'" And just like that, she found herself enrolled in metalsmithing. "From the minute I held that saw in my hand and started cutting into the copper, I was hooked," says Stephanie. "It just fulfilled me. It's like this is what my hands were made to do: I was born to make jewelry." It sounds meant to be, but one might wonder: What if the pottery class hadn't been full? Would Stephanie have missed out on jewelry making entirely? "I firmly believe that you can't keep your passions hidden for long," says Stephanie. "They find a way out of you one way or another. Jewelry would have found me eventually—I know that in my heart." Read on to learn more about how Stephanie turned her passion into a business, and
shop the collection
.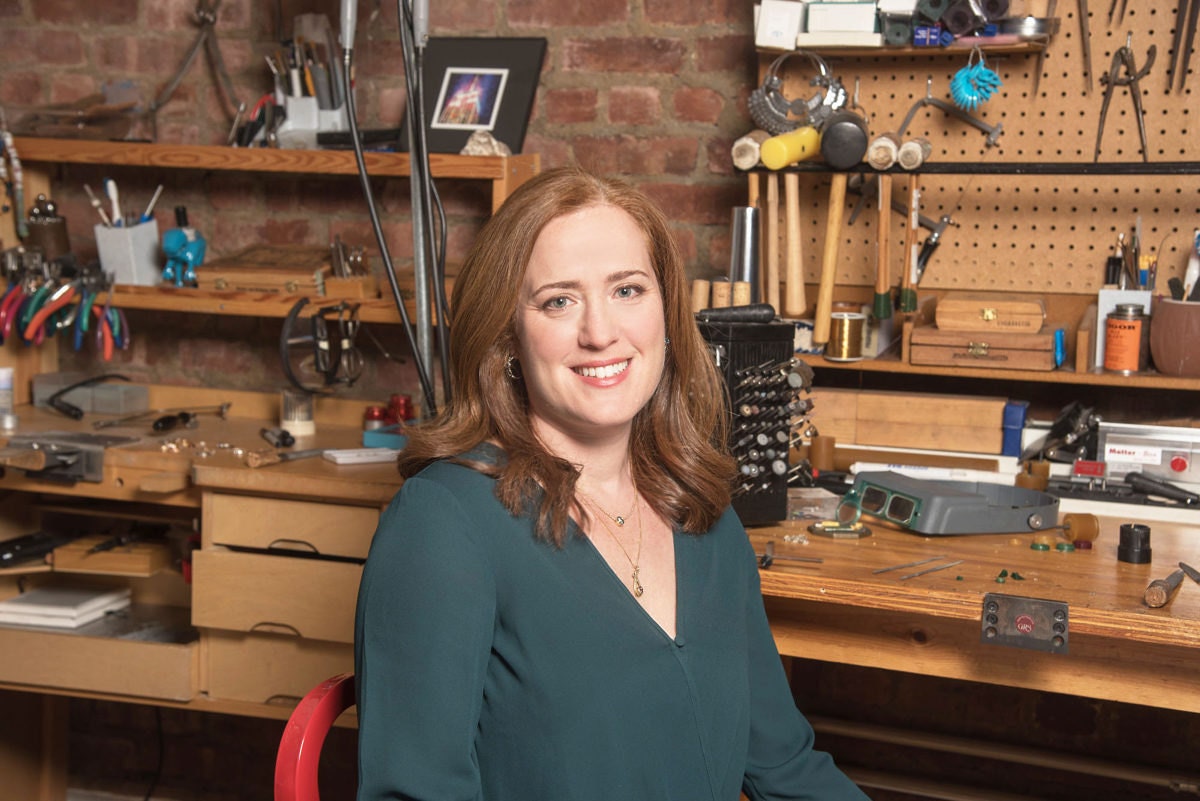 How did you go from falling in love with jewelry to becoming a full-time jeweler?
Once I enrolled in that class, I became obsessed with jewelry making and would talk about it all the time. My friends were finally like, "You know what? We're really sick of hearing you talk about it. Go do it." So I found a job working for another designer. It was a really tiny company and I did everything from
gemstone
buying and customer service to working with the designers and working in production. Along the way I learned a lot about how to run my own business. After that I felt like I needed a new kind of challenge, so I got a job working for a big jewelry company here in New York. It was a completely different experience—I went from making these exquisite, beautifully handcrafted pieces, to this factory-made, mass-manufactured, kind of soulless jewelry. That job had some challenges that I loved, but it also taught me a lot about what I didn't want when I opened my own company. When you're at that size and scale you lose out on working directly with your customers, and you lose sight of what the jewelry is about.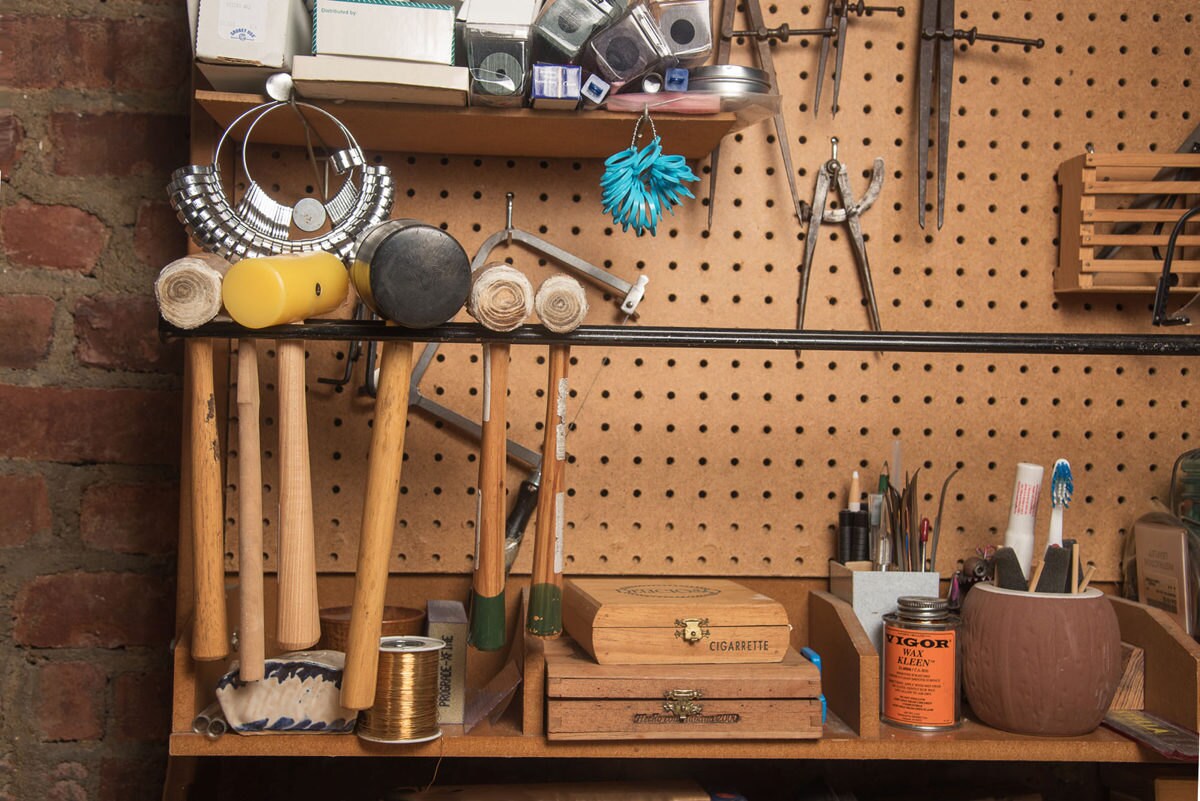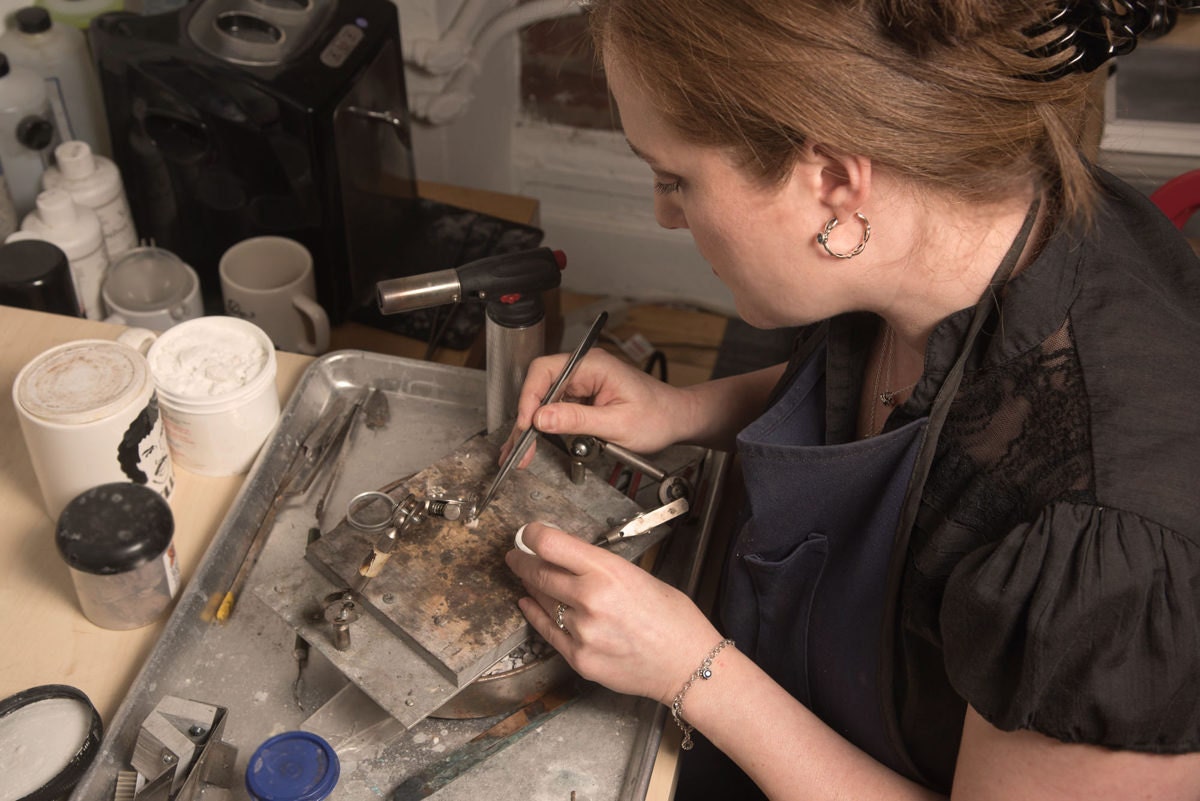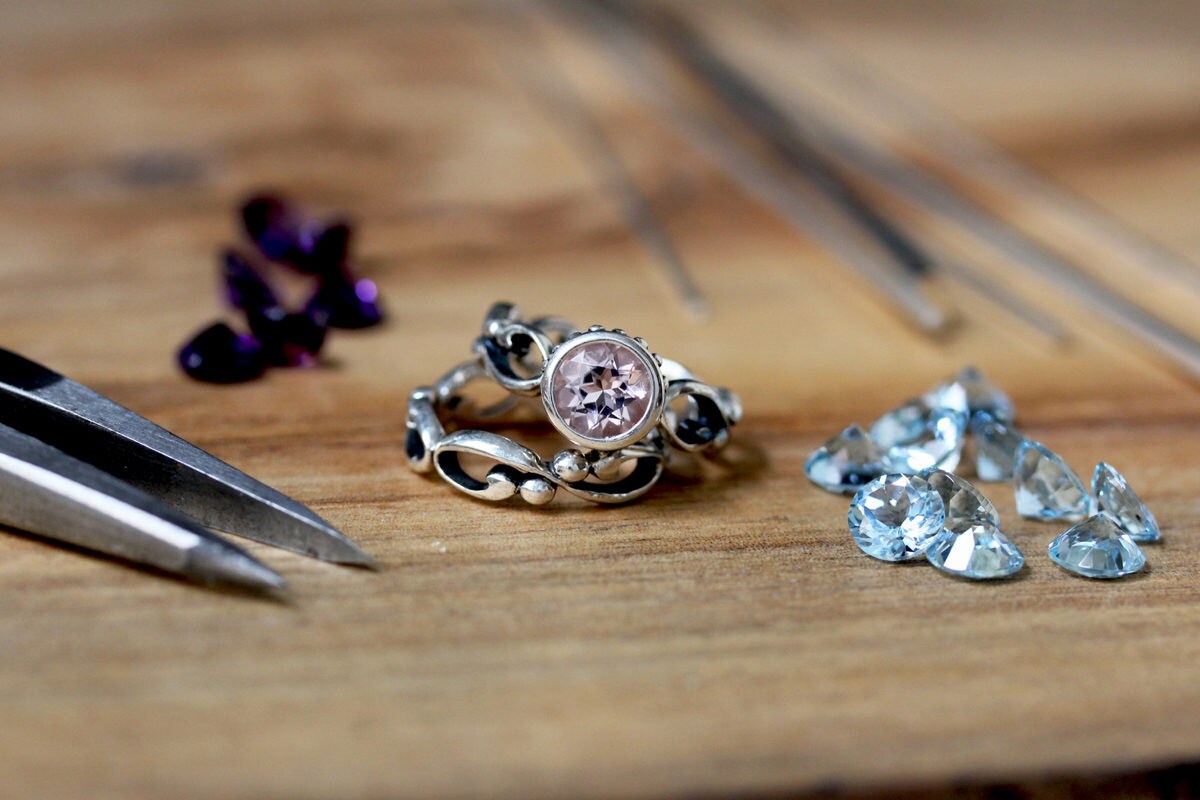 When did you decide to open Metalicious?
After I had my first son 12 years ago, I wanted to slow down. That's when I opened
Metalicious
. I set up this tiny workbench in a corner of my bedroom and I would work when my son was sleeping. I worked every minute that I could to build up inventory for craft fairs. It was at one of those craft fairs that a customer told me I should be selling on Etsy. I was like, "What the heck is Etsy?" When I got home and went to Etsy it was like: Oh my gosh, these are my people. It was such a wonderful community that understood the value of making something thoughtfully—one piece at a time, with your hands, from your heart. It was just the perfect fit for me.
Your collection is so beautiful, but also so varied.  What do you think draws people to specific pieces?
I started making jewelry to give people a way to tell their stories through these tiny sculptures, these little pieces of art that you wear. I take what I've learned through my different life experiences and it comes out through my jewelry, and I think that really resonates with my customers. At first they may not know why a piece has called to them, but then they explain what they're going through, and it makes total sense—it connects to their story. I'm telling you, there's always a story behind why people buy jewelry. It's not just because it will go well with a dress, there's something they want to celebrate in one way or another.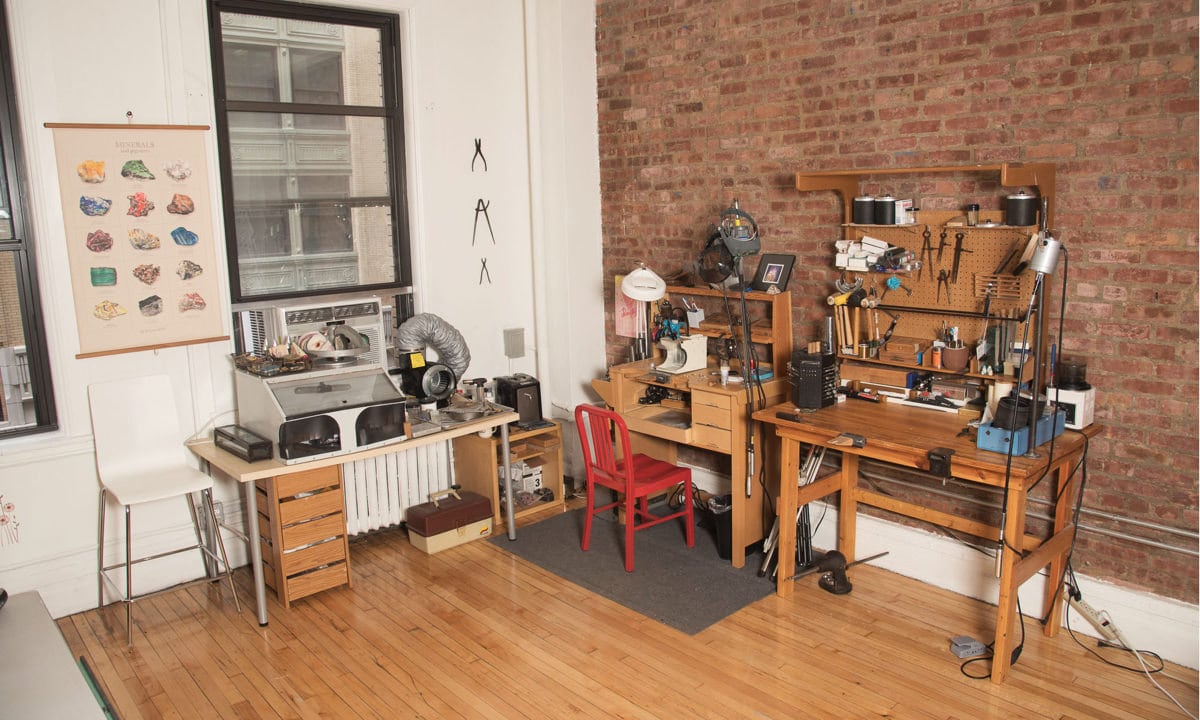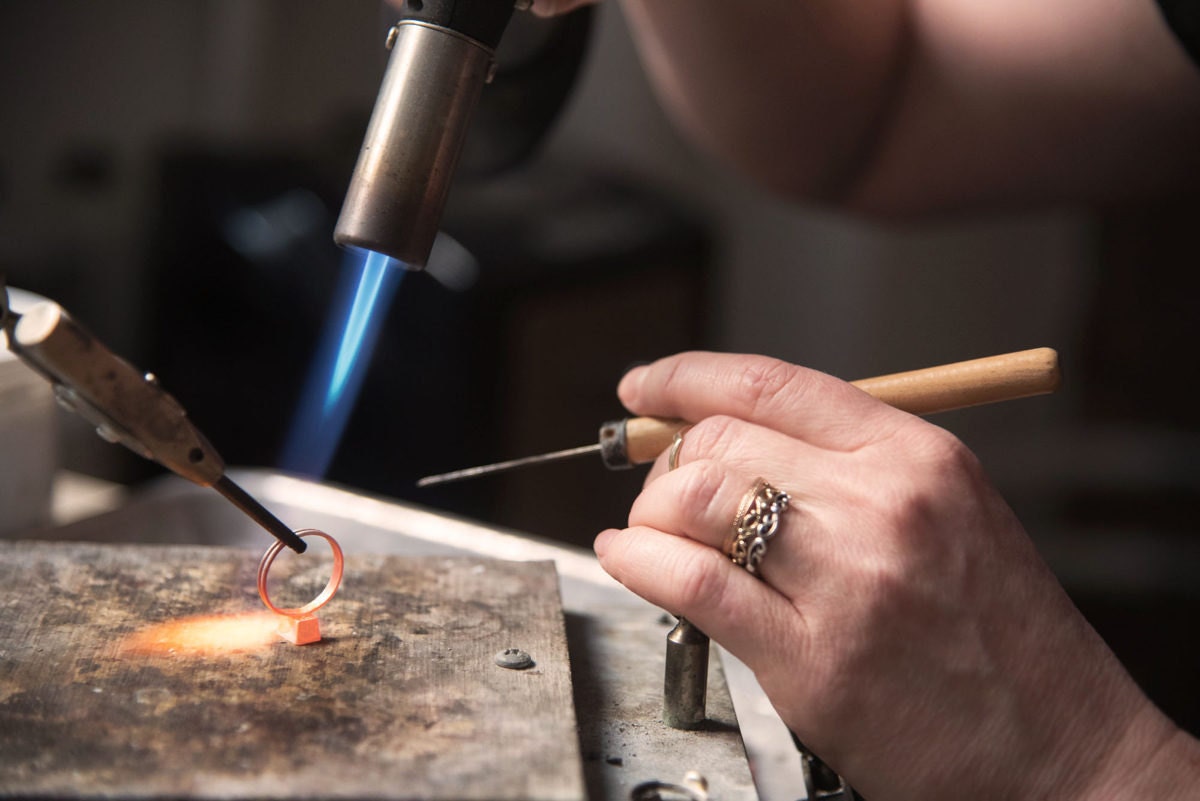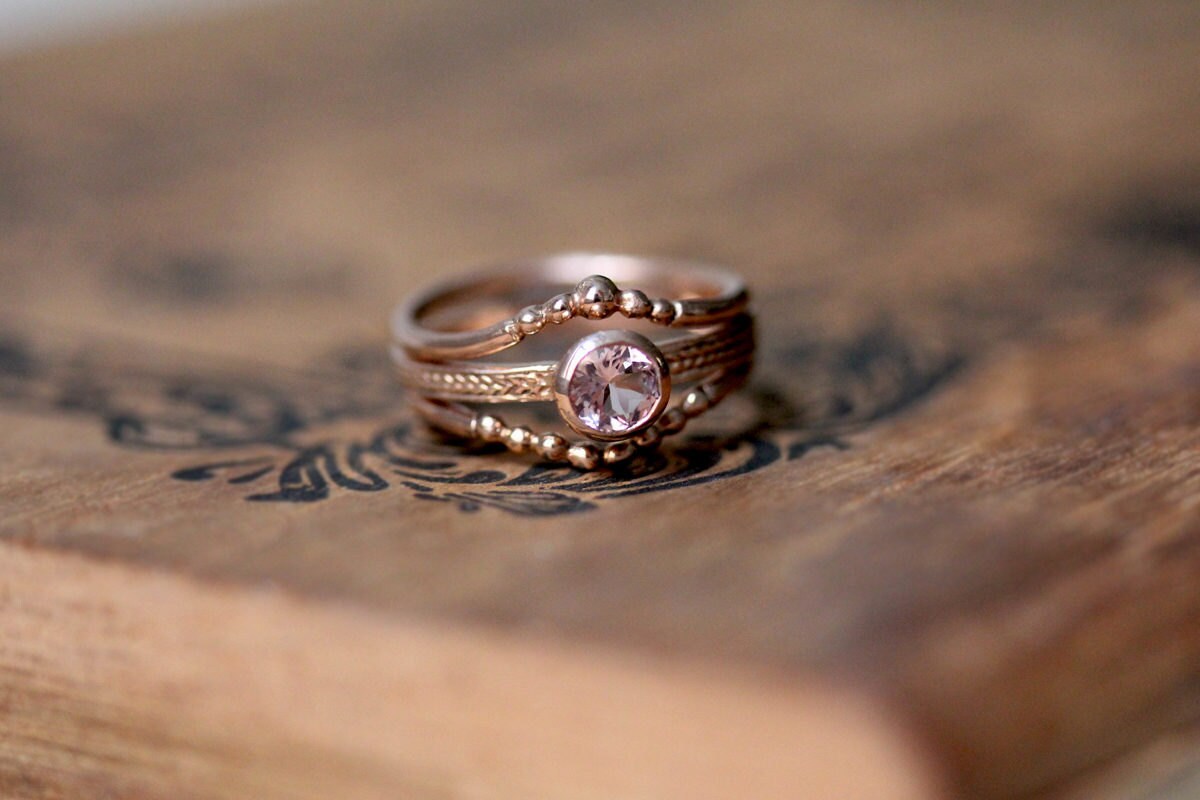 How did you branch into wedding and engagement rings?
All of my metals are recycled, and I don't use diamonds in my work—I use ethically sourced gemstones. Eventually, people started contacting me because they liked my rings as alternative, non-diamond
engagement rings
. These people were telling their stories too, and they were stories about being eco-friendly, about having an ethical
wedding
, about not contributing to the downfall of the environment. It was this huge "aha" moment for me, and working with couples to create unique, alternative engagement rings and commitment bands became a huge part of my business. It's a beautiful thing to be a part of someone's forever.
Speaking of gemstones, what's your favorite stone?
That's like naming my favorite child, but I'd have to say, I love
rainbow moonstones
. They're such a beautiful, meaningful stone. Moonstones represent new beginnings, and ancient Romans used to say that moonstones were drops of moonlight, which I think is such a beautiful image. I love how they're ever-changing; they can show this beautiful range of color that you can't get in any other stone.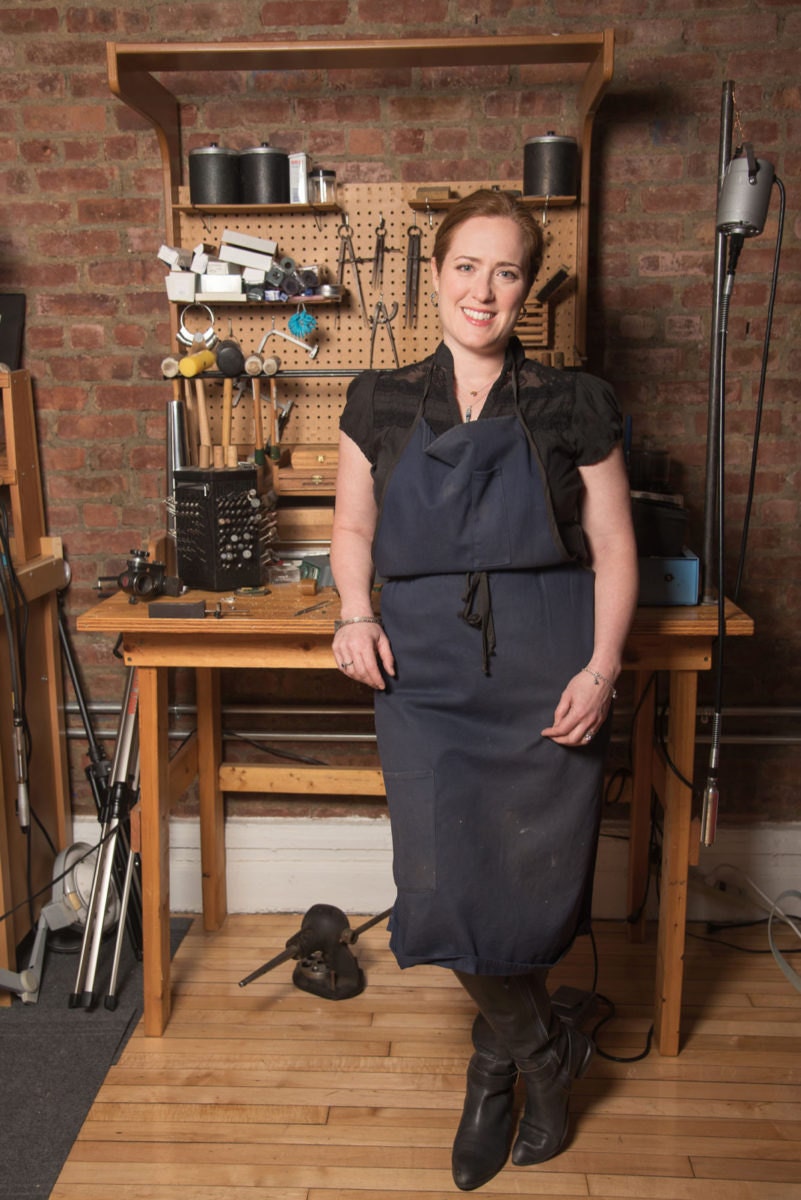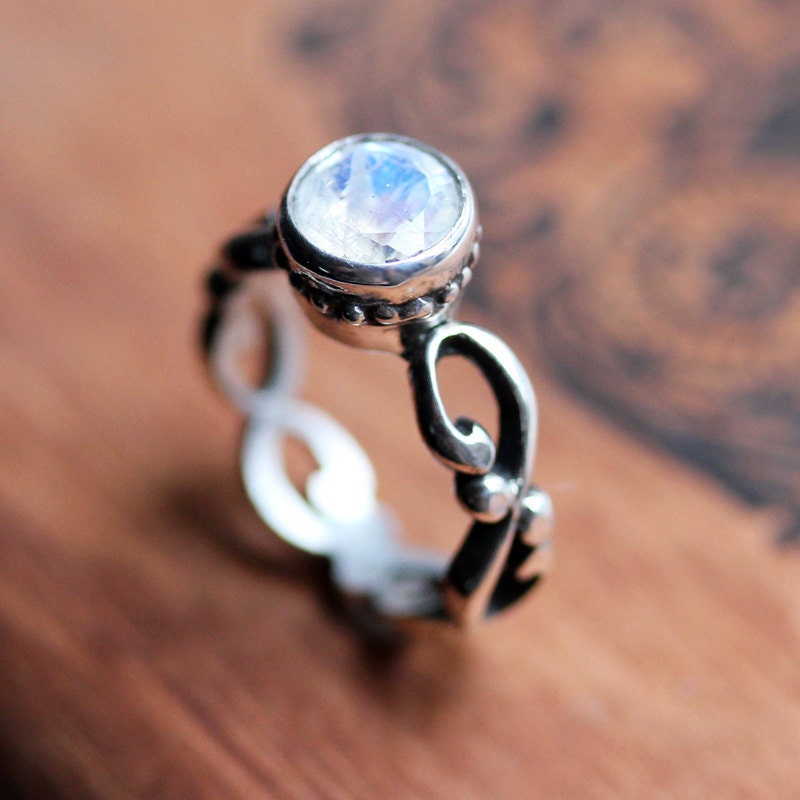 What trends are you seeing right now for gemstone jewelry and commitment bands?
Rainbow moonstones are definitely hot. I also work with this cool stone called
moissanite
. It's a manmade stone from North Carolina. It's clear, but it has more sparkle than a diamond. It's got these little bits of rainbow flash that are beautiful. You can see it sparkling from across the room. It's ethical and it's eco-friendly, and it doesn't cost anywhere near what a diamond would cost. I'm also seeing people moving toward more natural forms. I have a ring, my
pirouette
ring, which is one of my best sellers. I think people love it because it literally is a tiny sculpture—you can look at it from every angle and it has movement. It's so natural and organic—I think people are looking for things that are a little less geometric now. And
rose gold
! Rose gold and rainbow moonstones
together
are mind-blowing. You'll look at it and you will weep because it's just such a beautiful combination.
Follow Metalicious on Facebook, Instagram, and Pinterest.
Photographs by Andrea Buman and Metalicious.