Bold patterns, tropical textures, and jungle-chic motifs characterize this line of nature-inspired earrings, necklaces, and brooches.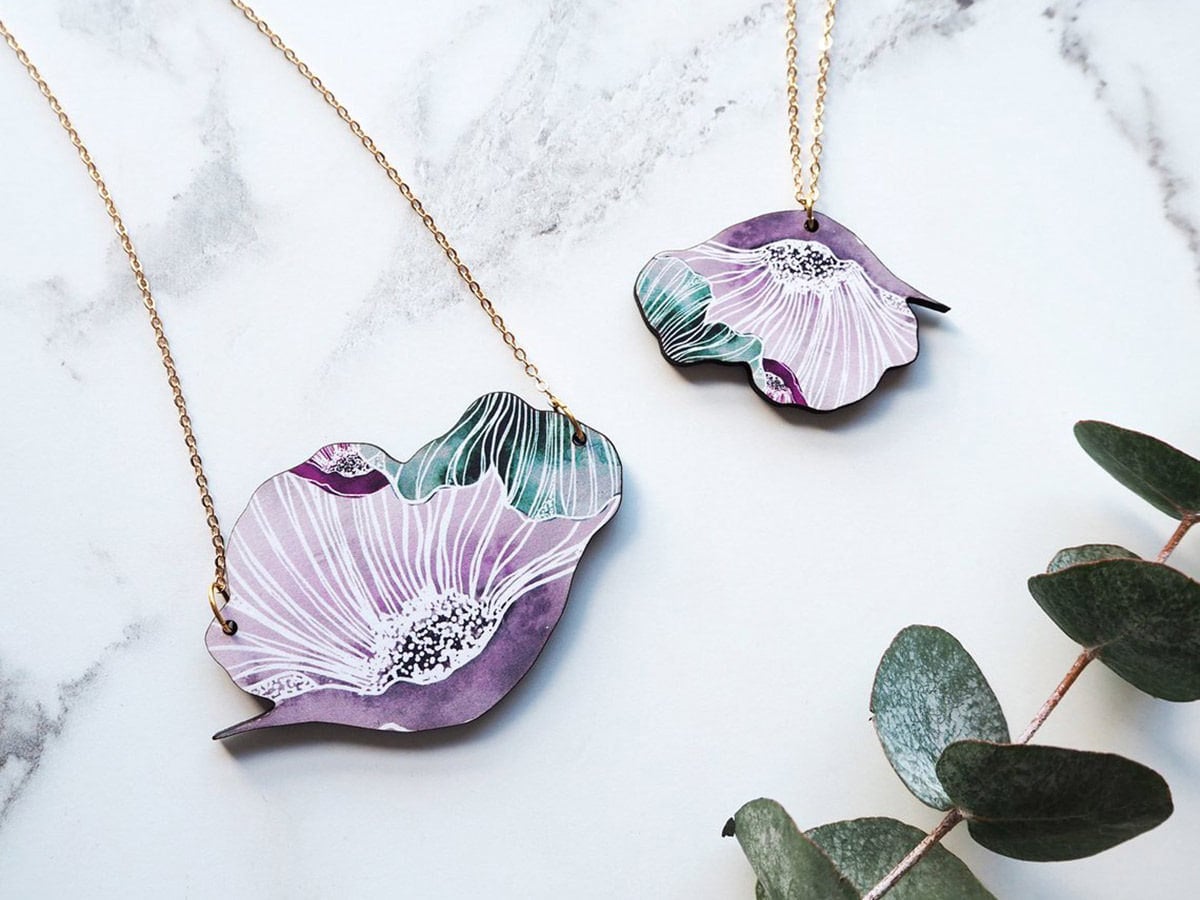 In our Featured Shop series, we shine a light on a standout shop from Etsy's talented seller community, offering readers a behind-the-scenes look at their process and story.
Botanical forms and geometric motifs echo throughout Mica Peet's line of modern, textural jewelry in the fronds of gold-plated palm leaf pendants and the speckled surfaces of terrazzo statement earrings. From her sunny, jungle-like home studio in Southsea, England, Mica spends her days drawing inspiration from a growing collection of house plants—the exotic shapes of which have sprouted some of her most tropical, wanderlust-inducing designs. Based on her own original illustrations, Mica's stylized earrings, brooches, and necklaces layer together a unique mix of laser-cut materials (think lightweight wood and assorted metals) to universally delightful and effortlessly wearable effect.
A trained textile designer, Mica applied her expertise in print-making to jewelry six years ago—and the result is an eclectic collection defined by cheerful repetitions of color and pattern, with fun, organic shapes to suit every taste. "I have customers that range from 15 right up to 80 years old," says Mica. "I think because I've got quite a lot of different styles, they do appeal to quite a broad range of people." Which one speaks to you?
Read on to learn how a lifetime of travels—and a world of fascinating plants and animals—has influenced Mica's art, and shop the Mica Peet collection.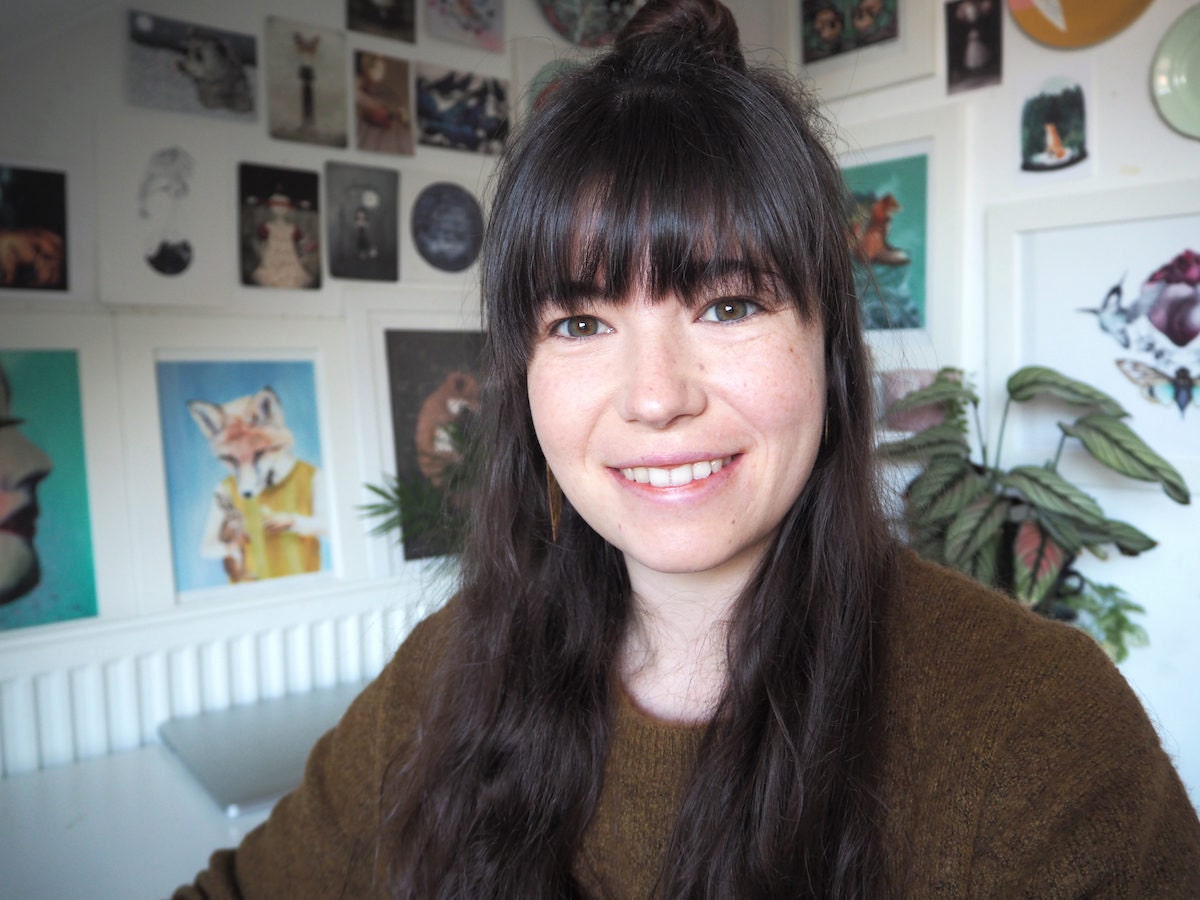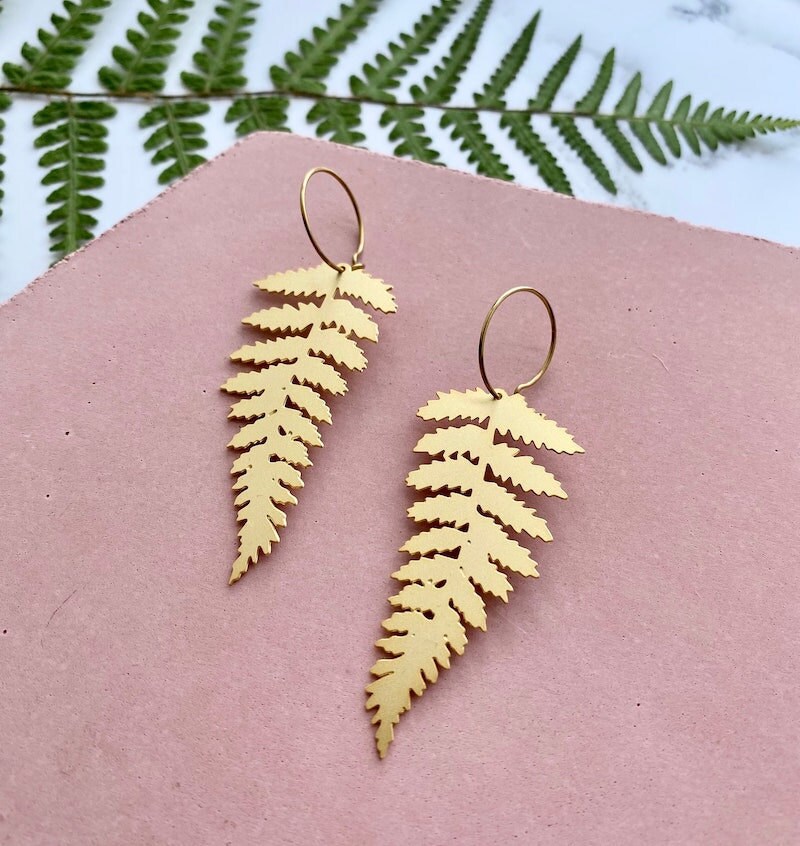 SHOP: Fern statement earrings from Mica Peet, $34
How did you start selling jewelry?
I went to university to study fashion textiles, and in the third year, we had a project where we had to come up with a different product and sell it in a pop-up shop to raise money for our degree shows. I made about 20 pieces of jewelry and it all sold out on the first night. People obviously liked it, so I decided to open my Etsy shop to help fund my final year of school. After I graduated, I struggled to get a proper job in design, so instead I put all my energy into to turning jewelry-making into a full-time business. Luckily, it worked!
What made you pick jewelry, specifically, for the pop-up?
I've actually been making jewelry since I was about 12. My parents taught me how. My mom is very creative and she used to make jewelry and sell it in a gift shop, so growing up I would make little pieces and sell them there for pocket money.
How has your product line evolved over time?
I started off with lots of heavily printed pieces, and then over the years I've gradually introduced the use of metal work. I've incorporated my own custom-cut brass designs with some of the patterned pieces, and I've recently begun making just-gold jewelry as well. I also have pieces made from brass and gold-plated brass, like the palm leafs and the monsteras, and rose-gold-plated metals as well, like the moon designs. Today I've got a nice, balanced mix of printed pieces and pieces with metallic detailing.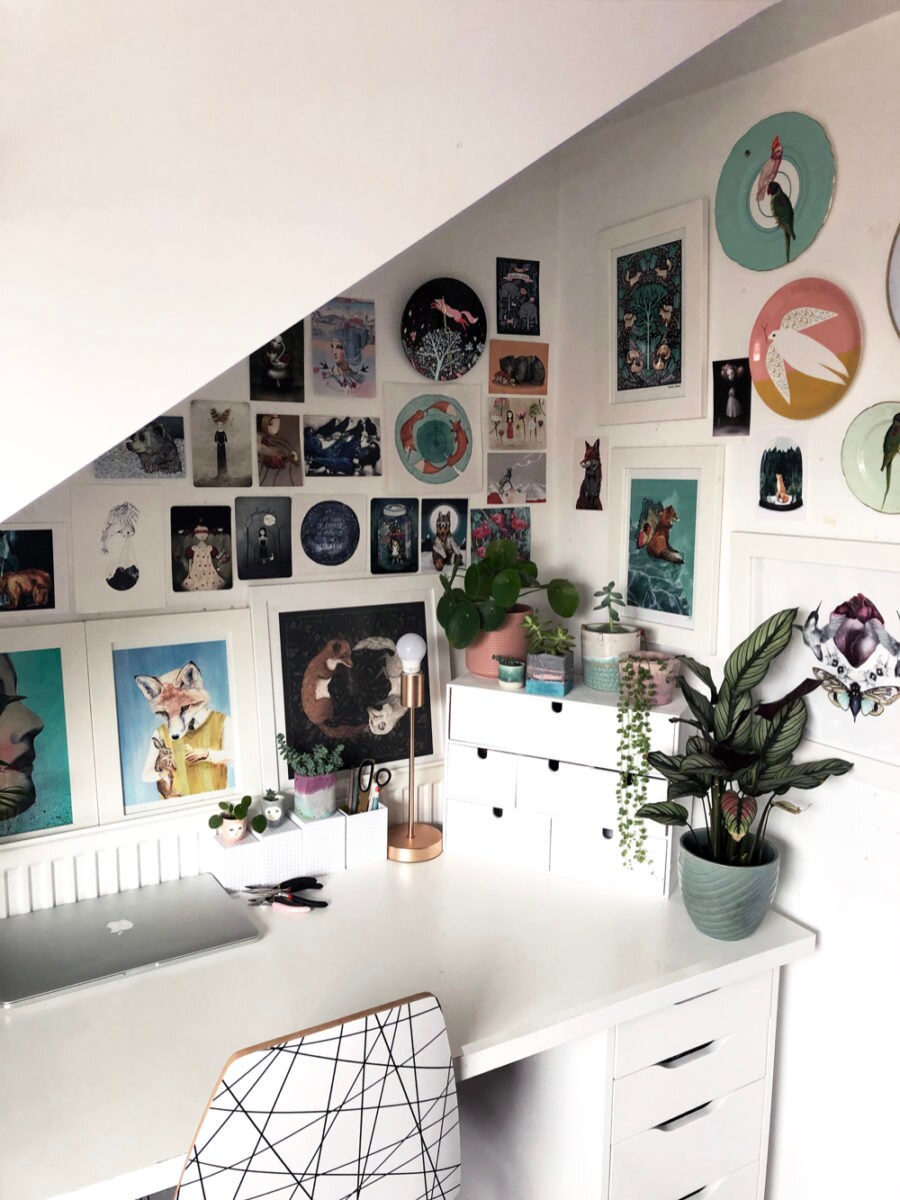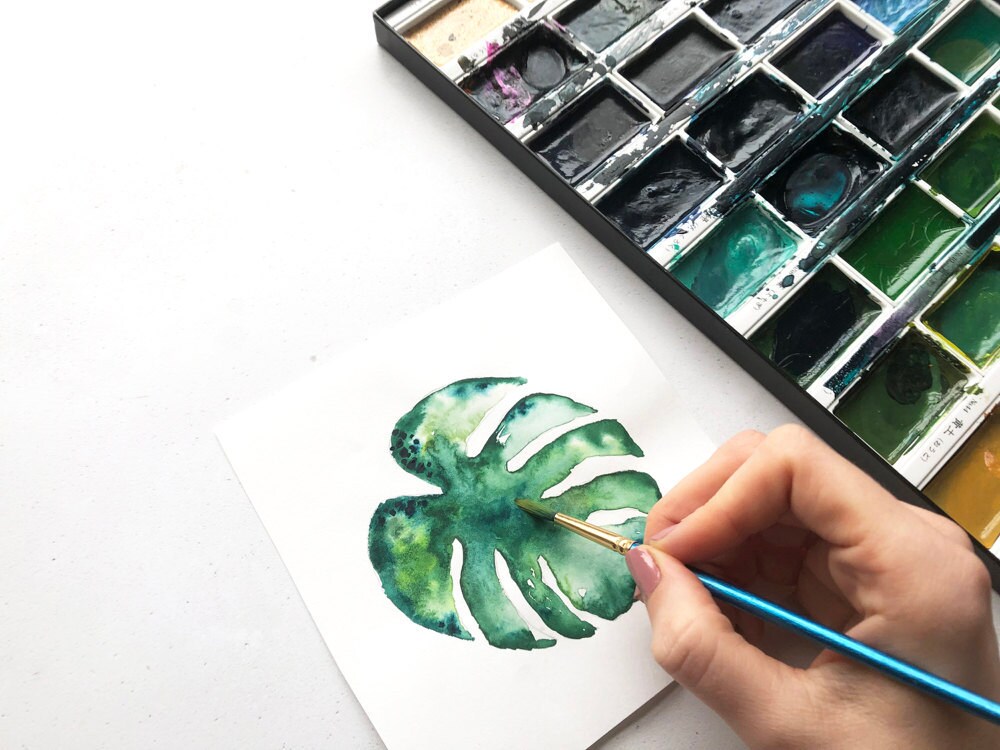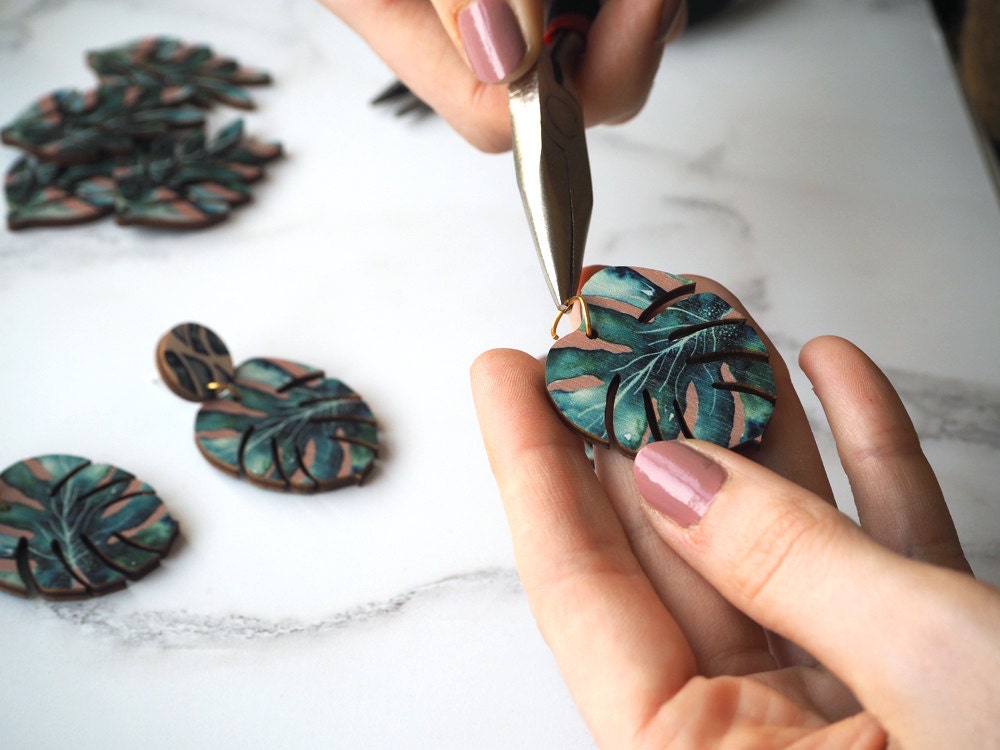 SHOP: Tropical leaf drop earrings from Mica Peet, $28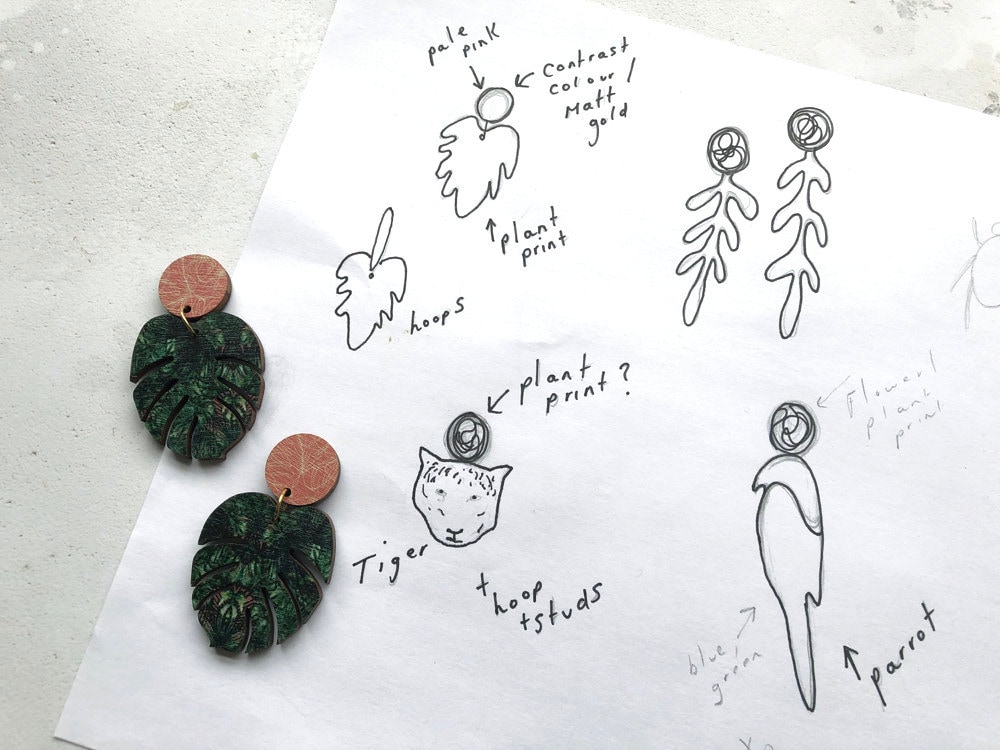 Photograph by Wardrobe Conversations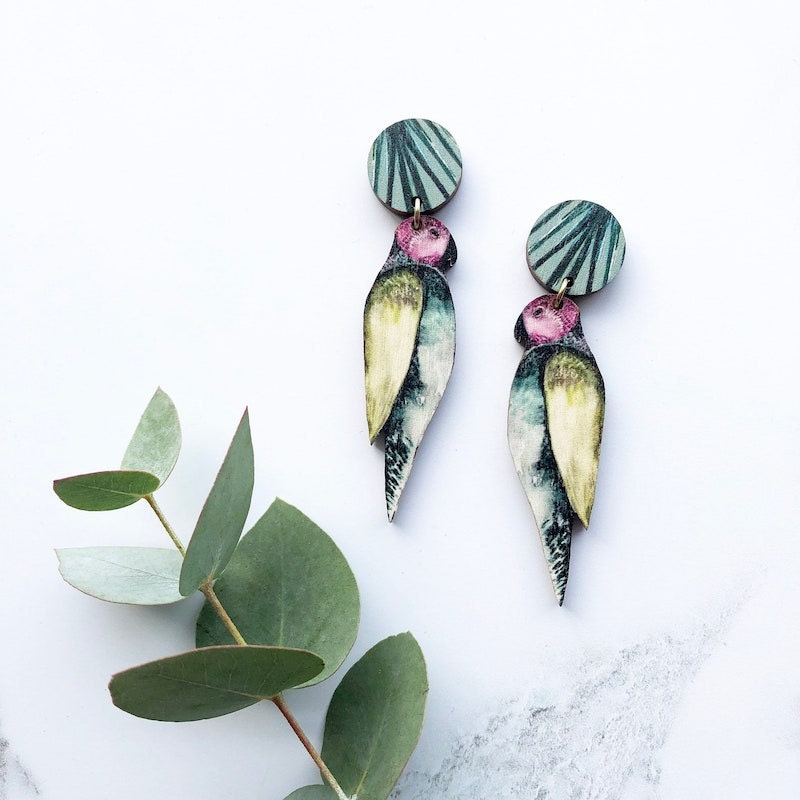 SHOP: Watercolor parrot statement earrings from Mica Peet, $28
From the seed of an idea to the final product, what goes into each piece you make?
I always start off doing quick little sketches on a piece of paper—everything begins as a drawing in ink or watercolor. Then I scan the drawings and use a graphics program on my iPad to adjust the colors and mock up the designs inside the shapes of the jewelry. After that, I send the files off to my laser cutter, who I work very closely with. The drawings get digitally printed on pieces of wood with a special machine, and then they cut out the forms and send them back to me, along with the metal pieces for polishing and assembly. Originally, I did it all myself with the laser cutter at university, but now I don't really have the space, so I outsource that bit and focus on the more creative side. My favorite part of the process is when I get everything back from the laser cutter and I get to put it all together.
Your mashup of materials is so unique. How does it set your pieces apart?
Because I use a mix of metals, my pieces are quite tactile with a lot of different textures. The wood bits feel different from the metal, so there's a nice contrast between the two that makes them feel quite substantial and high quality. The wood I use is MDF, a wood compound. I think people have the perception that wood is heavy and are quite surprised when they feel how lightweight my earrings are. That's the beauty of MDF. And the metal pieces are quite light, too. Even though they're statement pieces, they're very easy to wear.
What are some of your most popular pieces?
For years, my hummingbird pieces were my best sellers—I've always loved hummingbirds and it's a very classic design. But last year I introduced monstera designs, and now those are my most popular, along with my little geometric triangle stud earrings. I think the monsteras are so trendy and fashionable at the moment because people love house plants—I've probably got about 40 plants in my studio alone!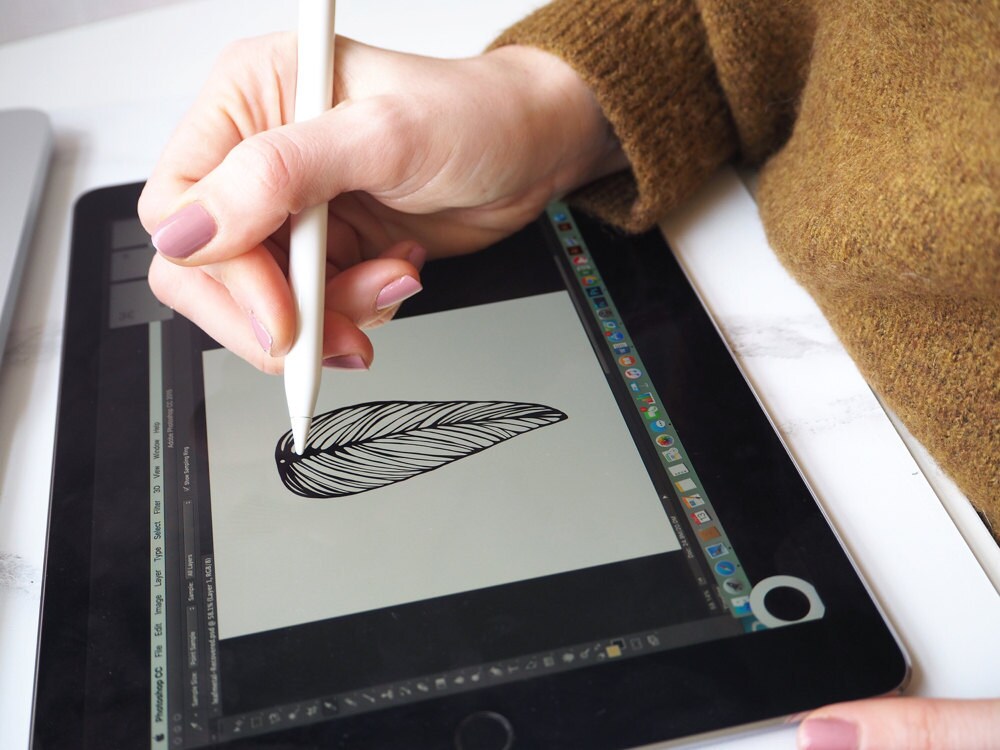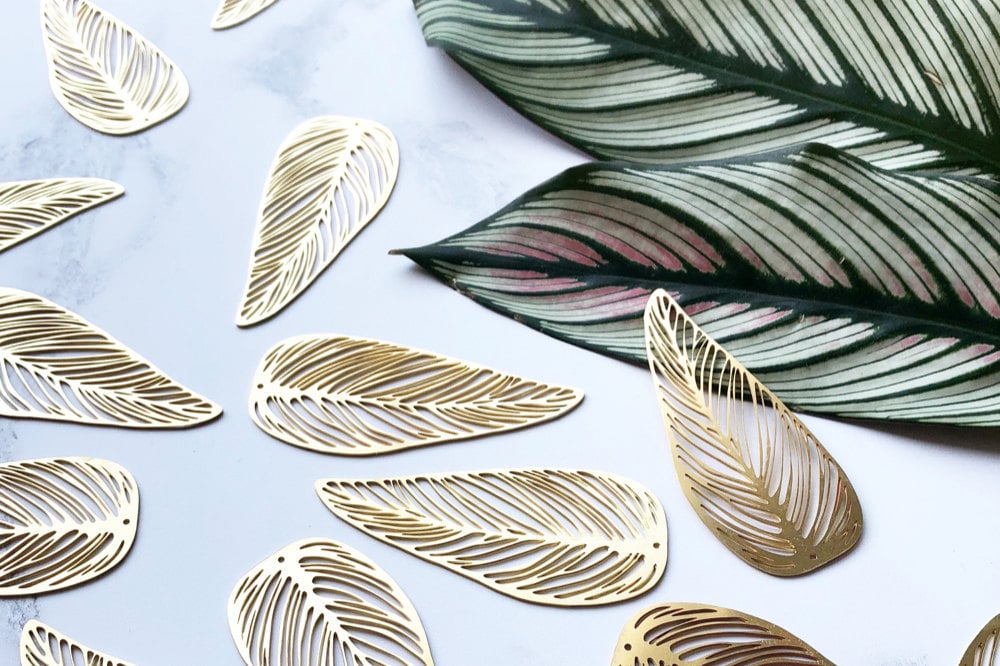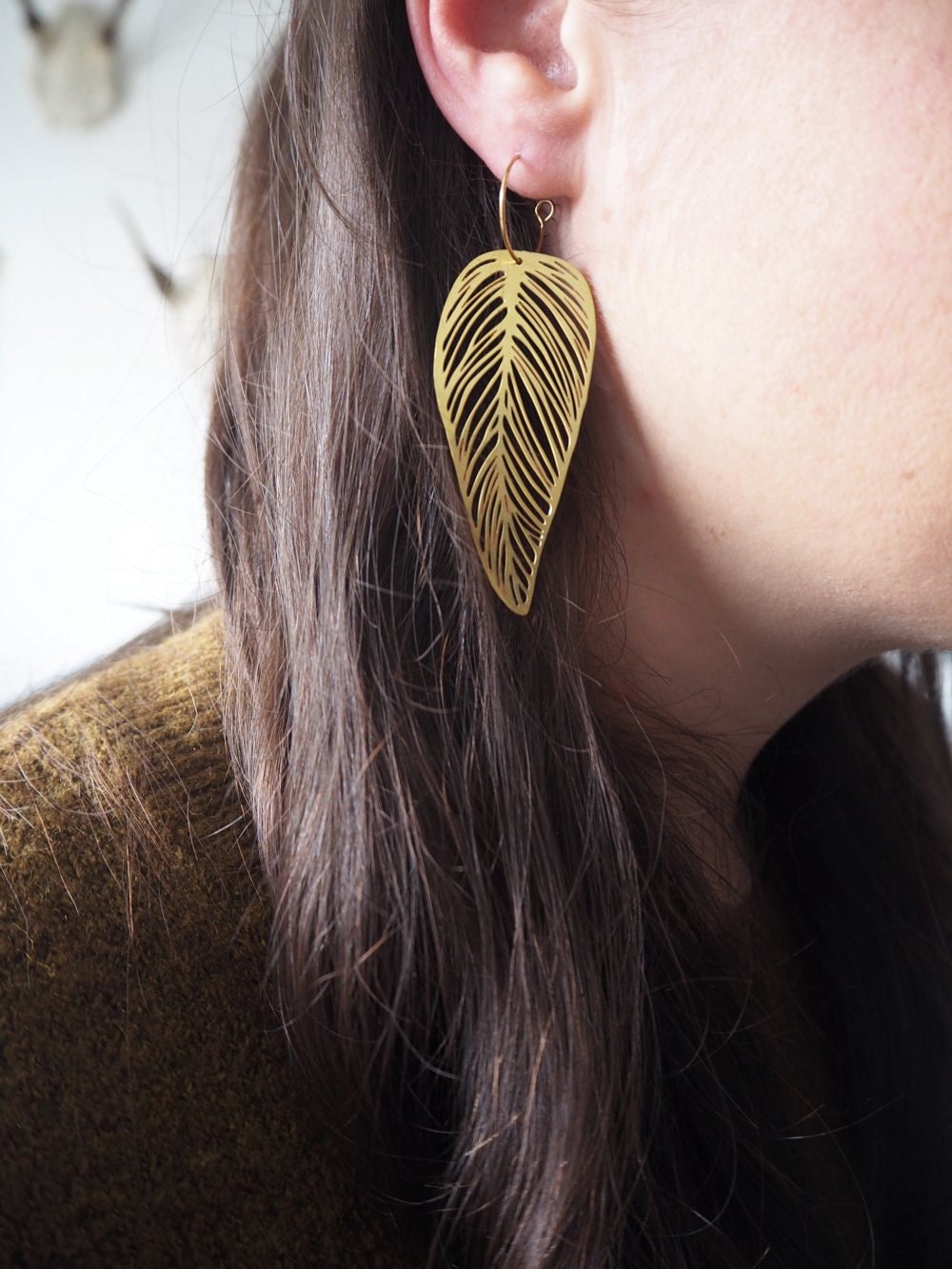 SHOP: Delicate gold leaf hoop earrings from Mica Peet, $34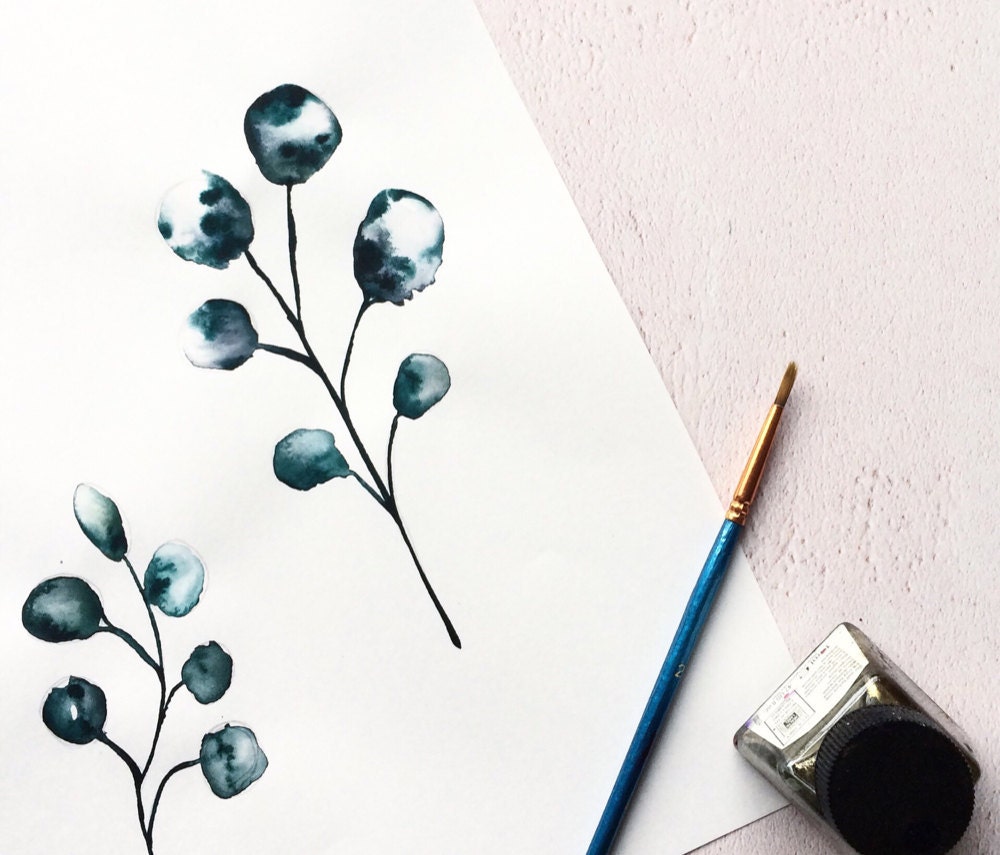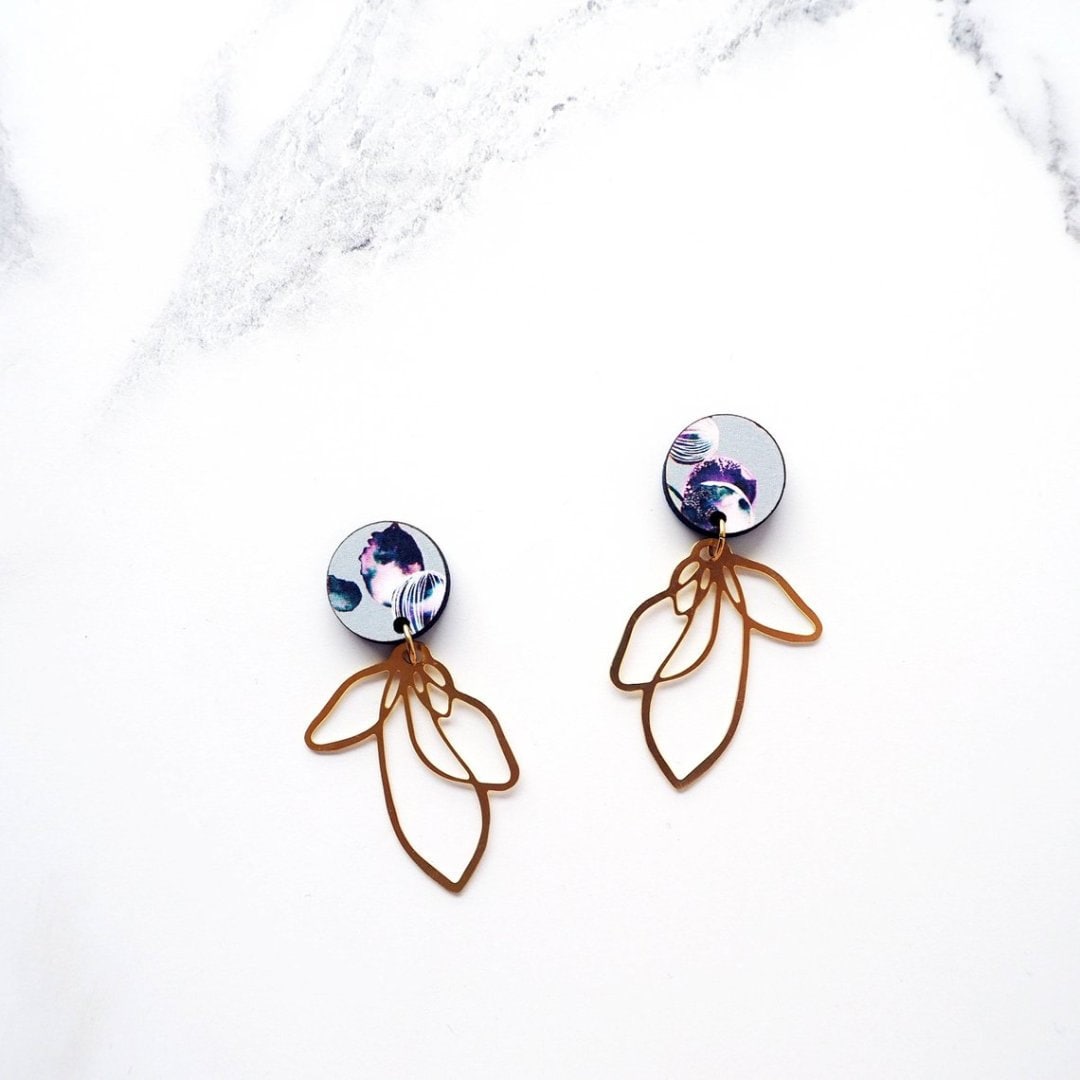 SHOP: Flower petal drop earrings from Mica Peet, $35
How would you describe your line's aesthetic?
The style is modern and minimal with simple, stylized shapes—but the patterns within the shapes have got a lot going on, and the shapes often have a nature-inspired theme.
Between all the birds and plants, the natural world definitely shines through in your line. Tell me about your inspiration.
Nature is definitely my biggest influence. I love animals, and my house plants as well. I've got loads: a giant monstera, calatheas, a little palm leaf, and lots of succulents. I'm always getting inspiration from them—from the different leaf shapes the patterns within the leaves. If I wasn't a jewelry designer, I'd like to work with animals or travel the world.
Have you always had the travel bug?
My parents both absolutely love traveling, so that's all we've done since I was a young kid. I try to travel as much as possible, and I'm very lucky that I've been able to visit loads of places. My first memories were in Cuba, and I went to Zambia last year to go on safari—that was my favorite because I'm very into bird watching. Costa Rica was probably my second-favorite because there were birds everywhere and I actually got to feed some hummingbirds. It was amazing; they sat on my hands and everything.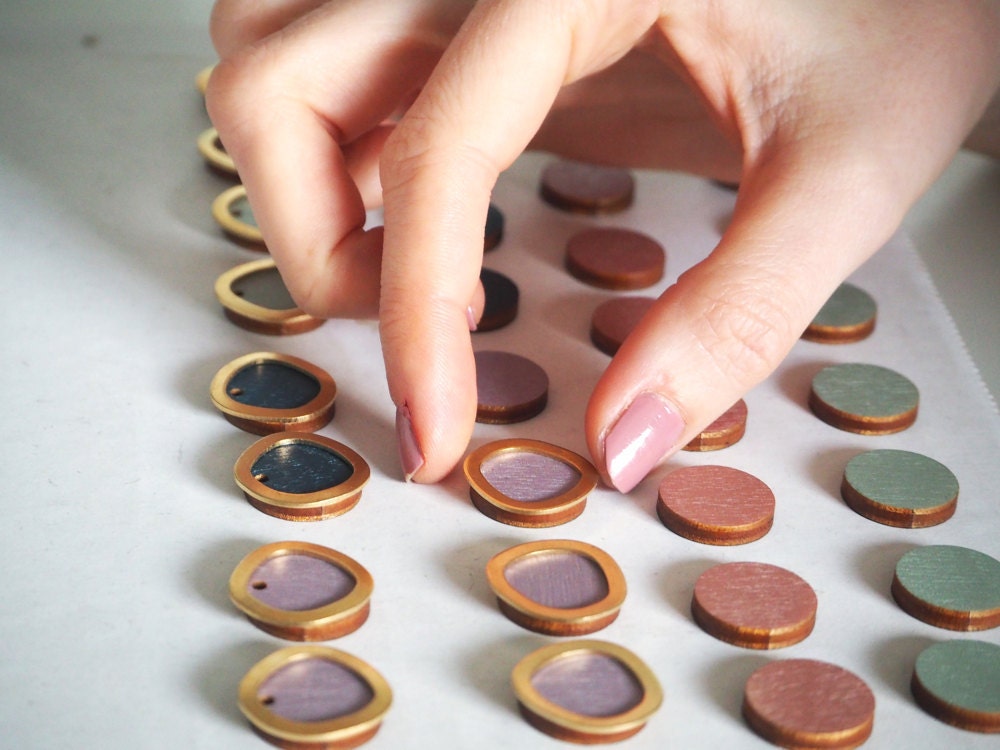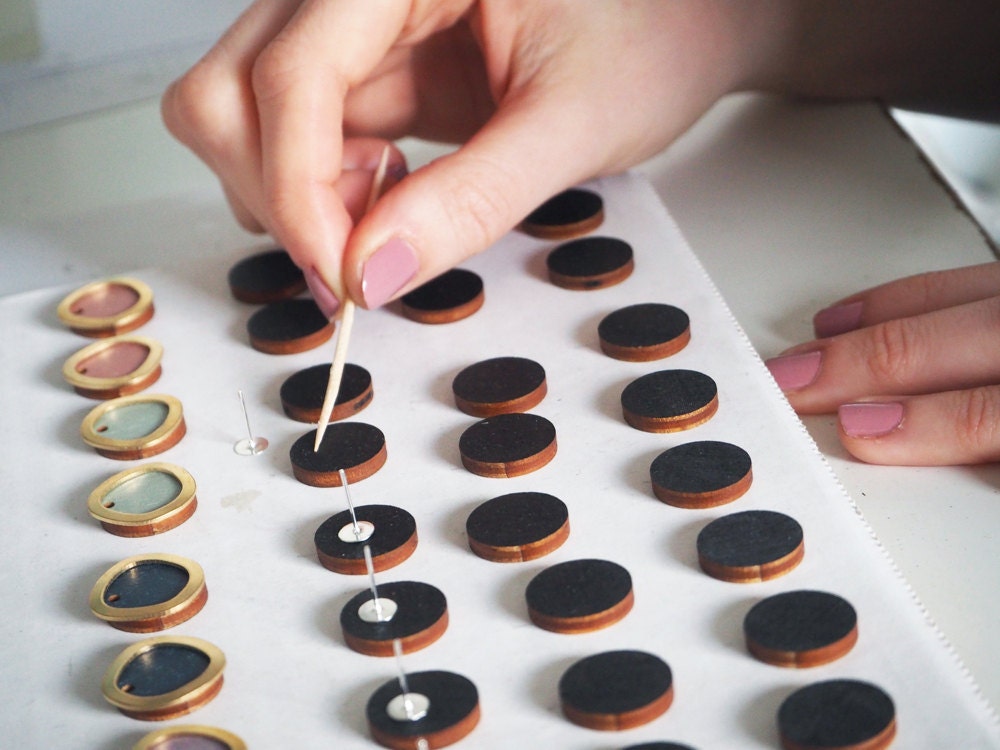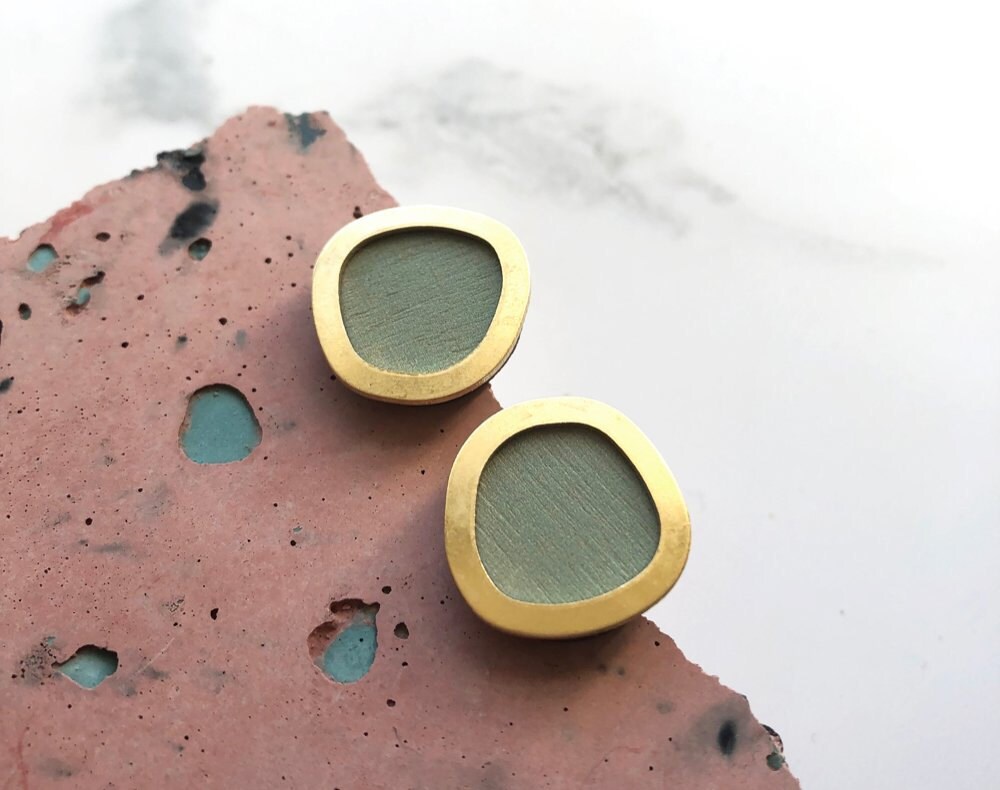 SHOP: Sage green studs from Mica Peet, $24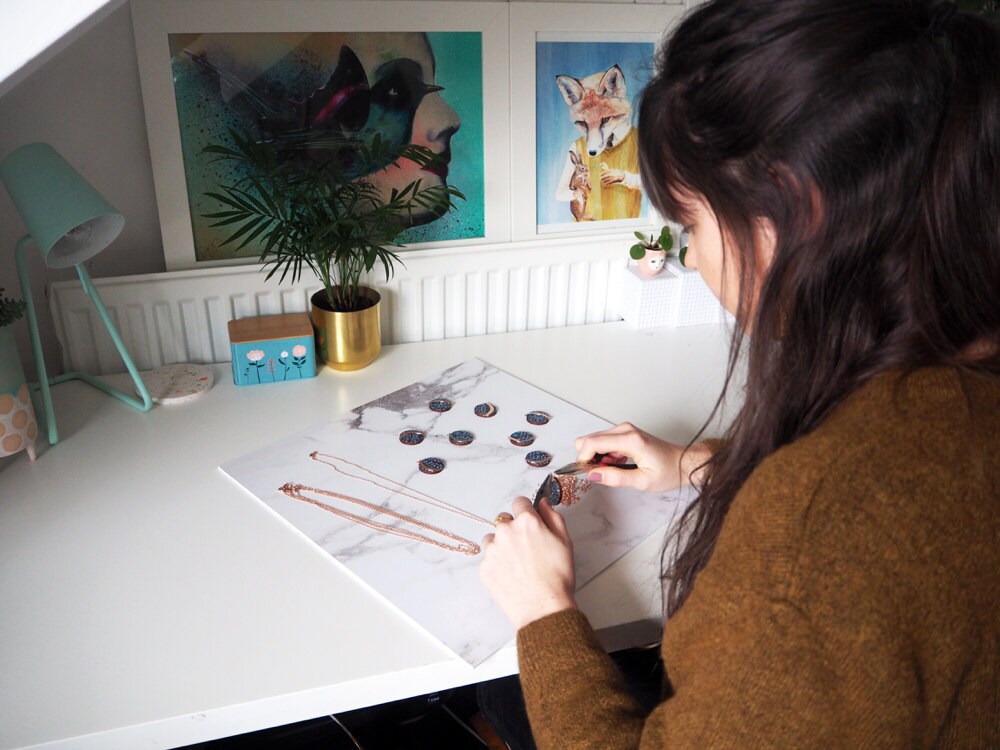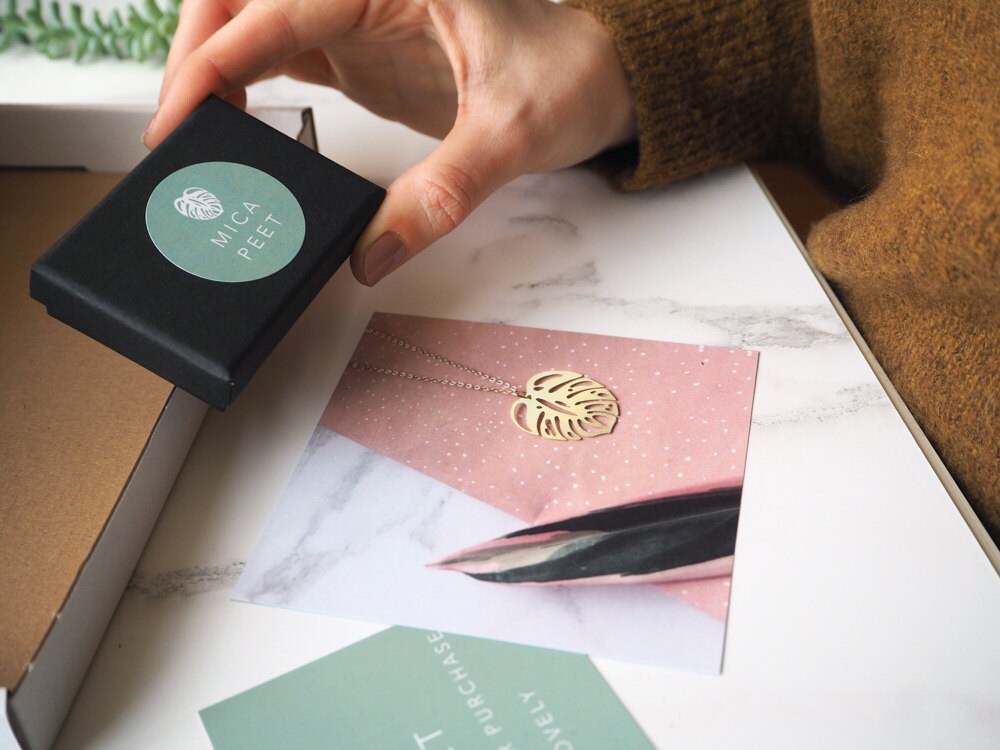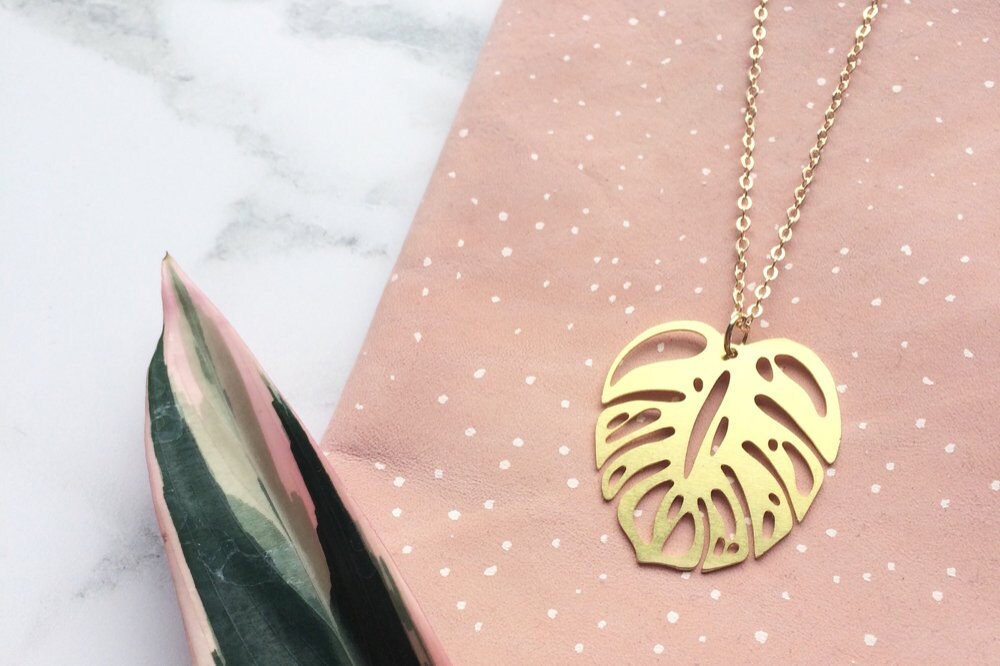 SHOP: Gold monstera leaf necklace from Mica Peet, $32
Your pieces strike me as great choices for gift-giving. Are many of your customers purchasing presents?
I do get a lot of people buying for friends or sisters. Mother's Day is also a big one for me, especially with the hummingbird jewelry; that's my best seller at that time. Christmas is huge, too, and birthdays all throughout the year. I also sell a lot of graduation presents—especially the birds, like a "flying out into the world" kind of thing. I've had so many lovely customers over the years, and I love seeing people leaving sweet gift messages, like: "Here's a little something just because I was thinking of you." The fact that they decided to choose me as the person to produce a special gift for someone, it's just a really nice feeling.
What are some business milestones that really stand out?
Getting to sell at the Tate Modern in London and doing a collaboration with Etsy and the Natural History Museum in London were two of my proudest moments. I designed some custom pieces for the Natural History Museum's gift shop based on one of their exhibitions on iridescent features within animals. I did three different designs: a hummingbird, a kingfisher, and a beetle. That was really fun, and at the Tate Modern, I've got three different geometric earring designs in their shop. They're both museums that I've absolutely loved going to from a young age, so to be able to design pieces for them was almost surreal.
Follow Mica Peet on Facebook, Instagram, Pinterest, and Twitter.
Photographs courtesy of Mica Peet unless otherwise noted.