Calling all pencil perfectionists, eraser aficionados, and general office-supply obsessives: Your new favorite shop is here.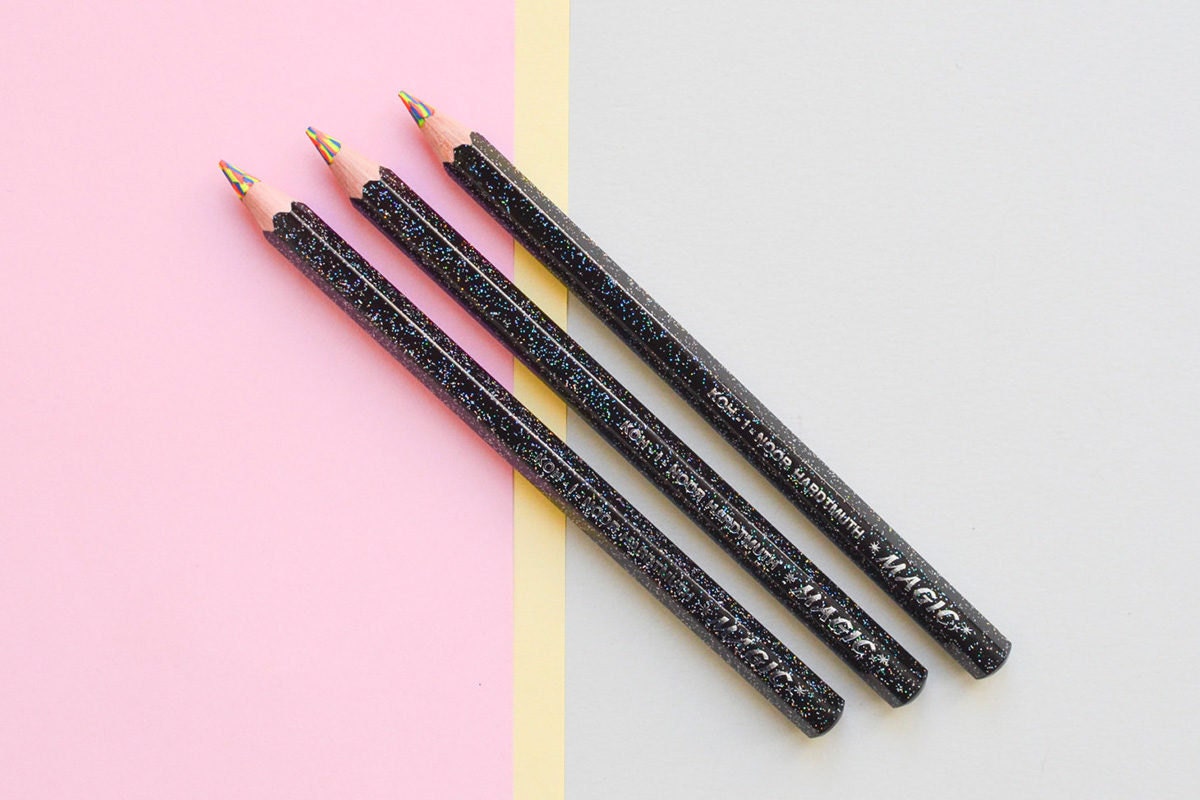 To hear Timea, the Berlin-based owner of stationery and supplies shop 
Mighty Paper
, talk about her favorite eraser, you'd think she was rhapsodizing about a glittering 20-carat diamond ring or a postcard-ready view of the South Pacific. Her voice catches a little, you can sense her eyes drifting off dreamily into the middle distance, and her proclamations of perfection taper off in a contented sigh. This enthusiasm is incomprehensible to anyone who is not equally obsessed with well-designed office supplies and paper goods, and immediately recognizable to anyone who is. A former managing assistant of an NGO and a full-time Etsy seller for the last four years (her first shop,
Mighty Vintage
, carries colorful midcentury home decor and furnishings), Timea tapped into her entrepreneurial side on a whim. "I started my first Etsy shop because I wanted to have something on my own, although I didn't know what, exactly," Timea says. "I liked that it was easy to open a shop as an experiment, without needing to invest too much money or time." That small initial investment paid off fast: Within a year and a half, she had quit her day job to run her shop, while also discovering the creative outlet she'd looked for in a few other places (design school, for one), but never quite found. Today, Timea indulges her lifelong affinity for paper goods and supplies while maintaining Mighty Vintage and even dabbling in a vintage jewelry shop on the side. ("As you see, I have this thing about opening shops," Timea says.) For now, it's Mighty Paper that has a hold on her heart. "I never thought two years ago that I would have a stationery business," says Timea, "but now I have it, and it's what I love the most."
Read on to learn how Timea turned an experiment into an empire in the making, and shop the Mighty Paper collection.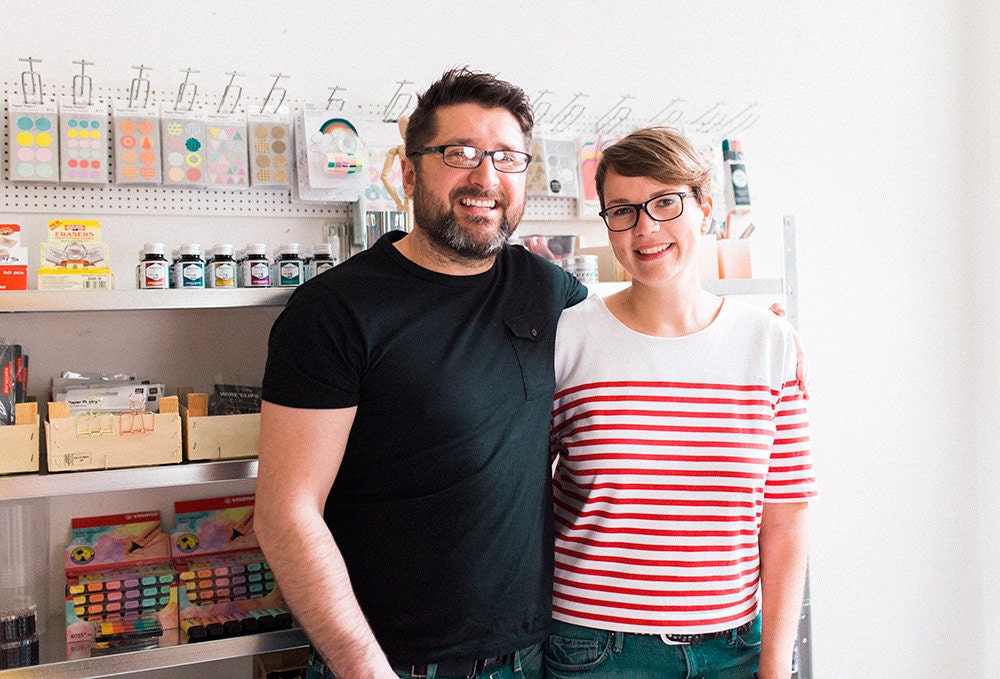 You've had a lot of success with the first shop you started on Etsy, Mighty Vintage. What inspired you to branch out into the stationery world?
My boyfriend and I travel a lot, and there are two things we always do everywhere we go: visit flea markets and go to stationery stores. Both of us grew up in Eastern Europe, where you had really great, simple, yet high-quality stationery in school. Most of those old brands are gone now, but we still craved those kinds of materials and couldn't find them anywhere in Germany. Every time we traveled abroad, we were always hoping to find something from the old times, or at least something that was similar. Two years ago we took a three-week trip all across the Balkans, through Hungary, Serbia, Montenegro, Bosnia, and Croatia, and we picked up so many great things in the stationery stores there—much more than we needed for ourselves. When we came back, the idea for Mighty Paper started to grow in my head. It took a while to realize, okay, maybe we could try this; my first Etsy shop had been an experiment, and I began to see that this could be one too. The idea of opening a
stationery shop
was appealing for a few other reasons as well. A stationery or supplies store is not as dependent on me and my taste as a vintage store is, and it doesn't require me to take a picture each and every time I find something for my shop. Also, with my first shop, I was living and breathing and eating vintage for years, and I wanted a new creative outlet that was completely different from what I had done before.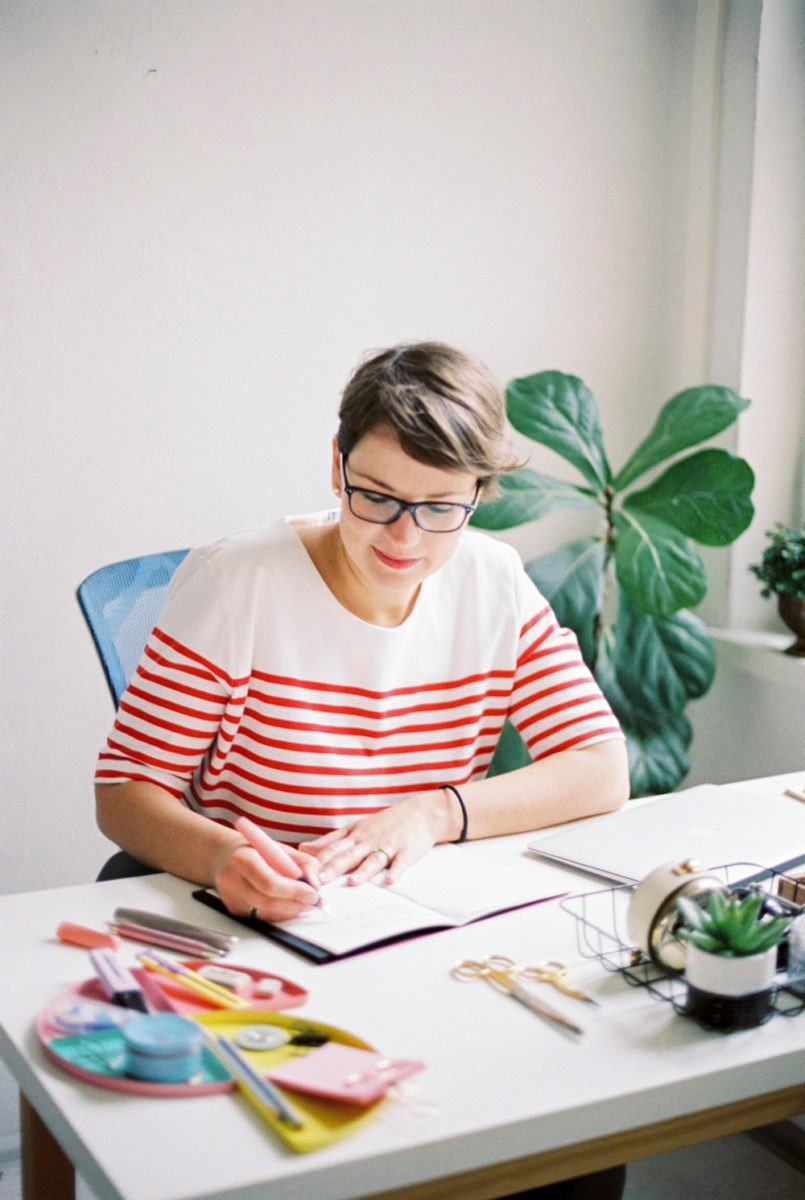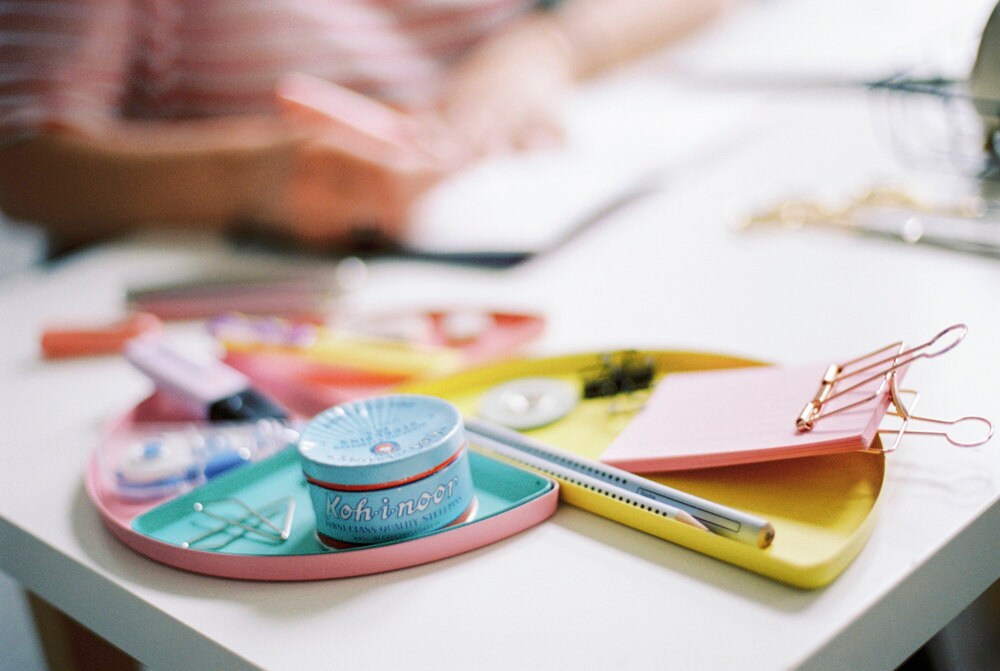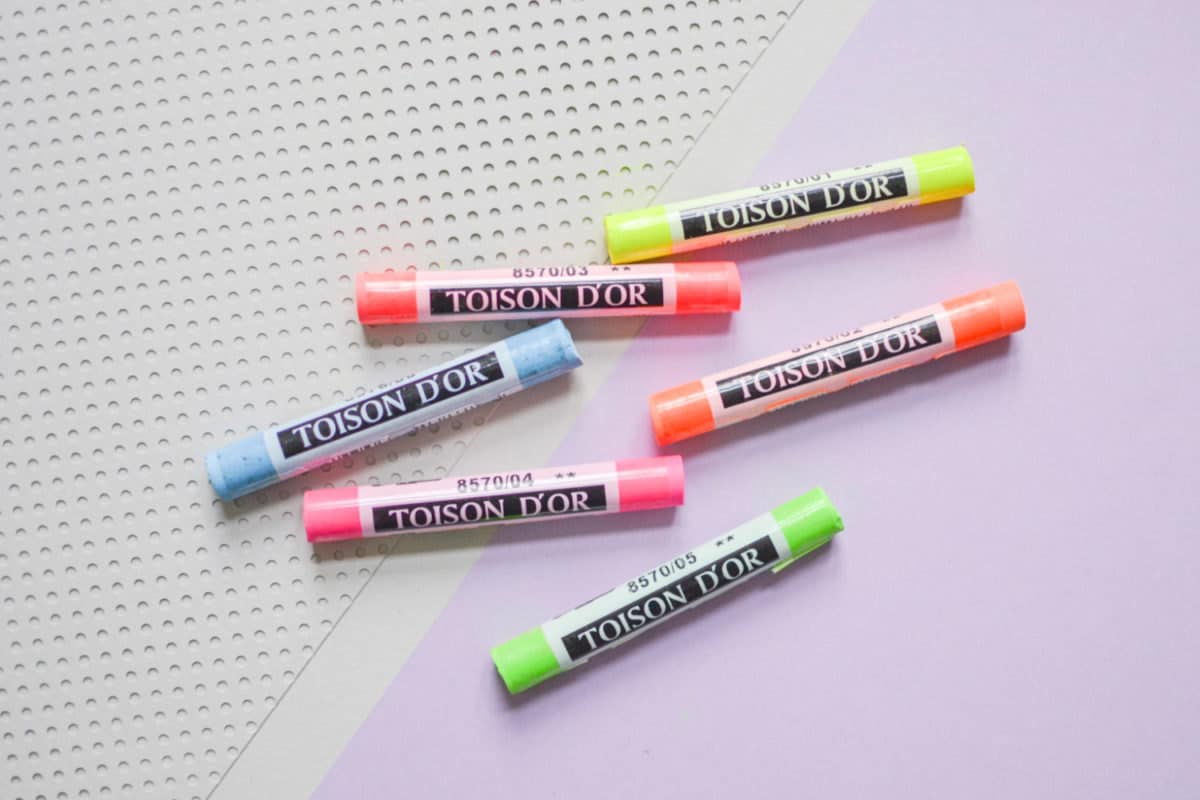 What was it that appealed to you so much about stationery, and how do you decide whether a particular product is right for your shop?
First of all, I love stationery because you can touch it. Everything these days is very digital, it's either on your laptop or on your smartphone, and every time you shut down that device, it's gone; you don't have anything left in your hand. When you sit at your desk all day, you deserve to have something that's beautiful and of high quality. That's why I write with ink as much as I can—it relaxes me. And when I look for
pieces for the shop,
 I always go back to that feeling: the desire to have something high quality that brings joy to your everyday life. It's about the small things, the details; you don't have to have the big-bang stuff to have a good life, if you have small pieces that bring you joy. Style-wise, I love everything that is a bit retro and nostalgic. For example, I love the brand 
Koh-I-Noor
, and we have many pieces from them in the shop. It's a Czech stationery brand that used to be around when I was a kid in Eastern Europe, and I was so delighted when I found out they were still making most of the designs from 40 years ago. I also love fun and colorful pieces that are a bit vintage-inspired, and tend to look for the same qualities for Mighty Paper items as for the vintage shop: a bit of humor, a bit of whimsy, things that don't take themselves too seriously. But of course we like new trends as well, and if there is a new trend that's breaking through somewhere, then we'll go on a hunt to find those items too.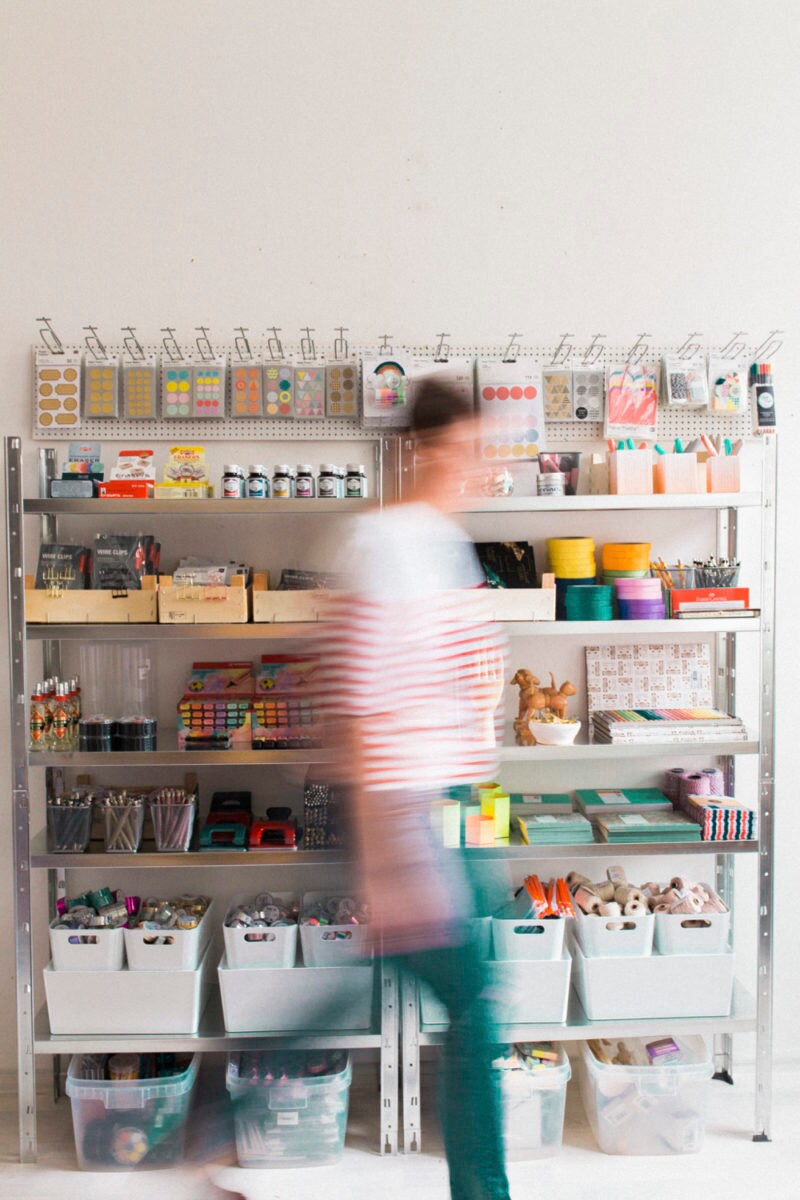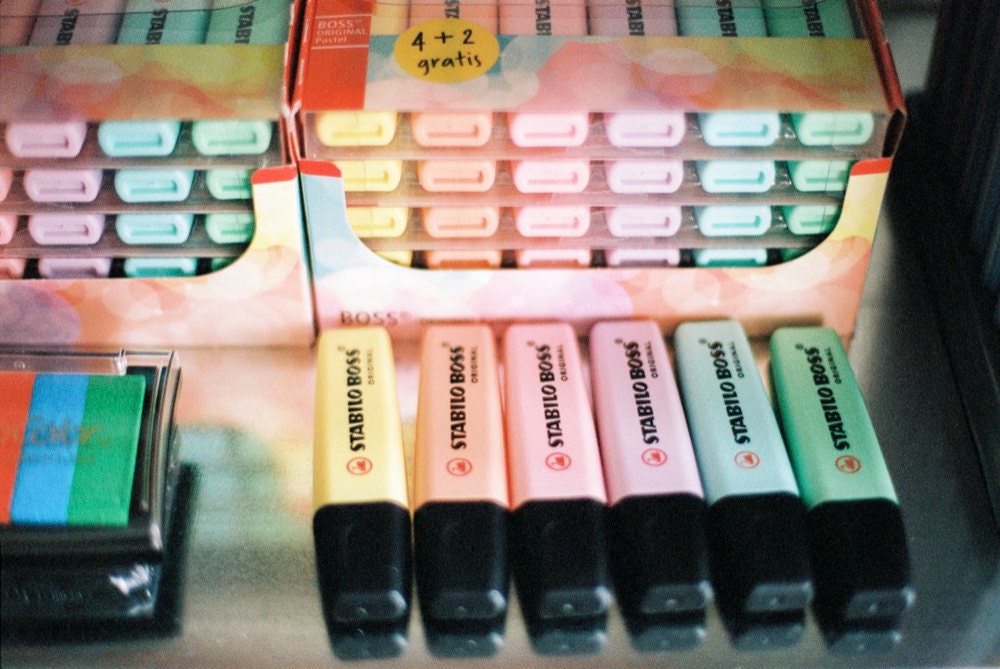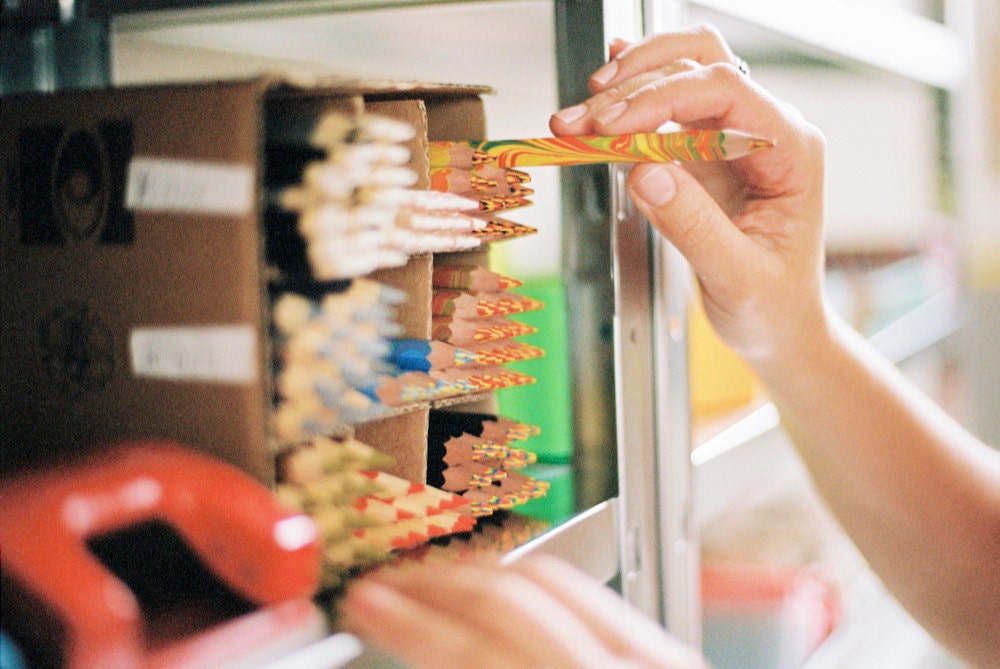 How do you go about sourcing the items for Mighty Paper?
Well, it's a mix. I go to all kinds of stores, because you never know where an interesting design might end up. I also go to wholesalers, of course, but because I really need to see the pieces myself, to see how they're made, how they feel, and how they look with my own eyes, I only buy things online after I've seen them in person. I also love to check out small manufacturers and will often drive out to visit their factories. What I love most, though, is going to trade fairs where you can see as many brands as possible within a couple of days, touch the items, speak with the makers, and discover smaller manufacturers that you hadn't seen before.
Which items from your shop are your personal favorites?
I love
my Pelikan fountain pens and the inks
; I use them every day—at home, in the office, and on the go. And also my sharpeners from Mobius & Ruppert—nobody makes better sharpeners than those. They have a new sharpener now called the
Pollux
 that creates a concave tip, and I cannot tell you how much joy it brings me. You have to check it out—you can see
videos
of how it works on YouTube. I can't wait until my pencil is a bit worn off so I can sharpen it again. Oh, and erasers: I don't know what it is with erasers, but they just attract me everywhere I go. I love the
pebble erasers from Koh-I-Noor
. They're perfect.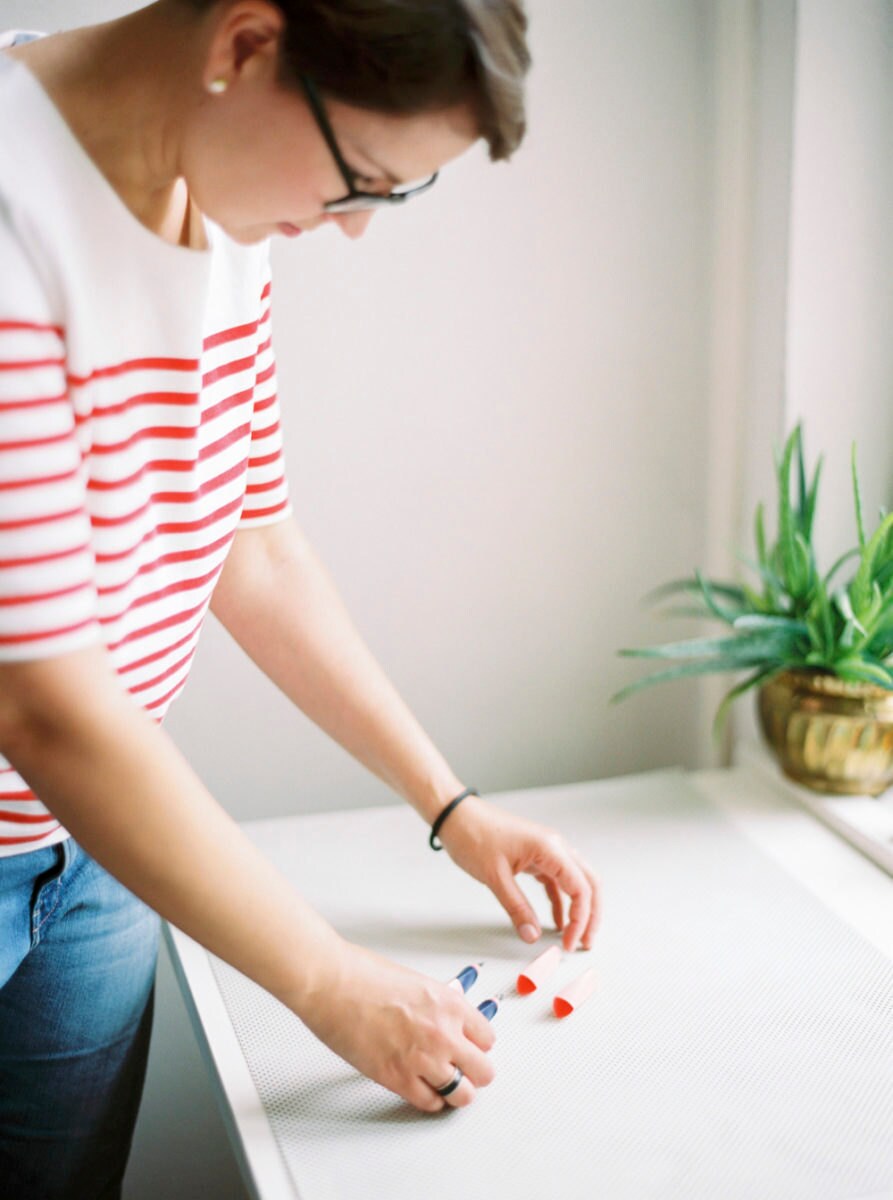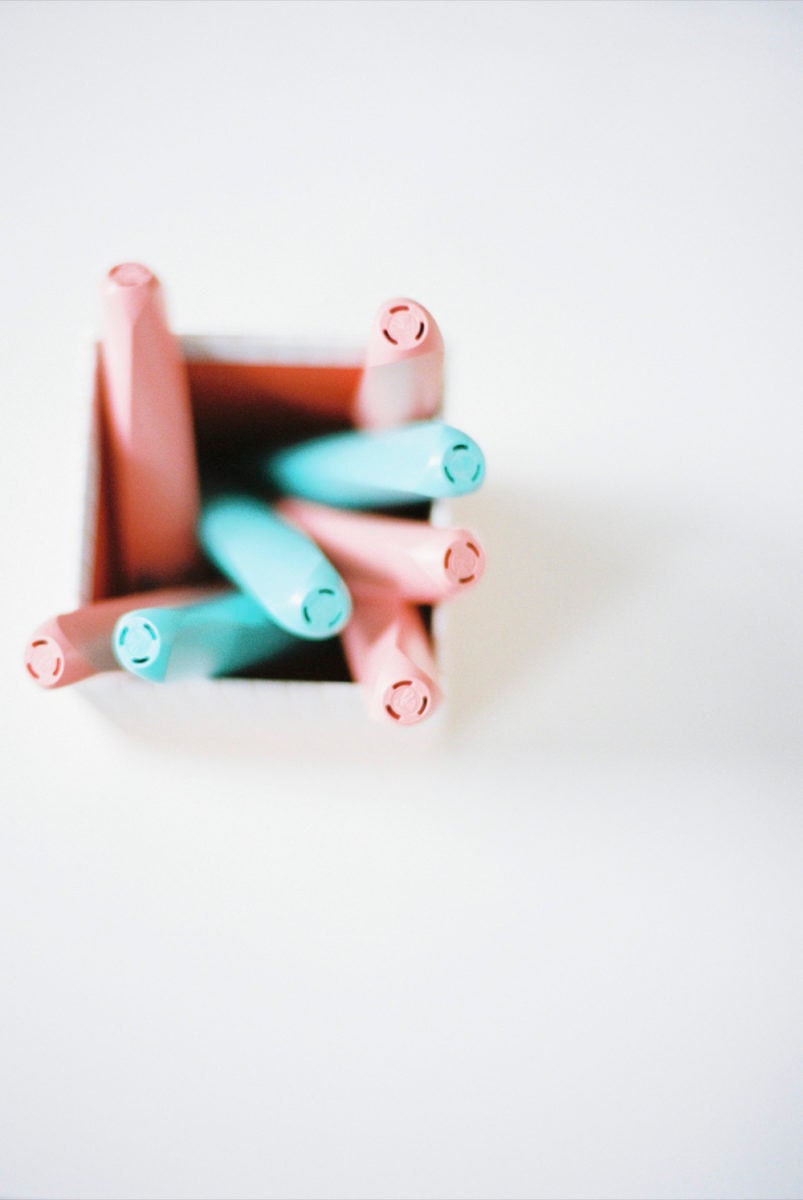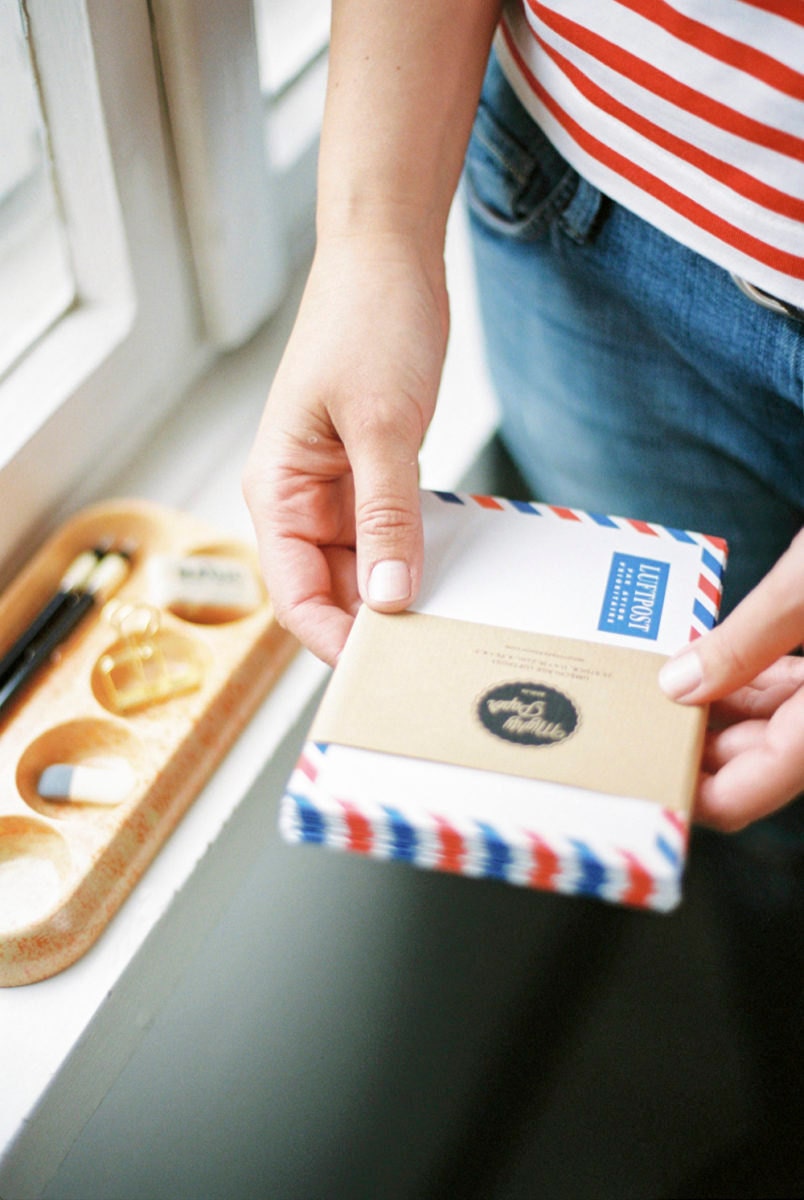 You've mentioned in your shop descriptions that, "having a business is by far the most creative journey of all." I'd love to hear more about that.
When I was in school, everyone would say, "You should be an artist because you're so creative," or, "You should be a designer." And I did start on that path—I went to design school, but it just didn't work out for some reason. I was frustrated because I thought, "Man, I'm supposed to be a creative, designer/artist person and now I'm not." So I studied English and French and became a translator and an interpreter, and I loved it, but I always had this creative side of me that I wasn't really using in my life. Then, when I started
my Etsy shop
, I realized that being creative doesn't necessarily mean that you have to design something, or be an artist and paint all day. For me, being an entrepreneur is the most creative thing I can imagine: You can focus on any side of your business that you love and that you do best; you can change your schedule on a daily basis; you can change the products you sell or the services you offer at any time; or you can just plunge into the next adventure. That's what I really love about it, that it's absolutely creative.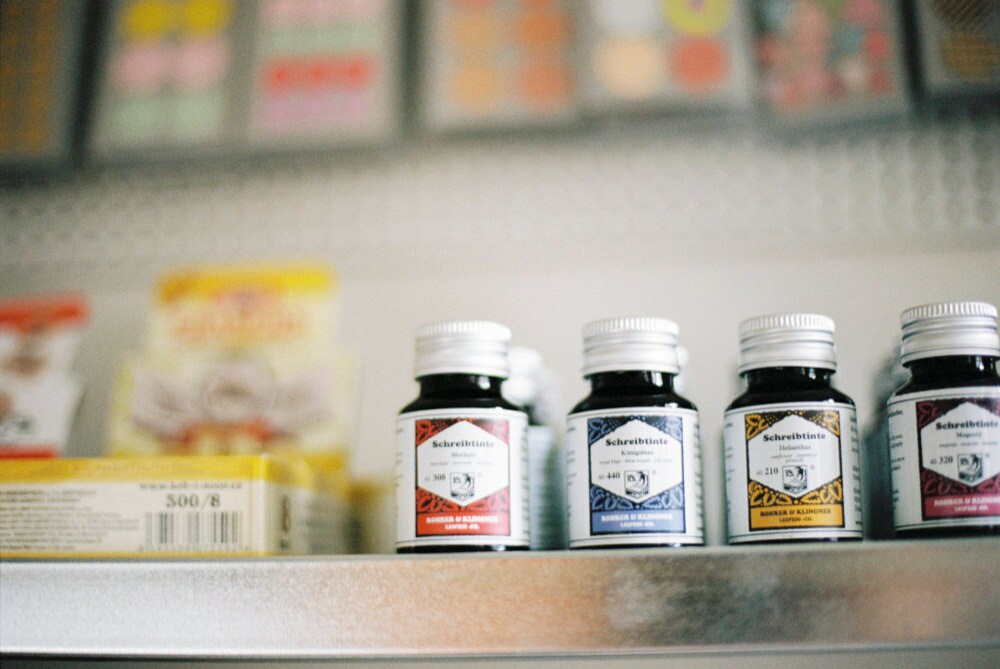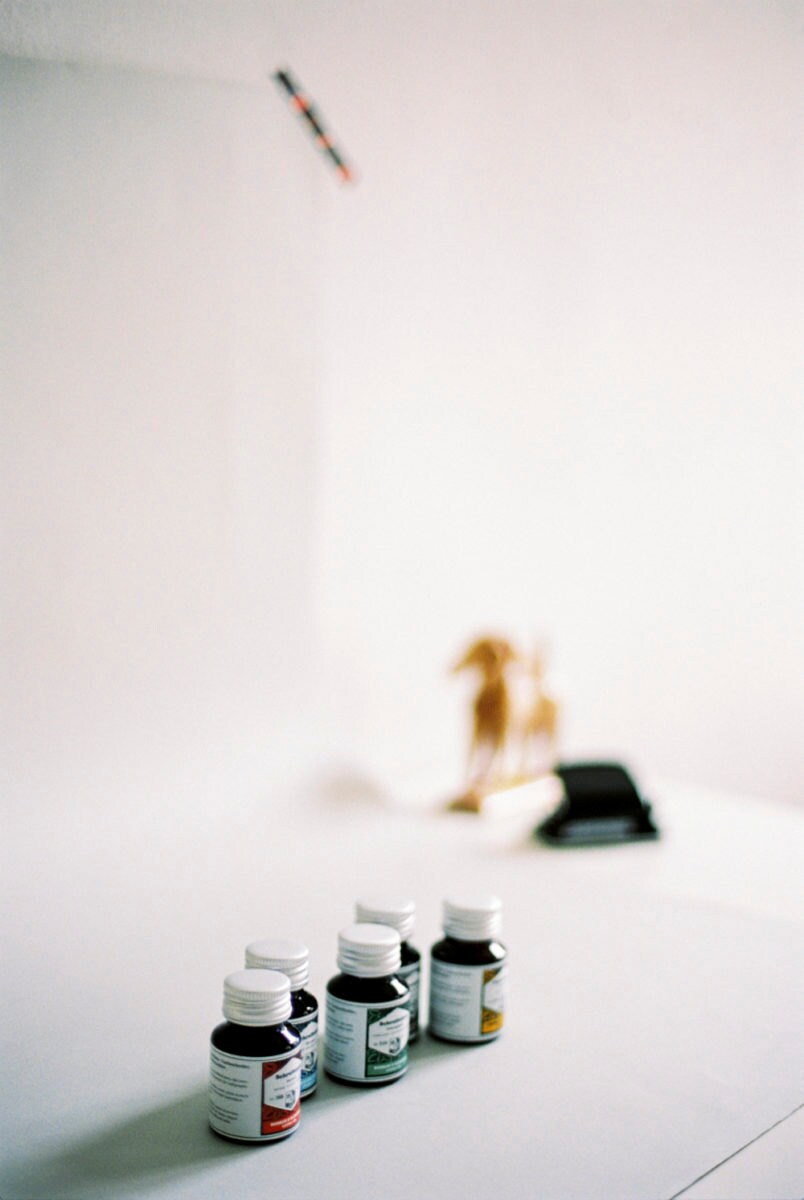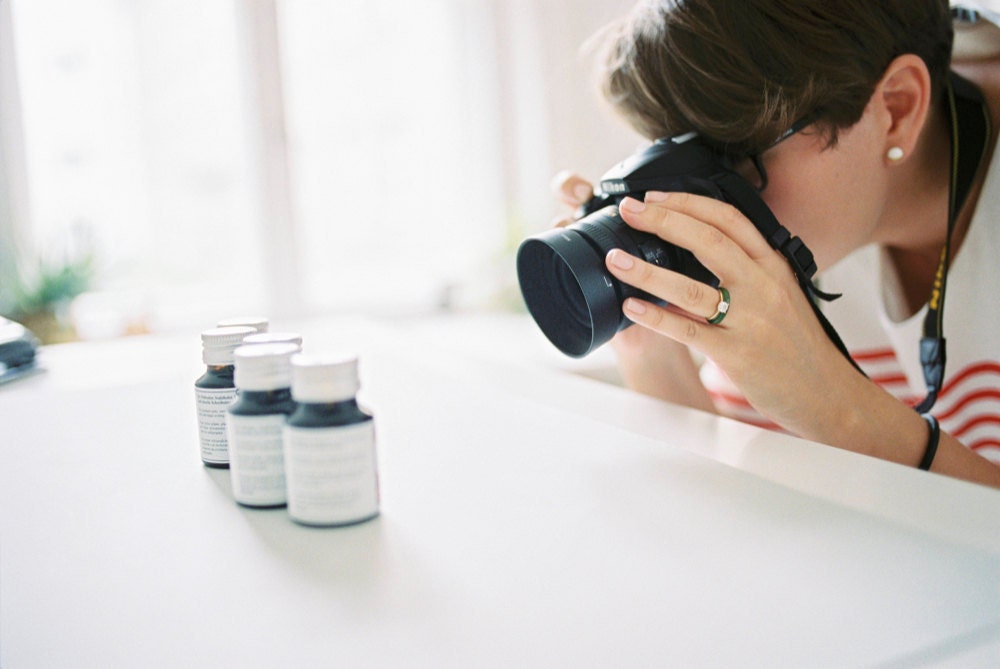 What aspects of running your Etsy shop make you feel most stimulated, inspired, and engaged?
The hunt, of course, is really engaging, and so is the contact you have with buyers and with other sellers. Here in Berlin we have a really great community of Etsy sellers and I don't think I would be where I am without that community. But my favorite part about all of it is just the developing of a business—opening a shop and developing a brand, inventing the look and the language of a shop. It's very stimulating and fulfilling for me.
What's your process like for developing an aesthetic or a brand for a shop? Did you start Mighty Paper already knowing how you wanted it to look or did that come together over time?
Well, I have been doing Mighty Vintage for five years, and that was a more gradual process; I had to grow into the aesthetic that I have now. But after selling online for a while, you start to have a very clear idea of what you want, and for Mighty Paper I knew I wanted to have something light, something airy, something colorful and fun. Buying vintage pieces is often a hard decision, and for stationery I wanted the opposite; I wanted to give the buyer the feeling of, "Oh, I like this, I'm just going to buy it." I love putting the items in a new perspective, playing with them, and taking them out of context to create curiosity in the buyer. That's what it's all about, I think.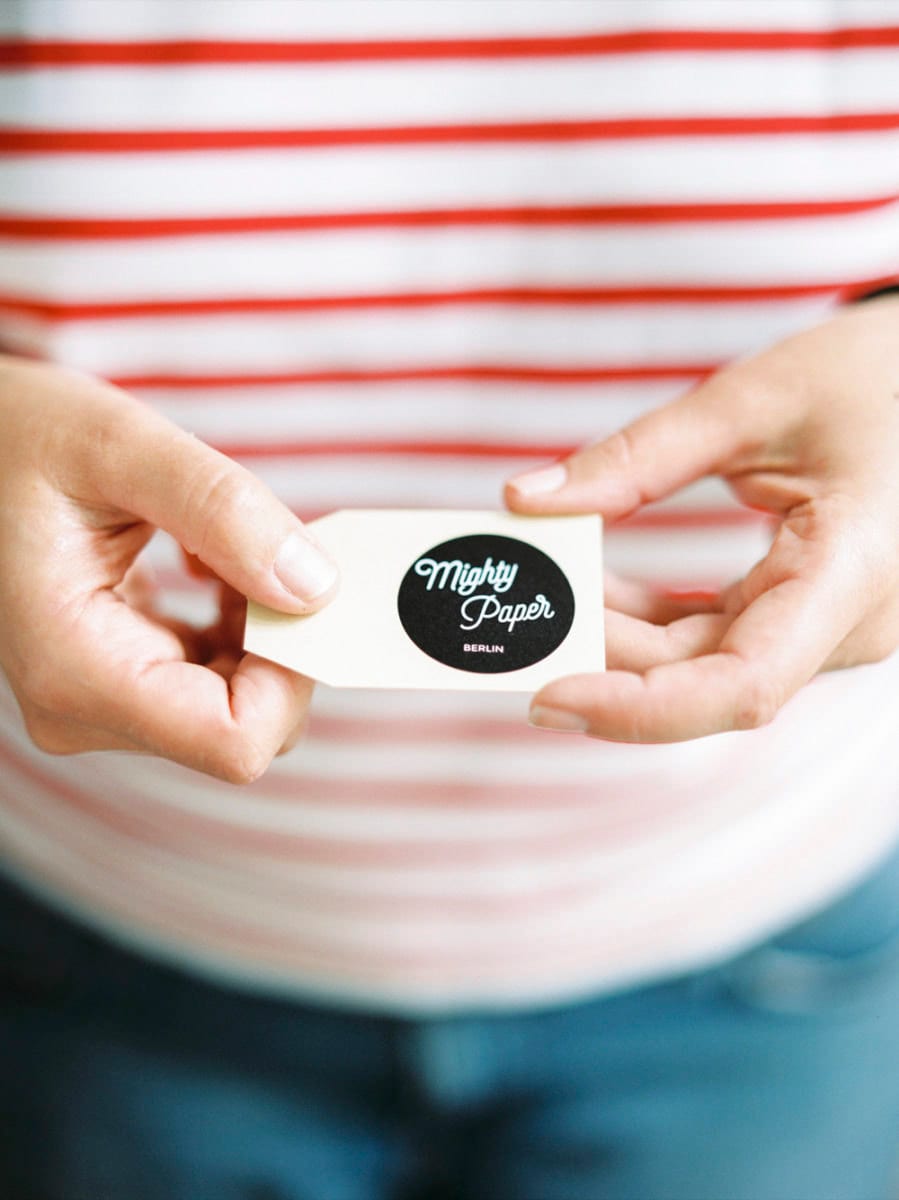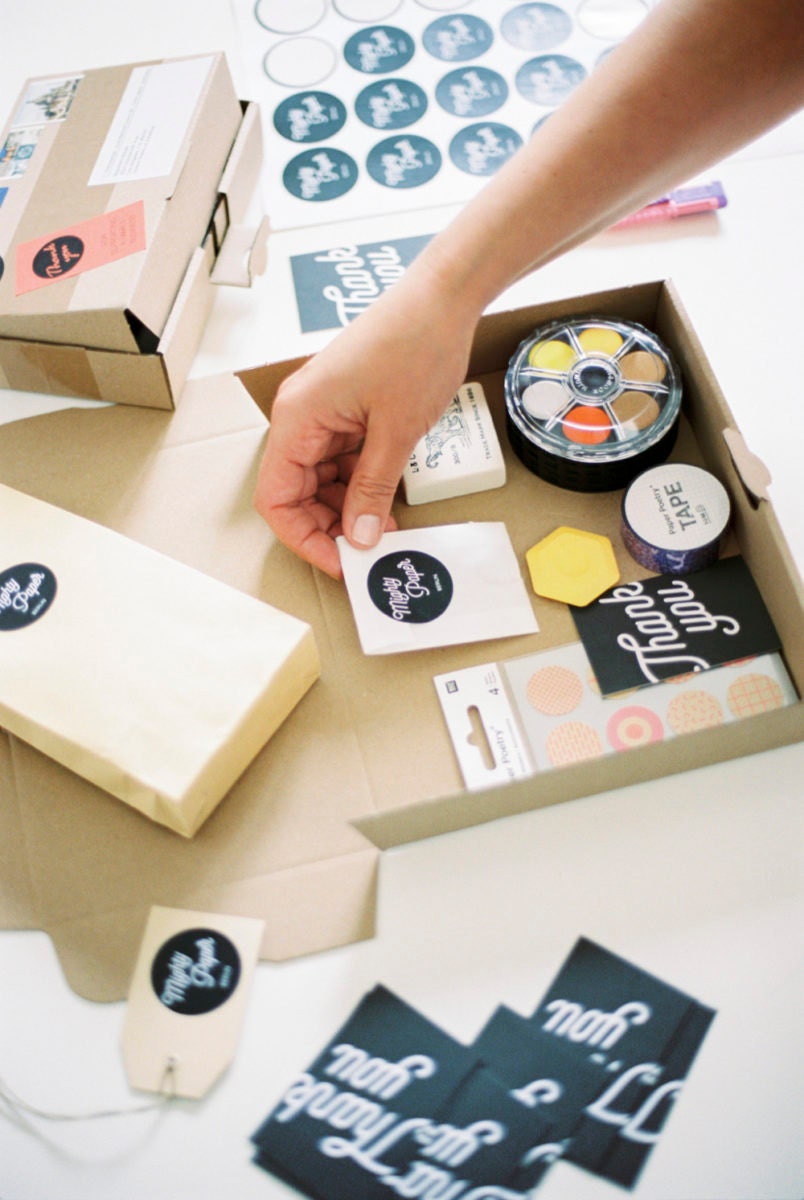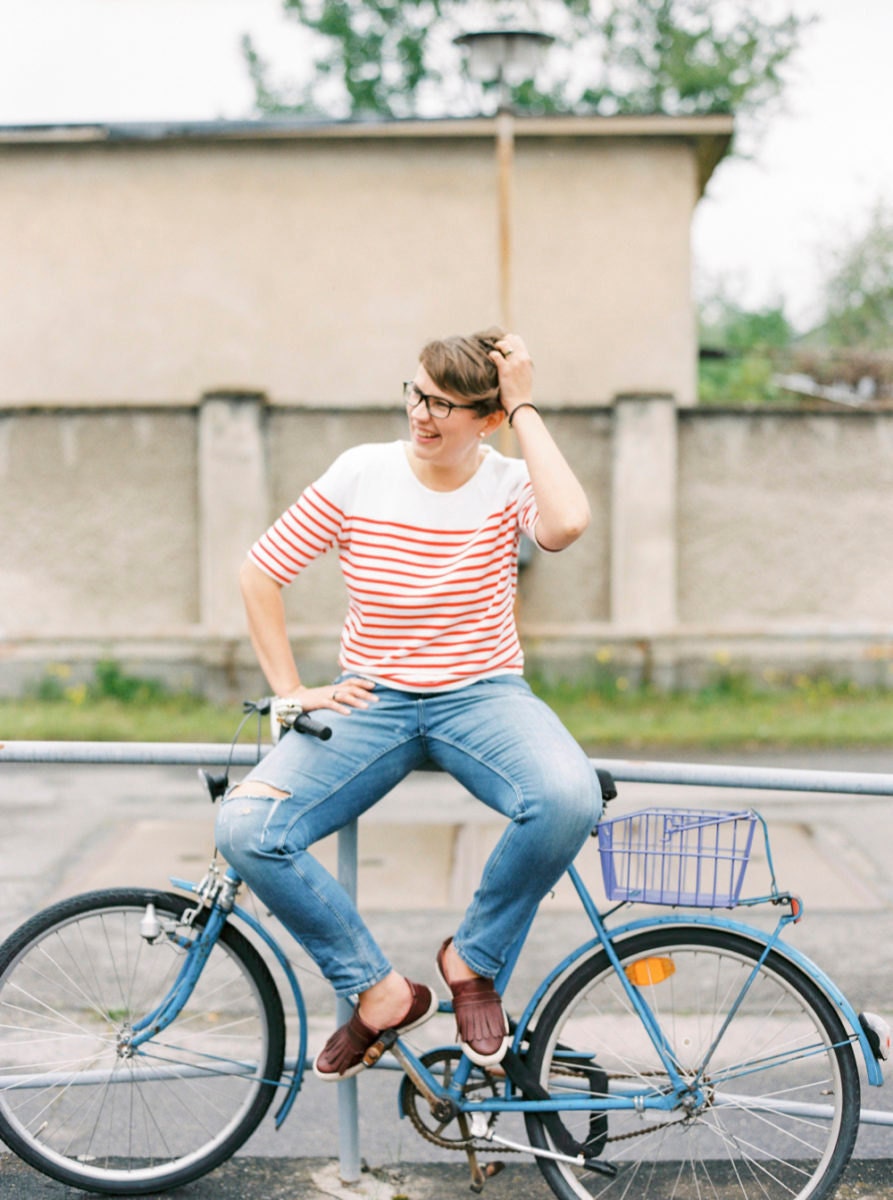 What are your go-to sources of inspiration in your work, or your life in general?
The biggest one is traveling—every time I travel it's like somebody has opened up a tap and everything just flows and I'm taking it all in. I love that. I'm also inspired by other people: creative friends and other Etsy sellers. How they see the world, what their aesthetic is, what colors they like, the ideals they have for their business or their products—all of those things inspire me and give me ideas about my own business. Lately I have gotten into reading a lot about other female entrepreneurs.
Which female entrepreneurs do you admire most?
Um, Beyoncé? But besides that, there are a lot of bloggers I admire: I love Grace Bonney, the editor of Design Sponge; I love Emily Henderson, and the way she uses a lot of vintage items and whimsical things; and I love Joy Cho's blog and her colorful, playful aesthetic.
What's next for Mighty Paper?
Well for me,
Mighty Paper
is still quite young. I would love to add more items to the range, but I'm very careful about picking the products, so it takes a while. I would also like to add more manufacturers, and I've recently started to think about designing a few exclusive Mighty Paper pieces myself, but that's still in a very early development stage. I'm very curious to see where this journey will take me in the next five or 10 years.
Follow Mighty Paper on Instagram.
Photographs courtesy of Mighty Paper