by Mary Kinney
For this UK-based jewelry designer, losing her job meant finding a new — and more fulfilling — life path.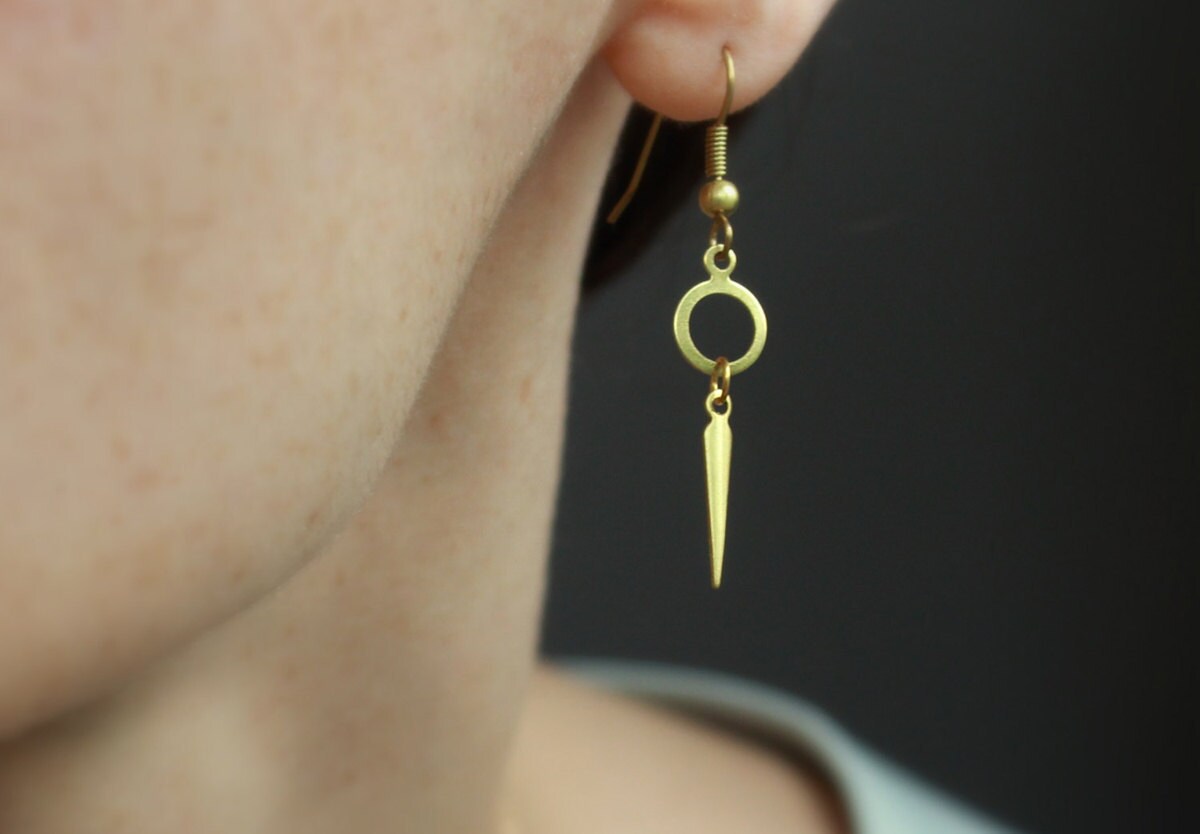 When Dominica Rossa began making modern, minimal jewelry for her shop
Minky Kitten
, she was facing a dire financial situation: Her job would soon be outsourced, and she wasn't sure which path to pursue next. Dominica always had a passion for design after studying illustration and art in college, and she hoped her next move could be a creative one. "I started applying for jobs and didn't hear anything, even from retail," Dominica says. While job searching, she had time to exercise her creativity in a new medium: jewelry. Dominica spent hours honing her craft and learning from videos she found online. As she created her delicate, feminine pieces, she realized she had found her passion — and perhaps, the job she'd been looking for all along. Four thousand sales later, Dominica's line has expanded to include hammered metals and vibrant stones — but simplicity remains central to her aesthetic. (One of her best-selling pieces is a hammered ring made from a single piece of wire.) As the orders continue to roll in, Minky Kitten remains a one-woman operation. "I do everything, it's just me," Dominica explains. "I walk to the post office, I take the photos, I'm in the photos, everything."
Read on to find out how Dominica uses her fine art experience to create her effortlessly elegant jewelry line.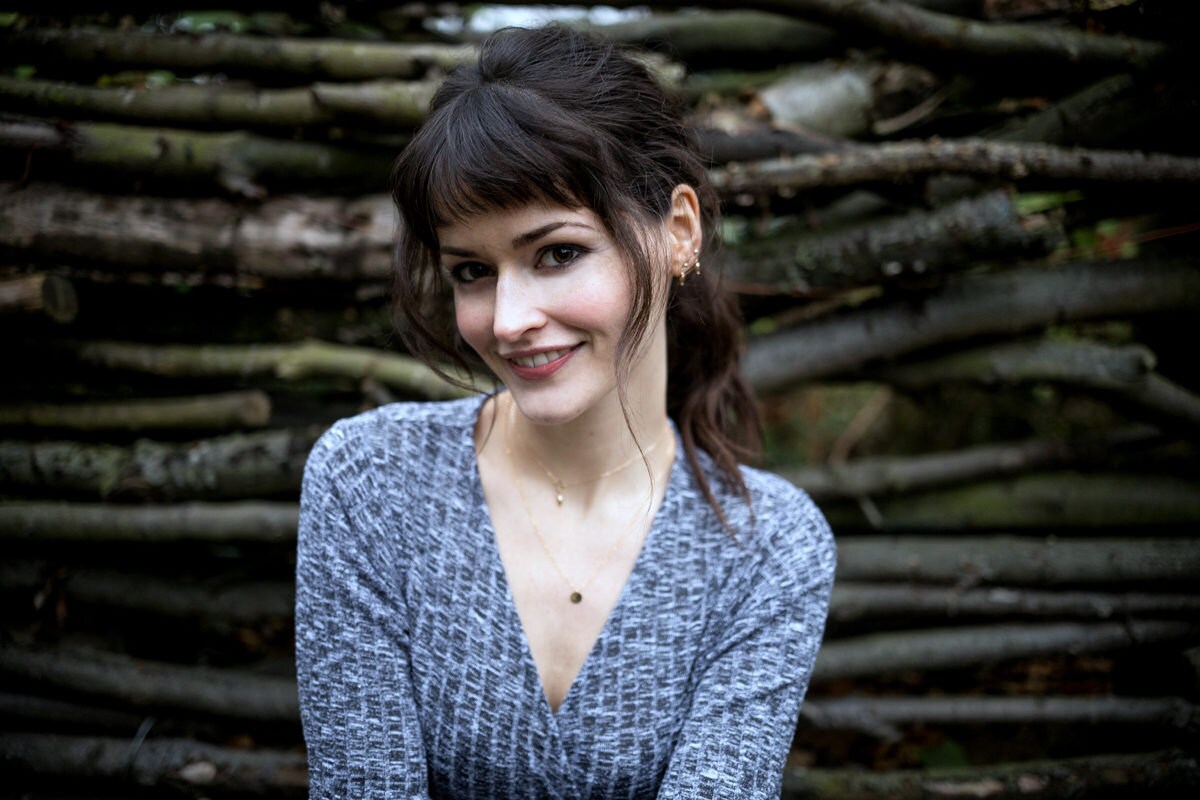 Photo by Andrew Maguire
How did you get started working in jewelry?
I don't have a background in jewelry; I started in illustration. When I was in college, I had made something with wire, but it was more of a sculpture. I studied art and design before that, so I had experience with various design and art-related things, but not jewelry. So I went online, looked at videos, and opened up
my Etsy shop
quite soon after. I had a lot of spare time because it got to the point where I literally didn't have a job. I really focused on my skill and I loved it. It just clicked.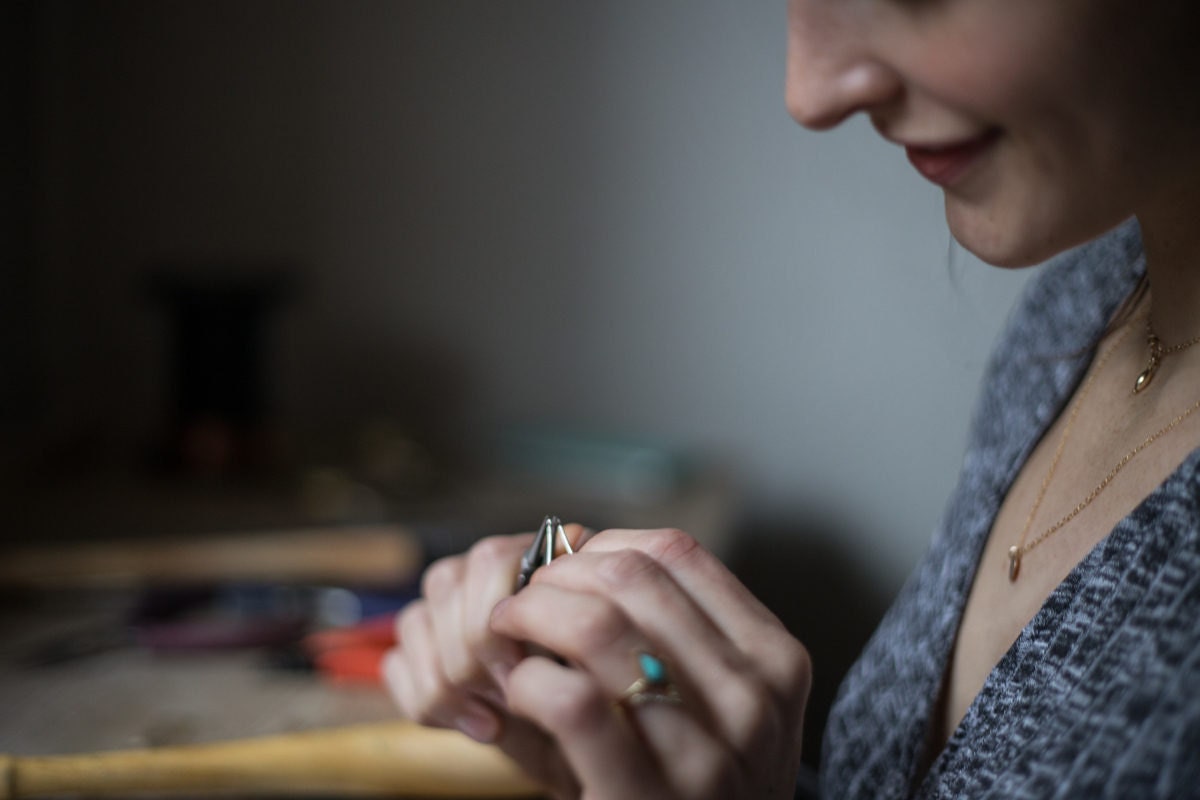 Photo by Andrew Maguire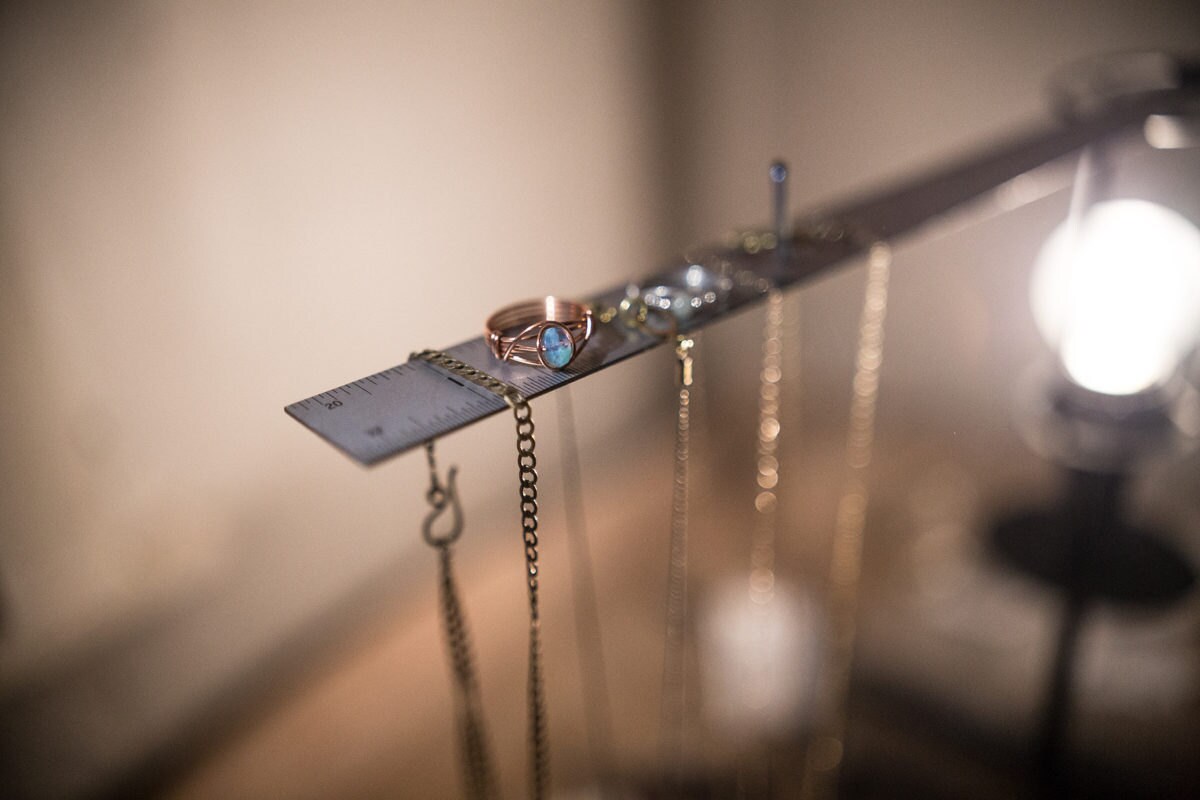 Photo by Andrew Maguire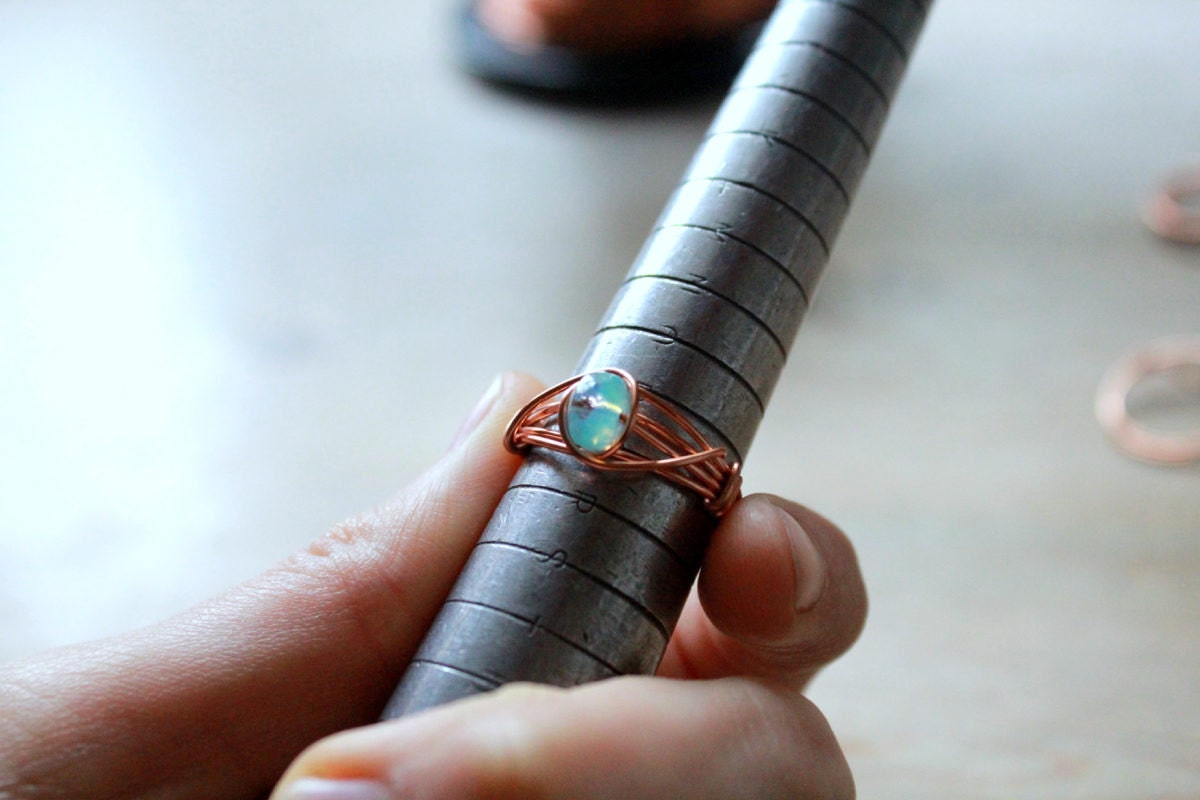 How do your pieces progress from idea to finished product?
I don't do any sketches, which is strange because my background is in illustration. I just have an idea and play around, trial and error. Often, the ideas come to me because I put an outfit on and don't have anything to wear with it, or I'm making something for a gift for a family member. I try to set time to create weekly. If I'm not busy, it could be daily — especially if I have new materials to play with, like a new stone or metal. Once I've made the item, it takes a few days to get it into
my shop
. I need time to think about it, to try it on and style it, and I need time to edit the photos as well.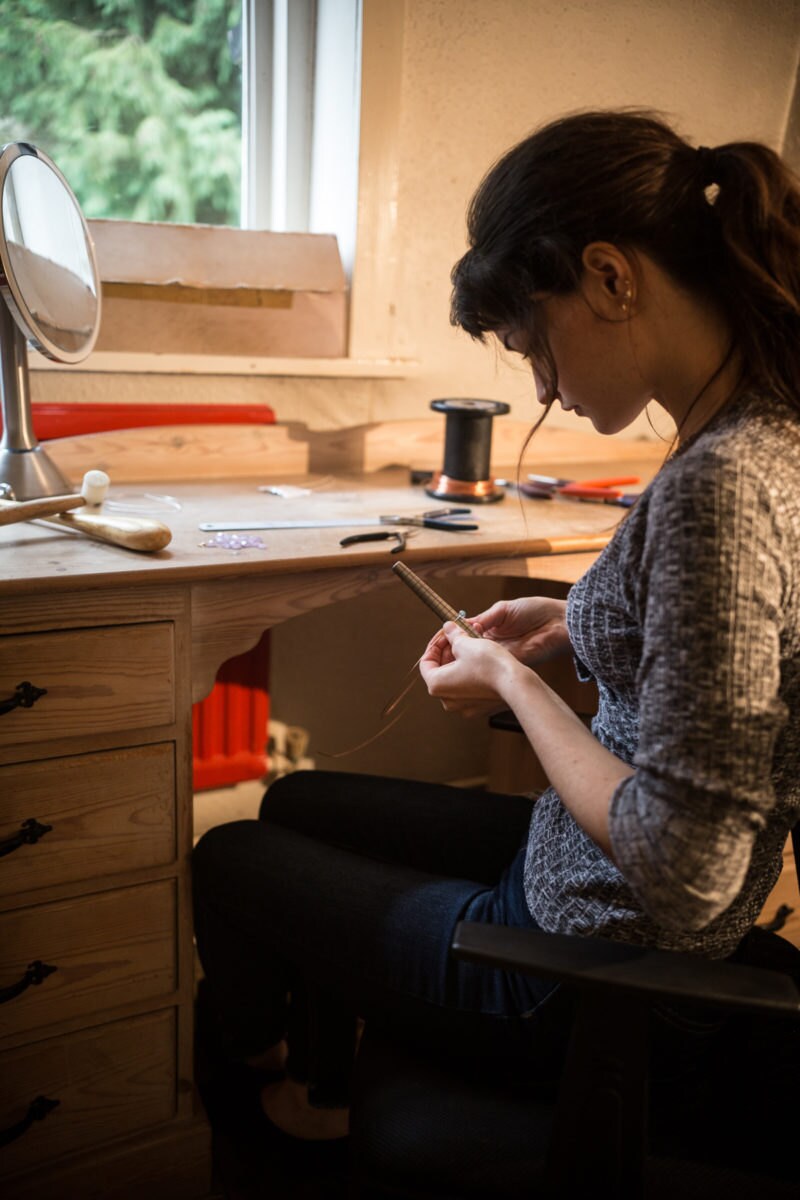 Photo by Andrew Maguire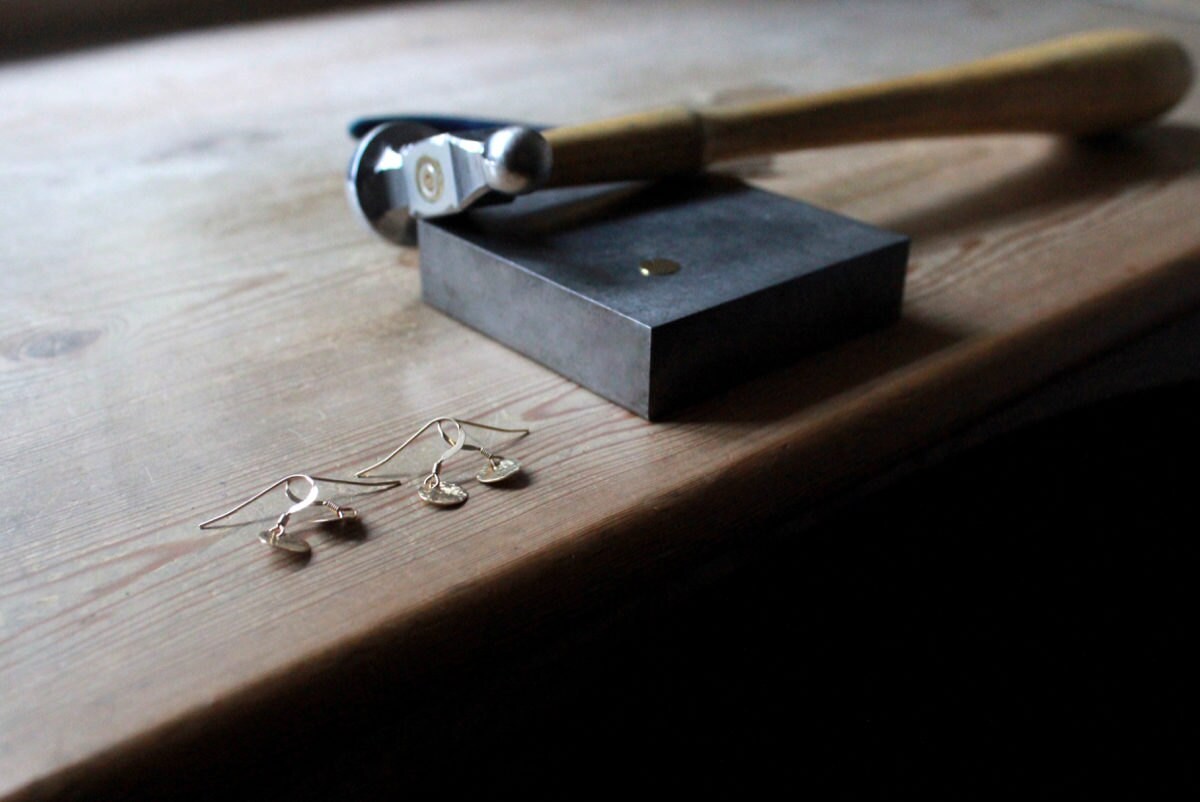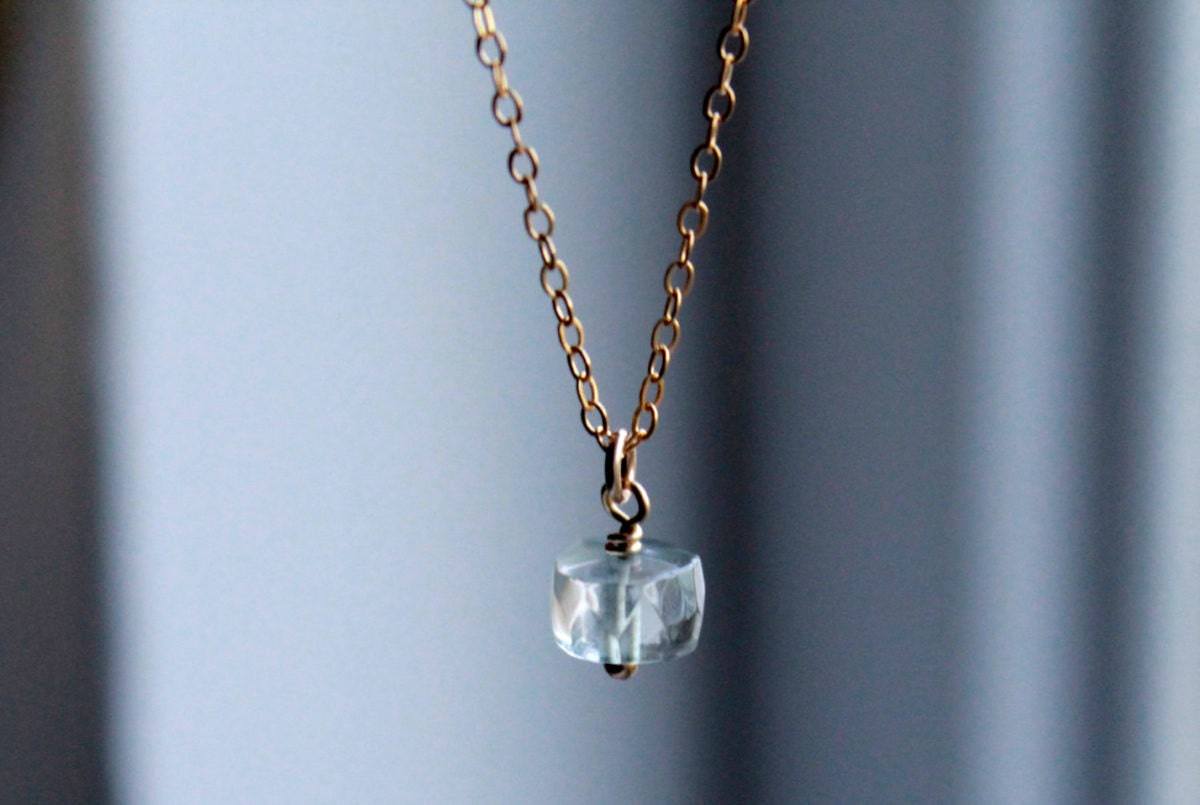 What's your workspace like?
I work at home. I actually just moved back in with my parents — I was living in London for eight years. I'm currently working in my brother's old room, so it's just a table in the room, and that's it. It's quite basic. I moved away from home when I was 18; I'm 31 now. It's very strange, but it's temporary. I'm actually applying for a visa to live in South Africa. My fiancé is from South Africa so we want to give that a go. The process is quite slow, though.
Where do you go for creative inspiration?
One place that I go to for inspiration is museums — I love wandering in the jewelry section and looking at the relics. I have quite a few
hammered pendants
, and that's probably where that inspiration shows. I like a modern look, but I also like rustic touches.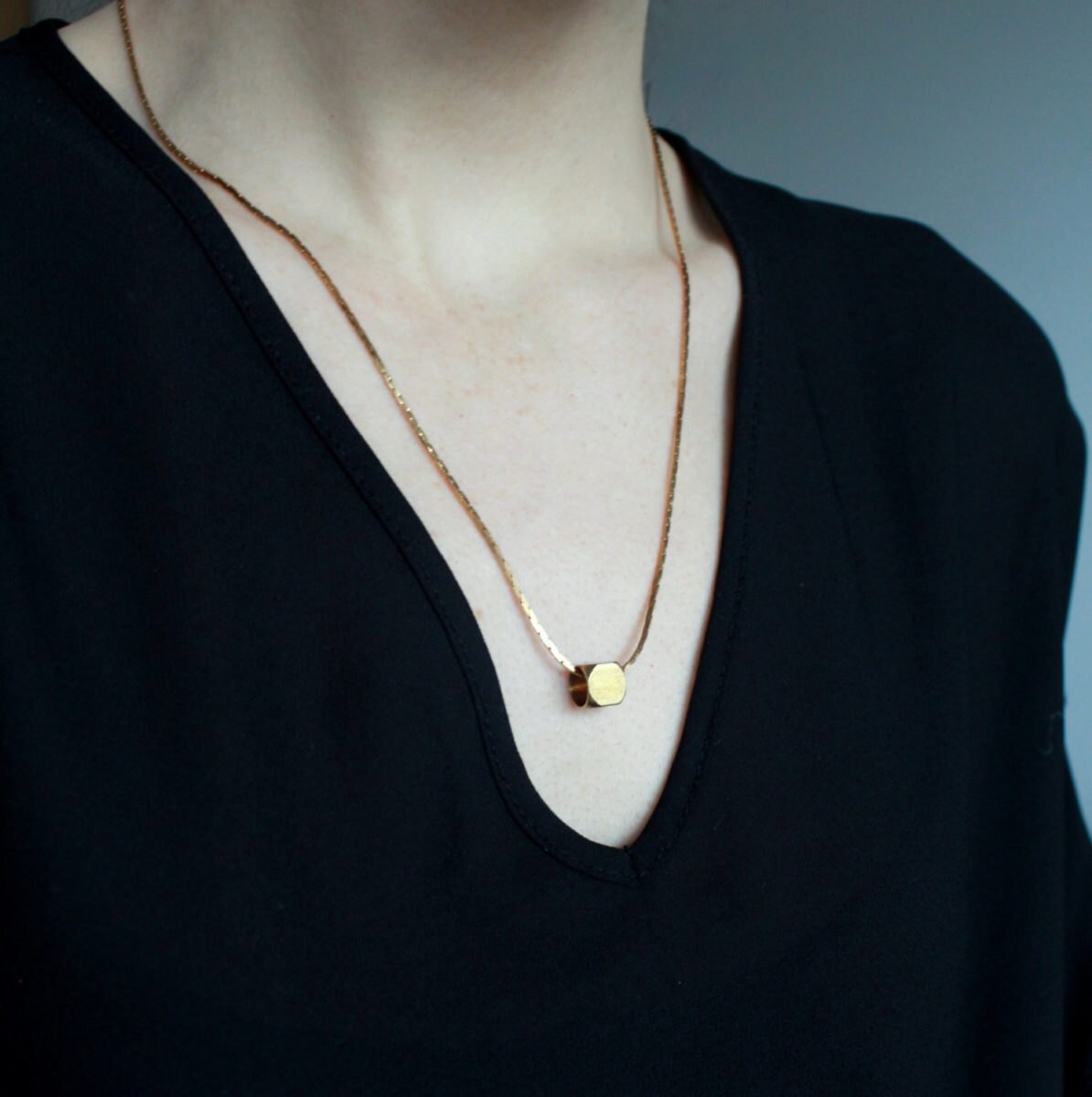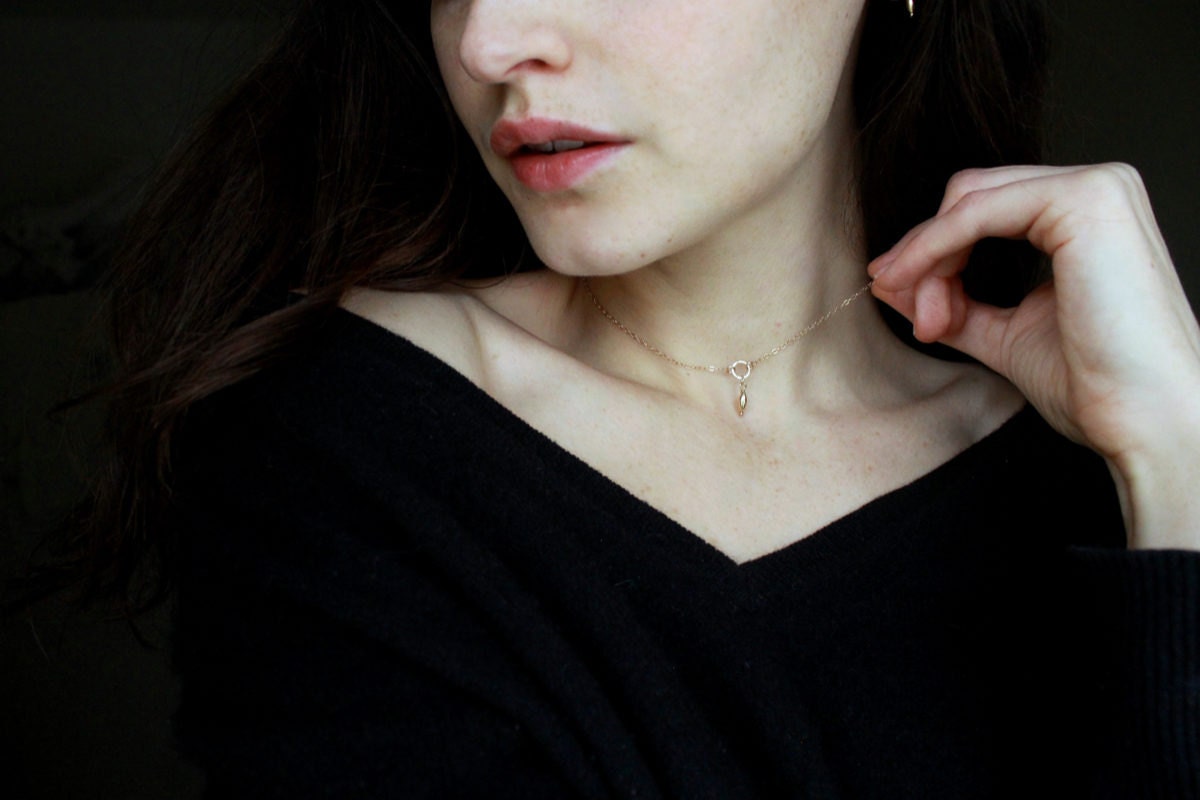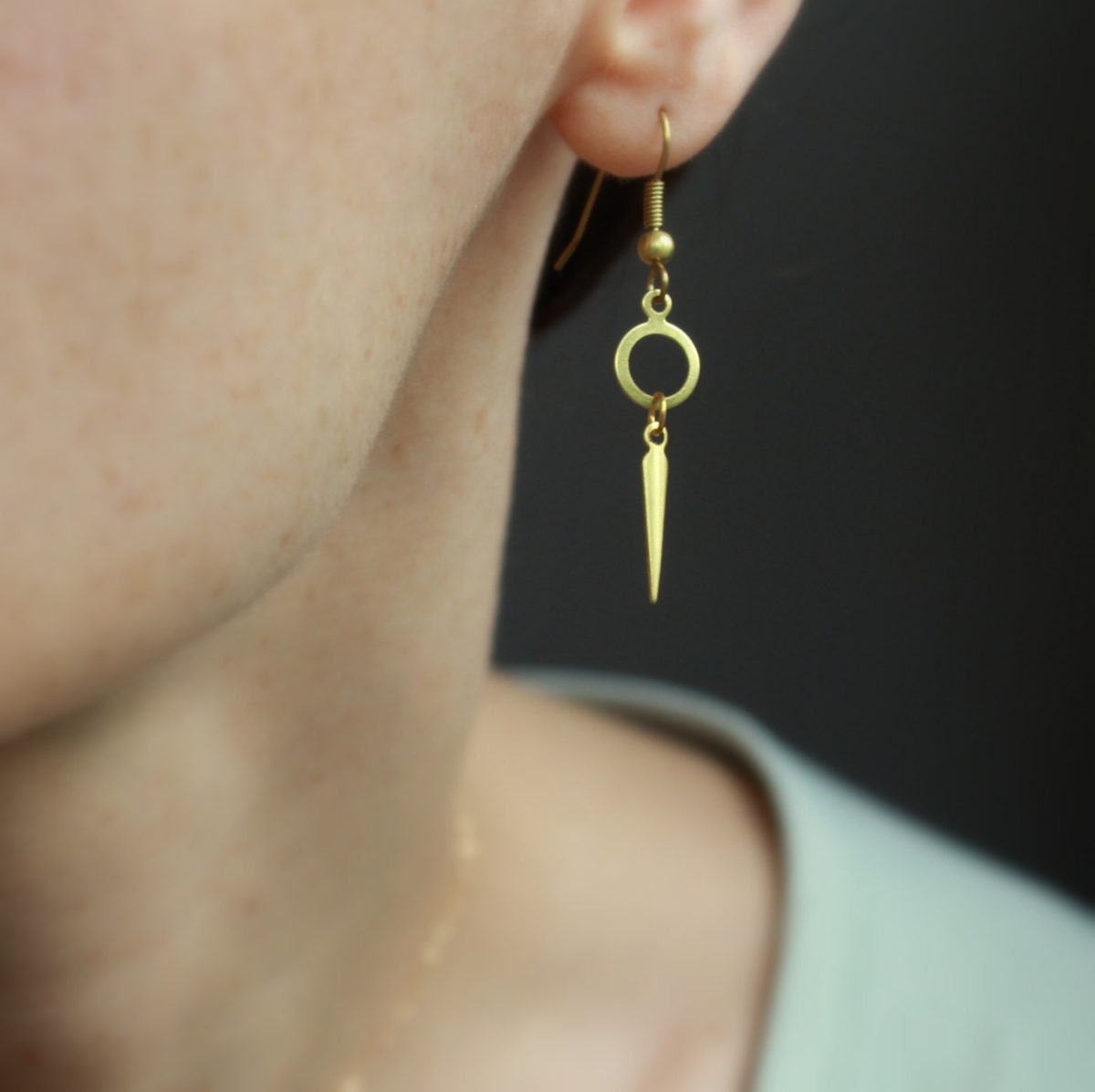 When you're creating, do you have a person in mind?
It tends to to come back to either me or someone I know. I try to vary it because I know not everyone is going to like what I like. I have three sisters and it's good to imagine what they would wear, since they don't have the same style as me. My sisters are much more into silver than I am, and more classic as well. My aesthetic is definitely modern, but I do like to have a bit of an edge, so most of the time I make pieces that are quite modern and minimal overall, with accents of different styles. I always think about how a piece will fit into someone's life, so it's really important to me that any jewelry I create is very wearable.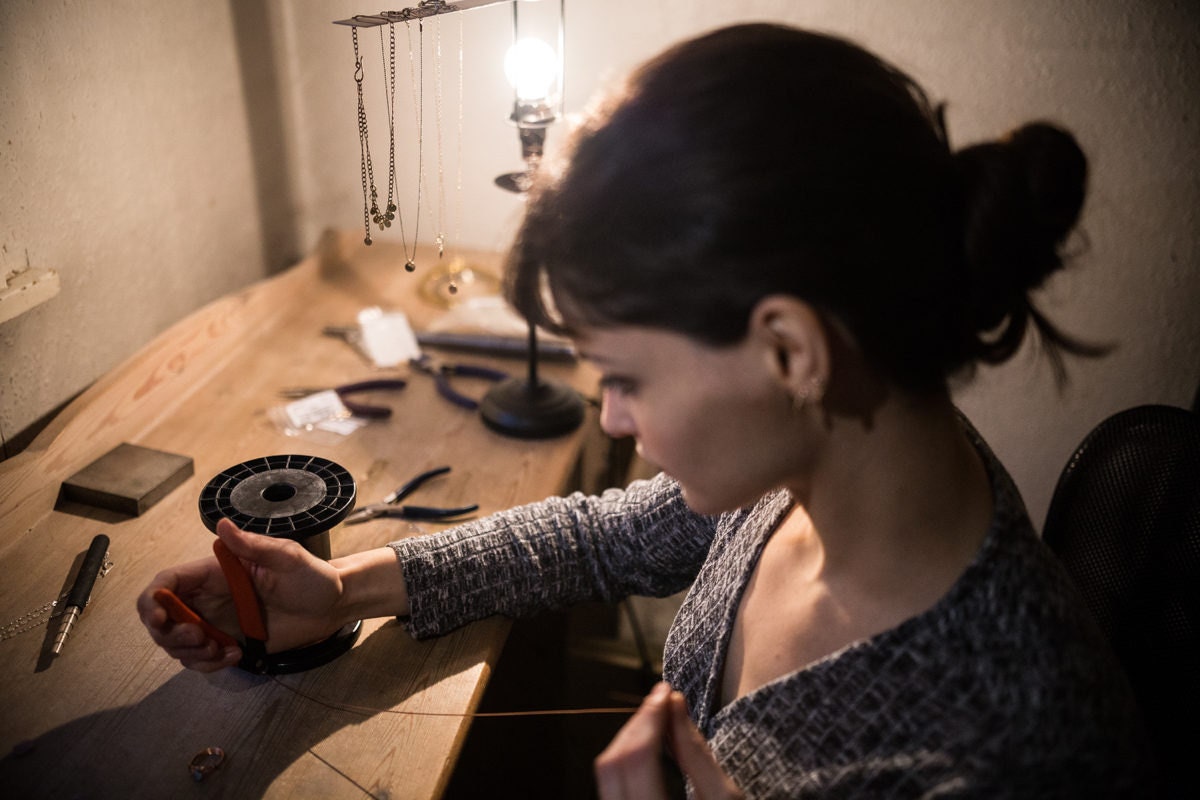 Photo by Andrew Maguire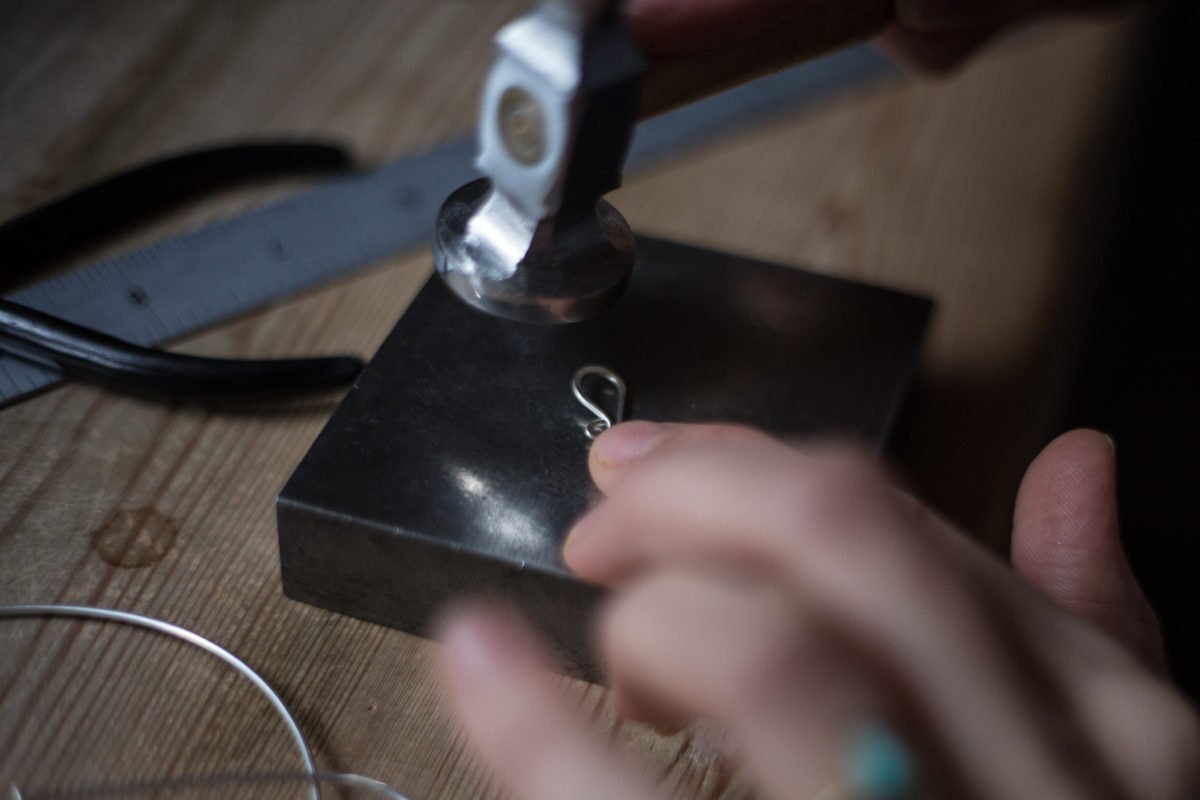 Photo by Andrew Maguire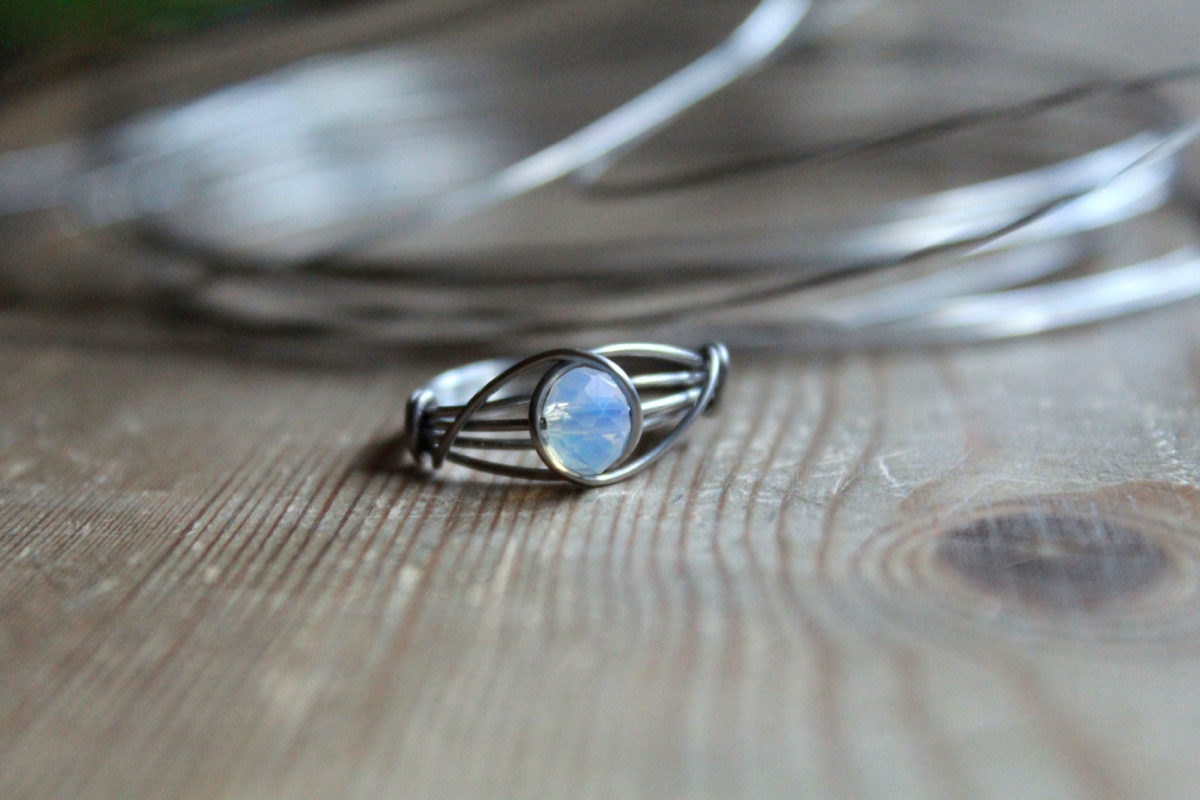 How have your customers helped your business evolve?
I've been so taken aback by all of my friendly customers on Etsy. I remember once someone told me she was buying a ring to replace one that her partner had given her — and she had broken up with him. And then she messaged me saying she was really happy. That's big. Things like that happen frequently on Etsy, which is really nice. And I absolutely love the reviews feature where people can share photos of themselves wearing their purchases. I remember seeing a customer who had ordered a
pair of earrings
 and was wearing them both in one ear; that inspired me to get a second piercing on my own ear. Clearly, there are options for jewelry that I'm not yet exploring myself, and my customers help guide me in that way.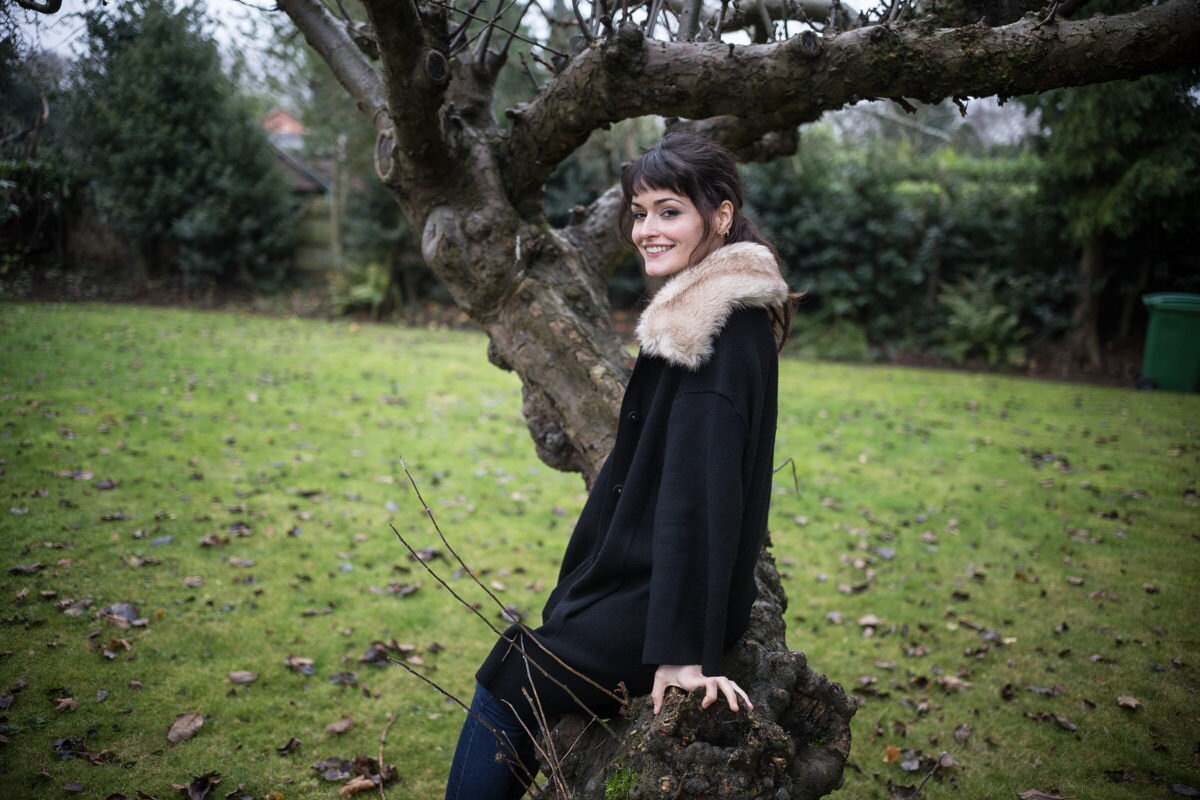 Photo by Andrew Maguire
What are you looking forward to in 2017?
I definitely want to expand the techniques I use. I'd love to be able to fuse metal with soldering. I've taken a few courses in it, but I haven't been able to take the skills home. I was quite scared of fire for a long time, so for me, that's a big fear to overcome. I think moving to South Africa will give me the opportunity for a better workspace and I'll have the space for a soldering torch. I would love that. I think it will be a challenge, but I'm excited.
Keep up with Minky Kitten on Instagram.
Photographs courtesy of Minky Kitten or Andrew Maguire (where noted).