MirDinara designer Dinara Mirtalipova mines images and motifs from folklore and fairytales to create her colorful line of housewares and paper goods.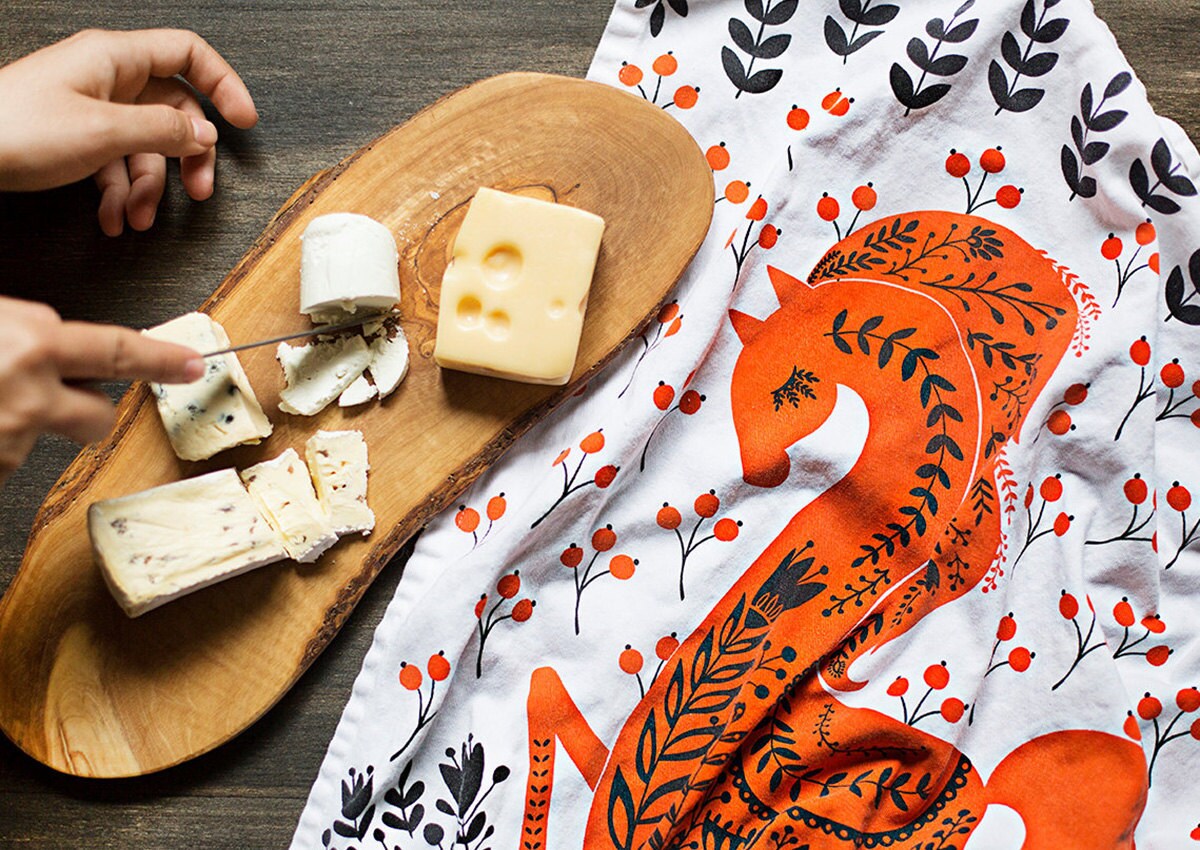 Ohio-based Uzbek artist Dinara Mirtalipova found her calling while working at a big greeting card company. "In the beginning, it was definitely not a design role," Dinara says. "I was hired for an entry level job: They gave me scissors and paper and I was supposed to cut out templates. The only skill I was required for that job was the ability to handle scissors." Driven by a natural curiosity, Dinara began studying design on her own, building her skills and working her way up to a position as an in-house designer. It was a dream job — aside from the crazy hours and the time she was spending apart from her young daughter. Eventually, she took the leap to launch her own line of printed tea towels, paper goods, and original art inspired by the folk motifs and patterns of her childhood home. She called it 
MirDinara
. "Once I became a mother, I just really felt like I was missing my daughter so badly," Dinara says. "That was one of the main reasons I decided to leave my job and go solo. Plus, I always had a passion for textiles and surface design, and my daughter was at that stage when she really enjoyed cooking with me. That's how my
MirDinara printed towels
were born." Today, the illustrator and pattern designer works from home, mostly at night when the house is quiet ("That's when I can concentrate — and I'm a night owl, anyway"). And while her work graces everything from book covers and greeting cards to Japanese travel mugs (thanks to some international licensing deals), it's her first product — those folklore-inflected tea towels — and the weekend breakfast-making sessions with her daughter that inspired them, that remain at the heart of her business. "I love creating art. I go to bed thinking about creating art, and I wake up thinking about creating art — I basically just can't stop doing it," she says.
Read more of Dinara's story below and
shop the MirDinara collection
.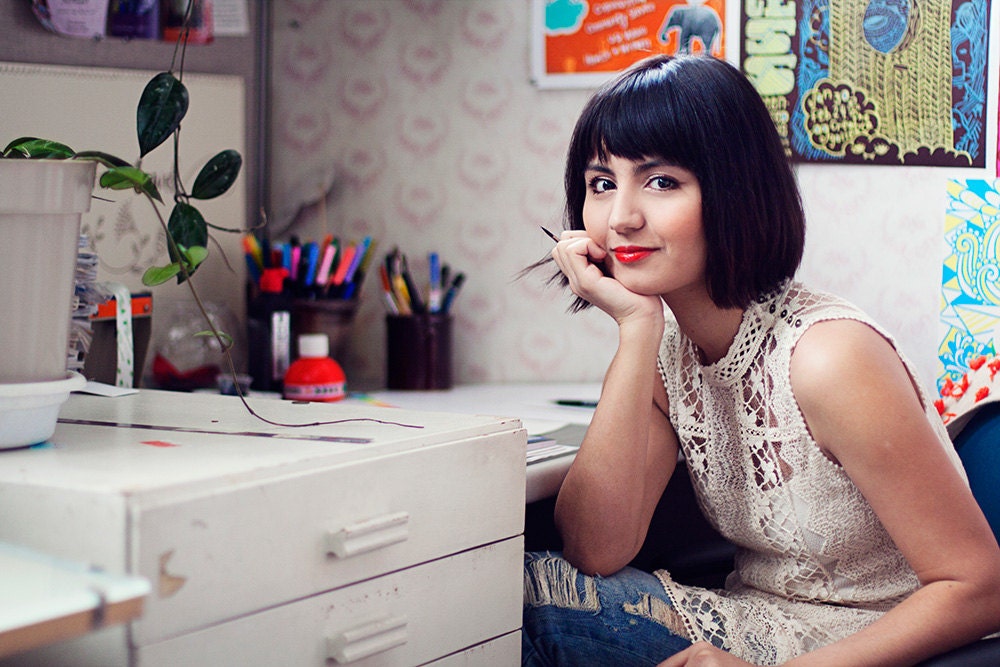 You're completely self-taught as an artist, right? How long have you been making art, and what drew you to illustration?
I was one of those doodlers at school — you know, one of those kids who always doodled on the back pages of her textbooks — but I never really considered it as a profession. I went to school for computer science, because I thought that's how I would pay my bills. But then right after I graduated my family moved to the United States, and I found myself in a part-time, second-shift job at American Greetings. As soon as I entered that world, I realized I wanted to stay there forever. I had found my calling; that was my 'aha' moment. American Greetings was such a great classroom: They provided educational workshops, demonstrations and talks. While I was working there, I was constantly in and out of the library, taking books home and looking up YouTube tutorials for Photoshop, Illustrator, and other design tools. I was driven by my natural curiosity and my passion to
do this professionally
. Year by year, I worked on my skills and continued to build on them. I also started working on my portfolio and applying to different positions, and finally made my way up to being an in-house designer. Then my daughter was born, and I realized there was something more important than going to a full-time job.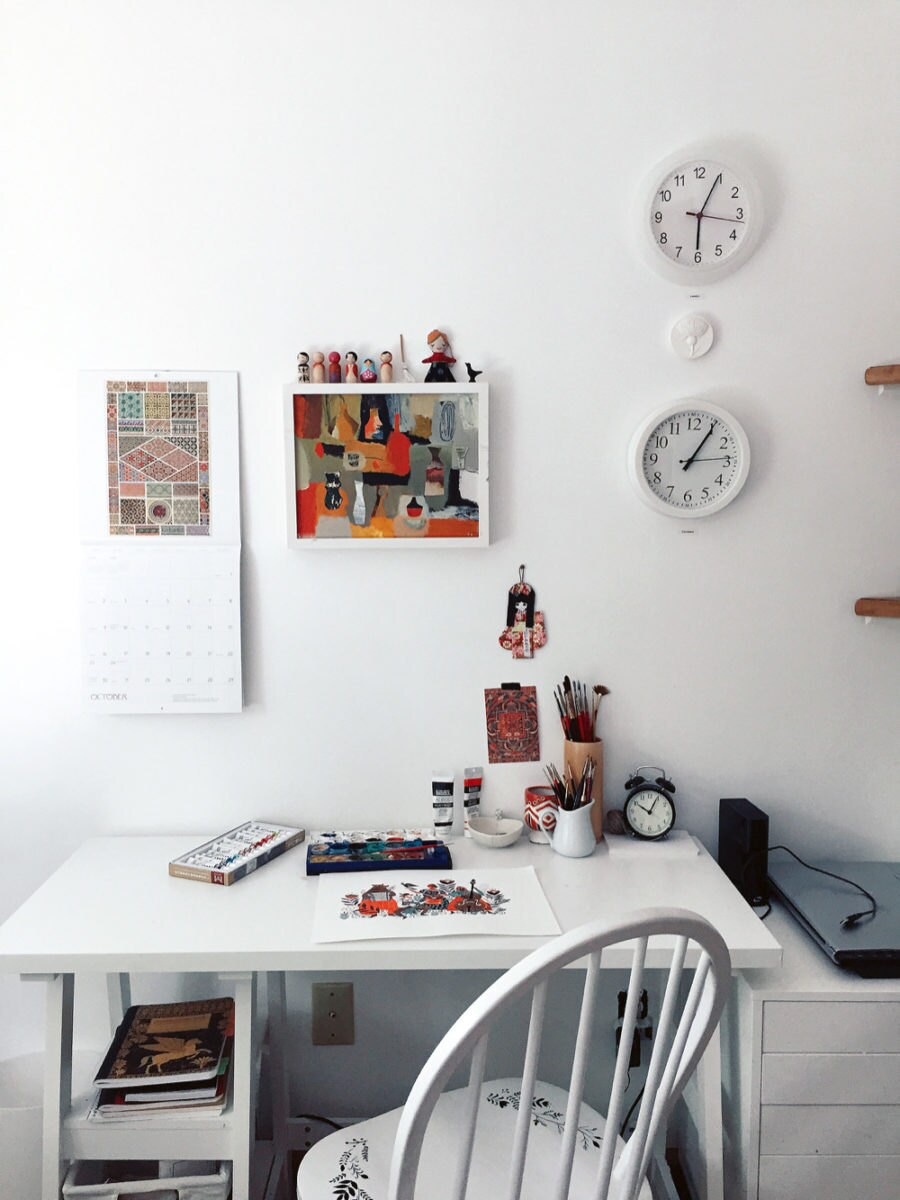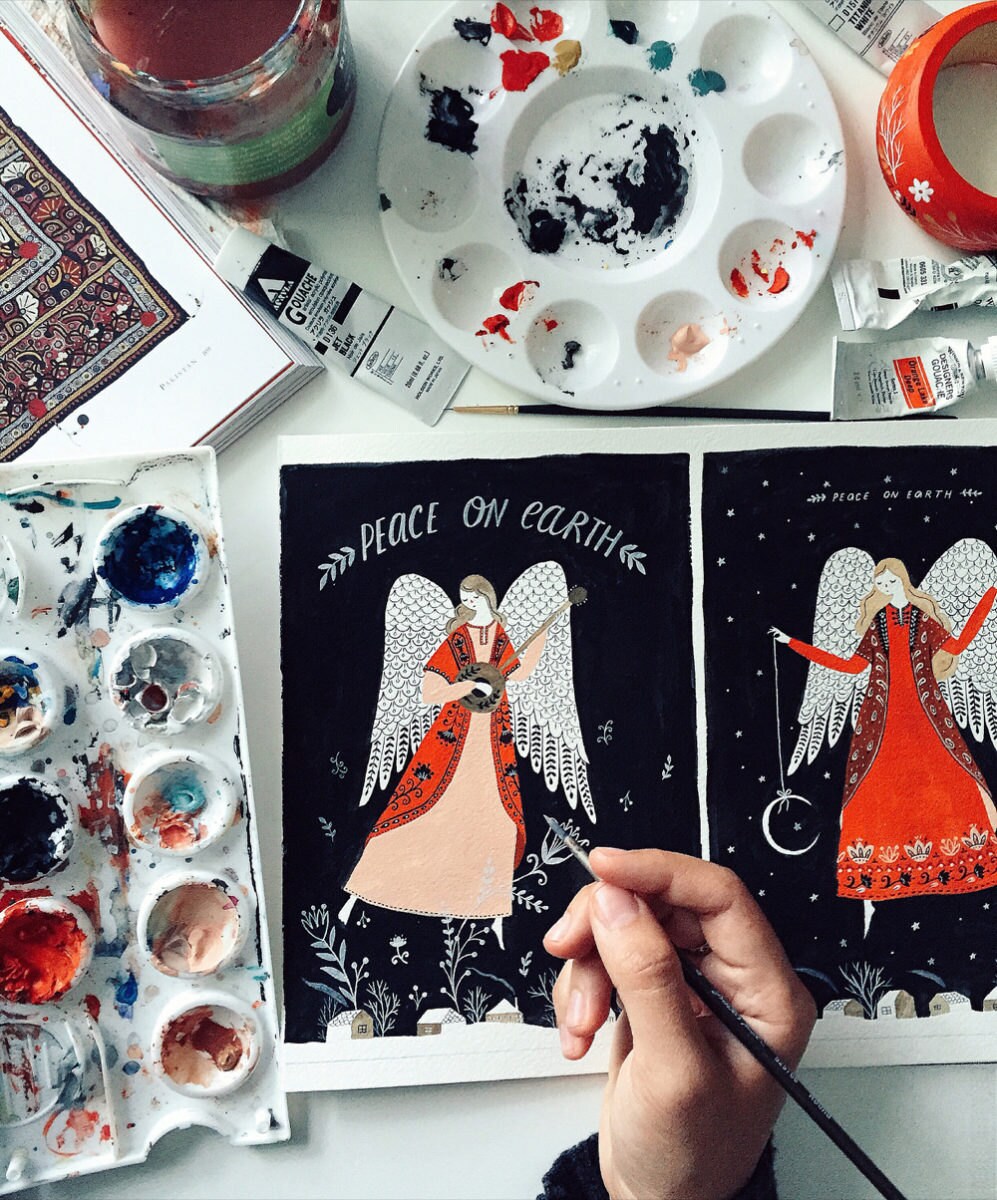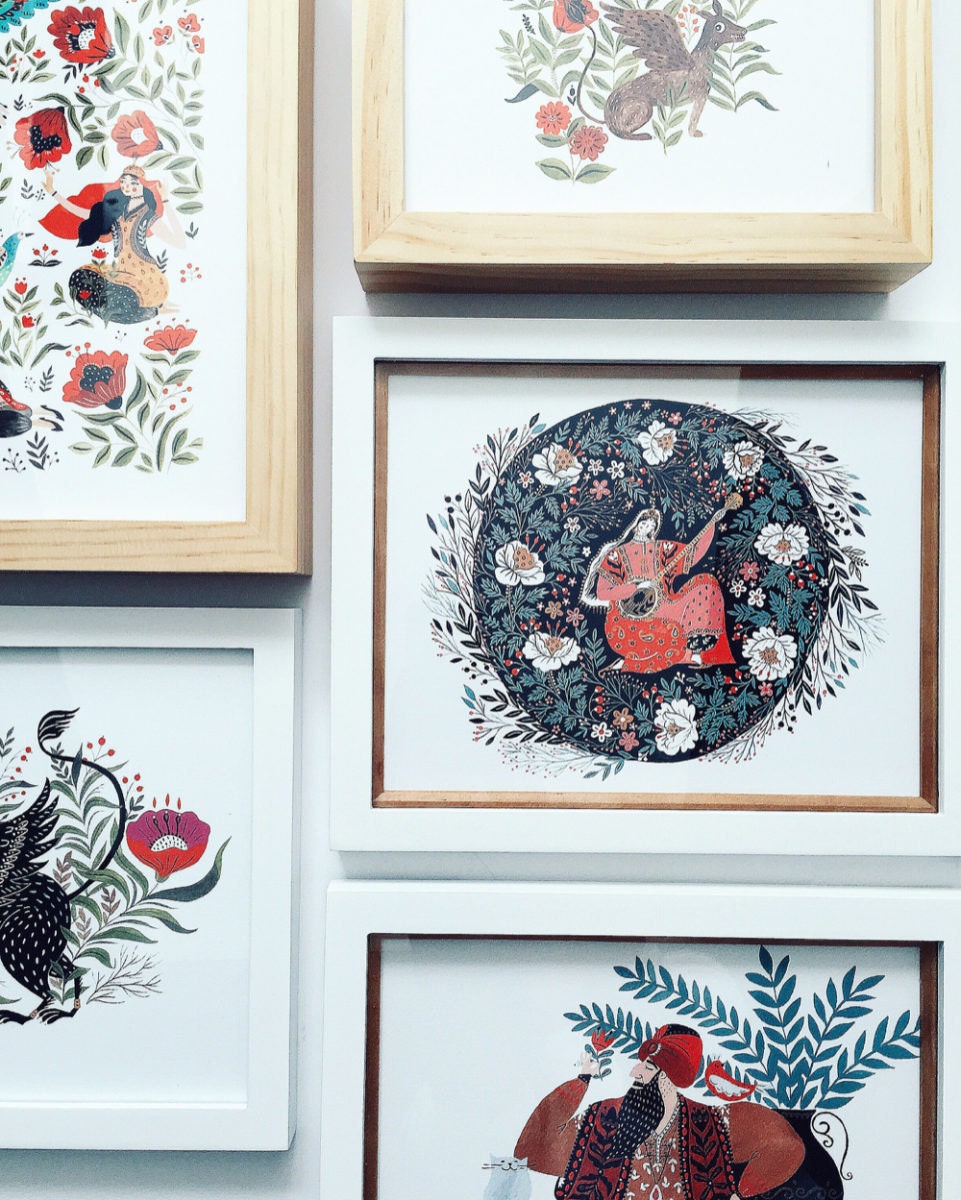 Did you find your illustration style right away, or did it develop over time? What drew you to the look that you're working in now?
It definitely developed over time, but I have always been inspired by
folklore, fairytales, and traditional folk songs and textiles
. I guess it comes from being so far away from my hometown, and perhaps missing my grandma's house so badly — she used to have the most beautiful carpets hanging on the wall and so many gorgeous, vibrant textiles and dresses. My style is a combination of those childhood memories and what I find pretty in general.
What about your color palette? Do you always work with these colors or do you change up your palette with time?
I like bright colors and black; I like orange, reds, blues and forest green, mustard yellow and white. I don't really change
my palette
too much. These are the colors I'm most comfortable working in. Sometimes the combinations will shift — sometimes it's yellow and red, or red and green — but mostly I use the same palette.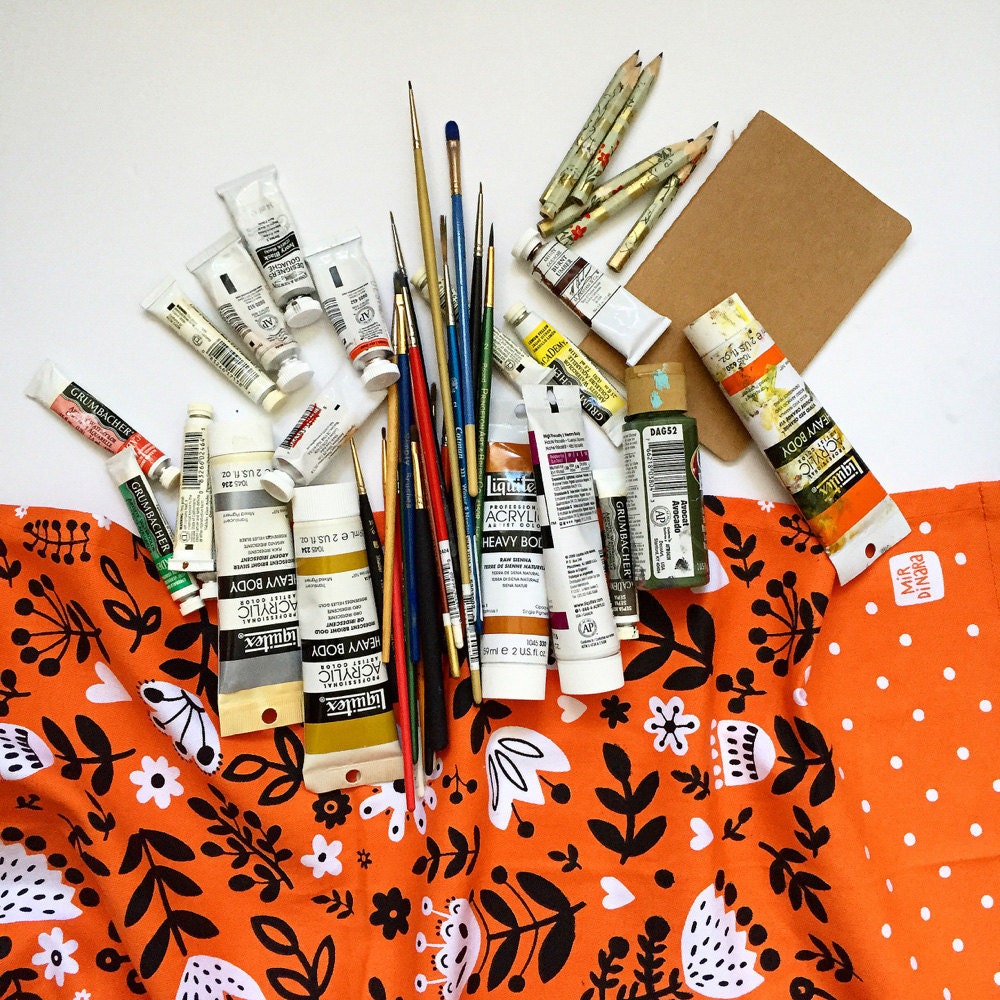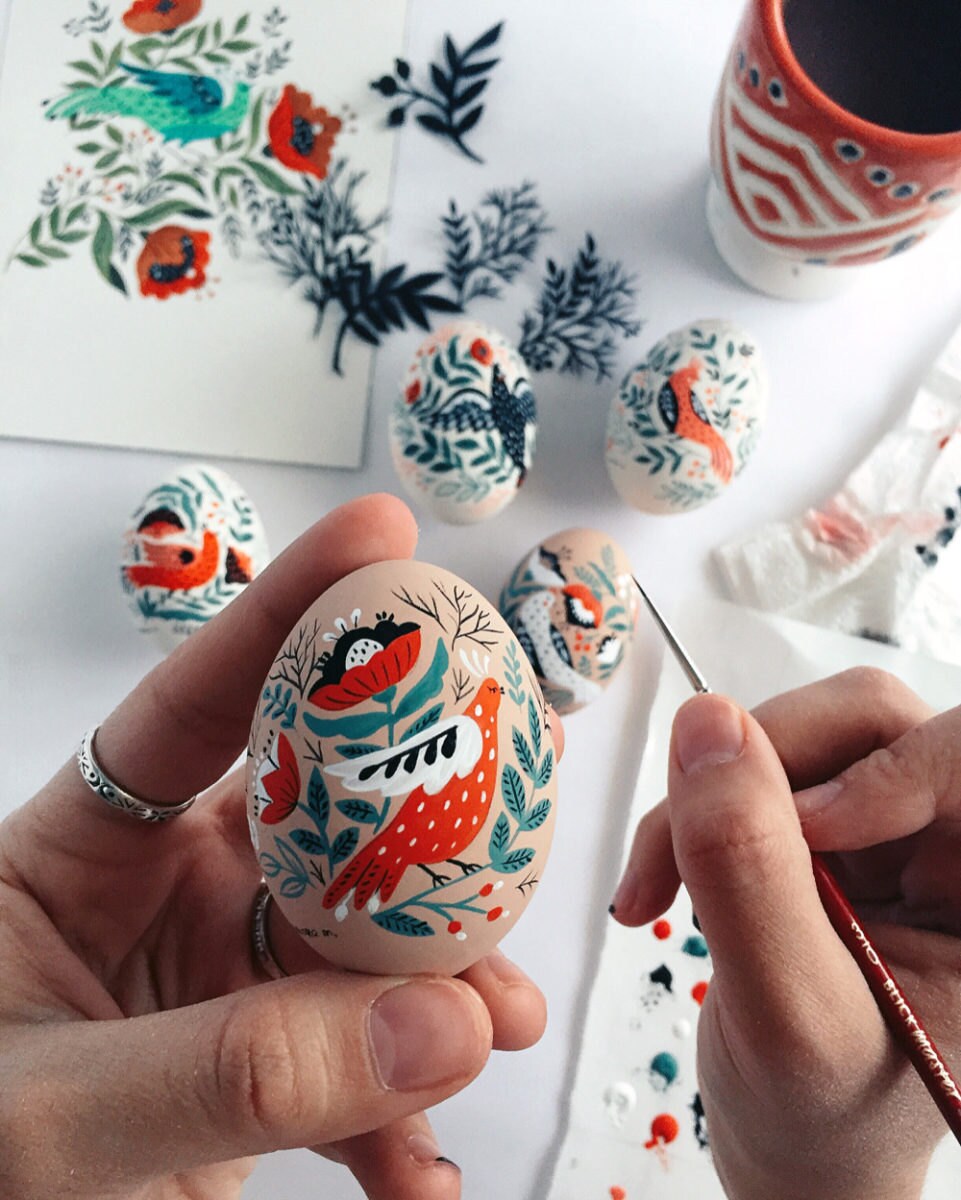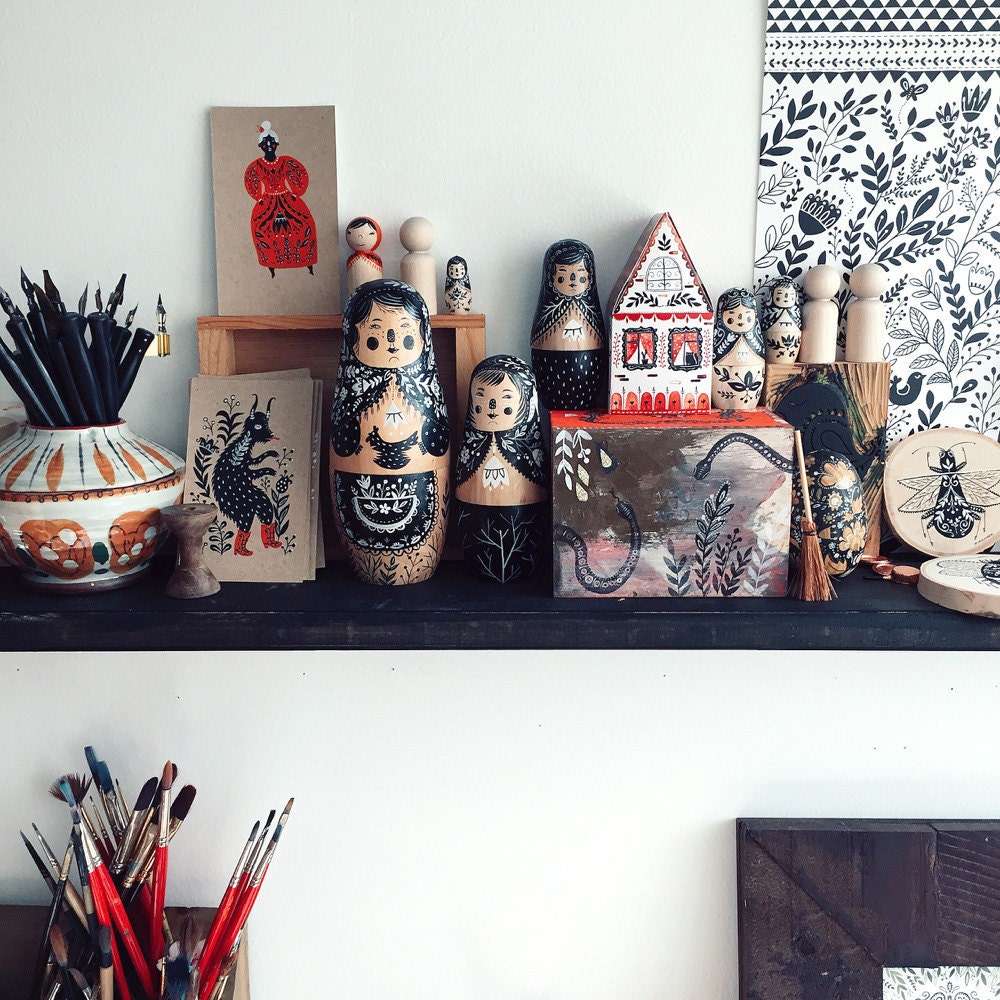 What are some other sources of inspiration for you? Your Instagram feed references everything from antiques shops and TV shows to crafts you do with your daughter.
For a long time, my daughter has been so obsessed with mermaids — always asking, 'Mommy, can you draw me a mermaid?' — so for a while I became obsessed with mermaids. Everything had a fishy tail. But everything that surrounds you becomes your inspiration, like watching
Game of Thrones 
and then drawing knights and princesses. I love looking at pottery and textiles and vintage photos in antiques shops, I love going to museums, and we love taking walks in the evening taking photos. I can't really explain it, but I like everything that's happy and colorful and poetic.
Once you see something that inspires you, what happens next? Do you just sit down and start painting?
During the day I try to carry a pencil and pad with me, but it doesn't always happen. It's usually only a visual I keep in my mind. I don't like following the exact details of an inspiration, so I never pin anything on my wall, I just absorb it with my eyes. Then
when I am drawing
alone late at night, relaxed and sitting at the table with my pencils and maybe some music on, somehow it just happens.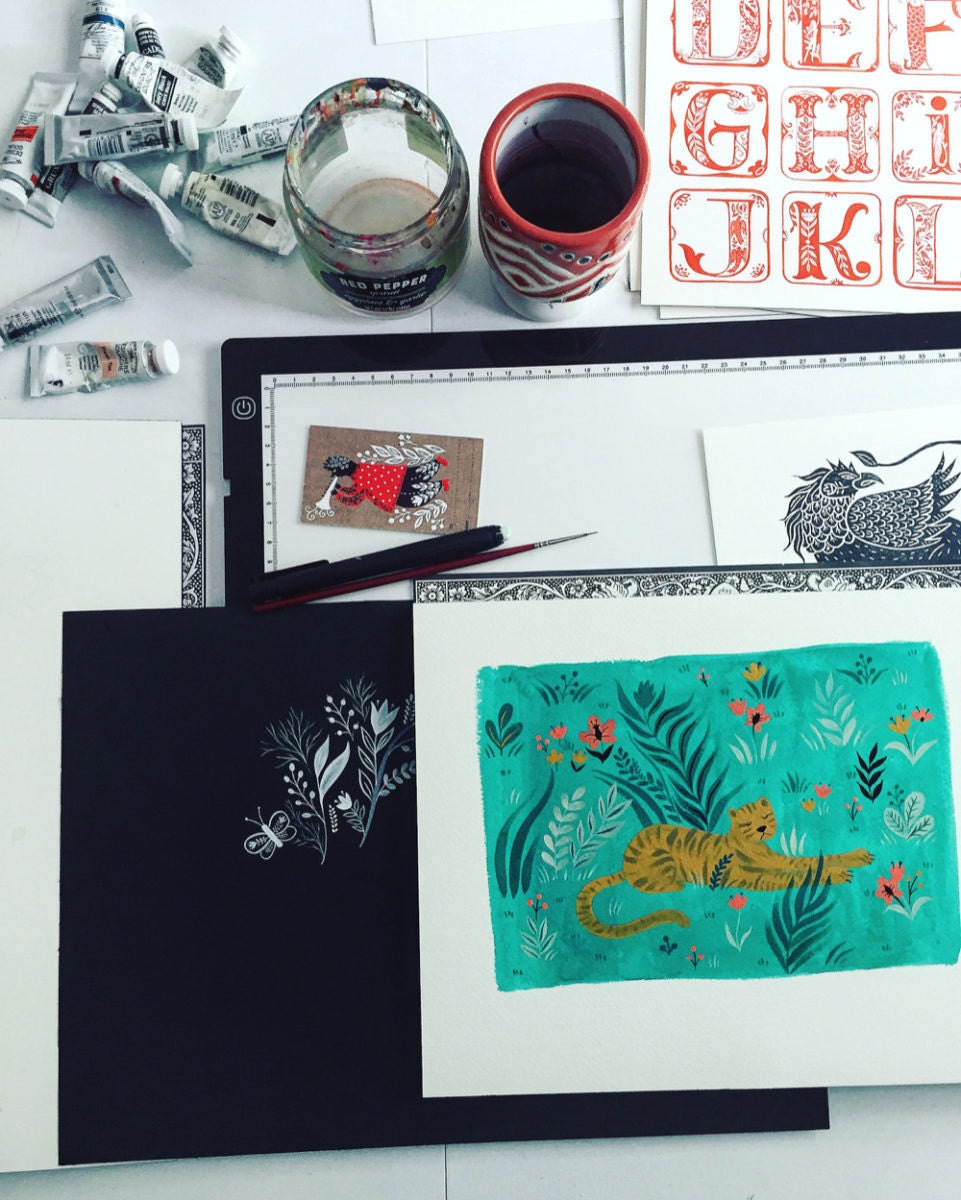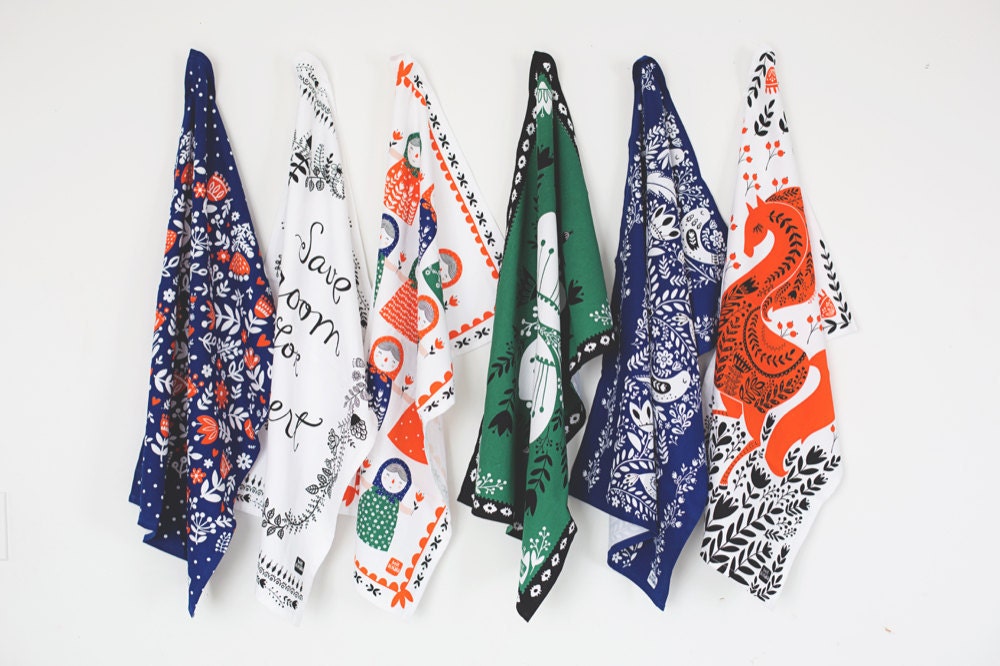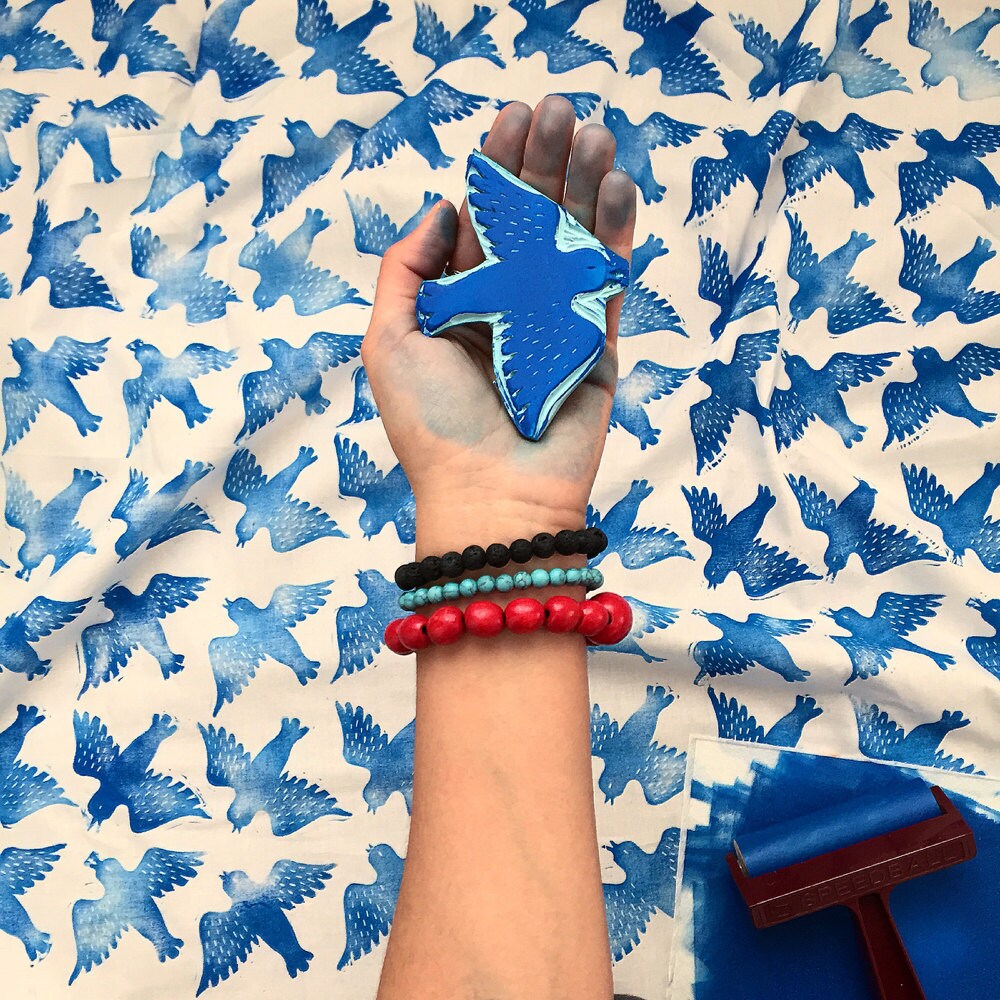 You have painted on canvas, wood, stones, and matryoshka dolls, along with creating printed fabrics and carving rubber stamps. Do you have a favorite material to work with?
I like painting on anything, really; I like to vary things from time to time because it can become too boring painting only on paper. It could be any surface, and what's fun about experimenting with unknown surfaces is that you never know how the paint will act. For example, I really like painting on wood, because it kind of absorbs the ink and I really like how the ink behaves on a wooden surface. I also really like the smell of wood, and it all just feels like playing. Once something becomes too familiar though, then it doesn't interest me as much, so I have to rotate it.
In addition to your shop, you also license your designs to other companies, illustrate book covers, and show in galleries. That's a lot of projects! How do you manage all of that and still find balance?
It's tough, but because I enjoy it so much, I don't really feel like it's a job; I am happy for the many creative opportunities I get and I really love what I'm doing. At the same time, I work really hard: I work every day and I work every night. Right now it's a little easier because my daughter is older and goes to school from nine to three. That gives me some time during the day to answer emails and do the non-creative part of my job. Later, I pick her up at school and we do dinner and family time, maybe take a walk in the evening. Once she's in bed and asleep, I have all that nighttime to myself. I really like listening to music or watching a movie while I'm sitting and working.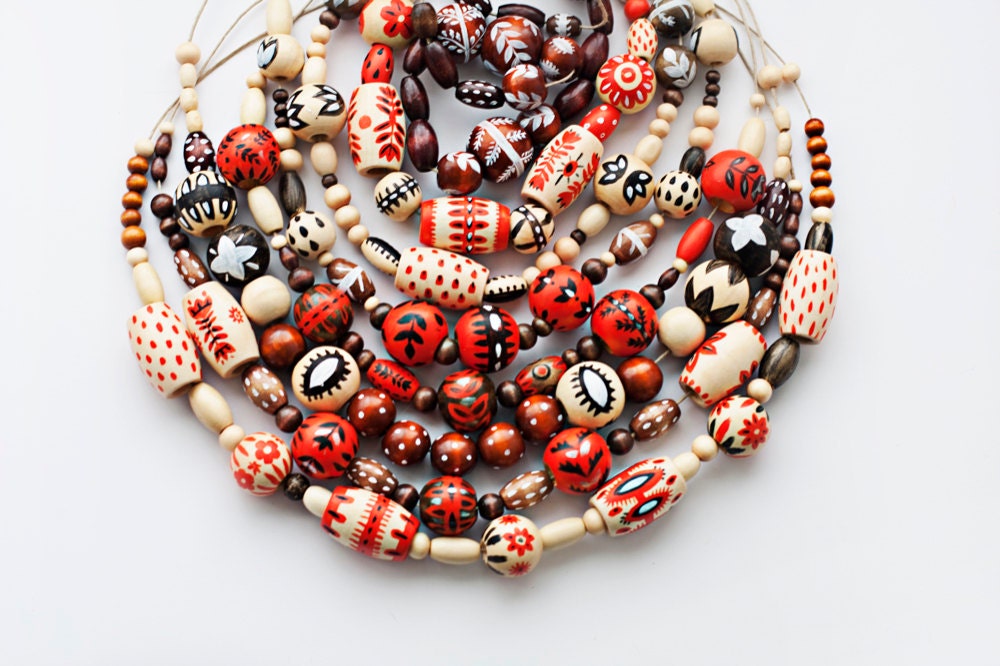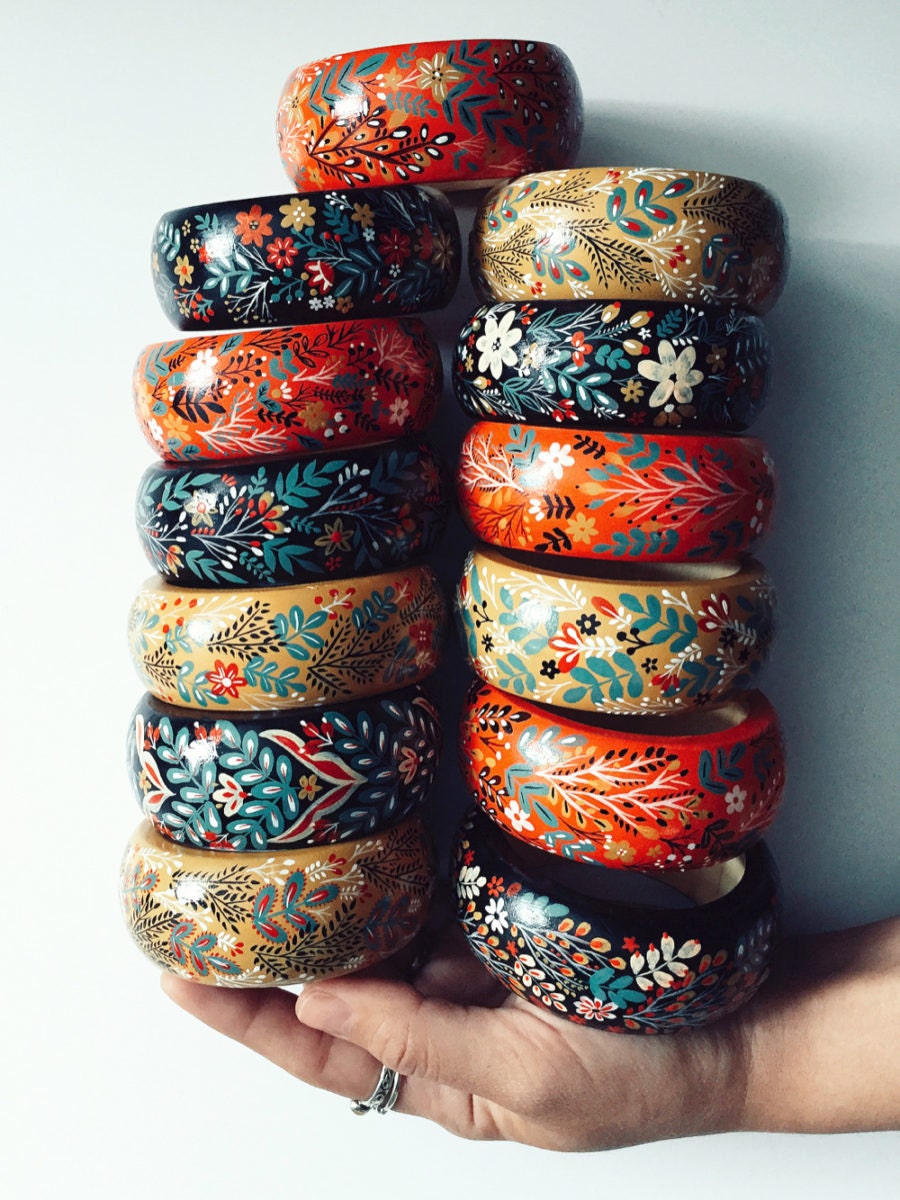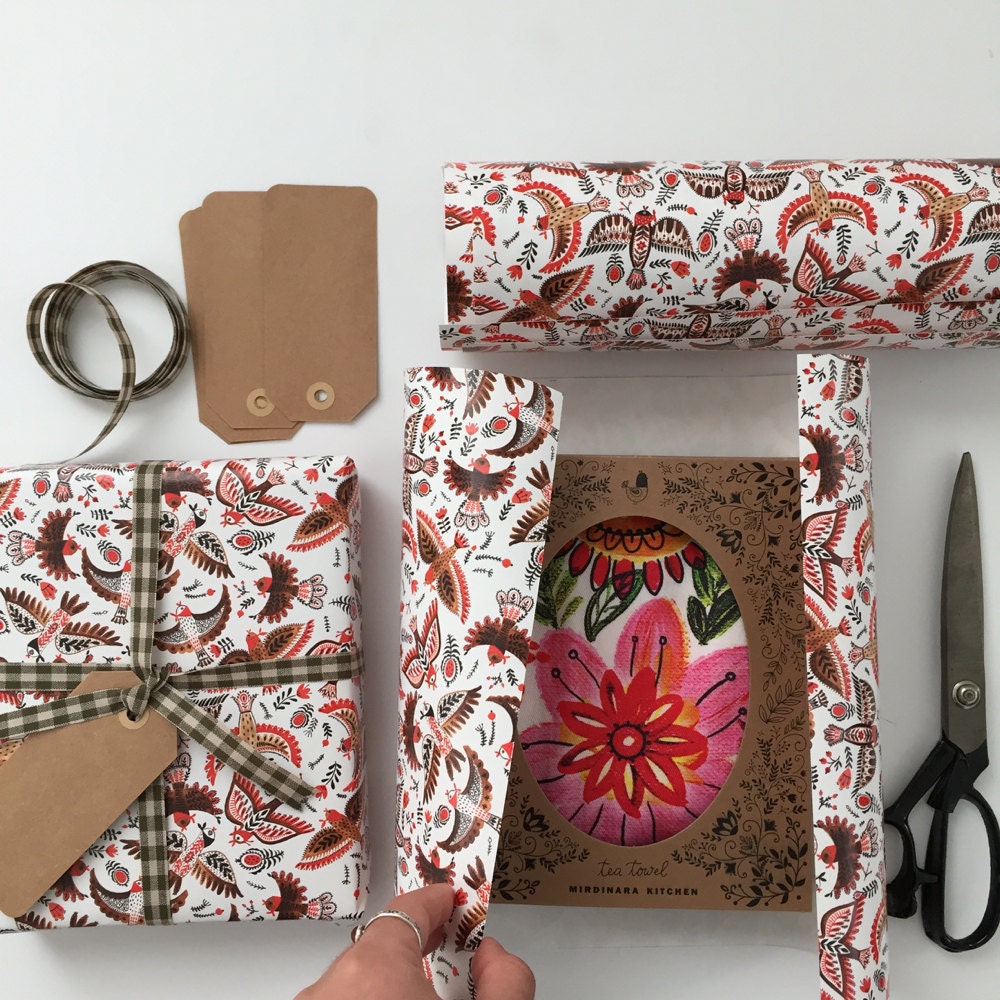 What can we look forward to seeing in the MirDinara shop next? Are you cooking up any new designs at the moment?
Yes! I am planning on adding some
new textiles
, like aprons and oven mitts and potholders soon, and currently I'm working on some handmade items for the holidays. I find that during the Christmas season, my customers really love finding those one-of-a-kind and unique items. There will be hand-painted bangle bracelets, and I am also uploading some handpainted kokeshi dolls and some holiday cards. Also, this holiday season I will be offering a gift-wrapping service so that shoppers can purchase gifts and send them directly to the people they've bought them for. Outside of my shop, I've just had my very first illustrated book come out — it's called
Stories From the Bible
 — and on October 15, a book about my art style is going to be published. It's called
Imagine a Forest
, and in it I'll be sharing my techniques and inspirations, along with instructions for drawing different folk art elements.
Follow MirDinara on Instagram. 
All photos courtesy of MirDinara.