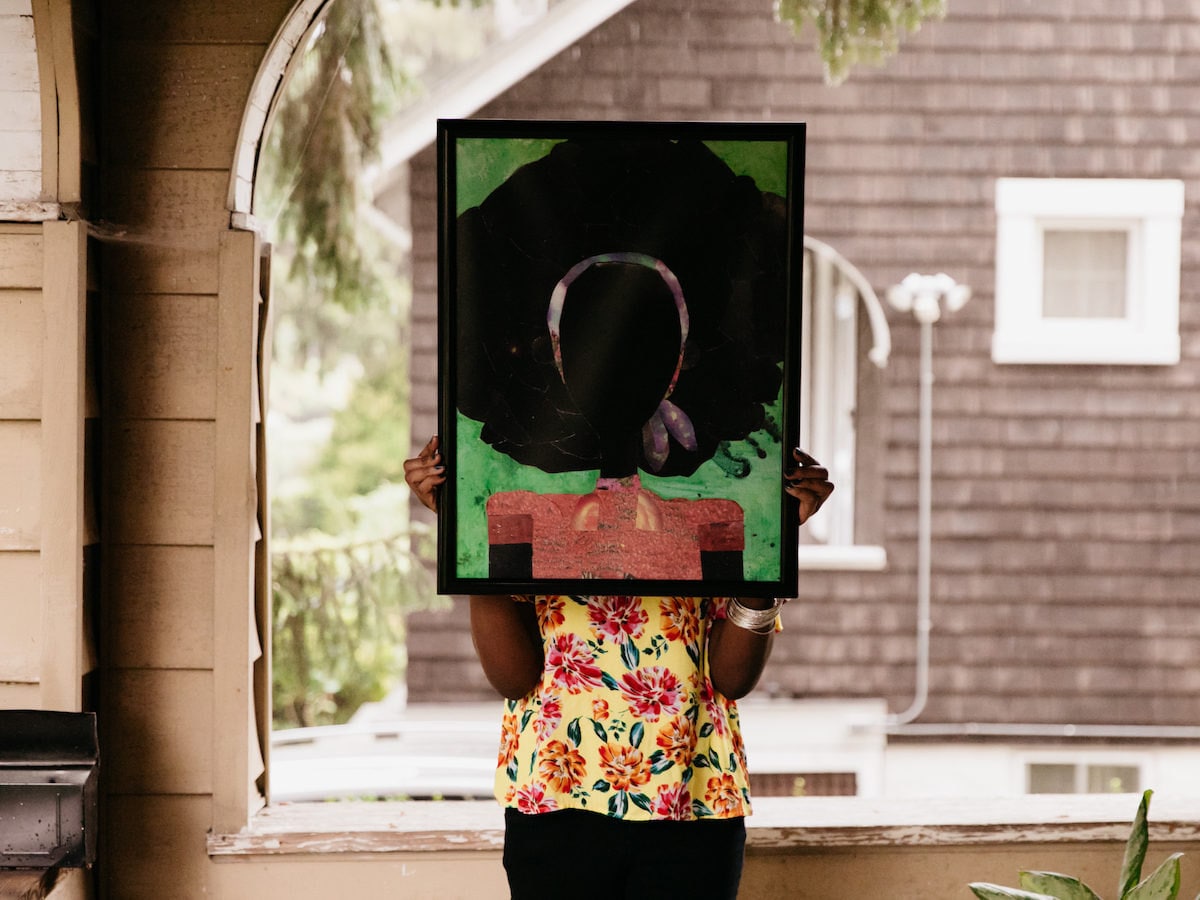 In our weekly Featured Shop series, we shine a light on a standout shop from Etsy's talented seller community, offering readers a behind-the-scenes look at their process and story.
Making and consuming art can help us make sense of the world we live in, and come to know ourselves better in the process—whether we're personally wielding a paintbrush or simply admiring a talented artist's creative output. And for Baltimore-based collage artist Mirlande Jean-Gilles, the one-woman force behind Etsy shop Mirlande, the ongoing act of interpretation and self-discovery through art has been a life-defining, 30-year journey. 
Explore the Mirlande collection
It began in a bedroom in Queens, New York, where Mirlande, as a first-generation Haitian-American teenager, spent hours poring over magazines, tearing out the rare photos she found of Black women and taping them to her walls. "I was looking for myself in the media that I loved so much, but didn't really see myself there," she says. 
As she cut and collaged her way toward adulthood, she was simultaneously laying the foundation for the complex and layered work she creates today: stirring scenes of women and girls inhabiting an array of settings, from the commonplace to the fantastical. Her pieces pay tribute to the unsung work and everyday triumphs of all women, and offer her daughters, and young Black girls everywhere, a place to see their truth reflected back in images infused with energy, admiration, and optimism. "As artists, we have so much power—we have the ability to combat the ugly stuff that we see in the news and add to the positivity," Mirlande explains. "We have to be hopeful. I just want to keep making beauty."
Read on to learn the stories behind Mirlande's powerful pieces, and shop the Mirlande collection.
As a young girl, you collaged the walls of your bedroom. How did you transition to collaging on paper?
My brother is also an artist, and when I was a teenager he started doing paper collages. He was just the coolest guy ever—I would always take his clothes and cassettes, so I decided to copy him. From there it was like the floodgates opened.
I had a practical mother, so I went to business college, but I was always creating visual art on the side. It wasn't until 2010 when a friend of mine dared me to post some of my collages on social media that I considered sharing them. I loved making my art for myself, but I didn't know if other people would get it, and the vulnerability scared me—my collages are my soul, my heart. But I shared them and the response was immediate and amazing.
What do you love about collage as a medium?
I love the idea of taking a bunch of different little things and creating one whole new thing out of them. That's the point—you're taking one element from a certain environment and putting a new environment around it. I love the world-building of it. It's like quilting, almost. 
For example, when I first started making collages, I would come across these photos in National Geographic of really poor kids dressed in rags and looking hungry, and it would really mess with my heart. But through a collage, I could take them out of their situation and put them in a new one with less suffering. One of my pieces, "Child Star Catcher," features a little girl wearing a dirty shirt carrying a woven basket—but I took her out of whatever world she was in and put her in outer space and made her bigger. Now she has stars in her basket. It doesn't really change her story, but in a way it does. 
How do you decide what sorts of themes you want to portray in your work?
I always come back to women and kids and the different kinds of work they perform. It's the stuff that has to get done, but I feel like oftentimes the more mundane work that so many women do gets diminished. So I like to take that stuff and elevate it to superhero-goddess status, and make it beautiful. Because it's super important, and I don't think that women always get the props we deserve.
Speaking of women, what's the story behind your basket women series?
My grandmother lived in Haiti in the '60s and her husband died early in their marriage, leaving her to raise six kids alone. She was a farmer and a market woman—she would grow vegetables and then take them to the market to sell. With six kids at home! That's a superhero to me. I started creating these basket women pieces based on her story, and they became really popular.
What's your creative process like?
I work mostly with paper, with physical magazines. I love the process of hunting, of finding something. I have hundreds of magazines at my house, and when I'm working on a project, I'll go through thousands of pages.
My absolute favorite is National Geographic. I love the photos—the nature, the people, the global environment. I also really like Essence and Ebony—I have a few copies of Ebony from the '60s and '70s which are so precious to me. I like fashion magazines too, like Vogue. I play a lot with clothes in the collages, so things like Elle and Vanity Fair are great, too. I also love books about space and old hip-hop magazines. 
What are you looking for as you leaf through a magazine?
If I'm working on a commission—like my most recent project for a local theater company—I'll be searching for specific things. One of the pieces had a purplish black sky, for example, so I was looking for certain colors of purple.
Sometimes I don't even know what I'm looking for, but I've realized that if I just sit down with a stack of magazines and some paper and scissors, something will come. It's very intuitive for me. Any magazine I look through will spark something, or I'll read the news or listen to NPR. Even if I hear something terrible, it inspires me to try to make something beautiful to combat the ugly. It pushes me to create.
Can you share an example?
When the horrible earthquake happened in Haiti in 2010, it was such a jarring, terrible tragedy. I remember feeling helpless and not knowing what to do about it. So I started making art. I created five or six different pieces depicting the tent cities where thousands of people were living after their homes were destroyed. 
It was really hard, because it was such a horrific situation, but at the same time I kept hearing these hopeful stories from inside the tragedy: Within the tent cities people had beauty shops and restaurants and internet cafes. Somebody opened up a soccer field so the kids could play, and there were people giving out flashlights and kerosene lanterns for free. Women and girls banded together to protect one another. It was so inspiring to me—how do you survive something like that, and make beauty out of something so terrible? The resilience stays with me. 
What pieces seem to resonate most with your customers?
Folks really appreciate the tent cities, which is awesome. "On Our Way to Ballet Class" is a popular one, too, and a favorite of mine. It has a bright orange background, and there's a mom and a little girl wearing a tutu. It's such an everyday thing, but it's set in an urban environment at sunset and it's pretty. There's also a piece, "Girl with the Big Afro," which is a really good seller. I recently gifted that print to a woman I was working with on a commission and her joy to receive it made me so happy. She loved how big and in your face her 'fro was.
What tips can you share with shoppers for selecting one of your pieces for their space?
When it comes to picking out art, I ultimately say just go with whatever you like. Because if it's something that moves you, every time you see it it kind of softens you a little bit. Even if it clashes with your furniture, that's not really the point. If it's something that really inspires you, get it and put it wherever you want. Go with your heart.
So, what's next for Mirlande?
I want to get some more original pieces in the shop, and I think I'm going to start making some larger scale pieces, too, maybe some wall-size collages—which is crazy because currently my studio space is my dining room! But my art mind is bigger, bigger, bigger. So I'm going to go bigger.
Follow Mirlande on Instagram.
Photographs by Lindsay Anne Belliveau.