by Valerie Rains
Creating memorable, heartfelt gifts that will last a lifetime is all in a day's work for this maker of minimalist-meets-glam ceramics.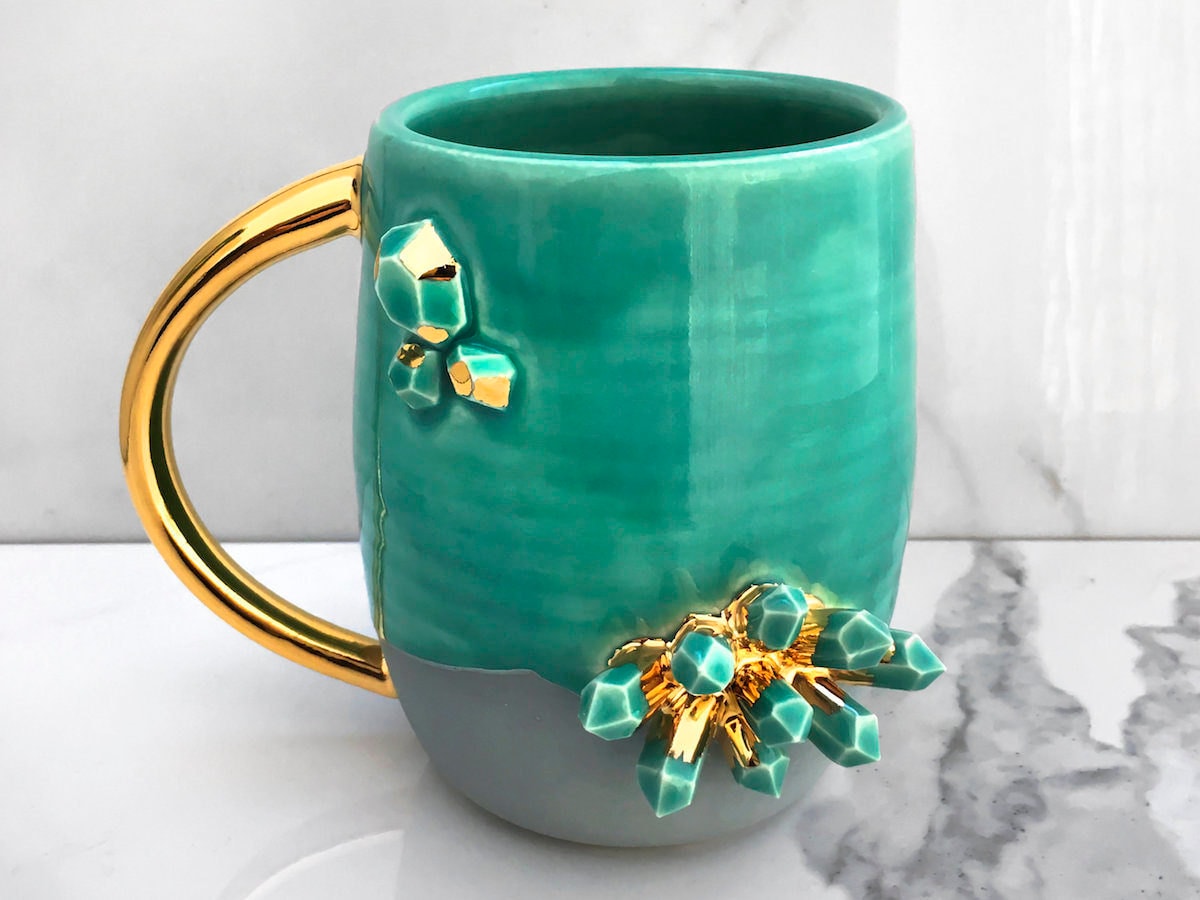 In our weekly Featured Shop series, we shine a light on a standout shop from Etsy's talented seller community, offering readers a behind-the-scenes look at their process and story.
You'd think that with three grades of high school students to teach during the week, 100 private art students to teach on weekends, and a side gig as a graphic designer, Naomi Singer, the founder and maker behind 
Modern Mud,
 would have considered her hands pretty much full. But when this mother of three rediscovered pottery, it was clear that making room for it in her life was a must.
Explore the Modern Mud collection
Mind you, she never intended for
pottery
to become a job. "I was so busy focusing on everything else that not even for a second was I thinking of this as a business," Naomi says. "I was thinking of it as a way to relax." Even when a friend convinced her to open an Etsy shop and the first few orders started trickling in—"we put up probably 10 little vases that I'd made, and priced them ridiculously low"—her ambitions were anything but sky-high. "It just started giving me the feeling, like,
Oh, interesting, I can keep making things and not fill up all of my space with pottery, because maybe some people will buy them."
Since then, Modern Mud has steadily gained momentum; now, just a few years in,
Naomi's work
has appeared on nationwide design sites, on the shelves of independent retailers across the country, and even on the holiday displays at Macy's. But true to her artist roots, Naomi's ultimate goal is to spend more time in her happy place: at the potter's wheel.
Read on to learn more about Naomi's process—and shop the Modern Mud collection.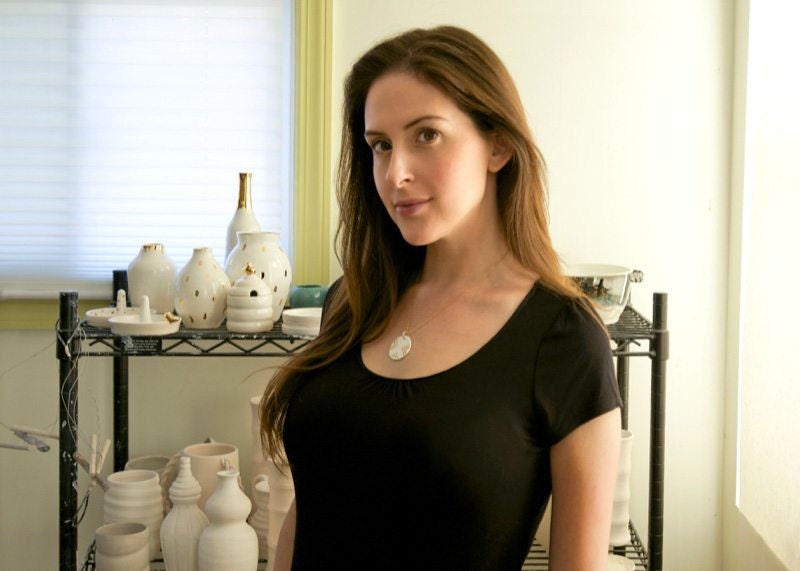 When did you first start to dabble in ceramics?
Years ago, when I was taking a few different classes here and there, I took a wheel-throwing pottery class at a community college. It was the first time I had been exposed to ceramics, and I just fell in love with it. I remember the teacher asking me, while I was hand-building something, if I had a background in design; that's when I thought, 
Oh, maybe this is something I can do.
It was such a good feeling. Still, I didn't go back to ceramics for another ten years or so; I just continued working as an art teacher and a designer. Then around four years ago, I signed up for a pottery class in Brooklyn. It met once a week for about a year, with open studio time on Fridays. I would spend my whole day Friday, for as long as I possibly could, in the studio working. After a while, I realized that all that time I was spending driving to the studio, I could probably spend throwing if I got my own wheel. So I bought a wheel and put it in a corner of our home studio, and I bought a used kiln from somebody I knew through teaching and kept it outdoors under a tarp; we'd just watch the weather obsessively and make sure it was never raining when I ran the kiln. And that's it, really—I kind of got obsessed, and that's where I've been focusing for the last three years.
What is it about working with pottery that's so satisfying for you? What part of it just seemed to click?
The main thing for me is working on the wheel: I find it extremely meditative and centering and relaxing. It's interesting, though, because the process of ceramics can be really frustrating; things can go wrong at any stage. My husband's always like, "I don't know how you have the patience to do this," because it's really one of those things that just doesn't work over and over and over again. Things spot, they crack, they break, they craze, they explode in the kiln — there are just a million things that can go wrong. But I love it so much, and there's nothing about any of that that really upsets me. Working with 
ceramics
, you have to really enjoy the process; you can't be focused on the final outcome, since so many times it just doesn't work.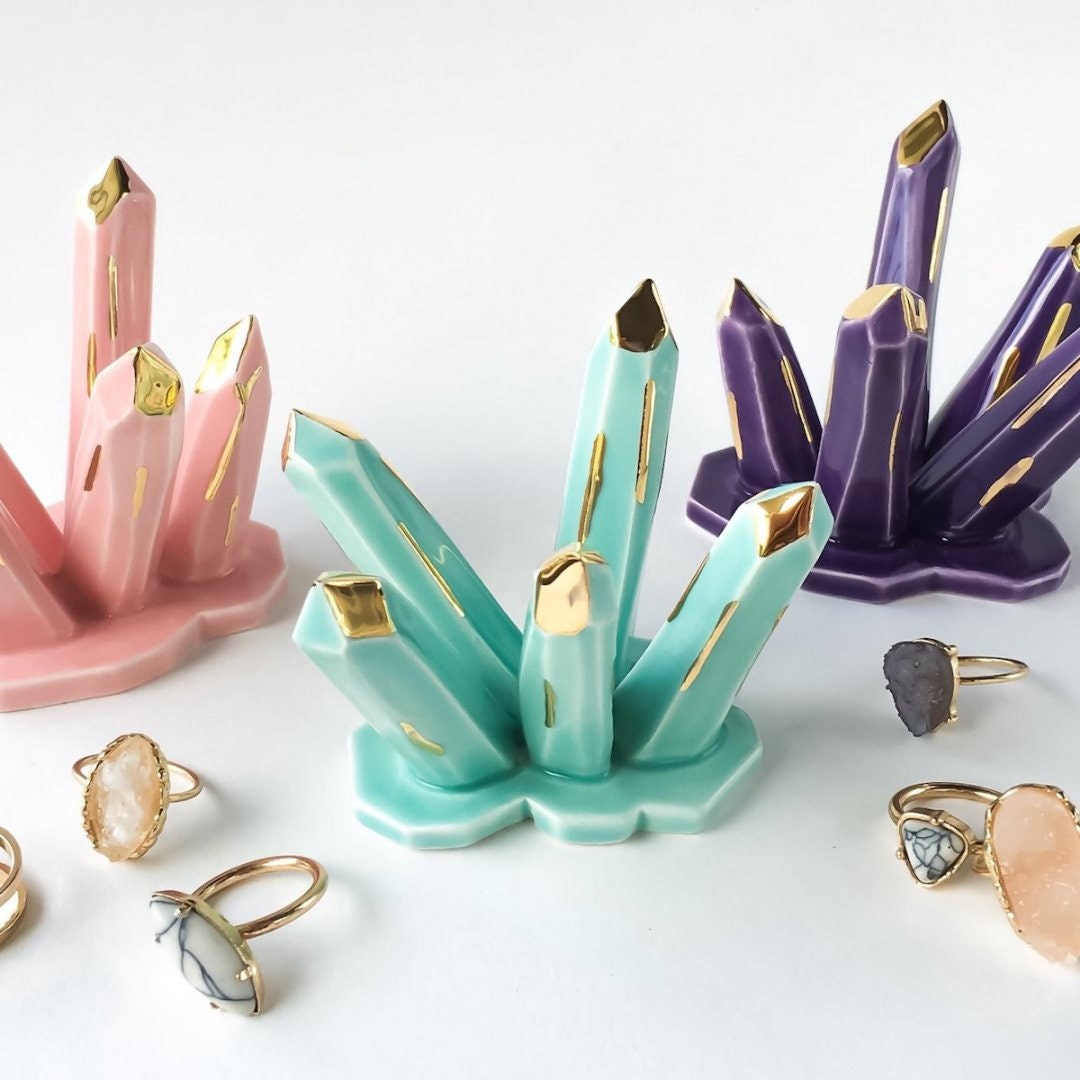 >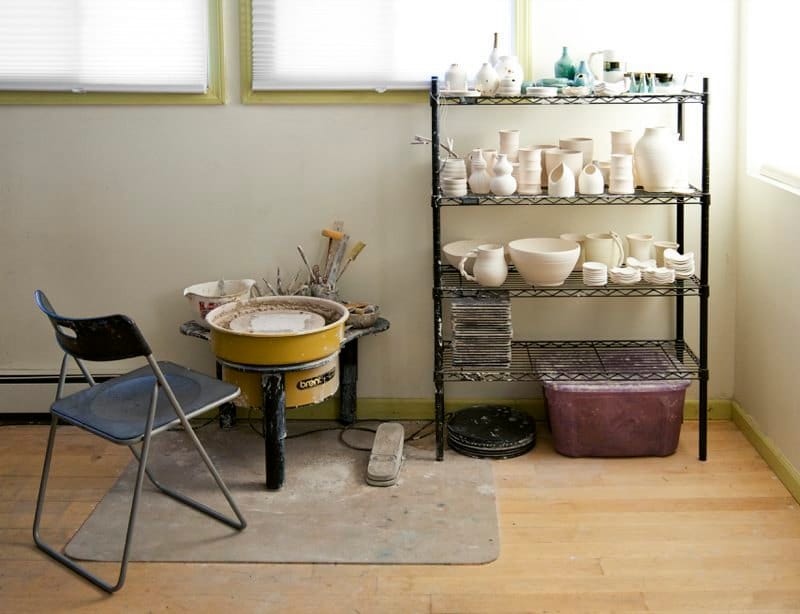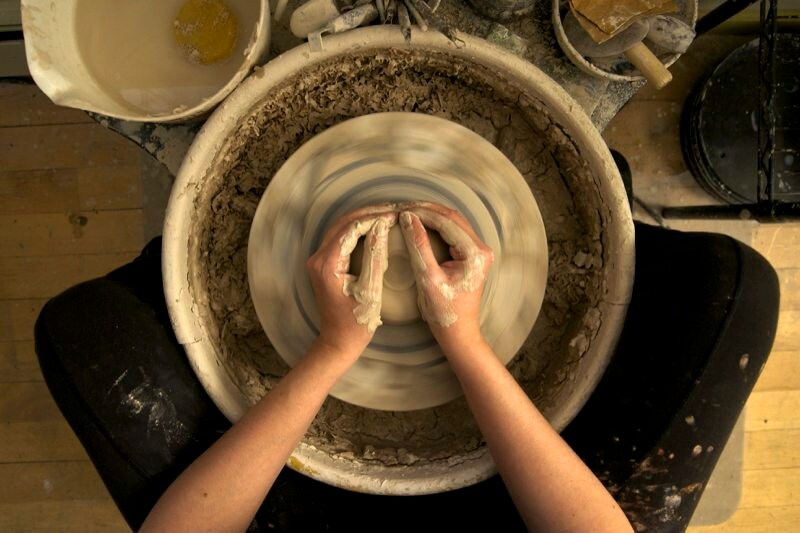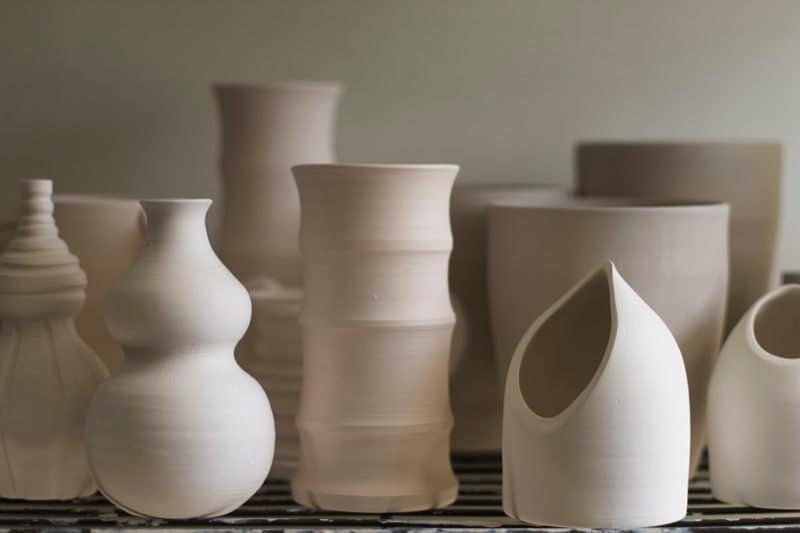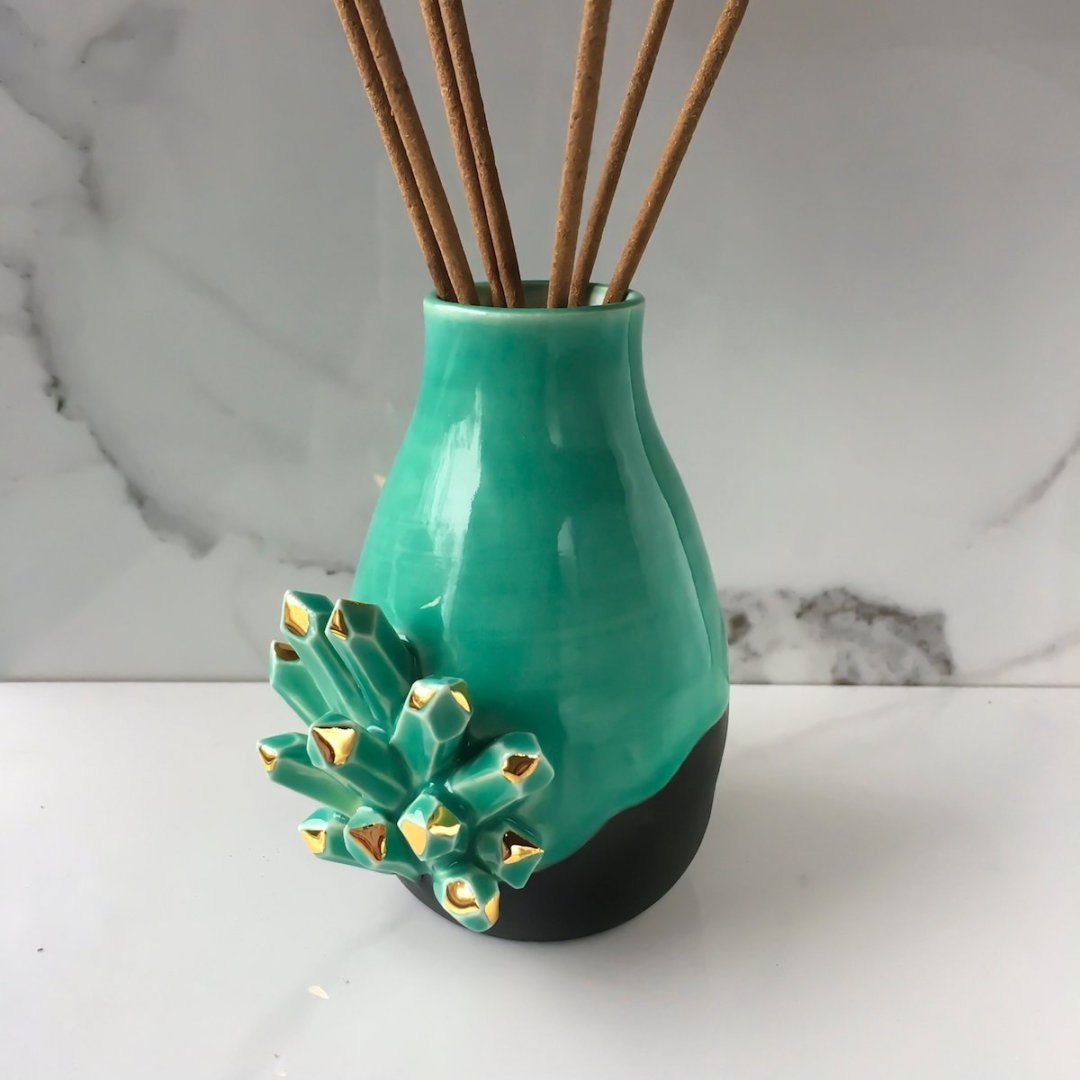 >
How do you balance everything you're doing—the teaching, the designing, your pottery and your family—and still stay sane?
There have definitely been times that were harder and some that were easier. My kids are in school, so I get up really early in the morning and I have my afternoons. But one of the things that makes this work is just the passion that drives it all. I don't think I've ever worked harder in my life, and I also love doing this more than anything else—it's a weird kind of combination. For me, teaching was easy—show up, teach, go home—but this has taken over my life. I work early and I work late, and there are times I'll be in the studio throwing and my daughter will be next to me, getting help with her homework. My husband also teaches art in the high school, which helps, because he doesn't get home so late. I'm also a pretty calm person, which I think is necessary: Things fall and drop and break, and it's fine, because really, nothing's
that
important. My mother passed away when I was young, just 15, so I have this strong belief that the important things are important, and nothing else really is.
Has your pottery work evolved over time, and if so, how?
At the beginning I was just sitting down at the wheel with clay and making things; in a way, I think that's the purest approach, and also the thing that most appeals to me about pottery—when the creative process and the making process are happening simultaneously. That is where I started and where I hope to end. But in the meantime, things have definitely changed; one of the biggest changes for me was when, after about a year or two of being on Etsy, I started posting work that I had already made and sold, listing it as made-to-order items. As I started taking orders and realizing what people liked, I was able to create a
line of pieces
that I sell and make a lot of. Ultimately, though, I really do enjoy making more individual pieces, and I'd be happy to get back to that in the future. I would never stop making things that people like and want, but I also love the idea of making some of the new ideas that are coming to me. I don't want to feel like I don't have time to develop those because I'm too busy making the same things over and over again.
What is the making process like when you are working on a new idea, as opposed to one of the popular pieces you have already designed and perfected?
I think there's definitely a difference between the making process and the creating process. If I'm making something I've made before, I'm more concerned with doing it right and doing it the way that I know it will work. And then creating is something that just happens—an idea will pop into my head while I'm running an errand or teaching, and I'll let the idea sit in my head for a while, and come up with variations of it until something really clicks. Then I get a little obsessed until I can actually make it—or at least until I can write it down or draw it out. I think it's also really important for me to stay focused on only the idea or the feeling without being concerned with what people's reactions will be. Now that I'm selling, it's easy to get a little caught up in how people will react to
my work
, but you have to focus inward, because once you start thinking about other things, it creates resistance and then you can't just keep going.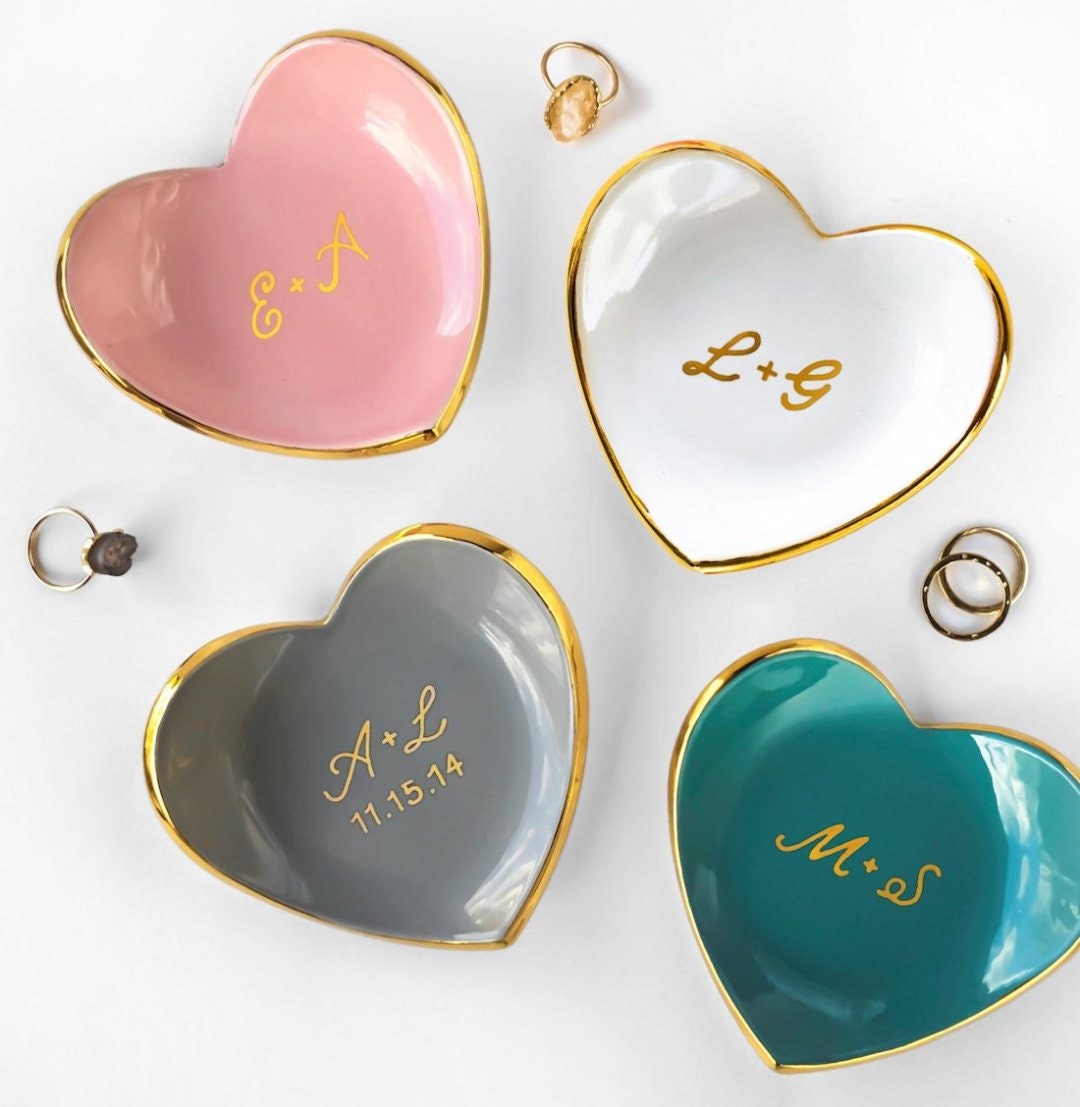 >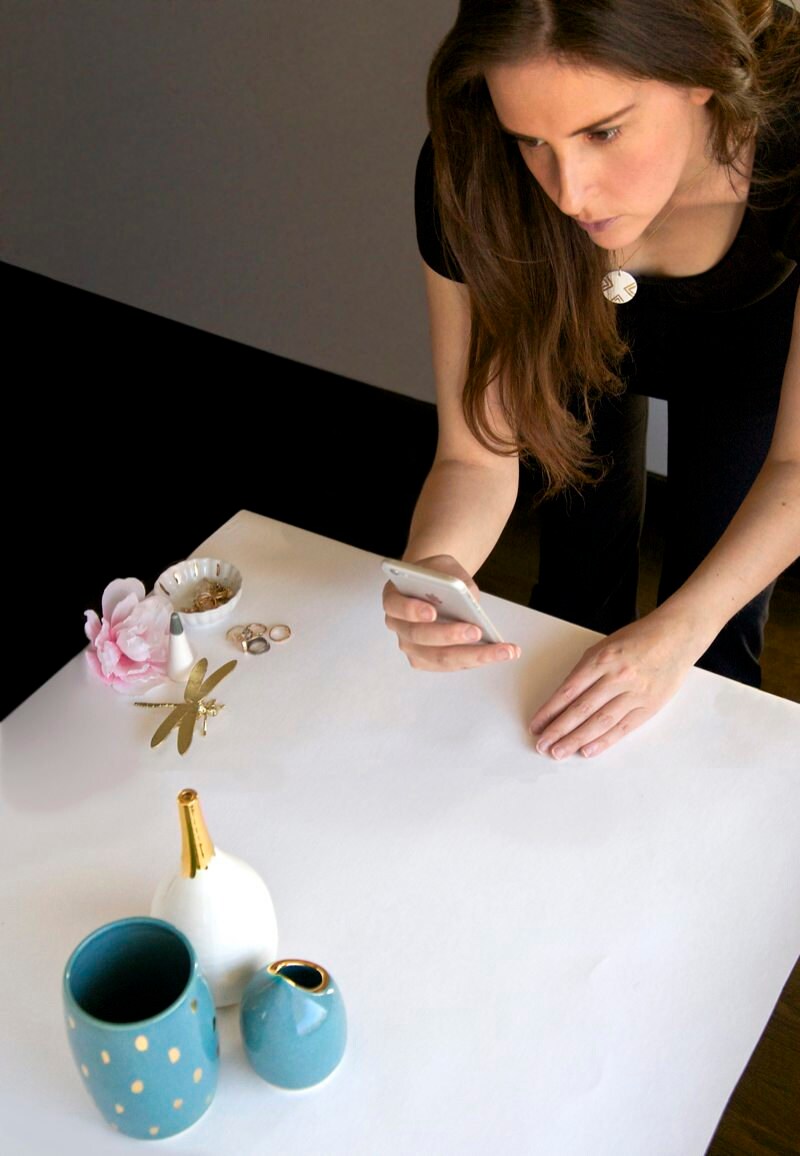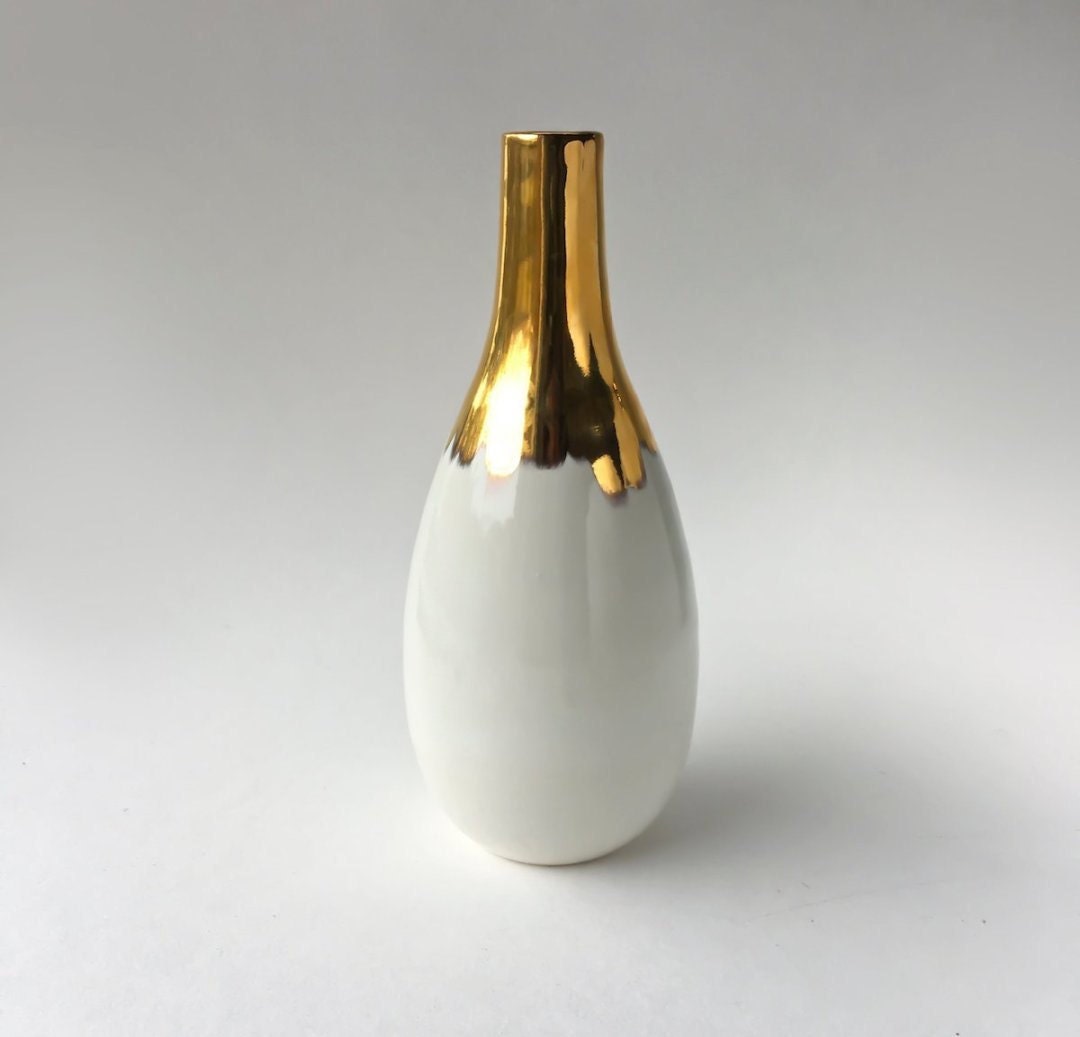 >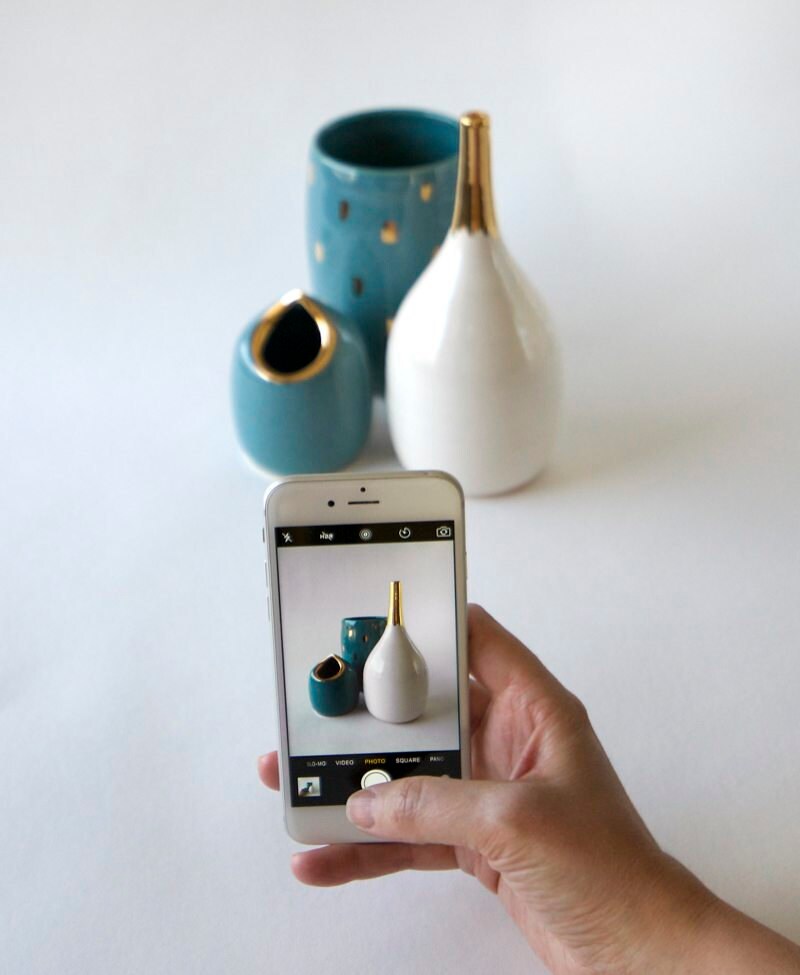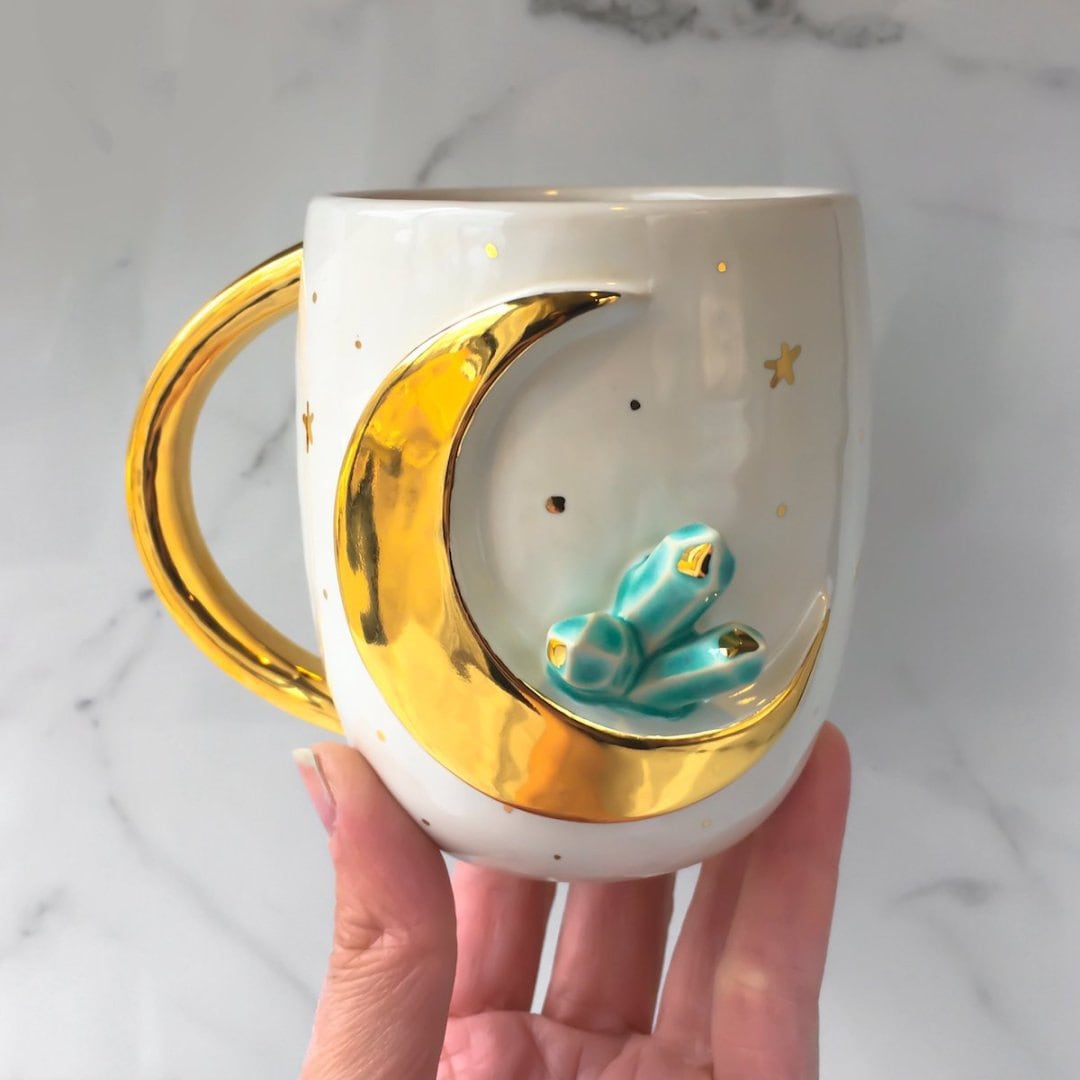 >
Do you have a favorite type of item to make?
I love throwing, so I love making
vases
. Maybe it's because that's where I started, or because pottery is functional, and that's one of the beauties of it. I like the various forms that you can come up with that all, in the end, are doing the same thing. I do things that are carved, I make things that are fluted, I make things that are smooth or that have bumps in them; there's so much you can do, and in the end it's a vase—it's still the same thing.
Where do you find inspiration?
I'm a seeker, I look at everything. I'm really inspired by good design, and I get really excited when I see something that just works well, like a lid that clicks on exactly right. I think that you can find beauty everywhere—it's in nature obviously, and in museums, but I also love picking things up in thrift shops just to see and feel how things were made 20 years ago. And of course, I look at a ton of other artists' work: I just love to see what other people are doing, even people whose work is nothing like mine, and to see what I relate to about it.
What do you love most about your work in general?
One of the things that I really like about doing what I do is working with all my customers. People write to me with a situation—my favorite bowl was broken, or it's our 40th anniversary coming up and I want something special—and share these really personal stories with me. Knowing that I can make something for somebody that's going to be really important to them, that they're going to live with for years — that really keeps me going and keeps me making things. In the same vein, the idea that so many people buy gifts from me is also a really nice kind of relationship; I love that people keep choosing my shop to get things for the people who are important to them.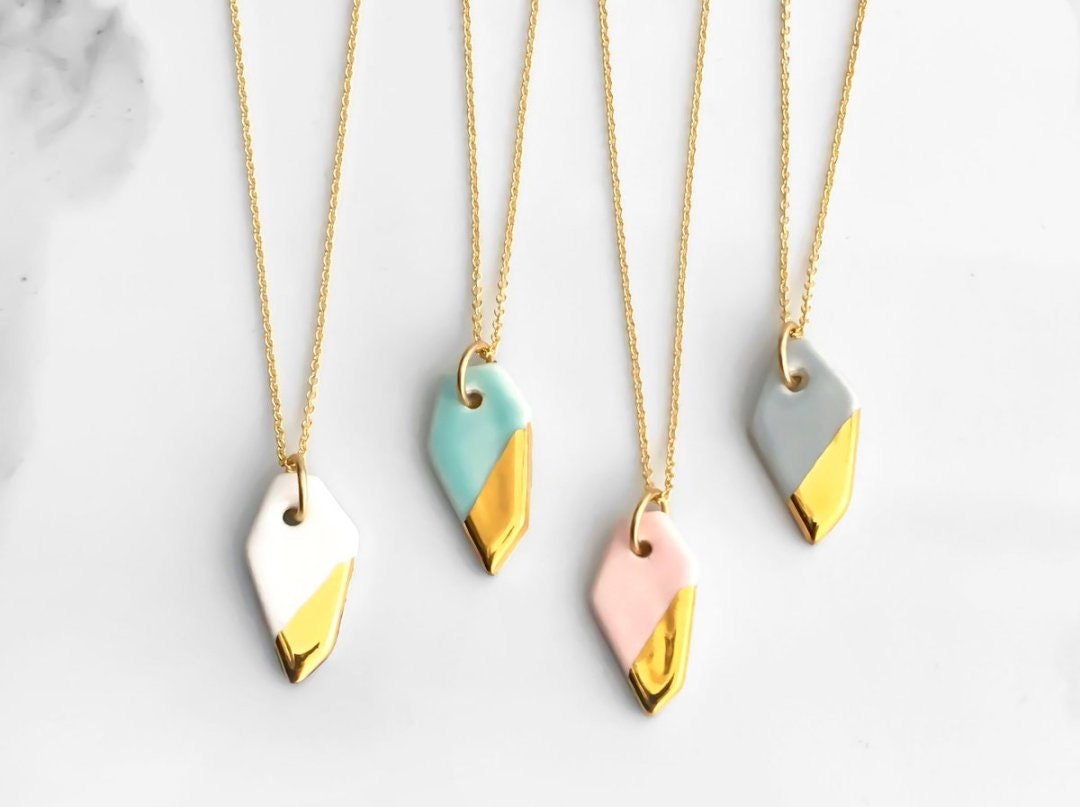 >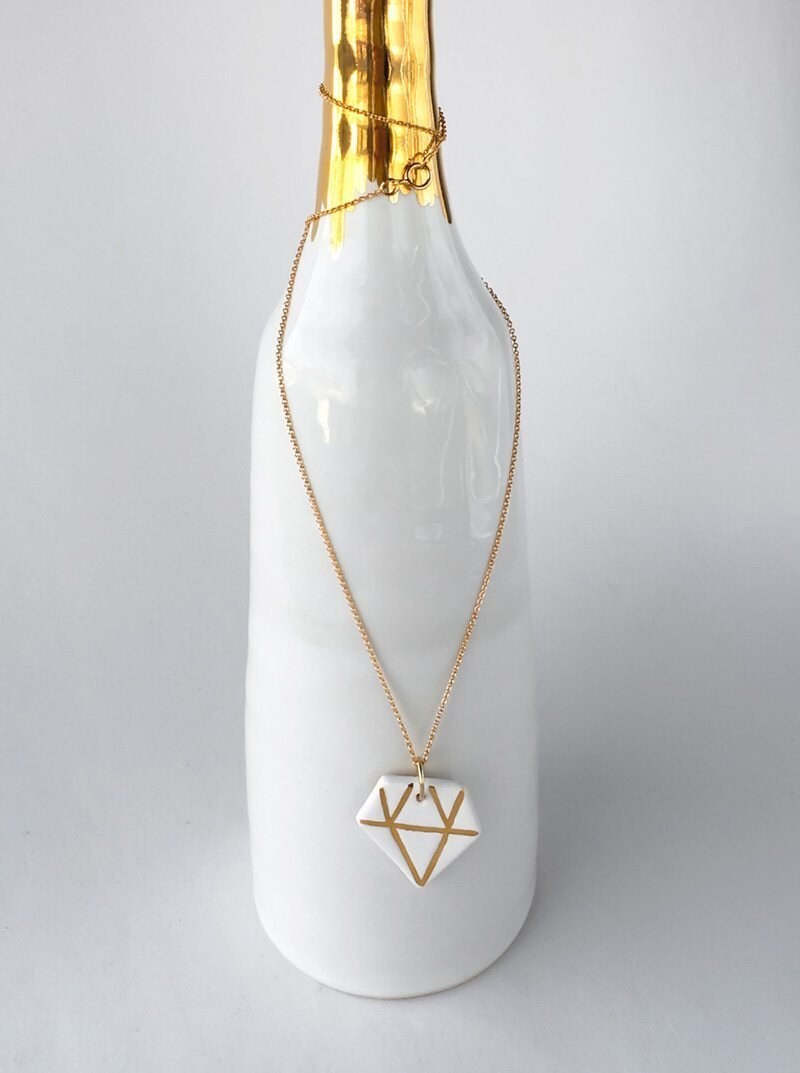 >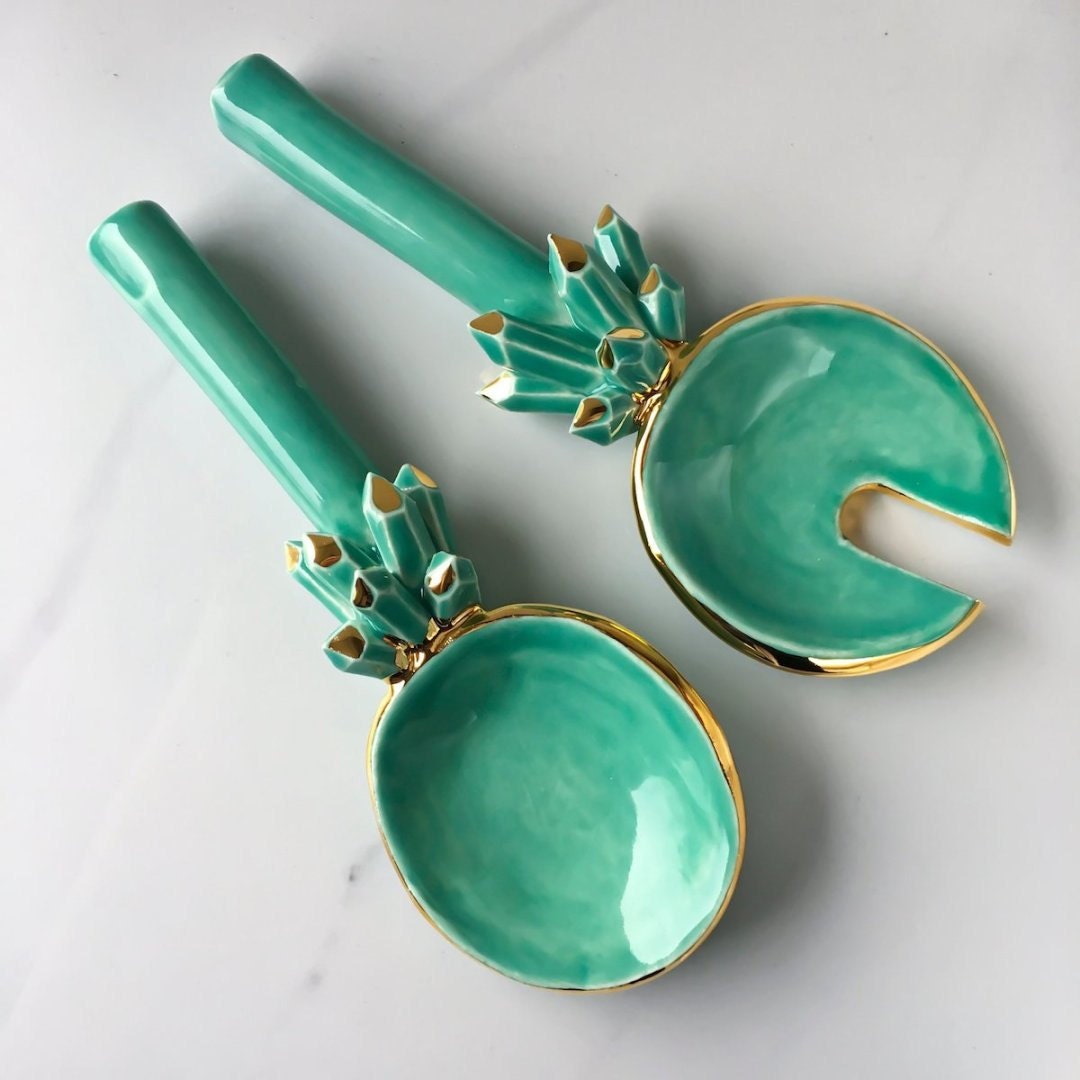 >
What's next on the horizon for your shop? What are you most excited about for the coming year?
I still go back and forth about it, because I've been teaching at this high school for 15 years and I love it, but I think I'm going to try taking a year off from teaching to focus on my pottery—I'm seeing it as a kind of sabbatical. I've been so busy, and I'm really excited to have time to try out some new designs, develop my aesthetic more, and just slow down a little with it. I've also had people ask me over the years if I would teach a pottery class, and while I don't have the space or the time right now, if I do take next year off, I would really love to take on a pottery student or two. I've even been thinking about expanding my studio a bit, making it into a creative space where I can bring in other artists to do workshops. I don't really think of expanding my business, I don't know if that's backward or not; I really love the idea of working at this as an artist and making things that are special and personal. The fact that anyone else is out there and enjoying that and buying those things from me is just the biggest honor.
Follow Modern Mud on Facebook, Twitter, and Instagram.
All photographs by Darren Singer
.