Modern cowboy Evan Lentz ditched his desk job for a chance to craft handmade leather accessories that evoke the Wild West.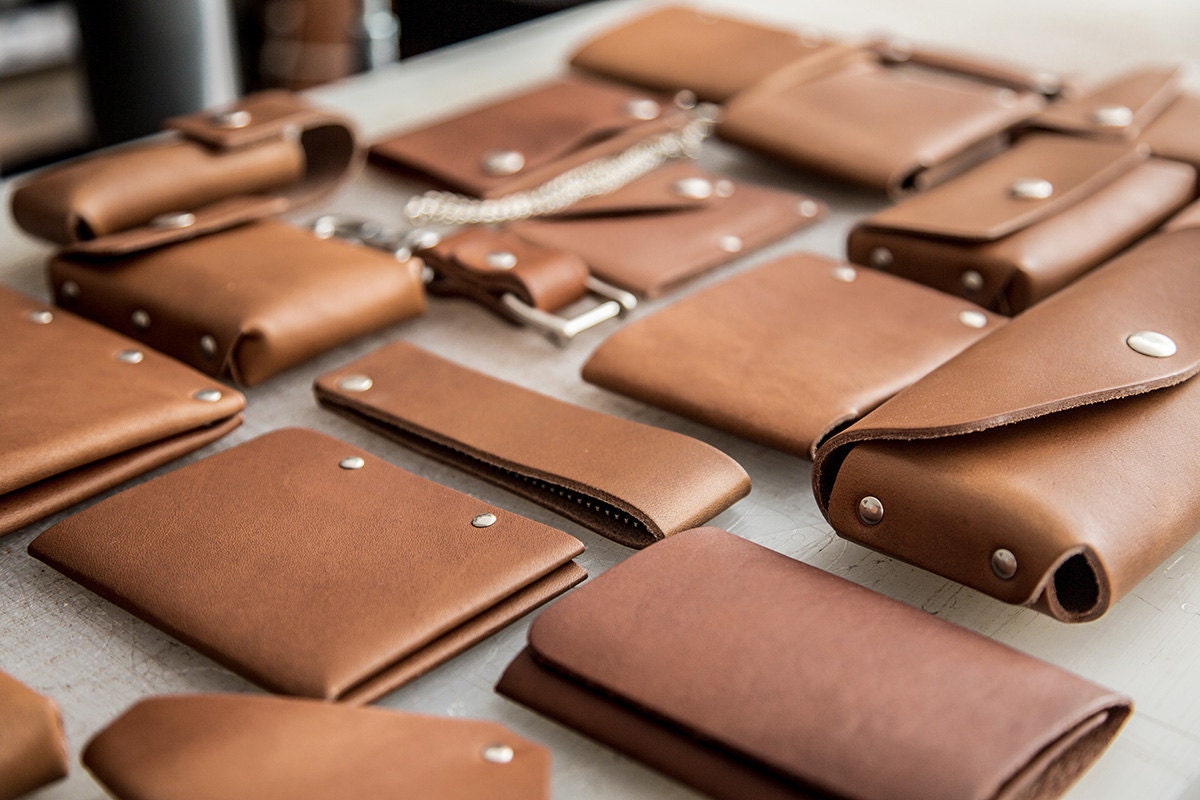 A self-described "modern cowboy of the creative revolution," Evan Lentz isn't shy about branding himself (never mind the cow hides he works with). Visit his leather-goods shop on Etsy,
Mr. Lentz
, and you'll be cheerfully greeted with timeworn symbols of the rugged West: a 10-gallon hat, an American flag, dusty dungarees—even the shop's logo is rendered in a retro, Wild West-style font. "As a teenager, I started going to rodeos, spending more time out in Colorado, and just fell in love with cowboy culture," Lentz says. "It's rooted in honesty, authenticity, and durability." Lentz infuses a similar ethos into his work: His wallets, bags, and other accessories are crafted from top-quality, sustainably sourced leather; fused together with solid-brass rivets; and designed with pared-down functionality in mind. What's more, from the vegetable dyes used to treat the leather to the oils and waxes that condition it, everything Lentz uses in his manufacturing is done by hand in his San Diego, California-based warehouse. For someone who used to toil five days a week in front of an office computer, the freedom and creativity that comes with peddling your own wares can't be overstated. "I'm much more fulfilled now that I'm creating my own stuff," he says. And being in charge of your own destiny? You can't get more cowboy than that.
Read on to see how this former cubicle dweller—and self-taught leathersmith—reinvented himself as a hardworking wrangler with the goods to match.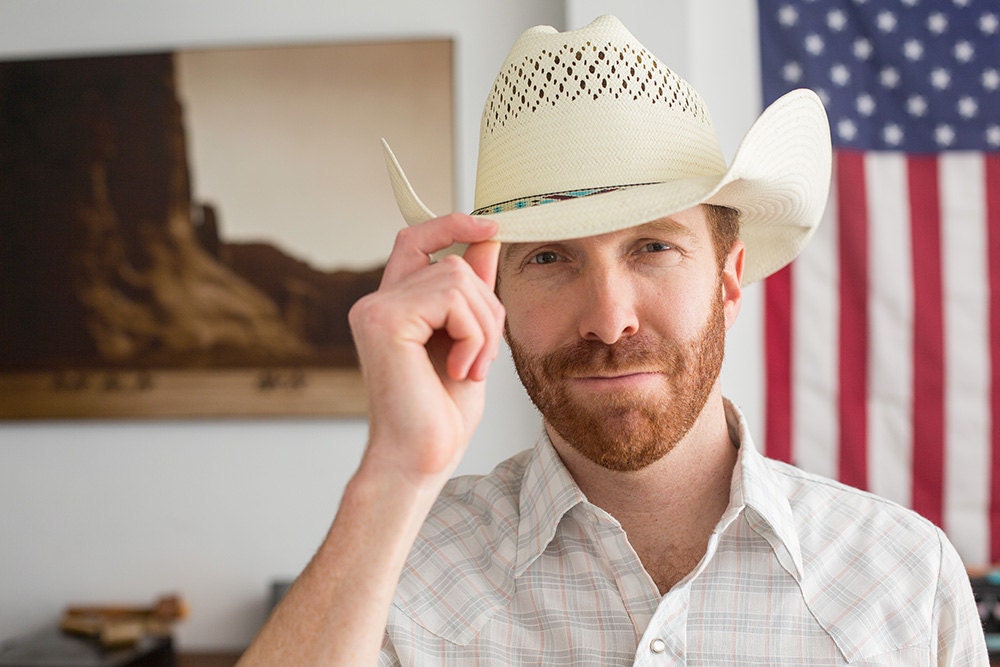 How and when did you become interested in creating your own leather goods?
A long journey led me here. I didn't necessarily know that I wanted to do leatherworking, but I've always been interested in creating things and working with my hands. I spent several years as a graphic designer and 3D-animator. But the realization started to sink in that at the end of the day, after eight to 10 hours of work, clicking around, staring at screen, I hadn't accomplished much. That, combined with working for other people (instead of myself) is what led me to my garage. I started to make jewelry—these wood pendants and rings out of walnut and moss, crafty little things—and I put them up on Etsy. The response I got encouraged me to push further and explore other materials to work with. That's when I stumbled upon leather.
What was it about working with leather that spoke to you?
With leather, there are a thousand different ways you can take it. Ultimately, the jewelry I had been making was satisfying my artistic side, but I wanted to create things that would serve more of a purpose. Leather can be made to be artistic, but it also serves an actionable purpose.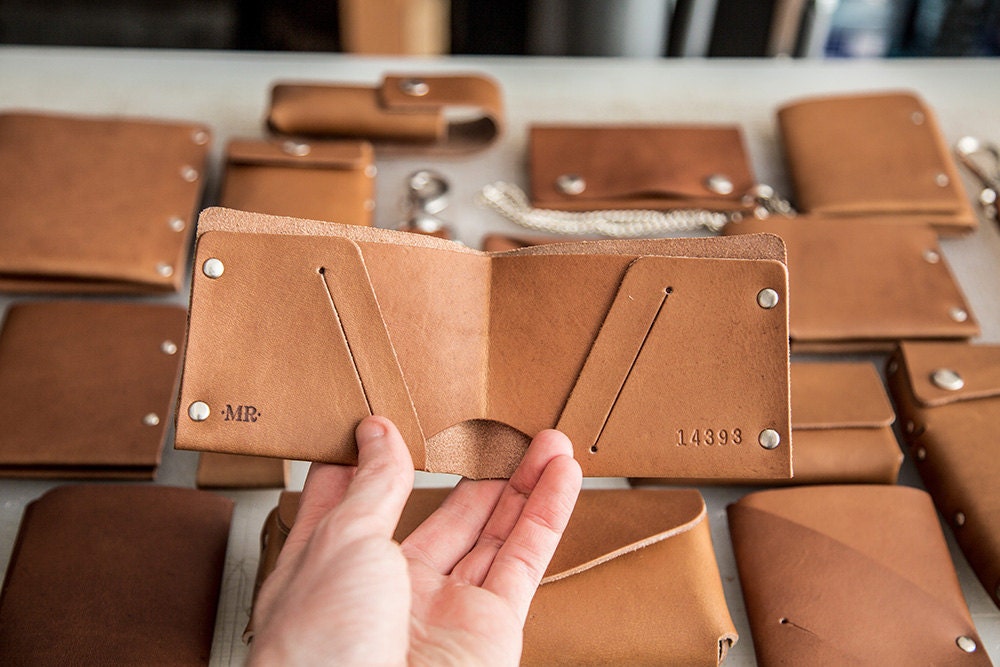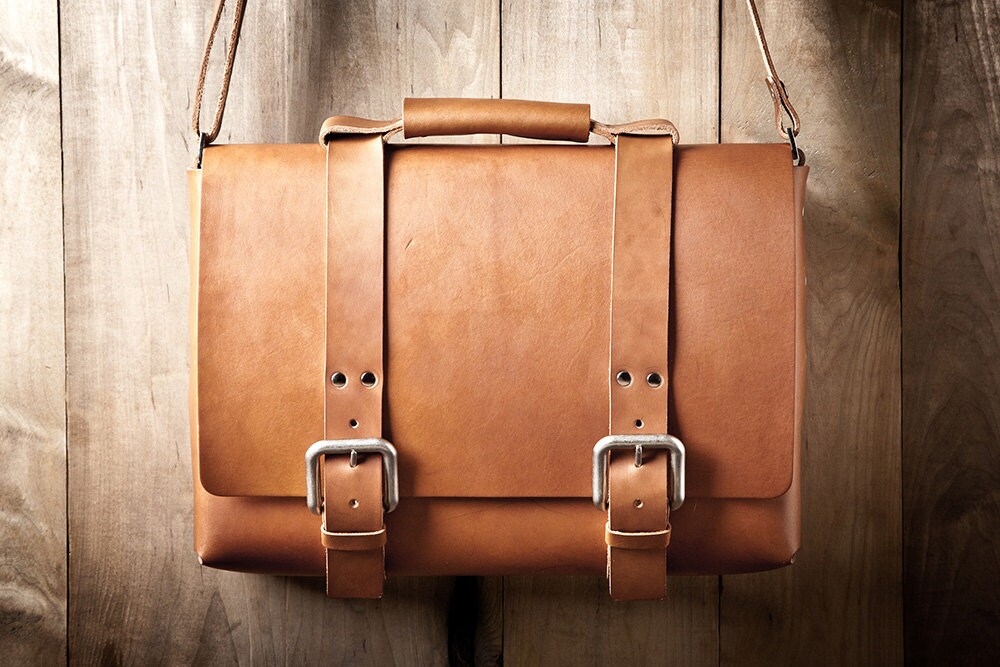 Did you undergo any formal training to learn the craft?
No. I did my research online, went into forums, and studied how other people were doing things. I also made a bunch of mistakes. With most of my products, a series of mistakes led to me to try and fix them, and the solutions I came up with ultimately led to the final product. By 2013, I was able to leave my computer job and sell leather goods full time.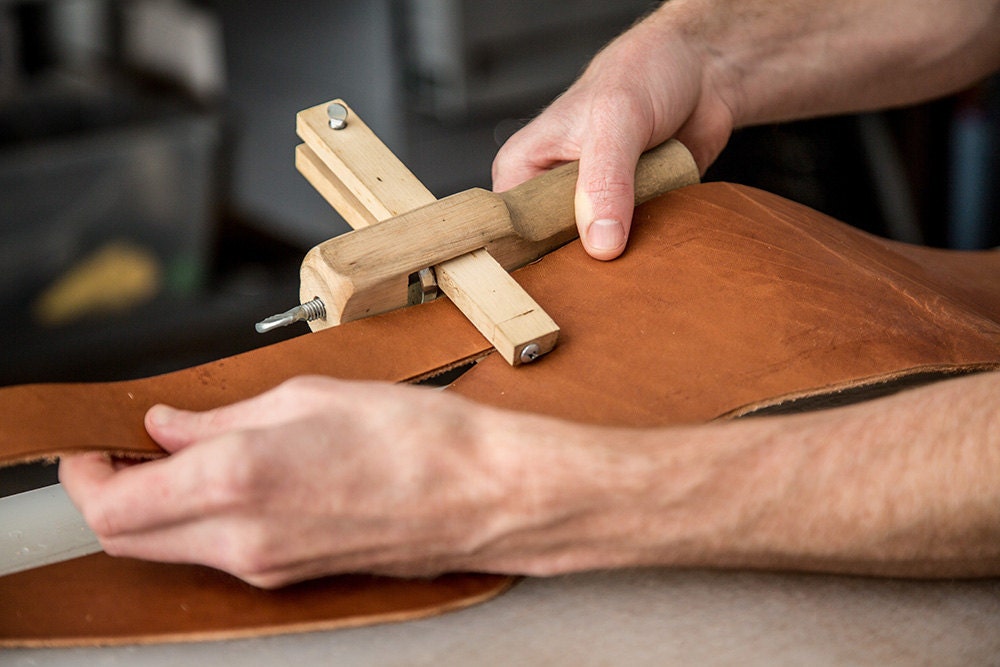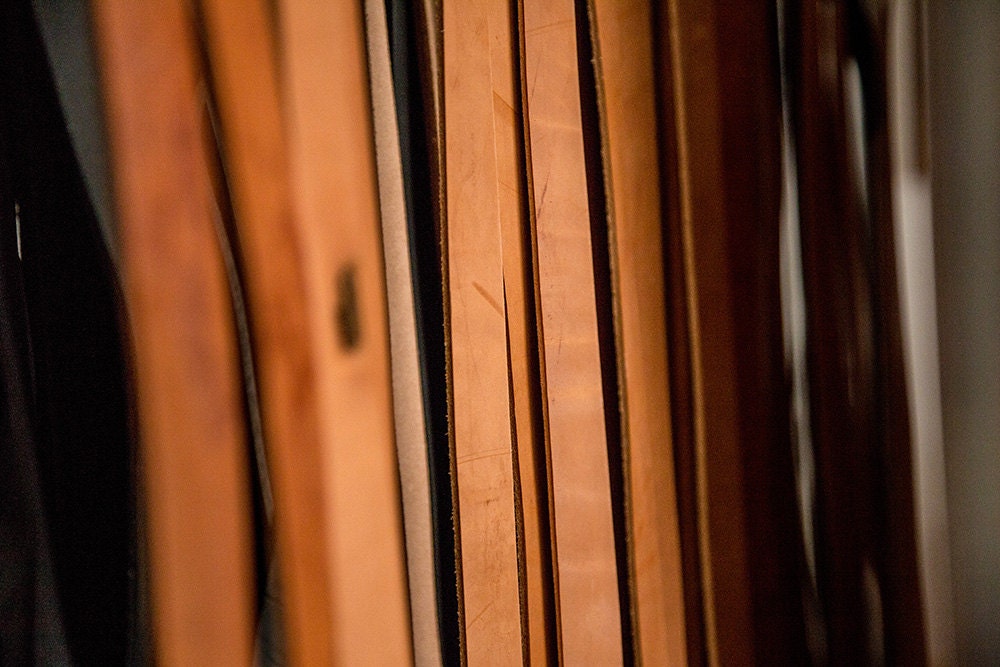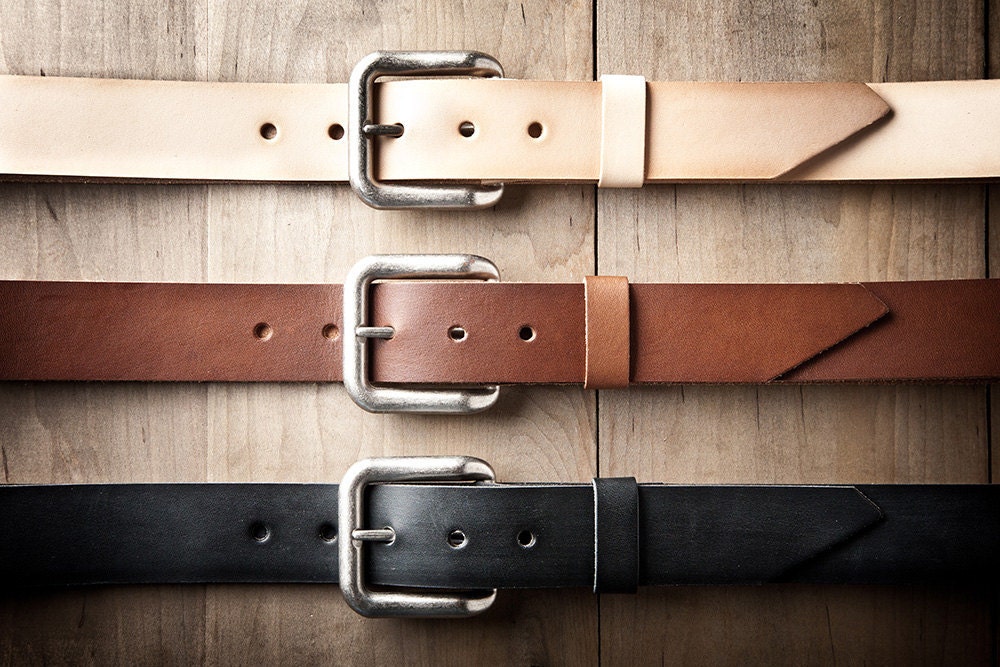 Tell me about your workshop space and how long it takes to complete a product.
It's a tiny little warehouse, about 1,000 square feet, and it's packed with riveting machines, hand tools, and leather rolls. I have two part-time workers who help me oil and wax the leather, dye the hides, and assist with assembly. We do everything by hand, which is becoming rarer these days. And we make everything to order, so for a
wallet
, it might take about two days from start to finish.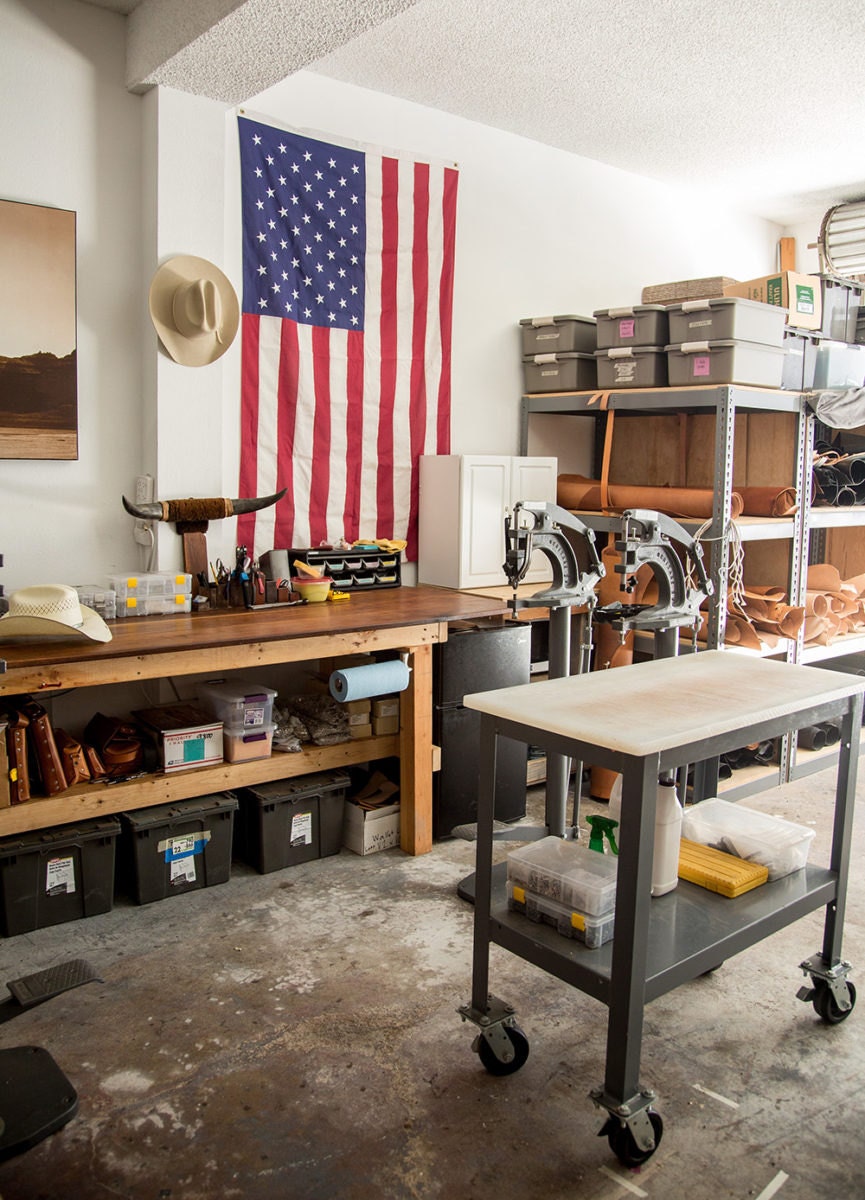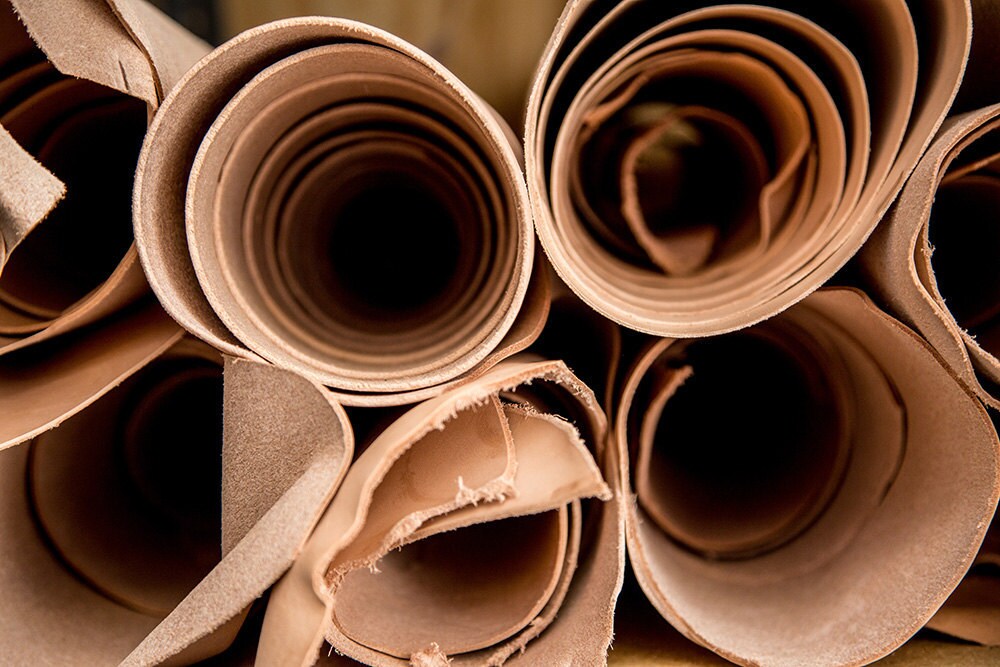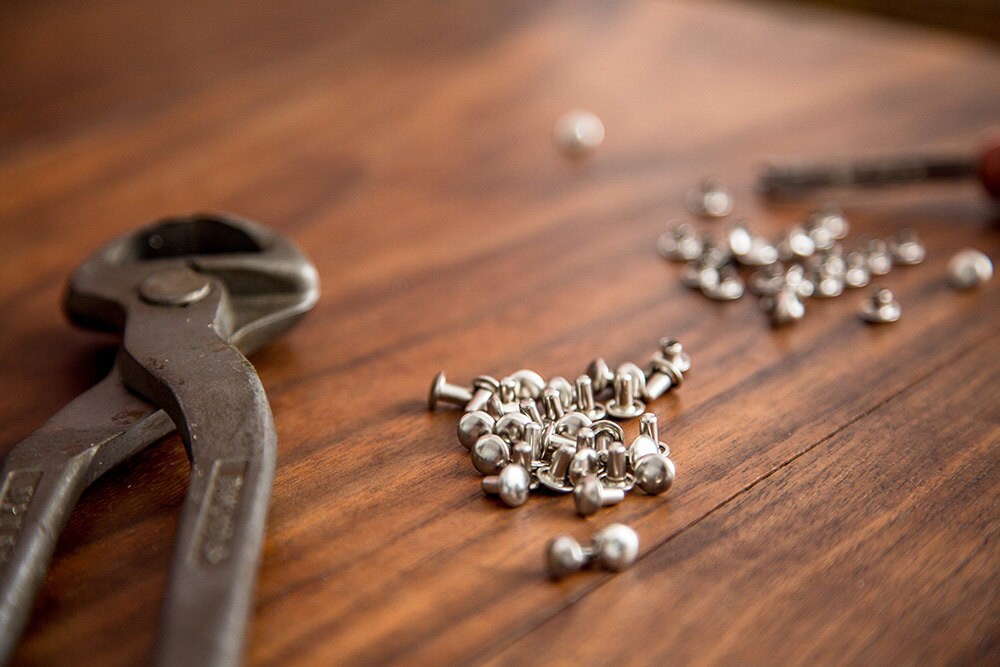 And none of that work is outsourced?
No. I do everything in my shop, from laying out the pattern on hides, cutting it out, hole-punching, and dying it. I make my own vegetable dyes, oils, and waxes. Each item I sell comes with a tin of my own
Spiff N' Shine leather conditioner
. Since the beginning, my priority has been to do things naturally. There tend to be a lot of chemicals in leatherwork, and you don't want to be breathing them in day in and day out. Whenever I see a person pick up a leather good and sniff it, I want to tell them that what they're smelling isn't natural; it's likely the result of how the leather was treated with chemicals. My products have a completely different scent, and that's one way you can tell my stuff is all-natural.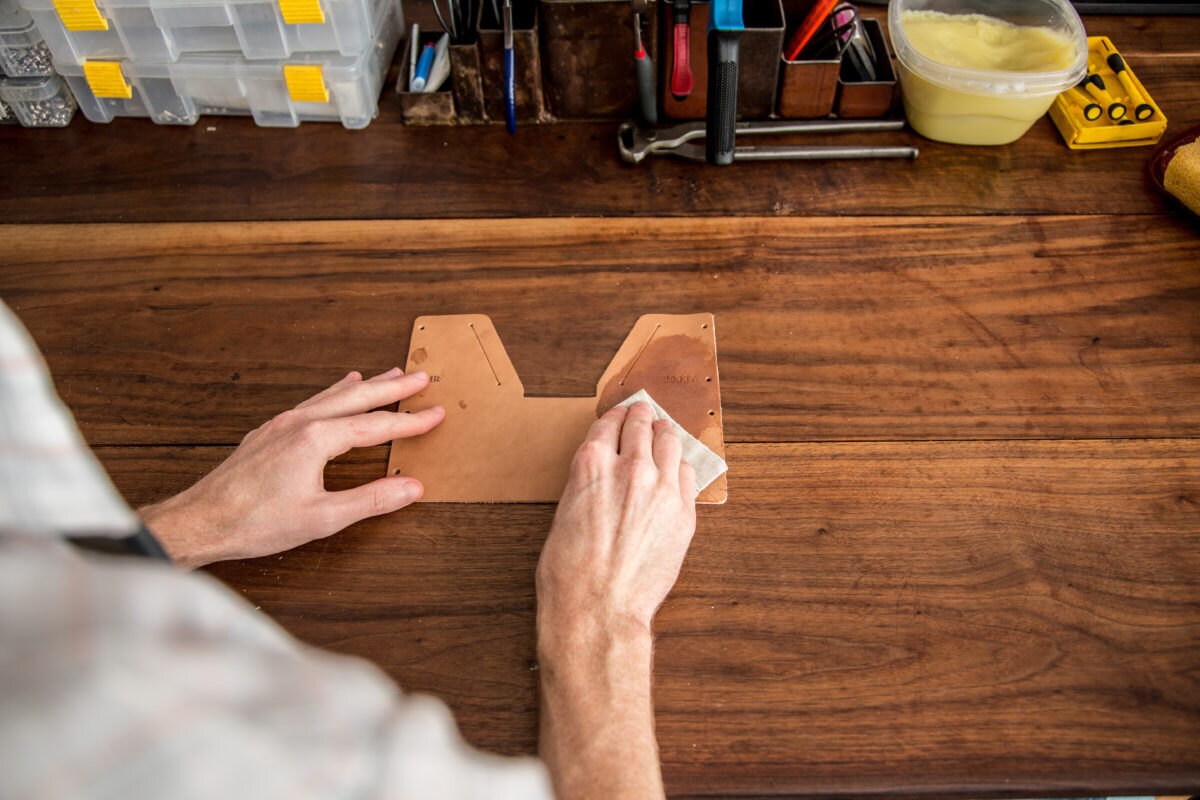 Describe a typical day for you: What's your creative process like?
I get up pretty early, grab coffee, and head out to the shop, which is separate from my house. I usually answer emails and other customer-service stuff for about an hour. I start to organize the orders for the day, print them out, and get to work. I pull the hides out—hopefully, we've already dyed them—start cutting, and do the production work. On the days when my part-timers are there to help, I'll test out new hardware and develop new designs.
Do you work every day?
I haven't had a break since October. As the business grows, it gets more complicated. I'm slowly trying to delegate things, like maintaining the website. When I worked in graphic design and animation, I would work on one project for a large chunk of time, and then I'd have weeks off—and I hated it. Now, I go home and don't feel like I've worked an hour, because I enjoy what I'm doing.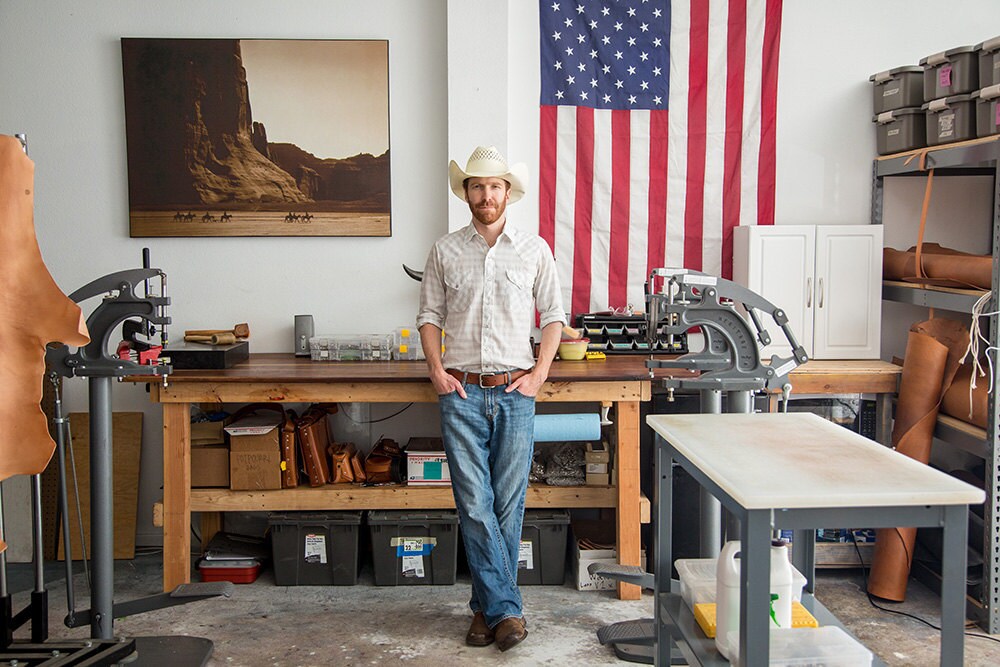 What can you tell me about the leather you use?
The leather is full-grain vegetable-tanned leather. Full grain means it comes from the outer part of the cow's hide—the strongest part of the hide that protects the cow from things like barbed fences and storms. With full grain, you have densely packed leather fibers and natural scarring, branding marks, and blemishes that make each piece unique. A lot of mass-produced wallets use top grain (the second-highest grade) and sand down the outside of the leather for a cleaner look. But that technique makes the leather less durable.
Why do you think your work resonates with people?
I think it's just how simple I make each piece. There are no frills. I design my goods to be classic and very functional. They're designed to do as intended and hold up! People are used to having a wallet that wears out in a year's time. Mine are
all-rivet models
 and will hold up for 100 years.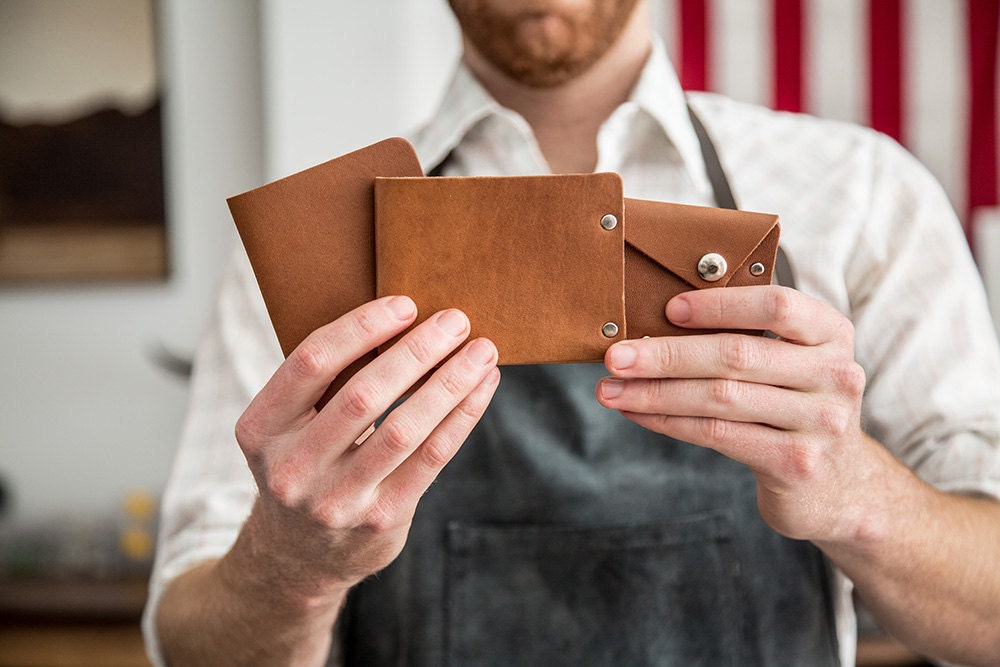 What do you have planned for your business in the future?
I want to keep the business around the level it is now, because it's manageable and not too complex. The bigger you get, the more employees you get, and the more you have to manage. Then you're back to sitting in front of a computer all day. As far as products go, I'd like to work on crafting 
more bags
, specifically duffel bags.
What's the most rewarding part of your job?
Working with my hands and creating products people want to use is rewarding on its own, but reading reviews and feedback from customers really carries me along. They make me feel good, and I enjoy that something I made is out there in the world, helping people carry their credit cards and cash, or holding up their pants. A few weeks ago, I was paying for my groceries at Trader Joe's, and the guy behind me noticed my wallet. He complimented me on it and then pulled out his own—
he actually had one of my wallets
. It was like my own little moment of celebrity.
Follow Mr. Lentz on Facebook and Instagram.
Photographs by Mr. Lentz.